Coastal Console Table Makeover
This post may contain affiliate links. Please see disclosures here.
This coastal console table got a new look with wood bleach and a little white paint!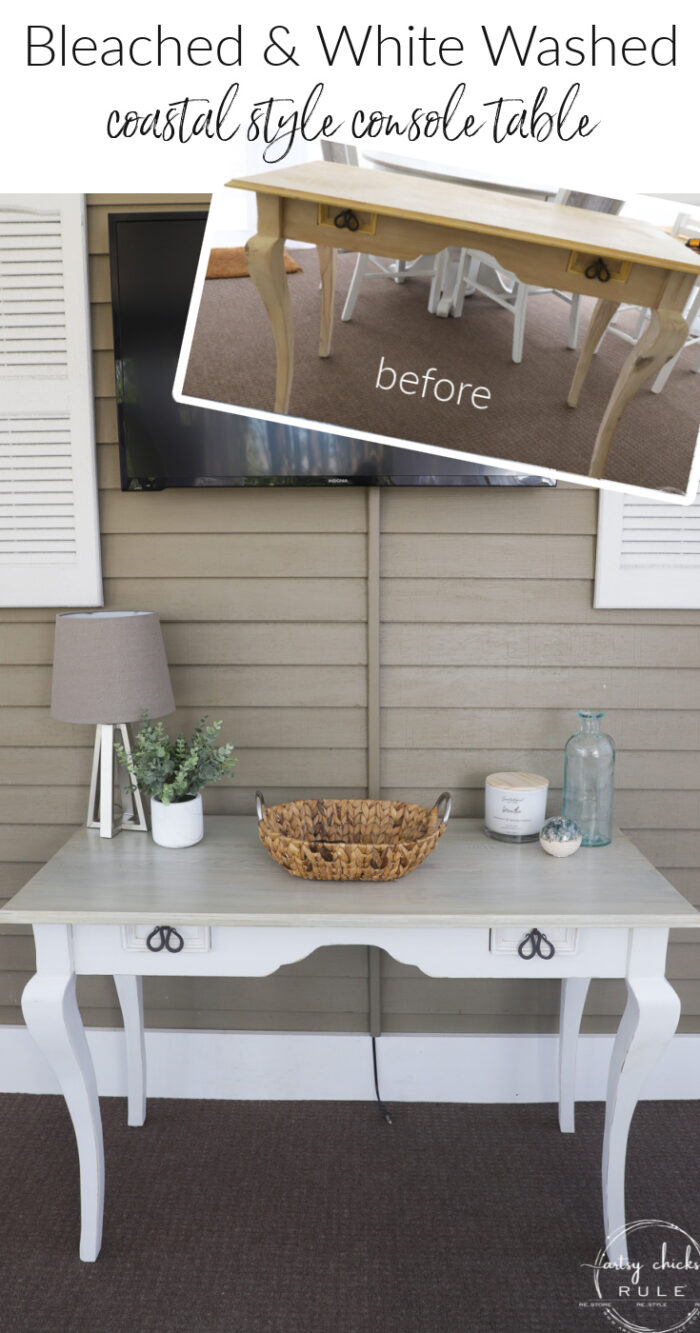 Hello sweet friends!
Did you guys enjoy my latest makeover? The Fusion giveaway? Somebody is a lucky winner today but I don't who yet since I'm writing this on Wednesday night! haha
But by the time this comes out tomorrow, one lucky winner will be very happy to be receiving some happy mail soon!
I am already planning next month's giveaway and it's going to be completely different than what I usually do.
So much fun!! Stay tuned! :)
………………………………………………………………………………………………………..
Today, I thought I'd share what I did with this "console table" that I believe is probably really a desk. I'm calling it a console table because that is how I'm using it.
It's one of the pieces that were in the beach condo when we bought it. There is a matching dresser and just one nightstand still.
I am going to get matching nightstands but I think I'm going to refinish the dresser and keep it down there.
Here it is in the beach condo…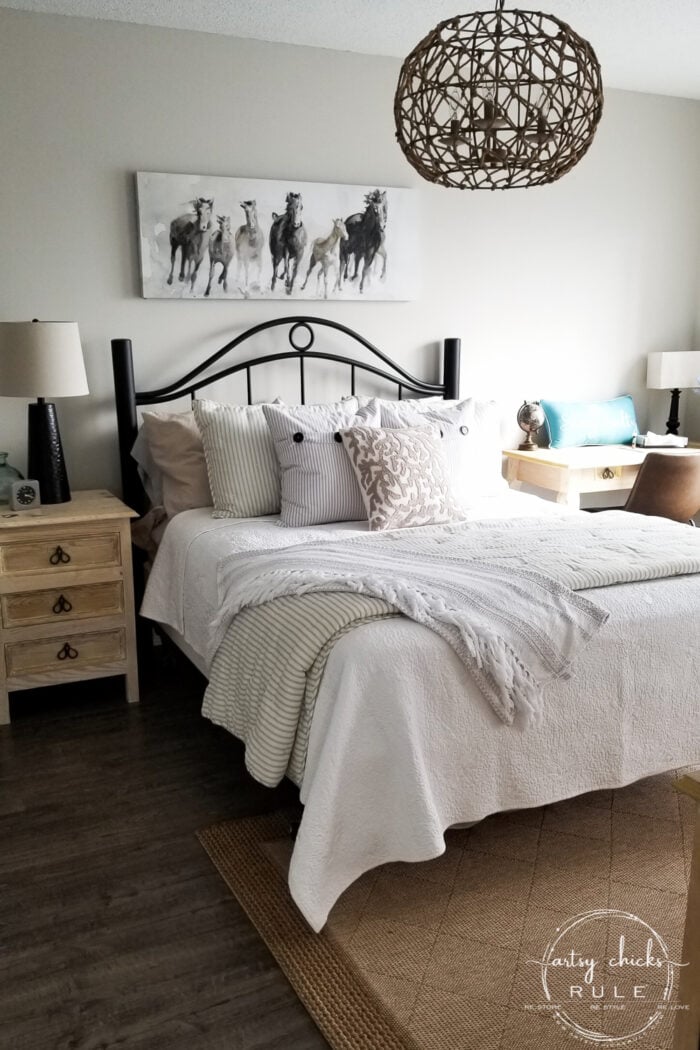 It's over there in the corner.
See the nightstand? Wish there were two.
Coastal Console Table Makeover
Here it is before…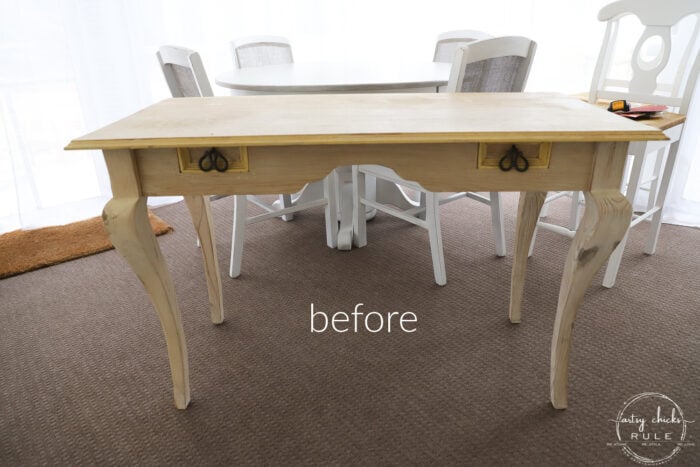 It had some sort of "wash" on it and bright yellow around the edges.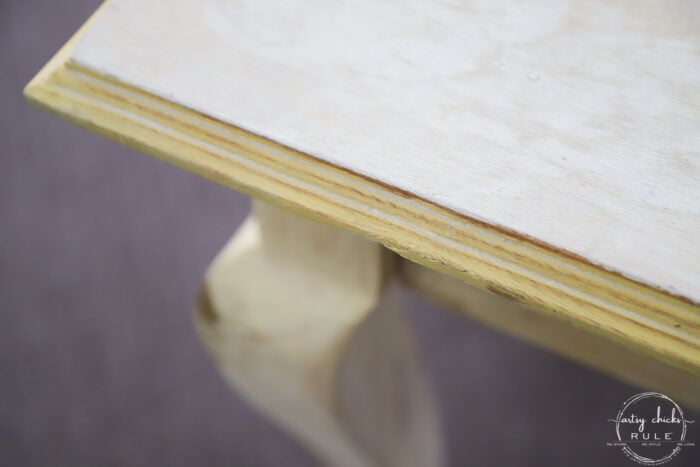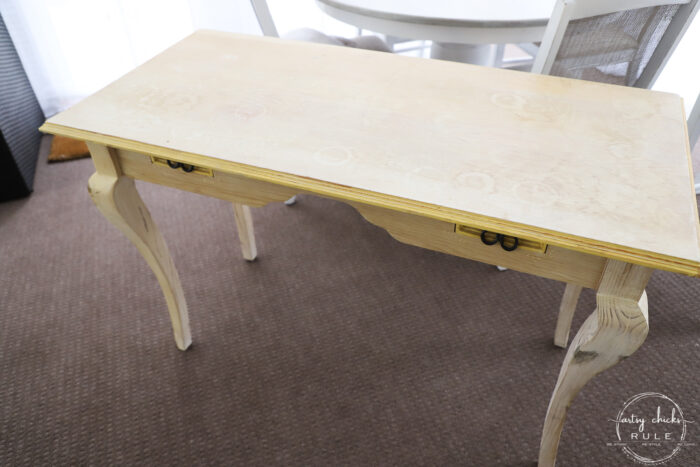 I actually liked the "washed" look but it was all but ruined.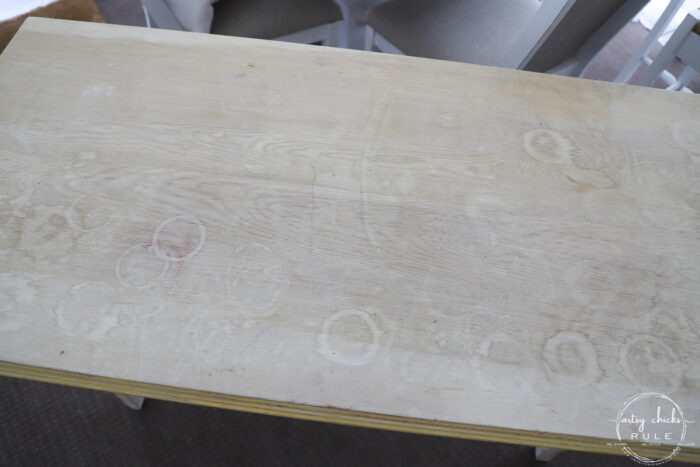 So I knew I was going to have to strip it to start again.
I sanded but it didn't really do much. Well, it did get some of the rings off but some of them were deep into the wood.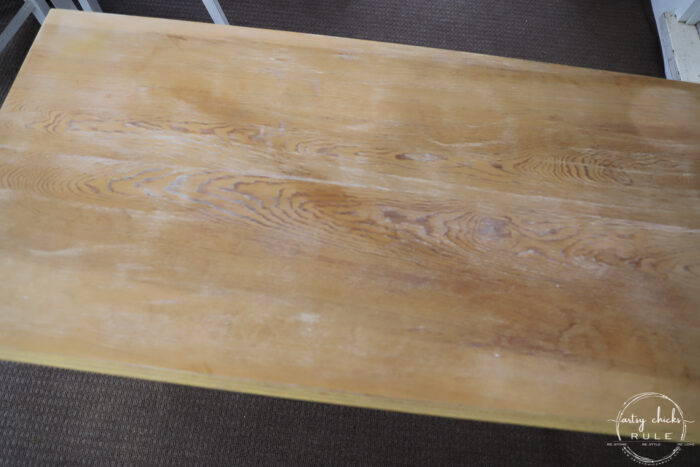 I should mention that there was a wash on the wood but no poly. No kind of sealer at all, so that is why it had rings all over it.
You can still see the rings a bit above. And that really large one over in the corner which ended up being the bear of them all.
After a little more sanding I decided to try out this wood bleach I bought a month or so ago. You might have seen this on my Instagram stories as I shared it while I was doing it.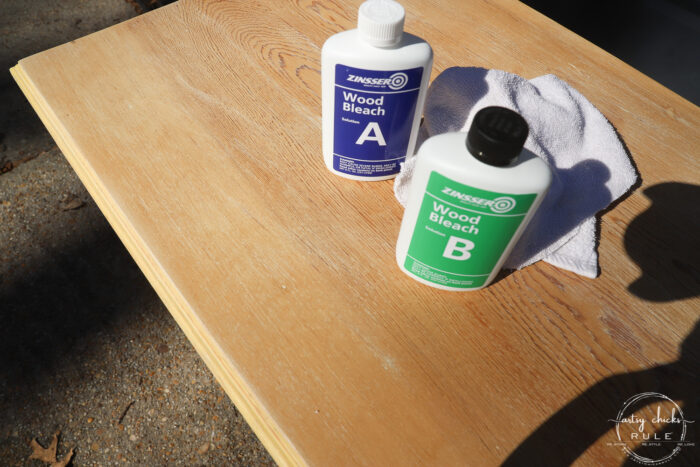 I did two applications and still this ring stood out. Ugh!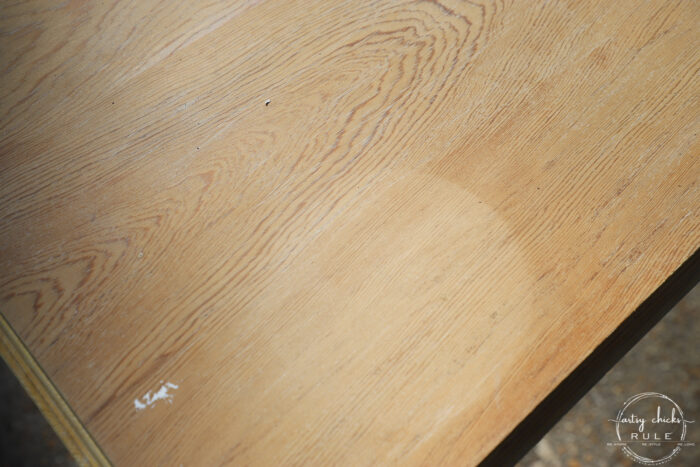 So I gave it one more application and voila! Gone!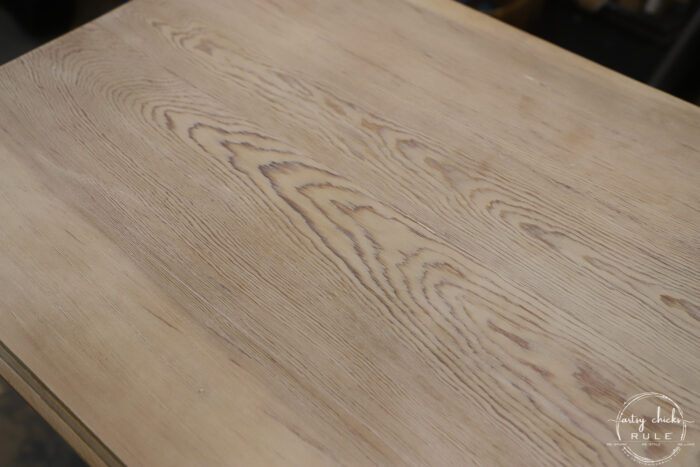 It did bleach the wood nicely but not as much as I'd hoped it would. But this table/wood really had some weird finish on it.
I am planning to use it on another table I'm making over so stay tuned. I'm hoping for a better outcome on that one.
I mixed up a little white paint with water to create a wash and applied it to the console table.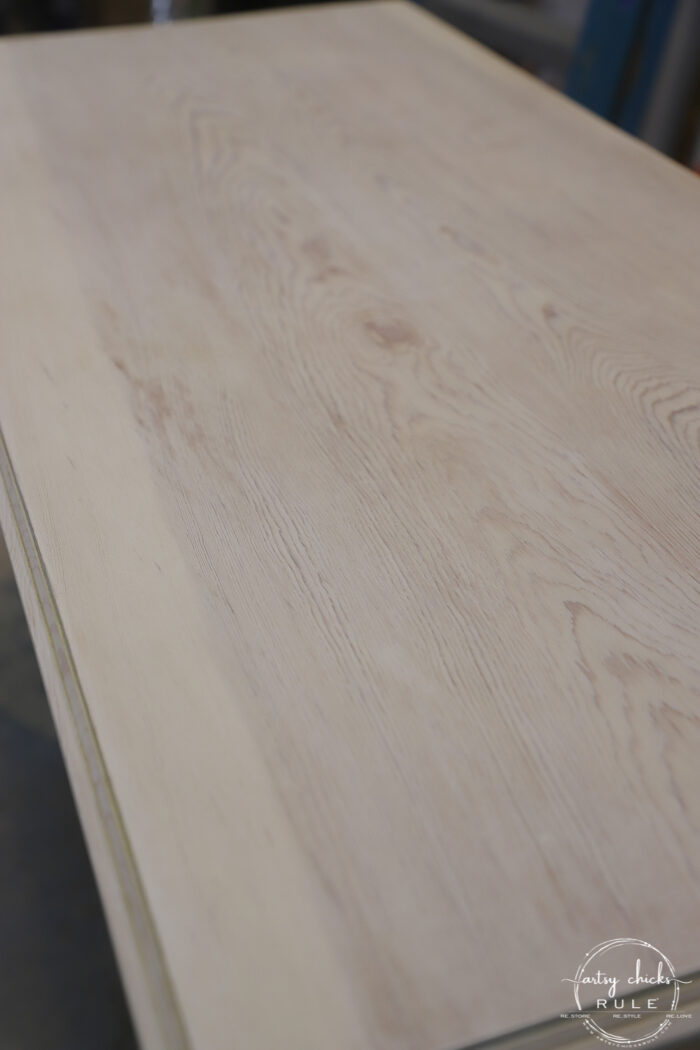 Subtle but makes the wood look more "bleached".
I decided it was still too orange-ish so applied a little watered down water-based stain to counteract that.
AND I wanted it to match the table I already have out here on the screened porch.
Remember the greenish-hued stain I used on this table?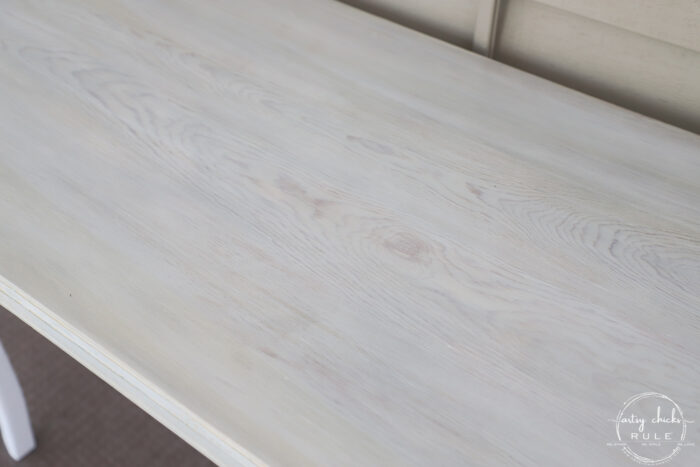 After the stain was dry, I went back over very lightly with more white paint watered down.
Sort of layering to create this look.
You don't want it thick or heavy, very pale, washed look. So make sure your watered-down white is not too thick.
Want to see some of these projects in "live" time? Hop on over and follow along with me on INSTAGRAM. I'm always sharing in my stories as I'm doing projects, finding new furniture, fun finds….just all the day to day behind the scenes.
Here it is next to that table I mentioned.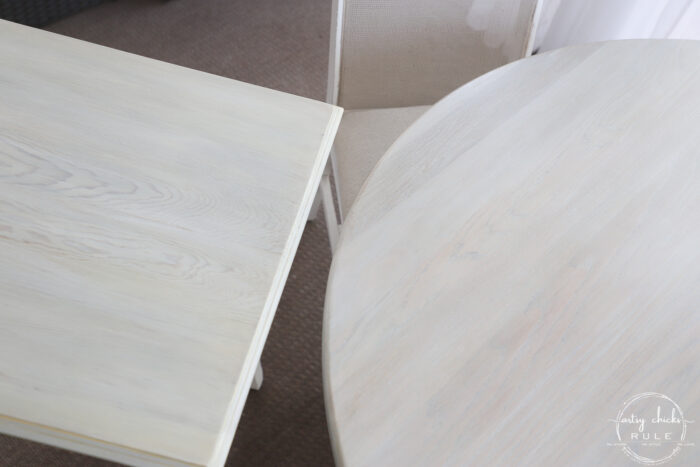 Pretty close.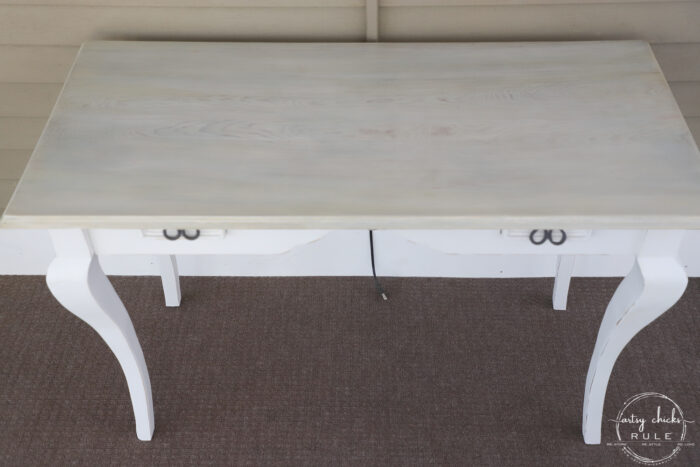 Once it was dry, I applied 2 coats (drying in between) of Gel Top Coat, the same one I used on the round table.
The two little drawers have these crazy hardware pieces. They are IN THERE.
So they stayed. I did want to change them but didn't feel like wrestling with that.
Have you ever seen anything like it?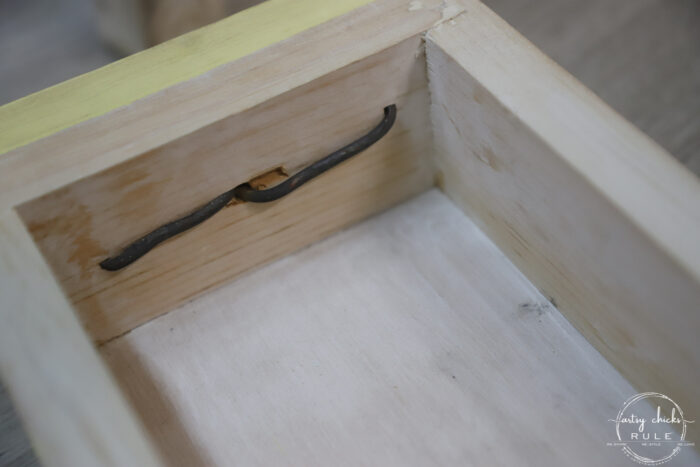 The base got my old standby White Linen chalked paint.
New to chalk paint? You can check out this post here >>> How To Chalk Paint Furniture (tips and more)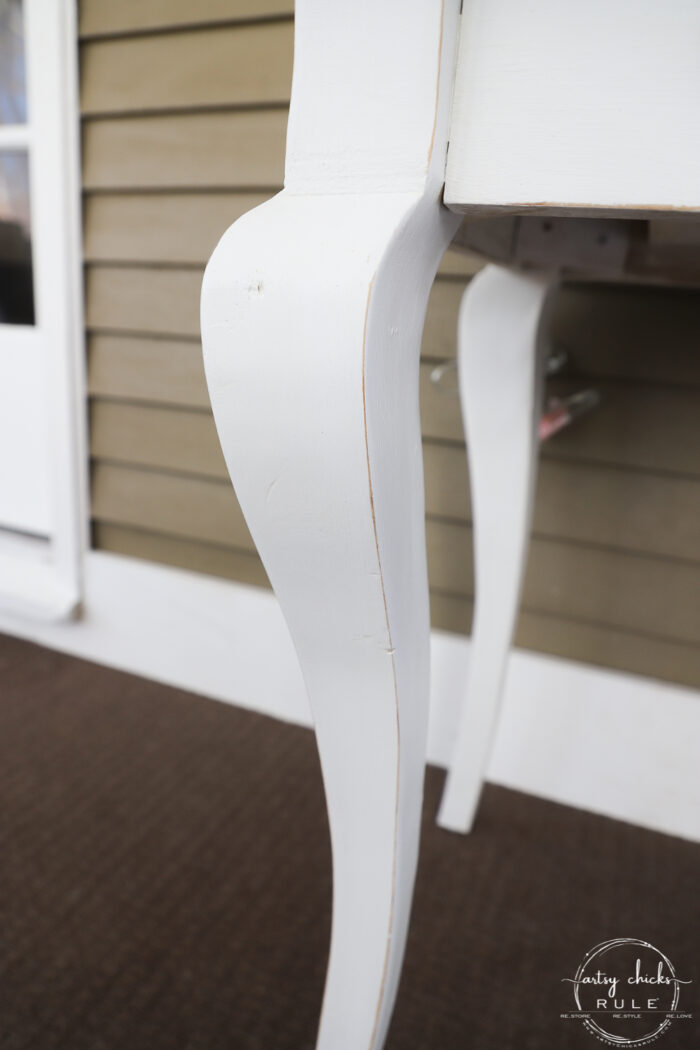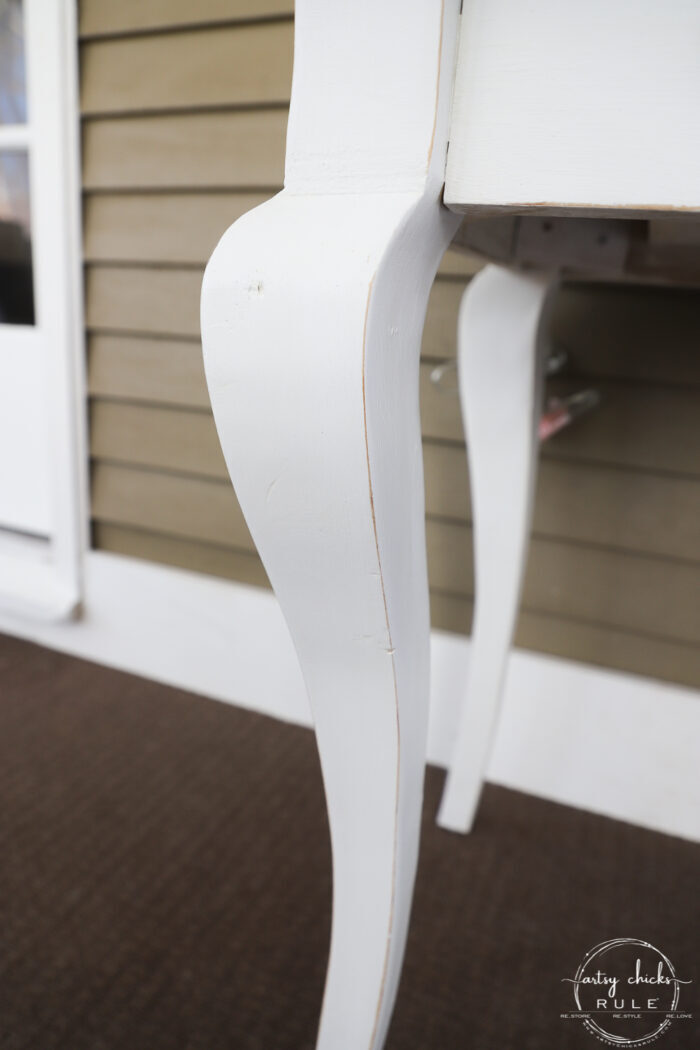 I did distress a bit.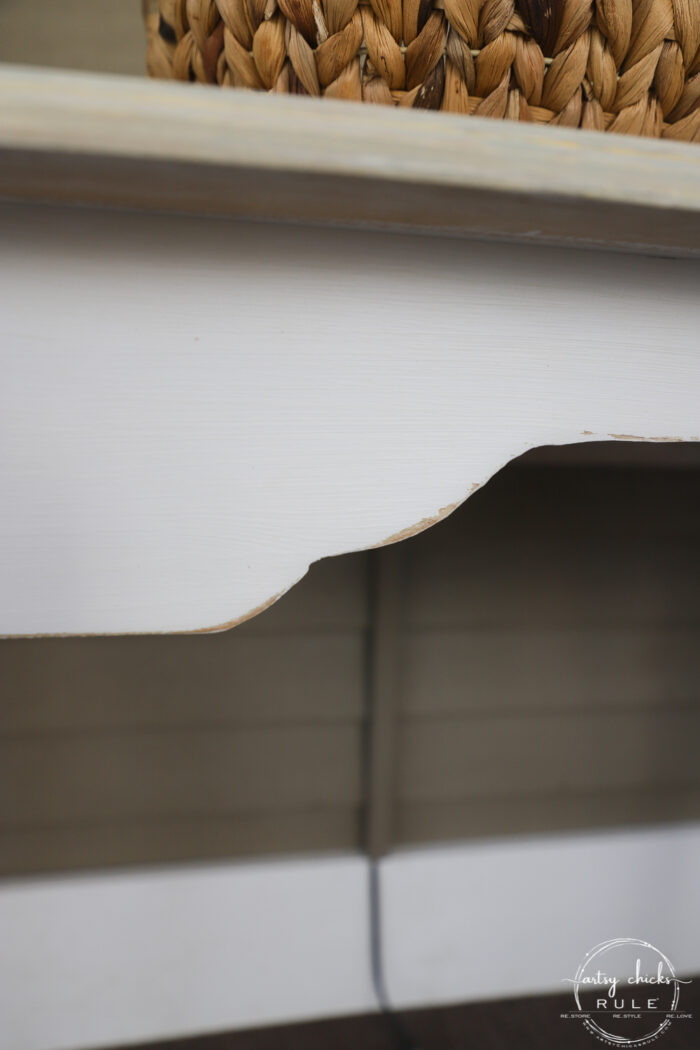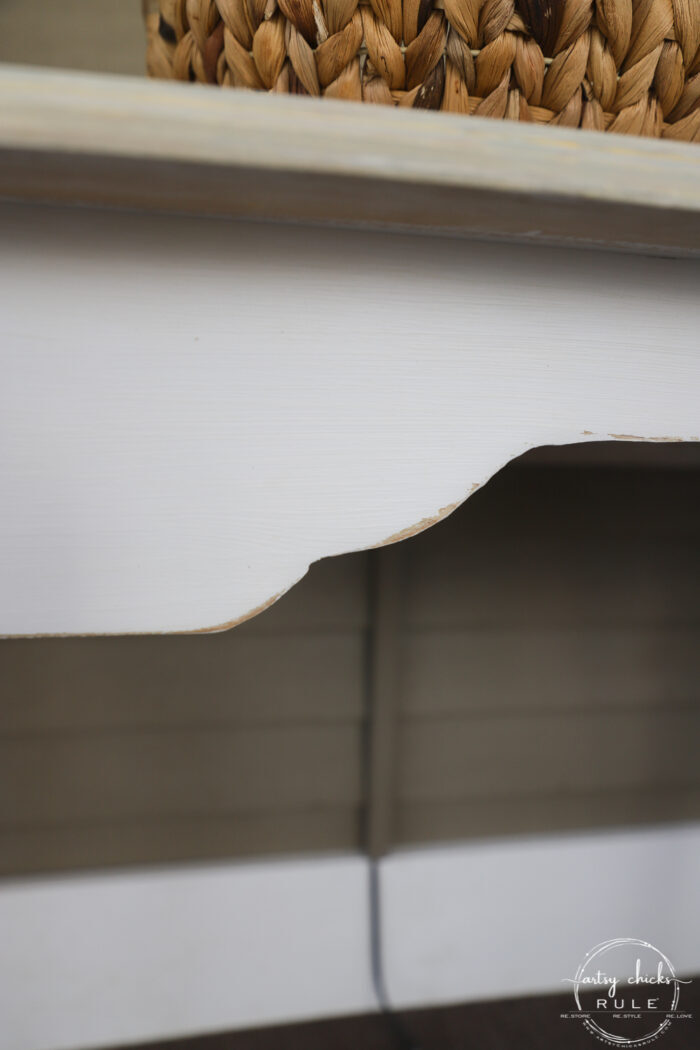 Curious about chalk paint?? I wrote an entire post devoted to all the pros and cons of using it, here >>> "Pros and Cons of Chalk Paint For Furniture"
And then gave it a coat of matte finish poly (Fusion, linked above).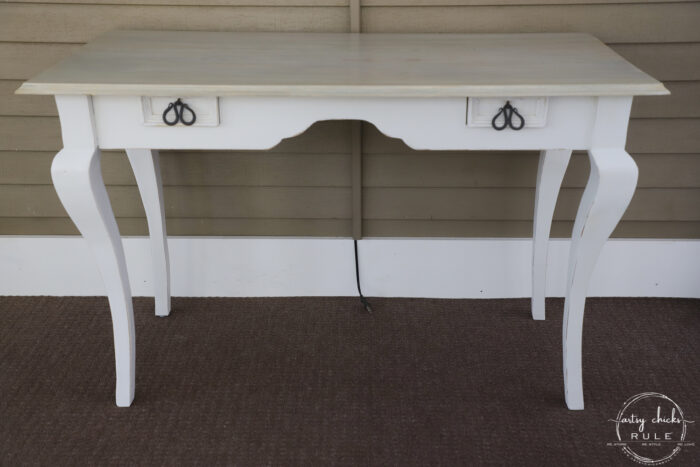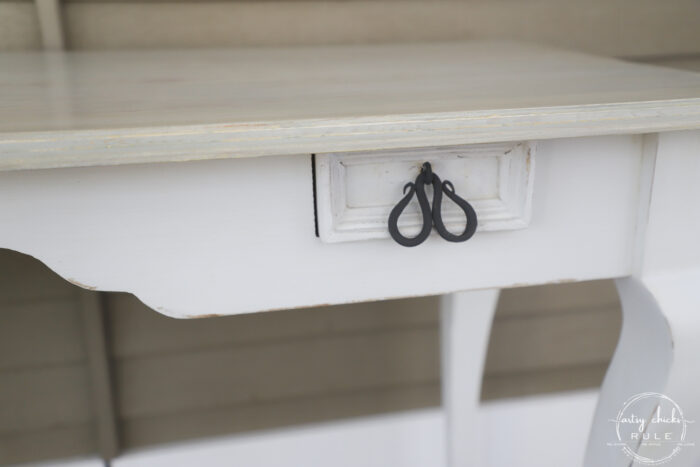 I considered placing the table this way because I don't love the other side. Or I am just undecided if I do or not. ;)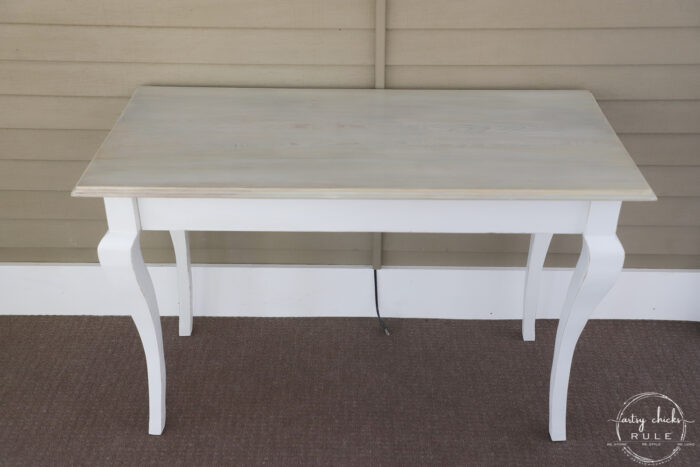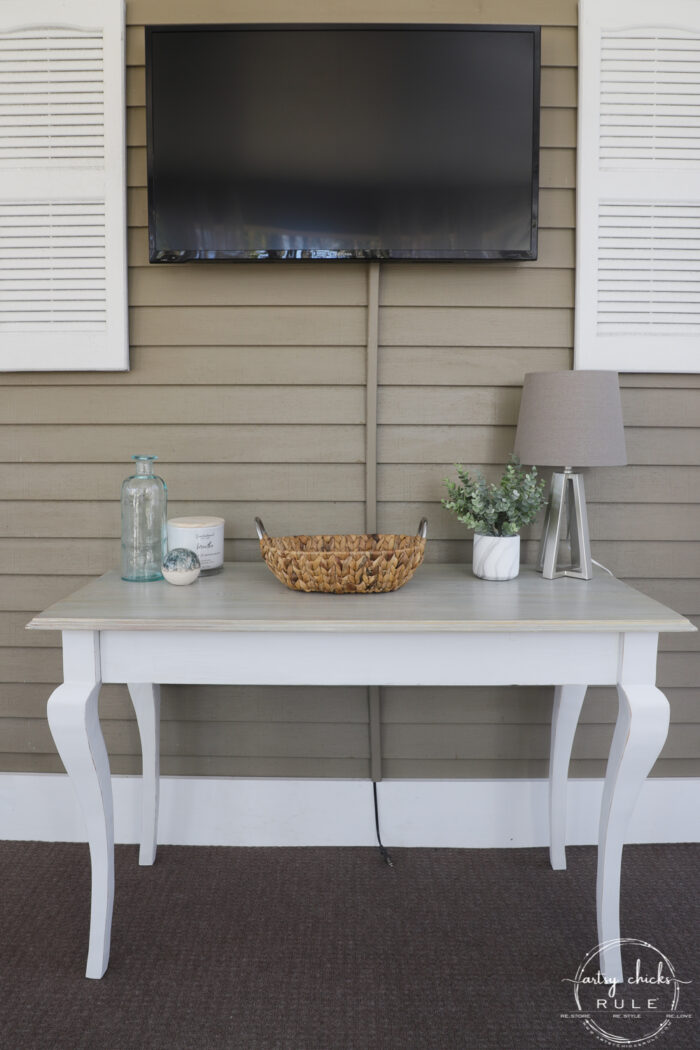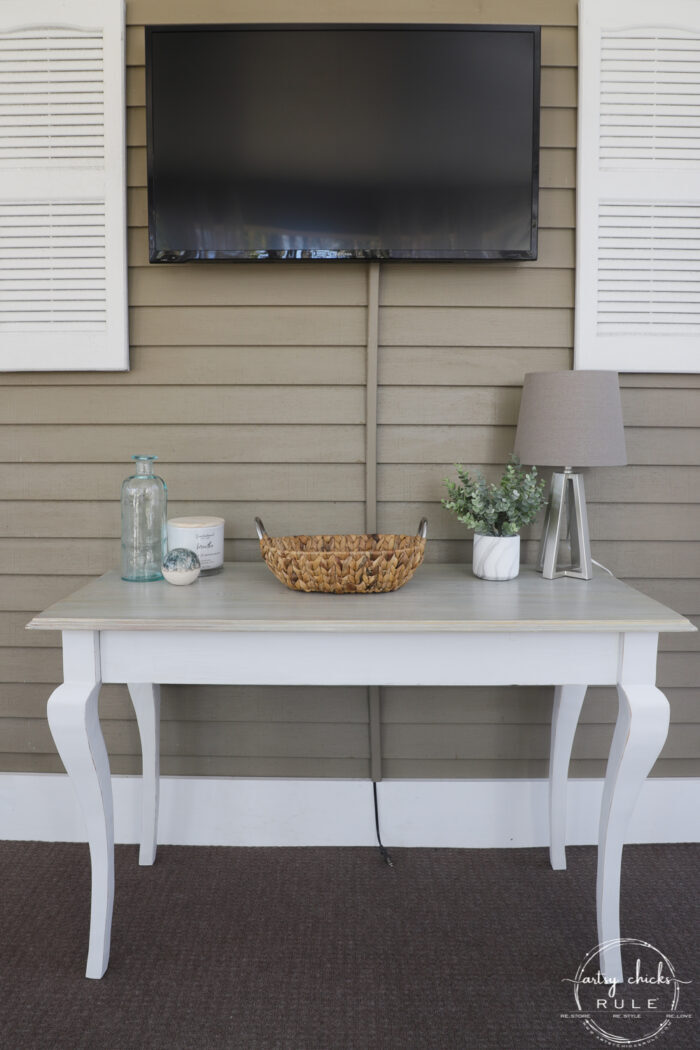 Or this way…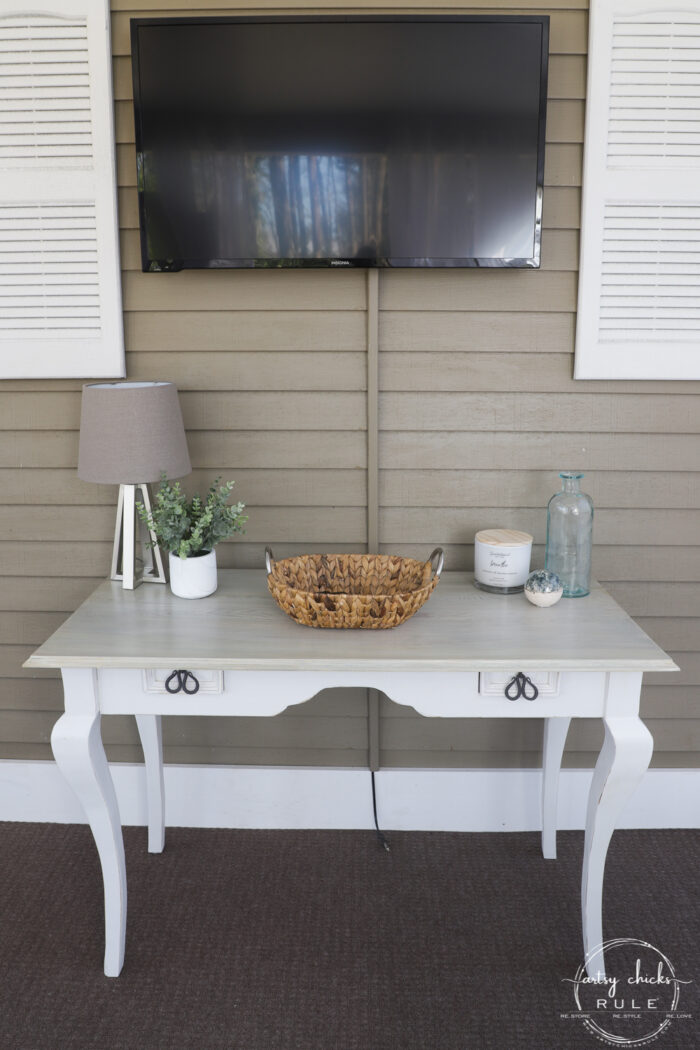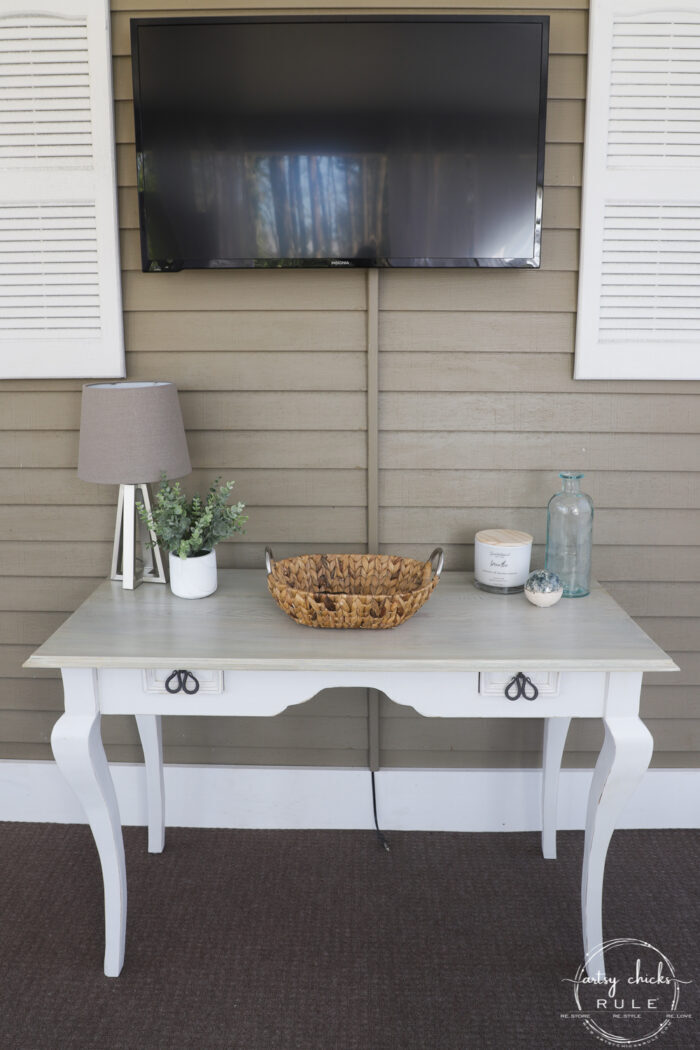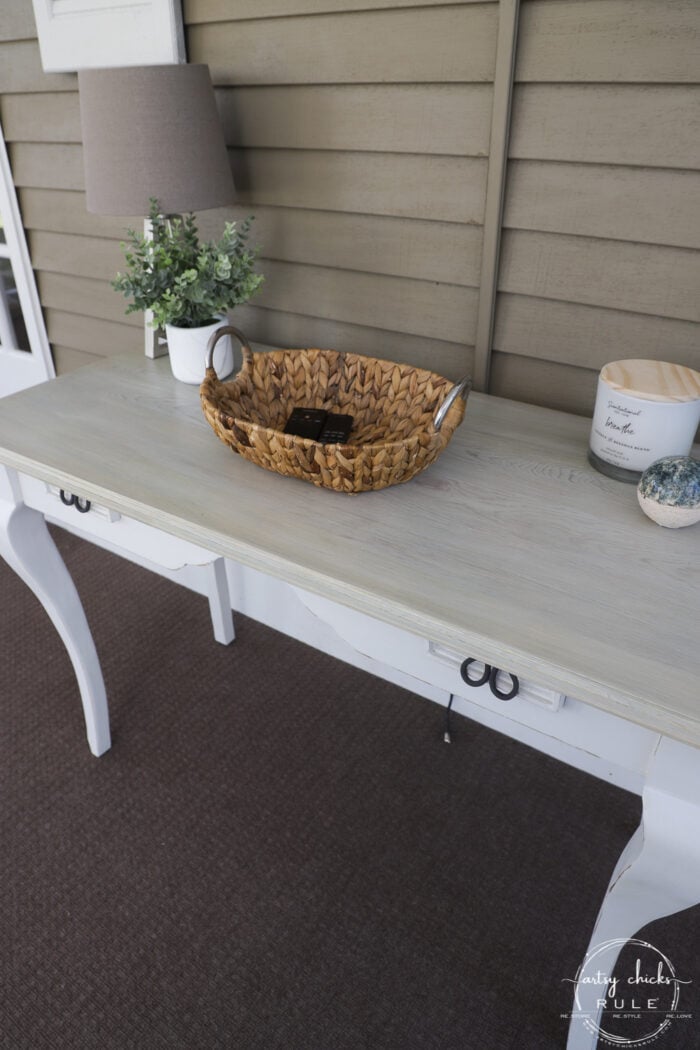 What do you think? Hardware/drawers in front or back?
The screened porch will be done for spring this year! Yay! lol
I tried hard for last fall but we were way too busy with the beach condo to wrap it up.
Which reminds me, we are getting ready to get back to work down there to finish things up.
I'll be sharing all the happenings over on my Instagram stories, so stay tuned for that!
Here are a few more wood "bleach" type of projects:
PIN it to save it!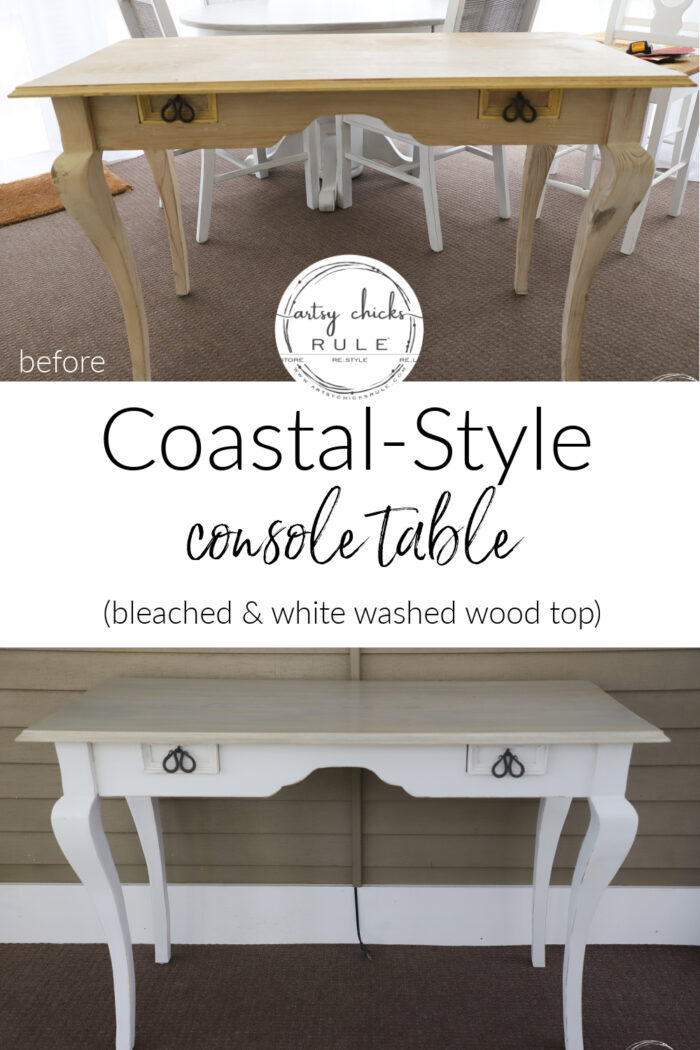 I'm sharing this beauty next. (and she's a beaut!)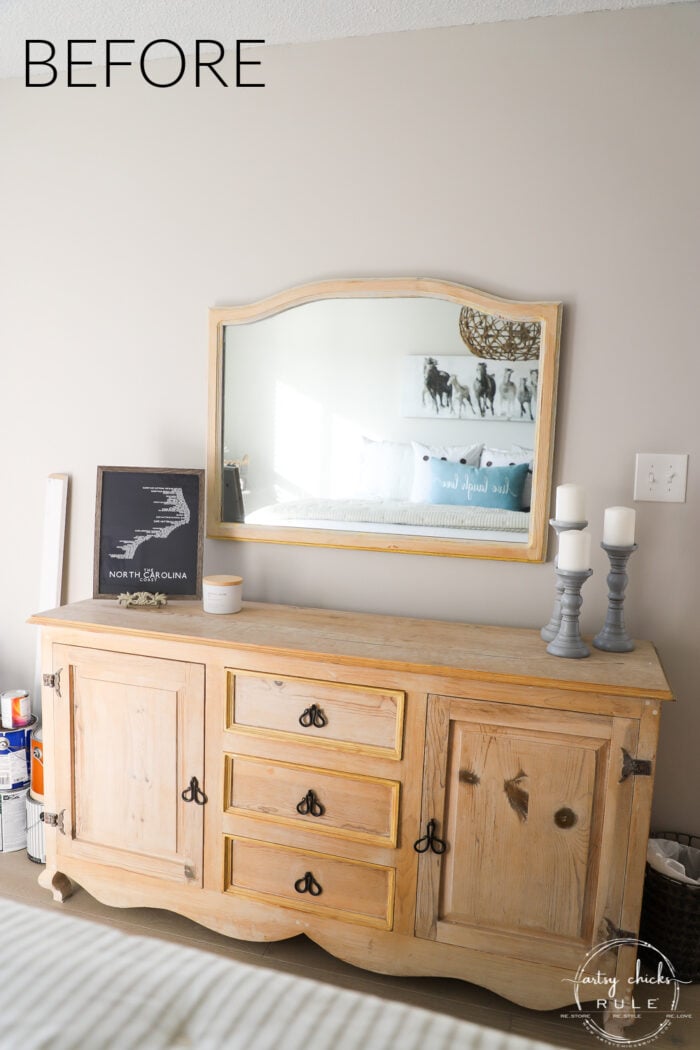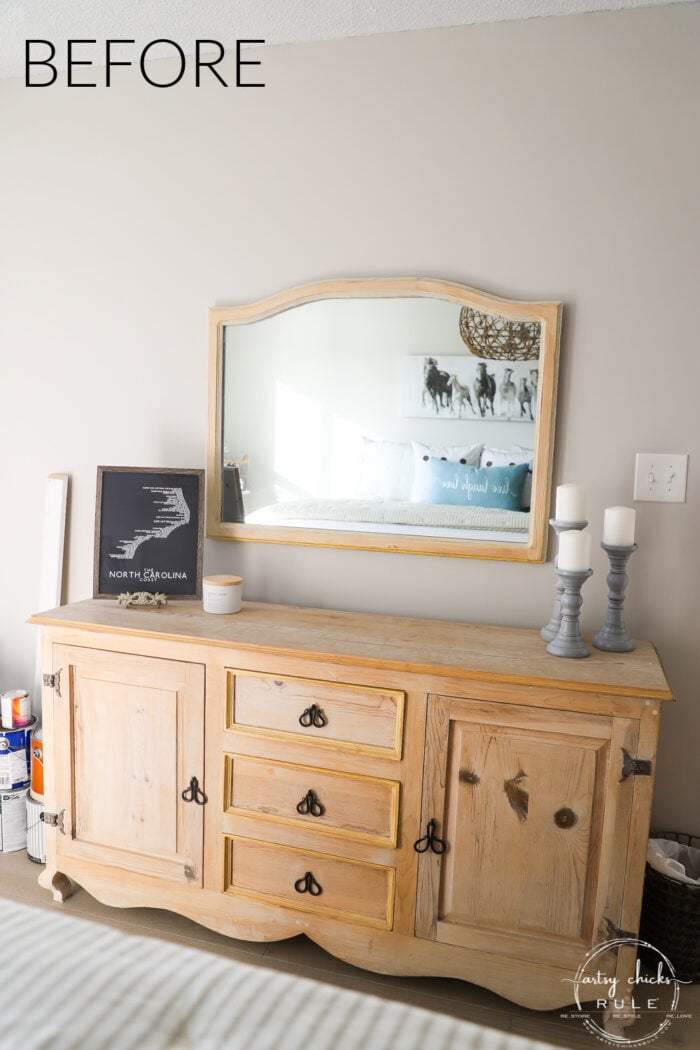 UPDATE!! See it now, here!
I hope you have a wonderful weekend!
xoxo