This post may contain affiliate links. Please see disclosures here.
Create this driftwood stain dresser look simply (and quickly!) with ONE product…one and done!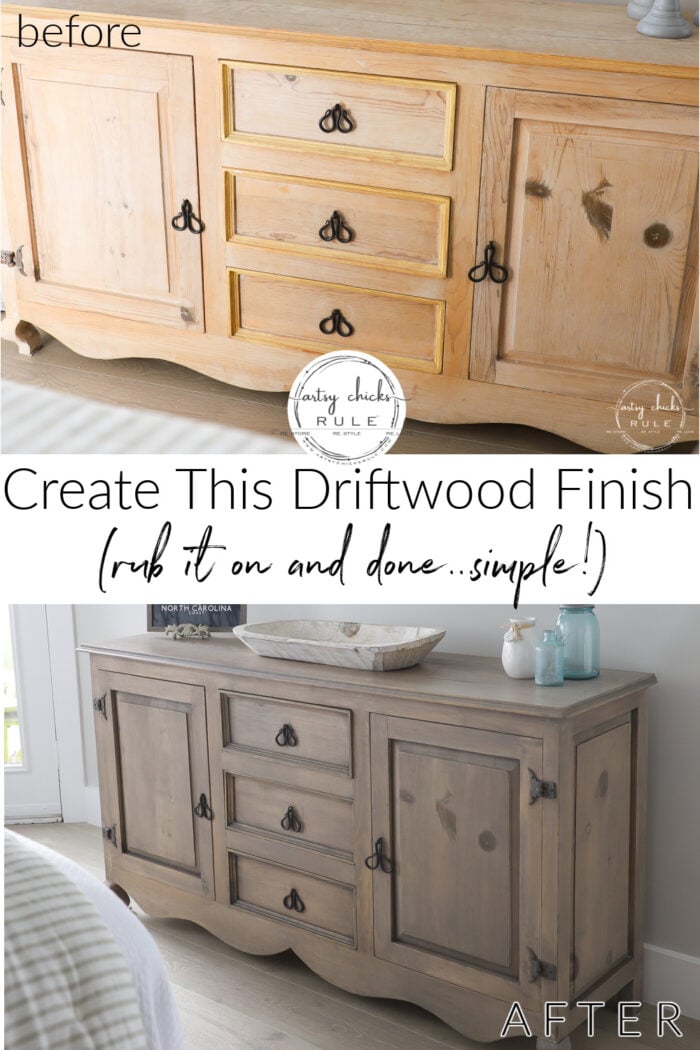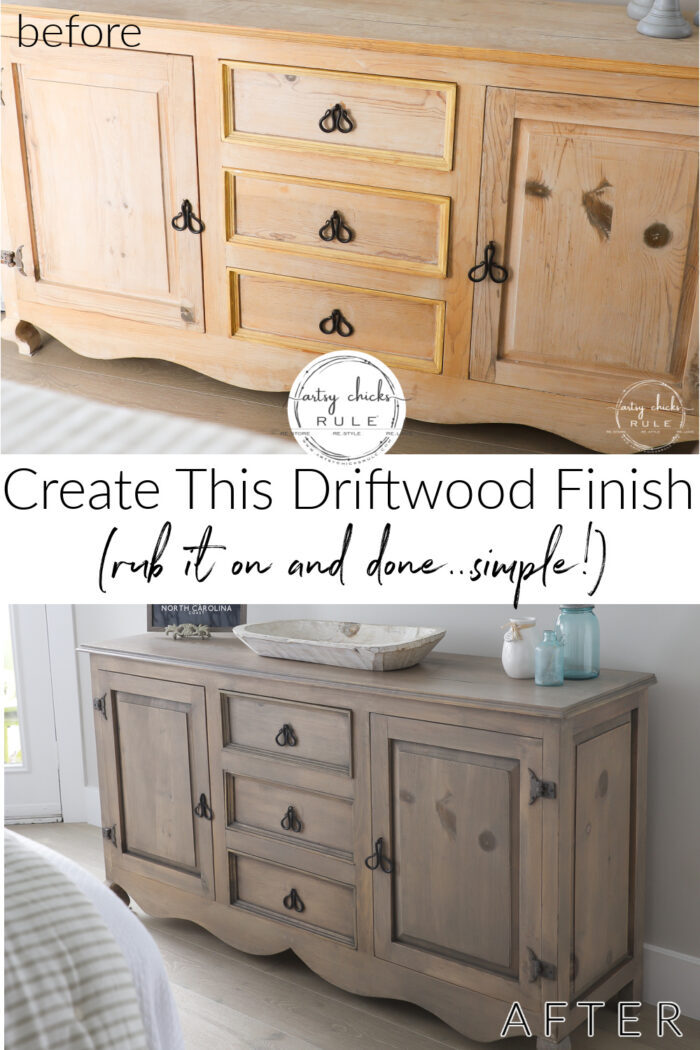 Hello friends!
I am so excited to be sharing a brand new (to me) product with you today.
Remember when I recently decided to give Fusion Mineral Paint a try? Well, I also picked up their "natural" Stain and Finishing Oil and their "driftwood" Stain and Finishing Oil.
Without really knowing much about either.
Apparently, the finishing oil can be used on top of the paint to seal it OR it can be used on unpainted wood.
To note though, the "natural" which is clear is said it's best used on the darker colors because it can darken or yellow.
Well, I brought all my things to the beach condo this past weekend to work on the console table.
This one…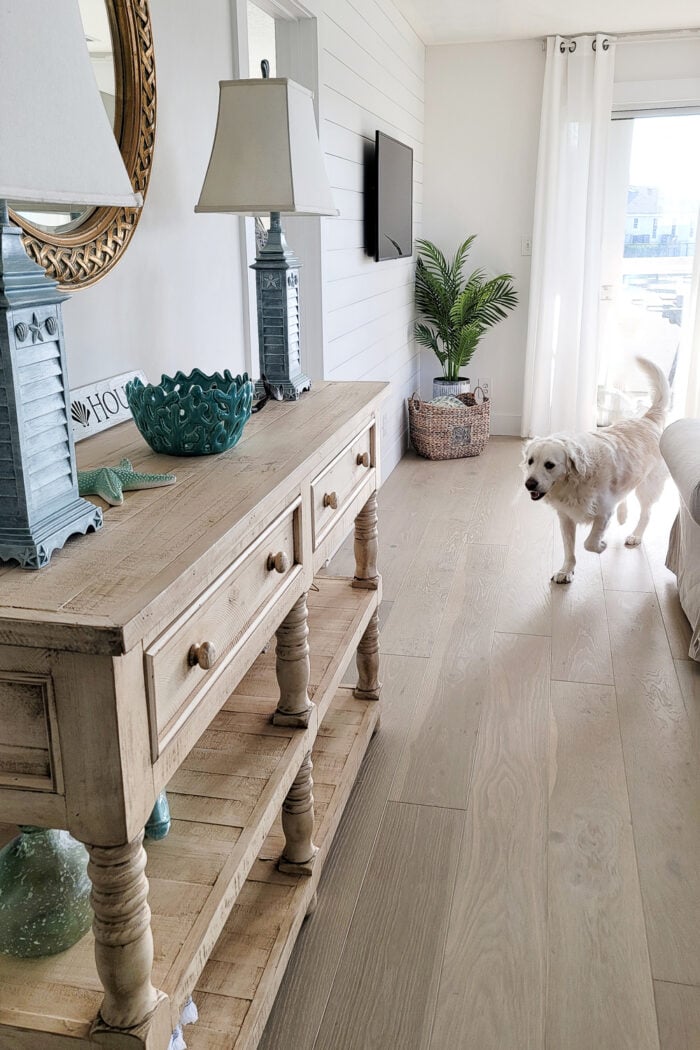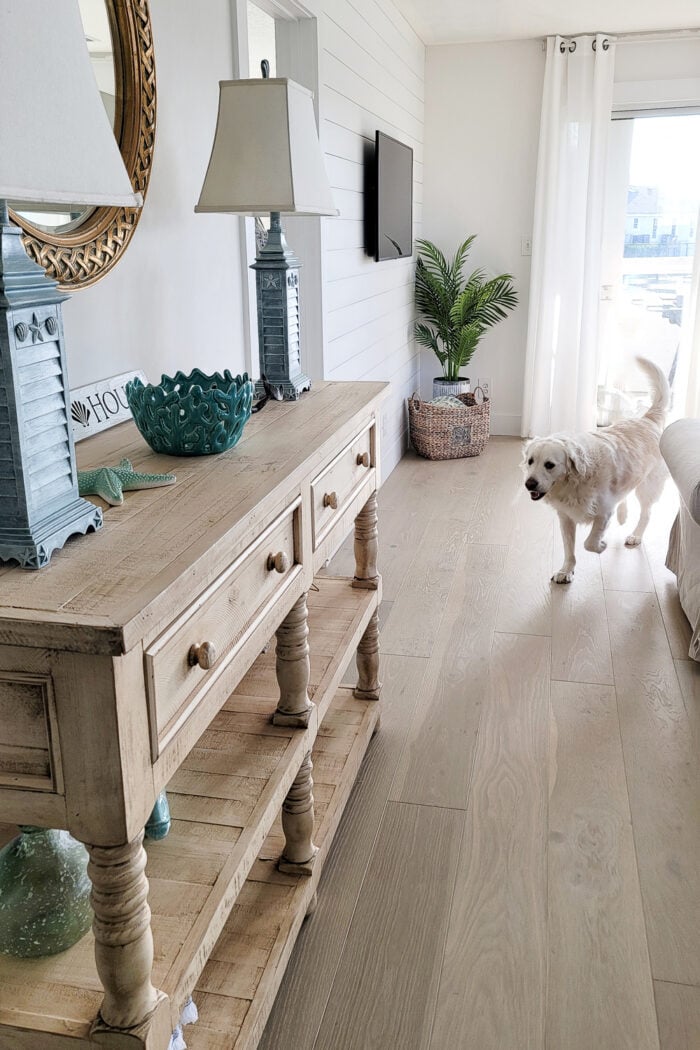 I found it at Home Goods and loved it. BUT I always knew I would paint or refinish it in some way.
Anyway, if you follow along with me on Instagram, you probably already saw what color I painted it in my stories this past weekend.
If you don't follow and missed it, you're going to have to wait till I post it next week to see!! ;)
Because I ended up using one of the Stain and Finishing Oils on this piece after I painted it. (and I love it!)
(by the way, you can read all about that gorgeous flooring we had installed, here)
Driftwood Stain Dresser
So that got my wheels turning, don't ya know! lol
And I decided to try it out on the unsealed (but oddly whitewashed, maybe??) dresser and mirror in the bedroom
It's the matching set to the "console table"/desk I shared last week. Missed it? You can see it, here.
Same hardware and all!! haha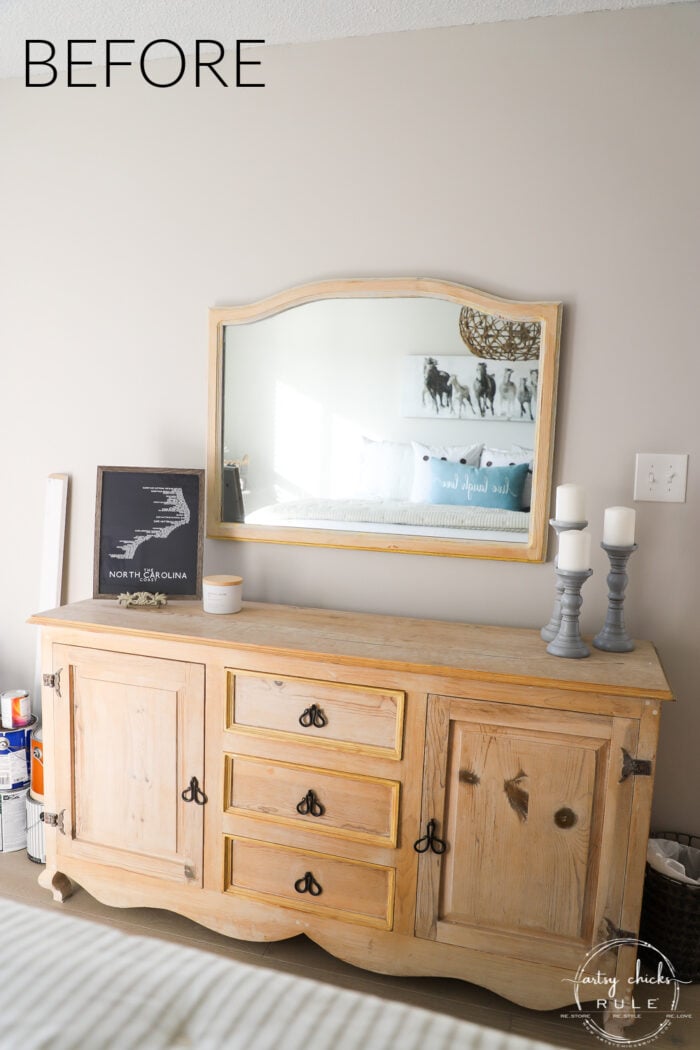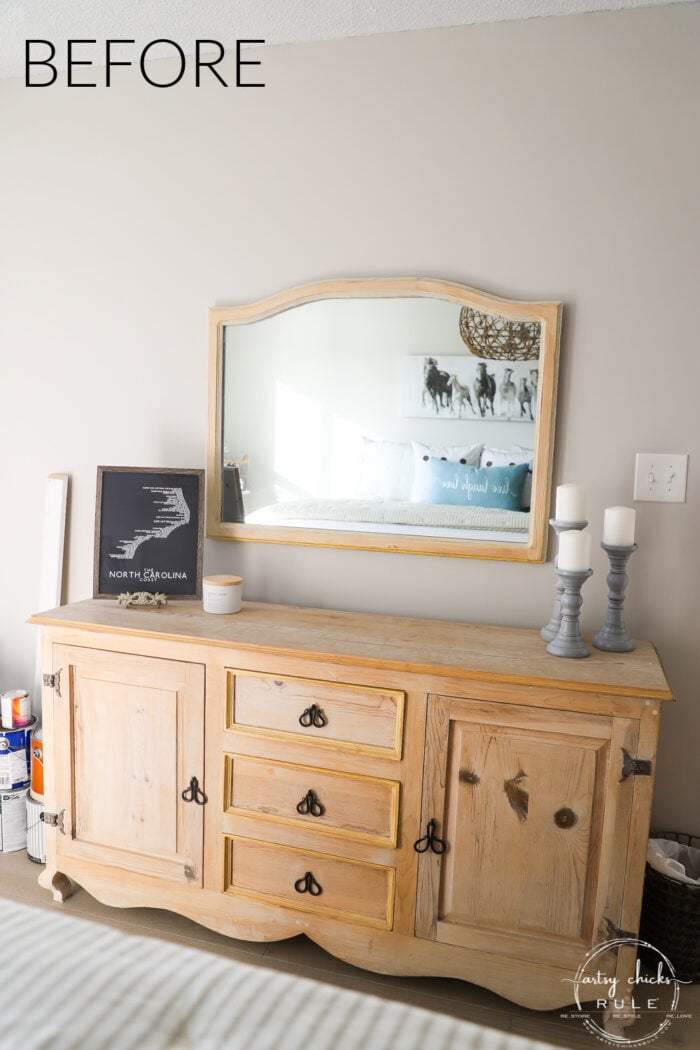 And that same weird yellow trim. Do you see it there around the drawers and top? (and mirror too)
I wasn't sure at all how this driftwood stain would work on this plainish and yellow trim painted wood.
But I was ready to find out!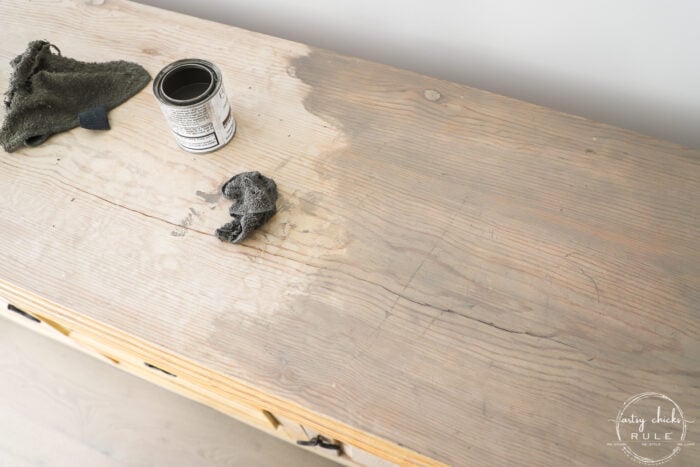 By the way, this one had water stains too that you can see on the left side where I haven't applied the stain yet. (see them?)
I wasn't sure if they would disappear or what but I wanted to try going right over it anyway.
And it worked!
Not only that, but it did a very decent job of hiding that funky yellow too. Wow!
You can find this Driftwood Stain (and several other colors) in my online shop, here.
I was so excited to see how well it was working. And I was loving the color of the driftwood stain color.
Exactly the look I love and exactly the perfect look for this condo at the beach.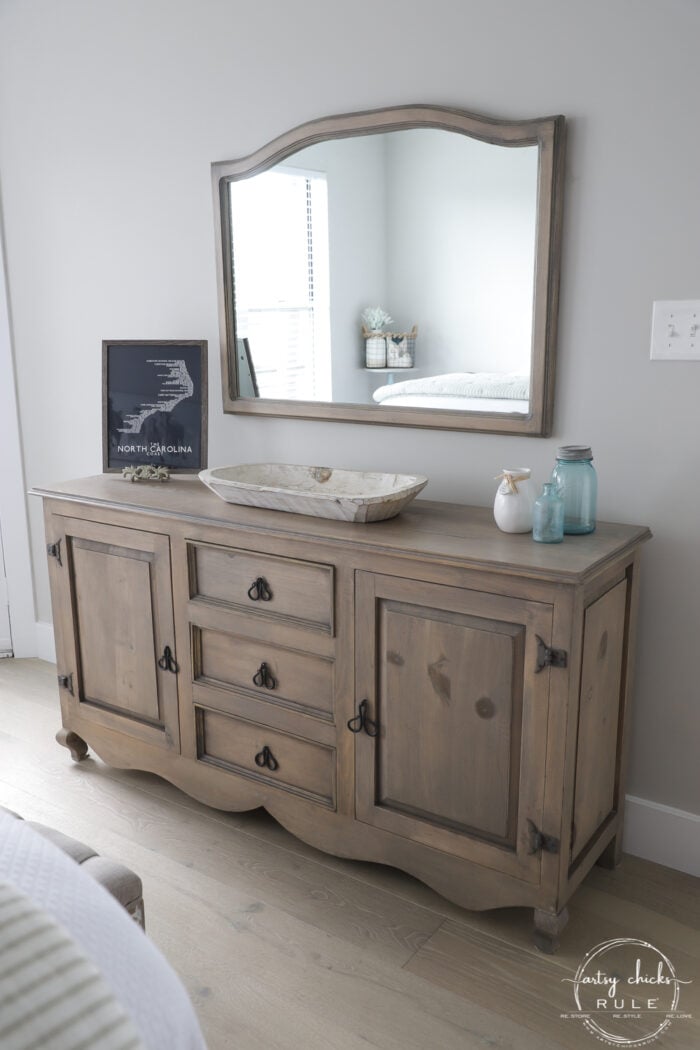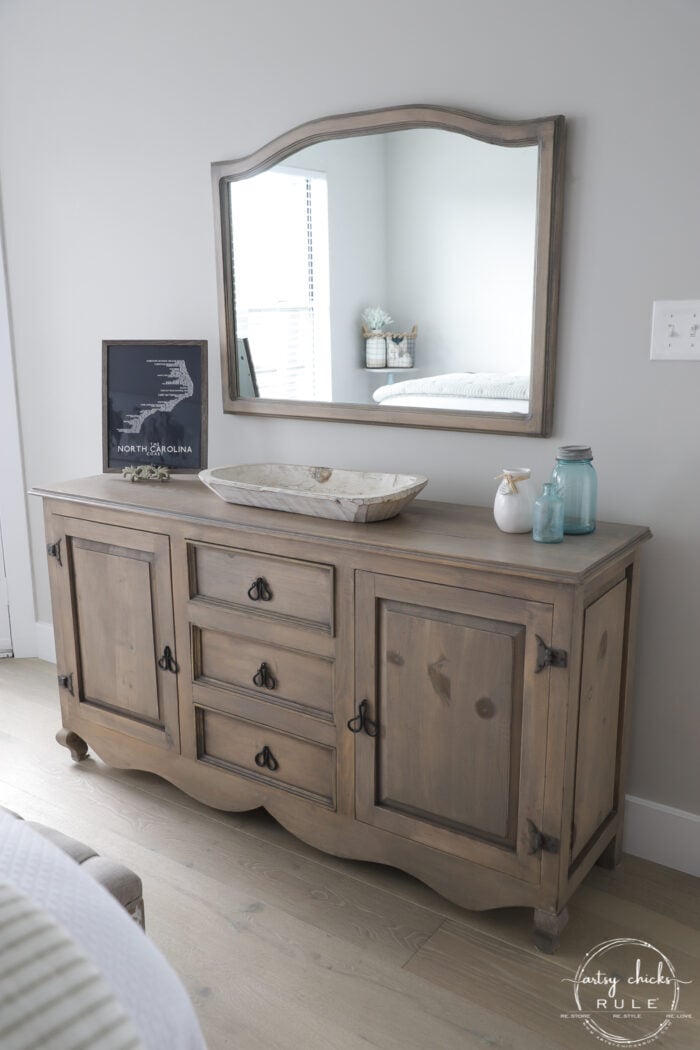 I mean, just look at that finish…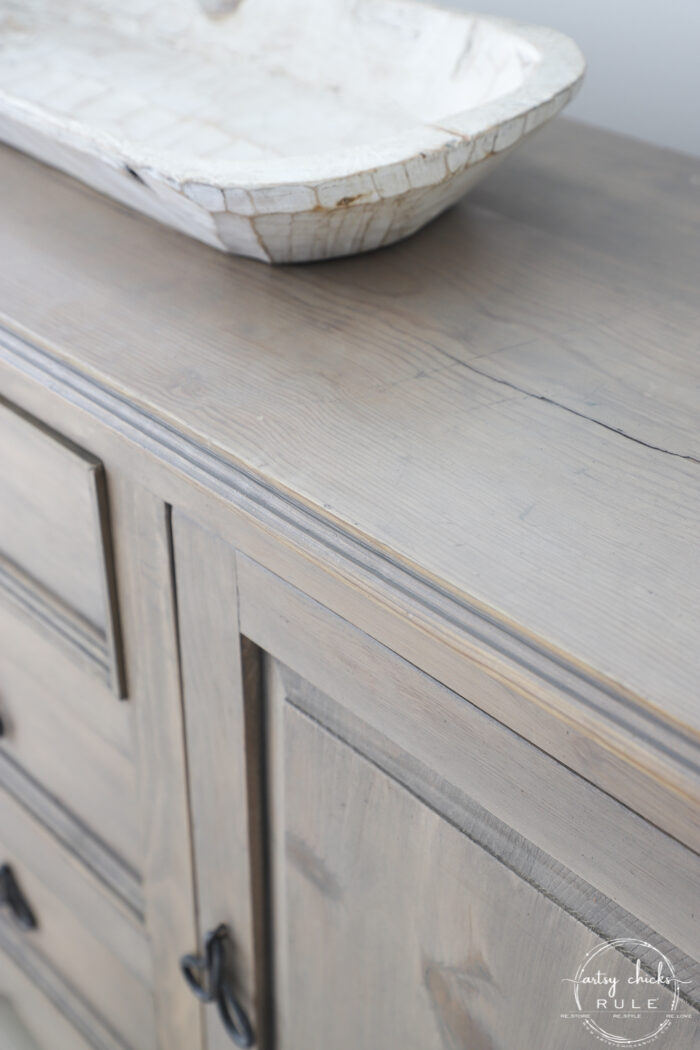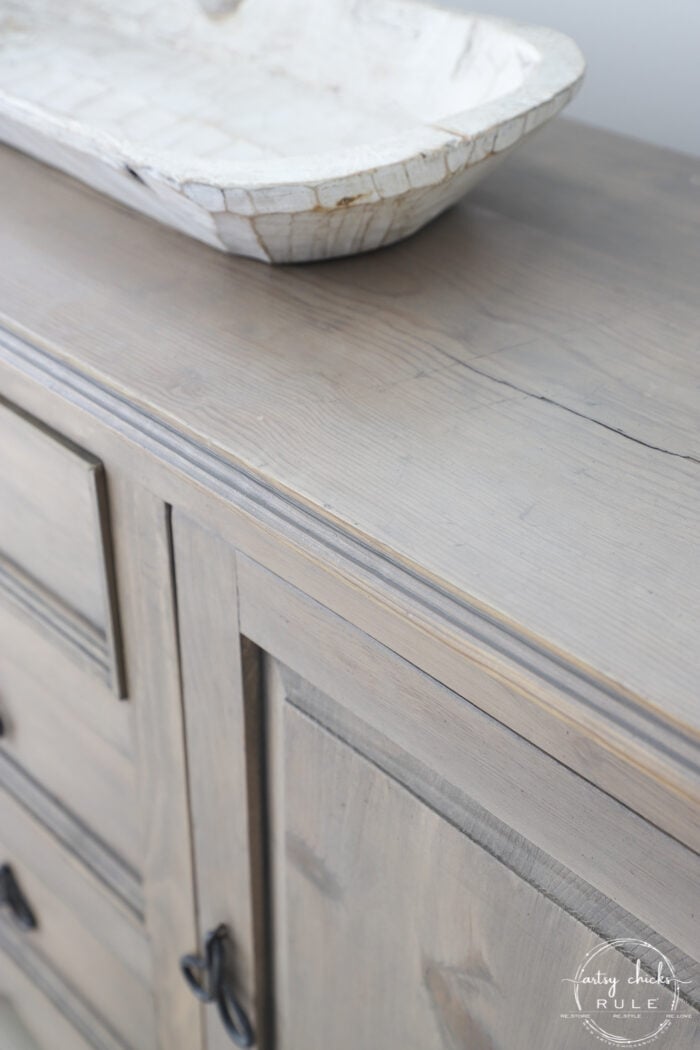 I am in LOVE.
And where is that yellow again?? Ha! Gone…hidden…bye!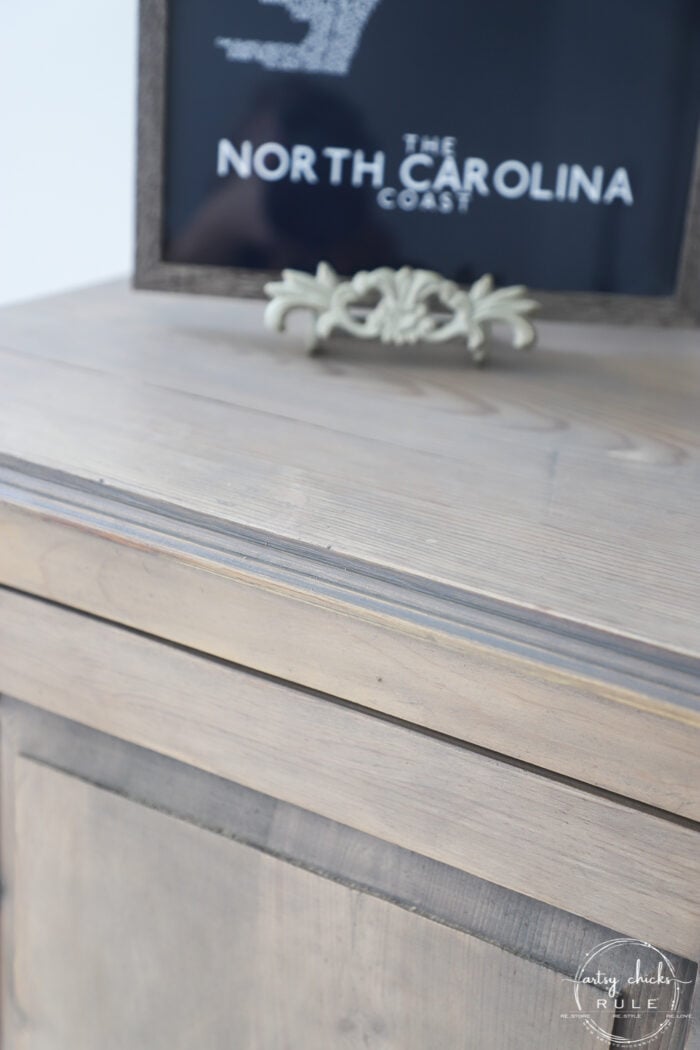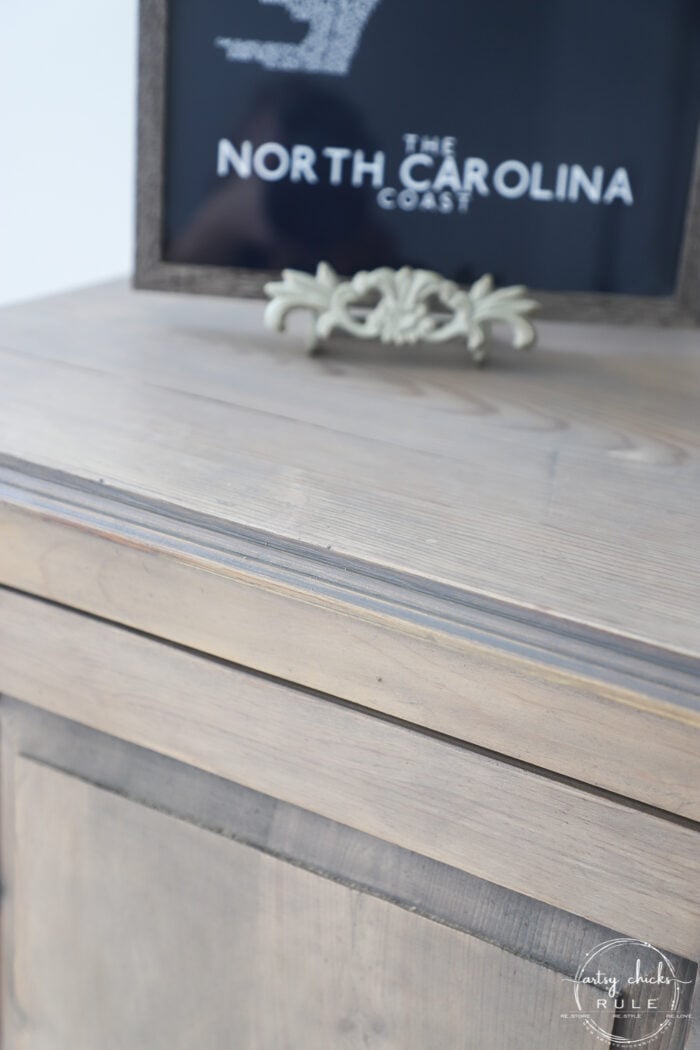 What the what? It looks amazing!
And it looks like I spent hours creating this finish.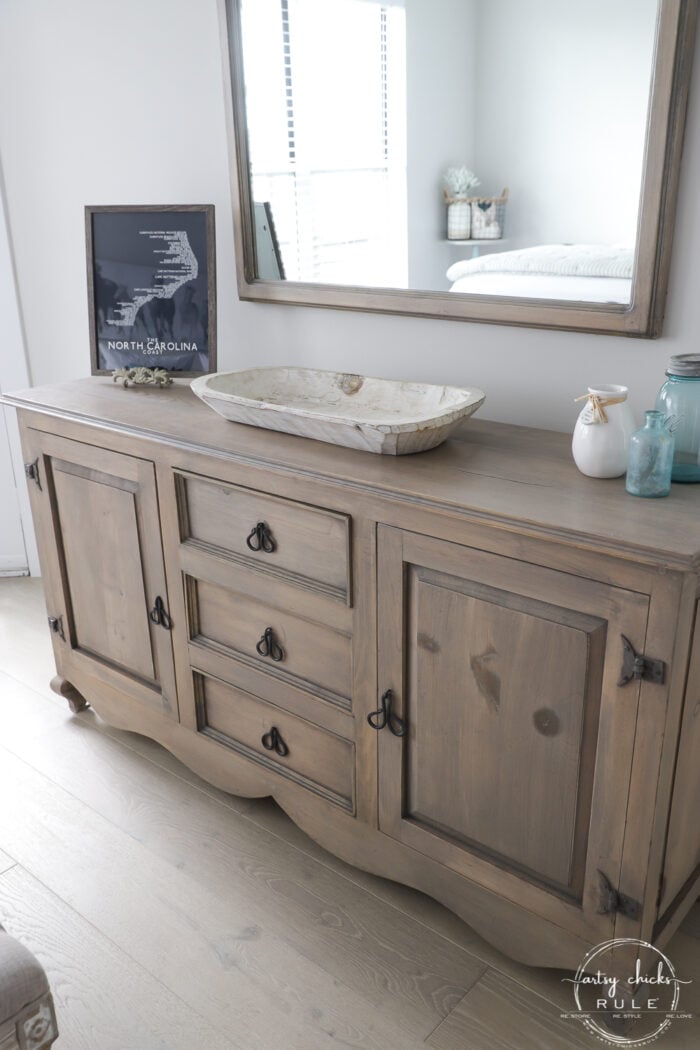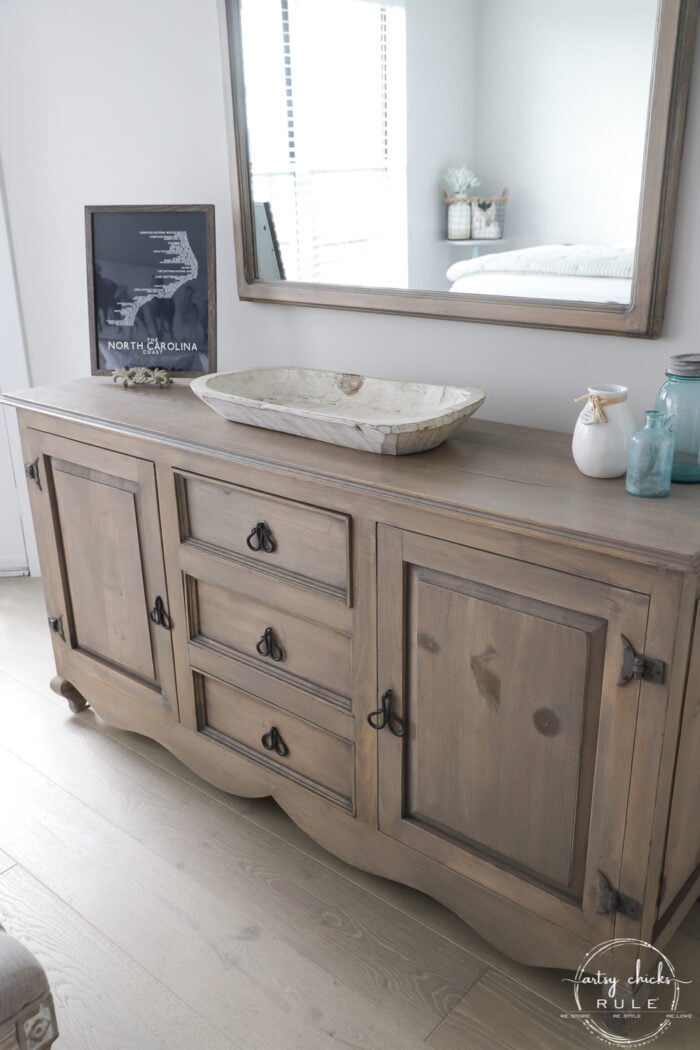 And I am here to tell you I absolutely did not.
I literally poured the oil onto an old rag (t-shirt, etc, I used an old washcloth because that's all I had…I'd recommend an old t-shirt instead) and rubbed it on and into the wood.
The application was a dream, really.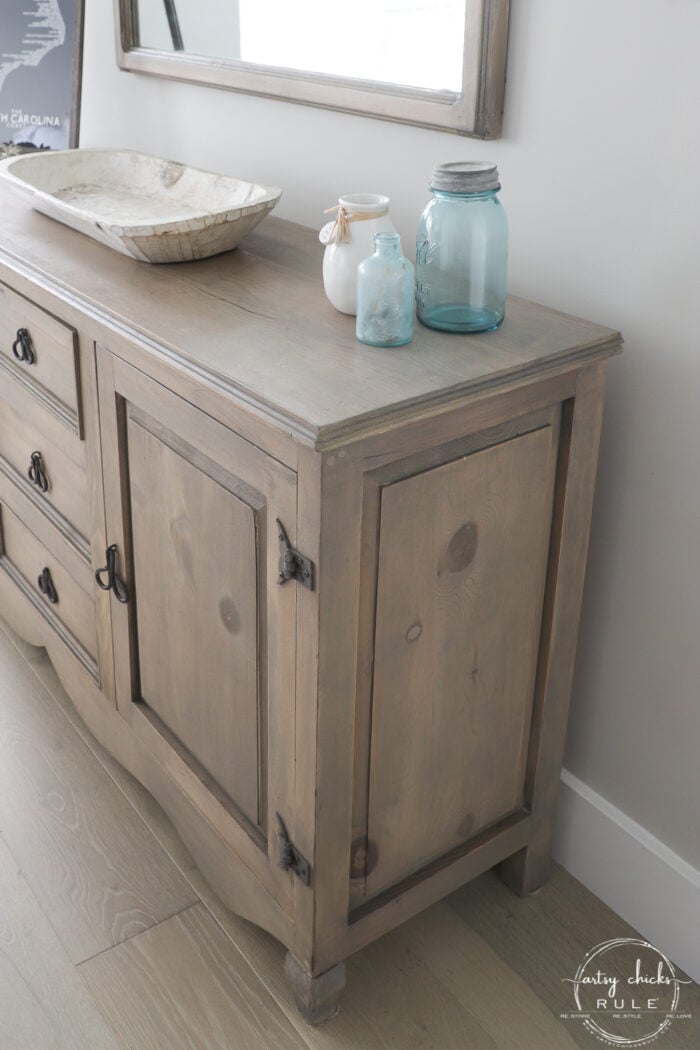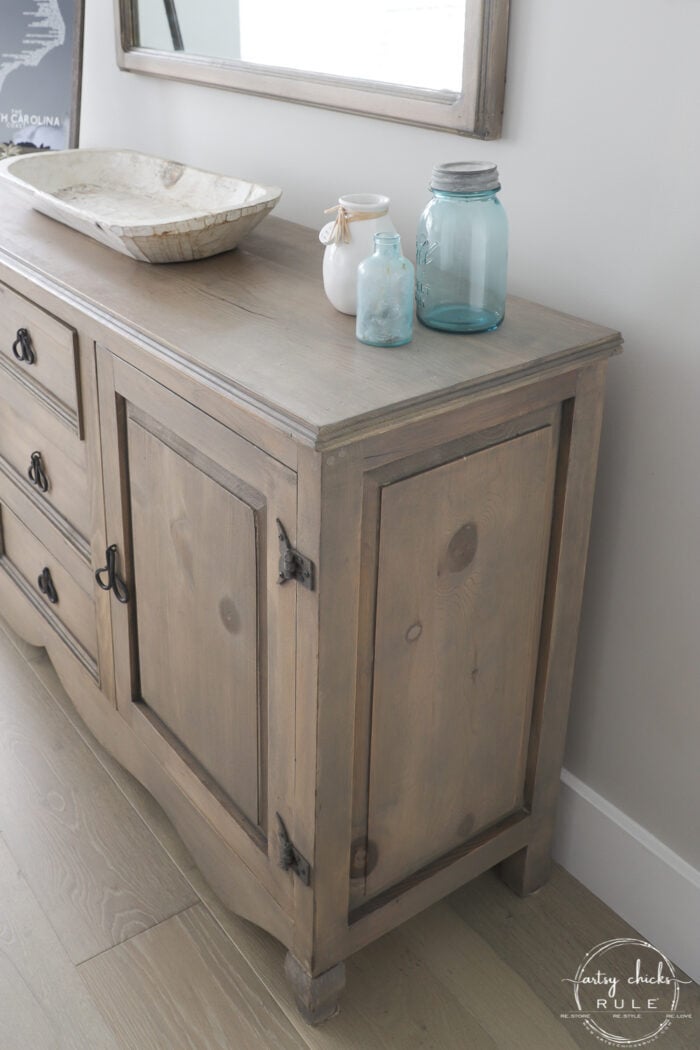 I rubbed it on and then wiped it back over to remove the excess.
EDITED to add: I want to clarify that no, I did not sand or do any prep other than wiping it down all over first. BUT this dresser really didn't have a finish coat on it. (no sealer, hence the water stains these pieces had/have) SO, if you have something similar, you will be able to use this without sanding and it will soak in nicely. With that being said, it does impart some color on even those areas that are sealed/finished. (such as it did on my painted piece that I will share next week) And as you can see on the finished/sealed yellow grooves on this dresser.
I did the entire outside and around the drawers and just the inside edges of the doors.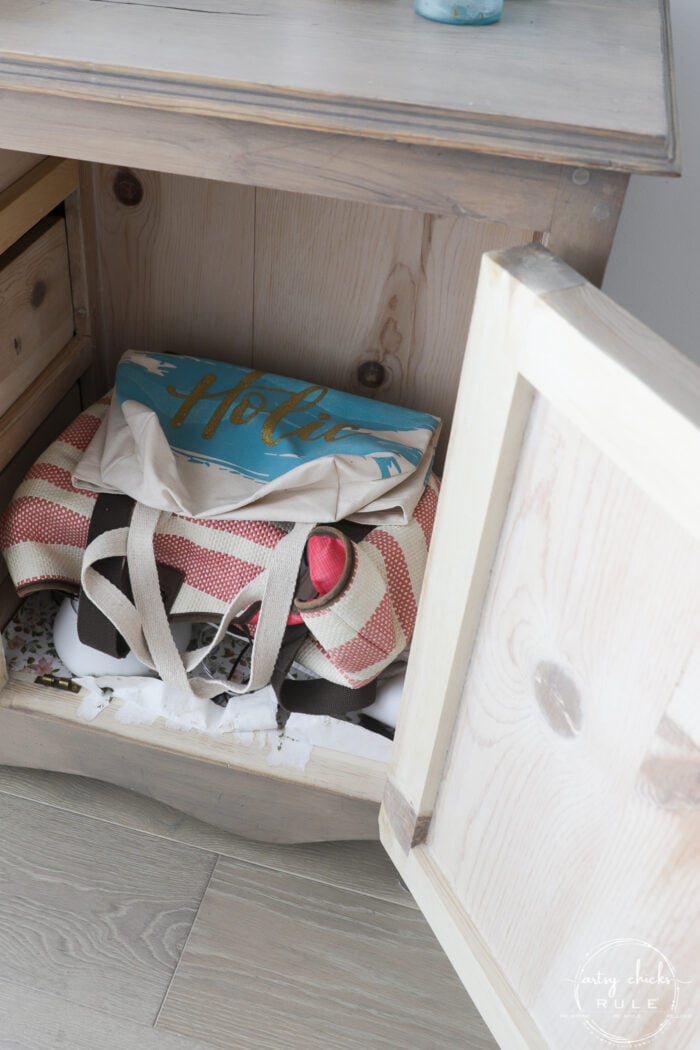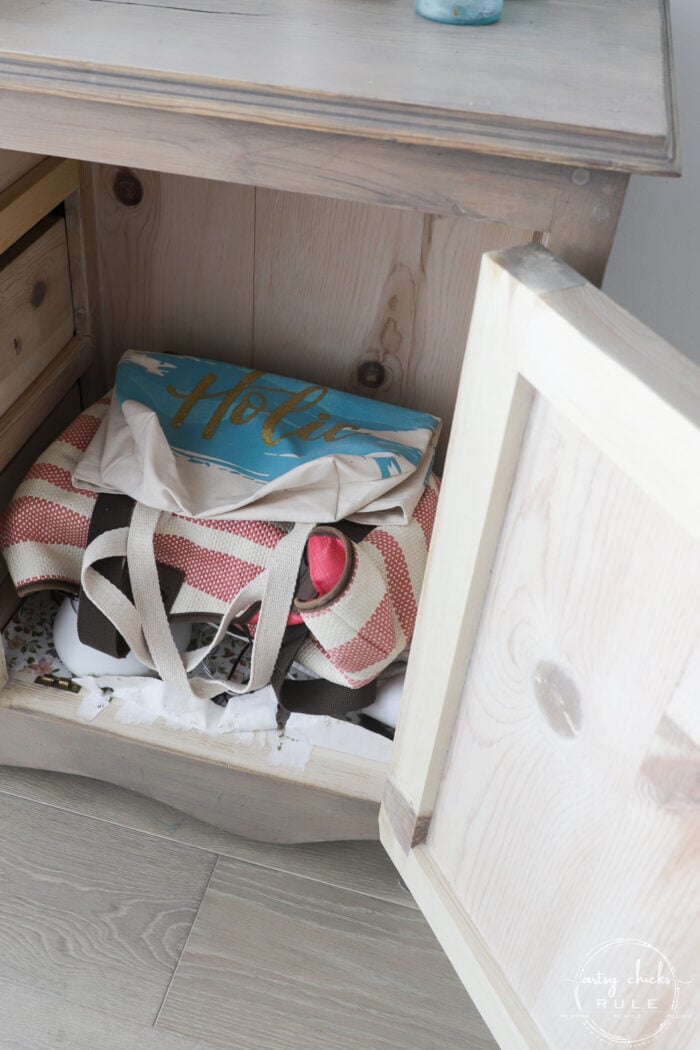 I'm not messing with the inside areas except to remove/replace that old paper lining on the bottom.
And inside the drawers…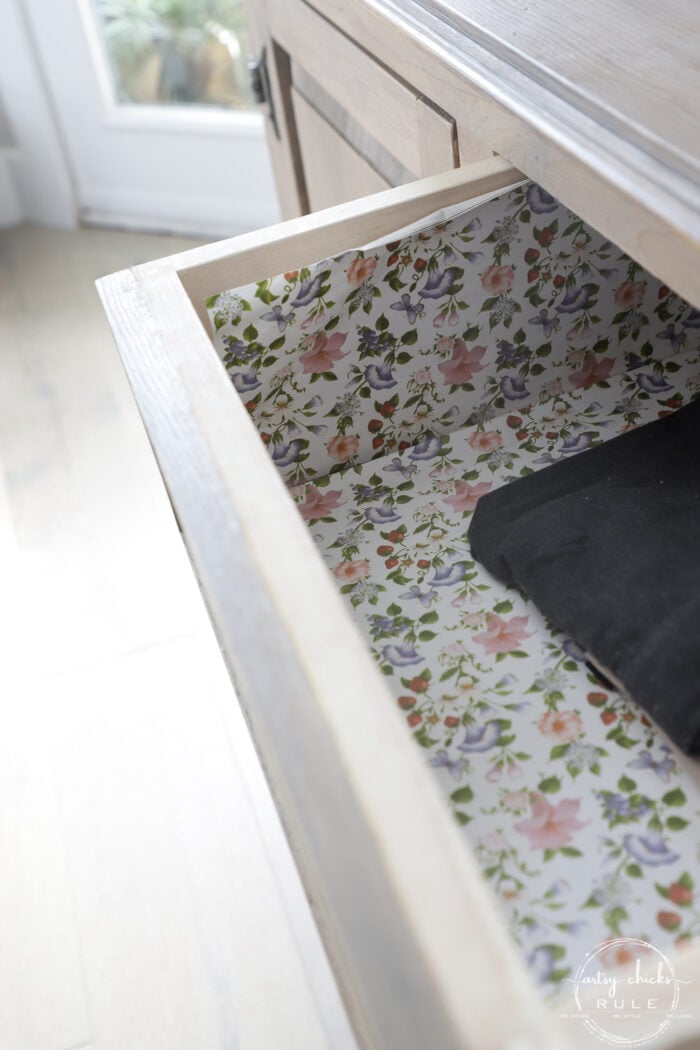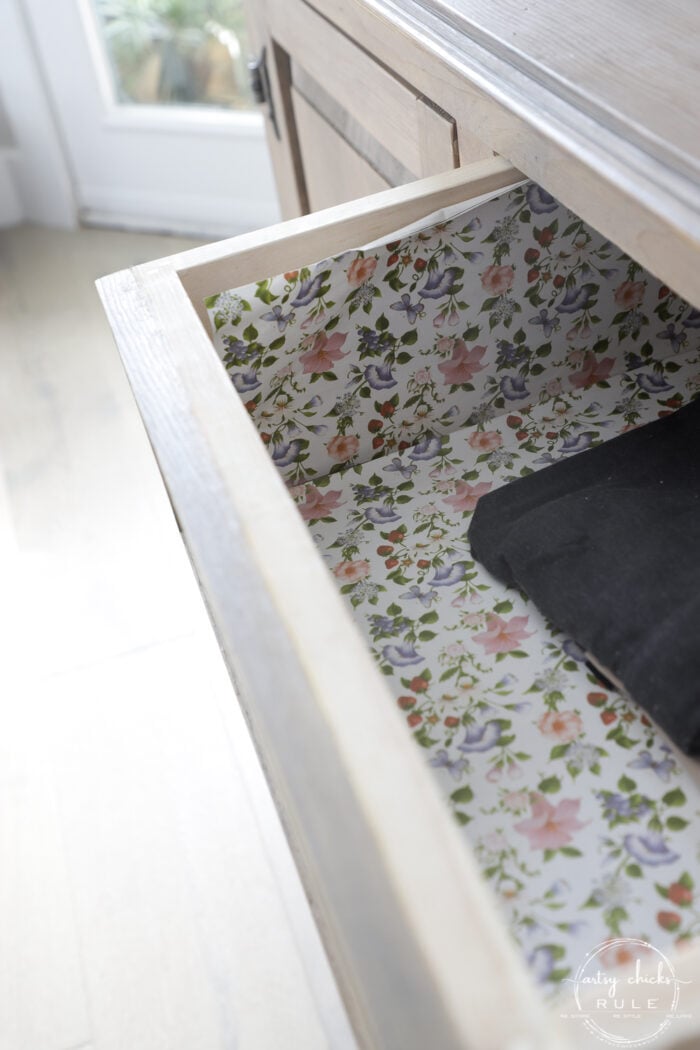 Can you tell I am thrilled with how it turned out???
I don't even mind those metal pulls on this one. I feel like they sort of go perfectly with this rustic-looking dresser now.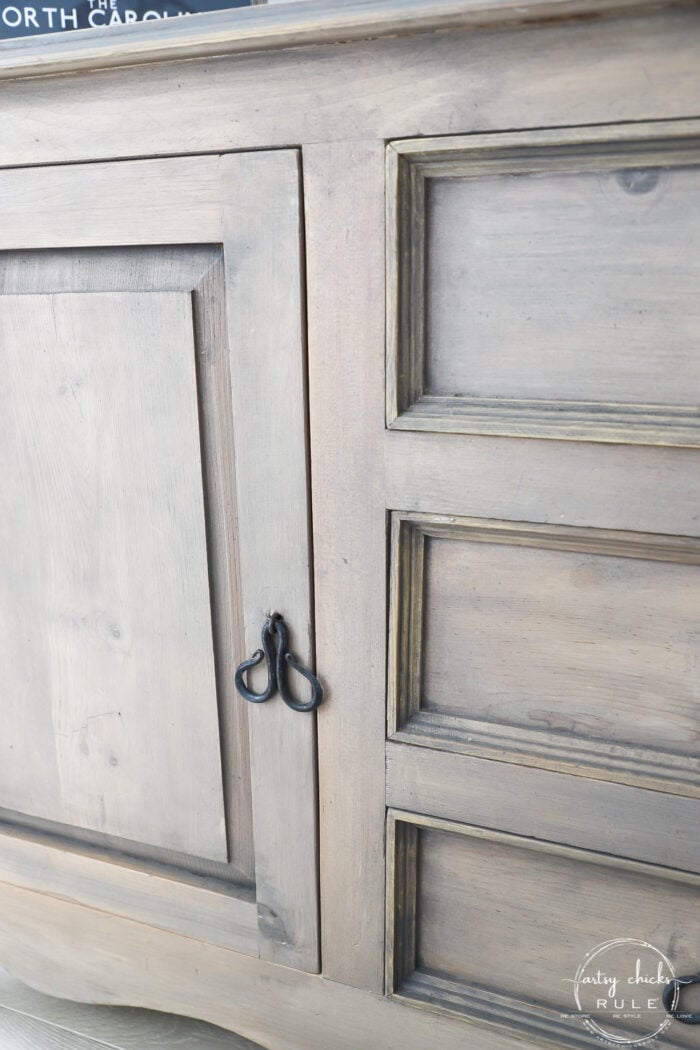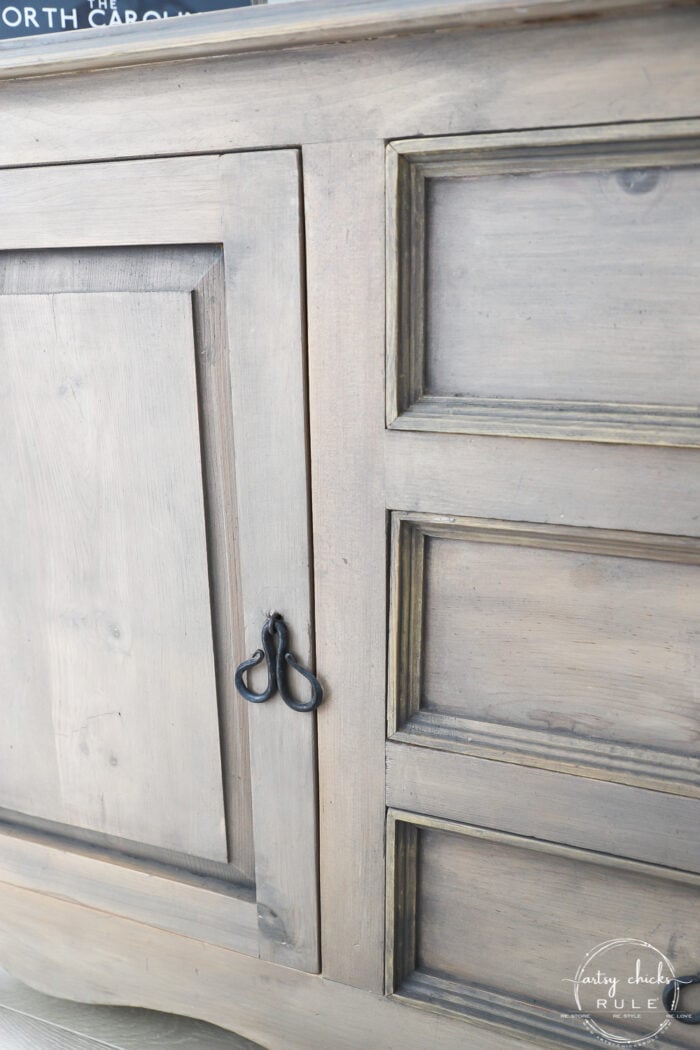 You can't even see the yellow on the mirror anymore either. (it was on both sides, in the grooved areas)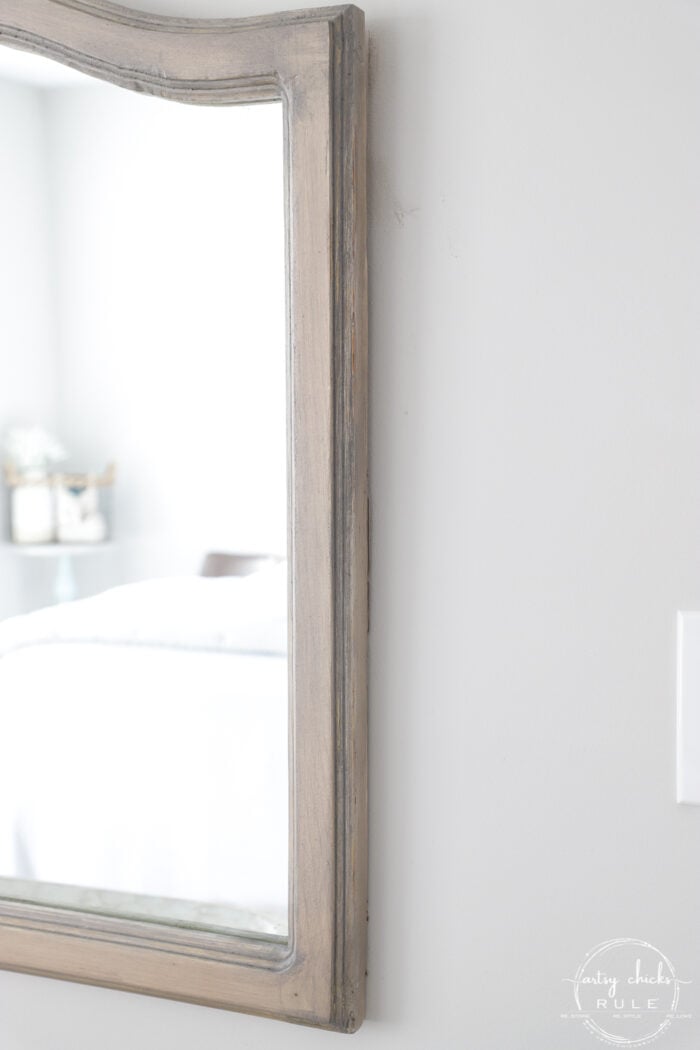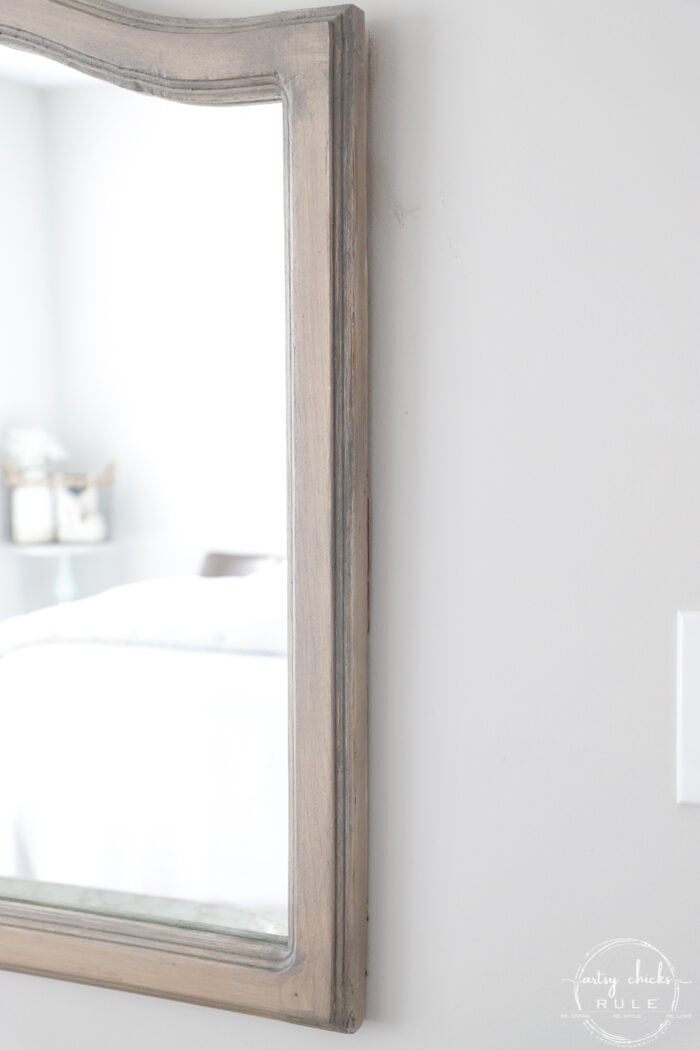 I love it.
Do you want to know why Ryder is always in my photos?
Because he literally follows me from room to room.
So as I came into this room, he followed and before I could finish setting up my tripod, he had plopped down right here. hahaha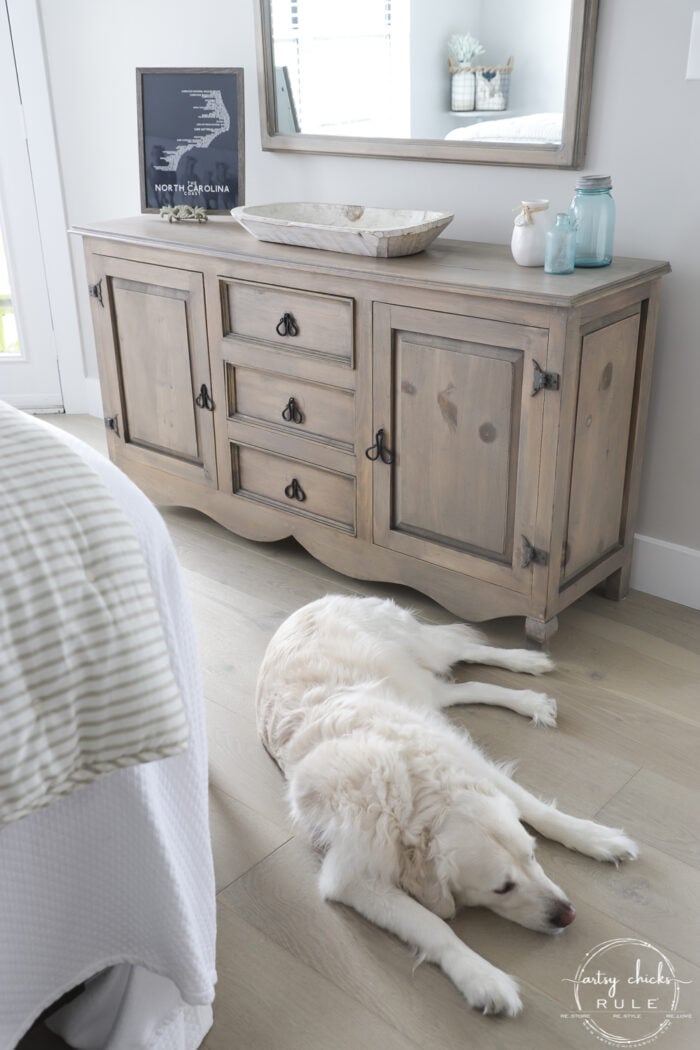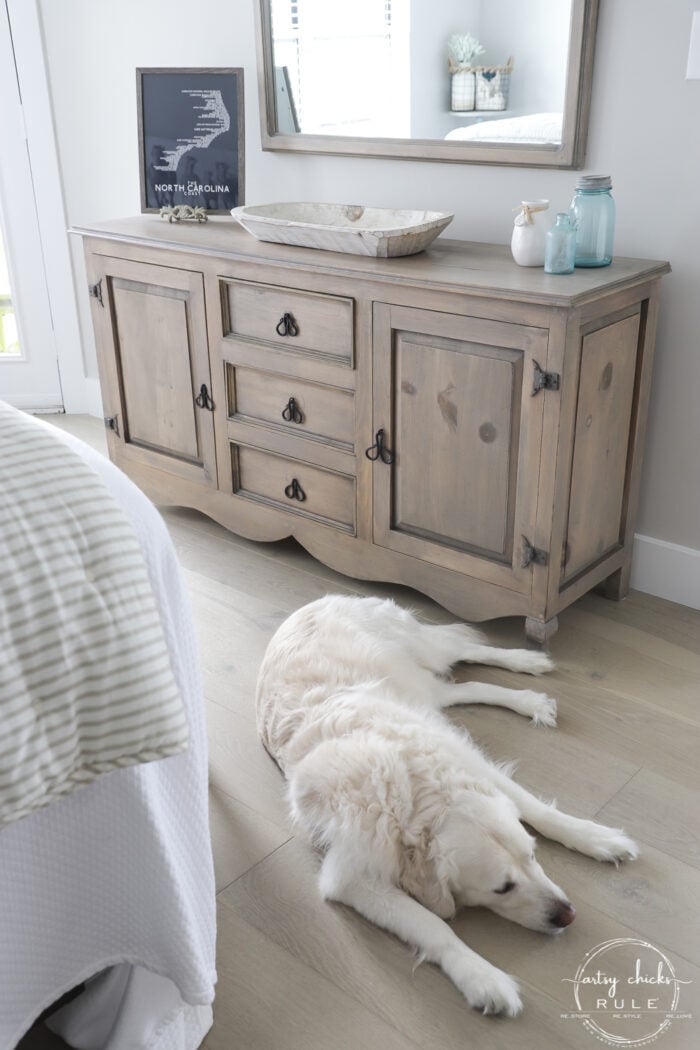 I said, "Ryder…watcha doing buddy"? lol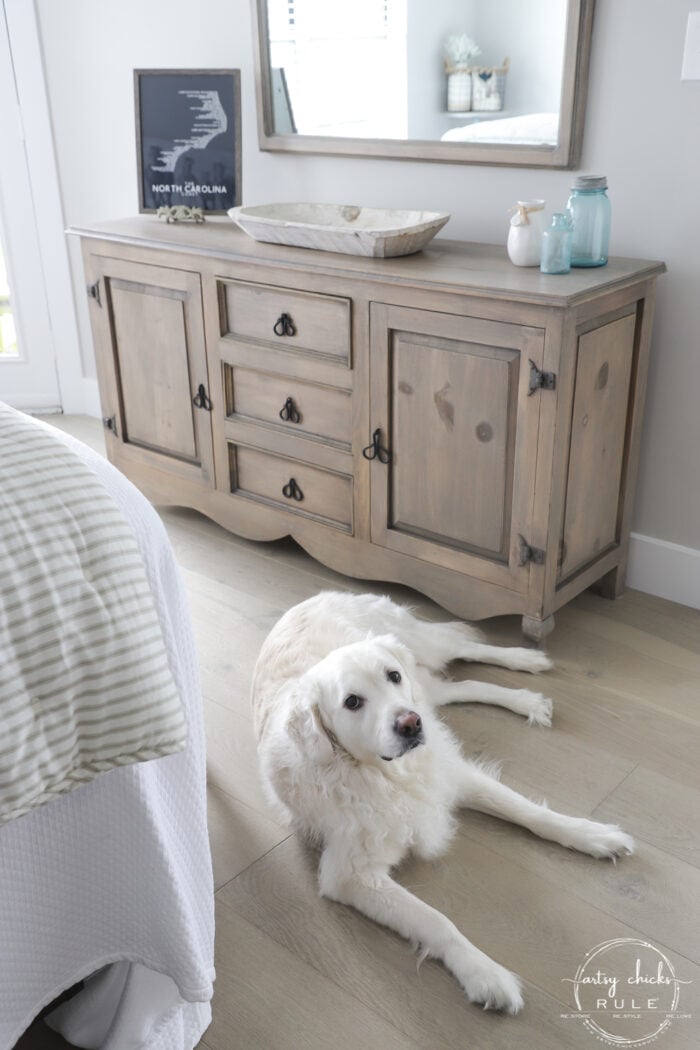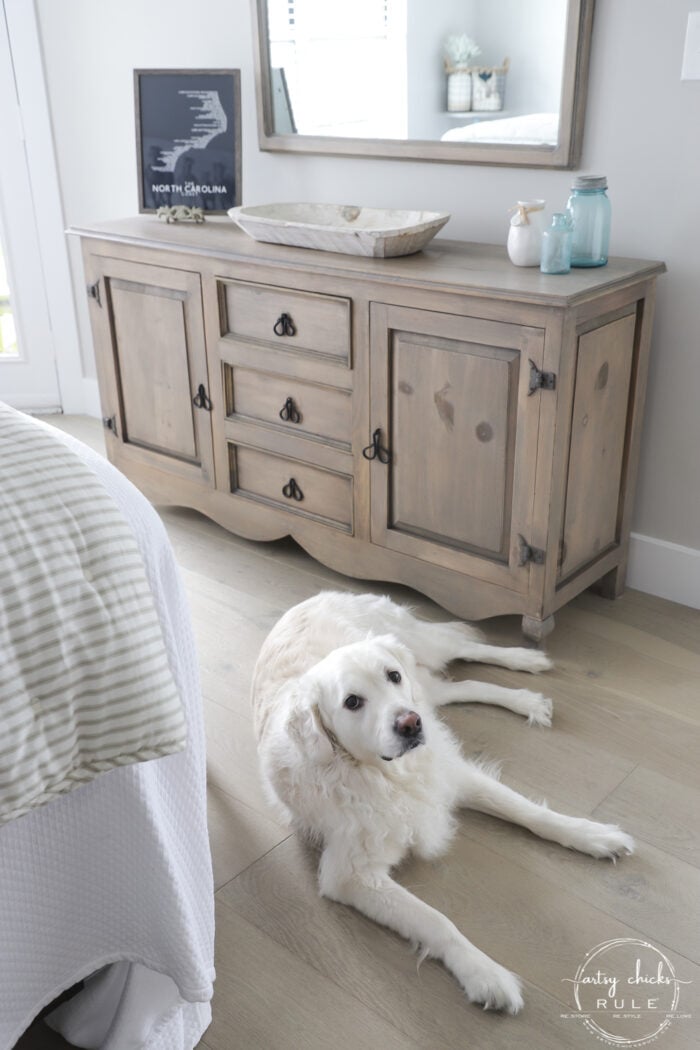 Cutie…felt bad making him move but I did want to get a few without him too.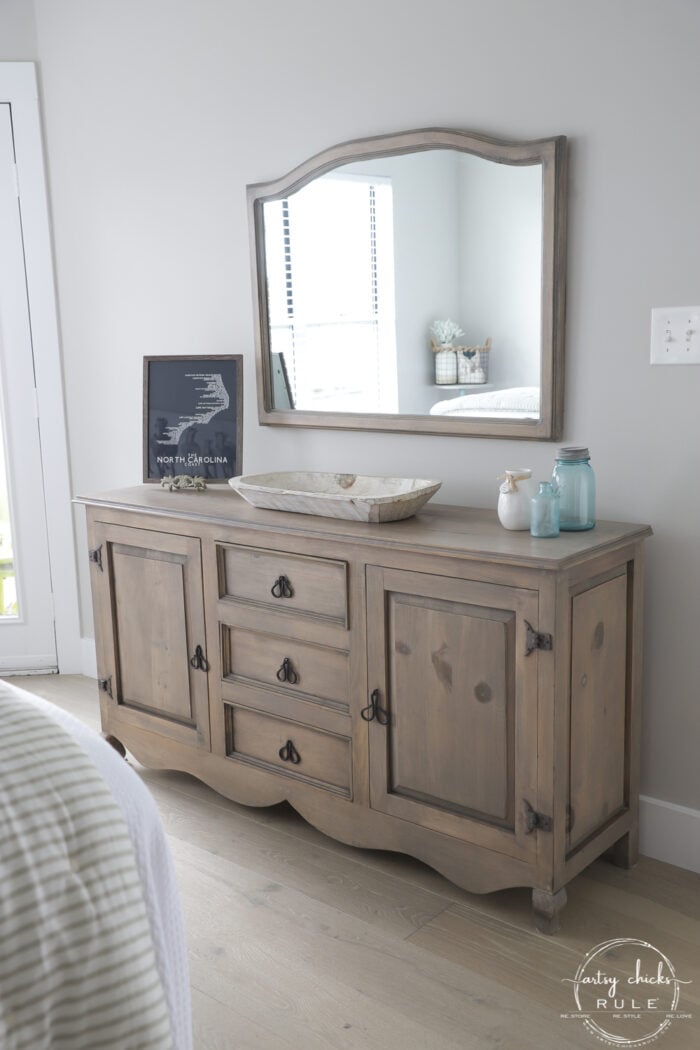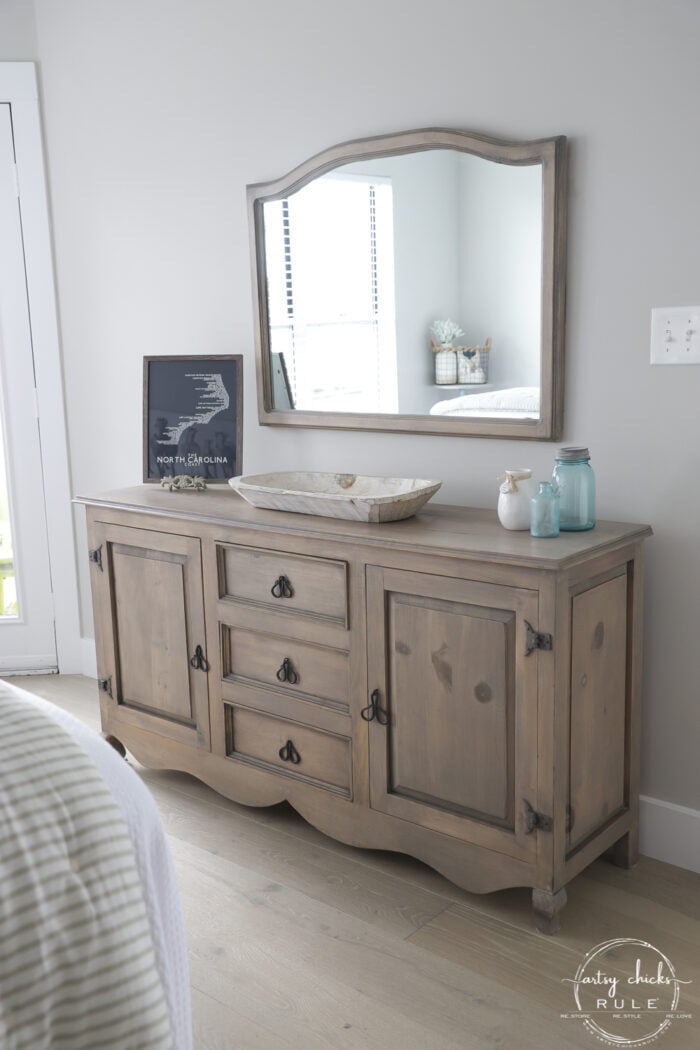 Anyway, this oil that I used was one that I included in my latest giveaway even though I had not even used it yet.
And I can now attest to how awesome it is! I've now used it on two pieces, in two different ways and I love it on both. (wait till you see that one!)
By the way, since this is a "finishing" oil, I can leave it just like this and be DONE.
I haven't decided if I want to add another topcoat or not just yet but I'll keep y'all updated if I do!
Want to try the Driftwood Stain and Finishing oil on a project too? You can find it, here.
PIN it to save it!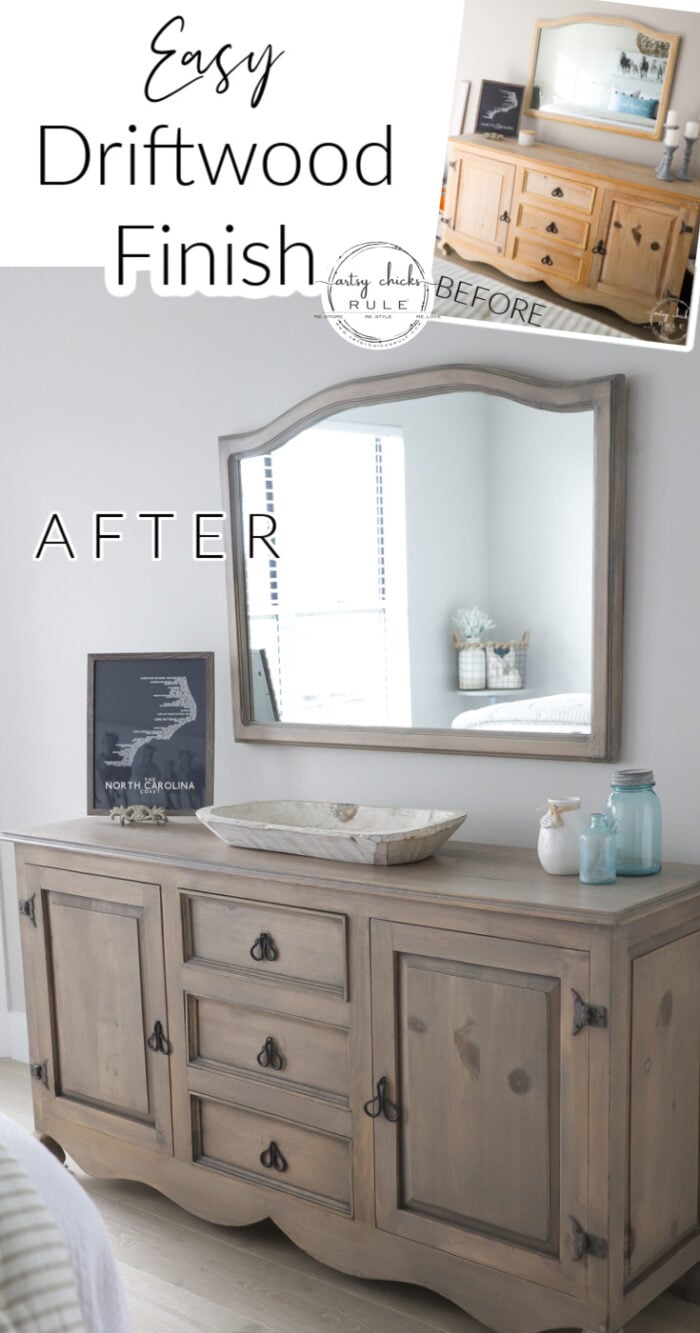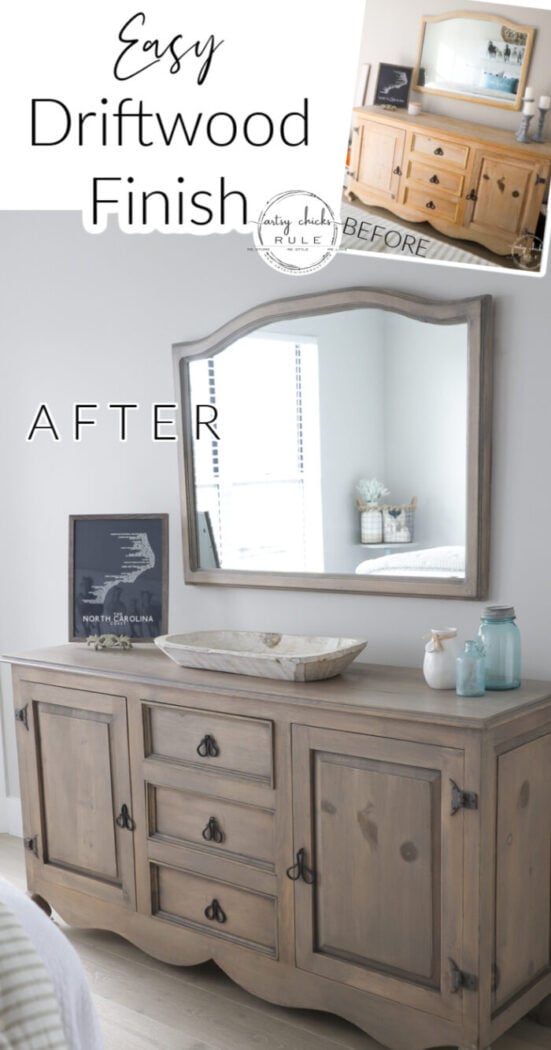 This mirror got a fresh new look, simply! I'm sharing it next…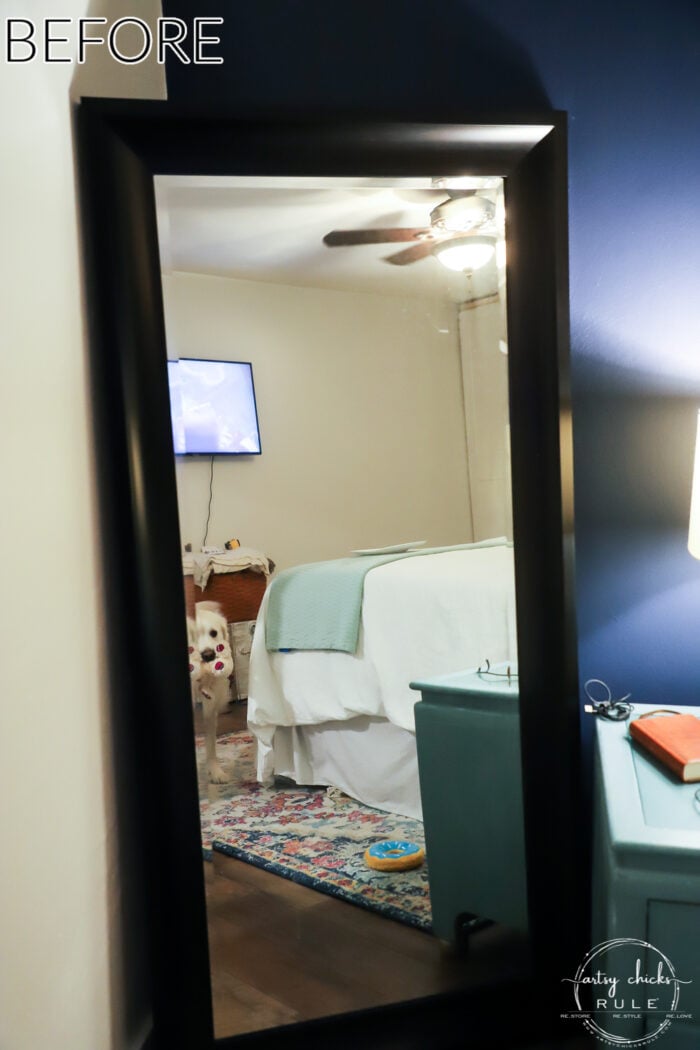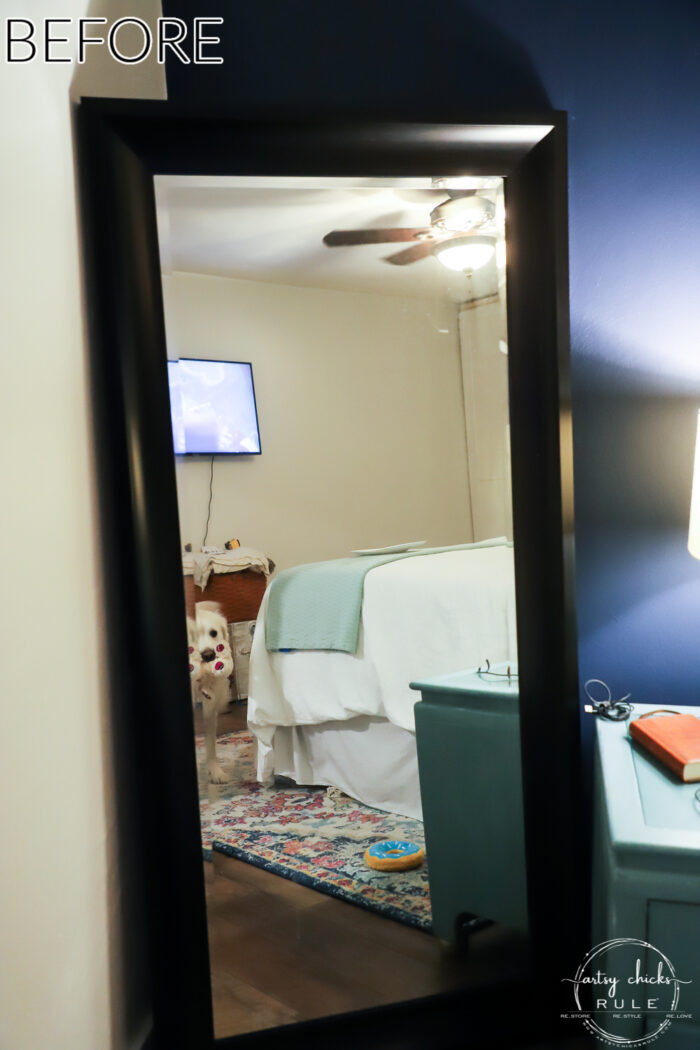 UPDATE!! See it now, here!!
See you on Thursday with something I made over for our bedroom. Have a great week!!
xoxo