This post may contain affiliate links. Please see disclosures here.
A little paint for a brand new look with this floor mirror transformation!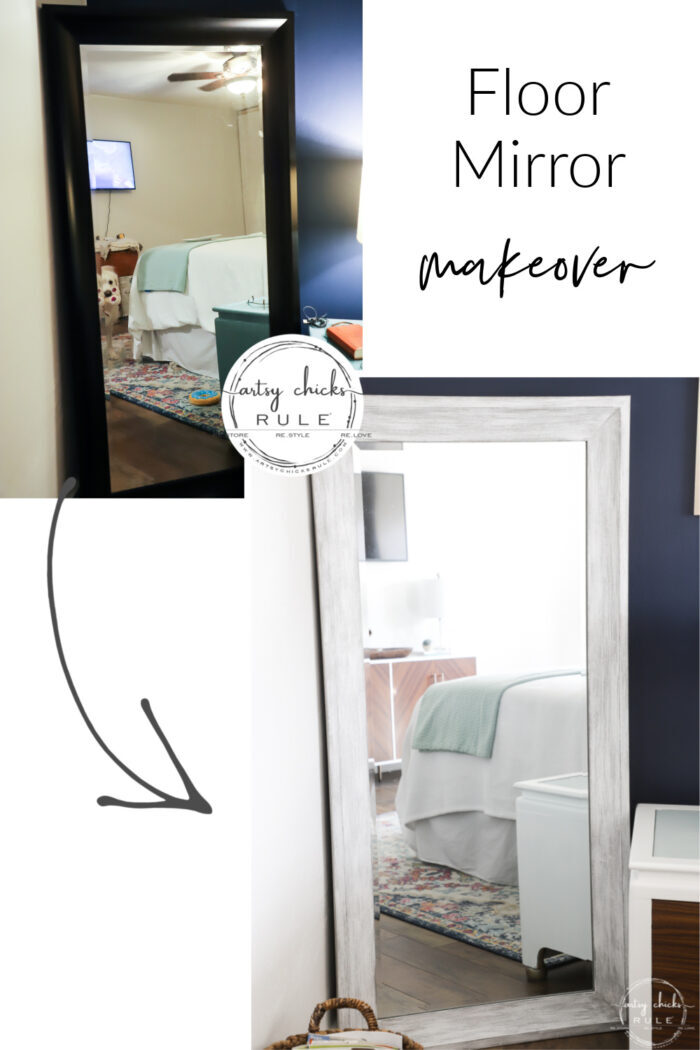 I've got a really short and sweet one for ya today
Back in December, I gave our floor mirror a makeover. I had been wanting to paint it for years and with the current bedroom makeover in progress I thought now is the time.
Our bedroom makeover is almost complete. The only thing we are waiting on is our doors for the drawer fronts. We are planning to use the same company that we used for our island refresh when we remodeled our kitchen a couple of years ago.
So as soon as we pin that down (and get them in) I will be sharing the reveal of our bedroom. In the meantime, be sure to check out the sneak peek in the mirror reflection. ;)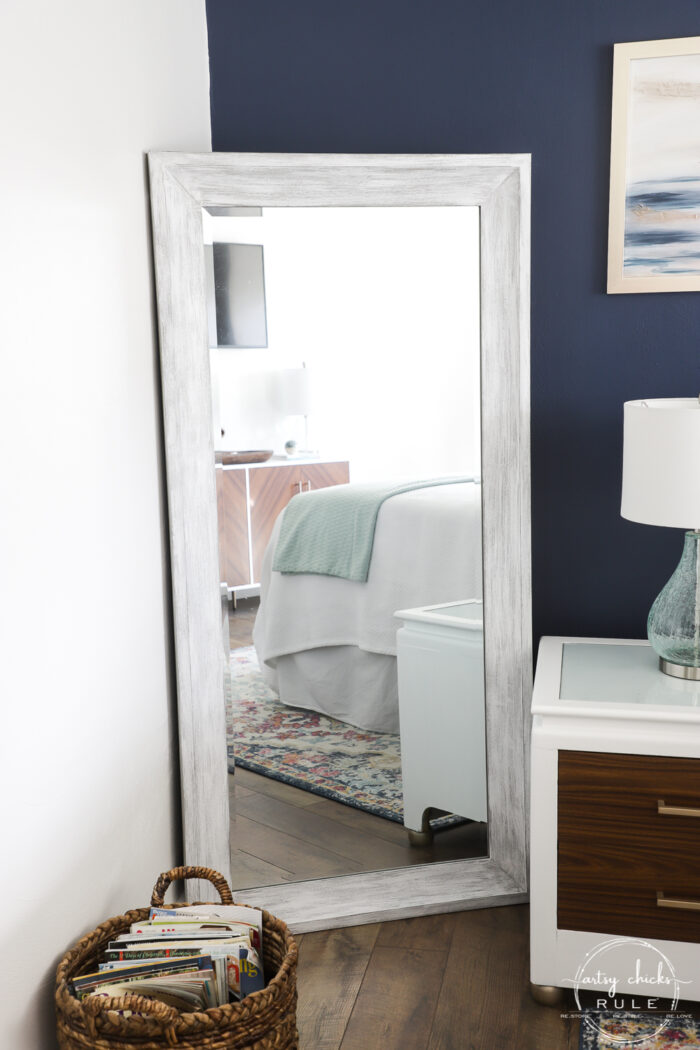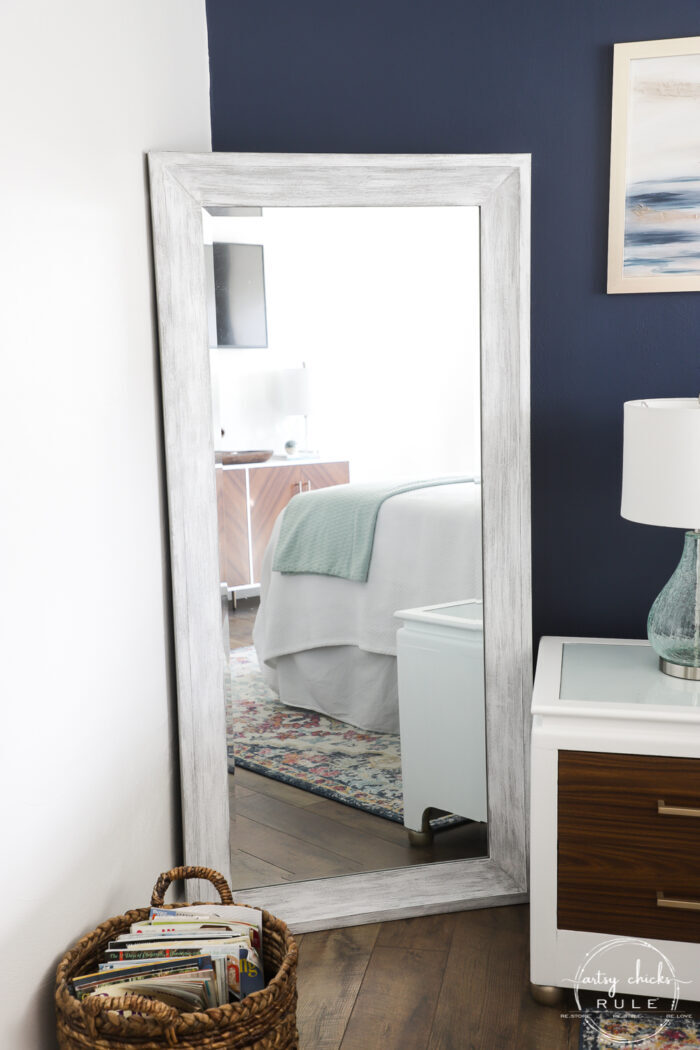 Floor Mirror Makeover
Here is how it looked "before"…and how it came from the store. I can't remember where I bought this…Kirkland's, maybe?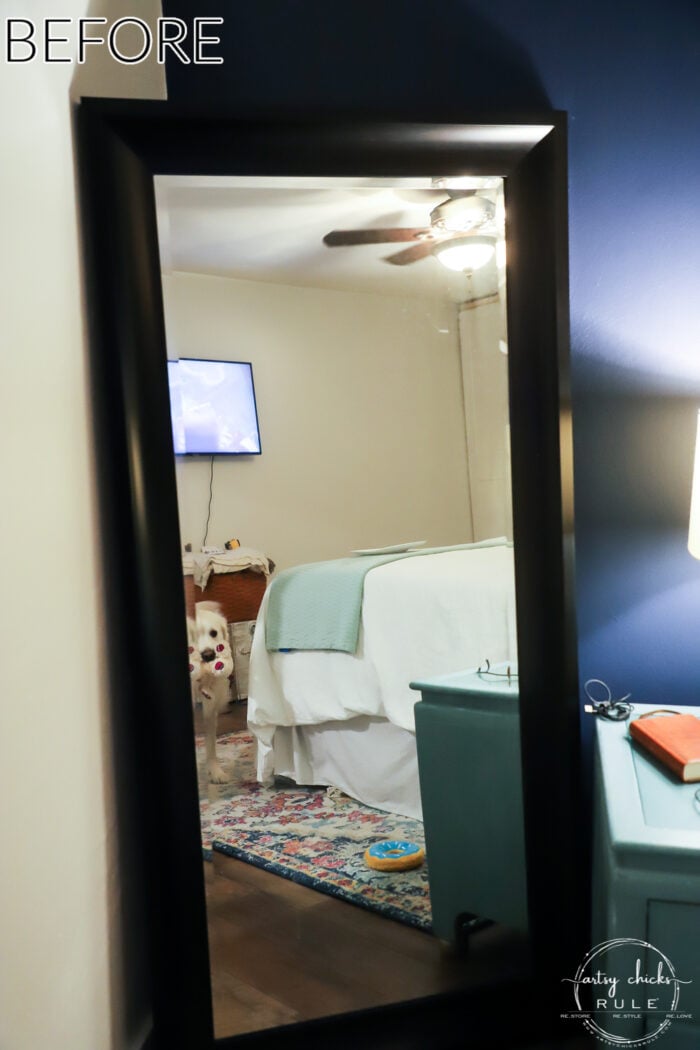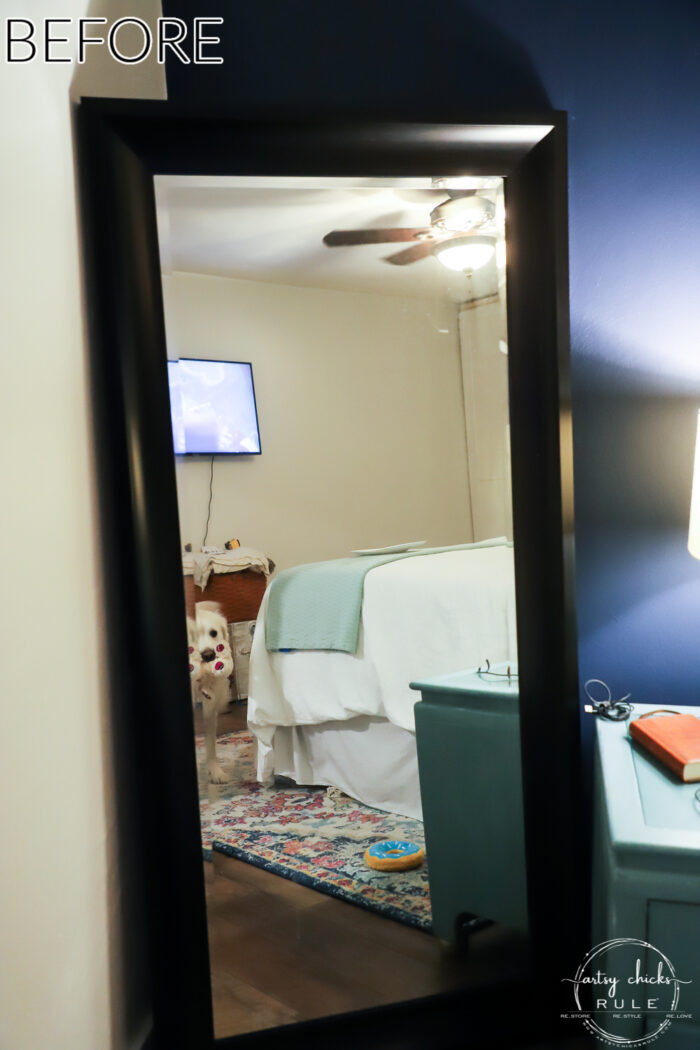 Look at that cutie in the reflection holding his toy and watching his momma! haha
Ryder always finds a way into these pictures, I tell ya! lol
Anyway, the frame was just plain ole black. Which didn't really go with our new room decor/style.
So I laid it down right there in the bedroom on some blocks and got busy.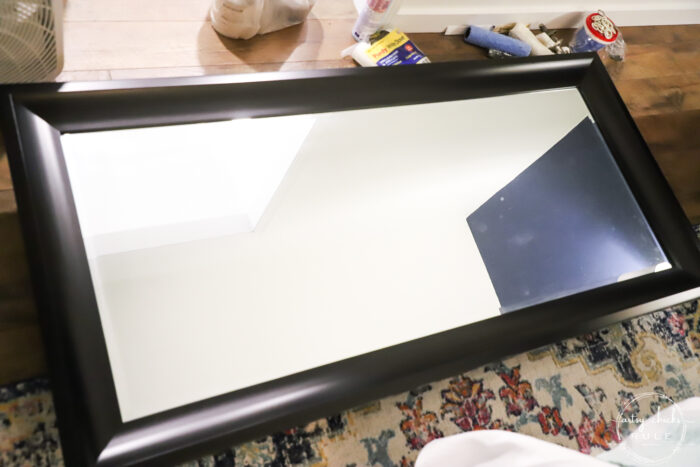 I painted it with "Coco" by Annie Sloan but this color and this color by Fusion Mineral Paint is similar.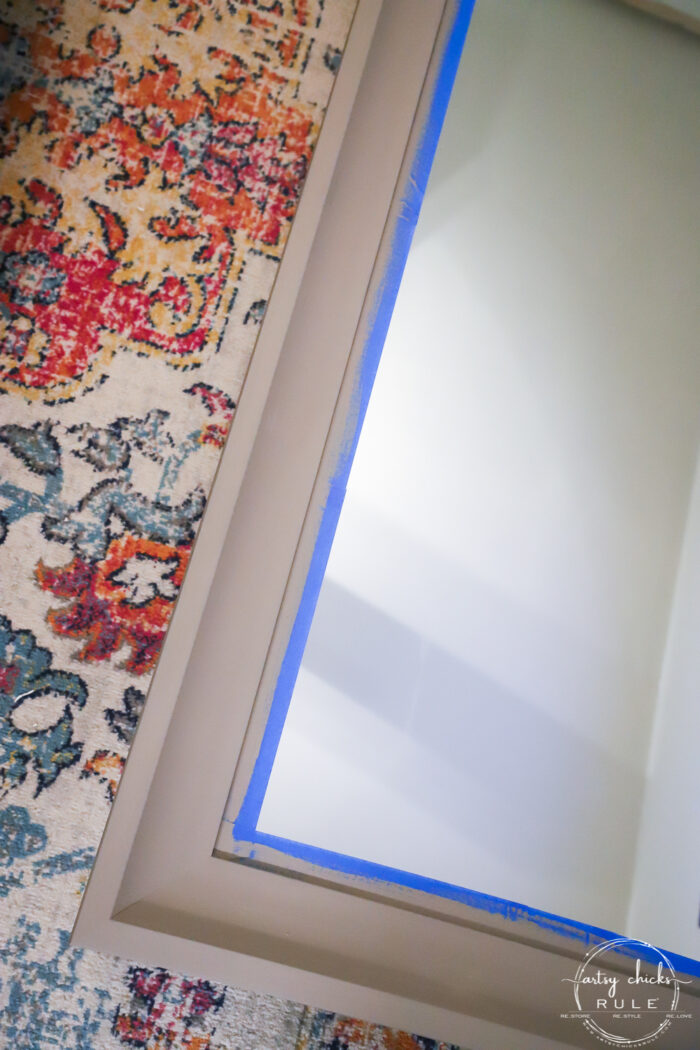 Then I heavily dry brushed with go-to white chalk-style paint.
Not sure how to dry brush? Watch my video here >>> How To Dry Brush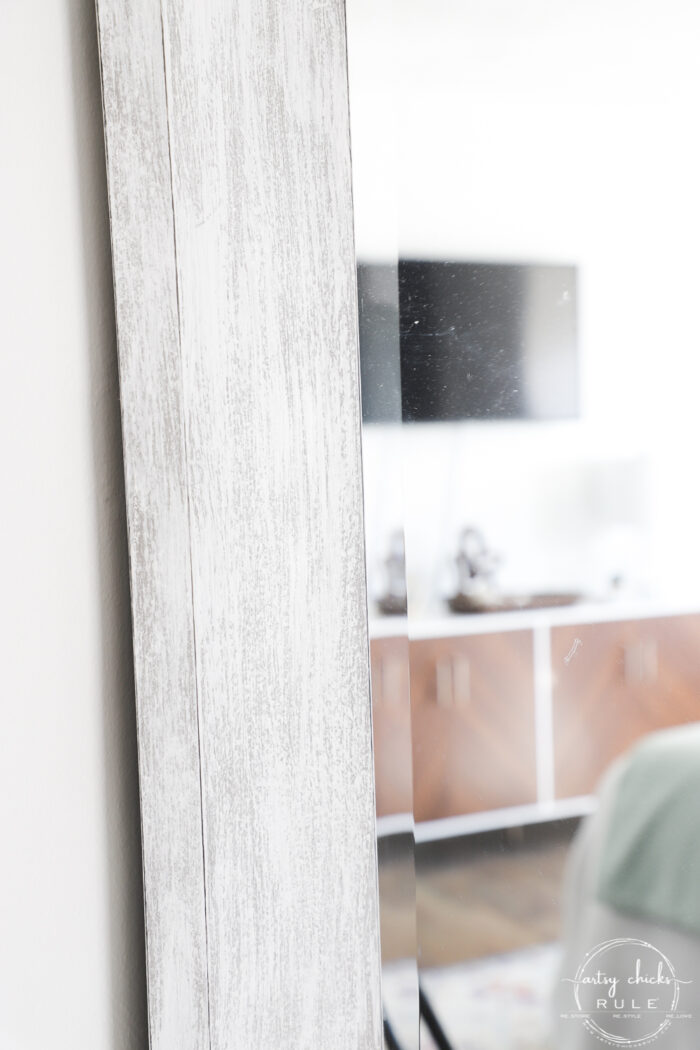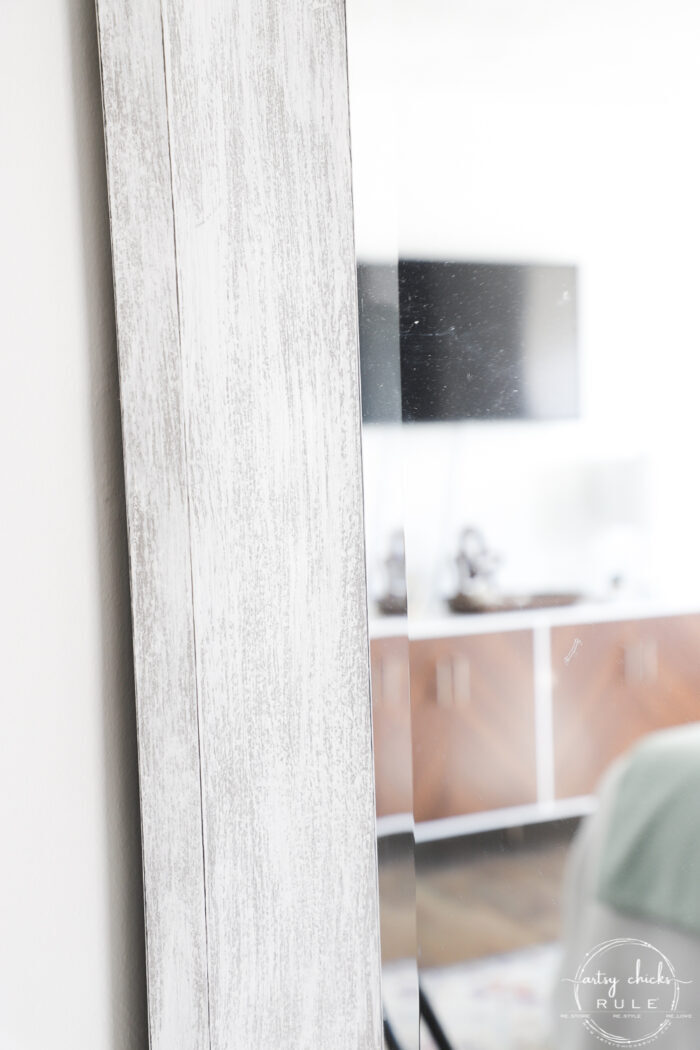 I don't use wax often anymore but did on this one. One coat of clear Annie Sloan Wax.
New to chalk paint? You can check out this post here >>> How To Chalk Paint Furniture (tips and more)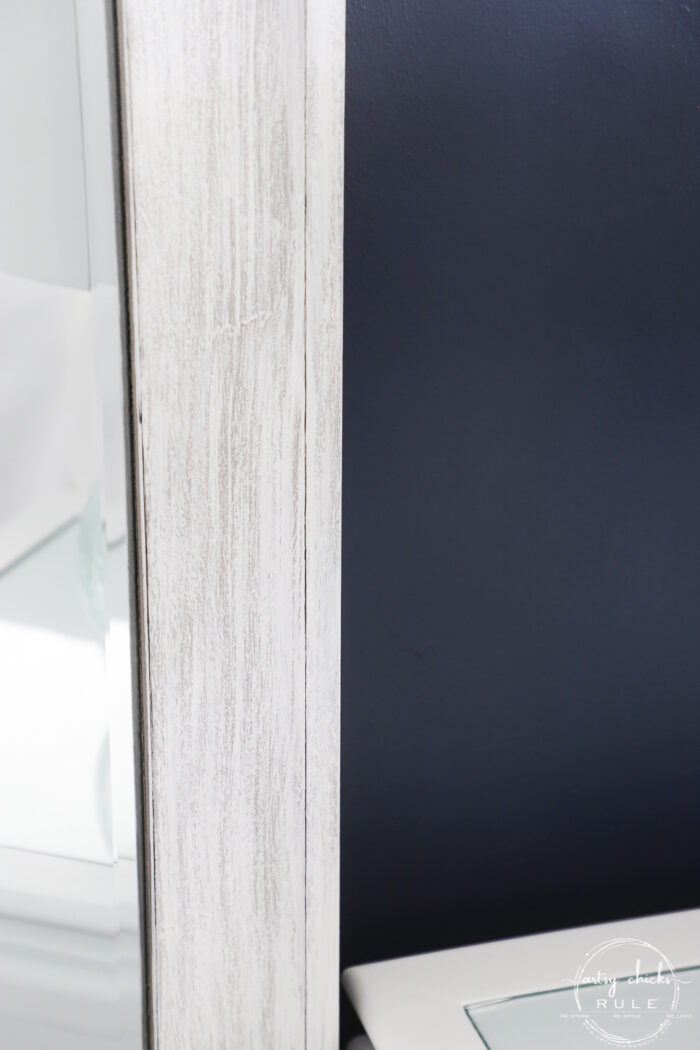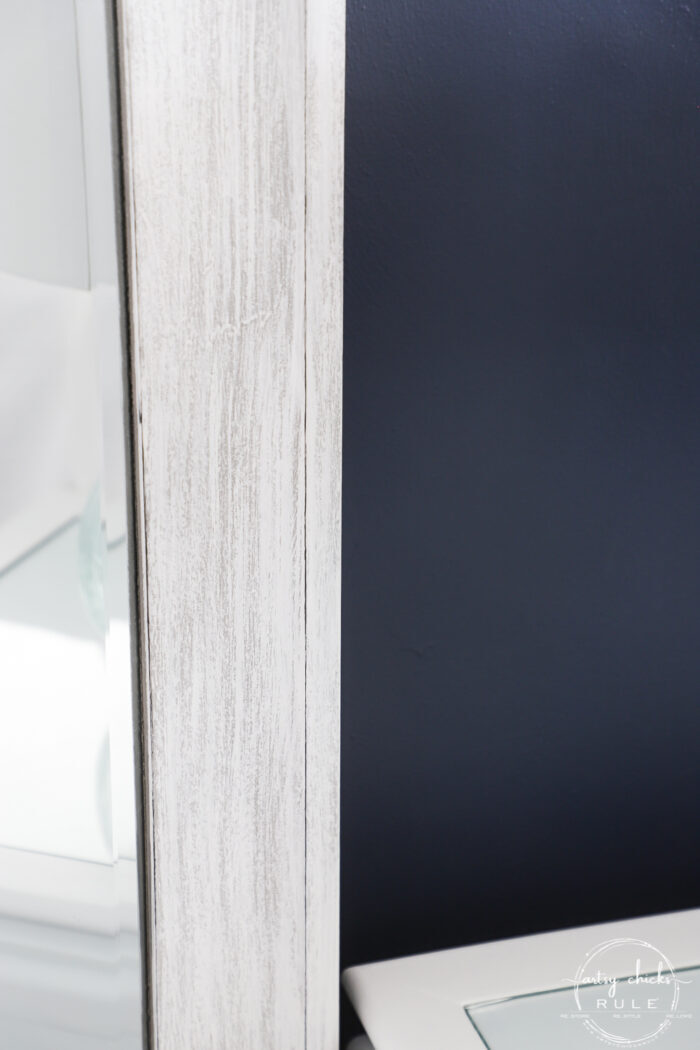 And that's it! Done!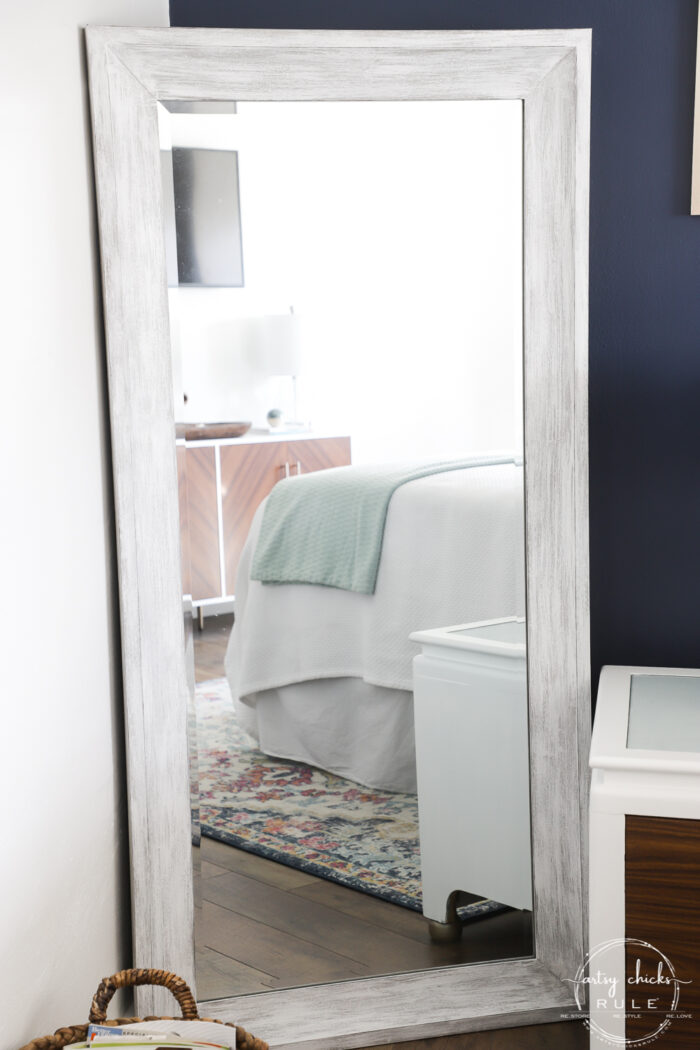 Loving the more relaxed feel of the frame now.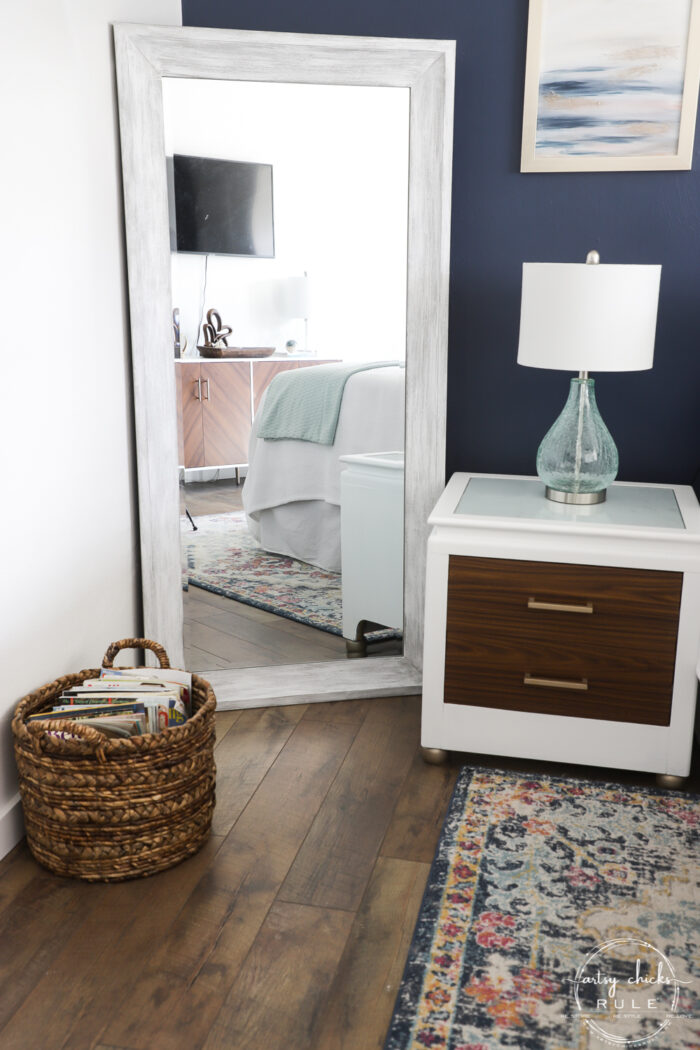 I can't wait to share the whole room with you.
If you missed the nightstand makeover, you can find it here.
Just another example of changing it up if you don't love it. Paint can make anything "new"!
Have something you no longer love? Give paint a try!
PIN it to save it!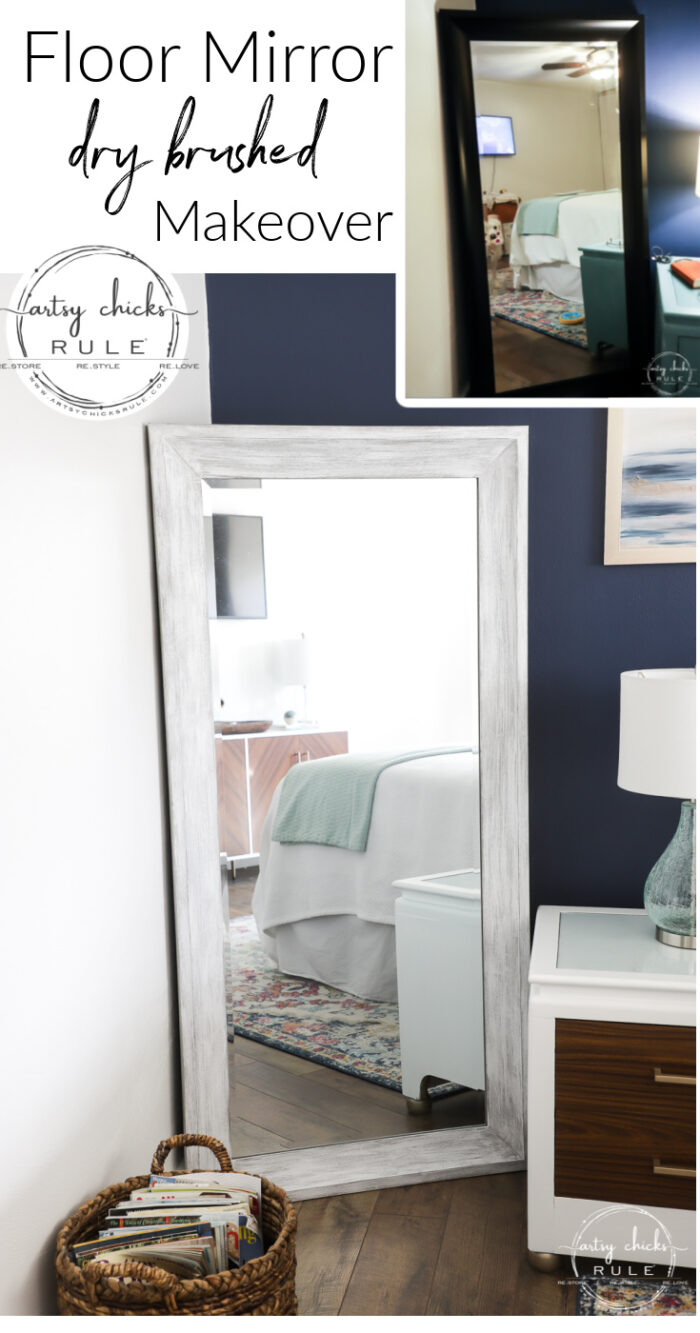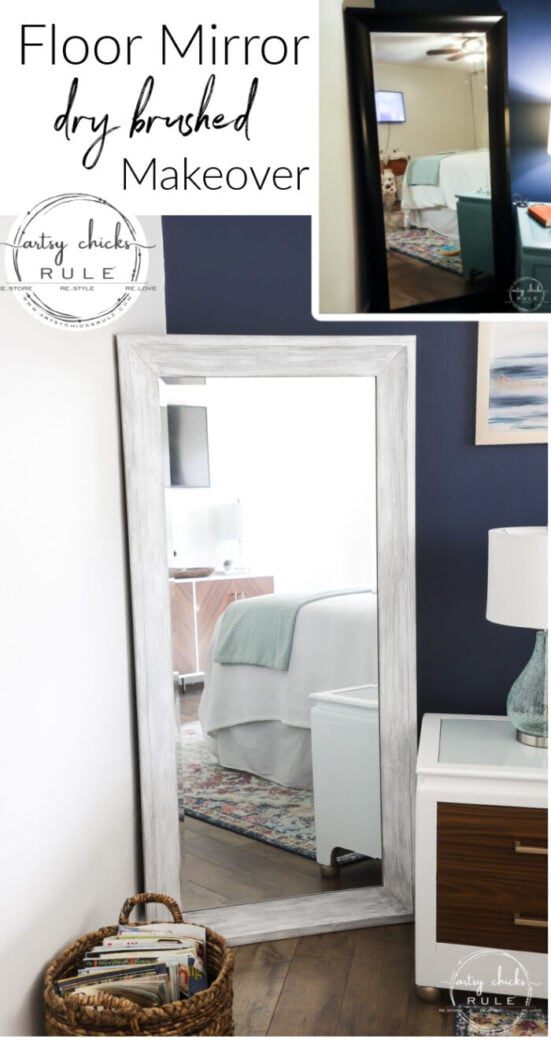 I just finished this one and it's beautiful!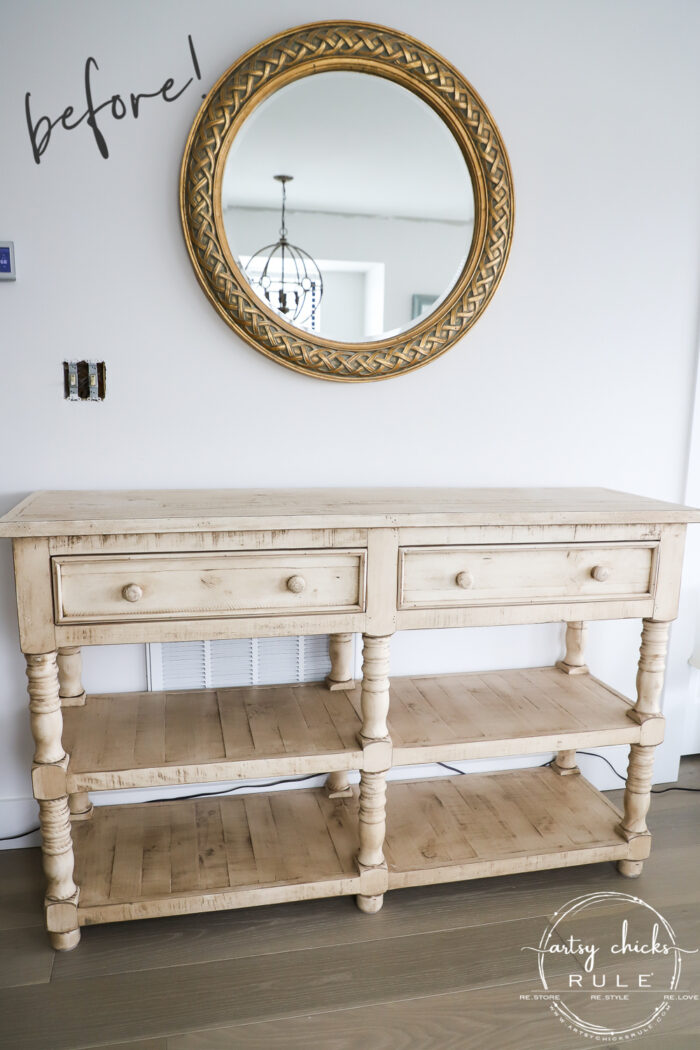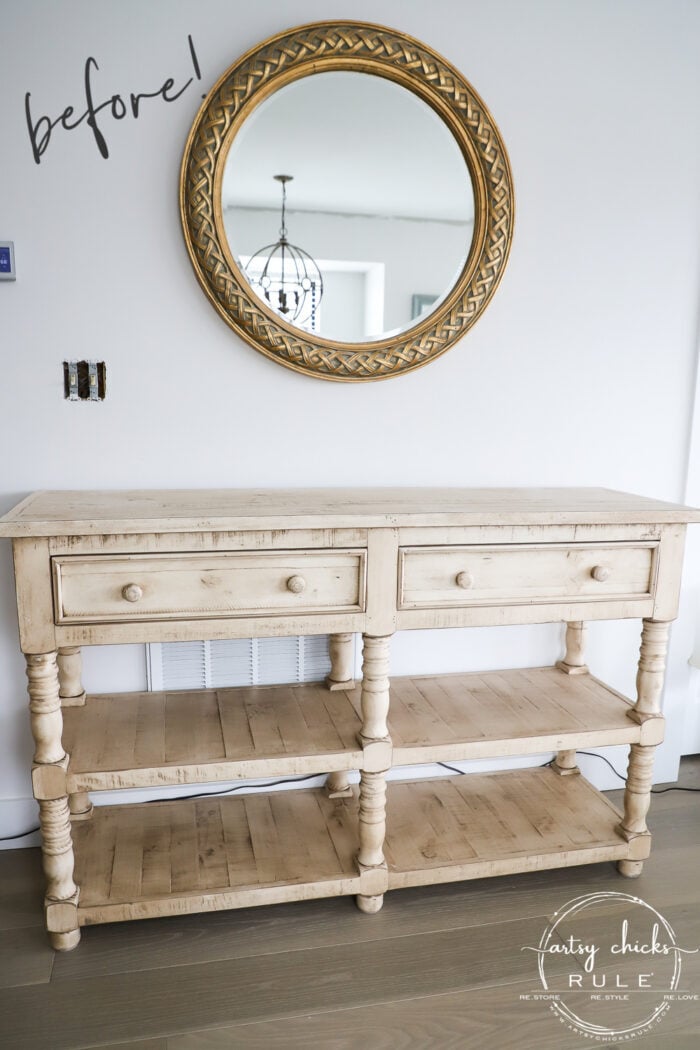 UPDATE!! See it now, here!
I hope you have a wonderful weekend, friends! Catch us at the beach condo over the weekend on Instagram! :)
xoxo