Wood Grain Vinyl Wrap Nightstand Makeover
This post may contain affiliate links. Please see disclosures here.
Realistic wood grain vinyl for furniture makeovers…well yes! What a fun way to update your old furniture!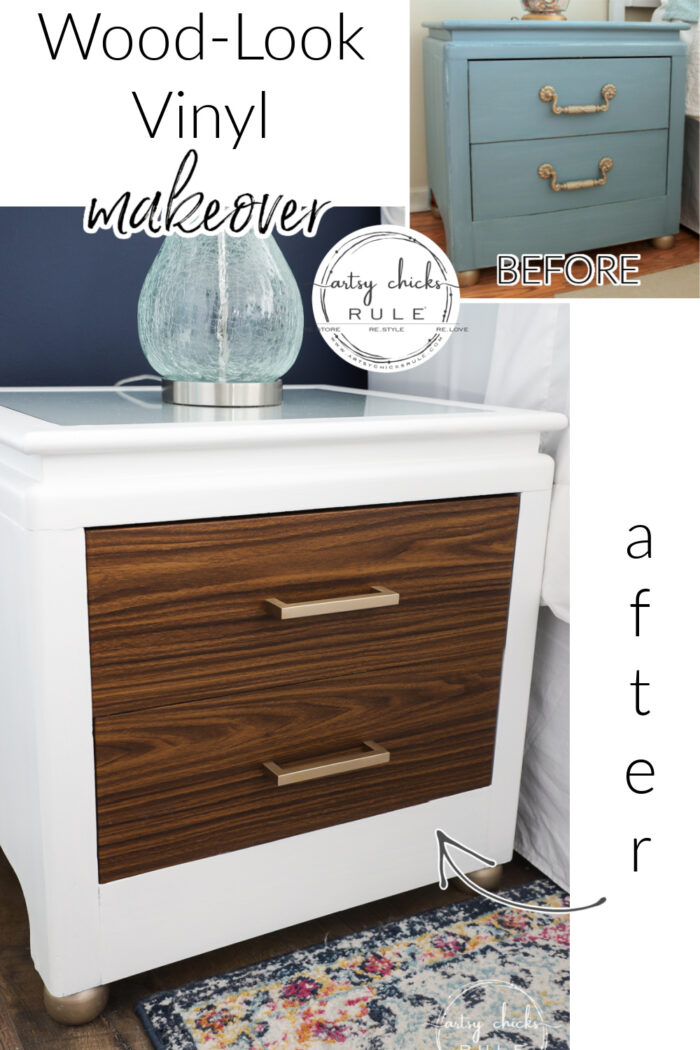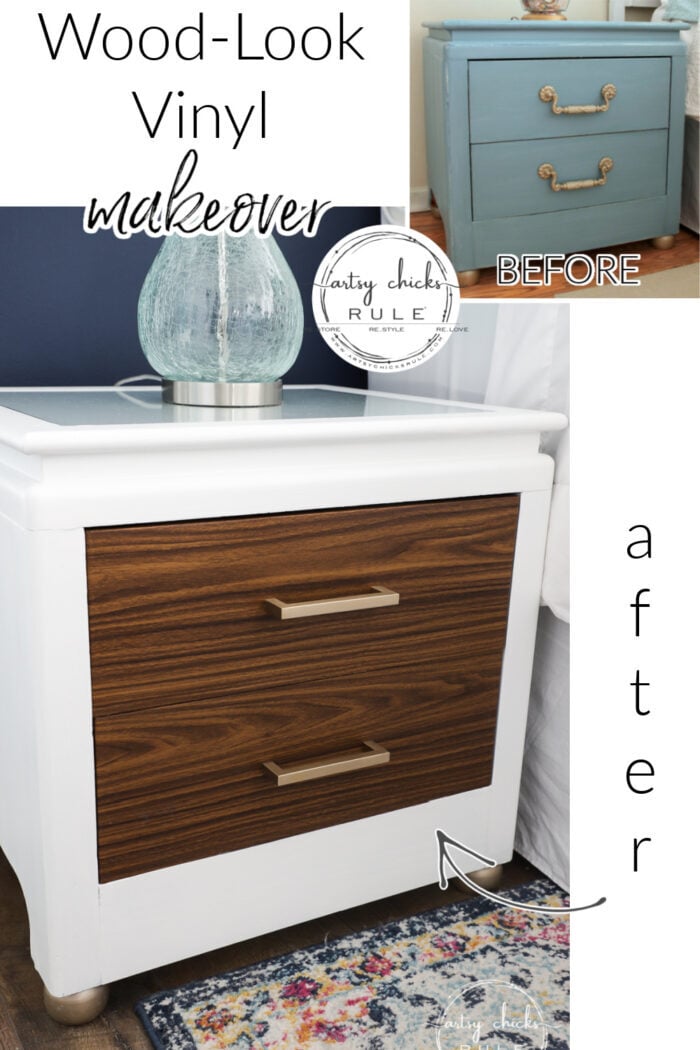 Hello beautiful friends!
Okay, before we get going on today's project, have you entered my latest giveaway yet?? If not, you have a couple more days to enter!
Hop on over >>> here for details.
………………………………………………………………………………………………..
I have a super fun project for y'all today. I enjoyed doing this one so much.
Who doesn't love trying something different and new?
I was inspired to do this to our nightstands because of something else I saw. I'll share more on that below.
And let me tell you, inspiration is everywhere, just take a look around.
But first, let me tell you, I had originally decided to get new nightstands when we started giving our master bedroom a makeover.
Unfortunately, I could not find what I was looking for…or anything I really liked.
So…I decided to keep what we have and give them a makeover instead. And guess what?
This is the 3rd time they've gotten a makeover from me! lol Third times the charm, right?
Or I am at least restyling and reloving my finds well, anyway!
Here are how they looked when I first found them back in 2014.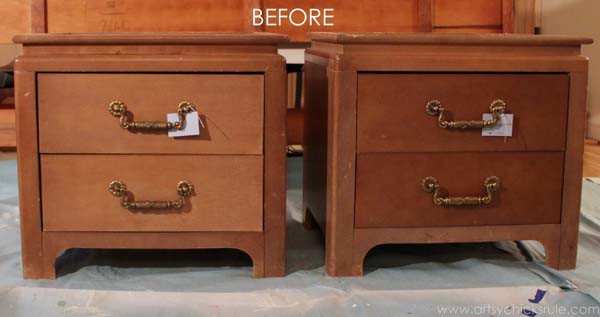 Oddly different from each other but anyway, this is how they looked.
But for $15, you can't beat that. They are solid and HEAVY.
Here is the first makeover look…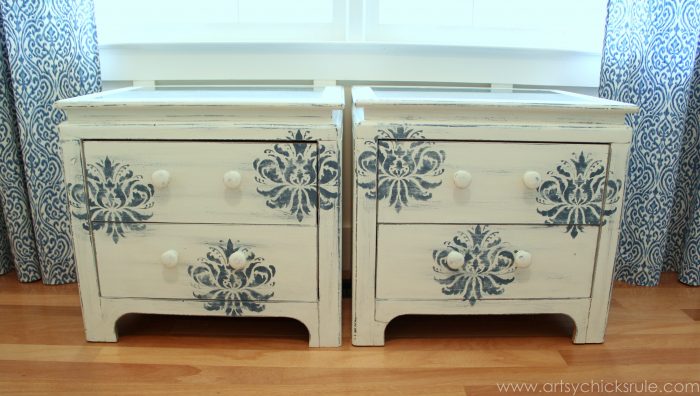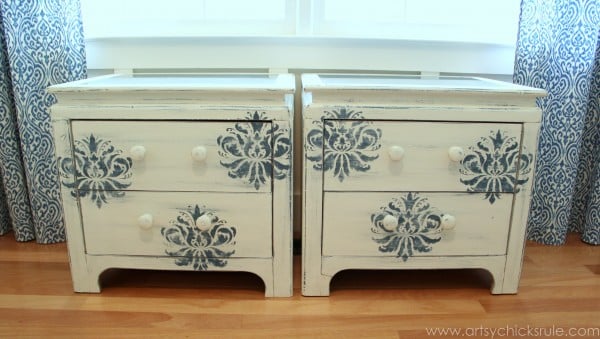 Whimsical and fun.
Side note…remember those pretty blue and white curtains I made forever ago? No?
Check them out >>> here. I still have them and need to find a place for them…still love them!
Second look, much better…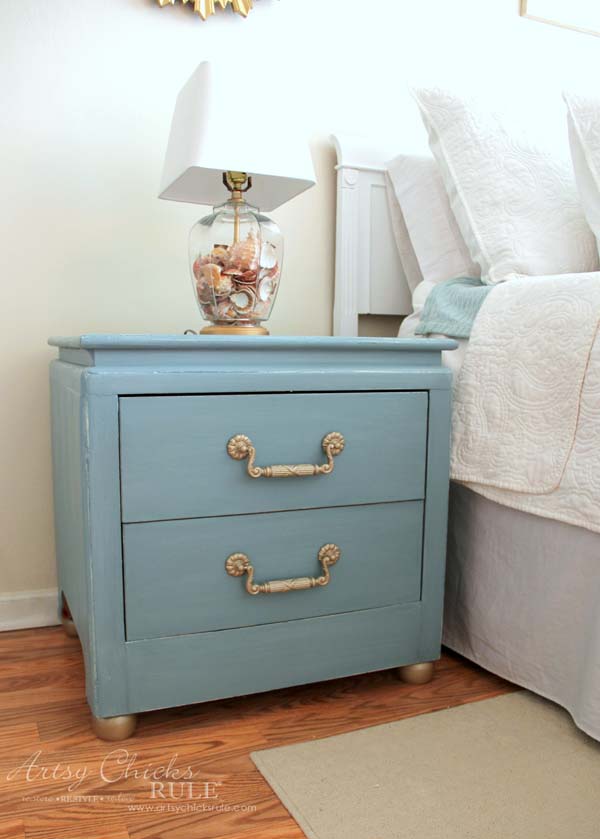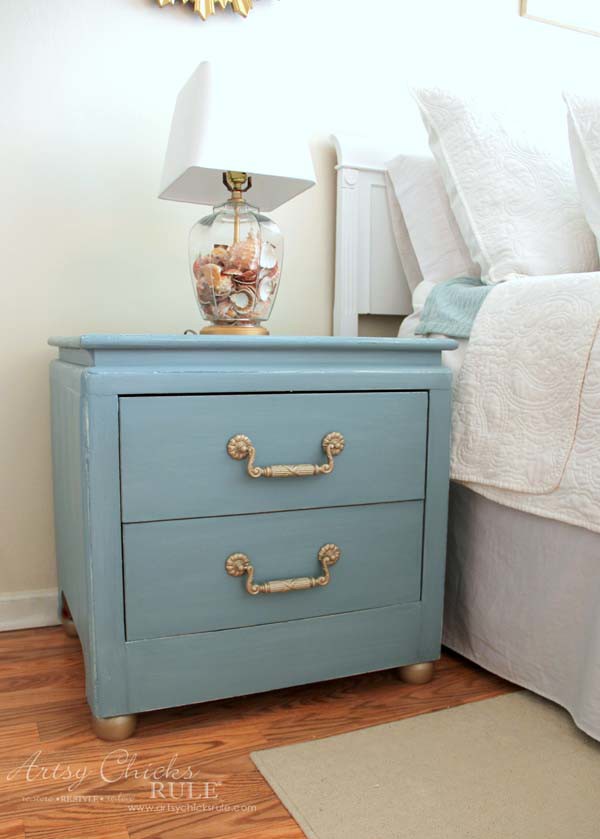 This time not only did I paint them, but I added feet and changed the bottom trim piece out.
And this latest makeover with wood grain vinyl …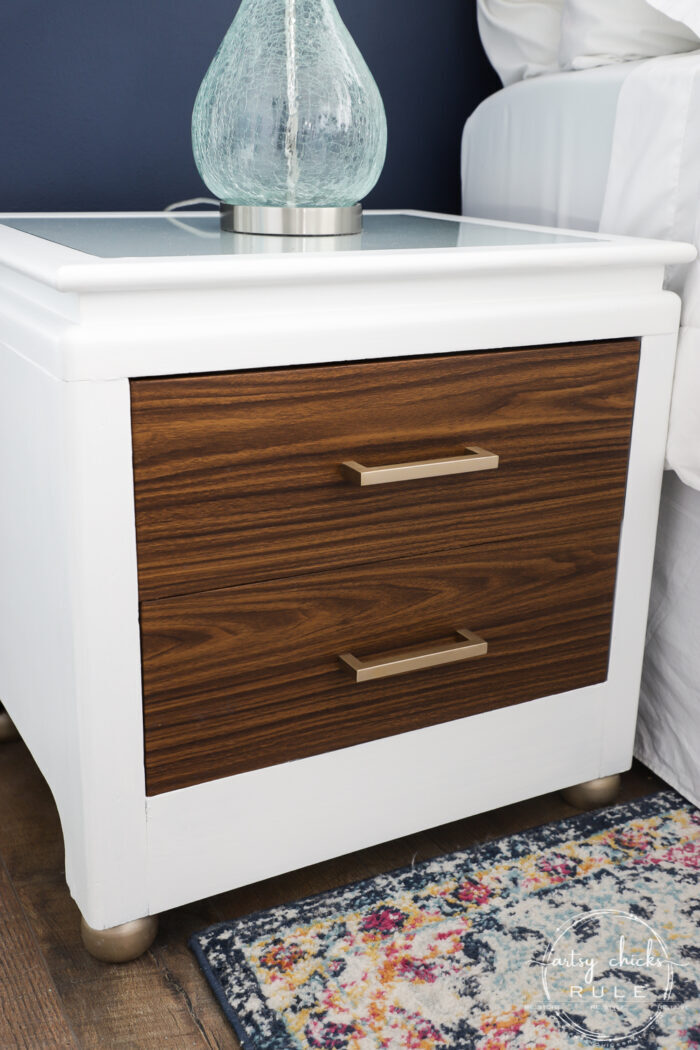 And new hardware.
That hardware is actually leftover from my closet makeover.
Now, let's back up and let me share where the inspiration for these came from and what I used, etc.
Wood Grain Vinyl Wrap Nightstand Makeover
So, if you follow along with me on Instagram, you might have seen a story or two about my office getting a makeover…finally!
Ugh, it only took 8+ years to do. But I'm SO thrilled with how it's turning out. Can't wait to share it with you all.
It is like an absolute breath of fresh air. I cannot even tell you! (you will soon see what I mean and you will agree! haha)
But back to the inspiration for these nightstands…which was the desk I found to go in my office. (well, desk(s)…because we have made space for my husband to work in here as well…so it is now our office…and I love hanging out with him so it's a win-win :) )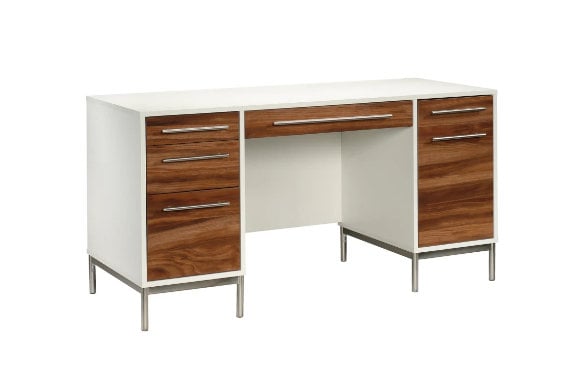 They are beeeuuutiful! And we both love them.
You can find them right >>> here. They are on sale right now too.
I know I seem ridiculously giddy over a desk but I was working on an old kitchen table that I had turned into a "desktop"… for over 8 years. No drawers, no cubbies, and not too pretty. (I think I have plans for that old table by the way, it's actually the first table my husband bought for our house back around 1990-91 and it's sort of farmhouse style….stay tuned)
So, do you see the inspiration??? ;)
Well of course you do!
I thought that was a super cool look and decided to do something similar to my nightstands. The only problem was finding a wood grain vinyl that looked realistic. Not too easy, unless you're lucky on your first shot.
I wasn't.
I ordered 3 different ones from Amazon and yep, the third time was the charm. The first two…ick.
This one looks very realistic and I love it.
How well will it hold up?
Well, time will tell. BUT I am okay if it doesn't last forever because I do still plan to find some other nightstands but wanted to go ahead and get something that looked better in the new room in the meantime so I can share a reveal soon.
So far so good though! I'll keep you updated and let you know, you know I will.
I opted to give the Fusion Mineral Paint another go. Again with the Picket Fence.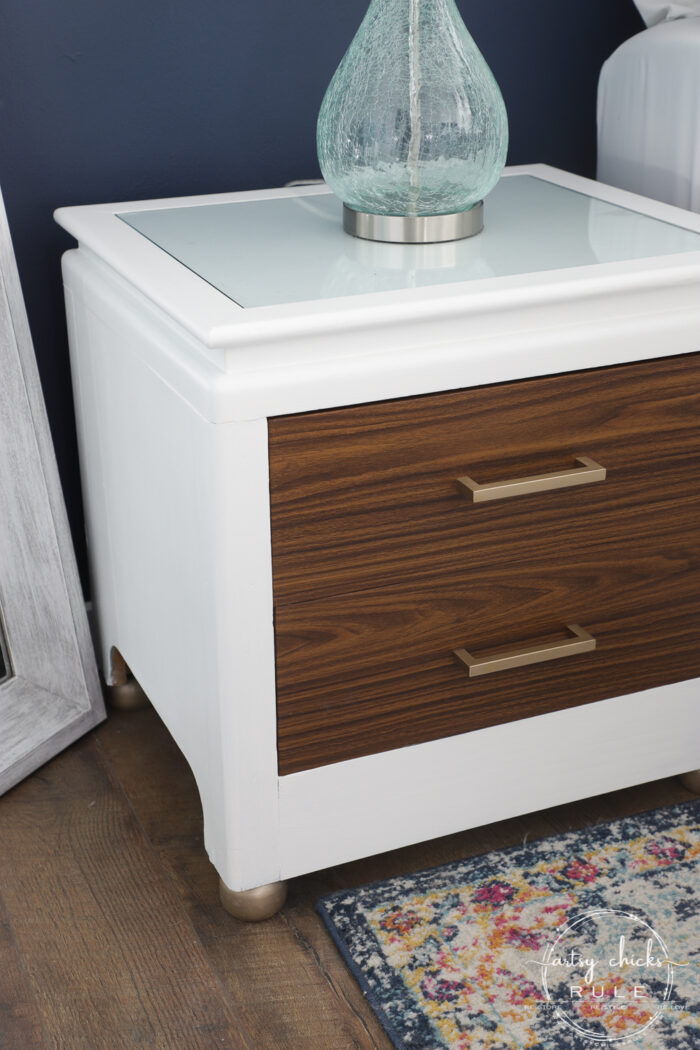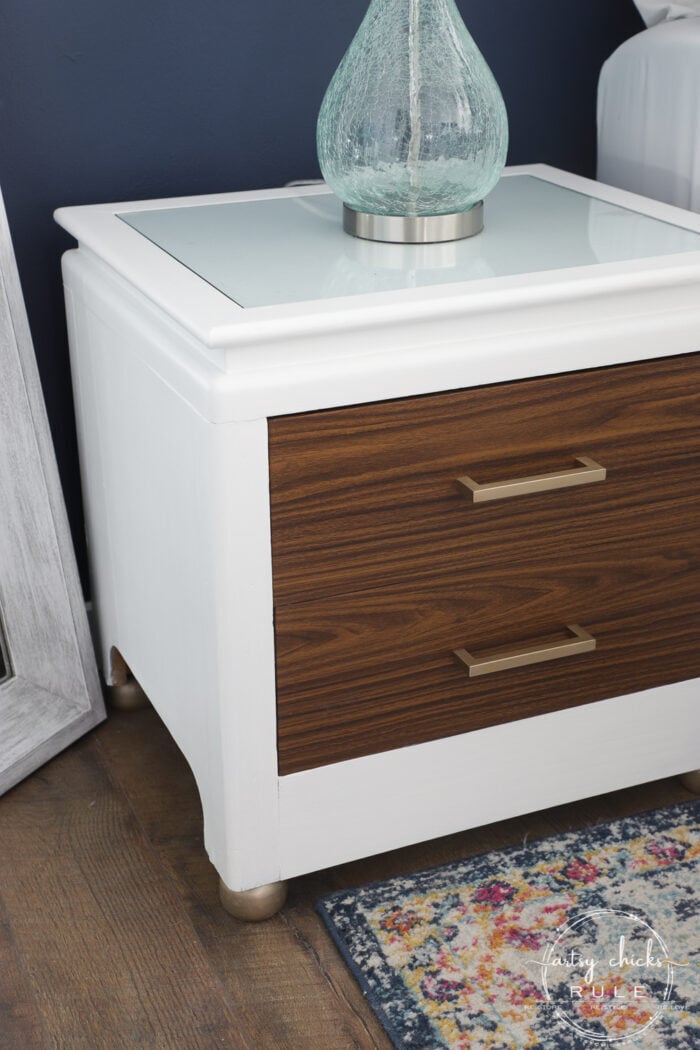 I like that paint and the crisp white but dang it takes forever to cover.
I did multi coats, maybe 3? My other white I use most often covers a bit better. (but it's gone quite a bit up in price, what the heck?)
Once it was dry, I let it sit overnight and then applied 2 coats of their Tough Coat in "matte" with a sponge applicator. (drying well in between coats) I really liked it. We'll see how it holds up and if it yellows.
I did lightly sand the whole thing before beginning. As well as the drawers that were getting the vinyl.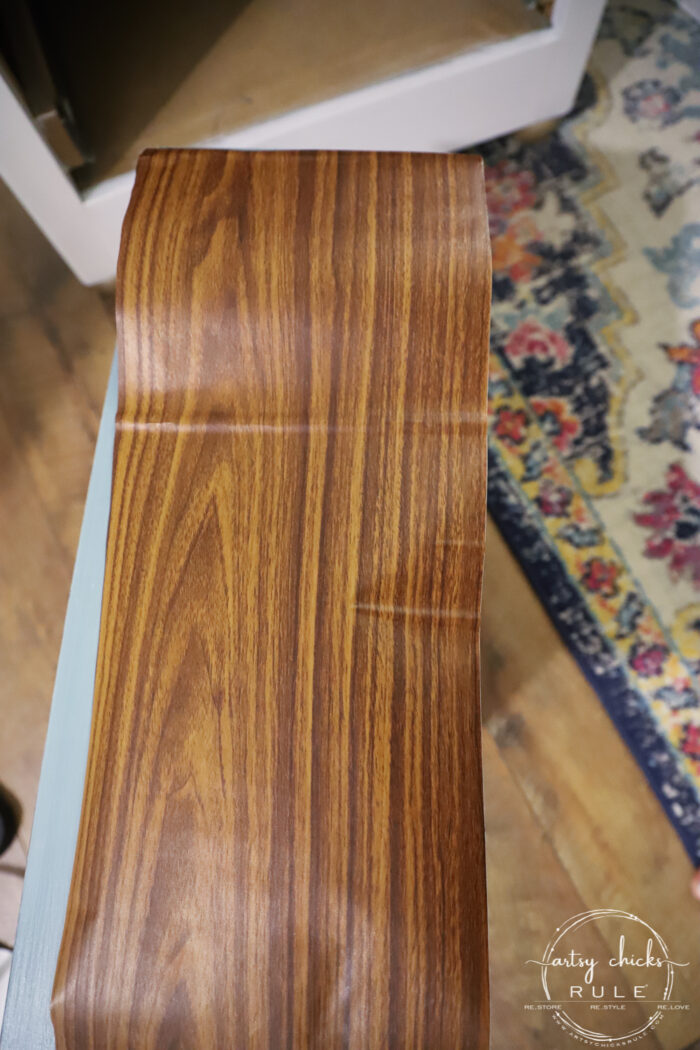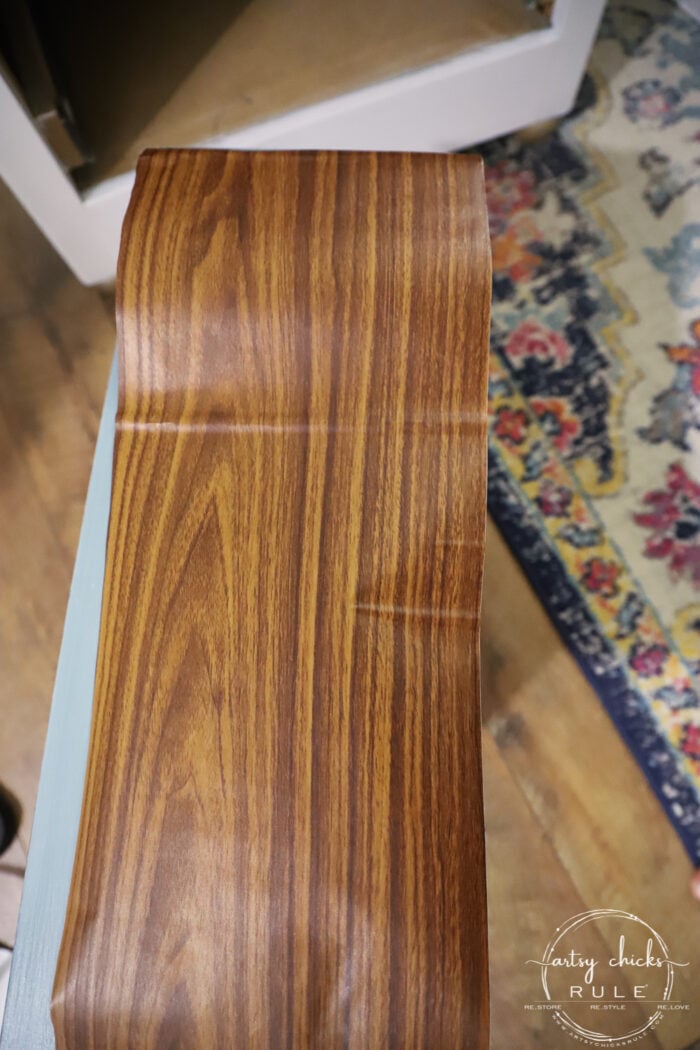 I filled in the holes so I could make new ones since the hardware I was planning to use had a bit smaller opening.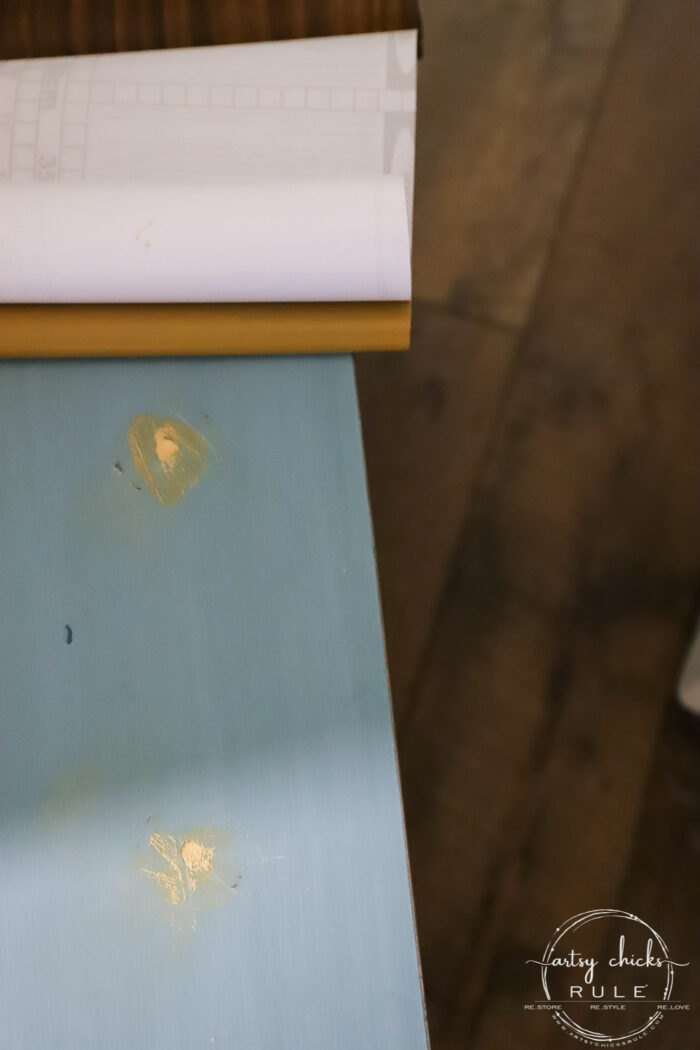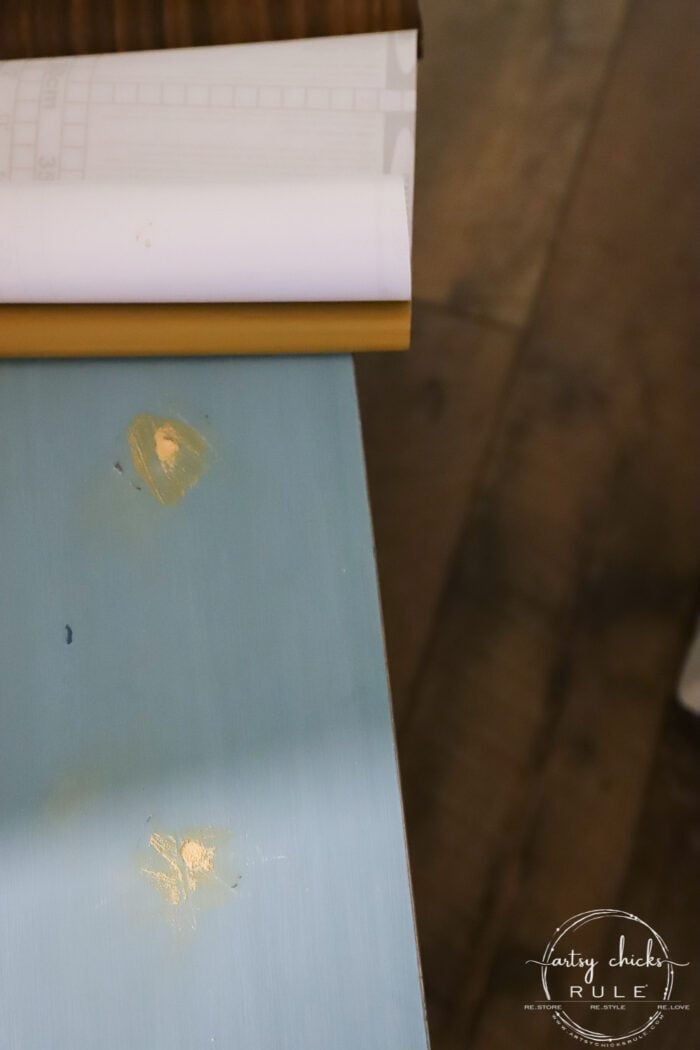 Once that was dry, I sanded them smooth and finished attaching the vinyl.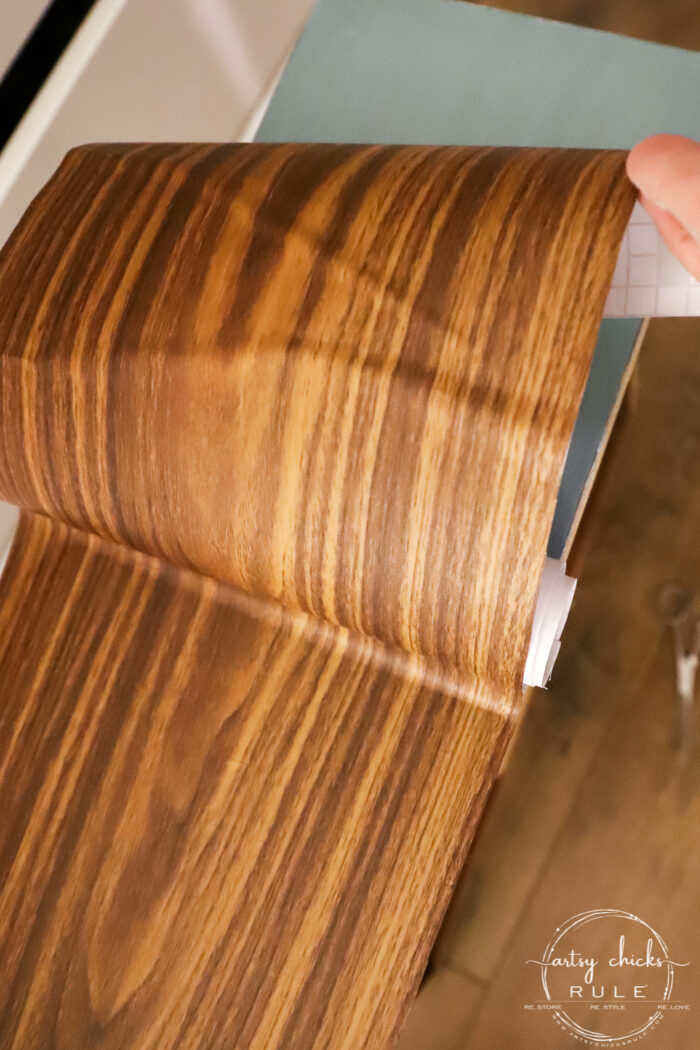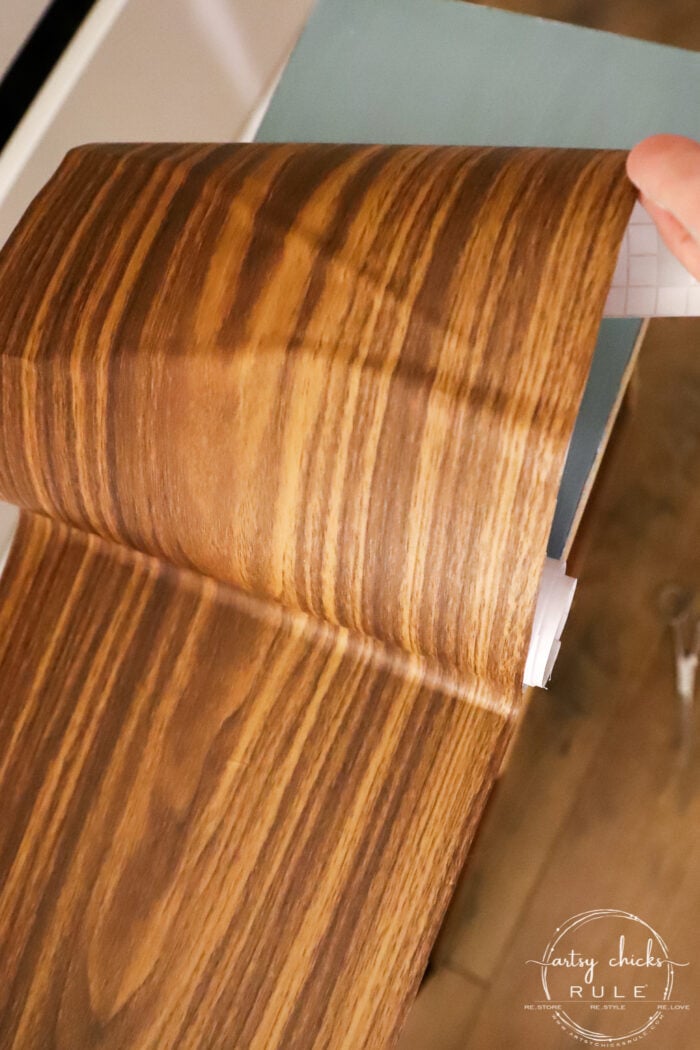 It applied so well.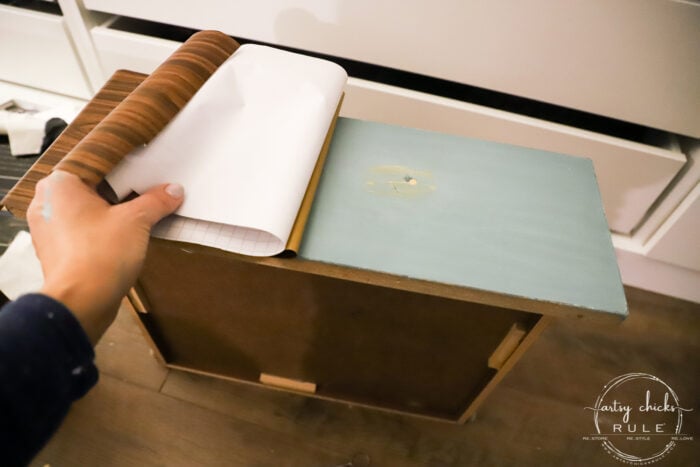 I measured and cut it slightly bigger than needed. (on the top and sides…I wish now I had gone ahead and wrapped the bottom too)
And then took a small pair of scissors to trim the excess straight across the wood (on the bottoms). The scissors glided nicely across and cut it easily.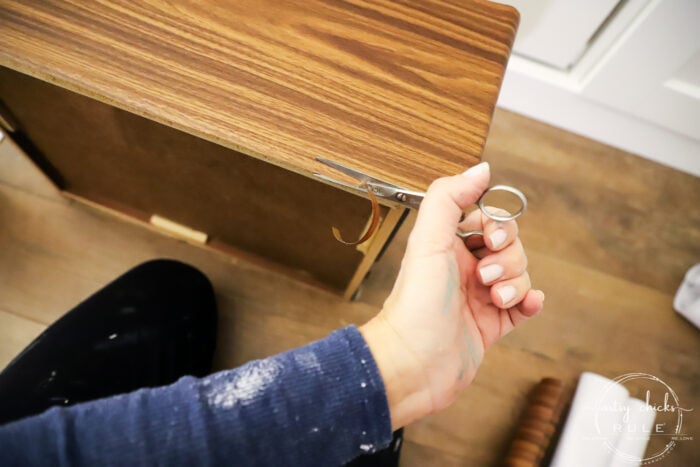 Don't mind the painting clothes or paint on my hands. I was also painting something in the "French Eggshell" Fusion Paint color that I'm sharing later this week.
I did wrap the tops and sides though.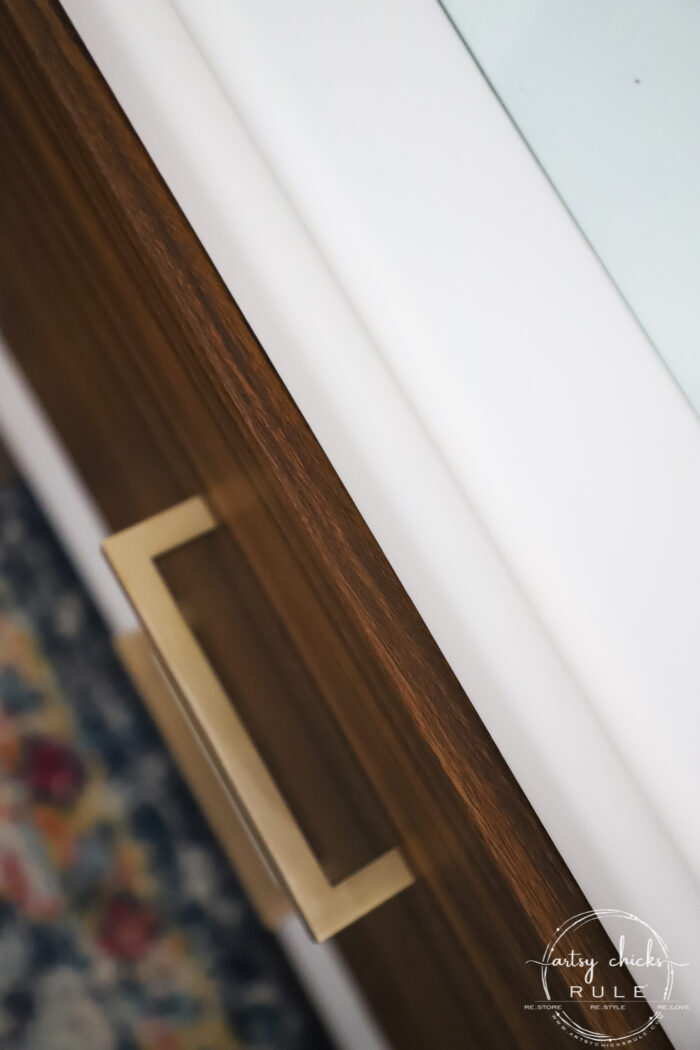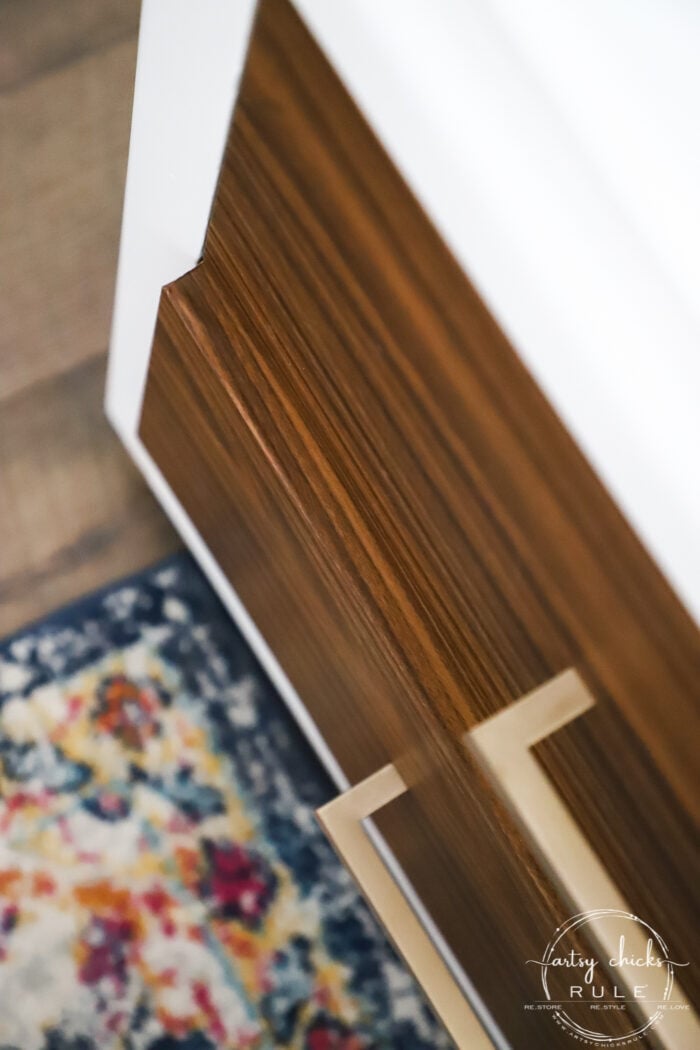 It looks VERY realistic. I am so pleased.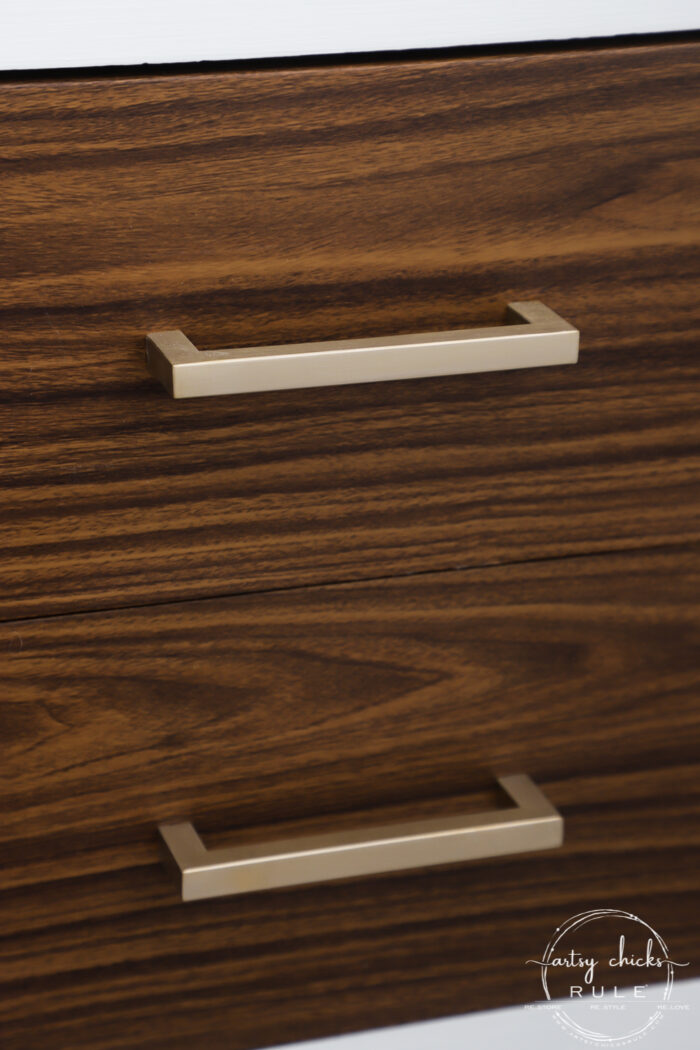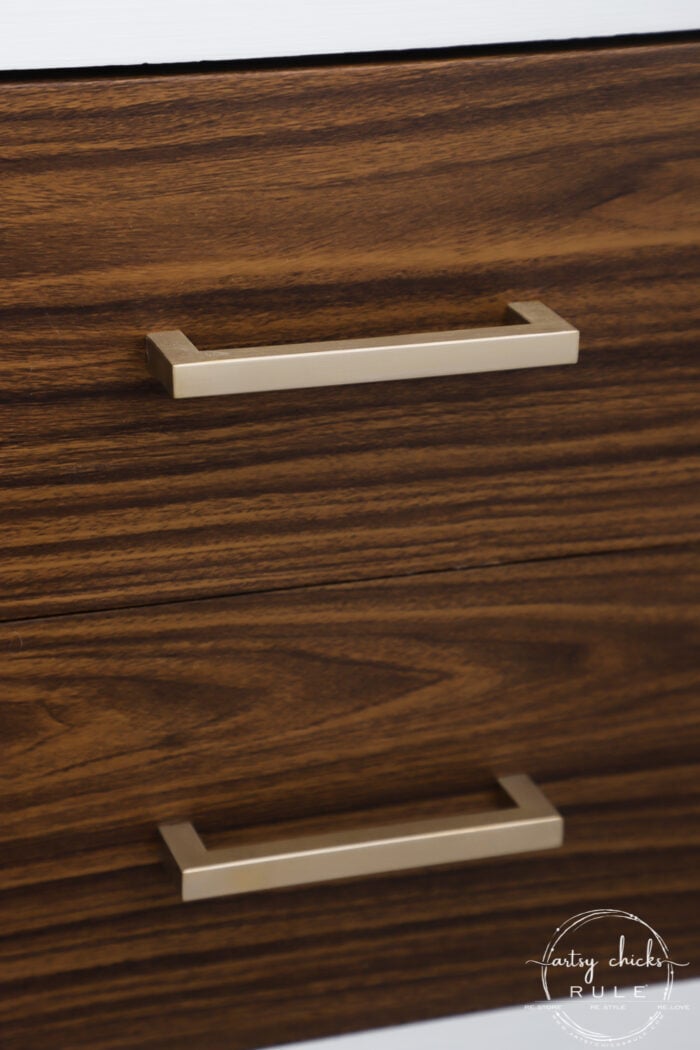 As mentioned, I had 4 handles leftover from our closet makeover (they came in a set of 5 and I only needed one this size in the closet) so it worked out perfectly.
BUT they were a bit too brassy/gold for the look I was going for on these nightstands. AND they were a different looking gold then the ball feet.
So I pulled out my "German Silver" paste wax and rubbed a bit of that on all 4 and it toned them down nicely. I love how it gives the finish a "brushed" look.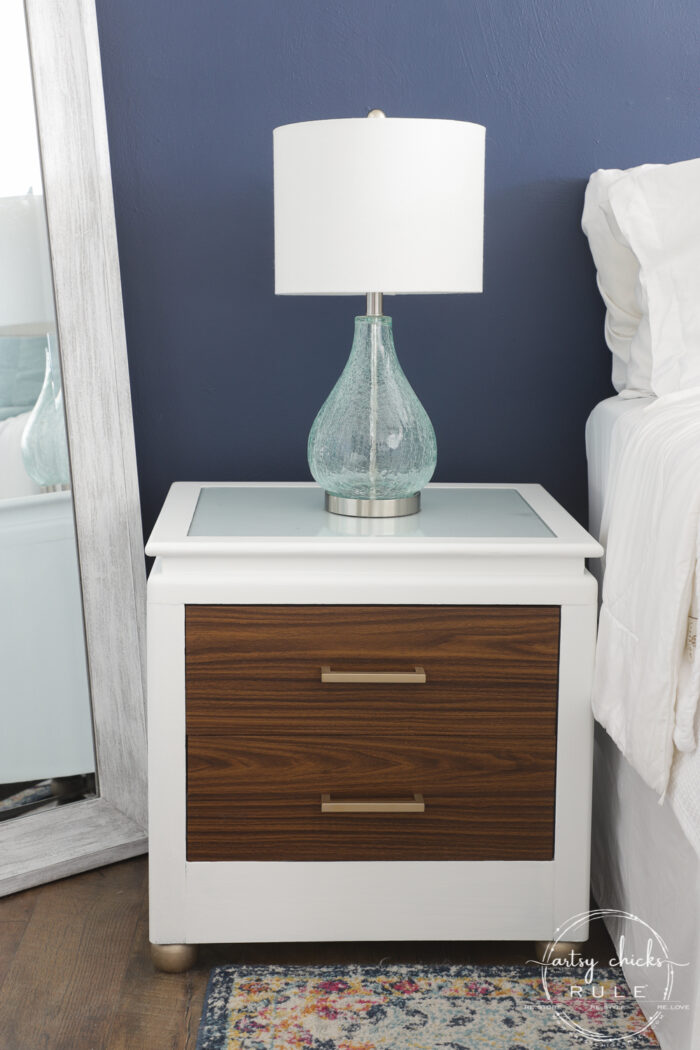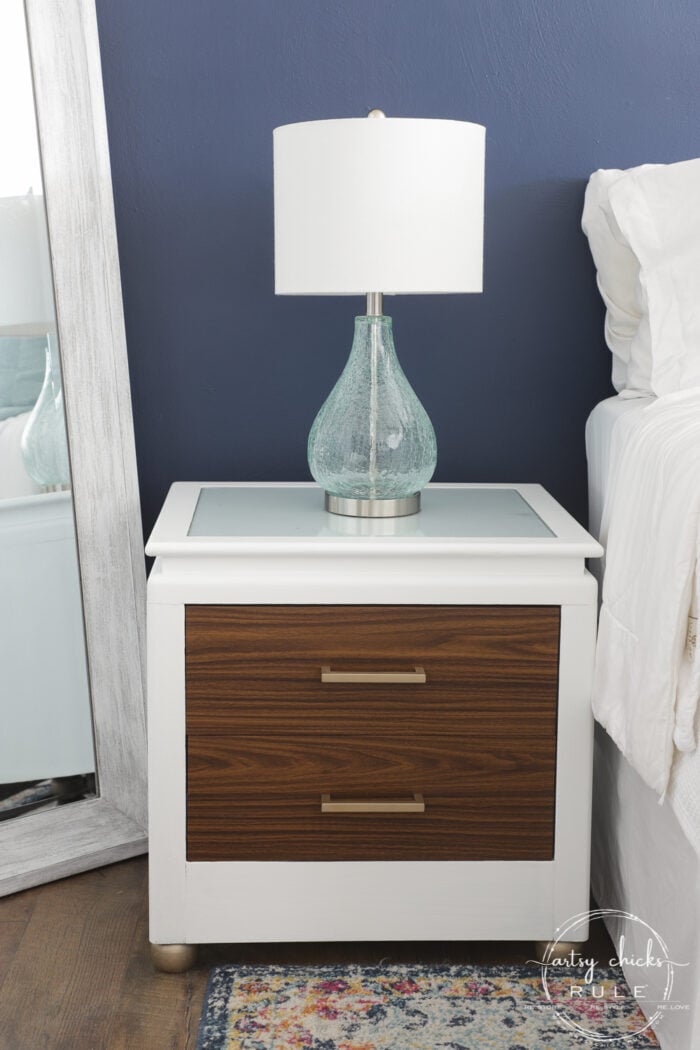 And hubby's side…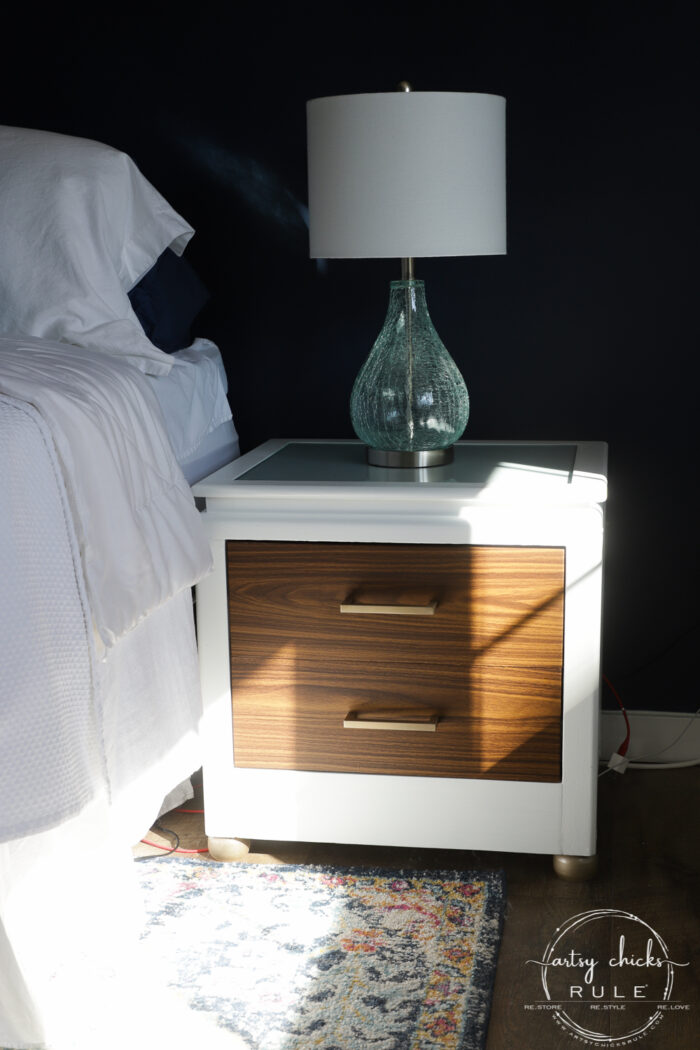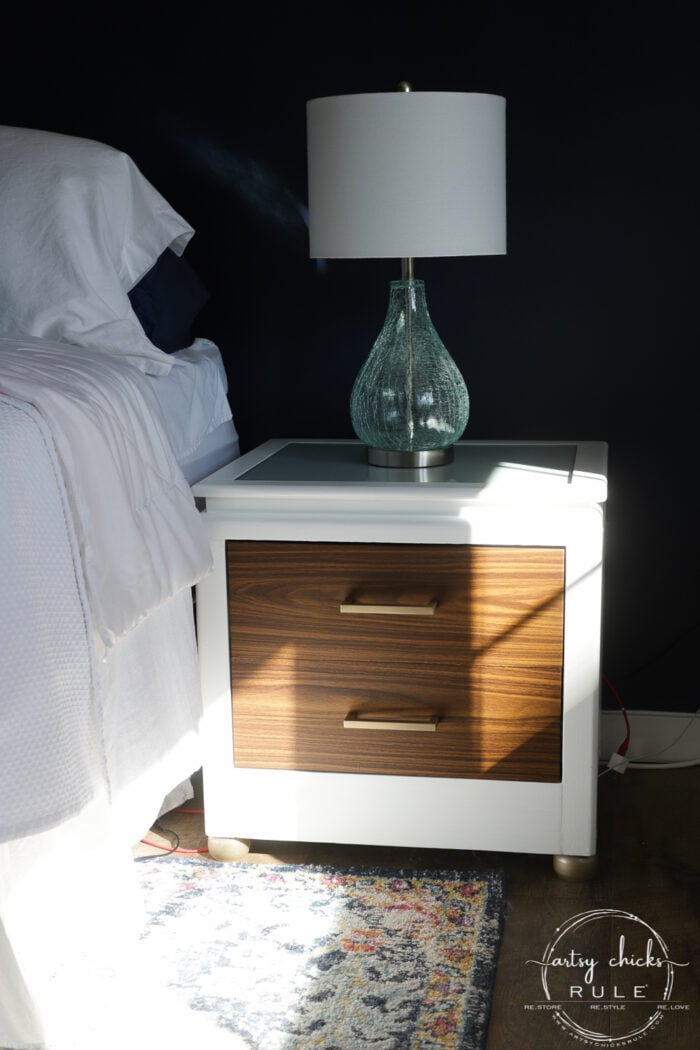 The sun was shining in super bright on his side but wanted to show you the pretty wood grain vinyl on his.
A little sneak peek of our bedroom so far to give you an idea of where we are going.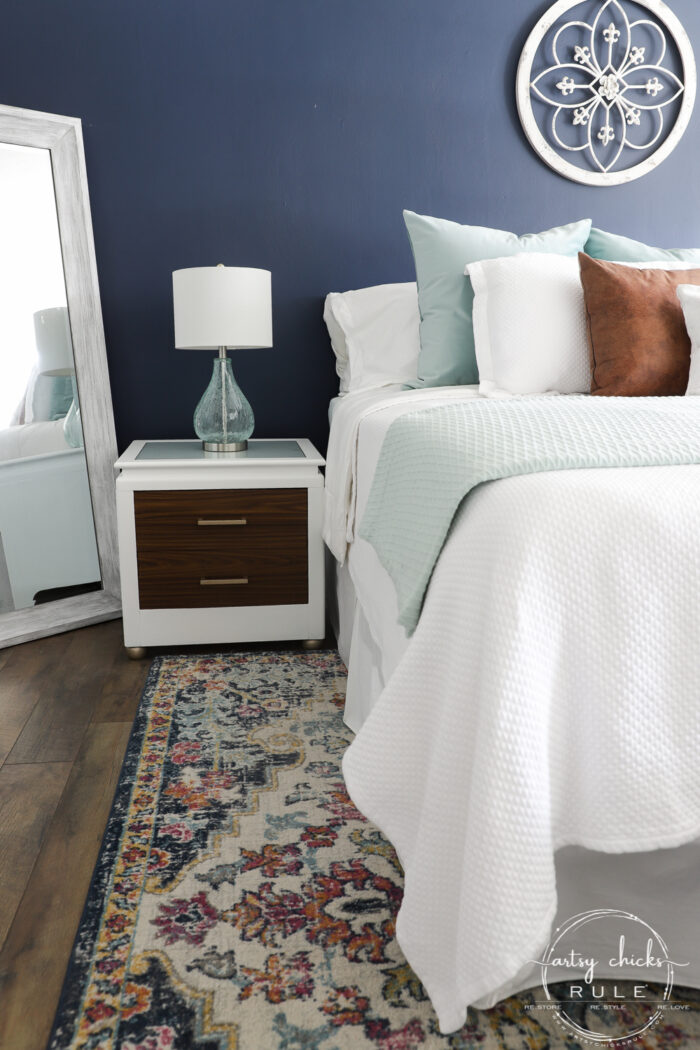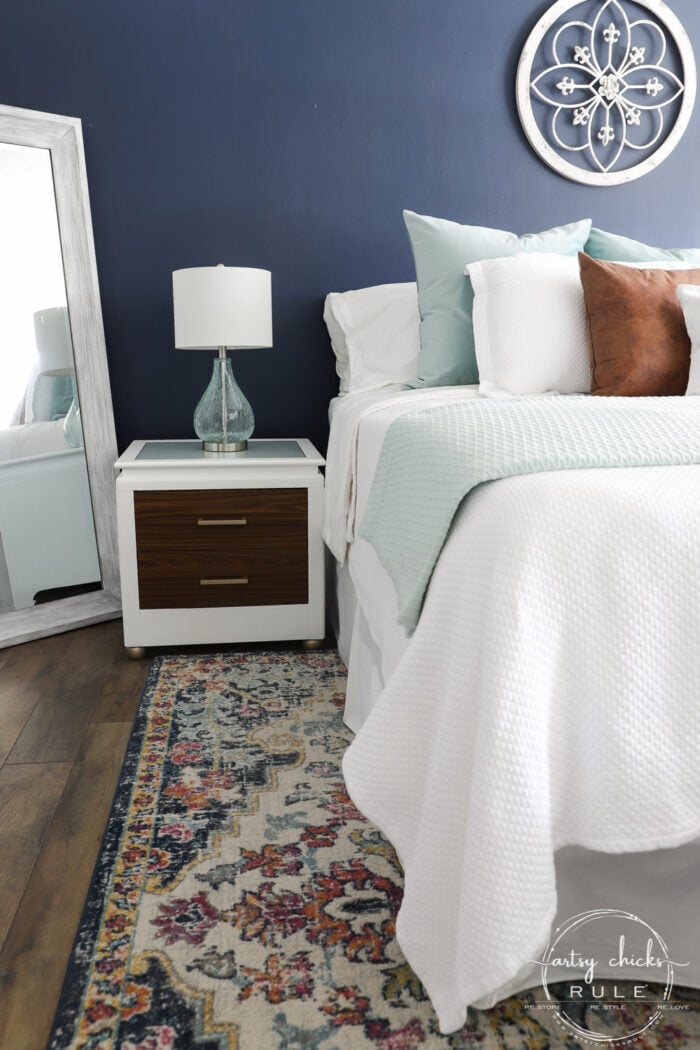 And to see how I brought the colors together a bit with the pillows, nightstands, etc. (those are "leather-look" pillows on the bed)
Basically, I am trying to make the room look less feminine and bring in some more "manly" looking features for my hubby.
I still want to put something behind/above the lamps on each side but it's been a bust so far.
I considered mirrors but I already have that floor mirror right there so that felt odd to me. So now I am looking for some cool artwork with these colors in the rug…abstract or something. I don't know, I haven't been able to find it yet.
If you have any ideas, please share! :)
Here are some of the items pictured if you are interested in any of them…
So what do you think? Does it look a bit more manly this way?
Do you like the wood grain vinyl look? Have a project you'd like to try it on?
PIN it to save it!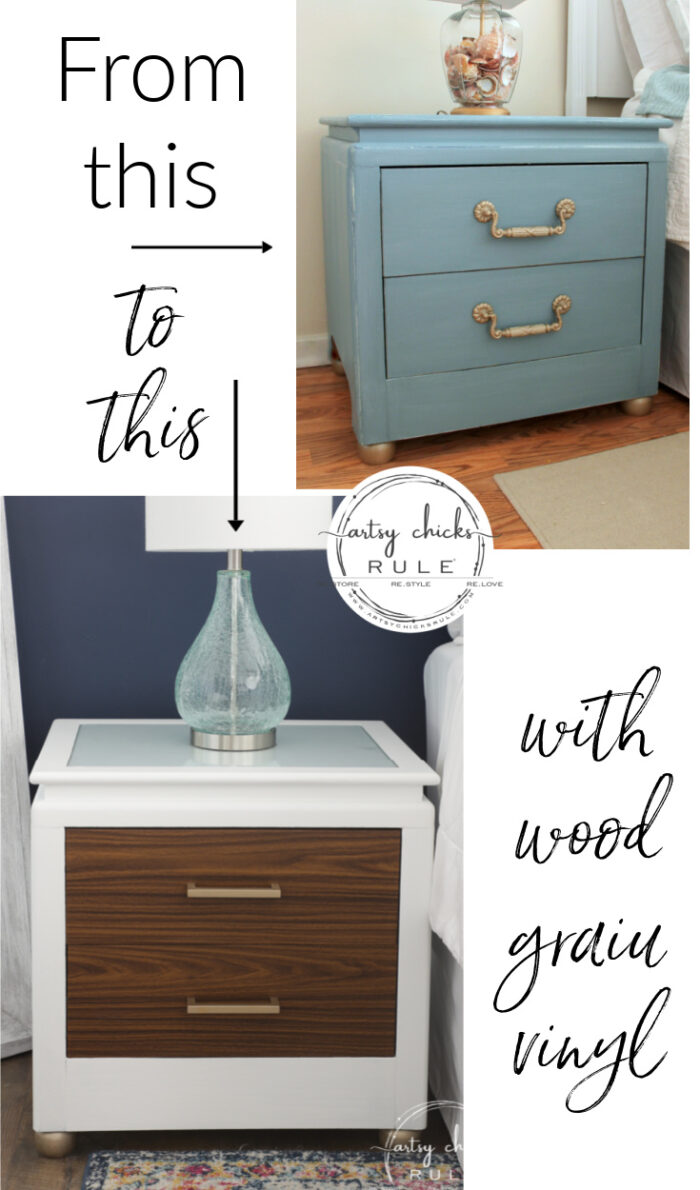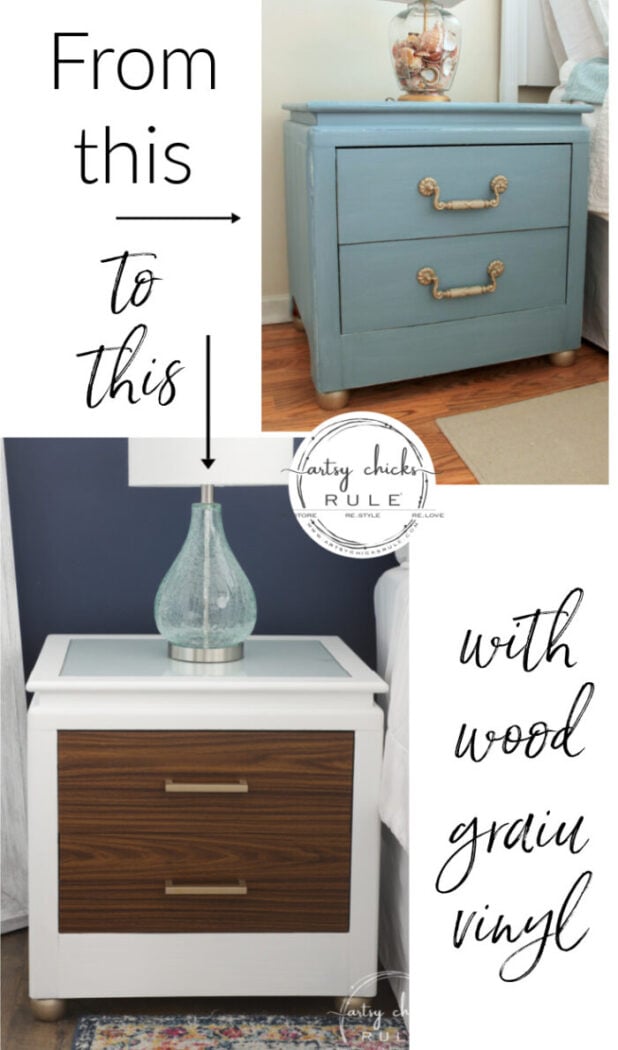 I'll see you later this week with a brand new furniture makeover …using French Eggshell.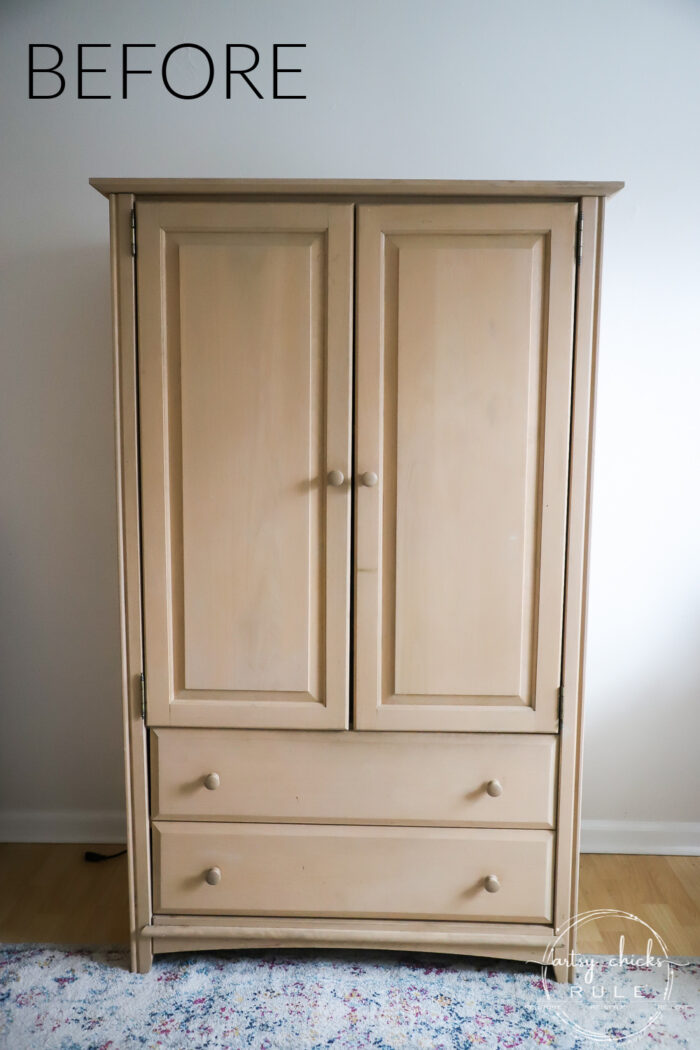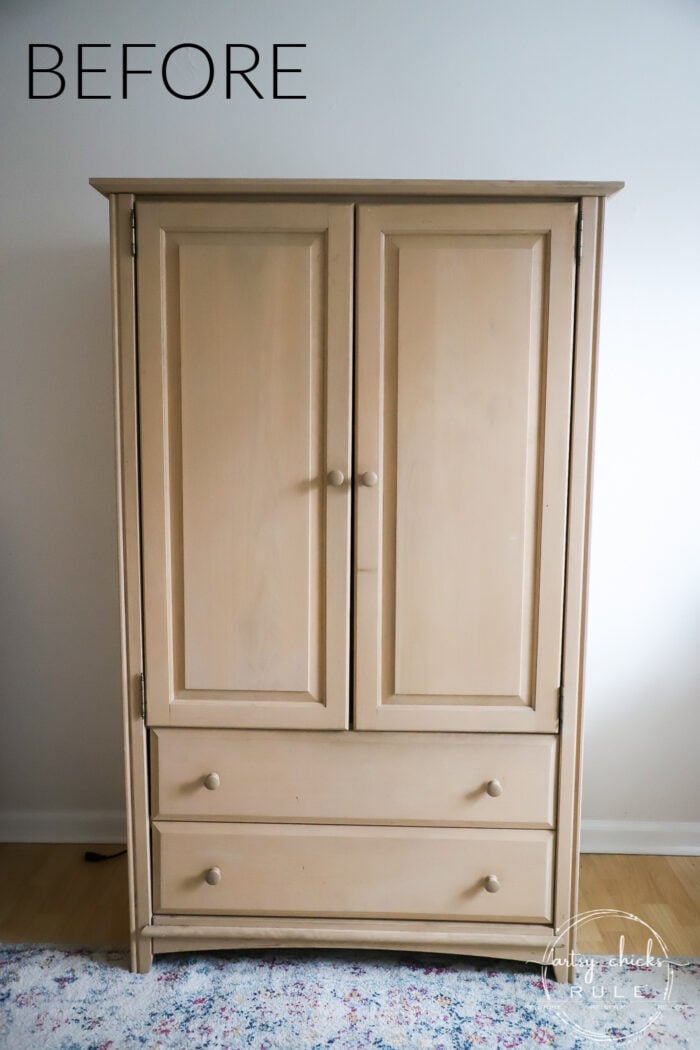 UPDATE!! See it now, here!
xoxo