Another Quick & Easy Basket Makeover
This post may contain affiliate links. Please see disclosures here.
Another quick and easy basket makeover for you. And a little two-tone action going on this time!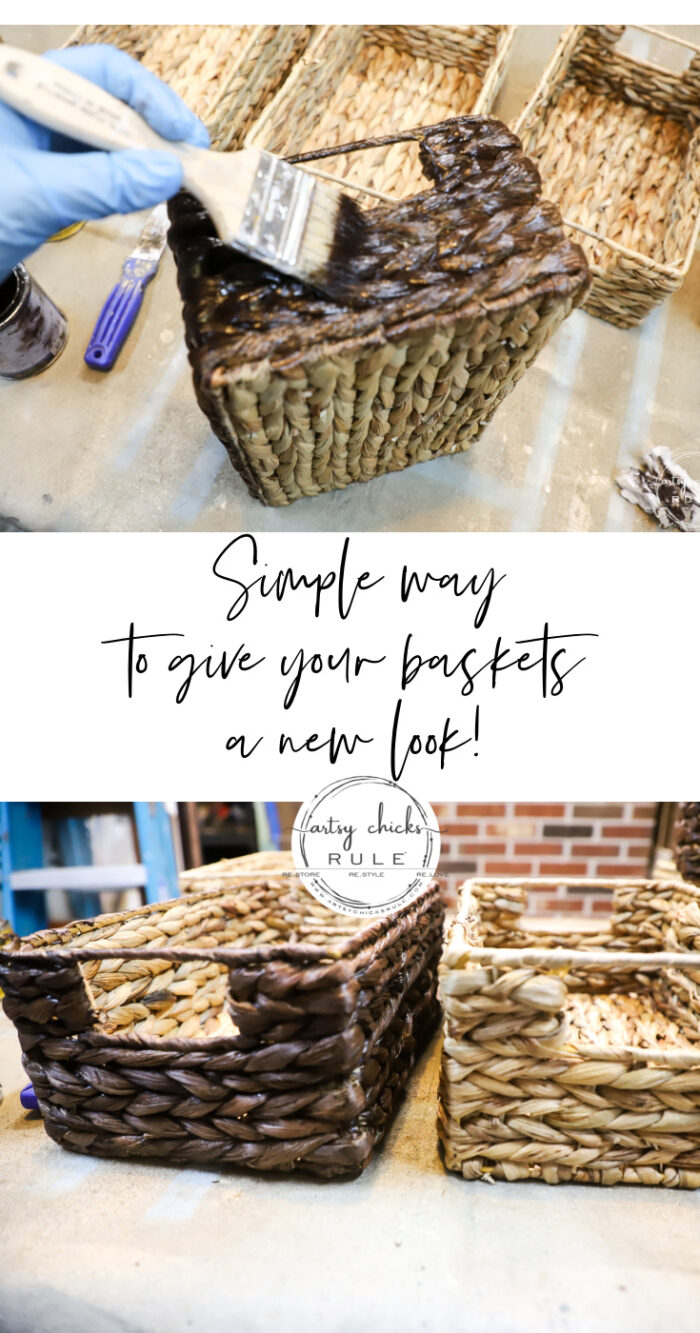 Hello, my sweet friends!
I'm back today to share how I gave these inexpensive baskets a brand new look.
The great thing about being able to do this is you can find baskets you like (that are cheap!) and change them up quickly if they are not exactly what you are looking for.
Gosh, it's hard enough sometimes to find just that thing sometimes. So when you find almost that right thing, you've gotta grab it up and make it so.
I recently shared a bunch of different basket makeovers all in one place, you can see them here.
This one is equally quick and easy!
I love all the ways you can change baskets up to your liking. Baskets are fun…and useful.
But before I share with you how simply I did these I thought I'd share something fun with you. :)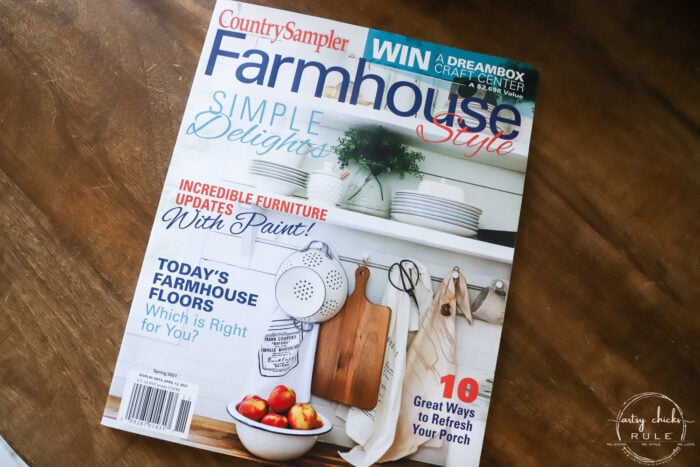 I was published in the Country Sampler – Farmhouse Style magazine- Spring 2021 edition! So excited.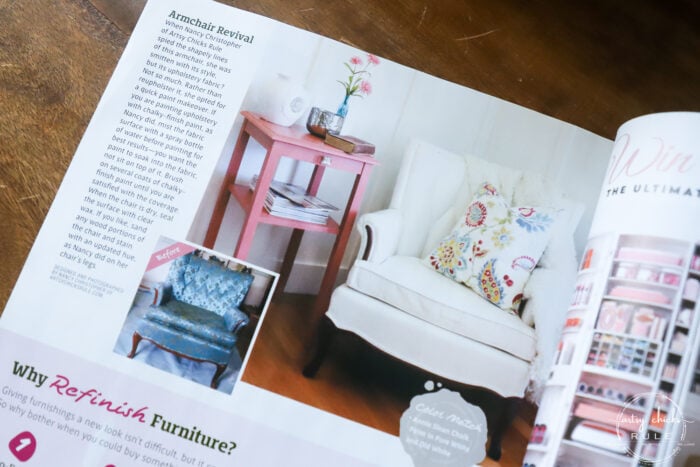 And there it is. Do you remember this project? The painted chair?
You can read all about it here on the blog >>> chalk painted chair.
I was so thrilled when they reached out to me some months back.
I've only been published (in print) one other time and it was a much smaller publication so it's really fun to have my work featured in this amazing magazine.
Anyway, I thought I'd share it with you all here!
Okay, let's talk baskets…and staining them simply…
Another Quick & Easy Basket Makeover
Here they are before…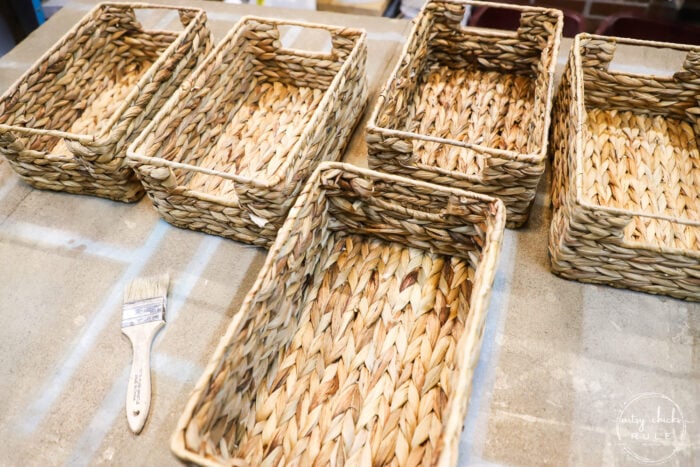 Pretty basic and $5 from TJ Maxx. Cheap!
They are not bad as-is but sort of plain and not the look I was going for in the new office.
They would've been pretty whitewashed or dry brushed will a subtle color.
But I decided to stain them using gel stain.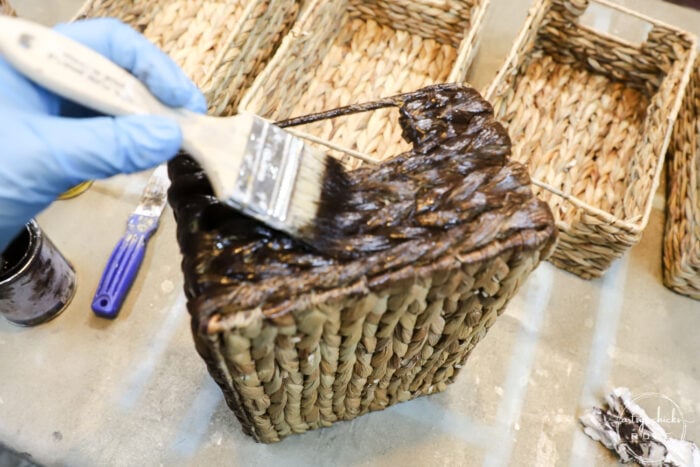 I grabbed a chip brush and my Java Gel Stain and simply brushed it on like so.
Apply liberally so it soaks in all the nooks and crannies.
Then go back and wipe away the excess…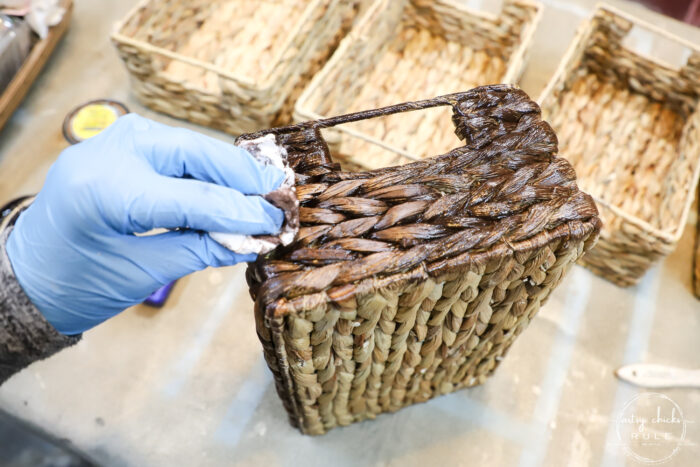 Which leaves you with this…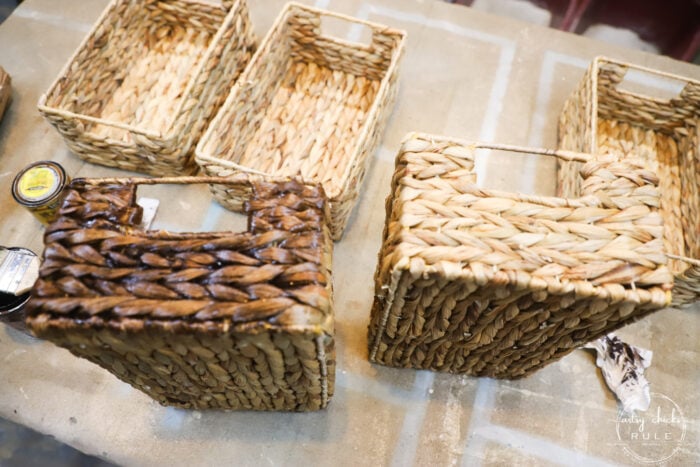 SO much richer looking and definitely more expensive looking than what I spent.
I had originally planned to do the insides too but as the creative process goes sometimes, I decided I liked them with the contrasting light-colored interior instead.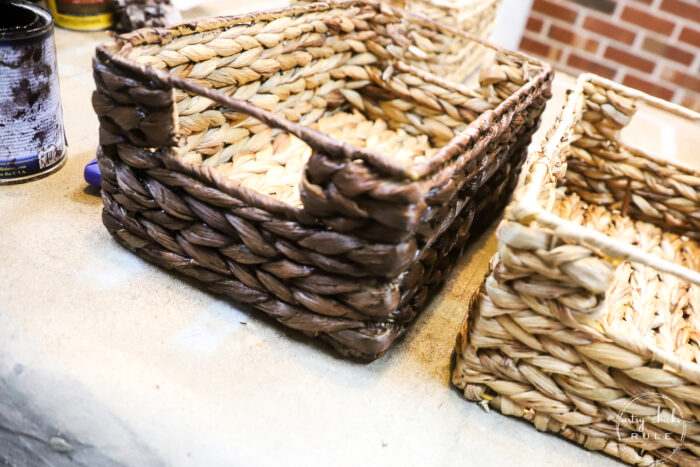 Isn't that fun?
I think it may have taken all of 10 minutes to do these.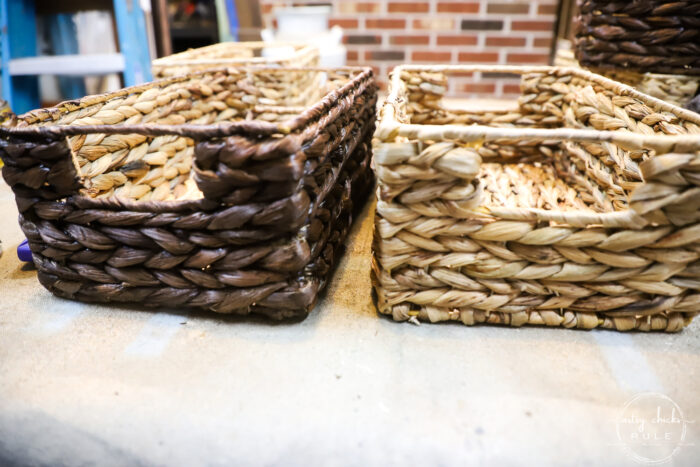 I left them to sit overnight and had planned to seal them with a spray the next day but didn't need to.
I would always say to seal gel stain but this soaked in and was 'dry'. So I left them like this, no sealer.
And I just love how they turned out.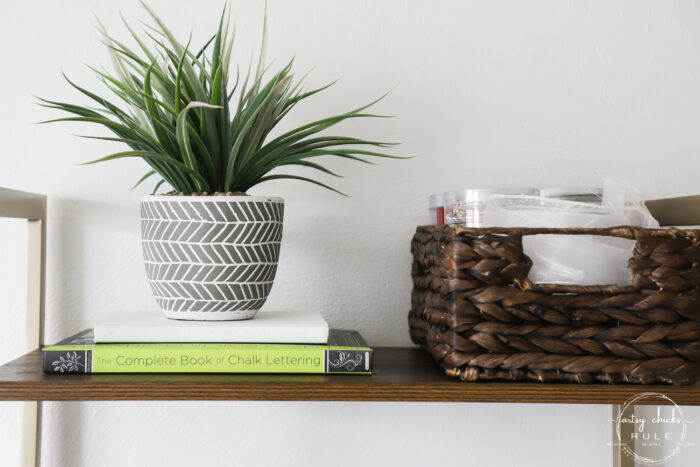 They go much better on these bookshelves than the lighter color would've.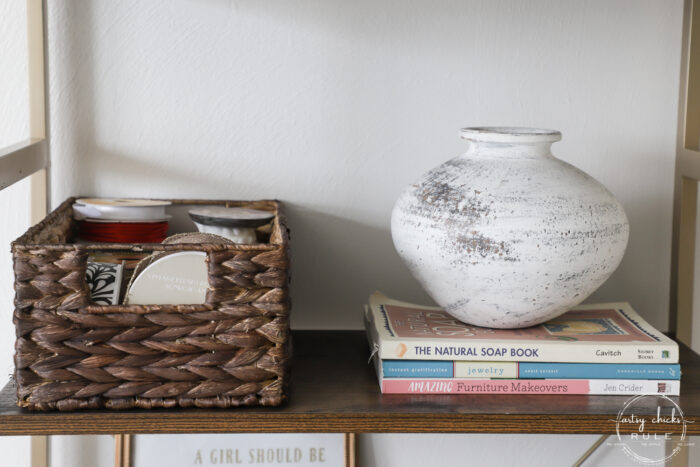 And I love the little peek of lighter-colored basket weave inside.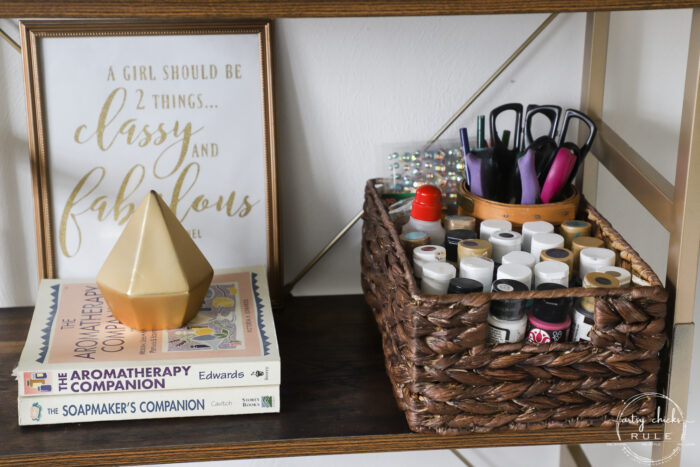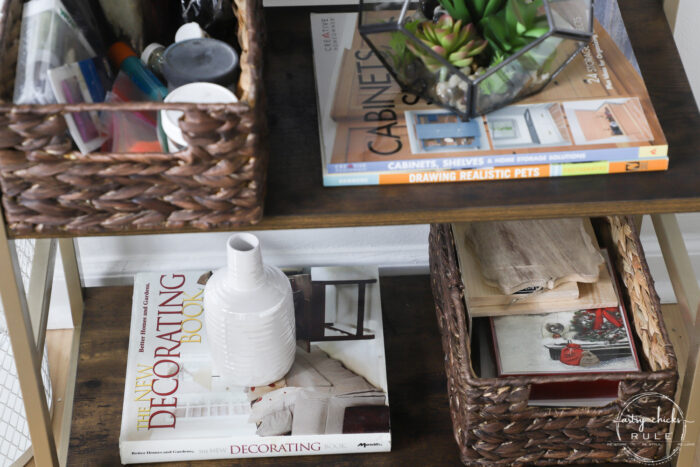 So fun!
I love changing things up.
Sometimes I think I even love changing things up just to change things up! lol
Do you do that too?
I'm a transformation junkie. ;)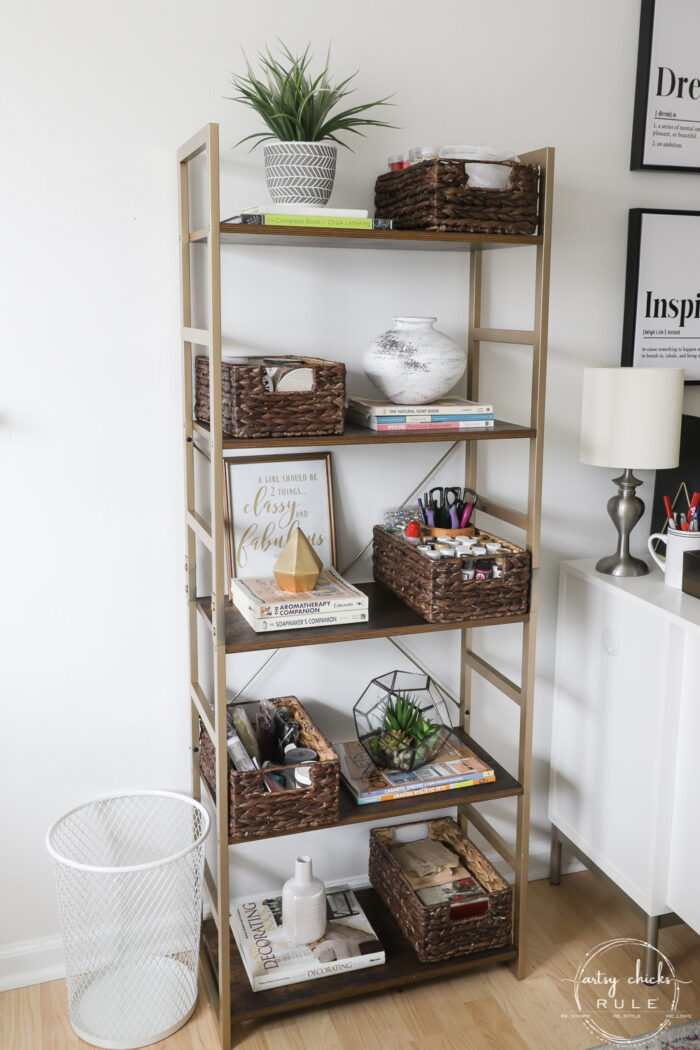 Plus, I think it has to do with my competitive nature. I love a challenge and I think I see all of these things as a challenge of sorts.
I see you, and I see that I can make you amazing and make you look like I want you to look. And I don't have to spend a fortune on that other one that is already the way I want it, so there! haha
Because what's the fun in that, right?
Have you been playing around with baskets yet? There are so many ways to give them a new look.
It's sort of addicting!
PIN it to save it!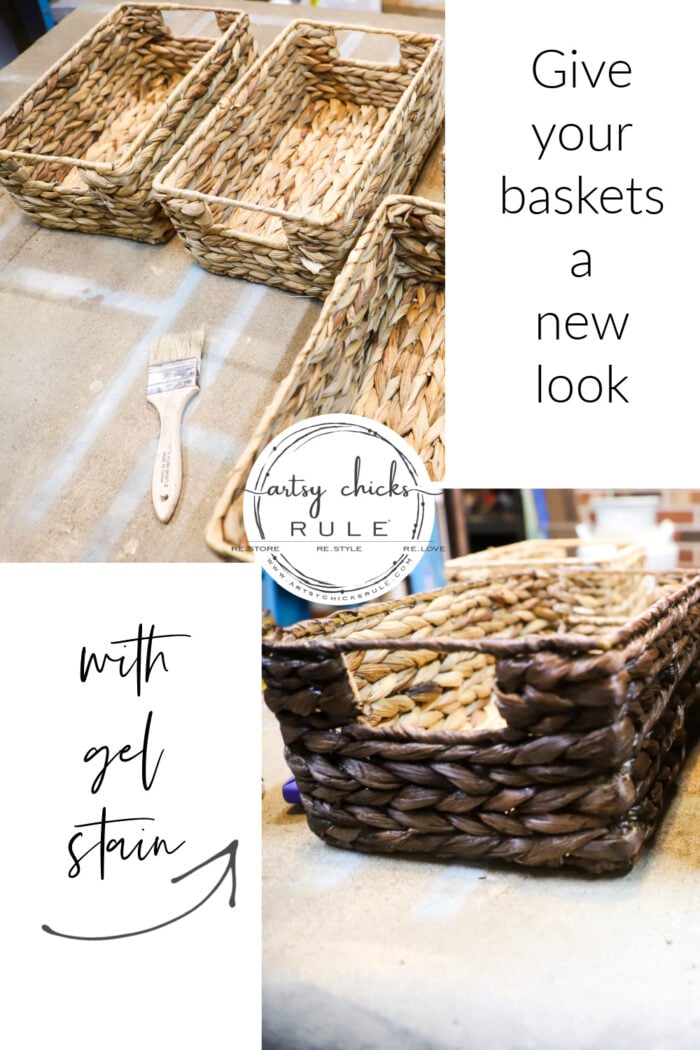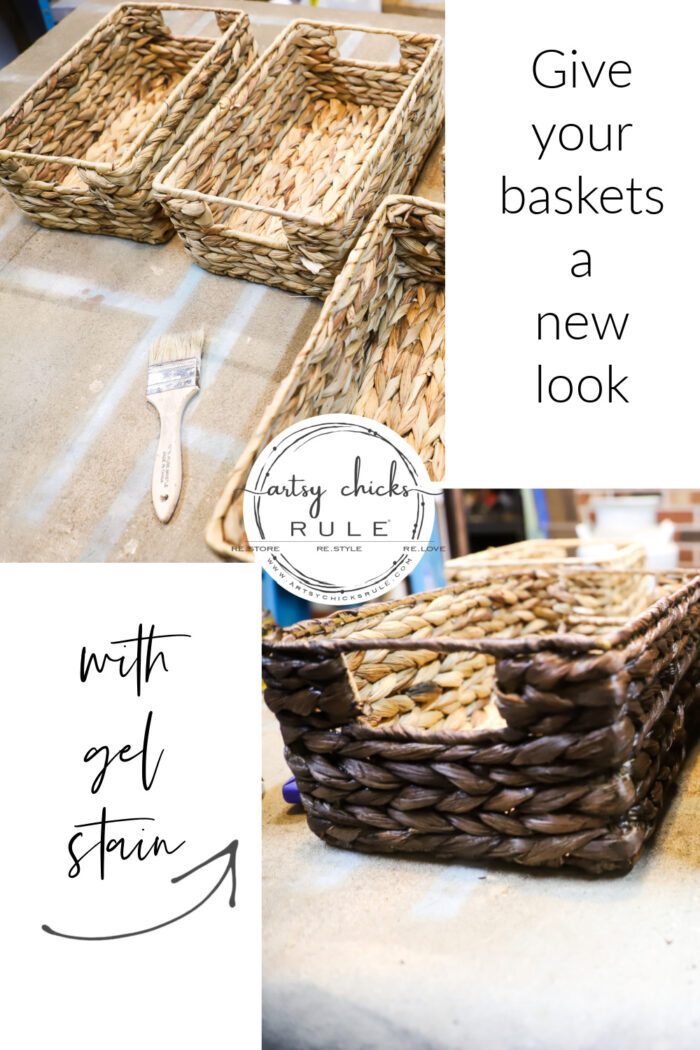 See you back here with this!
I hope you have a wonderful weekend, friends! Wishing for sunshine and warm weather for all of you (and me-fingers crossed!) !!
xoxo