Fusion Seaside & Picket Fence Side Table
This post may contain affiliate links. Please see disclosures here.
Fusion Seaside and Picket Fence gave this sad little side table a new lease on life!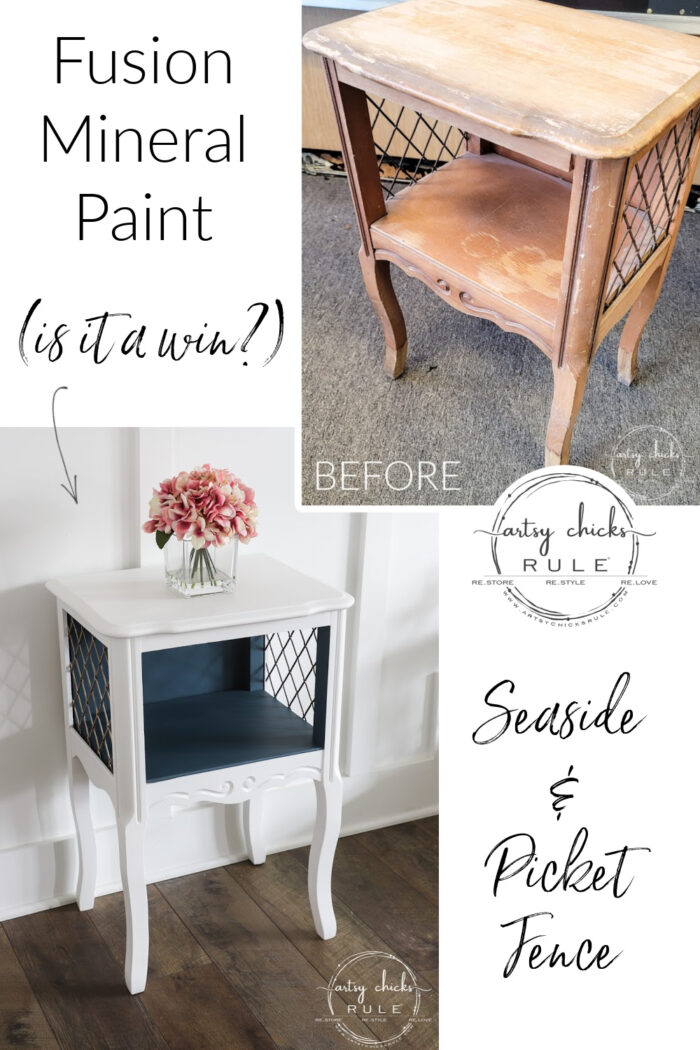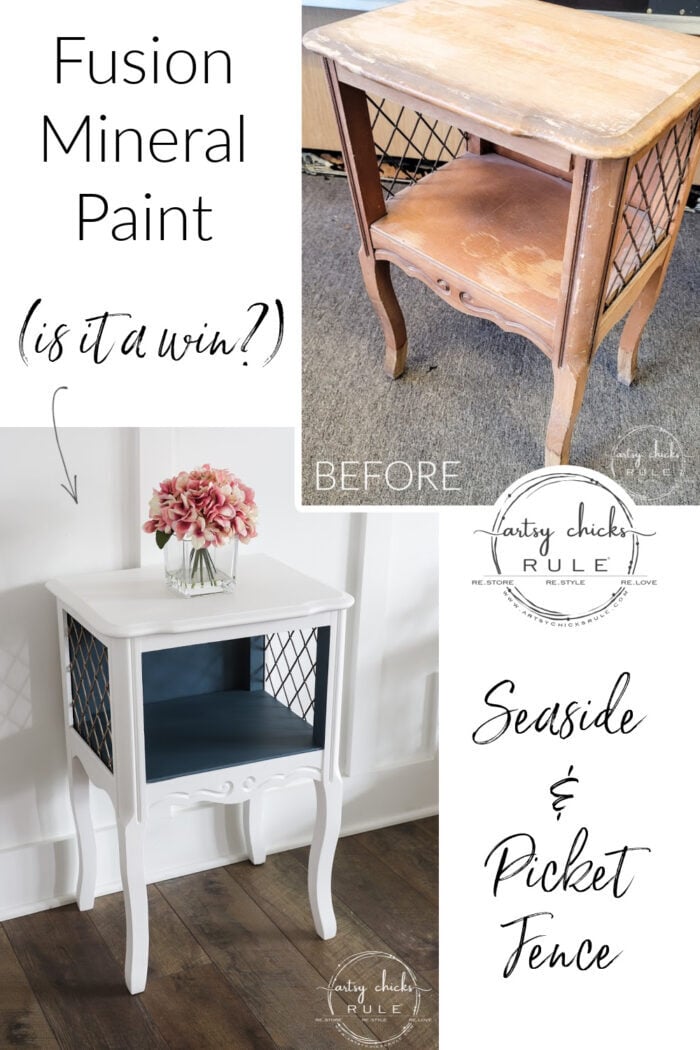 There's just something about blue and white together, don't you think?
I just love it! Every … single … time.
Hello beautiful friends! It's trash to treasure transformation Tuesday. The first one for 2021, yippee!
New around here? Well, several of my friends and I get together every month on the second Tuesday to share our "trash to treasures".
It's the best day of the month because you not only get one new awesome makeover, you get 5.
So be sure to scroll all the way to the bottom to see theirs!
Fusion Seaside & Picket Fence Side Table Makeover
As you already know, I'm sharing this little table I picked up in the Outer Banks several weeks back.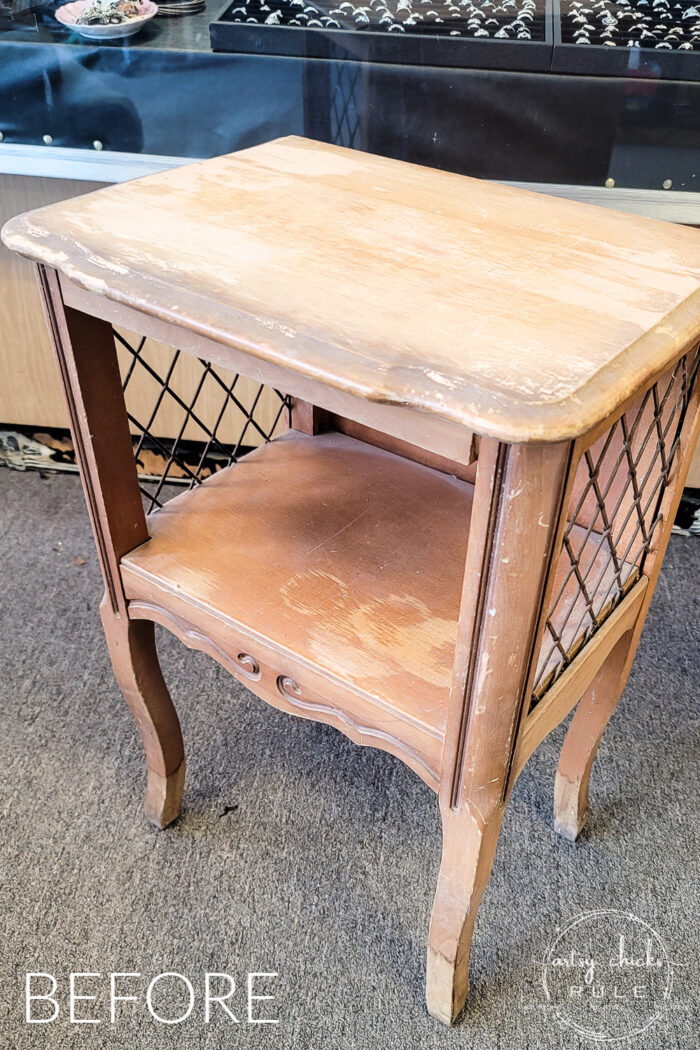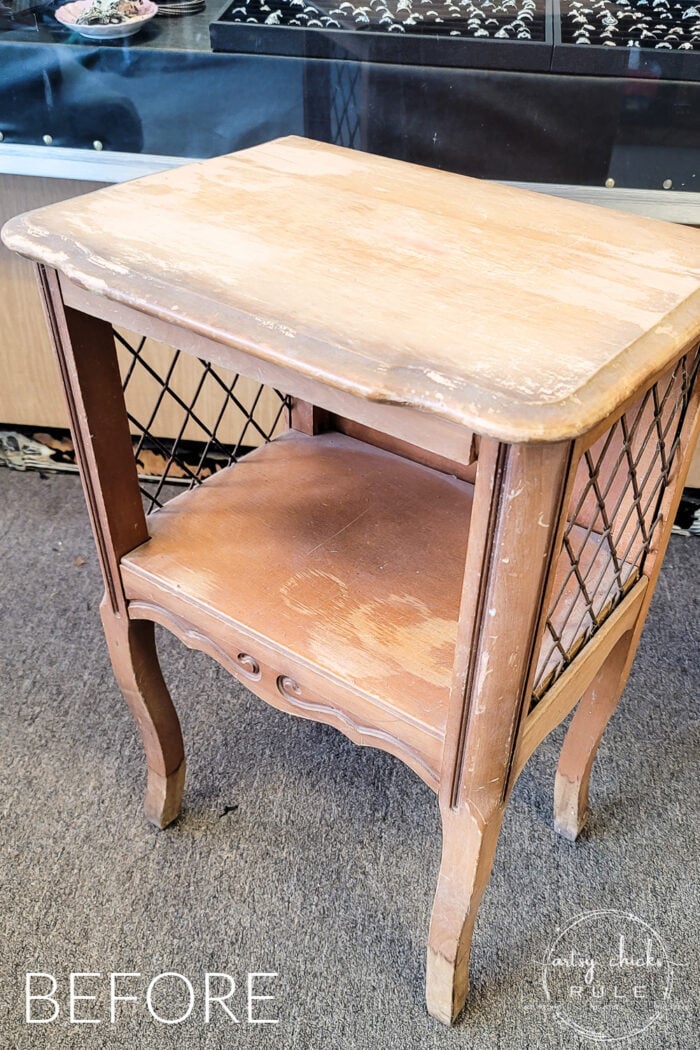 I loved the details on it, the metal sides, etc, but it sure was sad looking.
And looked like it'd been in a flood too.
Overall, it was in pretty good shape though.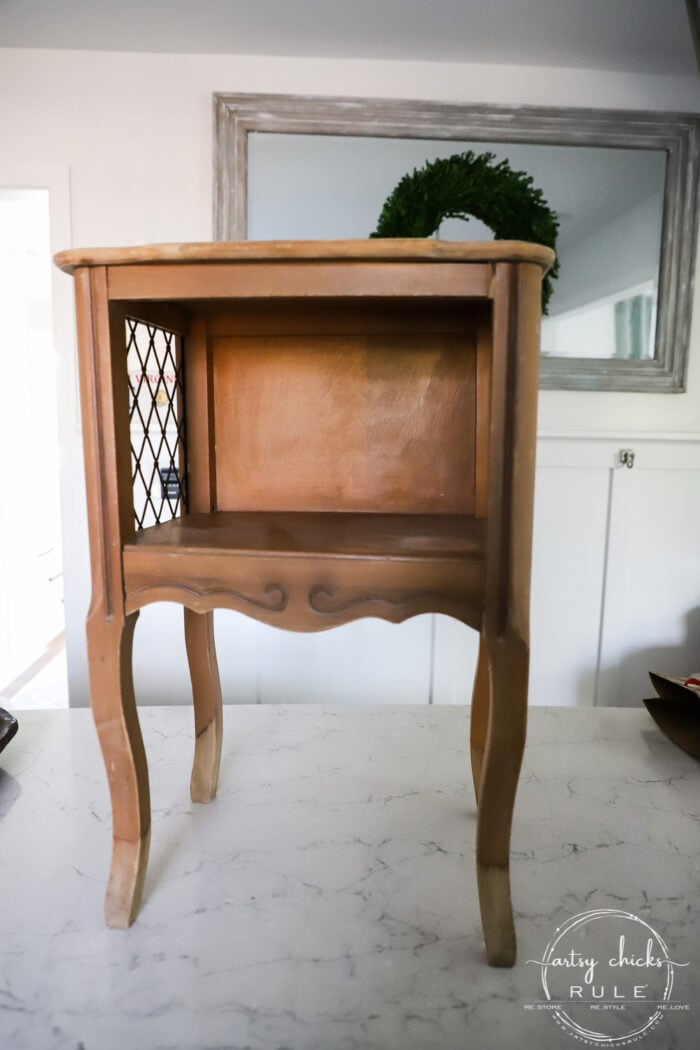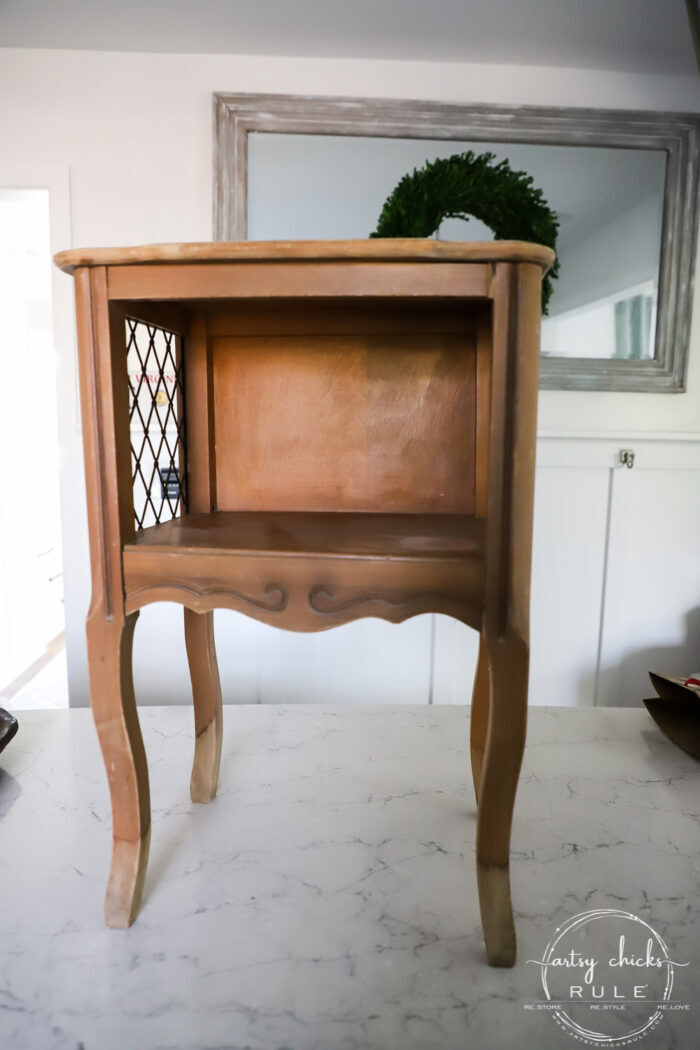 I gave it a light sanding all over to smooth the finish out somewhat before painting.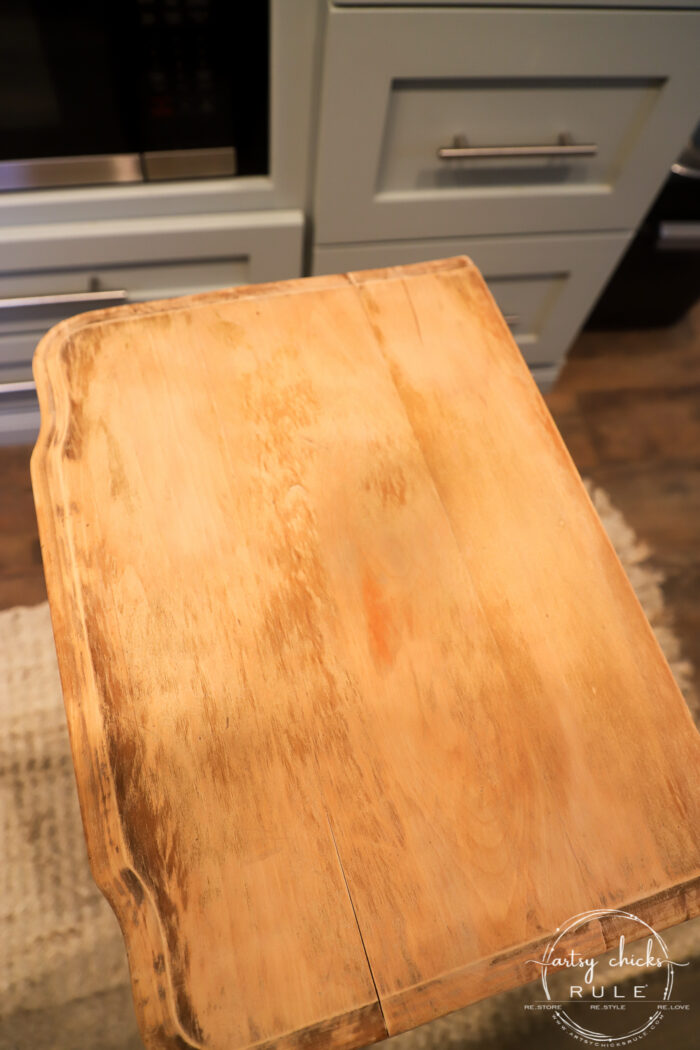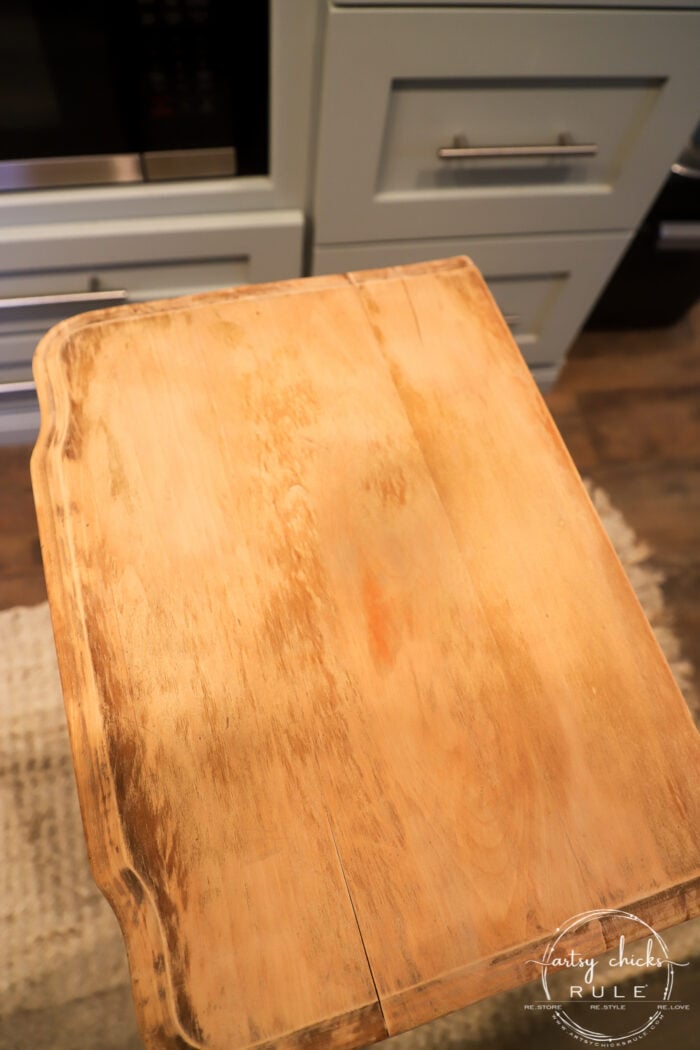 And decided to use a new paint line (to me because it's certainly not new!), Fusion Mineral Paint.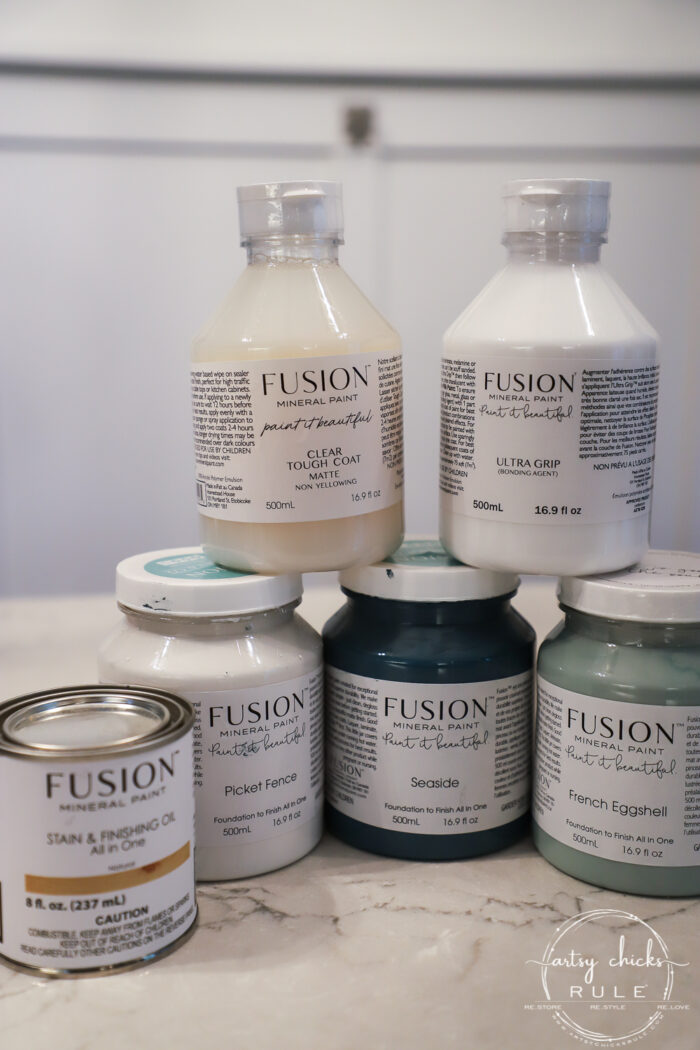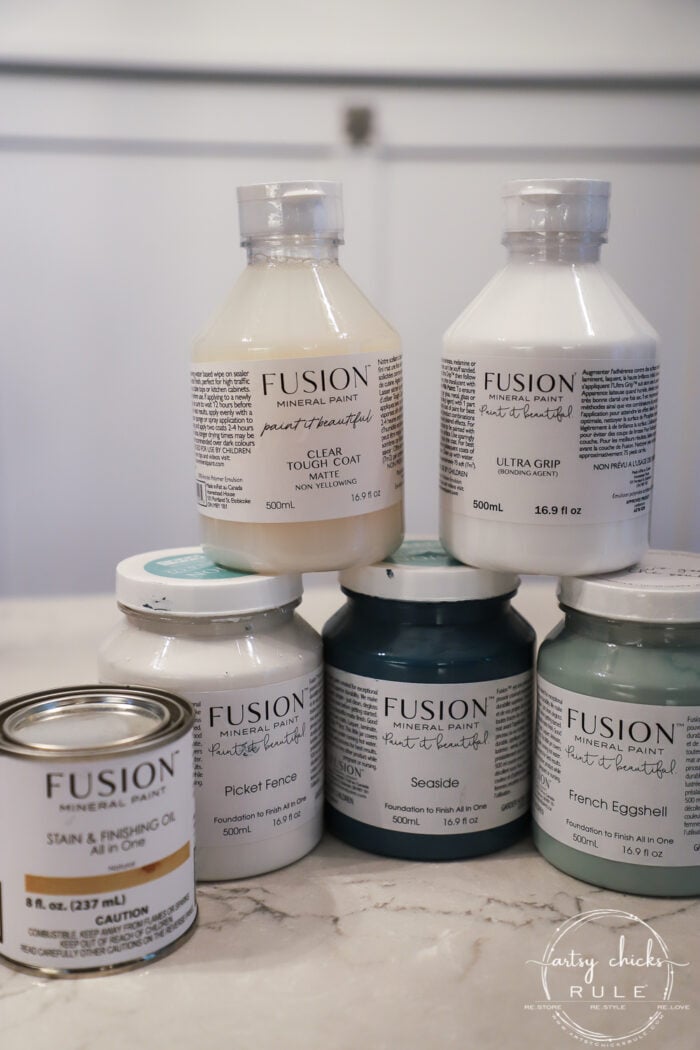 I had never used this paint and I really don't even know why. Maybe because I've been happy with the ones I use most often.
But hey, it's fun to try new things, right? So I thought it was about time I got around to trying this.
So I located a retailer near me and went by to pick out a few products to try. (all of those above)
I'm excited to dig in a little more since I only ended up using two products on this project.
(this is NOT a sponsored post, by the way, I just wanted to give these products and try!)
The Fusion Seaside & Picket Fence paint colors.
Since Fusion paint is self-sealing I didn't have to put a topcoat on. And I didn't really think this little table would need too much extra protection so I didn't add any "clear tough coat". Although I certainly could if I felt it might need it or was in a high traffic spot, etc.
I began the project thinking I would only use white but I quickly changed my mind (as I usually do once I get started on a project, lol) to paint the inside area a different color.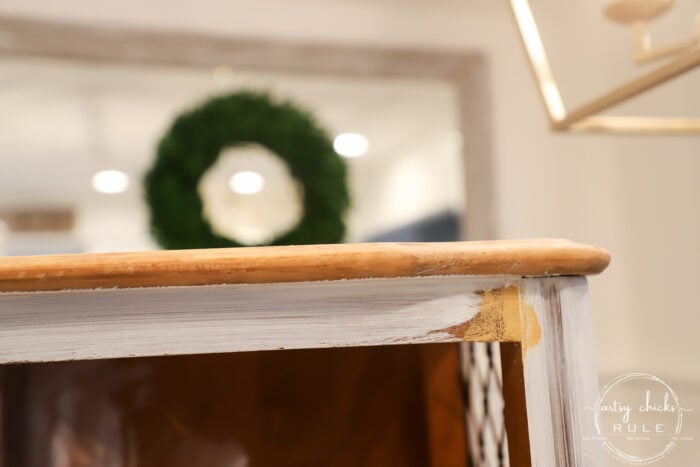 But before I got going on that, I realized I need to fill in some gaps here and there. (and a big one right there I did with wood filler instead of caulk)
The rest of the seams got caulk. (be sure to use paintable caulk)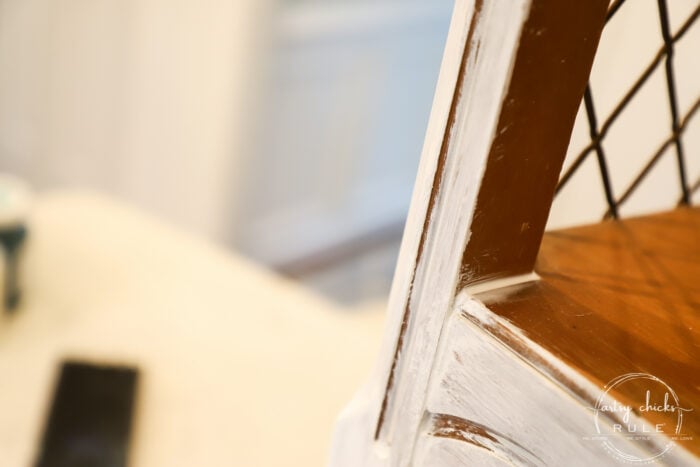 I like things to look seamless. Just gives a nicer, more finished look.
So for that second color for the inside areas, Seaside was calling my name on that one! The contrast between it and that crisp white I knew would be a winner.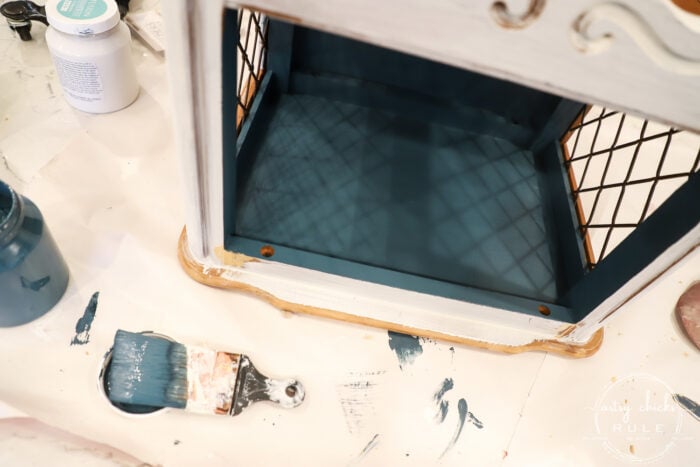 I turned the table upside down to paint the top and get around to all the other areas there more easily.
Then I used a small paintbrush to get into these areas.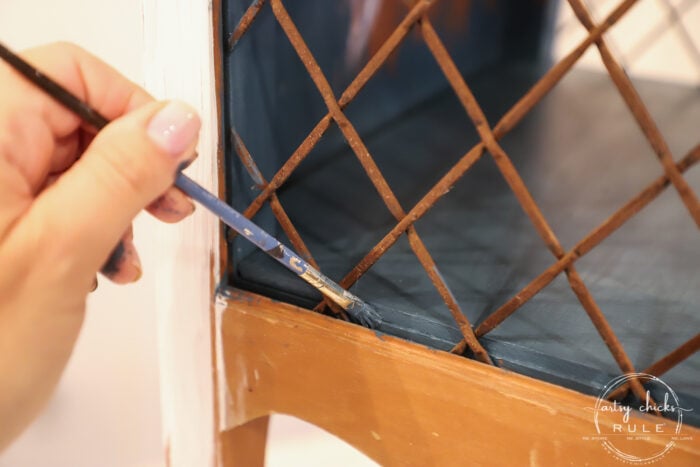 And so you see how RUSTY looking the metal sides are? Ick…but they are going to be amazing soon. :)
Love the dark blue. (it's somewhat similar to Aubusson Blue that I've used many times in the past…just a tad darker)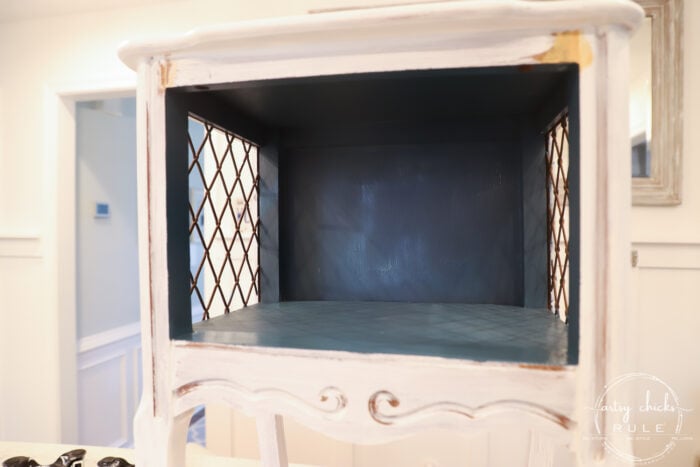 Then I used one of my favorite products (this paste wax) on the metal criss-cross sides.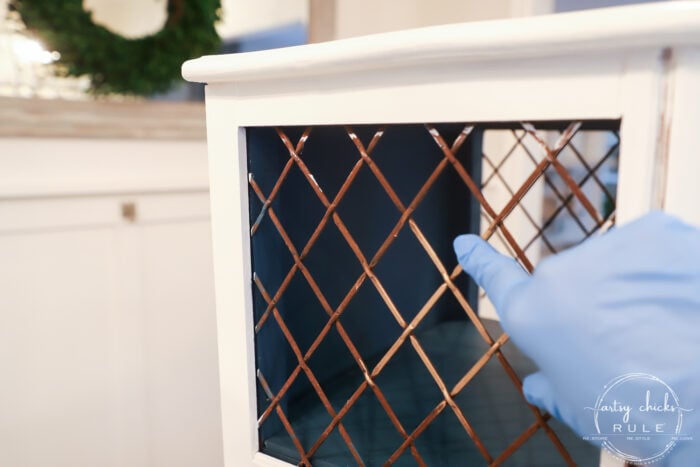 You can find it, and all of the other products I used on this project, here…
You simply rub it on with your finger…it's that easy.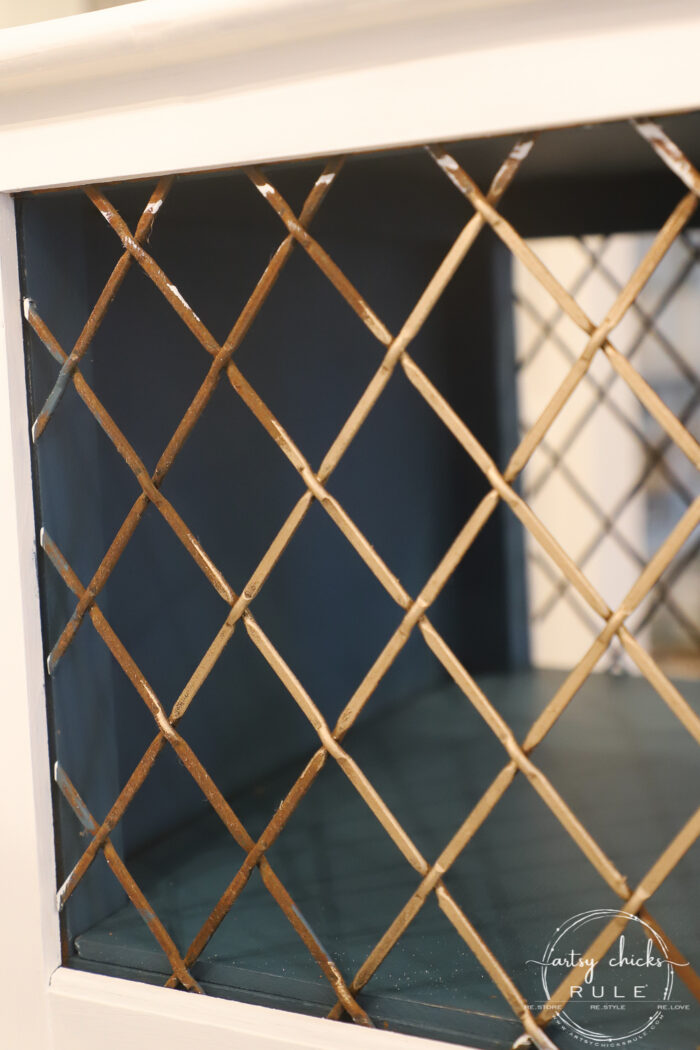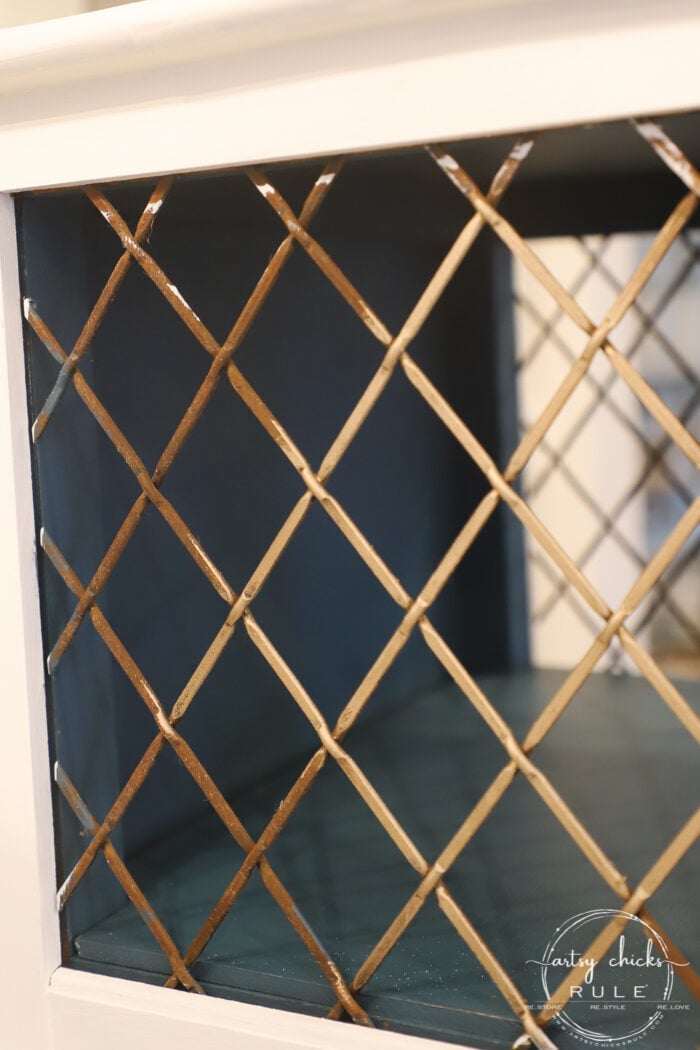 And look at the difference.
Love that stuff! I've used it on so many things.
Coverage…the Seaside took about one coat. Awesome. The white (Picket Fence) took about 3 coats to fully cover this wood.
I thought I wanted to accentuate these wood features on the front and sides…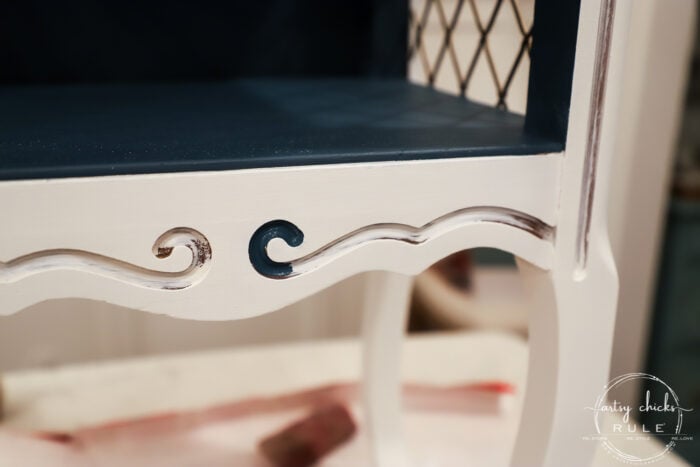 …until I accentuated them. Haha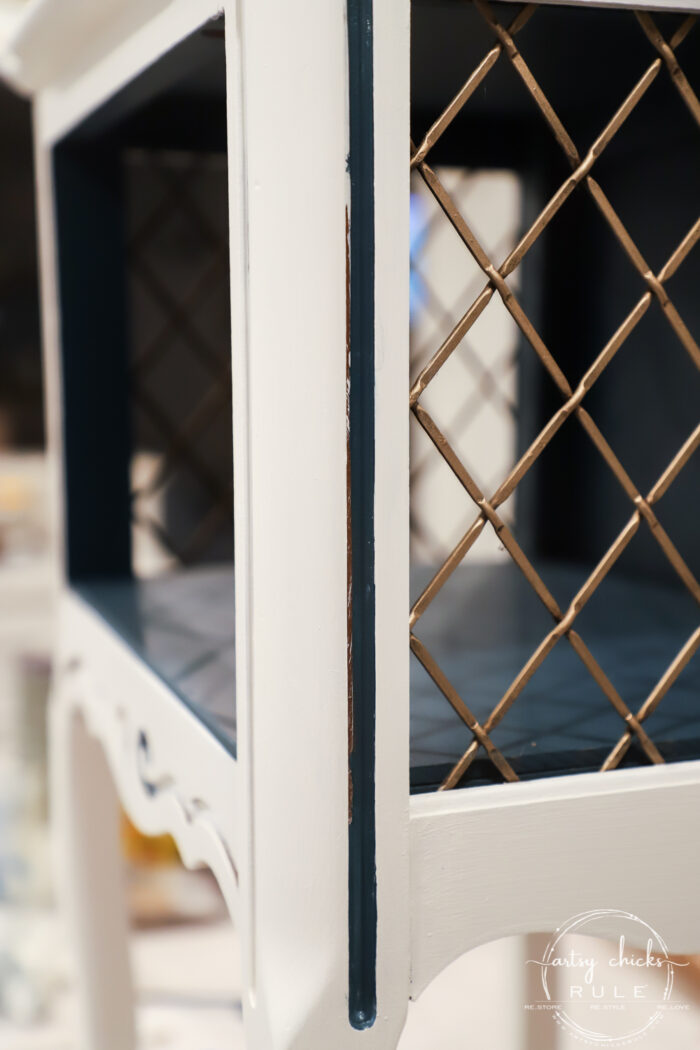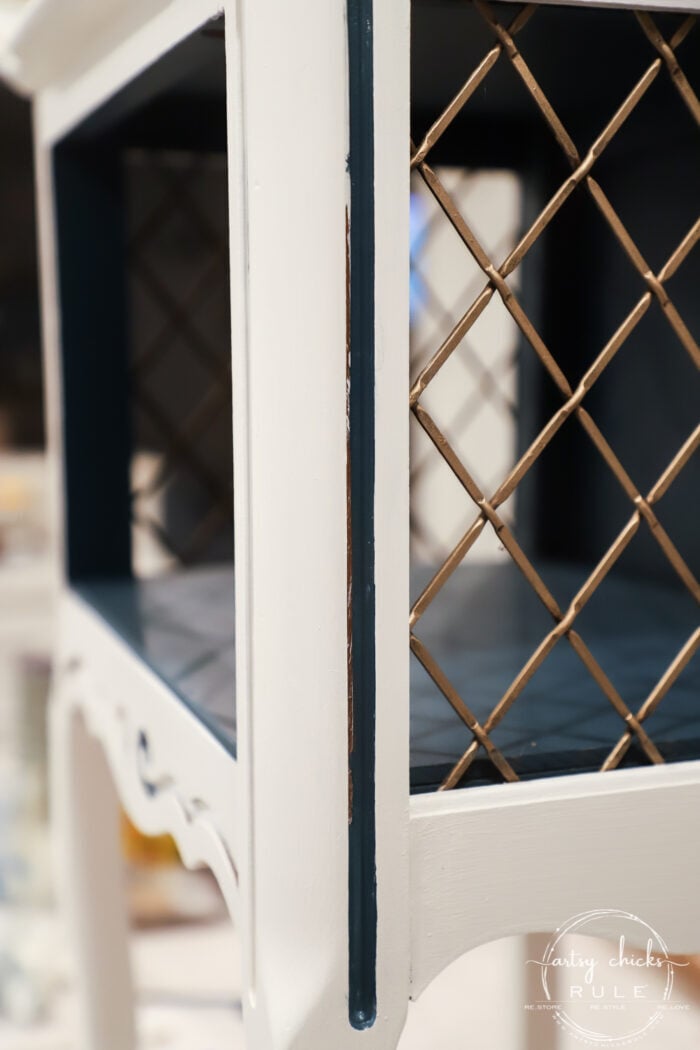 Nope!!
I ruined a perfectly nice-looking painted piece of furniture with that mess. ha!
So I painted over it with white and kept it nice and clean, understated, unfussy.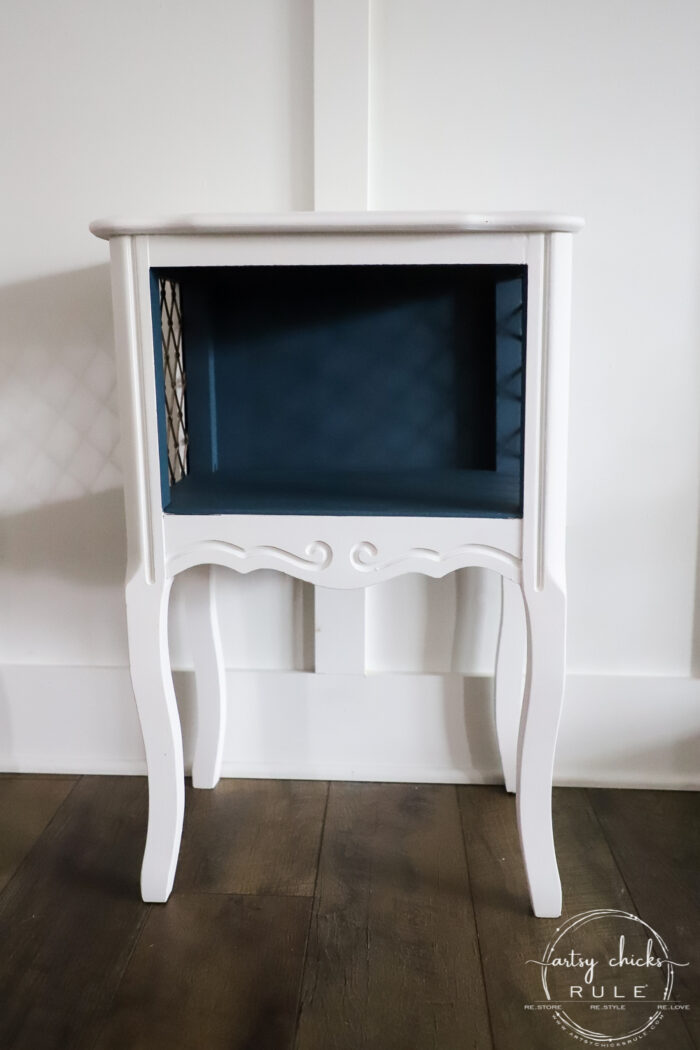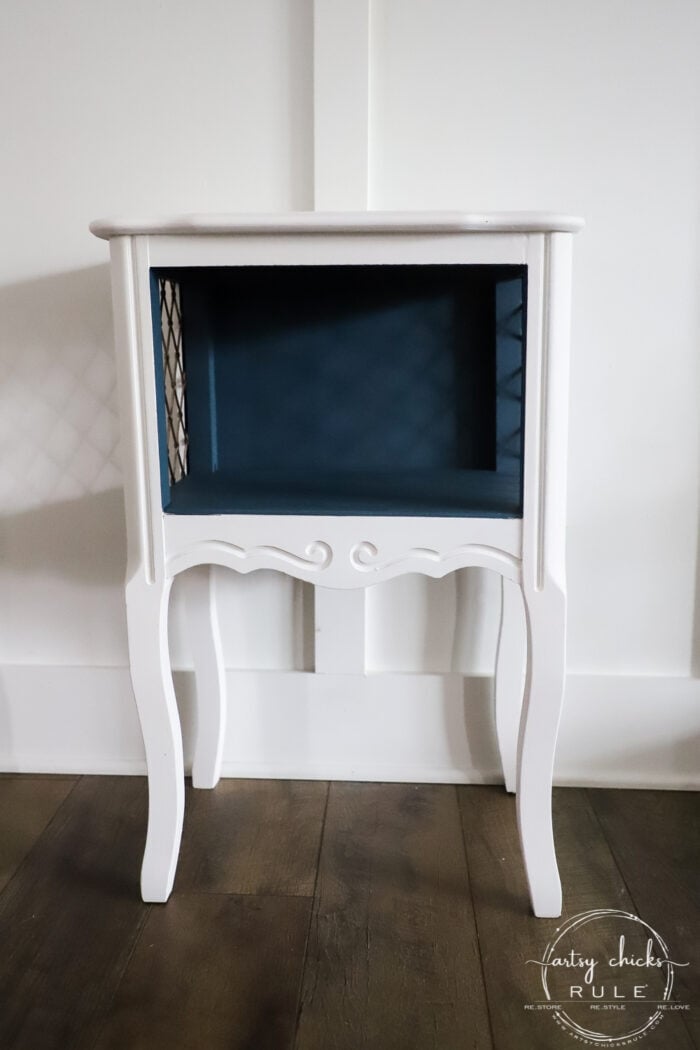 I considered lightly sanding the edges all over to bring out the details more but I couldn't bring myself to do it.
The paint just looked so clean and nice, I left it alone.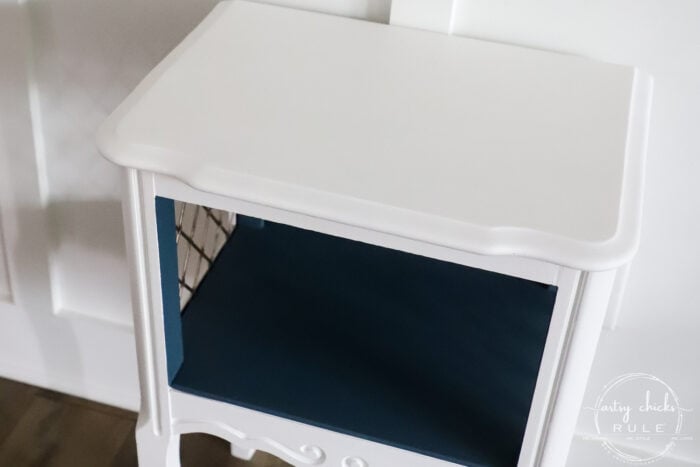 Not everything needs to be distressed, right?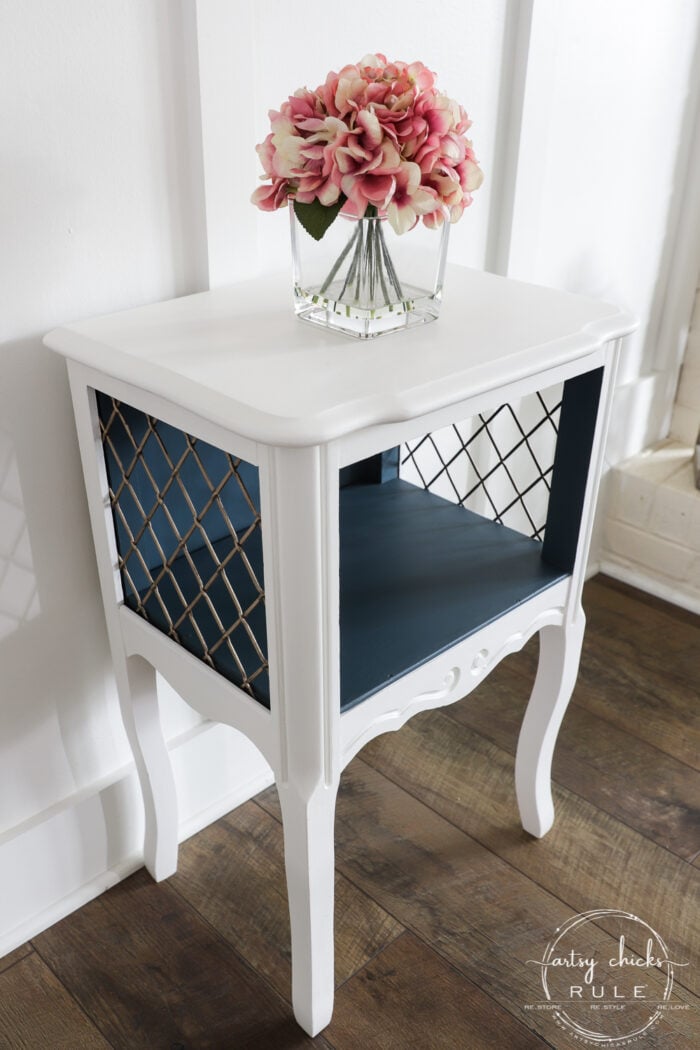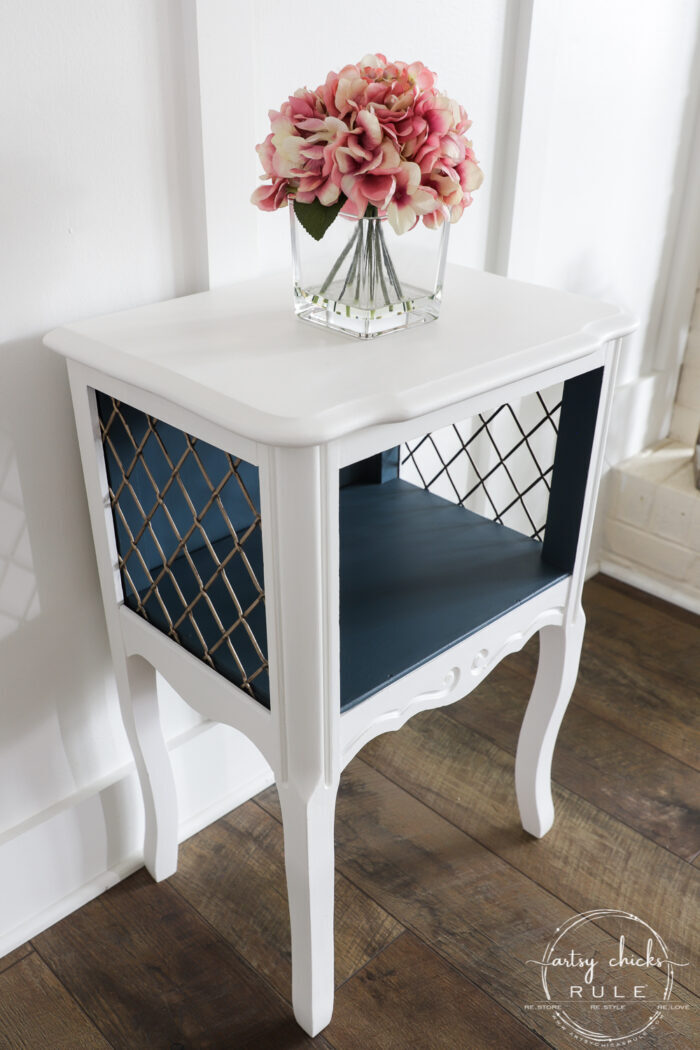 This self-sealing feature of this paint is very nice. See that ever so slight sheen?
It's the perfect amount of sheen, in my opinion.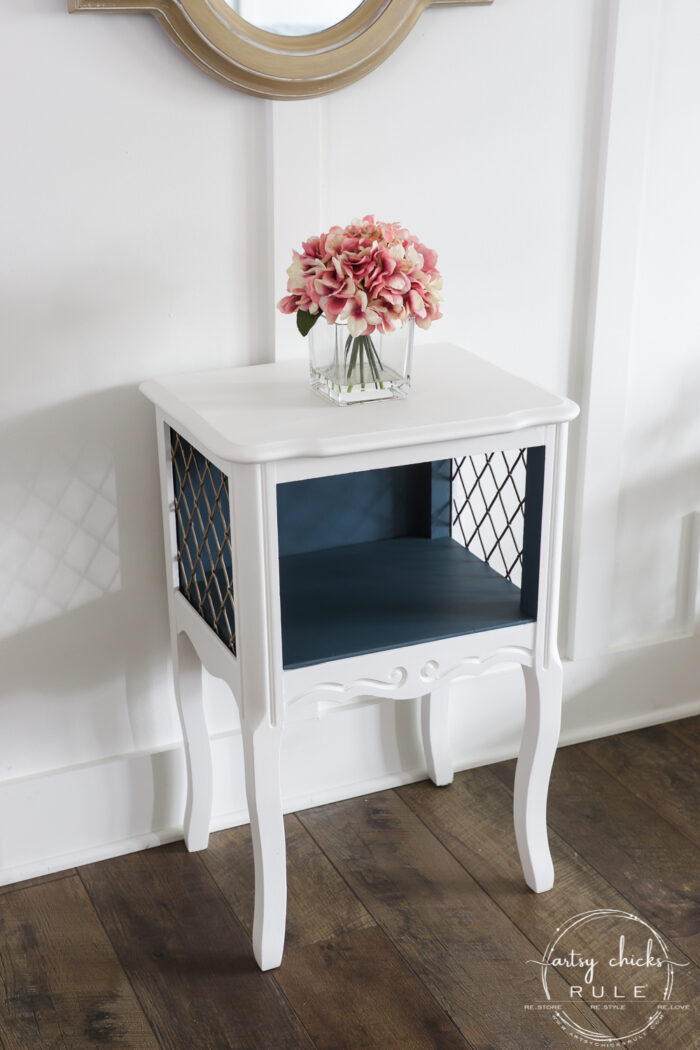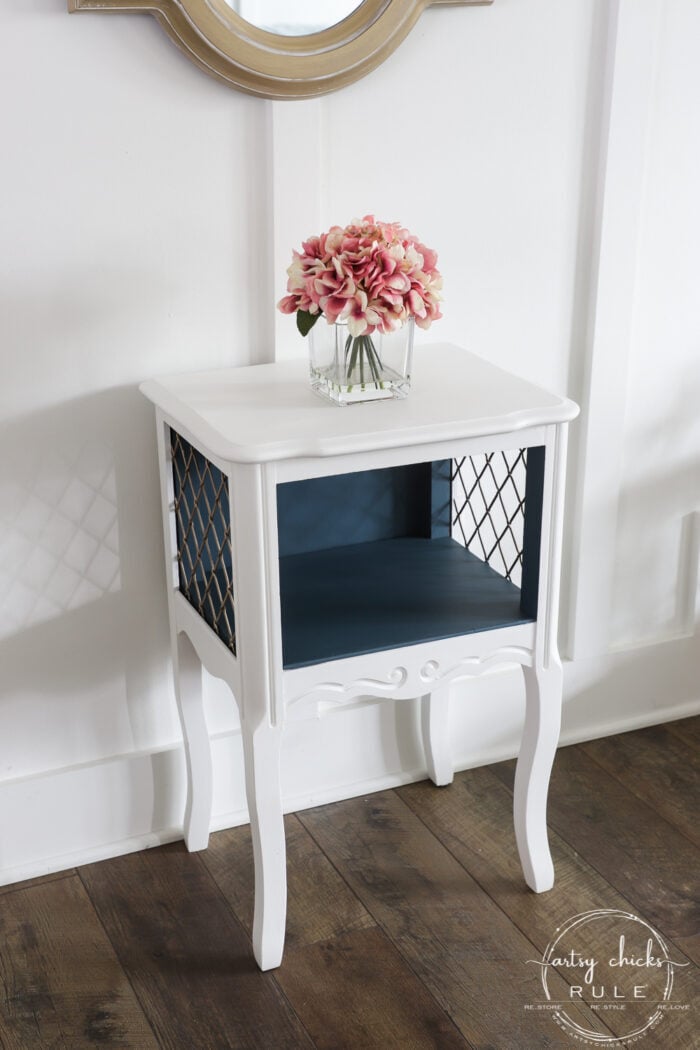 Want to know about 26 other chalk style paints?
I've got the low down for you right here! >>> 26 Types of Chalk Style Paint For Furniture
Up close of the sides…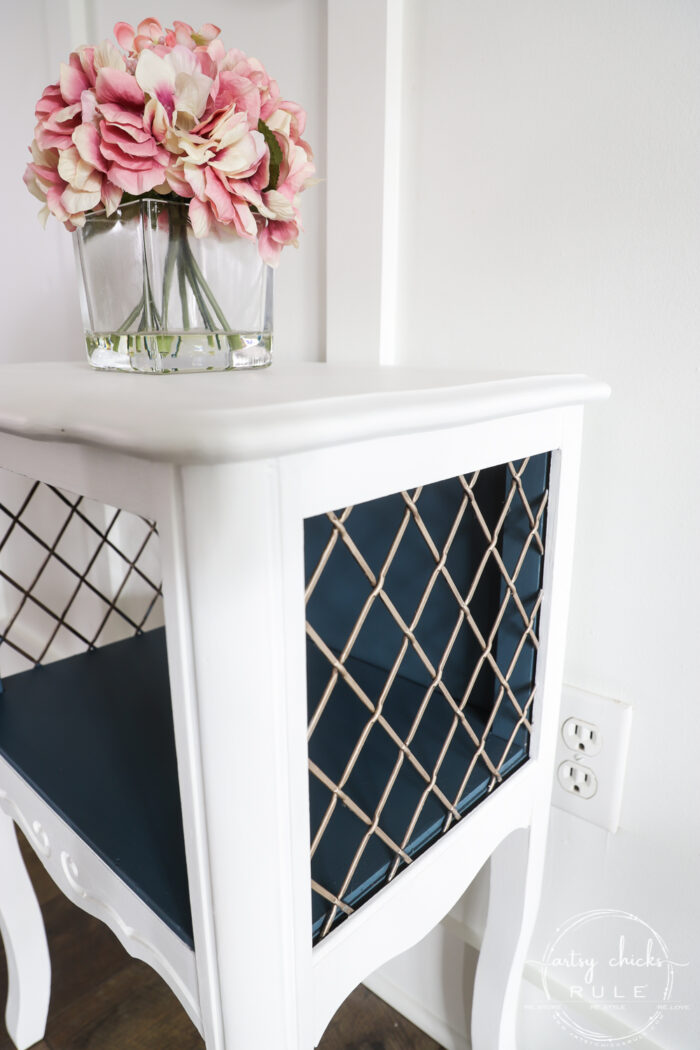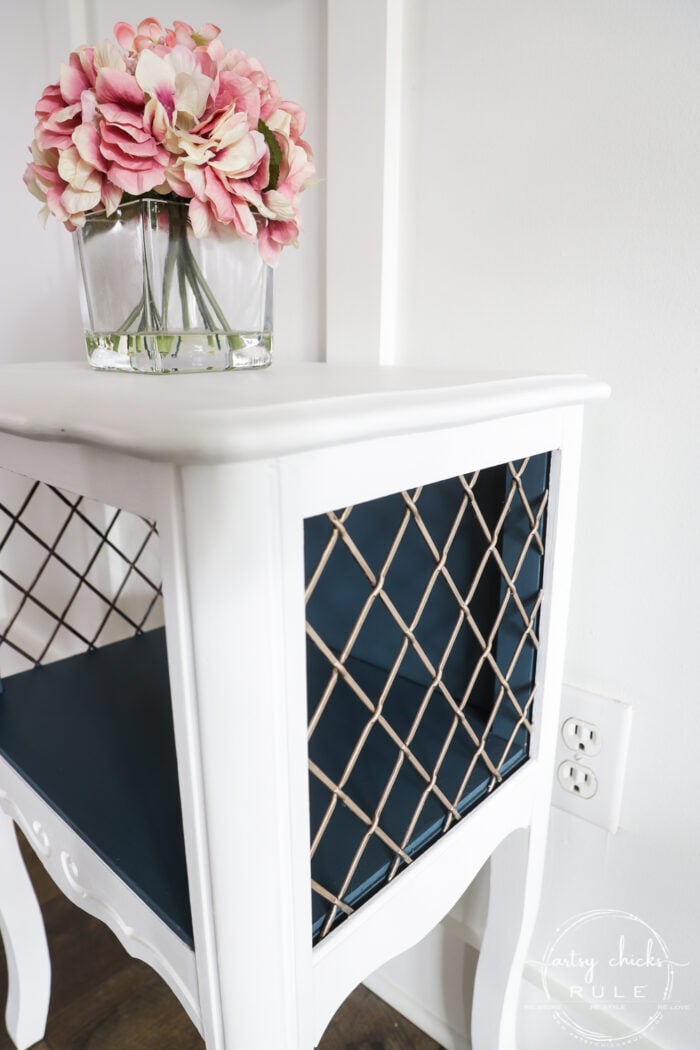 Want to see some of these projects in "live" time? Hop on over and follow along with me on INSTAGRAM. I'm always sharing in my stories as I'm doing projects, finding new furniture, fun finds….just all the day to day behind the scenes.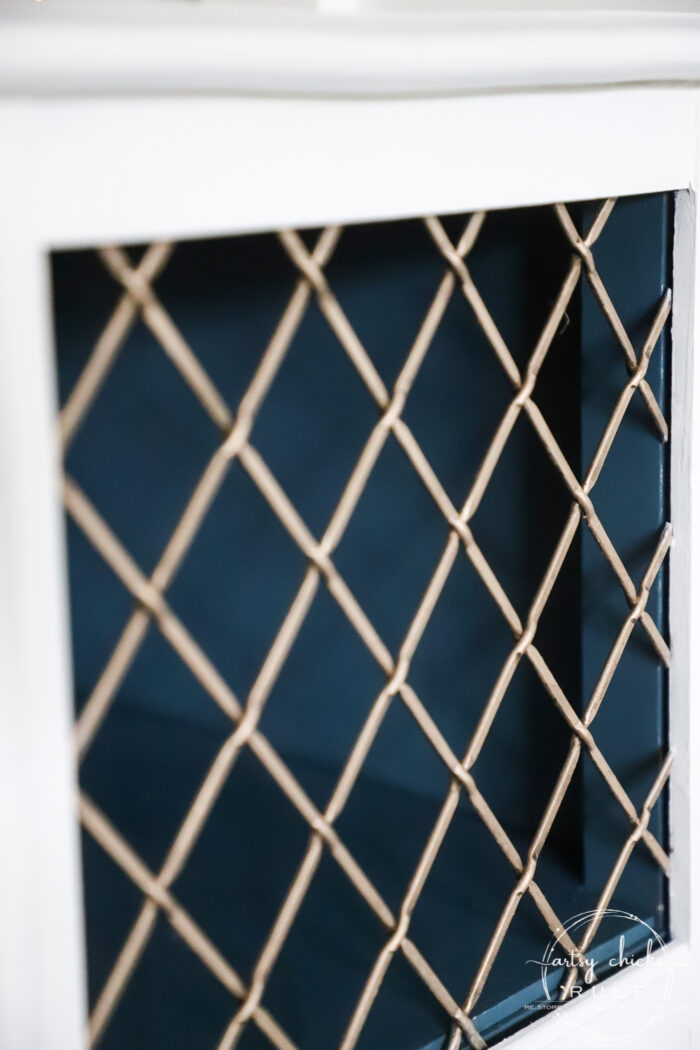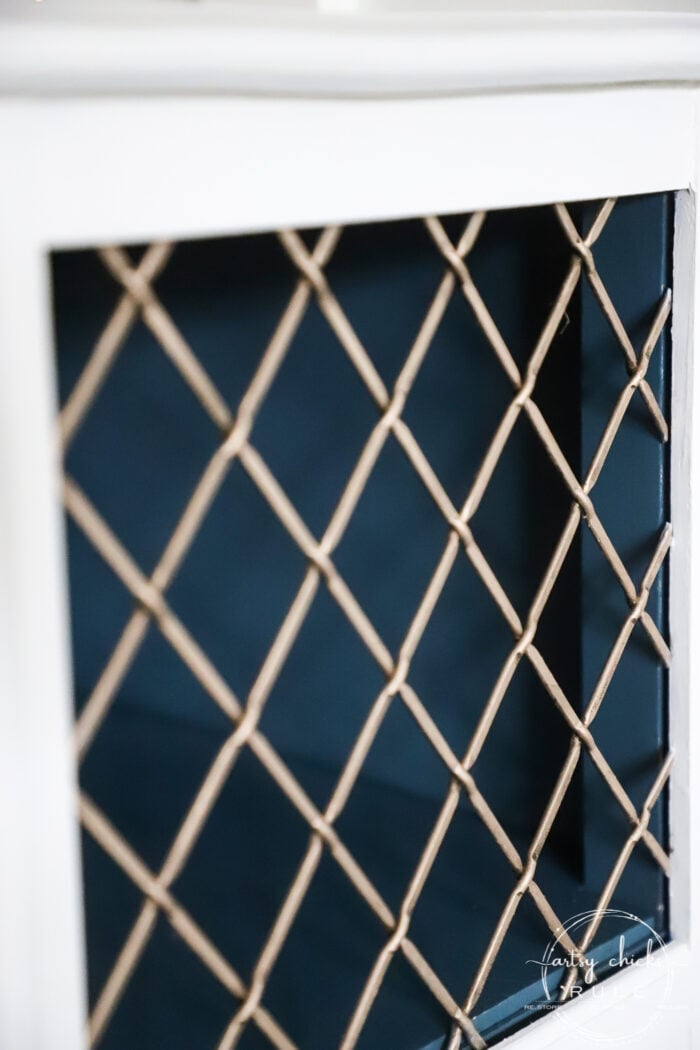 So much better than the rust.
And that blue. Sigh…I love that shade.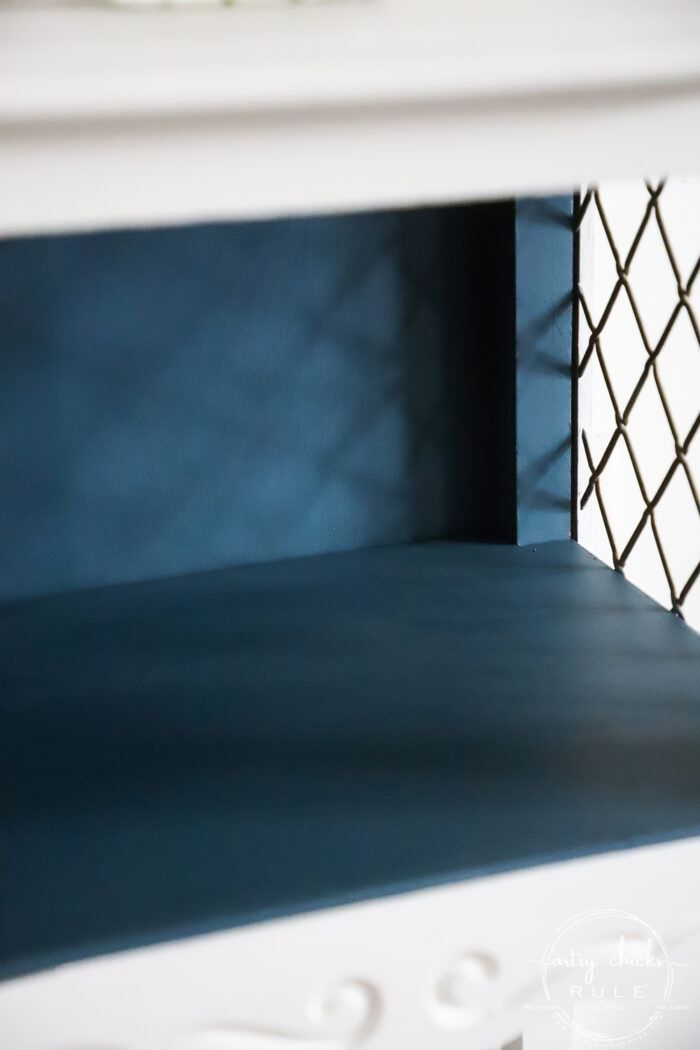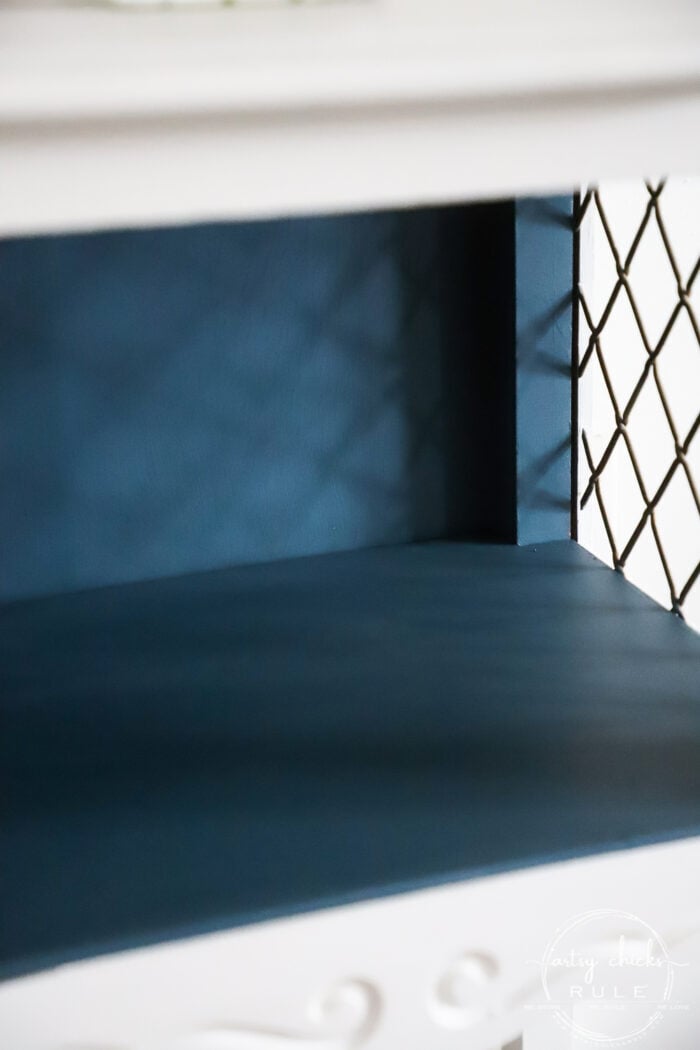 Looking for a crisp, clean white, here it is…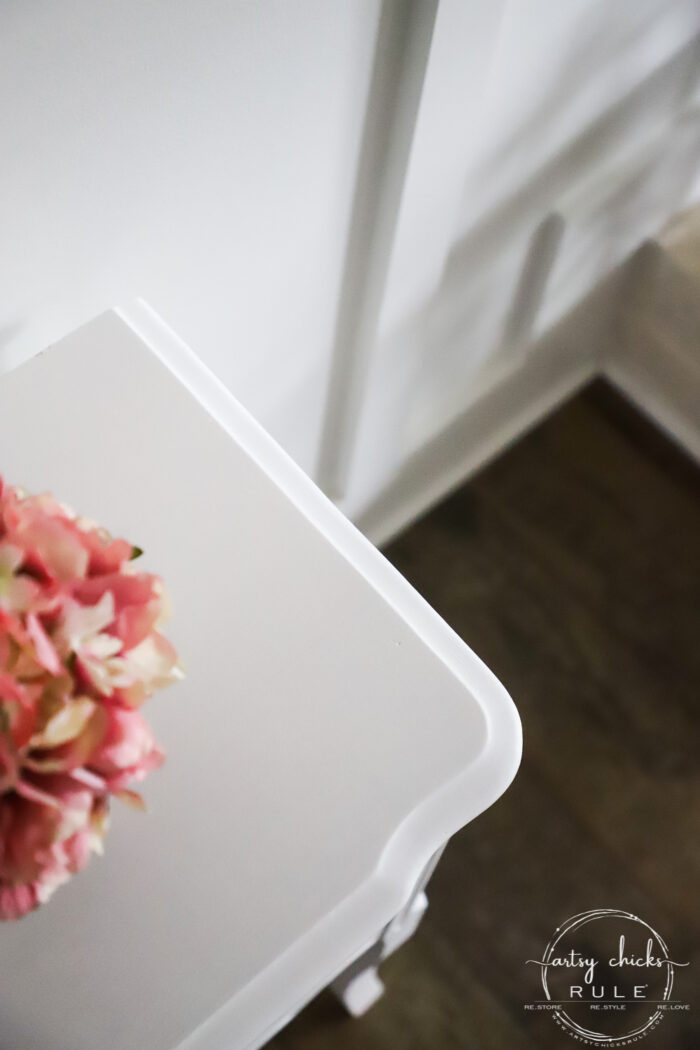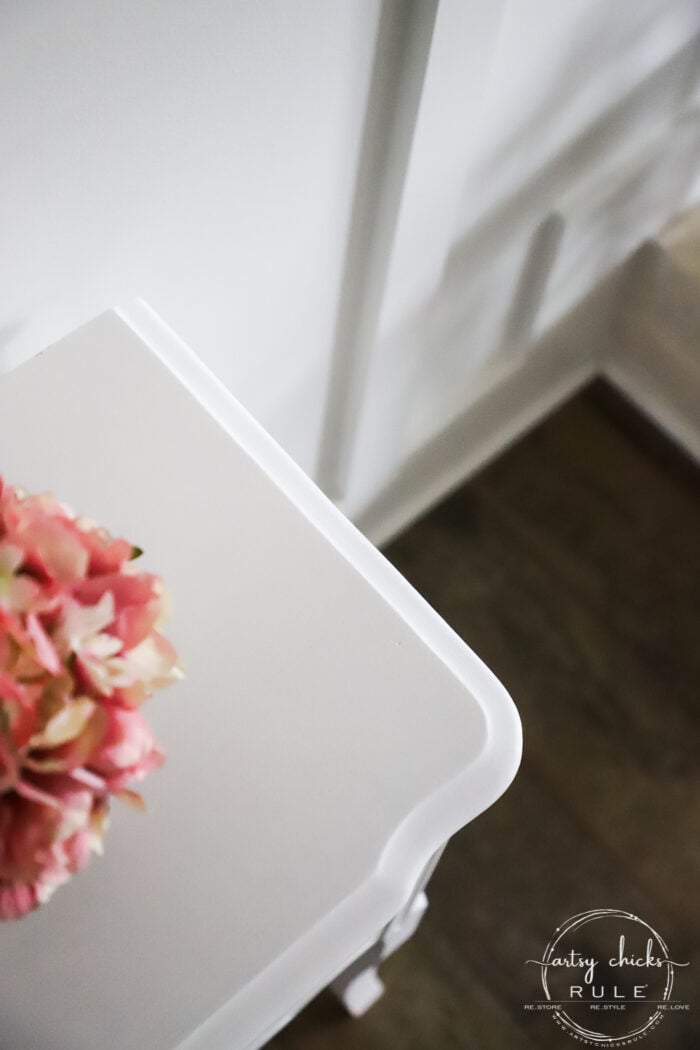 Want to know about 26 other chalk style paints?
I've got the low down for you right here! >>> 26 Types of Chalk Style Paint For Furniture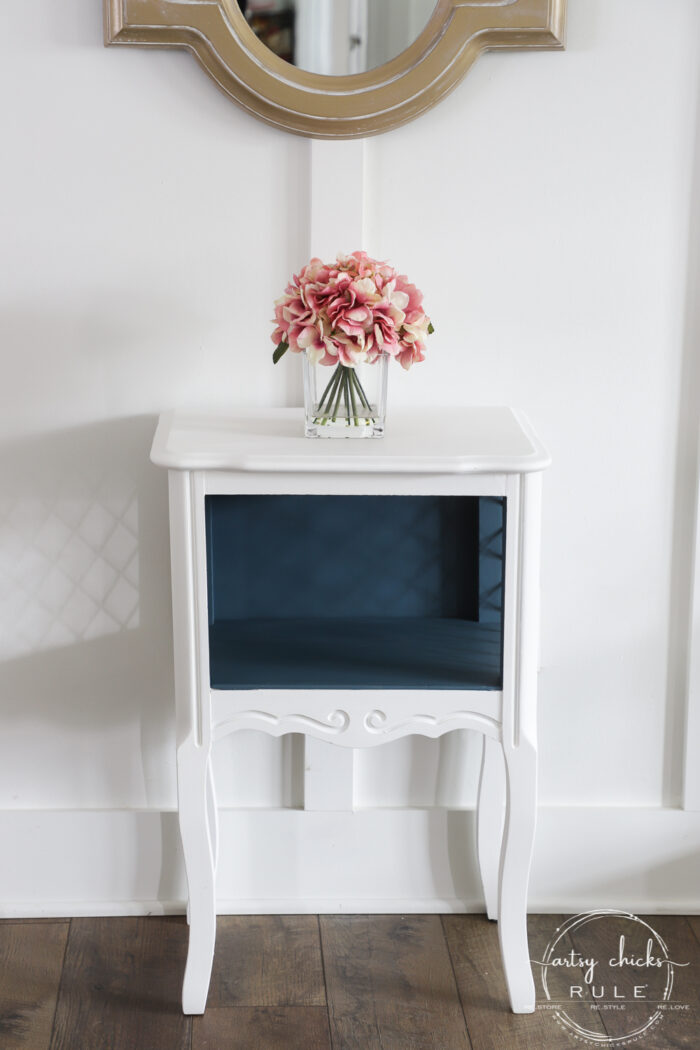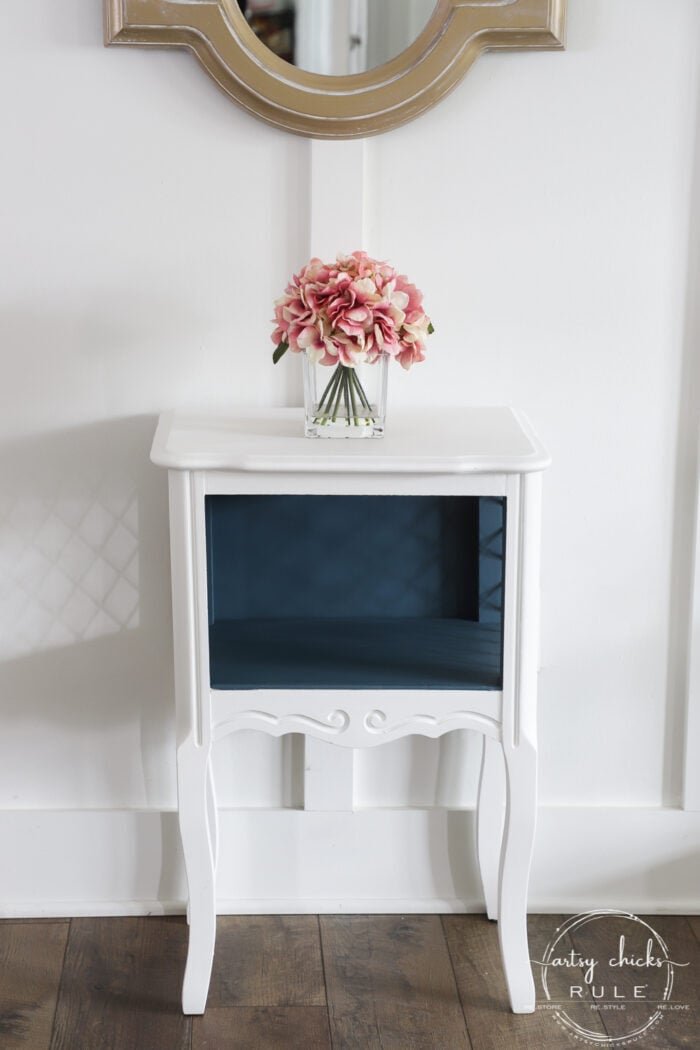 Now, how did I like it?
I liked it but it is quite different than chalk-style paint.
The self-sealing paint…a definite win.
Application, like a dream. And dries really fast. Win, win!
I did get a few brush strokes but I think a wet-ish brush helps with that though.
I think I am going to use my "chalk painting" style brush next go.
Other than that (which is a small issue and can be "fixed"), I love it.
It seems to be very durable. Time will tell…and then I will tell you. ;)
I can't wait to try the rest of the products I bought. Loving everything so far! Stay tuned for more on this.
Be sure to follow along over on Instagram as I'll be sharing there in real-time as I do!
Have you used Fusion Mineral Paints and how do YOU like them?
PIN it to save it!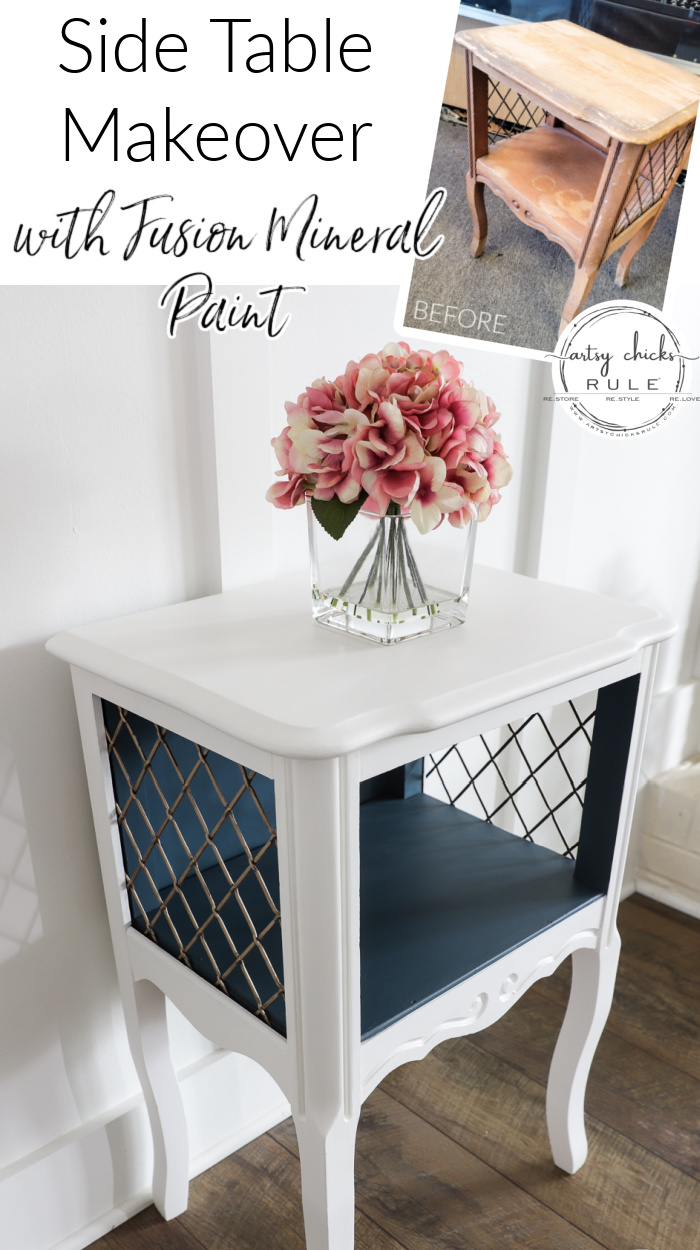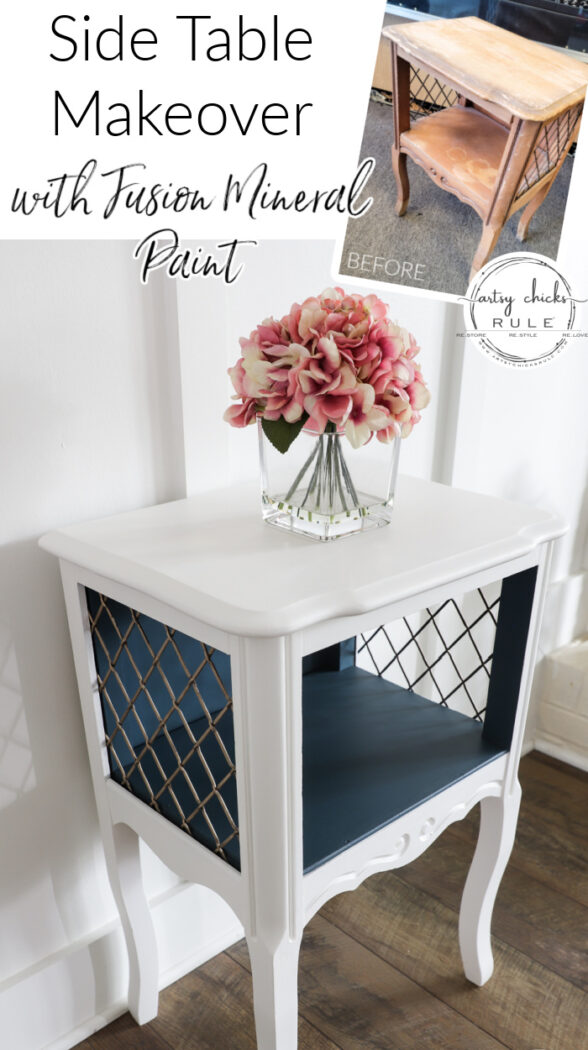 Don't forget to hop over and see what my friends are up to this month!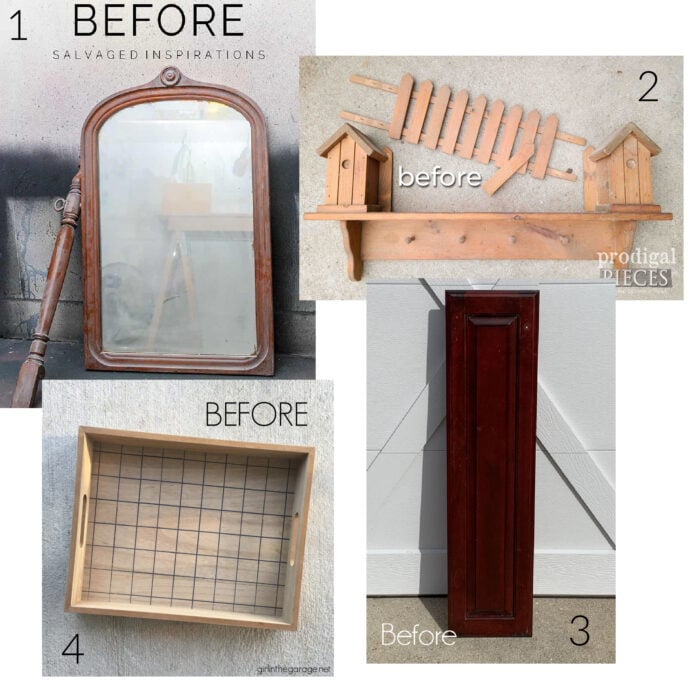 These got yet another new look!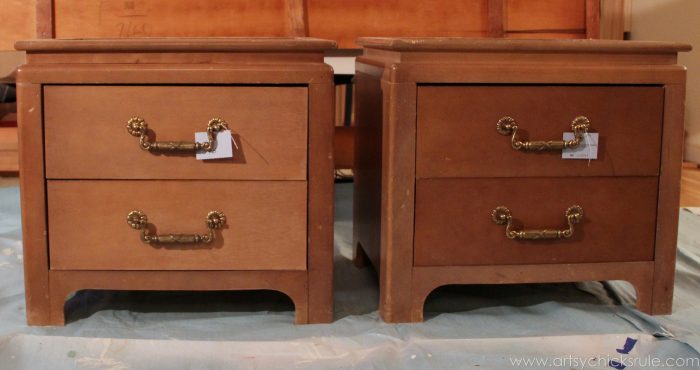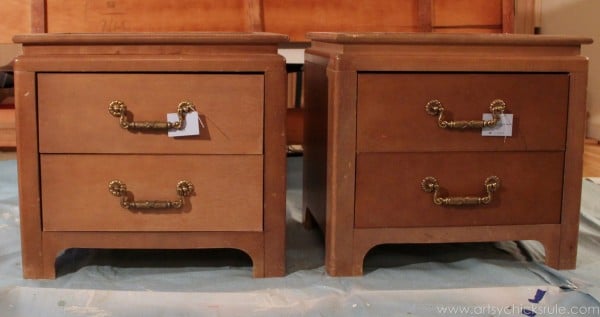 UPDATE!! See them now, here!!
Have a great week! I am doing my first giveaway of the year for January on Thursday. (plus a little something extra :))) ) Can you guess which one?
Be sure to pop back by to enter to win! (subscribe here so you won't miss a thing!)
xo