Quick & Easy Barstool Refresh
This post may contain affiliate links. Please see disclosures here.
This simple, quick and easy barstool refresh will have your old ones looking like new!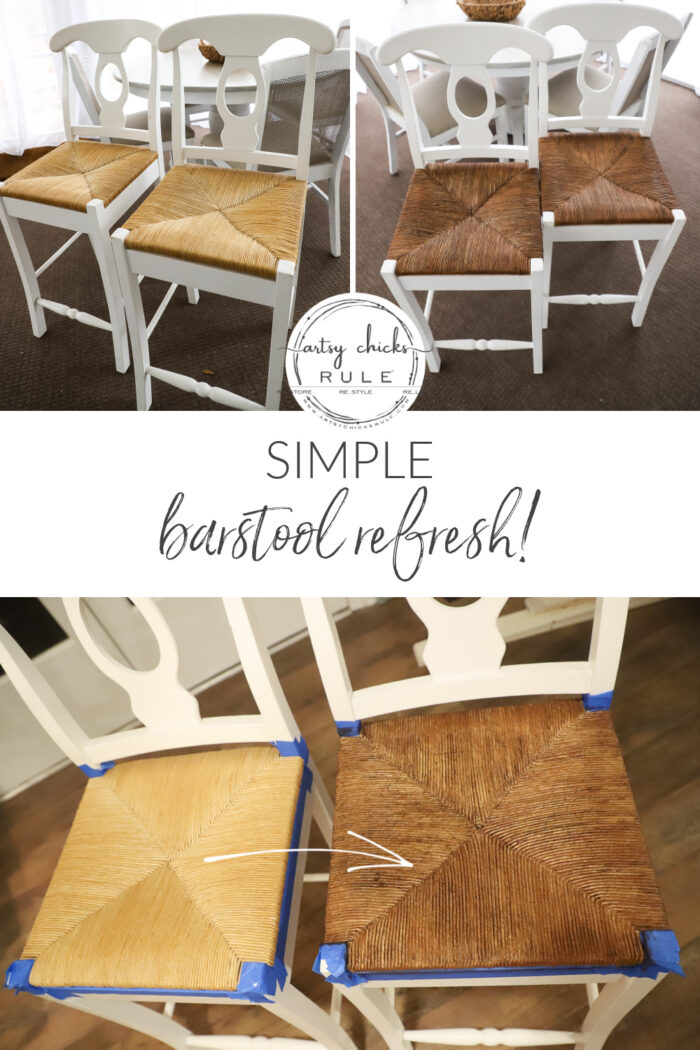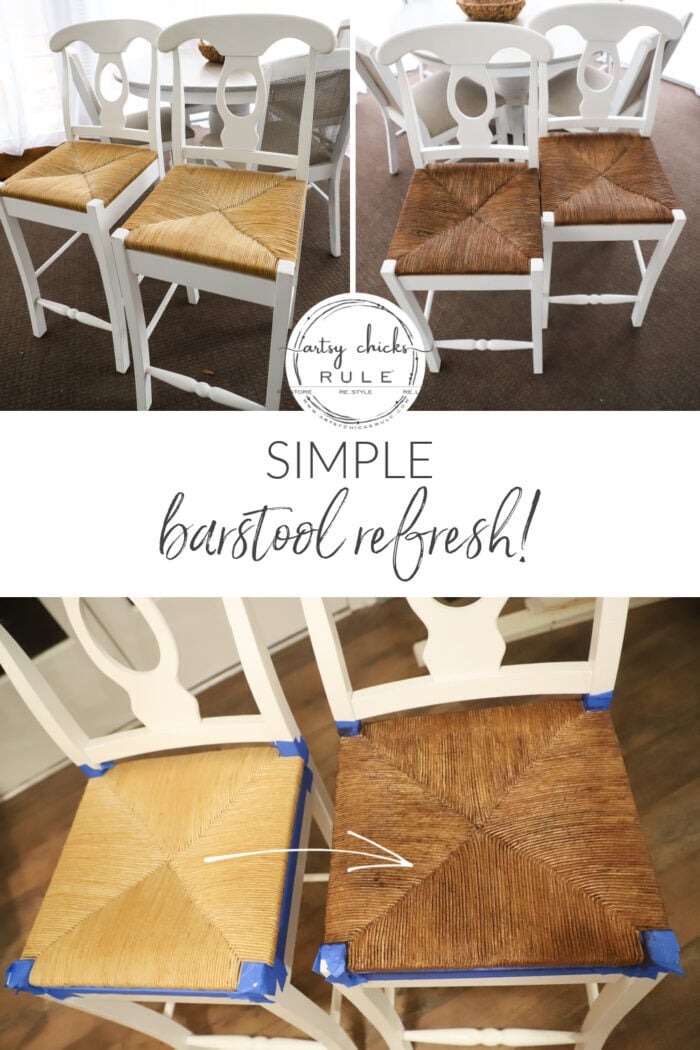 Hello friends and happy new year!
Today I am sharing a super simple (I know, I know, but it really is) makeover/refresh.
You might remember these barstools from our beach condo. (they came with it)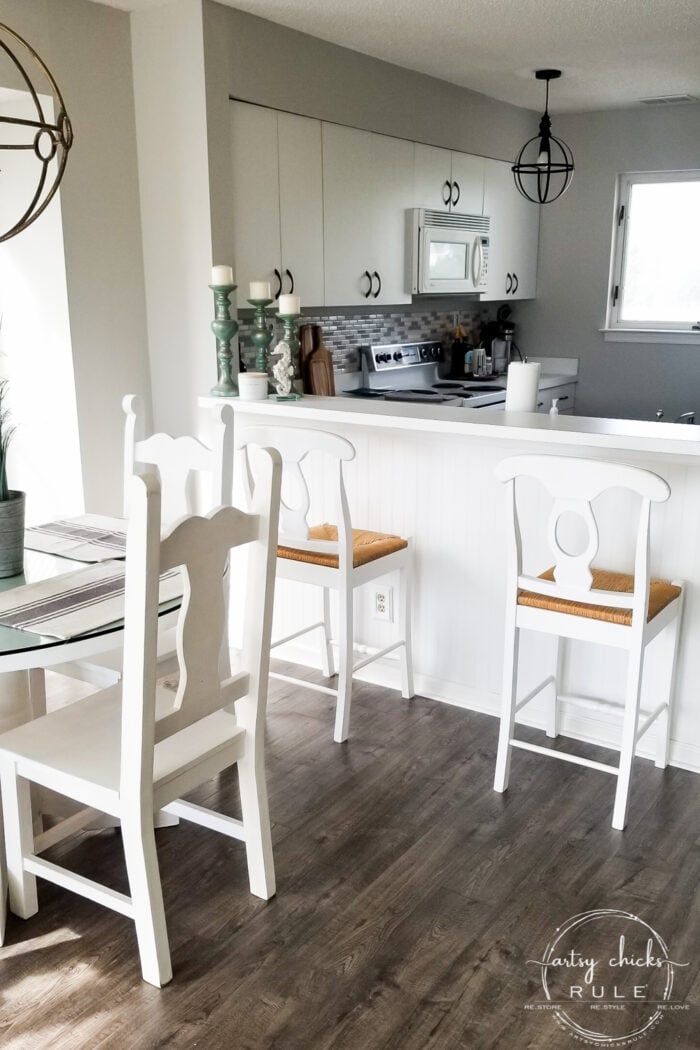 Two things…they are not really my style and they are too short for the bar top.
I am planning to get new ones that will be taller AND skinnier since space it limited in this area.
Something like >>> this.
I thought about just letting them go "as-is" but you know I can't do that. Haha
I had to give them a little refresh before they go to their new home.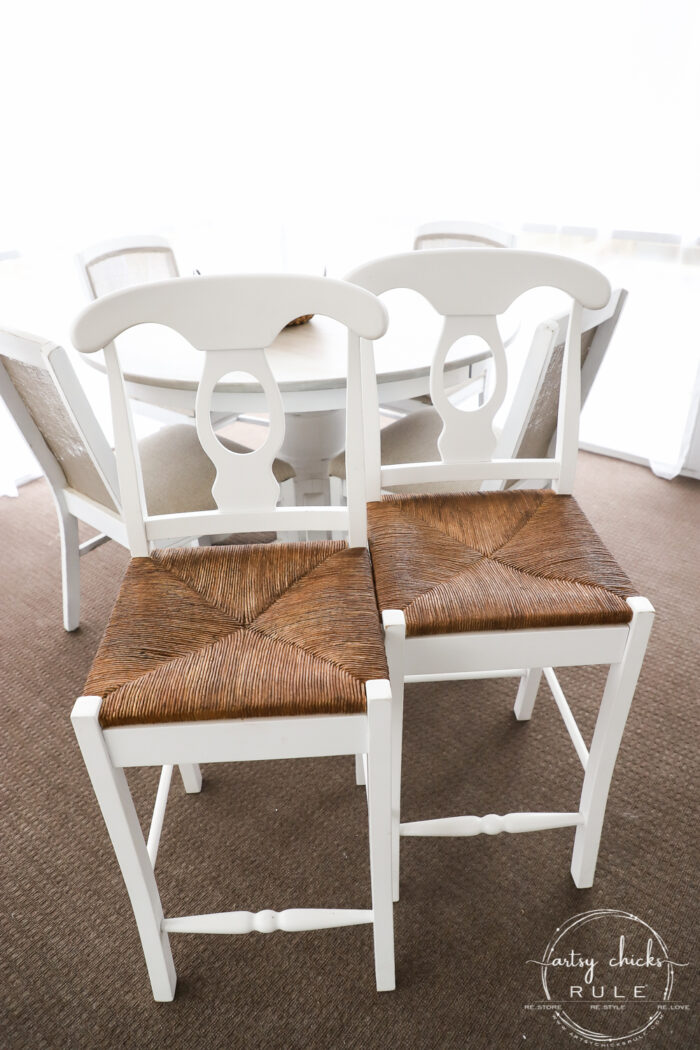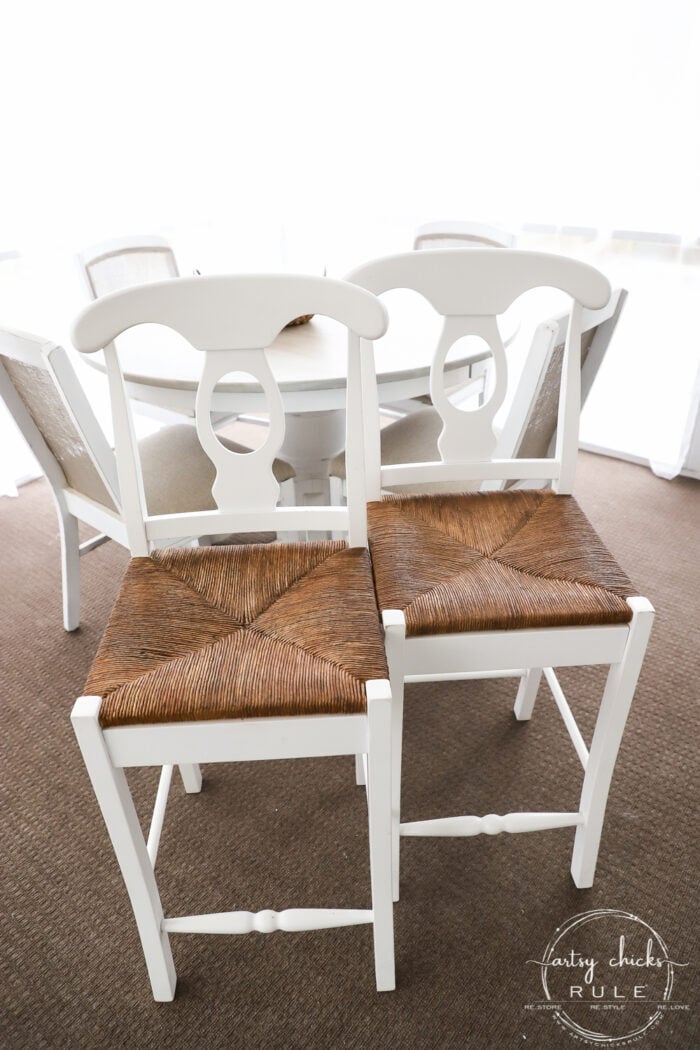 Quick & Easy Barstool Refresh
Here they are again "before"…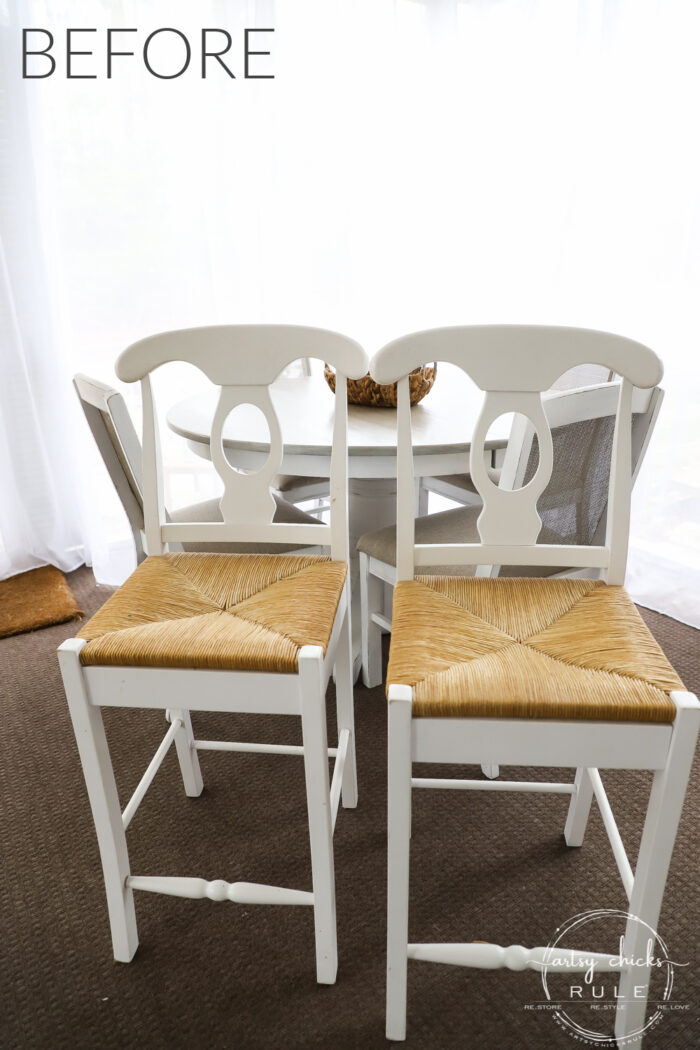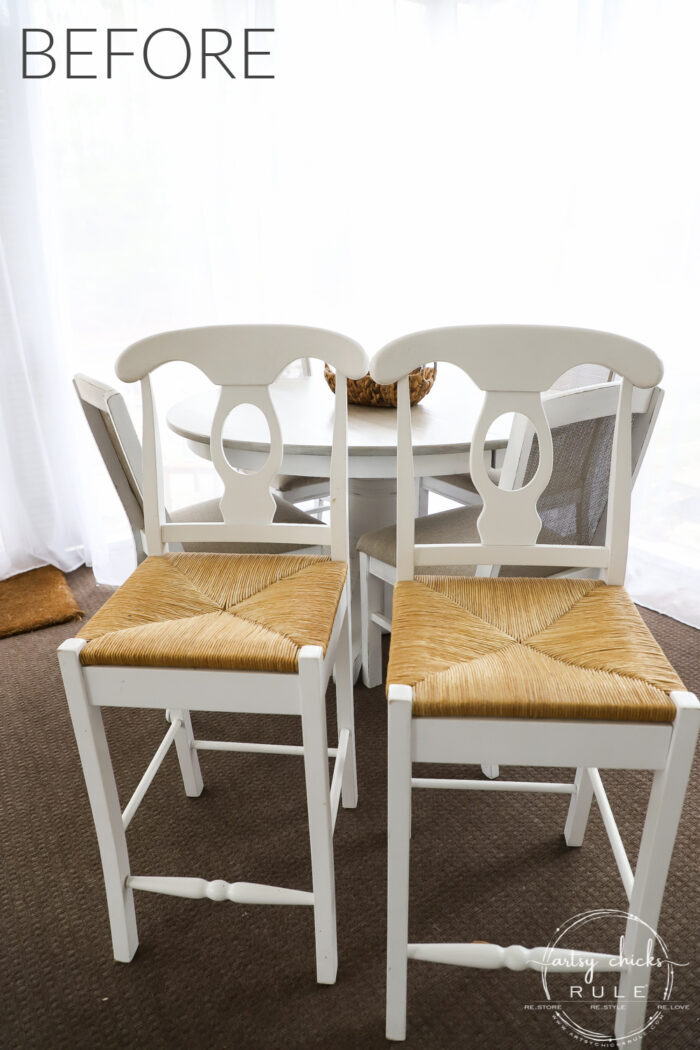 The seats are in great shape but the color needs a little change-up…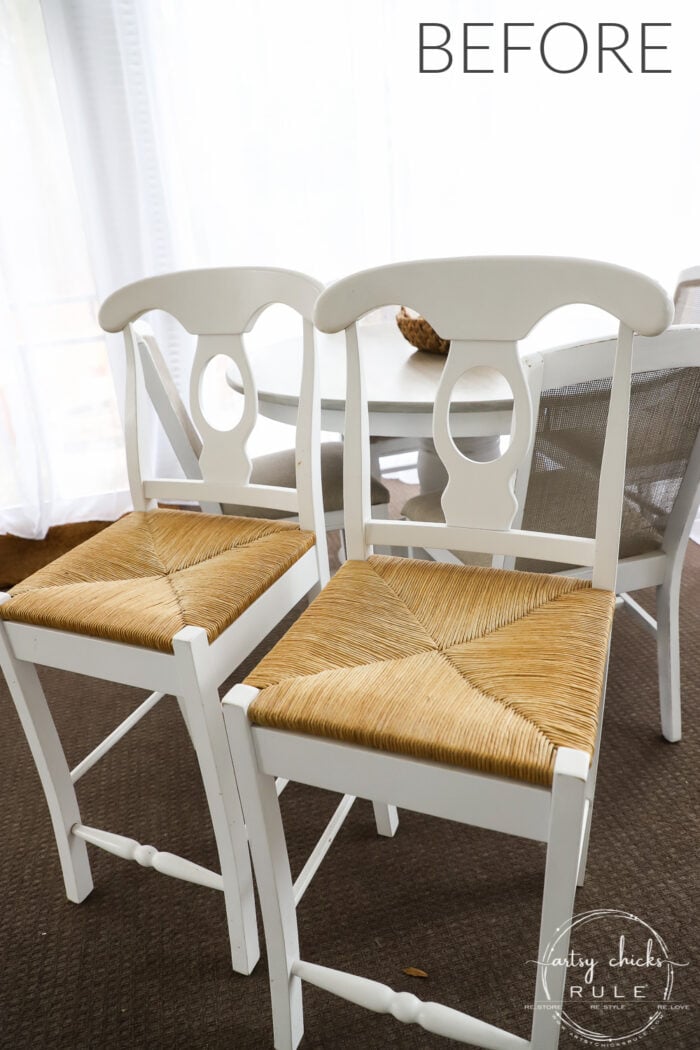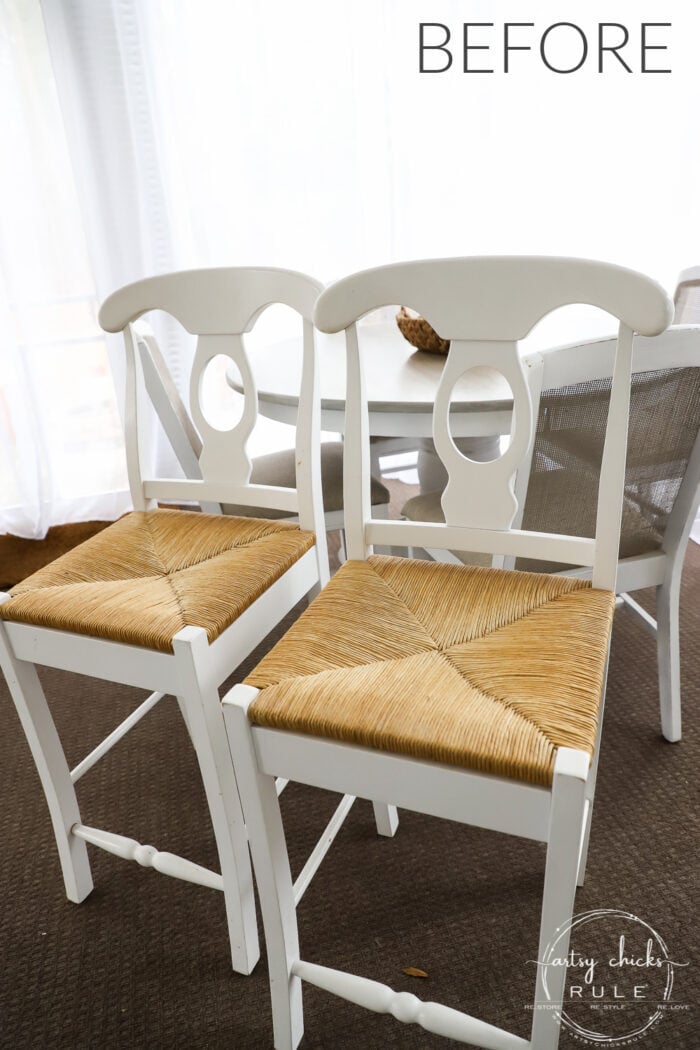 The rest of the barstools were in fairly decent shape too.
Just a few scratches on the tops here…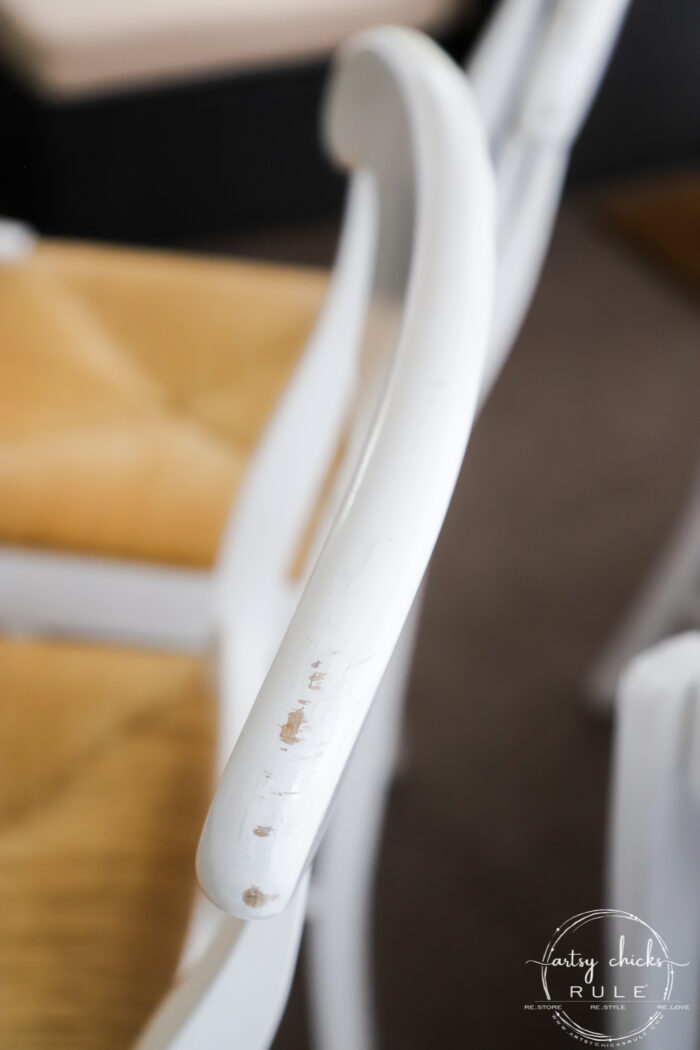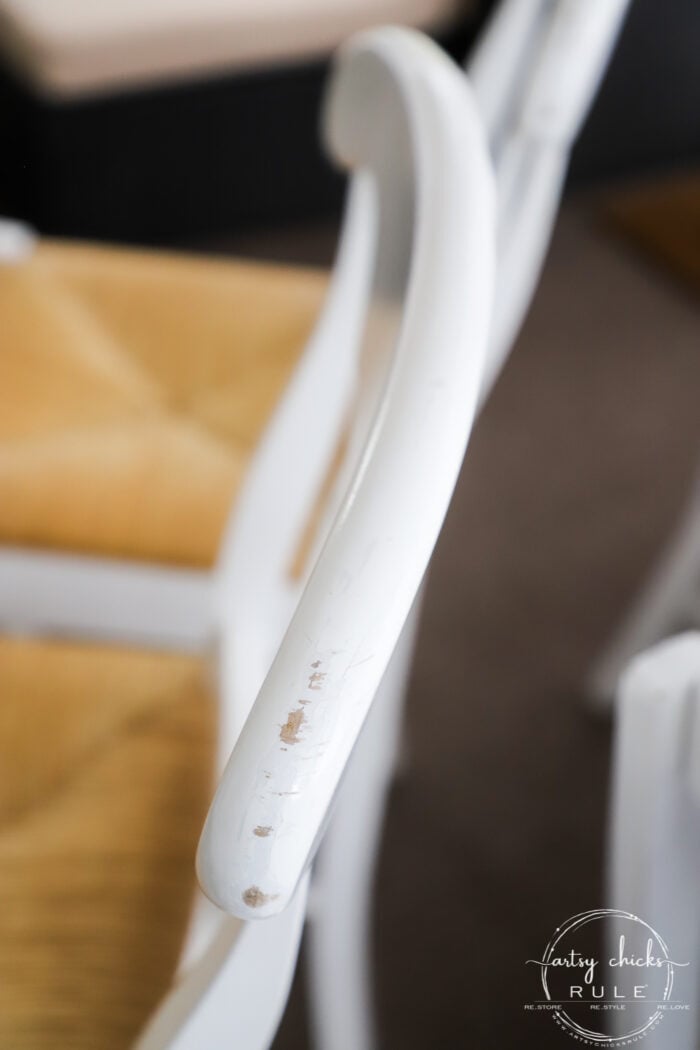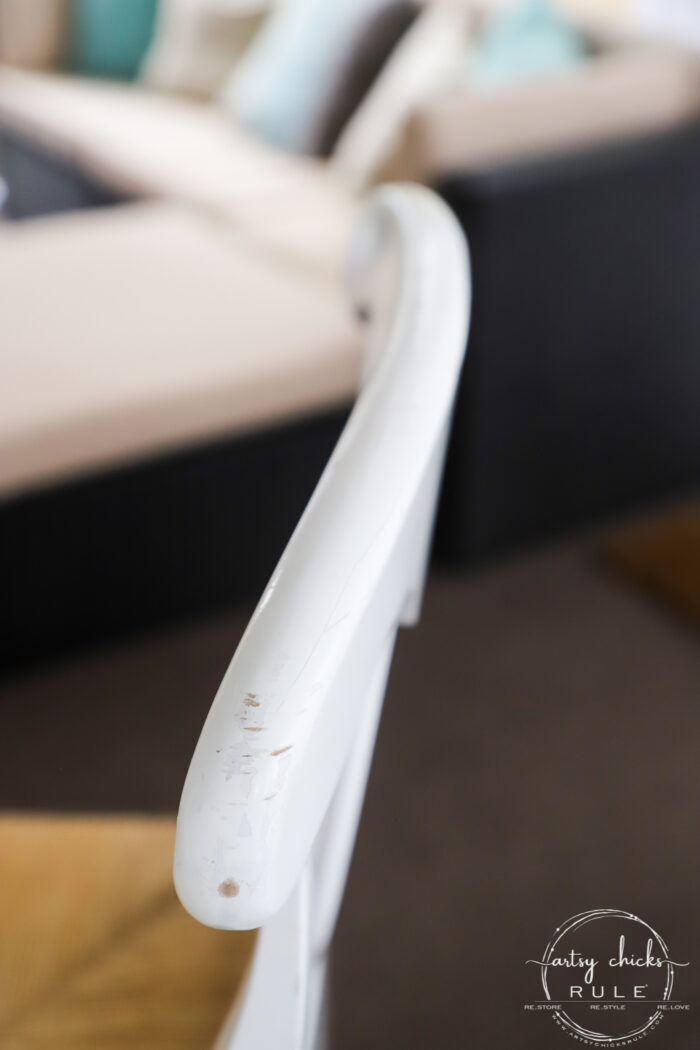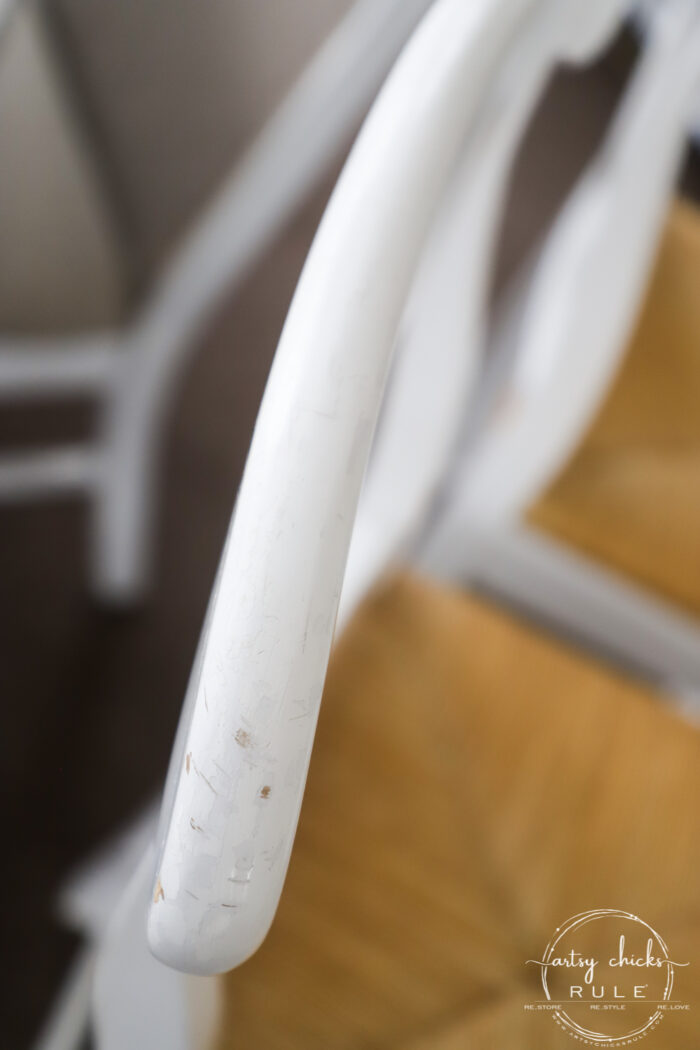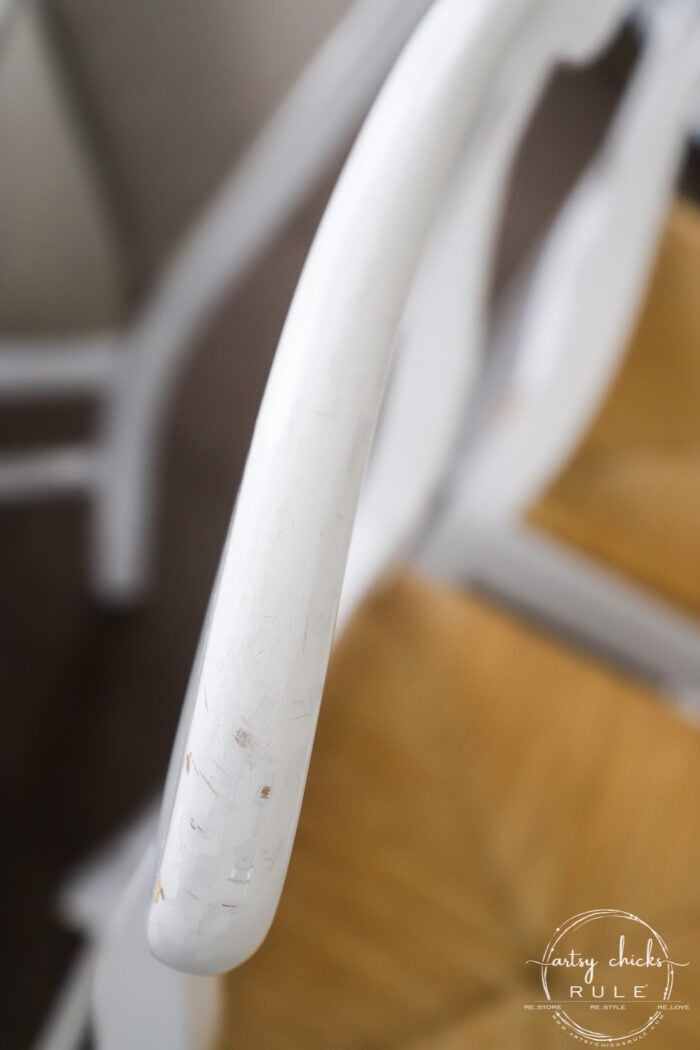 Instead of sanding and repainting the whole thing, I lightly sanded the top section here only, then very lightly sprayed using flat white spray paint.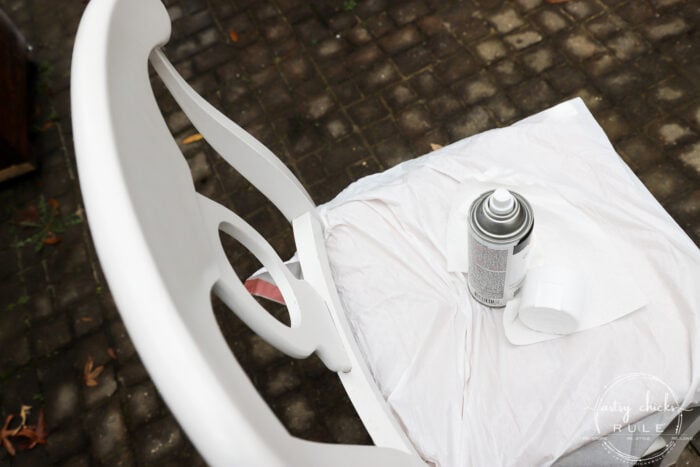 (I used a garbage bag to cover and protect the seat beforehand)
I did several light coats and then let it dry.
Once it was dry I used >>> this glossy topcoat so that it would match the rest of the glossy white finish.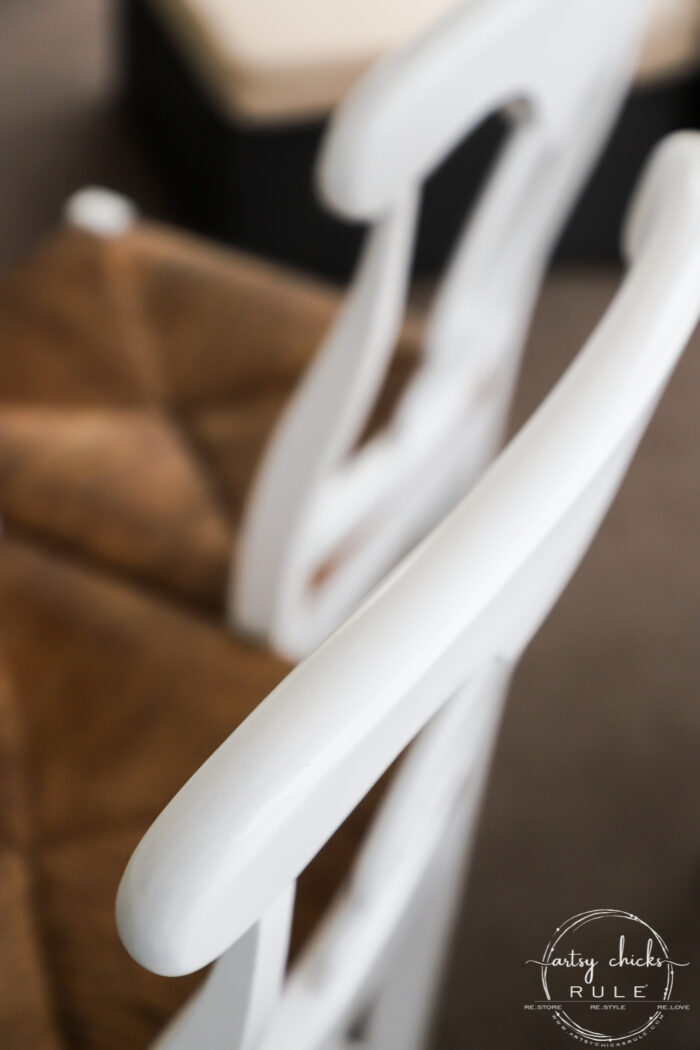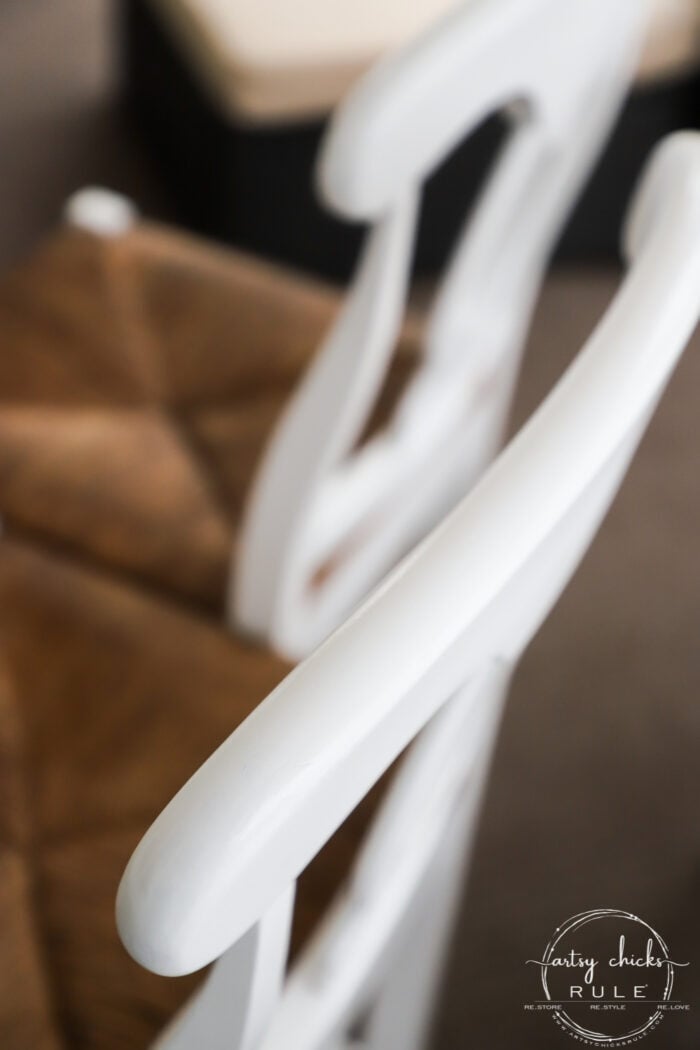 Turned out so nicely! (and it was a quick and easy fix)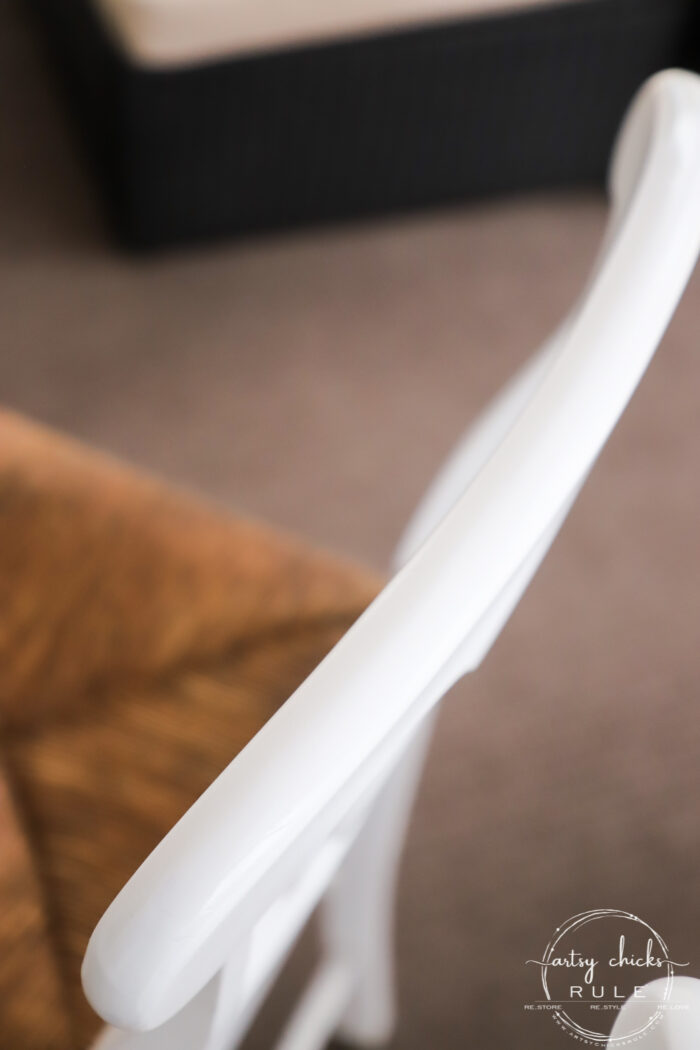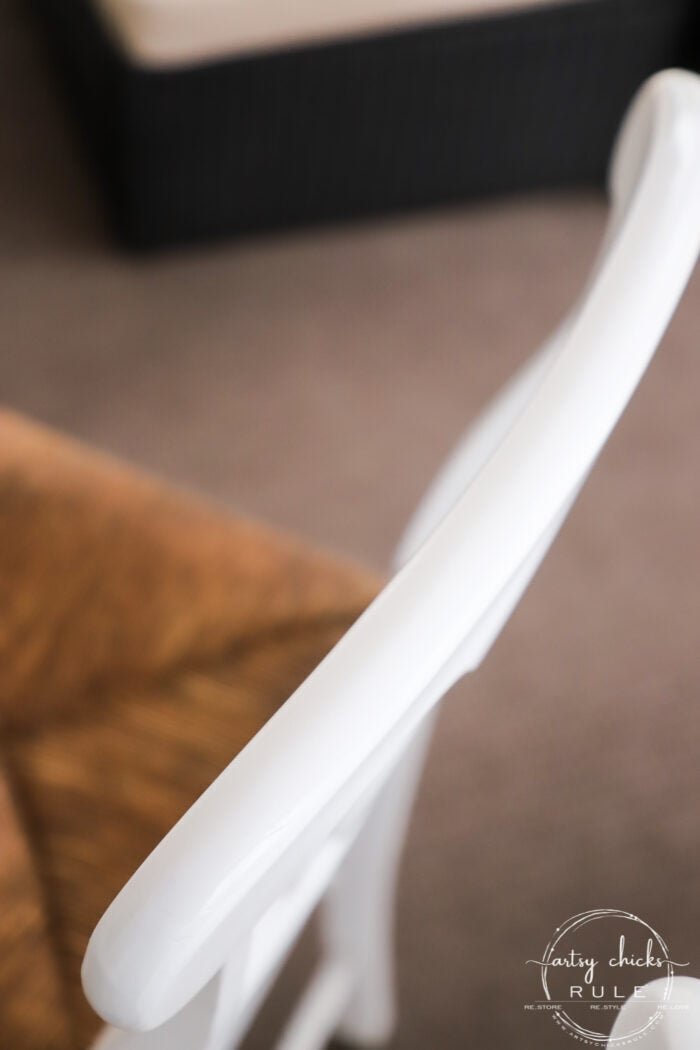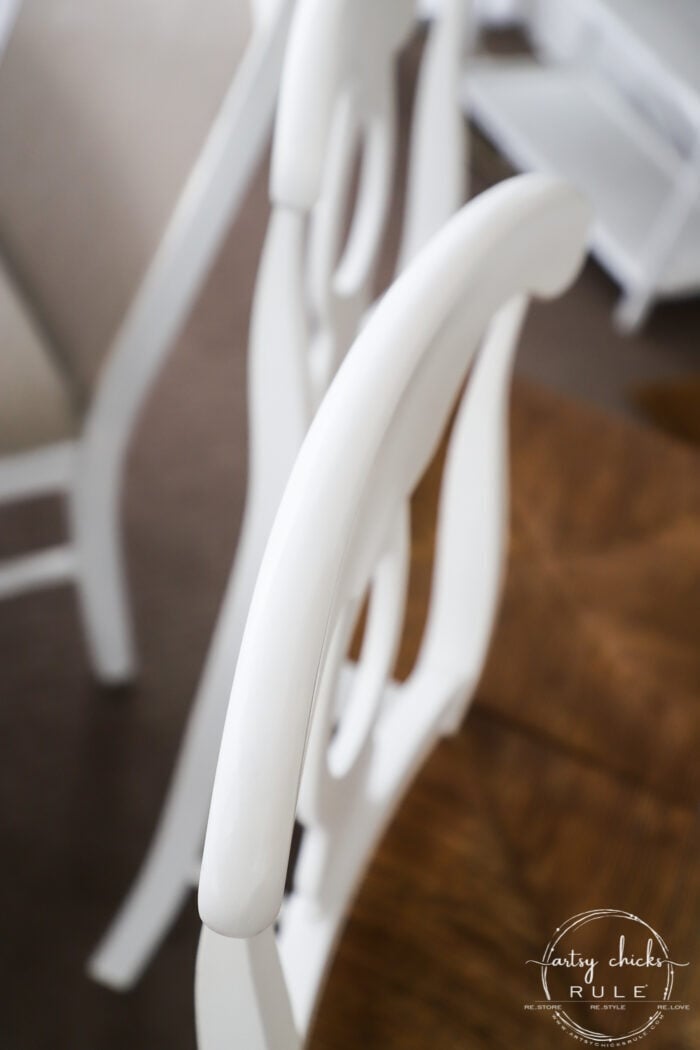 For the seats, they got a bit of Java stain.
Want to find out more about how to use gel stain? Check out this post here >>> How To Use Gel Stain
I taped off the white to protect it and then used an old rag to apply the stain carefully to the seat.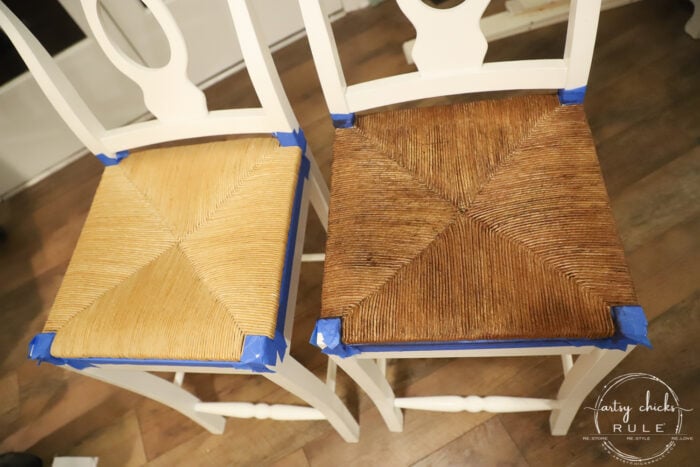 I mean, just look at that difference!
The new color is so much "richer" looking. I love it.
Now, to apply the stain, be sure to blot the rag with the stain so that the rag absorbs all that you have put onto it. (Meaning, don't leave any blobs of stain that will sink into that weave of the chair. You want to wipe it on, not blob it on because then you will have a mess)
So it will seem like you don't have enough to do the job but as you wipe and wipe you will see it is applying just nicely without being too wet…and dark (or blobby).
Does that make sense?
It doesn't take much.
And it goes really quickly. (hence the title of this post ;) )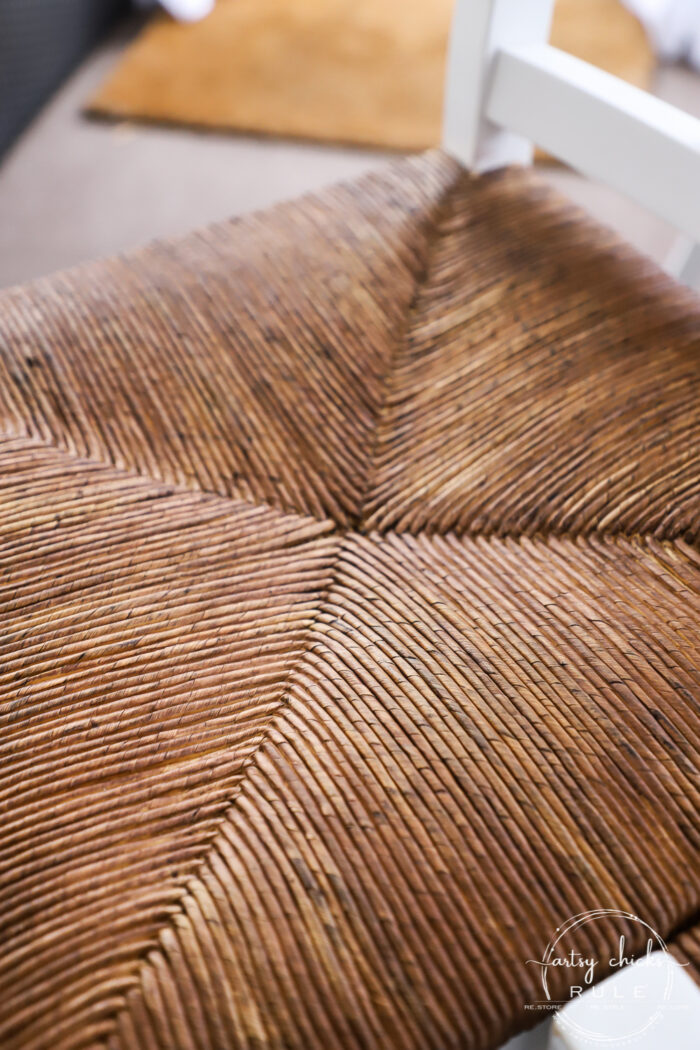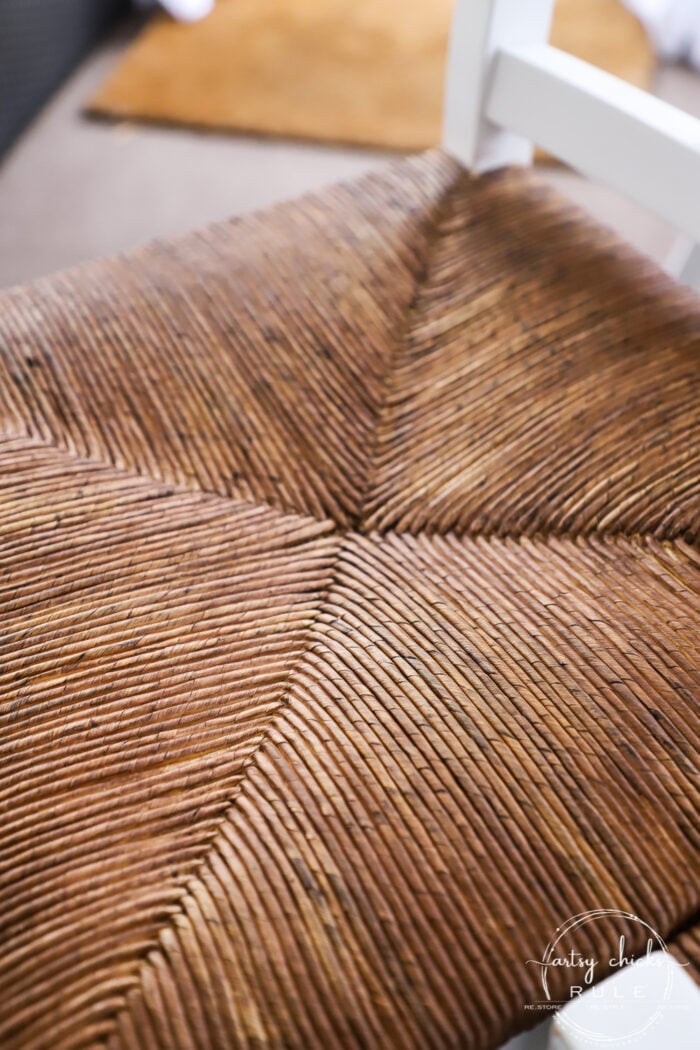 Once that was done, I let it sit over night before I sealed it.
I used >>> this sealer in a matte finish since it was on the seat. AND I gave it a very light spray only.
Just enough to give it a protective seal.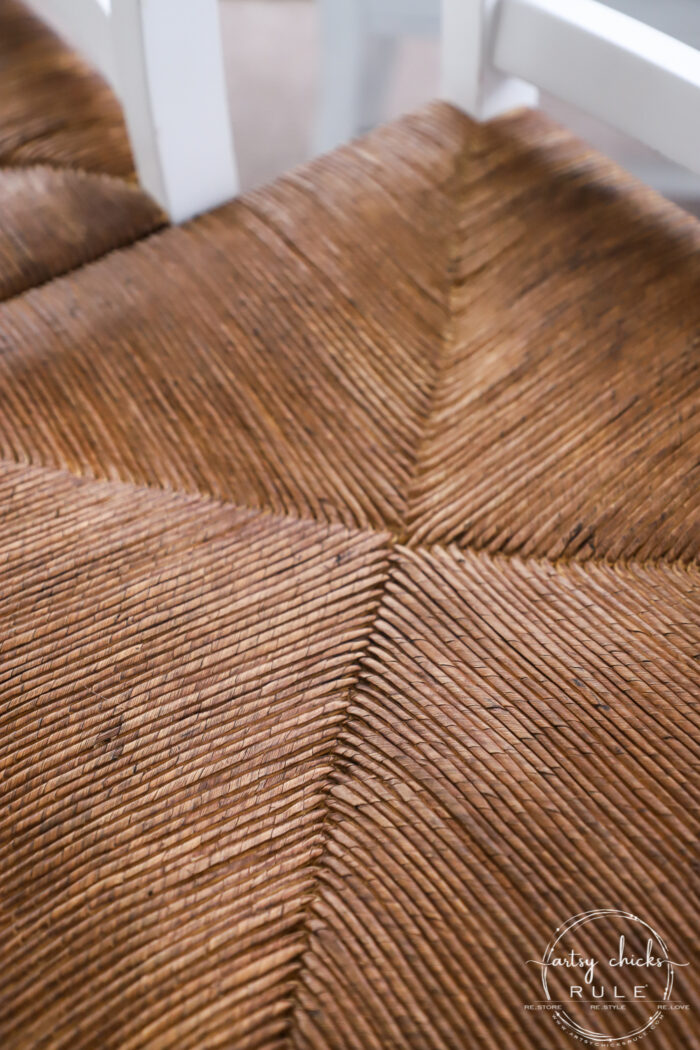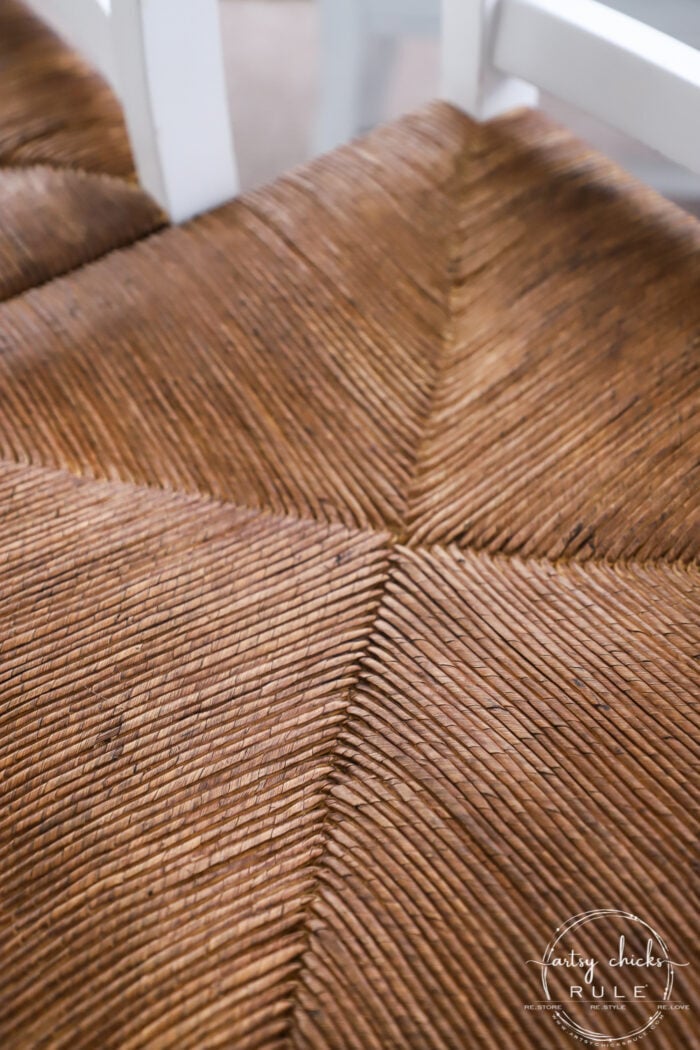 And that's it! Done!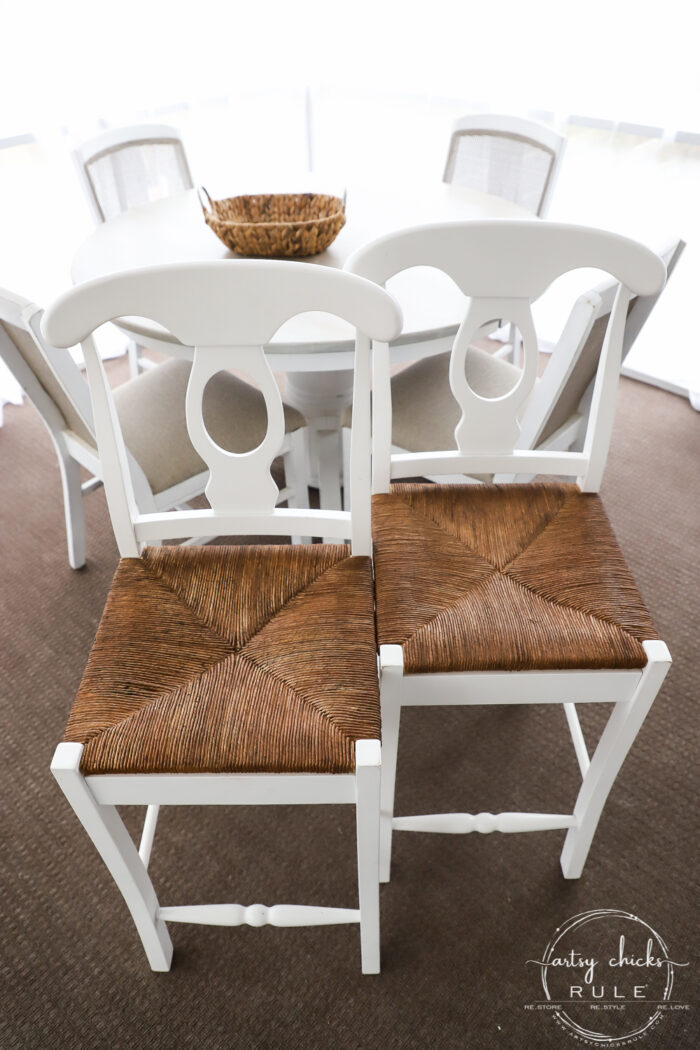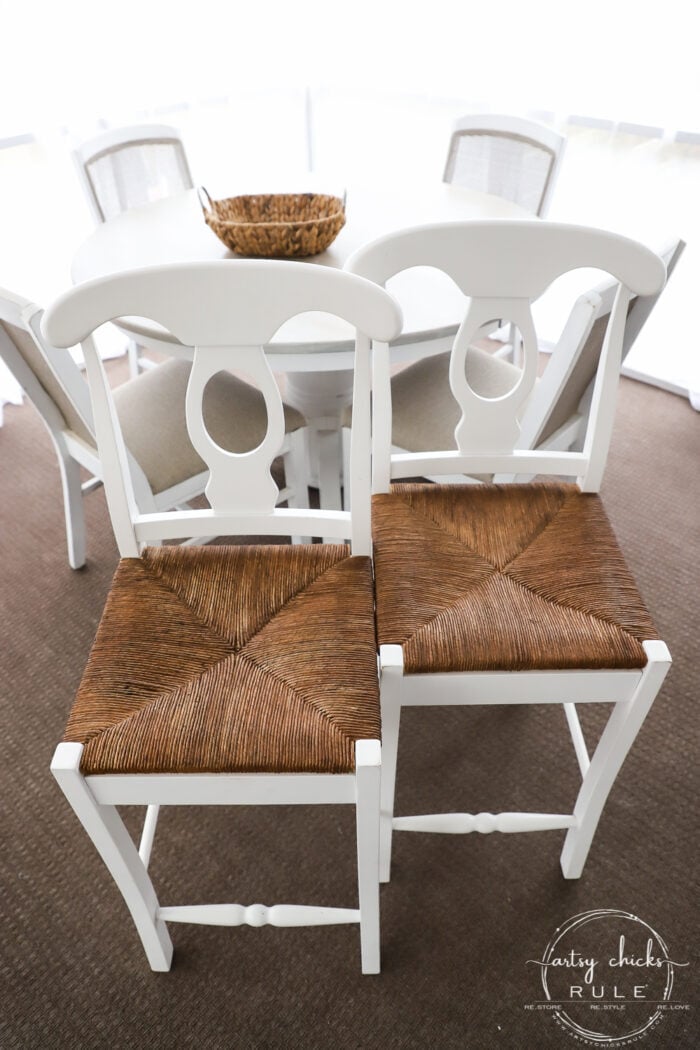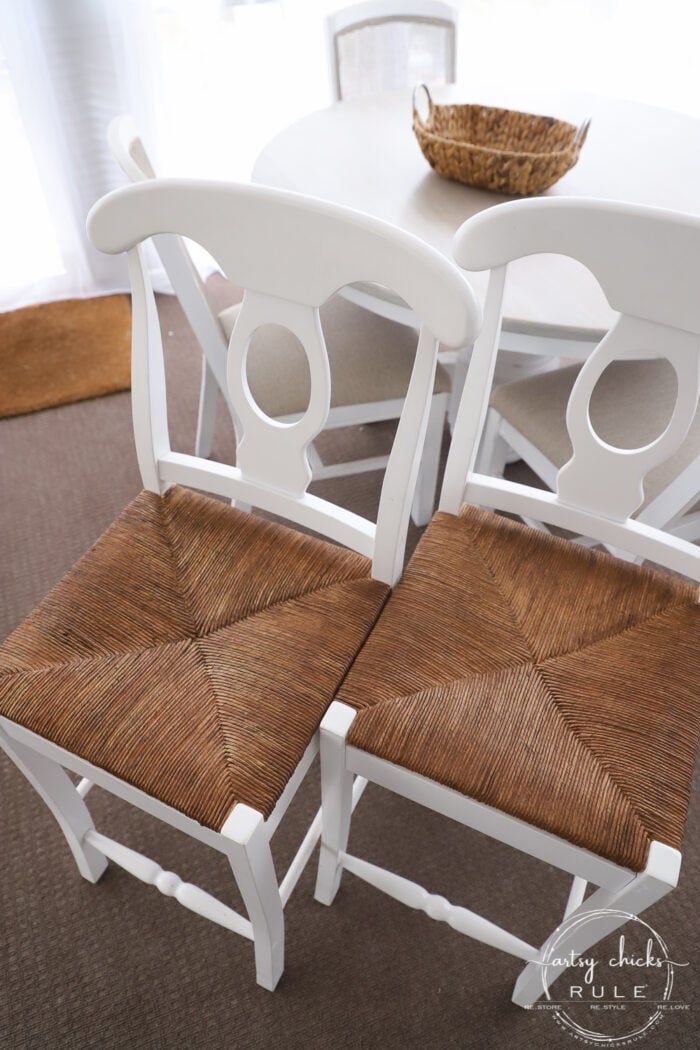 With a brand new, refreshed look.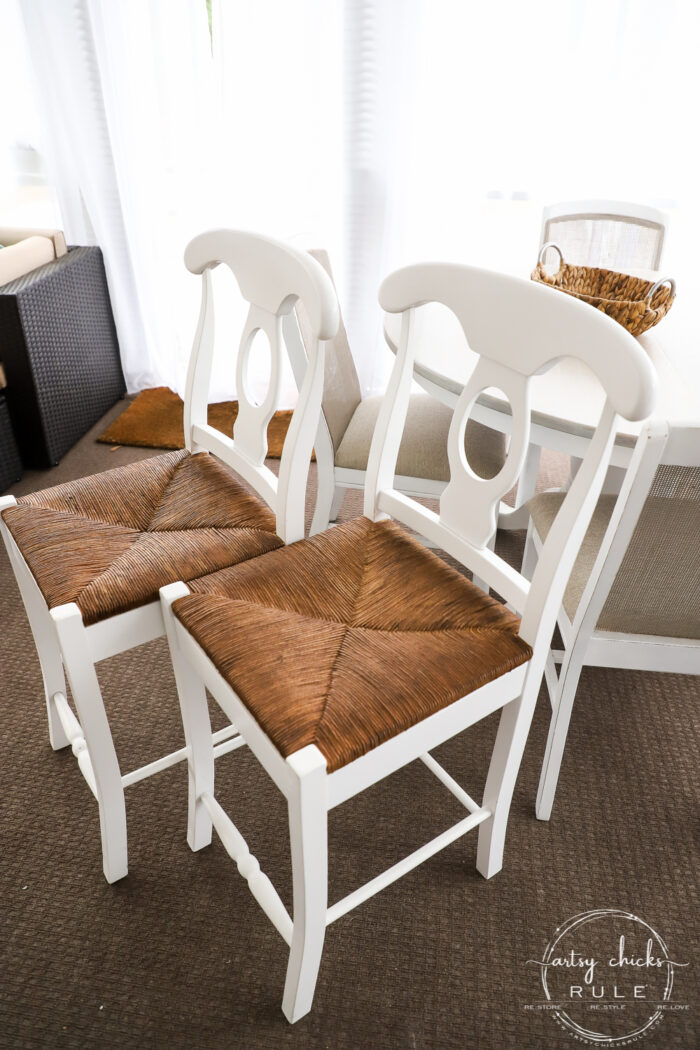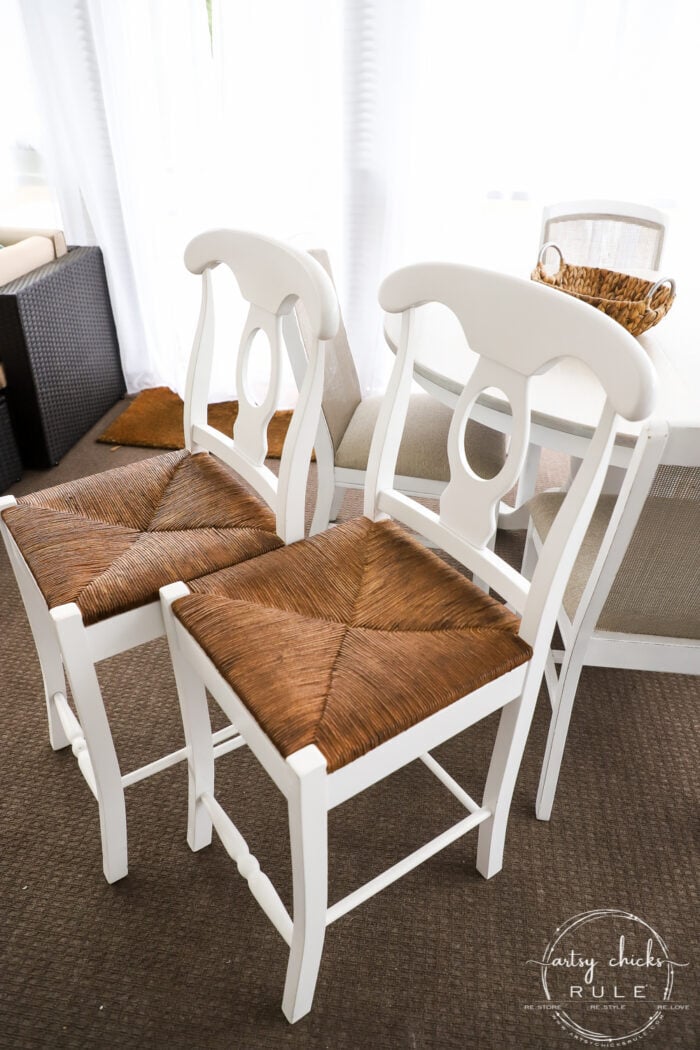 Pretty cool, huh?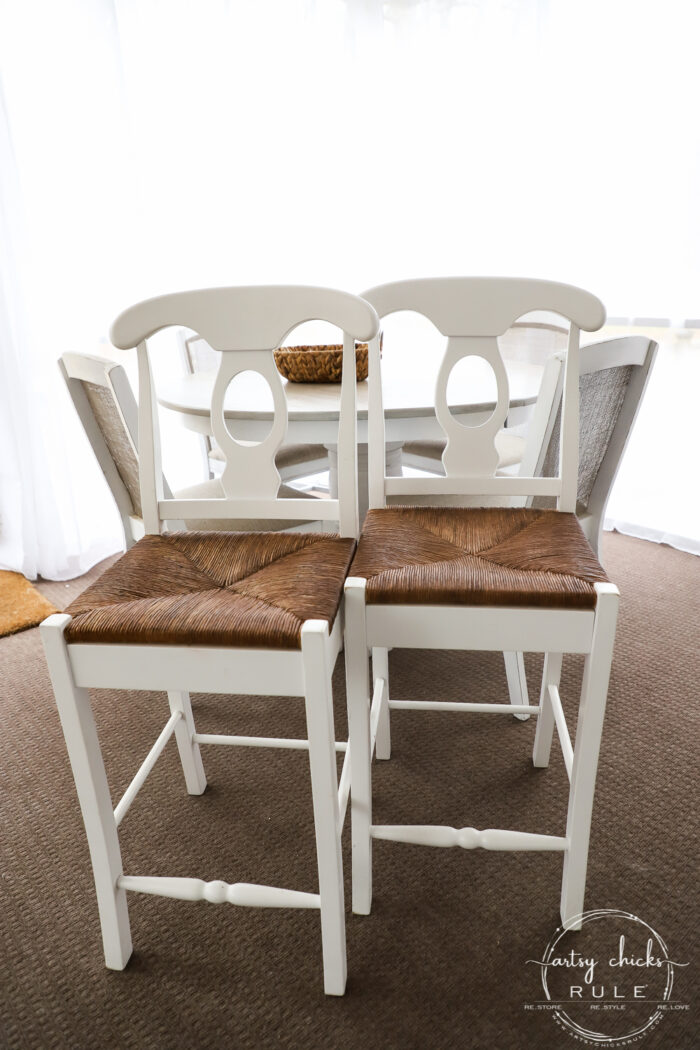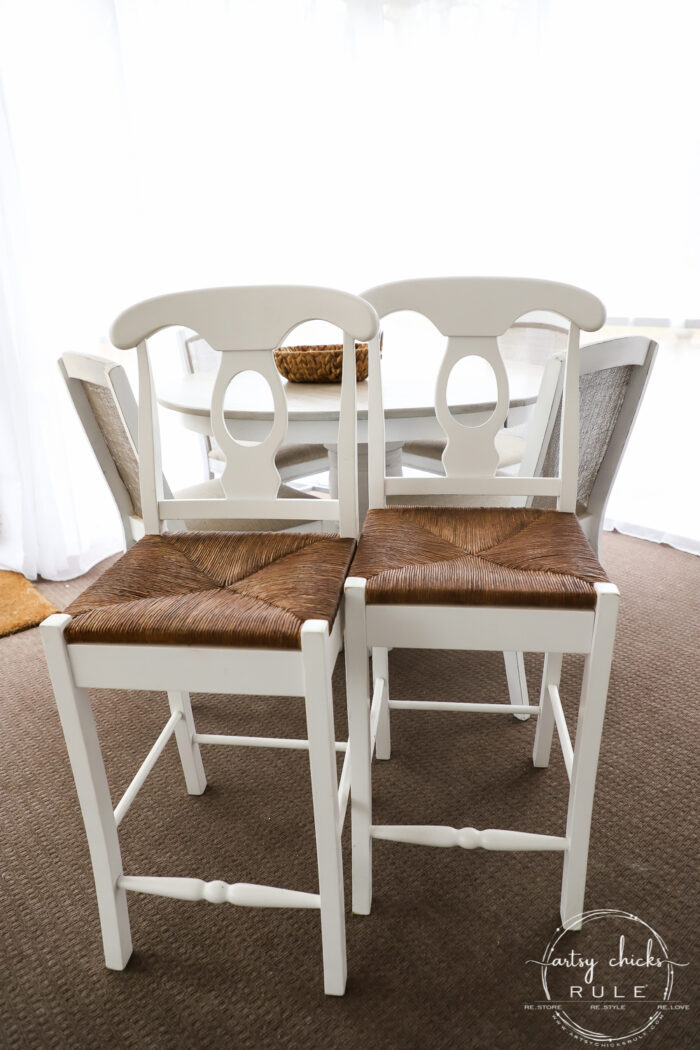 I was even pretty surprised how different they ended up looking.
So, that brings me to what I always say…if you have something hanging around your home that you don't love, paint it, or change it up! You may just end up with a brand new "treasure" to relove.
PIN it to save it!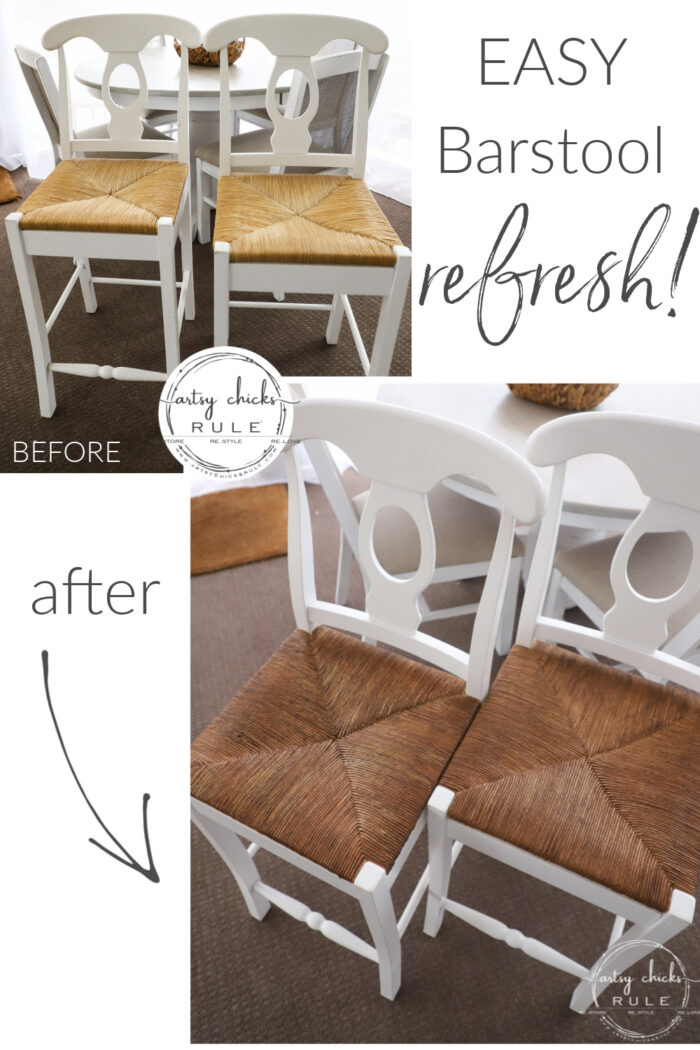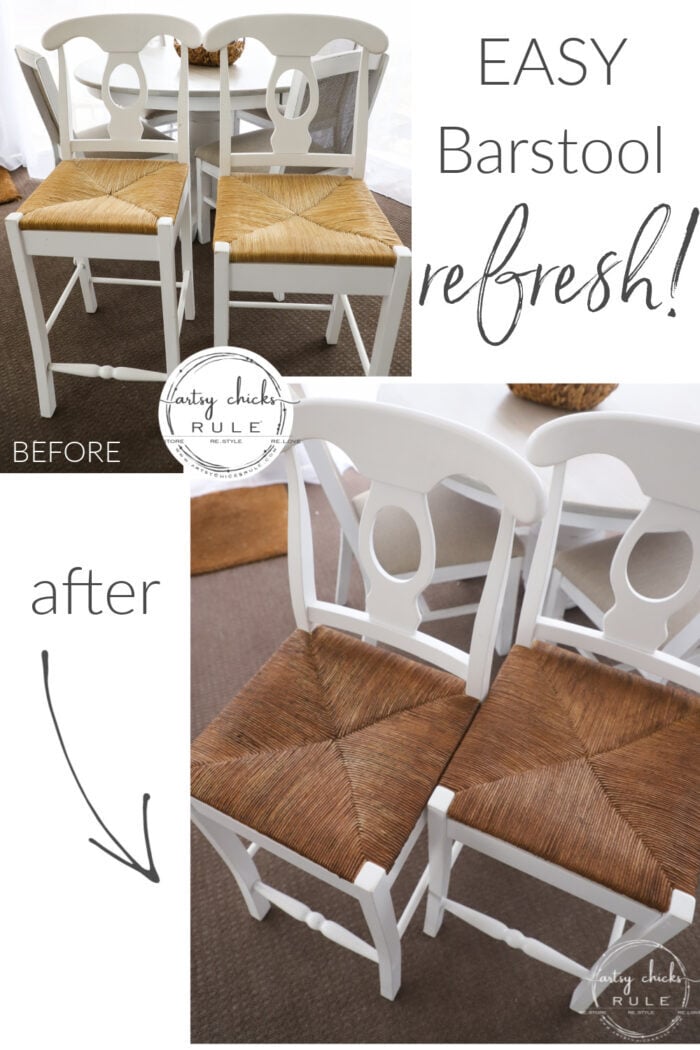 I hope you have a wonderful weekend!
I'll be back on Tuesday with my friends and this little table I found in the Outer Banks recently.
Remember it?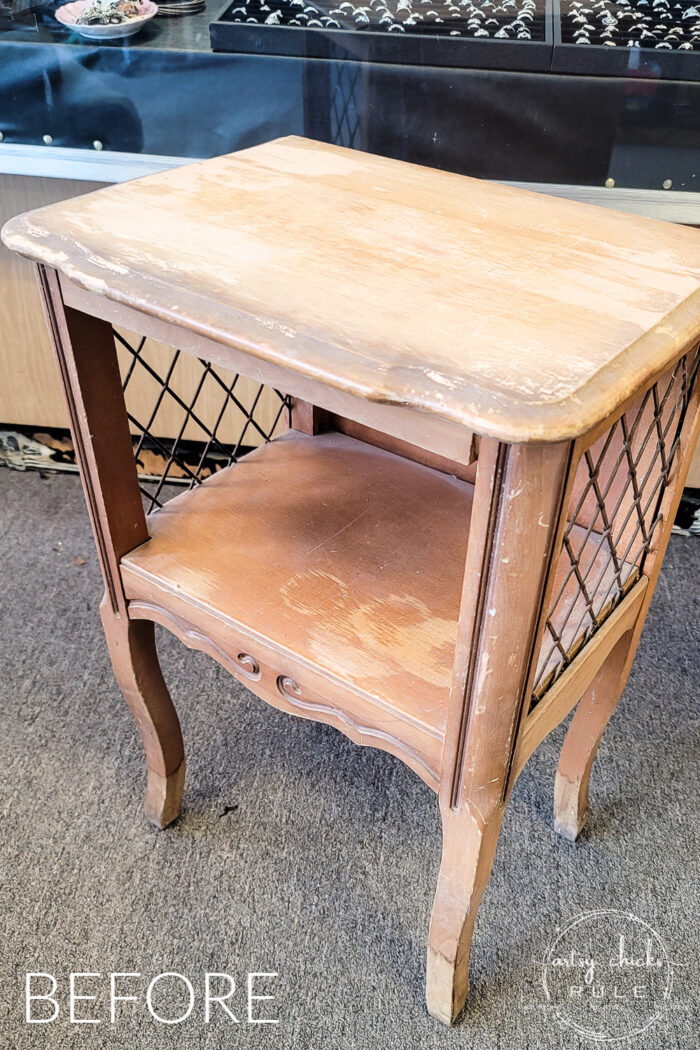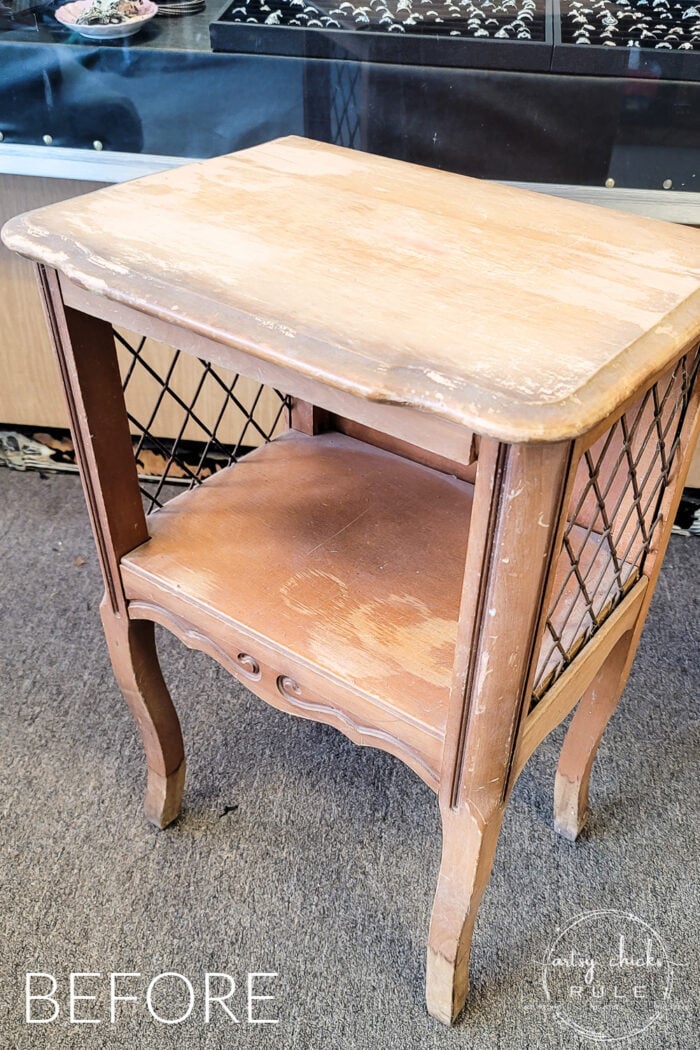 UPDATE!! See it now, here!
I have a few ideas for it…we'll see which one it is! Stay tuned!
xoxo