Baby It's Cold Outside (Thrifty Makeover w/Chalk Paint)
This post may contain affiliate links. Please see disclosures here.
Love this saying, Baby It's Cold Outside.
And it's no secret I love Chalk Paint or graphics/typography….and chalkboards.
I love finding and making chalkboards out of old framed glass artwork/prints from the thrift store or garage sales. So inexpensive and easy.
Paint the frame, paint the glass….and voila, chalkboard! Like this one I recently made with a Duck Egg Blue colored "chalkboard".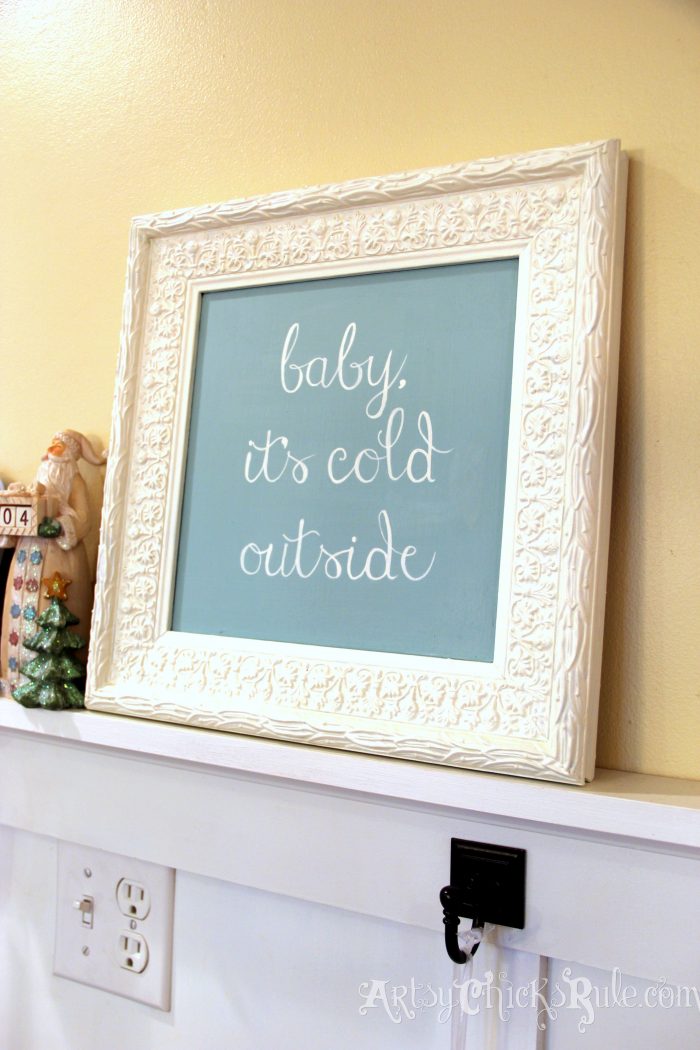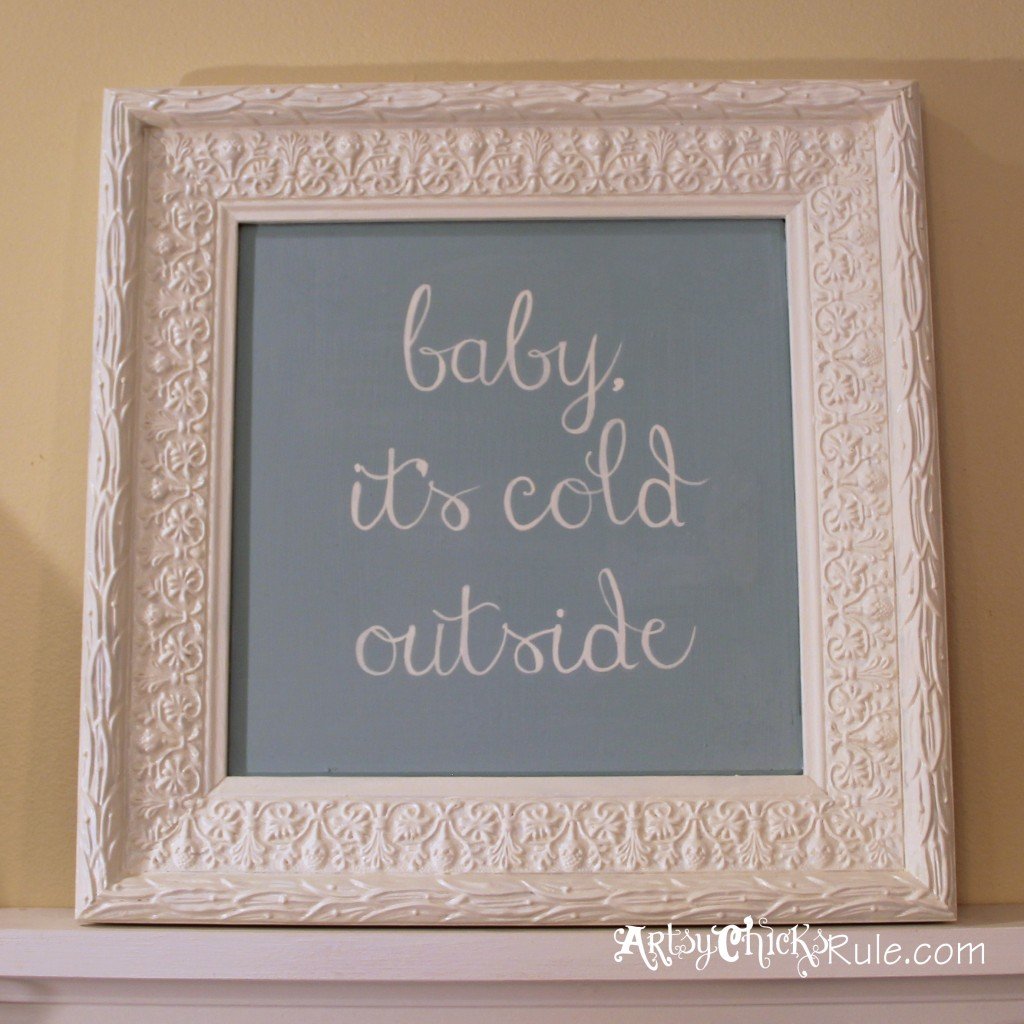 It used to be a mirror.
And not a bad looking one at all. But, they are a dime a dozen.
I can find a mirror like this or similar every single time I go to the thrift store.
Really... and usually for less than a few dollars.
So that makes for very cheap home decor….or chalkboards, right?
Today I made it a chalkboard.
Well, sort of, you'll see.
I created this cute "Baby It's Cold Outside" printable for it below….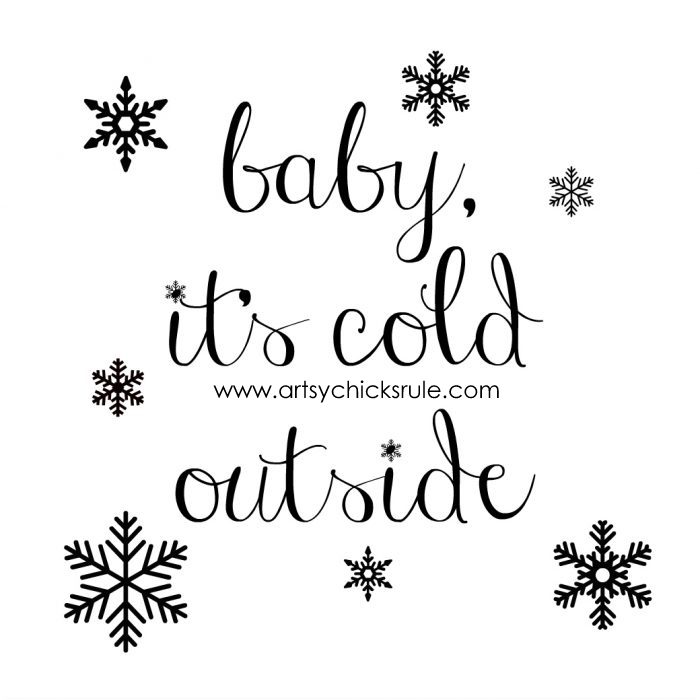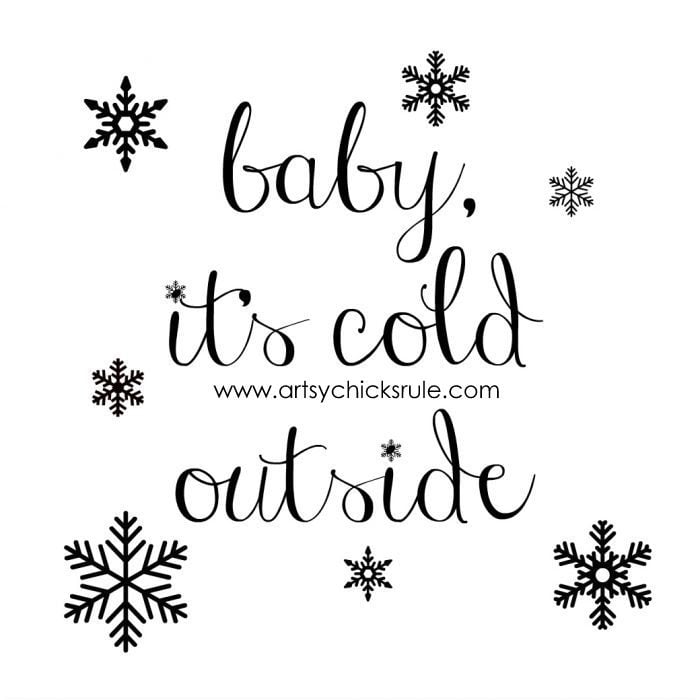 I originally planned to write it with chalk but decided to paint it in with Chalk Paint instead. (the look of chalk but more permanent)
About 3 coats of Duck Egg onto the glass. (3 thin coats, drying well in between)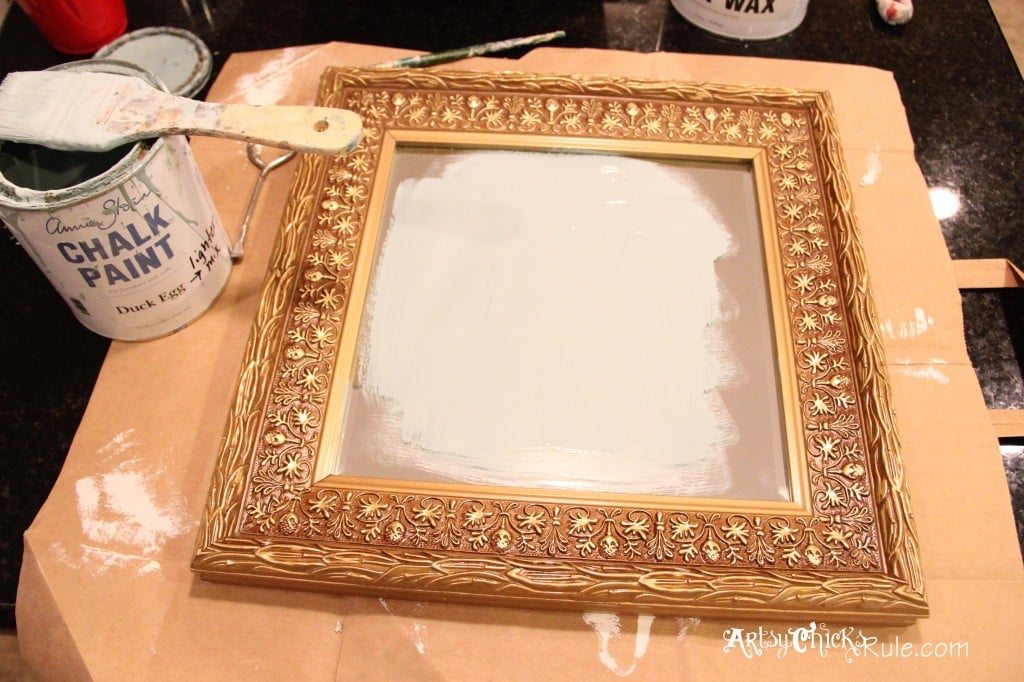 The frame was painted with a blend of Old White/Pure White (I know you've seen that a lot lately on my posts…I love the blend, it's the perfect off white, not too yellow, not too white)
The "chalkboard" is done but the frame needs one more coat.
2 coats total on the frame.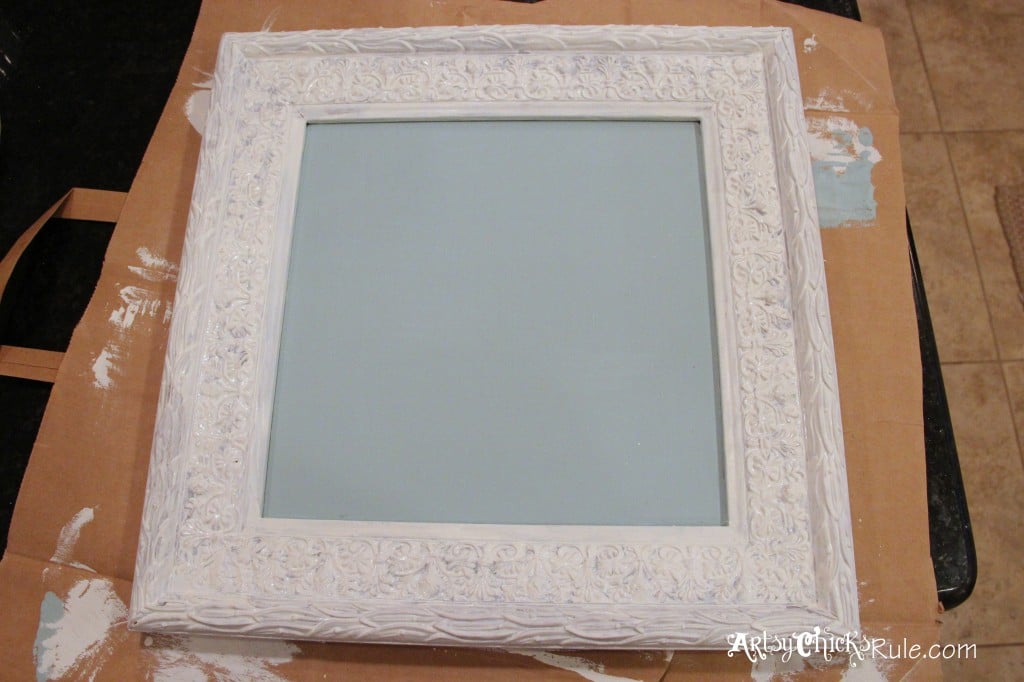 Left as is, the inside could most definitely be used as a chalkboard but like I mentioned, I wanted it permanent.
So I printed my graphics out and rubbed chalk over the backside of the paper/letter area.
Then I laid the sheet of printed paper over the board where I wanted the words to be and traced the letters.
I used a ball point pen again because it rolls easily along the paper to transfer. (I sometimes use pencil depending on what I'm transferring to)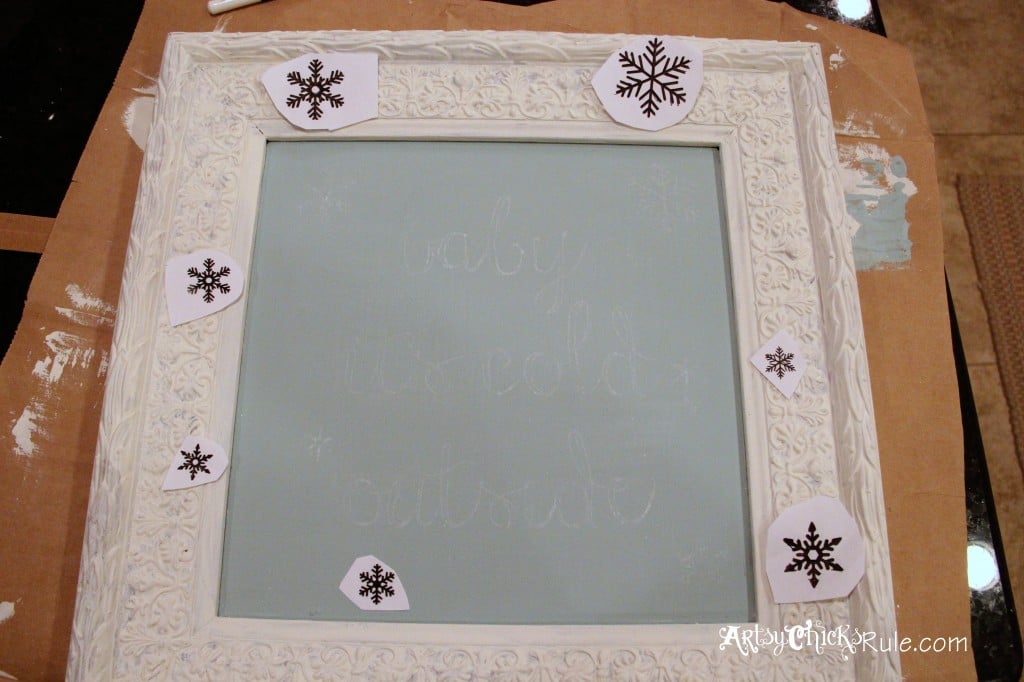 Hard to tell in the photo but the words are there.
And I am sure you are wondering about the snowflakes I have laying about there.
I originally intended to transfer those to the board too.
I changed my mind. (surprise!)
I liked the clean, simple look of just the words so left the snowflakes off.
Painting in the lettering…..(same color as the frame)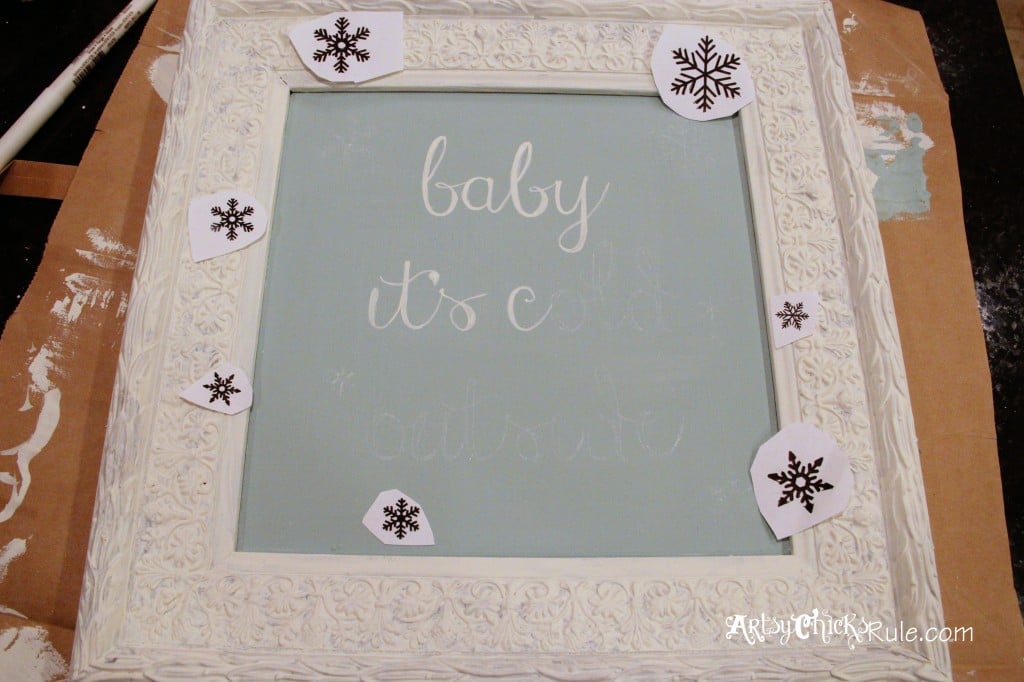 Once finished, I sprayed the inside to seal & protect it with Valspar Flat Clear Sealer to keep it "flat" looking like a chalkboard….
And sealed the frame Satin Polycrylic.
Like it? Want to make a Baby, It's Cold Outside holiday chalk art too?
Love it? PIN it to save it!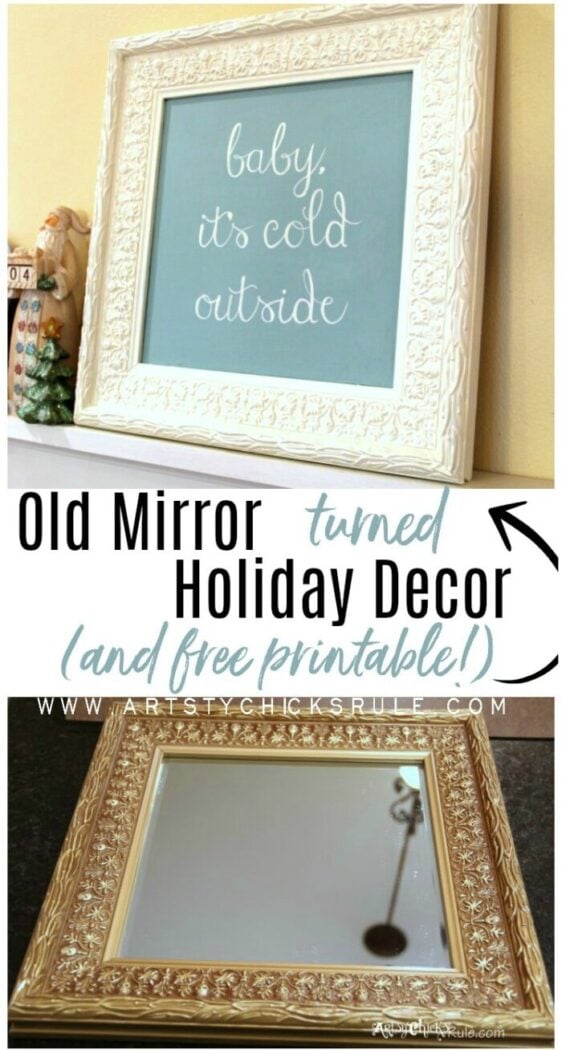 Want to see even more thrifty chalkboards repurposed from other things?? Click here for more.
I decided to keep this one crisp and clean looking too. No distressing …again. :)
And I'm really loving the blue background instead of the typical black of a chalkboard.
How about you?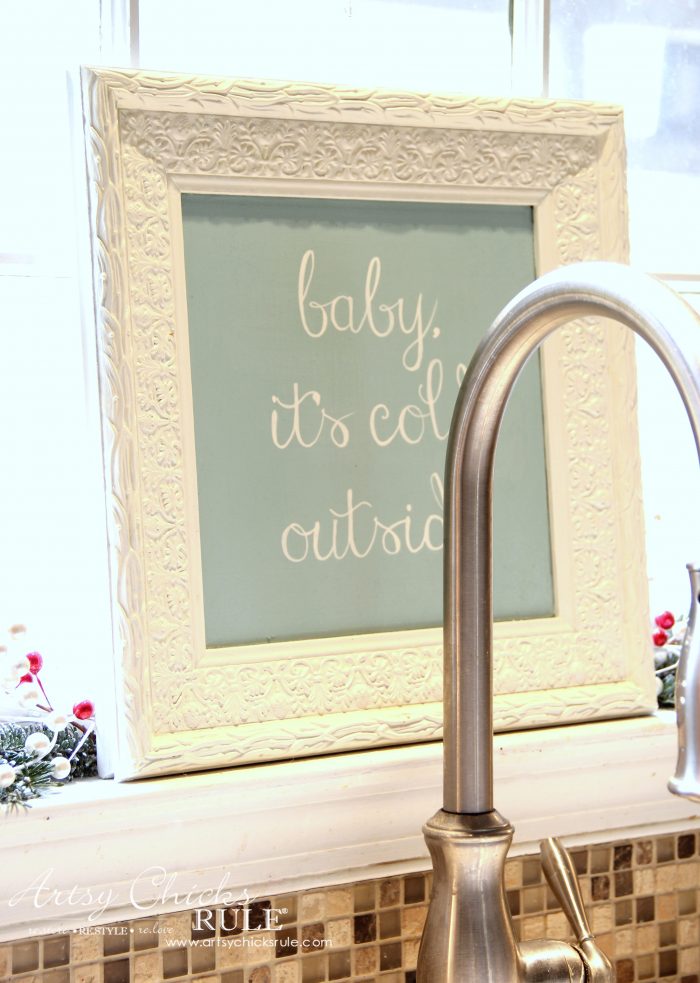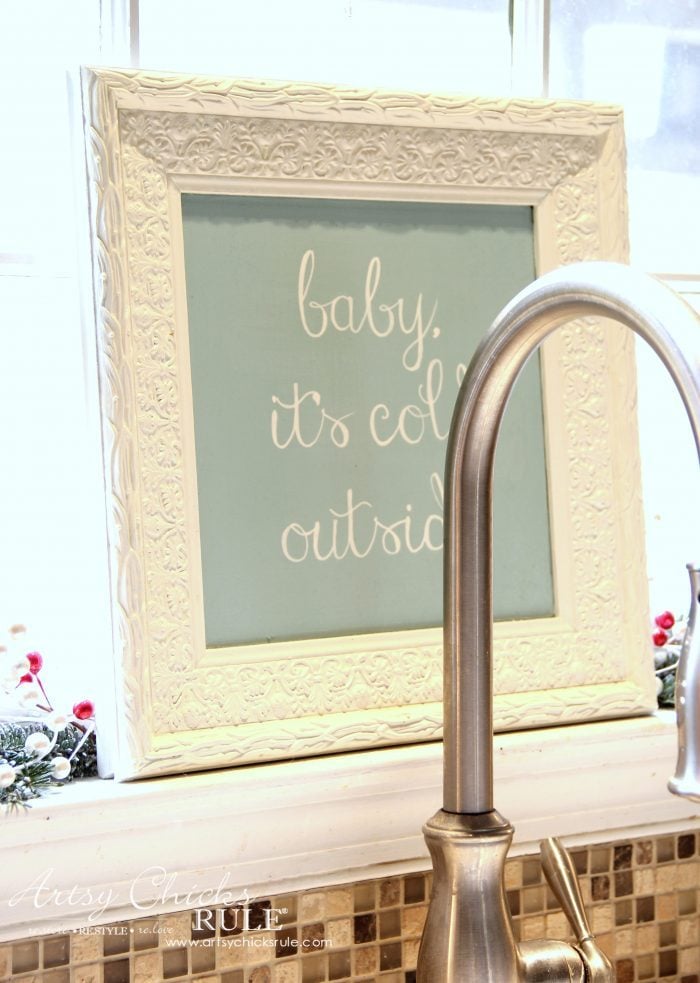 Just simple and elegant.
And simple to make…..there are so many things you can do with them. (and so many different colors you can make them)
Now run down to your local thrift store and pick up a few mirrors or old framed prints so you can make some too. ;)
Then you'll have your very own erasable OR permanent "chalkboard" holiday art too.
Want to see even more ideas on simple updates with Chalk Paint (that aren't furniture??)
Check out this post, here!