Festive Christmas Family Room 2017 (part 3)
This post may contain affiliate links. Please see disclosures here.
I love the festive pops of red that the holidays bring! I'm sharing my festive Christmas family room today with reds and greens and just the right amount of aqua to keep that coastal feel.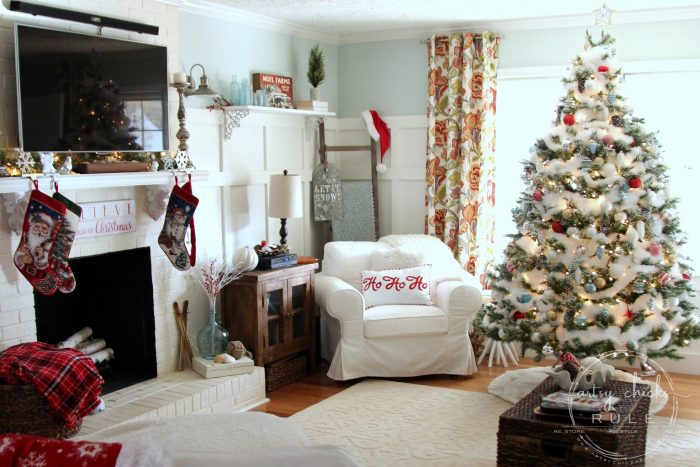 Hi friends! I'm back today sharing my festive Christmas family room.
If you missed part 1 and part 2 you can catch them <— there.
And my festive laundry room, here.
And I have to mention my daughter as today is her 25th birthday! I just can't believe it. (she's the oldest of my two ;) )
Wow, where did that time go? Wait, aren't I supposed to still be 25? haha Hmm, that math just does not work out right.
Well, anyway, happy birthday beautiful daughter of mine!
Back to the holiday decor…. :)
My room looks somewhat similar to last year but I did move things around a bit, as I usually try to do. ;)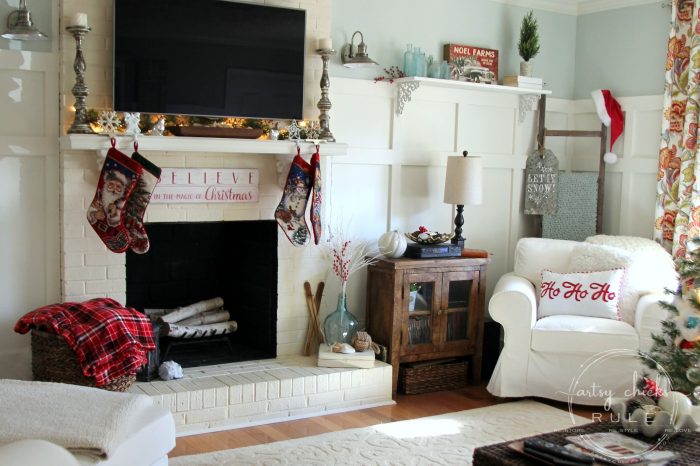 My DIY flocked tree is looking pretty good this year as I mentioned in my update post.
I decided I wanted it to look even more snowy this year though.
So I went to Joann's and bought this fabric….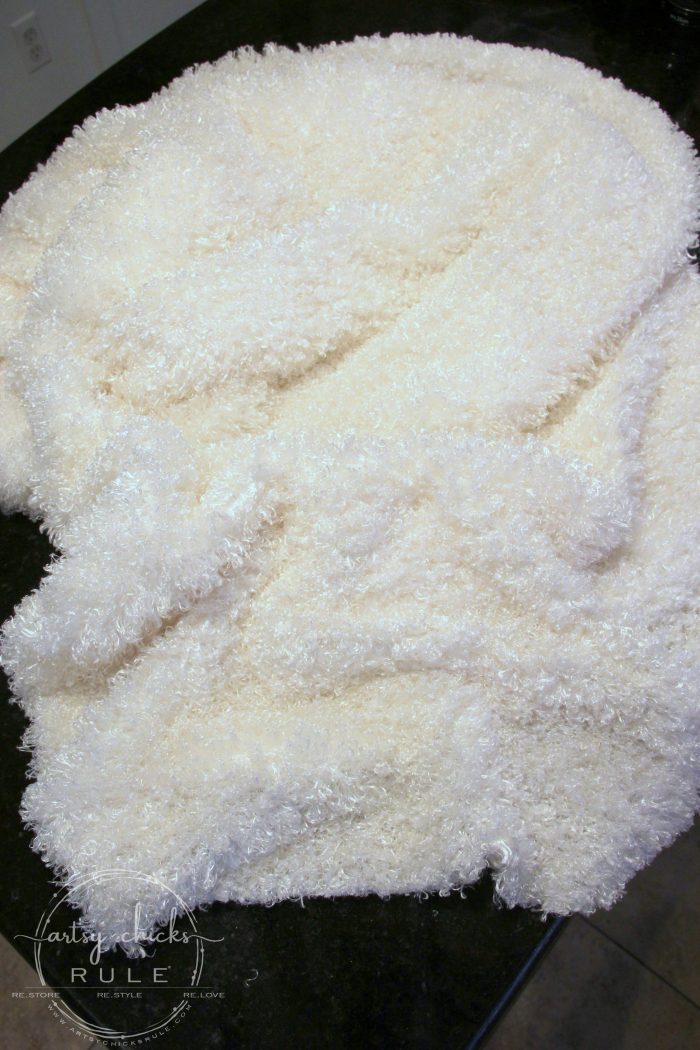 ….and cut it into strips…..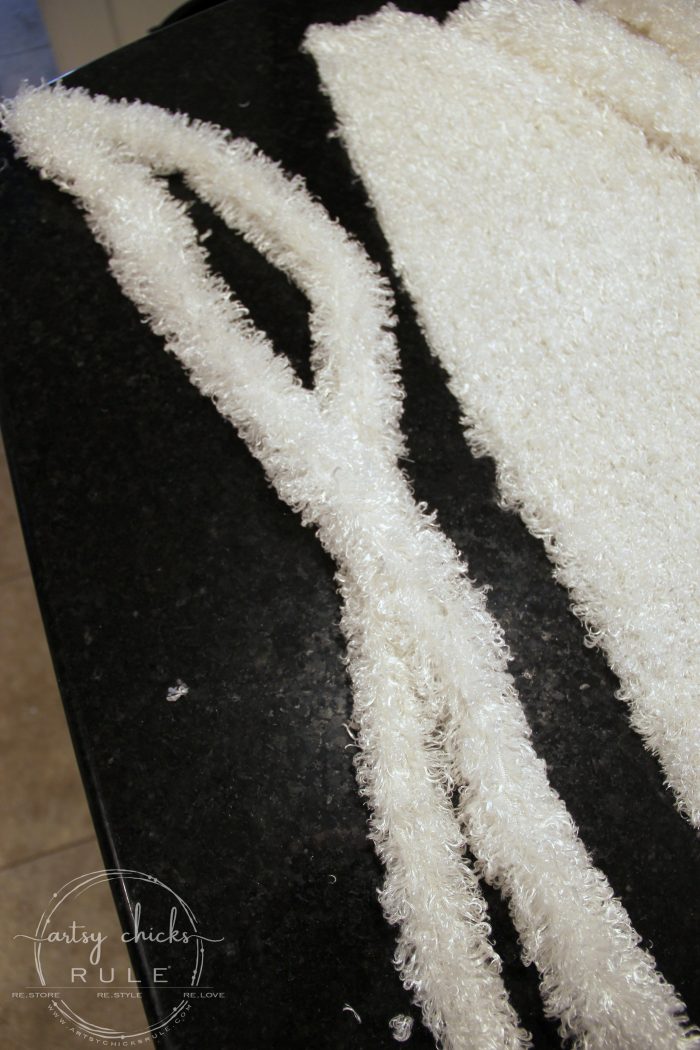 It naturally rolled at the edges, once cut, which was perfect!
I used it as garland (snow) on my tree and used the rest to go around the base of the tree.
You can read about it AND 4 other ways I use to create a "snowy" looking tree >>> here.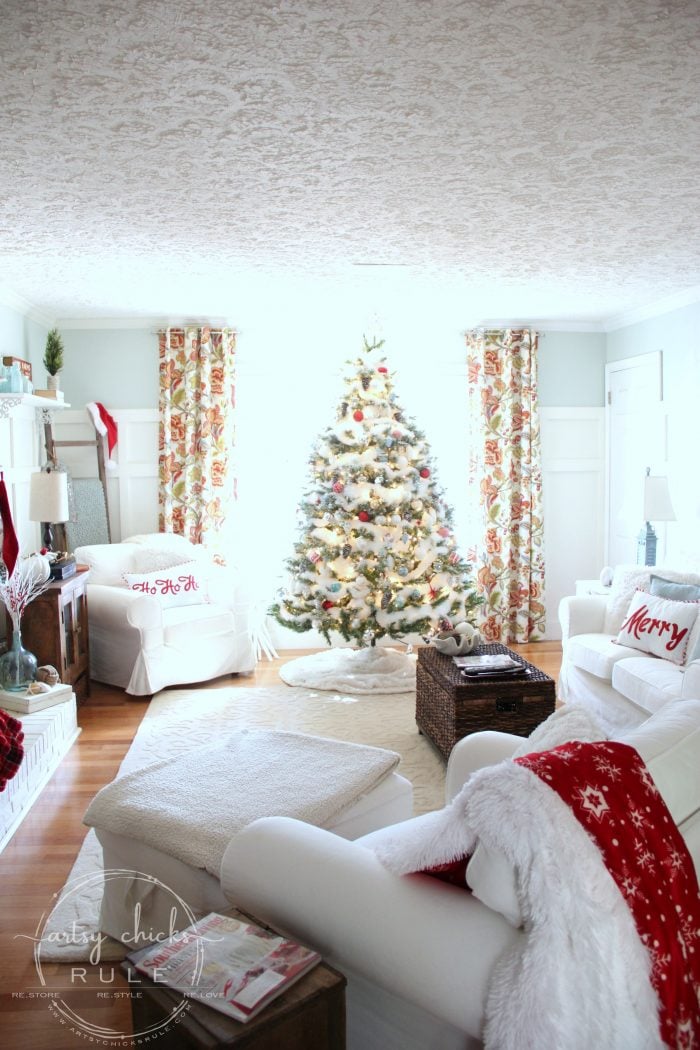 I wanted it even more snowy, so I took a tip from Lucy over at Craftberry Bush and added dusters from the dollar store.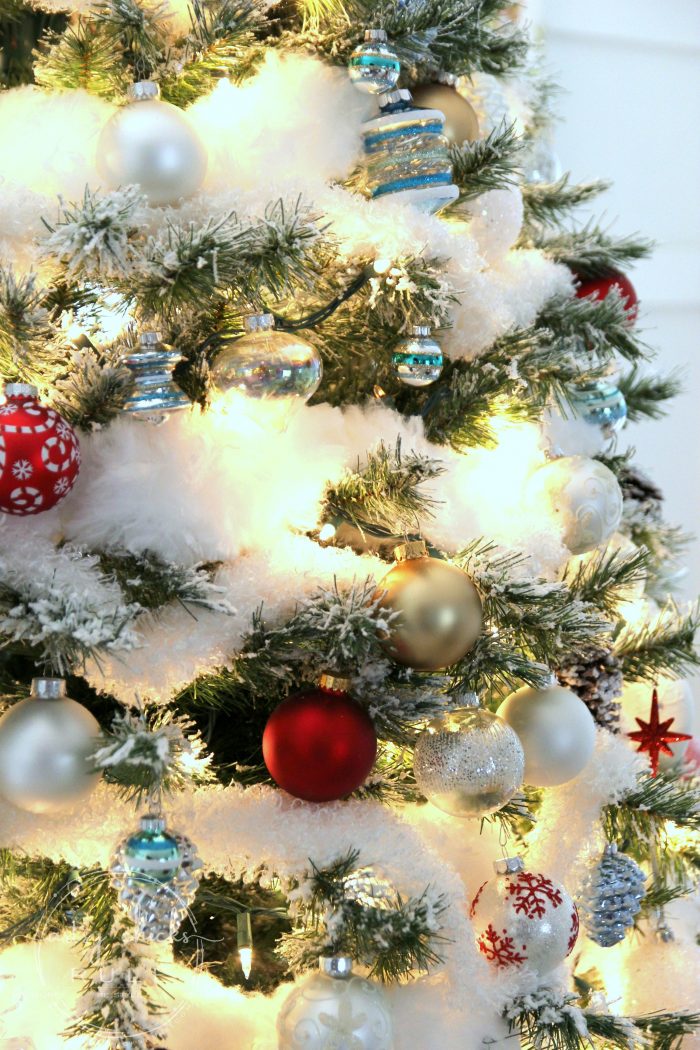 Here's my chair in the corner…..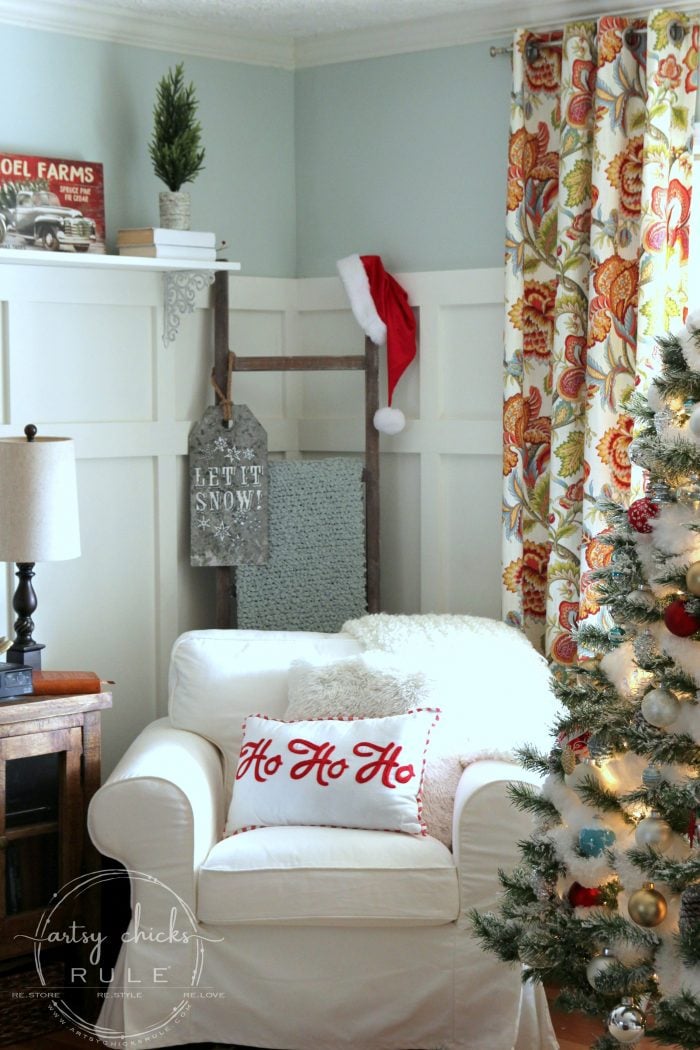 ….the pillow came from Michael's last year. I used it (and it's sister ;) ) on the front porch rockers last year.
And nope, I didn't change much here because I just love the hat hanging on my DIY ladder and the "let it snow" sign here, too. :)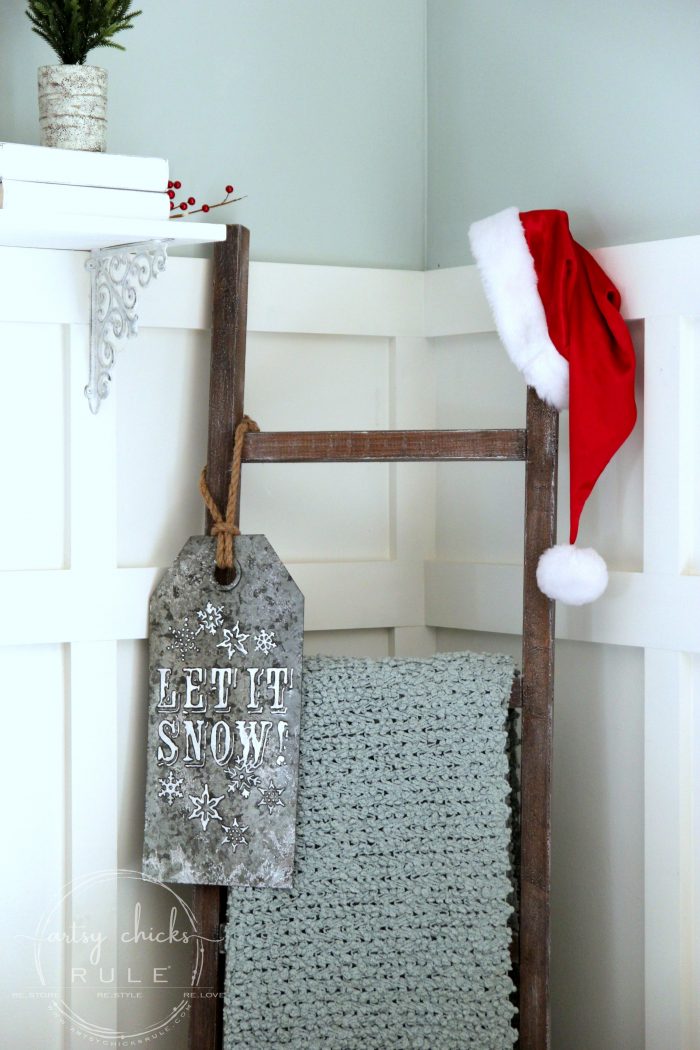 I did add a new picture up above on the shelf though.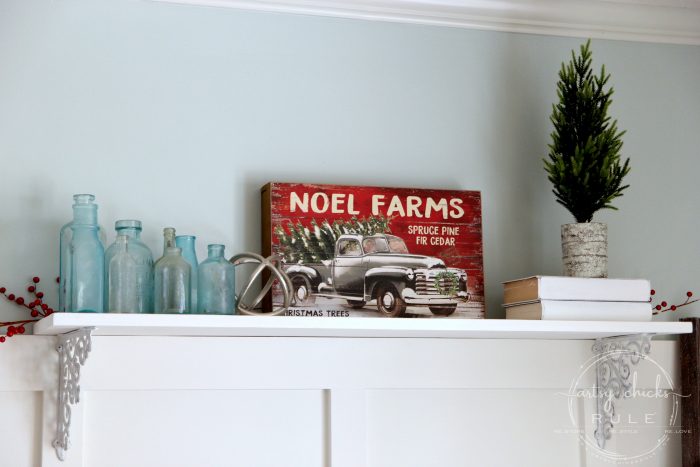 Isn't it perfect?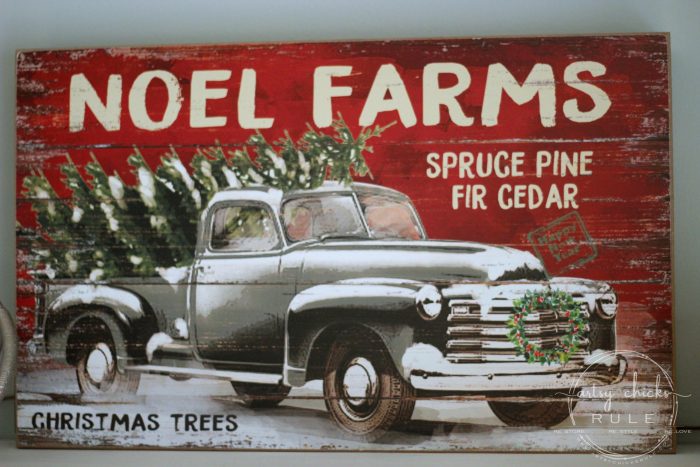 I found it at Michael's this year.
I would love to have an old truck like that, preferably painted aqua, of course. ;)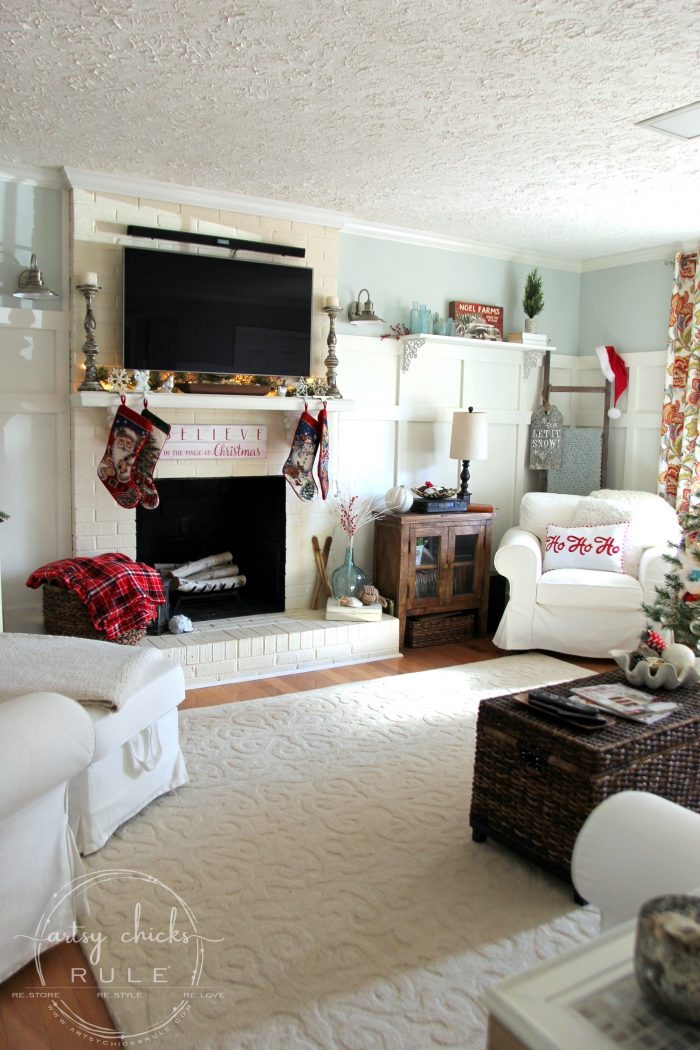 I found the birch logs, here.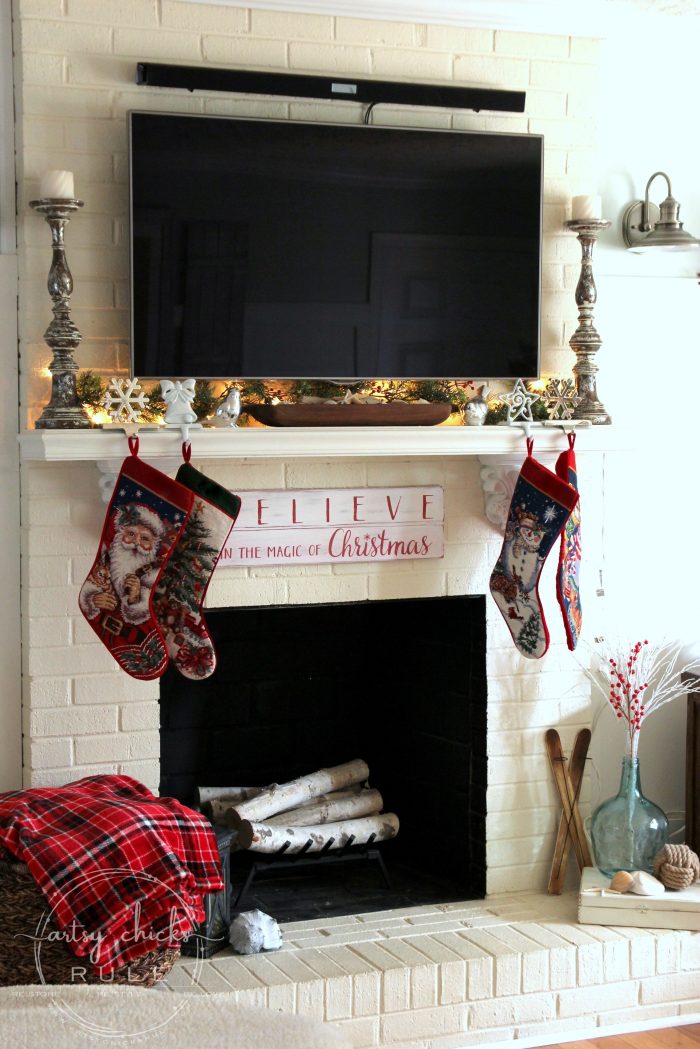 These were all thrift store finds….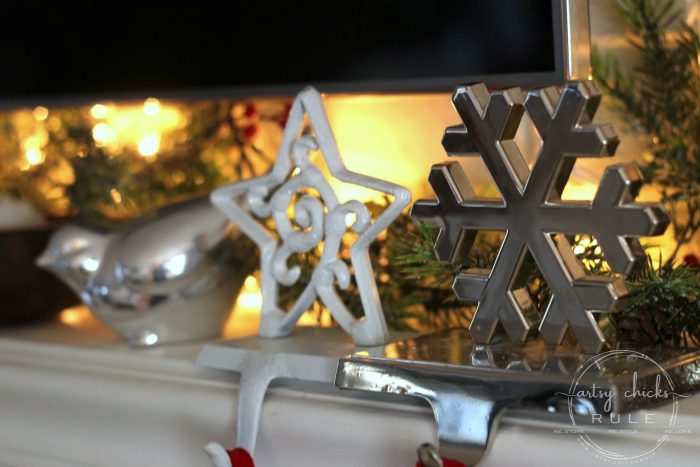 I painted and glittered up the white ones.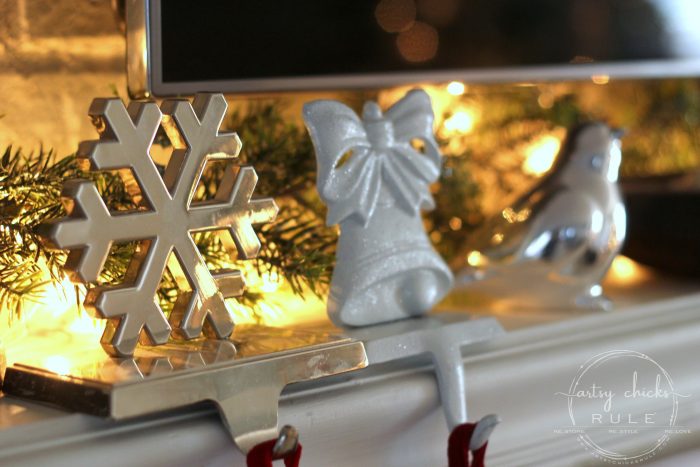 And the "believe sign" made a reappearance over here. I think I had it in the dining room last year.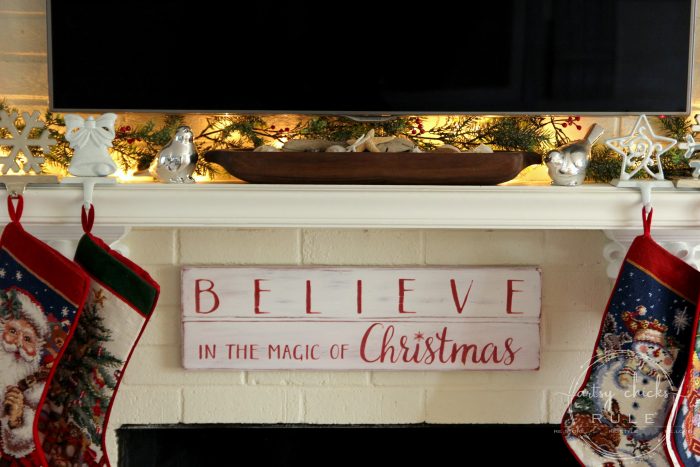 I simply added some frosty white swigs and some red berries to my aqua jar.
And those adorable little skis that have been in a few different places over the years.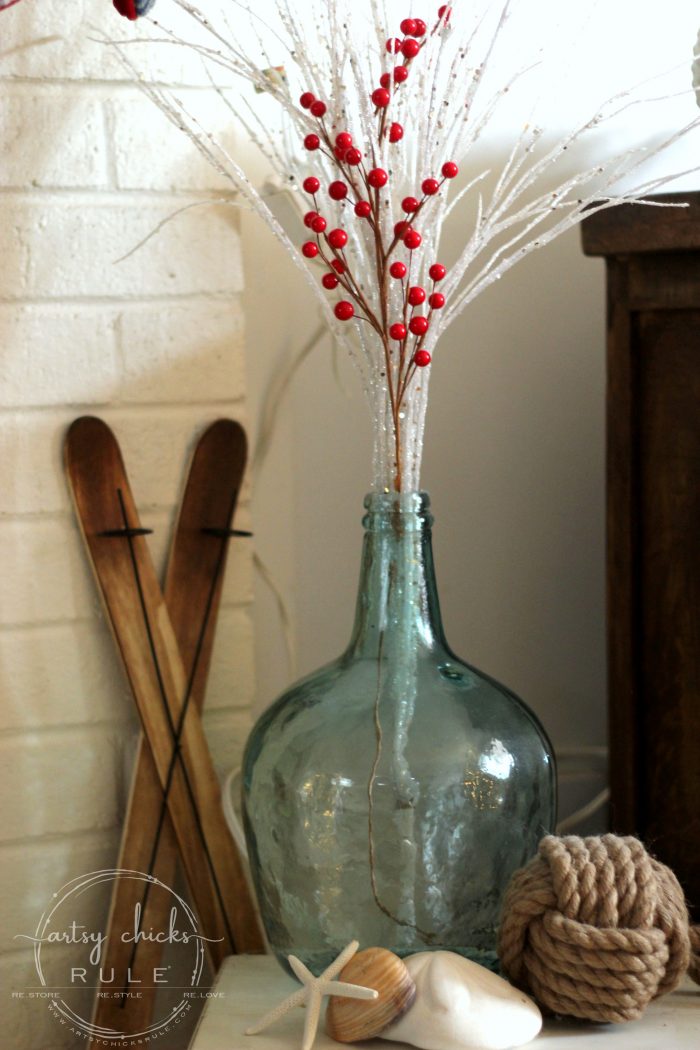 Just like the rest of my boxwood (and other) wreaths, this one got a few berries poked into it. :)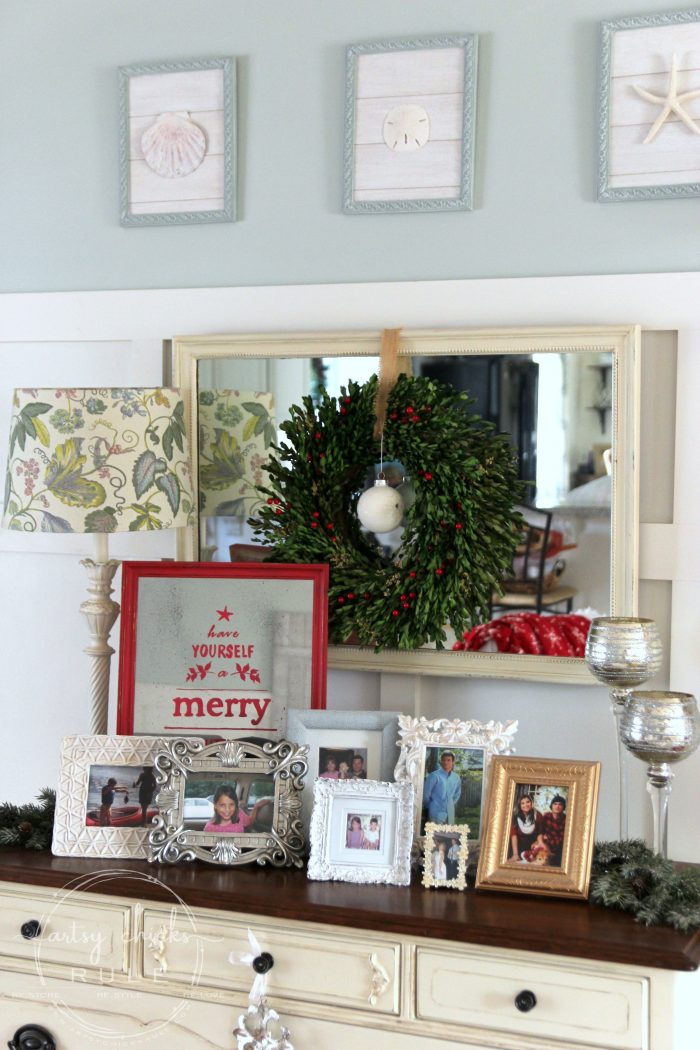 And an ornament hanging from the middle.
The mirrored Christmas sign was one I made a few years ago.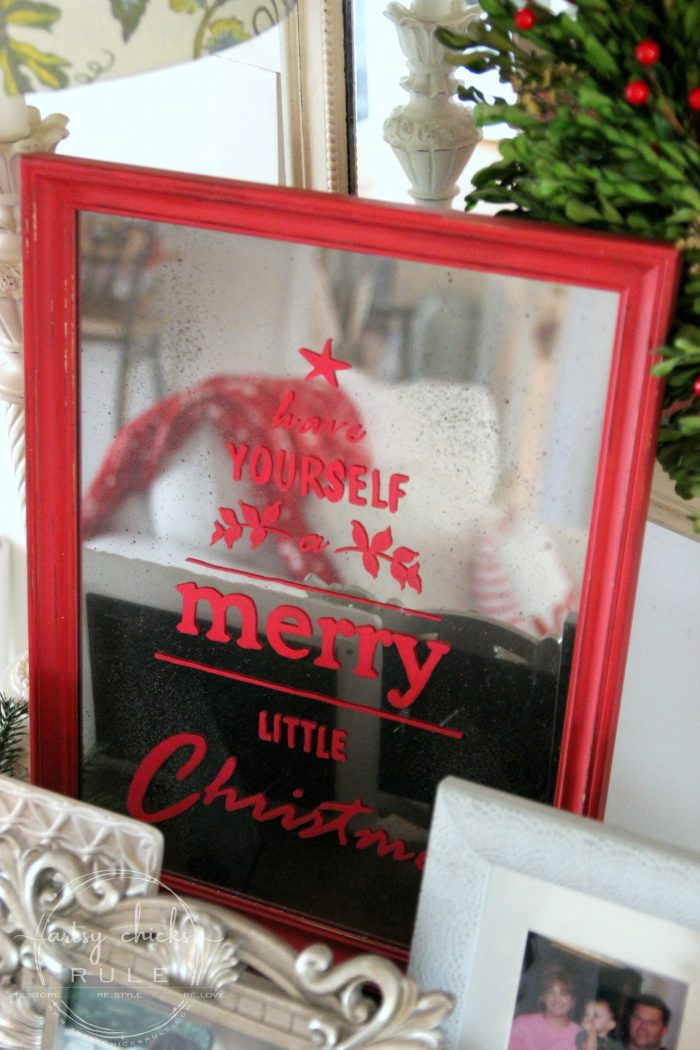 Can you believe that was clear glass to start with? I turned it into an "antique mirror".
So cool. I need to make another one and share a new post tutorial about it.
You can see this tutorial here.
My "thrifty bi-fold doors to shutters" got these simple wreaths, with added red berries and a star.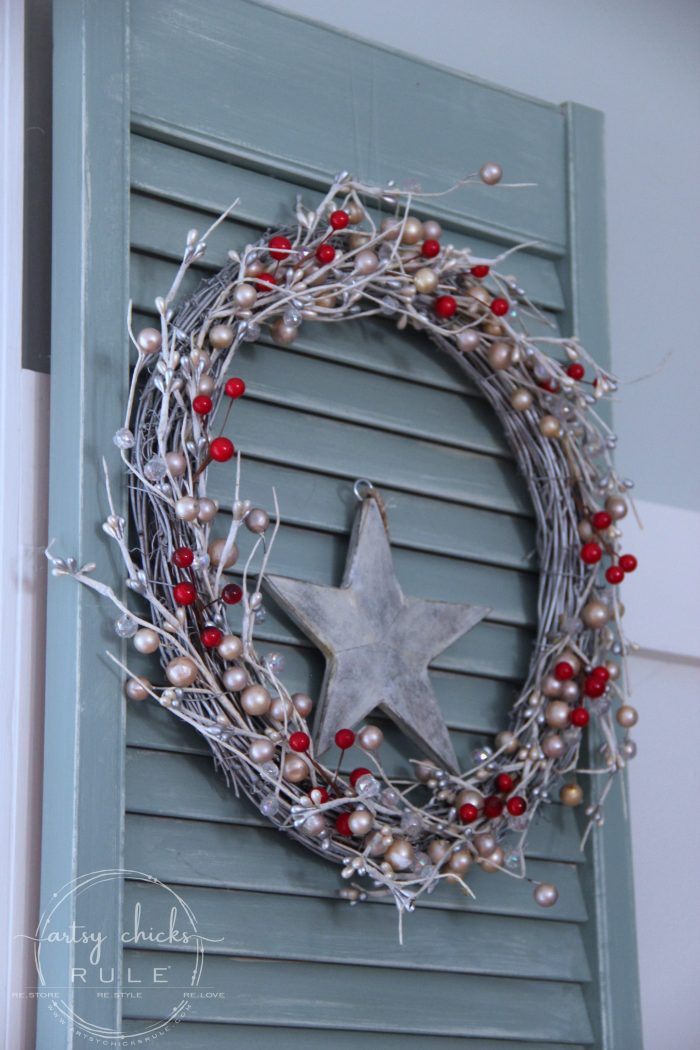 And believe it or not, it was about 70 degrees the day I was taking these photos so I took the opportunity to open my doors and let the fresh air in.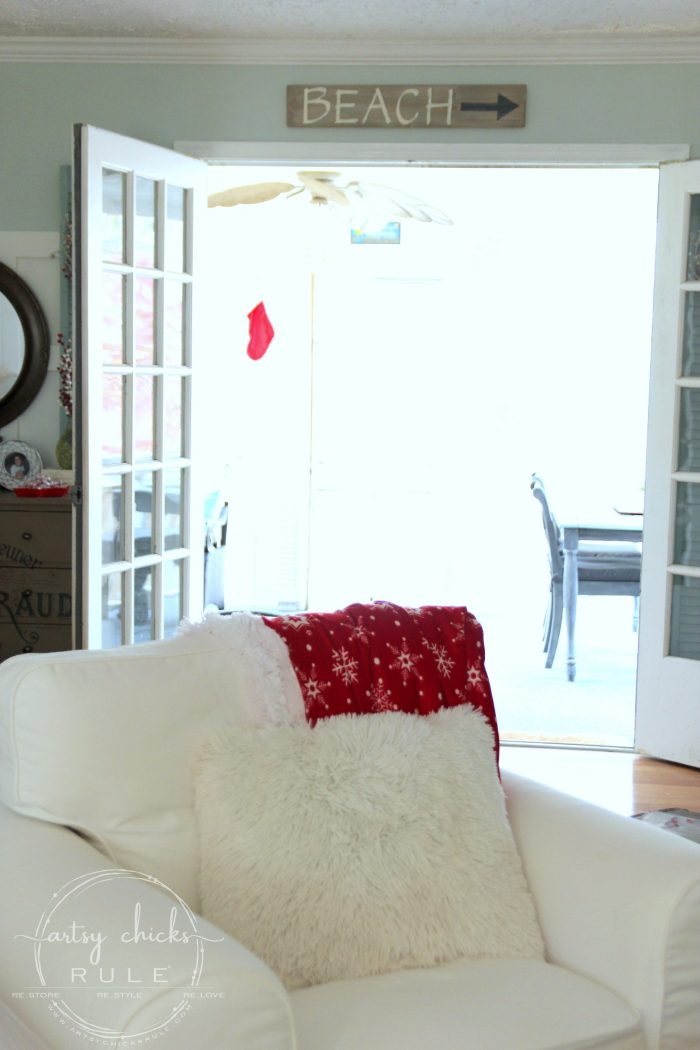 I love that time of year when I can do this. But it's usually not in mid December! ;)
Those temps are all but gone now, though. We moved right on into winter!
Ryder was enjoying it too.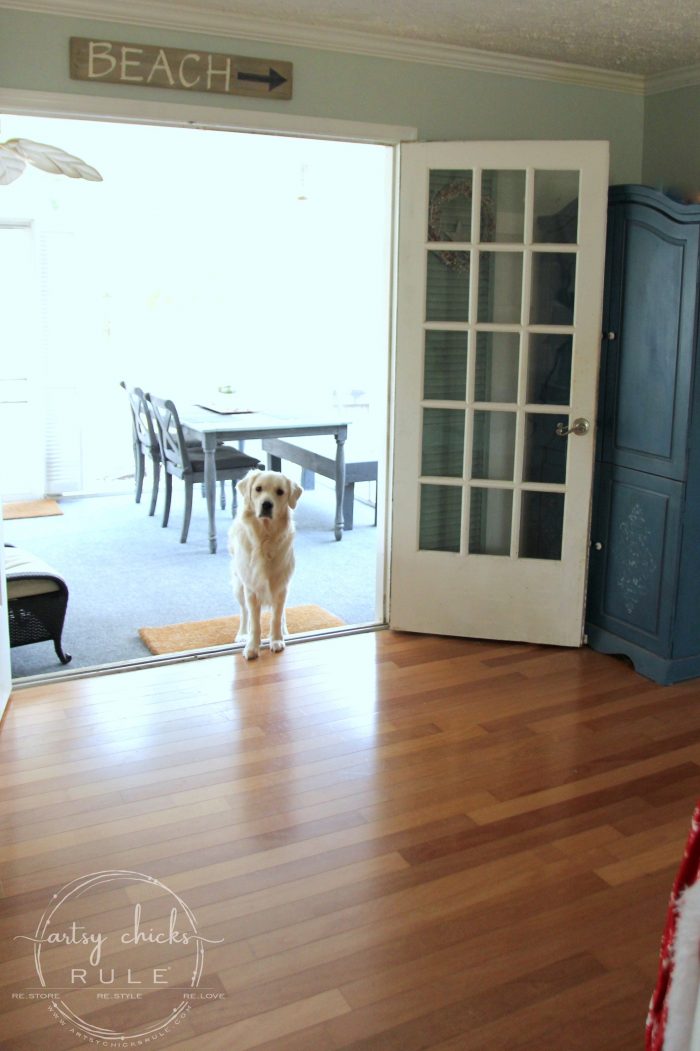 He's so cute. :)
Over here on the right is another pillow, this time with "merry".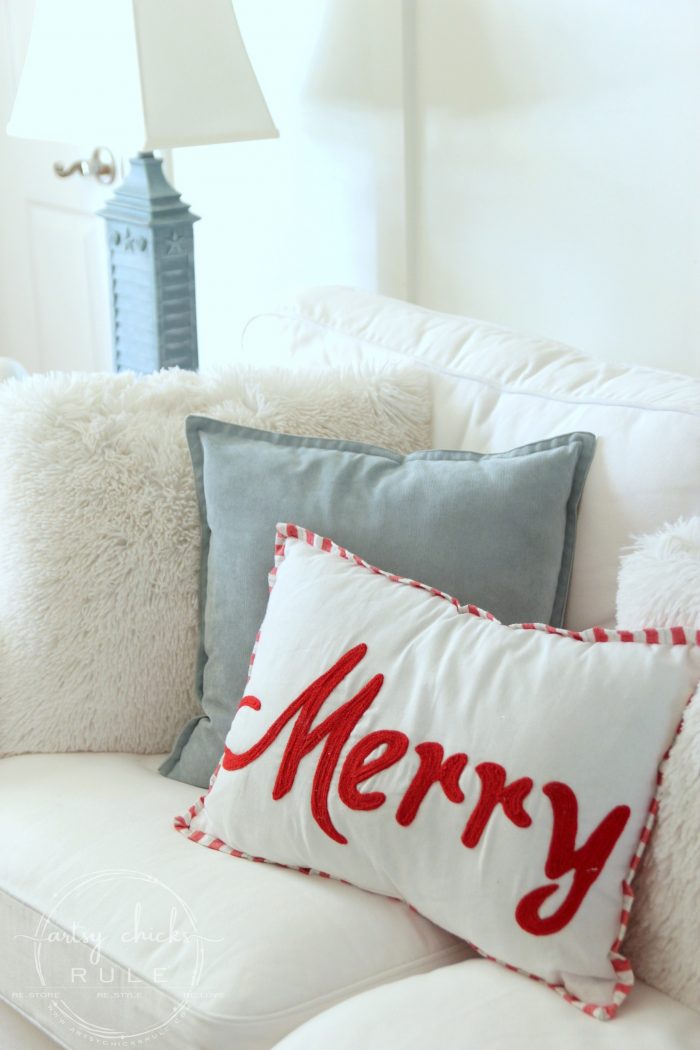 I added a wreath above on the artwork.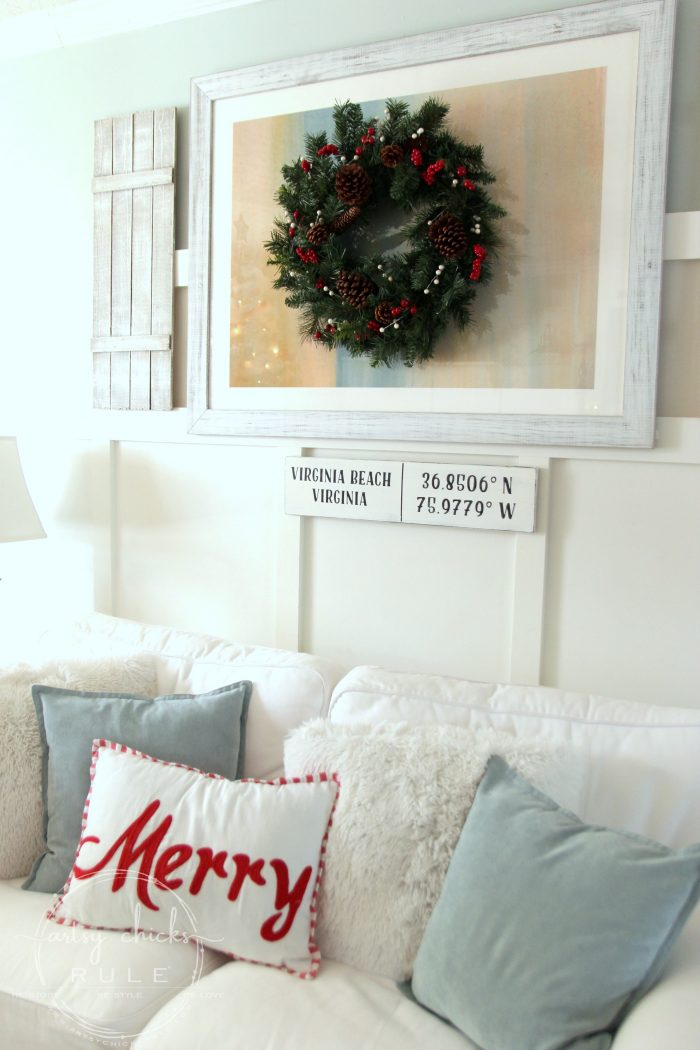 And stuck a few white berries in this one. ;)
To finish out my festive Christmas family room, I thought I'd share my tree at night.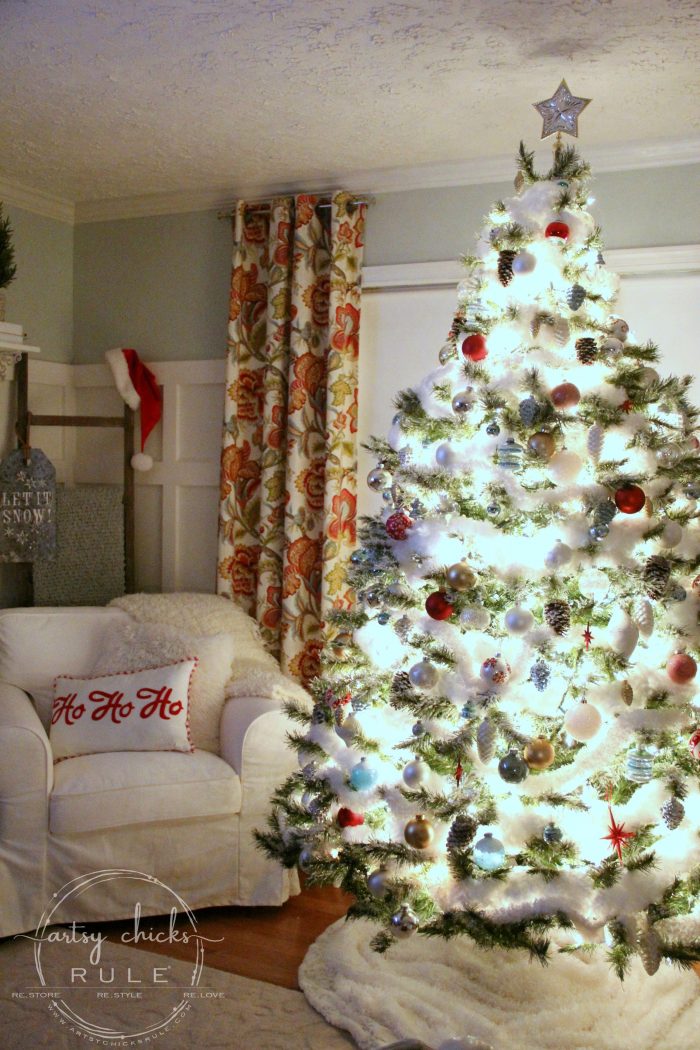 Which is my favorite way to gaze upon it. :)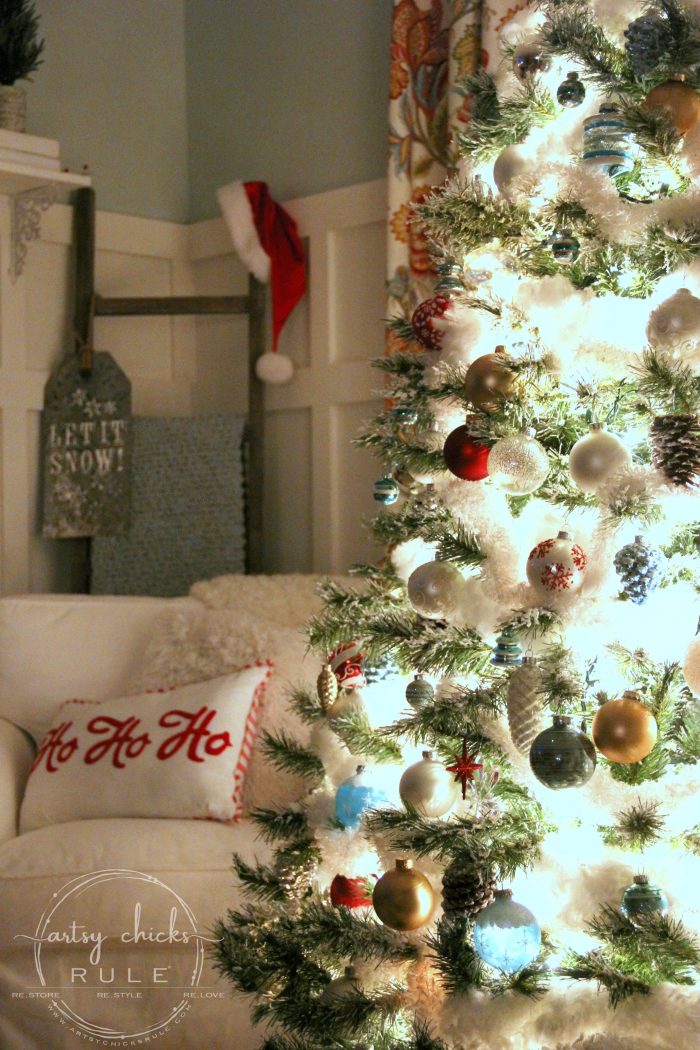 In case you missed it last week, I shared how to make mini wreaths, what to do with old Christmas cards and our family traditions.
Love it? PIN it to save it!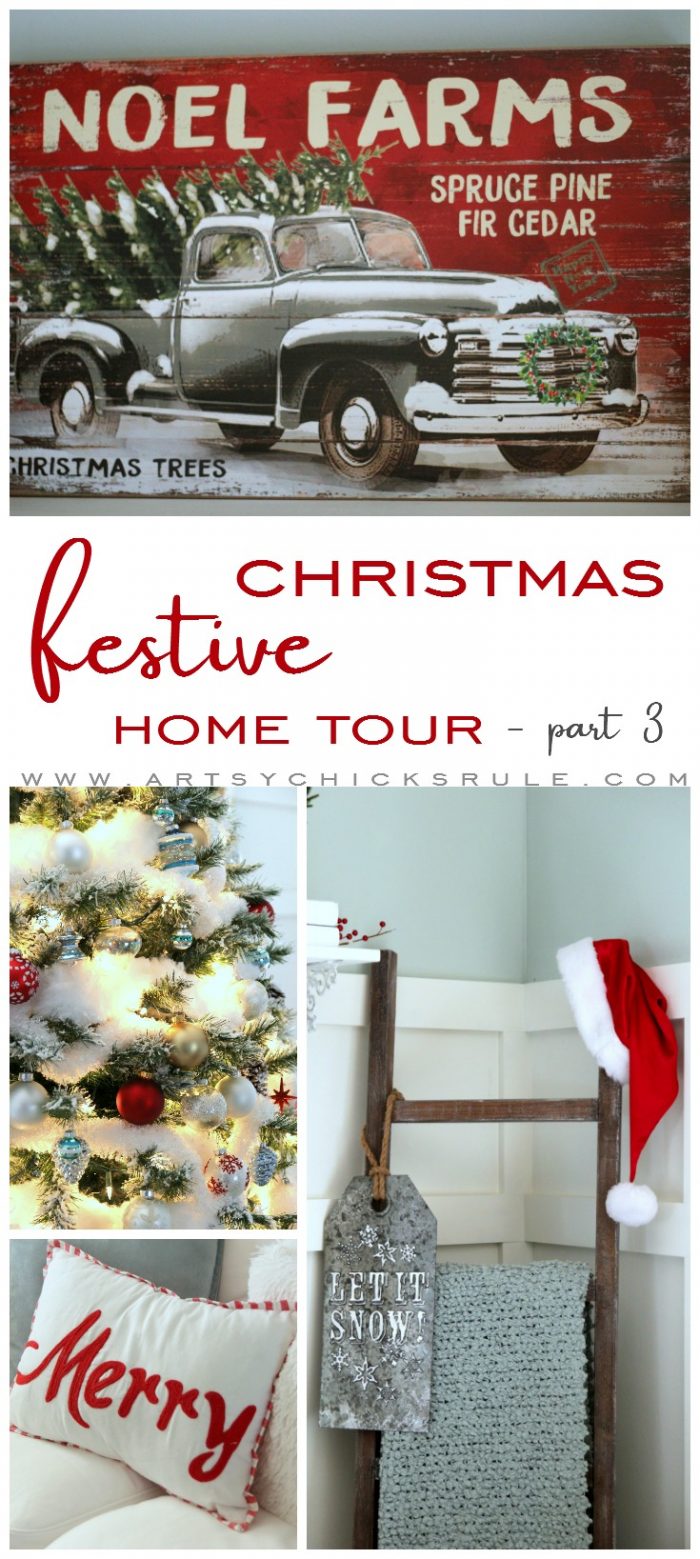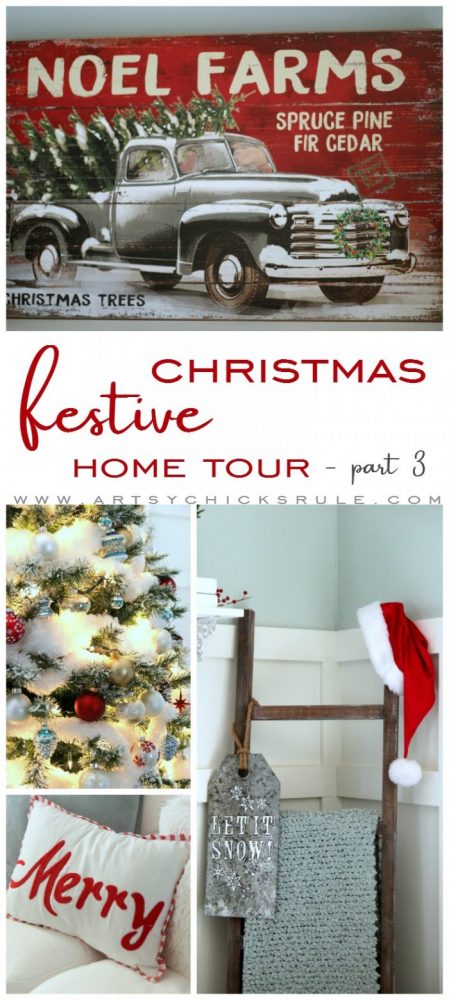 I hope you are all done with your shopping and can have a wonderful and relaxing week! :)
xoxo