Coastal Christmas Home Tour Part 3
This post may contain affiliate links. Please see disclosures here.
Hey Friends!
I'm back today with my final Coastal Christmas Home Tour.
Today I'm sharing my study, foyer and snippets of my porch.
I didn't do much at all on the porch, so there's not a lot to see out there.
Like I said, simple was the theme this year!
And red and white. ;)
I kept it pretty traditional with those reds and whites….and greens, in the form of greenery.
If you missed Part 1 and Part 2, you can see them here.
Coastal Christmas Home Tour Part 1 (family room & tree)
Coastal Christmas Home Tour Part 2 (kitchen, dining and guest bath)
Alright, so here's what's going on in the study this year….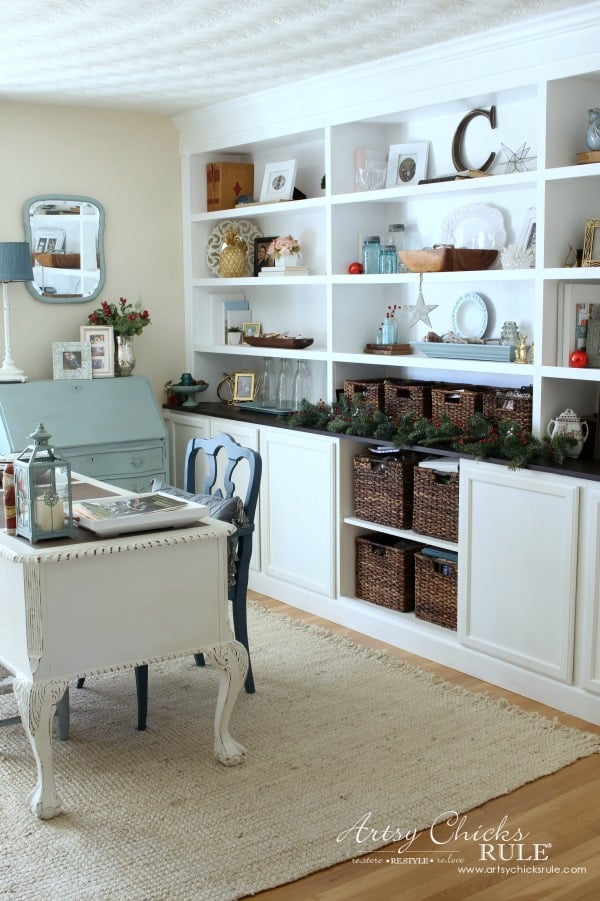 I added red ornaments and berries, here and there, to add that red pop of color.
You might notice I finally moved that antique mirror (thrift store find for $6!) from the family room to over the secretary desk in here.
I think it looks great since they are painted the same color. :)
You can see more about the mirror here >>> "Antique Mirror"
You can see all the makeover details on the secretary desk here >>> "Secretary Desk Makeover"
You can read all about the DIY bookcase wall here >>> "DIY Bookcase Wall Tutorial"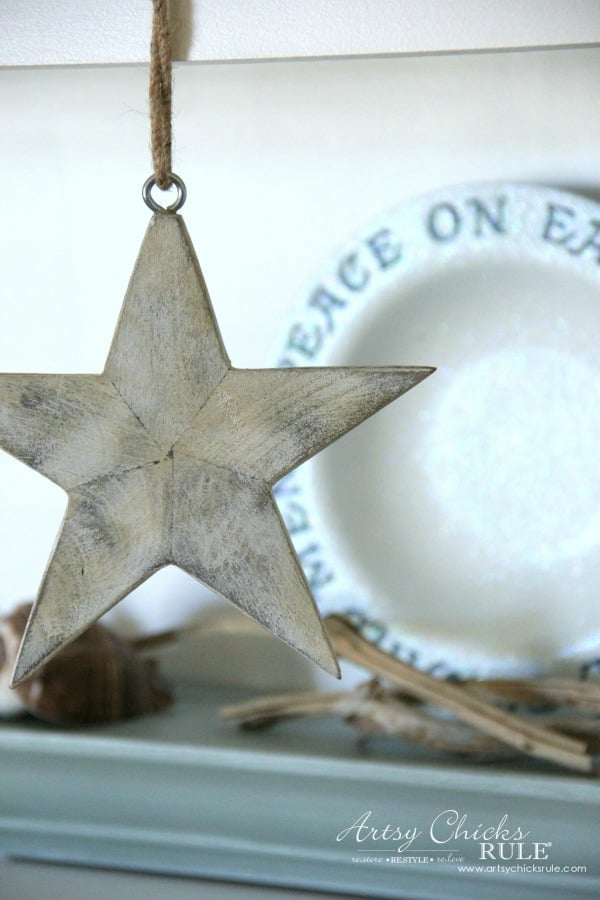 Here you can see my thrifty bowl in the background. I featured on my Artsy Chicks Rule >>> Facebook page recently.
It was a plain pewter bowl that I painted and glittered up for the holidays.
You can see how it looked before and how I made it over here >>> "Plain to Gorgeous Thrift Store Find"
I also hung this rustic wooden star I found at TJ Maxx.
It came with 2, the other one is hanging inside the grapevine wreath in my guest bath below…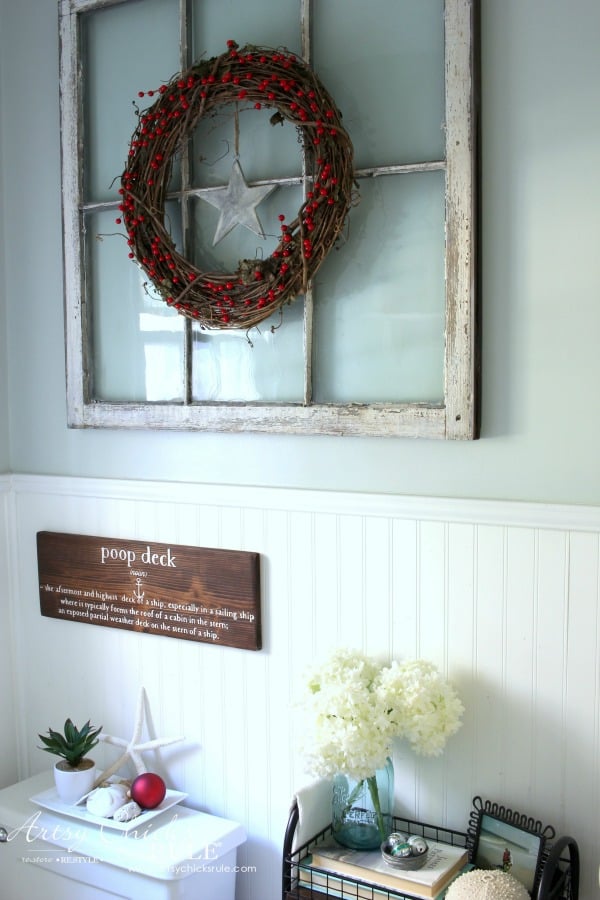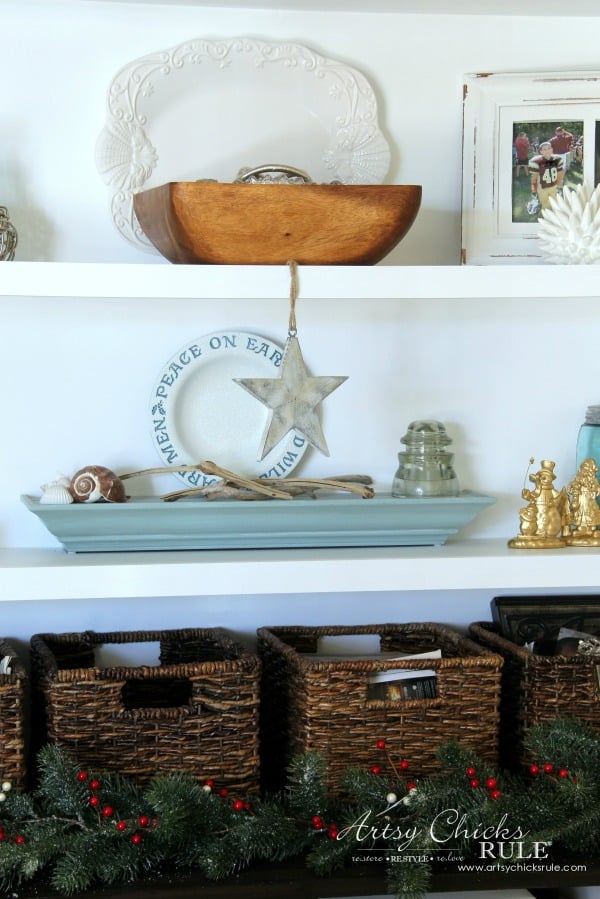 I also put a simple green swag in the center of the book case. (and of course, added red and white berries to that too;))
Gold Santa and Snowman are also thrifted finds that got a bit of gold paint.
Paint makes all the difference. Always does! ;)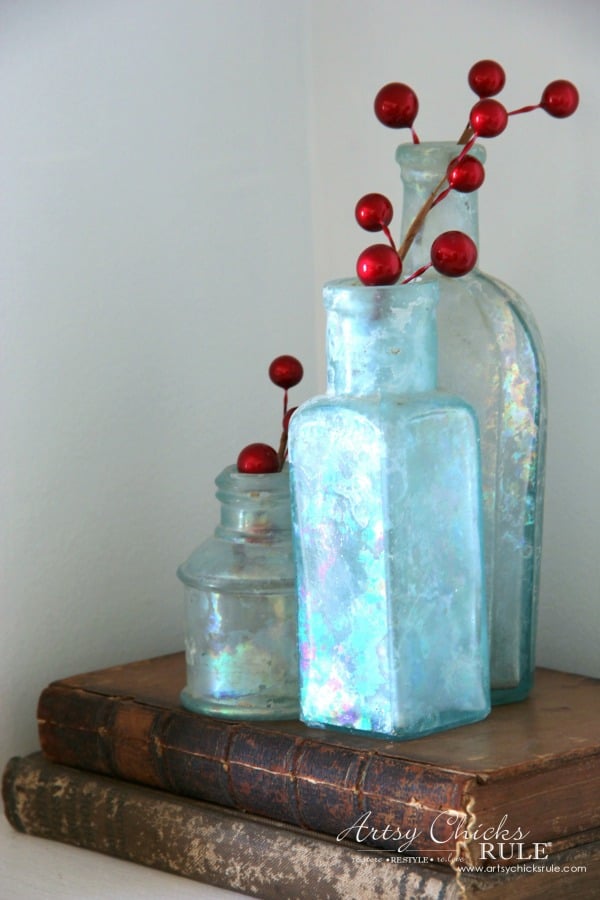 Here's that simple way to add holiday cheer again.
Red berries in my antique blue bottles. (on top of my prized antique books that date to the 1700's…treasures, for sure)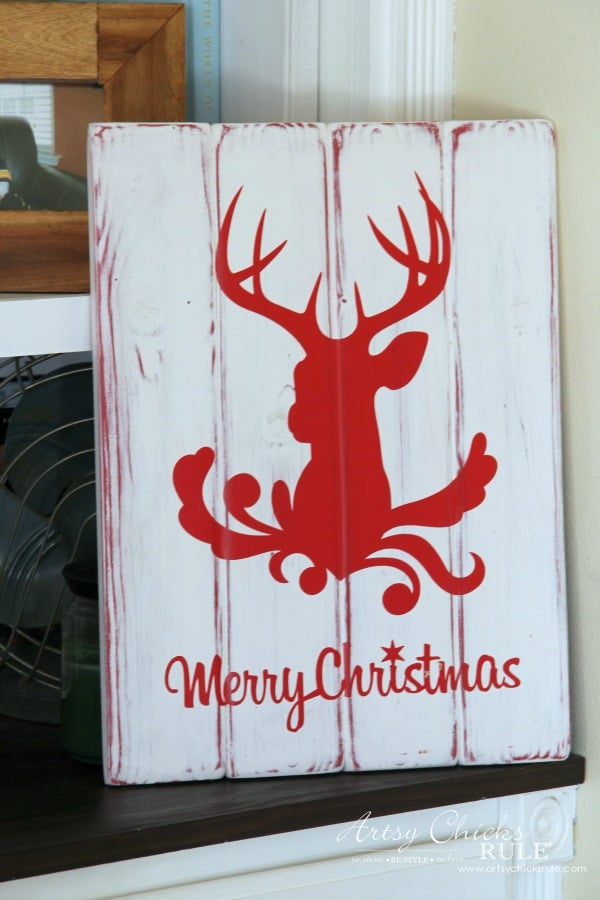 I decided to set Rudy up here on the bookcase this year instead of hanging him on a wall.
He's been all over my house at this point! ;)
You can see the tutorial on how to make him here >>> "Merry Christmas Sign"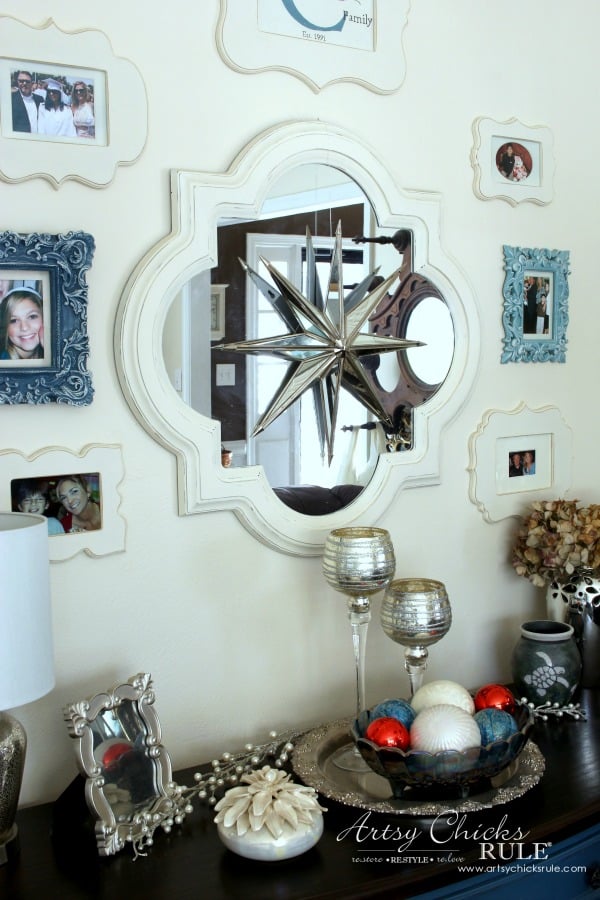 On my fave blue dresser I added glittery white bead stems on each side of the platter and put a couple red ornaments in the bowl.
I also hung this mirrored star I found at Marshall's last year, over the mirror.
And those mercury glass, stemmed candle holders were added for a final touch of sparkle.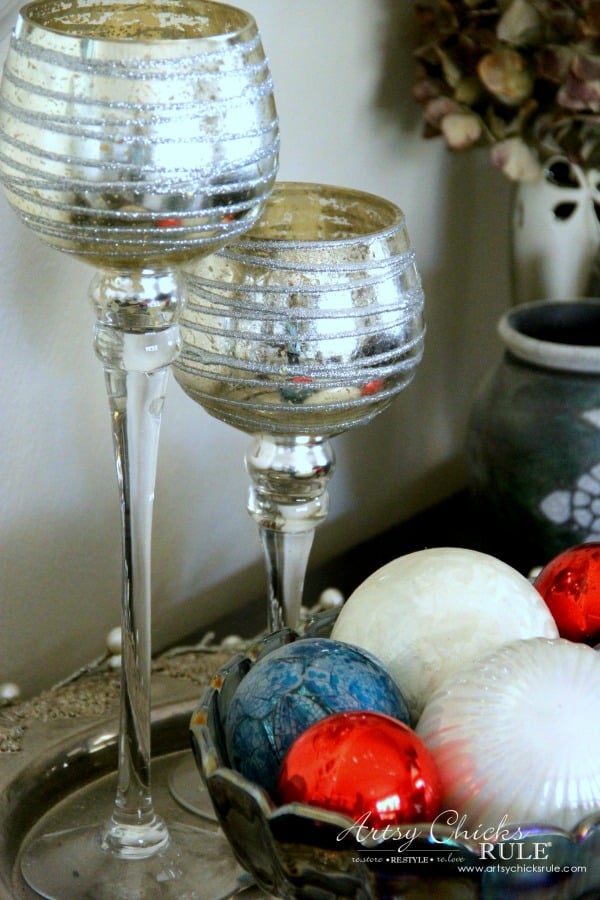 Which, as you can see, has a broken stem base. That happened several years ago but I still use them.
It is still sturdy enough and as long as I put it where no one can see, why not?
You can read about my blue dresser makeover here >>> "Aubusson Blue Dresser Re-do"
You can read about the gallery wall and components here >>> "How to Create a Gallery Wall"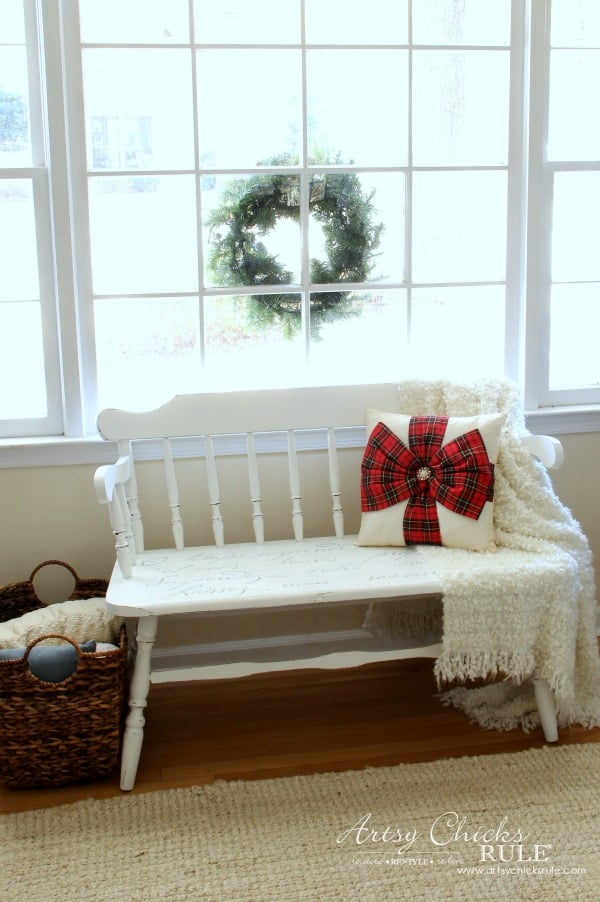 On the other side of the room is this bench.
I simply added a red plaid pillow…and done! :)
You can read about the bench makeover here >>> "French Poem White Bench Makeover"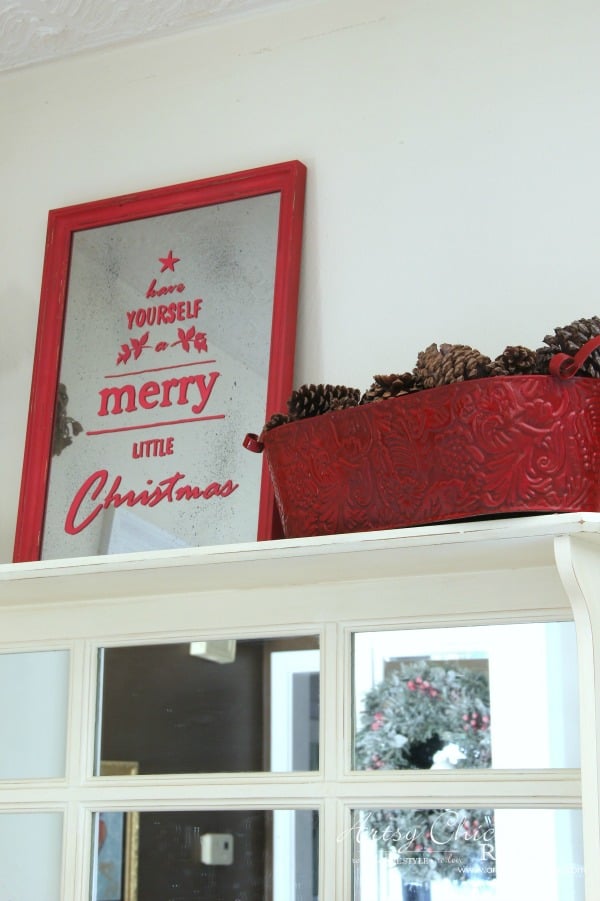 Over top of our hall tree is where my "faux" antique Christmas mirror went this year.
To the right of it, I set a red metal basket full of pine cones.
Simple decor.
You can see how I made the "faux" antique mirror and Christmas sign here >>> "How to Make an Antique Mirror"
(can you believe that was a plain piece of see through glass when I started?)
Moving on to the foyer…..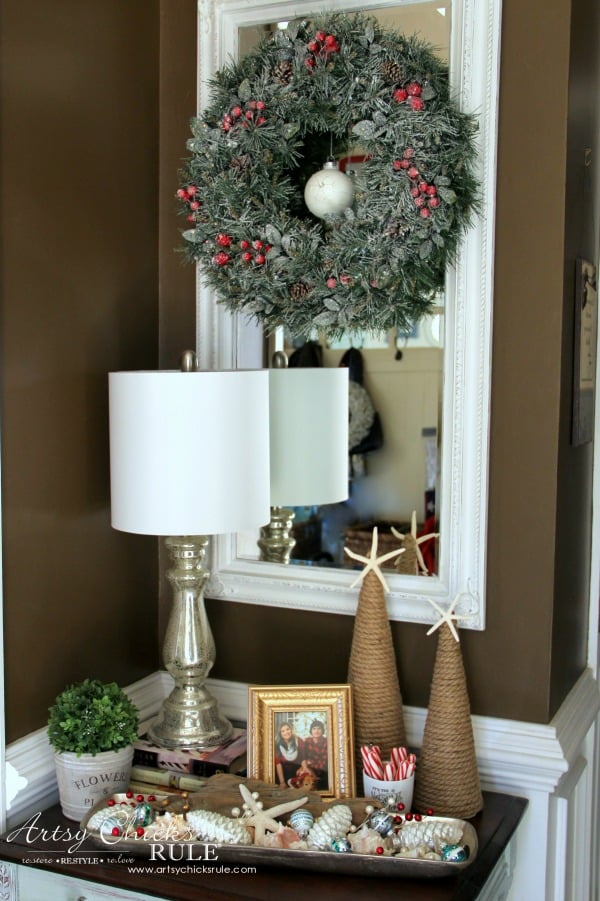 Hanging on the mirror is one of the wreaths I flocked last year.
For the table, I simply added…..what else? Red and white berries, of course! ;)
And small blue, white and silver ornaments. (Shiny Brites I found at TJ Maxx this year)
I also added a framed photo of my kids and our sweet girl, Lexi, from last year.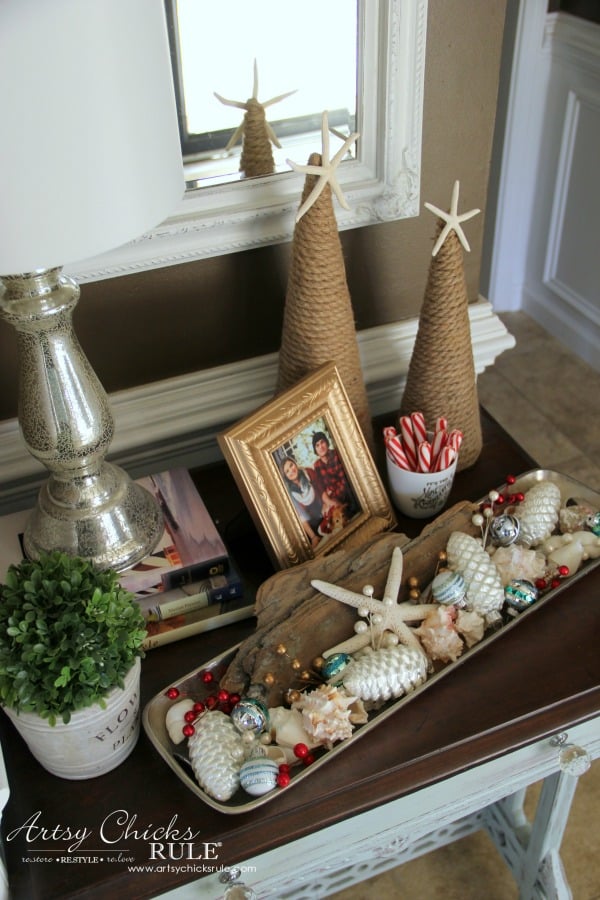 You may notice I painted the frame on the large foyer mirror. It used to be dark gold and I was tired of the gold.
I'm not sure I love the white but that's how it'll stay for a little while, at least.
Mainly because I don't feel like messing with it anymore right now! ;)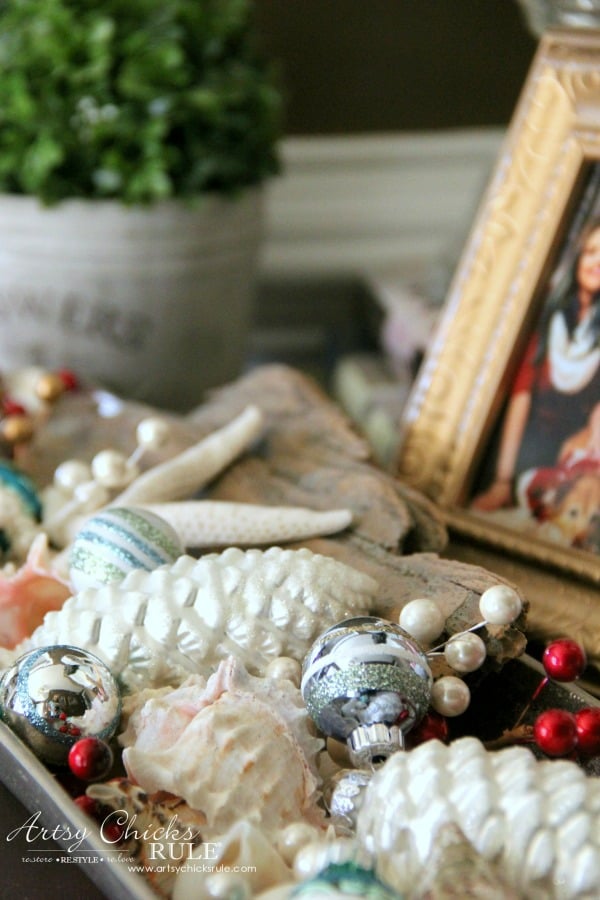 The little votive holder, "It's the Most Wonderful Time of the Year", came from Michael's and was 50% off.
I filled it with candy cane sticks from the dollar store. Love those for decorating at the holidays!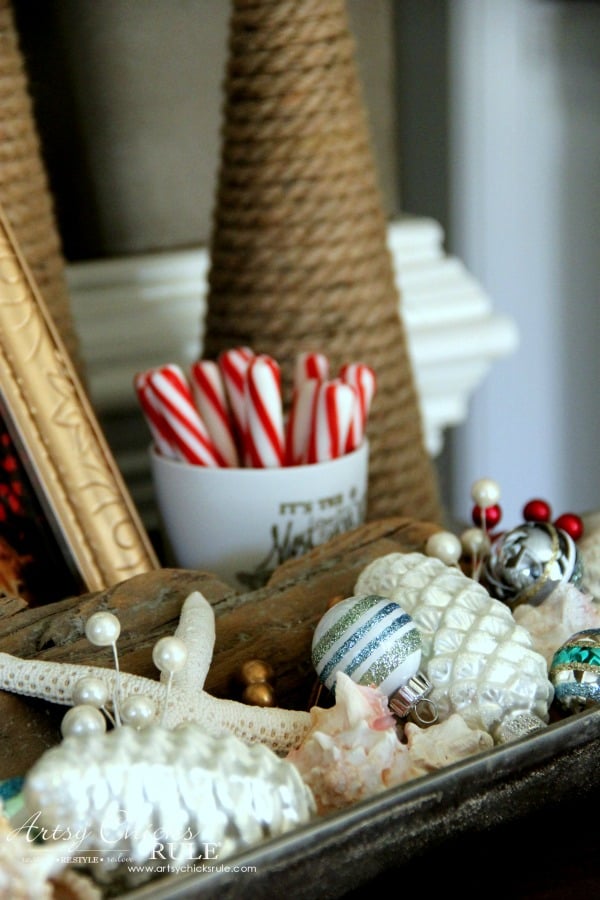 You can read my tutorial on flocking things, like trees and wreaths, here >>> "DIY Flocked Tree & Wreaths"
Moving out to the front porch….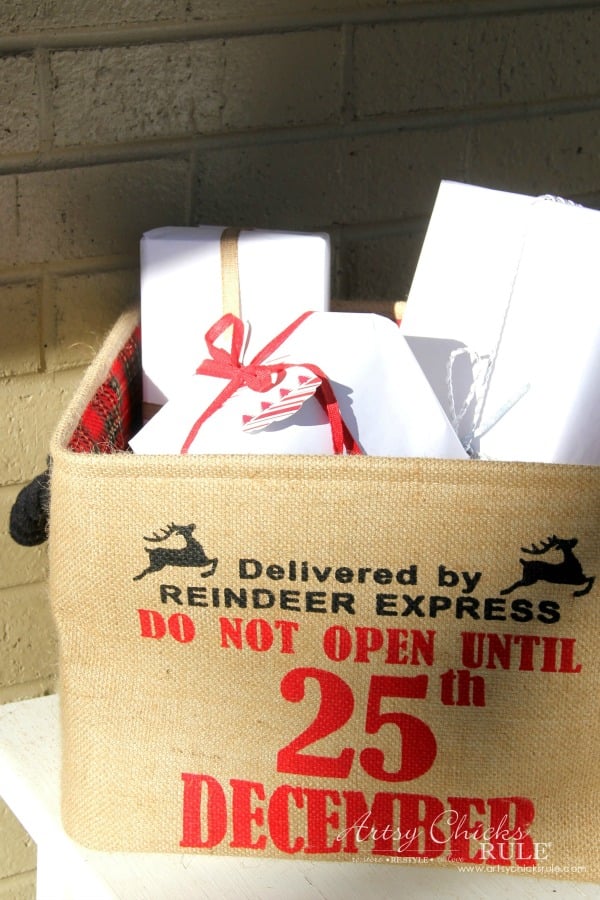 To the right of the front door is a place for presents….but you can't open them yet! ;)
To the left is my hall tree….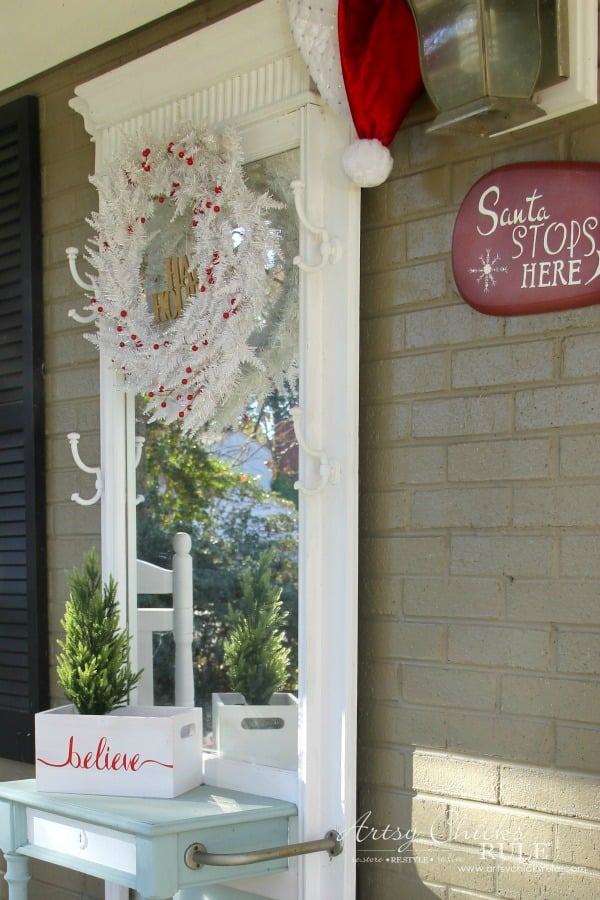 I know, who has a hall tree on the front porch??
Apparently, me! ;)
You can read about how the hall tree came to be, here >>> "Front Porch Decor – $35 Hall Tree"
You can read about the thrifty wreath here >>> "Red & White Simple Christmas Wreath"
You can see the tutorial for the Santa sign here >>> "Santa's Coming to My House, the Sign Says So"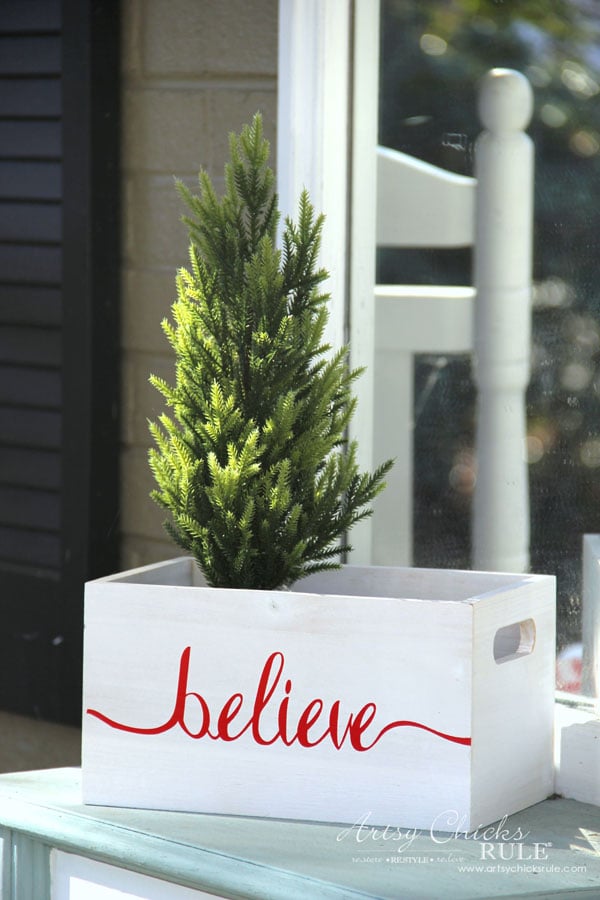 Both from Michael's….50% (plus 20%) off!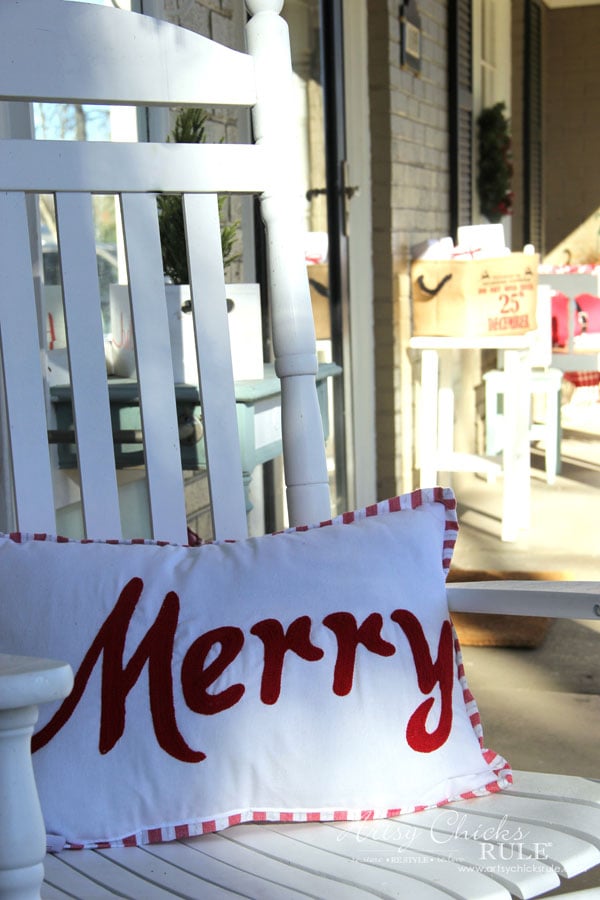 Simple red and white pillows in my rockers. (I think they came from TJ Maxx)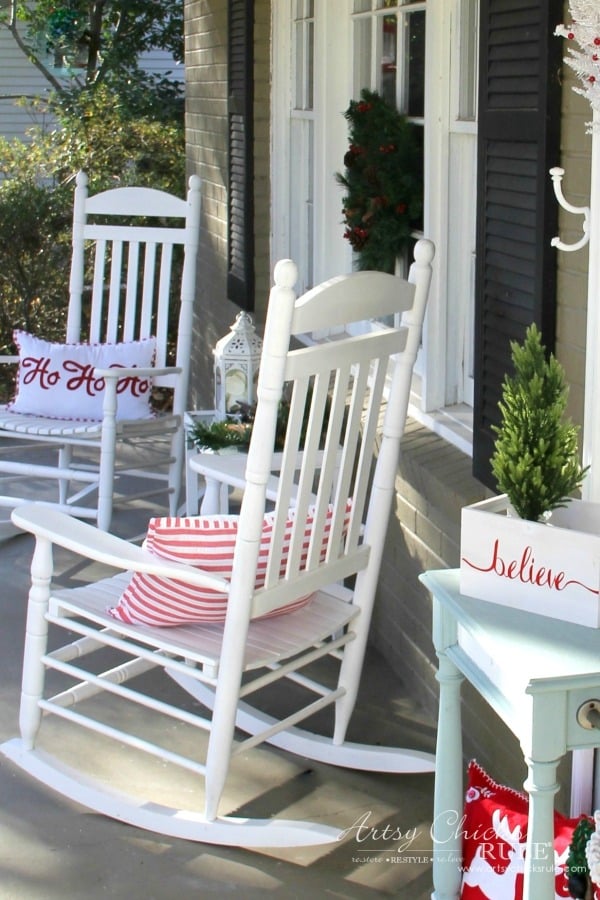 And my bench with a comfy plaid throw and "Santa pillow"….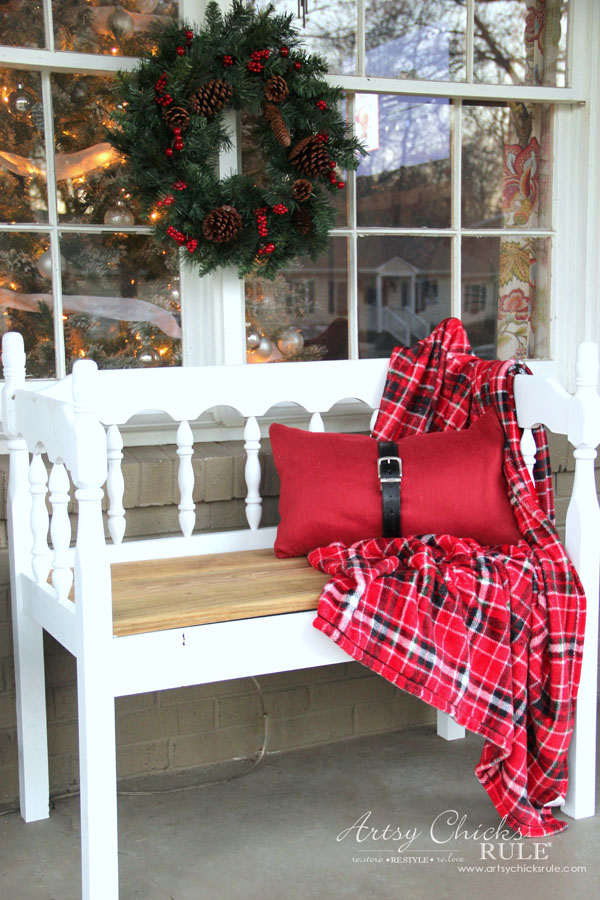 I found the red pillow at the thrift store and wrapped an old belt around it to look, I guess, like Santa's belly! ;)
I've used it a few years now because it's simple and I think it's so cute.
You can read about how I made this bench out of a twin headboard here >>>"Headboard Bench Tutorial"
Whew, I really do have a hand made home!
I sometimes forget how much of it I've made….or maybe I haven't forgotten. ;)
That may be the reason I took it a little easy this year on holiday decor.
Nothing new was made (I don't think?) and hardly anything new was bought.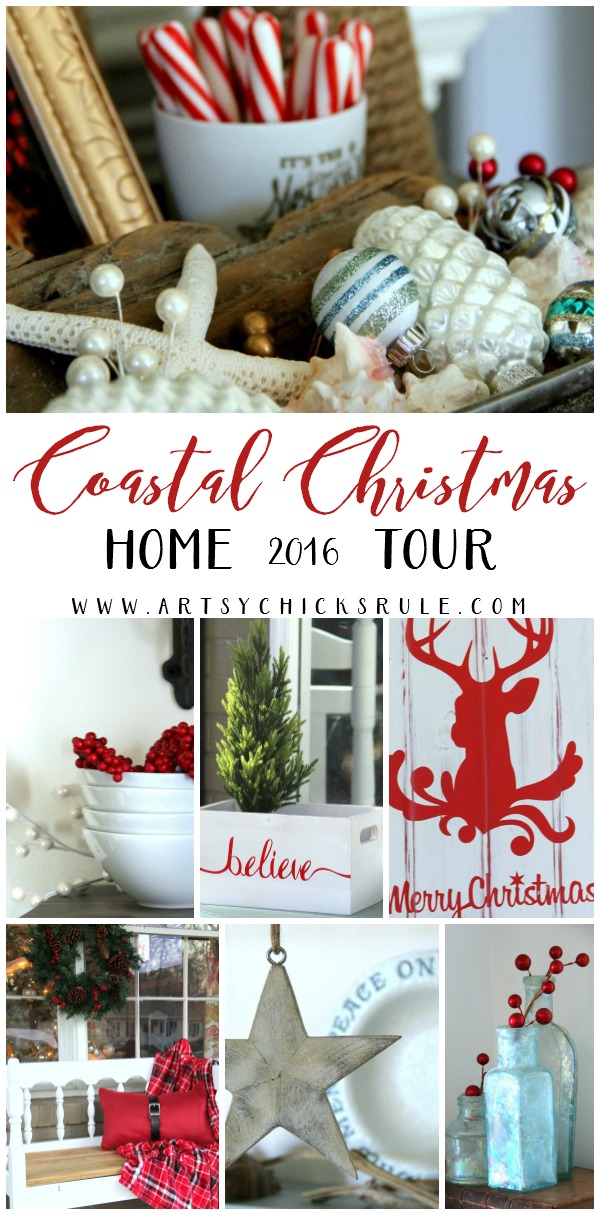 Anyway, that about does it for my own holiday decor this year.
Now I can sit back and relax and put my feet up and read…..hee hee, nope!
Lots to do still. ;) I am sure you can relate, yes?
I'll see you back here next week.
I'll be sharing some gorgeous holiday tours from my friends.
And later in the week, a few things to help with your entertaining, I hope! ;)
Have a wonderful weekend!
xoxo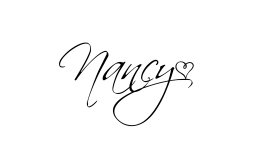 I'm including a few affiliate links for some similar items to what I've shared above. You can see my disclosure here.


Follow along! –> Instagram ~ Facebook ~ Pinterest ~ Bloglovin