Festive Christmas Home Tour 2017 (part 1)
This post may contain affiliate links. Please see disclosures here.
There's just something about those traditional red and green holiday colors I love. I decided to keep it traditional again this year with my festive Christmas home tour, part 1.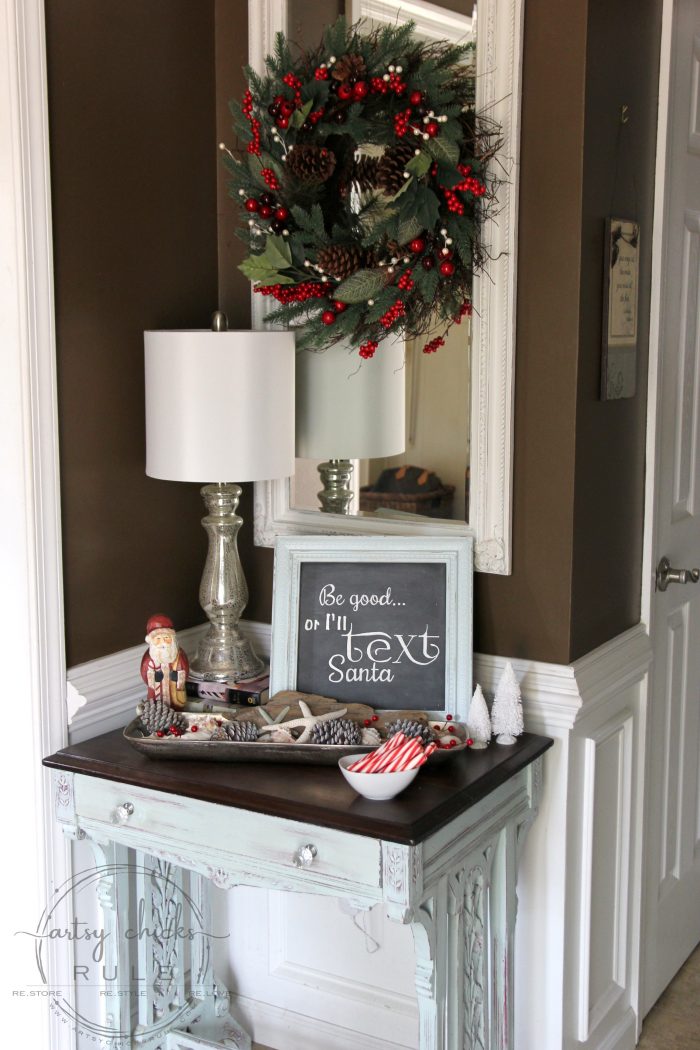 Welcome to my home. :)
I'm sharing my foyer, kitchen and guest bath today. (and a little something I added to my festive laundry room since I shared it last week. ;) )
If you missed that, you can see it here >>> A Festive Christmas Laundry Room
It can be tough to come up with new and different ways to use these decorations year after year.
If you are curious, you can see last year's home tour, here >>> Coastal Christmas Home Tour, part 1
But I try hard to change it up!
I do always add these cute peppermint sticks, usually in the entryway.
You can find them at the Dollar store.
And I do add in a few new things each year so that keeps it somewhat fresh.
Maybe next year I'll be able to share my Christmas home tour in a new home! Fingers crossed! ;)
And can you guess what's hiding behind the Santa sign chalkboard? One of the 5 diffusers I have in my home.
I just love them and the natural scent they provide. Plus, having one at the front door is the perfect spot for it.
I'm using my fave blend of orange, cinnamon, clove, vanilla and spruce right now. Perfect for getting in the holiday mood.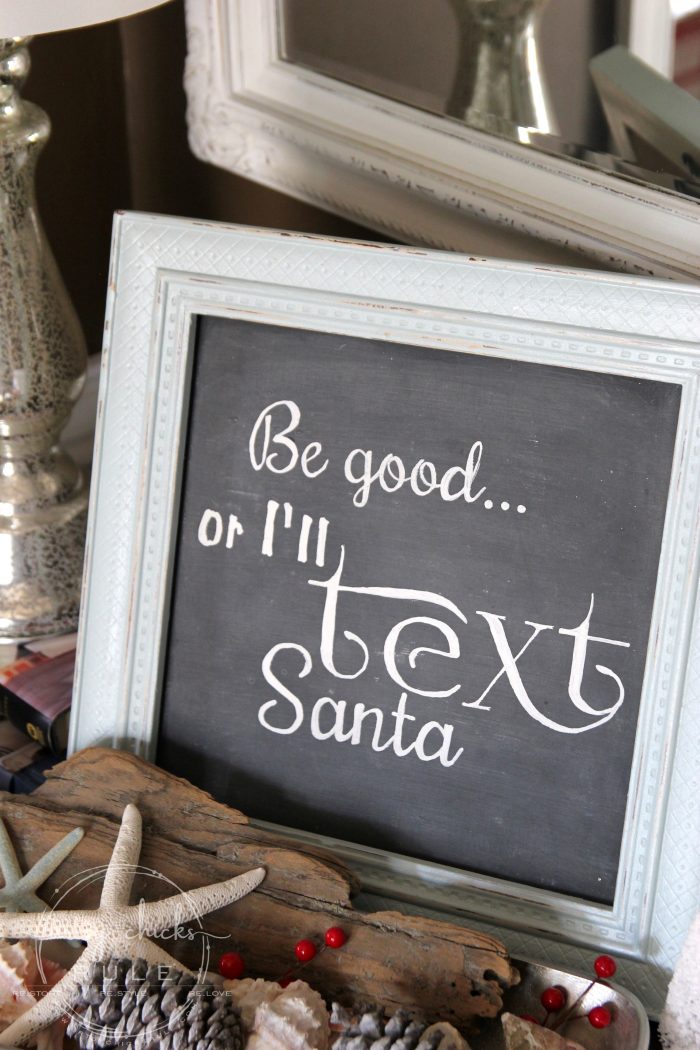 This "be good" Santa chalkboard was a Christmas project from a few years ago.
You can get all the details on this thrifty makeover here >>> Easy Holiday Chalk Art
The little Santa was a also a thrift store find.
And it's easy to add holiday decor to the existing dish of seashells with simple red berries and pine cones.
And a wreath on the mirror, of course. :)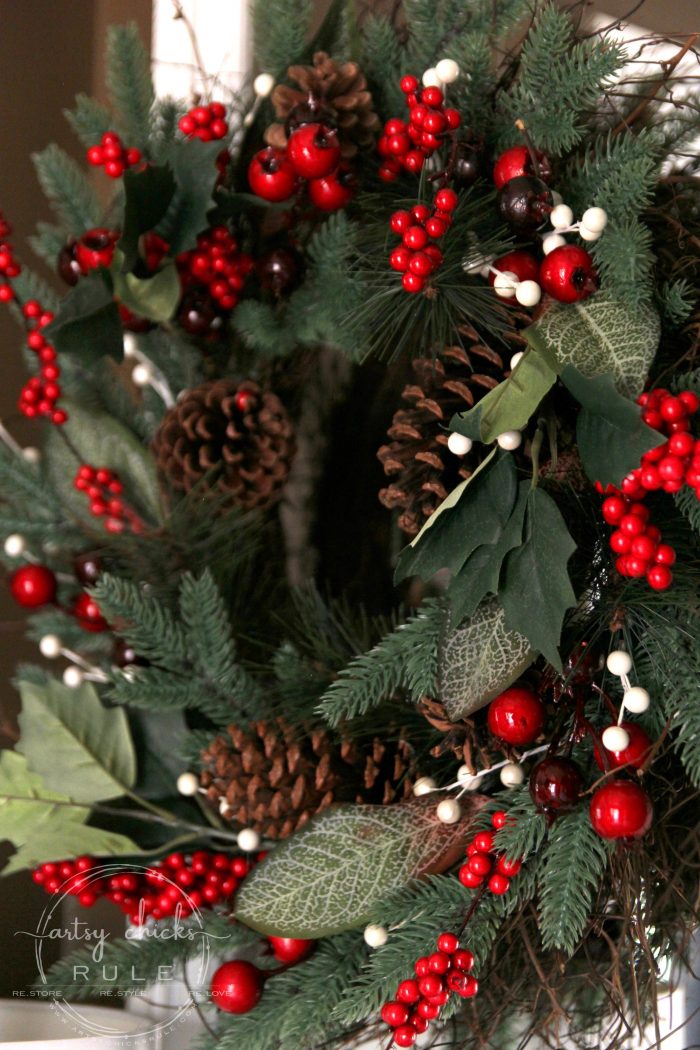 It was a bit too much RED, so I added in a few white berries here and there to break it up somewhat.
And we can't forget this little cutie hanging above your head on the light fixture in the foyer. ;)
From the foyer, you enter the kitchen.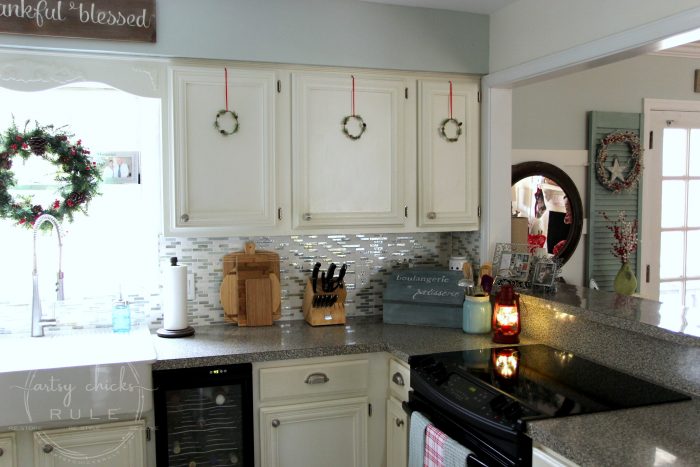 I'm really loving the new addition of the DIY mini wreaths I shared earlier this week.
You can see them here >>> Easy DIY Mini Wreaths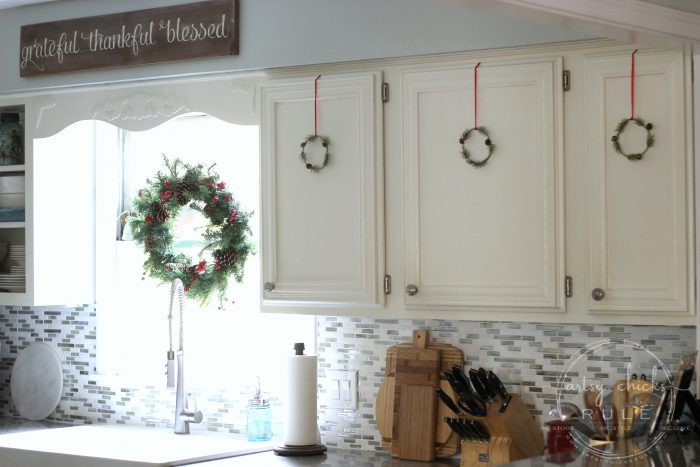 This is the first time I've hung a wreath on the window over the sink.
I think I like it there!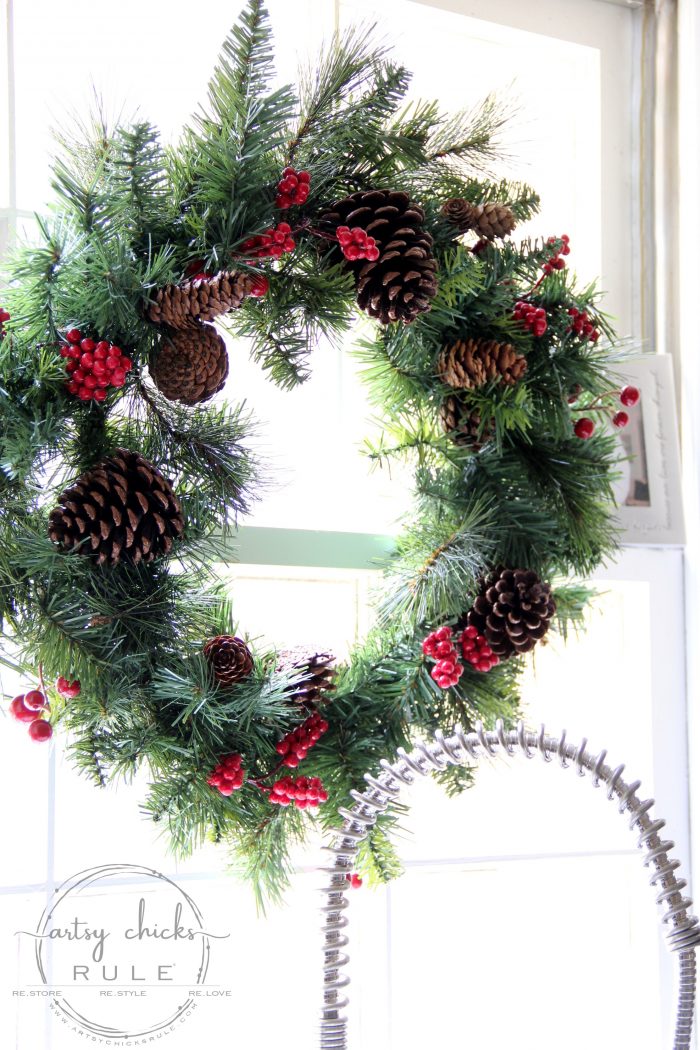 I still love my paper towel holder below!
You can see the details on it >>> here.
You can read the details on the sign above the sink here >>> Grateful, Thankful, Blessed Sign
And the tile back splash here >>> Coastal Inspired DIY Backsplash Tutorial
How about a simple splash of holiday cheer inside the dish on my open shelves?
Easy way to add a holiday touch.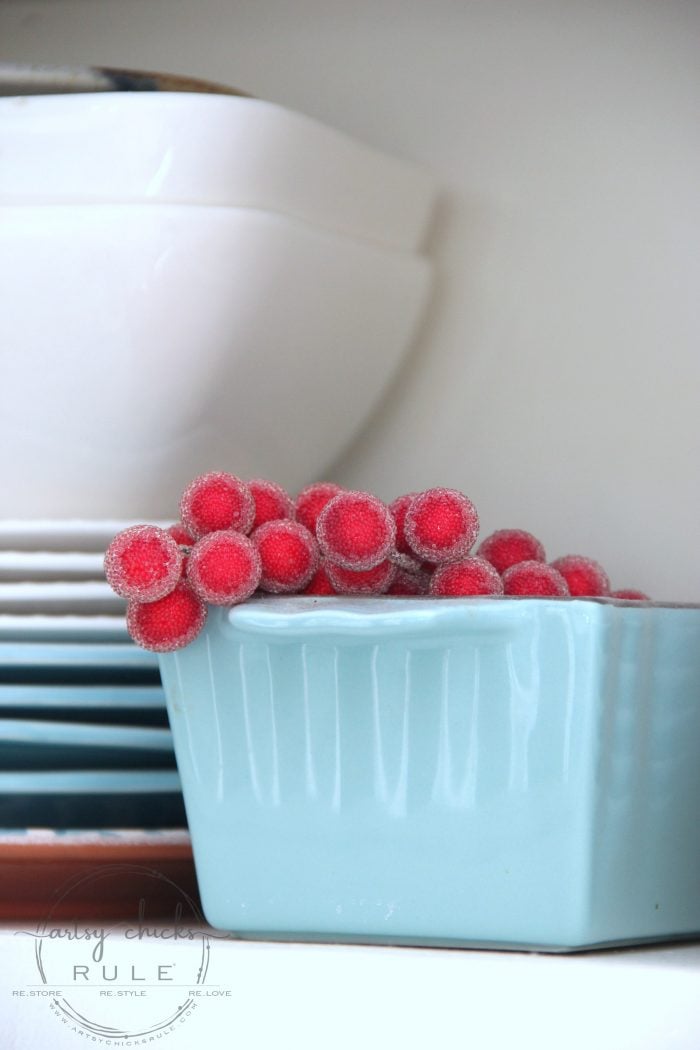 And check out this little cutie I just picked up at Wal-Mart yesterday?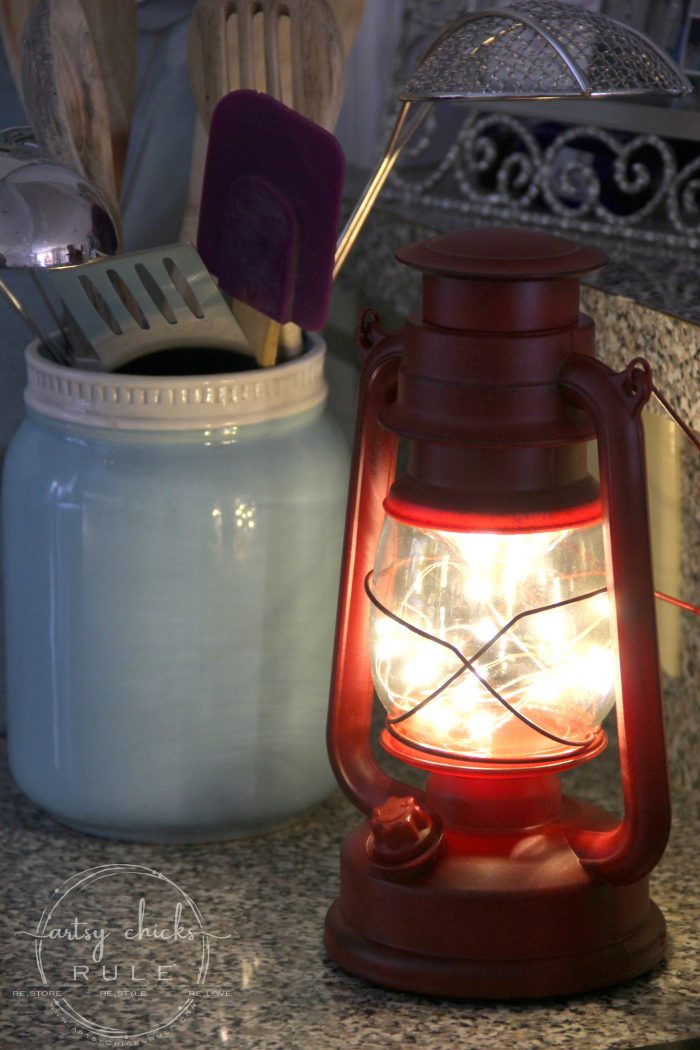 I just love it! So cute. :)
You can find the blue mason type utensils jar here.
I love catching a reflection in a mirror…..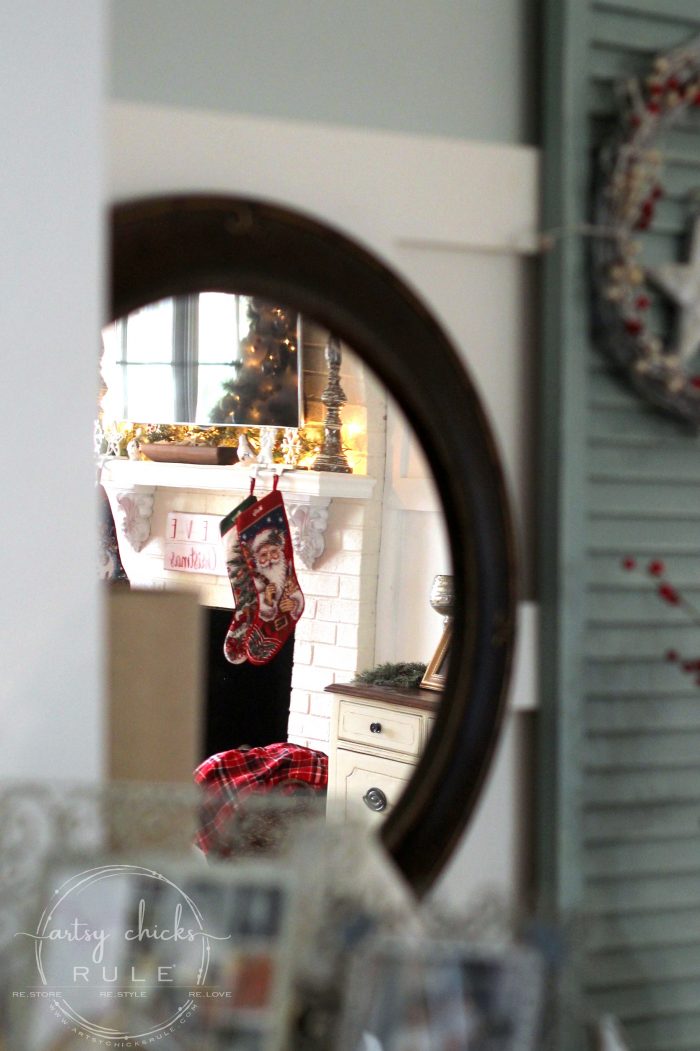 …. I see you looking at me Santa. :)
Looking into the kitchen from the family room.
I'll be sharing that room soon, too.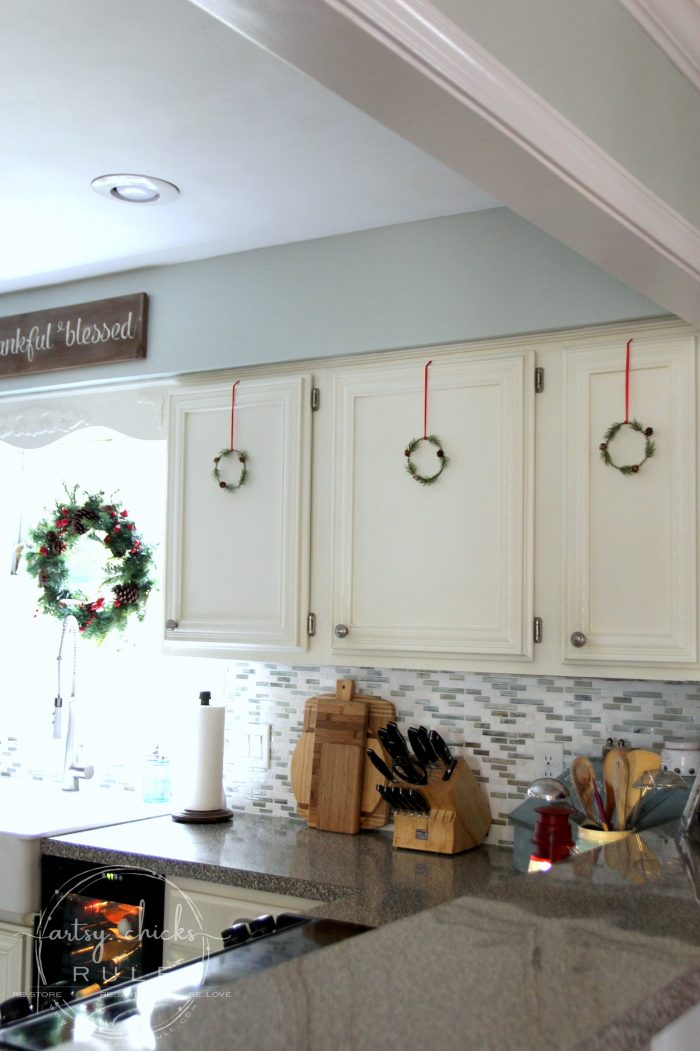 This little wood bowl stays on my island, usually empty. (or filled with mail…or junk ;) )
Or sometimes fruit.
I kept it simple and added a few pines cones and this big, ole red and white striped ornament.
And on the other wall is this…..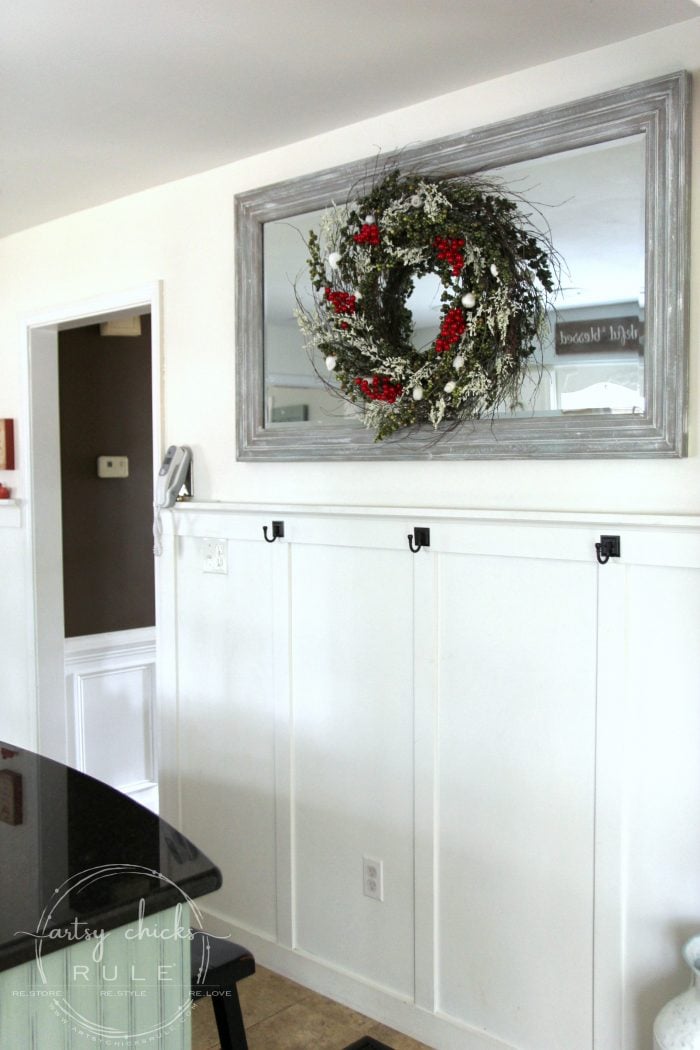 That shelf is the perfect place for Christmas cards and where I usually display them each year.
The wreath got a few red berries.
I've mentioned in other posts how I like to just stick a few red berry stems into my existing wreaths to create holiday decor.
It's so much easier than taking them down and replacing them with regular holiday wreaths. And cheaper, too!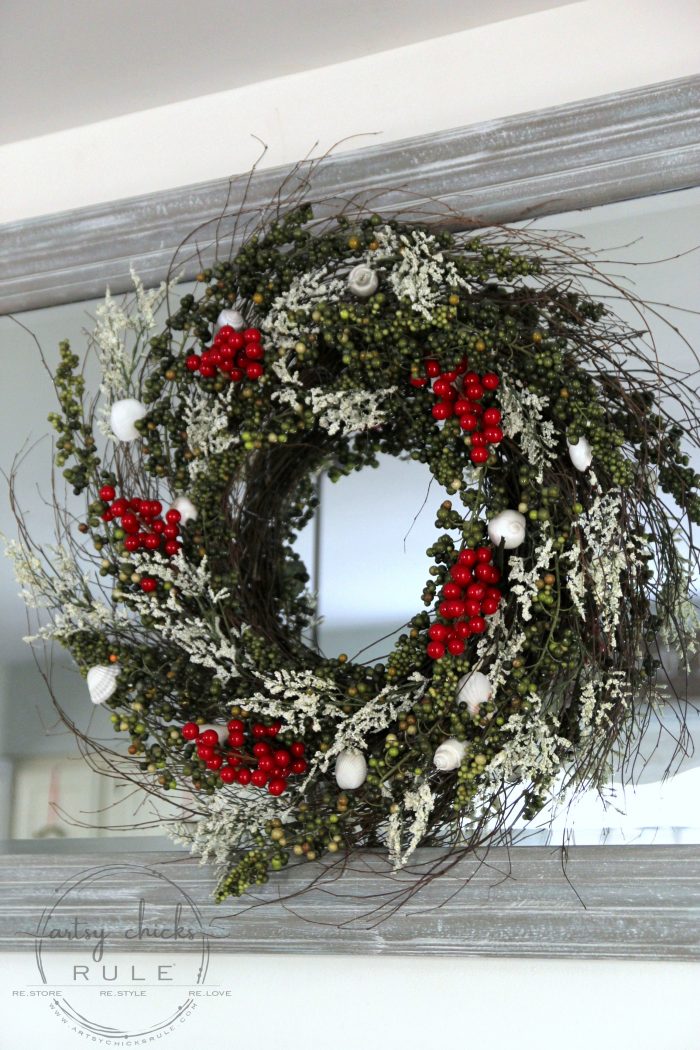 I added big bunches to this one.
I don't glue them in, I just stick them in and they always stay just fine.
This way I can just pull them right back out at the end of the holiday season.
I made that wreath awhile back.
You can read all about it here >>> DIY Green Berry Wreath, Gone Coastal
And you can read about the faux finish I gave the "gold" mirror here >>> DIY Weathered Wood Look With Paint
The bathroom got a little of the same as last year.
Except I didn't have that little "reindeer parking only" sign.
I thought this was the perfect spot for it, hee hee. ;)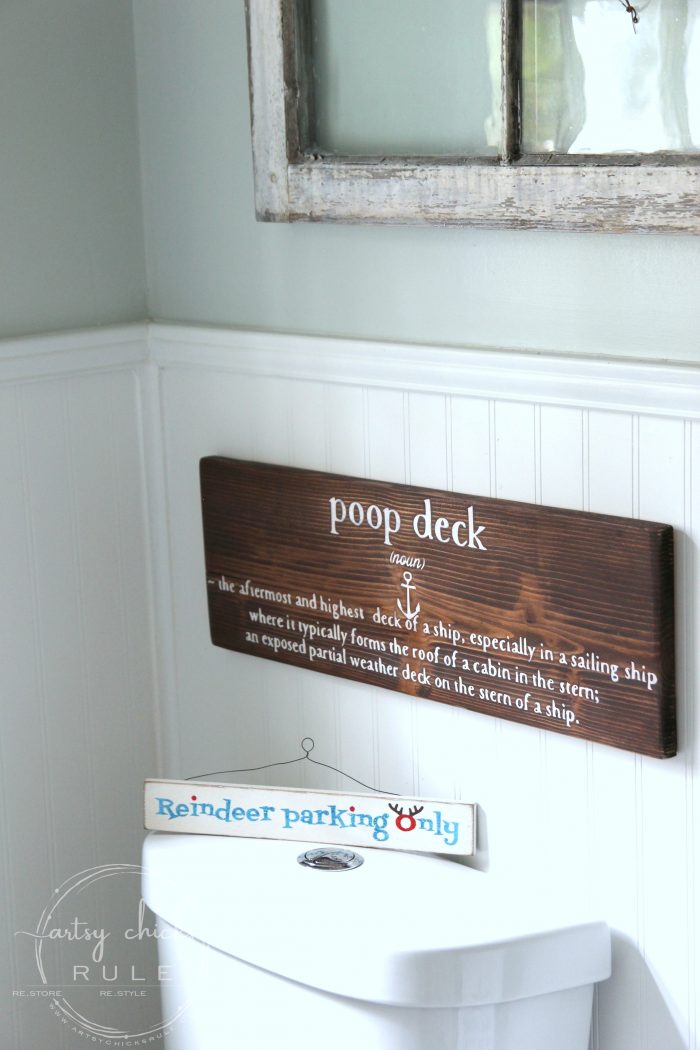 Goes right along with my "poop deck" sign, don't ya think? ;)
You can get all the details on the "poop deck" sign here, if interested >>> DIY Nautical Bath Sign
I'm still loving this old window that came out of a 100 or so year old house.
It was the perfect addition to my "Coastal Bath Makeover".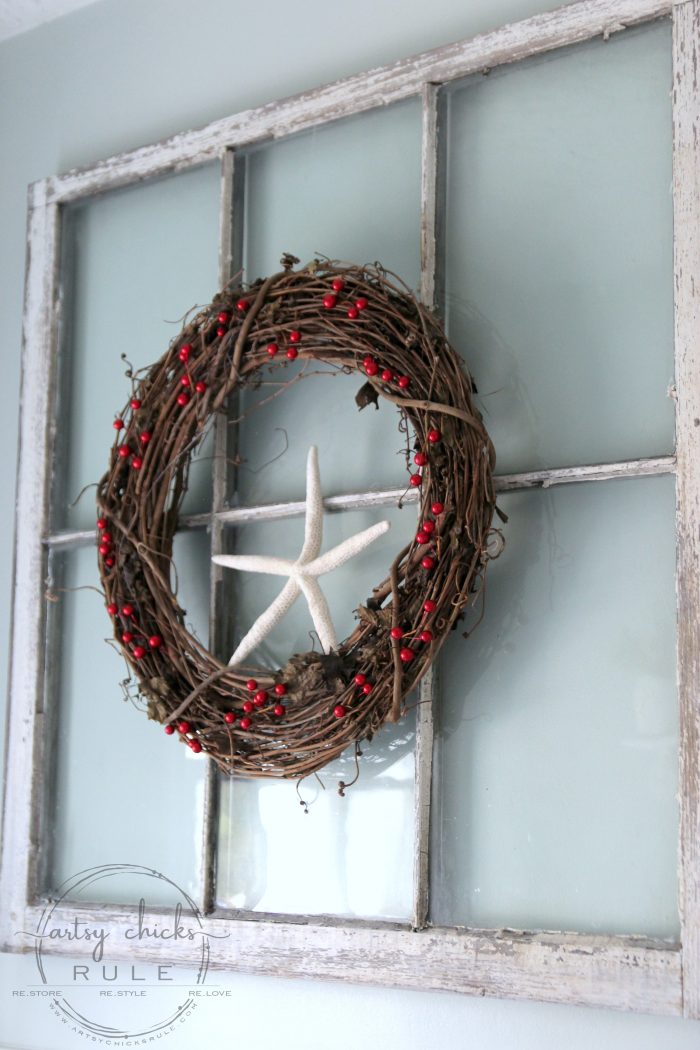 Instead of removing this twine wreath, I also gave it a few berries.
On the shelf opposite is this fella…..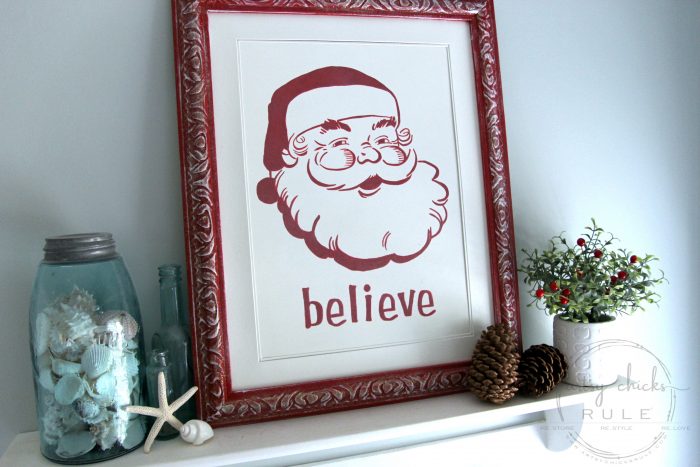 …..isn't he a cutie? He's been all over my house over the years. ;)
I added a few simple berry stems in my greenery and 2 pine cones to the shelf. Simple!
You can read all about how I made the Santa sign, here >>> DIY Santa Sign Tutorial
And I like easy decor (obviously ;) ). As is shown in >> this tutorial I did on making a sign to cover up an existing picture…without removing it from the wall.
Well, sort of the same thing here, in that I just simply placed ole Santa right in front of the picture I usually have in here. (see it just behind there?)
Less stuff to move around and store. I have enough of that anyway with the holiday decor so when I can get away with leaving something up, I do.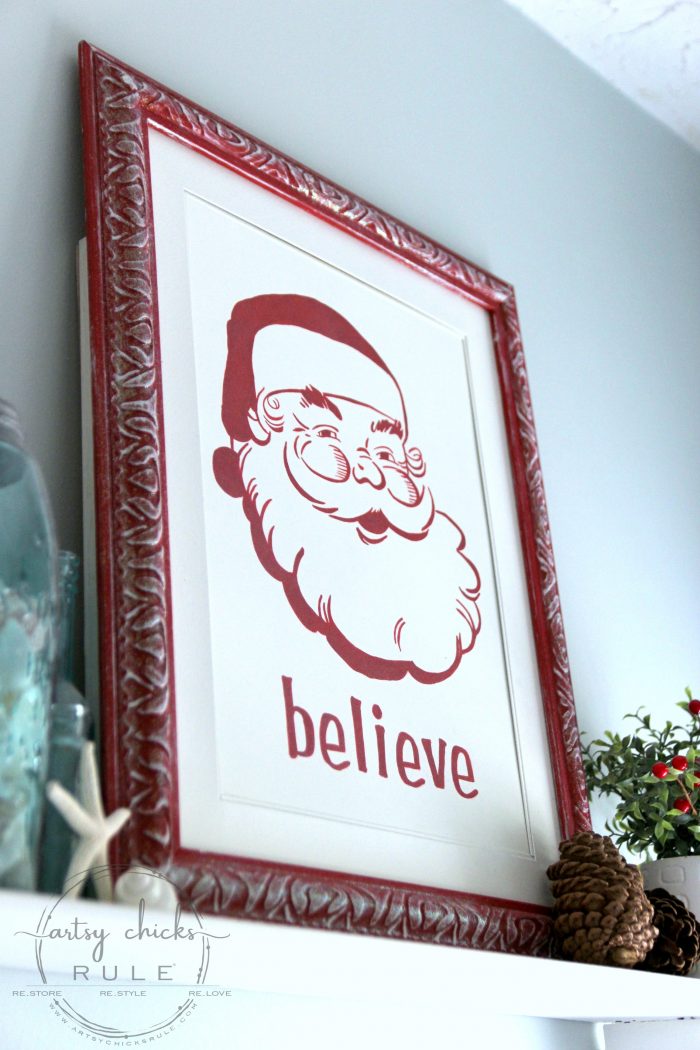 And let me show you what I added to my festive laundry room!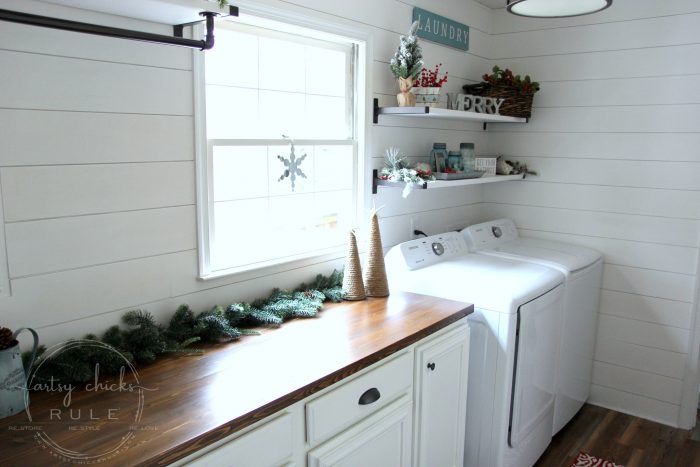 That greenery along my wood counter top.
It was at the very bottom of one of my storage boxes under all the lights.
I couldn't find it to decorate with (I have 2 of those actually) so bought a couple new ones.
I didn't decorate the tree until last so had no clue they were under there.
No worries! I used them all! ;)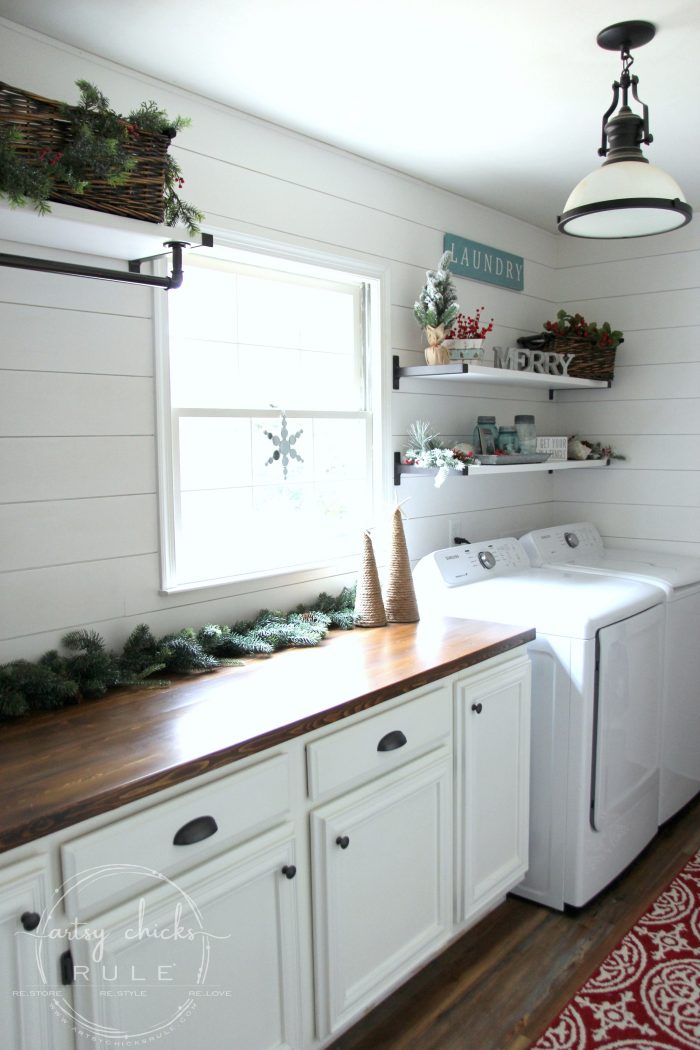 All decked out and ready for Santa. :)
Love it? PIN it to save it!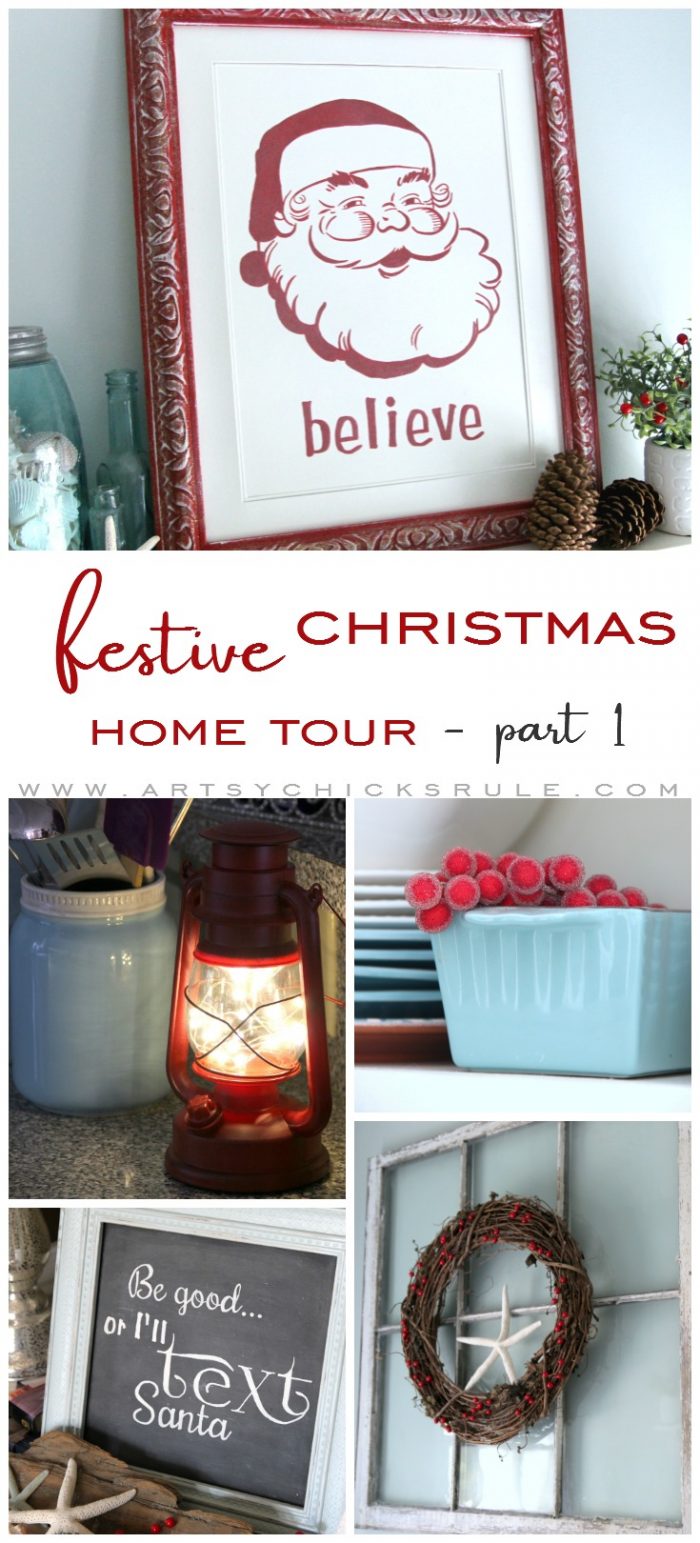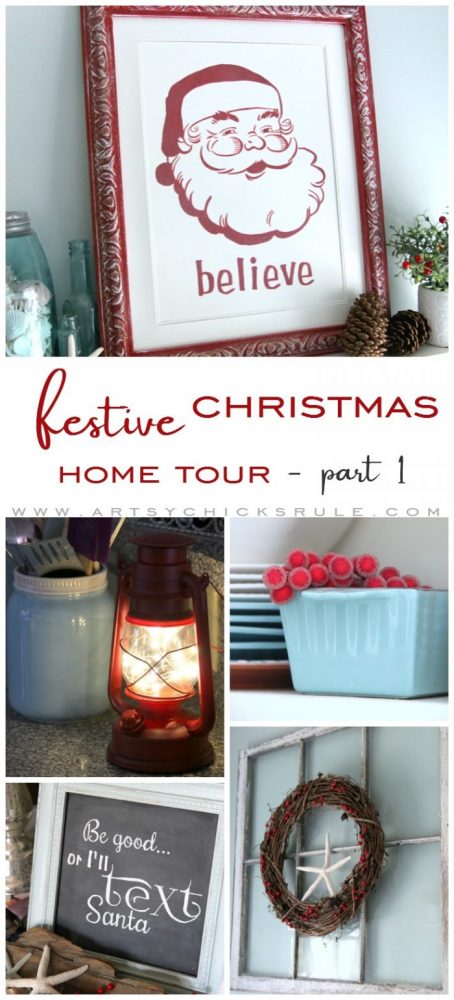 I hope you enjoyed visiting my home. I'll be back next week with with my Trash to Treasure friends and a brand new "treasure"!
Plus part 2 of my home tour. See you then! (see it here, now!)
Have a wonderful and blessed weekend!
xoxo