Hi and happy Sunday Friends!!
Today I am sharing part of my very thrifty, DIY Christmas decor with you….Easy Holiday Chalk Art with Chalk Pens.
I picked up this old metal tray from the thrift store a few years ago and made it into a chalkboard.
I used Annie Sloan Chalk Paint, in the color Graphite, to create this chalkboard and the other one I'm going to show you today.
This one has really held up great!
I used it as a fun message board in my kitchen originally, then it was used at Christmas to write holiday messages on.
This will be the third year I've done that.
And this is what it looks like this year….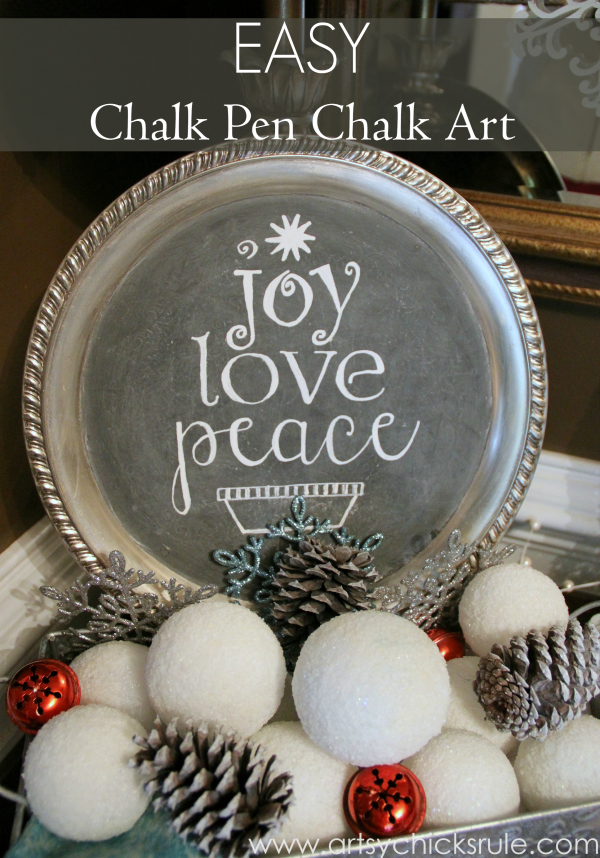 Last years message was still on it when I pulled it out this year to decorate.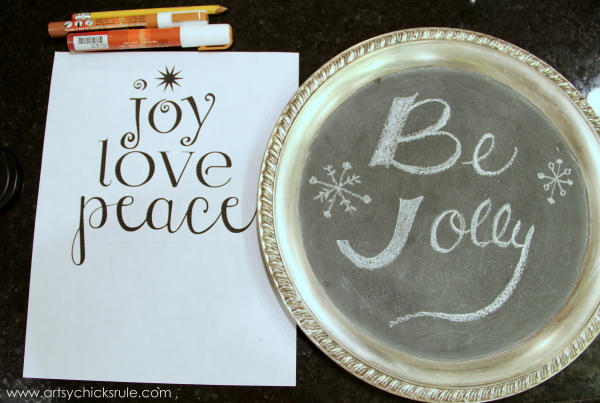 I created the graphic you see to the left in Picmonkey.
Pretty simple. 
I just chose the fonts I liked and arranged them from smallest to largest. (I think I was subconsciously making it into a Christmas tree but didn't realize it at the time!)
To transfer the lettering onto the chalkboard, I used yellow chalk (I ran out of white).
(rub the back of the printed out lettering with chalk)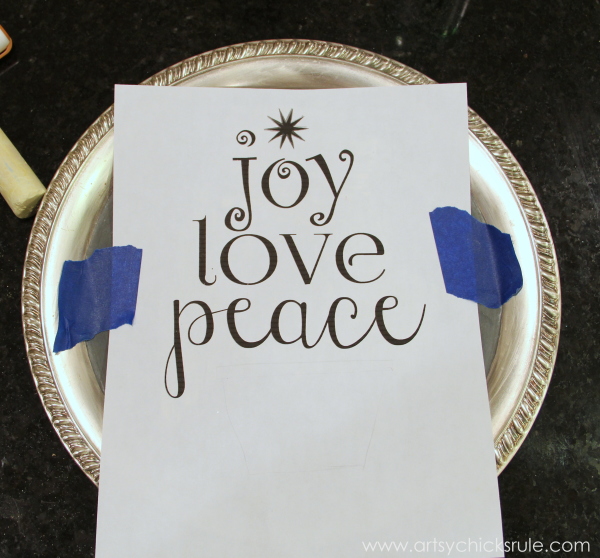 Then I aligned it where I wanted, taped it down and started tracing the letters with a pencil.
Like so…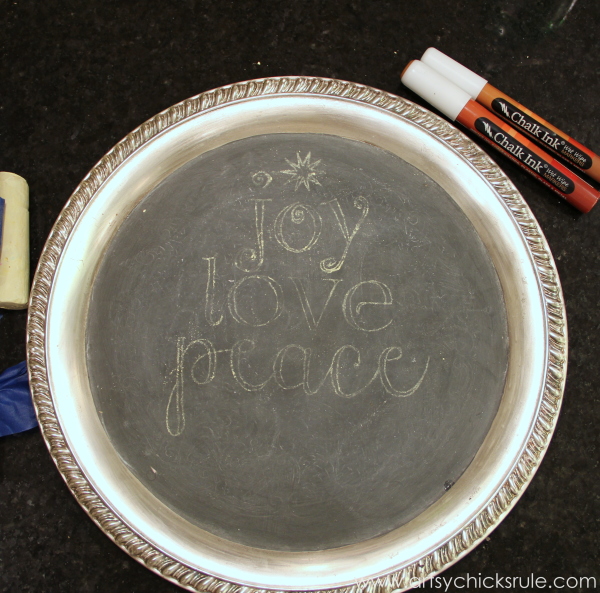 Easy.
I did the wording a bit high on the tray because I am using it in a basket that will have the bottom half mostly hidden.
Then I painted it in with the Chalk Pen .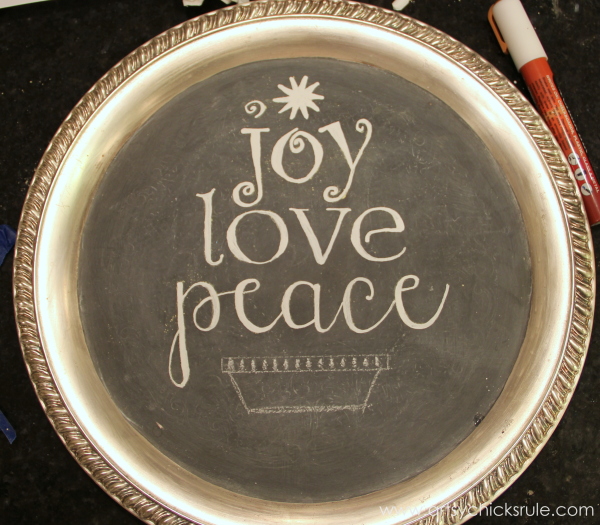 You can see in the  photo above I decided to add a base to my apparent Christmas Tree. ;)
I drew it in with the tiny piece of white chalk I had left. (see it above?..I think I need to buy more chalk)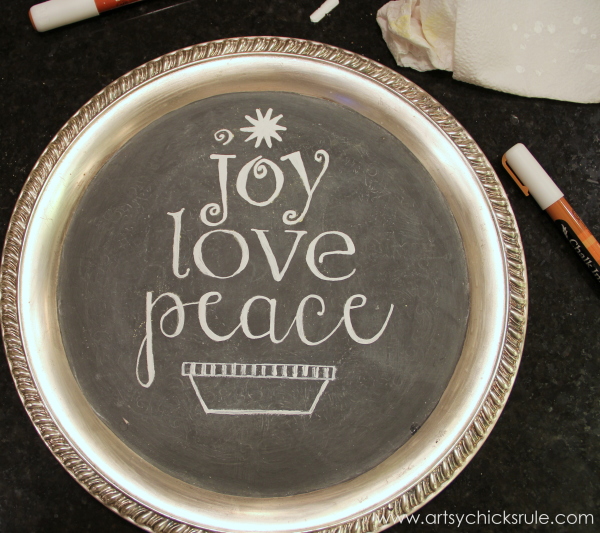 ..and then went over it with the paint pen to darken it up.
Done!!!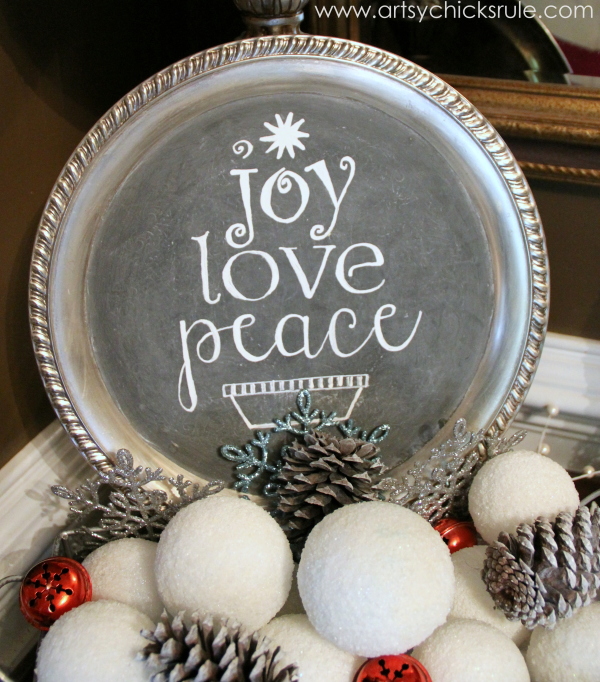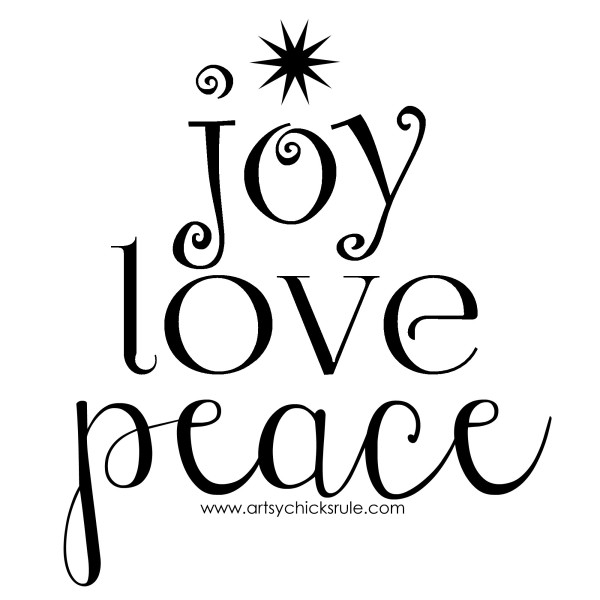 I did the same thing with this old chalkboard.
I created the graphic, again in Picmonkey, and printed it out to size.
Then transferred just as I explained above.
"Be Good…or I'll Text Santa"….love that! Isn't it the cutest?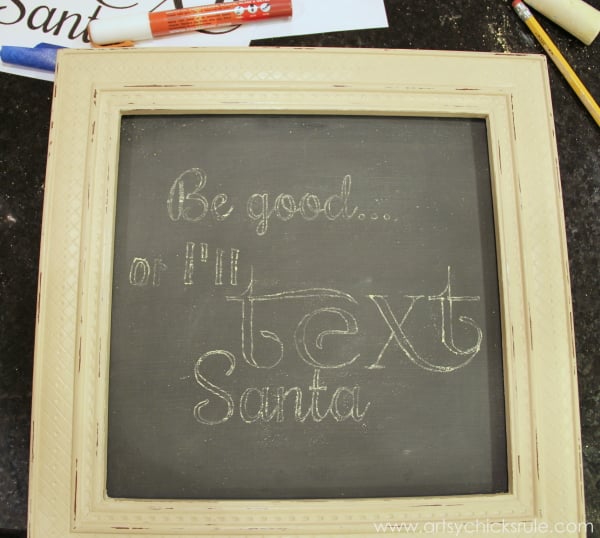 Paint it in….and done!!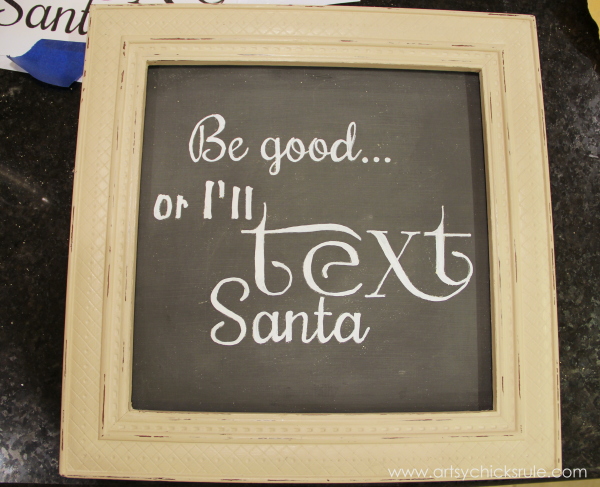 Well almost…I decided to rub a little white chalk over the whole thing to "chalk" it up a bit.
See the difference???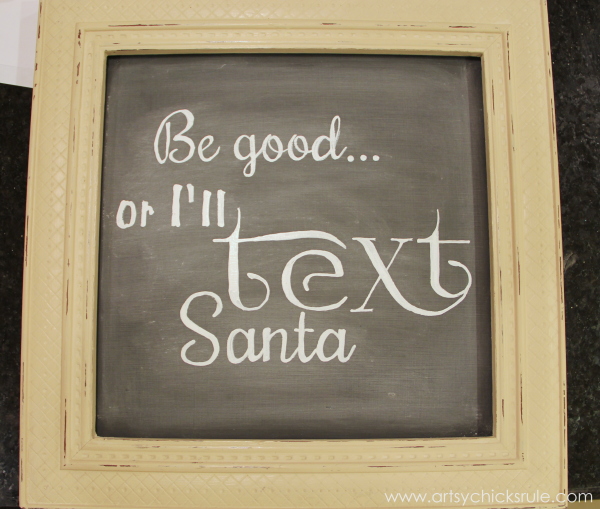 I like it better "chalked" up, don't you?
But I wasn't loving the color I painted the frame years ago. (it's a thrifty frame too…it used to be a mirror until it fell one day in the shop and broke…so I turned it into a chalkboard!)
The color is Old Ochre Chalk Paint, I believe. Great color, just not the right color for this frame/chalkboard now.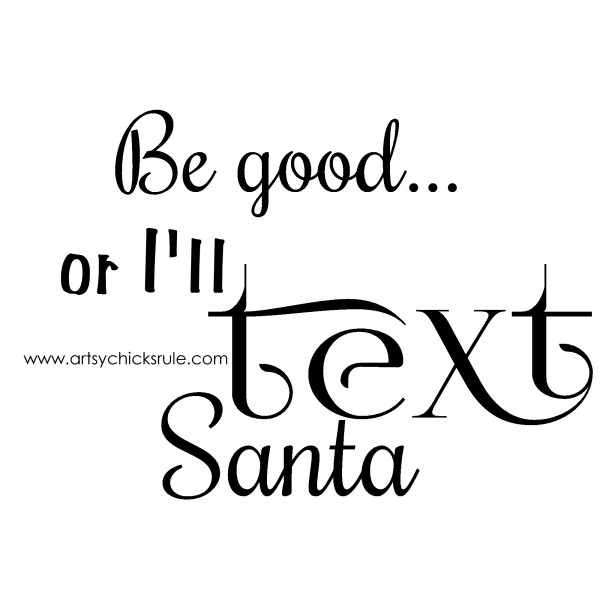 Want the free printables??

So I painted it with the same pale teal (Chalk Paint®) that I mixed up and used on this Teal & Red Carved Desk I painted recently.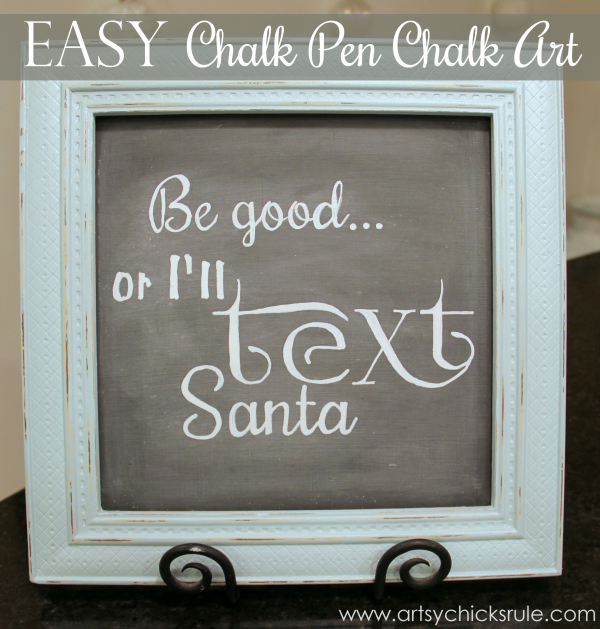 YESSSS…much better.
And I sealed with this fab "pearly" spray paint I used on this "Holiday Framed Ornament Wreath".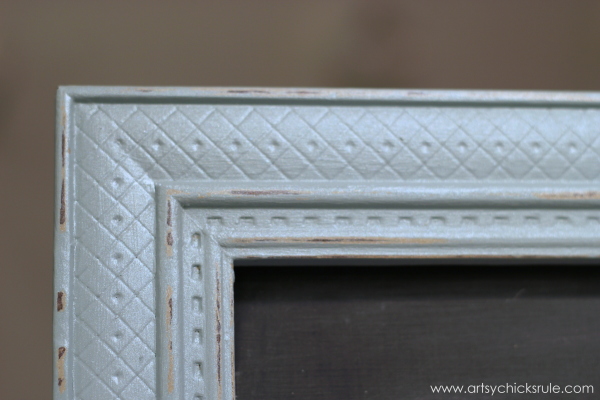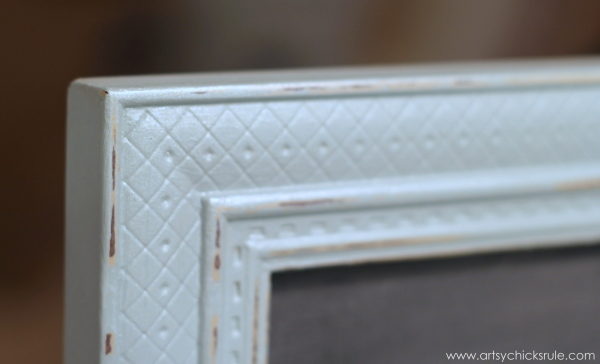 Can you see it?? I just love this stuff. :) Pearly prettiness.
So…two really quick, easy projects for the holidays.
Holiday chalk art made simple with the help of chalk pens.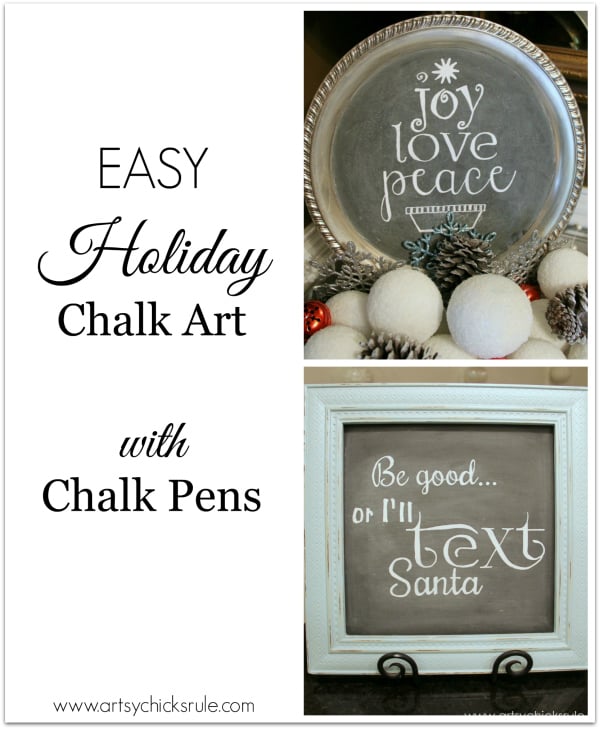 You'll be seeing them both in my holiday home tours soon! :)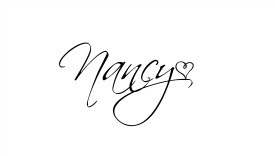 Be sure to follow me on Instagram and Facebook if you don't already!
I always post projects and things I'm working on
long before it hits the blog…..
….plus lots of fun random daily things too.


*This post contains an affiliate link or links – which means I will earn a small commission if you decide to purchase by clicking the link. I only recommend products I use and love and the small commission I may make helps to keep this blog up and running. Thank you so much for your support! xo
Follow Along Here!