DIY Santa Sign Tutorial (Believe)
This post may contain affiliate links. Please see disclosures here.
Everyone needs a little Santa in their life, don't ya think? ;) What's better than having a jolly, ole Santa sign to greet you every morning?
This post was updated Dec/2020
So I made a Santa sign just for that…out of this!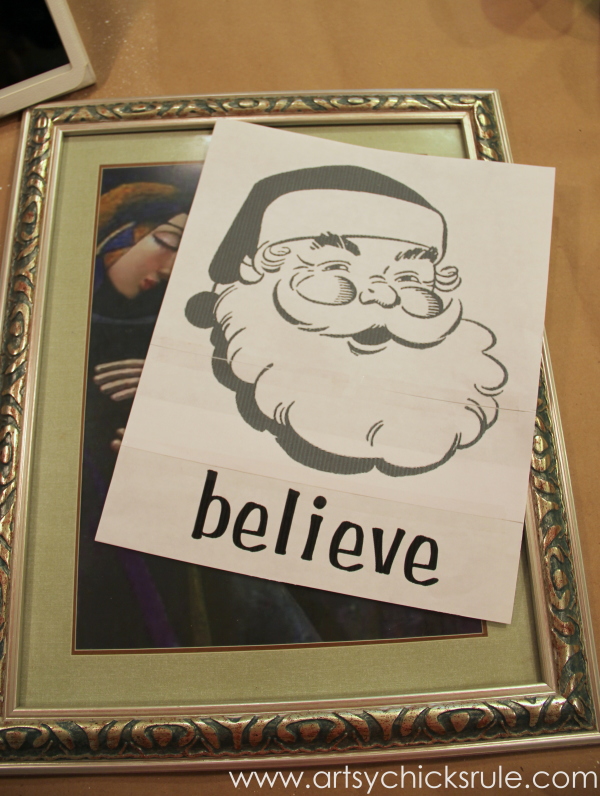 and turned it into this…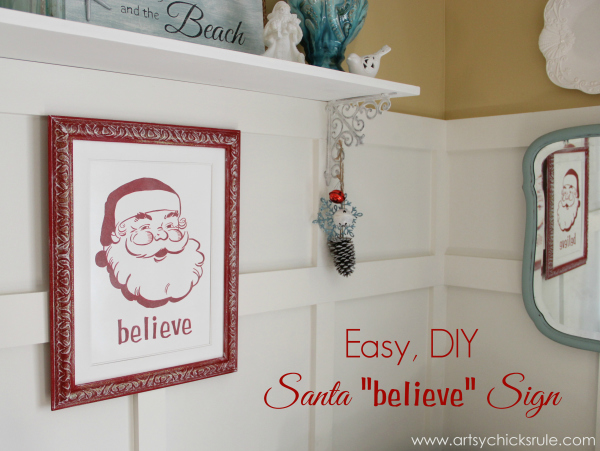 Hello friends! I have a very special project to share with you all today…
An adorable SANTA sign!
Yep..him. Good ole jolly Santa Claus.
I came across this "cute as can be" Jolly Santa over at The Graphic's Fairy….and just had to have him.
You can get the "believe" portion in my Printables Resource Library here…

If you are already a subscriber, you can click here, enter your password (it can be found near the top of all my emails to you), and download this or any other graphic I've created over the years. (over 100!)
If you aren't yet a subscriber, you can click here or the pink box below to become one to gain access.
Jolly Ole Santa Sign Tutorial
I found this old framed print for $3 at the thrift store.
It was pretty flimsy, even the glass, but I figured it'd be okay for this project.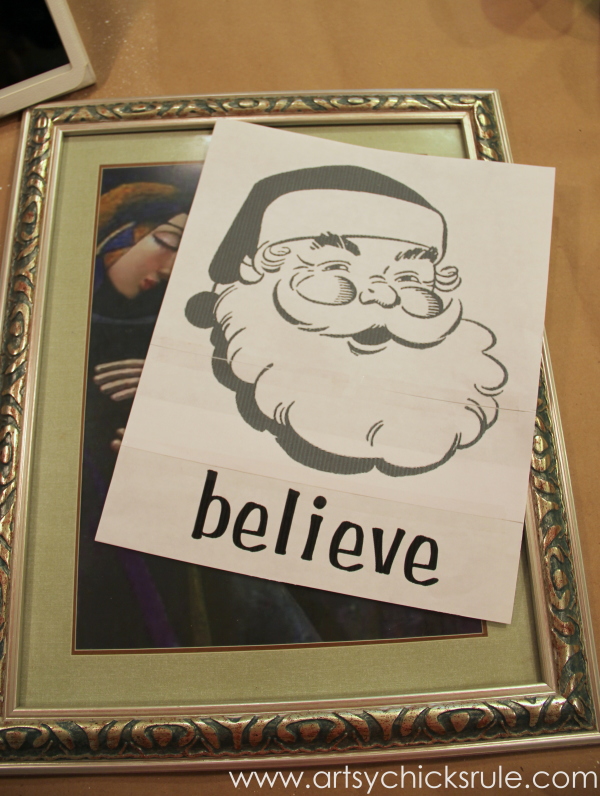 I printed jolly ole Santa out and attached the word "believe" at the bottom.
Because everyone needs to believe, right?
I took the framed print apart and proceeded to spray paint the print and matte white.
After that was done I colored the back of Santa in with a red watercolor pencil. (since I'd be painting it in with red paint)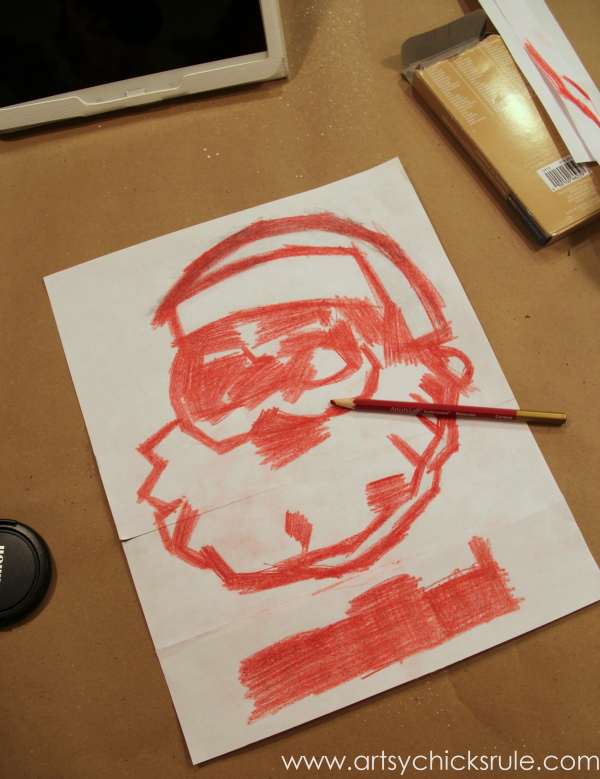 Just along the lines. No need to shade the entire back.
After that was complete I lined it up accordingly on the matted picture.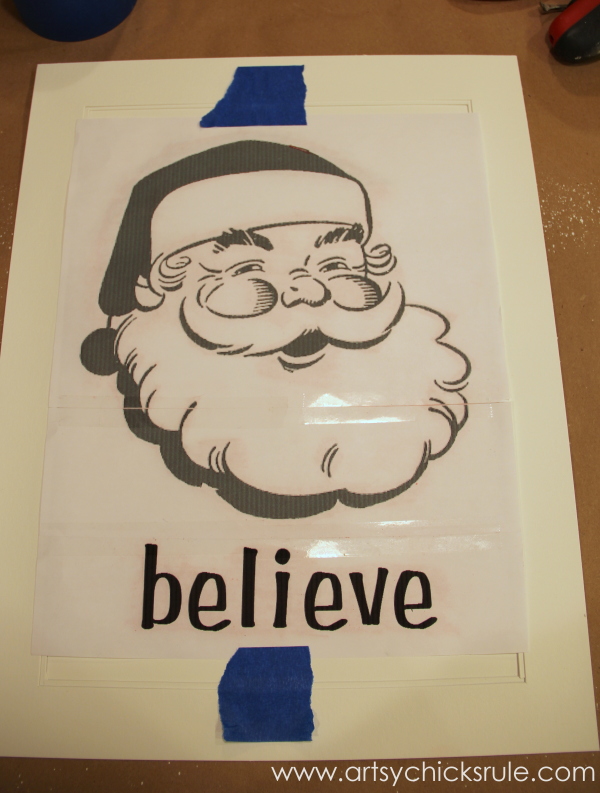 Taped it into place (you don't want it moving while doing this) and started tracing everything with a sharp pencil.
After that was done, here is what I was left with… isn't that cool?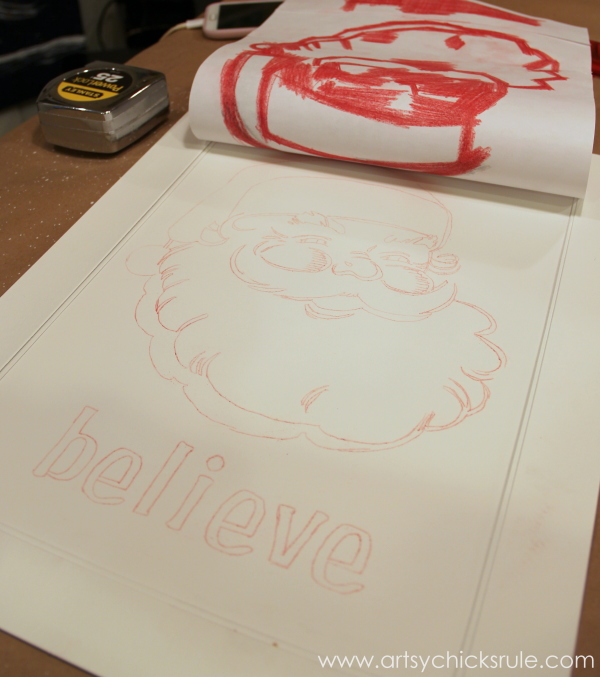 Want to see more ways I do transfers? Check out this post, here.
All I have to do is paint it in now.
Which took me way longer than I expected!!
But that's okay, Santa was worth it.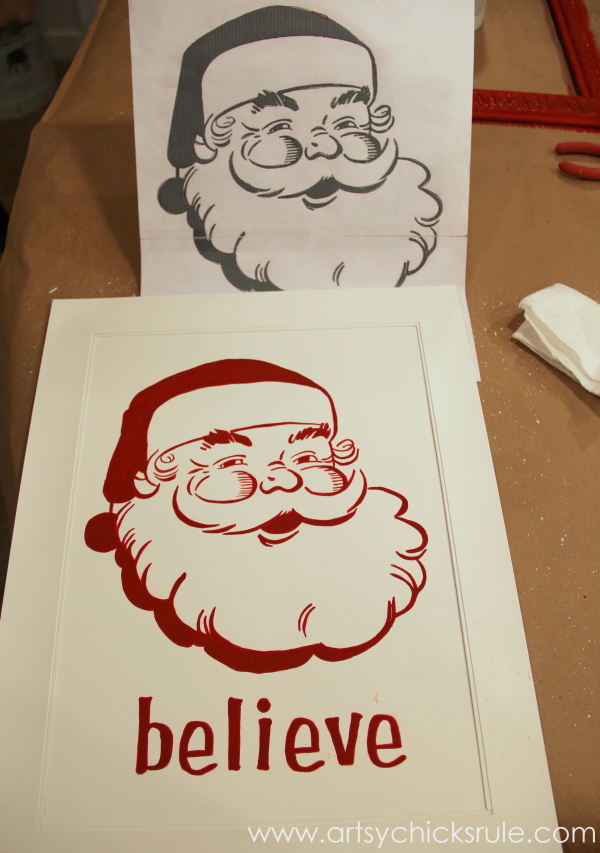 Ain't he a cutie? Yes, I said "ain't" lol
My Mom grew up on a farm in North Carolina and we spent Sundays having dinner there all the time. I heard all kinds of southern slang growing up!
I reckon, down yonder, bless your heart, down the road a piece, not studdin you (a personal favorite ;) ), I swarnnee (I have no idea how to spell that but yes I heard it!)…all incredibly endearing to me now.
I miss those old days of playing on the farm as a kid. Just pure, good fun.
I live in Virginia and don't hear all of those on a regular basis around here but I sure did there….now Y'ALL….that's a given here and there. :)
Okay, wow, I got off on a major tangent all because of ONE word…"ain't". Silly me.
Alrighty then, back to the cute as can be Santa sign.
I painted the frame with Emperor's Red Silk Chalk Paint (and him too).
But any red paint will do.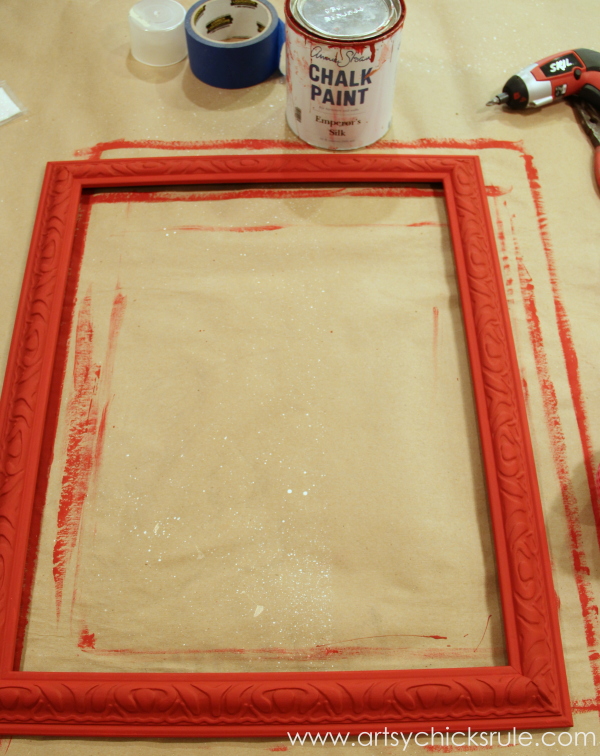 Then I dry brushed white to bring out all that pretty detail and added glitter.
Because everything at Christmas needs glitter. Don't you agree?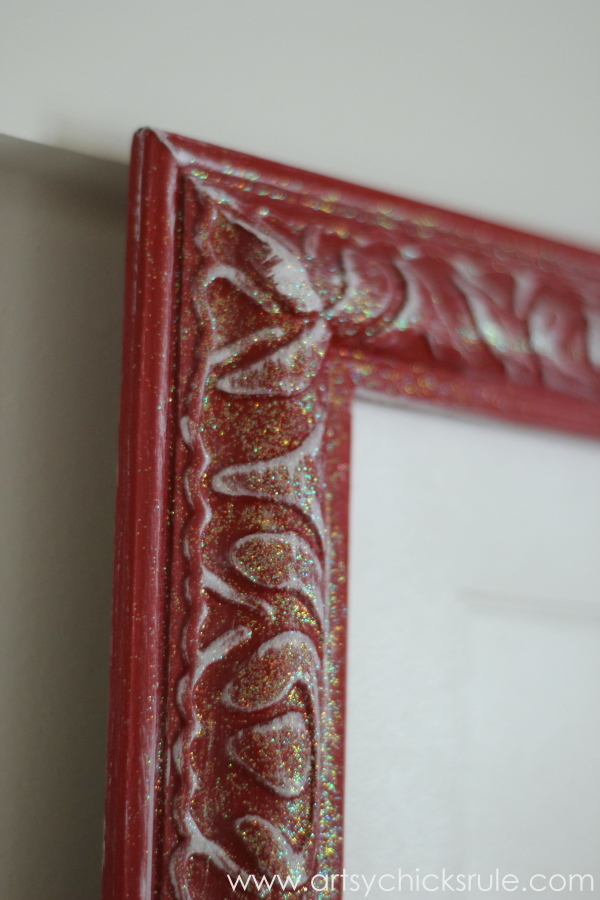 I wanted to 'pretty up' Santa too….so I sprayed him with this.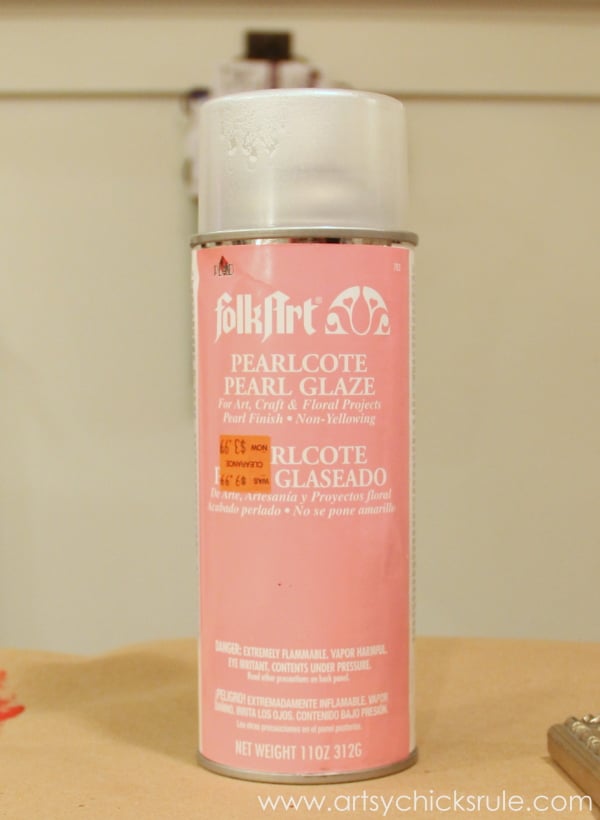 It's a Pearl coat spray paint that I found in the clearance bin. It is amazing!
I am in love with it. But I'm guessing I shouldn't fall too in love since it was on clearance.
It can no longer be found but I did find this that's pretty similar… here.
Anyway, I've used it on quite a few things already.
Like the Santa sign…the whole thing.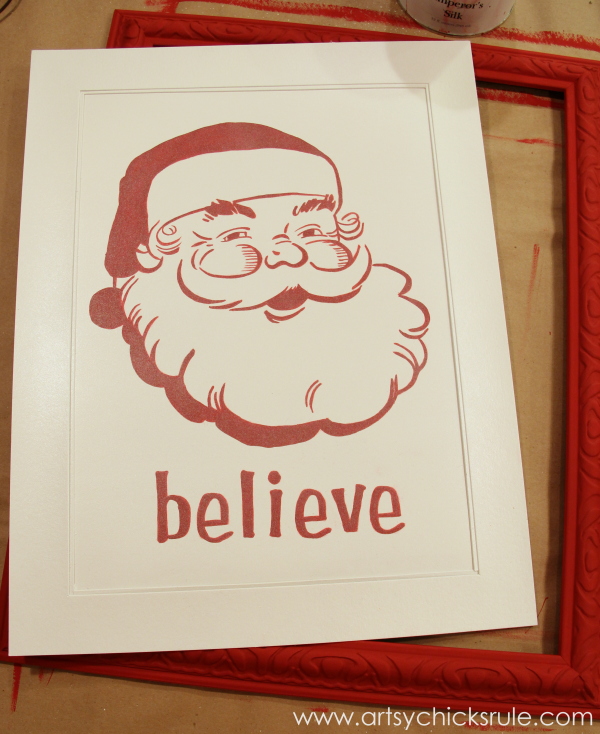 It's hard to tell in the photo…but the entire piece is "PEARLY".
So pretty.
After that was all dry I replaced the glass and tried to staple the back piece of cardboard in to secure Santa.
But this frame was a nightmare and my staple gun just would not work with it.
So I tried using tiny nails ….and a hammer.
Oh so carefully, or so I thought….and then crack! Ooops!
My husband was standing there and we just looked at each other for a few seconds. haha!
Almost as if I didn't look it wouldn't be what I thought.
Yep. Bummer. I broke the glass.
I have to tell you, at that point, I was just done. hee hee
I do have my limits.
So I just put it together without the glass!
Yep, I sure did. (and years later, it's still without glass)
It's mine and staying in my home, and I didn't care if it had the glass or not.
Actually, the glass dimmed and dulled the entire picture terribly so maybe it was a win/win.
I just love how it turned out.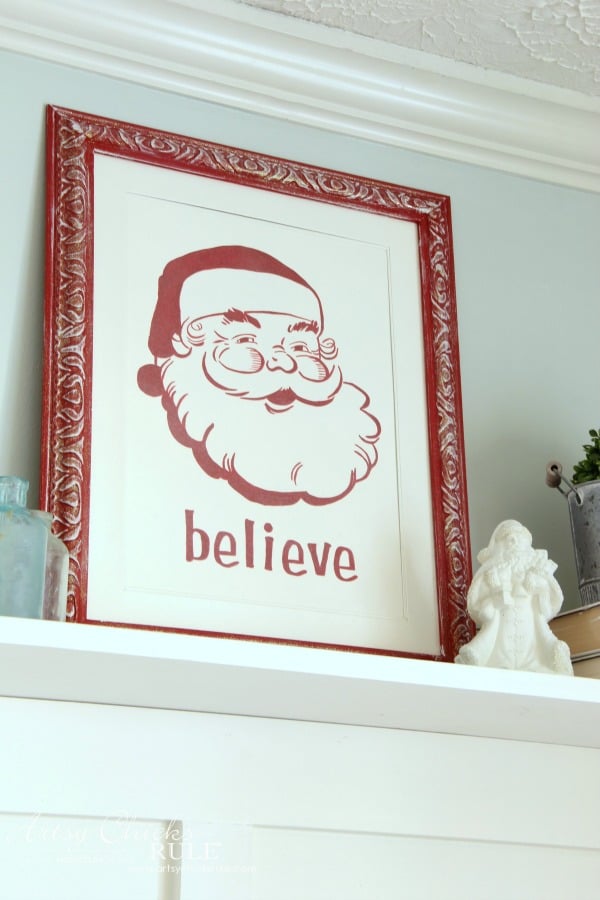 Even without that silly old glass.
It's actually quite a bit lighter to hang too.
And since this is temporary and hanging on this…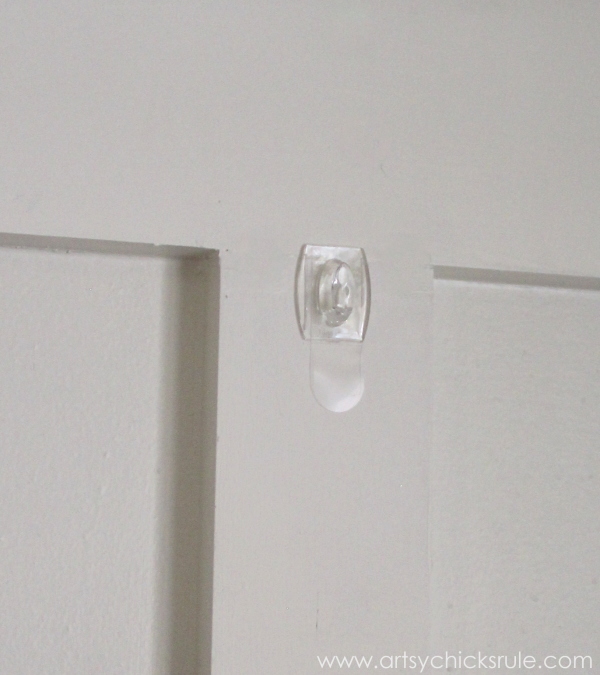 …that is a good thing.
I love the reflection in the mirror here.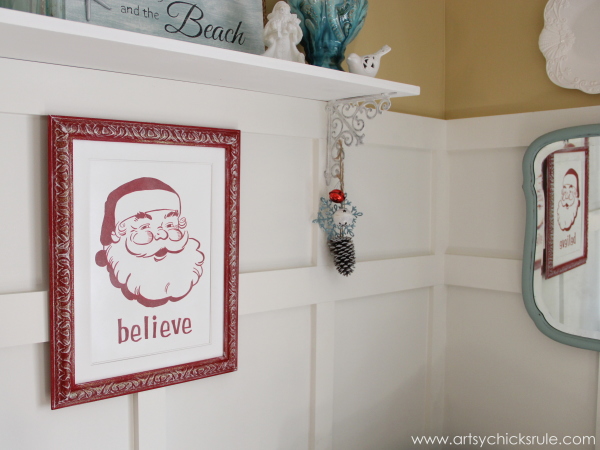 And all the teal and red! Last year my family room was teal and red for Christmas.
This year I've incorporated that look throughout the whole house(2014).
You get a little sneak peek of some holiday decor I've already done.(here is my porch)
I somehow managed to use everything I had last year in completely different ways this year.
Minus a very few that I used the same. I am quite amazed I was able to!
It was a challenge I set up for myself ….and I delivered! lol
Can't wait to share with you all how easy it actually is to change things up from year to year.
(oh, I gave it away, it was easy …it was, but I'll show you anyway )
Now more Jolly ole St Nick…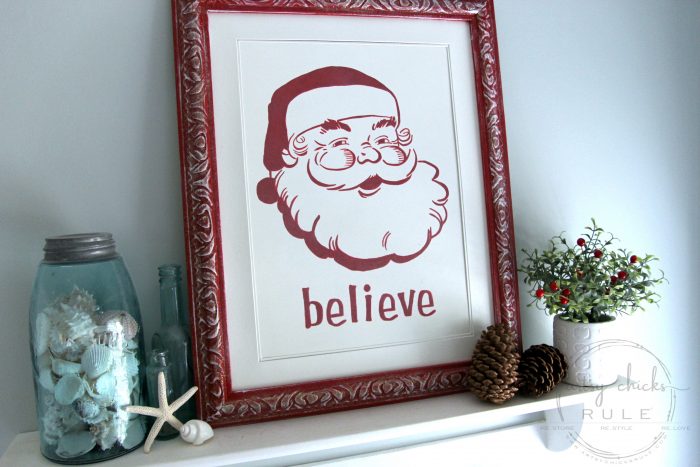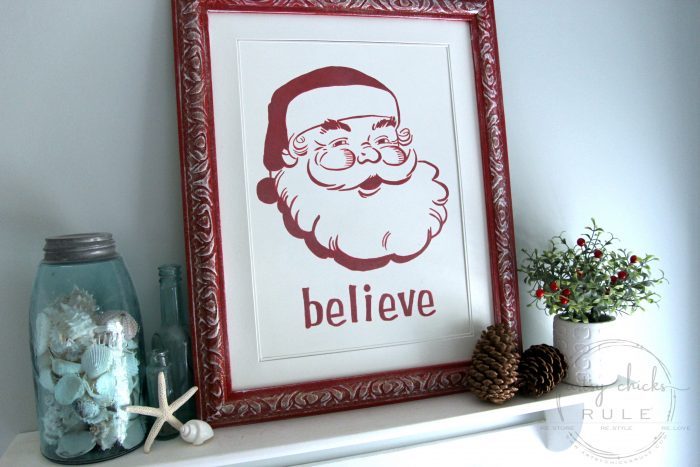 He's been in a lot of places in our house over the years now.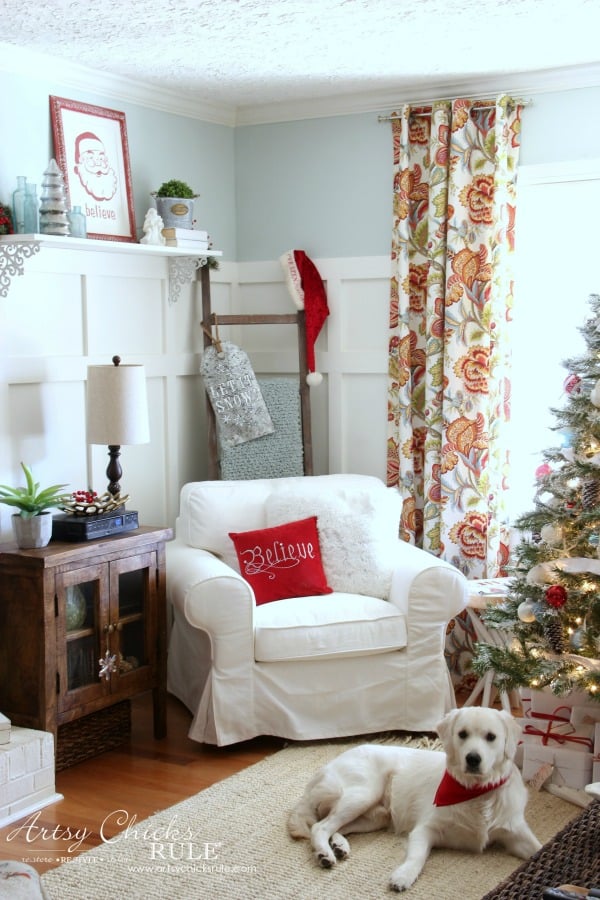 Several times in this cozy little corner. (with my sweet Ryder boy)
Pin it to save it!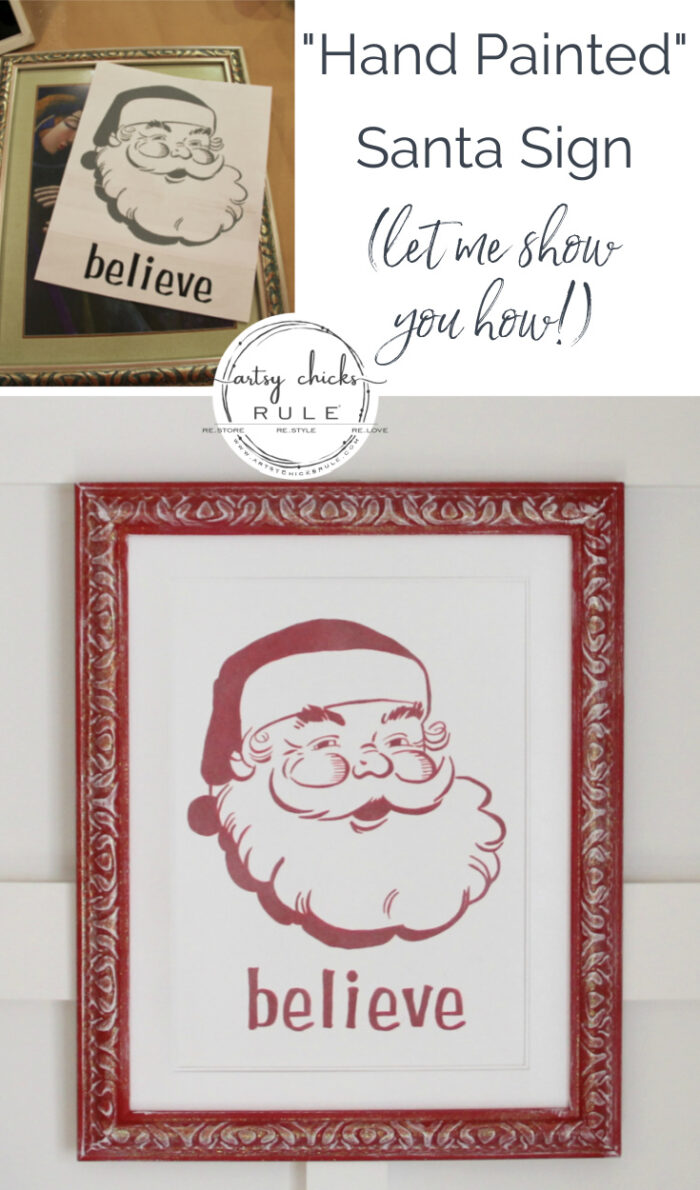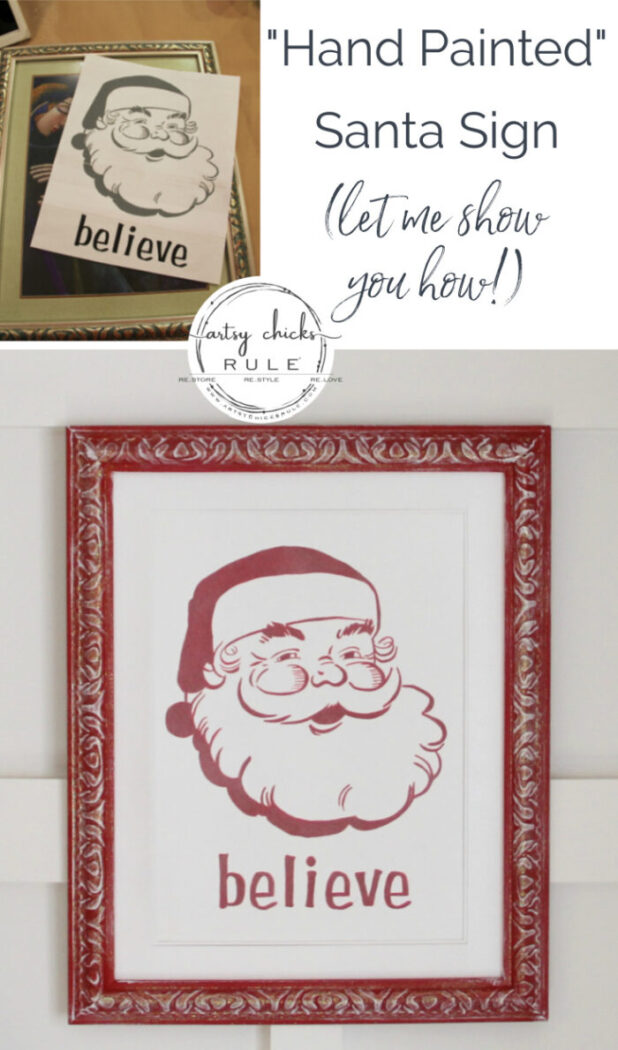 Lots of variations possible. This is just one idea.
Let me know if you do something with Santa too! Would love to see it!!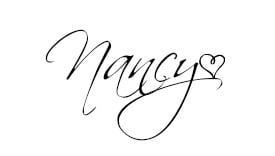 See even more holiday ideas here >>> Holiday Project Gallery