Christmas Home Tour 2014 – pt 1 (Home for the Holidays Tour)
This post may contain affiliate links. Please see disclosures here.
I'm so excited to be sharing the first part of my Christmas Home Tour with you guys today!
I'm sharing along with a bunch of my friends who are also a part of the "Home for the Holidays" tour.
There are 25 bloggers opening up their homes and sharing them with you this week.
As with everything in my home and on my blog, it's all been done on a major budget with thrifty finds and the like.
Today I thought I'd share my Foyer and Study for part one since that is the first thing people see when they enter my home.
I'll be sharing the rest of my home next week so be sure to check back. (see part 2 here and part 3 here)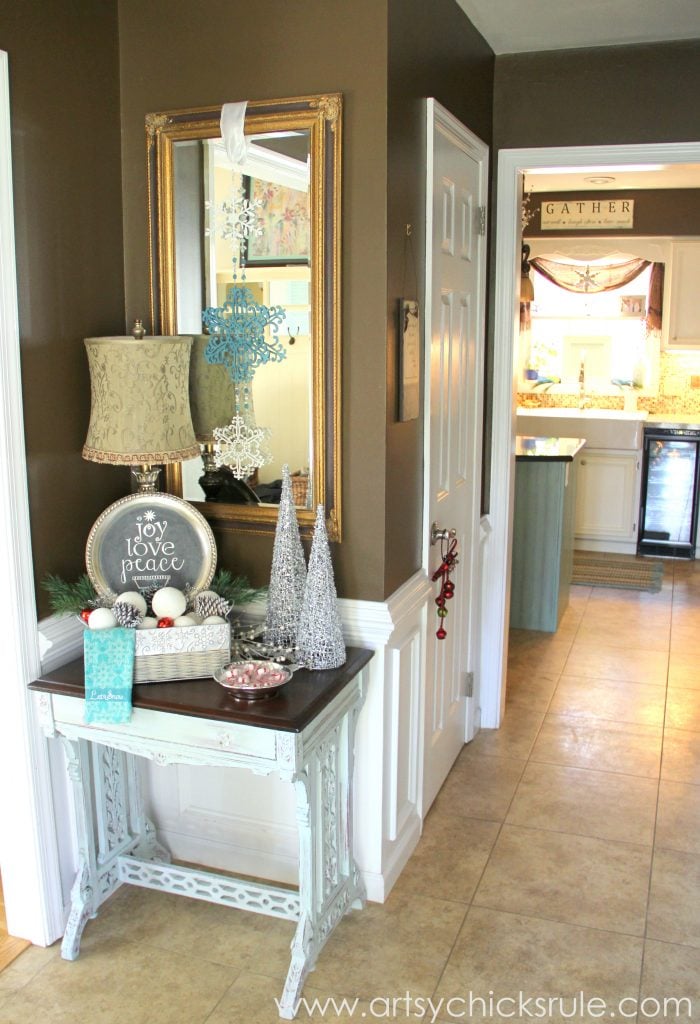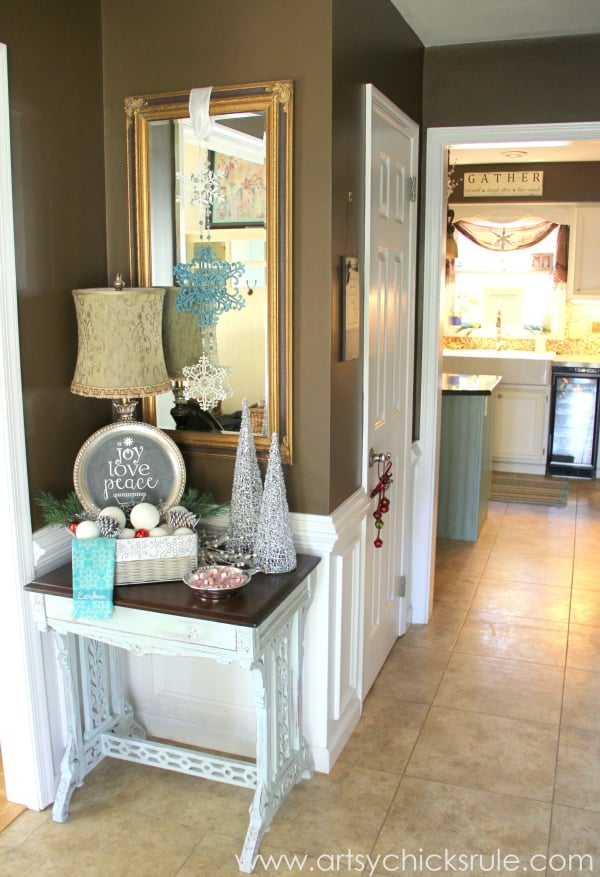 I am just loving my new (old, but new to me) entry table (it's really a desk).
You can read all about that project here – Old, Carved Desk Transformed with Chalk Paint.
I never even intended on keeping it, much less using it right here in my entry.
But I LOVE it here.
It's a nice change anyway. :)
I may go back to my other table at some point but for now I'm really enjoying this.
I told you guys about the Chalk Pen Chalk Art a few days ago.
Super simple and great way to incorporate signs, sayings and greetings in your home.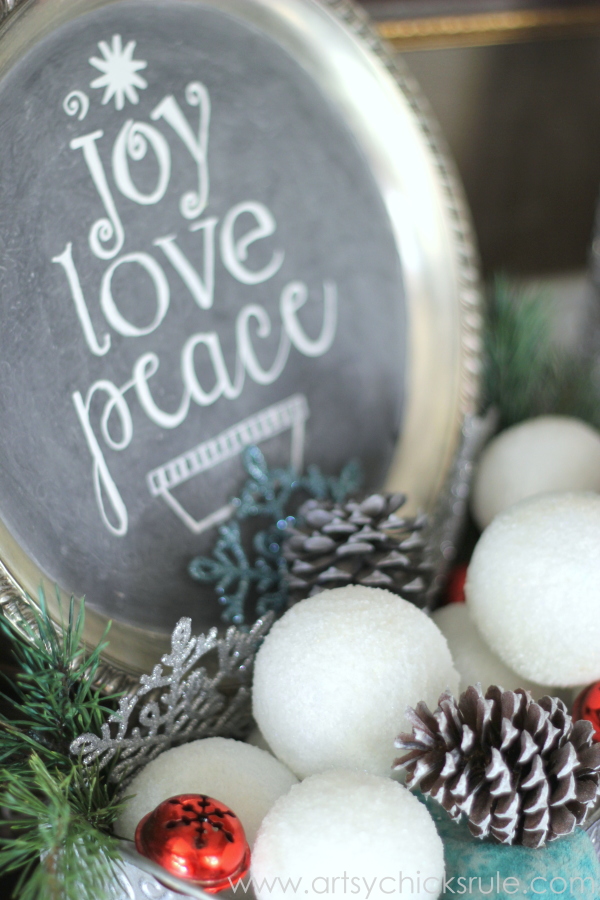 I made the "snowballs" a few years ago.
The basket came from the thrift store and I filled it with the snowballs, painted pine cones, jingle bells from the Dollar Store and sparkly snowflakes.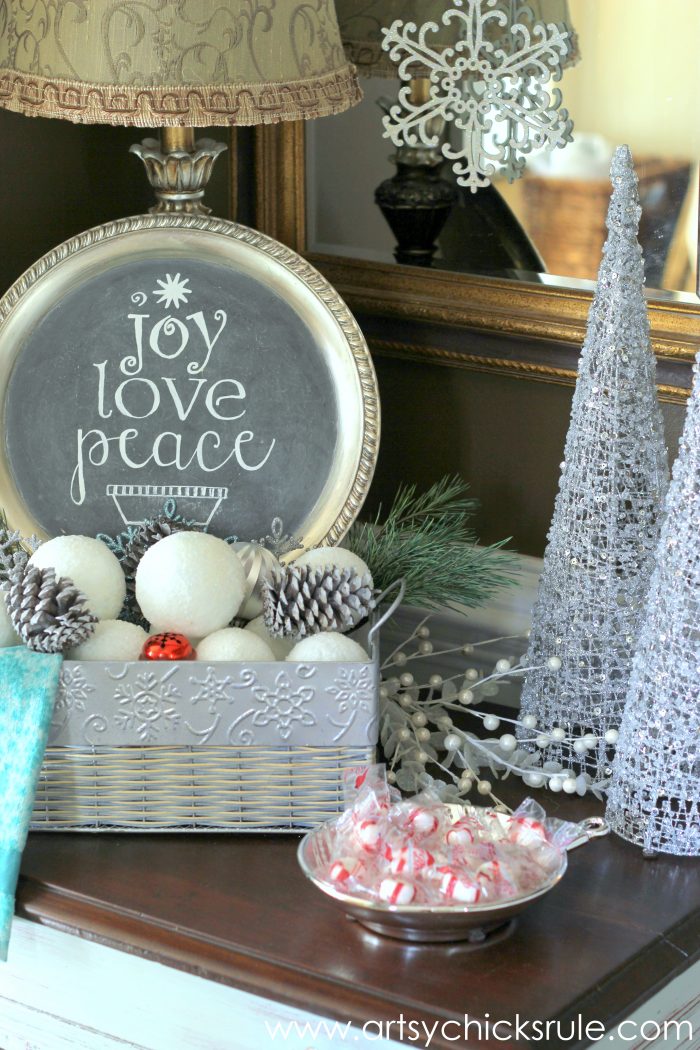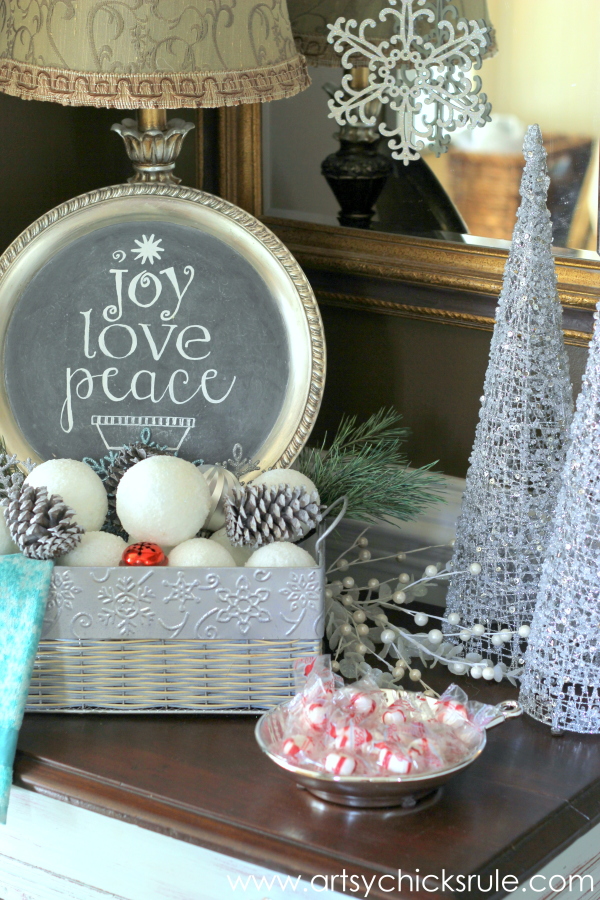 And added a touch of greenery leftover from our tree.
The glittery trees were from last year and I used them on my mantel then.
You can see them in my Holiday Home Tour here.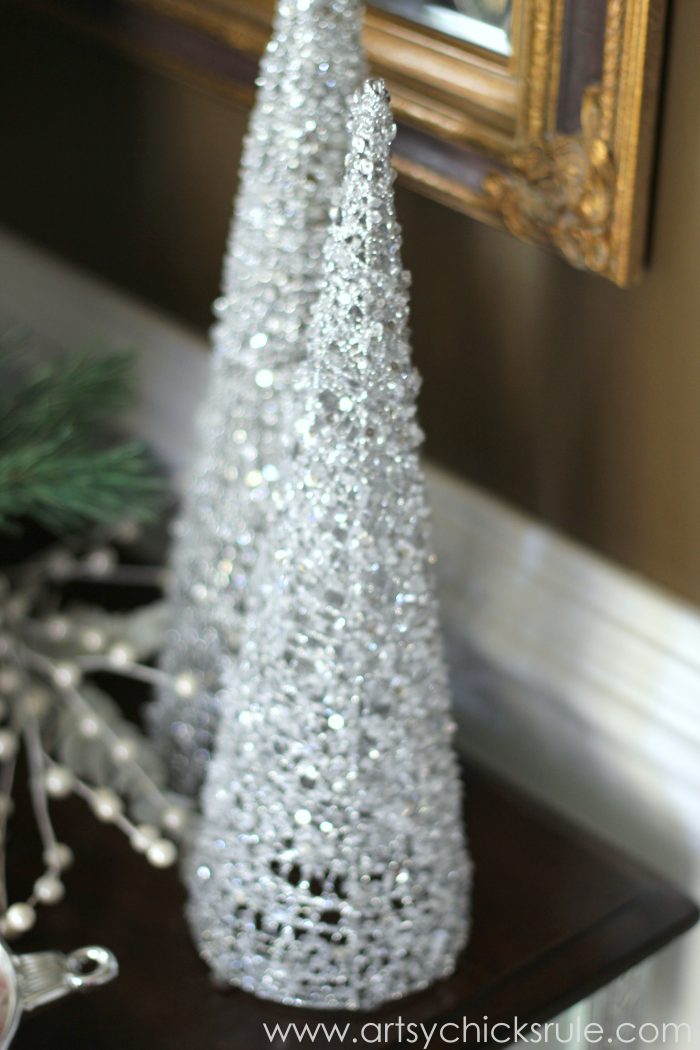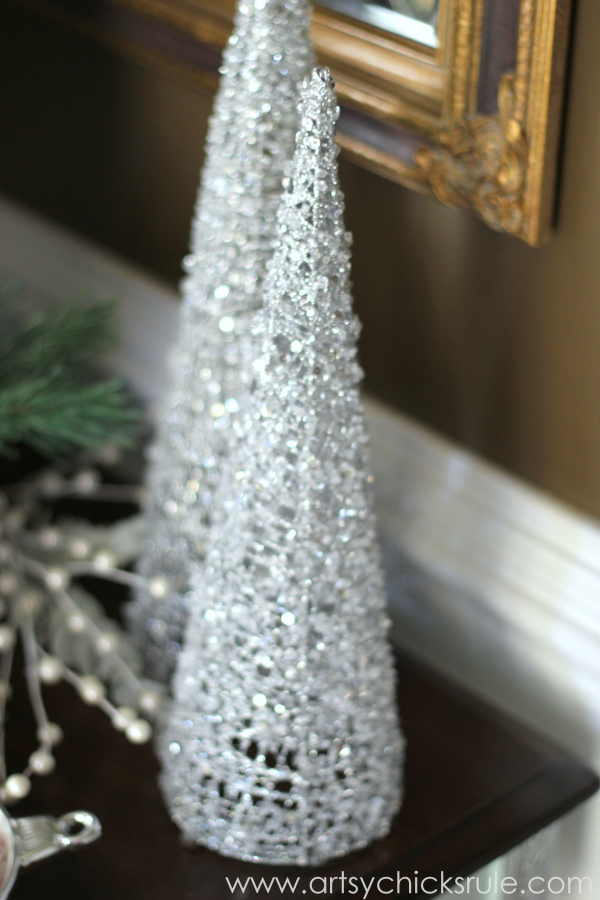 I somehow managed to use almost everything in a completely different way this year.
This shiny little ornament dish came from the thrift store this year.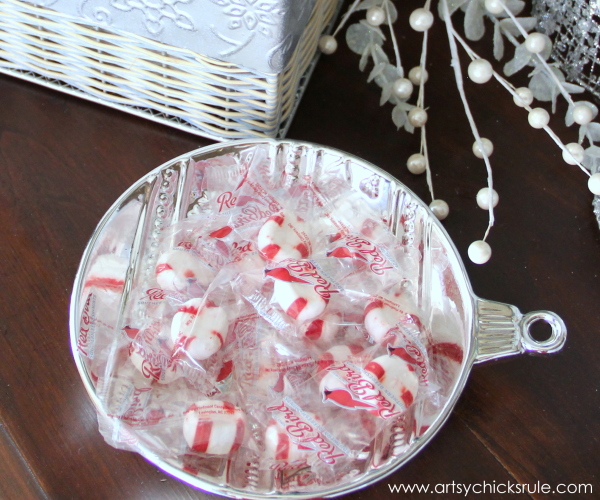 It's perfect for holding mints or candy for guests to grab on their way in. :)
I used this little hand towel in the guest bath last year.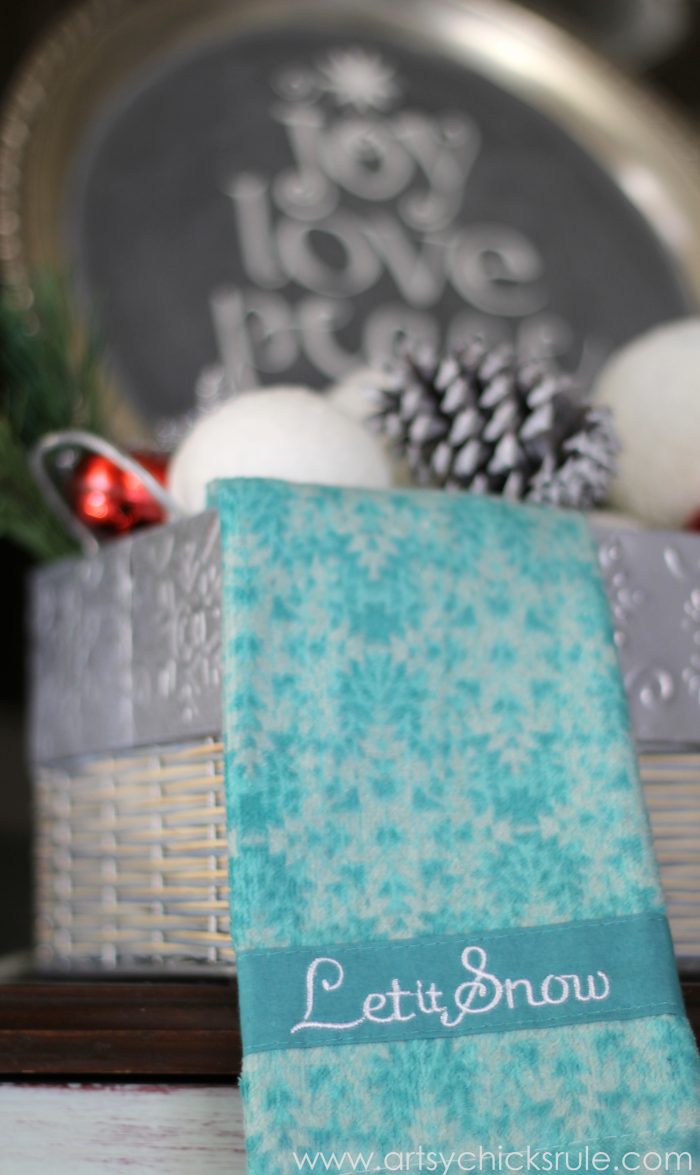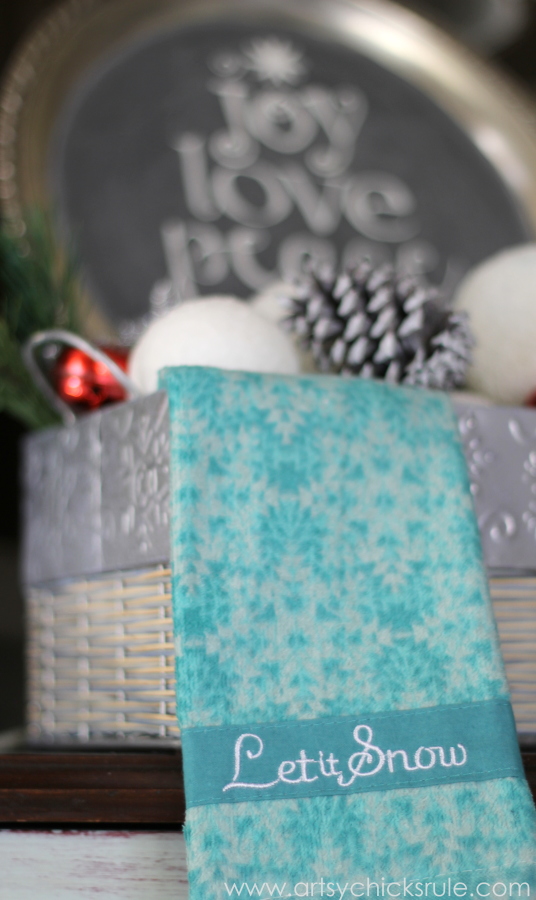 Let it snow….on Christmas Day only, please. ;)
This Snowflake Wall Hanging I made a few years ago.
Yes, I do always use this in this same spot.
I can never find a place I like it better.
So here it stays.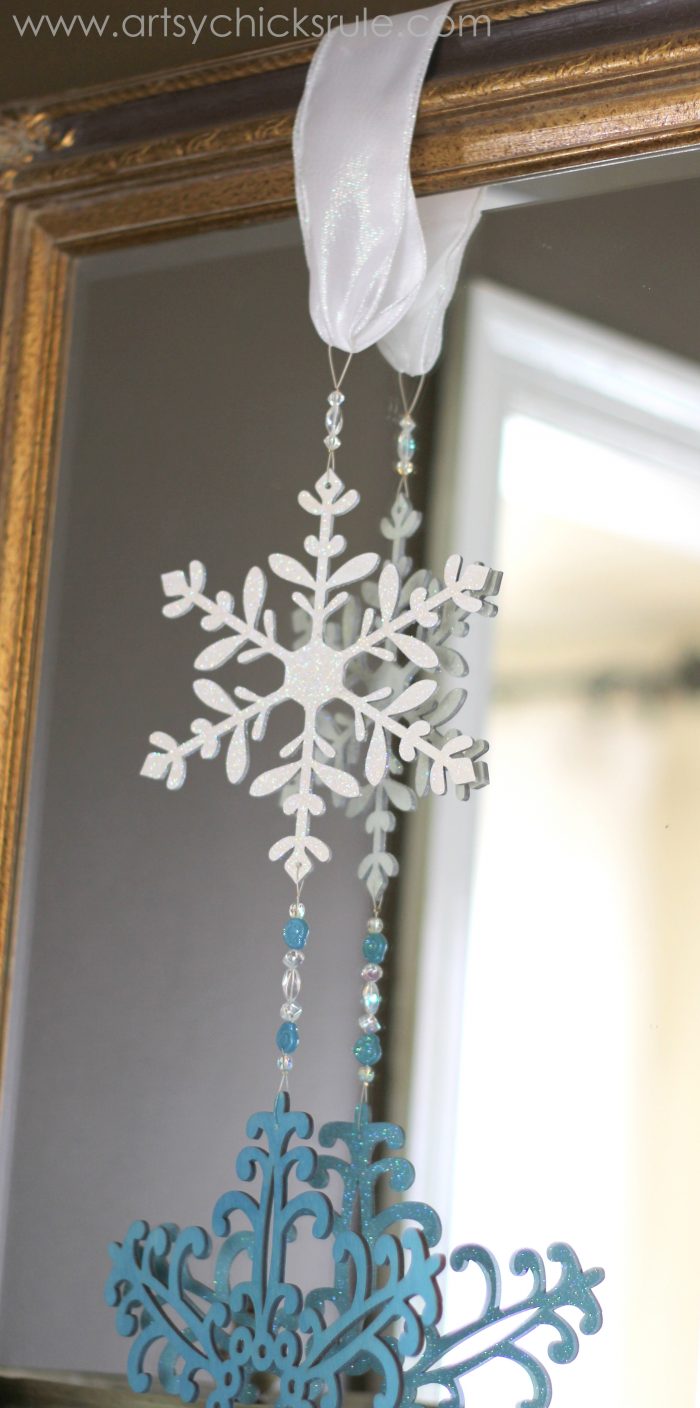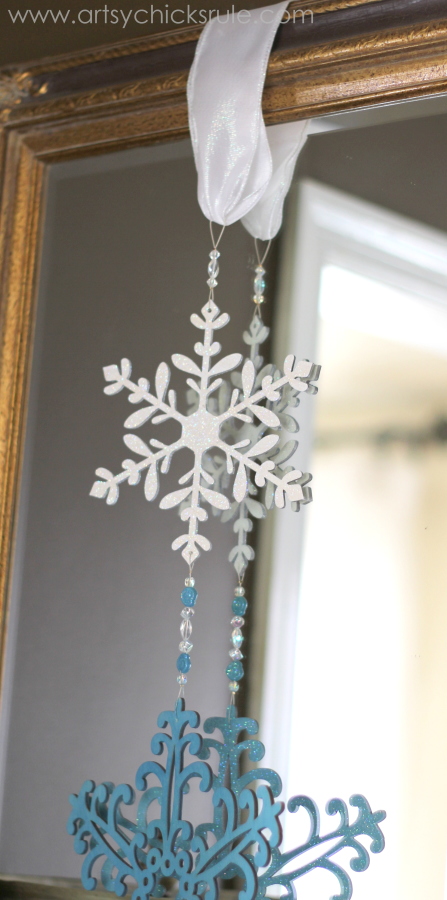 So loving the Teal & Red theme I decided to use throughout the entire house this year. (even the front porch)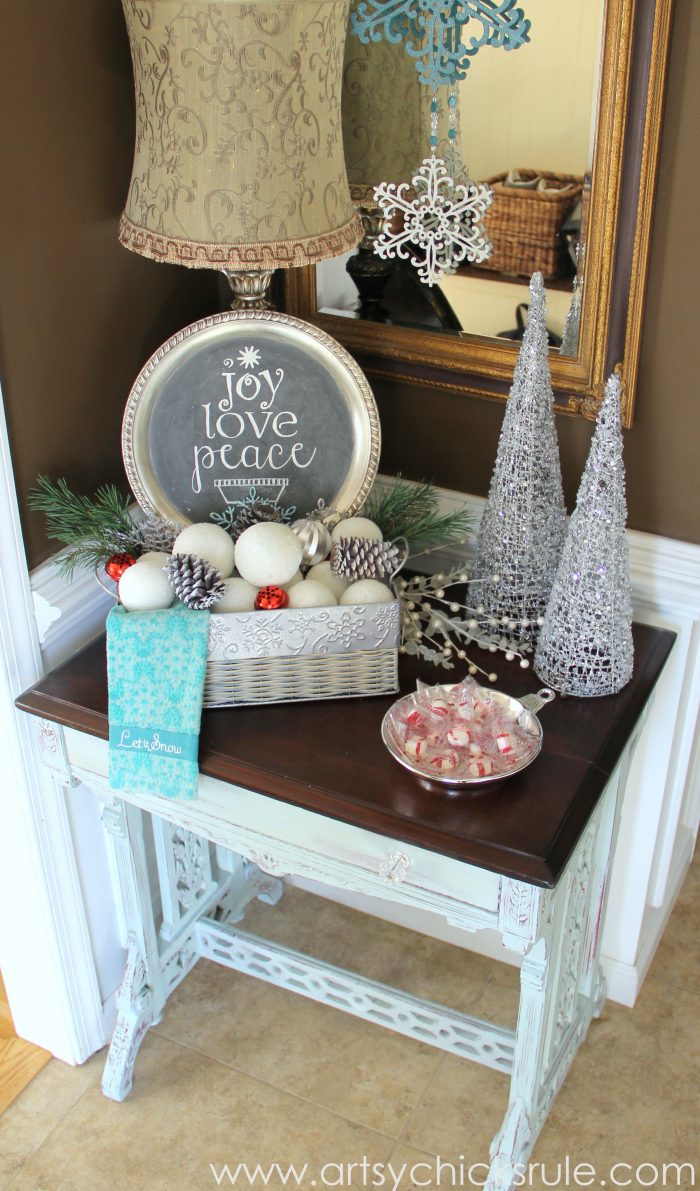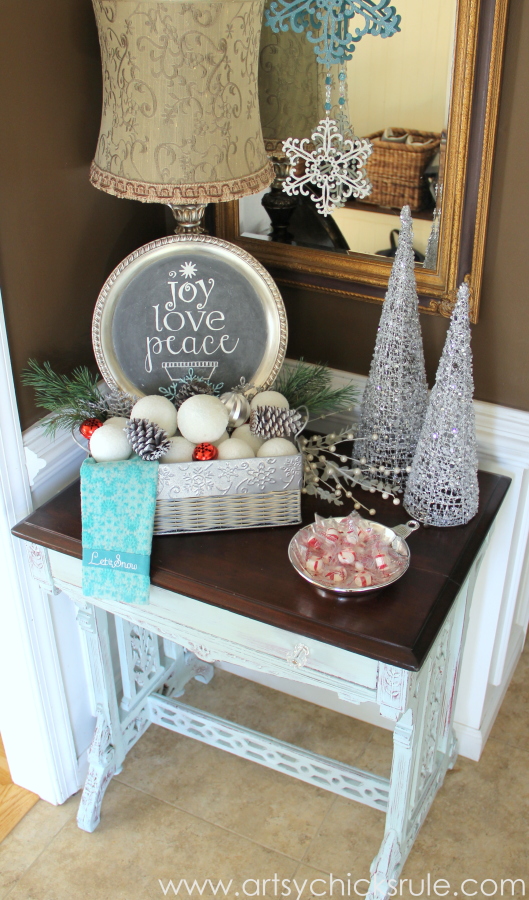 Perfect for my new little entry table that I painted teal and red too. Not on purpose or with the thought I'd be using it here for the holidays.
But things work out so lovely like that sometimes. :)
I had to put a bit of bling on my light fixture too.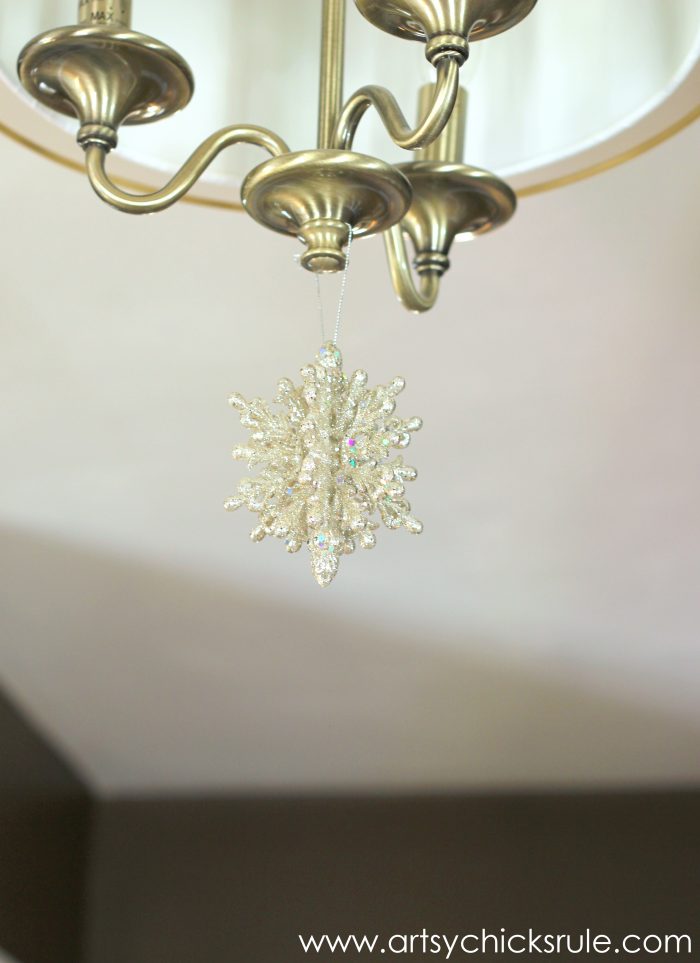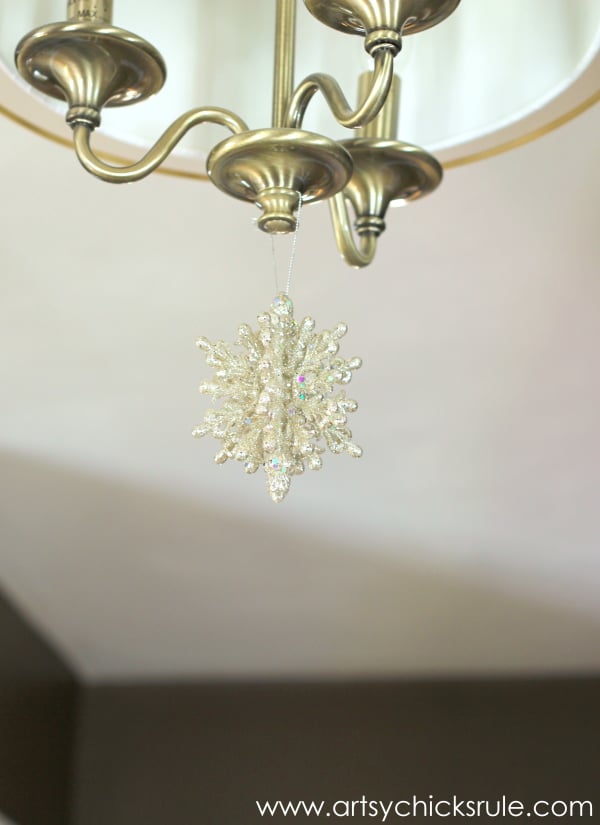 Isn't it pretty?
But look what else…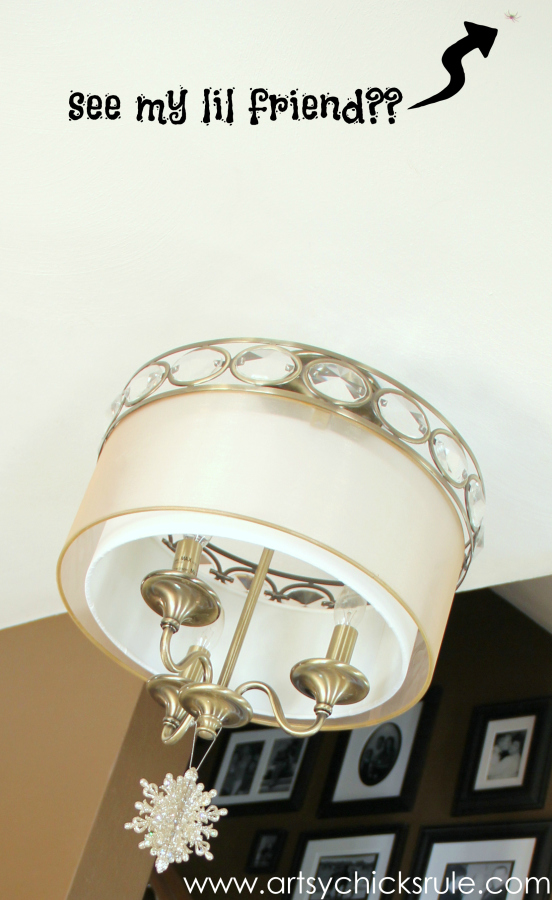 Ack…yes, I was standing right underneath…multiple times. Eek.
Wrong holiday!! Halloween is past…go away little fella!!
Last one of the foyer….looking from the kitchen.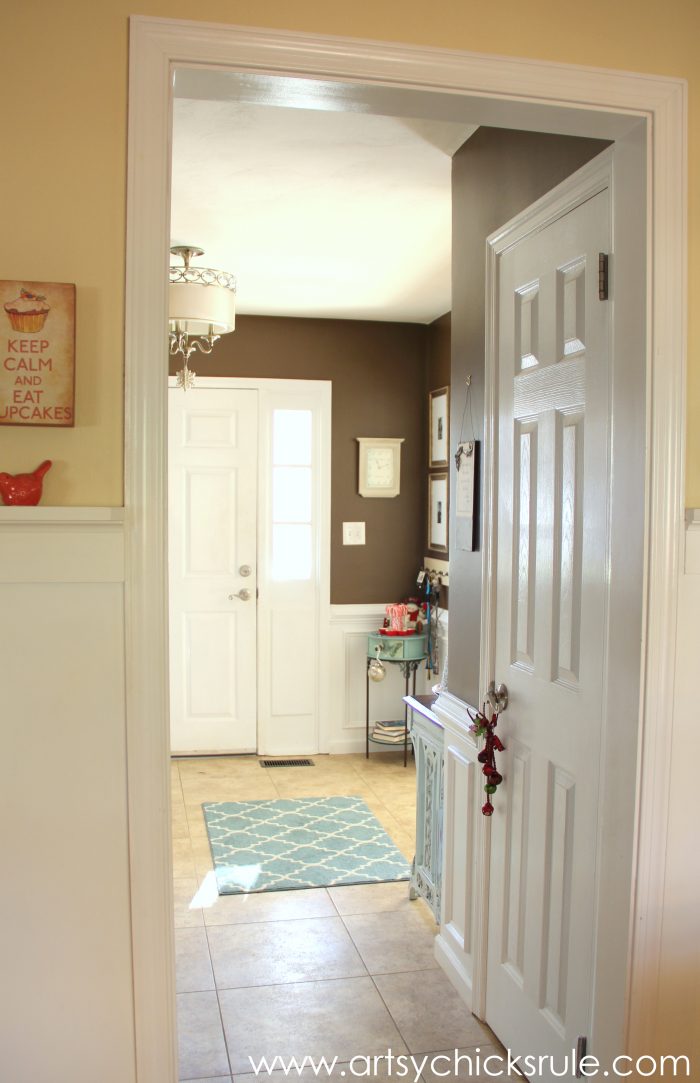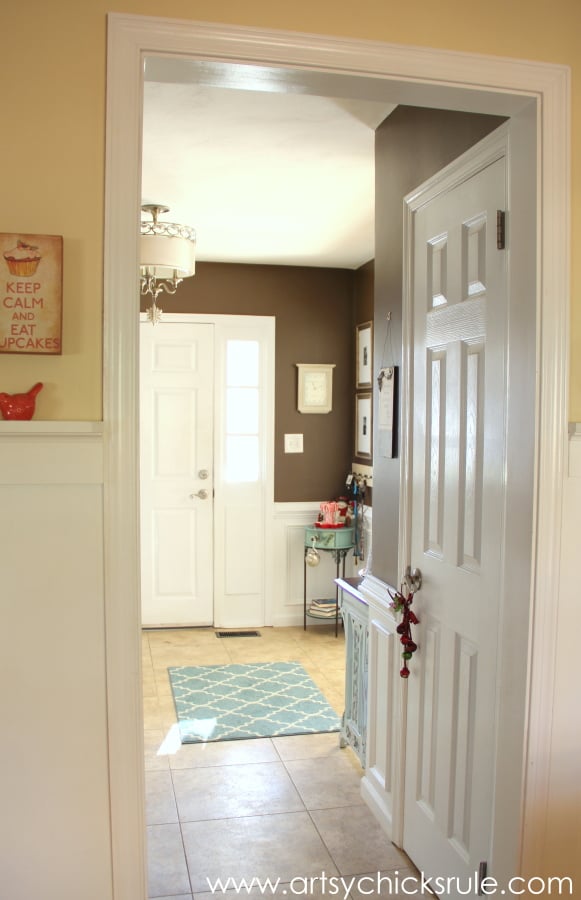 Looking just to the left of my foyer, you see this….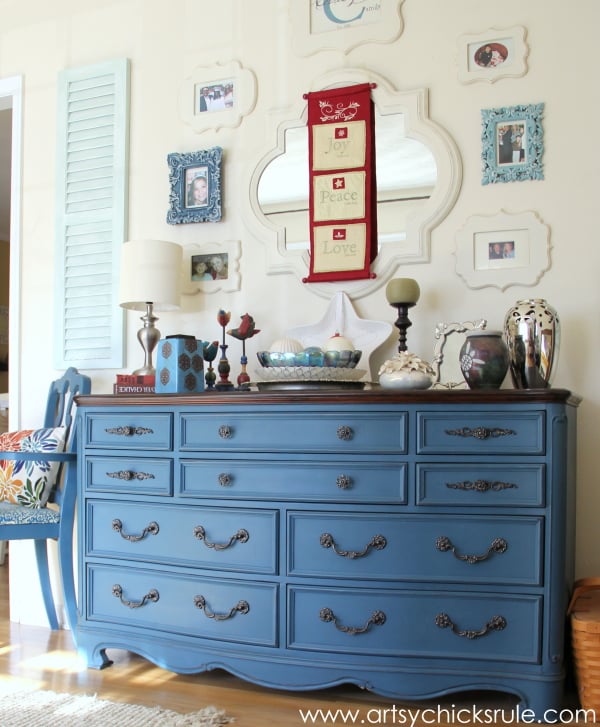 That gorgeous blue! Sigh.
I just love this old dresser…painted in Aubusson Blue Chalk Paint®.
You can read all about it here, "Aubusson Blue, Dresser Re-Do".
And you can read about the handle I made here, "Missing Hardware, Here's a Fix" (one was missing so I made one! Can you guess which one?)
And then if you look just to the left of the dresser…..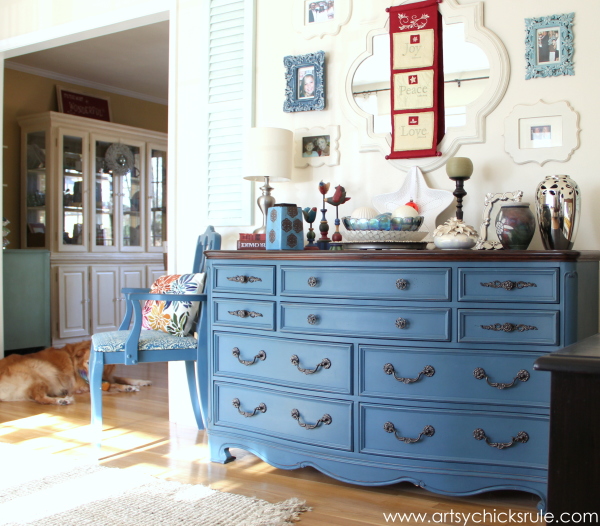 You'll see my dining room…and my girl Lexi who is always getting in my shots. I spent hours today with my tripod all over the house.
She wanted to be in whichever room I was in so she followed along.
Love that…until she walks into a shot. ;)
Which she did quite a lot which you'll see next week!
I saved them and decided to share them (and her) along with my tour.
And here she again is in this shot below.
She decided she wanted to lay in the sun.
Do you remember last year I wouldn't show you this whole room because we were building a bookcase?
Well, we are still building it. And building it.
The never ending project. ;)
But we are making real headway now and I thought it only fair to go ahead and share it with you.
(don't mind the old wall color…it will be covered)
I've got the top stained there and my husband has most of the shelves built and just about ready to go up.
The rest will be white. And yes, I've been looking at that for over a year now!!
And all I can say is yay!!! (no I mean YAYeewooooweeee!!! I'm ready for this mess to be done and gone!)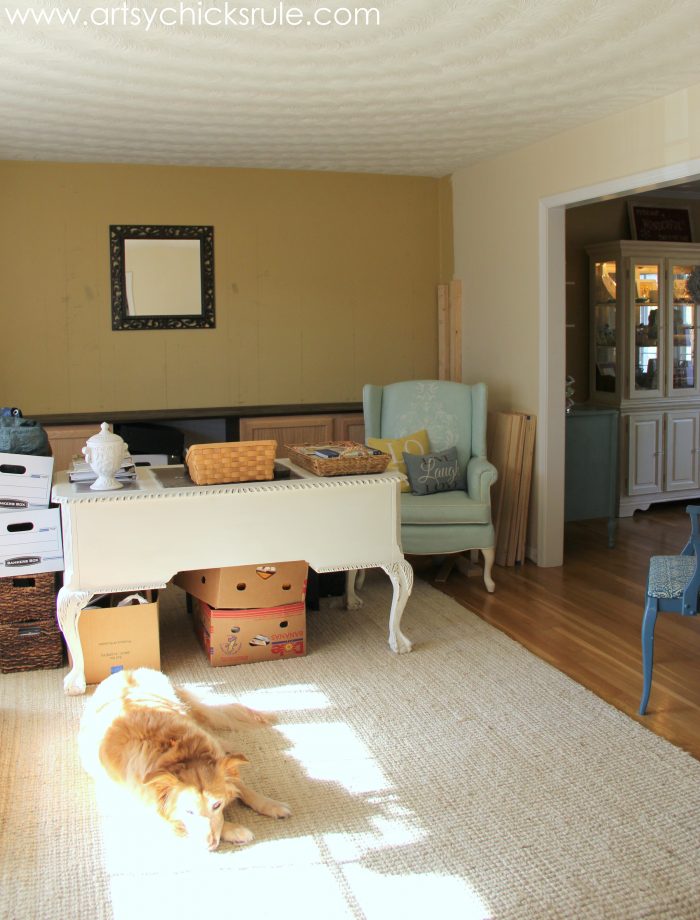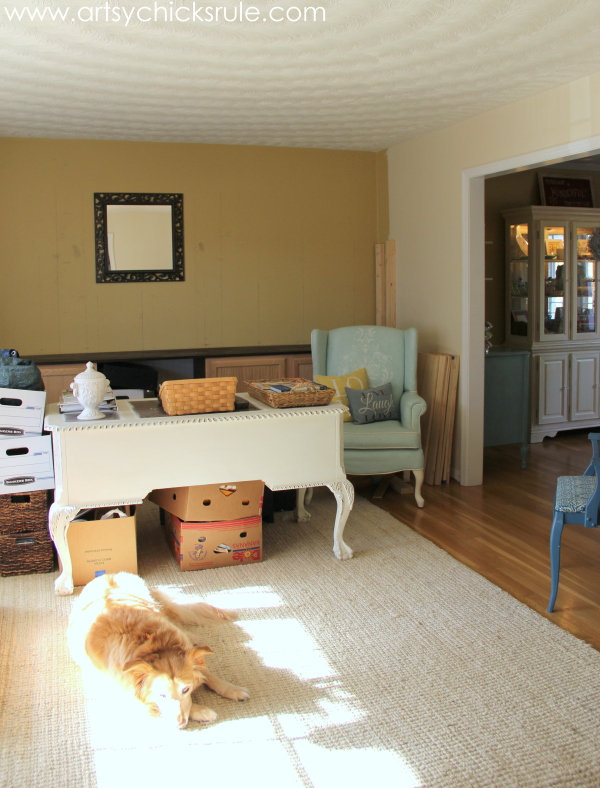 So back to the simple holiday decor in this room….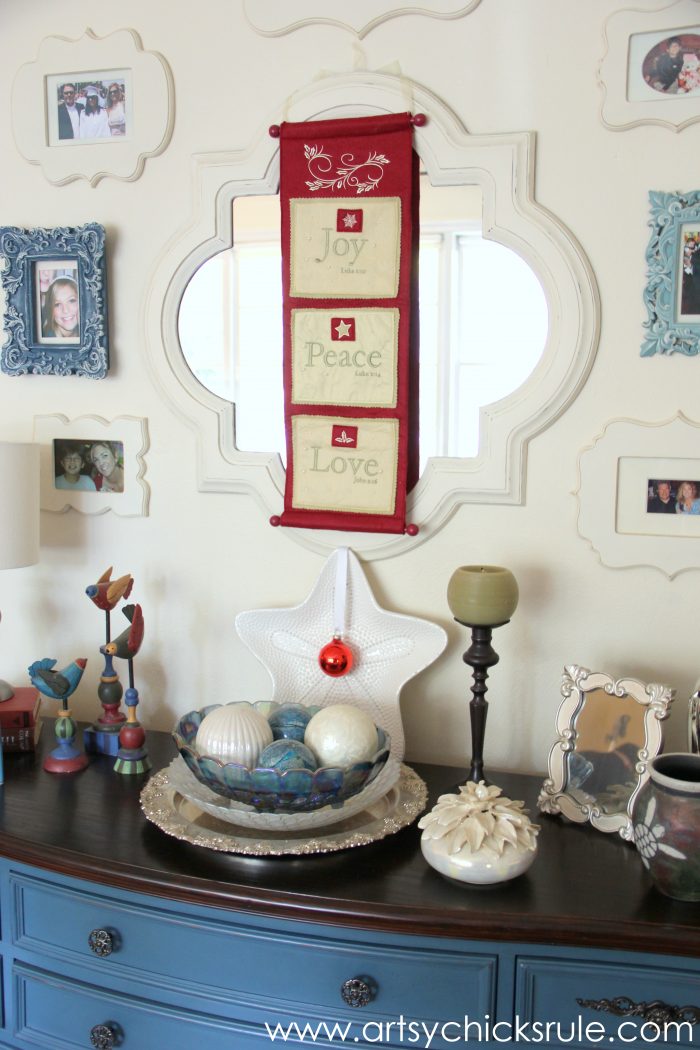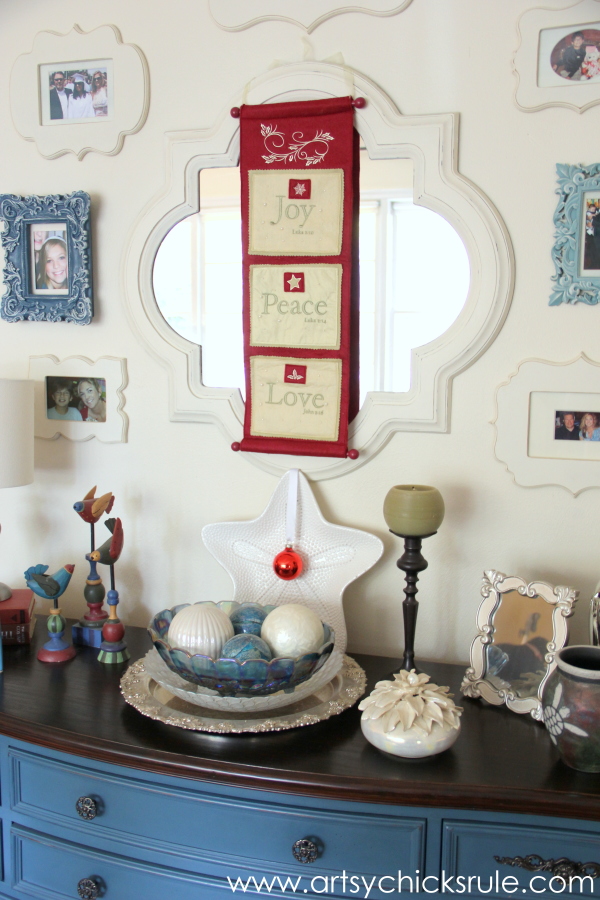 The little hanging came from the thrift store for last year's decor. But I forgot I bought it.
So I used it over the mirror this year.
The starfish dish usually resides in the guest bath but I put my "Pottery Barn Inspired Christmas Antique Mirror" there instead.
So I moved the dish here and hung a red ornament over it.
Simple! (and budget friendly)
That's it for part one. :)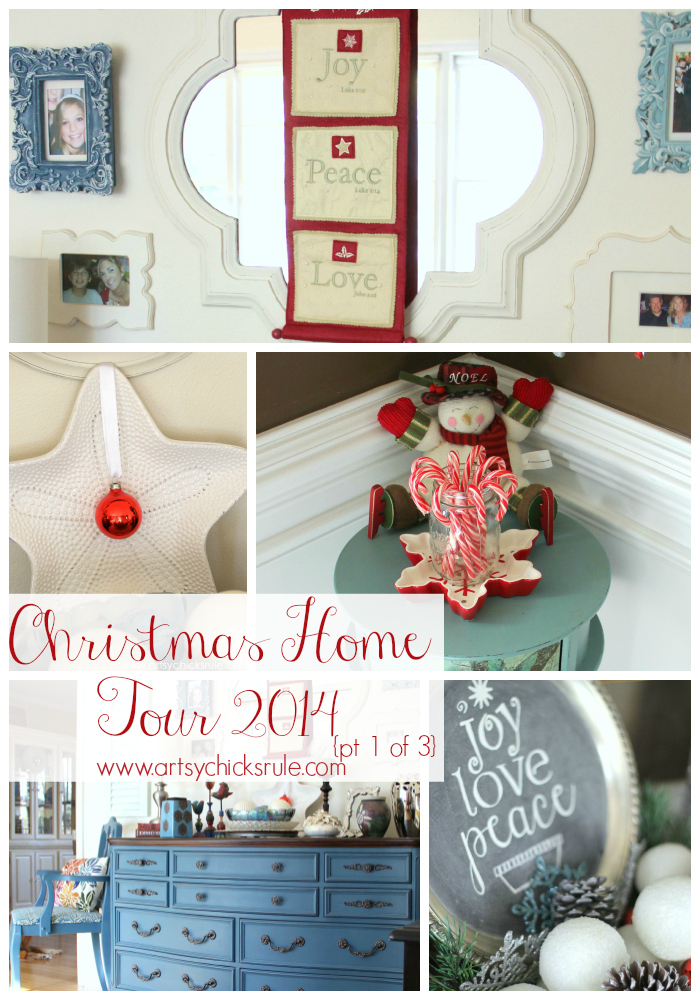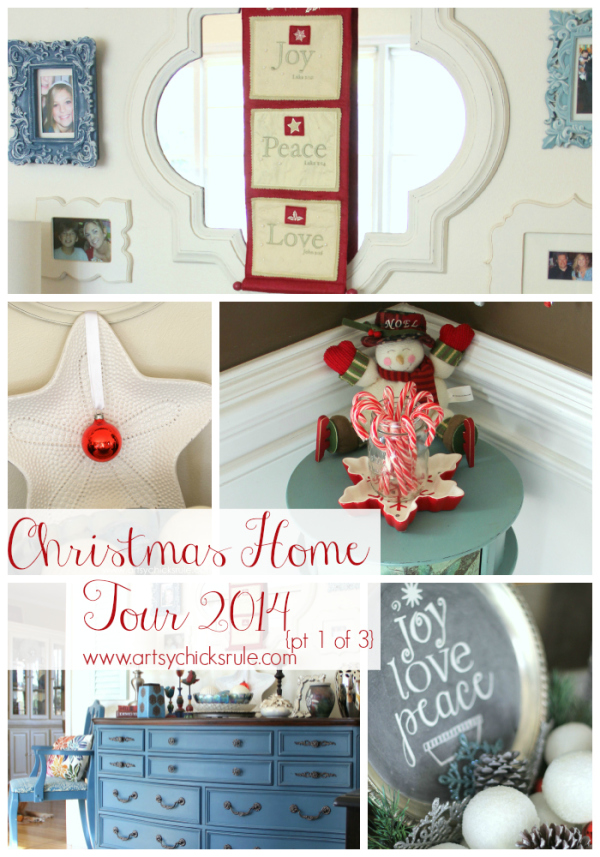 Visit my friends below! Tons of Holiday and Christmas inspiration to be seen!
(and don't forget to grab a candy cane from Mr. Frosty on your way out! ;) )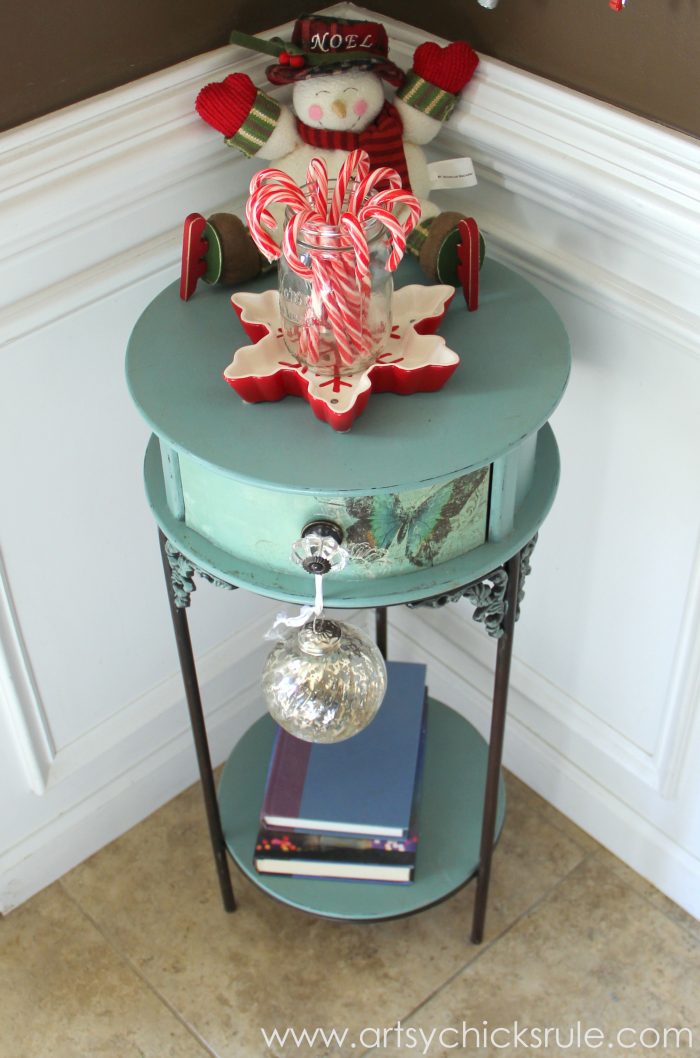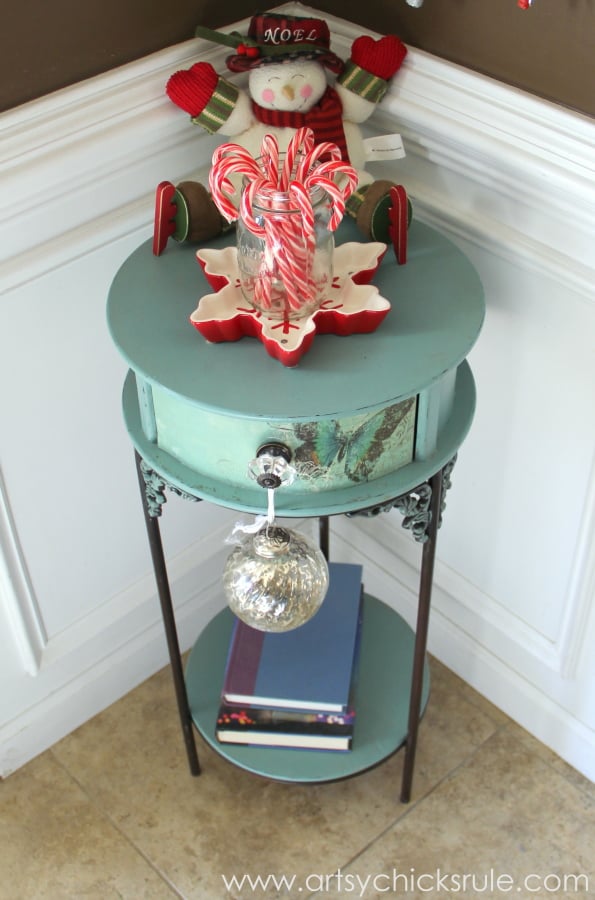 Be sure to check back next week to see the rest of my "Teal & Red" themed Christmas decor, home tour, on a budget.
(part 2 (kitchen and dining rooms) is here and part 3 (family room, laundry & bath) is here)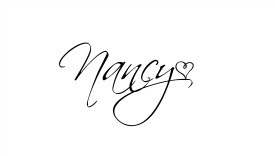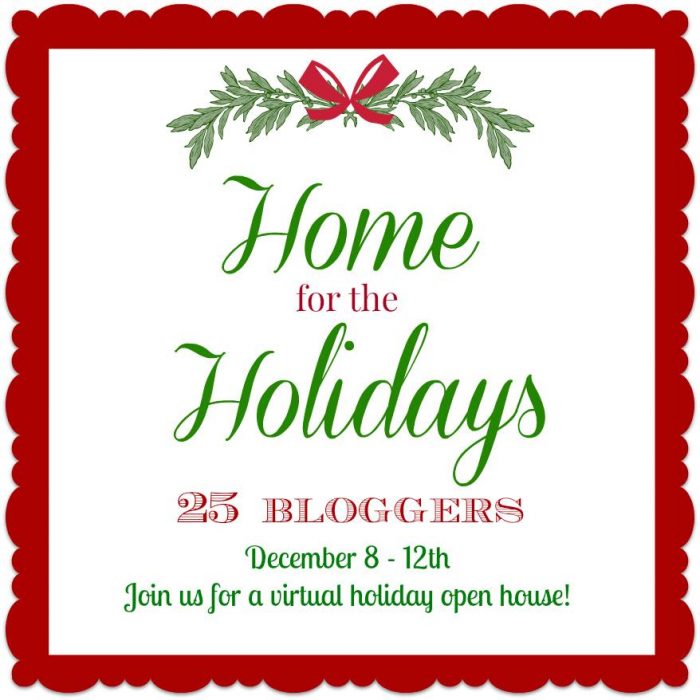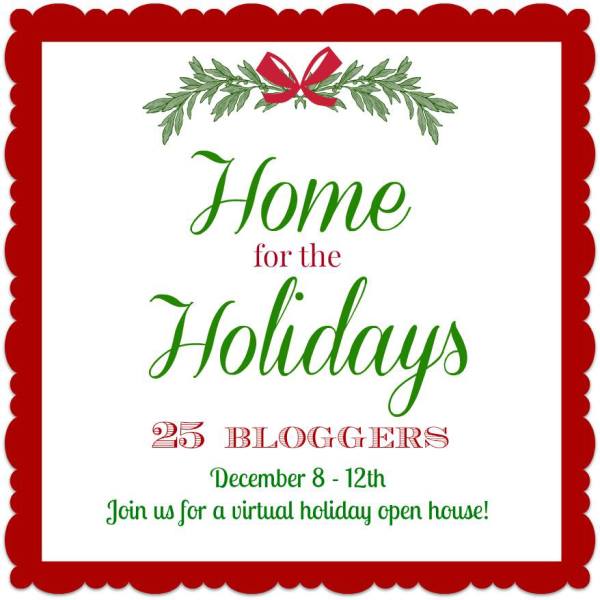 Be sure to follow me on Instagram and Facebook if you don't already!
I always post projects and things I'm working on
long before it hits the blog…..
….plus lots of fun random daily things too.