Red & Teal Themed Christmas Home Tour – (part 2 of 3)
This post may contain affiliate links. Please see disclosures here.
Hello friends!
Today I'm sharing Part 2 (of 3) of my Christmas Home Tour, red & teal themed.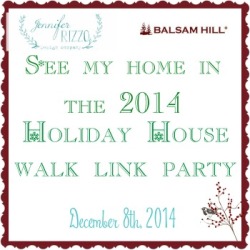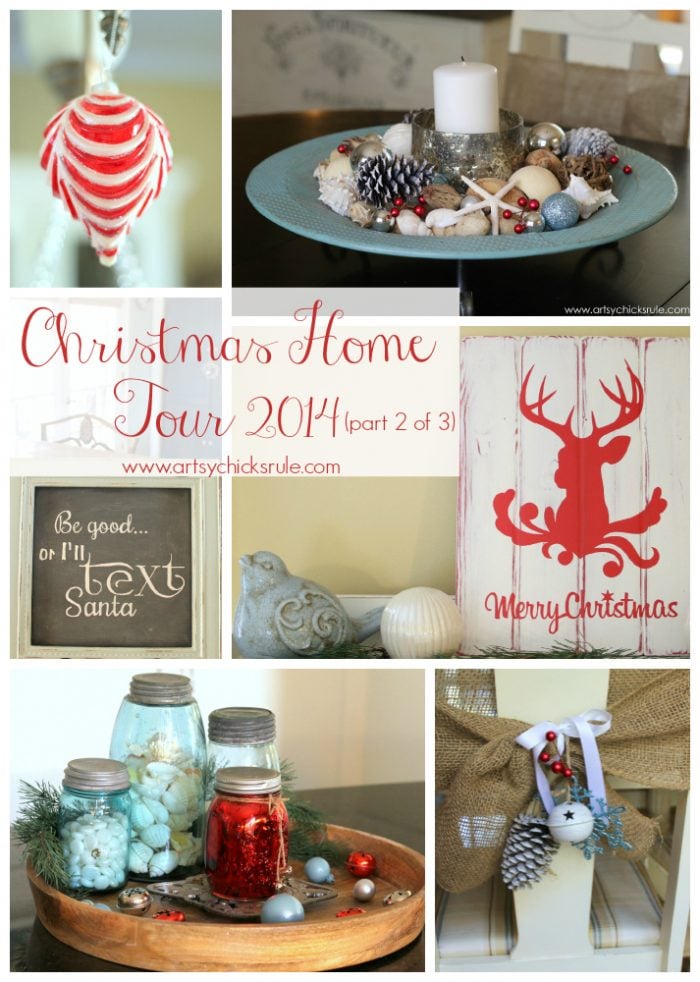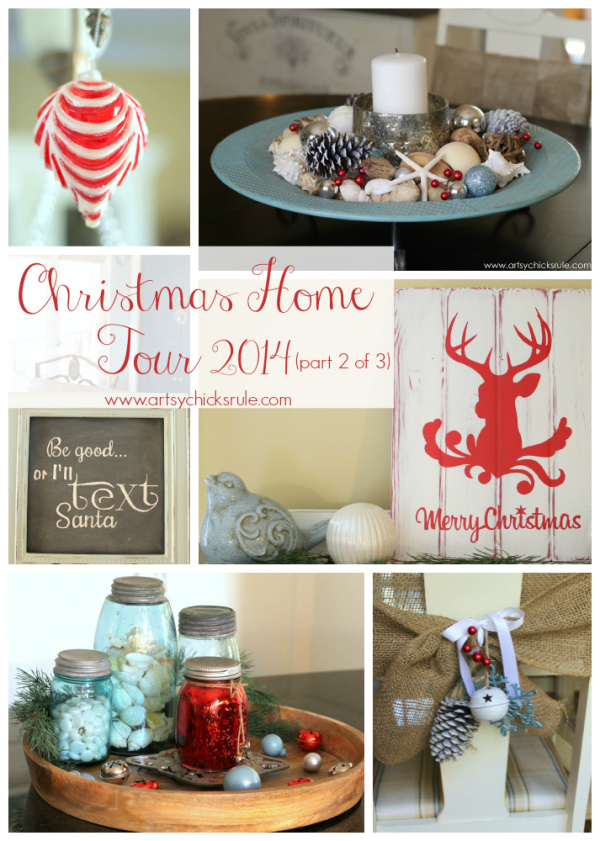 Last week I shared Part 1 of my Christmas Home Tour here. That tour included my Foyer/Entry and Study.
Today I'm sharing my Kitchen and Dining Rooms. Thursday I'll finish up with my Family Room, Laundry Room and Guest Bath.
(you can see Part 3 here)
I found most items (as I do with my regular home decor) at the thrift store or a garage sale.
Thrifty decor!
So this year I set up a challenge for myself. Use everything I already have (along with a few new items) in a completely different way.
I'll be honest and say that most years (before blogging) I'd end up using things the same way over and over again.
But who out in blog world wants to see the same decor, used the same way, year after year?
No, that would not be very much fun. BUT this challenge was a fun one. Sorta. ;)
When I pulled it all out I was completely overwhelmed….but I have to tell you, it all fell together pretty easily once I got going.
Only a few items were used in the same place. Plus I did pick up a few new pieces at the thrift store this year.
But not many, and not much $$!
You can see last year's tours here, Holiday Home Tour Part 1 and Holiday Home Tour Part 2. (and how I used everything differently this year)
So on with the tour….
Welcome to my home!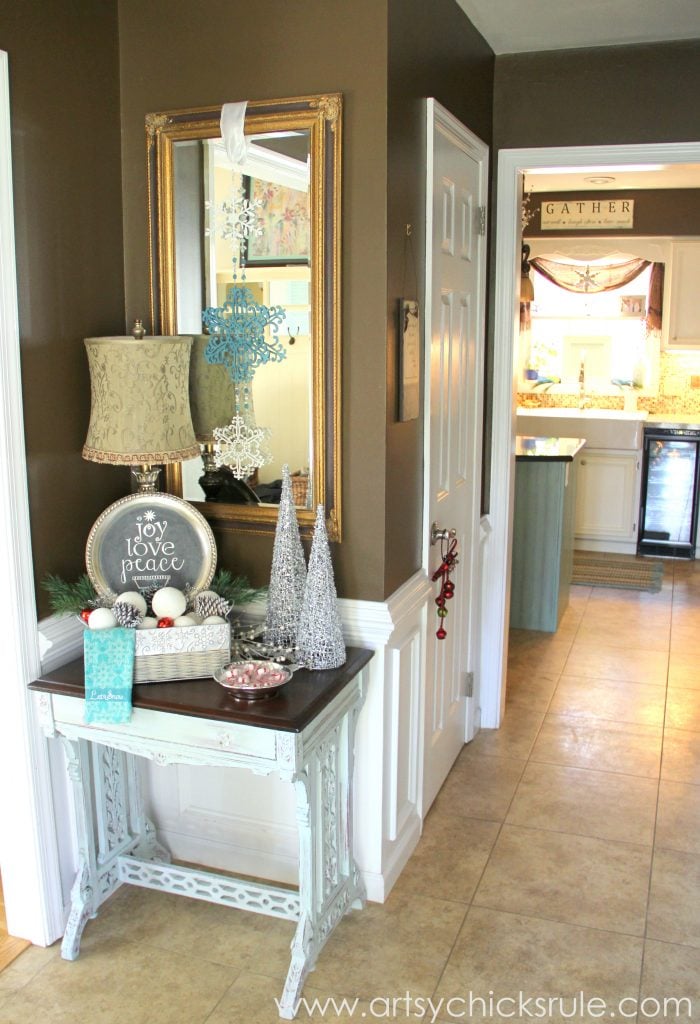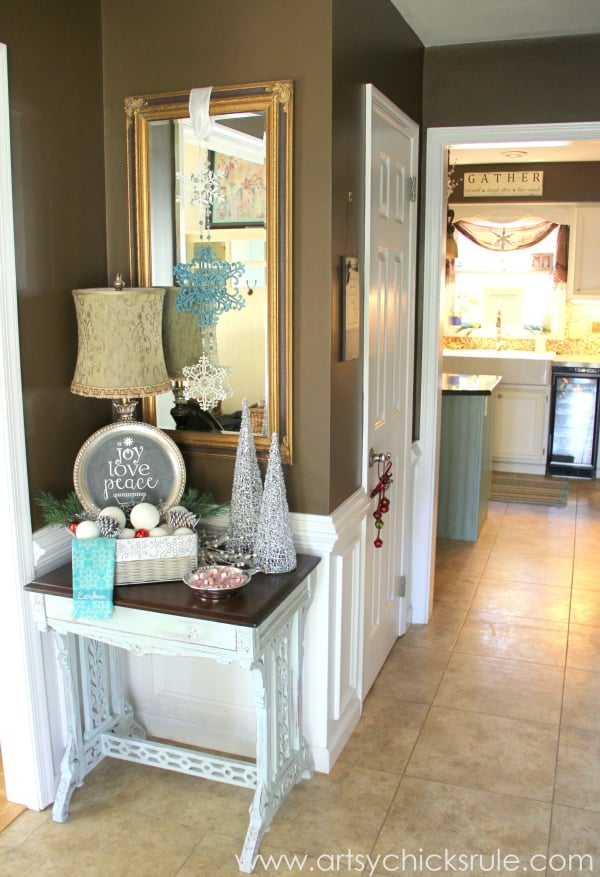 Straight ahead is the kitchen….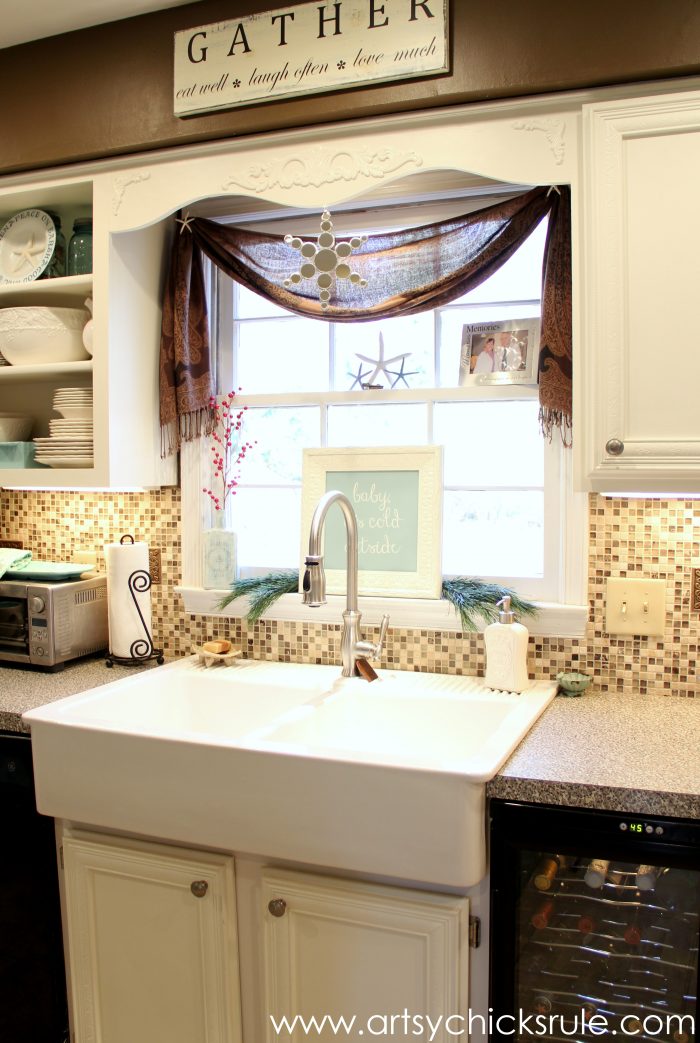 And my farm house sink we recently put in. I just love it! :)
The mirrored star is the only thing used the same in this vignette.
The sign above the sink is one I made last year, "Baby It's Cold Outside".
Gather Sign here.
The bottle on the window sill was one I recently painted with Chalk Paint.
All I did was add a few red berries for the holidays, a touch of greenery and it was done.
Another view…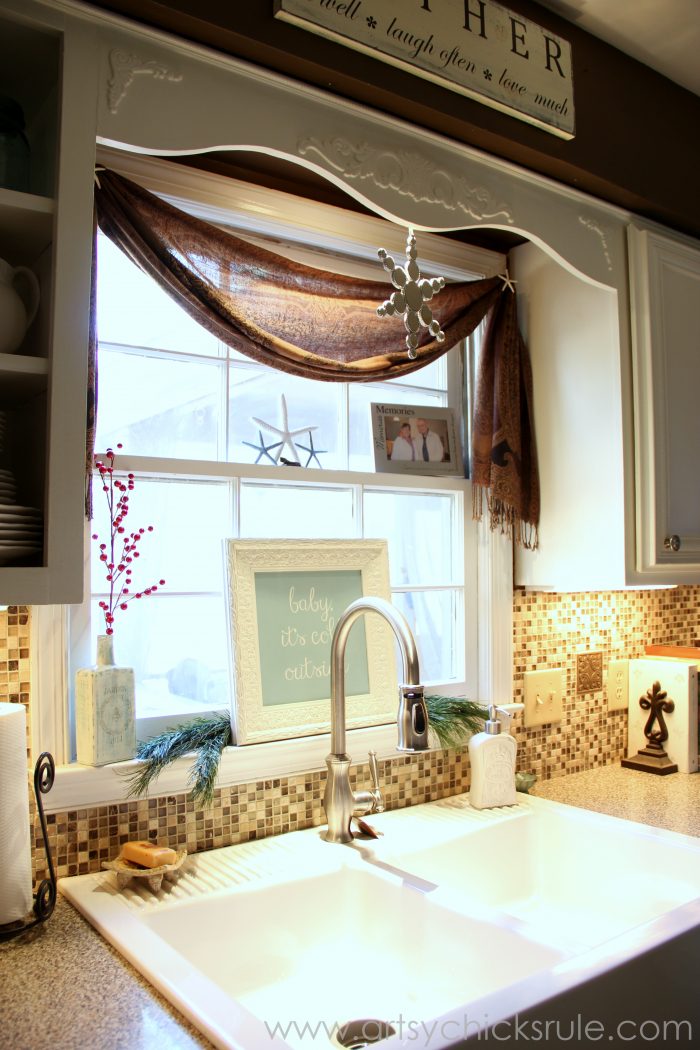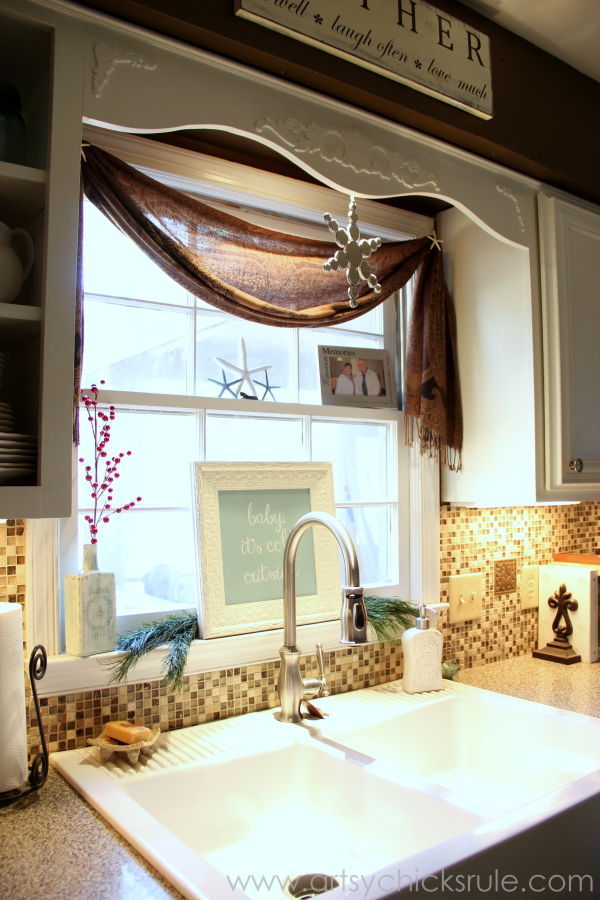 You can read about the tile back splash I did here.
To the left of the sink is this open shelving….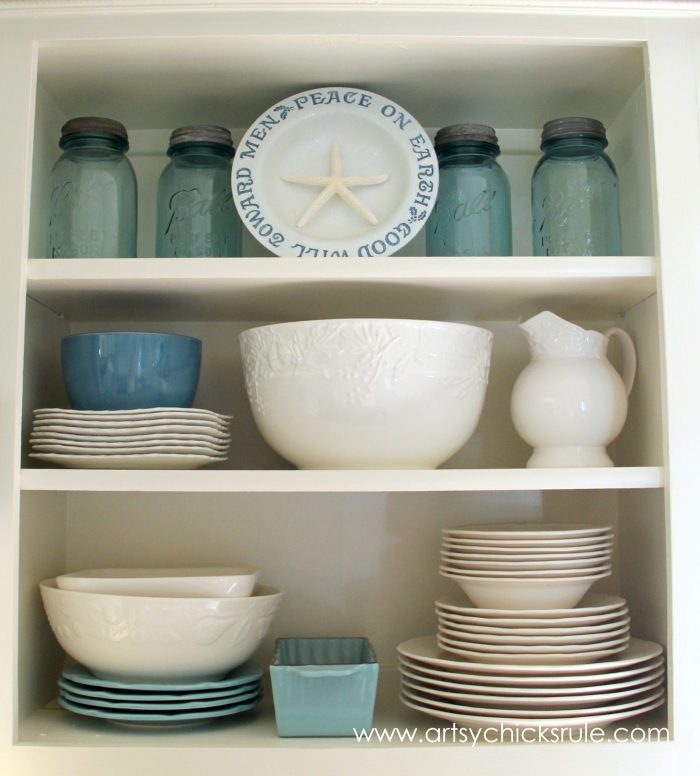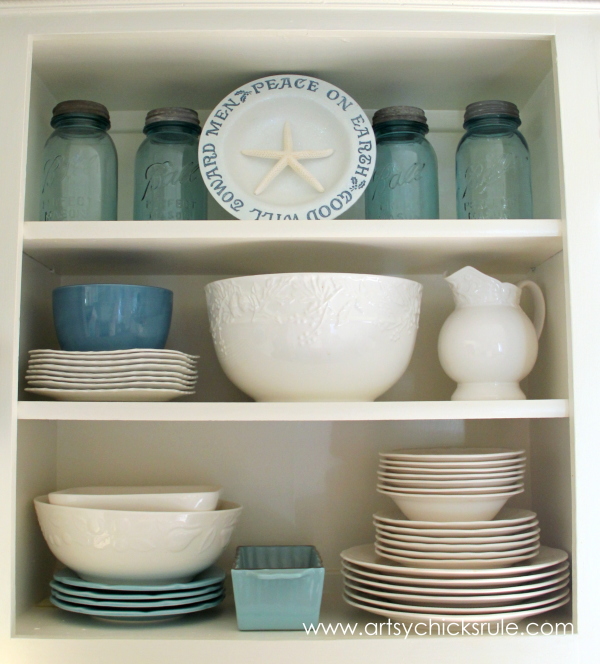 The metal platter above was a thrifty find that I painted and glittered up. (and used in my Family Room last year)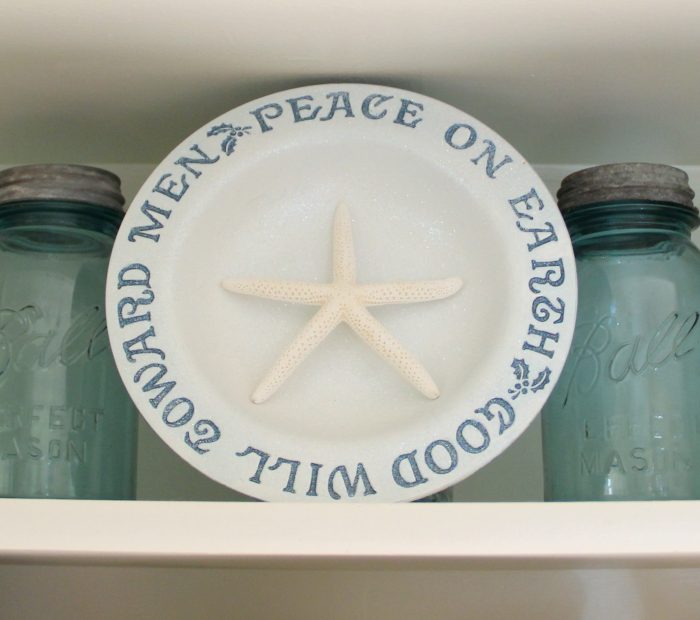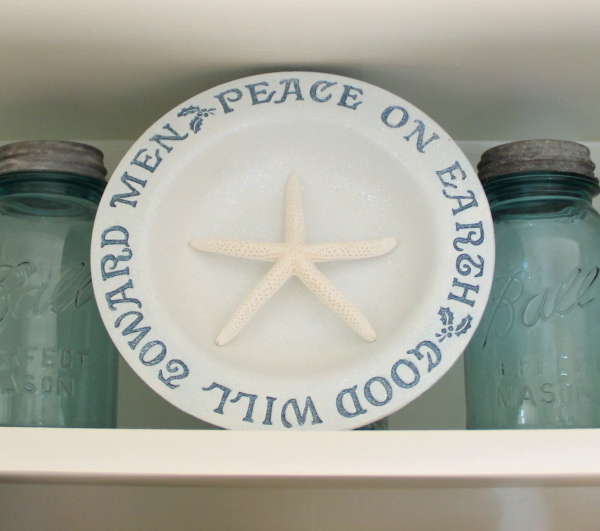 I kept and incorporated the nautical touches I have throughout my home, into my Christmas decor.
Looking into the Family Room from the Kitchen….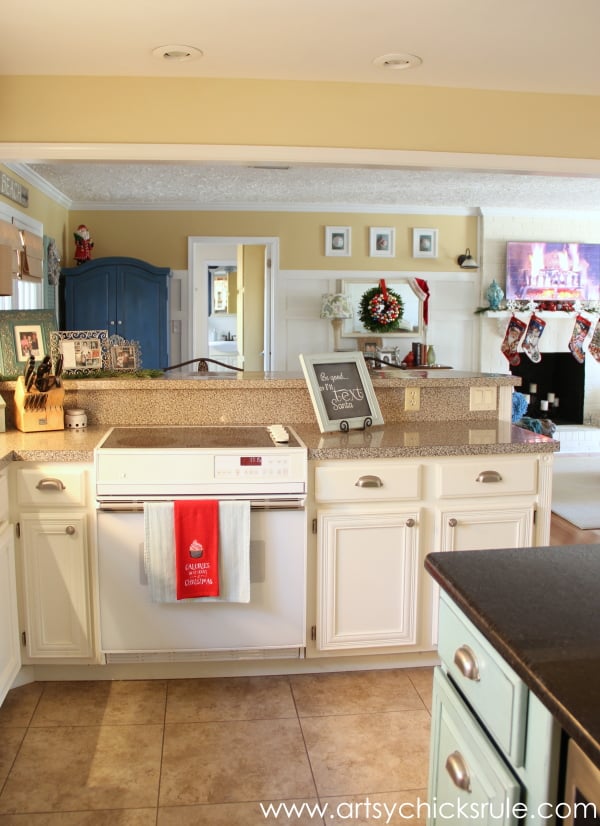 You can see all the way through the laundry into the guest bath in this shot. There was a wall dividing the Kitchen/Family Room when we moved in.
We took it out!
Had to have this….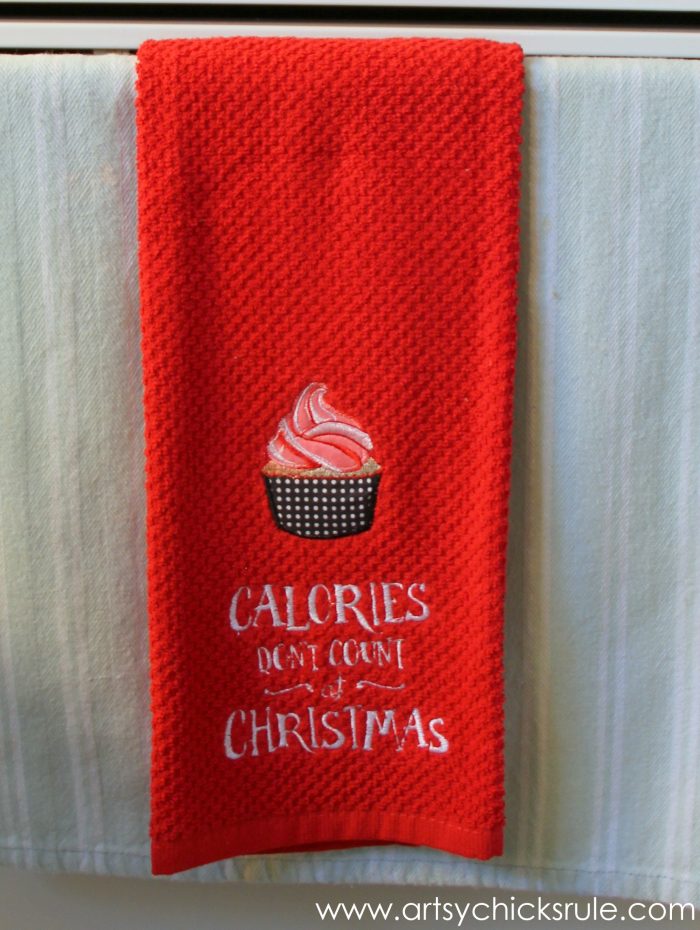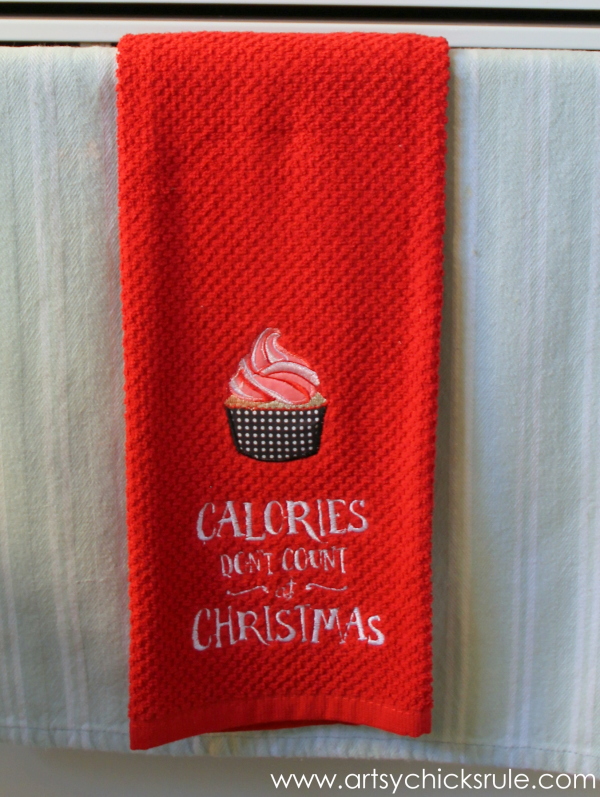 Calories don't count at Christmas…it's true, right?
And my chalkboard "note" to guests to "Be Good, or I'll Text Santa".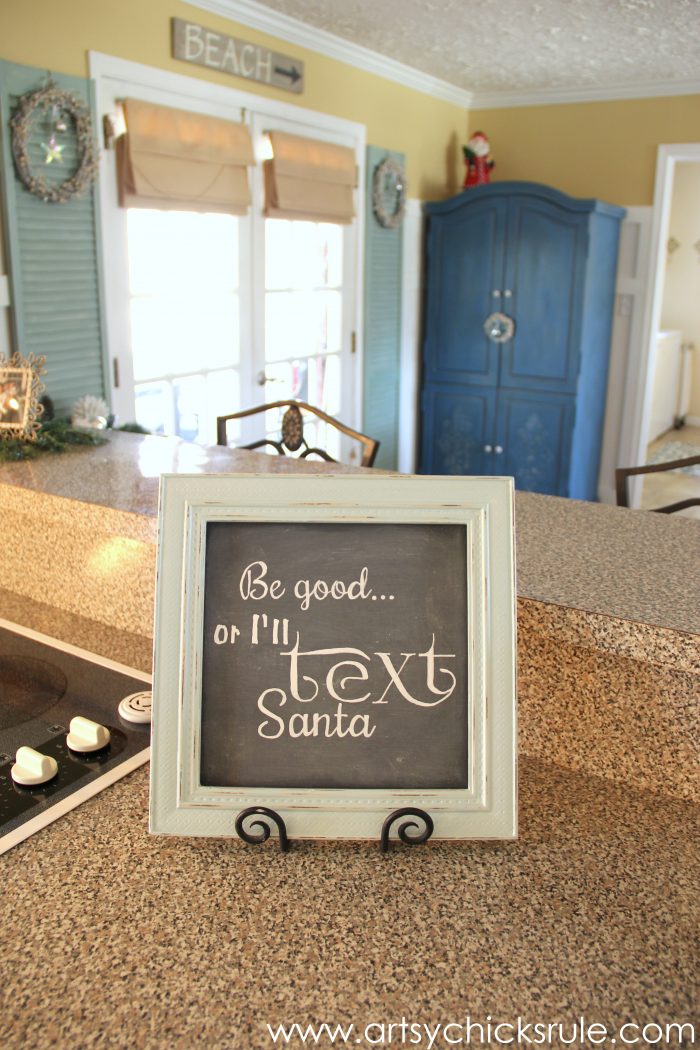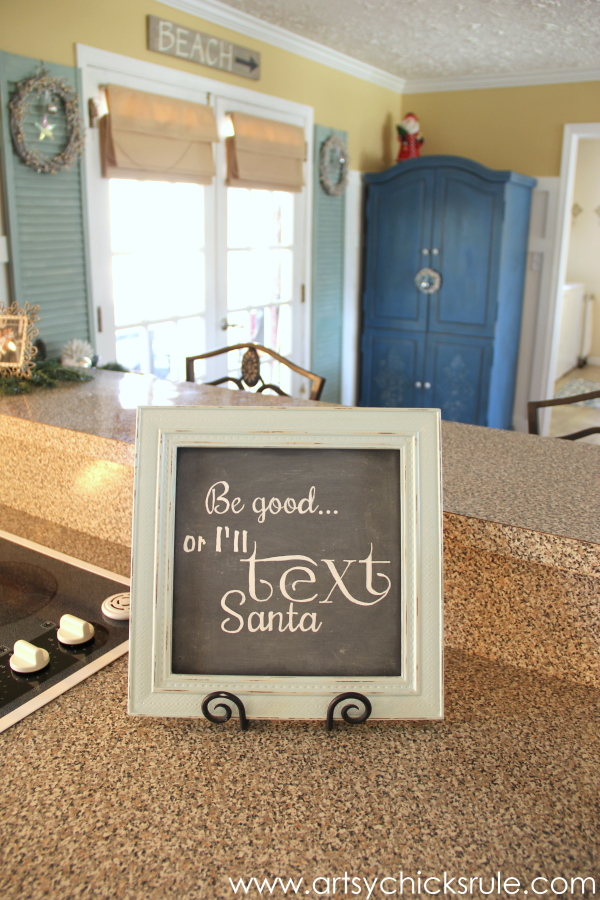 And photos of my Mom. Miss her terribly.
The holidays, life in general, is just not the same without her here.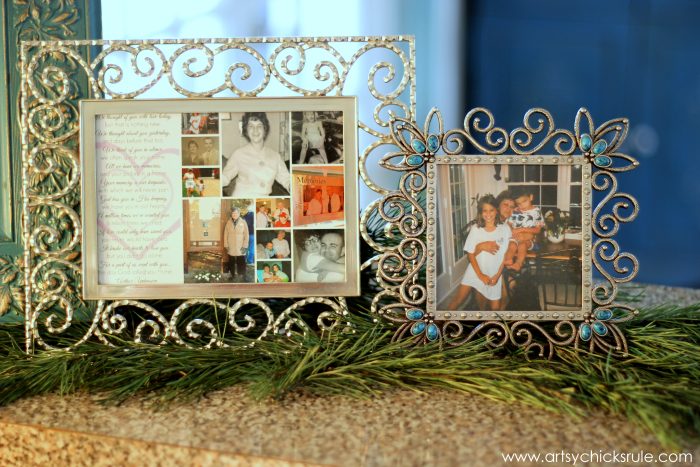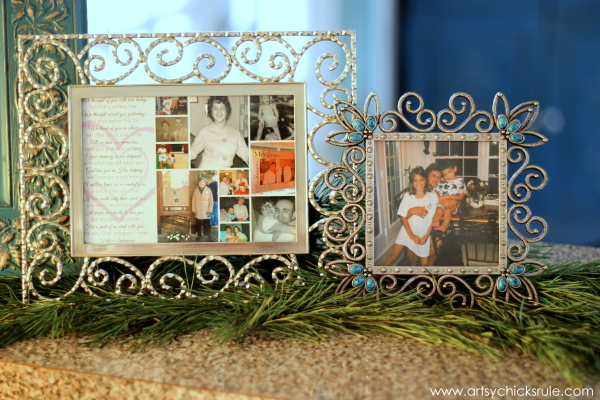 The board and batten wall we put up in our kitchen has a few ornament balls to adorn it.
(and the pretty garland I found at Micheal's)
I have a very eclectic and whimsical style of decorating that I know may not be for everyone.
I went from a traditional "grown up" style of decorating (not me) to this one over the last few years….and I love it.
It makes me smile….and thankfully my husband and kids like it better this way too. ;)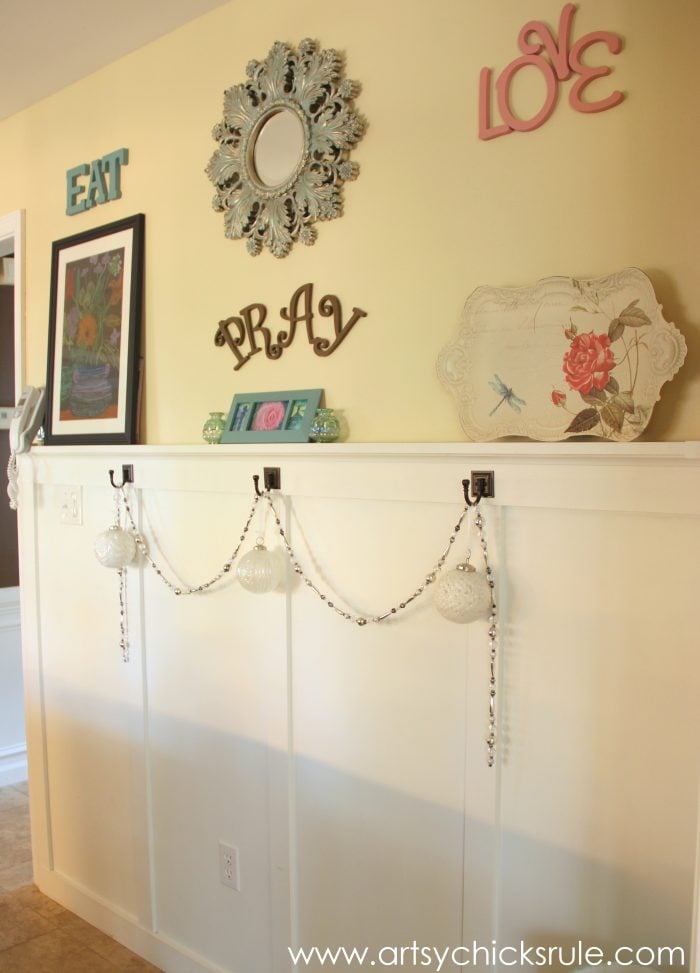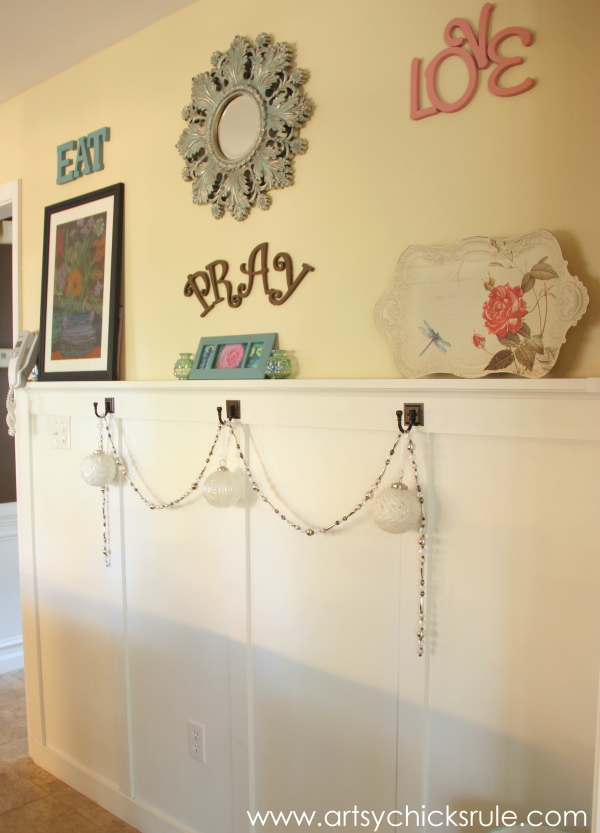 Moving along to the pantry door…. "Be Merry"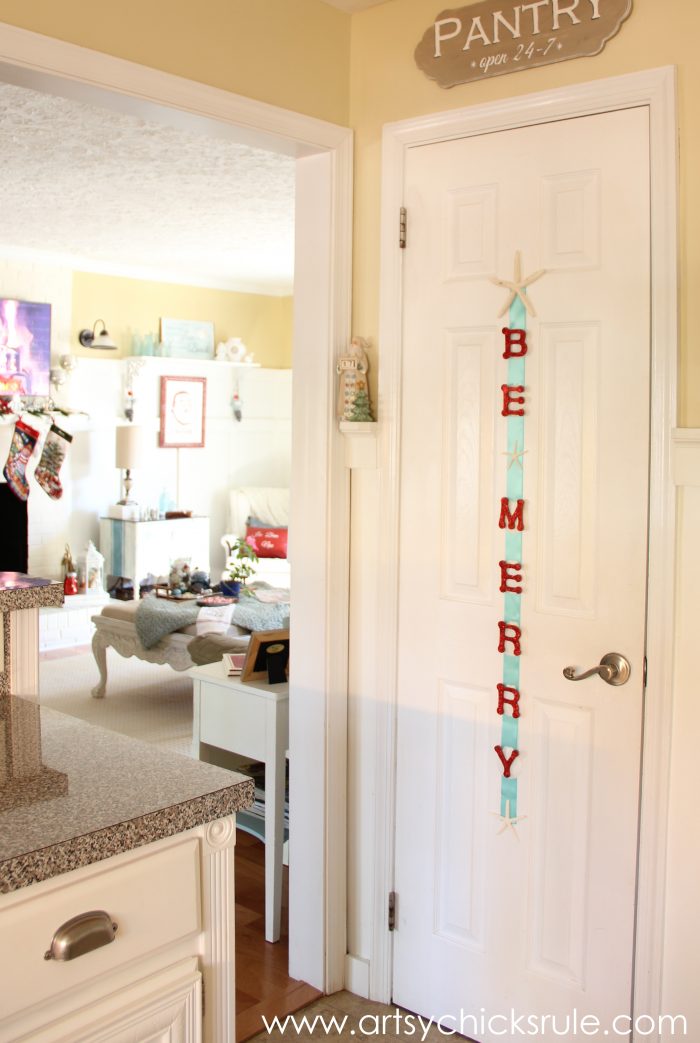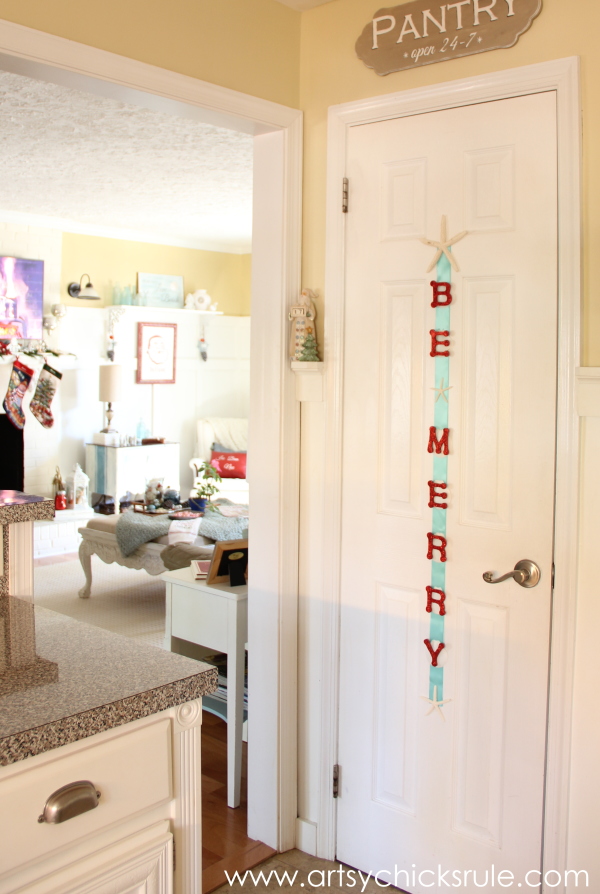 I made that hanging last year and used it in my Family Room.
This year it is here. My "countdown" Santa is on the little shelf there.
He was a thrifty find and I think I had him on the other side last year.
Looking into the dining room….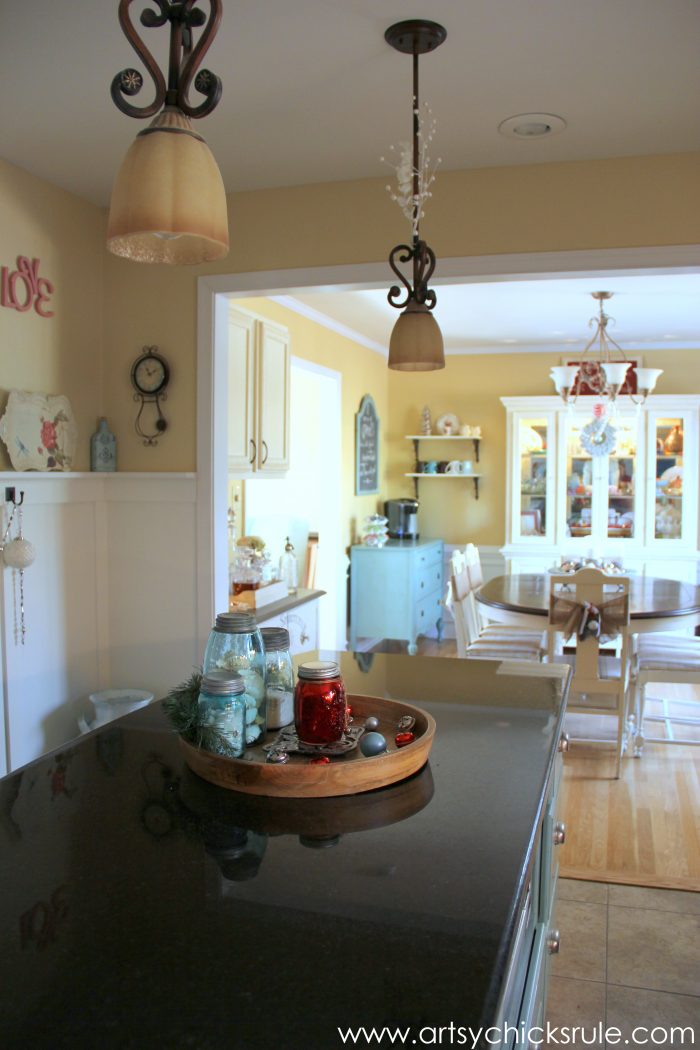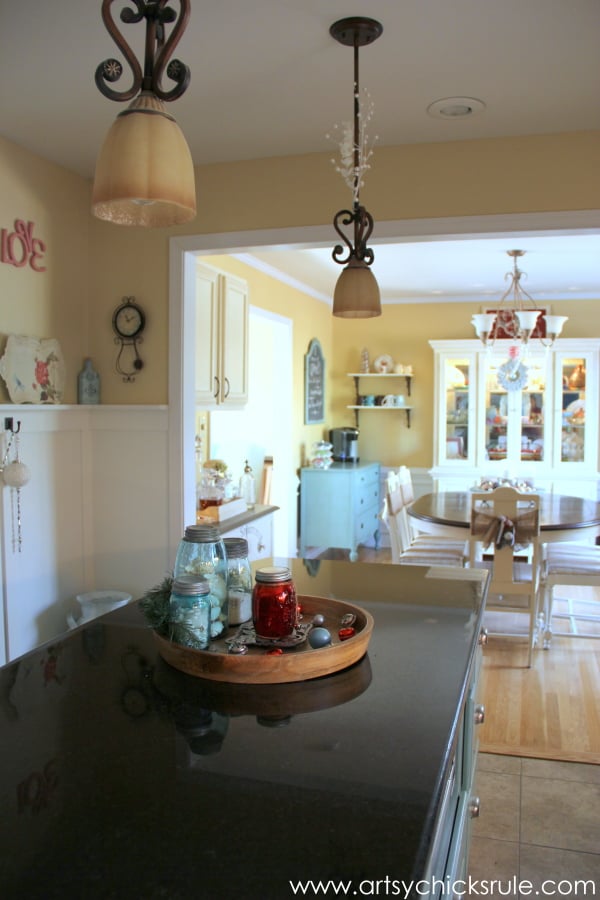 There was a wall there too. It's gone now. ;)
The centerpiece on my island…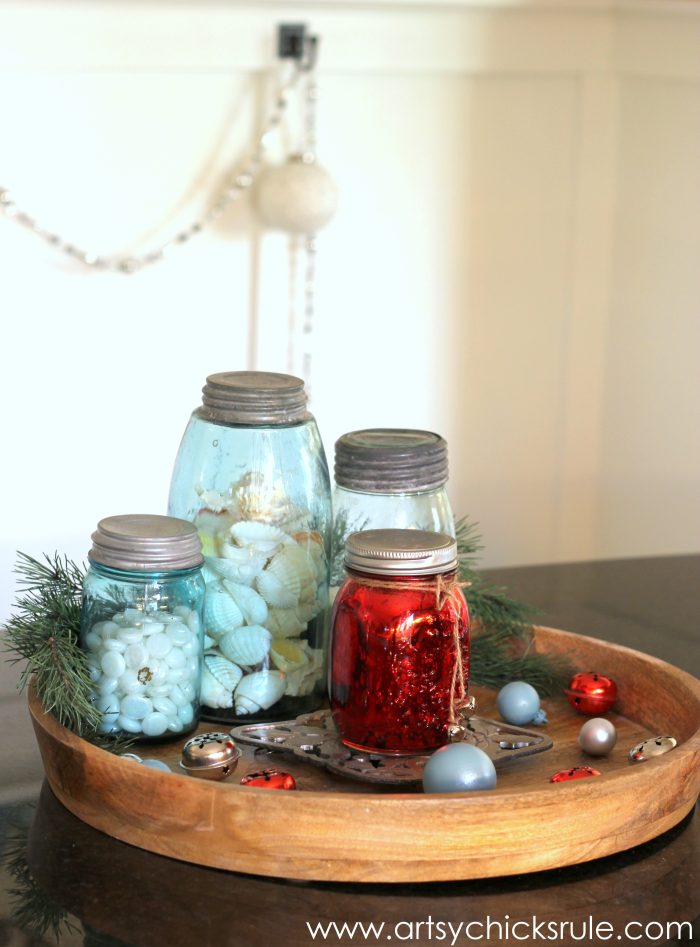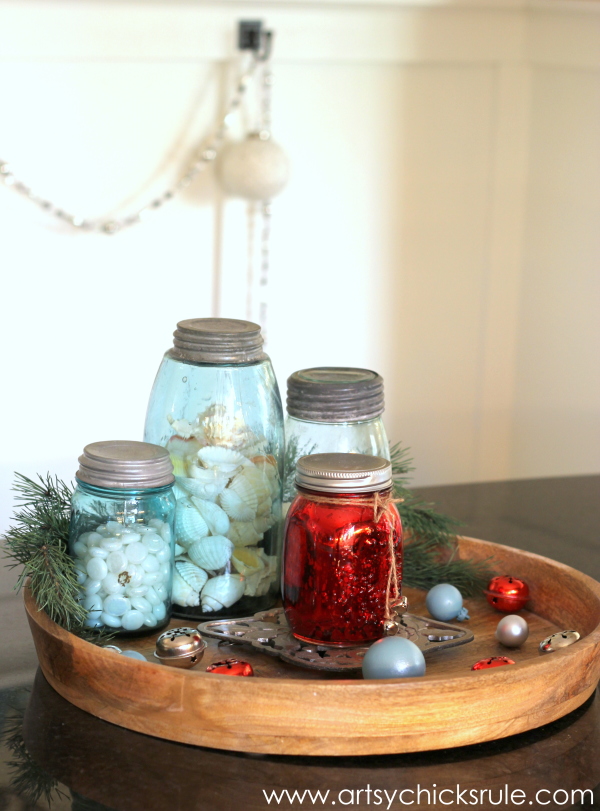 A bit of greenery with red, teal and nautical touches. (the jingle bells came from the Dollar Store, the "teal" ornaments, I painted)
I made and used these chair wraps here last year.
The only thing I did to them this year was add a bit of red for my "Red & Teal" themed decor throughout the house.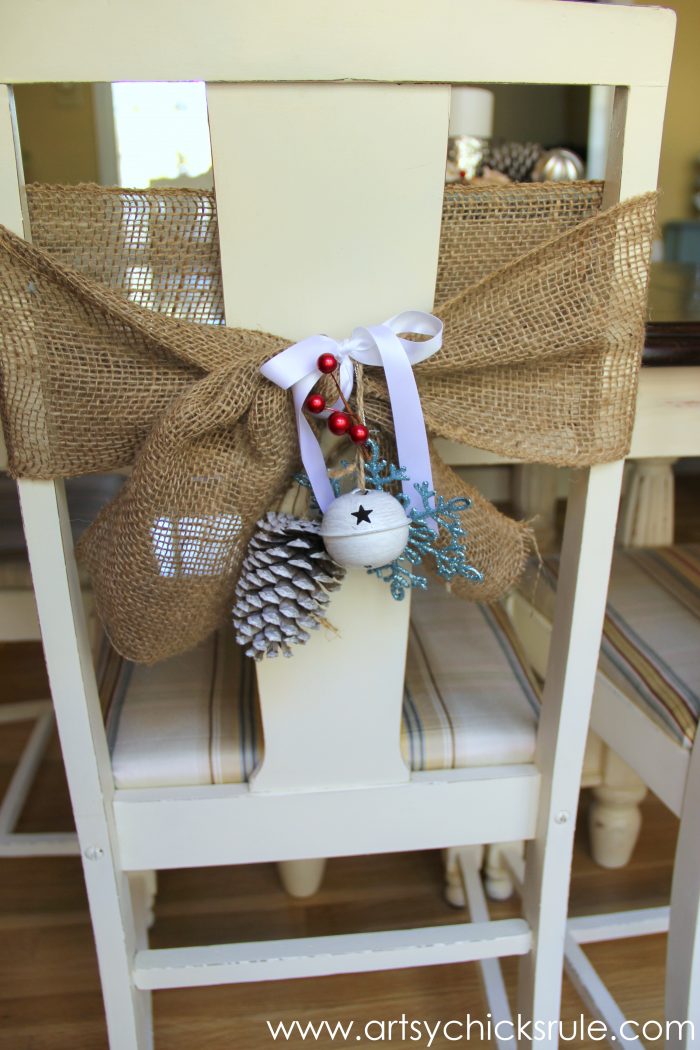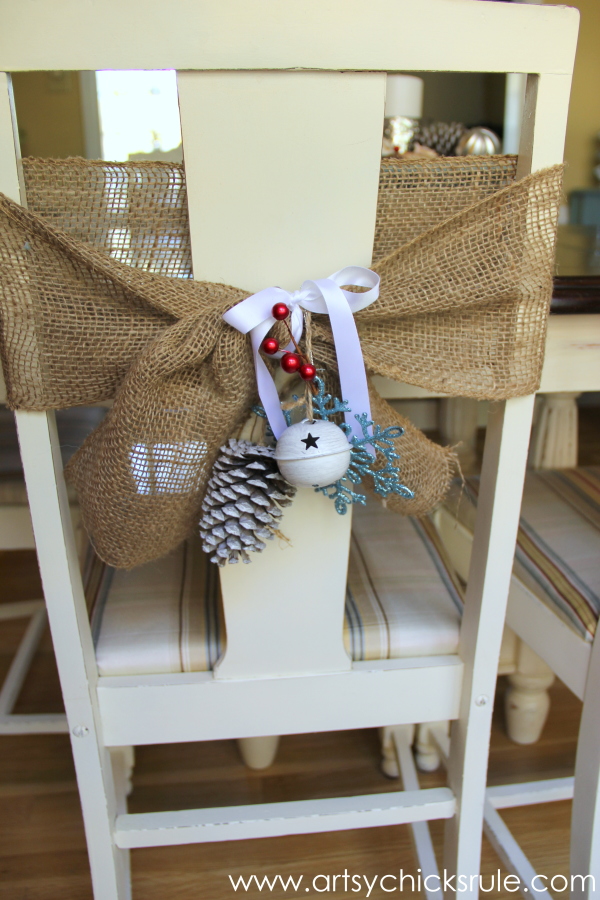 My Baker's Hutch has a touch of red to go with the teal already present.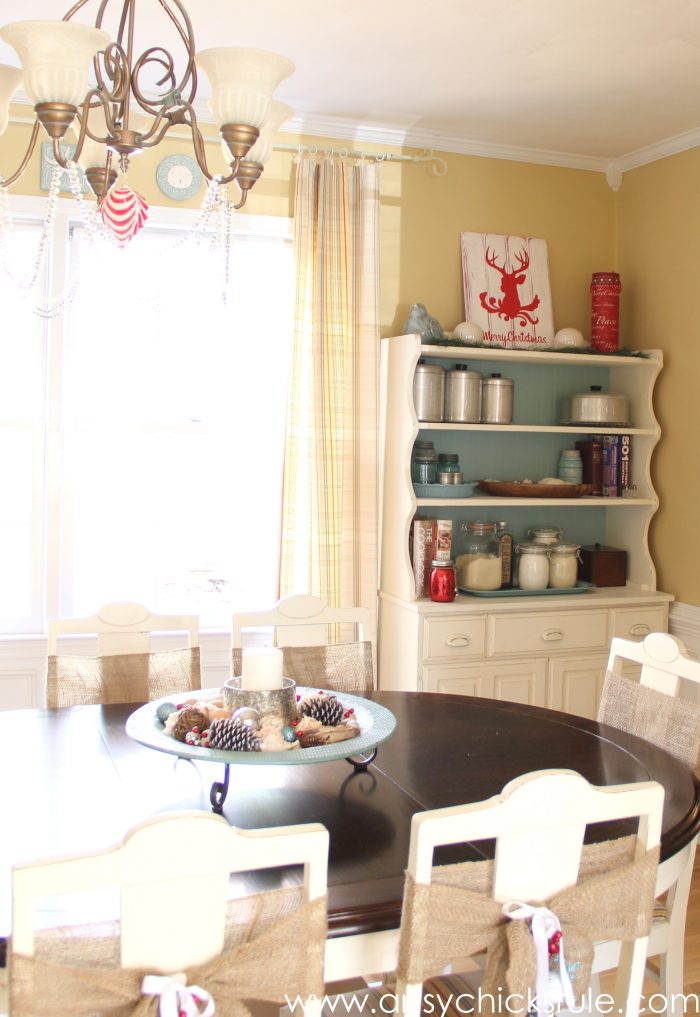 The deer head was made using my Silhouette.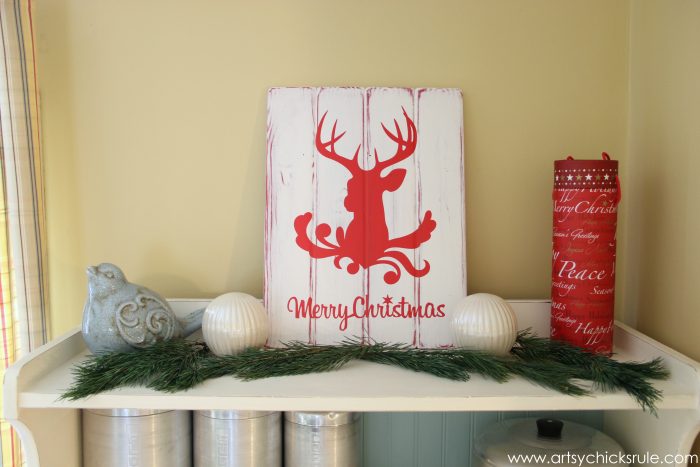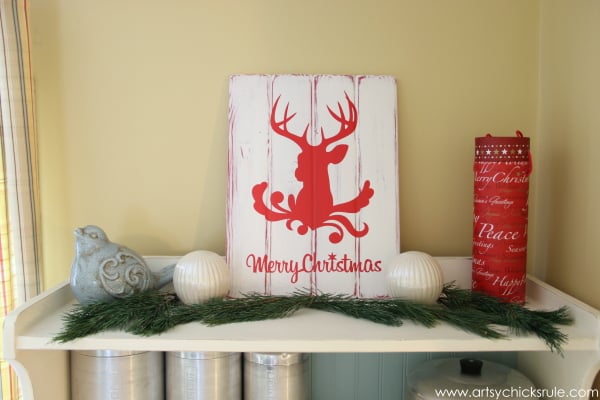 The centerpiece is here all year.
I added frosty pine cones, ornaments and red berries.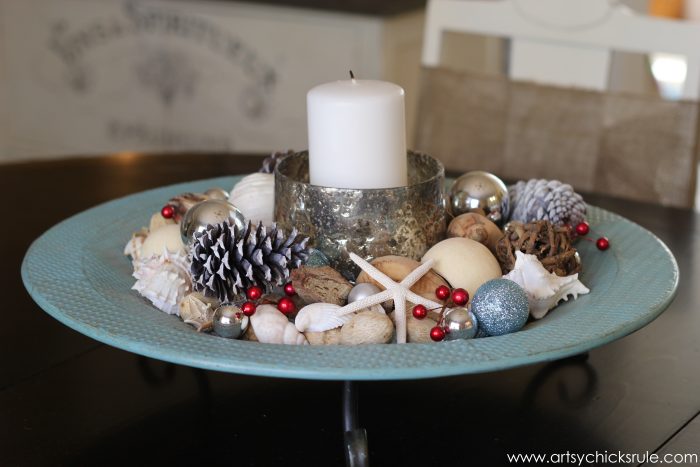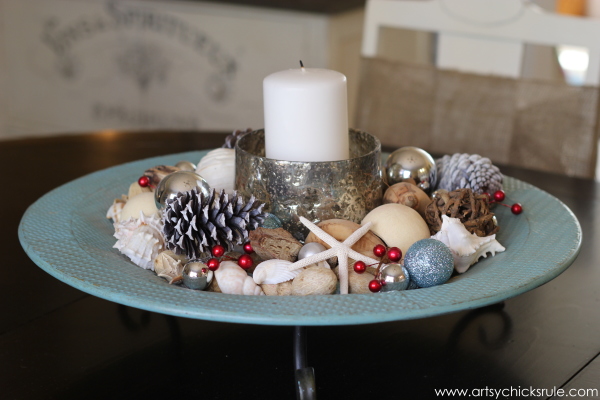 The china cabinet got a bit of thrifty decor.
This wreath was gold and I painted it white a few years ago.
I've used it in various places over the years, including the front porch and front door.
This year I put it on the door of my china cabinet with a teal colored ornament hung inside it.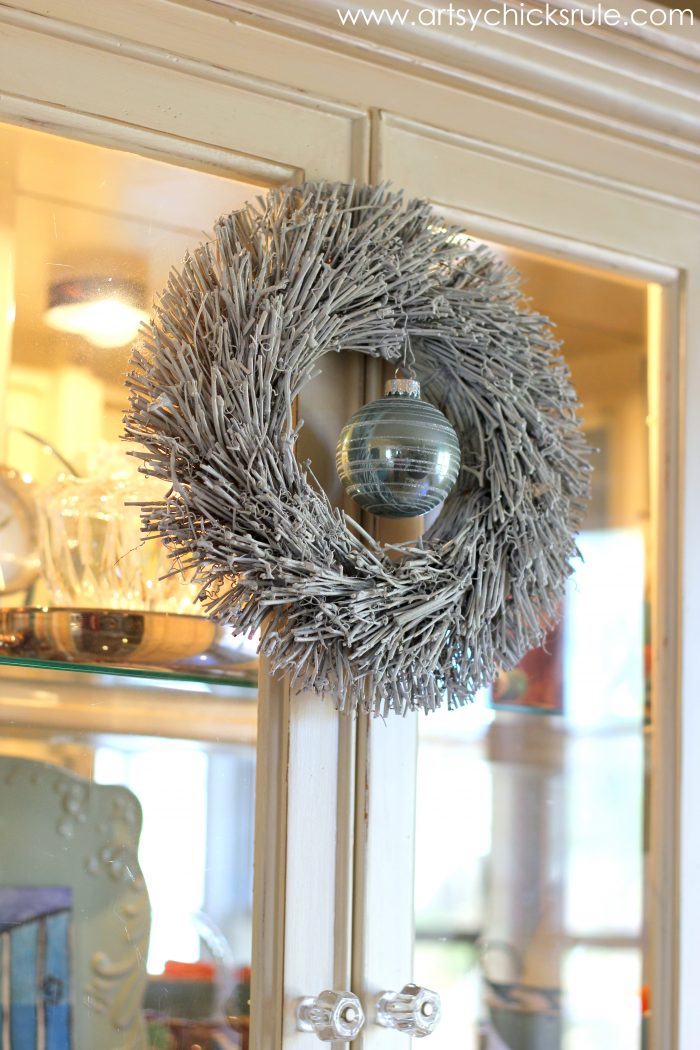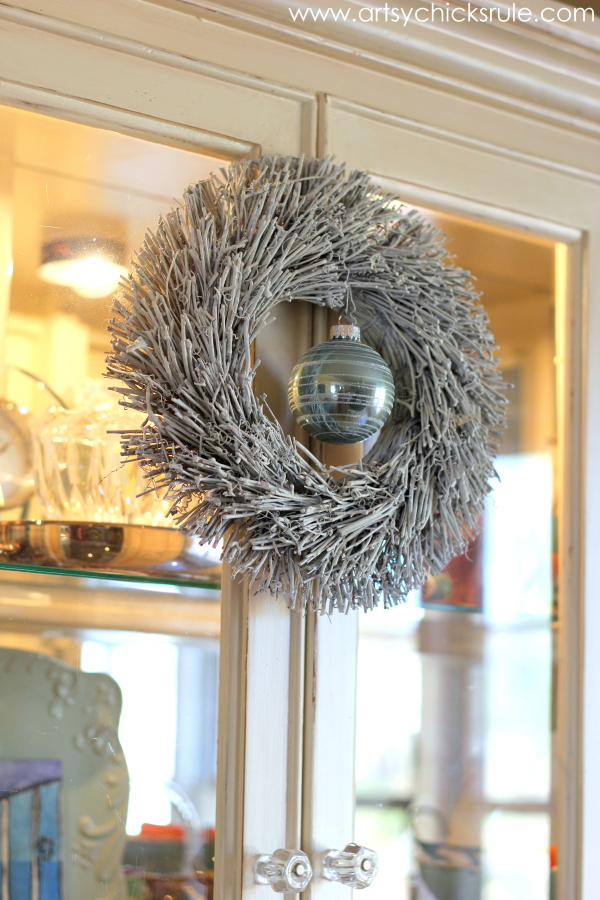 My Pottery Barn Inspired "It's the Most Wonderful Time of the Year" sign is in a completely different room this year.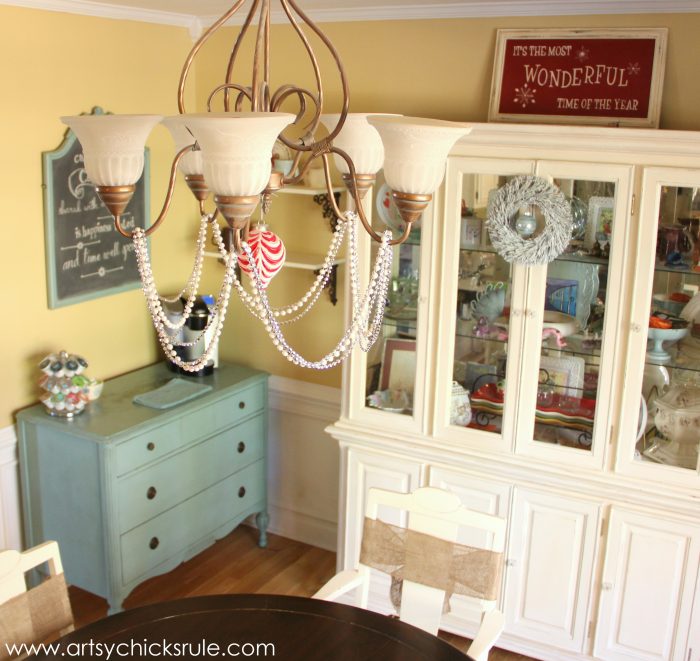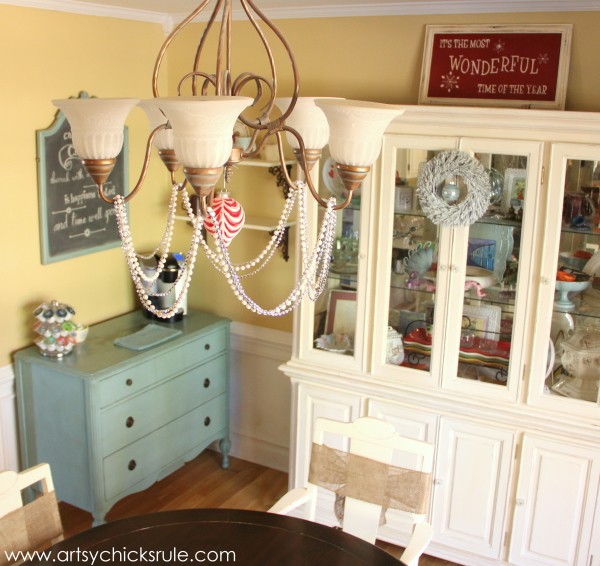 The chandelier got a bit o bling too. :)
And a really pretty red striped ornament from Micheals.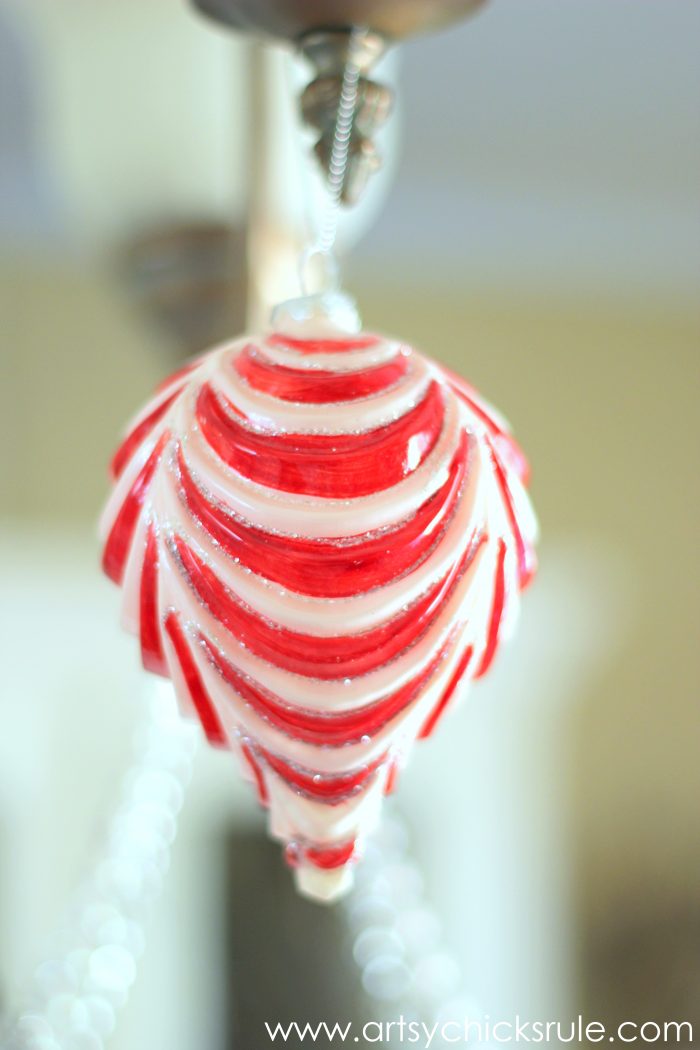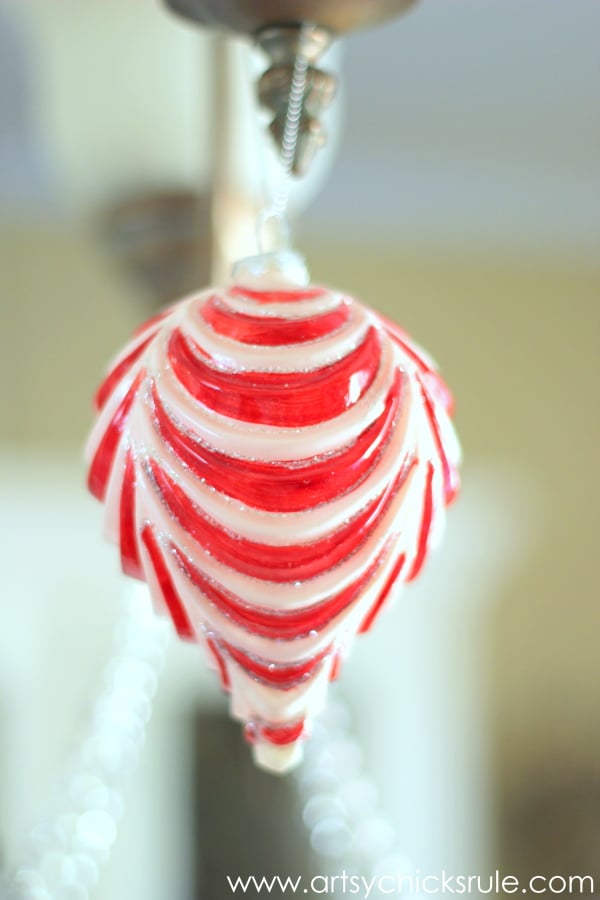 The Coffee Bar is a favorite of ours.
I had planned to write a new quote on the chalkboard but never got around to it.
I do so love the one on it anyway.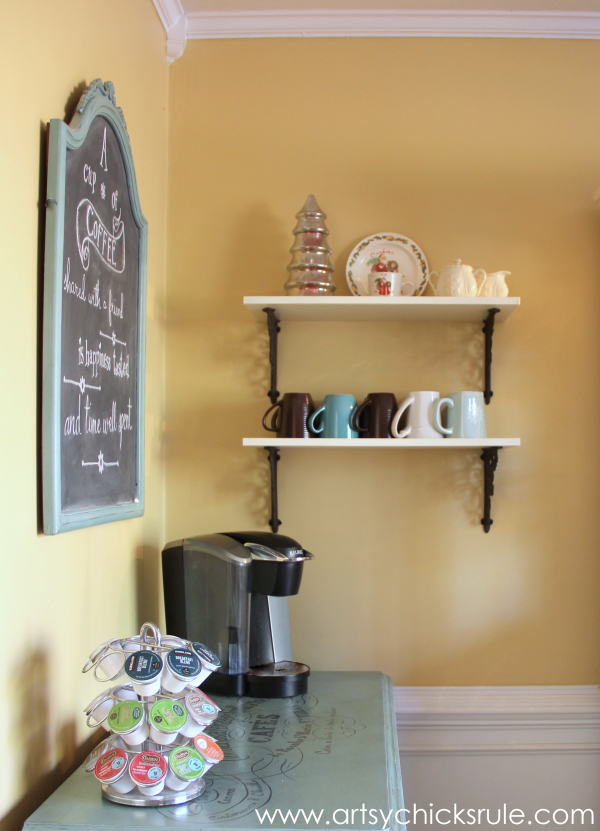 I found the glass Christmas tree at the thrift store this year, sprayed it with Looking Glass spray and added ornaments.
The Santa plate and cup were used for years for Santa cookies and milk. :)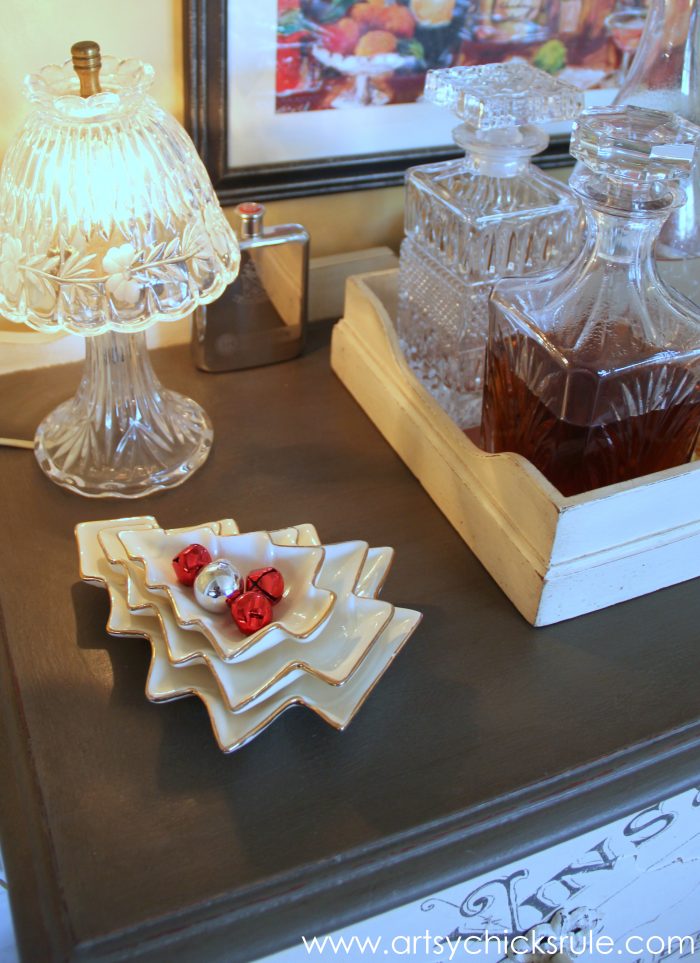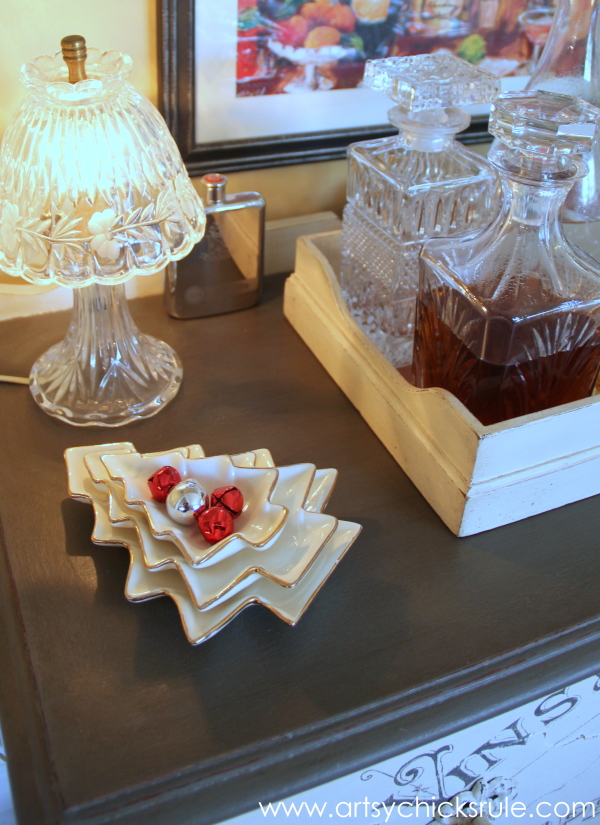 A little Christmas touch on my Estate Sale Sideboard (aka bar cabinet).
The ceramic trees came from the thrift store this year. The jingle bells came from the Dollar Store.
And that's it for part 2! Hope you enjoyed the Christmas Home Tour. I'm loving the red and teal so much I'm thinking of incorporating some red throughout the year somehow.
Be sure to check back in on Thursday for the Family, Laundry (I've never shown) and Guest Bath tour. :)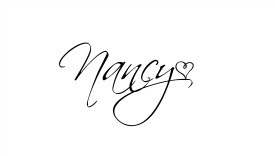 Be sure to follow me on Instagram and Facebook if you don't already!
I always post projects and things I'm working on
long before it hits the blog…..
….plus lots of fun random daily things too. :)