Christmas Home Tour – Red & Teal Themed (part 3 of 3)
This post may contain affiliate links. Please see disclosures here.
Welcome friends!
Today is part of 3 of my Christmas Home Tour. I'm so happy to have you here and the opportunity to share my home with you.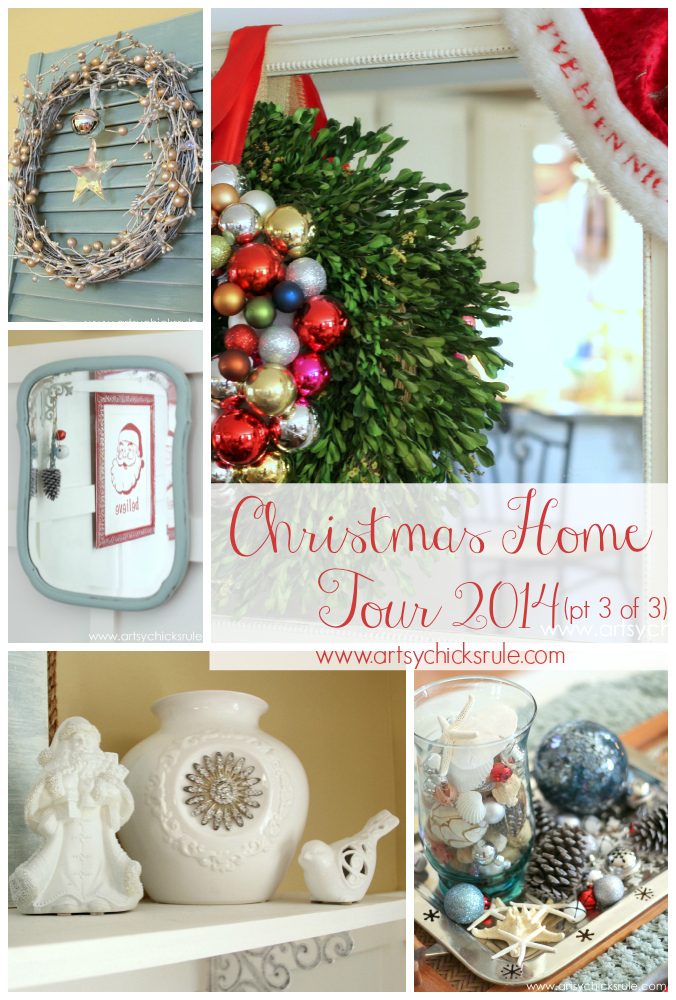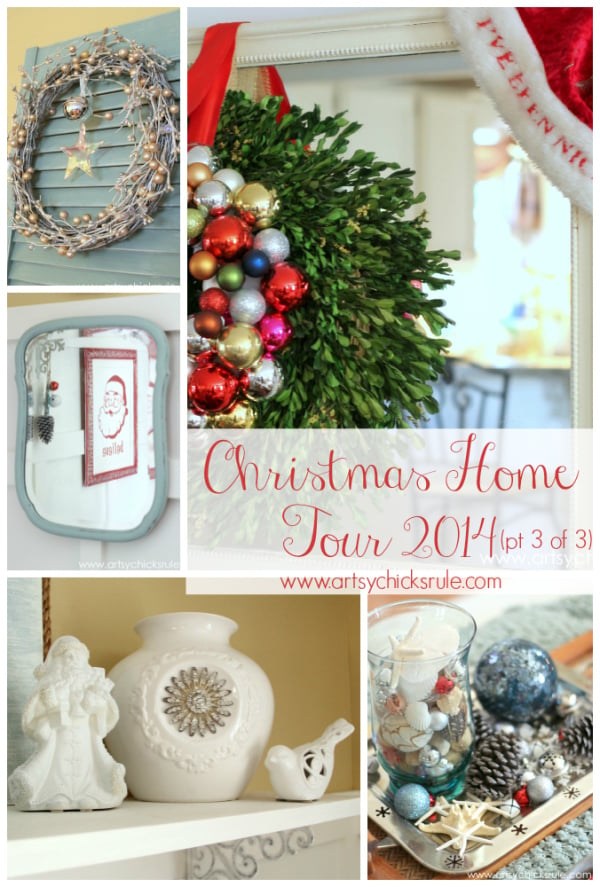 I am also excited to share how budget friendly your holiday decor can be. If you haven't seen the rest of my home, you can see it here:
Christmas Home Tour Part 1
Christmas Home Tour Part 2
Now on to Part 3, Family Room, Laundry Room & Guest Bath.
Last week I shared my Kitchen and Dining Rooms with you.
The Kitchen is open to the Family Room (it is now anyway ;))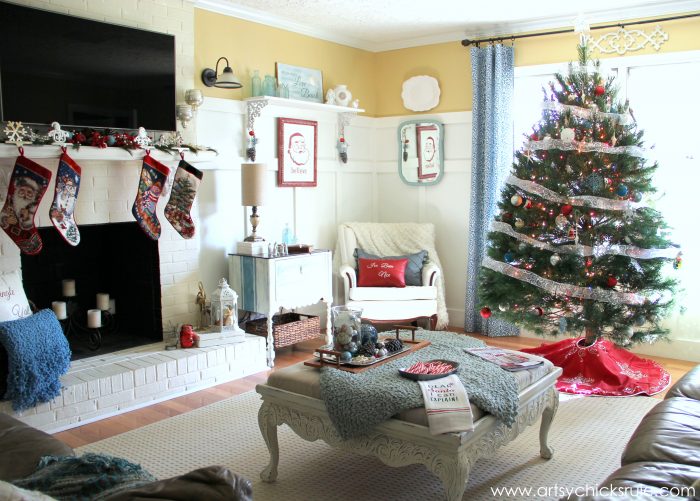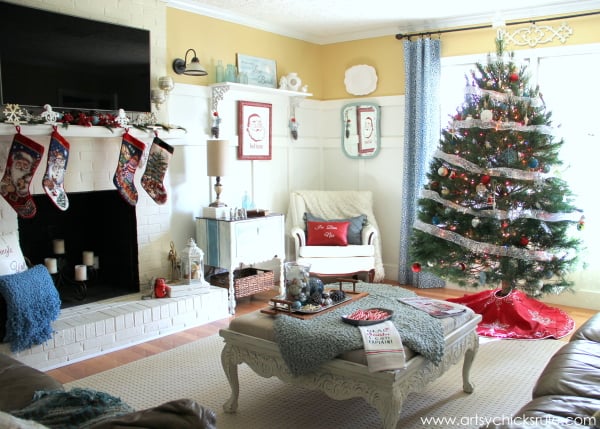 Looking towards the front windows from the opening in the kitchen.
And from the other side of the room…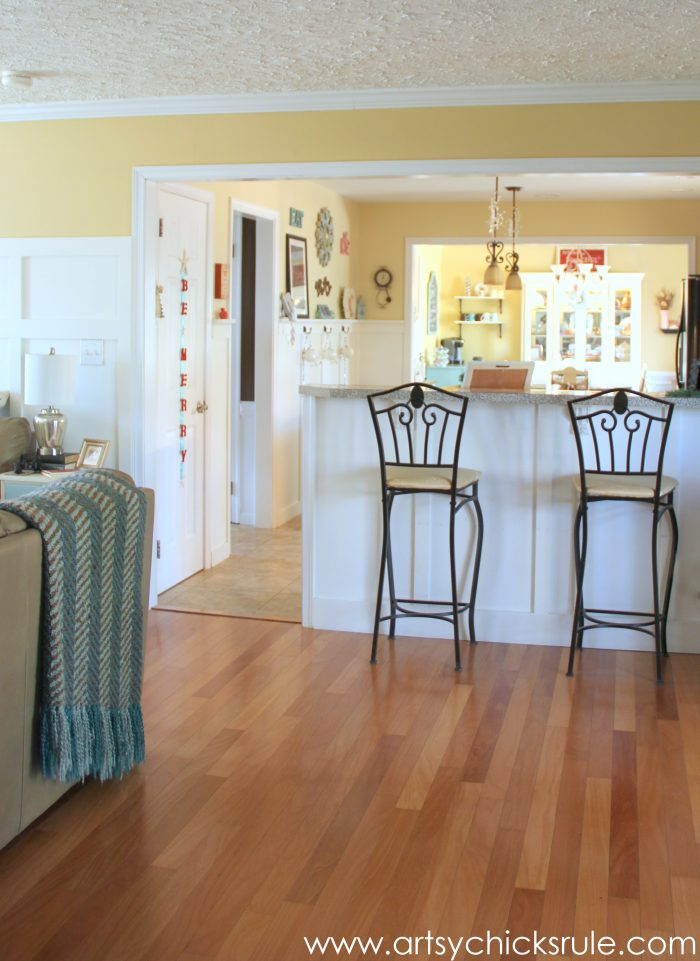 All the way through! Remember, that's where there was a wall?
Actually two. Now you can see all the way across.
This year we decided to put the tree in front of the windows.
Last year it was in the corner where the Chalk Painted white chair is in the previous photo.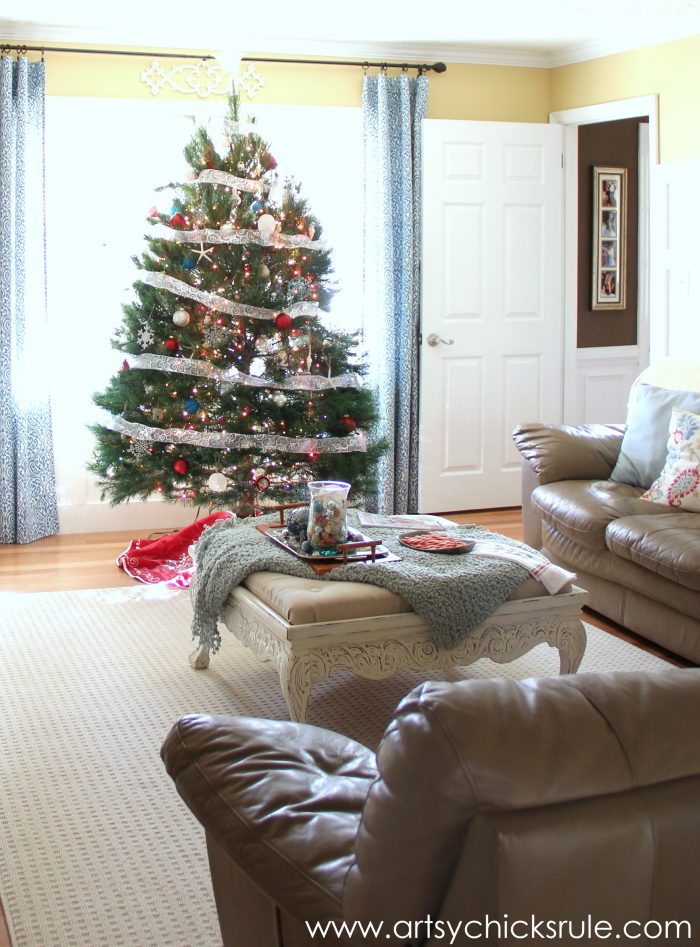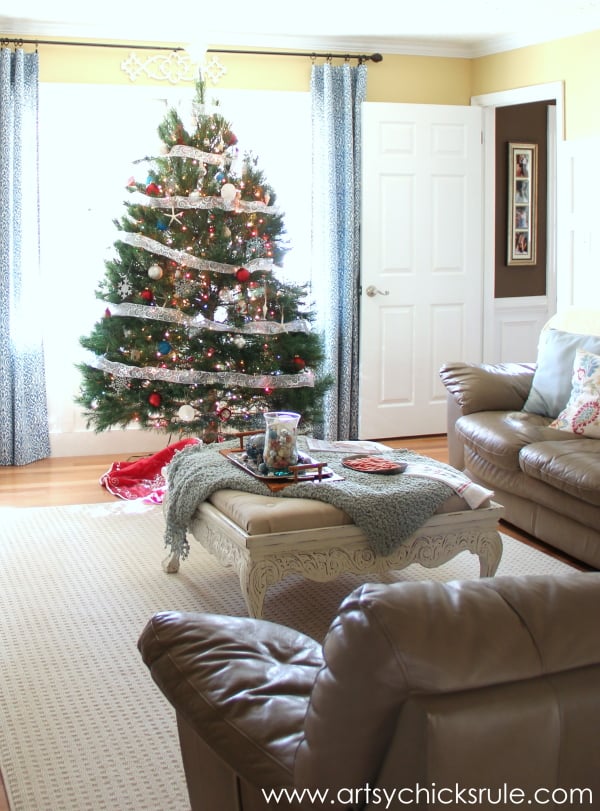 To the right, beside the french doors that lead to the screened porch, is this dresser.
It was an old find in a home my mother in law used to own. My husband and I (weren't married yet at the time) refinished it.
It stayed that way for about 20 years and both of my children used it in their nurseries as babies.
I then moved it to the living area and painted it.
The "shutters" are actually $5 bi-fold doors from the thrift store that I painted and hung on either side of the doors.
The wreaths are from the thrift store this year. I simply hung an ornament and a bell inside of each.
Added a little greenery and ornaments to the tray on the dresser and done.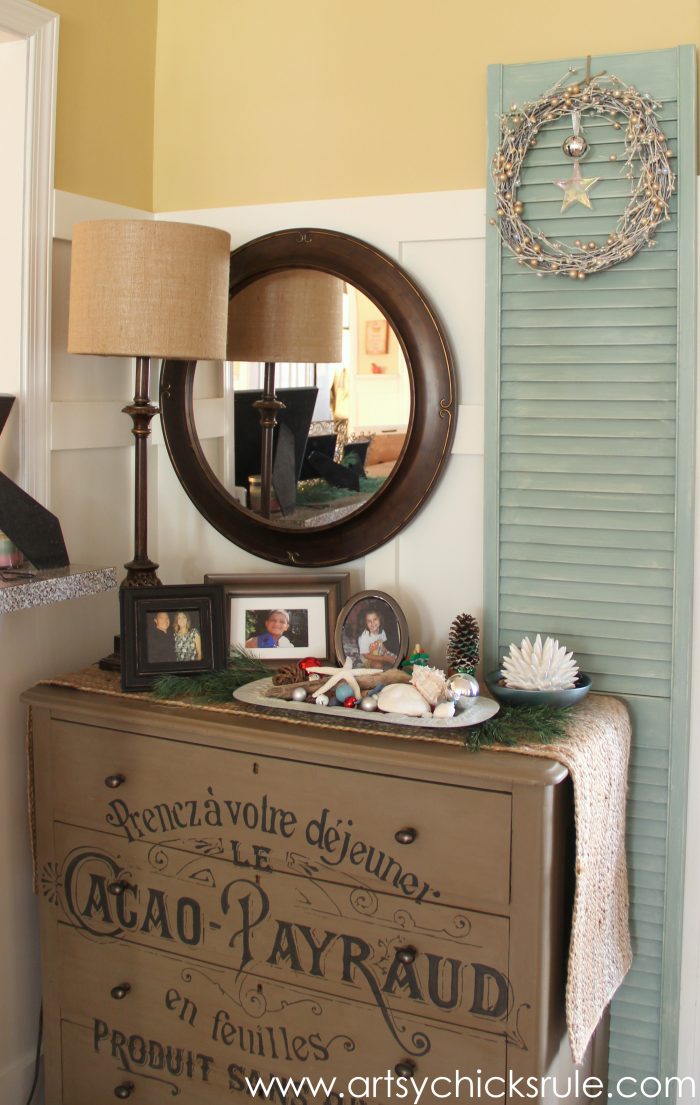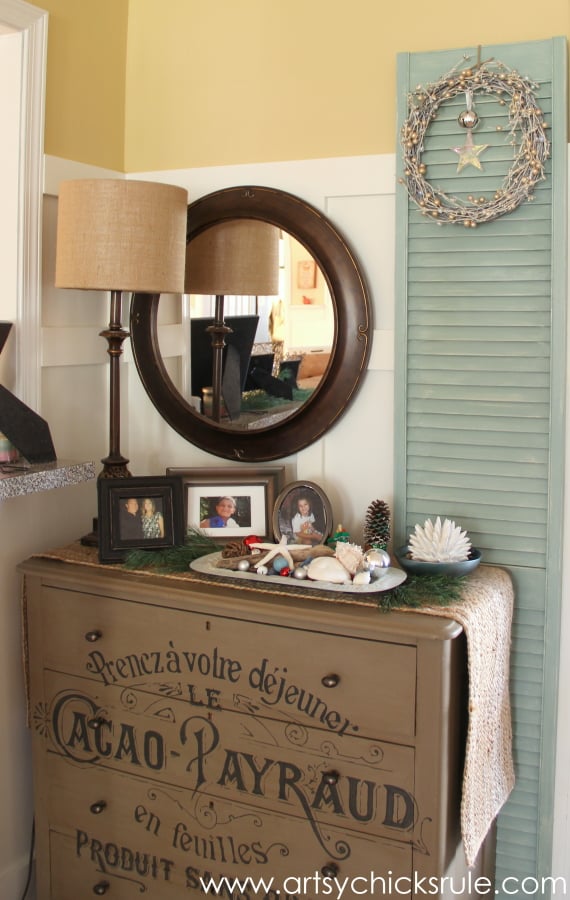 Up close…these were a great find! And cheap. :)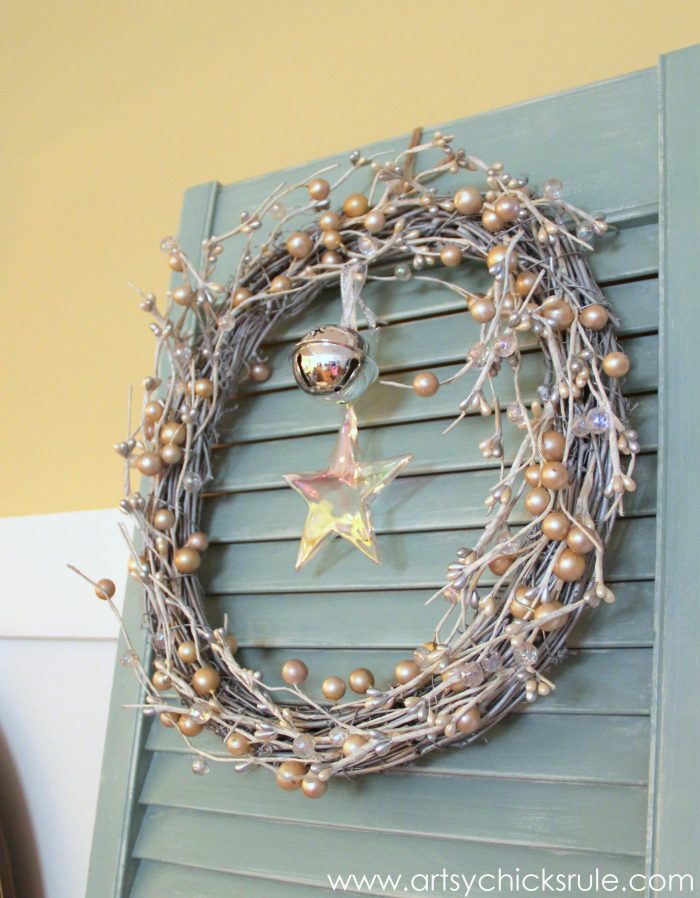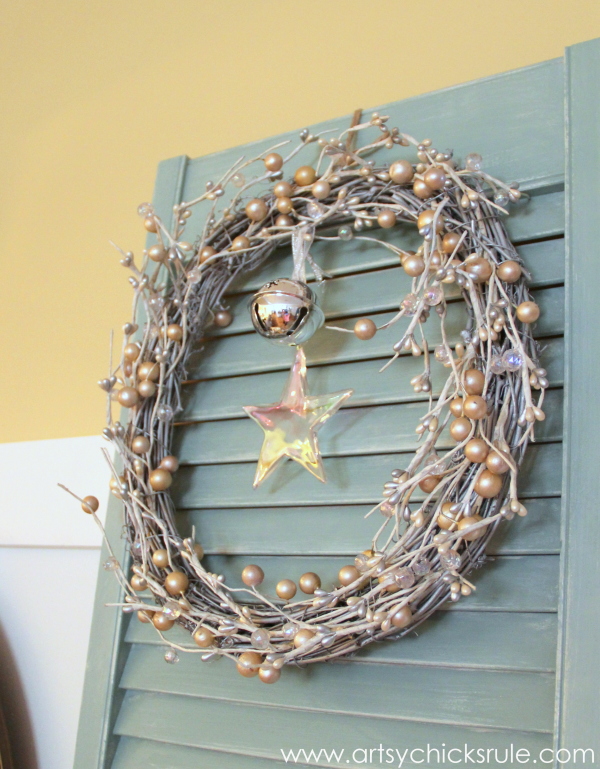 The other side of the french doors…and my Chalk Painted Blue Armoire.
(with Santa watching over everything!)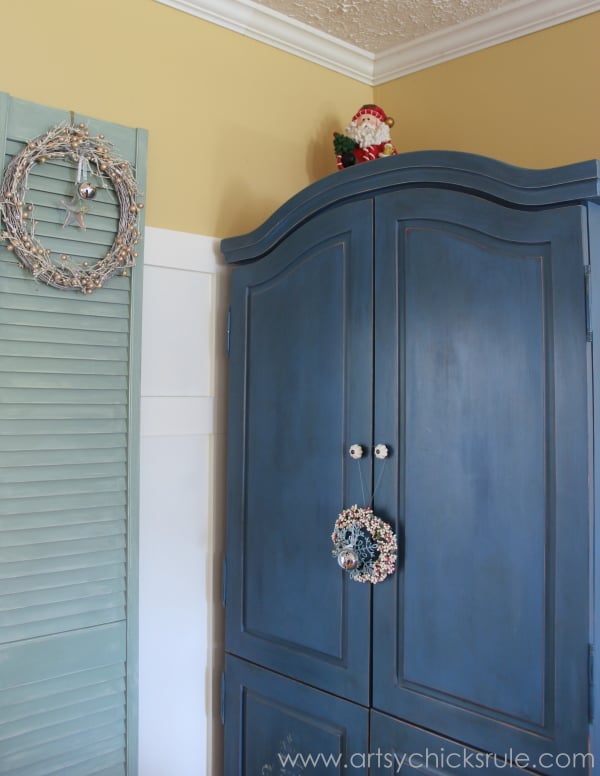 Beside the couch is this little table with a bit of Christmas on it.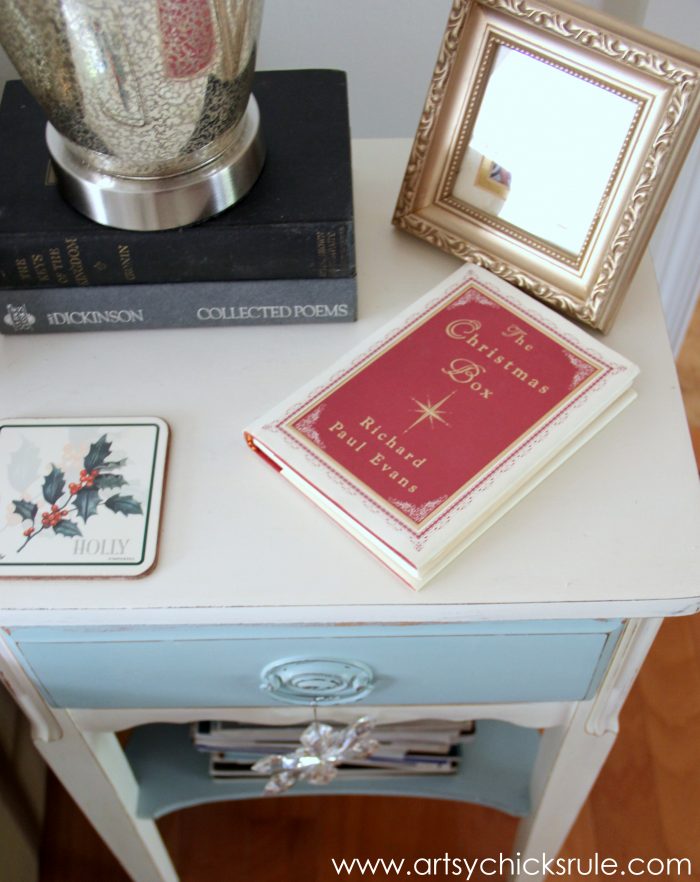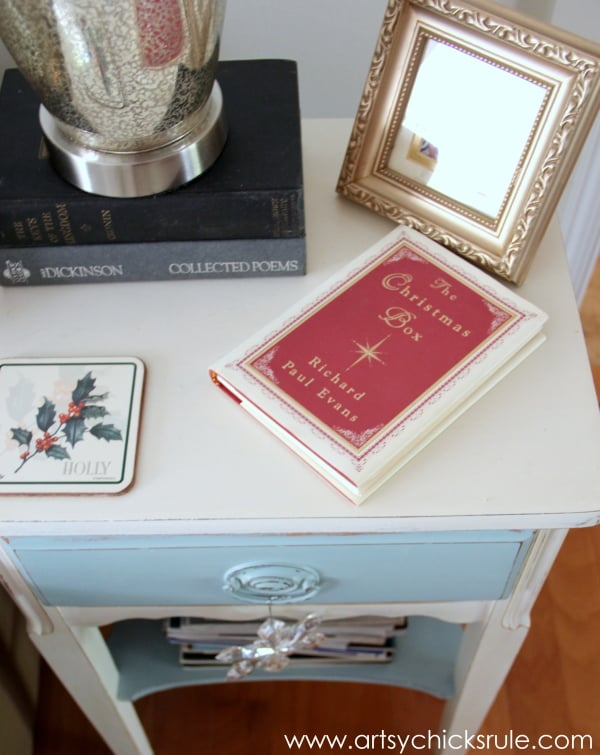 Up above the couch was this fun little $3 find from the thrift store this year.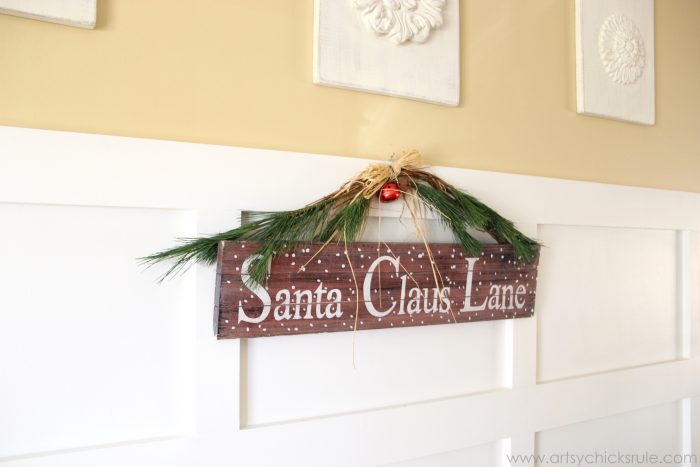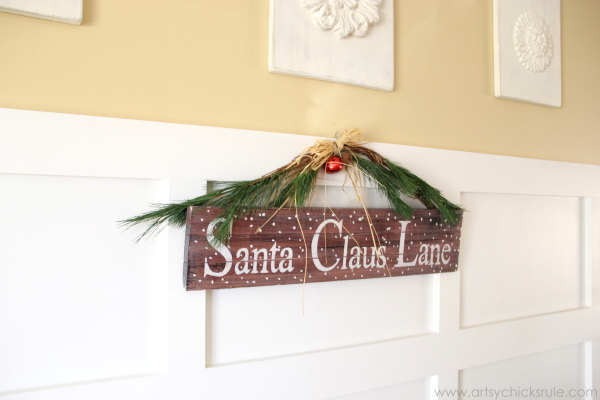 I didn't do a thing to it…except add a bit of greenery and a red bell.
Looking towards the back of the room….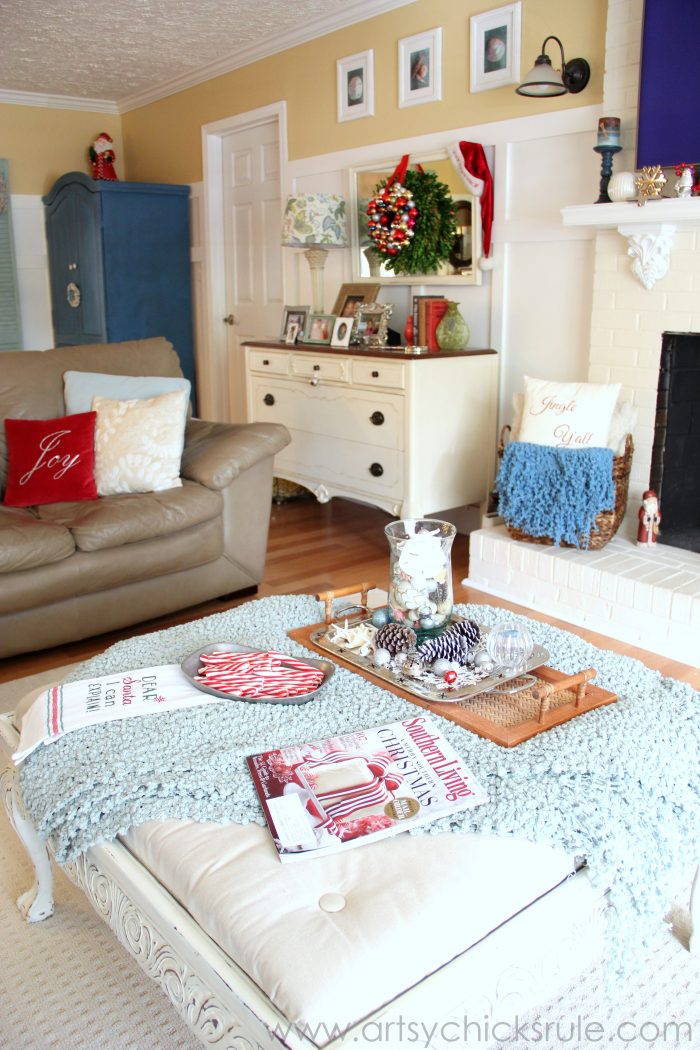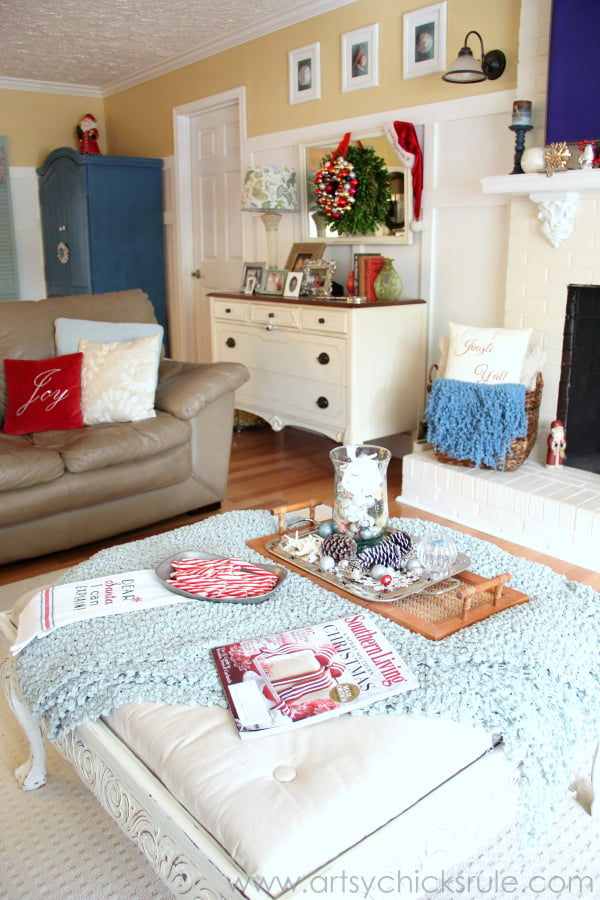 My "DIY Coffee Table Turned Tufted Ottoman" decorated up for the holidays.
(all trays, dishes, vase from the thrift store)
Jingle Y'all….on a pillow. :)
Painted on a pillow, I should say.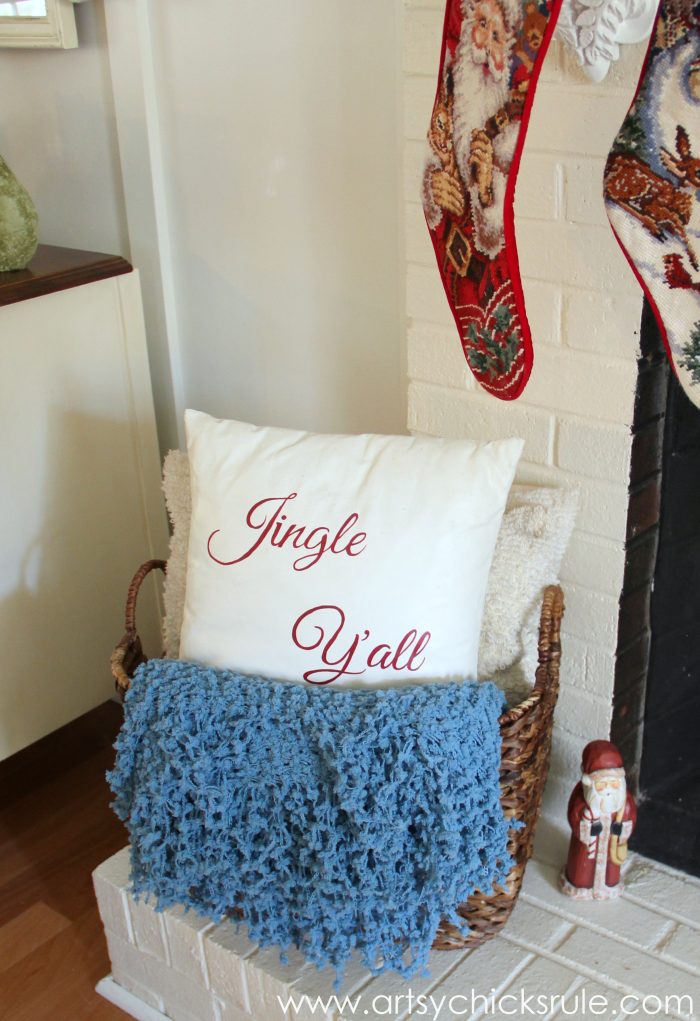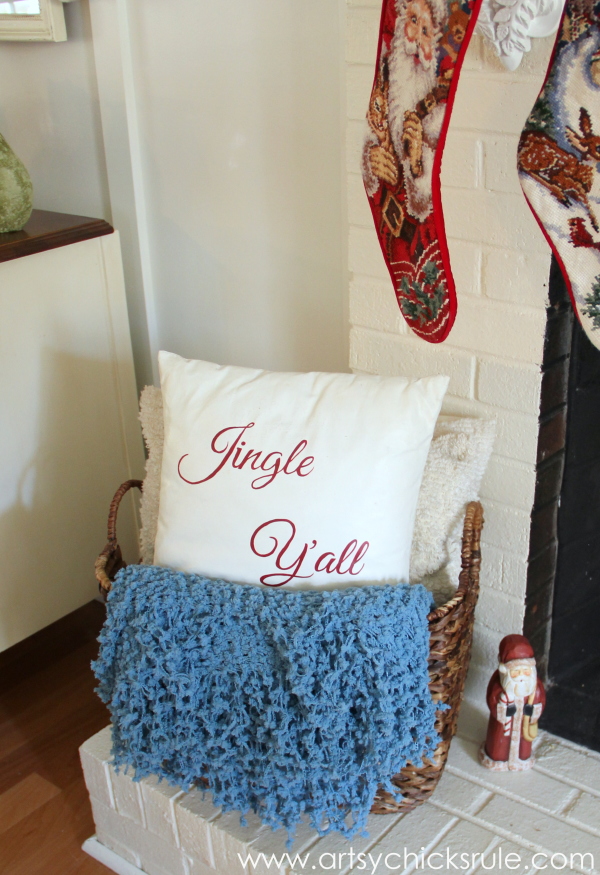 The DIY Ornament Wreath I made last year hanging inside my boxwood wreath.
Along with the Naughty/Nice Santa hat that I used on the corner of the blue armoire last year.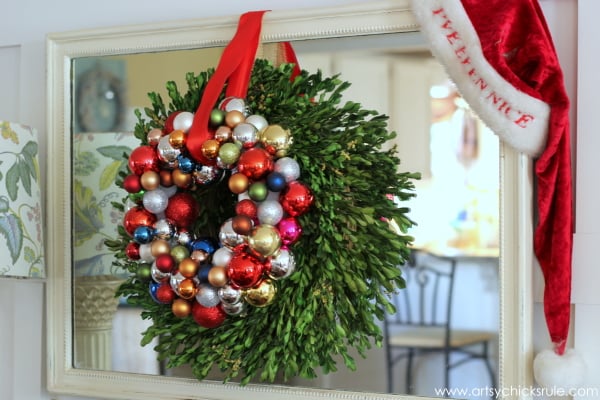 Up close of the ottoman and decor….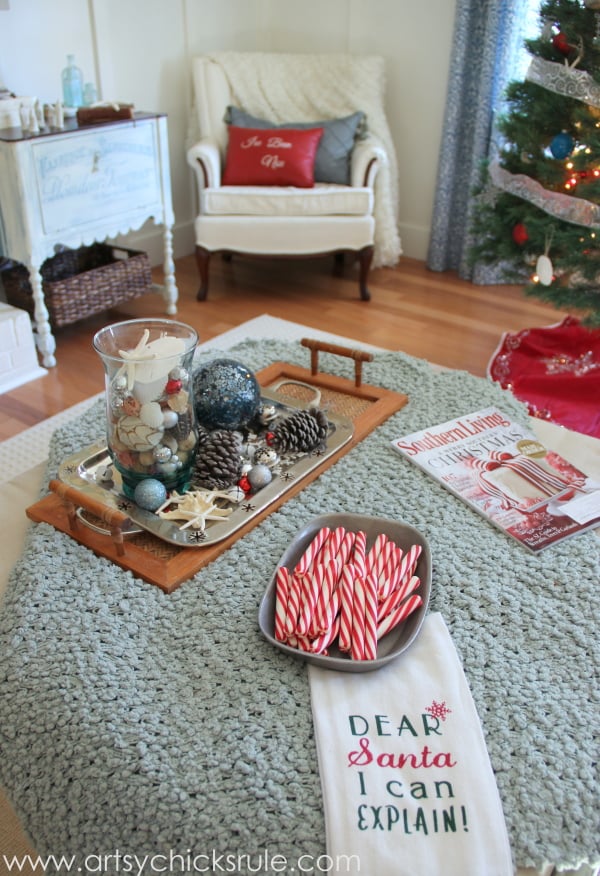 I used the metal tray in my foyer last year.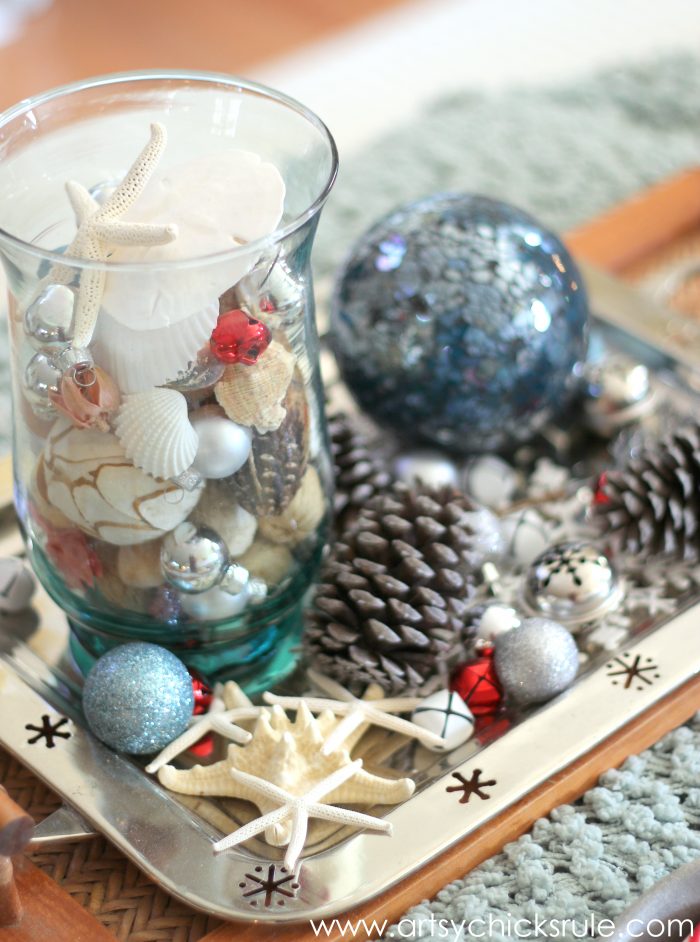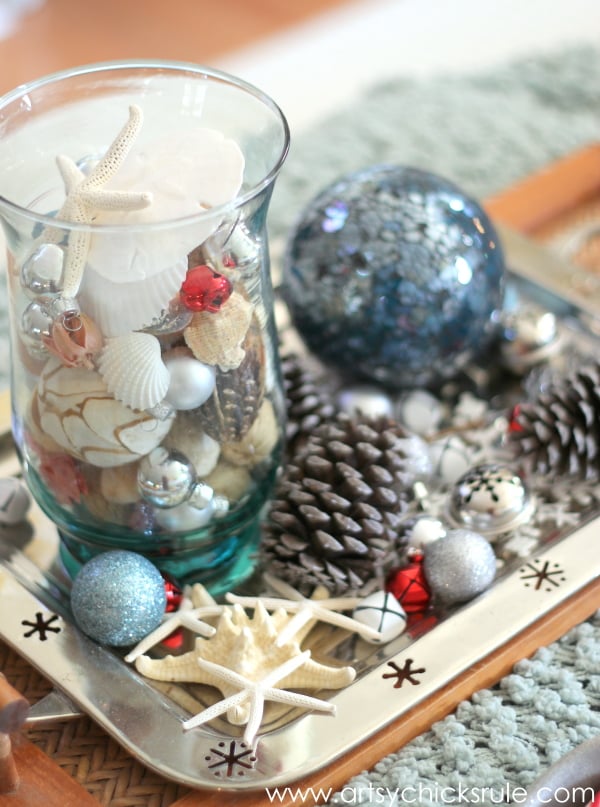 …our sweet little manger set ….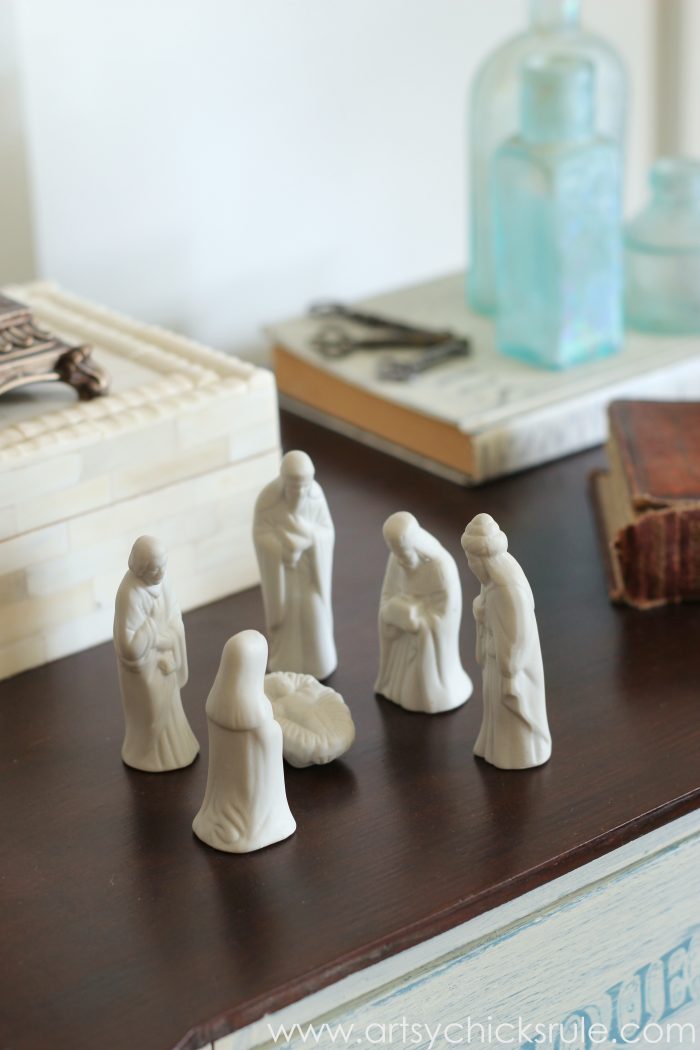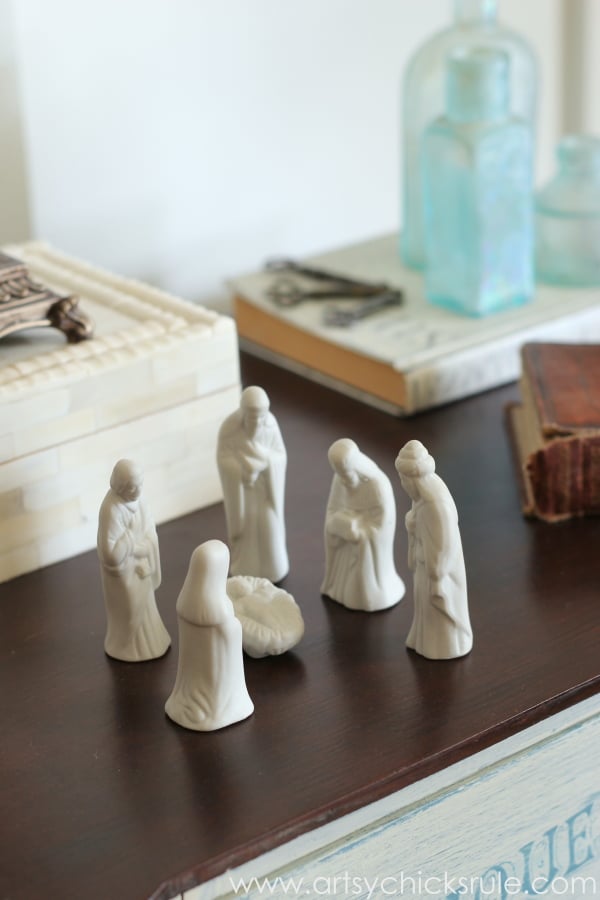 I've probably had that for over 20 years now.
The Santa sign I made this year….reflected in my $6 antique (thrift store) mirror.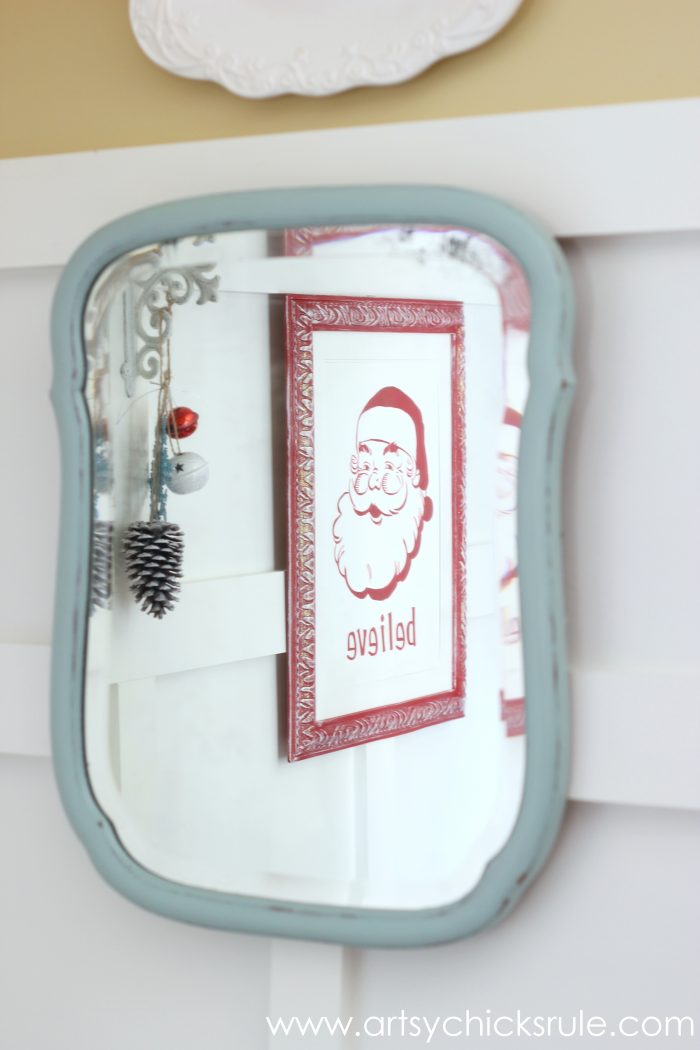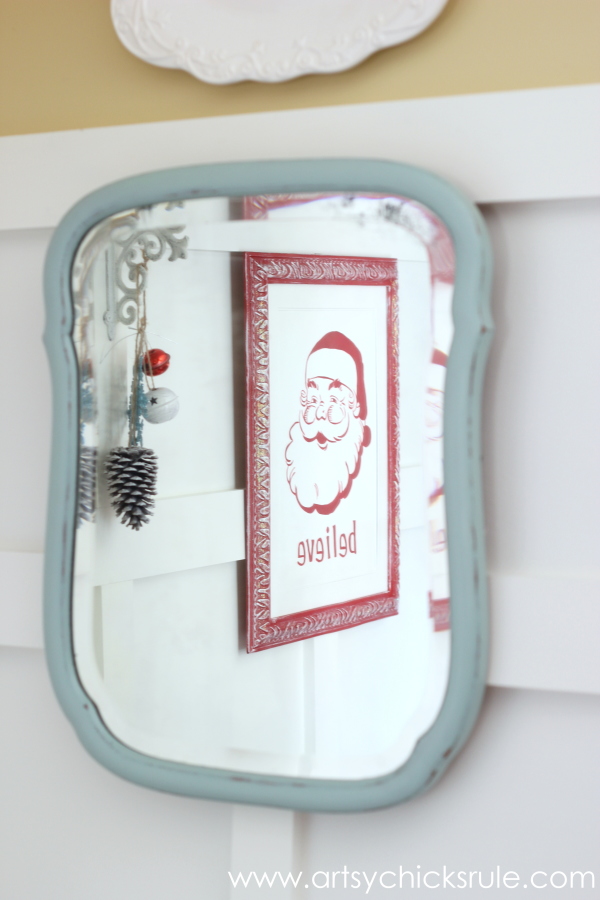 The shelf over the white chair.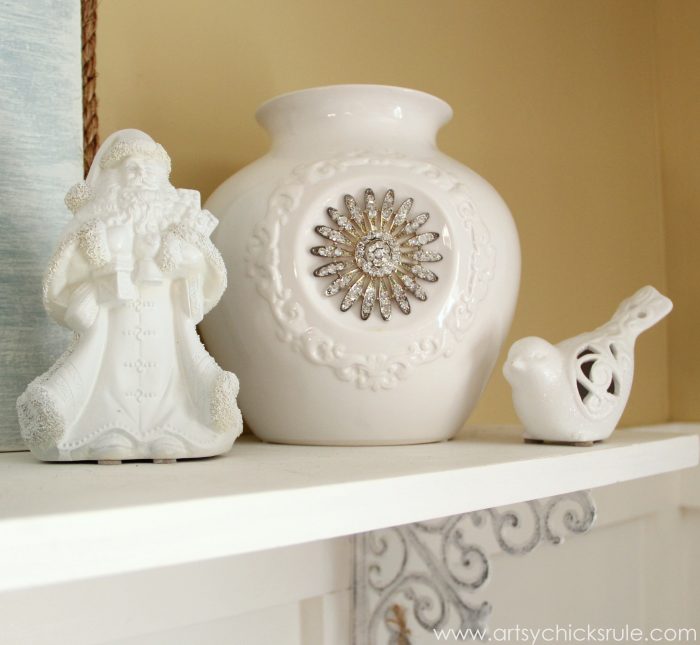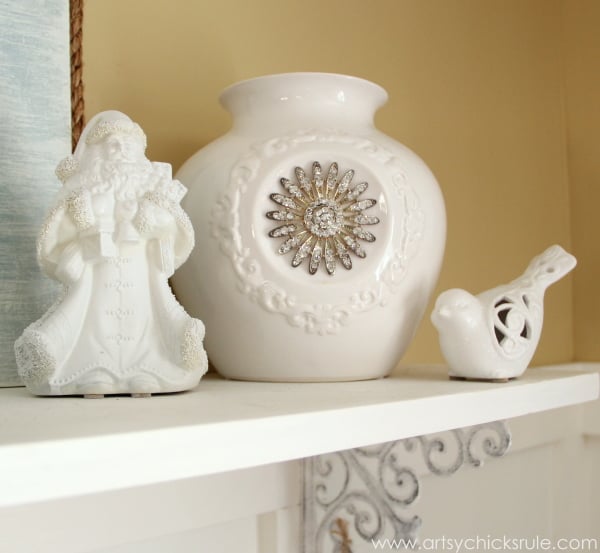 That Santa was also used in the foyer last year.
The "tiebacks" I made for my kitchen window last year.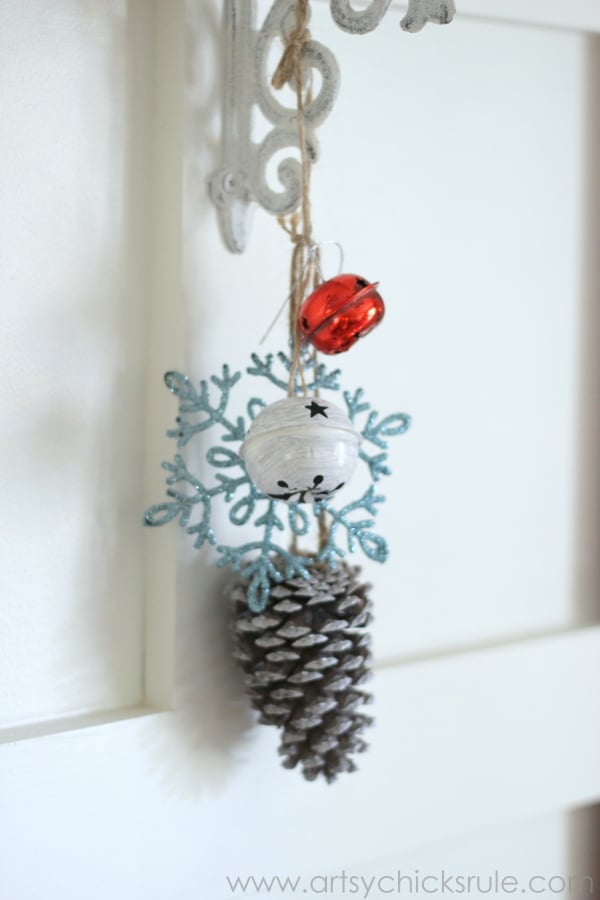 I hung them here on the shelf and added red bells to them this year.
On to the mantel…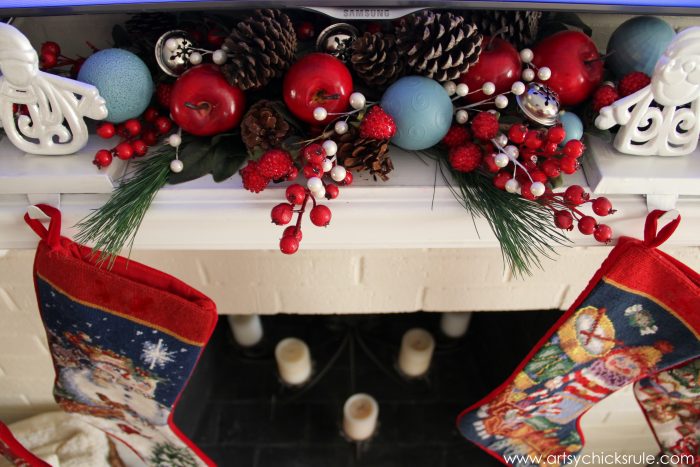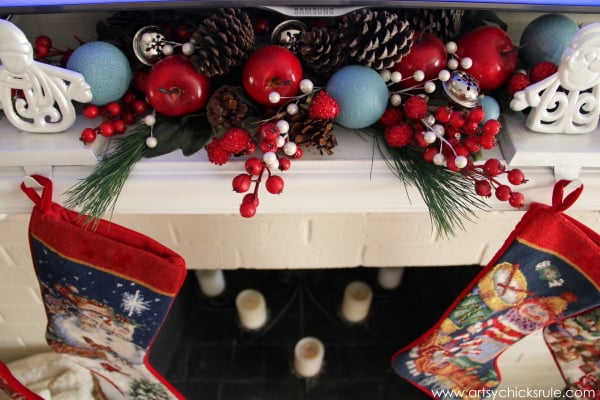 That centerpiece was a thrift store find this year. I added a few bells, ornaments, white and red berries and some greenery.
The stocking holders (snowflakes) were a thrift store find from last year.
The snowman and santa were finds this year. They were silver and I sprayed them white with a pearly top coat.
Voila! Like new!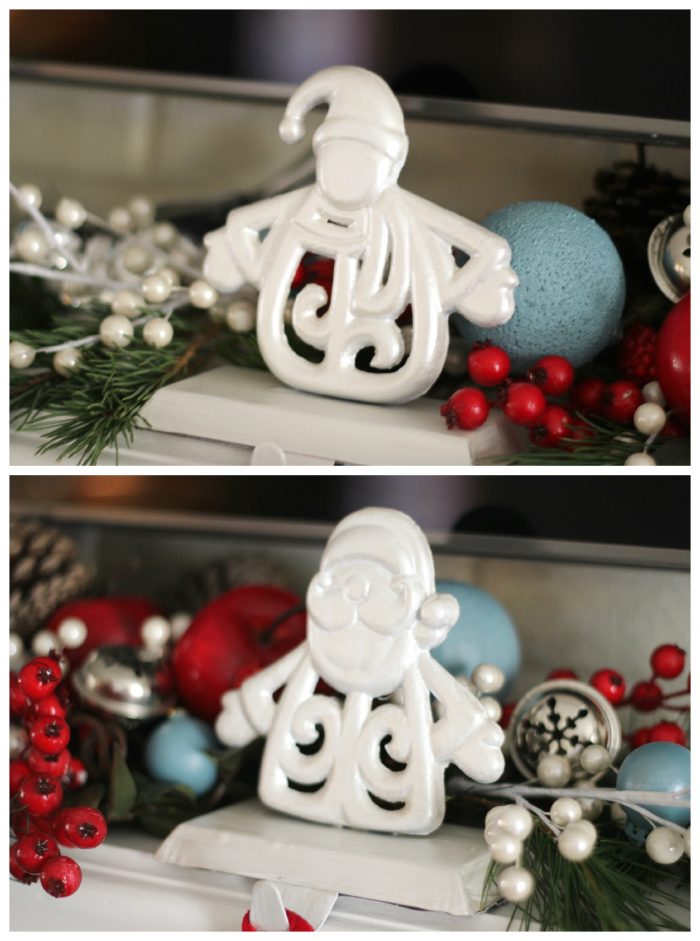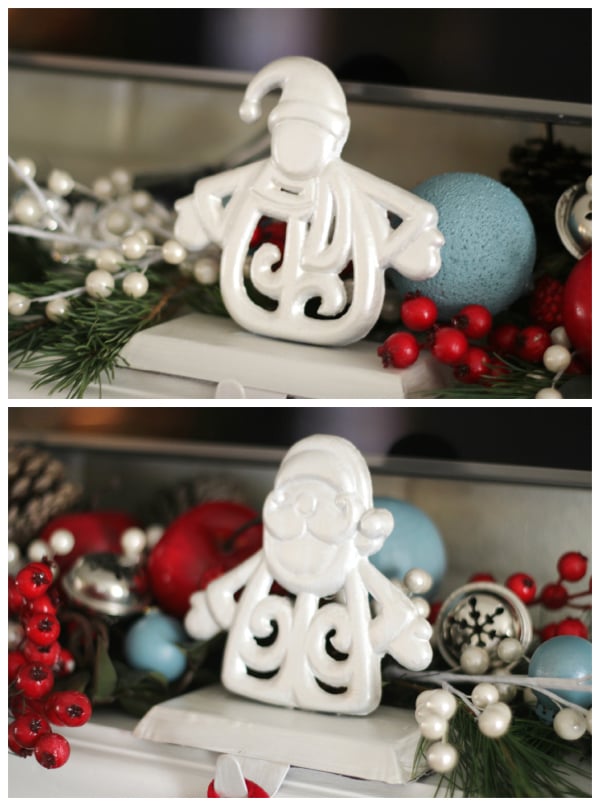 I used these vases in my dining room last year…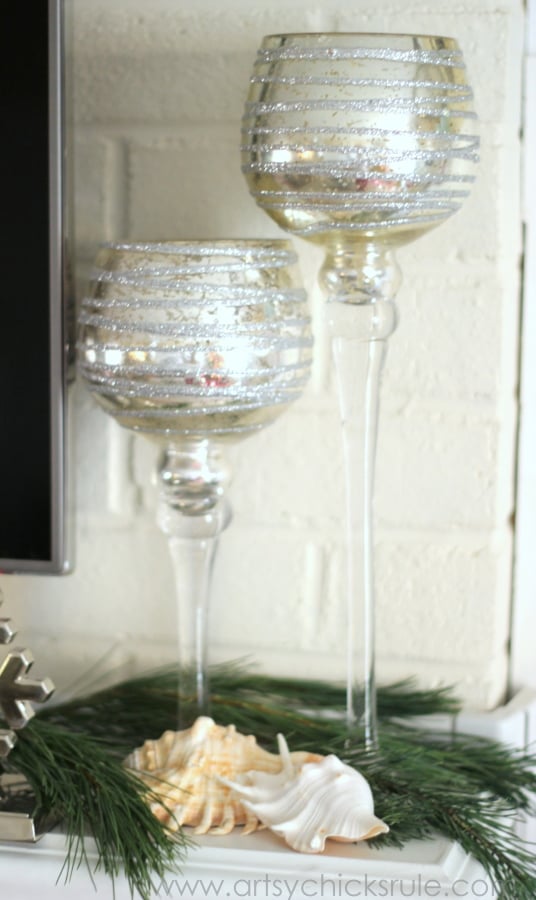 Keeping the touches of nautical throughout…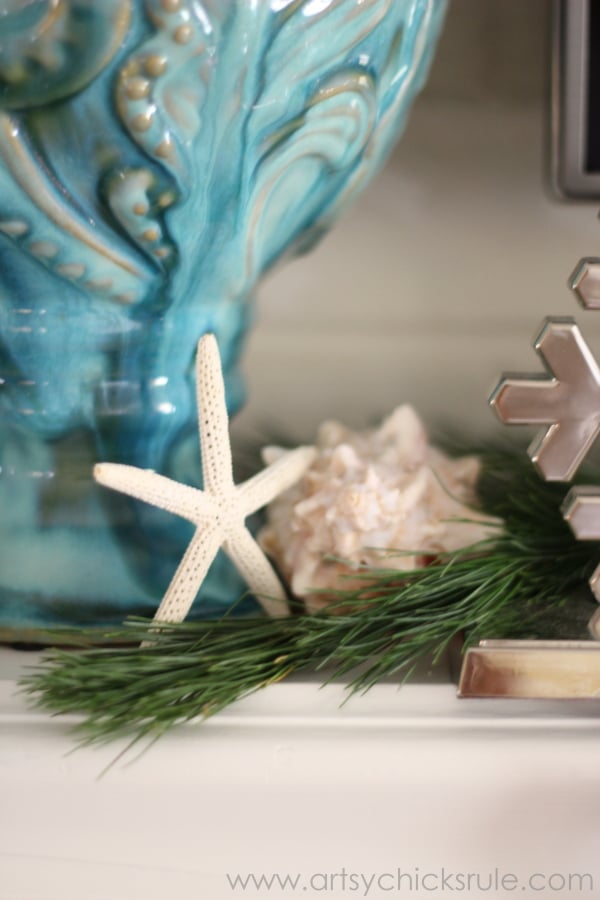 And someone snuck into my next shot….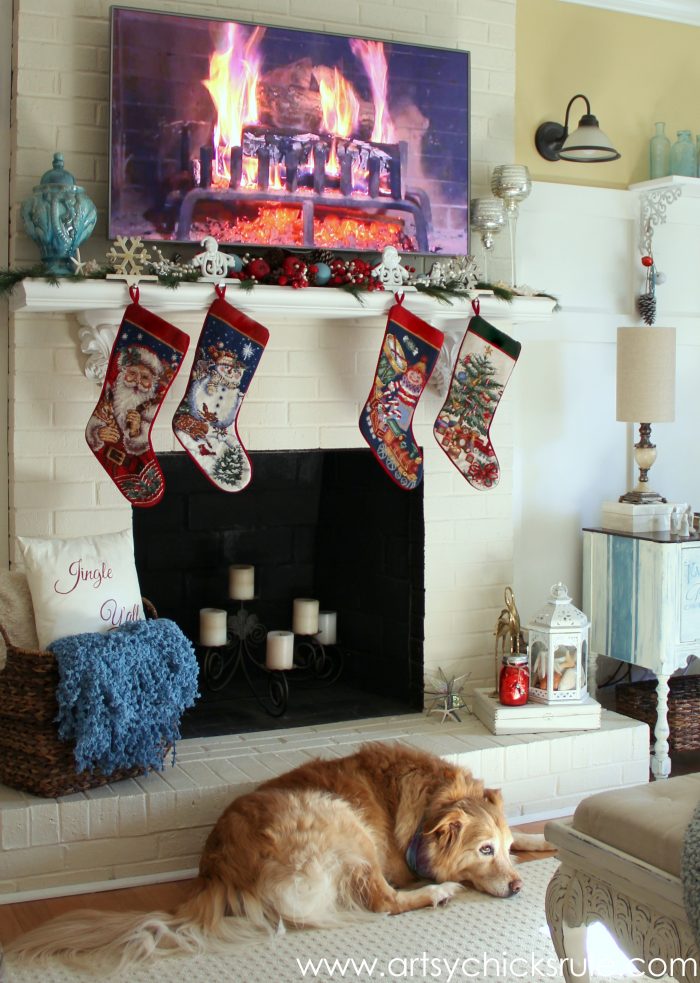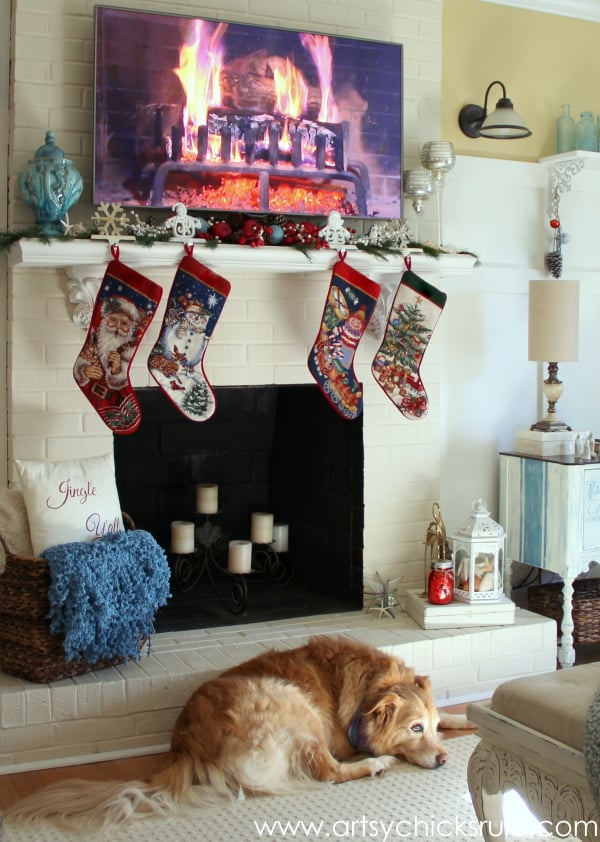 That looked like a good spot to lay, I guess. :)
Entering the laundry room from the Family Room.
You can see the Guest Bath straight back.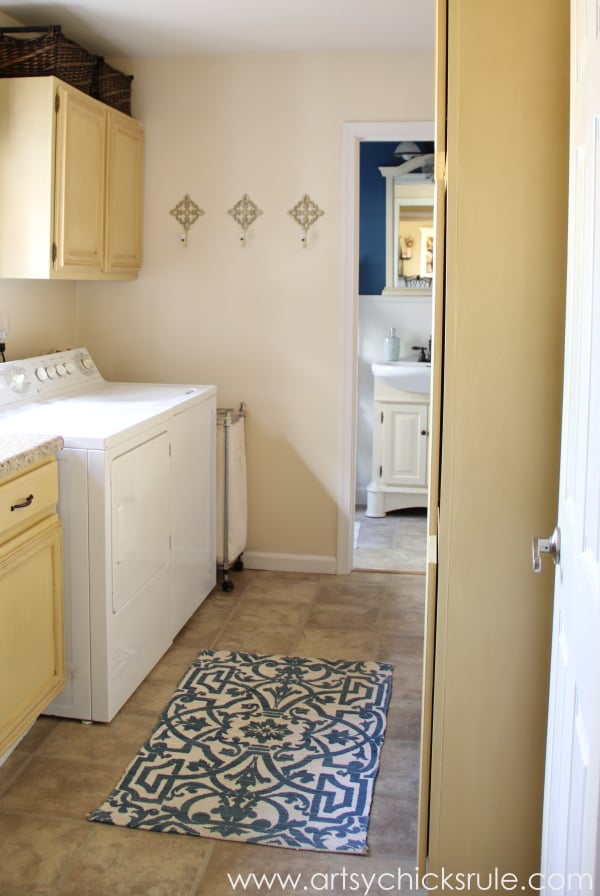 I've never loved the fact that you have to walk through my laundry to get to it….but it does offer nice privacy for guests! ;)
When we moved in, this laundry room had gold and orange vinyl flooring, among other things. I'll share one day.
It's a doozy.
Looking towards the left…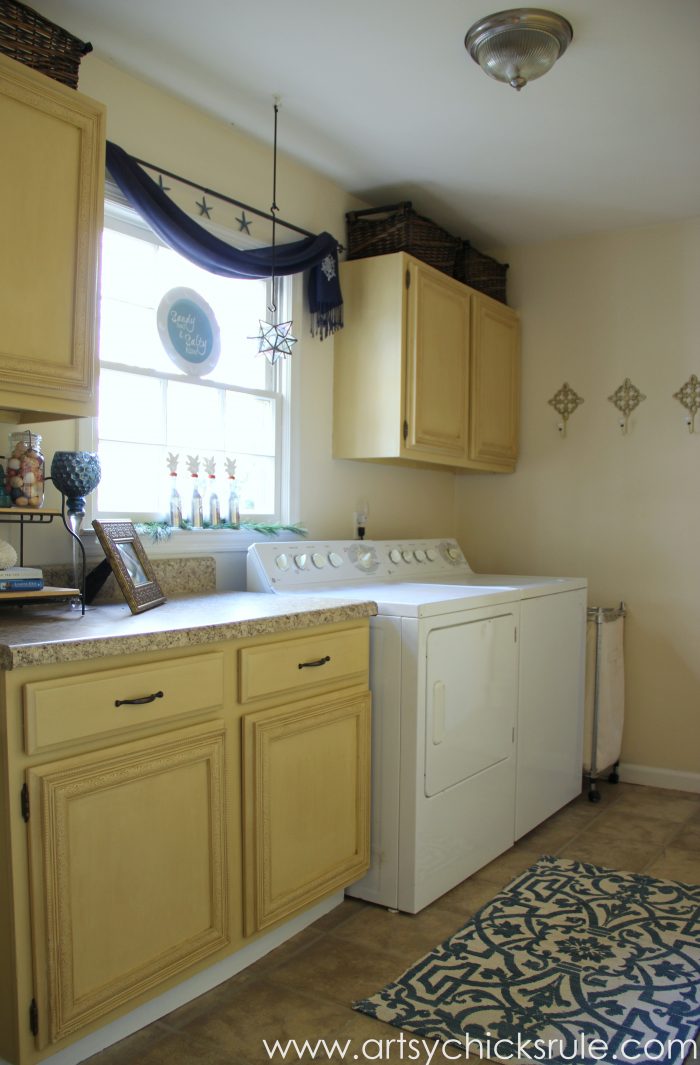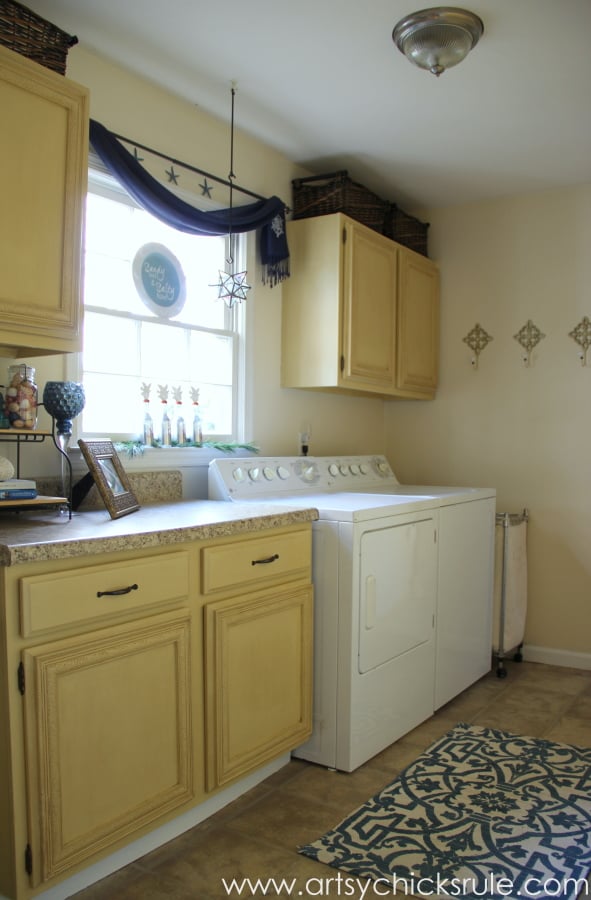 We've done a lot but still have quite a bit to do in here and why I've never shared it on the blog before.
Looking out to the Family Room and Kitchen areas.
I decided to hang my Christmas Tree Wall Tapestry in here since it was blue like the other things in this room.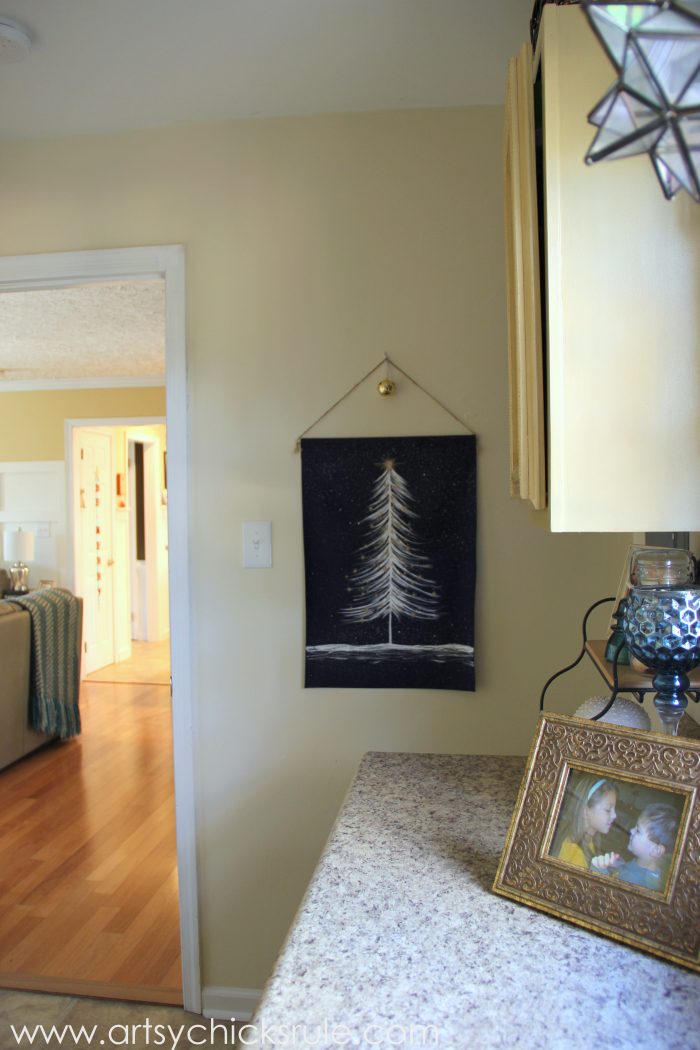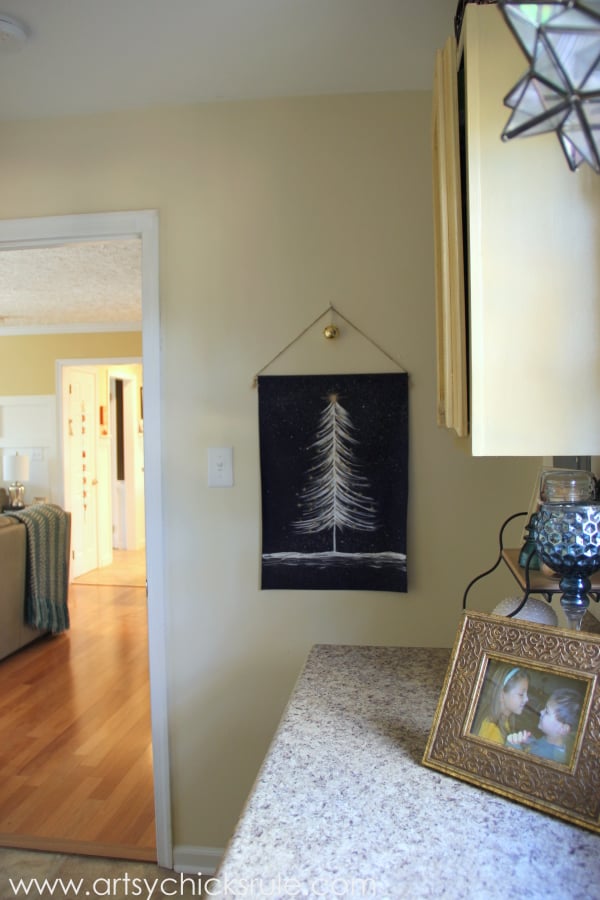 Oh hi there silly girl…oopsie!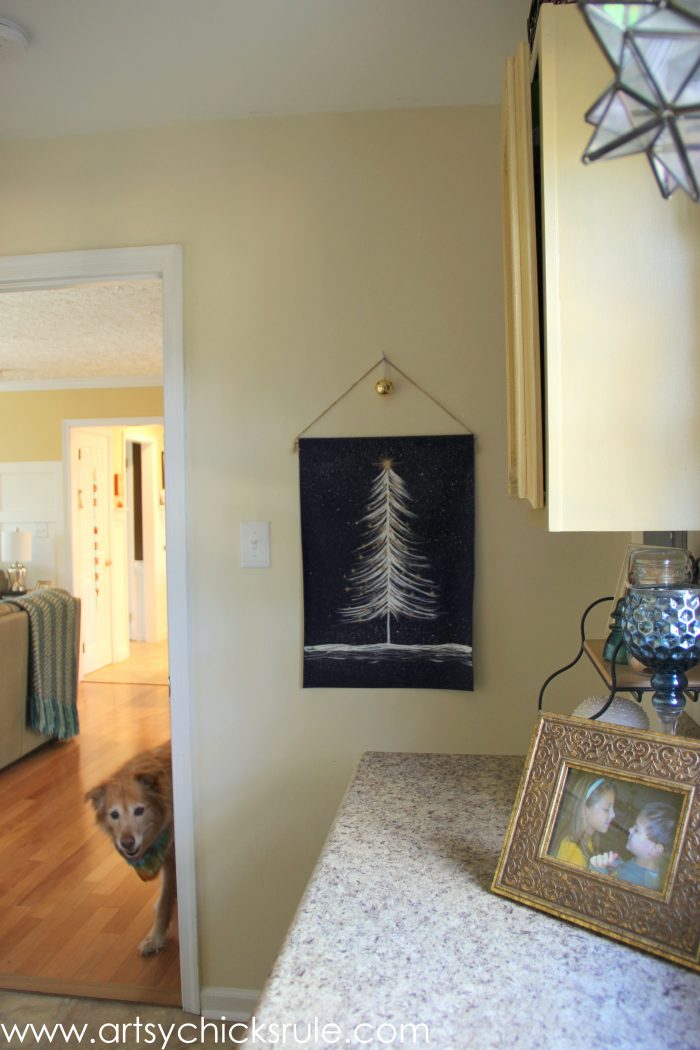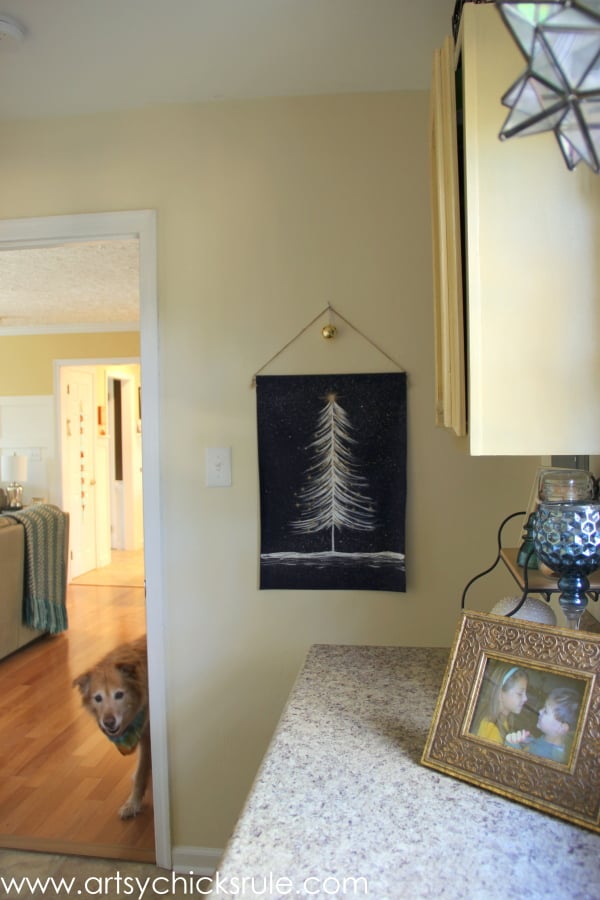 I take a million shots of every, well, shot. So it's inevitable that Lexi ends up in so many of them.
She likes to follow me wherever I go.
And an up close of my other babies….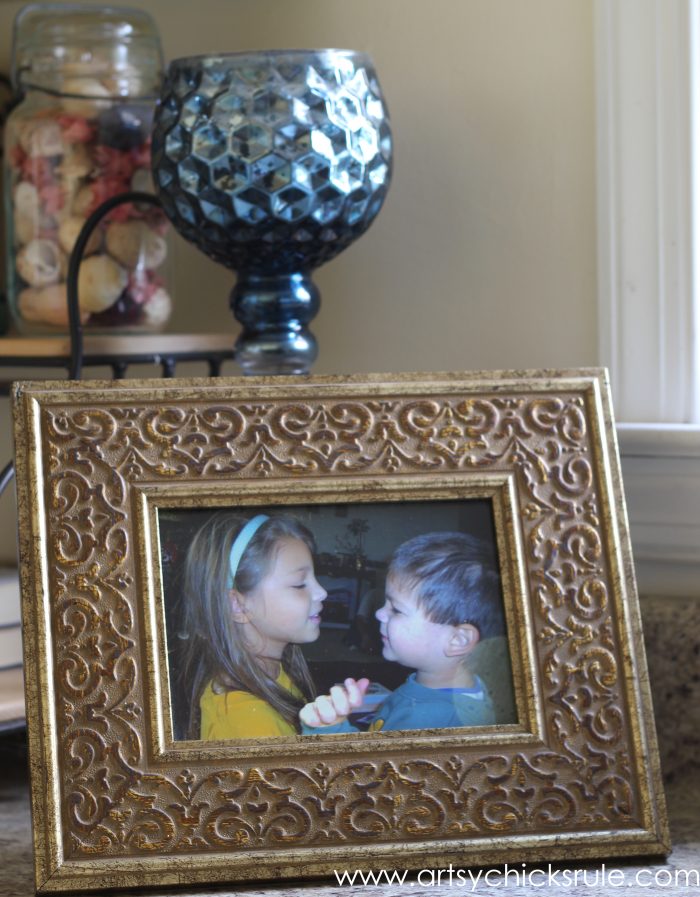 Christmas morning 2001.
Opening presents and my son leaning in to give his sissy a kiss.
So sweet! And bittersweet for sure. Long gone are those days of toddlers and young ones.
They grow up so very fast!
The Guest Bath which I already shared a bit of when I showed you the "Pottery Barn Inspired Antiqued Mirror Sign".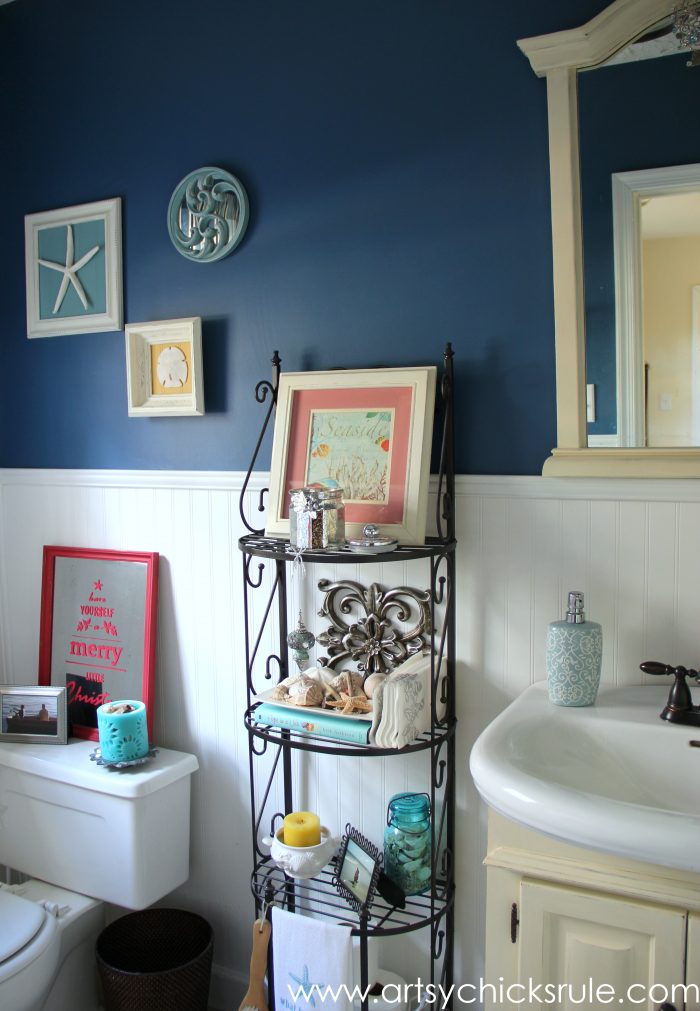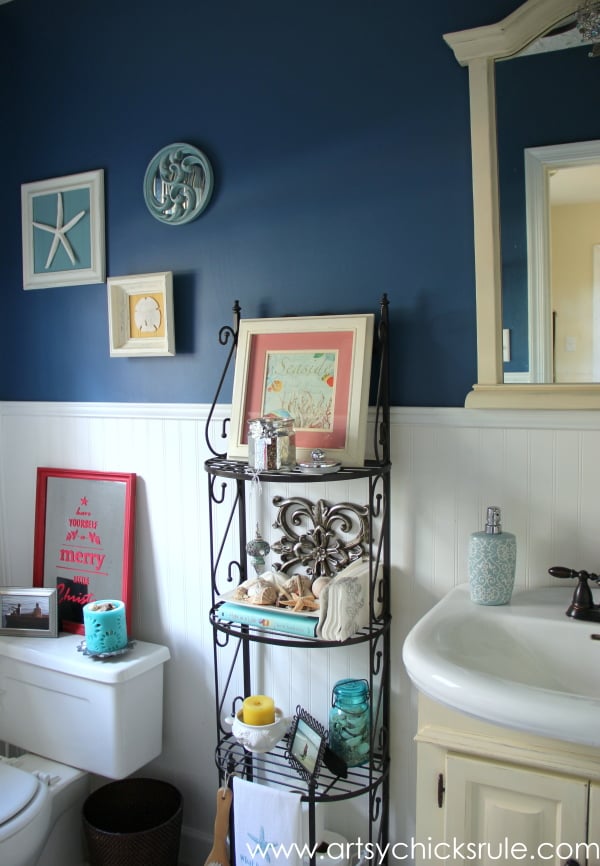 That concludes my Christmas Home Tour for 2014. I hope you enjoyed seeing my home and all of the thrifty finds and ways to decorate on a budget.
If you'd like to see how differently I used things last year, you can visit my 2013 tours here : Holiday Home Tour Part 1 and Holiday Home Tour Part 2.
And had to share one last shot of our tree…at night.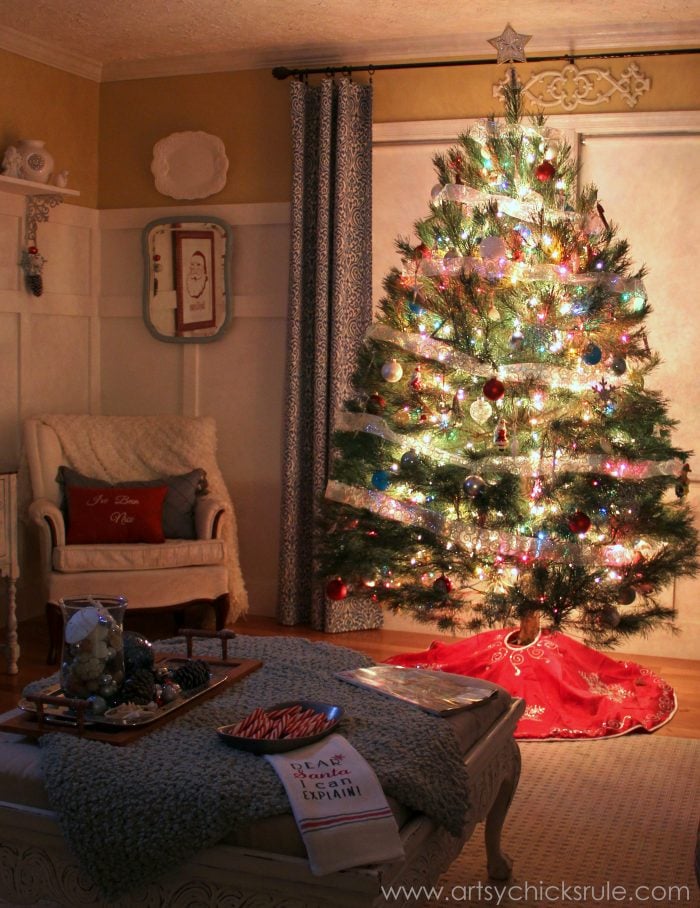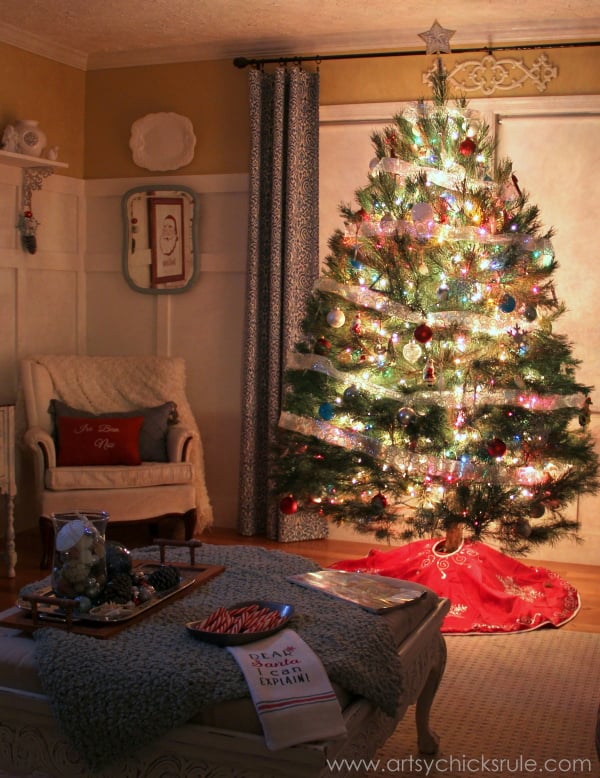 Trees are just magical at night with all the pretty, glowing lights, don't you think?
Merry Christmas, Happy Holidays and Many Blessings to you All!!!
xoxo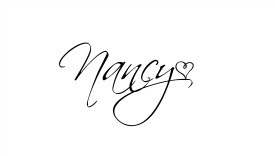 Be sure to follow me on Instagram and Facebook if you don't already!
I always post projects and things I'm working on
long before it hits the blog…..
….plus lots of fun random daily things too.