A Festive Christmas Laundry Room
This post may contain affiliate links. Please see disclosures here.
When your laundry room leads to your guest bath, you decorate it for the holidays, too! A festive Christmas laundry room for all to see and enjoy.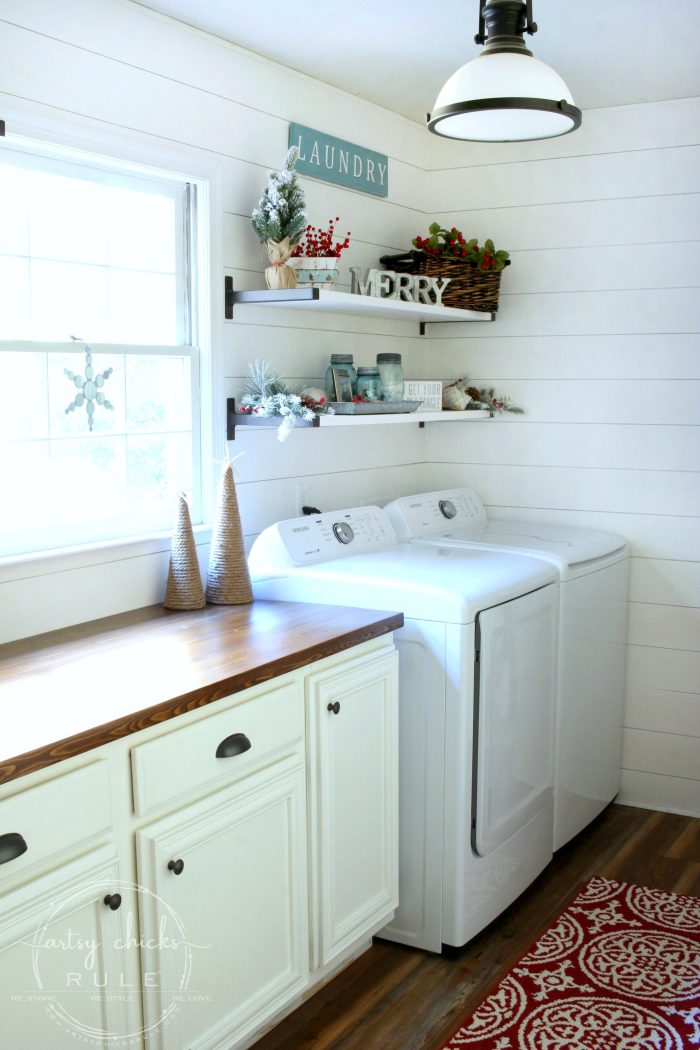 Welcome to my festive Christmas laundry room. :)
I'm so excited to be joining in with a few lovely ladies who are also sharing their festive decor.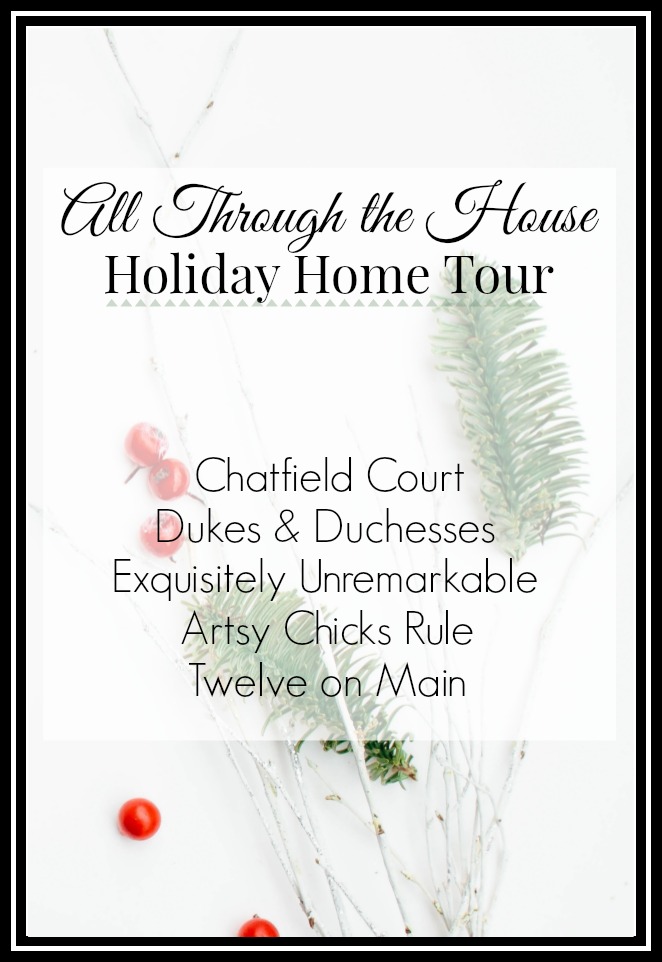 We'll each be sharing one room in our homes. I'm sharing the laundry room all decorated for the holidays.
If you are coming around from Dukes and Duchesses, welcome!
She is sharing her lovely kitchen, here.
Now let's see just what I did to create a festive Christmas laundry room…..
We recently completed this laundry room makeover.
You can find all the details on every single thing we used and did, here. (Plus see the, very much different,"before" photos)
Flooring, shiplap walls, shelving and brackets, our wood countertop, lighting, etc, is available in that post.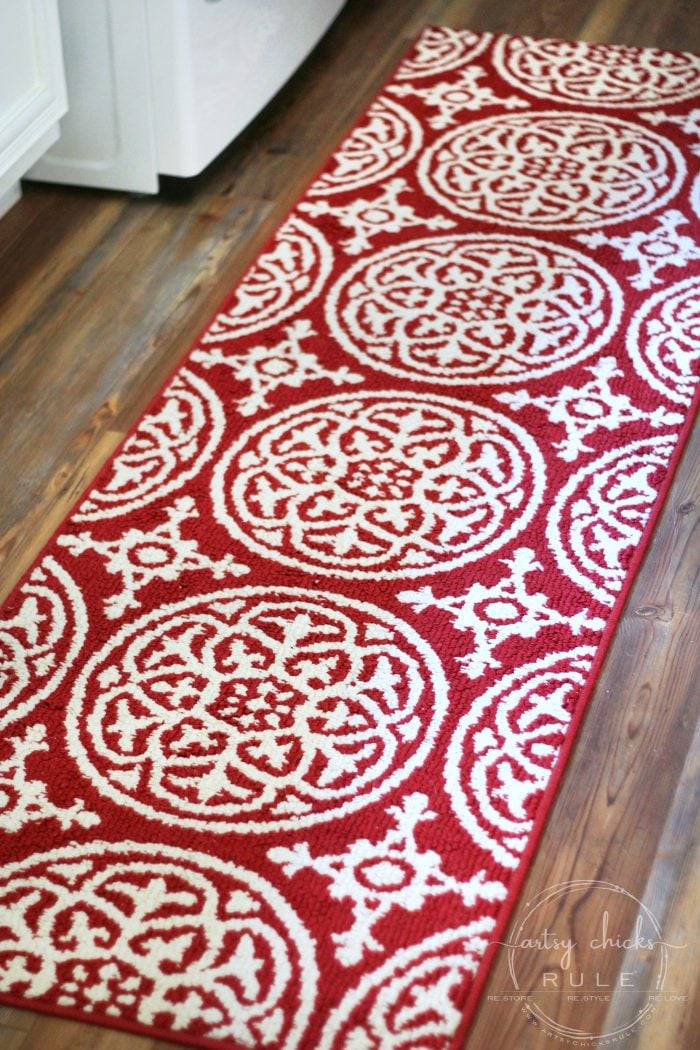 I thought it might be fun to find an inexpensive red rug runner to replace the blue one that I usually have in here.
I found this one and thought it was perfect! And it was on sale, win! ;)
Doesn't that bring the holiday cheer right on in here?
I just love it.
And of course the shelves got a bit of festivity, too.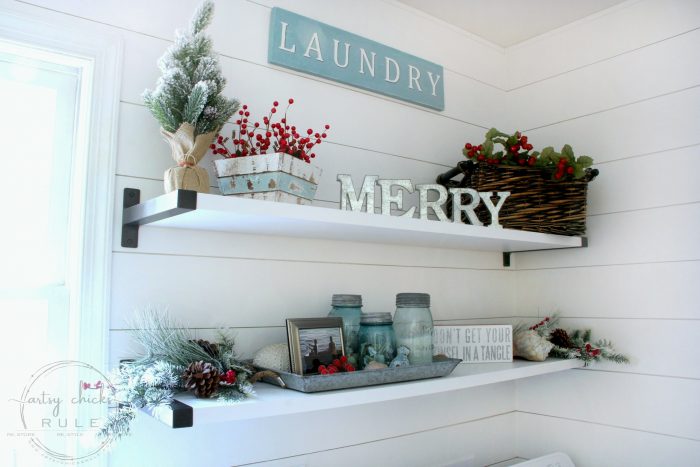 I really should have called this my festive "coastal" Christmas laundry room since that's what it is.
Our home is decorated with coastal touches all year long since we live right at the coast.
So it makes sense that I would incorporate those items into my holiday decor, too.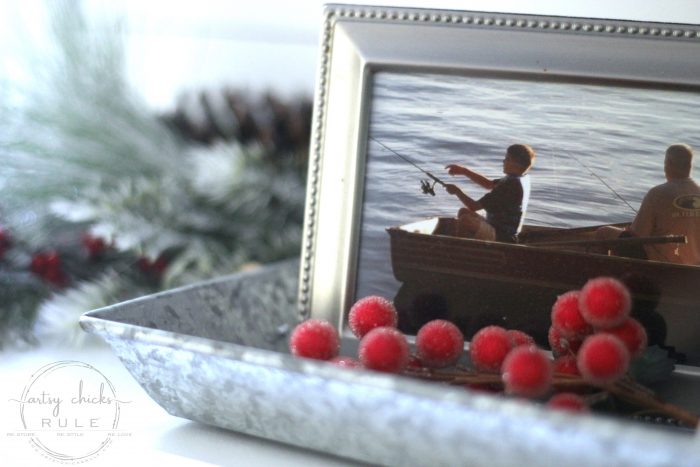 Like this photo of my son and husband fishing years ago. Aww, when my son was still a youngin'. ;)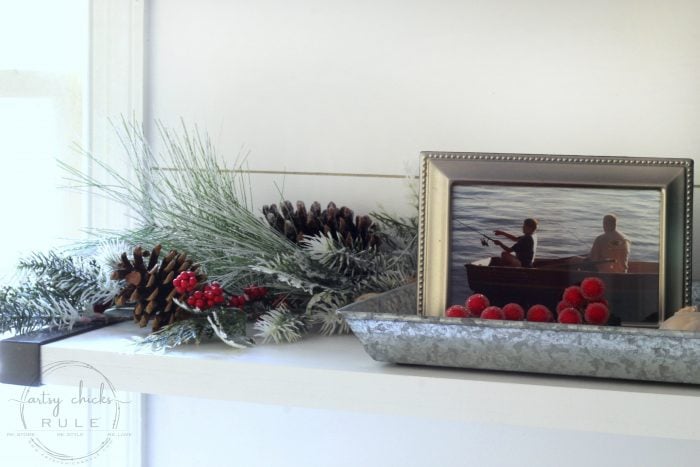 I simply added a greenery swag on either side of this shelf plus a few red berries in the galvanized tray.
And my "Don't Get Your Tinsel In A Tangle" sign I picked up, I think, at TJ Maxx last year.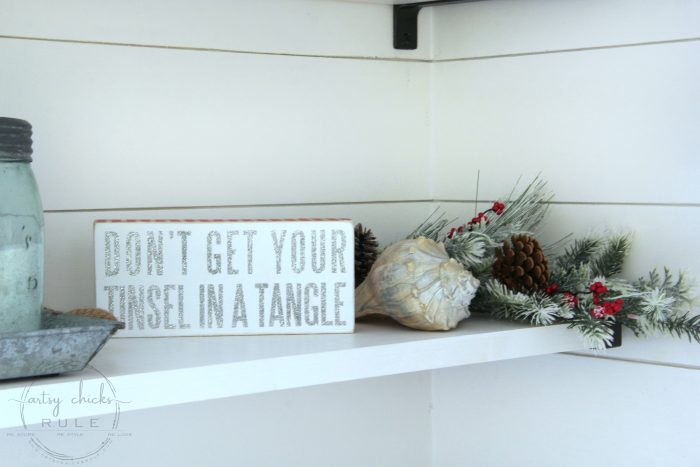 And more coastal touches….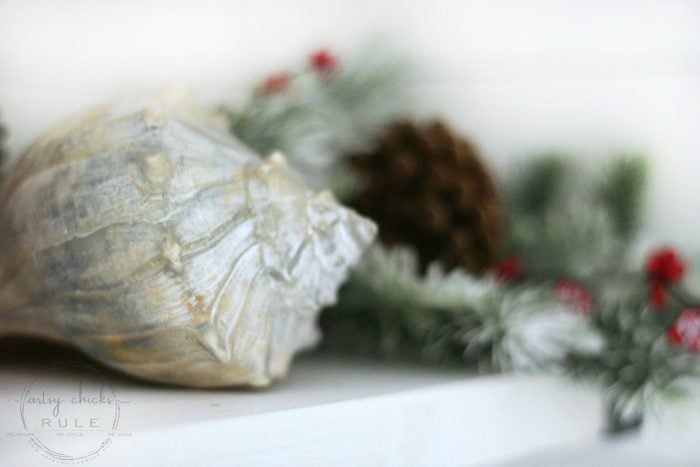 I found these galvanized letters at Michaels and thought it'd be fun to spell out "merry".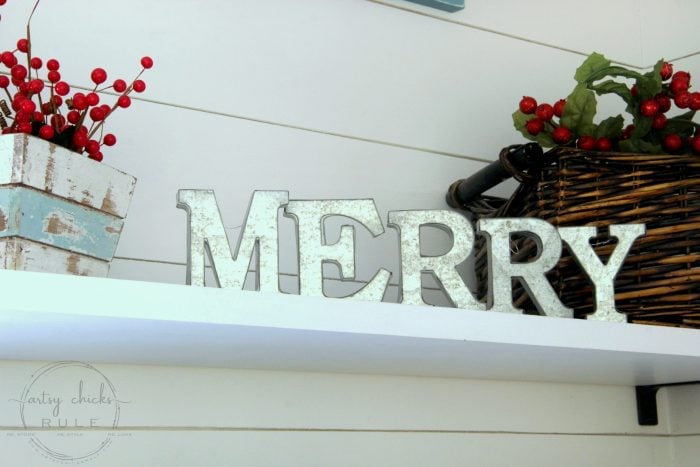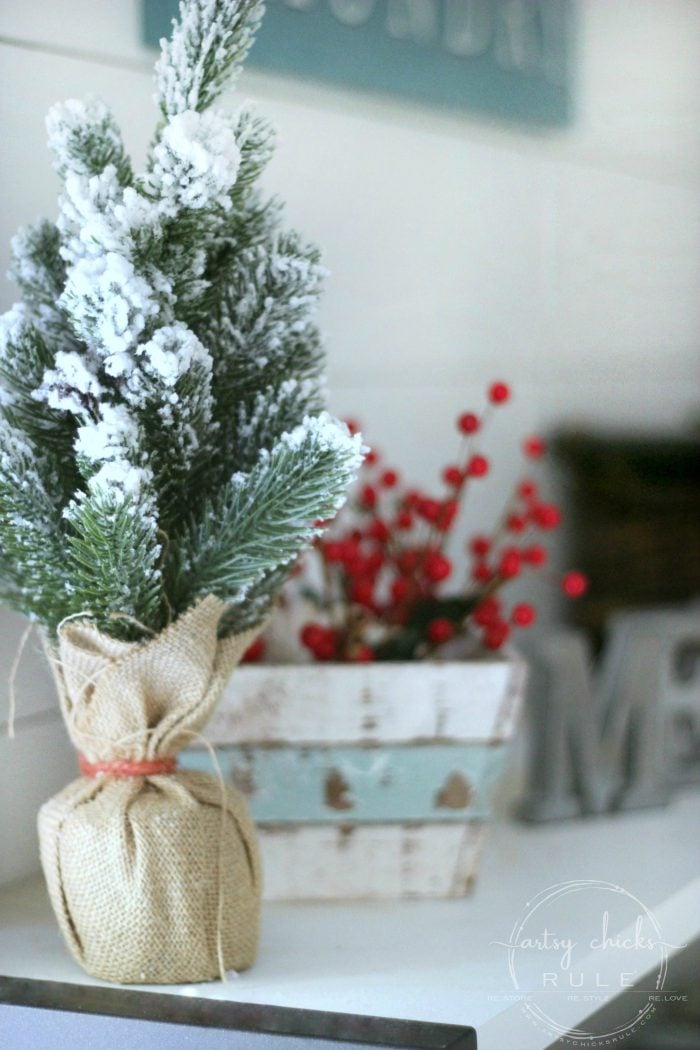 And my crooked little tree I picked up at Michael's. Ha, I didn't notice it was leaning like that until I got it home.
Too late to bother with returning, I was ready to decorate so I made it work.
I love a little quirk anyway. ;)
And the red berry swag also came from there. I bunched it up and put it in the basket.
Then added a few red berries to the wood bowl.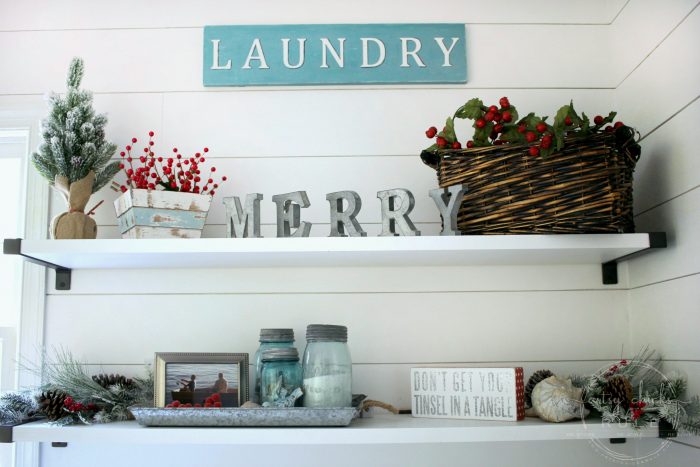 Pretty simple decor but gives the room such a festive feel.
Since this room is a bit rustic-industrial anyway, I decided to put these rope wrapped Christmas trees on the countertop here.
I found them at At Home a couple years ago.
They are perfect for my decor with their starfish "stars".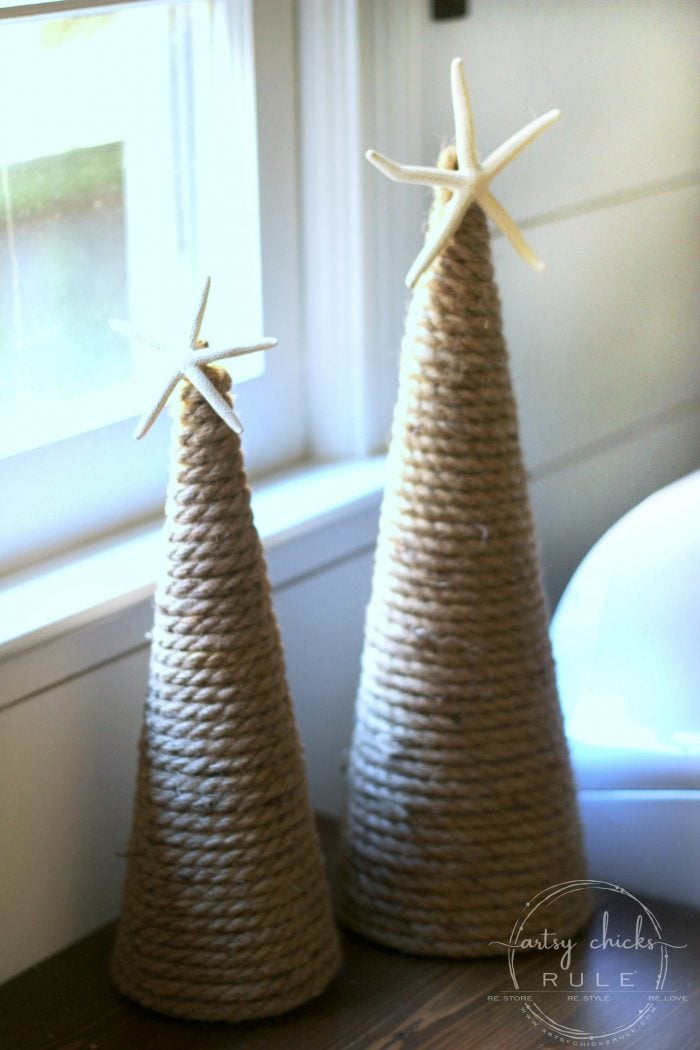 Everything looked so festive to the left, but when I looked to the right, all I saw was these tall, white, blank cabinets.
I had to fix that. ;)
So I made these simple little wreaths to go on each door.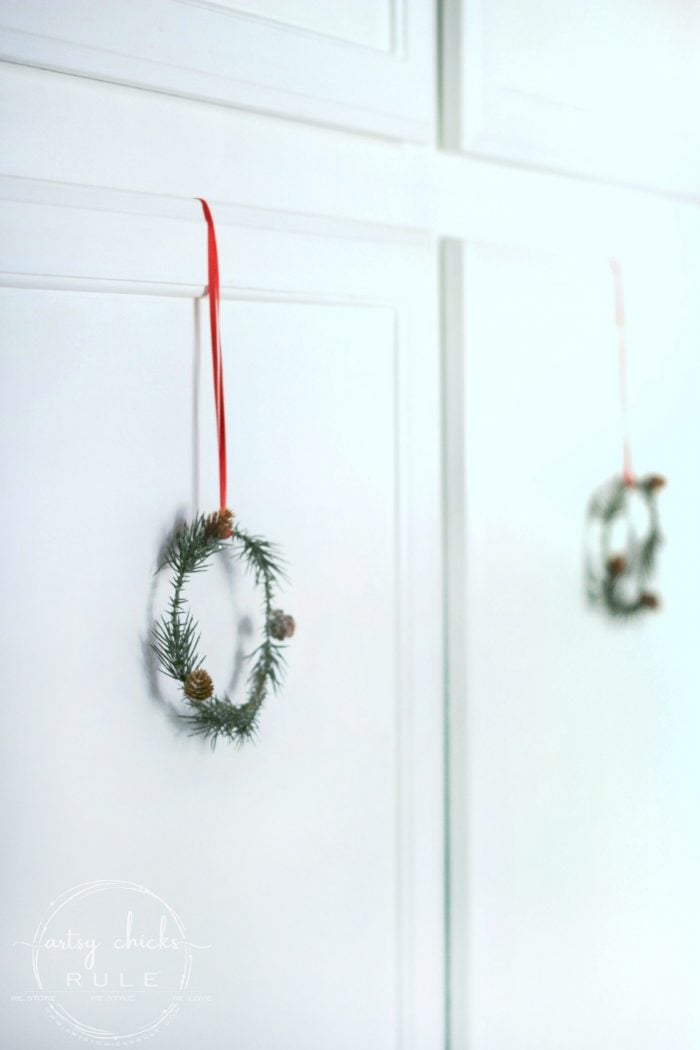 I'll be sharing what I used and the simple "how-to" on these later.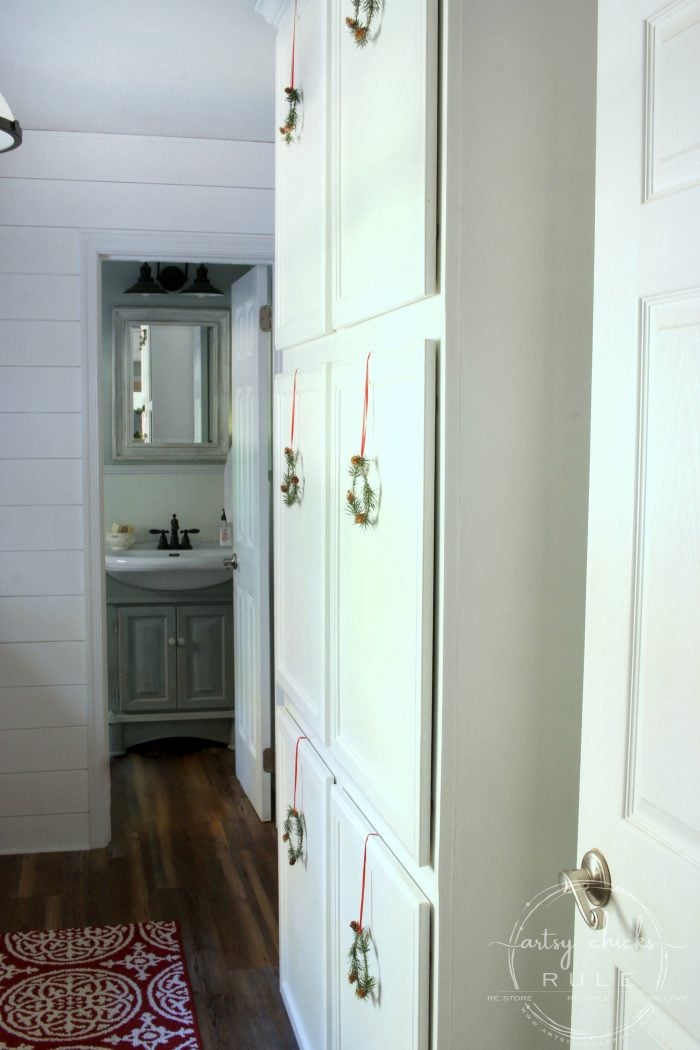 Much better.
Looking back to the left, I added this mirrored star to the window. I've had it up in several different places over the years.
You can see it and my other holiday home tours, here.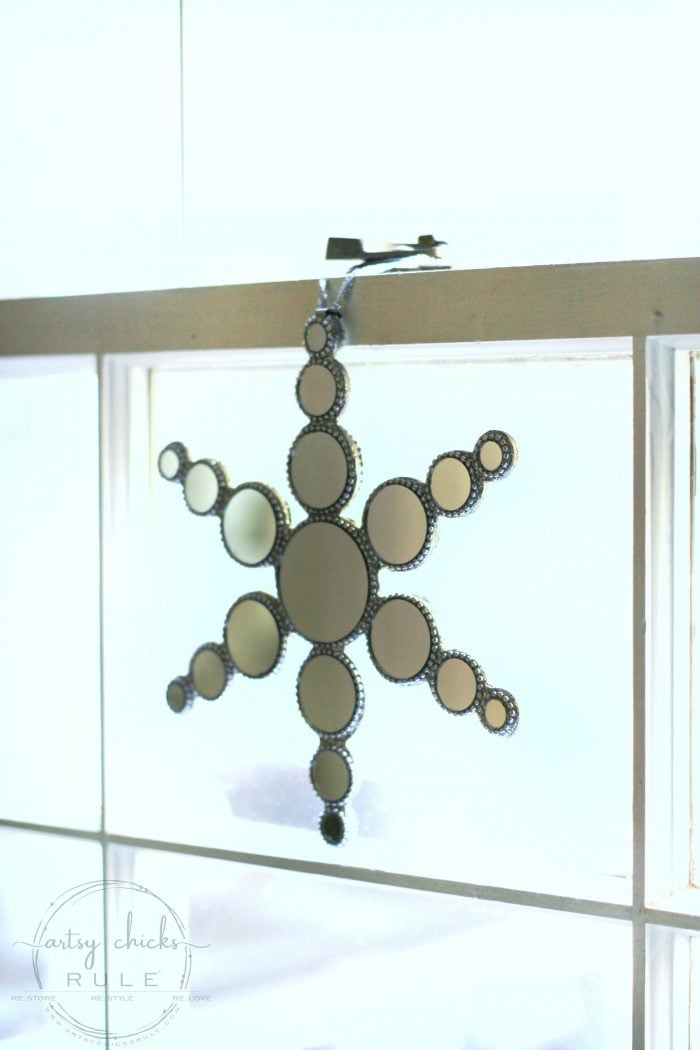 All the way at the end of the countertop, I added this old metal thrift store tray I turned into holiday art.
You can see how I did that, here.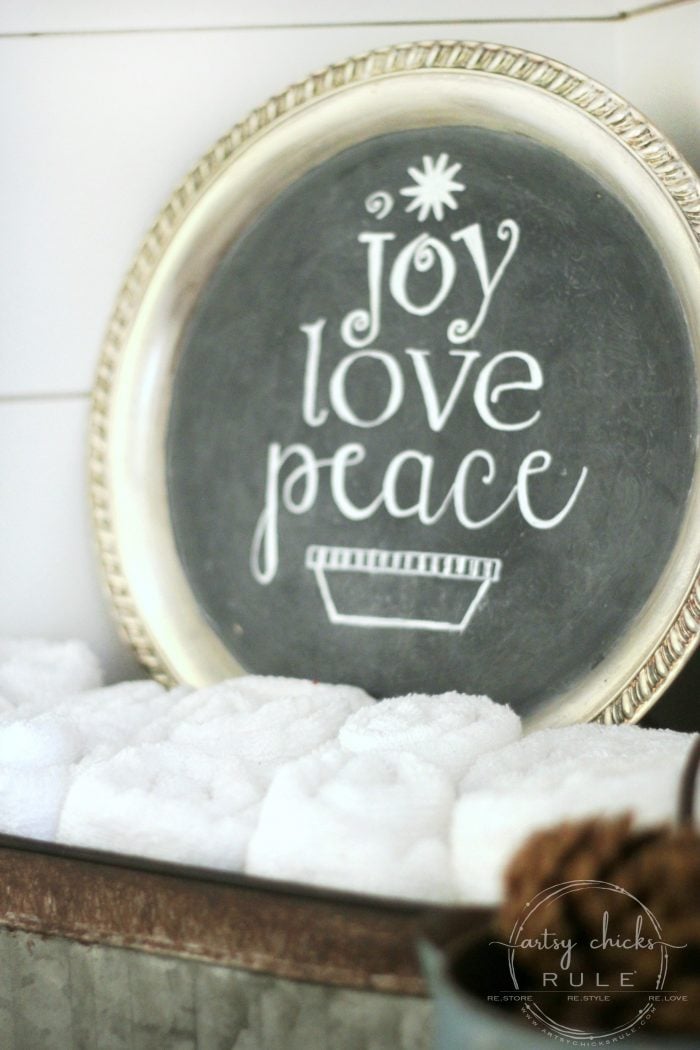 Just a sweet, simple addition.
To the right of that, this blue pitcher that usually holds flowers, got filled with pine cones.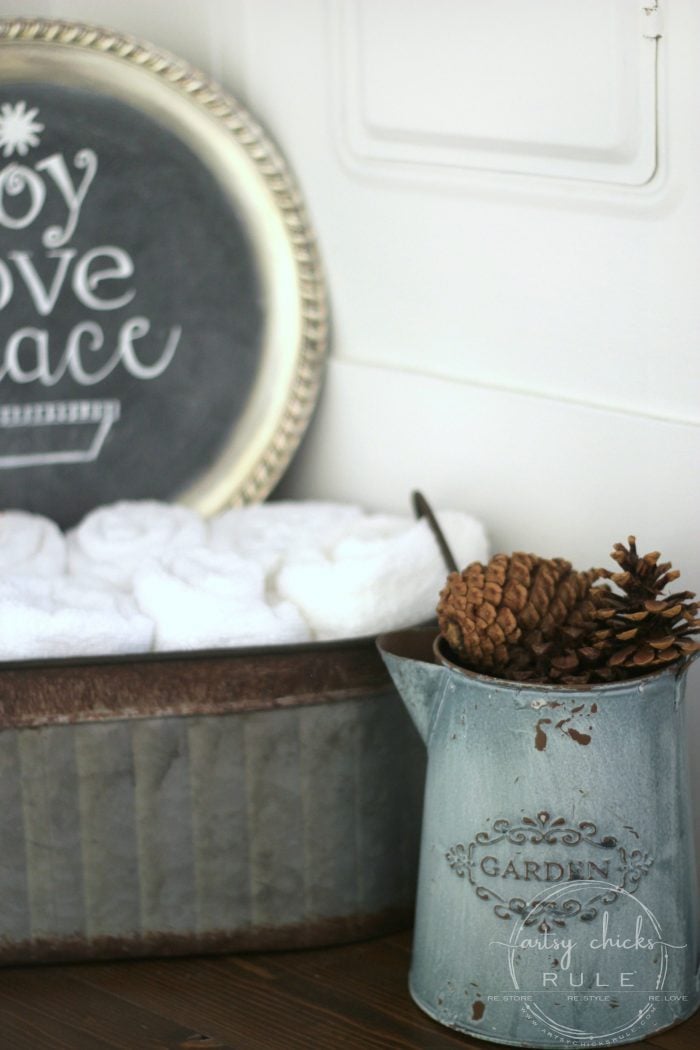 Up above on the shelf….
….is another green swag that I simply hung over the baskets I have up there.
And do you have artwork that is attached to the wall that you don't want to remove for holiday decor?
Like this pretty mason jar print below (trust me, there is a pretty mason jar print there ;) ) that I have up with 3m strips?
No worries, just create fun holiday art to put over top of it! ;)
I'll be sharing how I did that, plus the free printable/graphic, later this week, so stay tuned.
You can stay up to date with all of my posts and projects, here.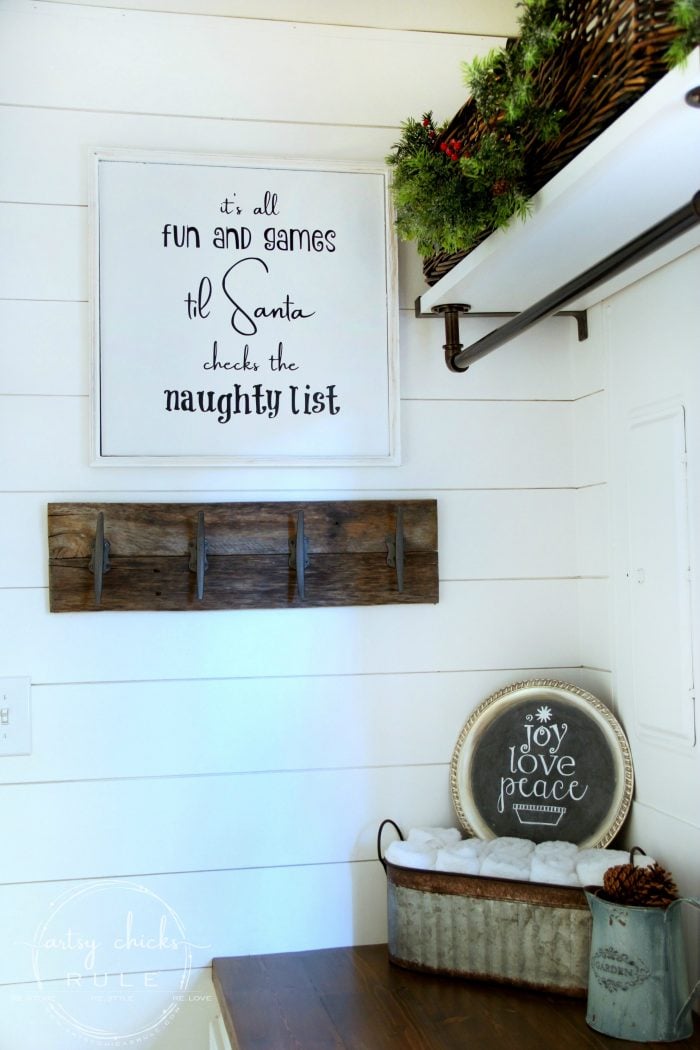 I made the pallet wood coat rack. You can find the details (and see the mason jar print), here.
I'm so happy with how it all turned out.
This really is my favorite room in the house! And all decorated for the holidays, even better.
I don't even mind doing laundry in here. ;)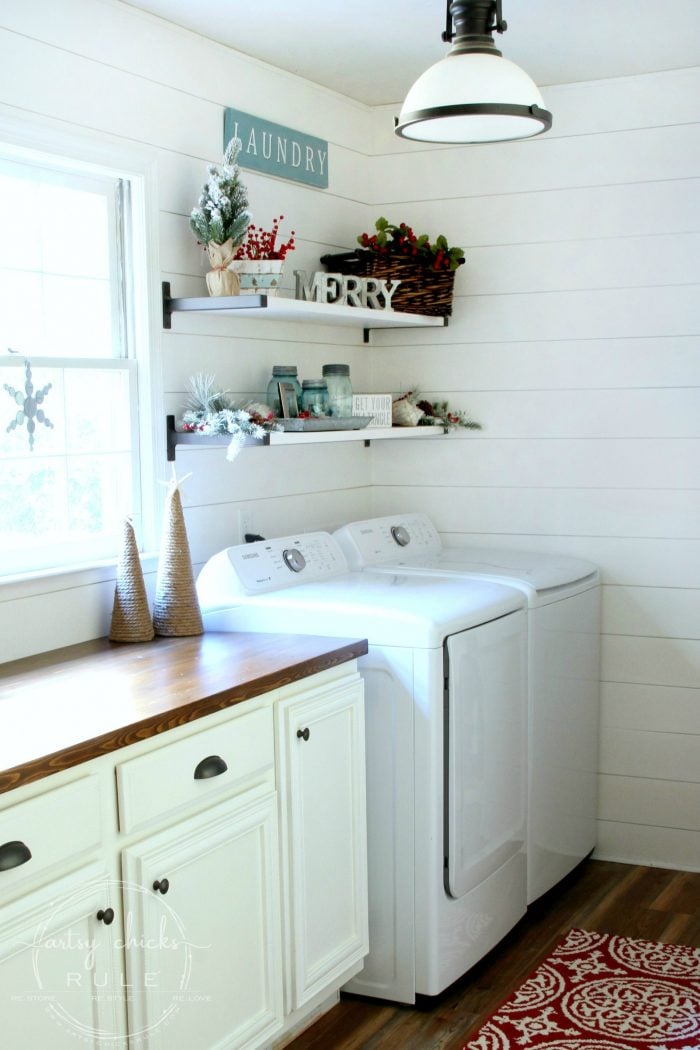 I hope you enjoyed my room tour and my festive Christmas laundry room.
Be sure to catch Twelve on Main! She's sharing her porch and entry….. and you can see it >>> here.
Love it? PIN it to save it!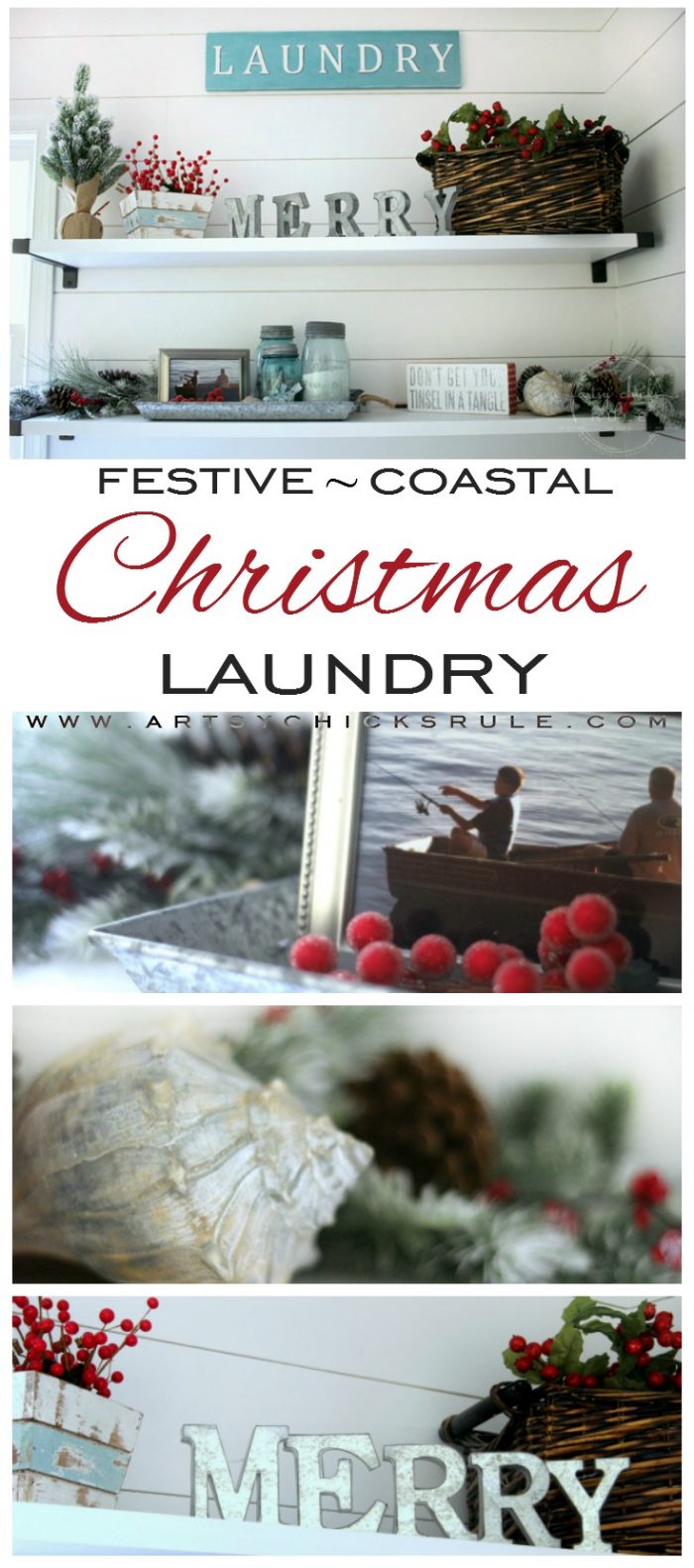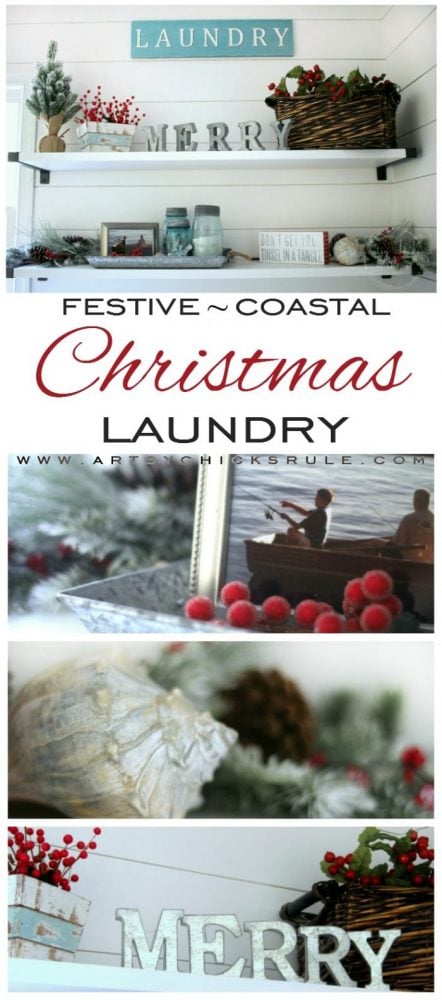 Here's the links to all the other rooms being shared today:
I'll see you back here later this week for the easy holiday art I mentioned above.
Have a great week. See you then!
xoxo