Christmas Card Decor (simple and inexpensive decorating!)
This post may contain affiliate links. Please see disclosures here.
Decorating for the holidays doesn't have to cost a fortune! Let me show you this simple and inexpensive way with Christmas card decor.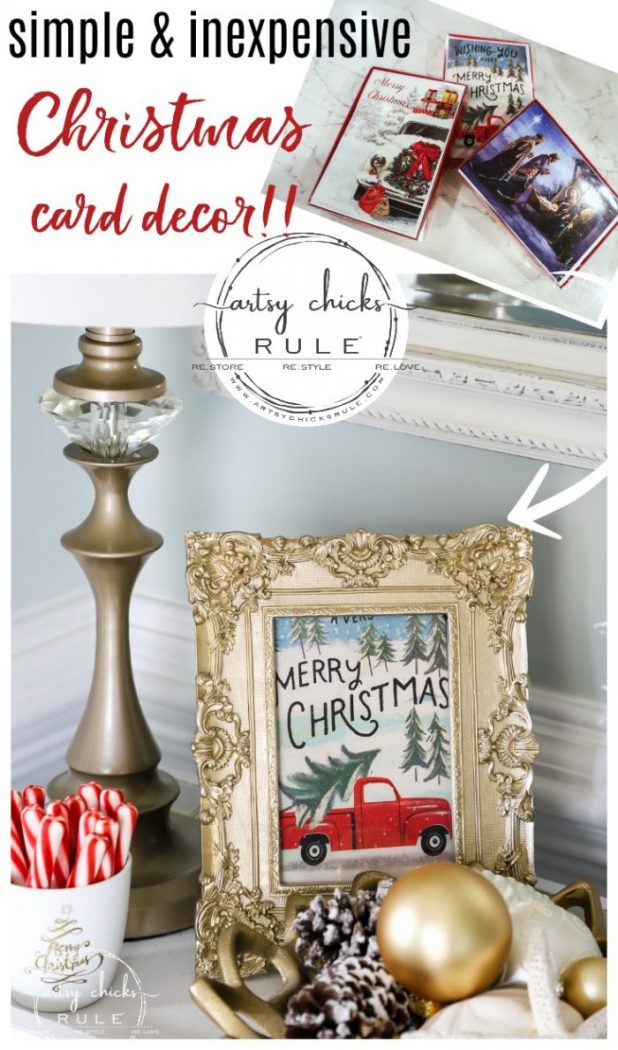 Hey friends!
I know, you are probably all decorated and ready for the holidays but I just had to share this latest thrifty idea with you.
The great thing about it, is you don't even have to limit this to the holidays.
This is a wonderful idea for any time of the year or even for gift giving.
Using Christmas and holiday cards for decor makes for a really simple and inexpensive way to add some pretty holiday decor to your home or anywhere.
I picked up these 3 holiday card sets at Michael's and of course they were on sale.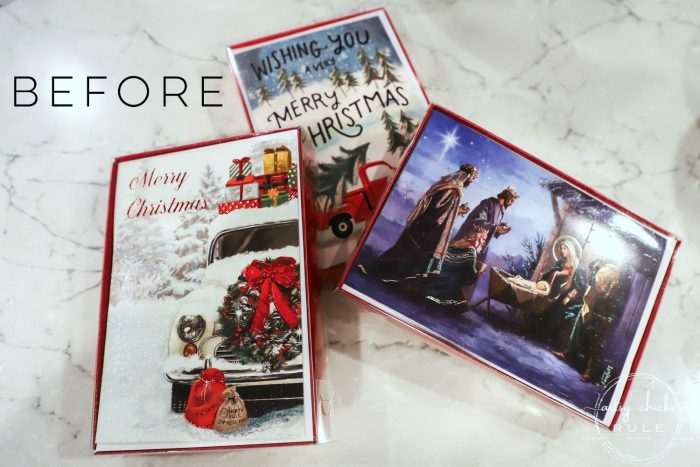 They were all so pretty and I immediately thought they would look so lovely framed.
The white car and nativity have sparkles and/or gold shimmers which just make them look gorgeous.
Too bad it's hard to pick up on that in the photos.
I love how this simplistic card looks in this ornate and fancy gold frame.
Looks so pretty on my window sill above the sink.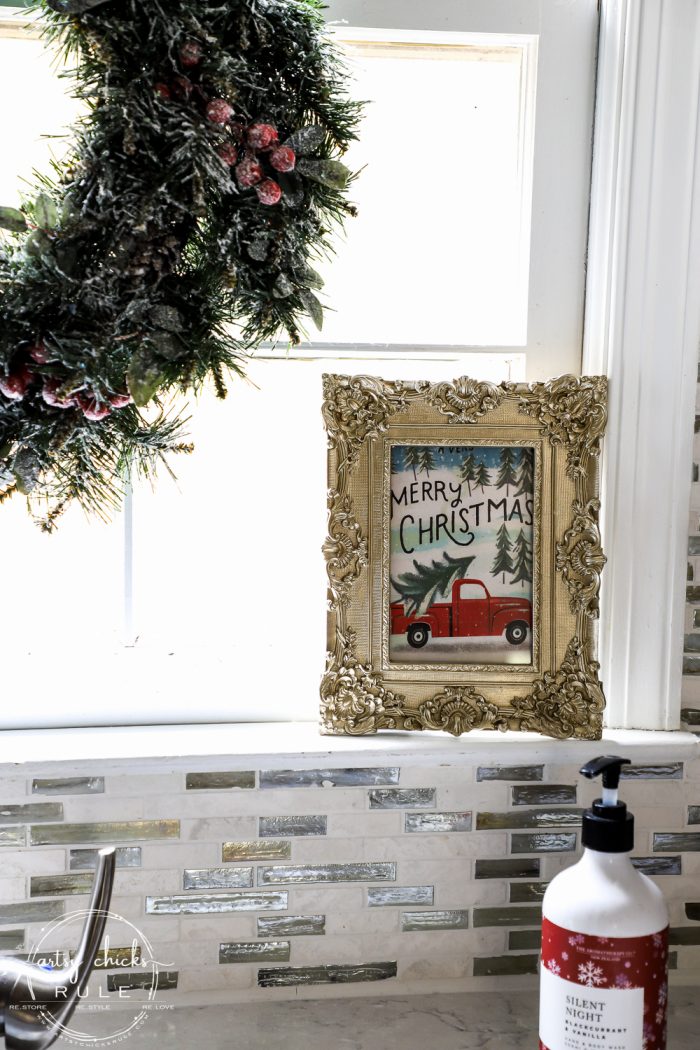 Just a fun little touch.
It also looks great with Sassy Santa in my foyer….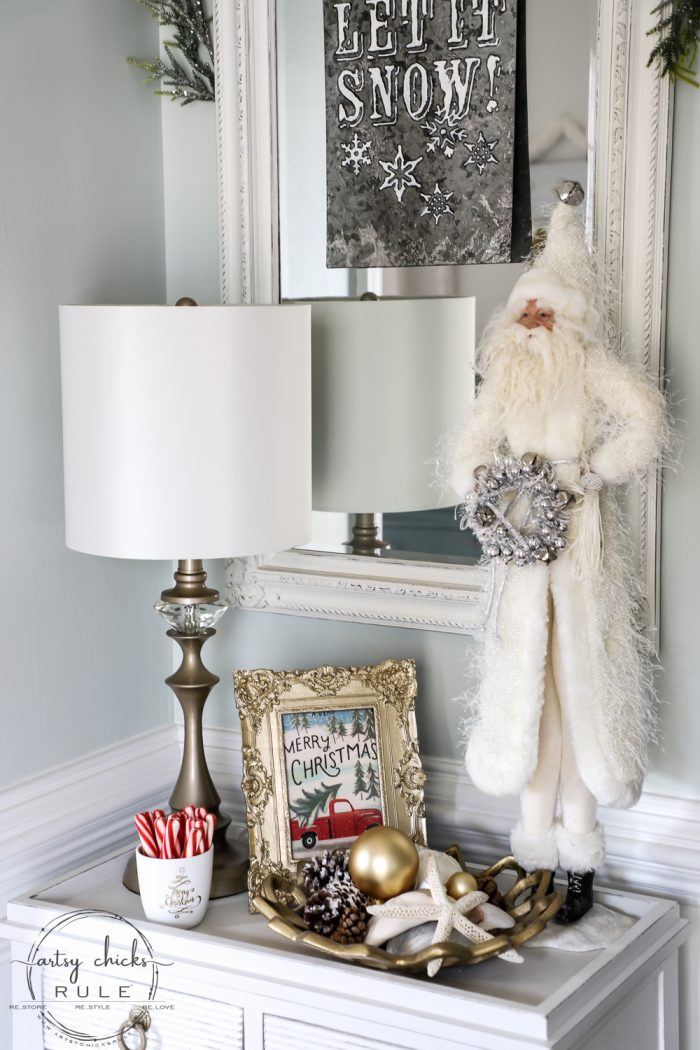 Isn't that a neat idea? There are just so many pretty cards out there that would make lovely framed "art".
I shared a post last year on how to repurpose old Christmas cards with a bunch of other ideas besides this.
Take a look at that post, here.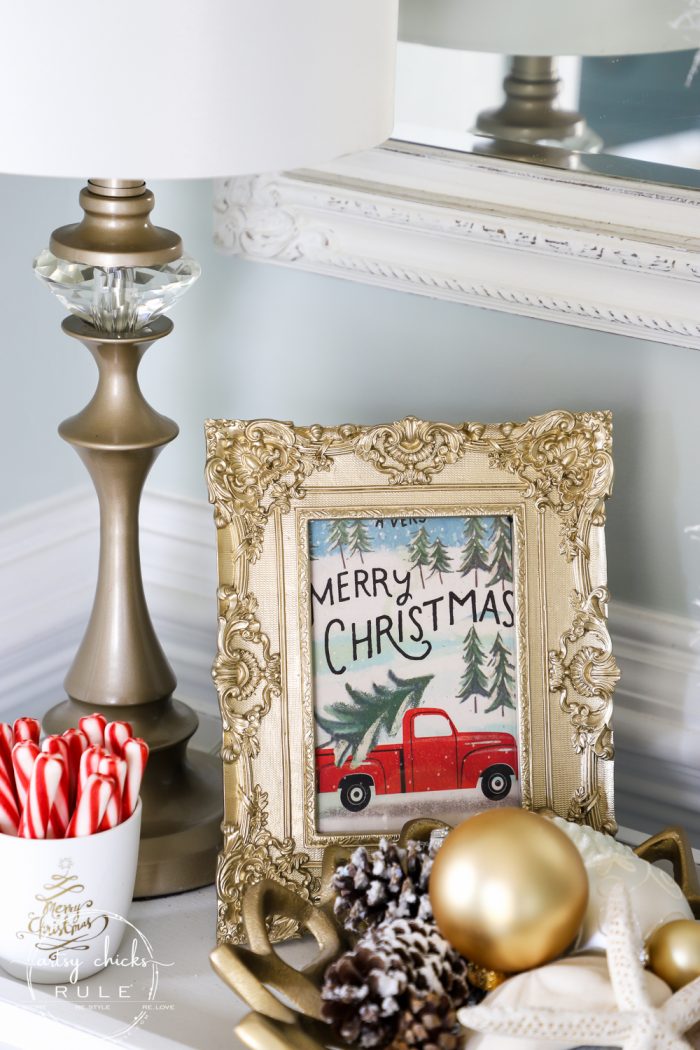 Looks nice up on the built ins too.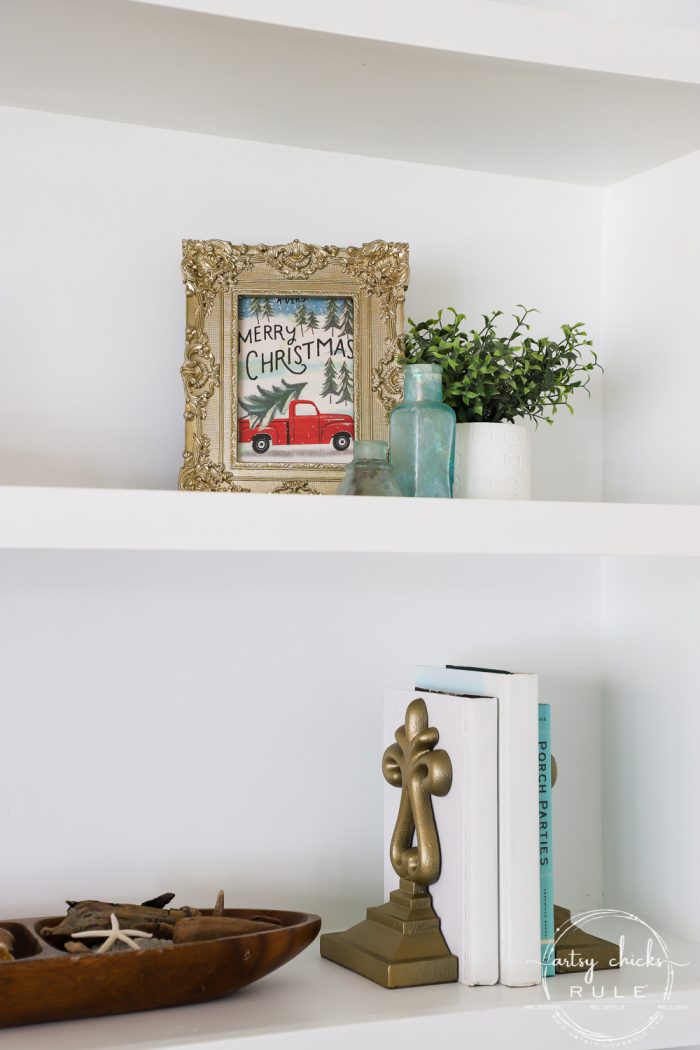 Lots of ways you can use them.
I just love this one.
Goes so sweetly with the white car on my Christmas tray.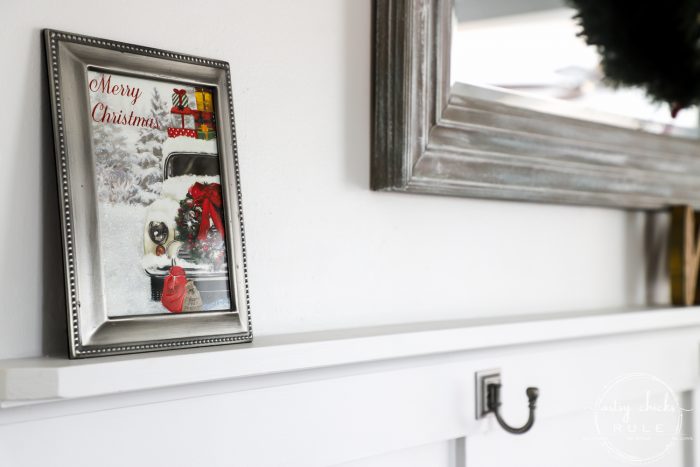 I SO wish you could see all the sparkles in the snow on the car! It makes this card/art look so magical.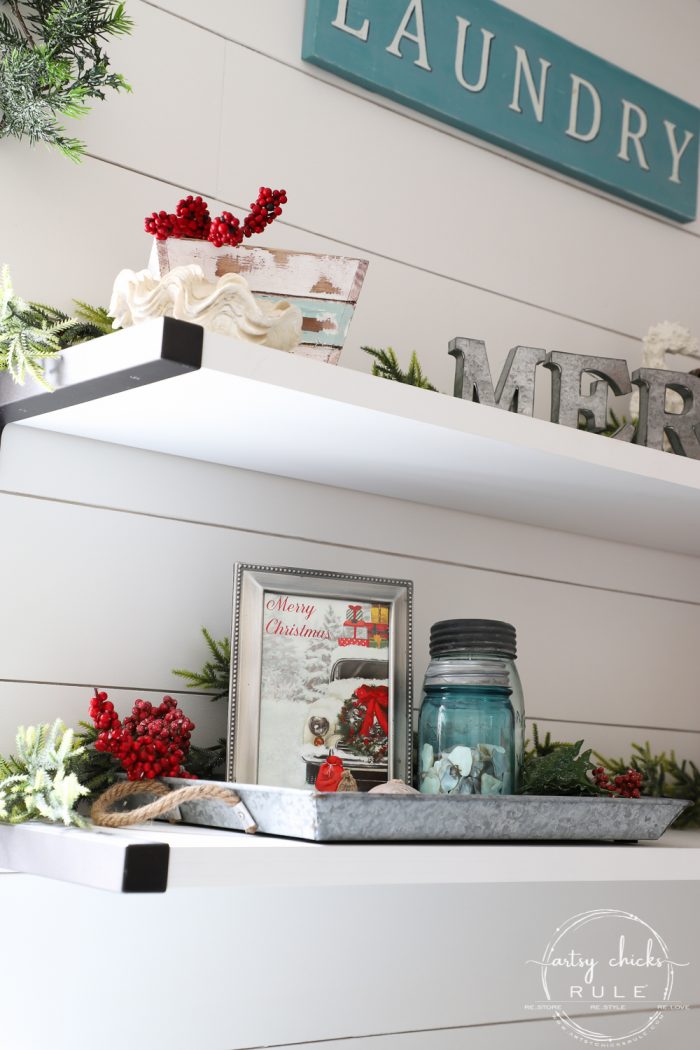 This is where this one ended up staying.
I just loved it in here!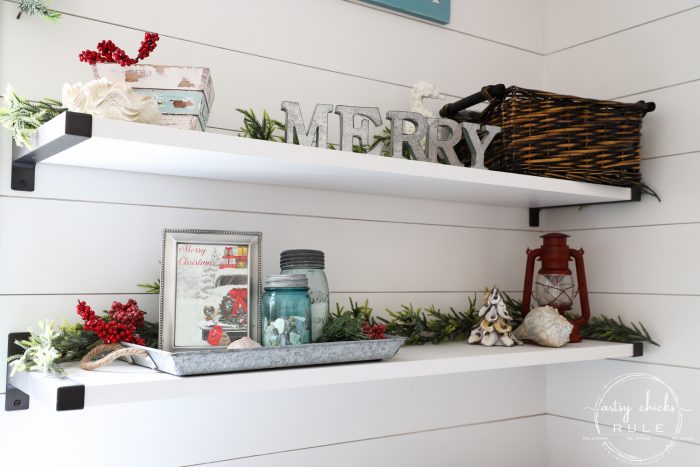 And finally, this one, which I just adore….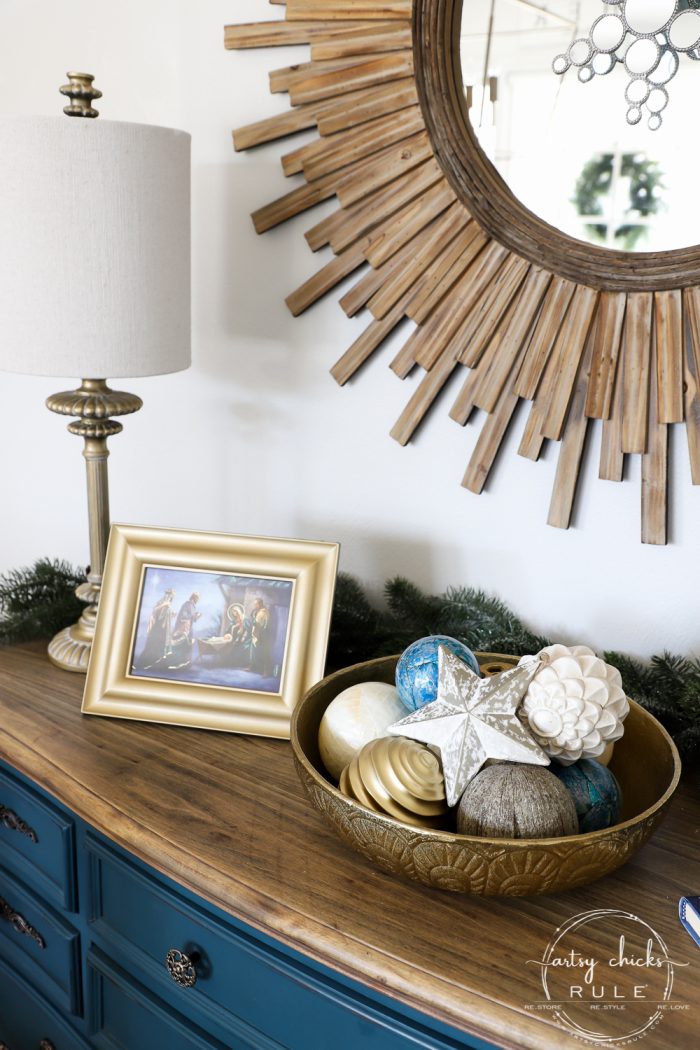 I actually pulled out an old bronze colored frame and sprayed it gold with this paint.
I think with the blue colors and gold frame, it looks just perfect in my dining room.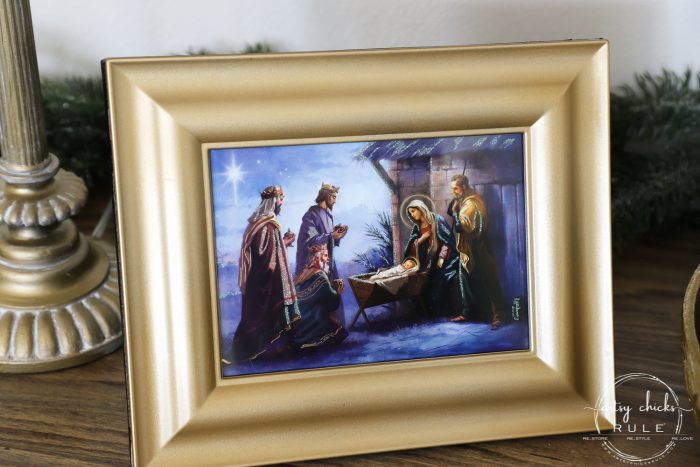 This has little gold shimmers that you can't see either. Darn!
They look so pretty, wish the camera didn't hide them.
UPDATE!! I uploaded a couple videos to Instagram stories so you can hopefully see how pretty they are. :)
So that's it.
Just a simple little addition to my holiday decor with Christmas card decor.
Pretty easy and I can see this being a great way to add some decor around other holidays too, like Easter, Thanksgiving, 4th of July, etc.
I can even see doing this for any kind of themed party or event you may have.
You could find themed cards, frame them and sit them in and around your table, food etc.
How fun!
PIN it to save it!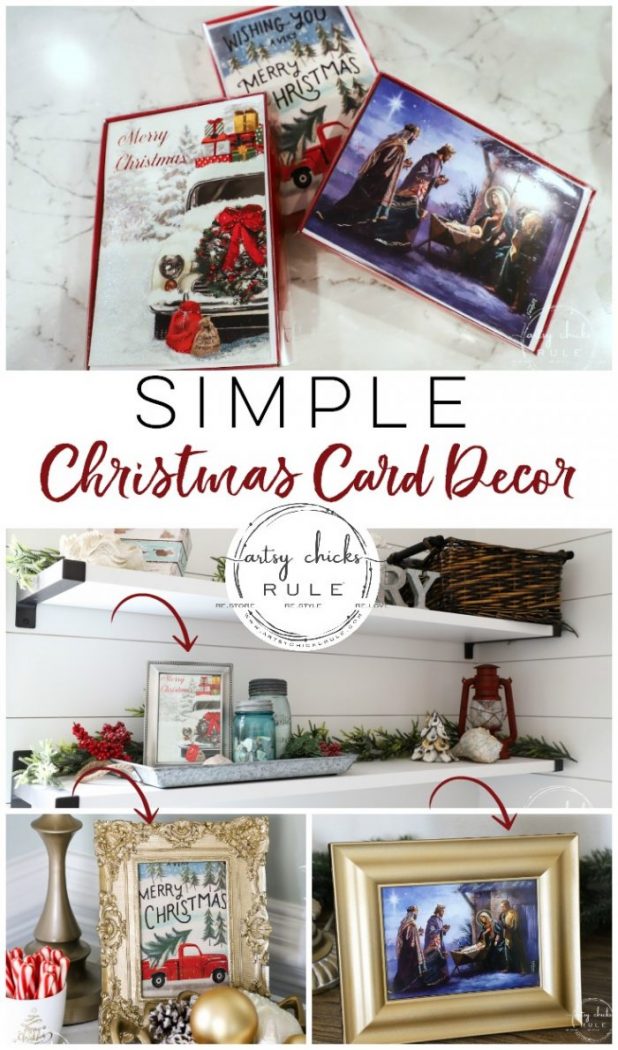 I hope you enjoyed this quick little post and idea on adding some Christmas card decor, simply.
I'll see you back here on Thursday with a look at Christmas through the years at our house.
See you then!
xo