Aubusson Blue, Dresser Re-Do
This post may contain affiliate links. Please see disclosures here.
Today I'm sharing this $35 thrift store dresser that I painted in the gorgeous, Aubusson Blue Chalk Paint.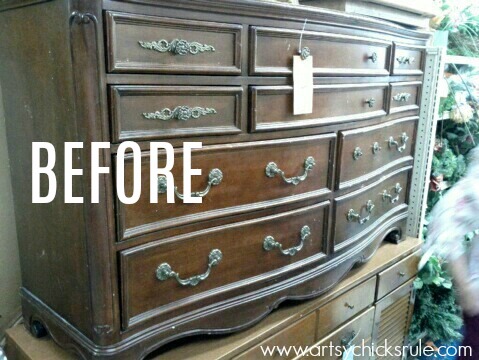 And it is painted in the most fabulous shade of blue! Aubusson Blue.
Yummy!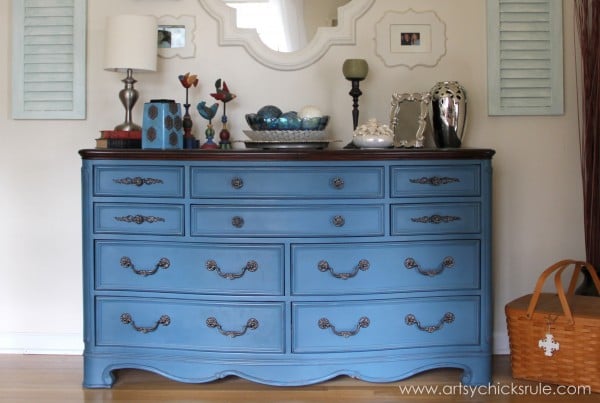 It went from a dirty, scratched & beat up thrift store find, to it's new found greatness right here in my own home.
A treasure in the rough for sure! Now a very much loved piece of furniture.
And one that gets the most "oohs and ahhs" every time someone sees it.
Look at the details and the curves.
Goodness just waiting to be revealed.
And yes, quite beat up. The picture is a bit forgiving! (AND missing just ONE handle…bummer!)
The top was in really bad shape. It was scratched, gouged and stained with something black, all over.
But I had a vision for it.
I wanted to keep the top natural. In a nice deep, rich shade like walnut and paint the rest.
And knew exactly where I was going to put it.
So home with me it came!
You can read the post about the "Missing Hardware" dilemma here.
(ok, quick question…do you spell dilemna ….<—-like that or like this —-> dilemma?? I've always spelled it dilemna..but apparently I am wrong? So I changed it to the spell-checked-corrected "dilemma". Things that make you crazy and that really don't matter either way!)
And now it looks like this: (Question: I made one of those handles…from scratch..can you tell which one it is? ;) )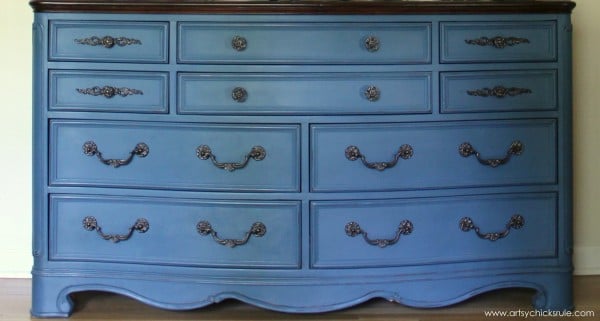 Want to find out which one and how I did it?? You can, >>> here.
And here it is in the middle of the painting process.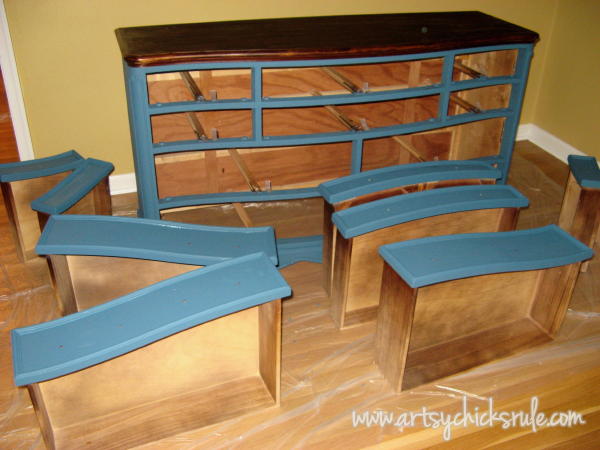 For this project, I used one of my favorite paints. (I have several)
ASCP (Annie Sloan Chalk Paint) in Aubusson Blue.
My FAVORITE color in her chalk paint. Love it…. a whole lot. ;)
Provence is my second favorite and that has nothing to do with this dresser. But it is.
I'll include affiliate links for this project below.
I very lightly distressed this one. (I sand the edges before I wax)
I know Annie Sloan recommends doing it after waxing but I personally like doing it before.
Next, I mixed a bit of her dark wax in with some clear wax.
Just a very tiny bit.
I waxed the entire piece and hand buffed to create that gorgeous sheen.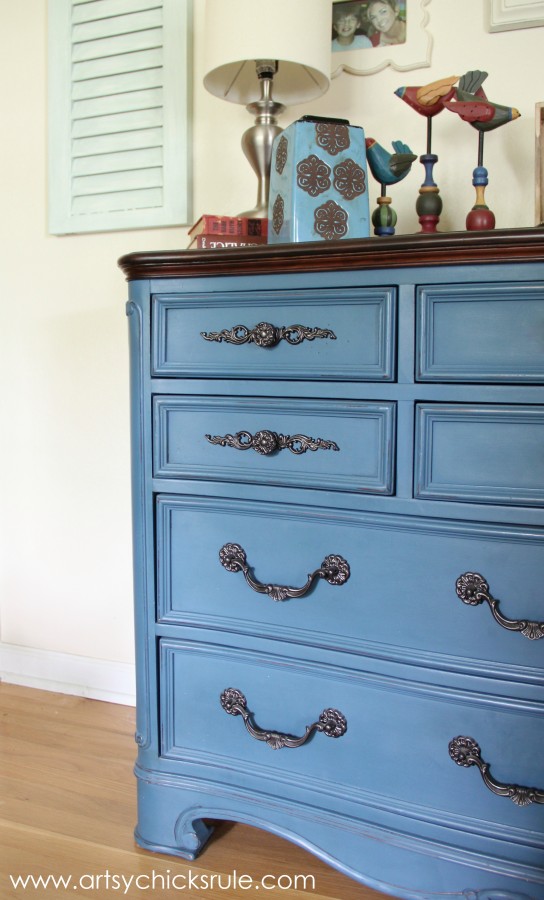 Isn't that color just fabulous???? Love in a can.
Really, it is.
I don't have any pictures of the stripping and sanding part.
Sorry, bad blogger I know.
But I used my absolutely favorite stripper and my handy dandy little best friend—>my sander.
(Gloves, safety glasses and dust mask are a must! Safety first. Always.)
I sanded the top down to reveal a nice, smooth, beautiful wood under all the junk. I then used this stain for the top.
After that, I put several coats of Satin poly on top. I don't like things too shiny.
Look at that gorgeous wood…….and that pretty Aubusson blue paint. Oh my.
Want to read about 26 other chalk paint style paints available??
I've got the low down for you right here! >>> 26 Types of Chalk Style Paint For Furniture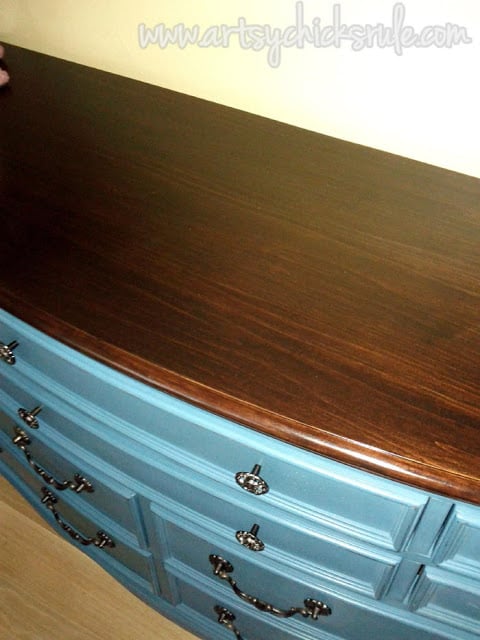 I love color…and I LOVE paint. But I do love wood peaking through here and there.
I try to keep a bit in some of my re-do's.
Sometimes.
My husband always tells (warns?) everyone…."don't sit too still, she might paint ya!"
That's right, I just might! He's a funny one.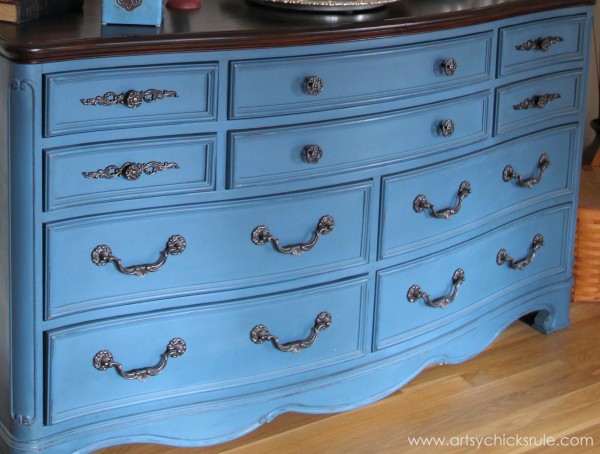 The hardware all got a quick spray with Oil Rubbed Bronze and a touch of gold.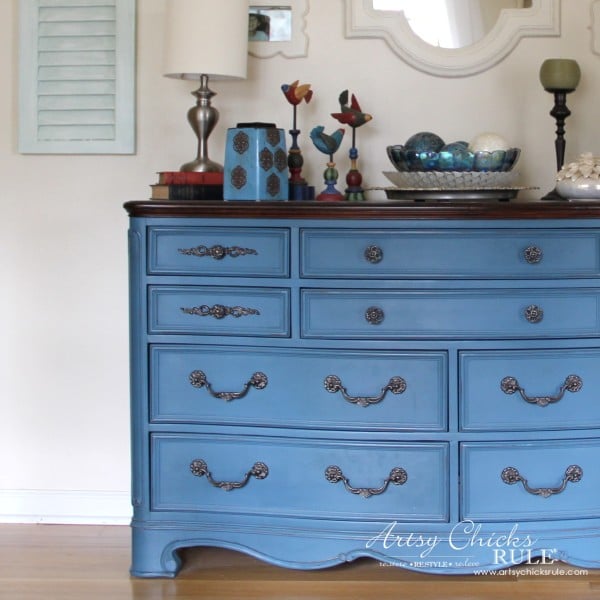 Here she is, all finished and ready to be re.loved! (*edited with an updated photo below on 01/02/14–notice new wall color? — you can see more on this post here)
PIN it to save it!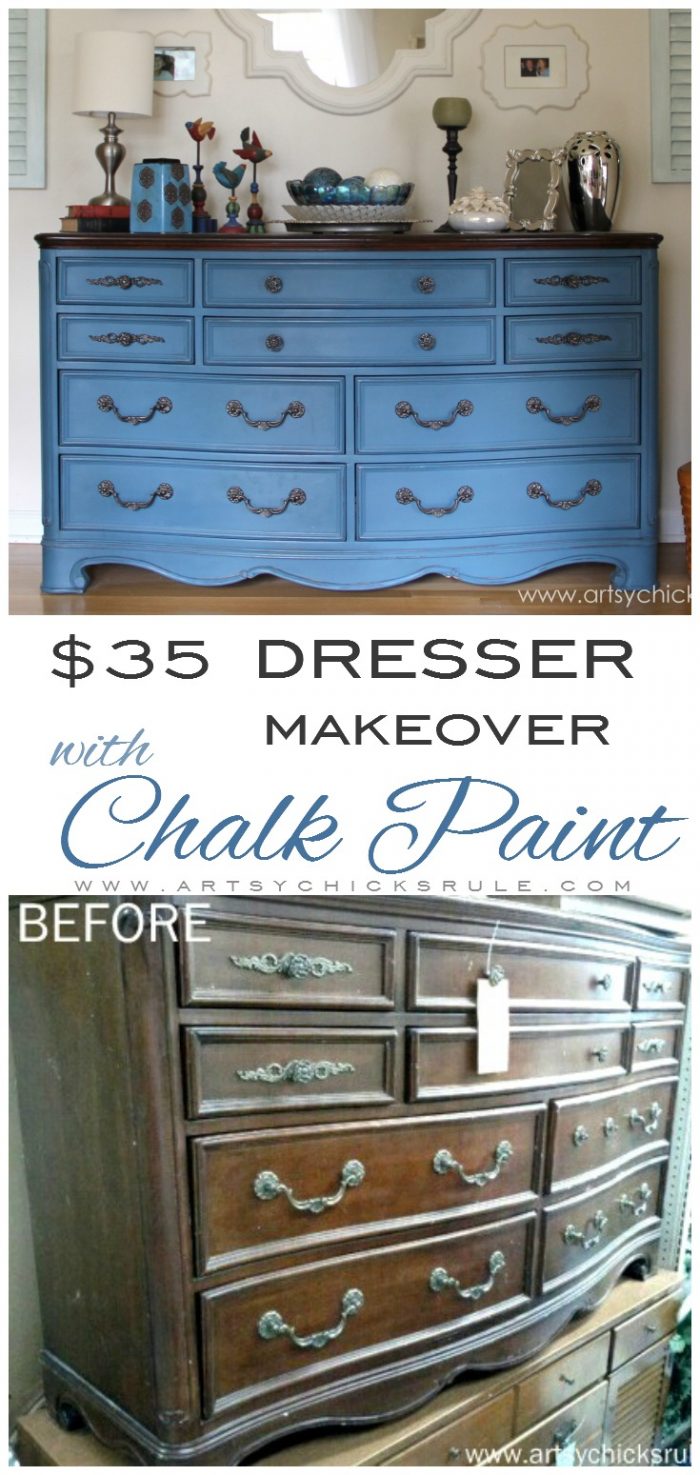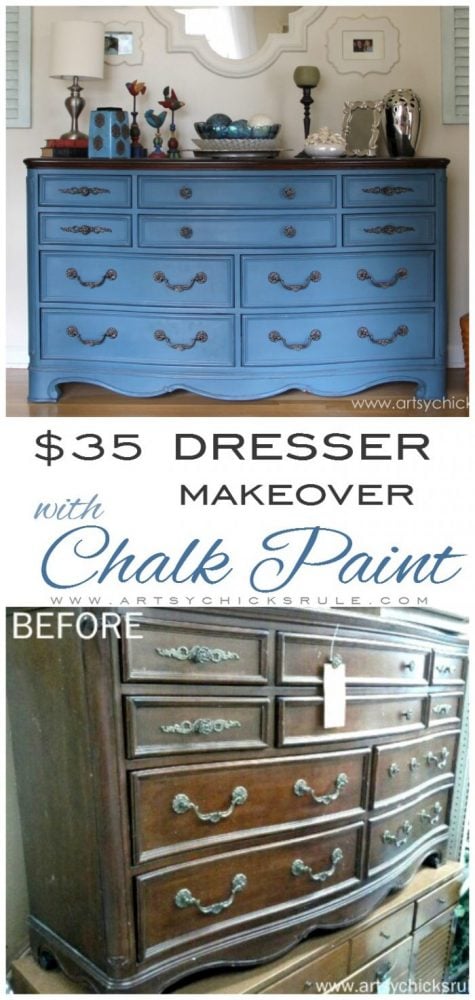 So…… is it dilemna or dilemma? And do you love this shade of blue as much as I do?
You might also like this similar makeover (but with Annie Sloan's new color, GIVERNY!)…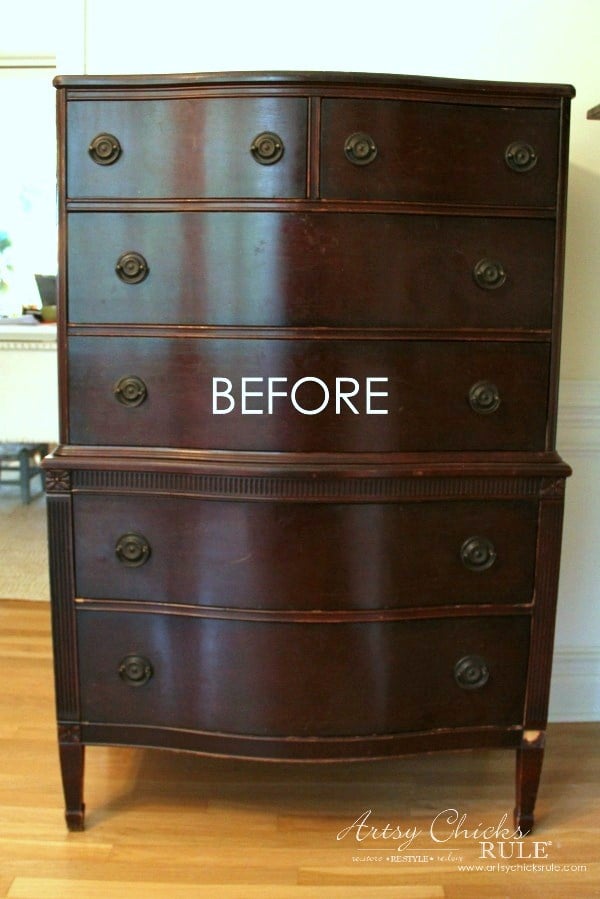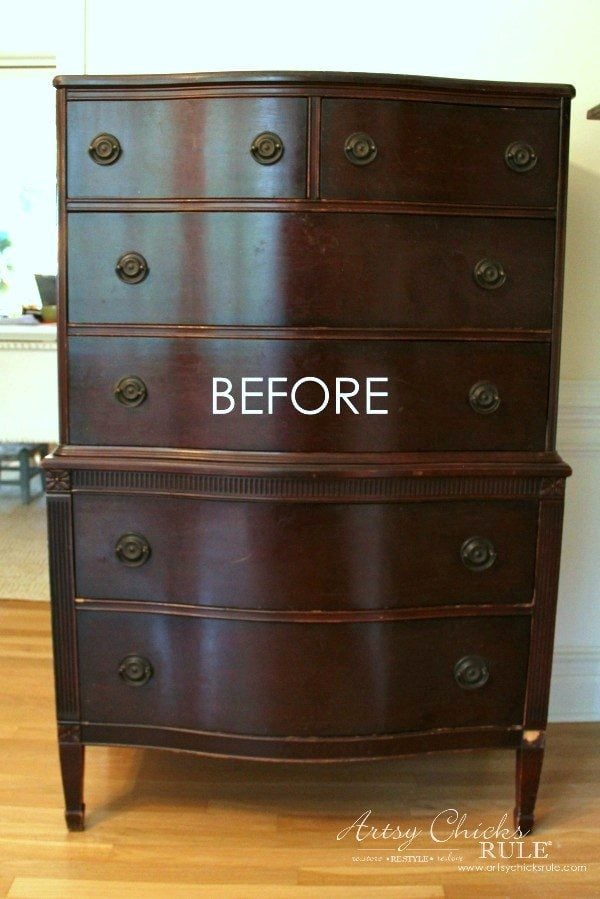 See it here >>> Giverny Chalk Paint Chest Makeover With White Wax
This one had missing wood flourishes, as you can see, which I also made to match! :)
UPDATE 10/18!! Did you love this Aubusson Blue Dresser? Well, I've since given it ANOTHER makeover!
See it here >>> Chalk Paint Dresser Makeover…Again!
Happy painting!