A Tale of a Dining Room, Re.Invented
This post may contain affiliate links. Please see disclosures here.
A tale of a dining room is right. Many changes have been made (and are still being made) in this dining room.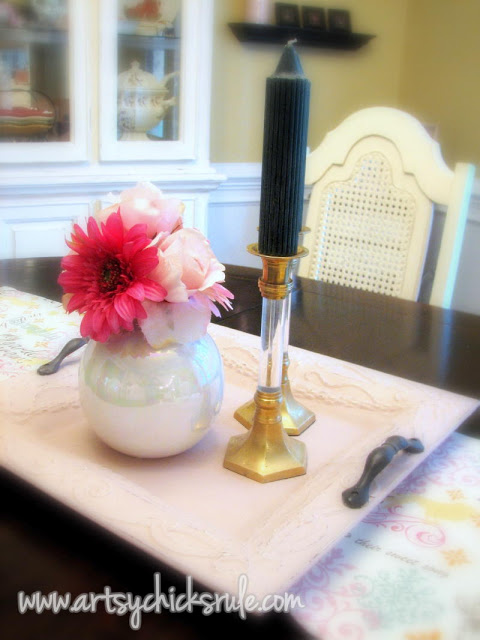 More than once.
Yep, wallpaper painstakingly taken down only to be put back up again.
Self induced torture. ;) (not really, I must love it, right? lol)
Walls taken out. Wainscoting put in. Painted and then painted some more.
It's all here.
Before and after……and then another after and yet one more "after", after that.
It comes in stages, you know.
The changes evolve and affect one another. So here I will share our dining room that became a study.
And then went back to being a dining room again when a wall was removed.
EDITED (2018) – and will soon become yet another room…soon. Stay tuned. :)
Before… (as in the day we came and looked at the house with the realtor)….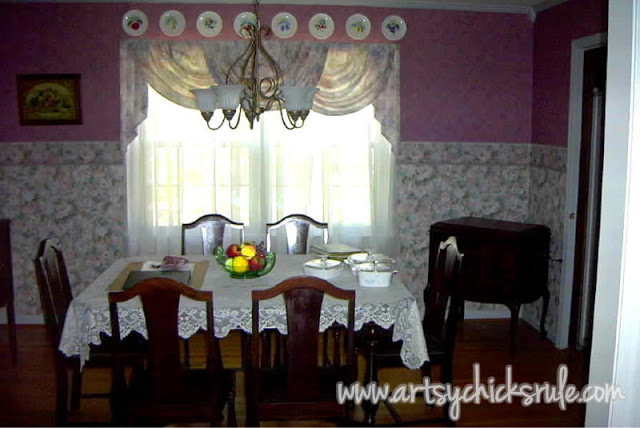 Before view from the kitchen…. (this pic was taken when we were re-doing the kitchen so the fridge is out of place)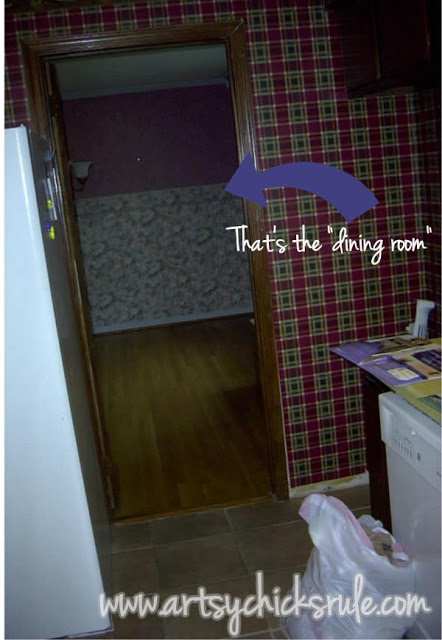 Don't ya just love that plaid? For a house that was dark anyway, this just made it all the darker.
And that's the door….to the dining room. There were doors all over this house downstairs.
Craziness.
We either took them out or tore out the wall….or both.
Next up we removed those flowery and pink wallpapers.
I turned this room into our "study" and made the formal living room our dining room.
For some reason, I thought it would look really great to put this cool, new "ripped" wallpaper up.
You literally rip it, then apply it just like wallpaper. Except there are no lines to keep up with.
And I did it from floor to ceiling. Um, no. Why??
As shown in the photo below.
Too dark, and just more wallpaper for me to have to remove. Ugh. What was I thinking???
This is shot at the same angle as the picture above, just a few years later.
Excuse the mess, we were tearing walls (and ceilings!) out trying to turn this very closed up house into a more open, flowing one.
My son is saying "Hi"…..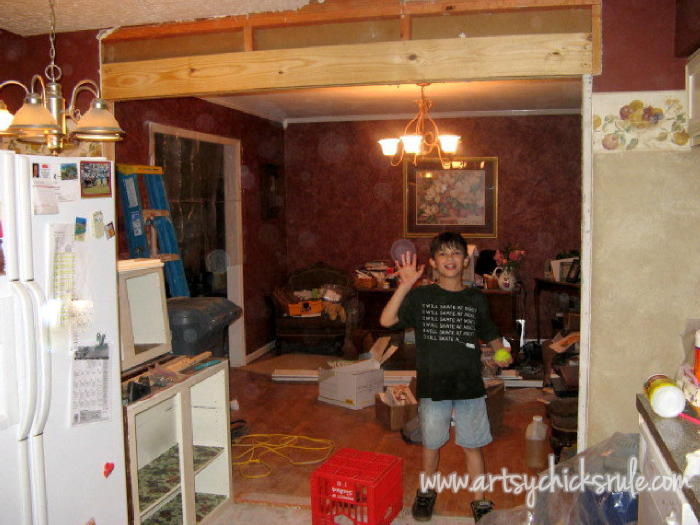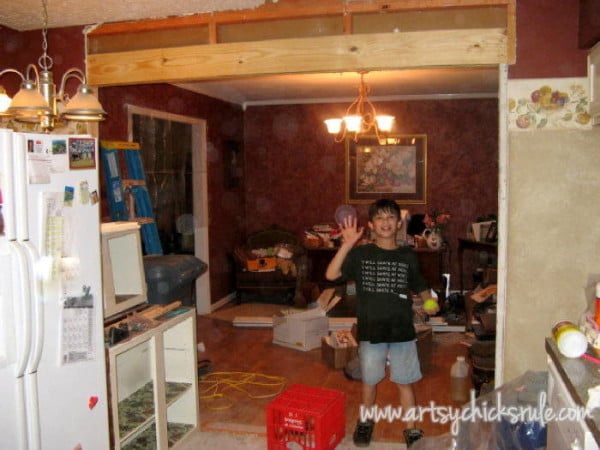 Fun times. (snicker)
So the short version is…it became this. (bad cell phone pic, sorry, all I could find)
We turned it back into the dining room….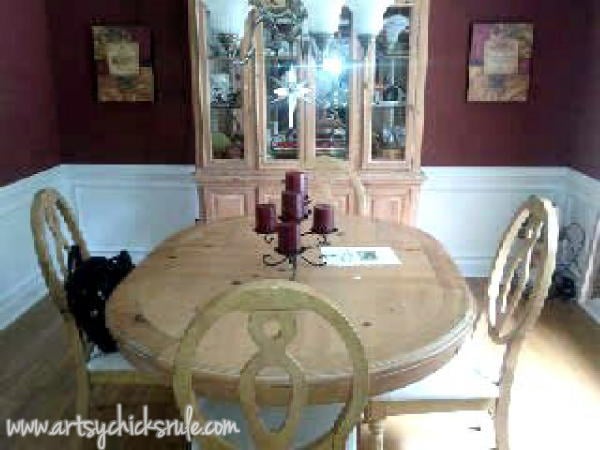 You're wondering where that cool wainscoting came from right?? No pictures of that job, nope.
But my husband and I did that after we tore down all the awful wallpaper I put up.
He cut, measured and put it up, I caulked and painted. You know, the usual. ;)
I also chose to paint a similar color on the top half as I had in the wallpaper I had up previously.
I think I was trying to recreate what I had in my previous home.
It didn't work–> I was over the dark color by then, 7 years later.
I guess I just didn't know it yet. ;)
And here is what it looks like now…..you can see the post on how I transformed this furniture–>here.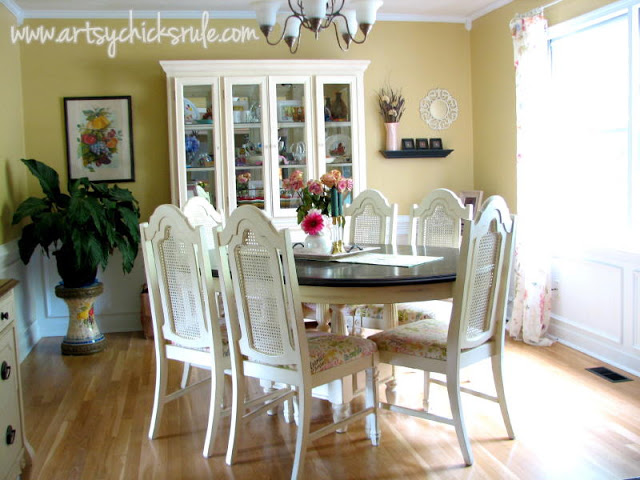 Same furniture, except for the chairs.
Some of the original chairs were broken so I found these, painted and recovered them.
I wanted 6 anyway.
So it worked out but the china cabinet and table are the same. Just painted, stained and refinished.
We've had this set almost 15 years.
Here it is in 2 of our other homes….(it was actually in one other but that was so far back I can't find a picture right now)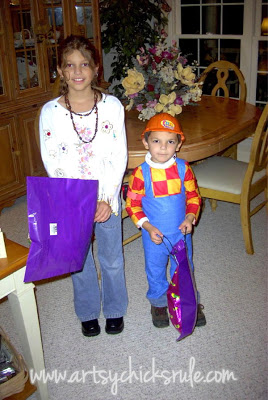 Bob the Builder is ready for some candy!
And my lil 70's chick is too. :)
And another of our homes…with the wall color I had been trying to recreate.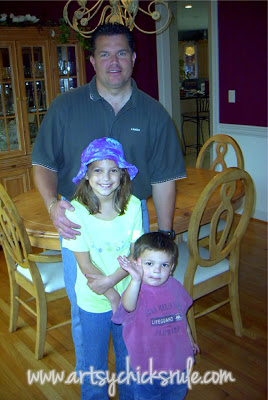 The "window treatments" are re-used also. They've been in 3 family rooms and even my bedroom at one point.
It is basically one long (very long) piece of Waverly sheer I bought when we moved into the house we built. (above)
I wrapped it around the rod and knotted it at the ends…no sew!!
Because I don't sew. Nope.
So I recreated the "wrap" several more times again in each home, lol.
I must have really liked that look.
Shown below in two of our other homes.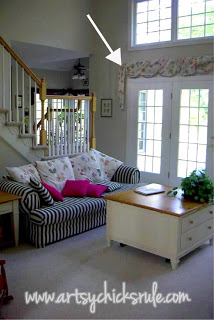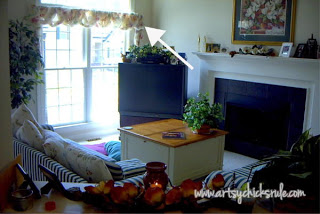 Isn't it so fun to look back at old pictures of our decorating??
How 'bout those fluorescent pink pillows? Yeah.
Or maybe all the artificial greenery in the next picture.
Could I have maybe fit in just one more piece? You think?
So funny.
Anyway…..I decided it was time to cut it up! So, I made sheer panels with it….see below.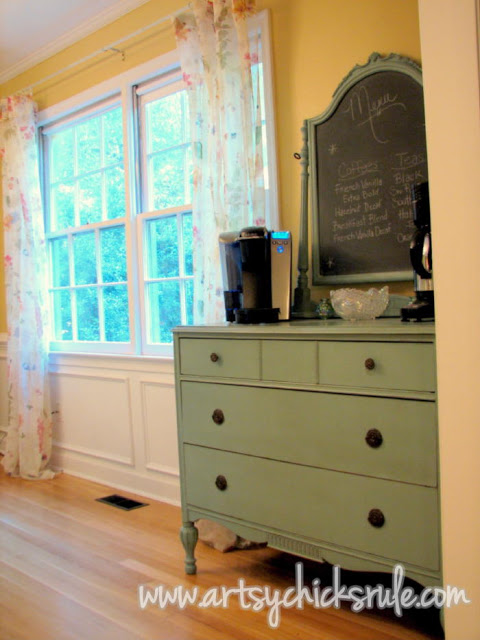 You can read more about this dresser turned "Coffee Server" here and here.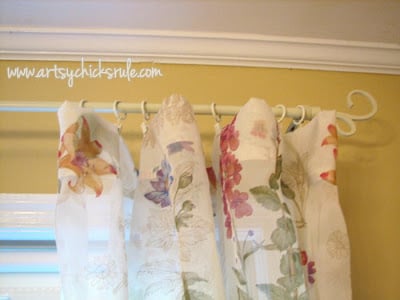 I hadn't planned to use this material originally, it was actually packed away.
But as the room came together, with all the colors, etc. I realized it would look perfect.
So I pulled it out and made these. Plus, I didn't want anything too heavy in there.
I wanted it to stay light and airy feeling.
This sheer material fit the bill perfectly!!
I used this iron on product for the seams. It works so wonderfully!
I've used it many times since this. (edited to add these no sew curtain posts: here, here and here)
My husband thinks it's crazy that I do basically everything else but will not sew. (he comes from a family of women who sew)
I just have no desire to sew or learn how to. That particular creative streak does not run in me.
Updated photo below (as of 7/2015)…… (you can see more of this room here — Our Rooms)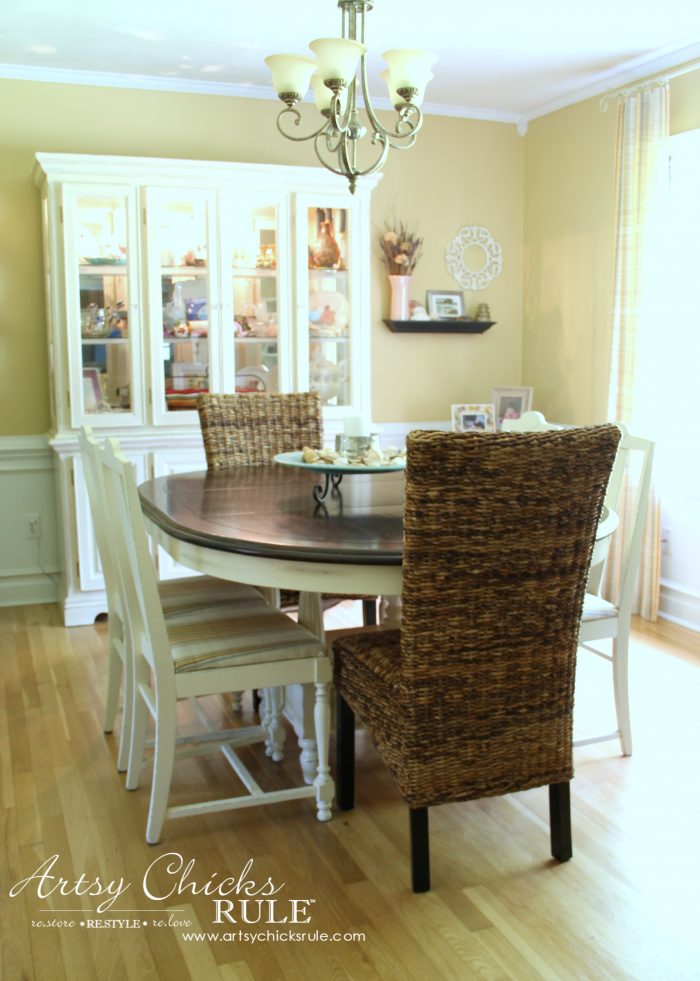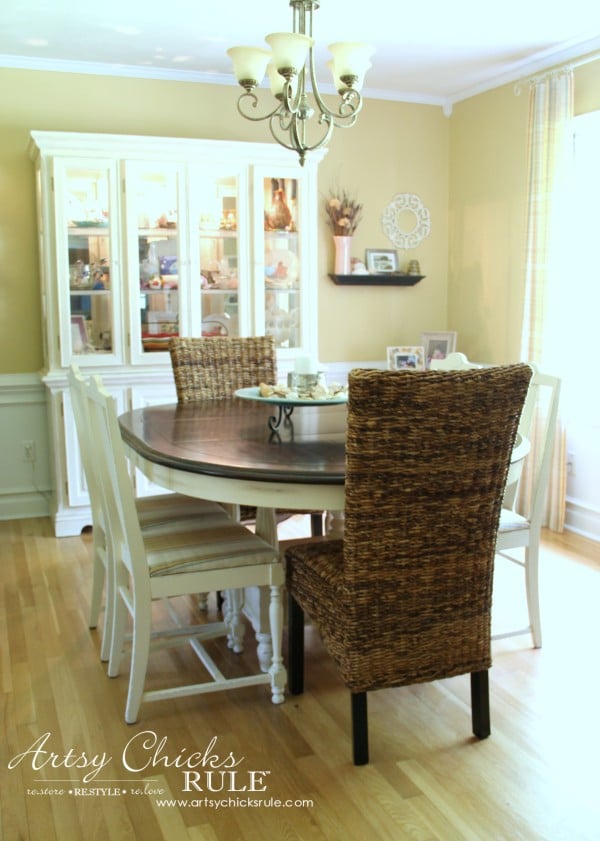 A dining room re-invented, more then a few times. (and probably not the last)
Much better with the large wall opening and the lighter colors, don't ya think???
Have you redone a room this many times in your home? I'd love to hear about it!