Blogging, Thoughts of a Newbie Blogger
This post may contain affiliate links. Please see disclosures here.
I guess this should have been my first post. But it's not, it's my third.
I thought it might be helpful to put into words what I've been feeling as a new blogger.
Maybe helpful to someone else just starting out?
And I was just kinda itching to get it out, to be honest…….
I've thought about writing a blog for a long while, so in MAY I signed up.
But knew nothing of writing one.
Well, the writing part yes, the actual technical blog part, no.
And honestly, I was a little intimidated and overwhelmed at the thought.
So it sat for awhile.
Until about a month and a half ago when I got busy learning and designing my blog til I got it just right.
For now, I'm sure.
As my husband said, "I'll look at it in a week and it will be different".
He knows me all too well.
Yep, I just kept tweaking, adding buttons, changing fonts, colors,
wording on the blog until it couldn't be tweaked or changed anymore! I
was like…. "Honey, do you like this font or that font better? What
about this color instead of that color? Angled like this or angled like
that? This button or these over here? Over to the left or in the
middle?" Gracious, enough already, it's time to write!
I had no more excuses.
Silly for someone who wants to write a blog, right?!
It's a comfort zone thing. Writing a blog.
I think it's a way of opening yourself up to others.
And that's a great thing albeit a bit intimidating at first!
I have to tell you, it was nerve wracking, the thought of putting that first post down. What would it be about? Would I jump right in with a DIY tutorial?
Would I talk about my kids, my life, post a recipe? What??
I knew what I wanted to blog about and the words are continuously swirling around my head with a crazy fury.
But, I had NO idea what I should start with.
Not that it was of huge importance since no one is reading it yet anyway!
But still.
Even though I was unsure what to write on that first post, and sure I'd do all kinds of things 'wrong', I decided it was time to get over it and just jump in and do it!
I started following some of my favorite blogs, interacting and commenting. Which I had already been reading but not really interacting with.
I didn't even know how to follow someone.
RSS what? What the heck is that? No clue. But I do now!!
Really Simple Syndication, SIMPLE, right?
And wow!! Wish I had figured that out earlier. What a great and truly simple way to follow your favorites! Duh! I'm a little late to the party.
But guess what? I even have it right here on my own blog so all of you can follow me too!
It's that cute little orange swirly button up there on the top left.
Or you can follow me by email. That's the cute green swirly button.
(crickets chirping)
I've also signed up to Pinterest, Twitter (both of which I had not done yet) and I made an Instagram & Facebook page for Artsy Chicks Rule.
Twitter, I'm still learning. Pinterest…..is addicting.
I don't have any followers on Facebook or Instagram yet. But I keep commenting, posting pics and talking as if I do!
That's actually not too hard for me. I've been known to talk to myself a time or two.
And anyway, I just keep telling myself, if I build it, they will come….right?
Hope so anyway!!
Are y'all coming? Where are you already? Just kidding…it takes time.
I have to earn my keep.
And I do have 2 whole posts here so far. Well, actually, this makes 3.
Woohoo, I'm on my way!!
So, yes, I will keep on writing and sharing and pretending that people are listening.
Until they do.
As blogs go, I sorta feel like the little Kindergartner (even though I'm older then most!) in the room, AKA "the blog world", with all of the High School students….looking up at them in awe.
They are so smart and beautiful and wise.
Remember that feeling?
Something I came across just recently was in PERFECT timing for me to see.
I love when that happens!!!……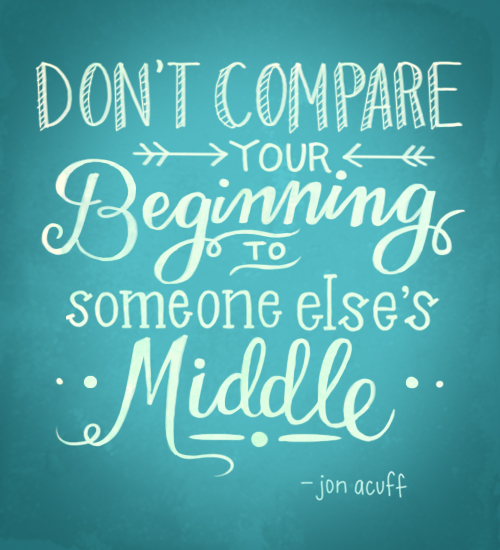 Oh so very true, right?
I wrote down this wonderful and very wise saying and put it where I can see it.
As a daily reminder.
Because it's easy to get caught up in the beauty of others blogs, photos, writings, followers, etc.
But I am not there yet and I have to remember that.
This applies to so many things in life….but for me, right now, it reminds me I am at the beginning.
And that's a very exciting place to be, indeed.

Edited to add: If you are interested in learning more, I have since created a "How to Start a Blog" page to help others on their journey into blogging! :)