May Giveaway (the essentials)
This post may contain affiliate links. Please see disclosures here.
Hello beautiful friends!
I hope you are having a wonderful week so far. I have been hard at work on the thing that I've sort of mentioned (but not, haha) and it's coming along…very slowly! Baby steps, right? I can't wait to share all the goodies with you soon. But in the meantime…
We are well into the month of May so you know what that means right??
It's GIVEAWAY time! Yippee!
This month I thought I'd get back to basics with some of the essentials. And some of those things that you might not purchase for yourself but sure come in handy.
And I can't leave it at that. I must throw in something fun too so I'm adding in a sweet Paris stencil to go on your next project.
The approximate value of this giveaway is $115…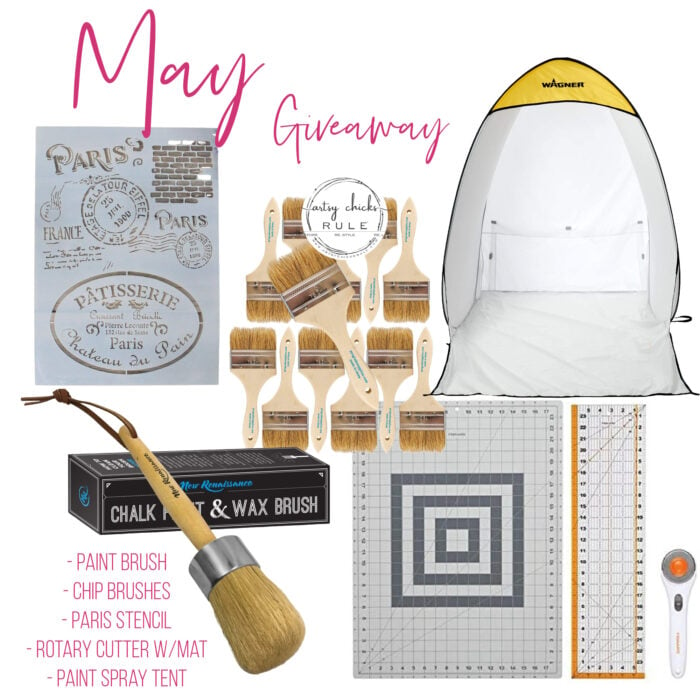 Lots of goodies to get you going on your spring/summer projects.
I hope you are enjoying these monthly giveaways as much I am enjoying hosting them!
It's my way of saying thank you for hanging out here with me and to let you know how much I love and appreciate you all.
Plus, I love being an enabler…crafty, maker, furniture painter enabler, of course. lol
Here's what one lucky winner is going to get:
(This giveaway is not sponsored by Amazon or any of these companies, it is a gift from me, to you!)
These items will be coming directly from Amazon to you…from me.
(if for some reason something is out of stock at the time the winner is chosen, I will choose something equally wonderful in its place)
Here's how you enter:
To enter, just fill out the Rafflecopter below. Enter all or as many as you like for more chances to win.
Once the contest is over, the Rafflecopter will choose a winner at random.
That's it!
(if you have trouble with the Rafflecopter box below, you can visit this link to enter instead, "May Craft Giveaway"
The giveaway ends Thursday, May 27th at 12:00am EST.
After which, one winner will be chosen at random and notified via email.
You will have 48 hours to respond. If not, another winner will have to be chosen.
You must be 18 years or older (and a US resident) to participate. Void where prohibited.
Good luck, friends!
xoxo