DIY Welcome Sign (thrifty, what else?!)
This post may contain affiliate links. Please see disclosures here.
What better way to welcome guests into your home than with a DIY welcome sign!
That started out like this: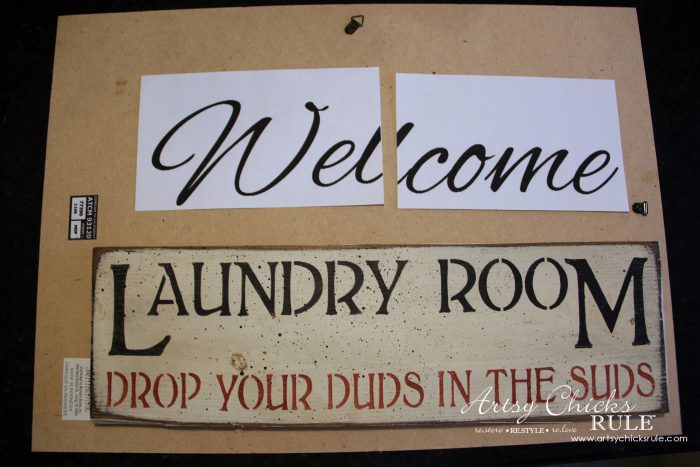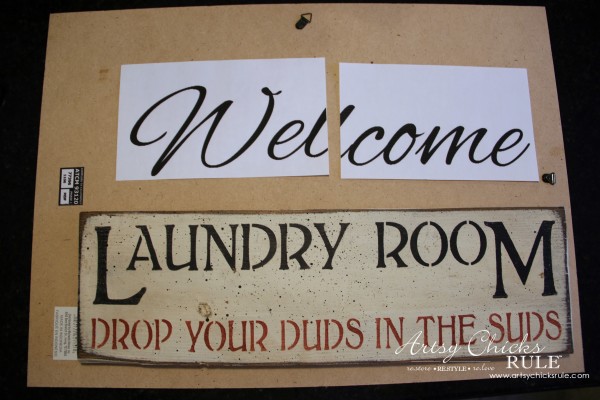 Yep, like the title says…..it's thrifty, what else would it be around here?
I use and re-use things all the time. AND I buy (at the thrift store) and re-use other people's things too. ;)
Like this DIY Welcome sign ……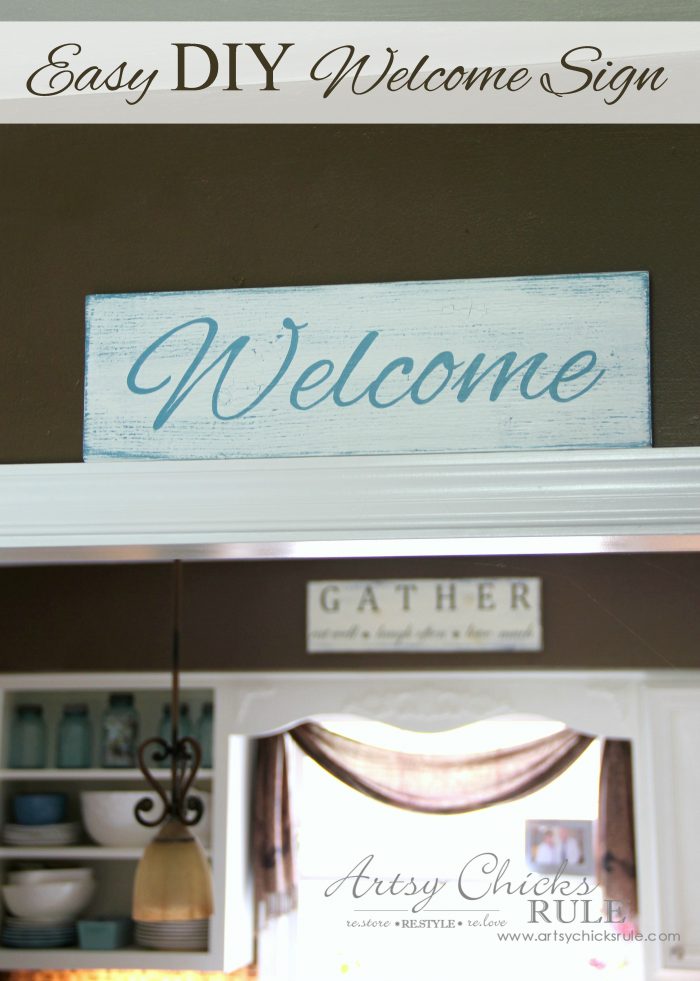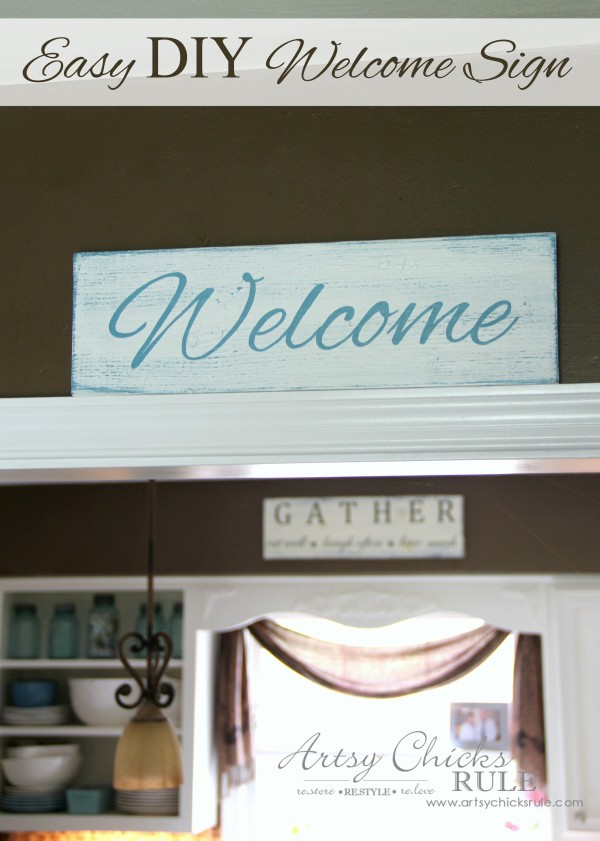 It originally came from the thrift store.
It's cute…but wasn't my style. BUT the board was a nice size and it came ready with a hanger on the back.
So I created "Welcome" on my computer and printed it out.
You can download it here…

I decided to do a distressed blue/white base.
Starting with blue…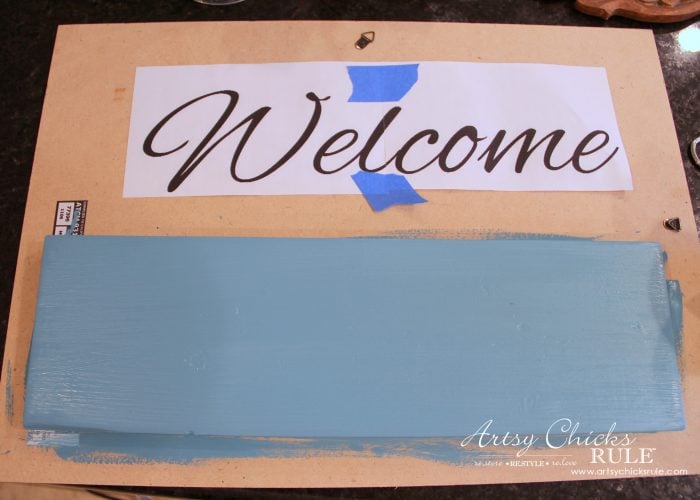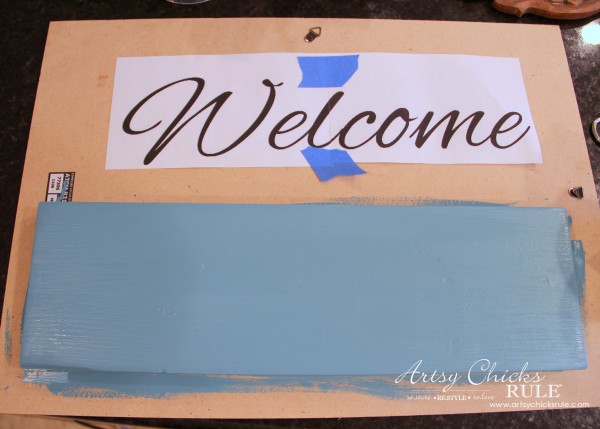 I did two coats so I'd be sure I wouldn't sand down to the other board when I distressed.
(I used the same blue I mixed up for my IKEA Rast Hack I posted recently)
Followed by only one coat of white…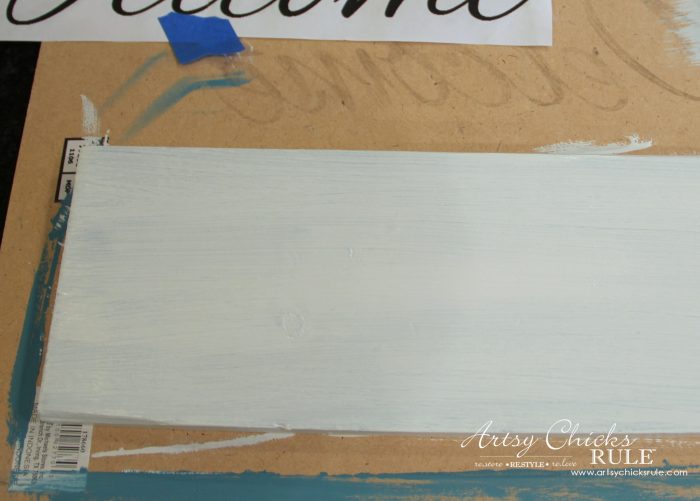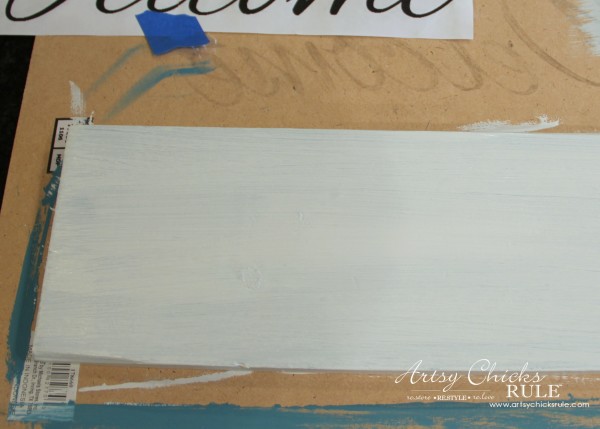 I dried both coats of paint with a hairdryer.
And I got some fun crackling.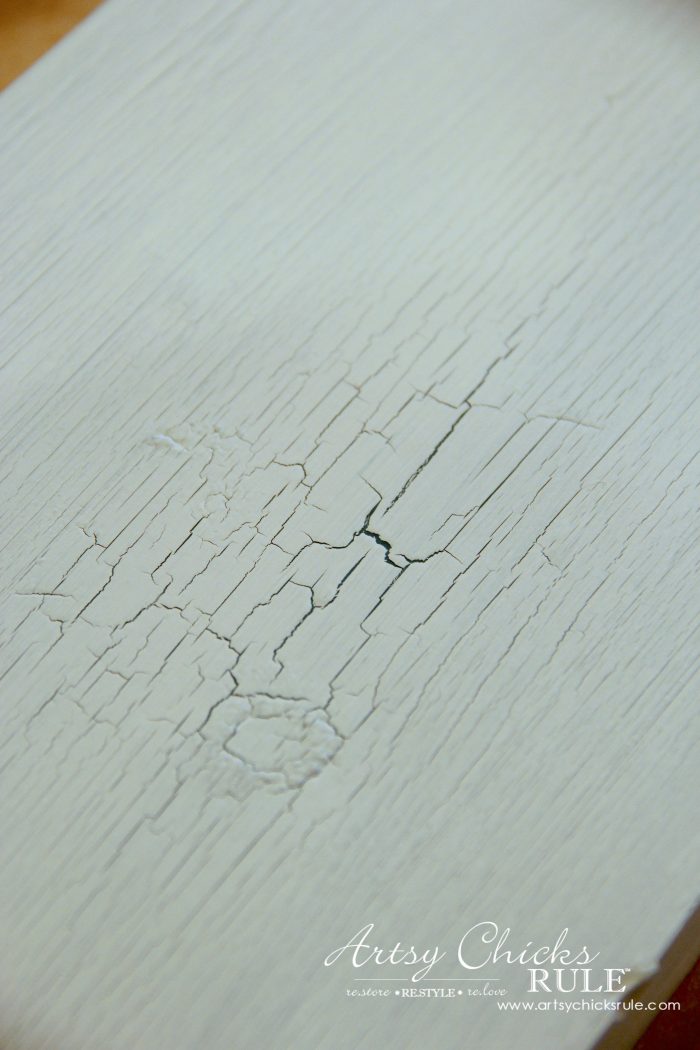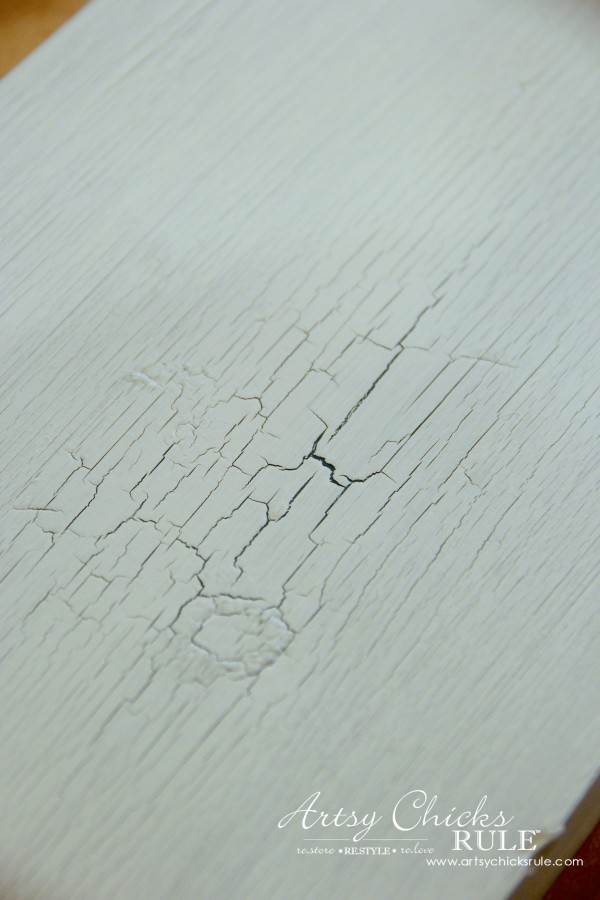 I love this look and this technique creates nice, small crackles here and there.
If I had wanted more crackling, I would have used a thicker coat of paint.
Next, I lightly sanded the whole thing, especially the edges, for a distressed look.
(and to bring the blue underneath through)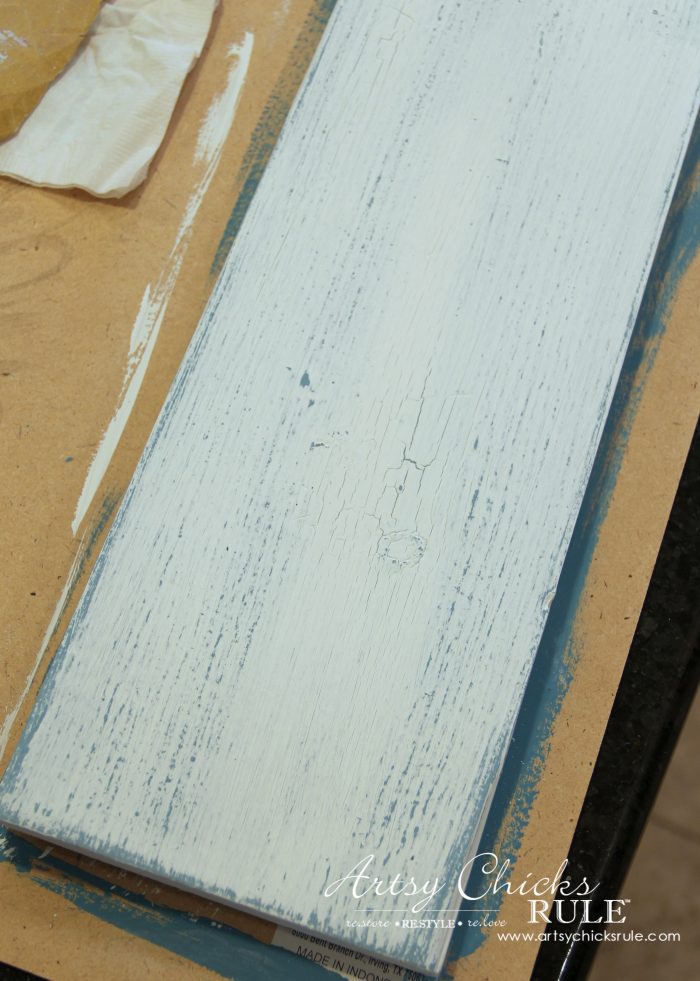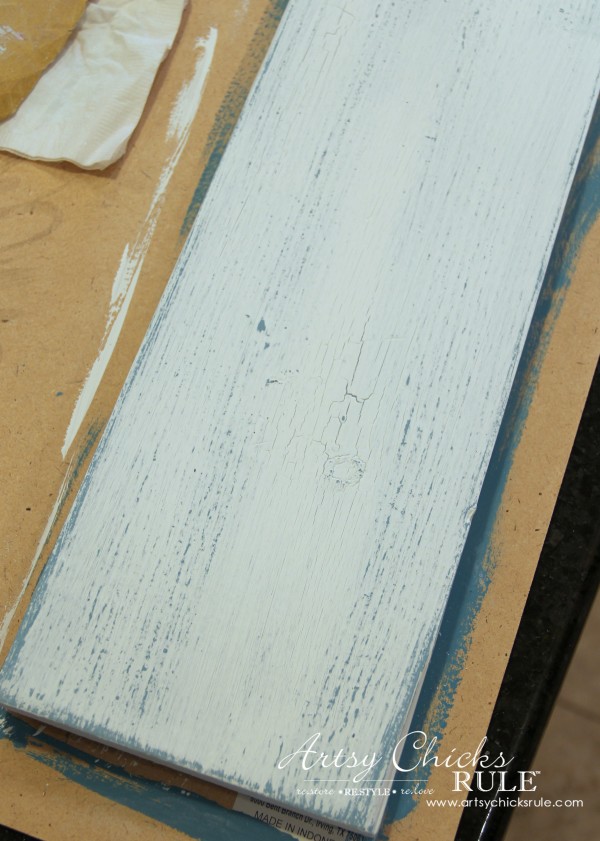 Then be sure to lay the paper down with the words centered on the board.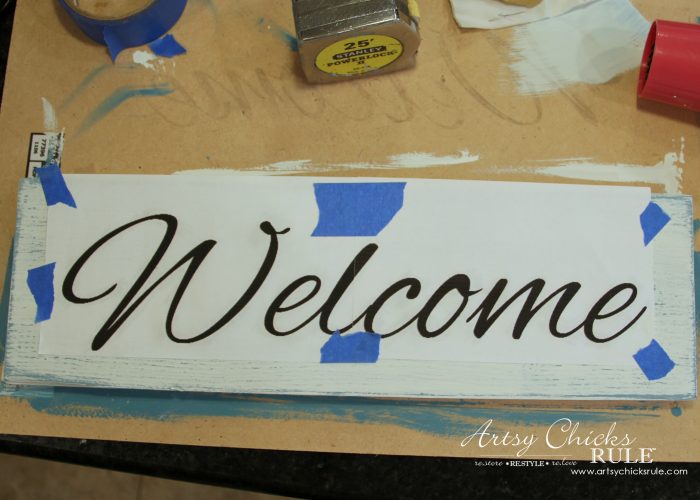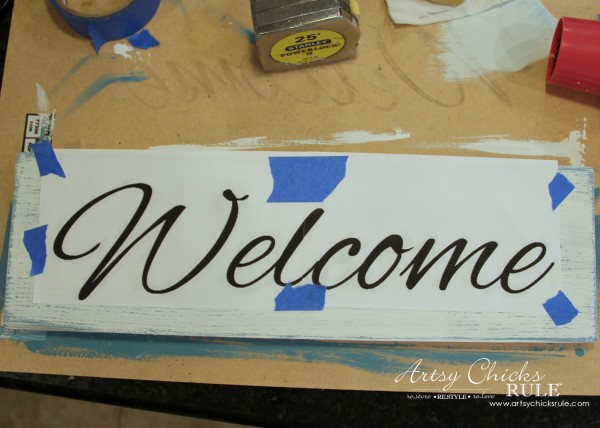 I always make sure I measure the distance from the left side, right side and the letters along the bottom.
You don't want a crooked "welcome"!
I shaded the back with a pencil before I applied the tape and positioned it.
Now all you need to do is trace the letters.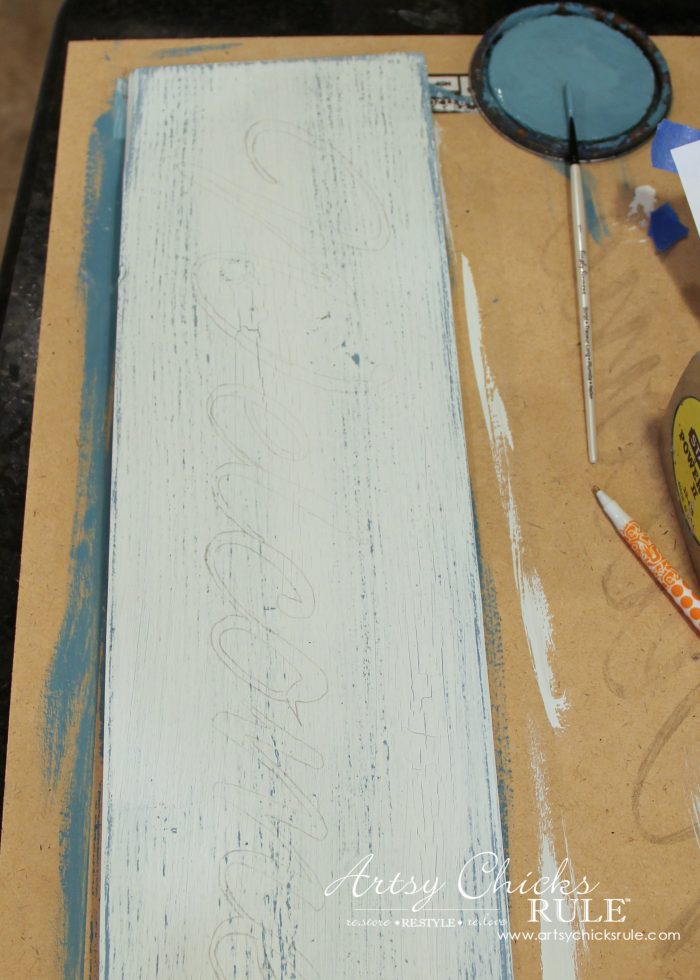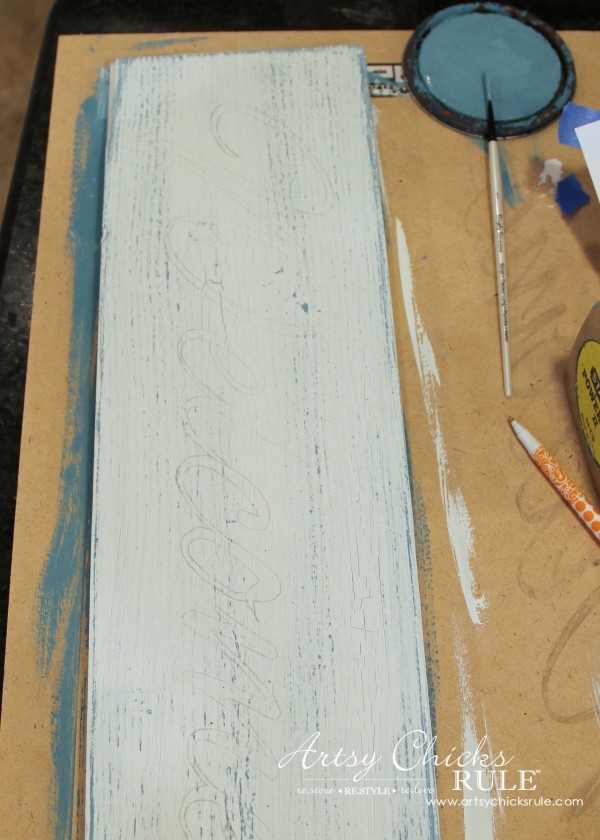 The pencil lead will transfer from the back.
You can also print in reverse and the ink from the printer will do the same thing.
I use both methods.
Here are even more methods of transferring I use around here >>> How To Transfer Graphics
Start "painting in the lines"…like I always say!
Sooo easy…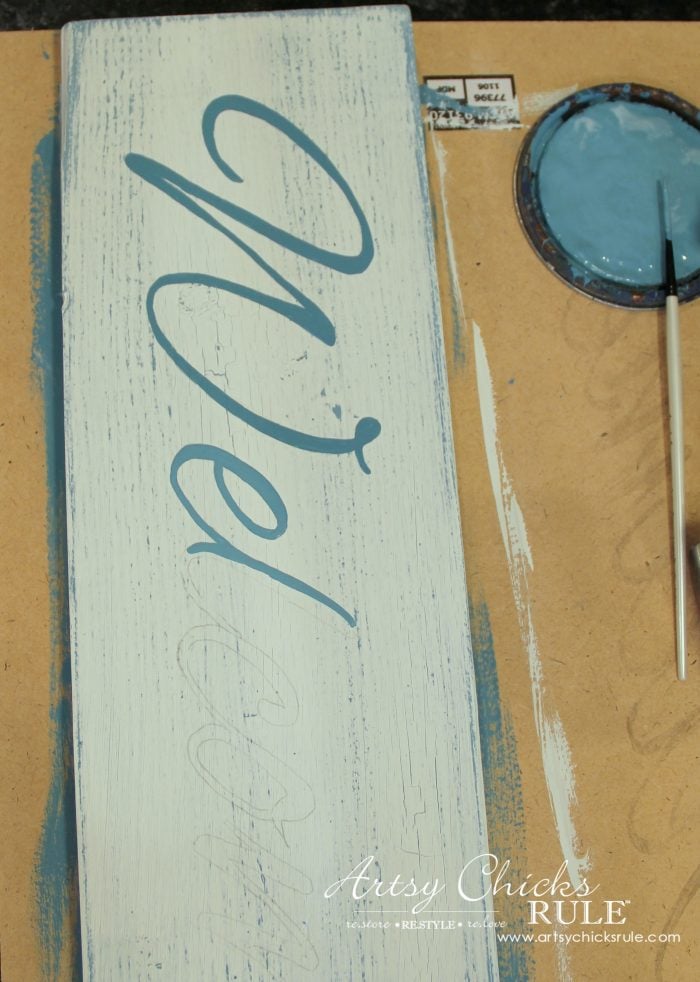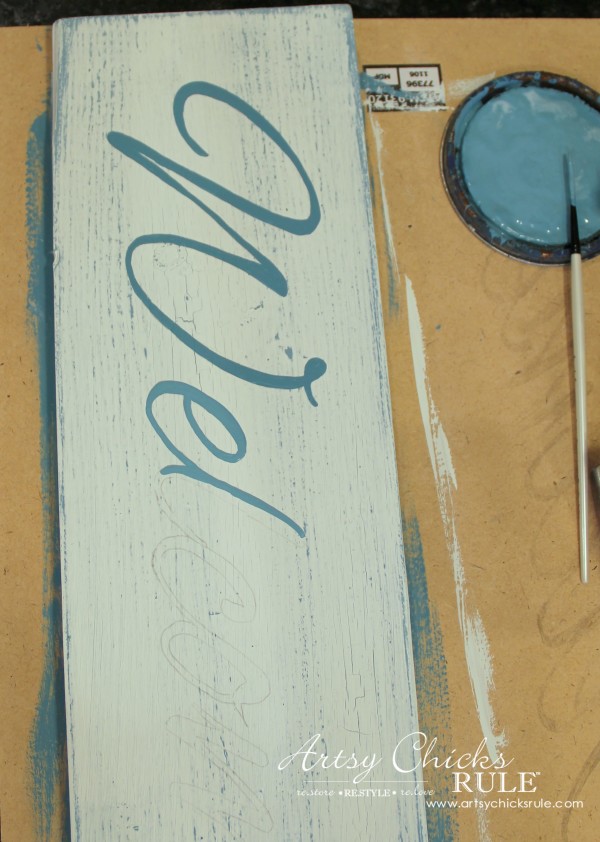 A script liner brush is a must for this though. It will make your job easier.
(and will keep your hair intact ;) )
All done….and nope, I didn't distress the lettering this time!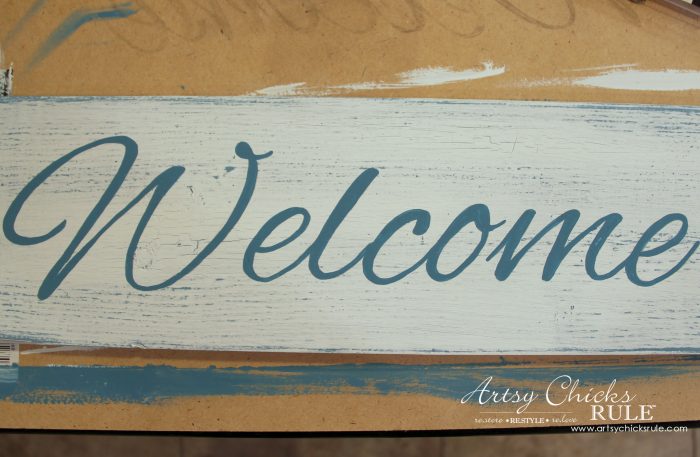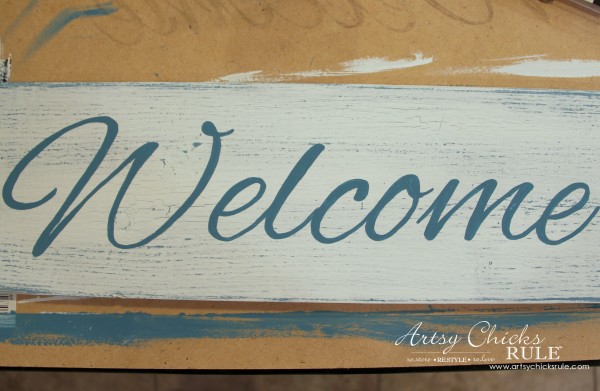 I wanted a nice clean, solid look for that part so I left it after painting.
And over the doorway in my foyer.
First thing you see as you enter.
Perfect…..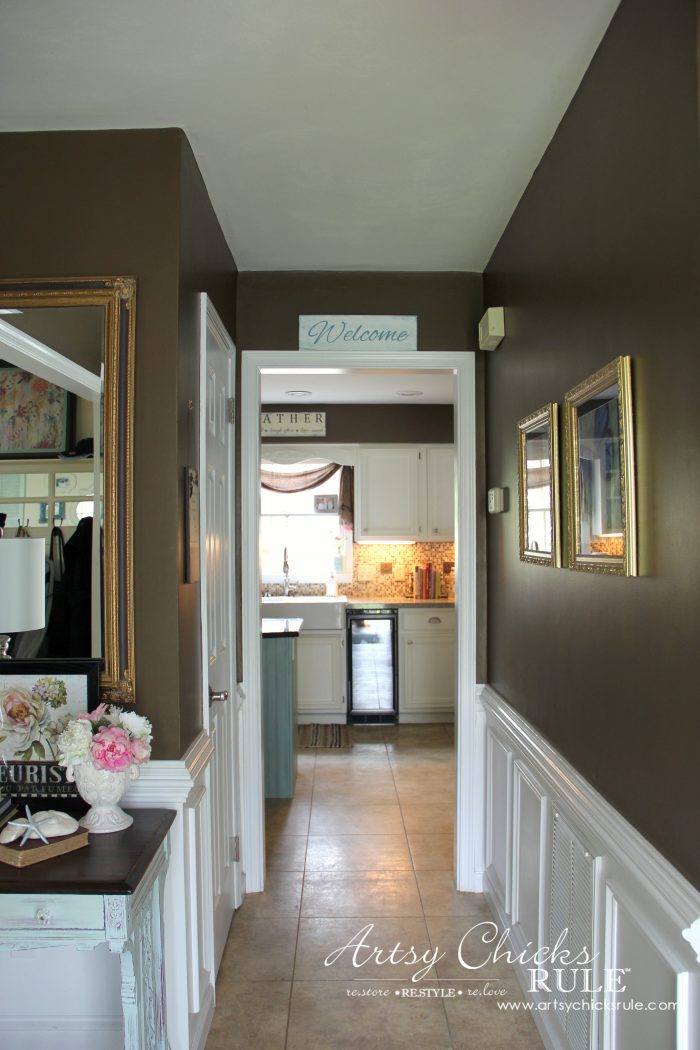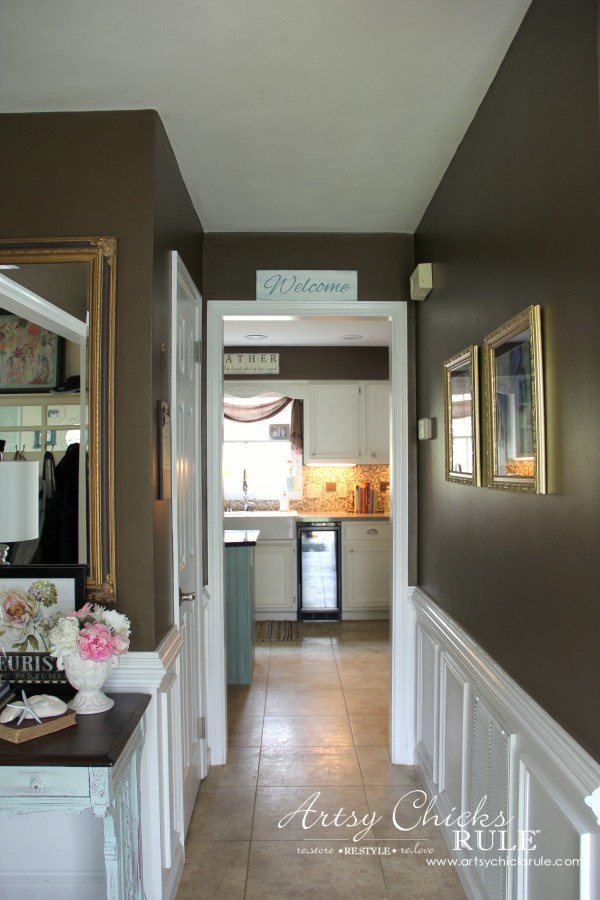 Except it probably won't stay in this spot.
I've got plans for a black and white "Welcome" sign that will go over my front door outside on my porch.
I think.
And if I do that one, I don't want another right here unless I really want my guests to feel extra welcome. hee hee
Which of course I do, but that would just be silly.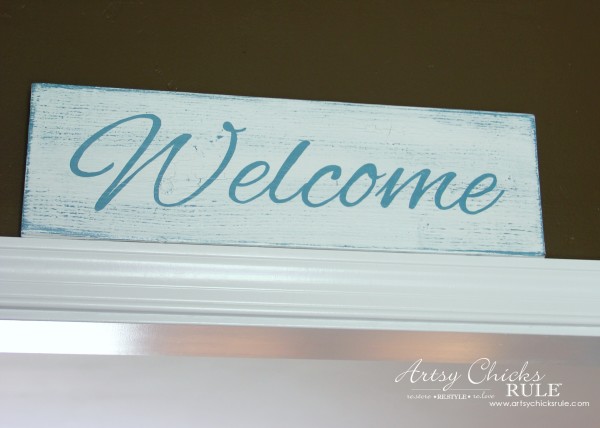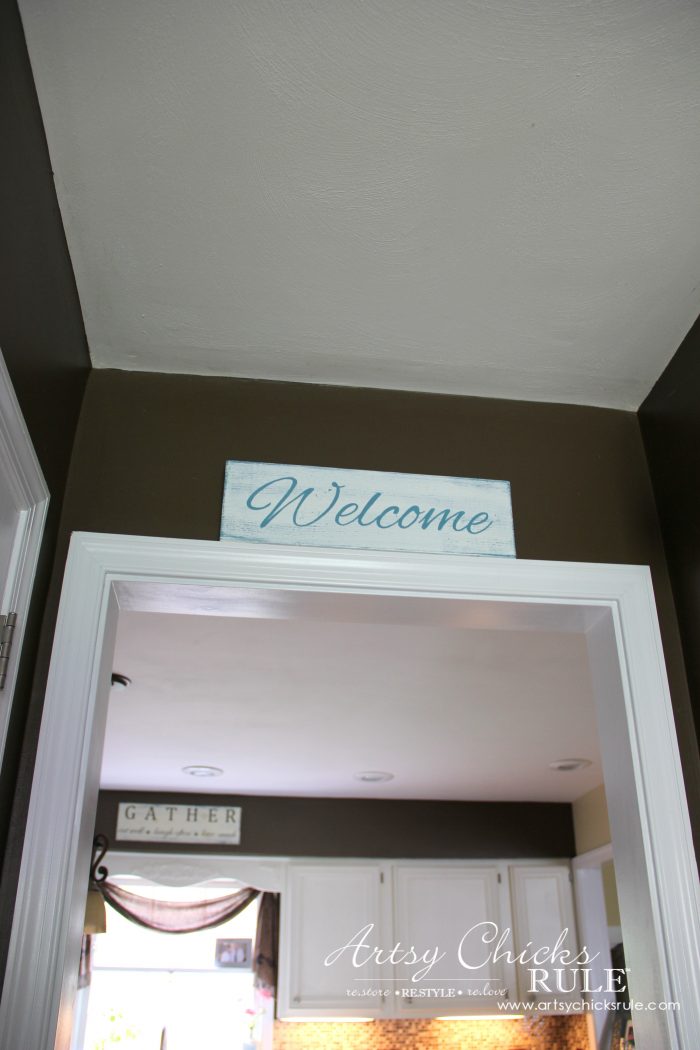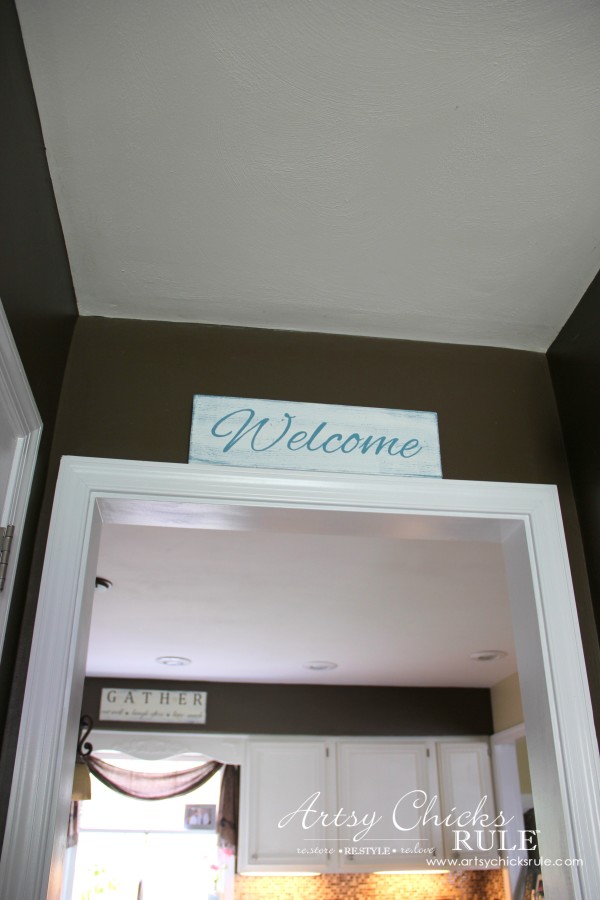 I do like it here for now though.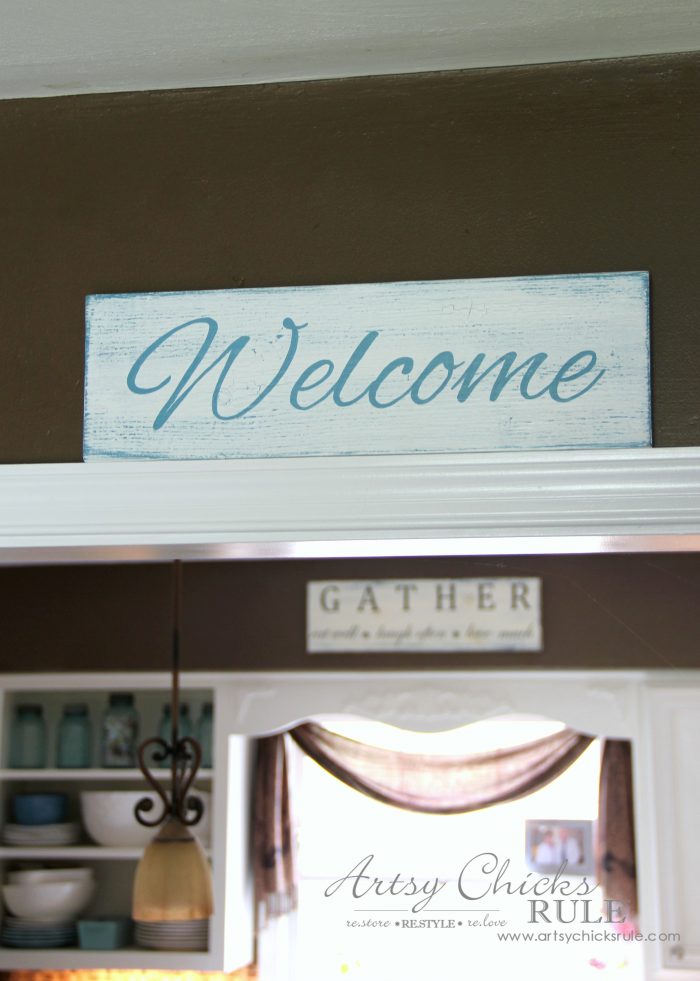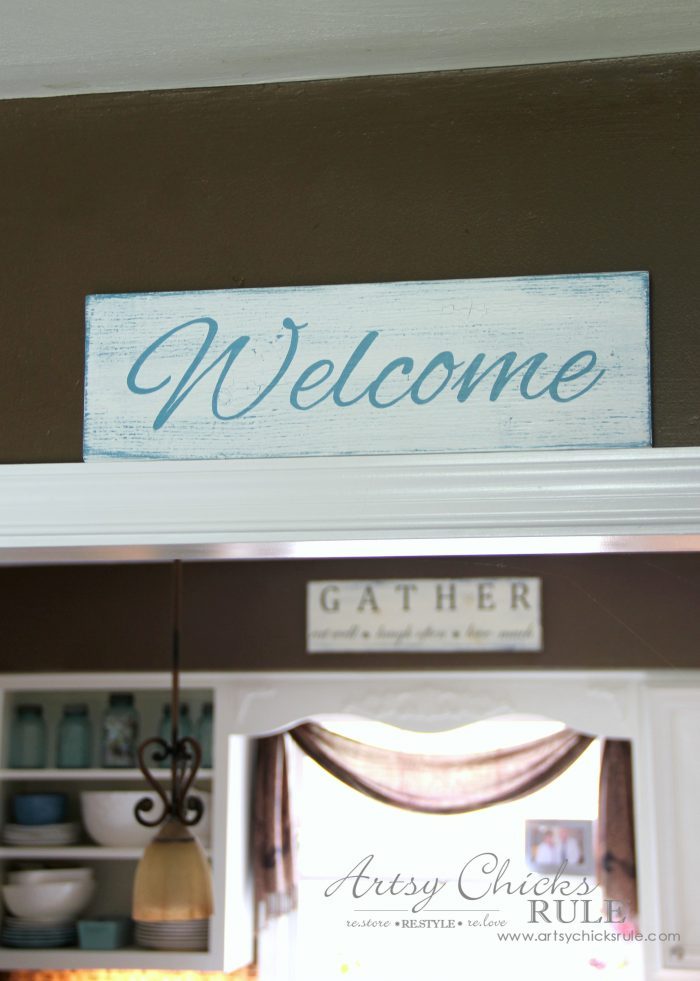 Or maybe I'll skip the other sign and just put this one out on the porch…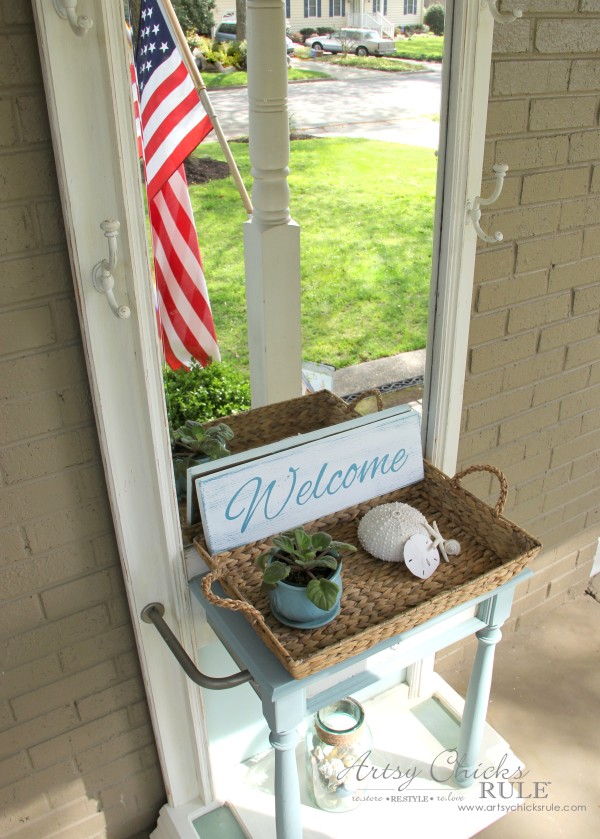 On my Hall Tree….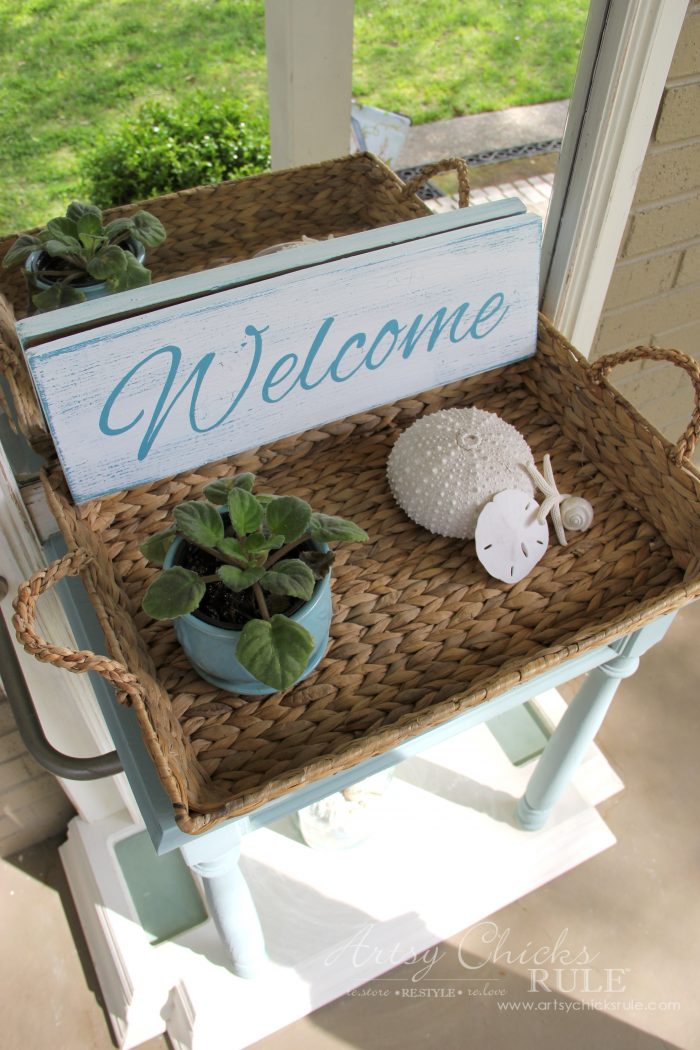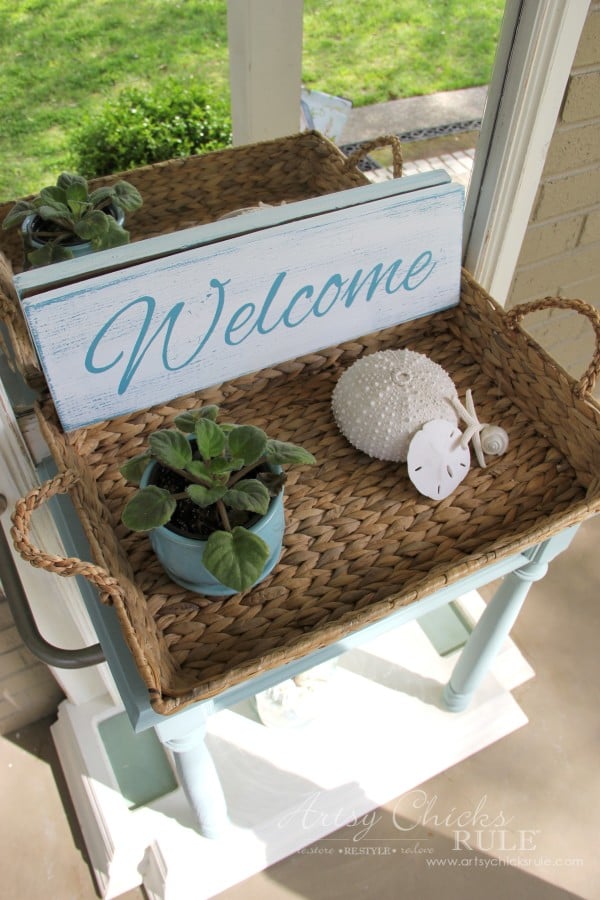 Maybe. Or not…we'll just have to see.
Or it will end up here: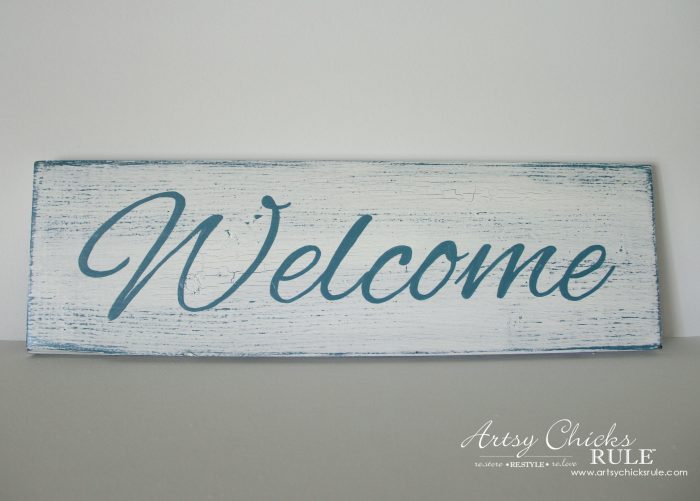 Can you guess where this is?
On one of the shelves of my built-in bookcase in the Study. It's almost done! Yahoo! (update, you can see it now, here!)
I'll be sharing it soon. I can't wait to get it all decorated and pretty.
I'm really loving the new DIY welcome sign.
Signs, signs, everywhere a sign! (around my house anyway! )
Any of y'all remember that song? It's an oldie…but the song came to me as I was typing that!
"Sign, sign, everywhere a sign
Blockin' out the scenery, breakin' my mind
Do this, don't do that, can't you read the sign?"
Do you know it?
Anyway, I veered off topic a bit with that. You should hear me tell a story. lol
Just ask my sweet husband and he'll tell ya how well I can"veer" off the main point.
PIN it to save it!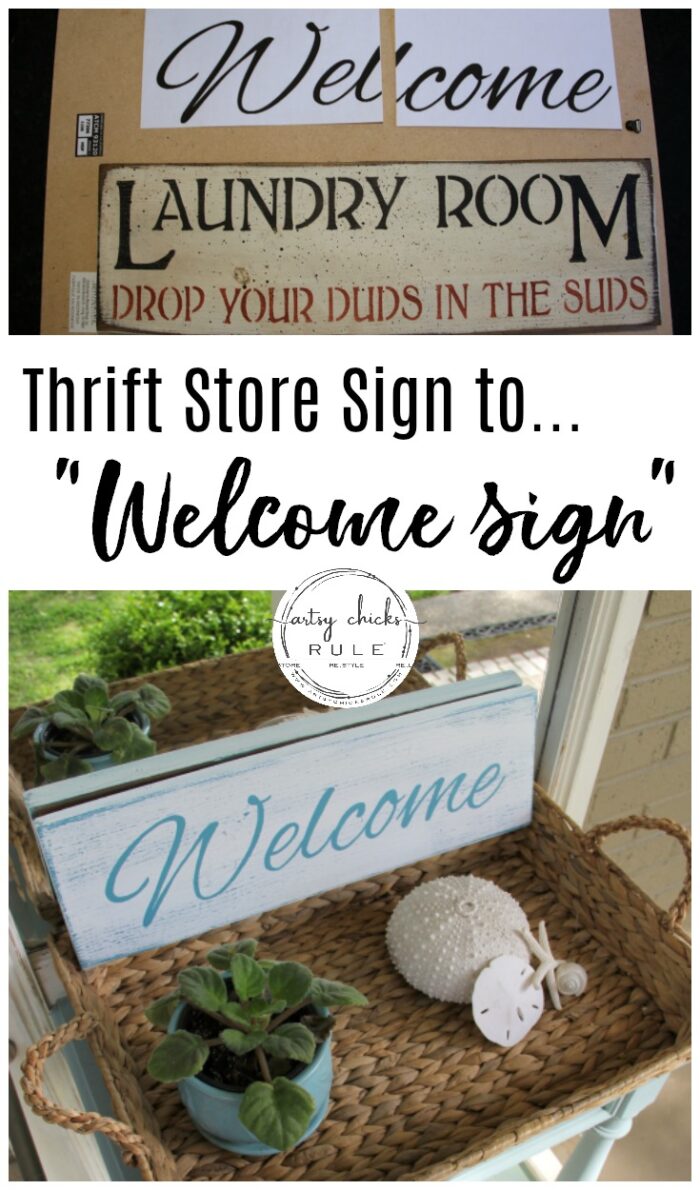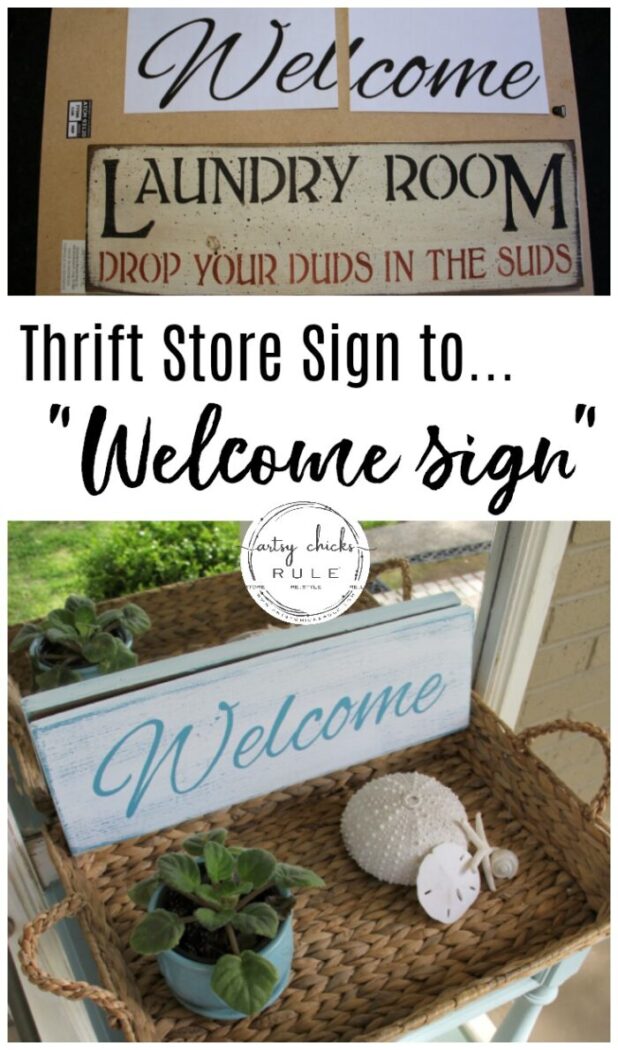 Ready to see the next sign I'm working on? It's a really fun one, be sure to check back for it!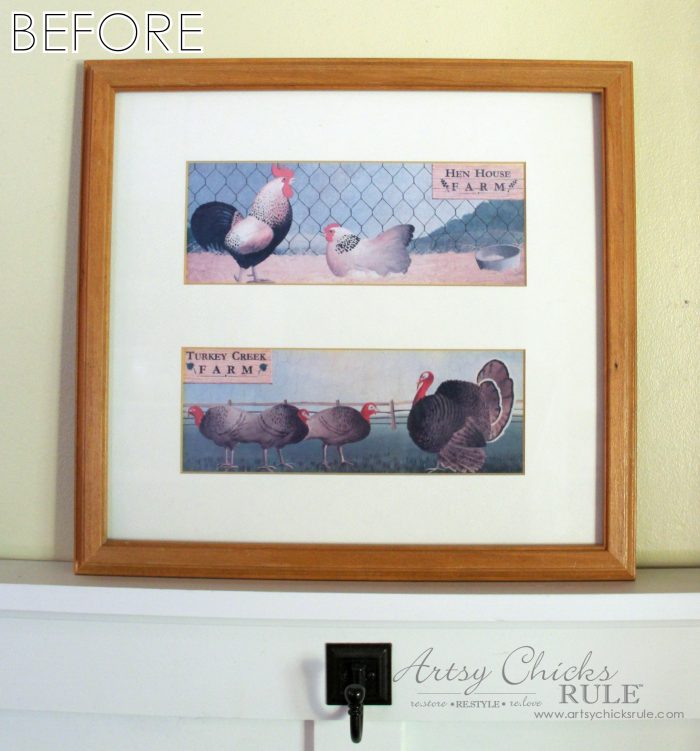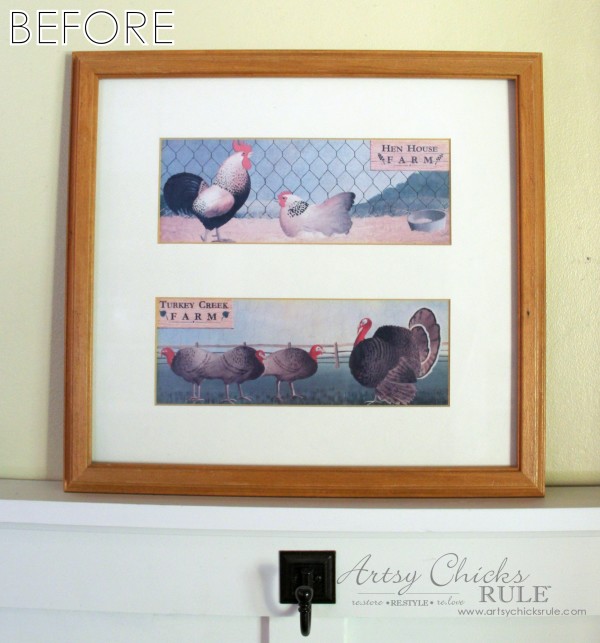 UPDATE!! See it now, here!
Happy (almost) weekend friends!
xo