As promised, I am sharing my downstairs guest bath makeover with you all today.
And it's another doozy of a makeover. ;)
1970's…..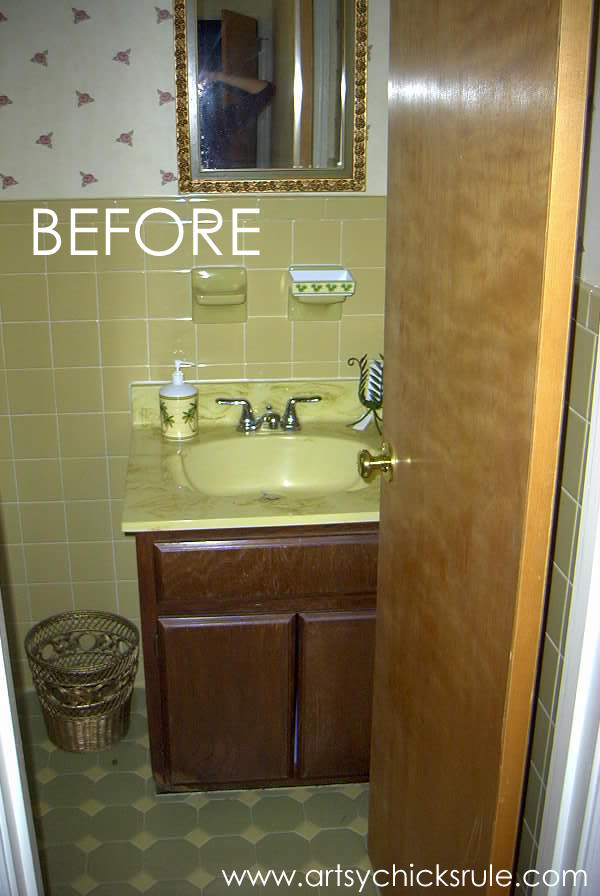 to 2004….to today.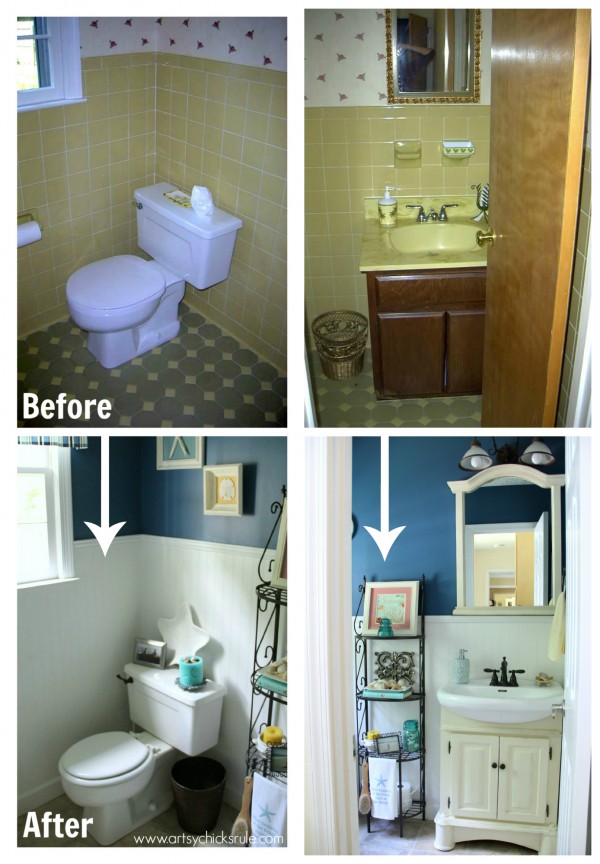 I know….gold and avocado green tile, sink….pink rose flowered wallpaper.
What's not to love?
A lot.
In 2014 anyway. (and in 2004 too)
Did you notice the (apparent) dog chewed up cabinet?
So yep, that's what we moved in to.
And this is what we turned it into….the first go round.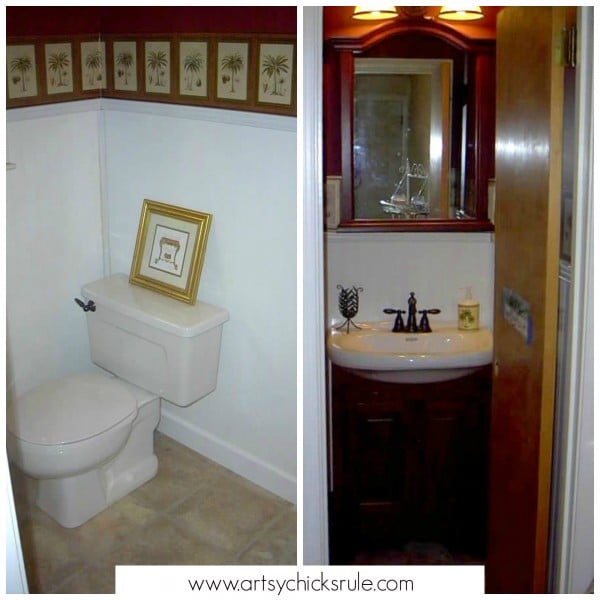 During my dark, dramatic, maroon, gold, palm tree, wine, tuscan theme. :)
But we did replace the flooring (although it was temporary….done for $63, the laundry AND the bath) to remove this and that gold/green tile in the bath.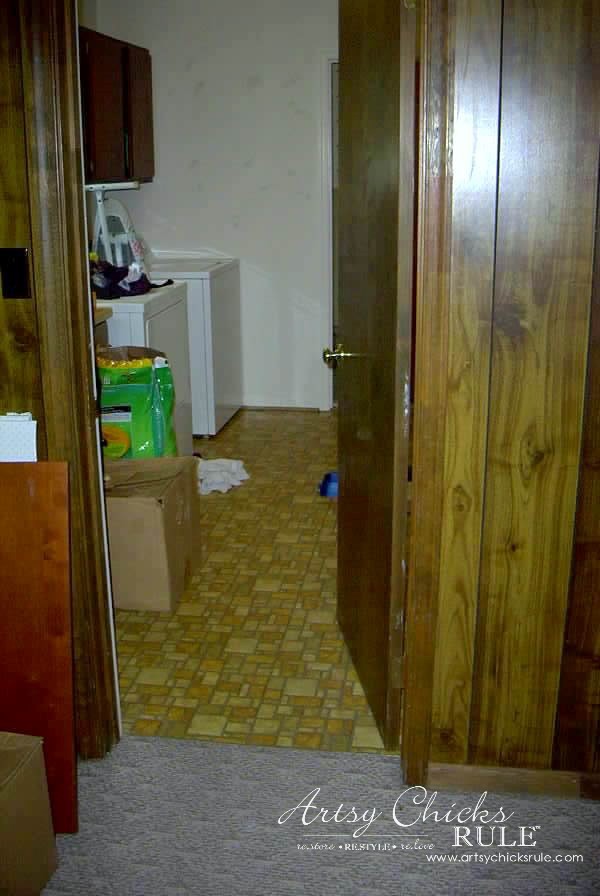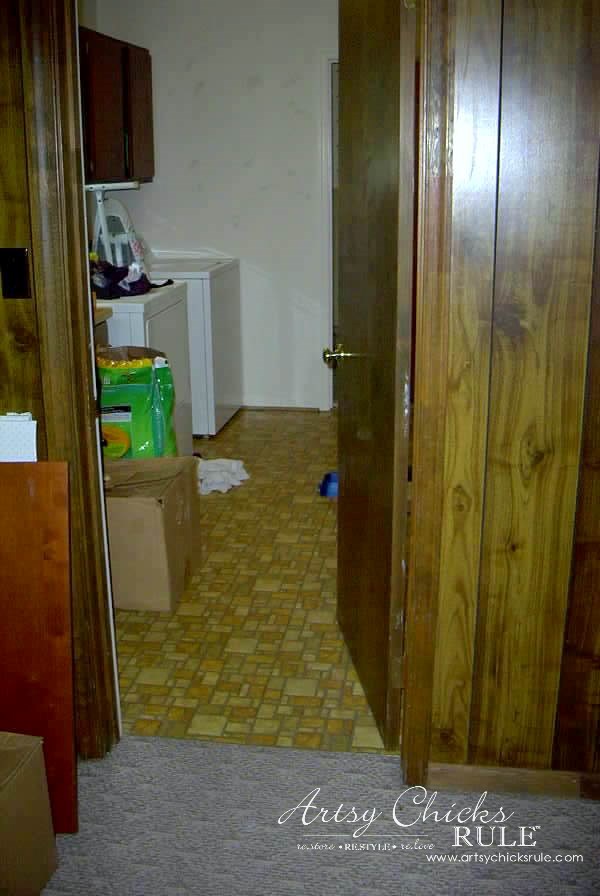 AND this GOLD and ORANGE linoleum in the laundry room.
Ew.
(by the way, this was a few days after "move in", hence the mess)
Same room now.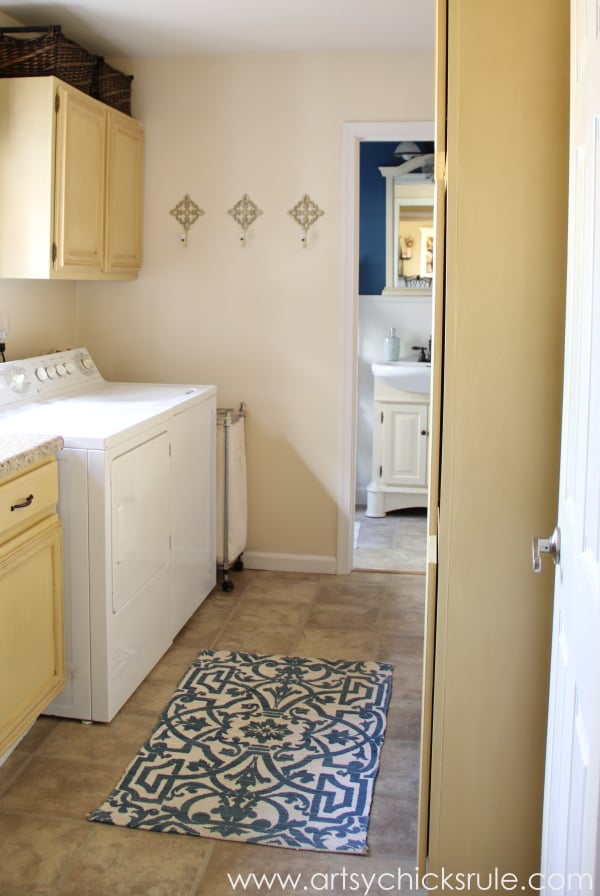 So the sticky little tiles in the laundry and bath were temporary…..almost 10 years later they are still here.
Anything was better than that. Agreed??
We have plans to revisit the flooring…some day.
But on with the bath makeover.
We bought the sink, cabinet and mirror from Home Depot for, I think, around $250.
It was one of those box deals. And a good one actually.
We paid almost as much for the faucet.
Oh well. Save here…spend there. 
Mostly I am thrifty….but every once in awhile you just have to splurge.
Keeps the balance, ya know?
That's what I like to think anyway. ;)
We took the tile down and replaced it with beadboard and trim.
(and I took the wallpaper down)
New lighting, new door, new hardware…..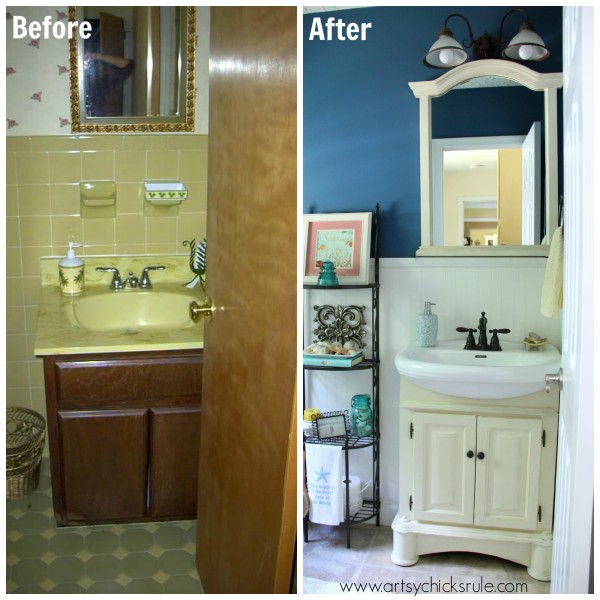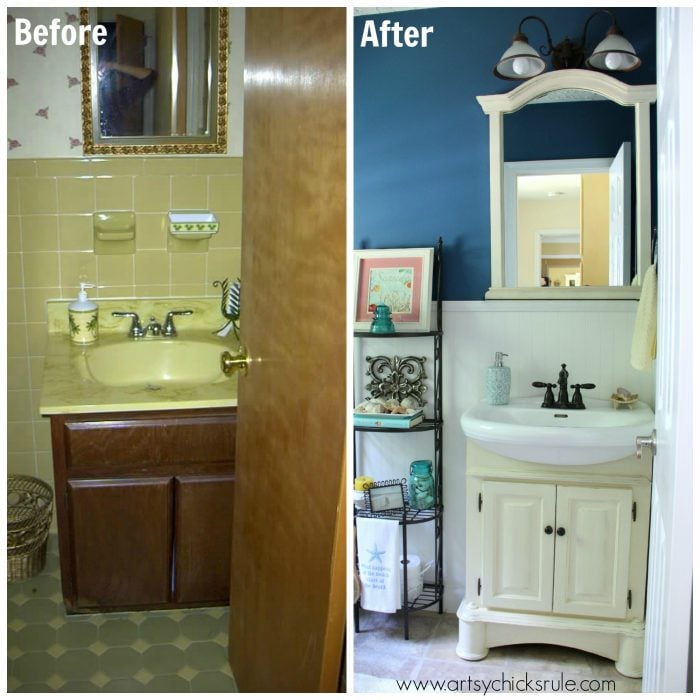 The new cabinet had a very pretty stained finish originally but I really wanted to change the look of this bathroom recently.
And lighten it up a bit.
So I painted it. I used Sherwin Williams paint for the cabinet and mirror. (mixed…several shades of SW paint)
The blue is Valspar – "Blue Lake".
I also spray painted the metal rack you see in the photo above. It started out white with very gold trim all over.
I bought it for the house we built back in 2000.
I decided to peel off the gold trim and spray it all over with Oil Rubbed Bronze spray paint.
You can see it in this post –> here.
(if you look in that first collage photo above, you can see it when it was "white" in the reflection in the mirror)
I like to use and reuse things.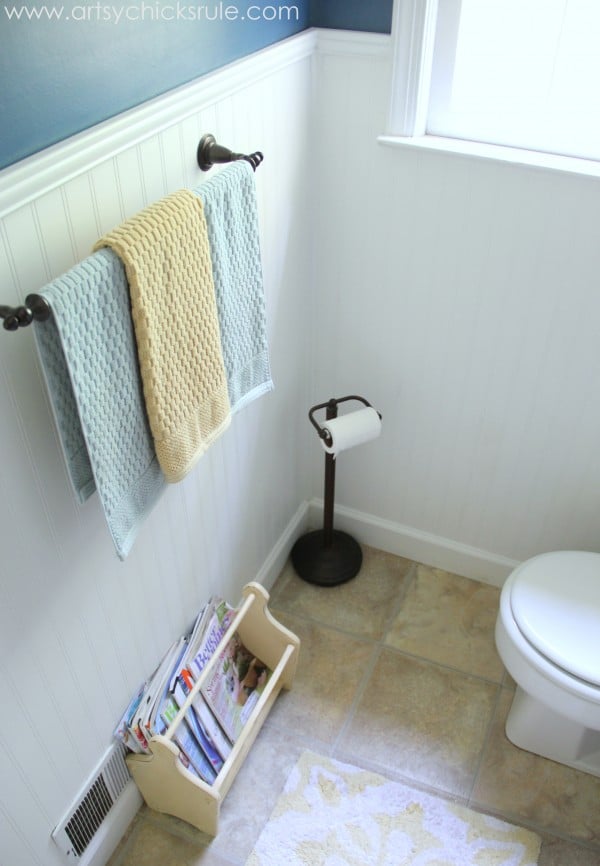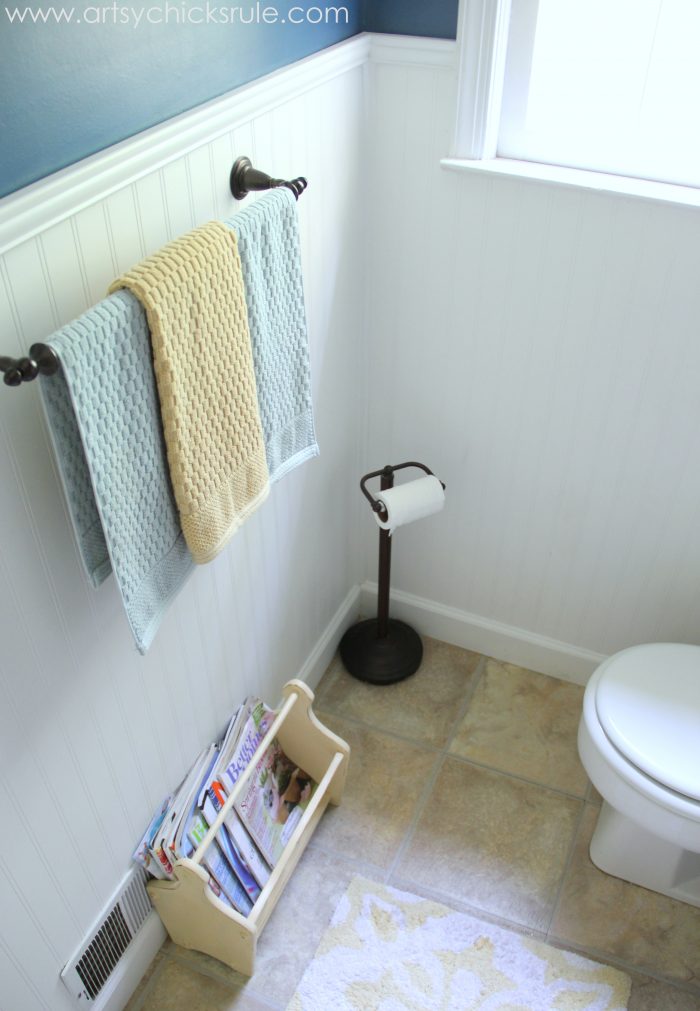 Like this old magazine holder. It was a thrift store find that I painted with Chalk Paint®.
You can see it in this post here–> Chalk Paint-Not Just for Furniture.
The bronze toilet paper roller was on clearance at Lowe's for $10.
Shelf I recycled and painted.
Thrift store frame (painted it and the matte) and new print.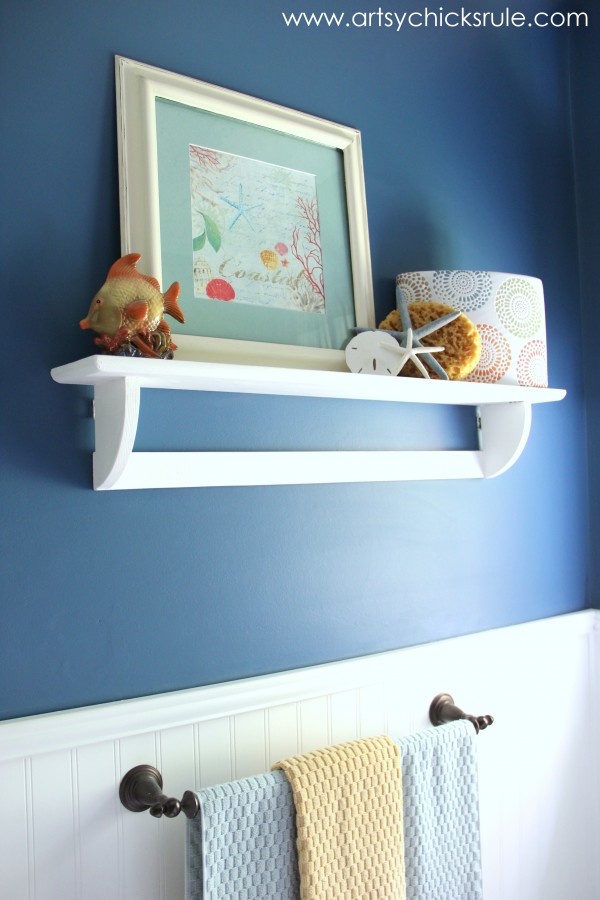 Thrift store fish decor.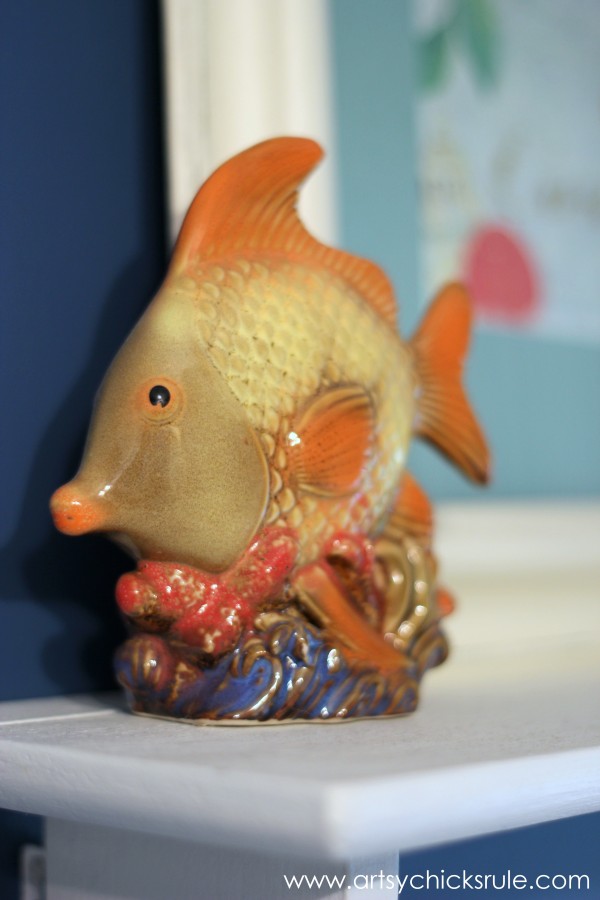 Thrift store frames, bead board, sand dollars and starfish make for really inexpensive wall art.
The swirly mirror came from a garage sale across the street at my neighbor's house.
I painted it and hung it on my wall.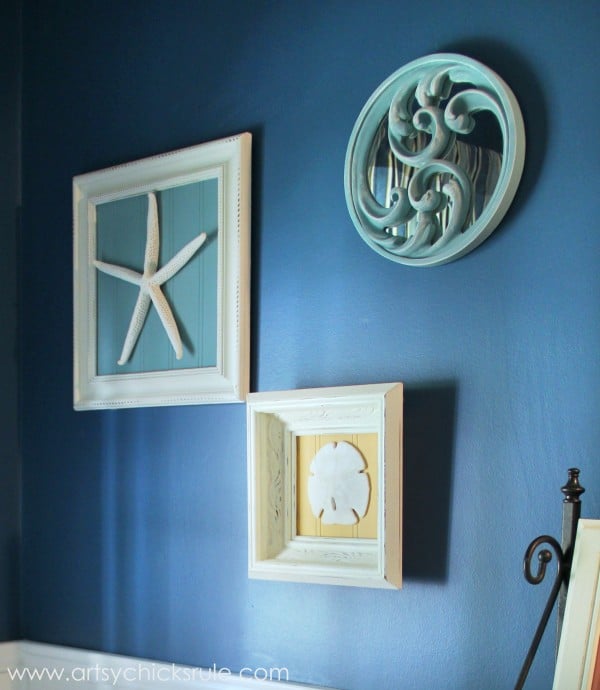 You can see my post on how I made the starfish/sand dollar wall art here –> Thrifty Wall Art.
Simple nautical touches…. (why yes, that blue starfish is sparkly–I added some fine glitter to it)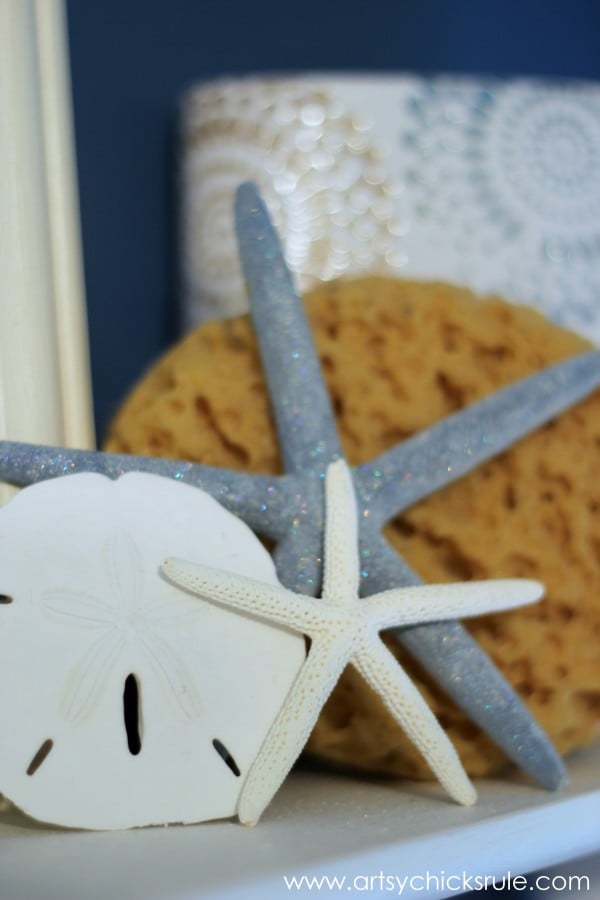 …and the "no sew" valance I made for this bathroom for less than $3.00. 
It was "temporary" too…but it remains. ;)
Love this saying ….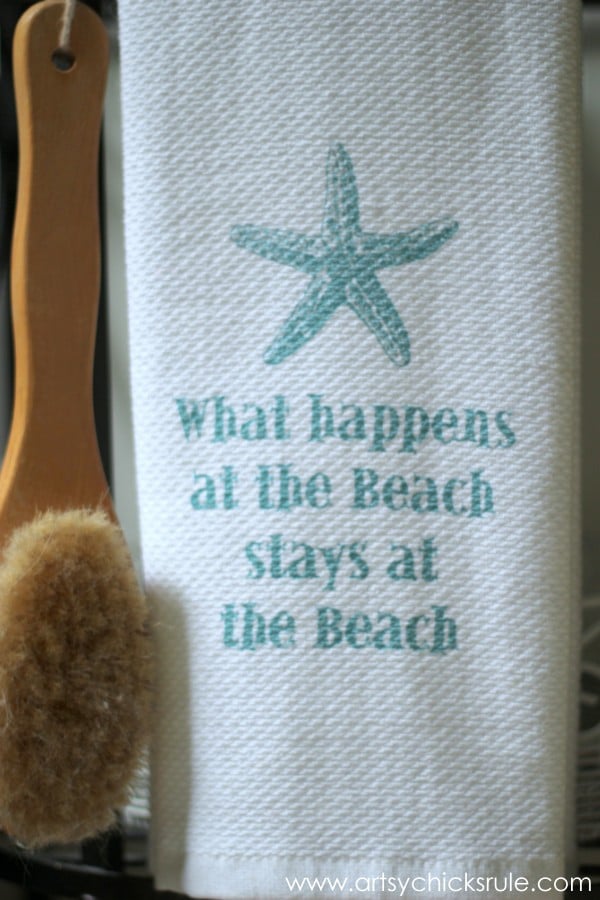 Another thrift store frame holds a photo of my son and husband fishing.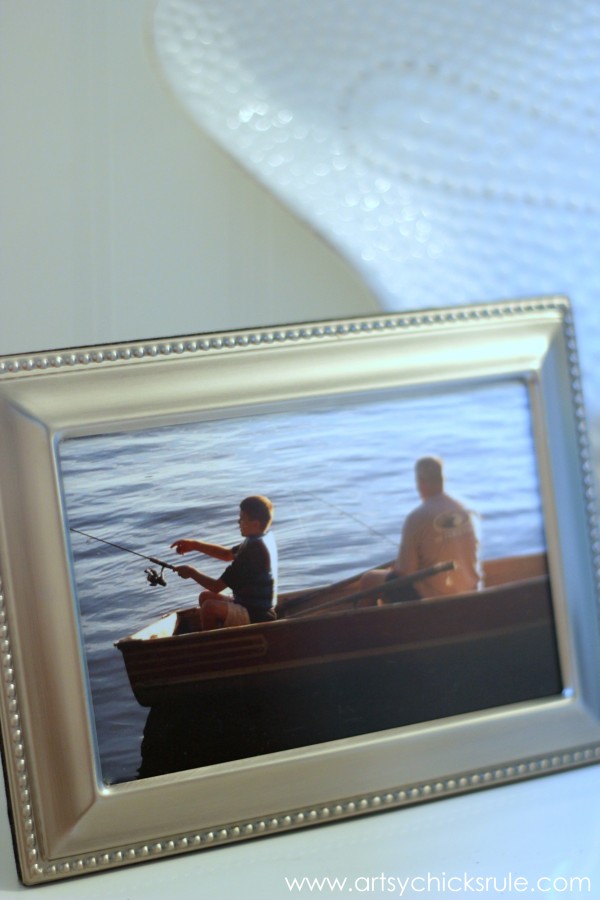 …and another (that I also sprayed with Oil Rubbed Bronze) with my daughter and her uncle on the beach.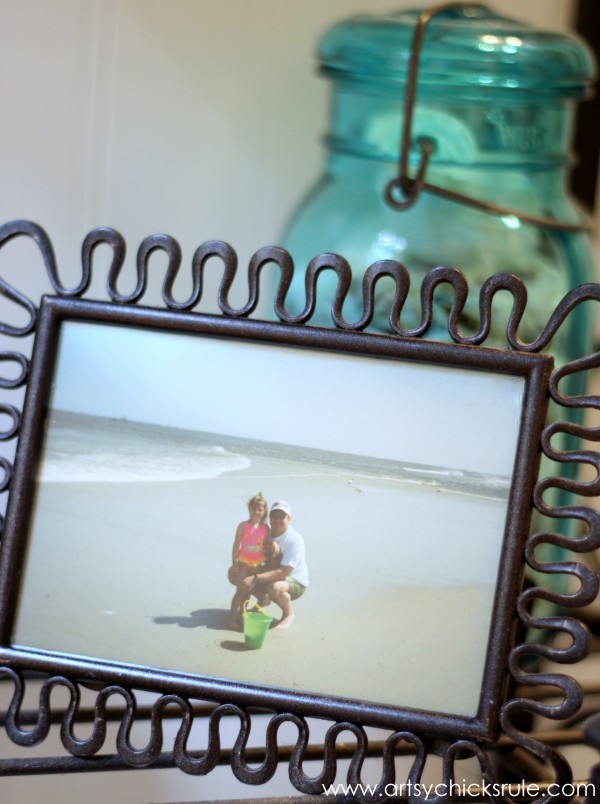 A dish full of pretty shells, coral, driftwood and starfish….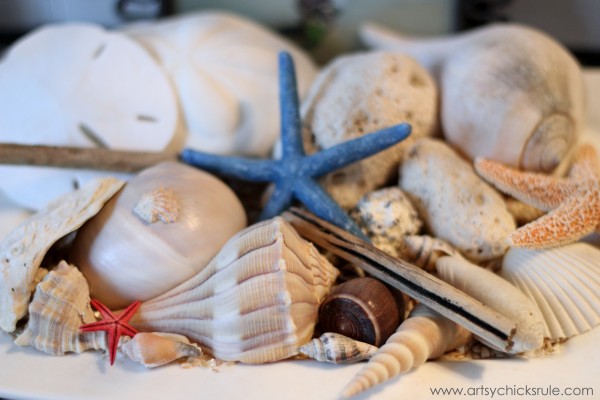 Bright & cheery now… updated & decorated on a major budget.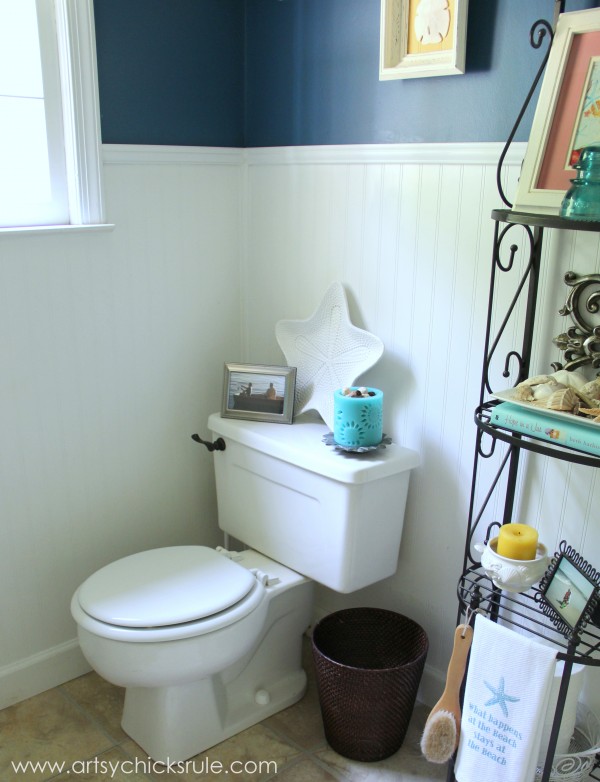 Quite the transformation….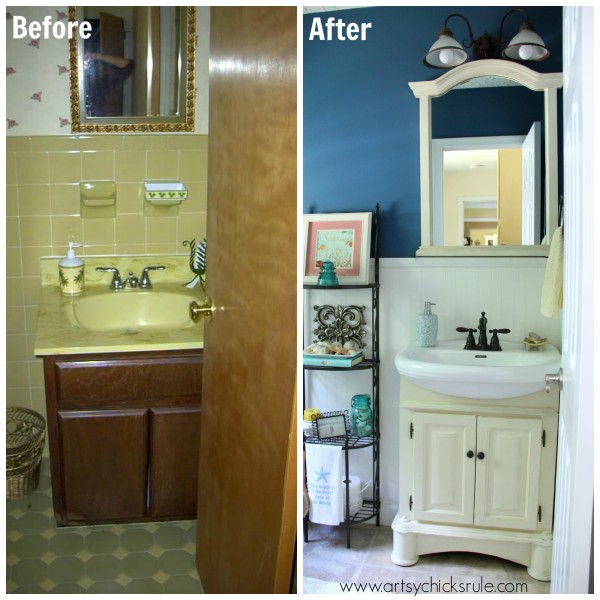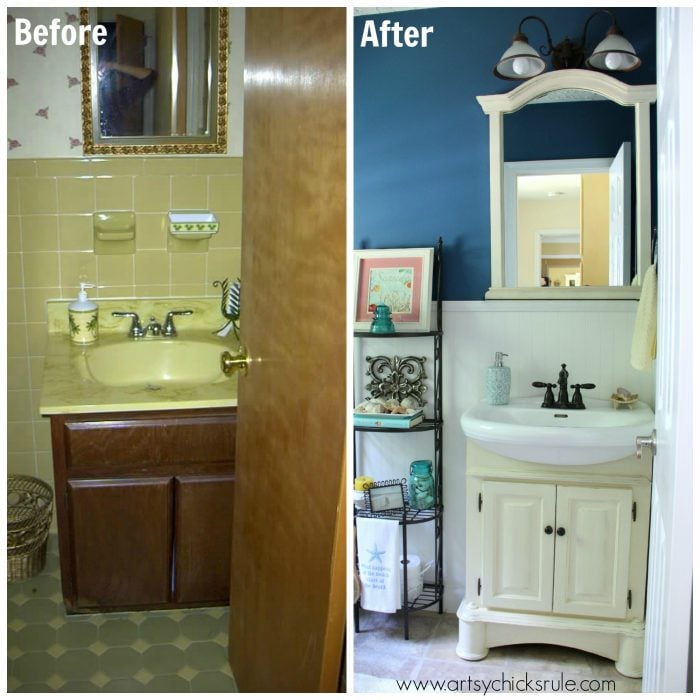 UPDATE: We have since updated this bathroom…again. ;) See the new "Coastal/Farmhouse Bath" –> here.
I recently shared our Foyer before and after. If you missed that, you can see it—> here.
I can not tell you how SO very glad am that I thought to take the before photos I did. I certainly was not writing a blog nor did I have any intention to at the time!
BUT I did know that my husband and I had just "signed on" to do some major DIY in this house and wanted to have documentation for ourselves.
Who knew? ;) 
If I did…I'd have taken better photos and more! There are so many in between makeovers that I have no photos to show. Mostly I was interested in what it looked like before…and what it looks like now.
I didn't think I'd need to document us doing all the "grunt" work in between.
Anyway, there you have it. One more room of our home, before/after. I will continue to share them as we progress.
The Family Room will be next…it's a major "doozy".
Remember, that was the one we called "the cave" when we moved in. ;)
Be sure to stop back by on Thursday for a fun new post on "repurposed" makeovers.
One of my favorite things…taking something and using it for anything other than it's original intended use/purpose….and I will be sharing 20 of them!
See you then!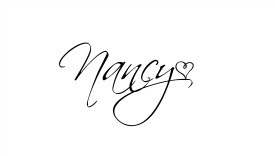 Follow Along Here!