This post may contain affiliate links. Please see disclosures here.
Time for SPRING and a brand new DIY spring wreath.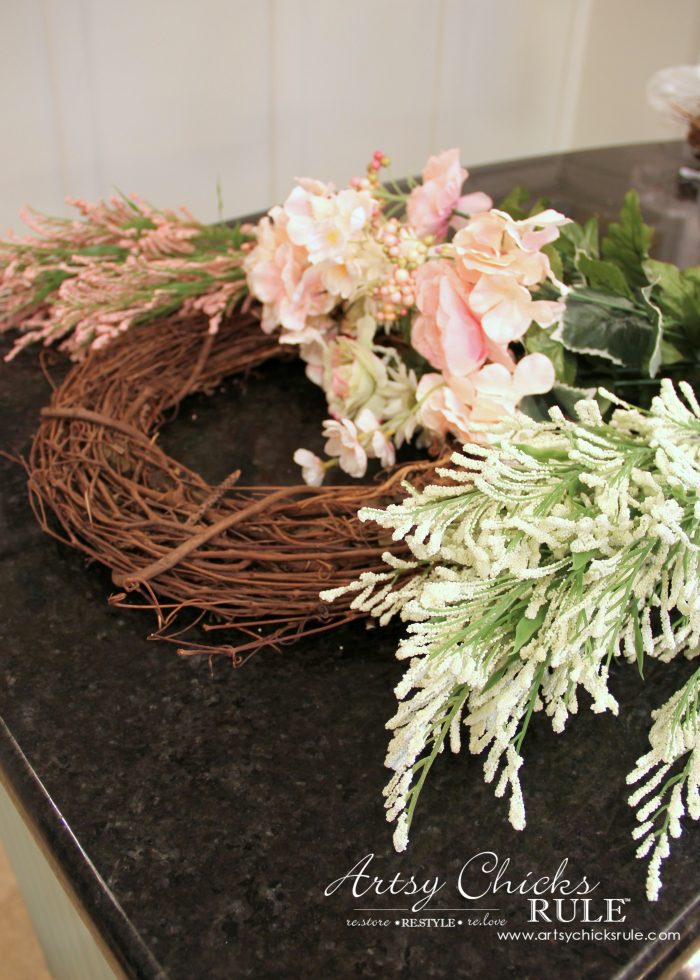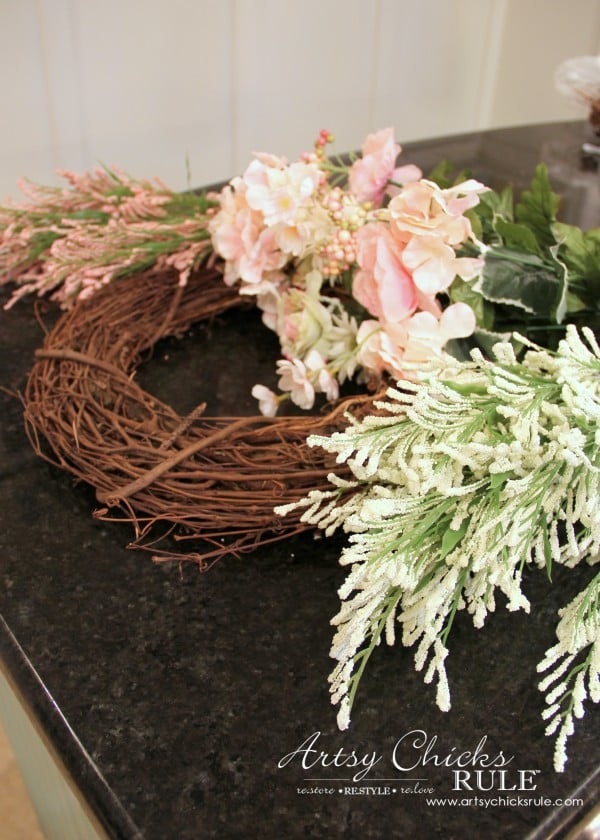 Yes, I'm more than ready. I'm not sure I've ever been so happy in my entire life!
Okay, that's a tad bit of an exaggeration but wow, it's been a long, cold winter and I'm ready to move on from it.
How about you guys?
I know you are too. :)
So in celebration of Spring I created a new (and very simple) DIY Spring wreath for my front door in less than 30 minutes.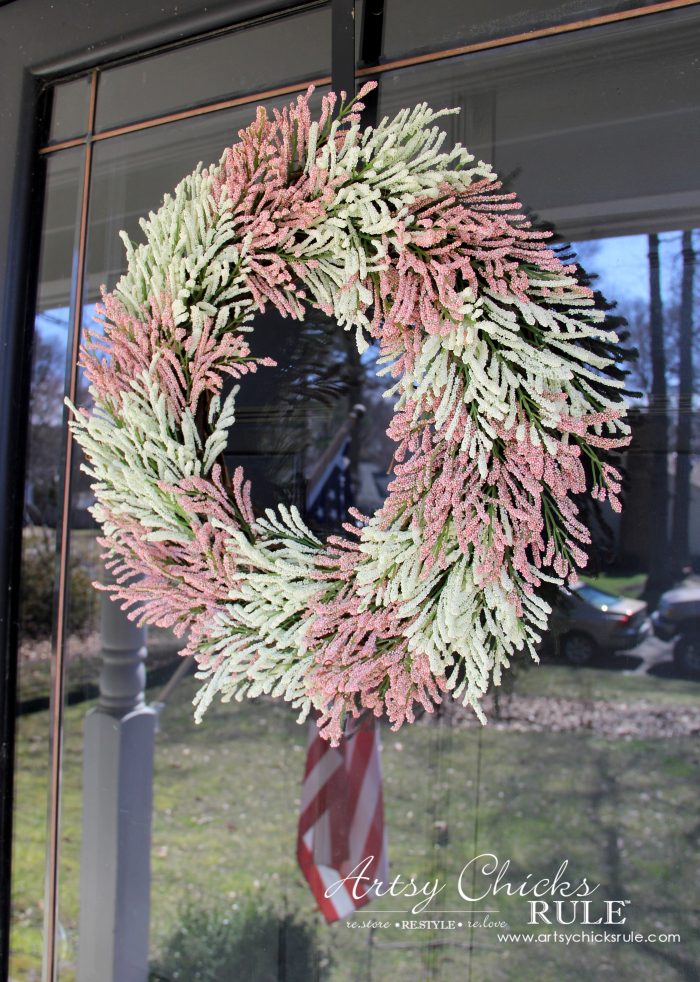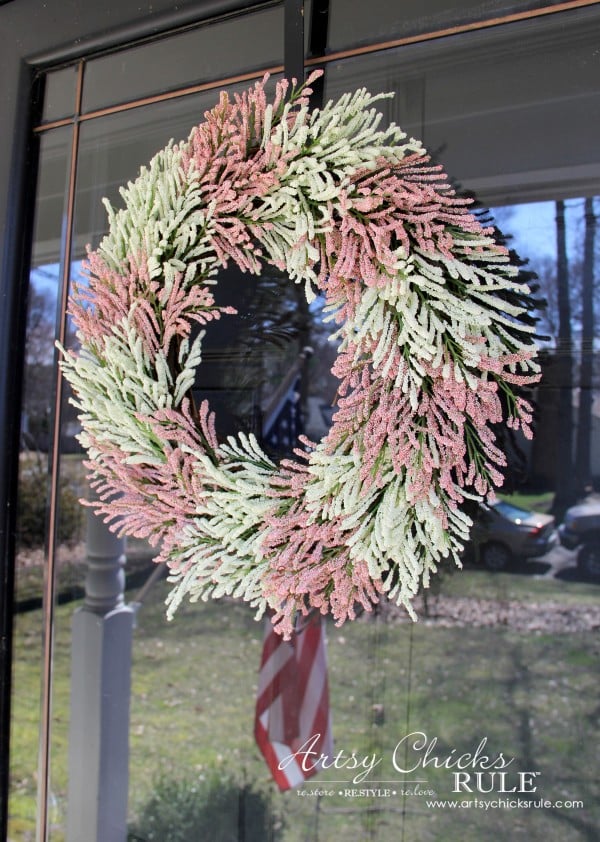 It's so super simple!!! Very.
And it took no time whatsoever.
Wreaths are pricey or can be. Not to mention that, I don't usually like the ones that are pre-made.
Sometimes yes, but when I do they are $$.
So I decided to make one myself.
I started out with these items I picked up at Michael's. All were either 40 or 50% off.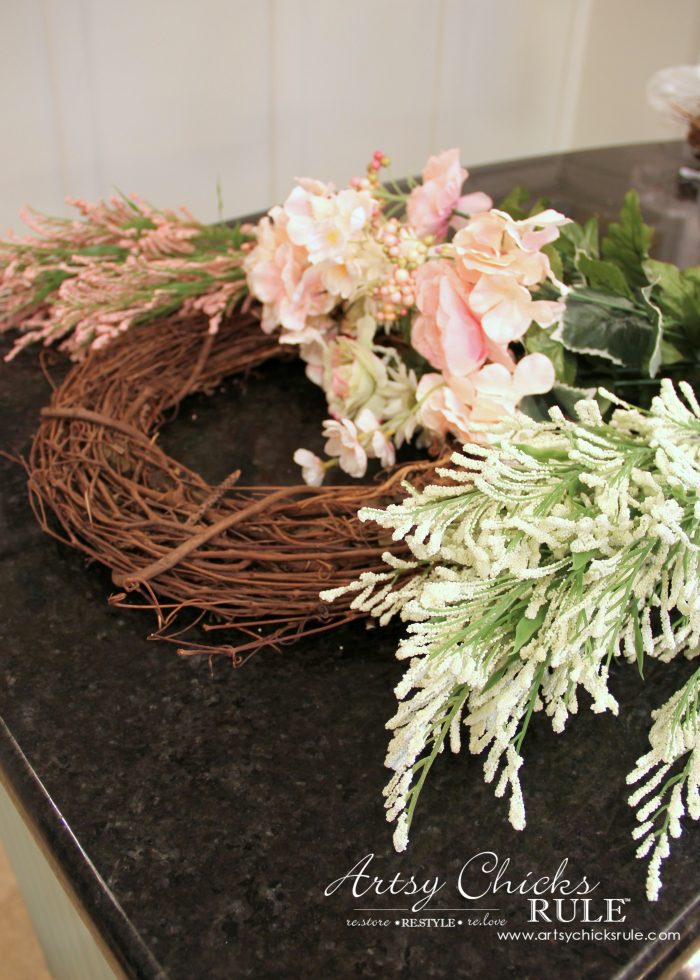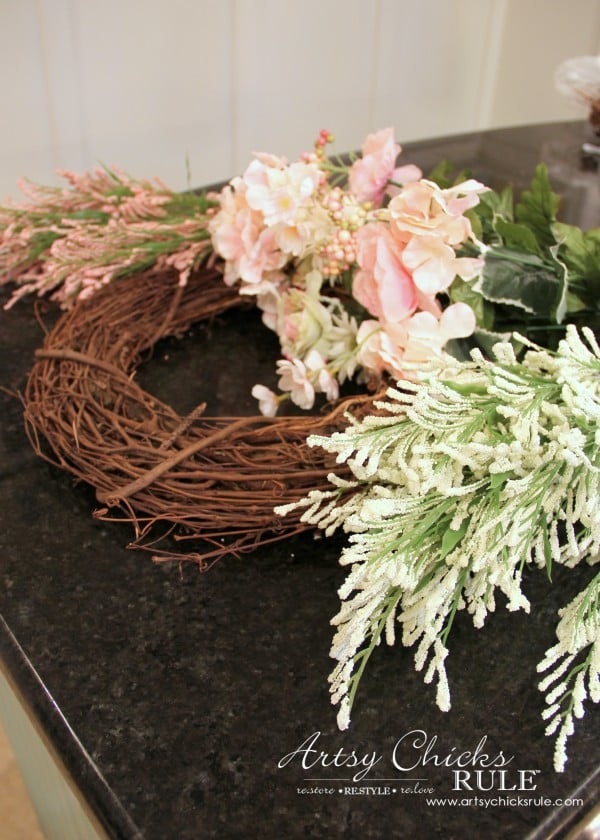 The "bunch" of flowers are so pretty but I ended up not using them on this wreath.
It just got a bit too "busy" for me.
I like simple. So I kept it simple.
I started by pulling off the pink and white sprigs and hot gluing them to the grape vine wreath….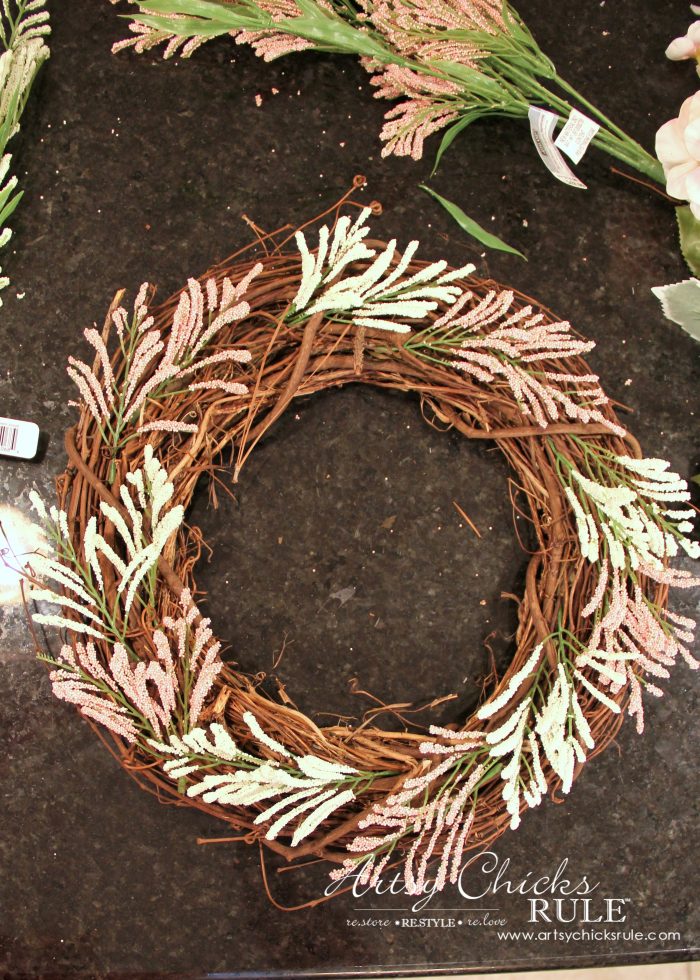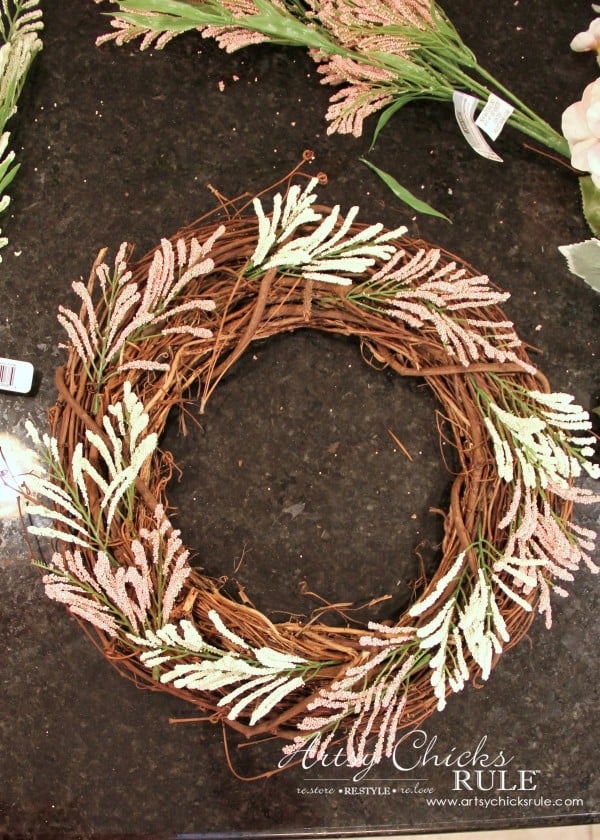 Just a few to get a pattern going.
And no, I had no clue what I was going to do when I started…it just fell into place and came together.
Adding more….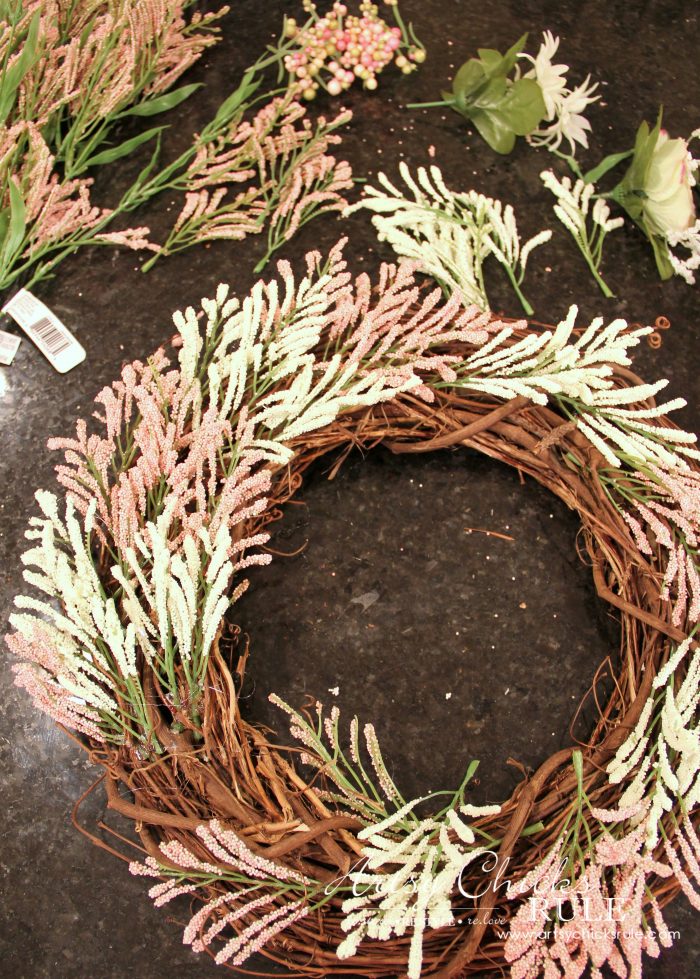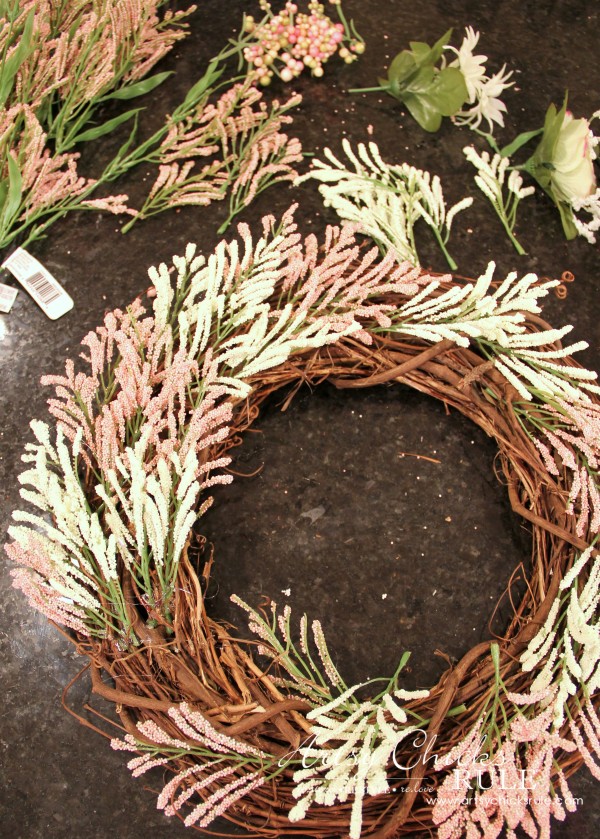 I just continued around and around…and around again, until it was nice and full.
I even had leftovers when I was done.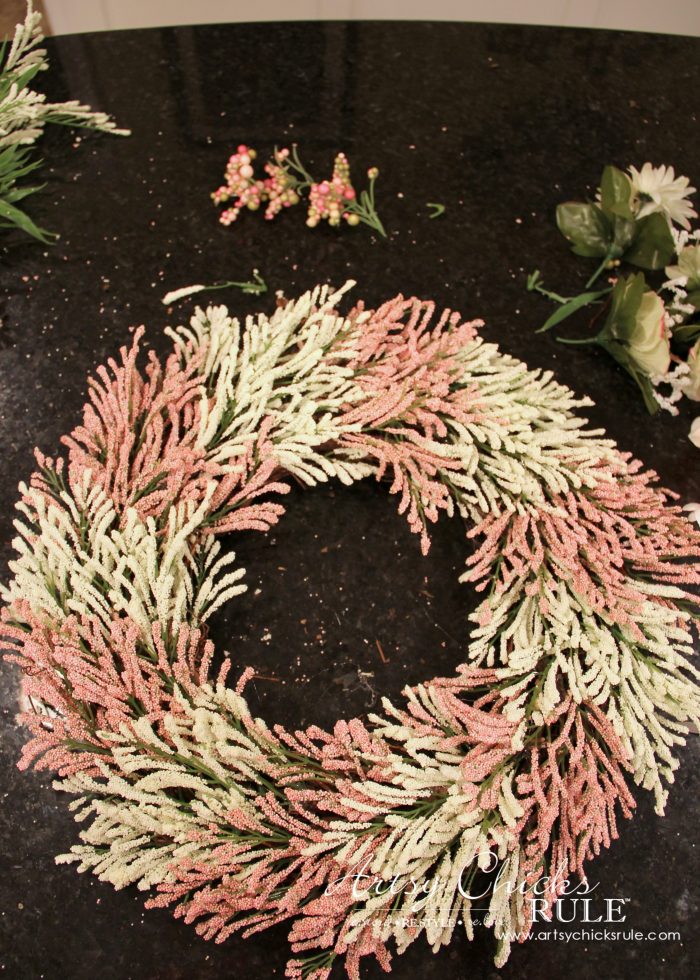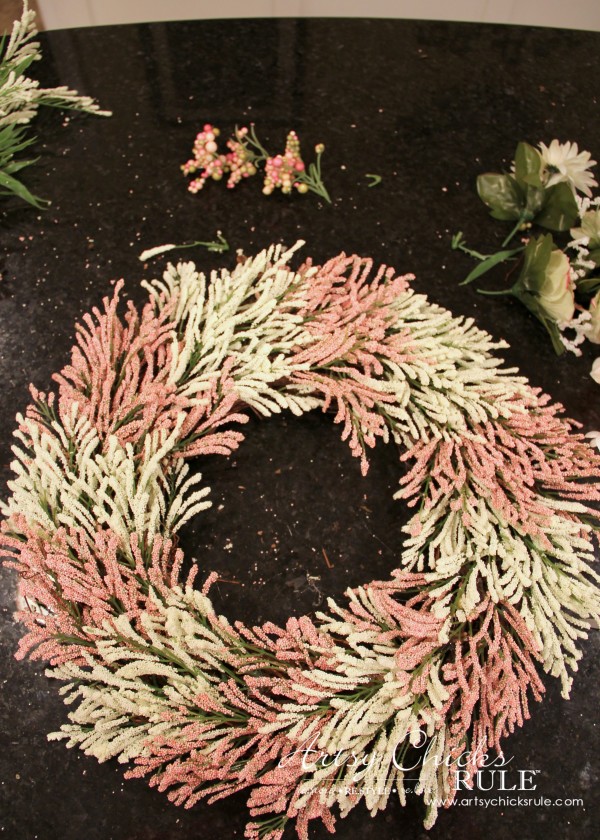 I'm telling you, this was the easiest thing ever.
And yes, it probably looks like it! ;)
But I love the simplicity of it. It's right up my alley.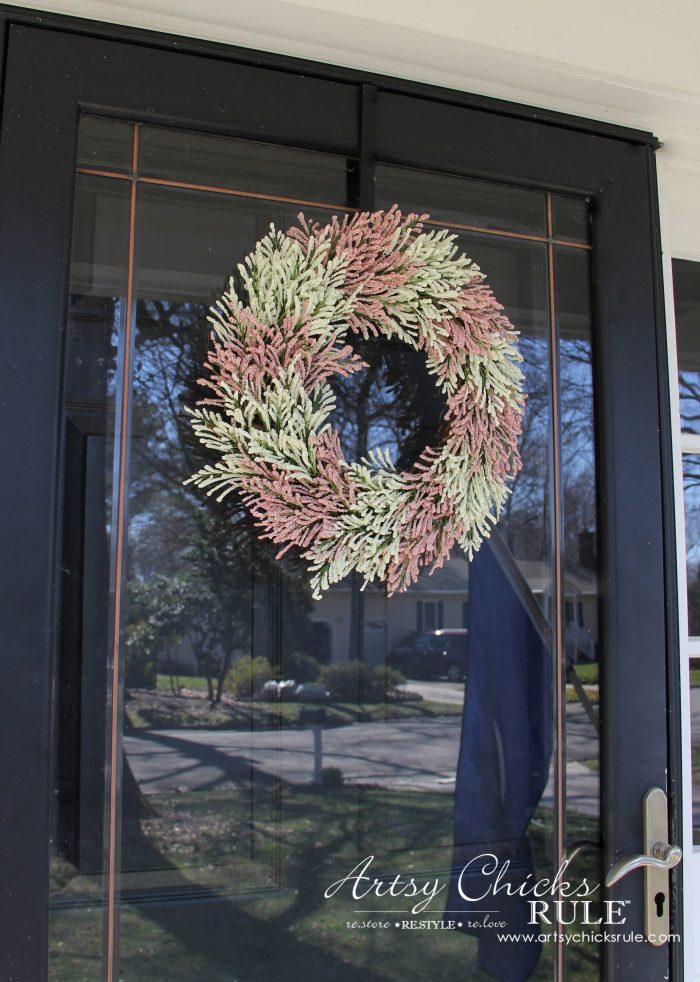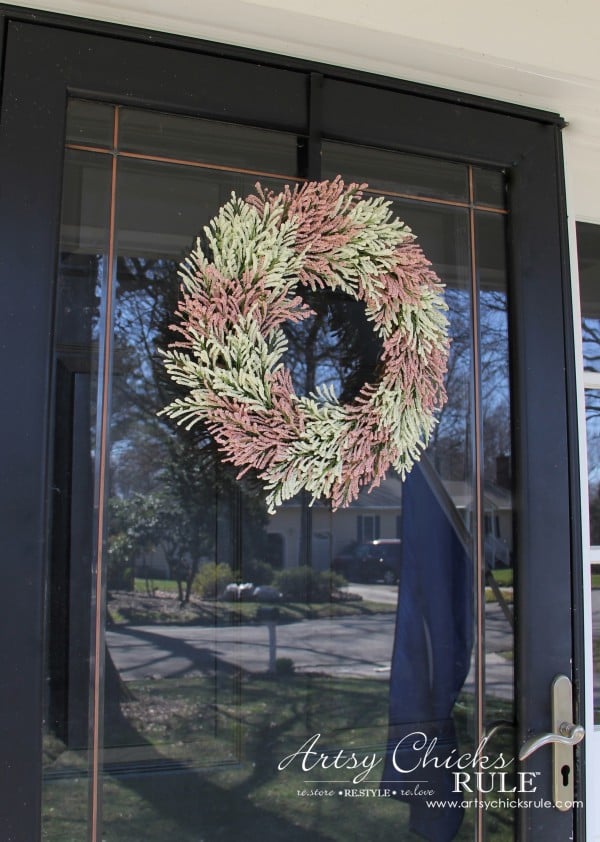 The colors are so soft and pretty.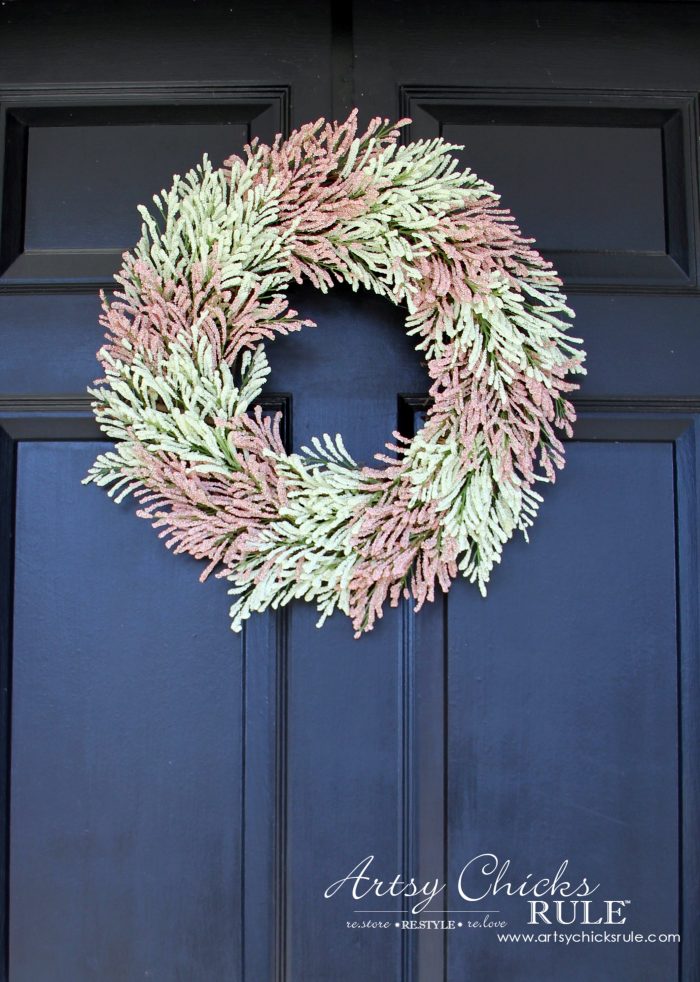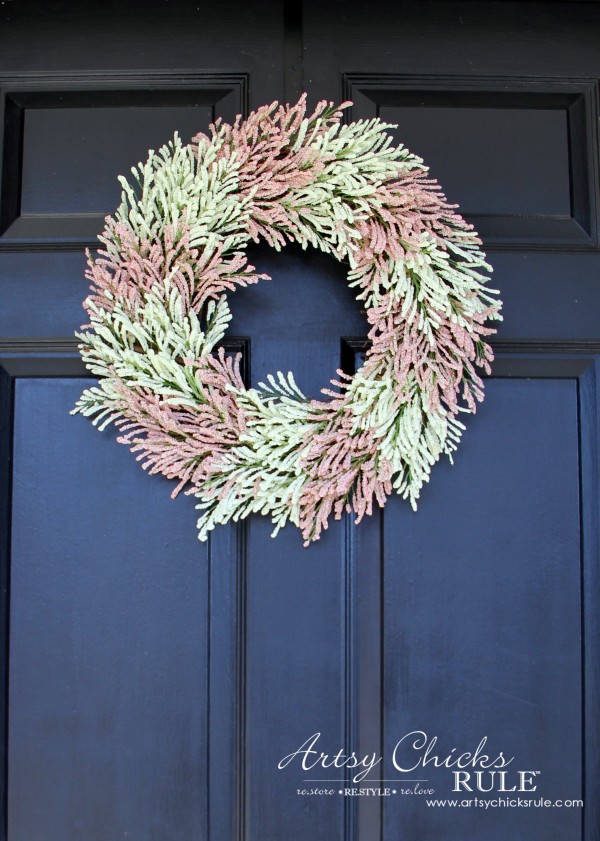 I considered adding a big ole ribbon on the top.
But simplicity won out yet again. :)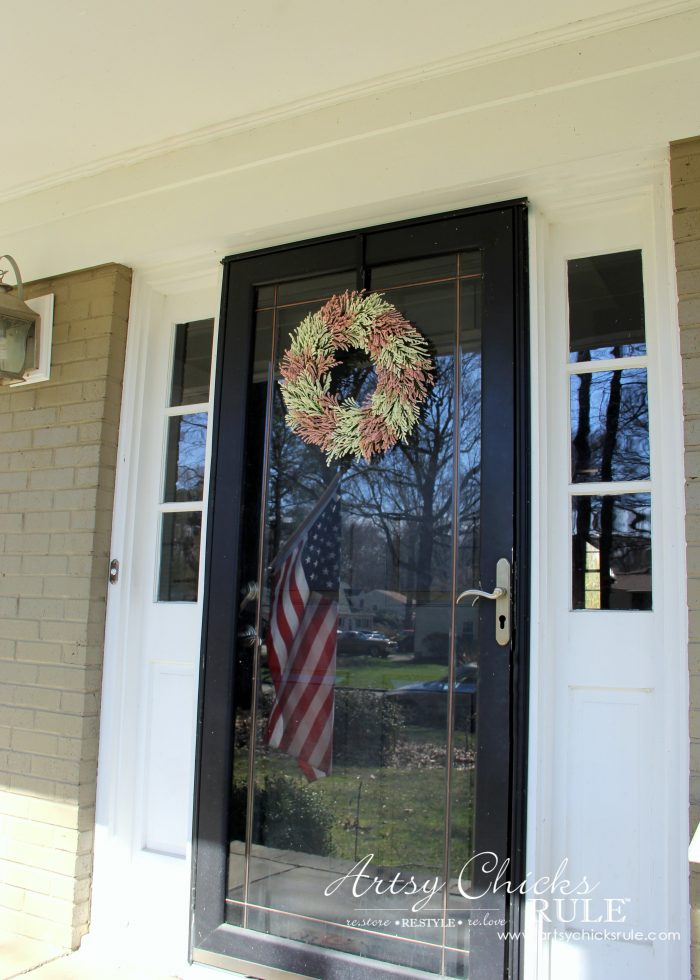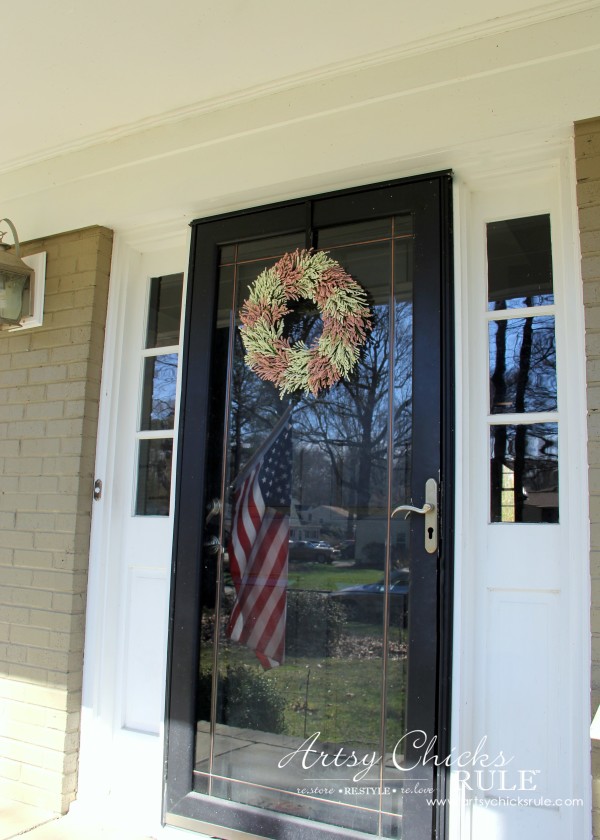 I love the touch of pink with the rest of my porch colors.
They are similar to my indoor colors. White and pale teal/blue.
If I can get the porch all spiffy, I may share that soon too. :)
I also really like the wreath out on the glass door better than on the interior black door. (that I may paint soon!)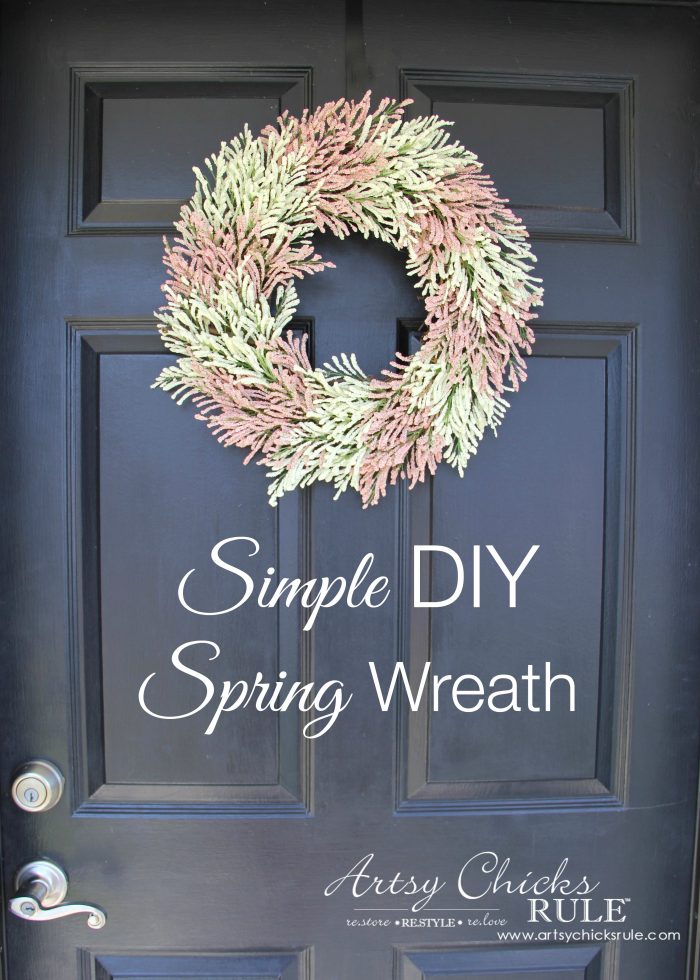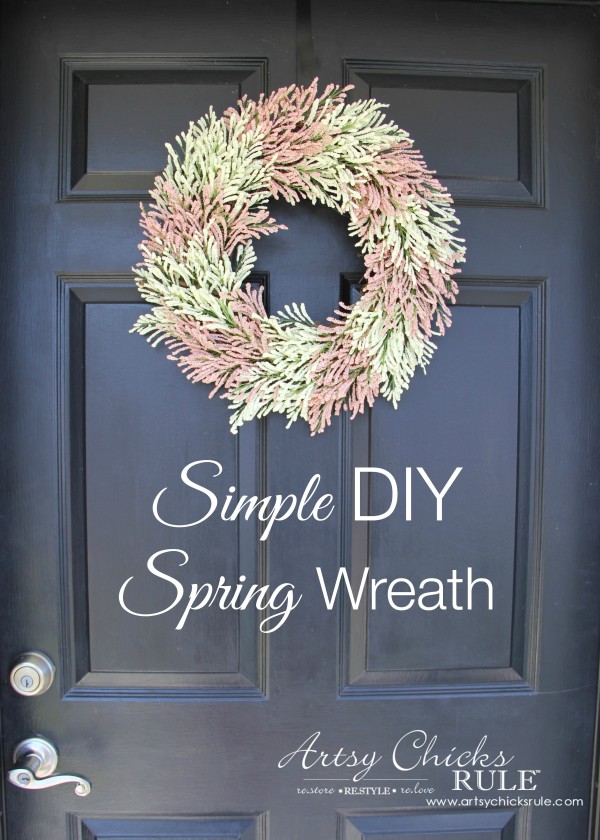 What color do you think I'm leaning towards??
Bet you can't guess! (well, actually, I'd bet you can guess)
I'll give you a hint…it's not pink. ;)
Have you ever made a wreath for your door? If not, you should.
Just pick up some pretty flowers (any you like) from the craft store, a wreath form (also any you like) and start playing around with them.
You really can't go wrong.
I'm not much of a wreath maker so if I can do it, you can too. :)
Just to give you another idea, here's a wreath I did for Fall …. it's a totally different style than this one.
I had no idea what I was going to do with that one either but it fell into place as I moved things around a bit.
I used "Fall items" but you could do something similar with floral, pastel pieces.
Then you'll have a little something pretty to hang on your door to celebrate Spring too. :)
I'll see you later this week with our third (and final) installment of our "Shop Your Home" series!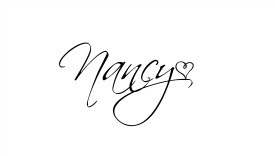 Follow along here! –> Instagram ~ Facebook ~ Pinterest
I've included a few affiliate links for you below. See my full disclosure here.