Super Easy Way to Update Wood Stained Furniture
This post may contain affiliate links. Please see disclosures here.
Do you hate sanding and staining to update wood?
I can safely say it's not at the top of the list of my favorite things.
What is one of my favorite things….is transforming things like this…..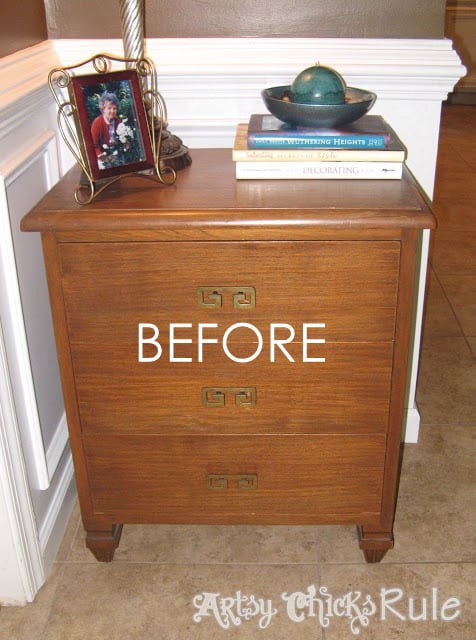 So I'm going to show you a super easy way to skip those steps and still update wood furniture.
Besides using Chalk Paint, I'm going to show you how to either refresh a piece of stained furniture or change the color completely.
…..and make it look like new—>without sanding.
Ok, well, that is not entirely true. You will have to sand.
But only a little.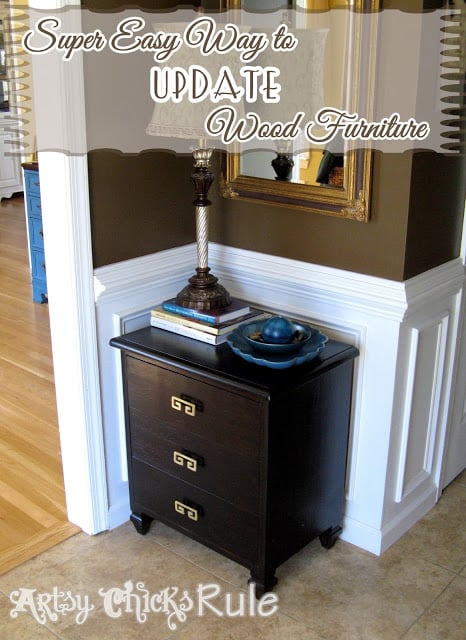 Promise. Just enough to take the shine off and that's it.
I picked up this nightstand for $10 at one of my local thrift stores. Check out those cool handles. I just love those.
So, not too bad, right? The finish was nice enough just not the right shade for me.
It did stay like this for a few months until I decided whether I would paint or refinish it.
I decided to do neither.
I wanted it a darker color of stain but didn't want to go through that whole process.
So I chose to use Minwax PolyShades.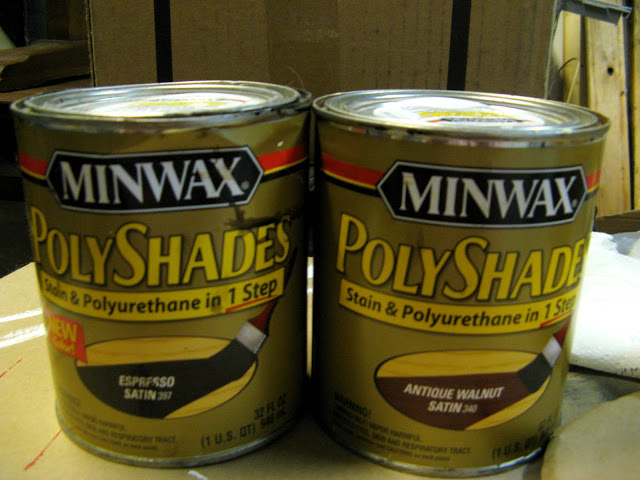 I blended these two shades until I came up with the color I wanted.
I am always blending. I don't think I ever just use anything as it comes. ;)
Start with some very fine grit sand paper to lightly sand the whole piece.
You want to do this just enough to remove the shine so the Polyshades will have something to adhere to.
I don't count that as sanding, by the way. So easy!
"Sanding" is that thing you do for hours on end with an electric sander. Ugh.
Next, be sure to wipe away the dust well and then apply the Minwax PolyShades with a foam or bristle brush.
NOTE-I've used both to apply regular basic stain ~and~ the Polyshades. But a good quality bristle brush gives better control of product with poly in general (and is the only thing I use when applying any type of Polyurethane typically) Remember, the Polyshades does contains poly (poly and stain in one). So the choice is up to you. This was a small piece and I didn't want to mess with clean up so I used a foam brush. But just to be clear, regular paint style brushes are easier especially if you are new to this product. (I've included affiliate links for these items below for your convenience. See full disclosure here.)
Here it is with one coat.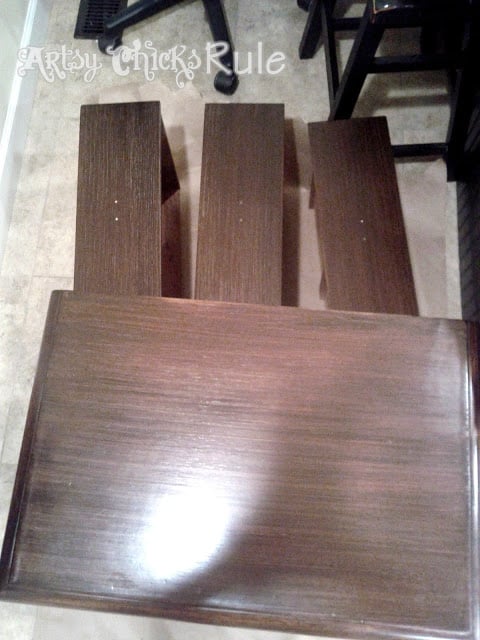 Sorry for the awful picture quality on this one.
I ended up doing about 3 coats, letting it dry completely (read the can!) and sanding very lightly in between coats.
If you just want to freshen up the color and shine you could stop at one coat.
I wanted this one a bit darker so I mixed in more of the dark poly and layered the nightstand with two more coats.
Several thin coats are much better than one thick coat….always!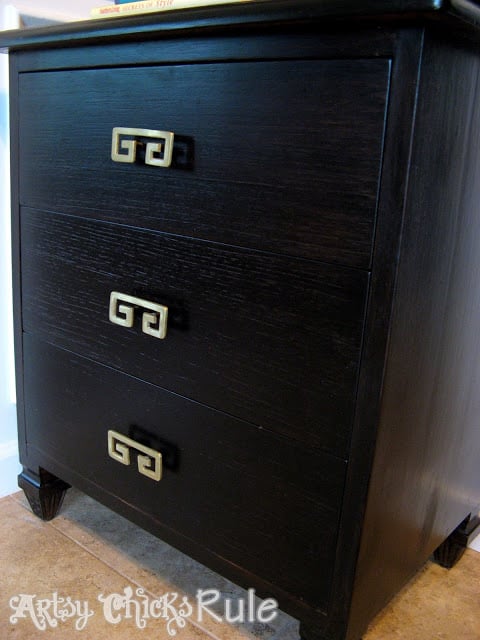 I polished up the hardware and it was good to go. That's it.
How great is that???
Looks like a brand new piece of furniture.
For $10 and the cost of the Minwax Polyshades (of which I have a bunch left for other projects).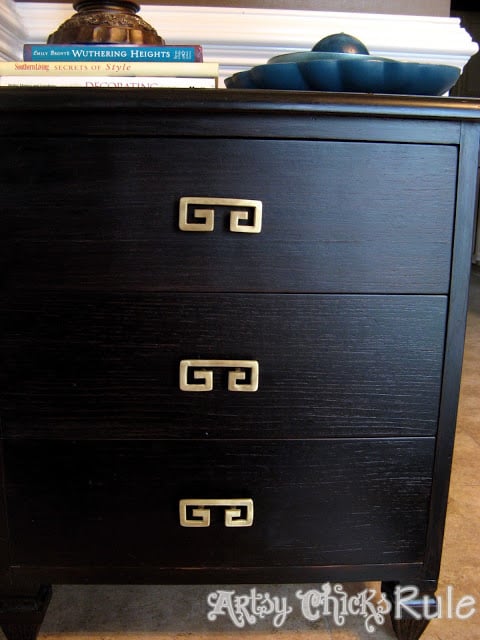 And it truly was a super easy way to update wood.
I also did a quick update with 2 coats on this family room furniture….taking it from an "orange-y" oak to a beautiful, rich deep espresso/walnut color.
Before/After of the coffee table…
(before pic is 9 years ago right after we moved into this house so excuse the mess.
Note Winnie the Pooh. Aww, my son is a teenager now…sweet memories.)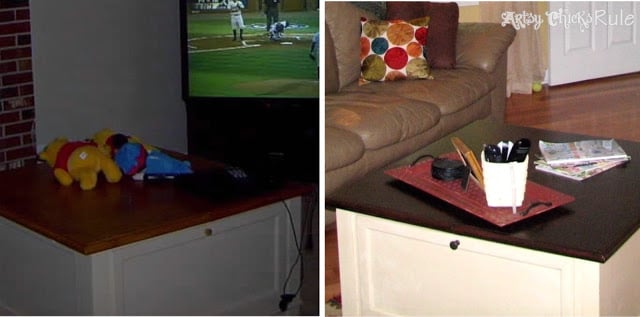 ..and I only have an "after" of the sofa table but it was the same "orange-y" color before.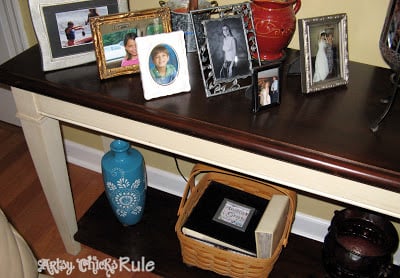 Want to see some of these projects in "live" time? Hop on over and follow along with me on INSTAGRAM. I'm always sharing in my stories as I'm doing projects, finding new furniture, fun finds….just all the day to day behind the scenes.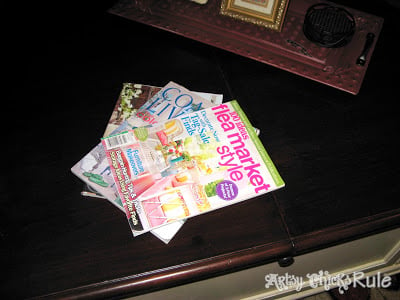 I think it is amazing stuff and I just love the ease of it.
Here is another piece I did basically the same thing to.
Before…. (also $10)…..and after…(MinWax PolyShades on the drawer fronts, Annie Sloan Chalk Paint in "Cream" on the rest)
Want to know about 26 other chalk style paints?
I've got the low down for you right here! >>> 26 Types of Chalk Style Paint For Furniture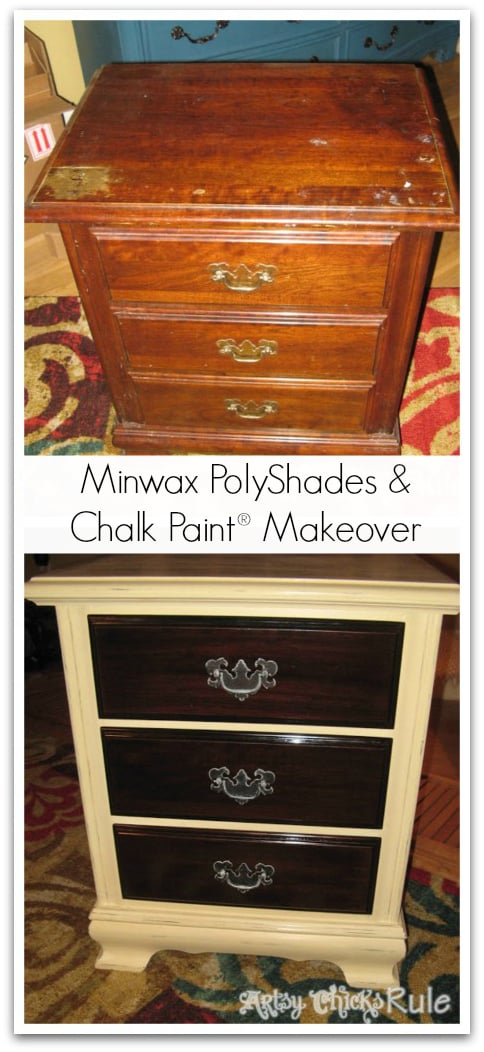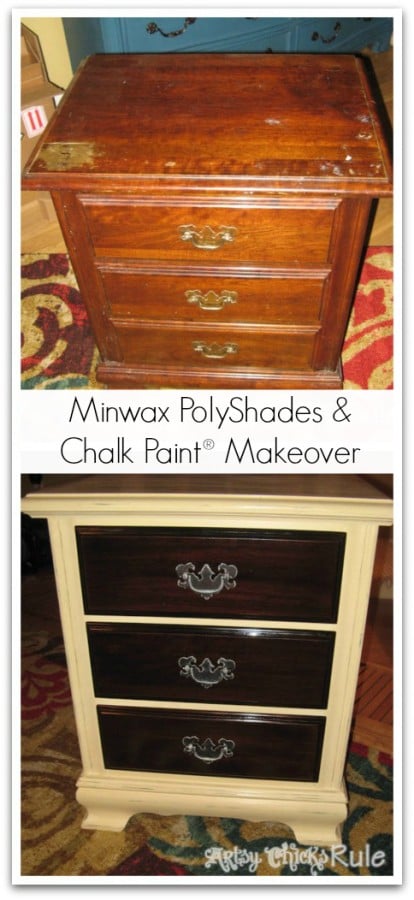 These were all very easy projects using 2 great products that don't require a lot of prep work.
I finished them in no time.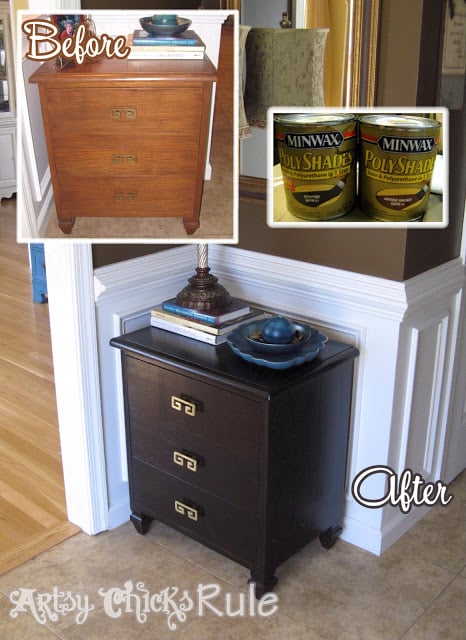 Definitely an inexpensive & quick way to transform and update wood on a piece you may already own or one you might pick up at a garage sale or thrift store.
Nothing beats a nice sanding, stain and refinish job but this is a great way to change up your furniture quickly & easily for fresh new look.
Want to read about another super easy stain that I use and love?
Click this post, here and here to read all about it!

Pin this photo to update wood and save for later!

Have you used Minwax Polyshades to update any wood furniture?
I'd love to hear about it!
Want to see even more "before & after" furniture makeovers?? Click here.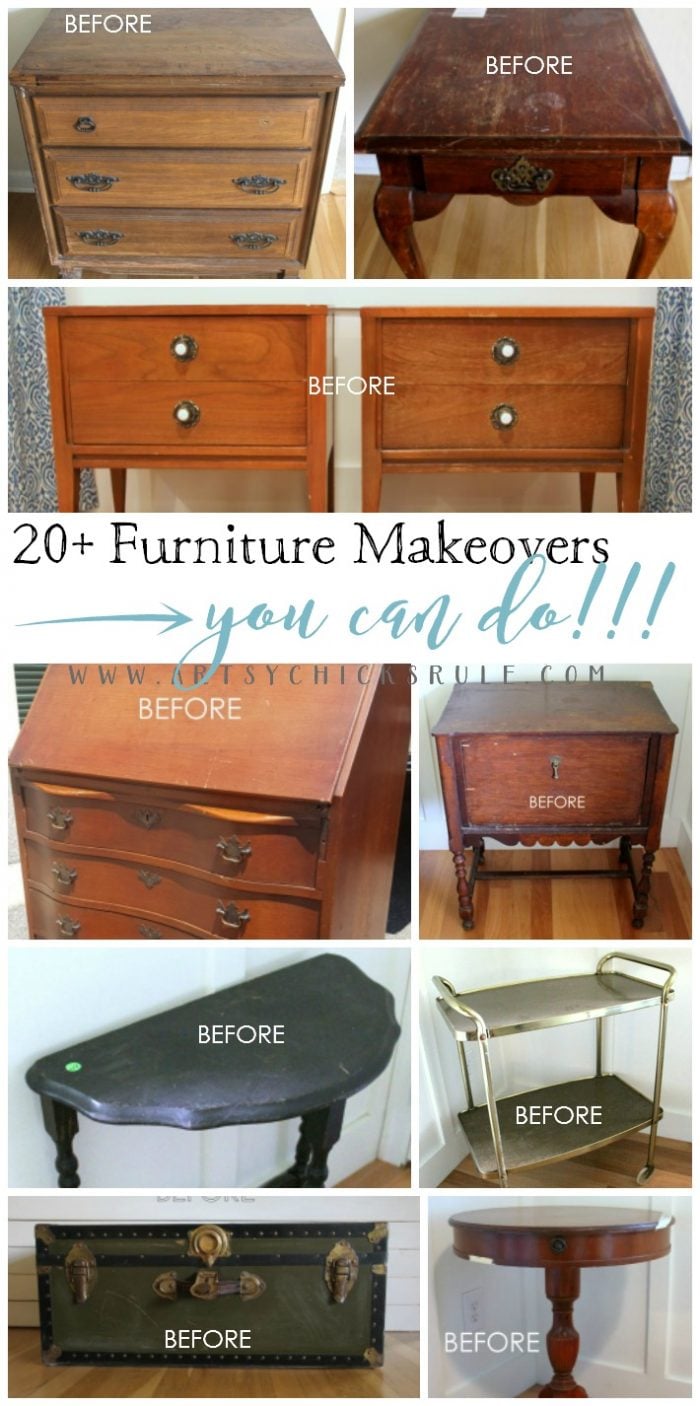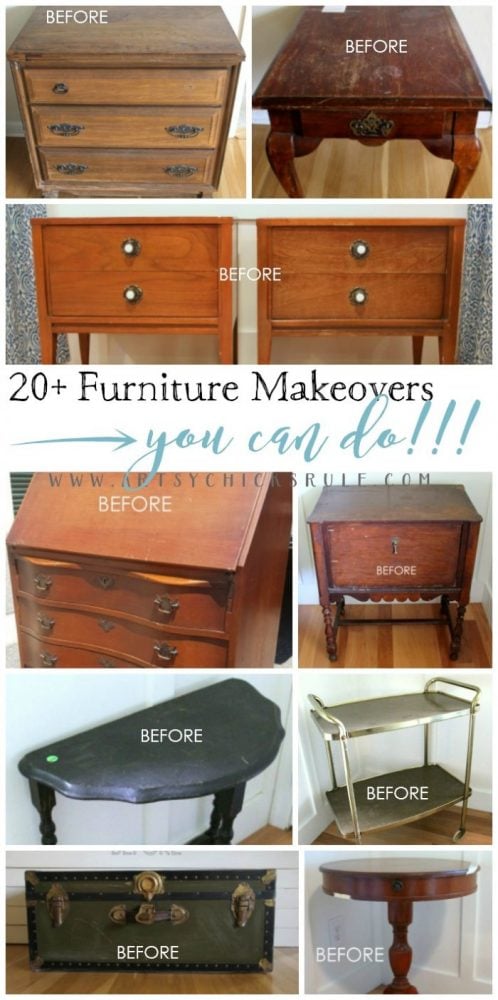 And be sure to check in next week when I share how I transformed this lovely!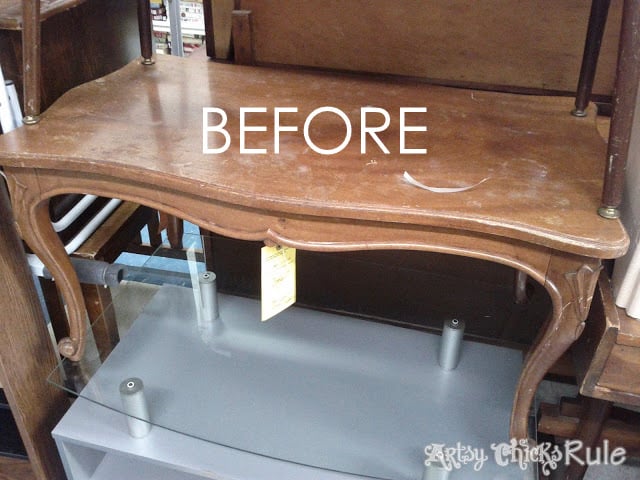 UPDATE!! You can see it now, here!