Antique Press Back Chair Update (with Java Gel Stain)
This post may contain affiliate links. Please see disclosures here.
It doesn't have to be hard to update wood stained furniture! Especially when you have products like this wonderful Java Gel Stain to use on a gorgeous antique press back chair like this….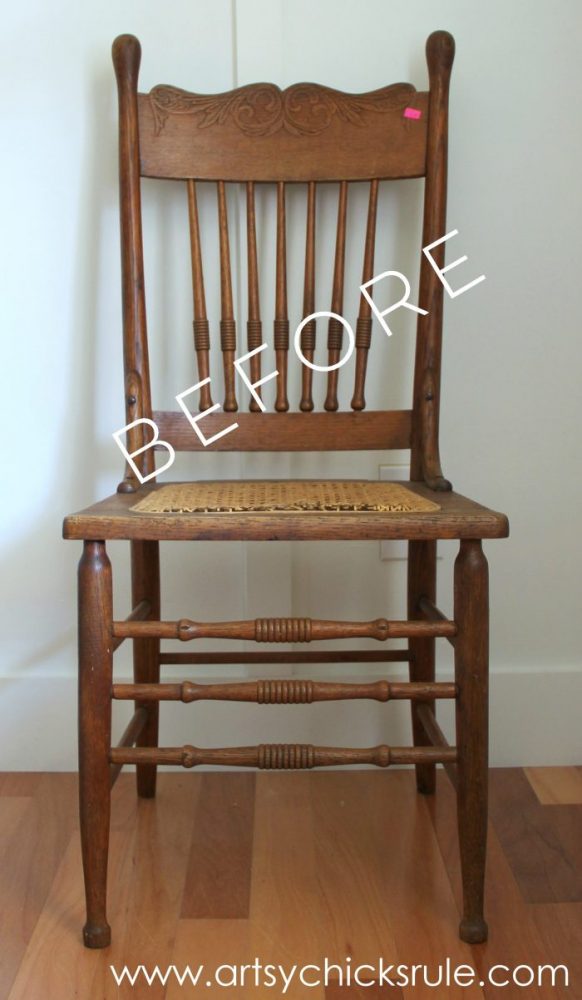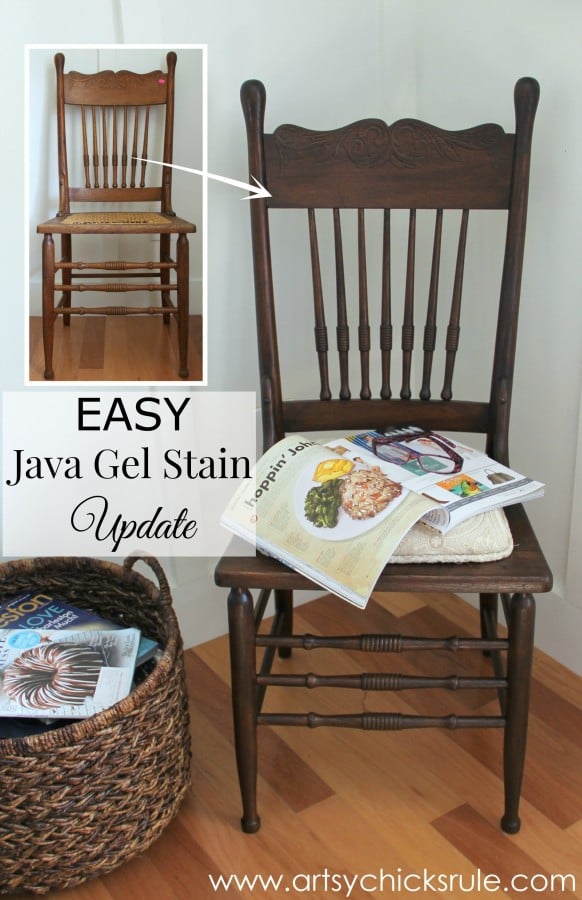 In case you are new around here, "themed furniture day" is once a month when myself, along with some blogger friends, share a furniture makeover…with a theme. This month's theme is … CHAIR. This is my press back chair makeover…with my fave Java Gel Stain. :)
Last month's theme was "Inspired by". I made over nightstands. You can it here –> "Pretty in Pink Parisian Makeover".
AND, you can see the rest of the previous makeovers here — > "Themed Furniture".
I found this chair I updated a year or two ago.
It was $8 and I couldn't pass it up.
It had a broken cane seat but the wood and pressed back was so pretty!
But it was orange-y like a lot of old furniture is. I know the "purists" out there will be upset that I stained it a bit darker instead of leaving it at is.
I really did consider leaving it as is and just polishing up the wood. I really, really did.
I also considered painting but I just couldn't bring myself to do it for some reason.
But sadly, to me anyway, this press back chair needed something…..it just looked BLAH.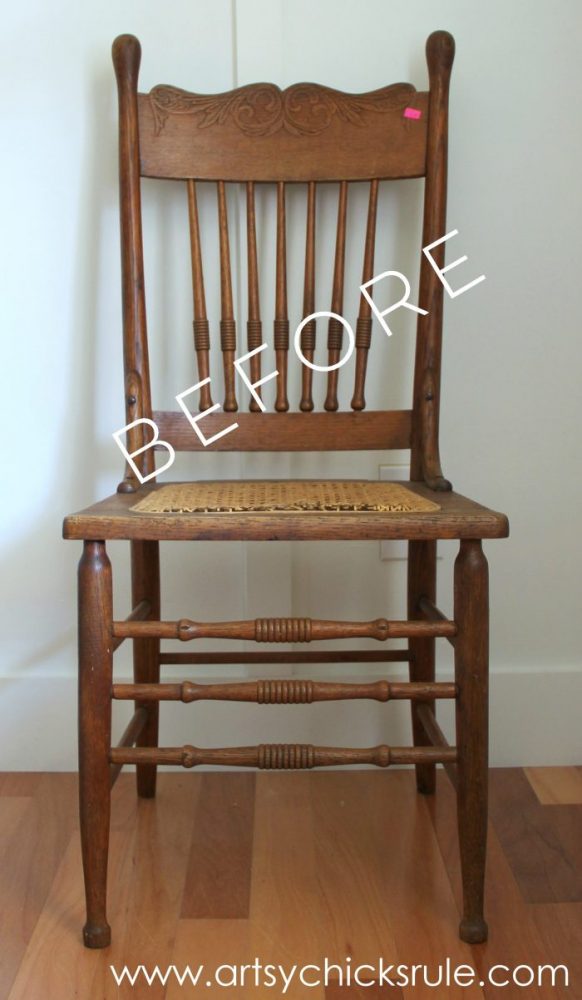 Here is how the seat looked…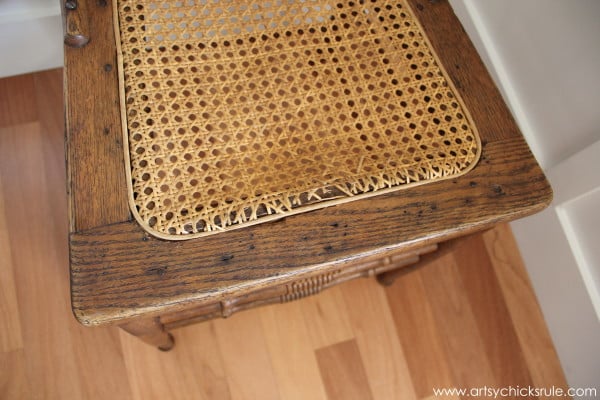 Broken.
I didn't want to fix that because I honestly don't love those seats.
I envisioned a pretty upholstered seat there instead.
When I found the fabric for my "Pretty in Pink" nightstands, I came across this gorgeous fabric in the $5/yard bin.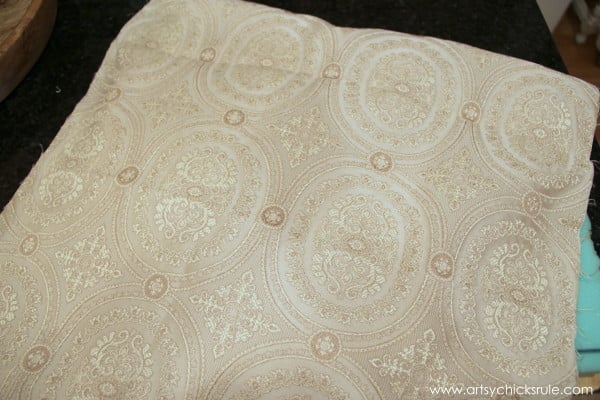 Perfection for this old antique chair.
So I had my husband remove the cane and put a support under the opening.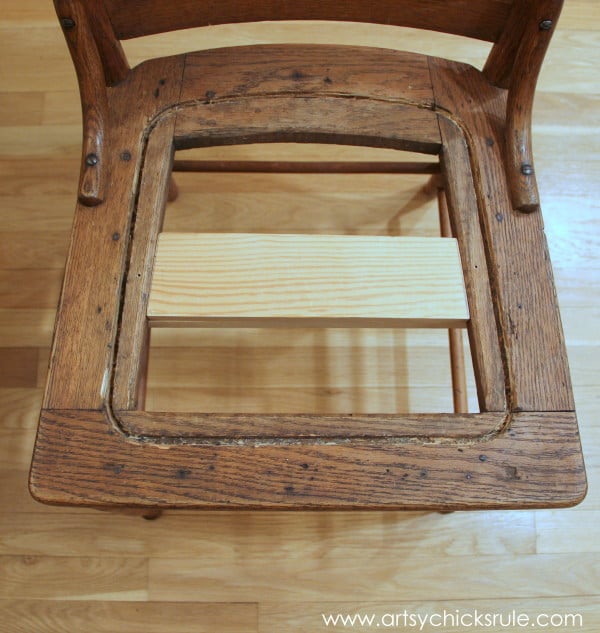 Then he cut me a "seat".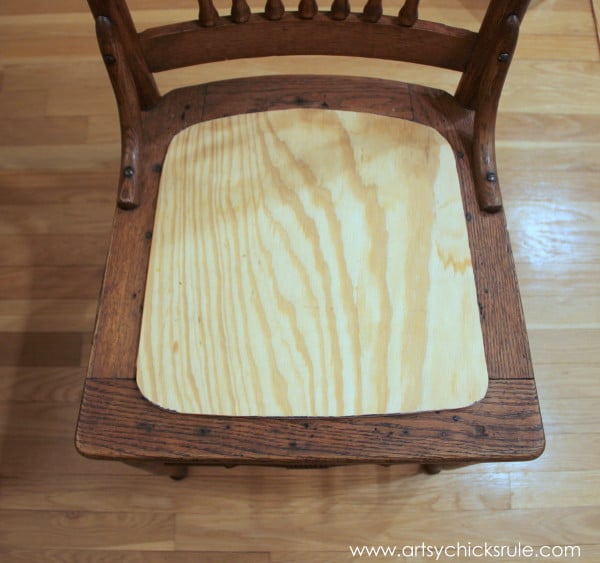 He's a keeper.
I had this foam (this stuff is pricey!) from when I created a new foam seat for the "French Chalk Painted Chair" I did last year.
It was also part of "themed furniture day".
Anyway, I had just a bit left and decided to use it for the seat.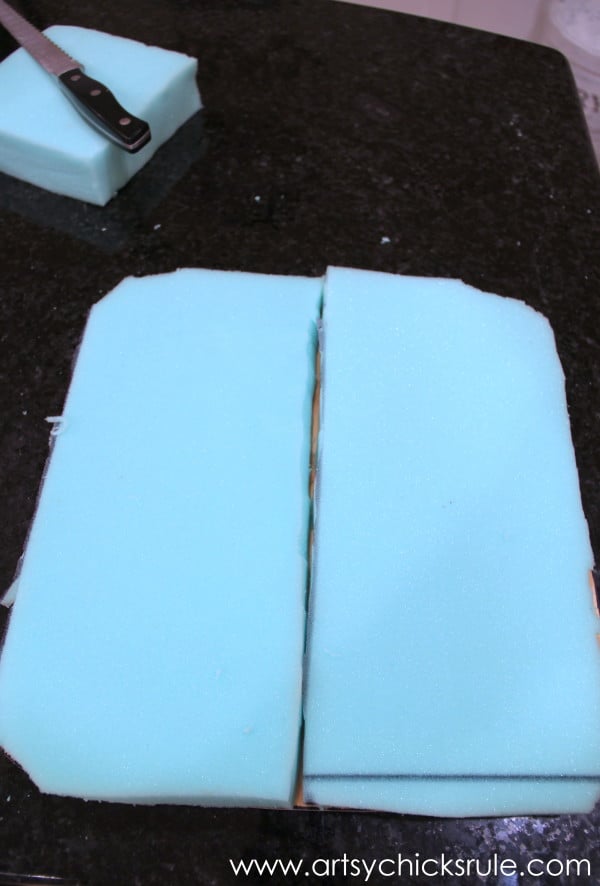 I ended up having to piece it together. I cut another thin strip and hot glued it in the center gap there.
I glued it all down to the board.
Then I put some batting over top of that.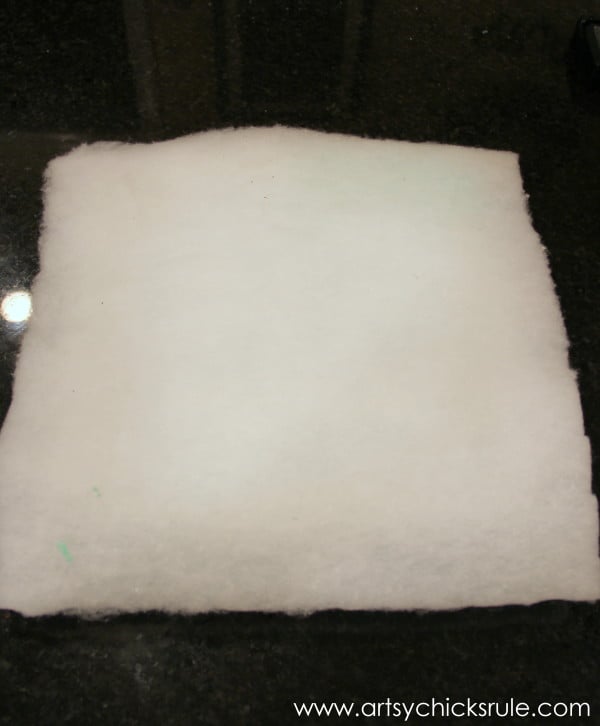 A little extra cushion.
I wrapped it around the board and then attached the fabric with my staple gun.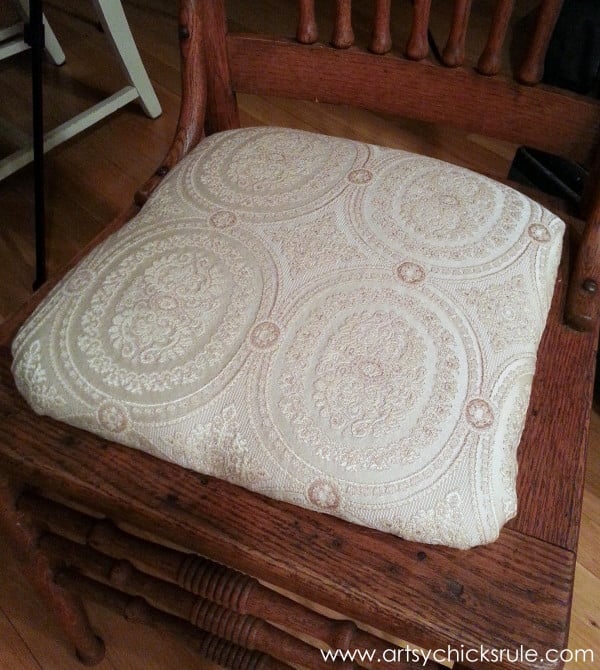 Uh, no.
Wasn't loving that.
It needed something because it just didn't look finished to me.
So I created some piping for it. (which I have never done)
I don't sew and that's usually a sewing kind of thing. But my friend Christy showed how to do a no sew version and I followed that.
Only I didn't have any cording….but I did have ROPE. Haha, yes, my piping is made with rope.
I would have gone out and bought cording except we were snowed in. (for real, school has already been out two days already…and it's not looking good for tomorrow! ….and just got the update, no school again tomorrow!)
So rope it was!
Not bad, I don't think.
And what a difference it made. Wow.
It needed that piping.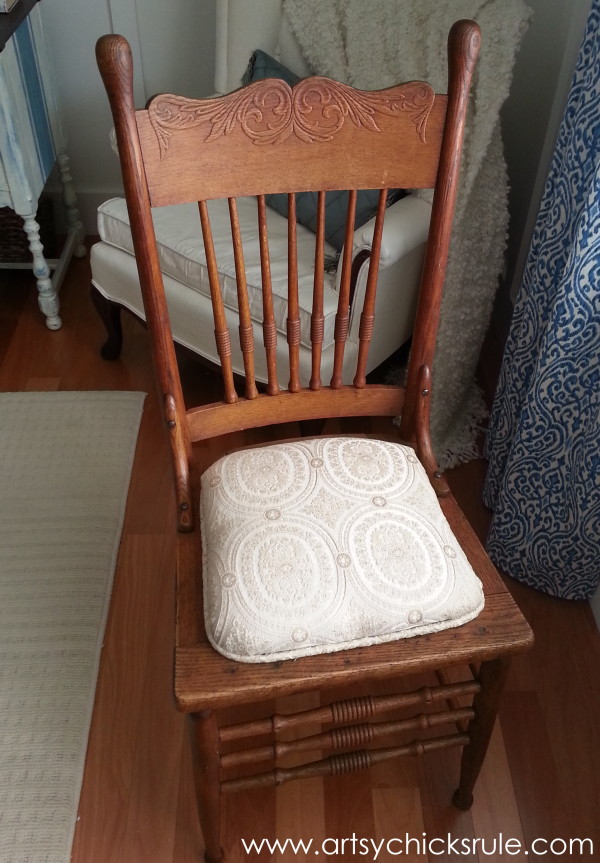 But it was still BLAHHHH.
Ok, it's not terrible but just not right.
Plus I had a little trouble with a moving sticker that had been on for 30 years (seems like it anyway).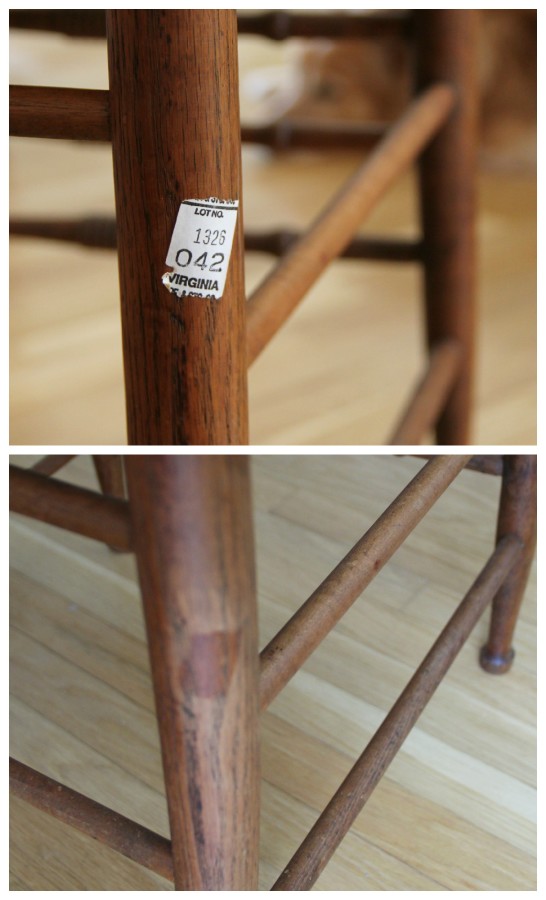 I couldn't get all the adhesive off but I did remove some stain! Oops.
So I considered painting it…or staining it darker.
Staining darker won because I didn't want to cover up that wood.
I used Java Gel Stain and I love this stuff!
Have you used it? If you haven't, you really need to give it a go!
I lightly sanded the whole chair, cleaned it well and then used an old t-shirt to apply the stain.
After that was dry, I applied Arm-R-Seal over top (in satin) to seal it.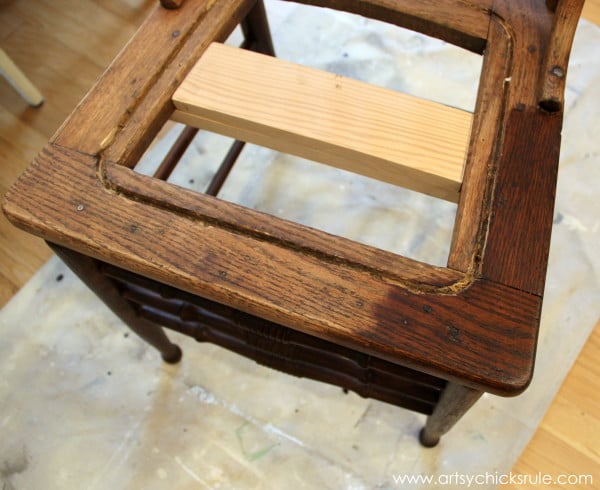 What a difference, right?
The wood grain actually shows up more. It's just so beautiful and rich looking.
I ADORE how this stain made the press back chair look.
And it was sooo easy. (that's even better!)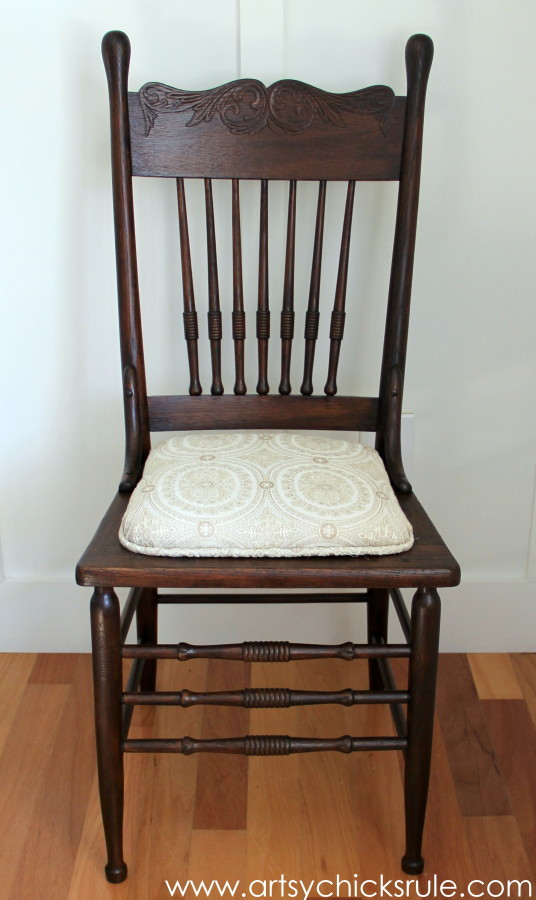 Isn't it gorgeous in that darker shade with that pretty cream colored fabric??
I think so!  But I'm a contrast loving girl.
Up close of that pressed back detail on my now favorite press back chair… ;)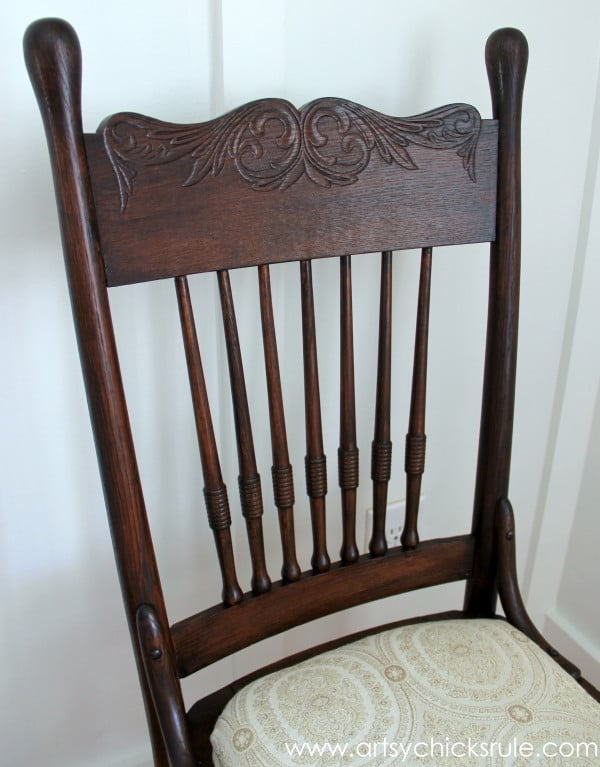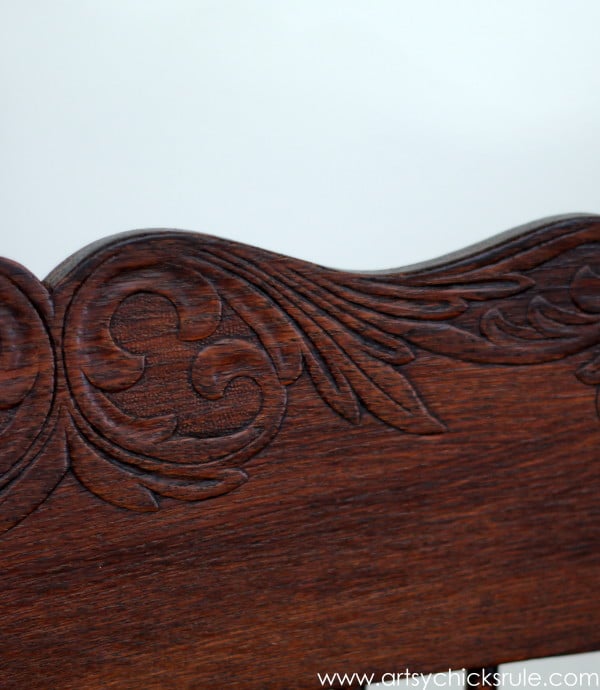 And some up close shots of the wood on the seat….and all of it's imperfections.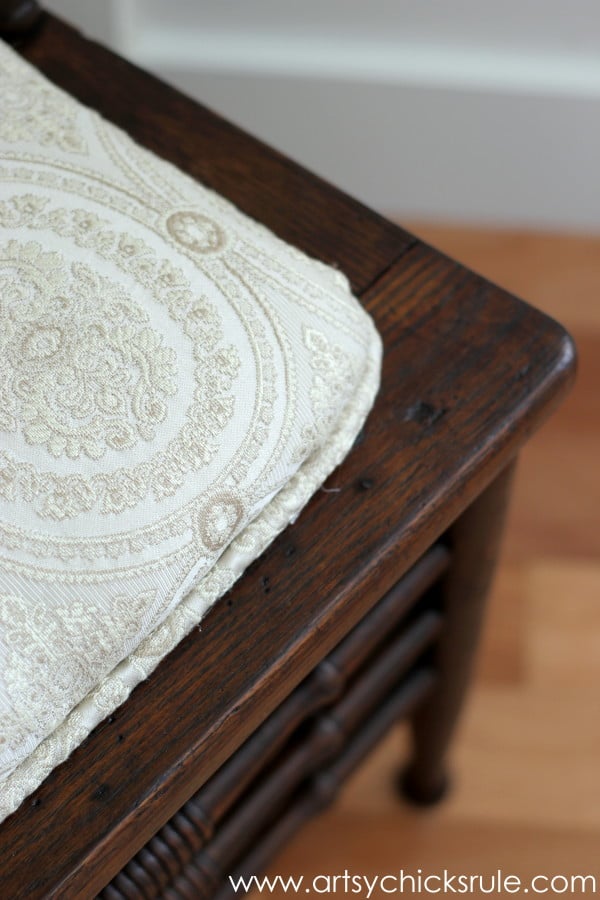 I love all the bumps, nicks and nails, etc.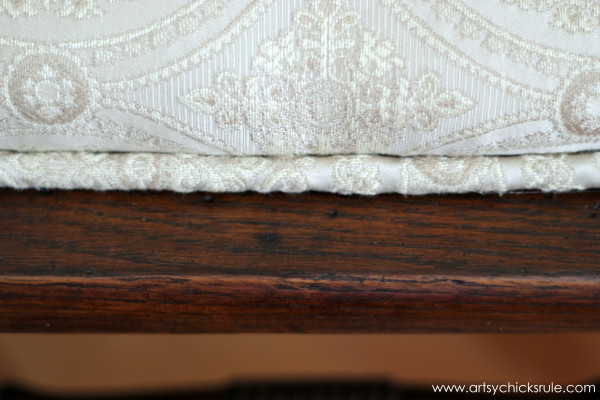 Isn't that stain amazing?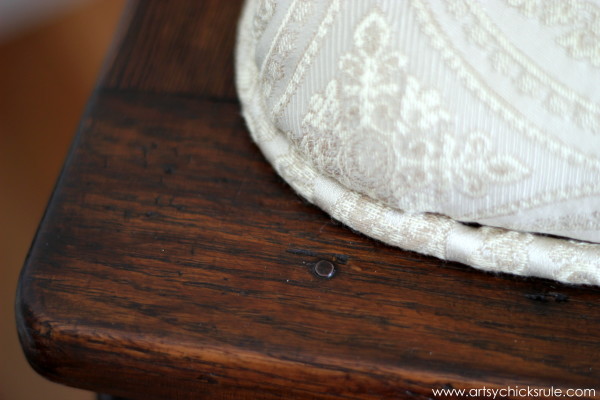 Side view….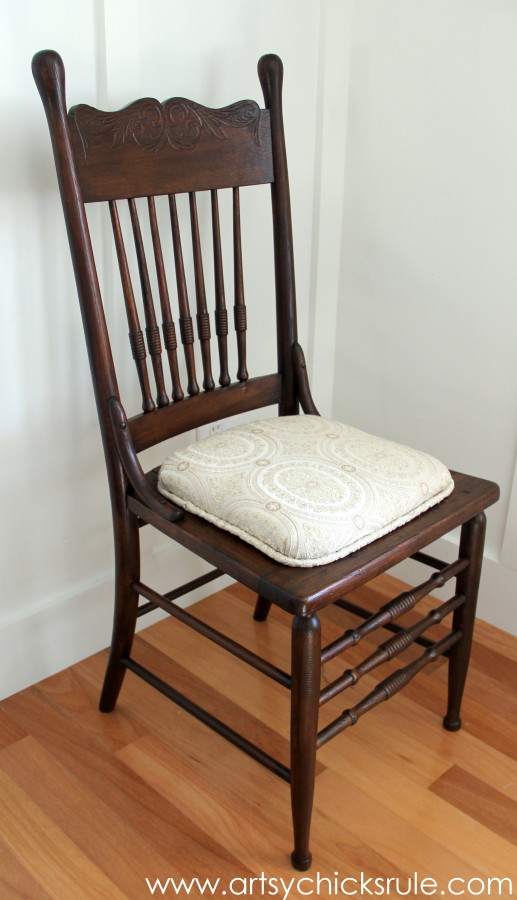 Styled up a bit…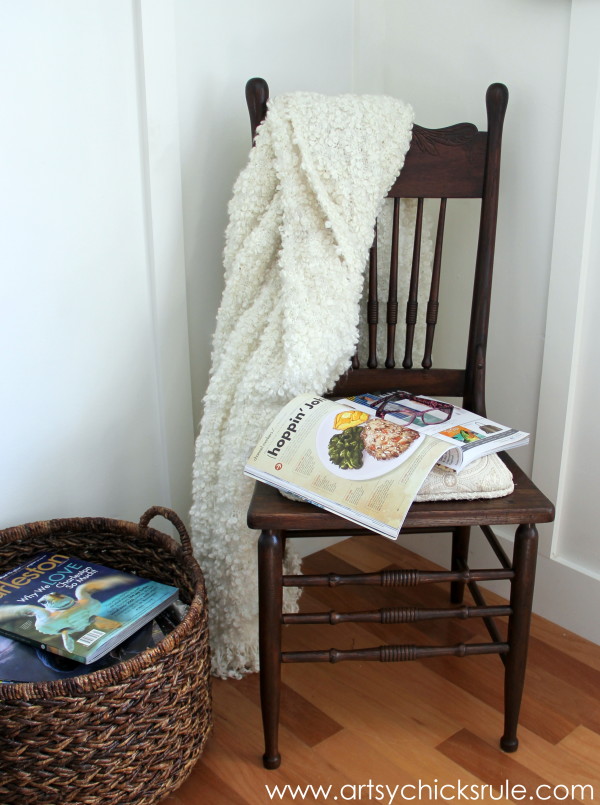 The chair is actually very comfortable to sit on now.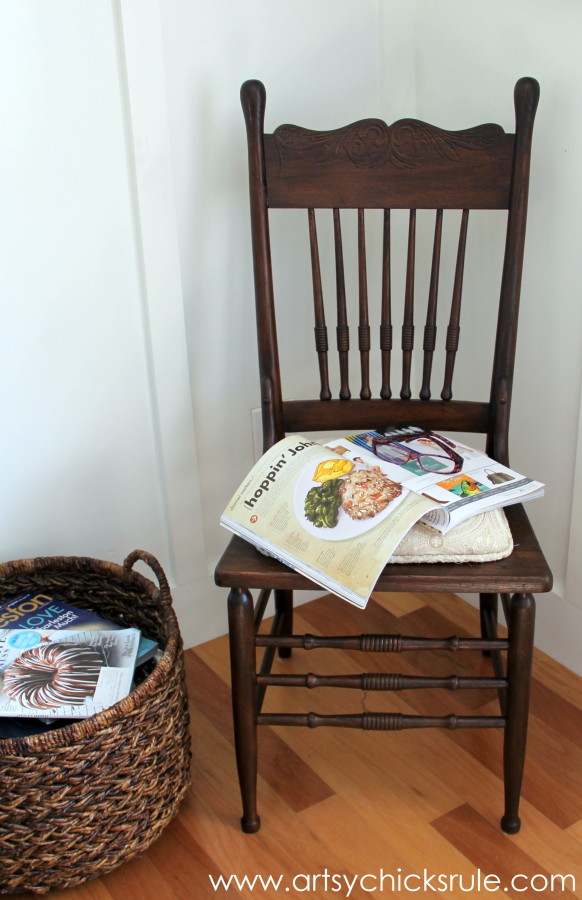 I love it … and want to keep it. Surely you can never have too many chairs, right?
Ha…too bad I have no place for it. But I might find one!
We'll see. ;)
PIN it to save it!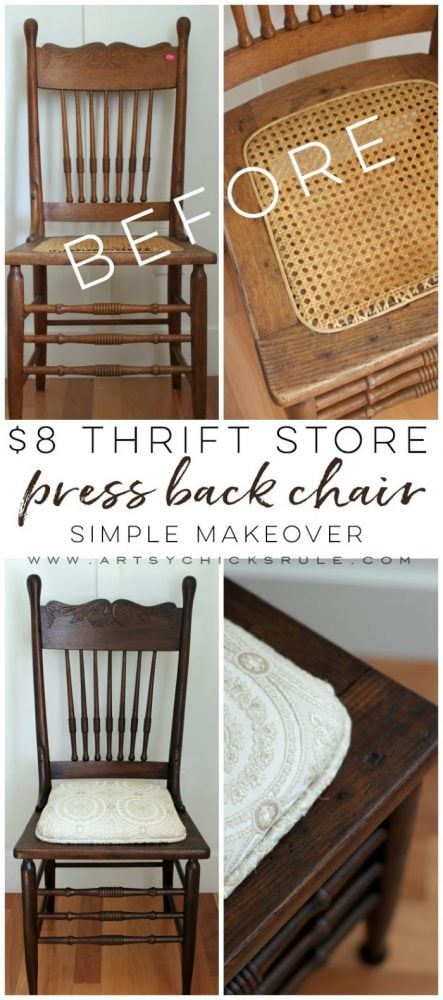 Want to see even more furniture makeovers like this press back chair using Java Gel Stain? Click HERE for more.
Can't beat it for $8…and a $5 piece of fabric.
I struggled with this one a bit. But I'm actually very happy with how it turned out.
And … I'm so glad I didn't paint it.
Now it's time to go take a look at my friends' chair makeovers! (you can find them below)
Have a great weekend friends! xo
Check back in next week to see how I made this old beauty shine!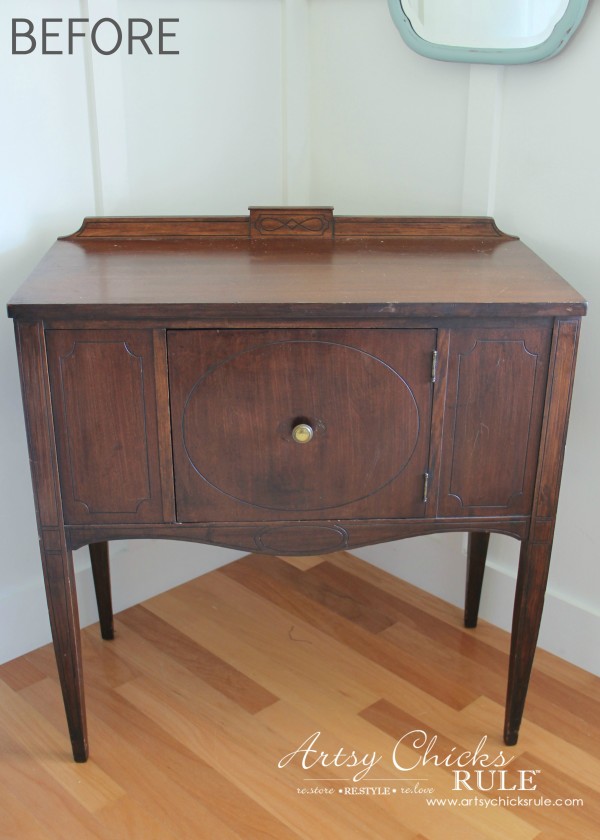 UPDATE!!! See it now, here!!