Happy Tuesday Friends!
Today I've rounded up some more furniture makeovers…you can do.
Other than the IKEA Ektorp furniture we bought recently, pretty much every piece of furniture we have in our home came from the thrift store, yard sale or an estate sale.
I'm going to share these makeovers and how I use or have used them in my home.
And show you how you can do the exact same thing! :)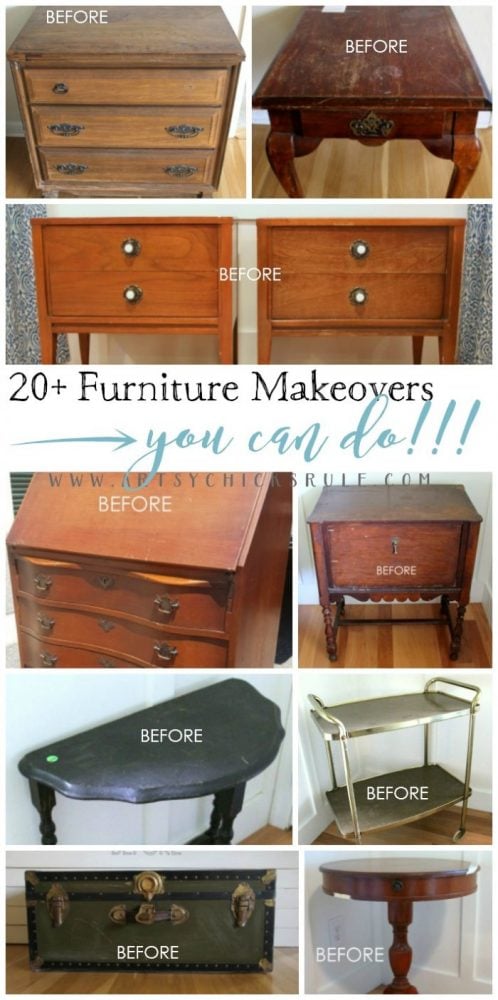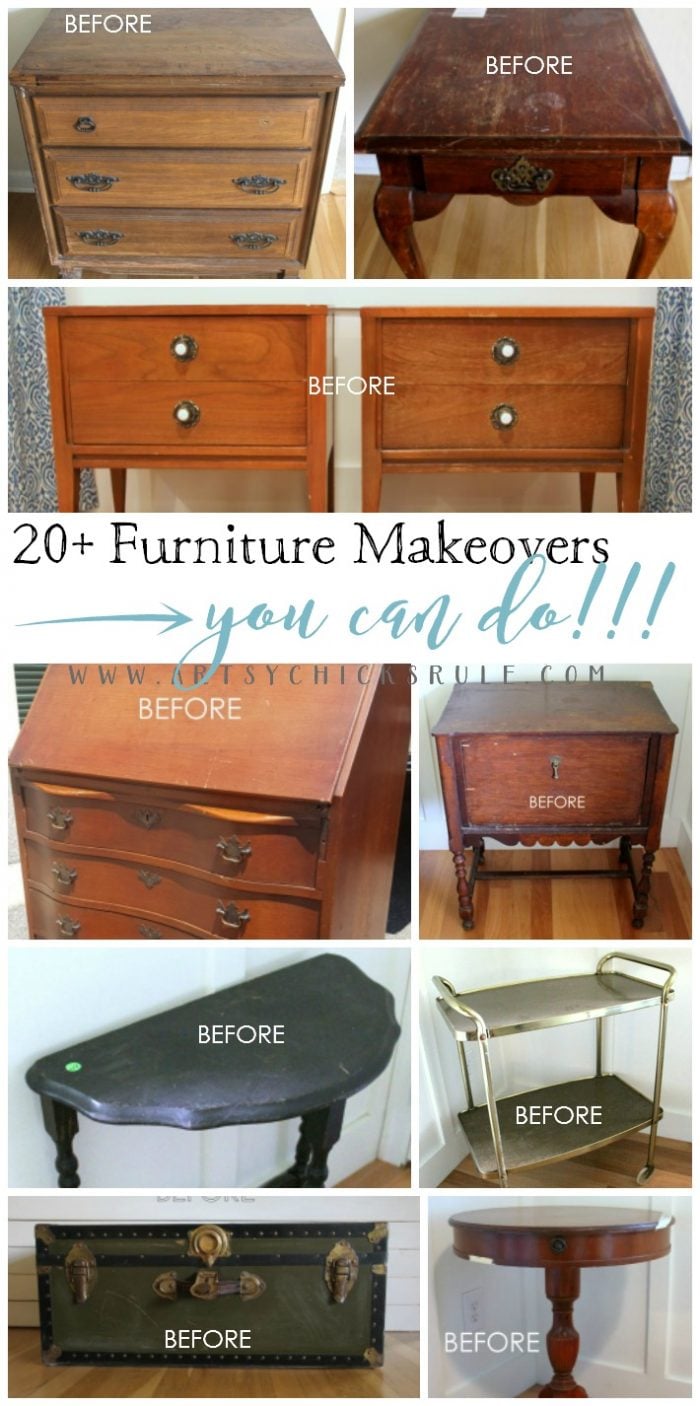 I've also decorated with lots of thrifty home decor pieces too.
You can see some of them in my recent post, "20+ Thrift Store Makeovers For Your Home".
……………………………………………………………………………………………..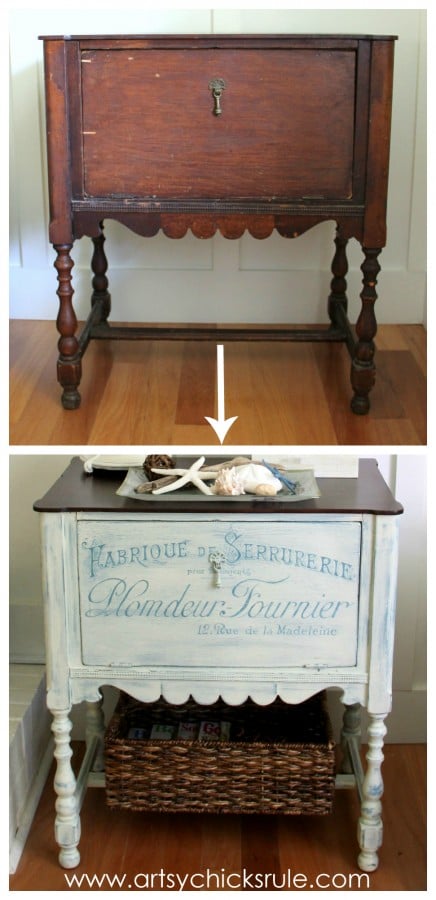 I picked up this old cabinet at the thrift store and brought it home to use for our cable box and equipment.
It was perfect for that! I painted it with Chalk Paint and added a French graphic to the front.
See the details on this French Cabinet, here.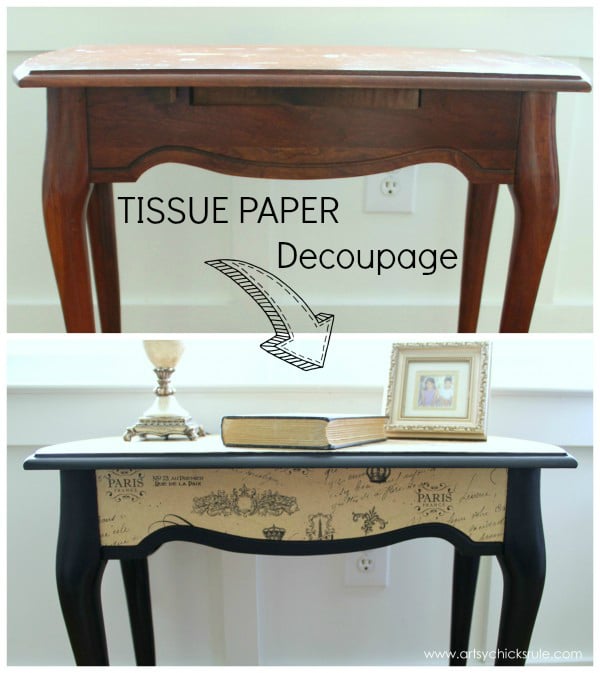 This was a little thrifty table I picked up that was missing it's sides.
I filled in the holes on each side and added French tissue paper to the sides and top.
Very unique and different.
See all of the makeover details, here.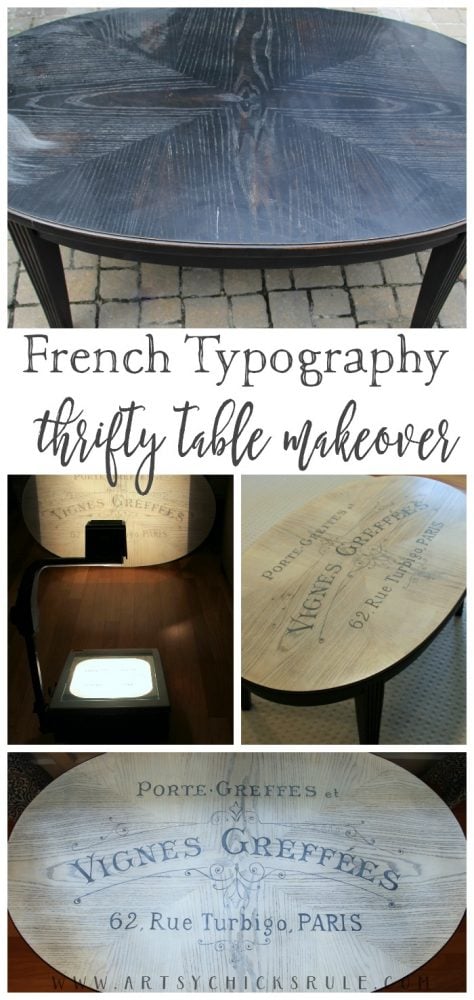 Can you believe I only paid $6 for this solid wood table at the thrift store?
I removed the black stain and noticed that really neat wood pattern and decided to keep it bare.
I gave it a whitewash though and a few French graphics.
A friend of mine now owns this table.
See more of the makeover details, here.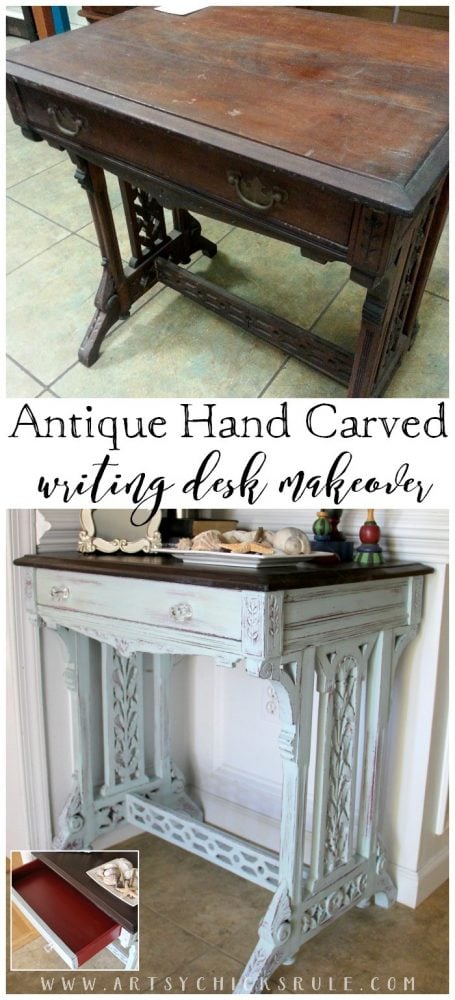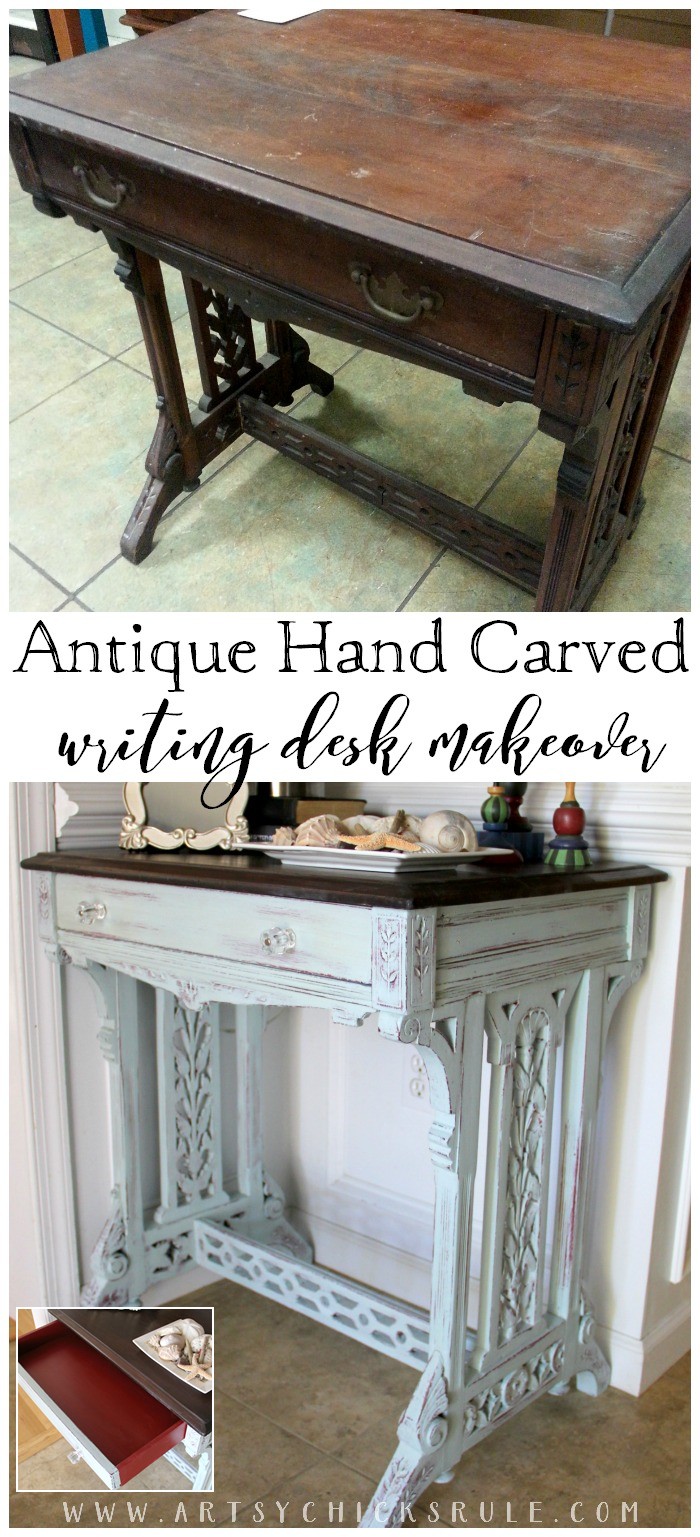 This little hand carved beauty was a steal! I was so thrilled to find it at the thrift store.
But the poor thing was in SO much need of work. You'll have to hop over and check out all that I had to end up doing to it.
It was so worth it. I still use this in this exact spot.
See all the details on this makeover, here.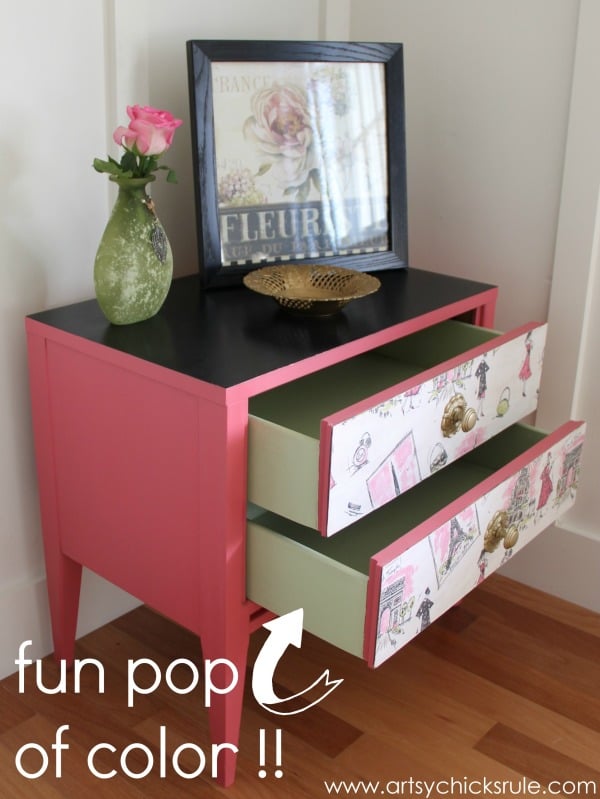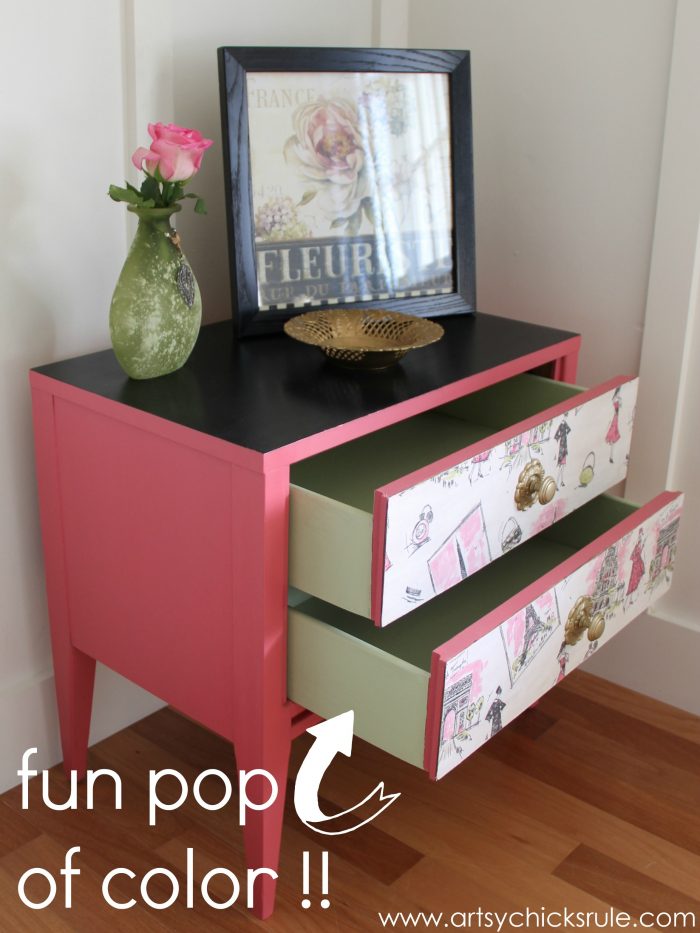 These Paris themed nightstands were so much fun to do. (there were 2)
I used that pretty fabric you see to line the fronts of the drawers and painted the outside/inside to match.
I sold these to a nice lady and hope she is still enjoying them! :)
See all the makeover details, here.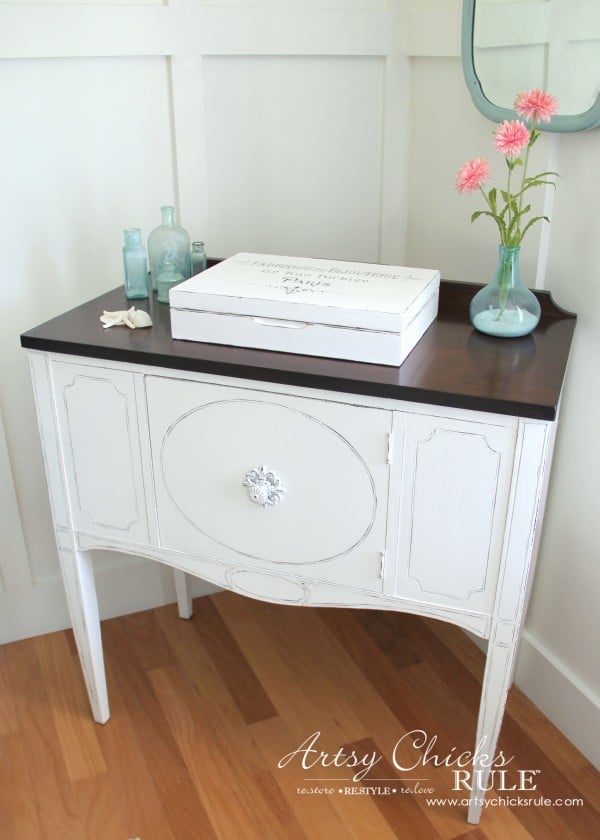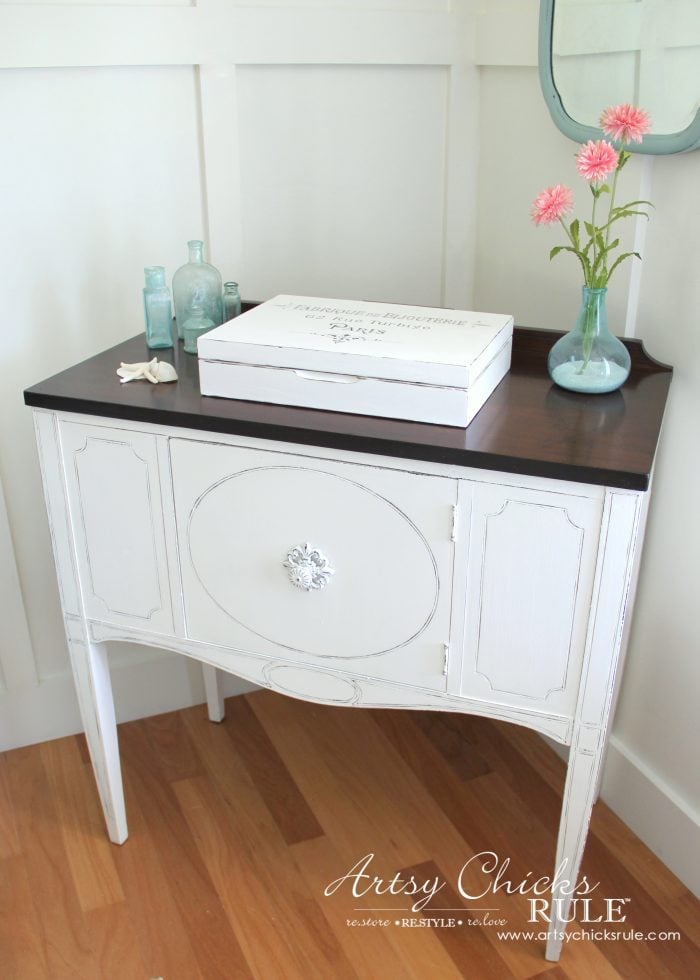 This pretty didn't get to stay with me but did go to a nice home to live. :)
I kept the top wood on this one and painted the rest in Chalk Paint.
Hop on over to the post to see what color I painted the inside. ;)
See it and more details, here.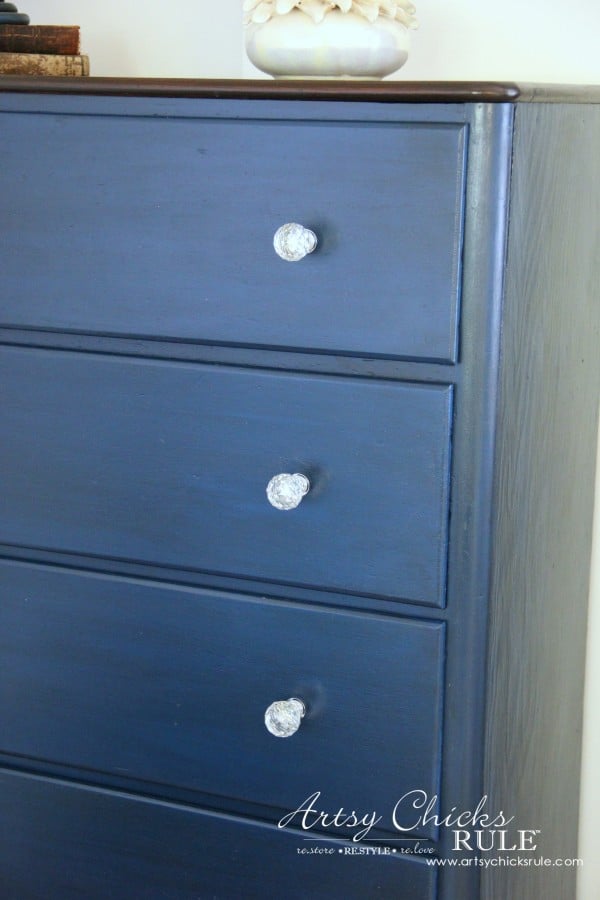 That blue……sigh! Isn't is luscious?
I created it with a mix of two colors. And this dresser was SAD, by the way, when I found it at the thrift store.
See it before, the paint details and more, here.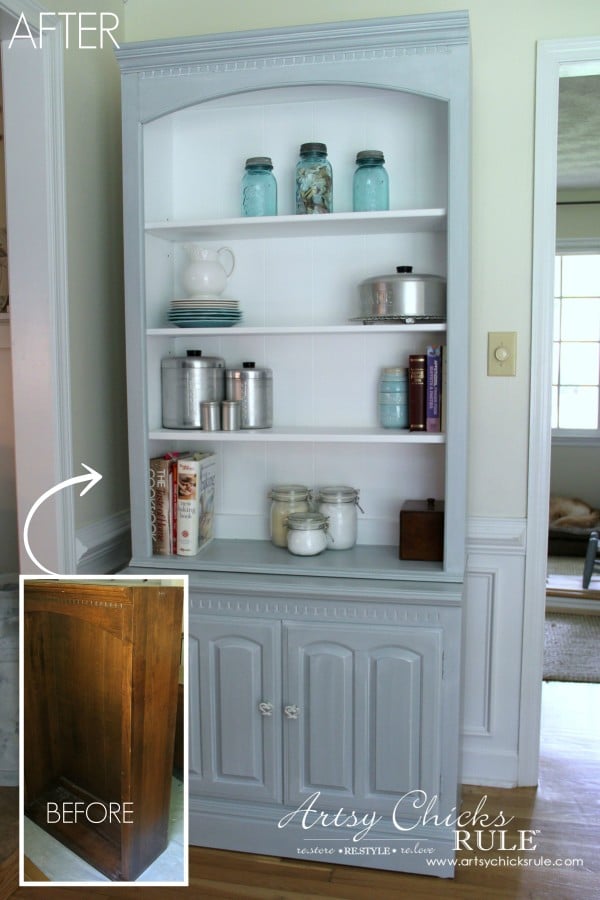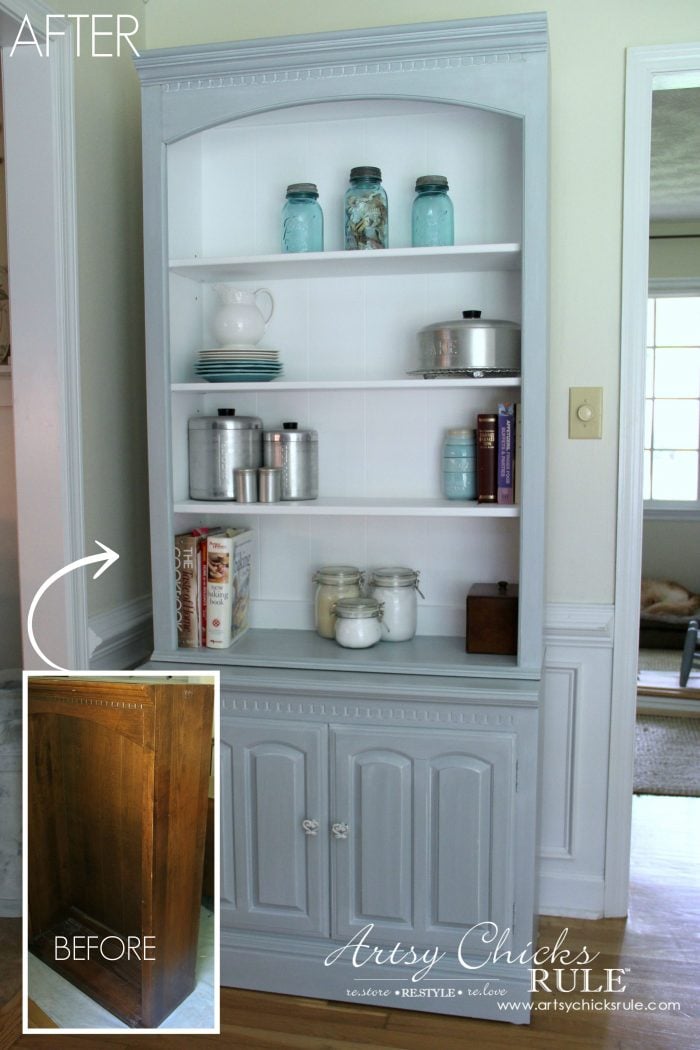 I think I paid around $20 for this solid wood Ethan Allen piece.
What a steal! I painted it a soft blue and gave it a white glaze finish.
See the paint and makeover details, here.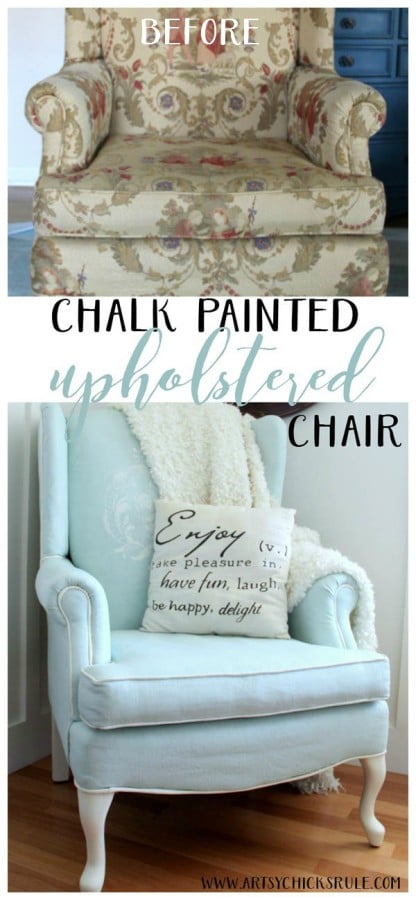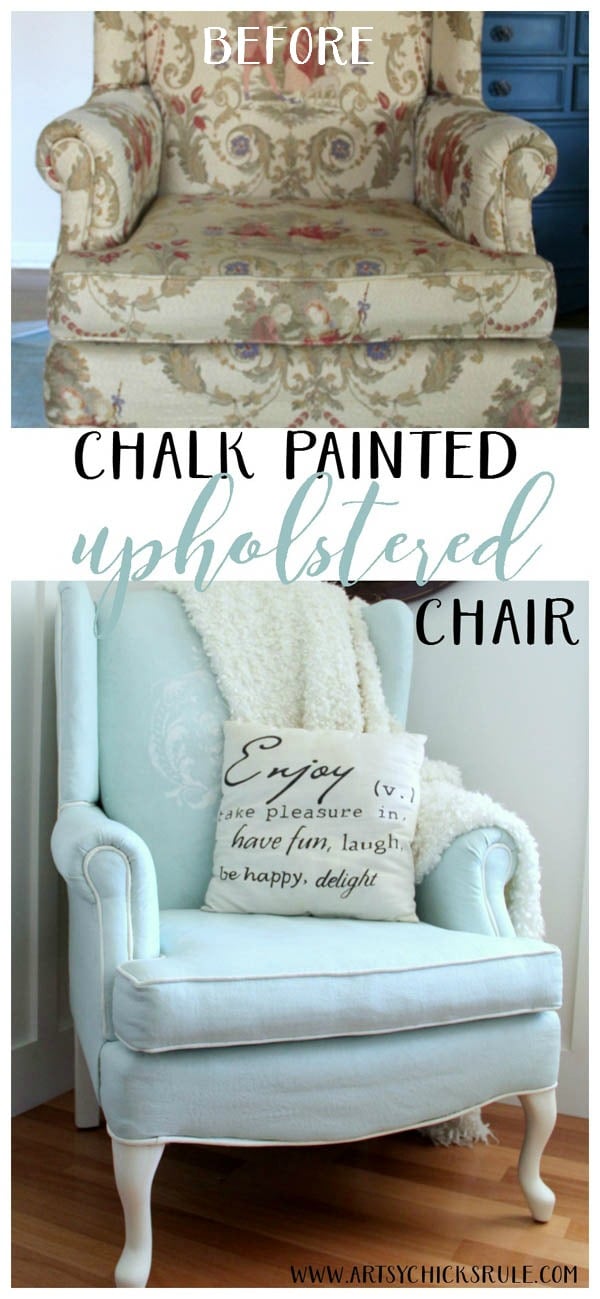 Can you even believe it's the same chair?
I still have and use this chair in my study.
I picked it up at the ReStore for, I think, $ 35.
See the makeover details, here.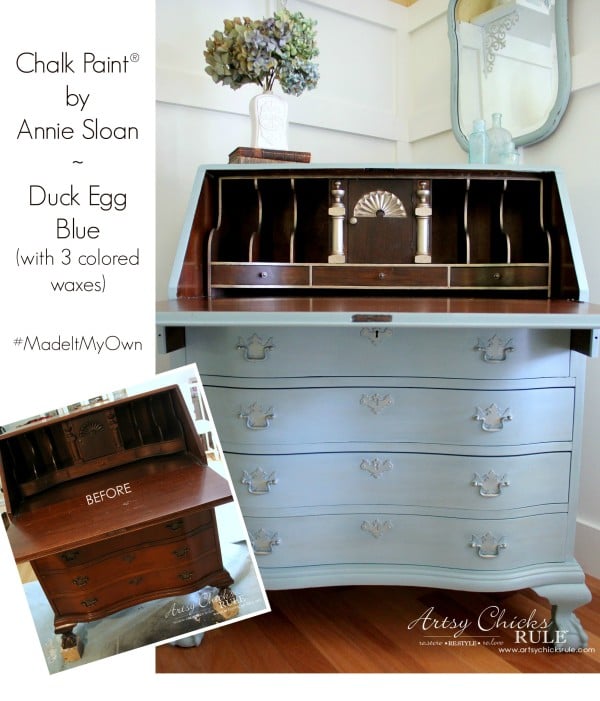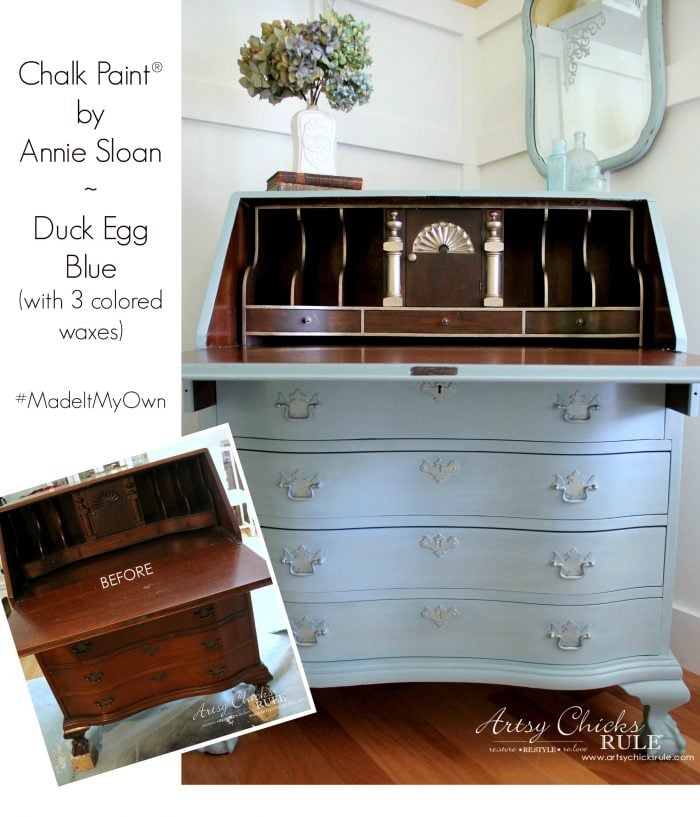 One of my very favorite pieces.
I got this at a yard sale for about $40. I never intended to keep it but….. ;)
I poured so much into it that I couldn't let it go.
It sits in the study and I use it for extra storage. I LOVE it!
Get all the makeover details, here.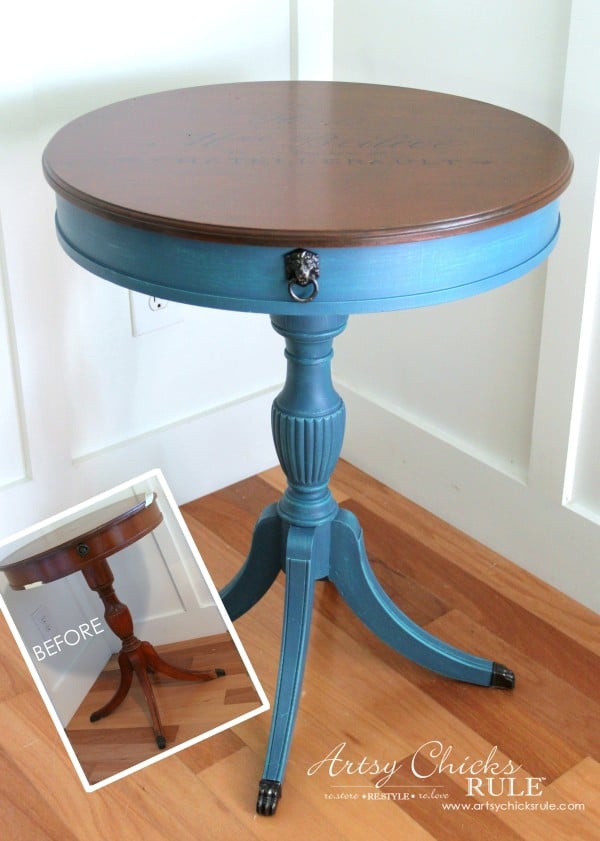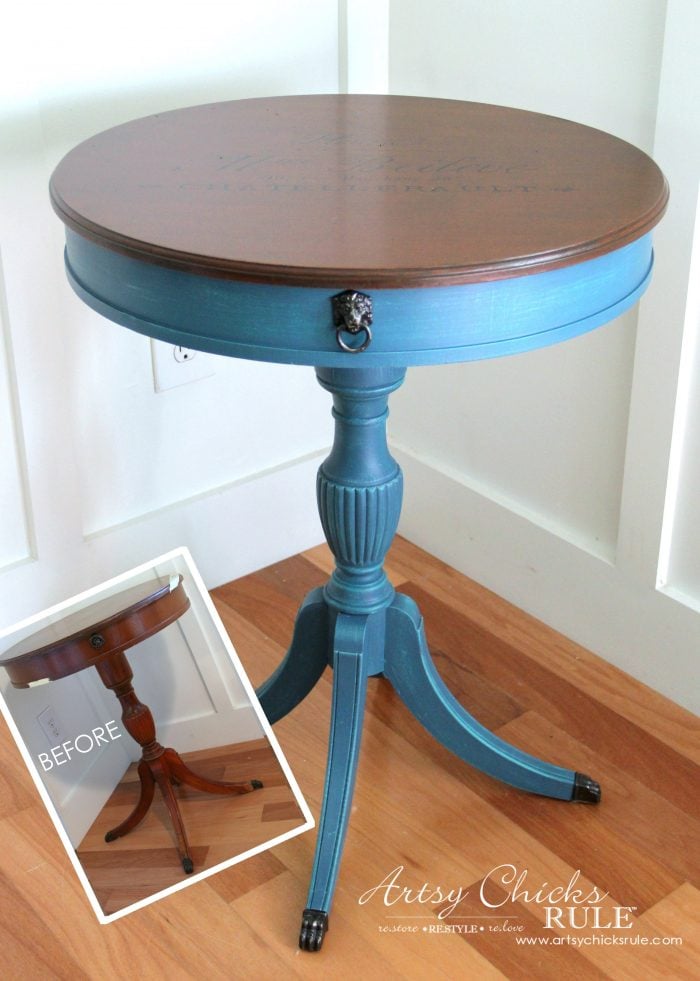 This gorgeous blue (several shades, I layered them) round French table was loved and used by use for awhile.
I did recently sell this one. It was hard to let go but I can't keep em all! ;)
I replaced it with the DIY Criss Cross Tables we made recently.
See all the paint details (and French graphics on the top), here.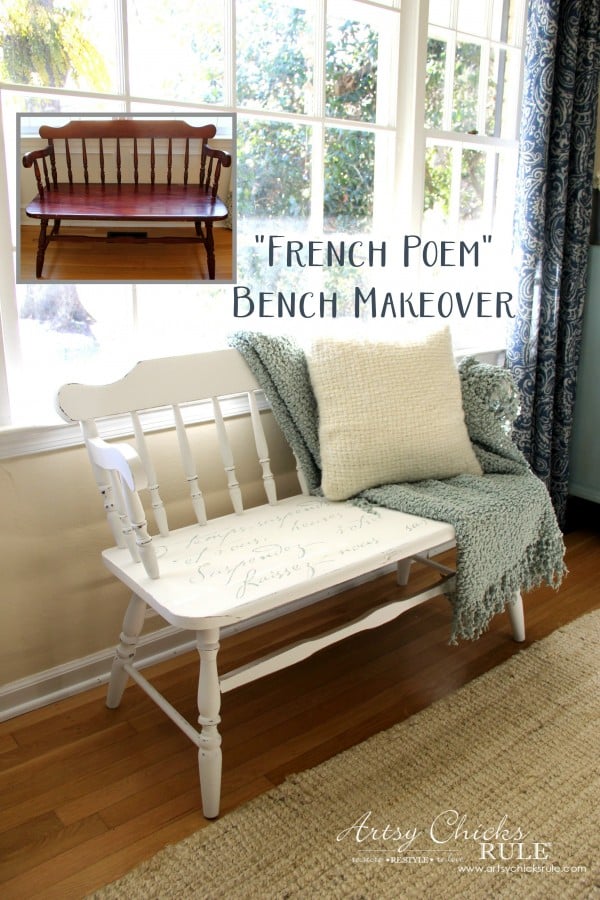 This was an old bench that a friend gave me.
I gave it a lovely makeover with a French poem stencil (which was also gifted to me by a sweet reader here) and some Chalk Paint.
I decided to keep it right here. Love it!
See the makeover details, here.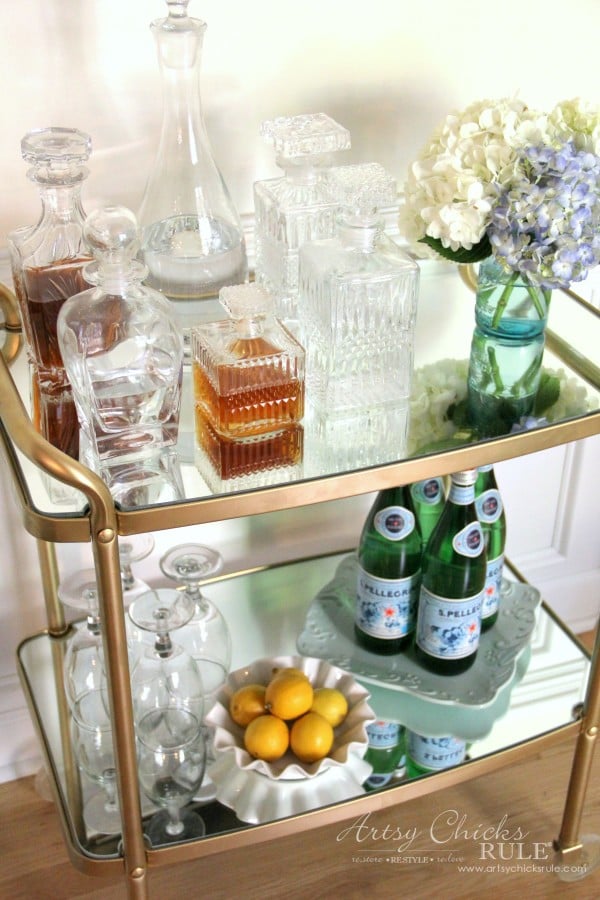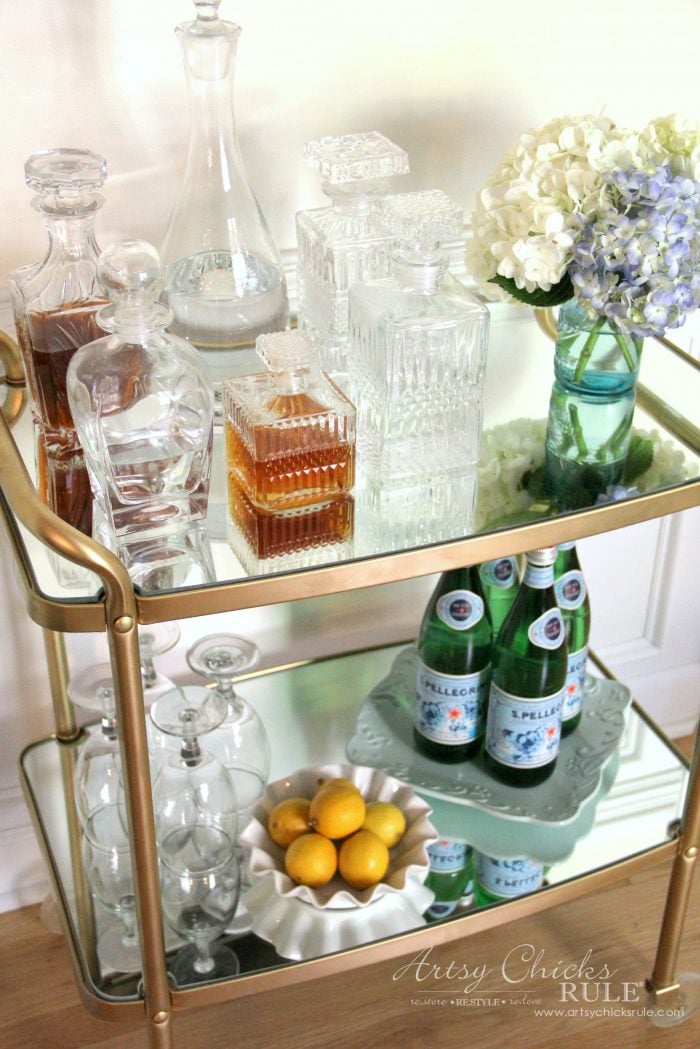 I adore this old beverage/bar cart I picked up at an estate sale.
Do you know how pricey these things are? I think I paid $15 for it.
I use it in my dining room just as you see it.
See how it looked when I found it, and the makeover details, here.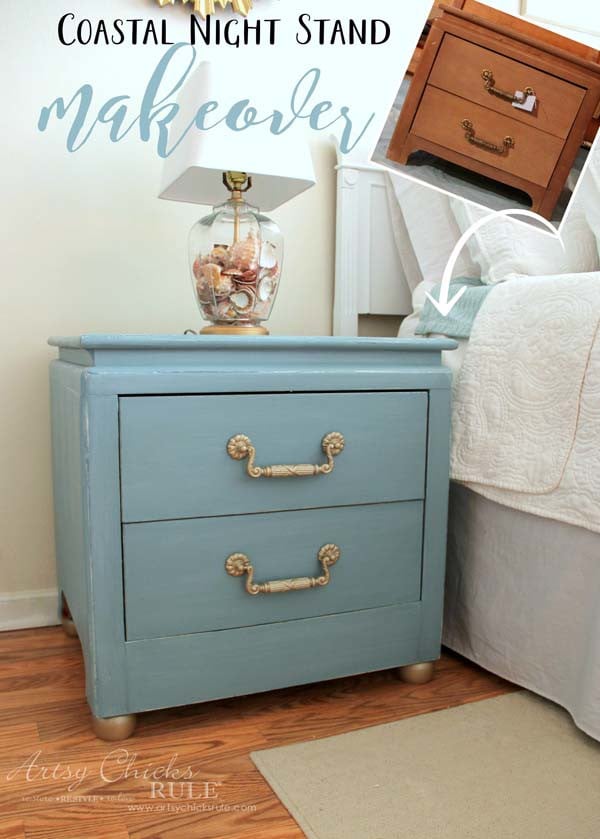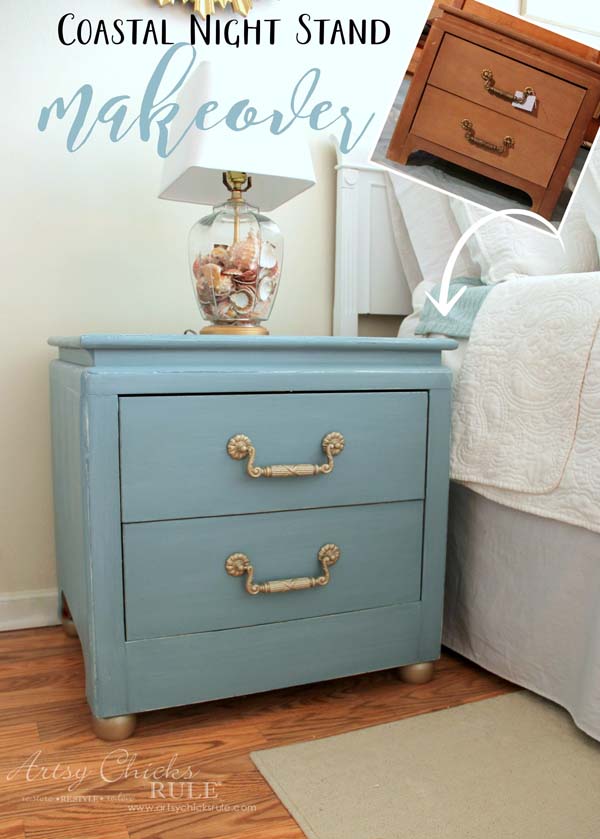 How about these thrift store nightstands that I gave not one, but two makeovers too?
I painted them, added stencils and used them for a couple years.
Then I decided to give our bedroom a makeover and gave them a brand new makeover.
I also put the original pulls back on, added feet and changed the wood trim on the bottom.
You can see what the looked like before, after the first makeover, and all the details on this makeover, here.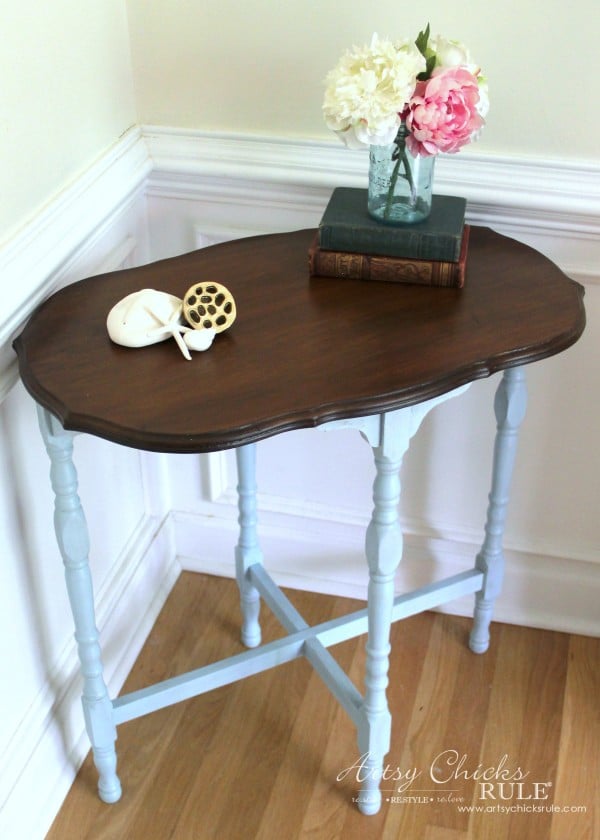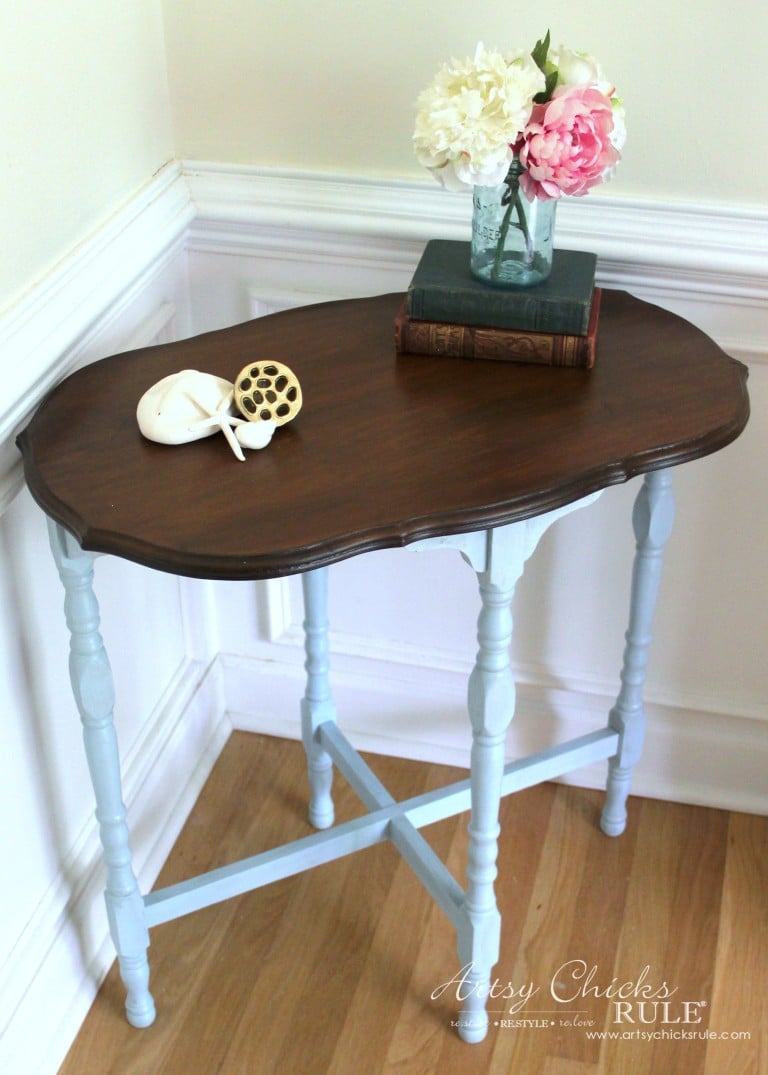 I used Amy Howard paint and her Dust of Ages on this one.
Plus I kept the top wood (just gave it a little refresher with some of my favorite products)
See the makeovers details, here.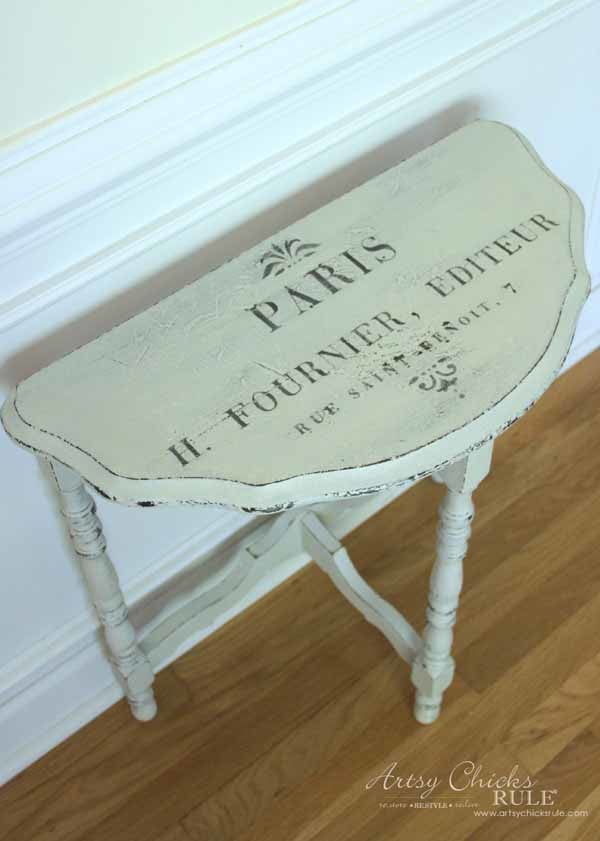 This was a really old table that I used Milk Paint on.
I love the distressed look the Milk Paint gave this one. Perfect.
See the "before" and makeover details, here.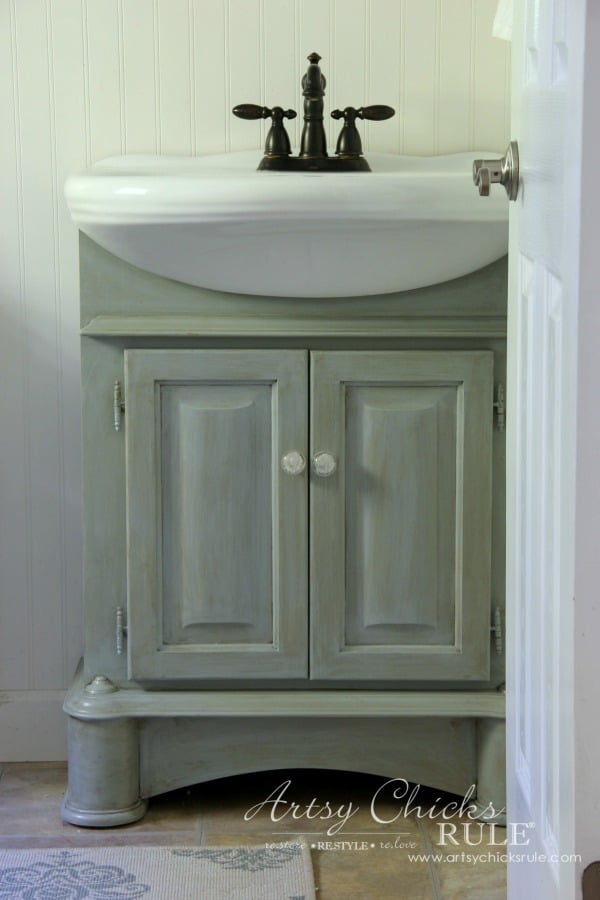 I think this counts as furniture.
I gave my bath cabinet 2 makeovers since we first installed it.
Like I always say, don't love it, paint it or give it a makeover before you buy new. :)
See the makeover details, here.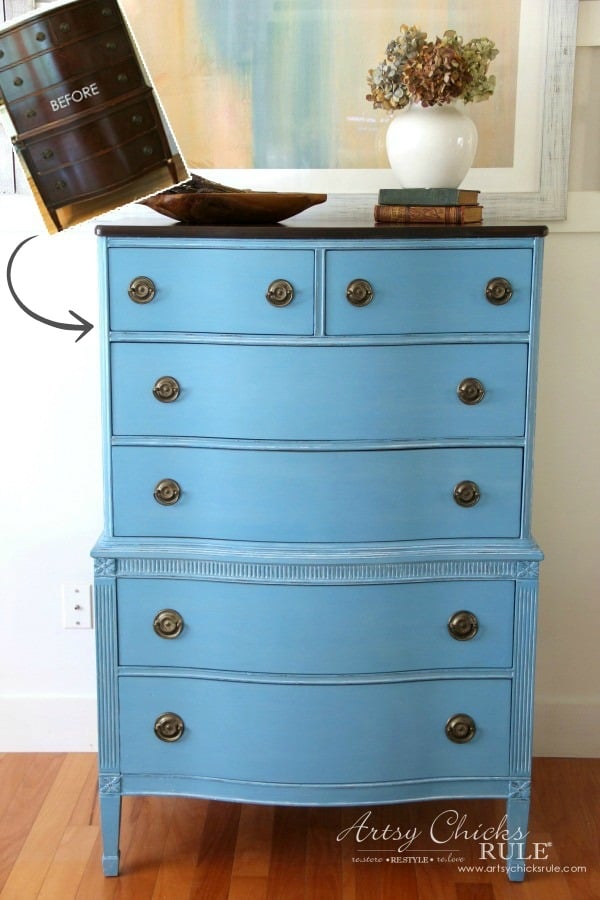 This was another one I hadn't planned on keeping…but did.
We use it in our master bedroom.
LOVE this paint color! (and the white wax)
See the makeover details, here. (and see how I made missing molding to match)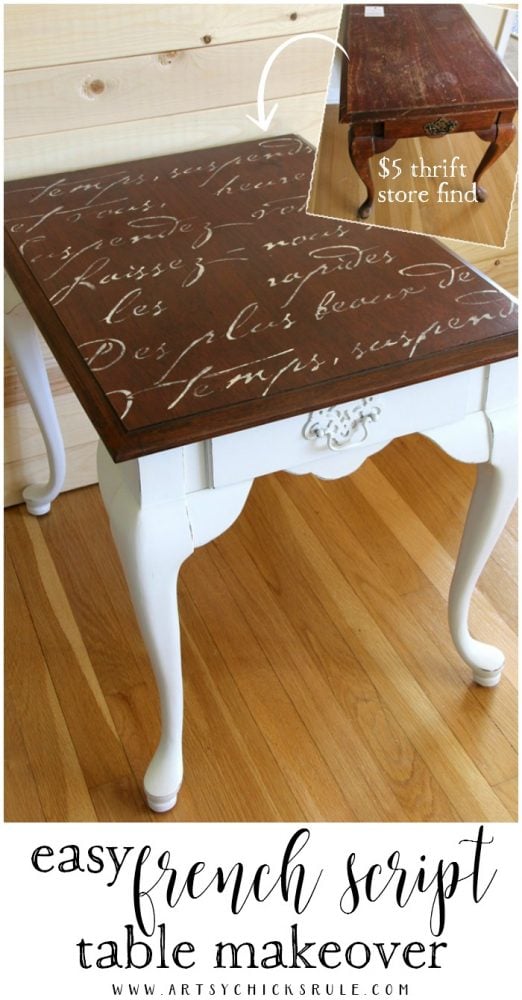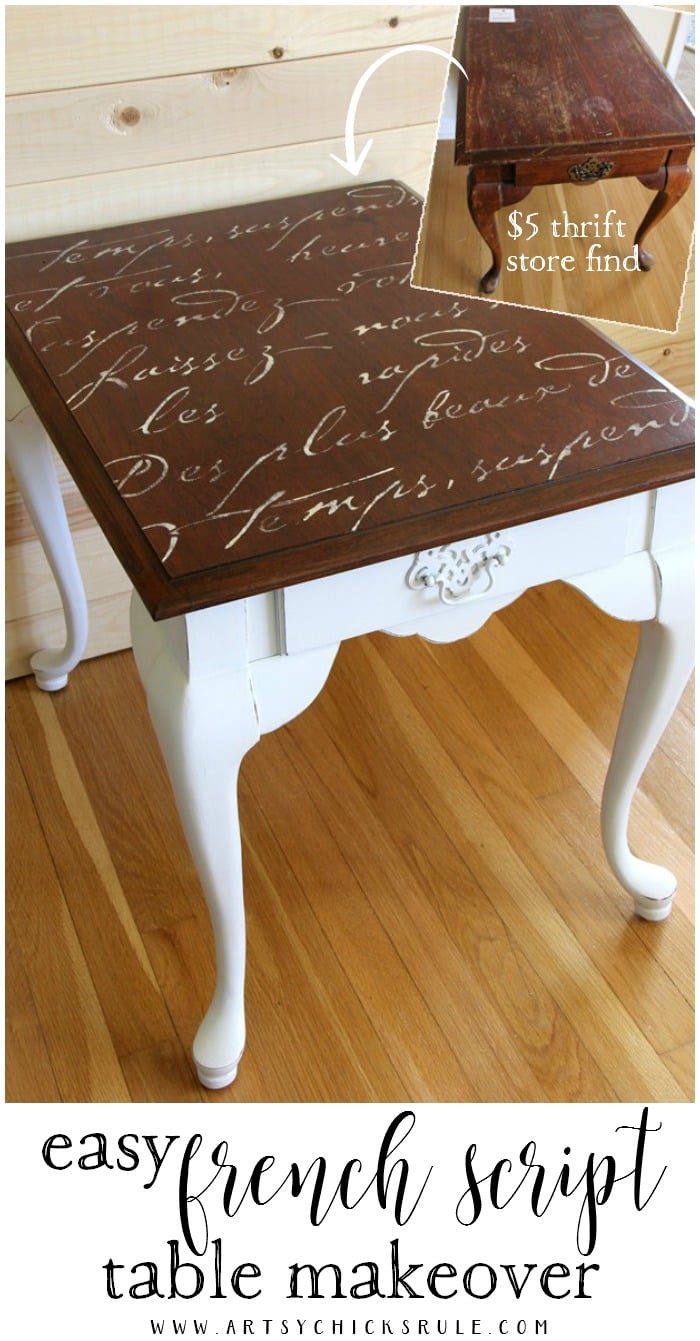 $5 ??? Really??
Yep! And then I gave it the makeover it deserved.
Pretty little table. :)
See the makeover details, here.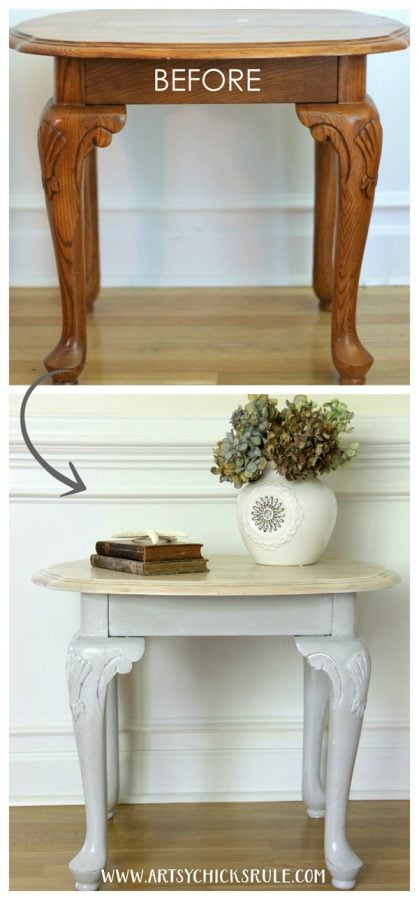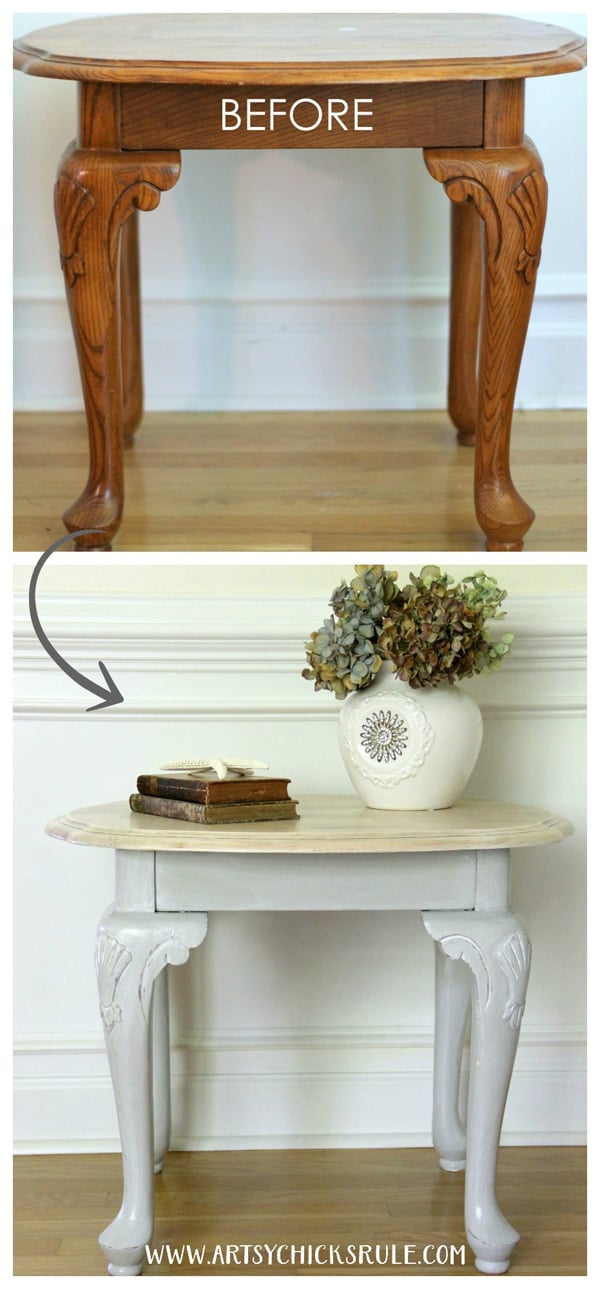 That color of oak was very popular for a long time so there is lots of it around.
I painted the legs gray, added a white wash and gave the top a pretty, natural wood look with a bit of white wash too.
See the makeover details, here.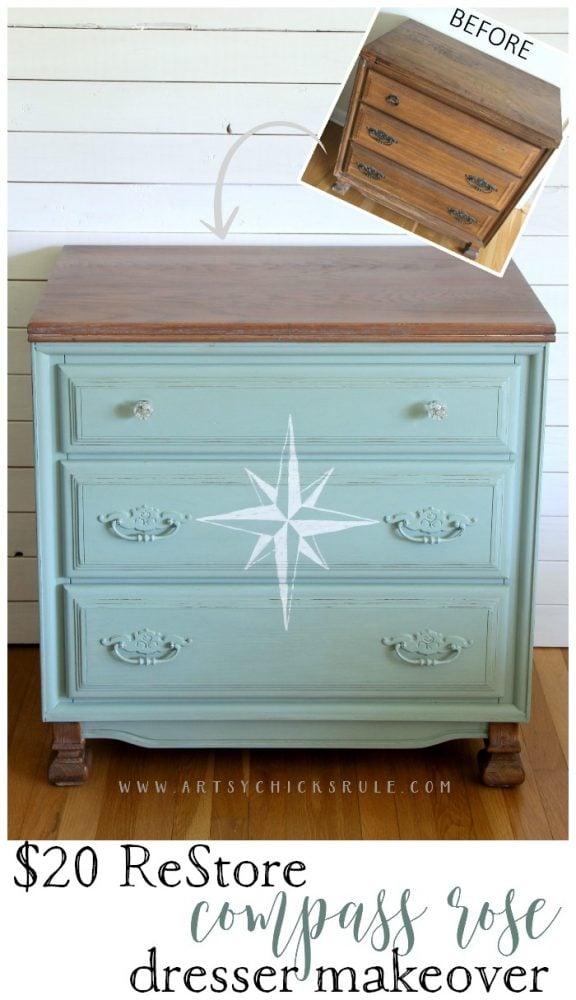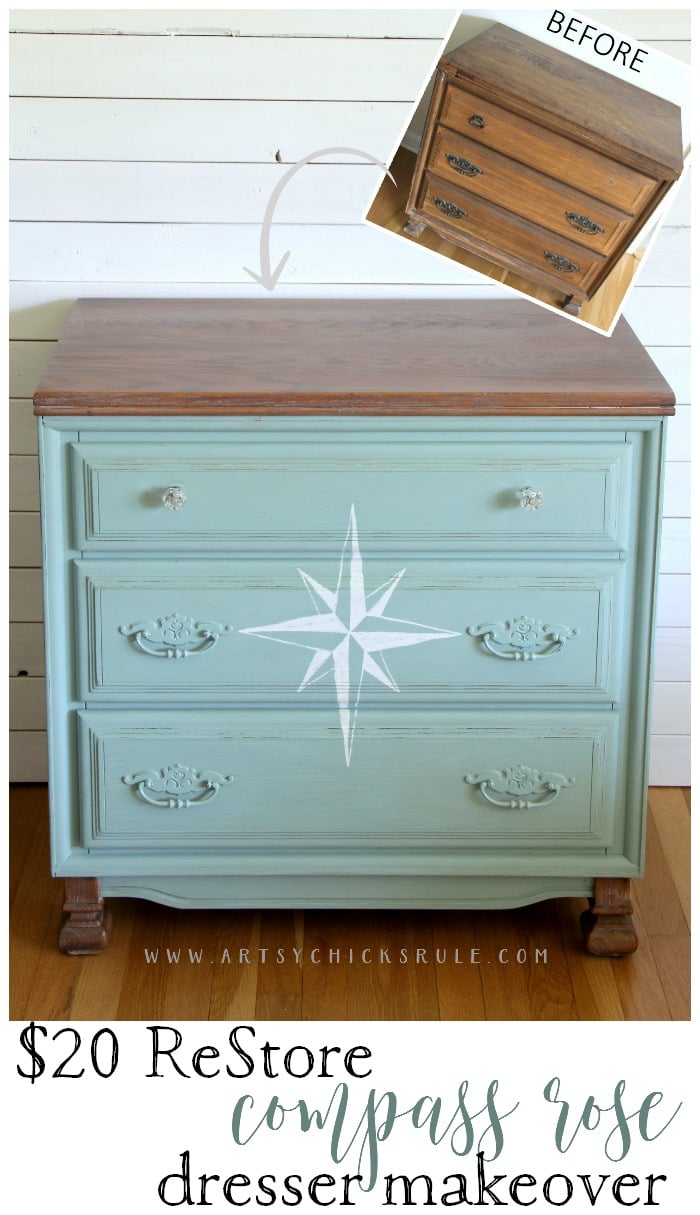 $20 for a solid wood, very well made dresser?
Seriously, you can't beat that. You can decorate your entire home this way.
This one came from Habitat ReStore.
See the makeover details, here.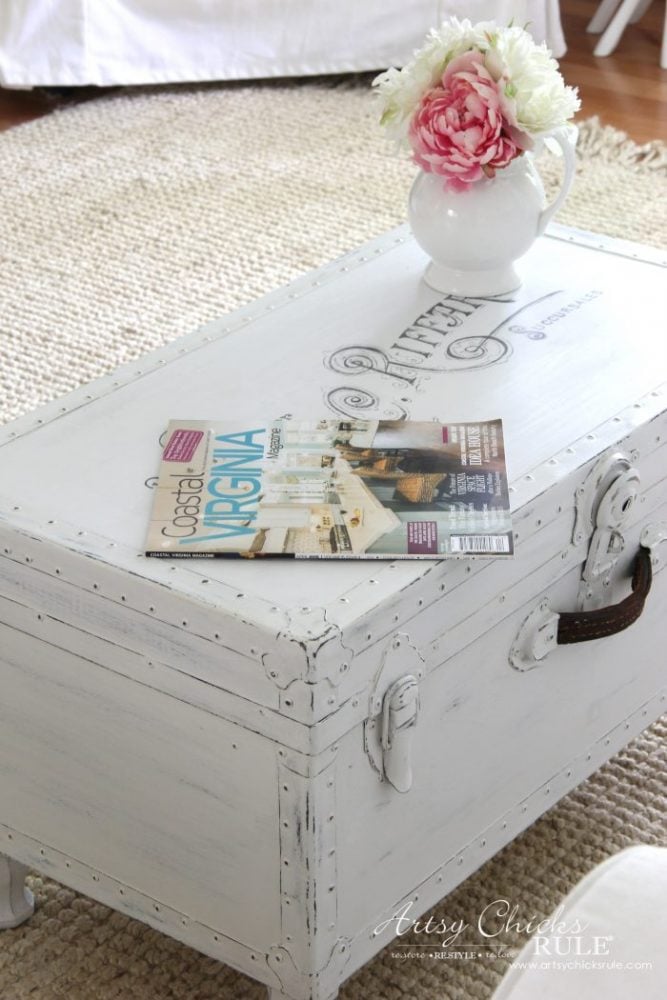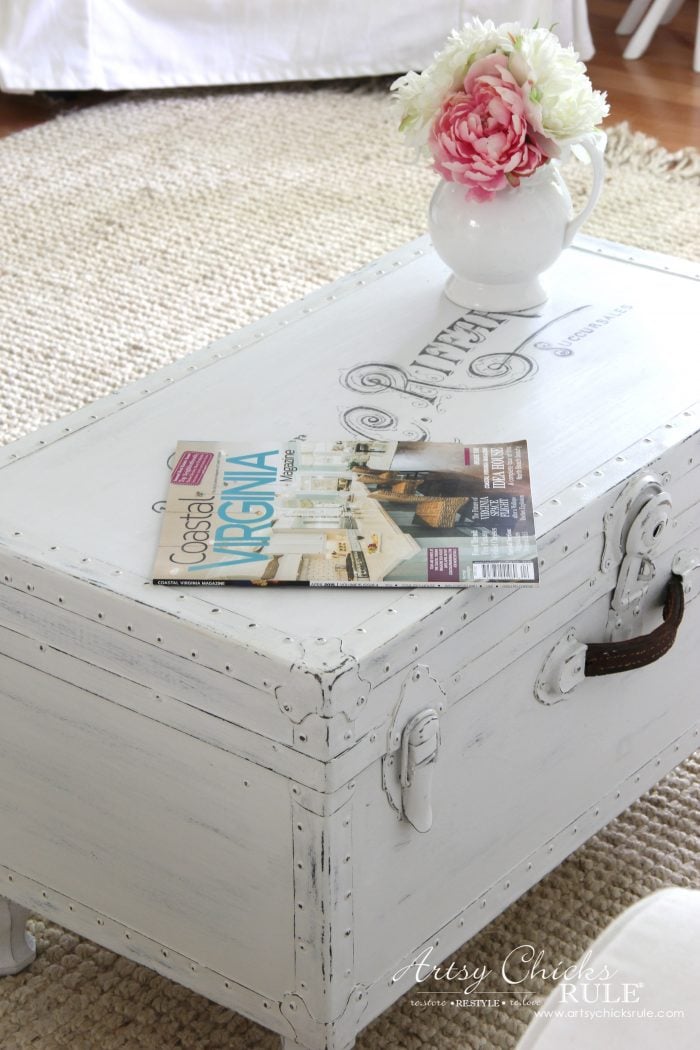 And lastly, my most recent "furniture" makeover.
Well, it's furniture now.
It was a funky, old trunk formerly. Now it's a coffee table.
And I'm keeping it too. Not sure where it will end up but it's staying for now. :)
See the makeover details, here.
PIN these 20+ More Furniture Makeovers to save for later!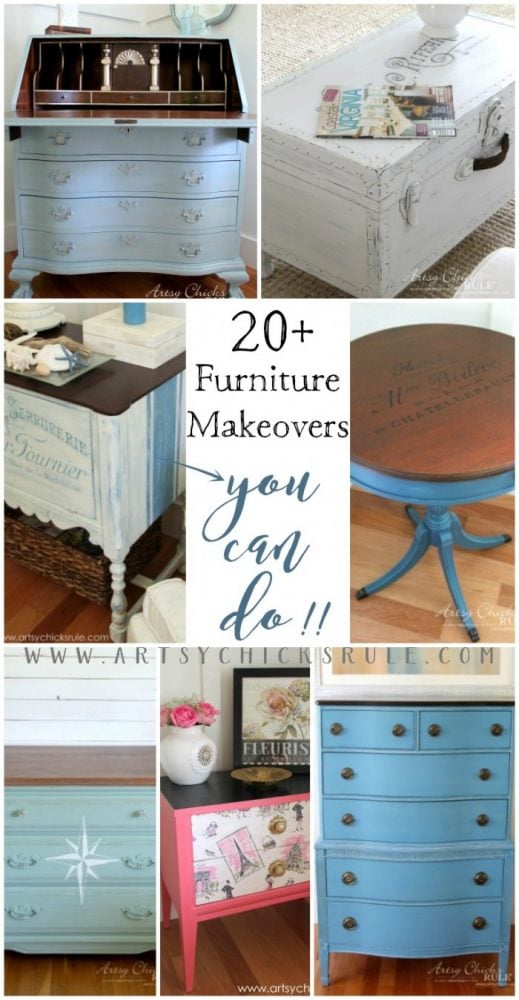 ………………………………………………………………………………………………………………..
So, as you can see, you can decorate your entire home with thrifty finds.
And I didn't even share my "coffee bar" dresser, or my beloved Aubusson Blue dresser, or my armoire I use in my family room.
All thrifty finds.
Or maybe the cart on my screened porch and the outdoor table/chairs that were being thrown away.
Or how about the dining room furniture that I've had for over 20 years now.
It's been made over twice by me. (instead of buying new) :)
Oh! And take a look at this other post I did awhile back with some different furniture, "15+ Furniture Makeovers – You Can Do!" (I have a theme going here. ;) )
I've decorated nearly my entire home this way. And I continue to redecorate it as my styles change, the same exact way.
Why not? I love to save money.  I do have a little splurge here and there, though.
You do have to live a little. ;)
I hope you have gained some inspiration and decorating ideas.
The cheap, thrifty but beautiful (and smart!) way. :)
See you back here Thursday with some inspiring DIY unique & creative kitchen/laundry backsplash ideas. (and plans for my own kitchen too!)
xoxo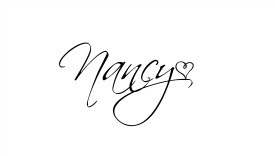 Follow Along Here!