Chalk Painted Chalkboard Desk (thrifty makeover)
This post may contain affiliate links. Please see disclosures here.
How fun does a chalk painted, chalkboard desk sound for kids? Very fun! See how I made one today.
Happy Tuesday Friends!
I'm gonna get a little serious for a minute, y'all.
Then we'll be onto the furniture makeover, promise. ;)
…………………………………………………………………………………………………….
Today is September 15th.
And on this day, five years ago, I was diagnosed with breast cancer.
In some ways it's hard to believe it's been 5 years, and in others, not so much.
My life was changed in ways that I can't even begin to describe in a just few sentences here.
What I can express is how thankful I am to be cancer free and healthy 5 years later.
And since October ("Pinktober") is upon us, I thought I'd mention this….
I wrote a post about my story here on the blog a couple years ago. If you haven't read it, it's really more about awareness.
An awareness of breast issues and health that I didn't know previous to my diagnosis.
Thankfully, things have changed somewhat for other women out there today. But not enough.
My story describes how I slipped through the cracks because I didn't know basic facts. (and because my Drs. allowed it)
I shared my story in hopes of helping others with information I had discovered since diagnosis.
It was very hard for me to open up and put myself "out there" (as it is even hard to write this paragraph about it now).
But I have had many reach out to me since, thanking me for giving them information they had never known.
So, for that, I am grateful.
I'd be lying if I said I never got the urge to delete that incredibly open and very personal post(s) of mine.
But I won't delete it. I believe it is still of use to many and that is more important than any nerves or vulnerability that I may feel.
Because even though it's "my story", it's not really about me.
You can read it here … "My Story – Breast Cancer Awareness and What It Means to Me"
…………………………………………………………………………………………………………..
I was going through some old photos the other day and found an old project I did a few years back.
I had to share with you because of how terrible it looked to begin with.
I've gotten a little bit "pickier" these days but I still come across, and buy, some real winners! ;)
Here it the Chalk Painted Chalkboard Desk…..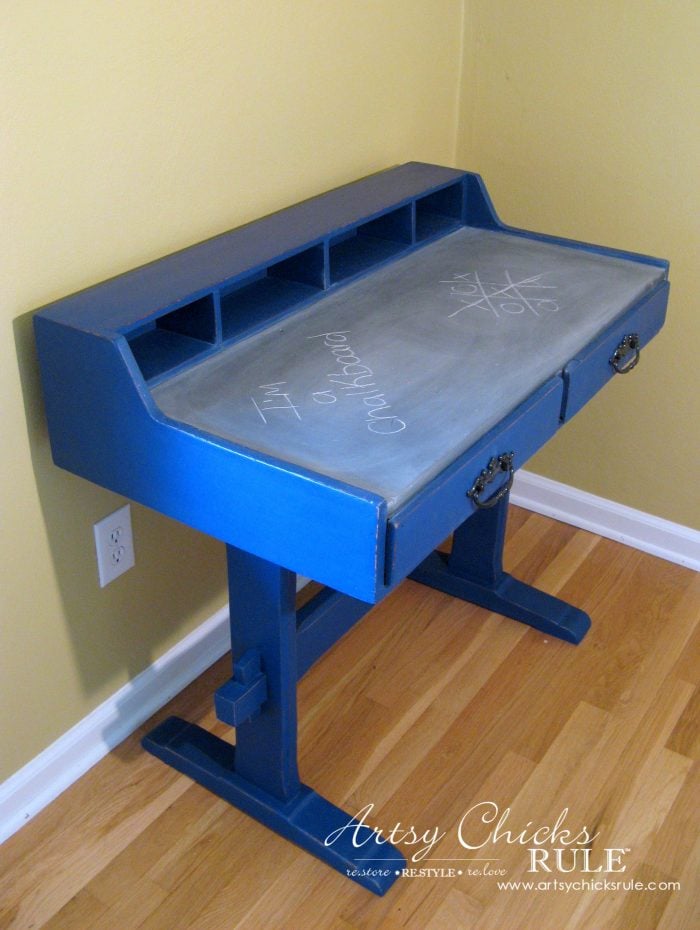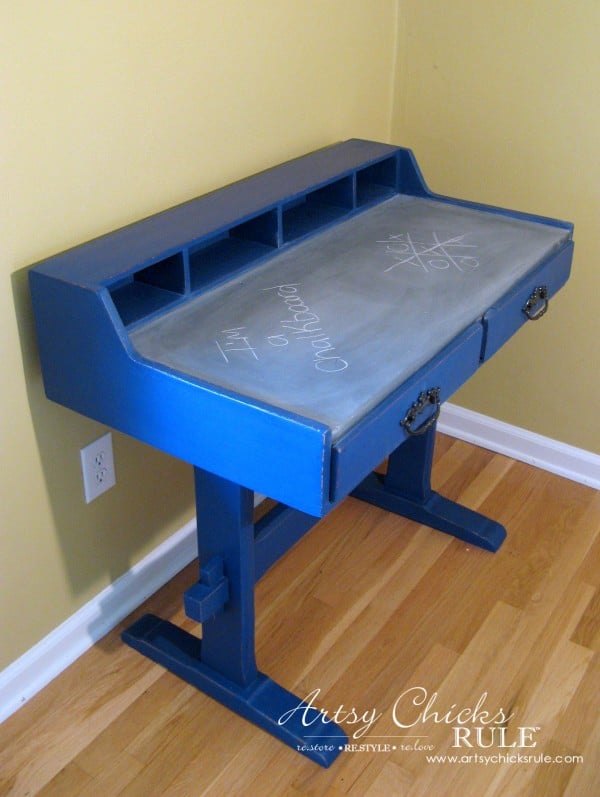 And here is what it looked like when I found it.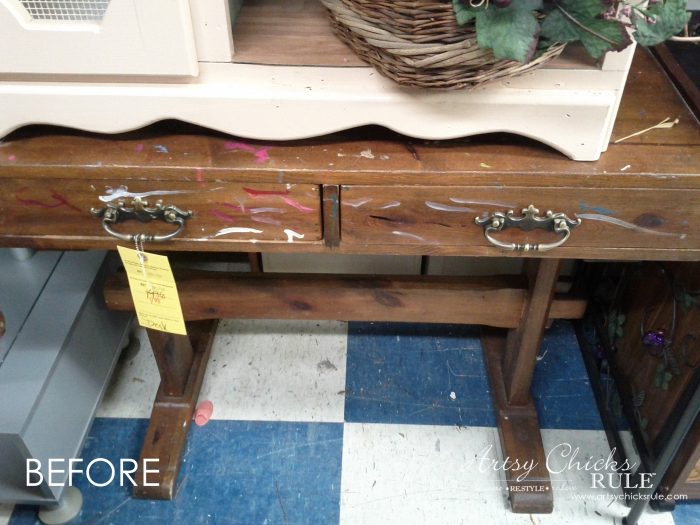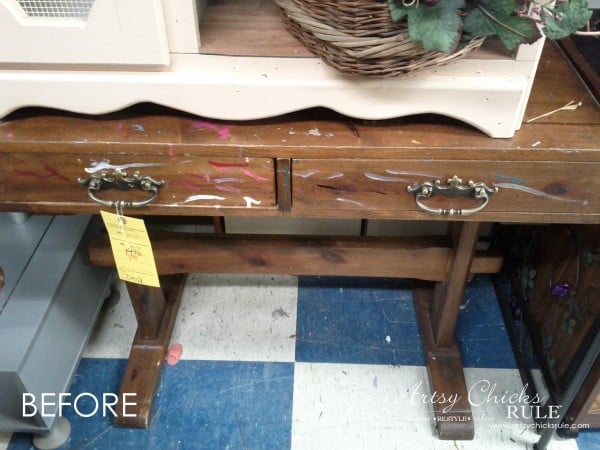 Yep, that one underneath there.
Isn't it pretty? Heh, heh..not so much.
Someone had fun some with nail polish on that one!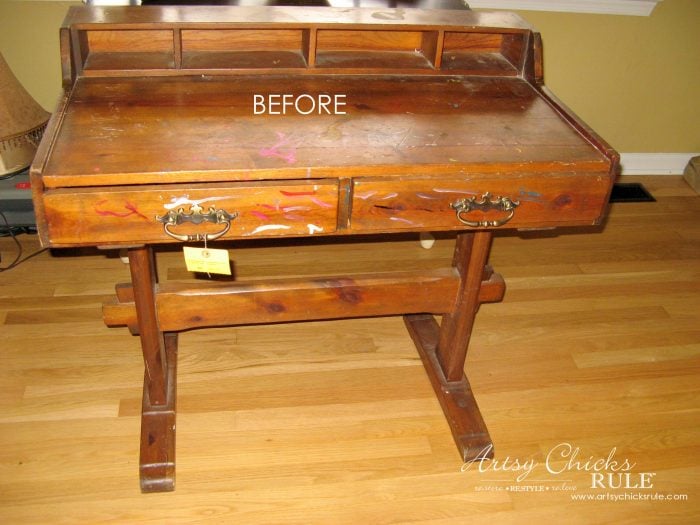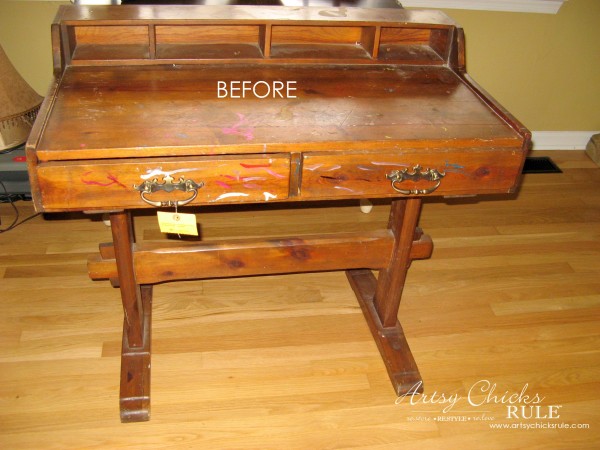 I paid $9.98 for it.
It is solid wood but wow, it was icky, yucky, yuck.
I cleaned it up and painted it with Napoleonic Blue (Chalk Paint® by Annie Sloan) for the base……
(it seemed like a "boy" desk to me ~ even though it had NAIL POLISH painted on it ~ so I went with blue)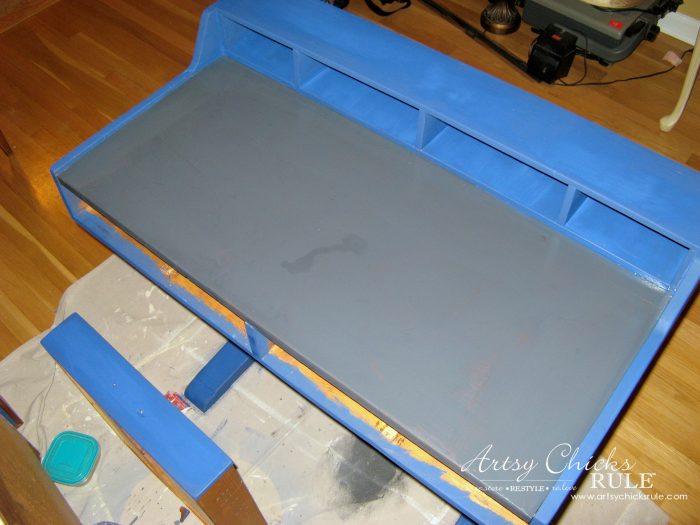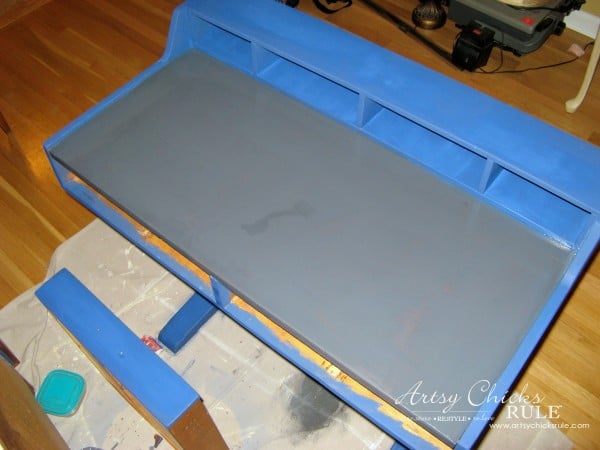 ….and I used Graphite on the top, which is what made it a "chalkboard".
I let that part unsealed and sealed the blue with Clear wax.
Leaving the Graphite unsealed will give you a "chalkboard" type finish.
OR you can just use Chalkboard Paint. (most big box stores have that in a liquid or spray)
I did do about 3 coats of the Graphite for durability, however.
What a difference a little paint makes, right? Always.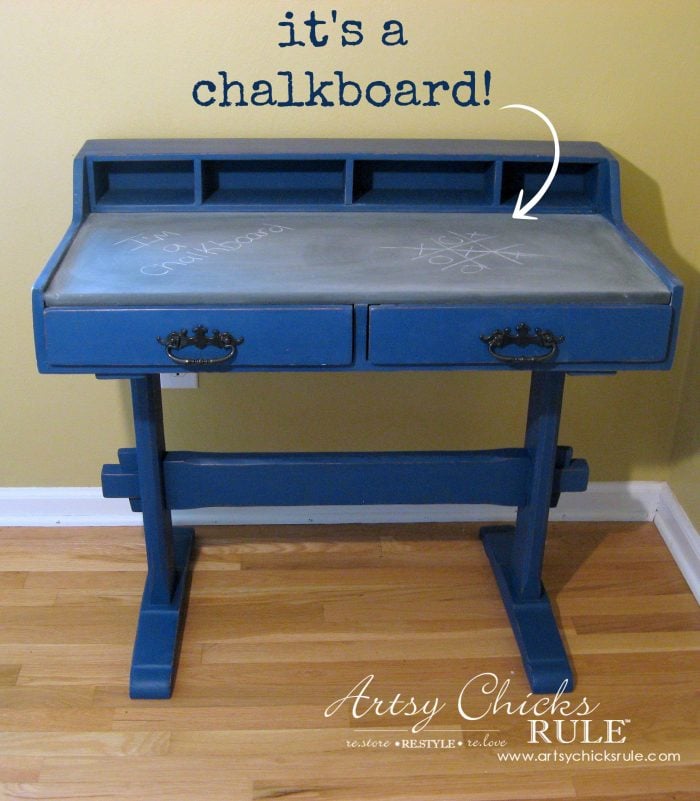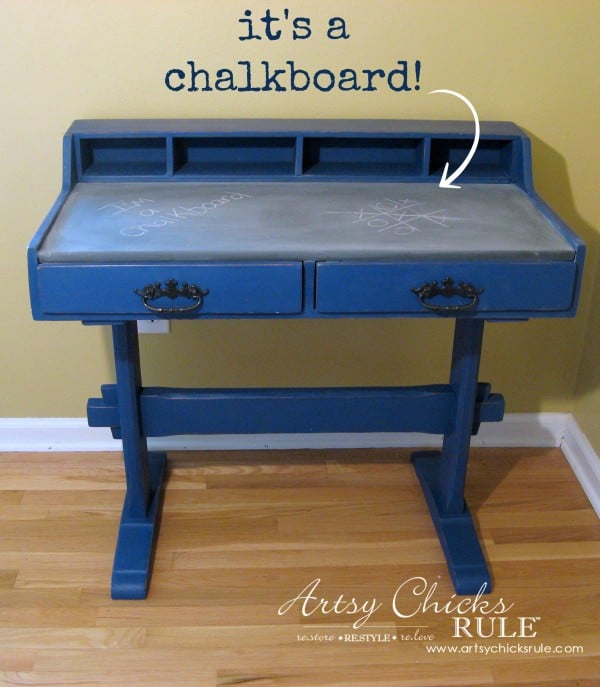 How fun to have a chalkboard on the top of a desk to scribble on.
I think kids would love that.
Want to know about 26 other chalk style paints?
I've got the low down for you right here! >>> 26 Types of Chalk Style Paint For Furniture
I sprayed the hardware with my favorite, Oil Rubbed Bronze.
You can read about all the other things I've used this paint on here…. "Many Uses for Rustoleum Oil Rubbed Bronze"
Since it was built with a very rustic design, I decided to sand a bit to distress the edges.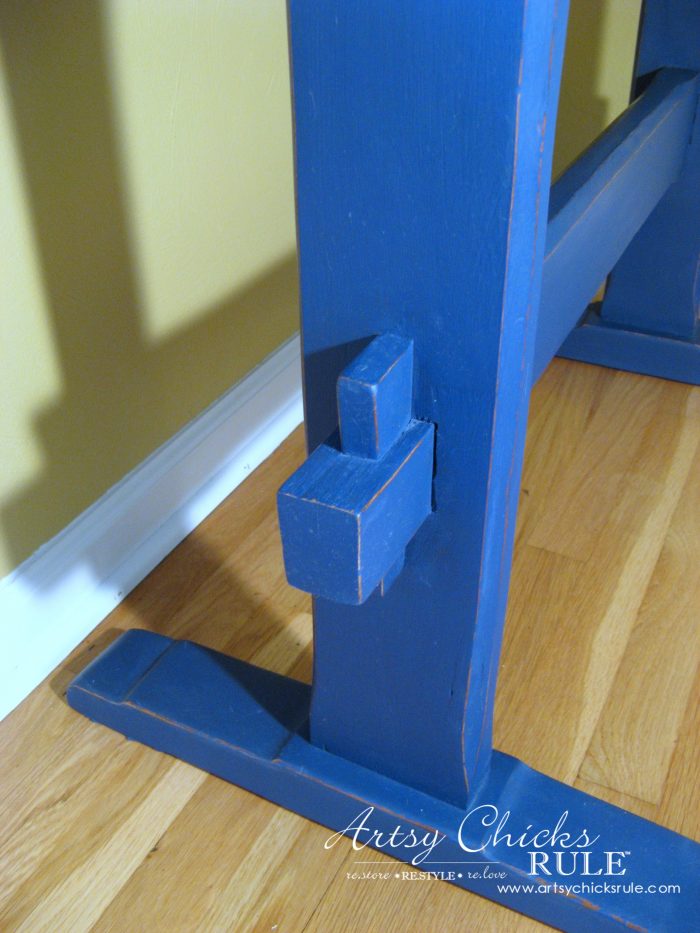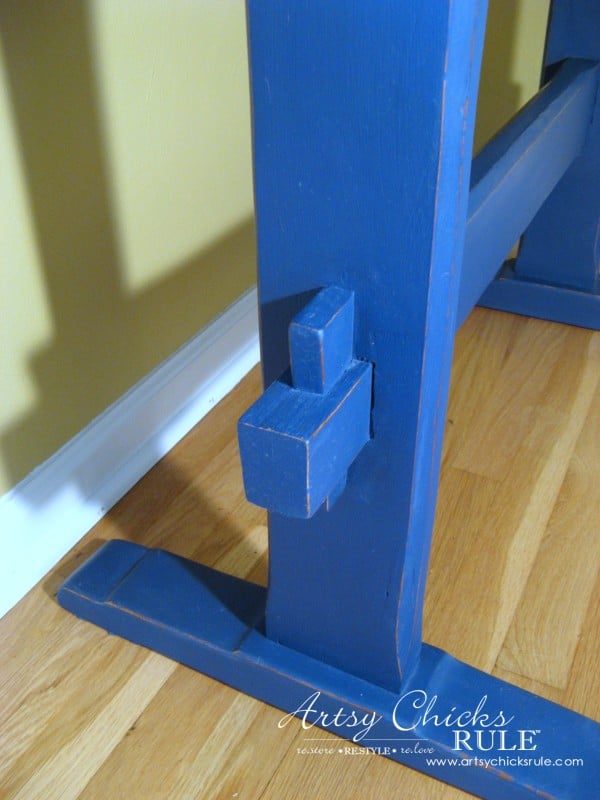 Cute little desk now.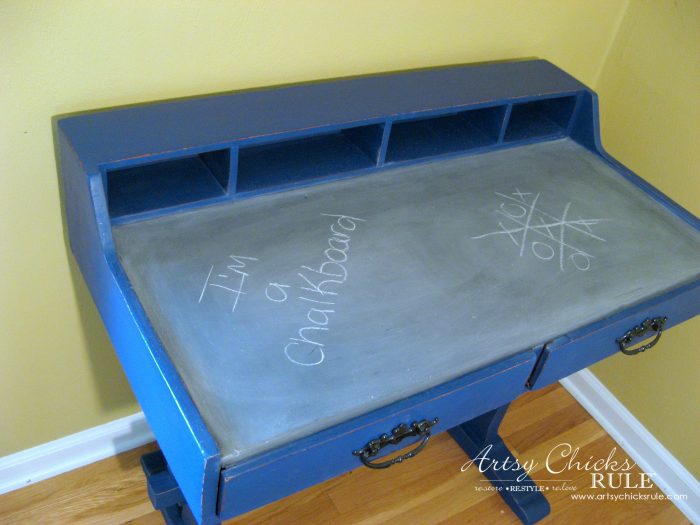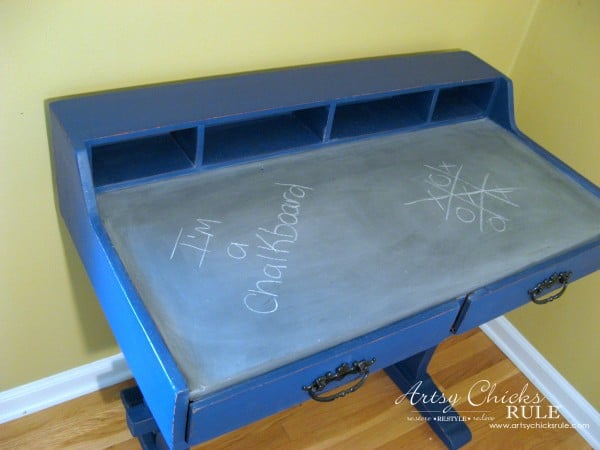 This desk had the perfect top for turning it into a chalkboard.
I imagine you could do this with other desks too.
Anyway, excuse the gold walls and terrible photos.
I think it's been about 5 years ago that I painted this one.
I have since painted my walls (again) in this room (the study) and actually have a 99% complete built in bookcase right where it's sitting!
Yay!!
So, all that's left for me to do on the built in is caulk and paint!
My husband has done his part so now it's all me. ;)
I'm hoping to have it done and decorated soon so I can finally, after a long time in the making, share it here on the blog.
So if you have little ones around, consider painting the top of their desk with chalkboard paint for a fun change.
I think they would enjoy it!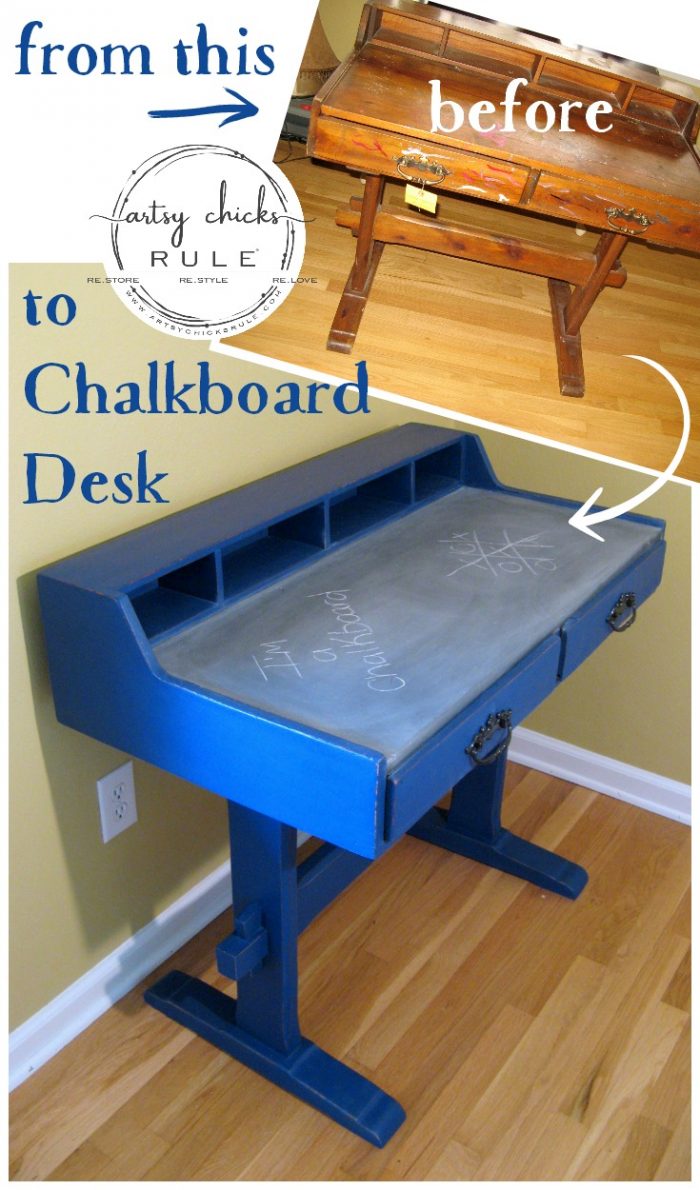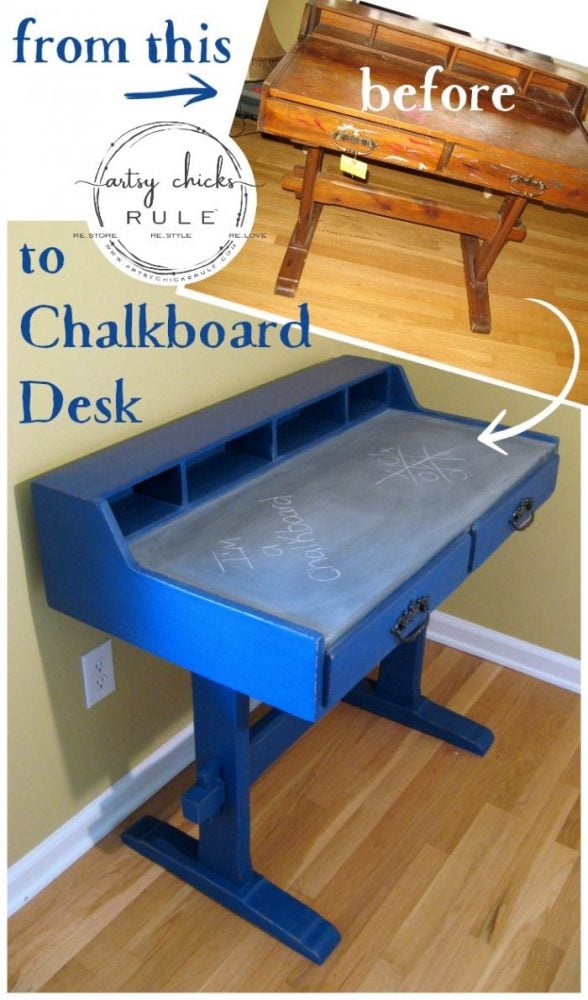 I love that Napoleonic Blue. Isn't it a beautiful shade?
I think I need to try it on another piece very soon.
I'll see you all later this week with a little makeover I just completed for the Coastal Master Bedroom Makeover.
OH, but first…. have y'all entered the Annie Sloan giveaway yet? It's so easy, all you have to do to enter is upload a photo of an Annie Sloan project you've completed.
That's it.
Have you painted something with it? Share it and you're automatically entered. (or just pop over and check out all the pretty things everyone else has shared)
Anyway, I just wanted to mention that again in case you guys missed it.
For all the details, and the gallery of photos, see this post here –> "Secretary Desk Makeover w/Duck Egg Blue Chalk Paint®"
Have a great week and I'll see you guys on Thursday with this!!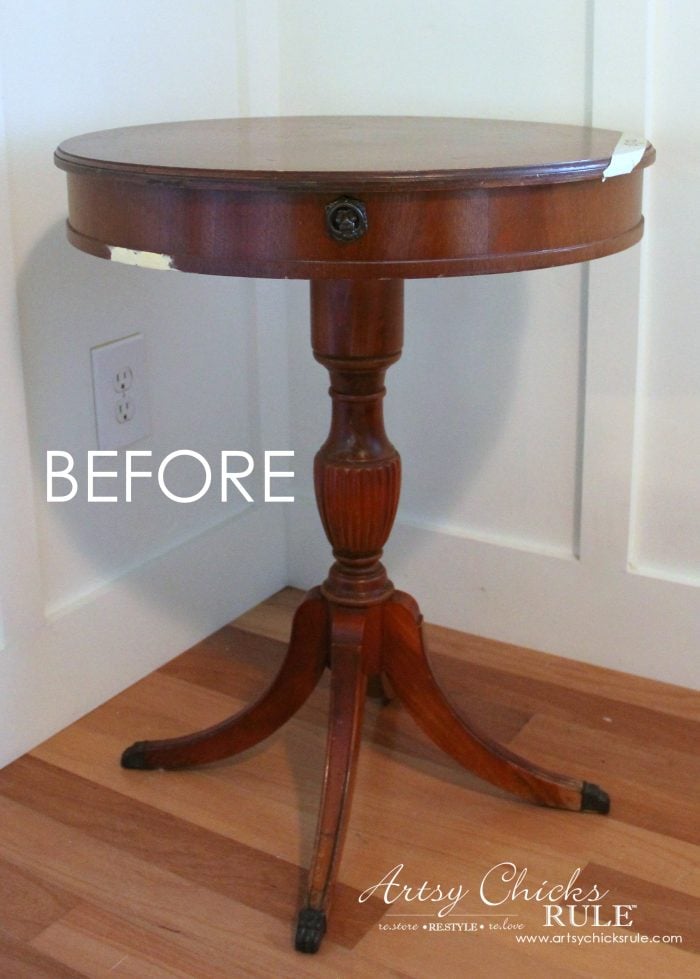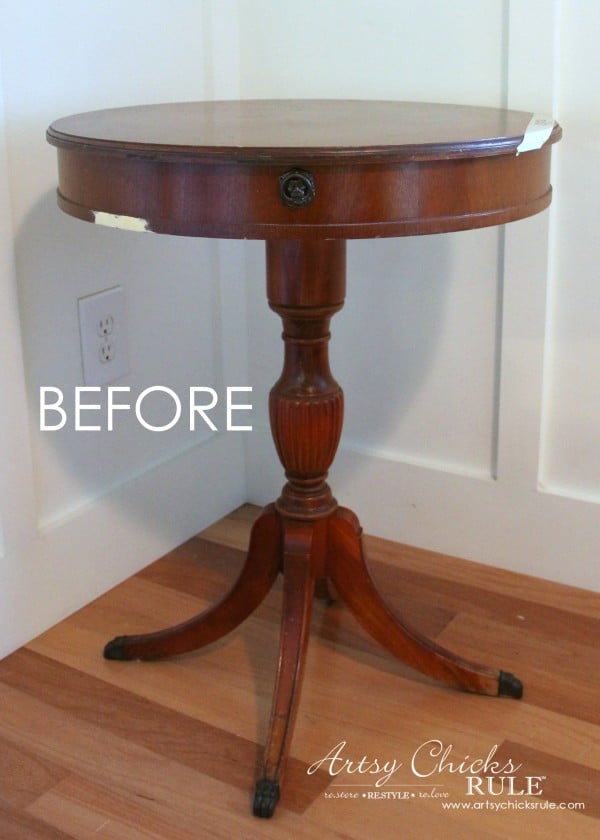 UPDATE!!! See it now, here!!
xo