French Round Side Table Makeover (Aubusson Blue, Florence & Provence)
This post may contain affiliate links. Please see disclosures here.
A little French style on this round side table makeover.
It's one of my favorite days of the month! –> Themed Furniture Makeover Day
If you are new here, my friends and I do a furniture makeover every month and share it here on the blog.
We have a different theme every month….and this month's theme is right up my alley!
FRENCH
Yea, I've got that one down.
You can see the past month's themes here.
French round side table makeover……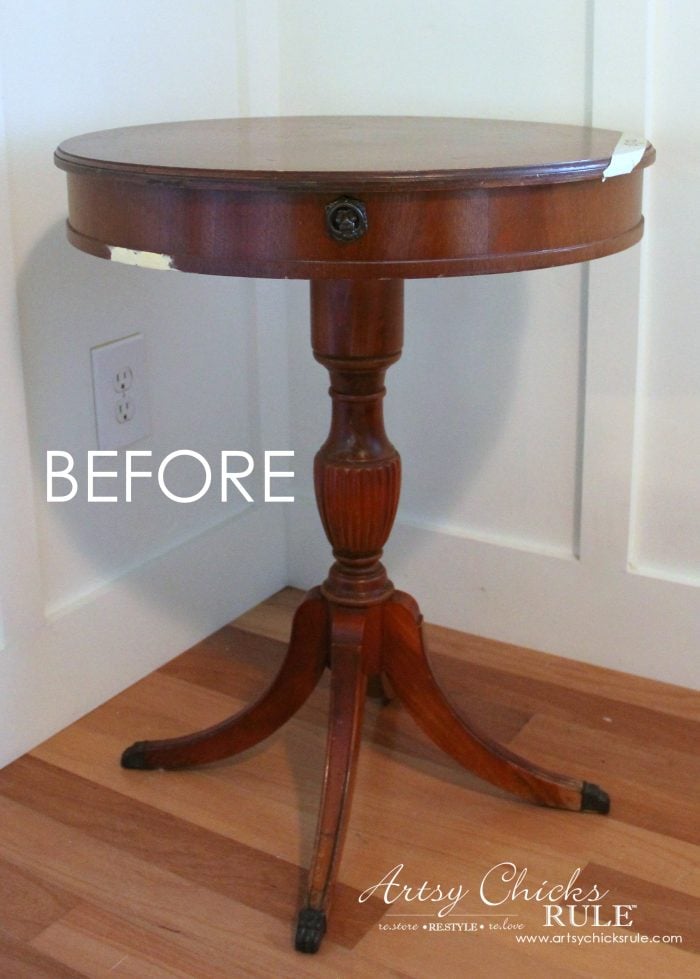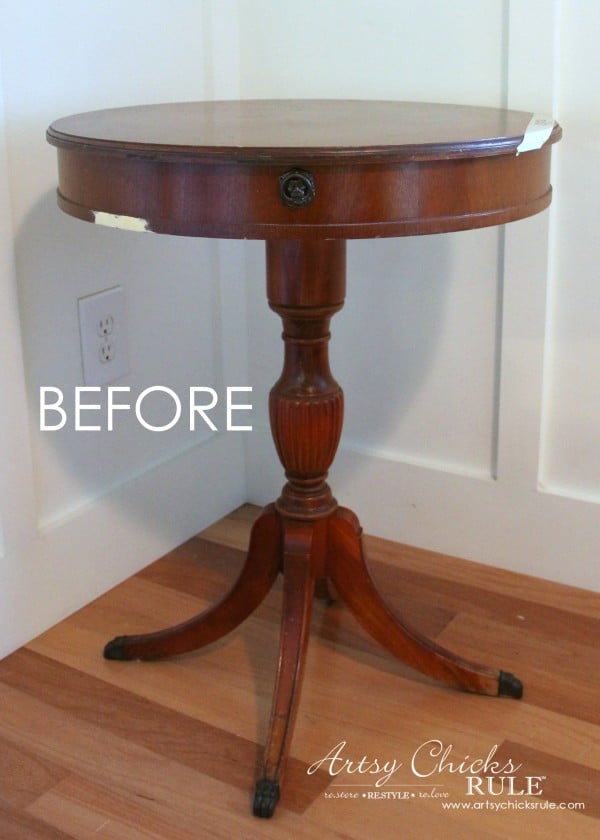 French Round Side Table Makeover
(I had to do a few repairs on it)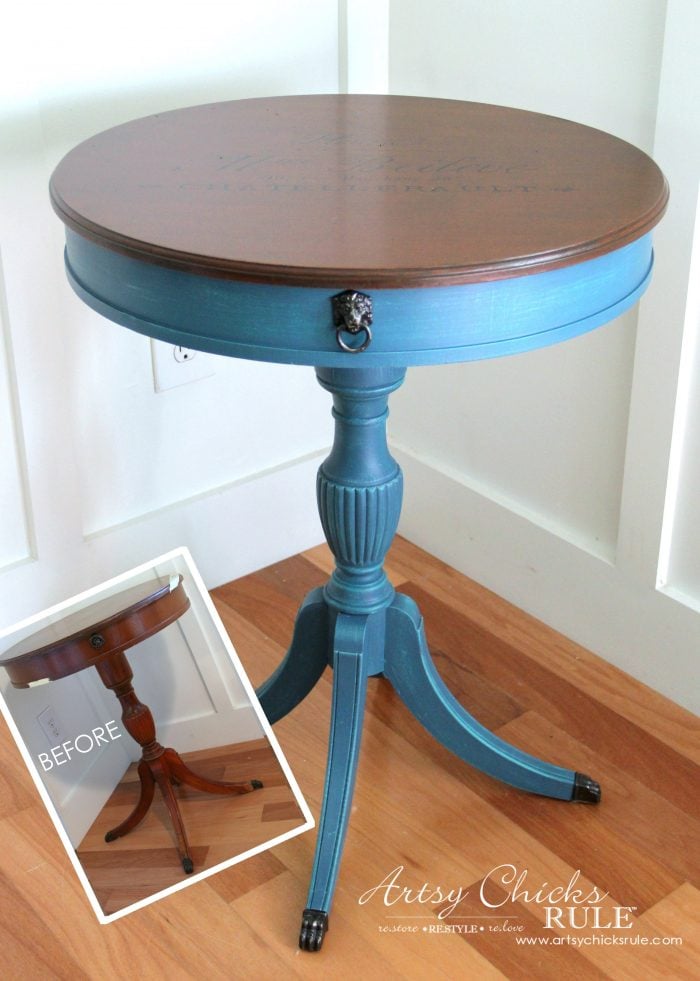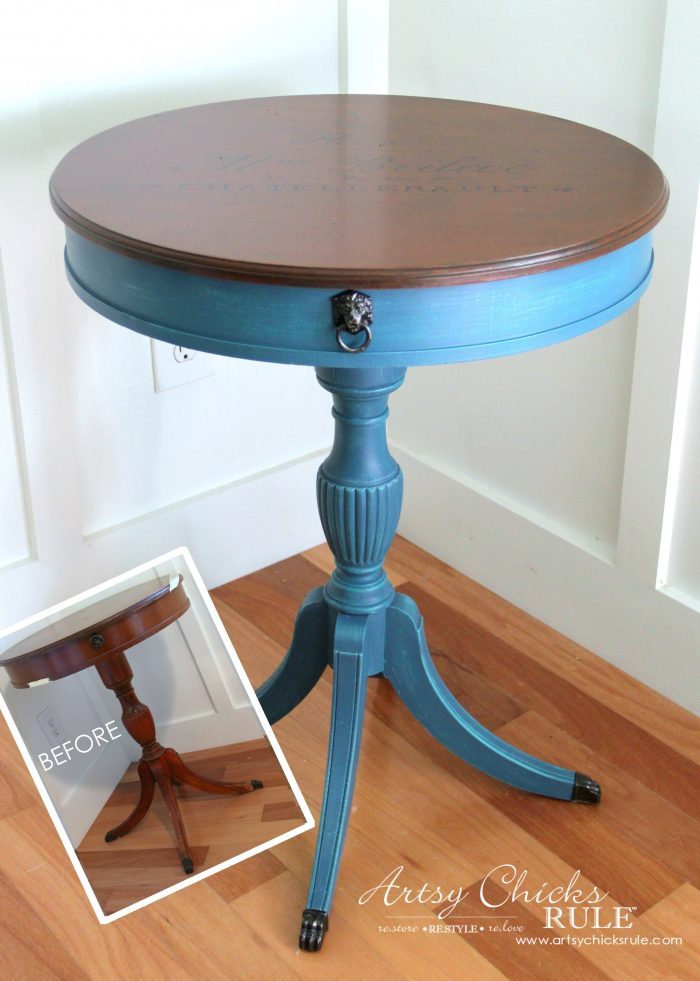 I had originally had something completely different planned but it didn't work out.
I mean, that never happens! Ha!
It happens quite a bit but that's okay.
I did find myself in a bit of a bind to find the perfect piece to go in a new direction.
I went to all of my favorite thrift stores and came up empty.
Then I hit the thrift store closest to my home….and voila! Table for $15.
Figures. ;) Could have saved me a couple of hours.
Oh well, I'm just glad I found this beauty.
By the way, if you guys follow me on Instagram (or Facebook) you've already seen this other beauty….but it's the same thrift store I found this…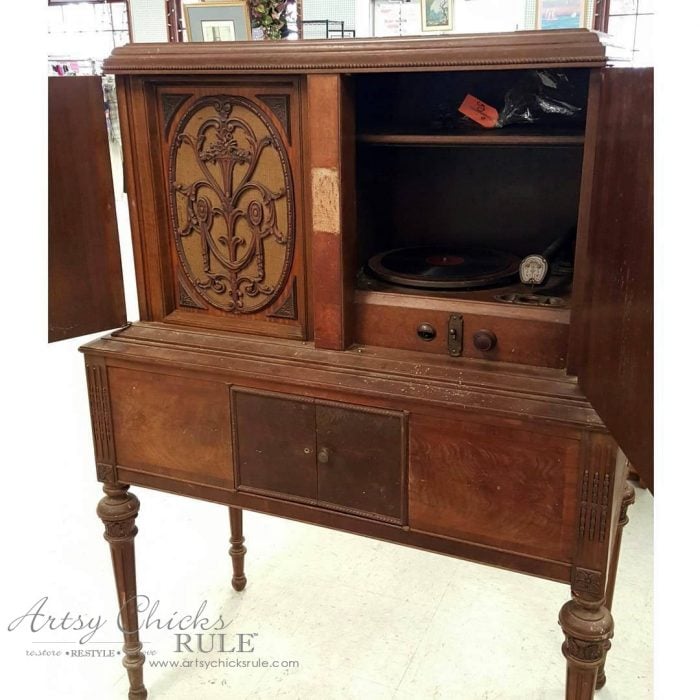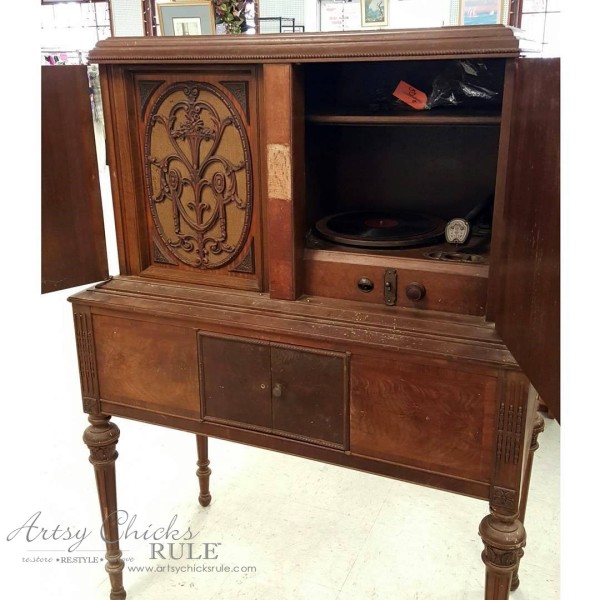 ….for $50!!
I'm not sure what I'll do with it yet but it will be on the blog at some point.
OH…and it still had an old record on it. How cool is that???
This –> a Columbia record, the song last played "Why Does It Get So Late So Early" by Harry James, 1946, Jazz.
I looked it up and listened on Youtube, it's just lovely and certainly adds to the charm of this piece.
Okay, back to Frenchy here.
Told ya it was blue….but not the blue I've been using quite a bit of lately!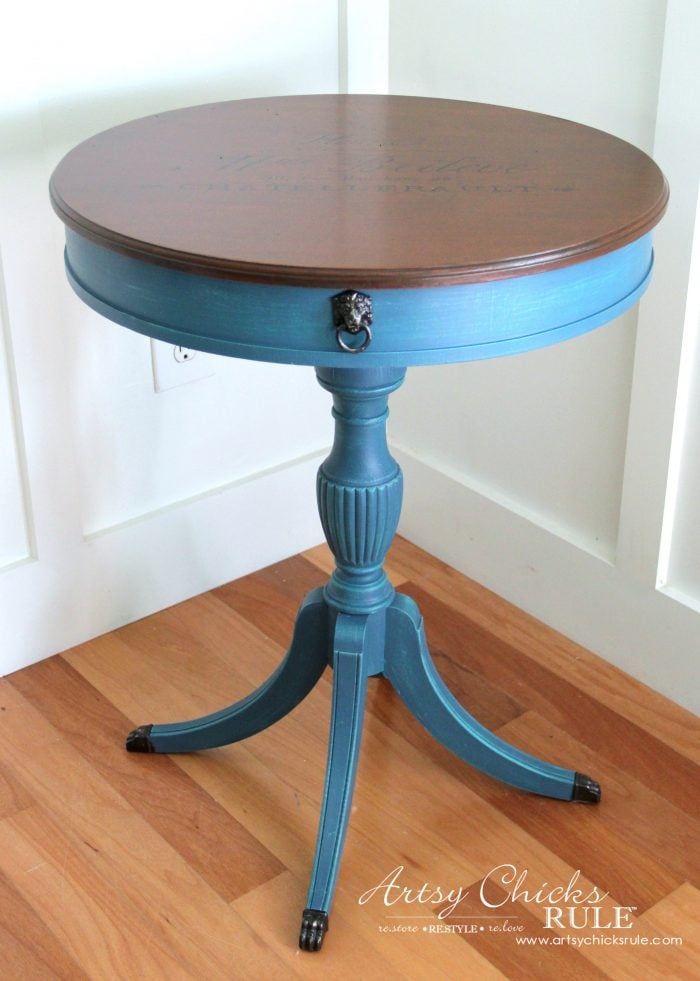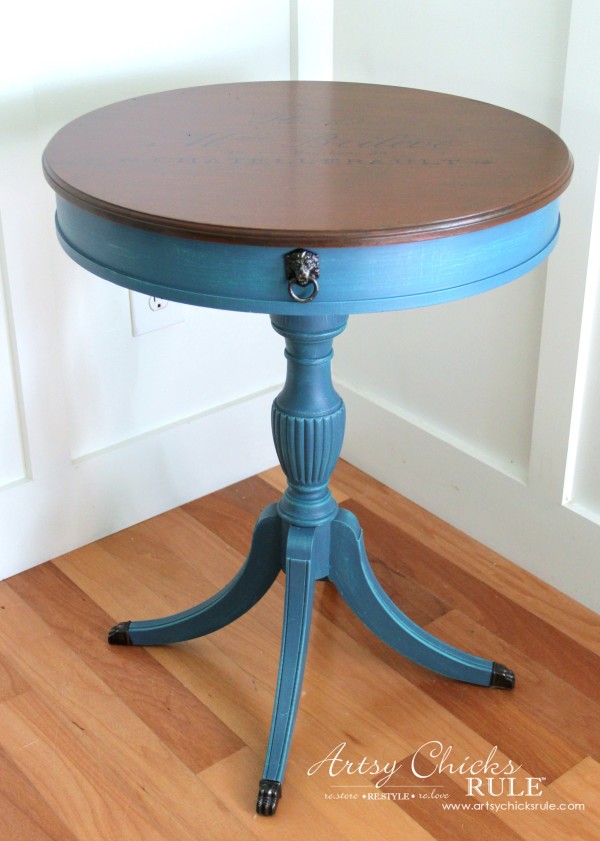 AND it's not "beachy" either. Just pure elegance.
I've shared a few affiliate links below for the products I used, for your convenience. See here for my full disclosure policy.

Here is how she got that way.
I gave a light sand to the top and applied General Finishes Antique Walnut Gel Stain.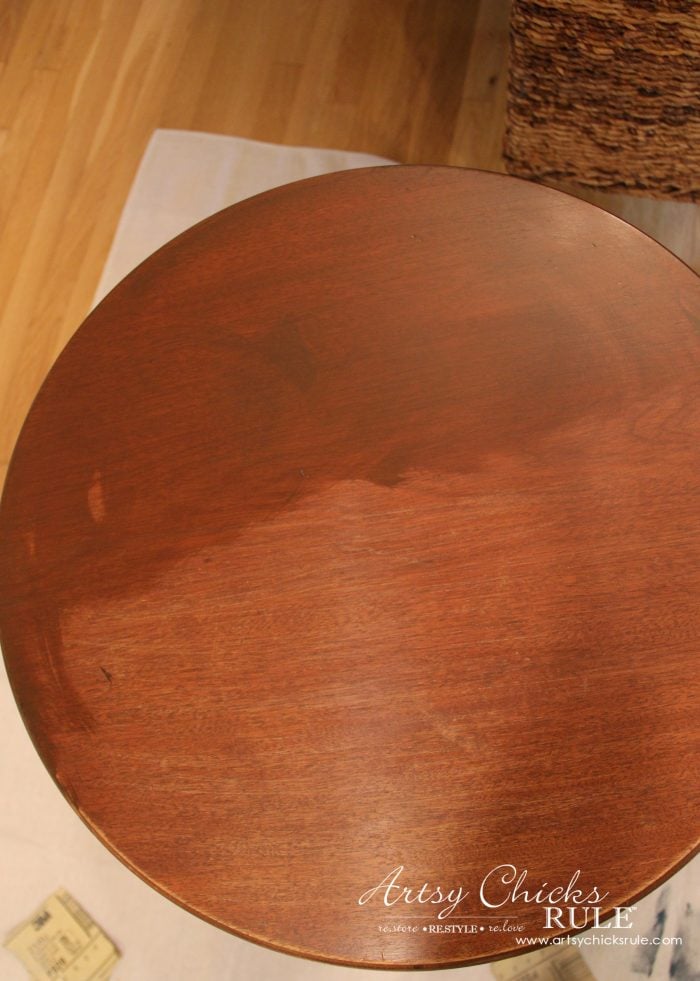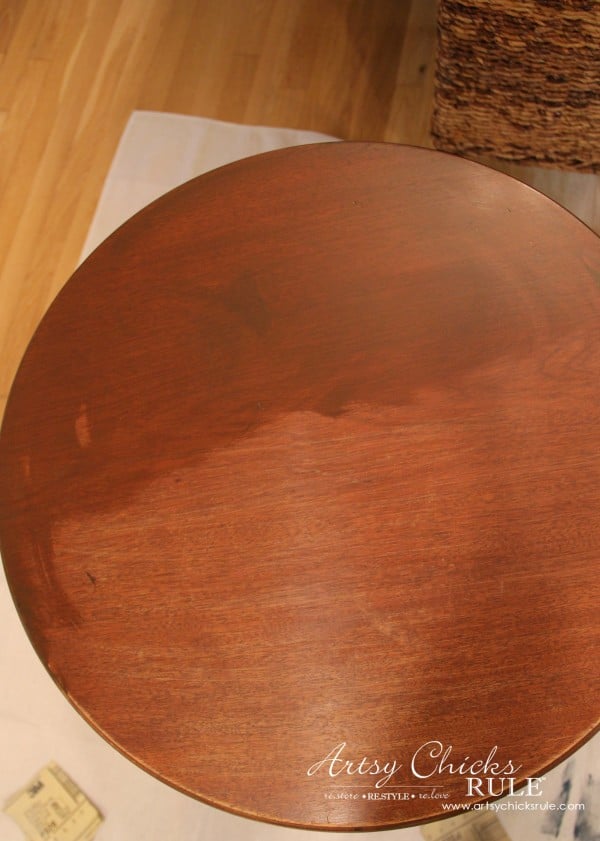 I wanted to share the photo above to show how easily it is applied.
And to also show that I didn't do much prep work or sanding.
No need to sand the entire finish off. Just remove the shine.
You literally wipe the gel stain on and wipe away the excess.
It's really that easy!
Look at how evenly it covers.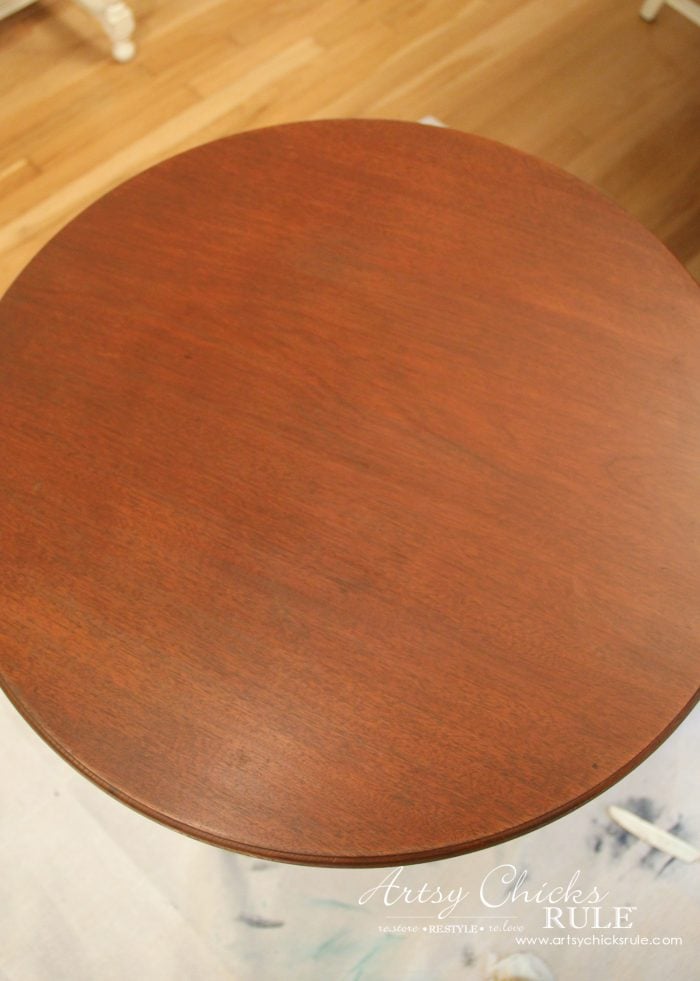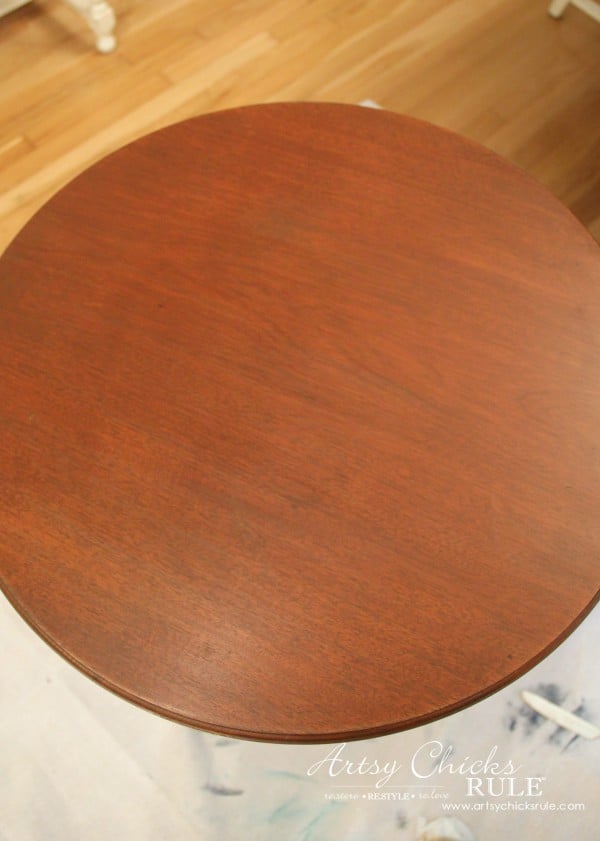 Just love it.
I let the stain sit for about 24-48 hours before applying the top coat.
The top coat I used was General Finishes Water Based High-Performance Polyurethane Top Coat (Satin).
I applied one coat then after about 6 hours of dry time I lightly sanded and applied the second coat.
I lightly sanded again and then transferred my graphic.
I used this French graphic from The Graphic's Fairy.
I was running a little behind on this one so don't have photos of that but I did it just like this one.
Except in place of chalk, I used a white watercolor pencil.
This is a good choice when painting the lettering white OR when you have a dark background.
I needed to be able to see the transferred letters so I could paint them in easily.
I then hand-painted the transferred image in with black paint.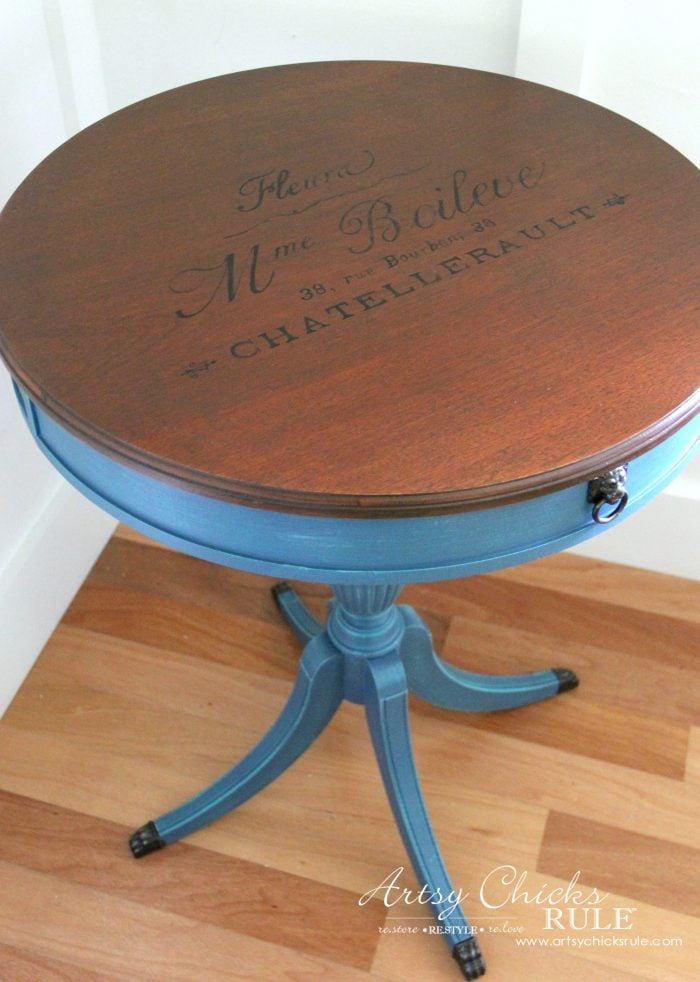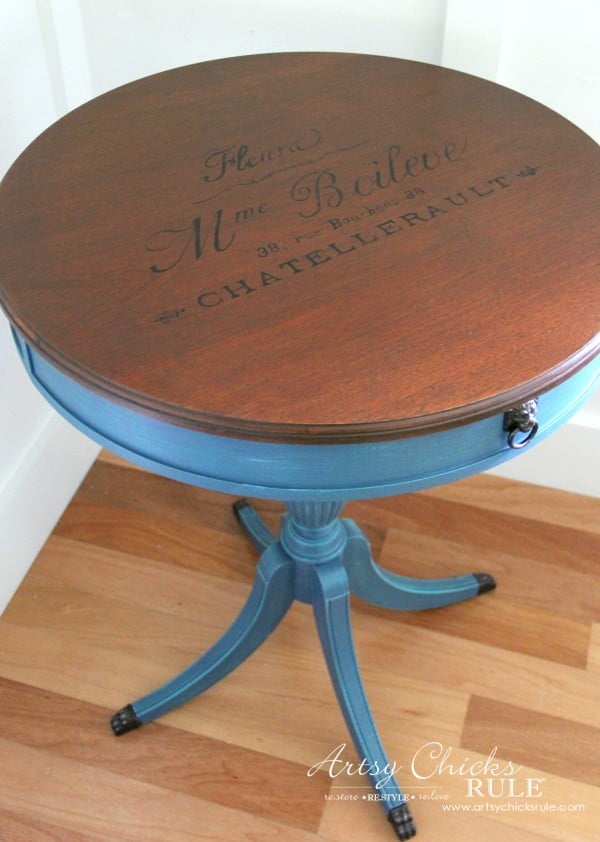 I gave it a light sand, cleaned it very well, and then applied the final coat of poly.
The hardware got a spray of Rust-Oleum Oil Rubbed Bronze Metallic Spray Paint.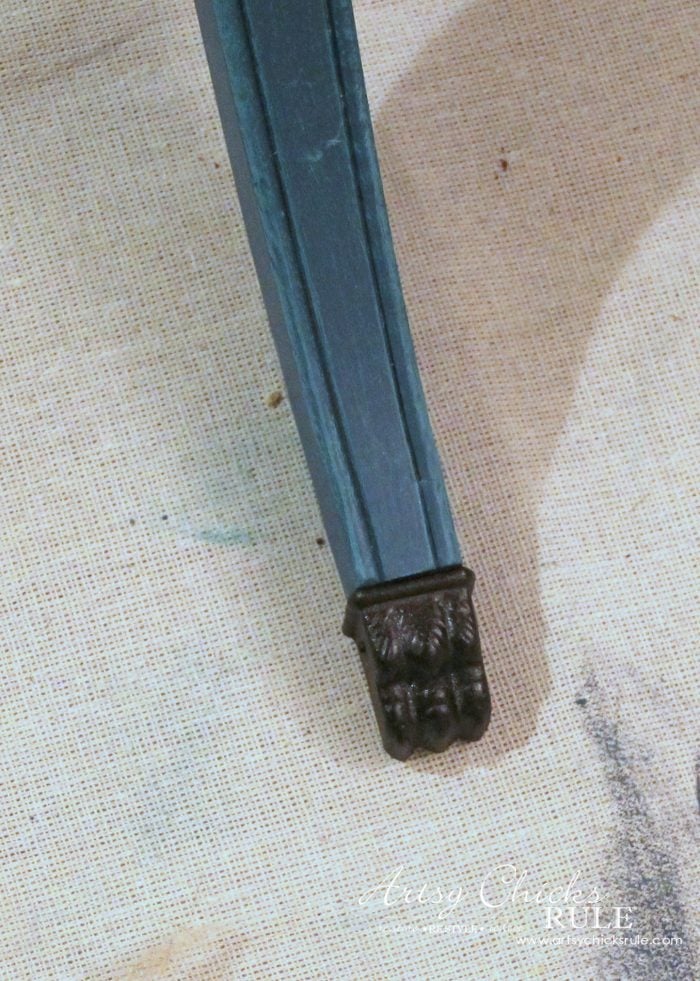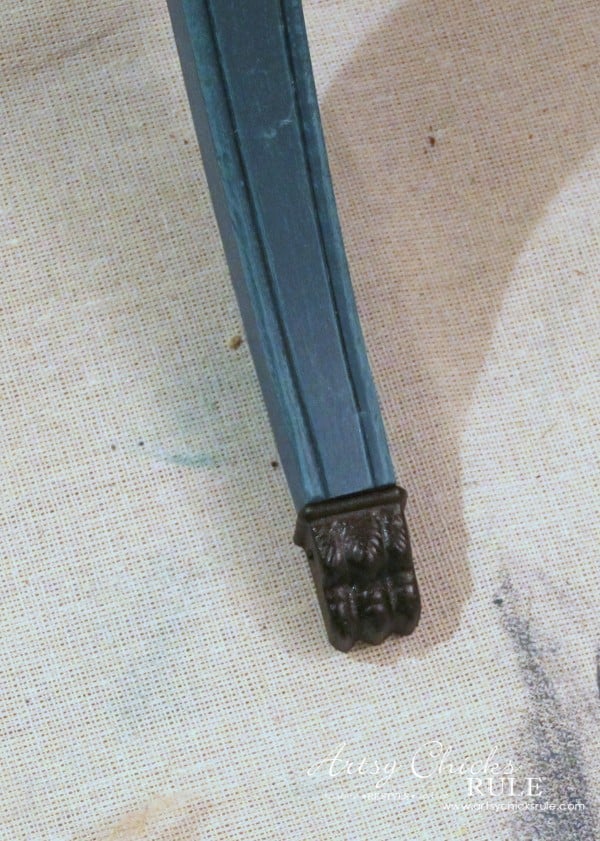 Followed by a light touch of gold. (Martha Stewart Metallic Gold)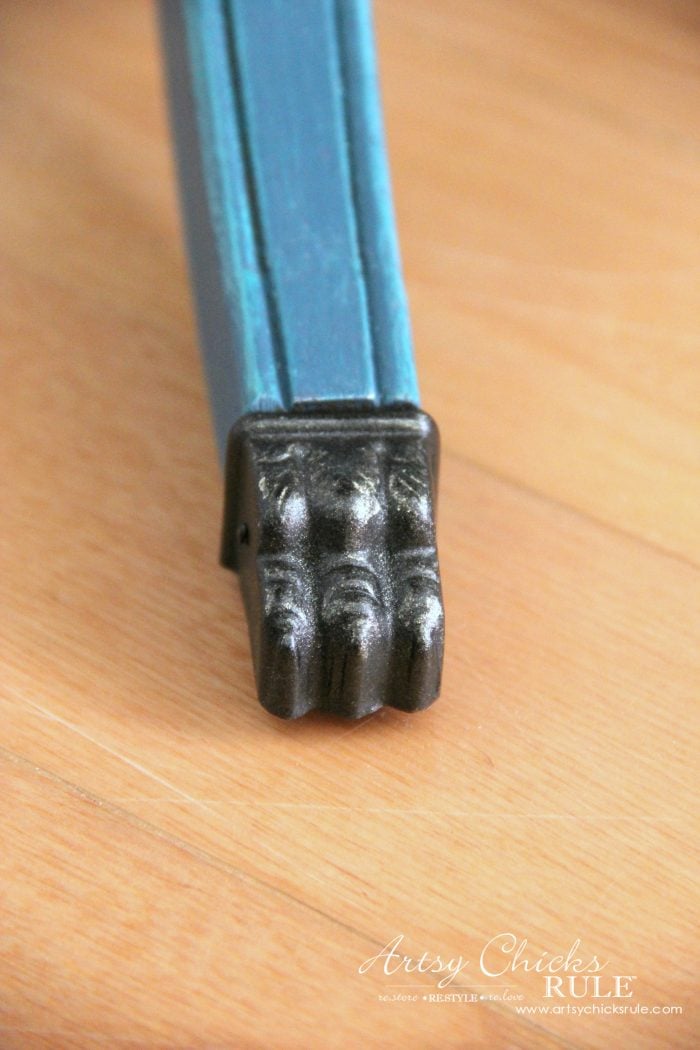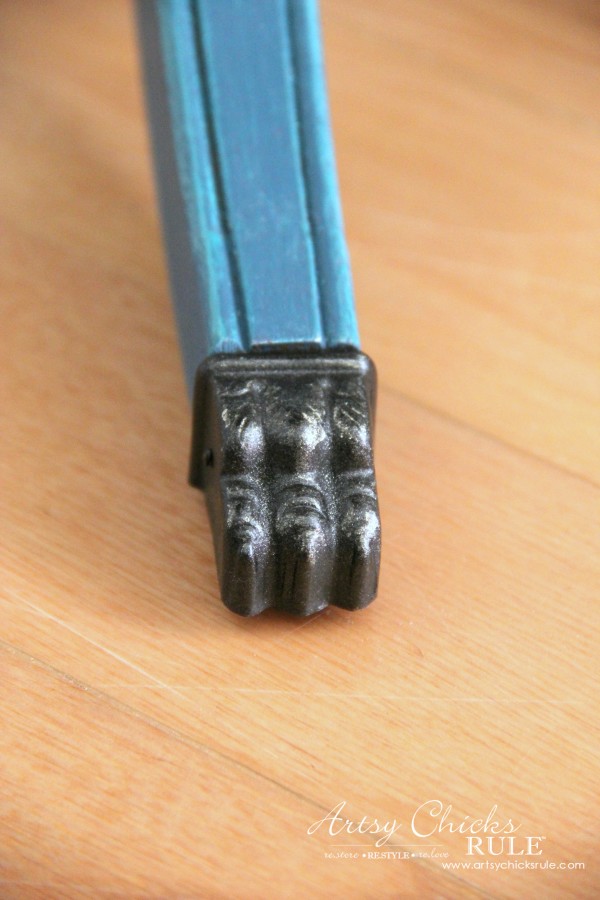 I love this combo.
As much as I LOVE Oil Rubbed Bronze, it can look a bit flat sometimes.
This light touch of gold gives it exactly what it needs.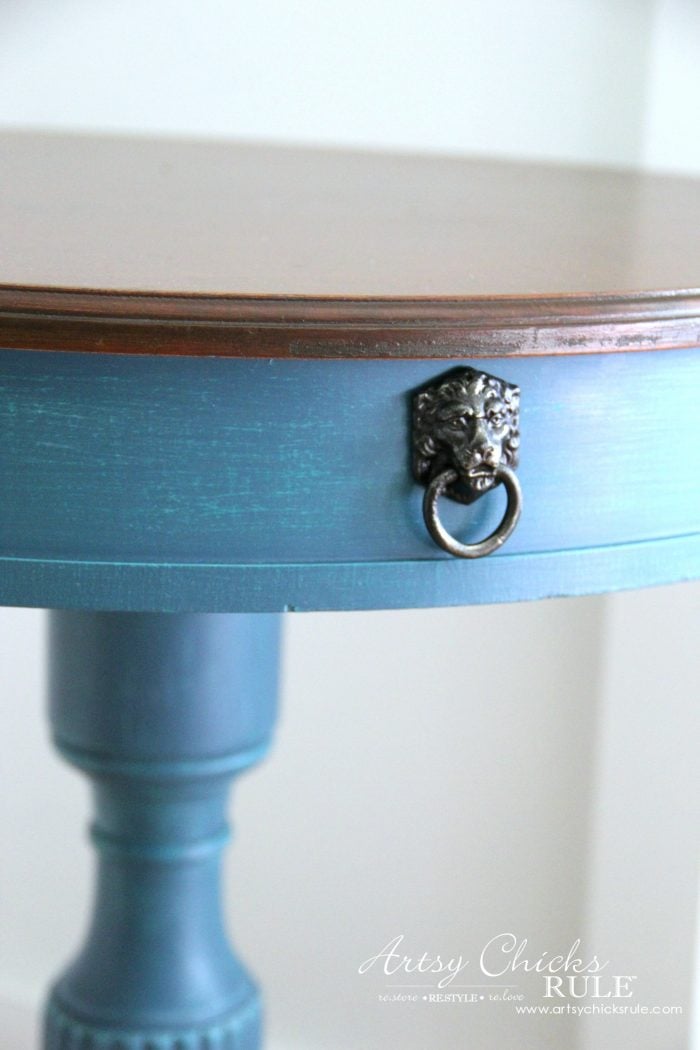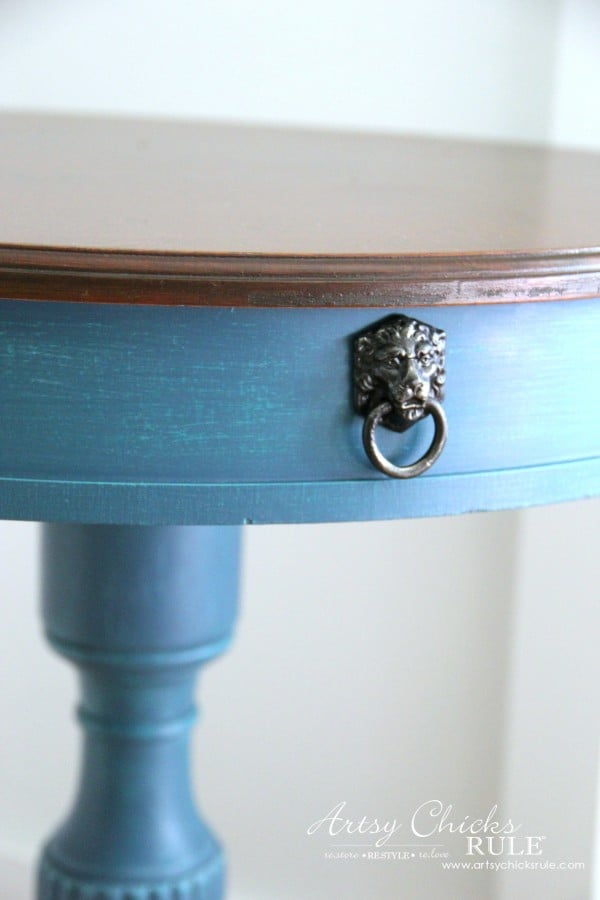 Okay, now on to the fun part.
See that paint above? That gorgeous, luscious, beautiful color?
It's Aubusson Blue (Chalk Paint by Annie Sloan) with Florence and Provence dry brushed over top.
Sealed with a coat of Clear Wax.
Oh my goodness.
Want to see a VIDEO on exactly how to dry brush? All the ins and outs, here >>> "How To Dry Brush – Video"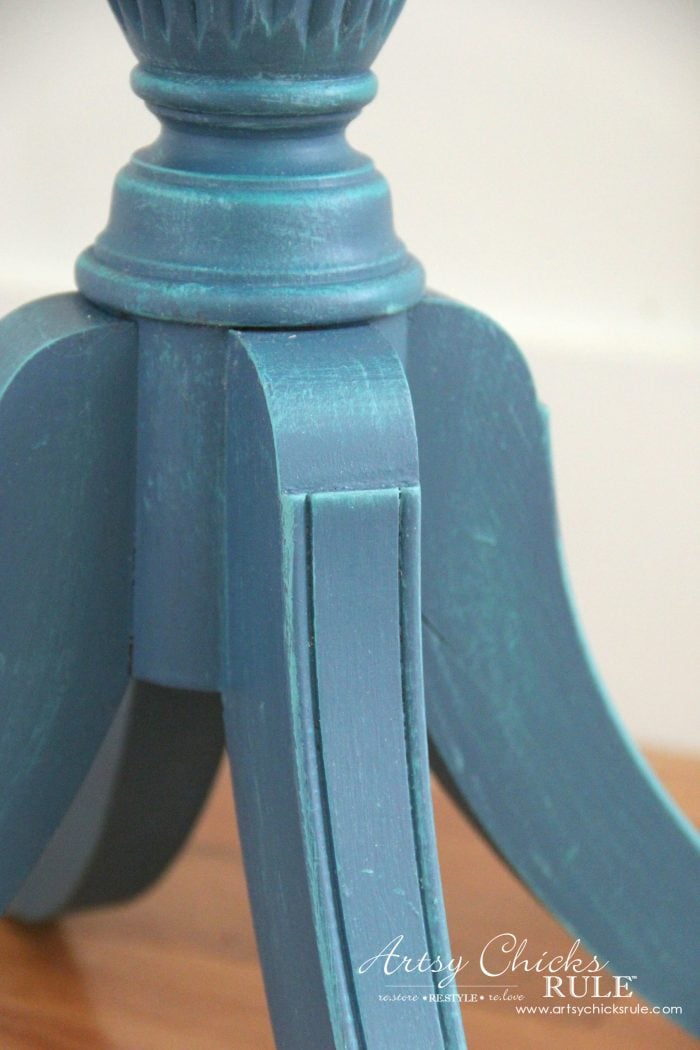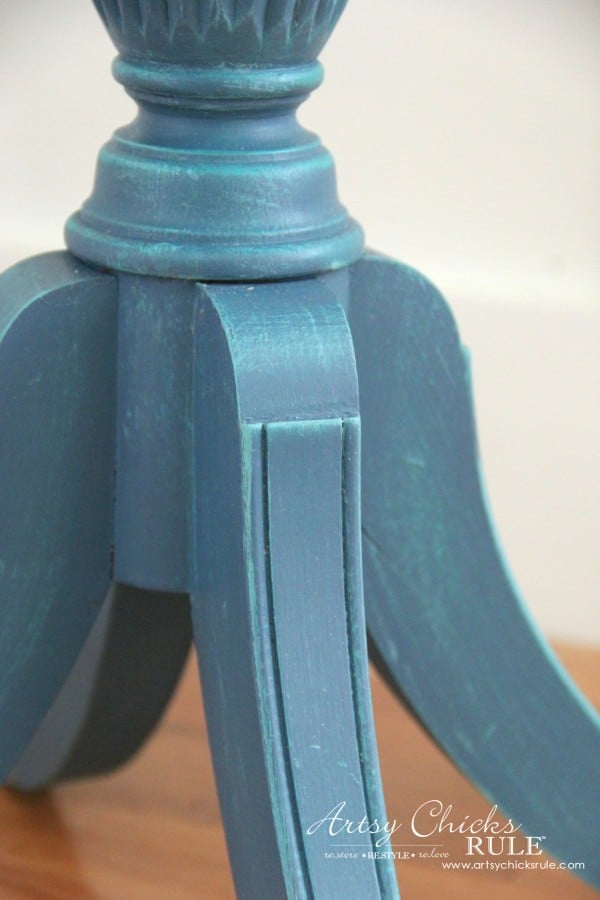 Is that not just wonderful?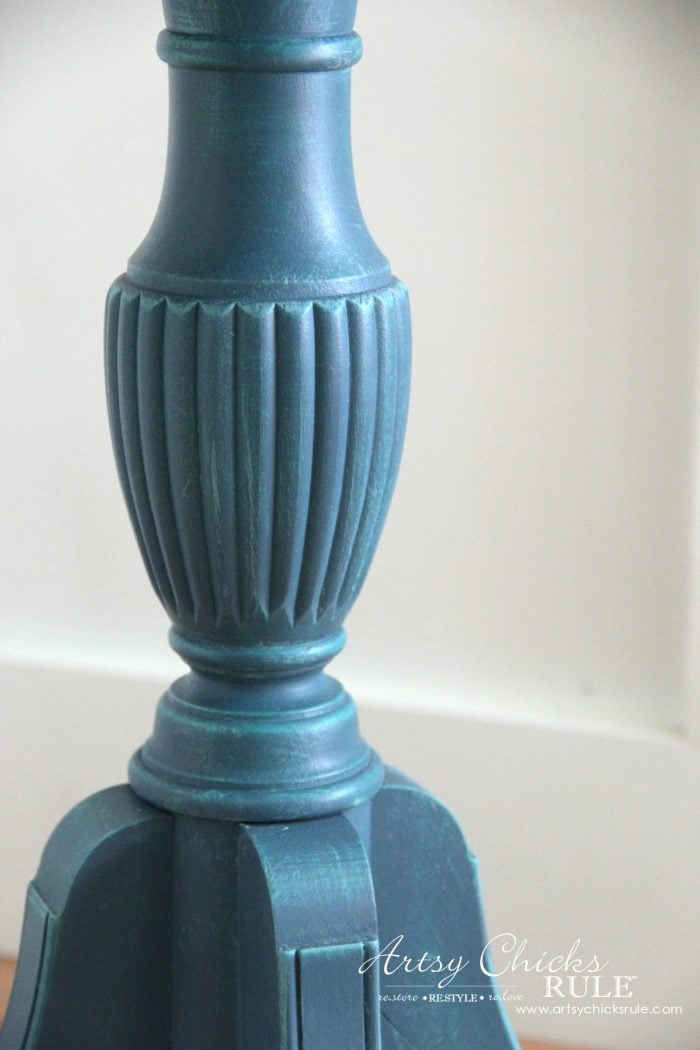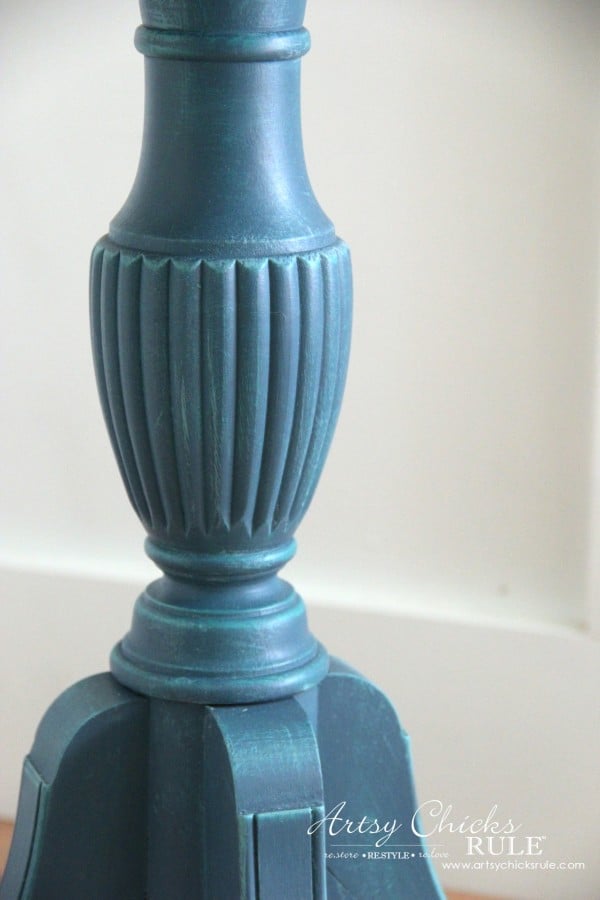 I think so!
The way it changed the look of the Aubusson is amazing.
I just adore this combo.
It's so regal and rich looking.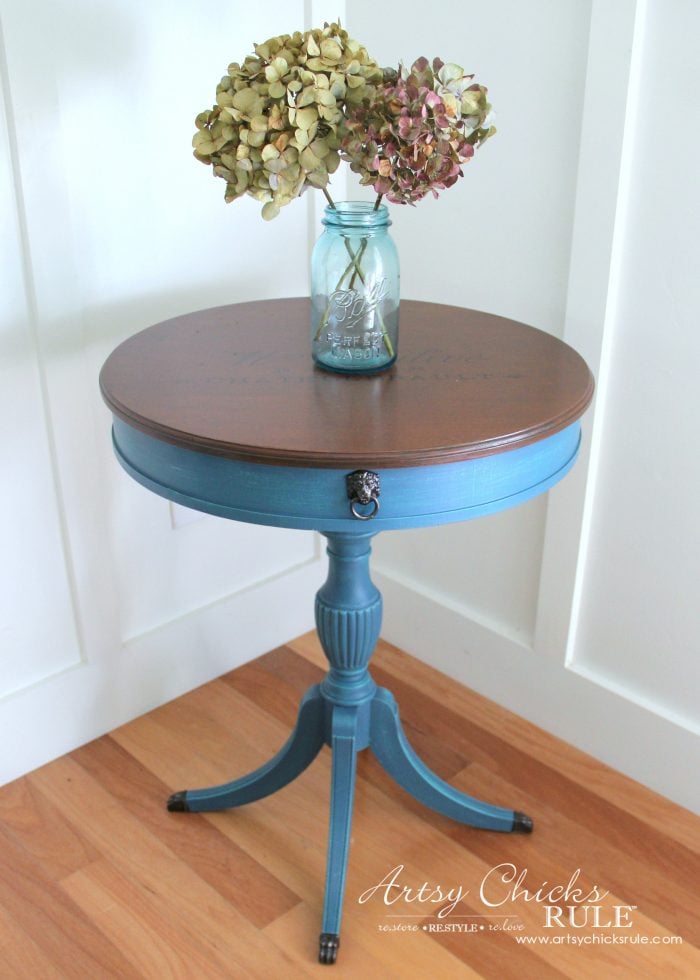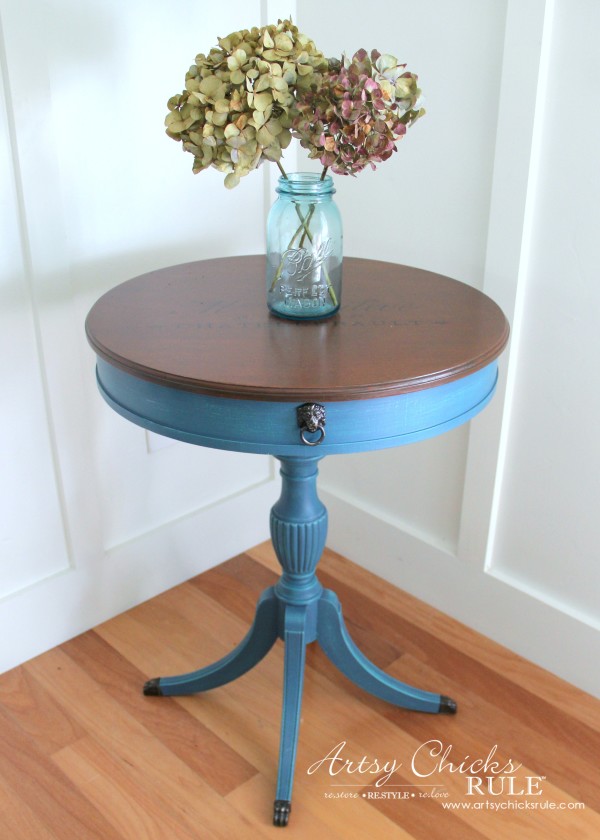 Those are a few of my dried hydrangeas. They look a bit better than my other set.
Although…my sad little other set has the prettier colors. Oh well.
I took photos with both flower sets (I wasn't sure which I liked better for the photos).
And would you believe I edited my photos (out of the 100 or so I took) and ended up with 3 of the exact photos for each?
You'll see what I mean.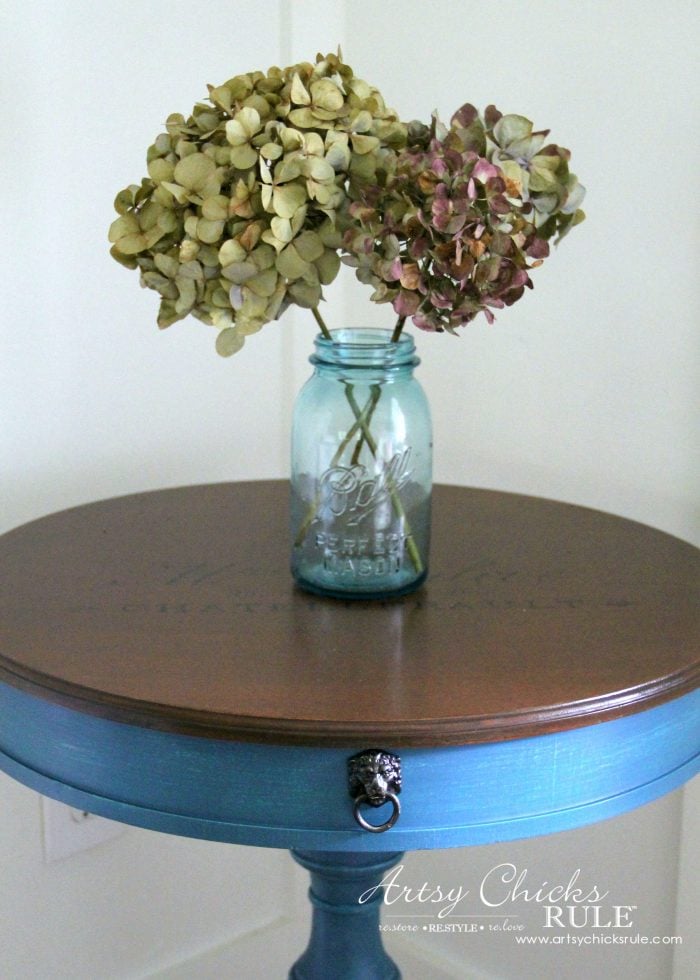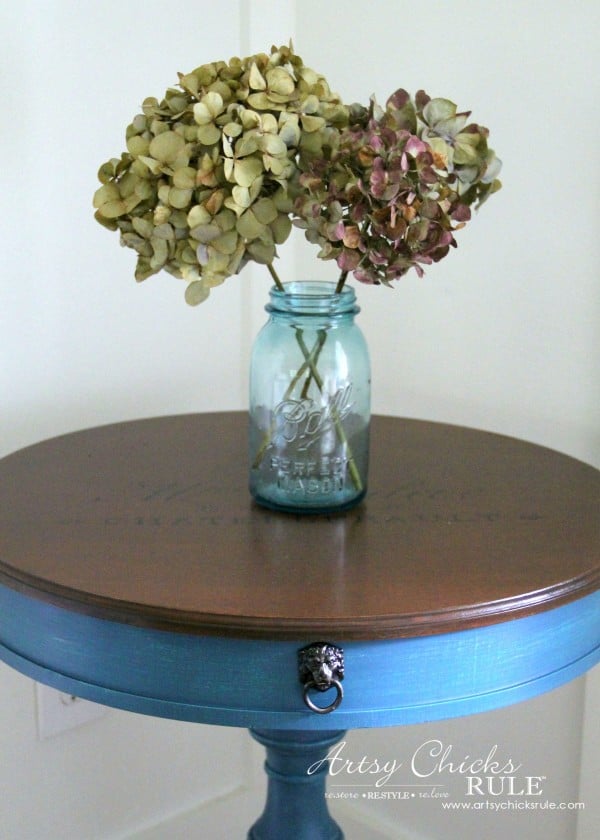 And just the flowers this time…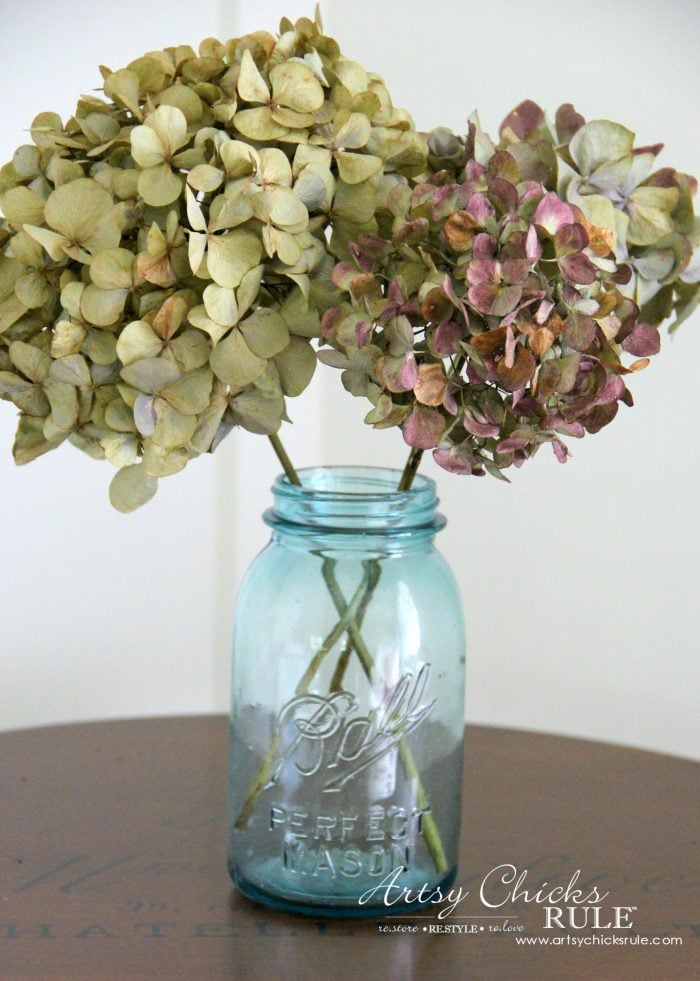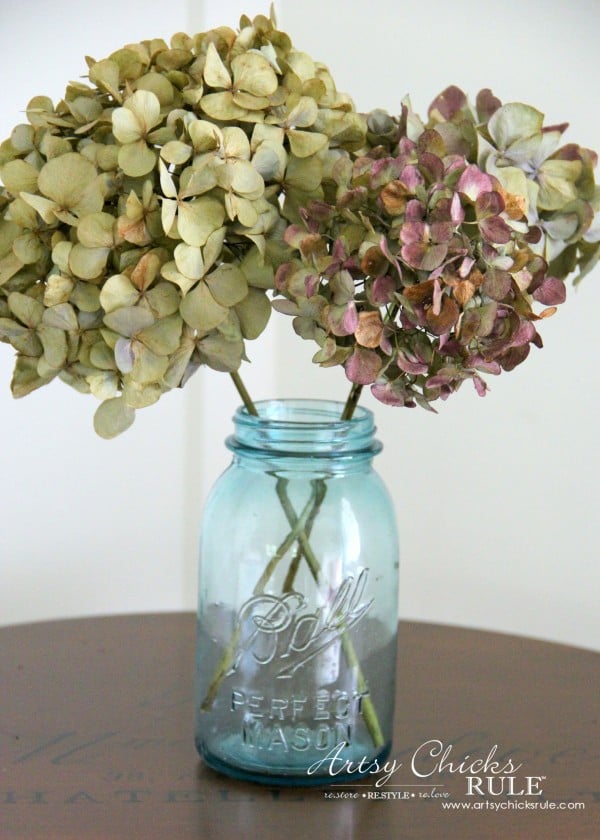 Pretty green and pink.
And the other set (and basically the same exact "poses" …still so funny to me!)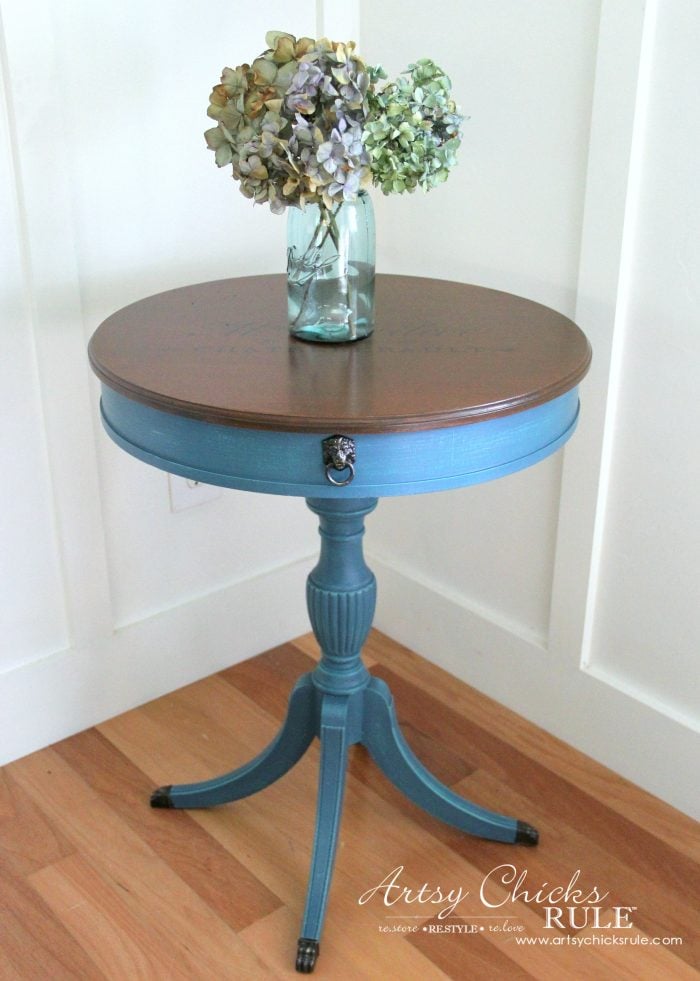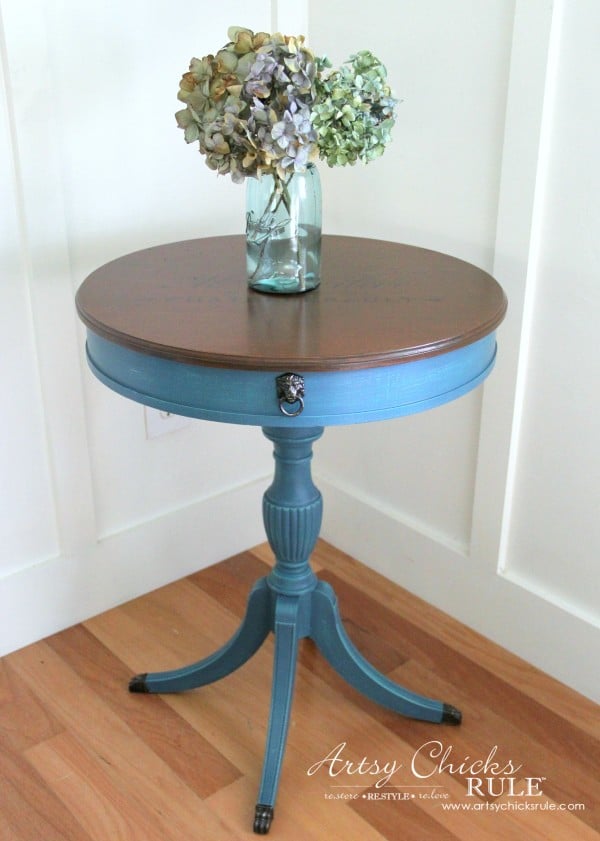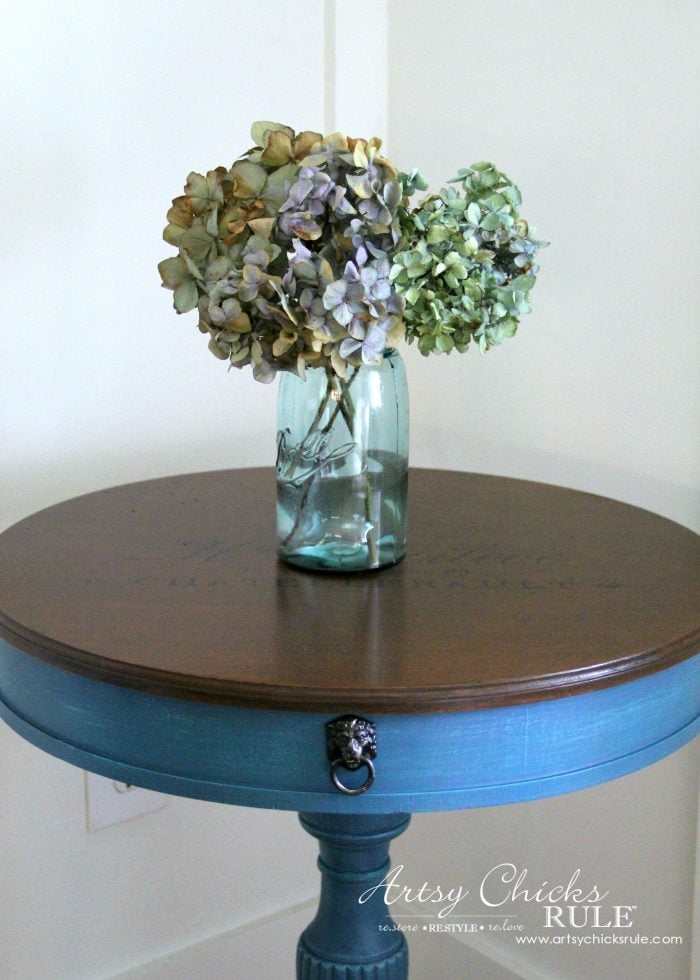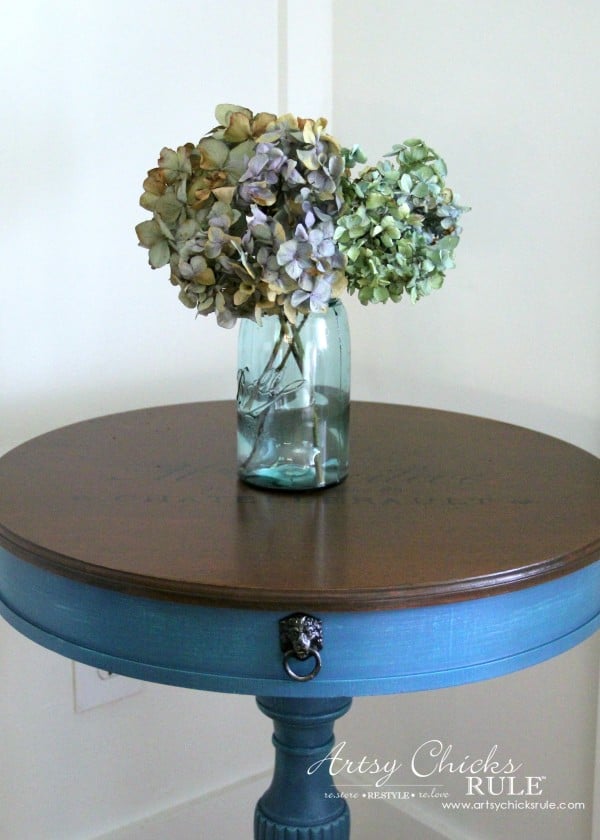 See the brown ones.:( boo
But in this set, I have green, lavender, light blue, and bright green!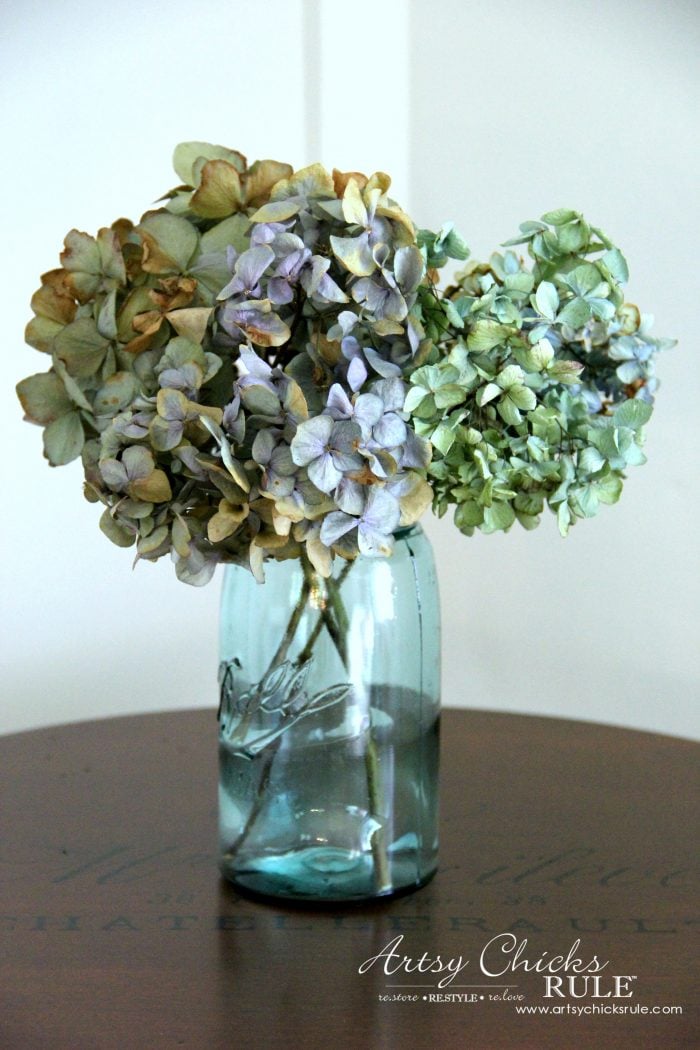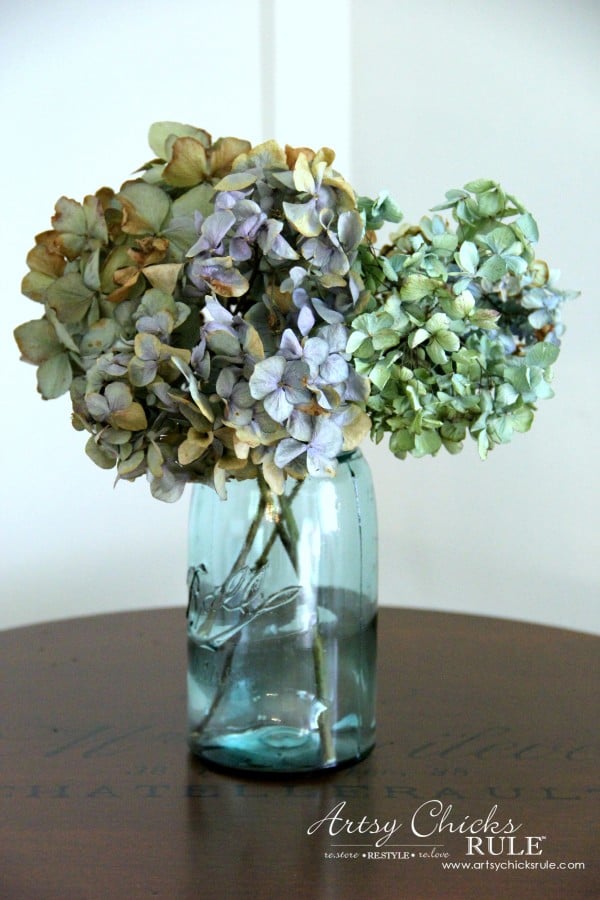 It's a shame these didn't work out as well. (this was the first set I dried)
But how about those photos? I got into my watermarking program and realized I had edited and saved 3 of the exact same photos/poses of each.
I'm an equal opportunity dried hydrangea photo taker/sharer apparently.
Plus, that gives you a few more chances to see that pretty blue paint.
I just love it and will be using it again on something soon.
OH… the graphic I chose means "Flower Seller".
How funny I ended up with all of these hydrangea shots?
I already had the graphic saved to my computer and only realized that's what it meant when I went to link it from The Graphic's Fairy.
It was meant to be for me to share my sad little hydrangeas with you all on this table.
Although I think the "Flower Seller" might have a bit better ones than these.
PIN this Frenchy round side table makeover for later!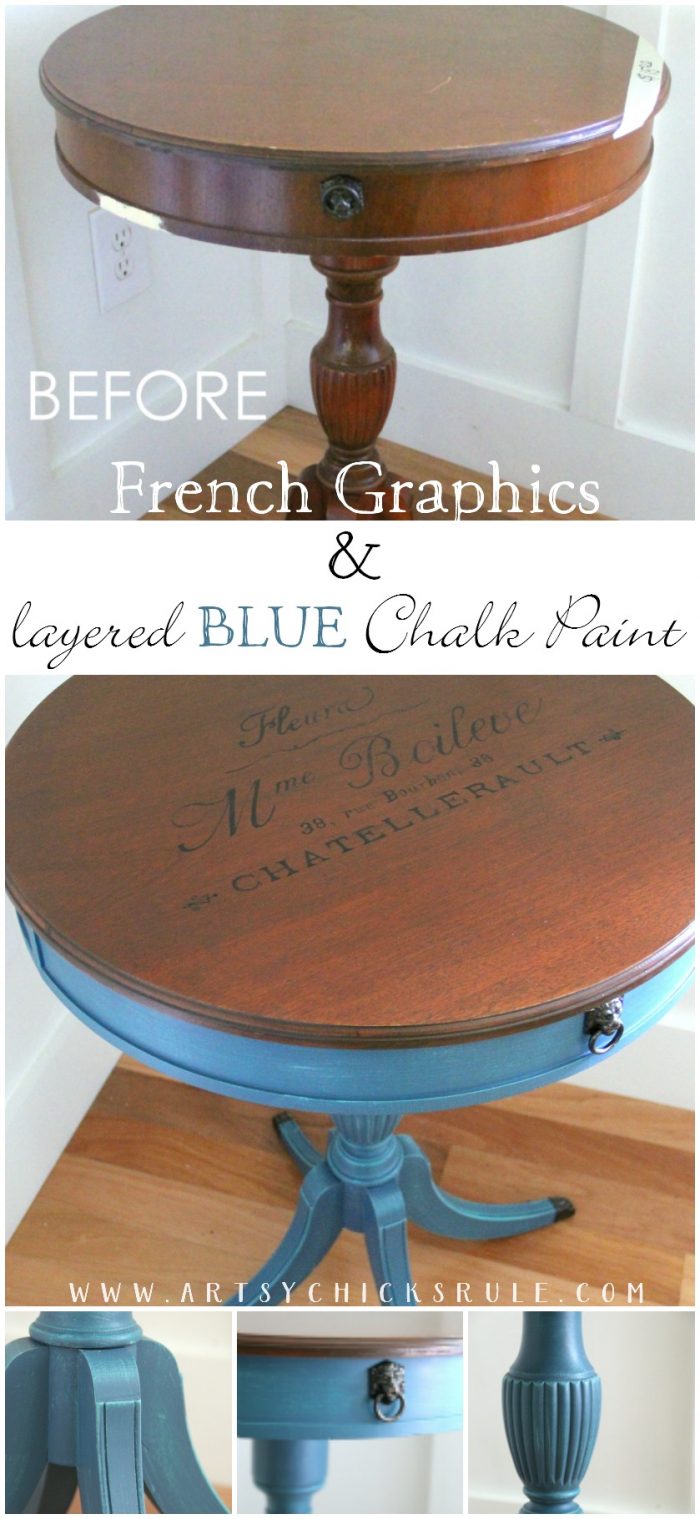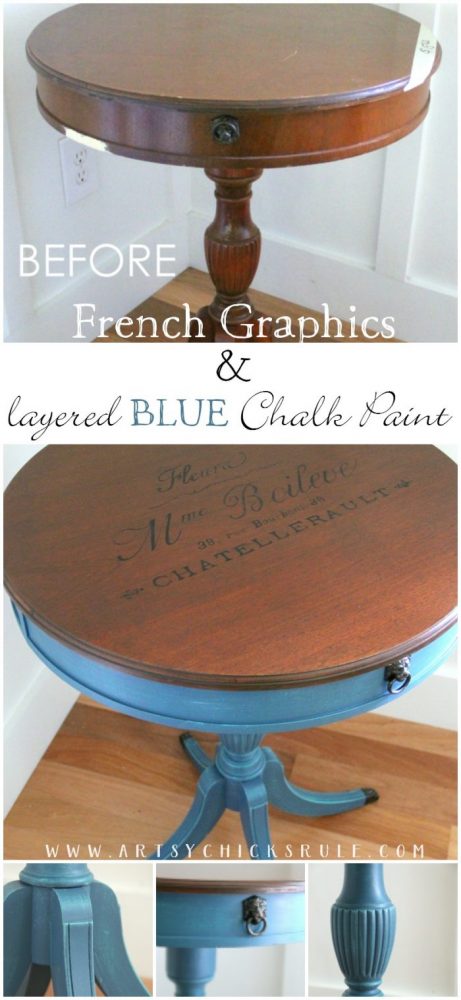 Fun little makeover for this $15 thrifty find.
Love this round side table makeover?
Be sure to check in to see what I did with this! (and Mod Podge and wrapping paper )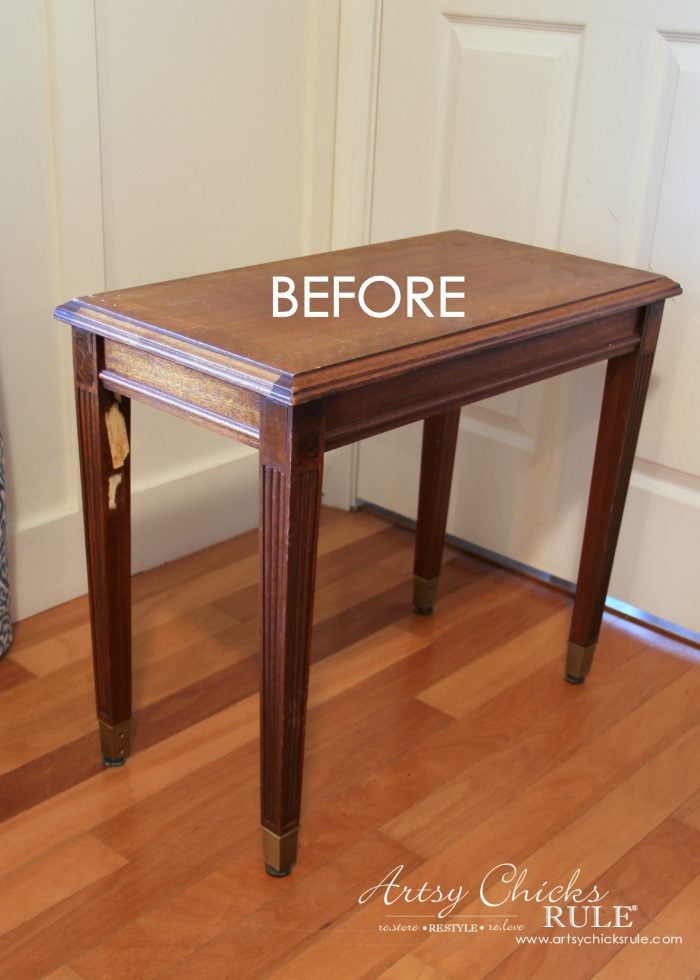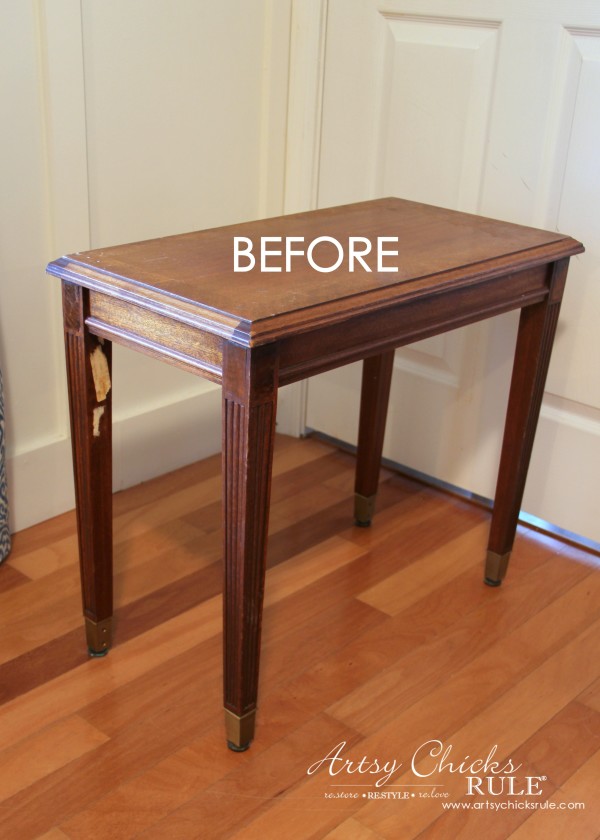 UPDATE!!! See it now, here!!
Make sure you stop by to see what other French goodness my friends came up with this month.
Links are below to their furniture makeovers.
Enjoy!
And the last day of the Fall Ideas Tour is today!
Pop over and see what kind of Fall inspiration awaits–>…Fall Ideas Tour. :) (scroll all the way down until you get to "Thursday")
And lastly, have you "made it your own" with the Annie Sloan campaign yet(or entered to win)? There's still time, pop over –> here for all the details.
Happy weekend to you!
xo