Easy Makeover with Spray Paint, Mod Podge & Wrapping Paper
This post may contain affiliate links. Please see disclosures here.
Here's an easy makeover with spray paint…a little Mod Podge…and wrapping paper!
I'm back with another furniture makeover for y'all today….and no, it's not BLUE.
Not even a little bit. ;)
BUT is was an easy.
Every month my friends and I get together and create a furniture makeover using a specific theme.
This month's theme is BLACK. (see previous month's themes here –> Themed Furniture Makeover)
I'll admit, this was a little tough for me since I don't really decorate with black.
I wasn't sure I was going to make it in the tour this month.
But then I took a trip over to my storage unit (which is completely too full of yet to finish furniture…and then some…there's an entire right side you can't see)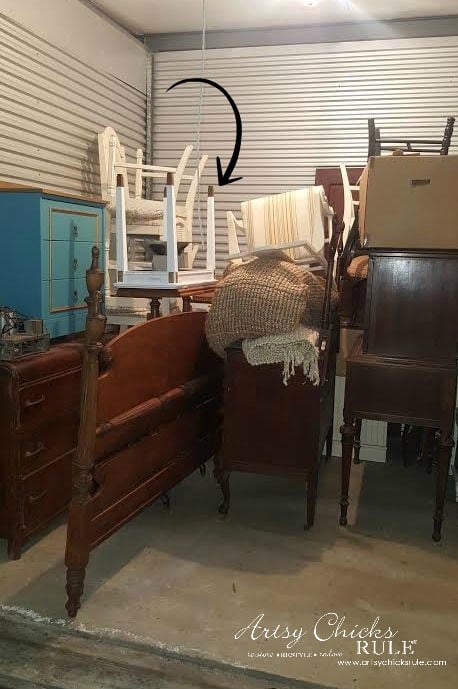 And I remembered I had that little white table you see up there.
I wouldn't mind painting that little table black so I grabbed it and left.
And created this…..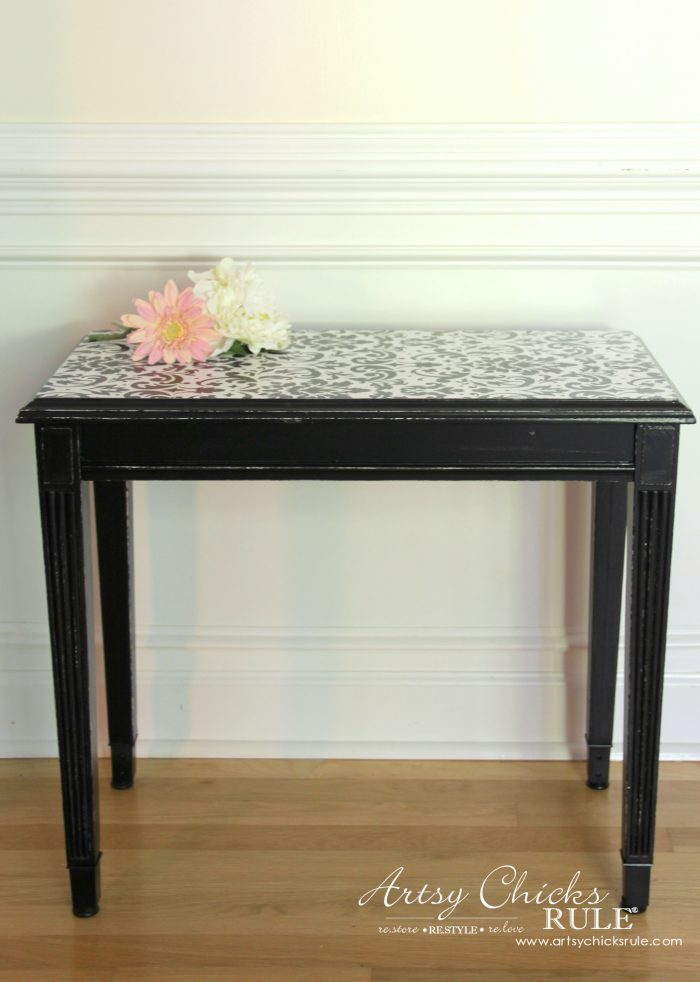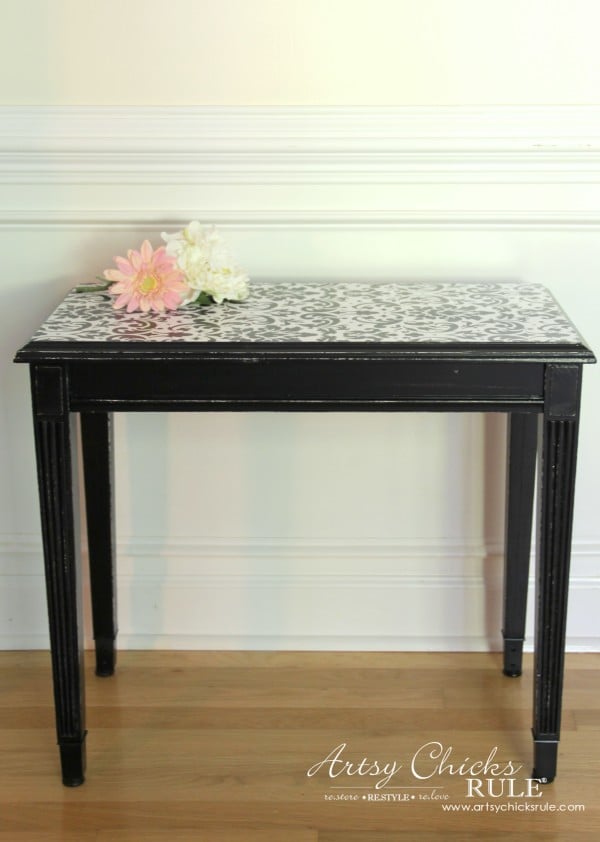 No, that little design there did not come immediately to me.
I had originally thought I'd do a two tone of black and French Linen (Chalk Paint®) with some black French lettering on top.
I started by spray painting it in flat black and was to come back and paint in the French Linen.
But then I realized I liked it ALL black and didn't want to do the "two-tone".
What to do on the top then?
All black with nothing else is a bit …blah for a "themed" makeover like this.
So I decided to add a bit of fun with some wrapping paper instead.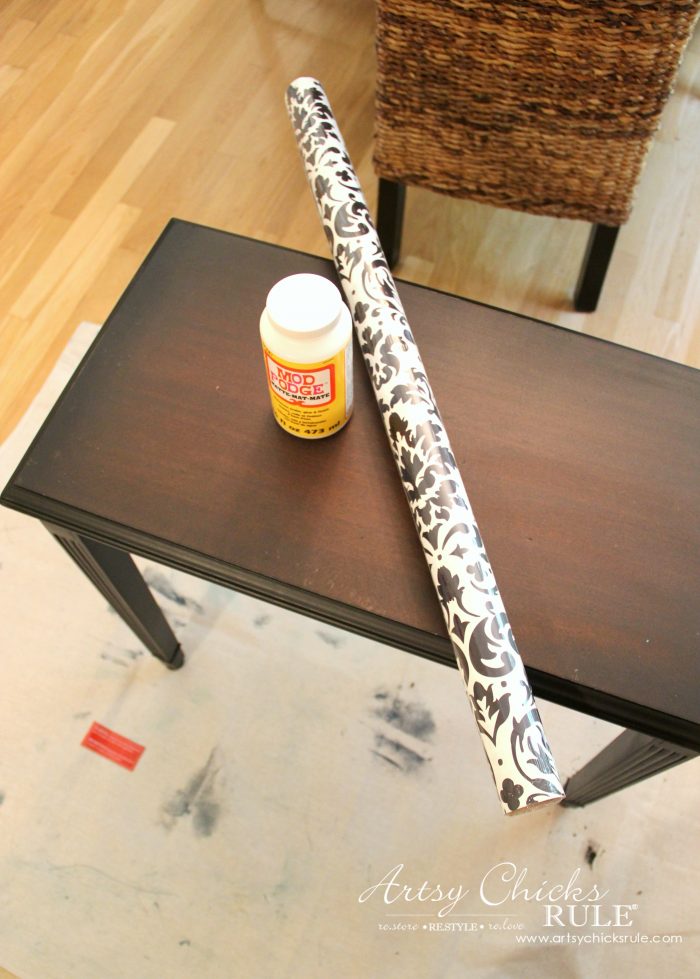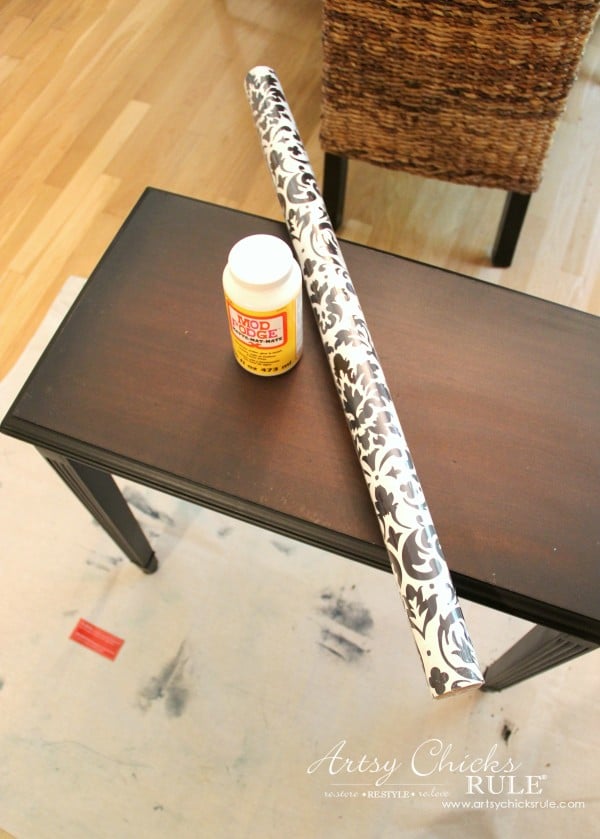 But first, the table before…..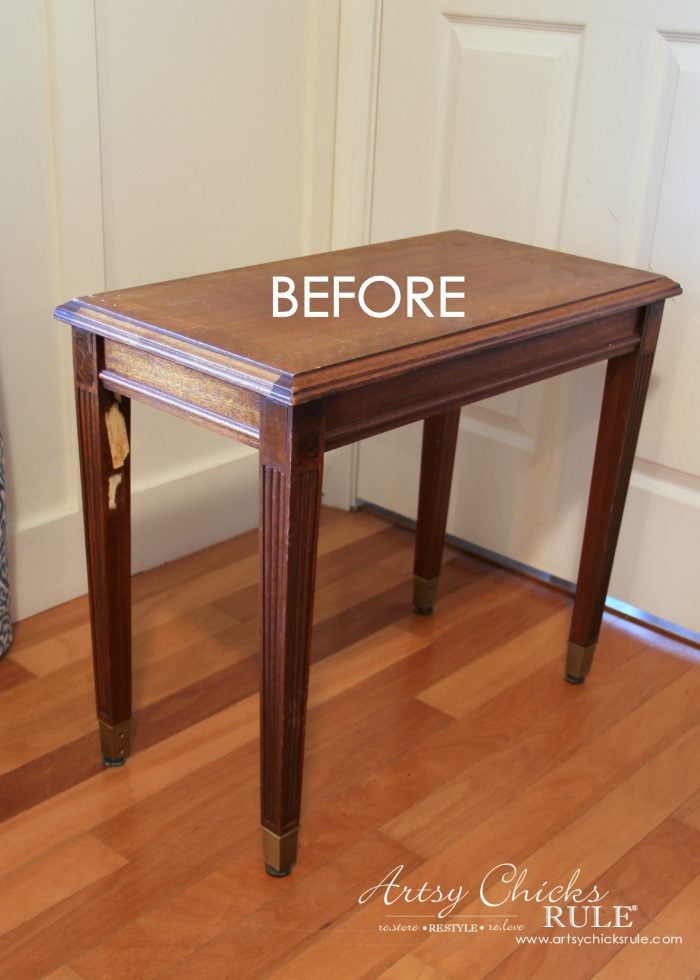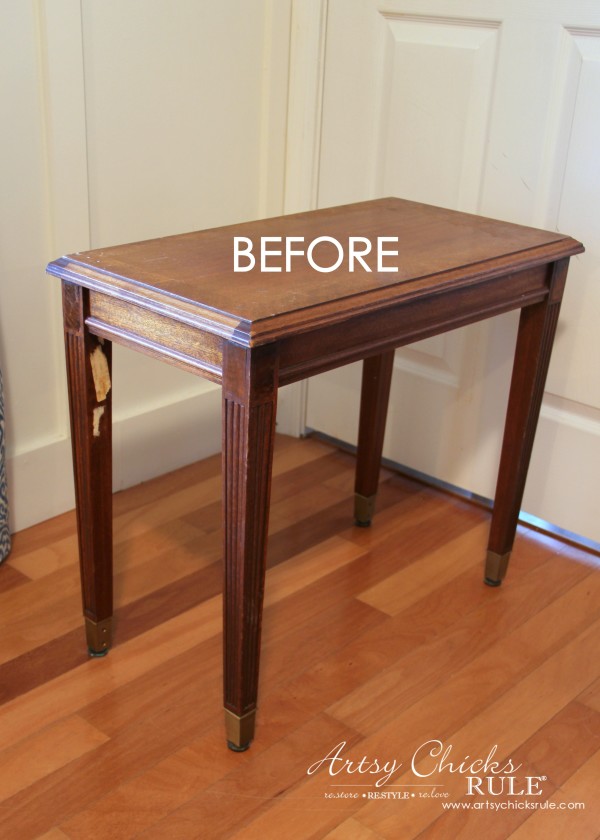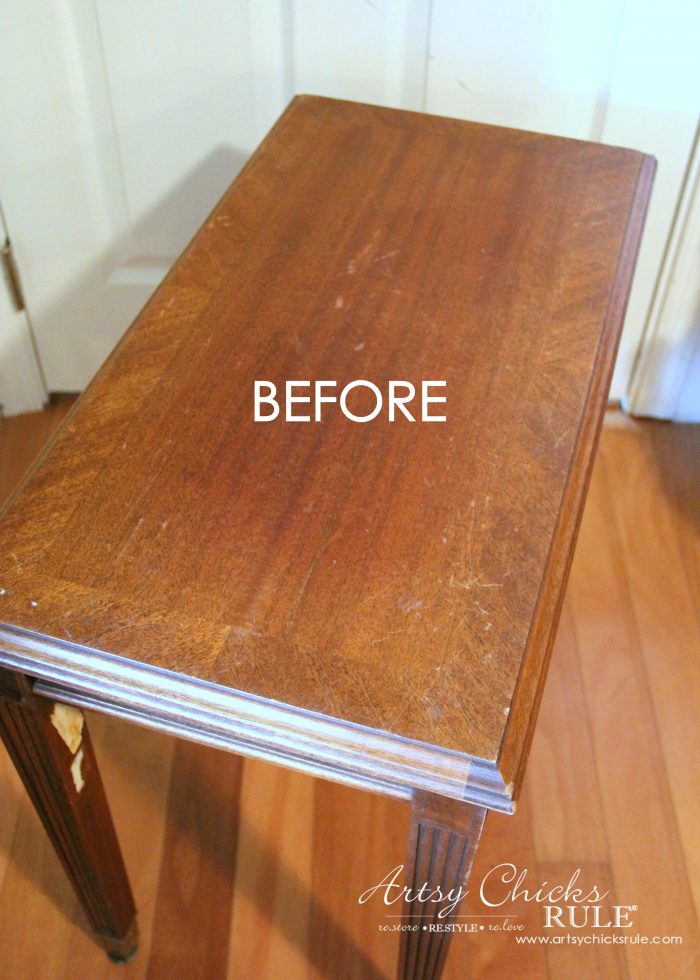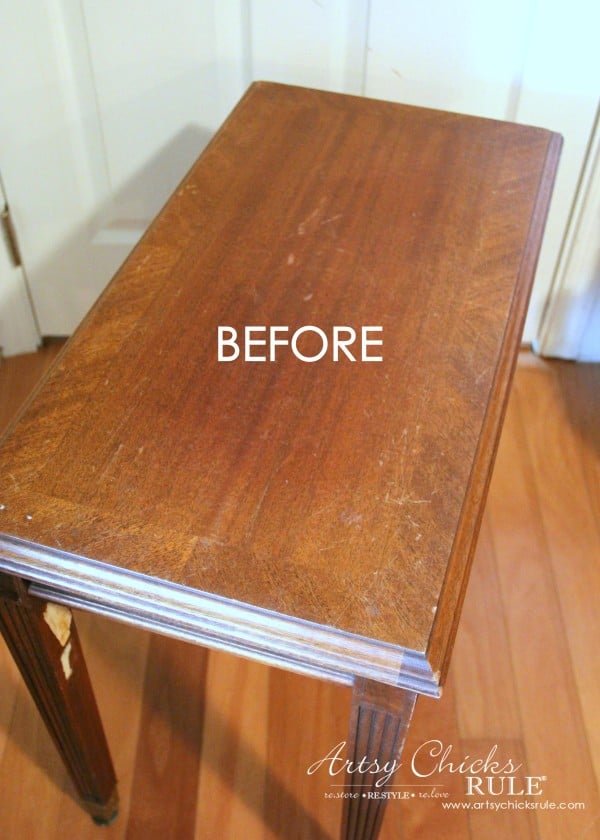 A thrift store find. ($10, I think it was)
And it's not an antique, it's stamped May/1974 on the underside.
I've had it for a little while and had actually started painting it ……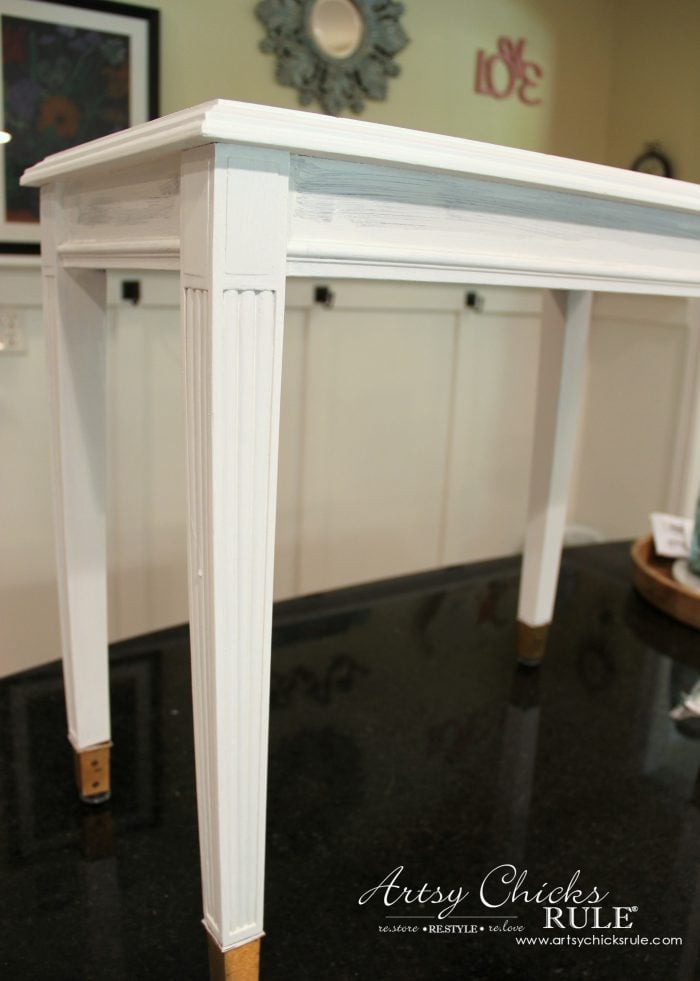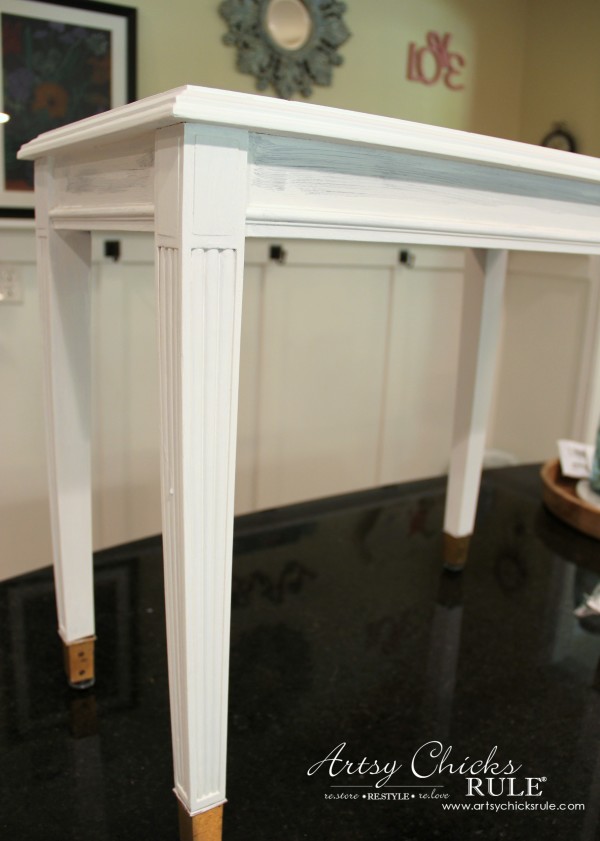 ….but it wasn't turning out like I had planned and I just couldn't get it together in my mind.
So off to the storage unit it went for a breather! ;)
The white underneath ended up being a happy little surprise in the end.
Okay, onto the making of this table.
I've included some affiliate links for your convenience. See my full disclosure here.
I used Mod Podge Glue, Matte Finish
to attach the paper.
I don't remember where I got the paper since I had in my cabinet for awhile.
I think it may have been Hobby Lobby.
First, mix a good bit of water with the Mod Podge before applying it to the table.
The paper can really suck up the moisture quickly making it near impossible to move the paper around in place.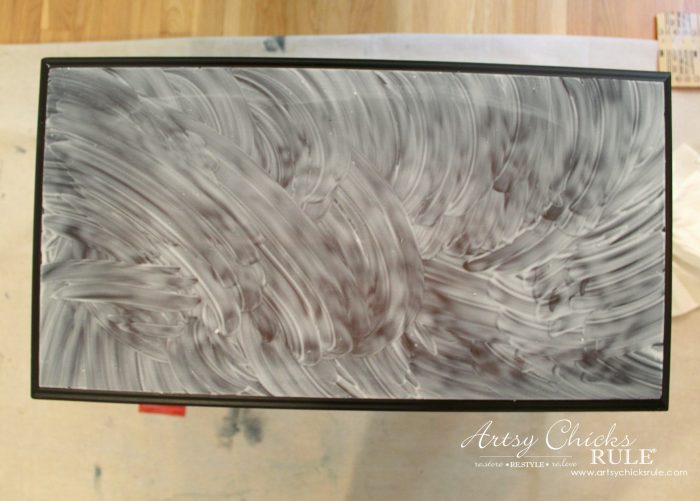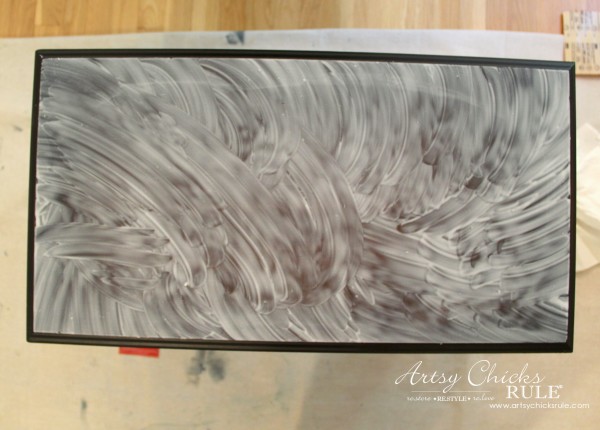 Adding the water keeps it fluid enough to move it until it's straight but you still need to work quickly.
I started applying with a brush….and ended with my hands as you can see above!
Sooo much easier to spread it about that way…and fun too. ;)
Be sure to have already measured and cut the paper.
I allowed for a little "overage" in the paper and would remove the excess later.
After it is aligned, smooth it out with your hands. (squeegees can be used but can sometimes rip the paper…and so will going over with too much force or too many times, be gentle)
This paper is pretty heavy weight so it held up great.
Until I went one too many times over the same spot and ….rip.
Just a tiny one but enough to make me crazy.
So I thought, I'll just peel this off and go again.
Haha……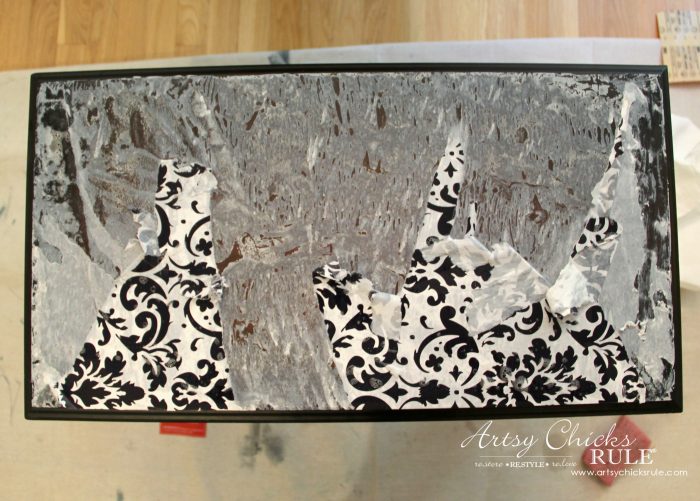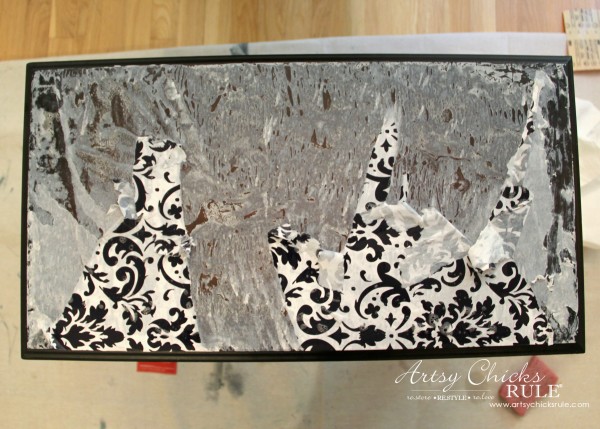 Not so much.
Yea, the tiny rip would probably never have been noticeable but too late now!
That was a bit of a job removing the paper and glue.
Told you…that paper sucks up the moisture quick.
I redid the whole process and laid the new piece down.
It's a bit time consuming because you want to make sure no air bubbles remain under the paper.
Slowly "move" them out to the sides with your fingers.
Once it's dry, take a piece of sand paper and lightly rub the edge where you have excess paper.
Be careful not to hit the paper on top or the paint on the sides.
Doing it this way is so easy and gives a nice clean edge….the paper just comes right apart at the perfect place.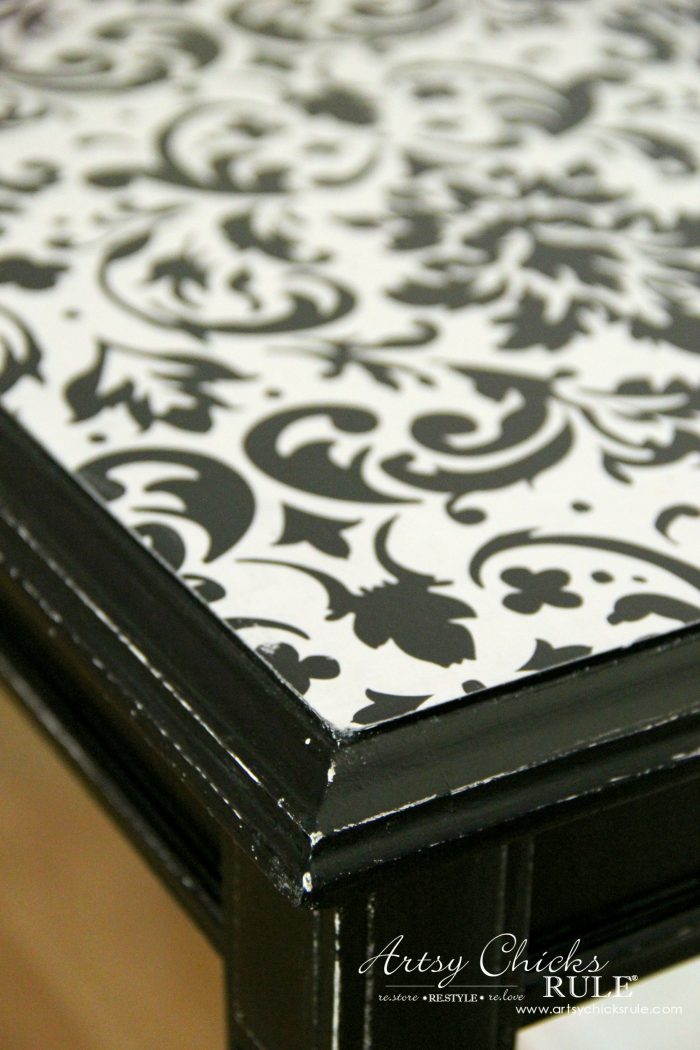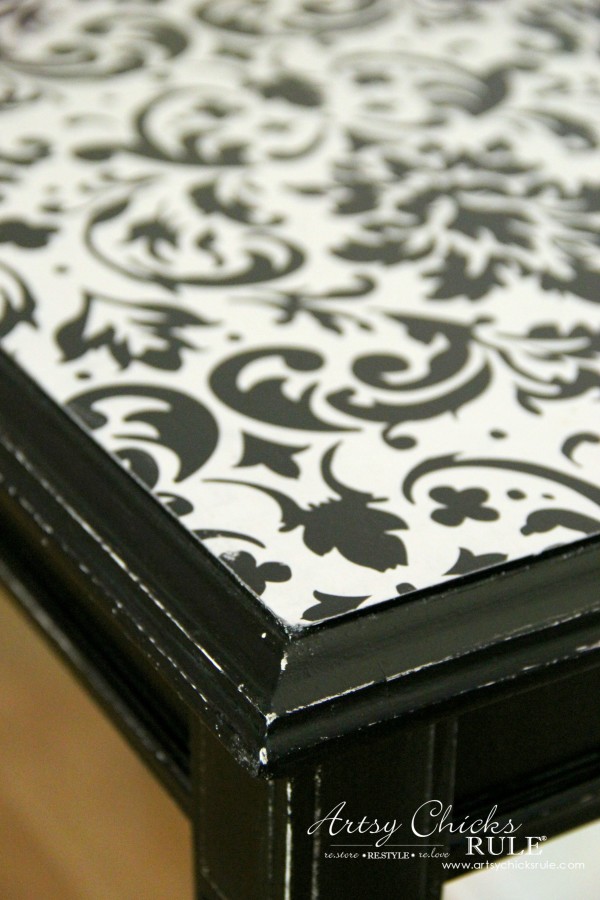 See how nice and straight?
That's why I mentioned having a small amount to overlap.
You can see more photos of exactly how I did this process in this post here –> Thrifty French Paper Decoupage
And see that white peeking through?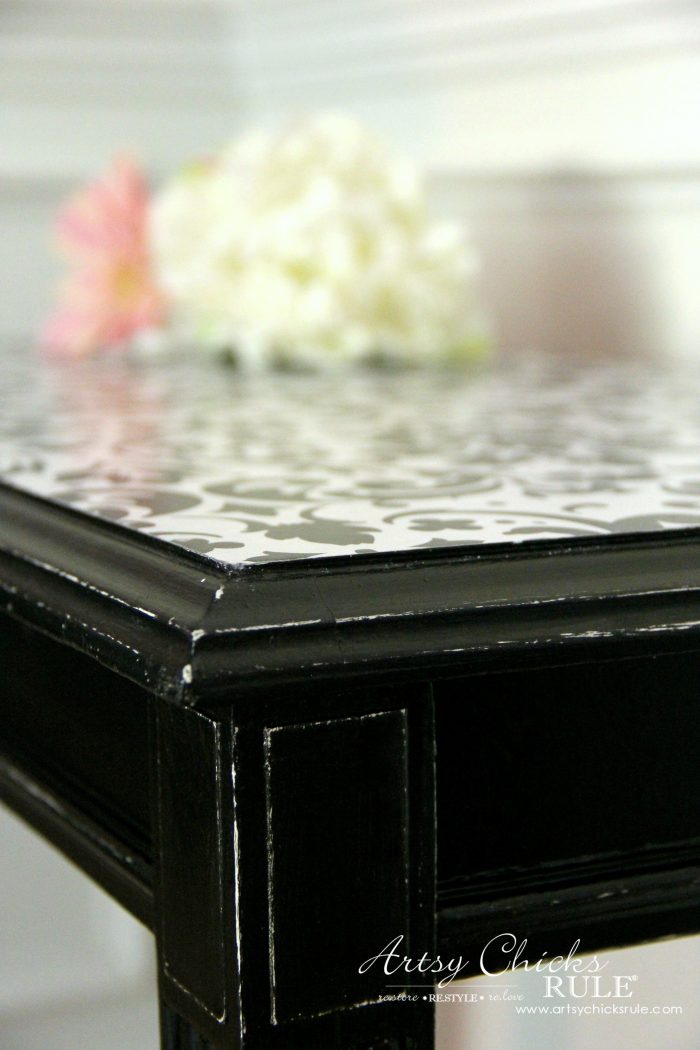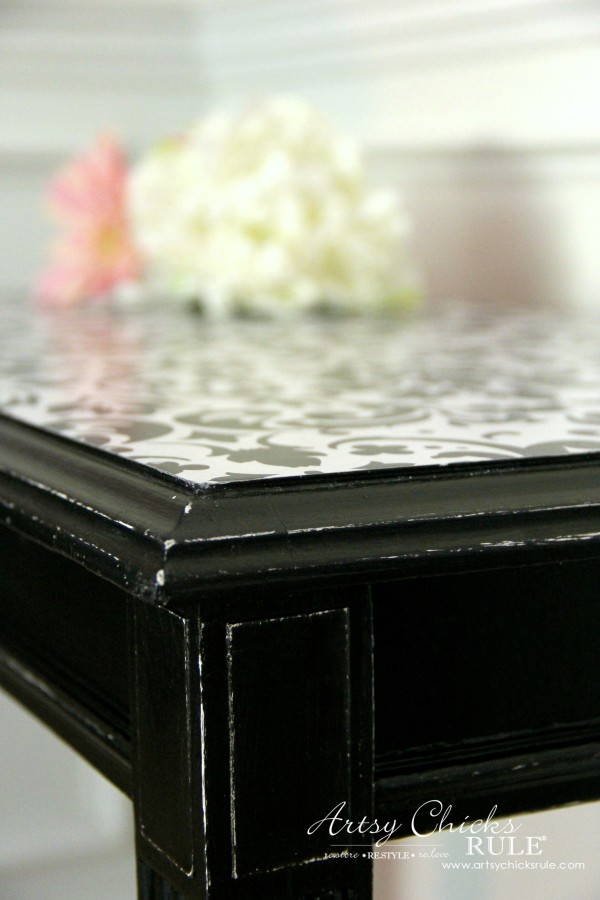 I hadn't planned to distress this one but then noticed the white coming through on the top where I was working with the paper.
And it hit me….oh, I like!
So I distressed the whole thing.
See how these things just evolve??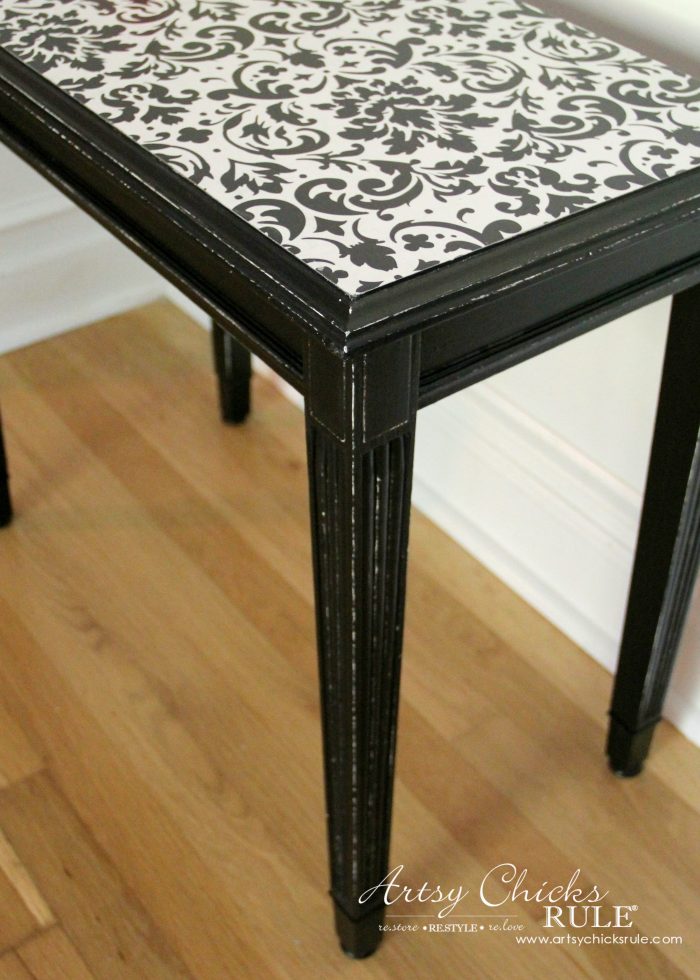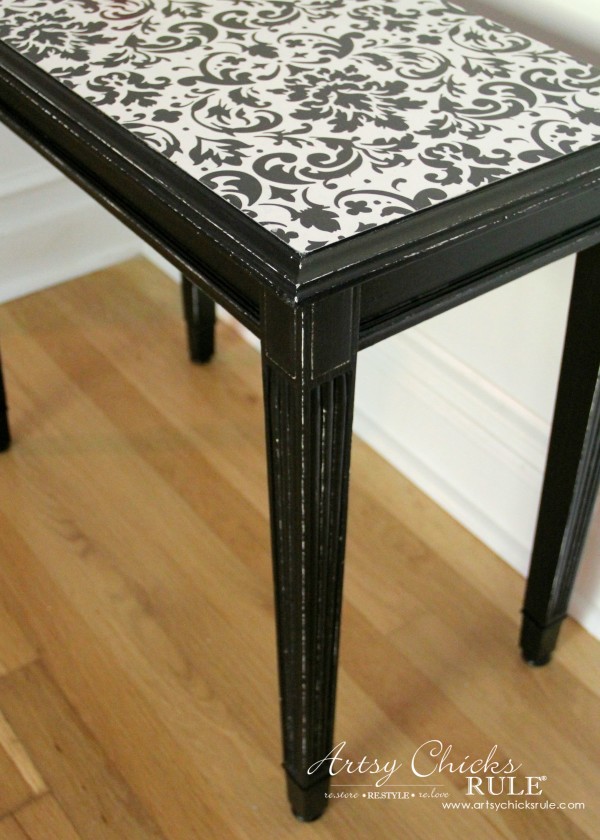 And that pretty paper…..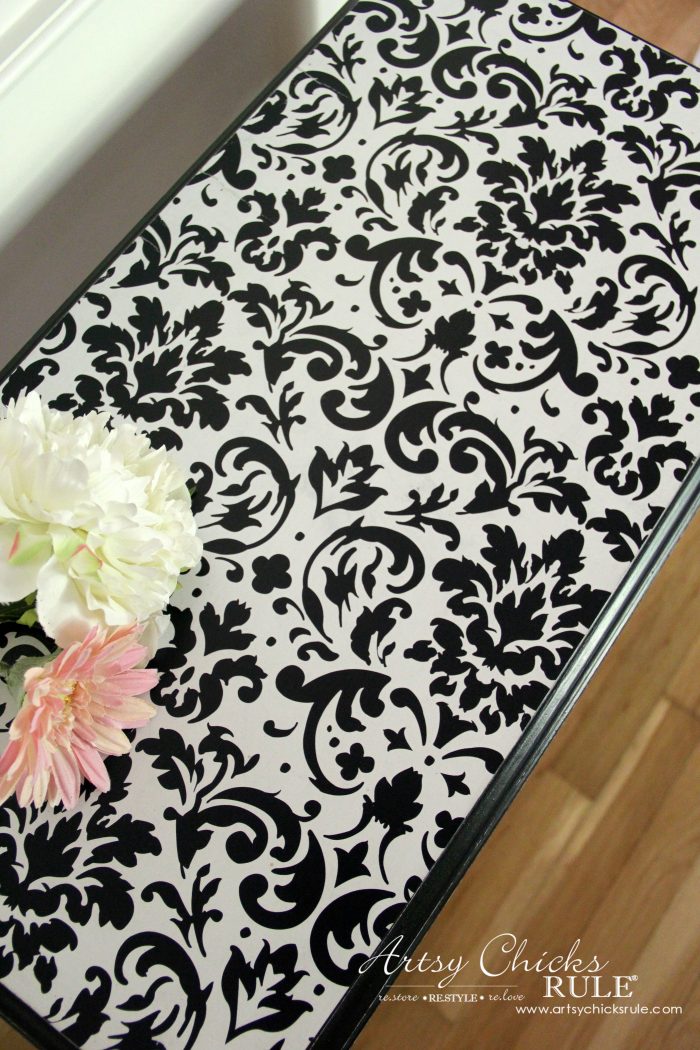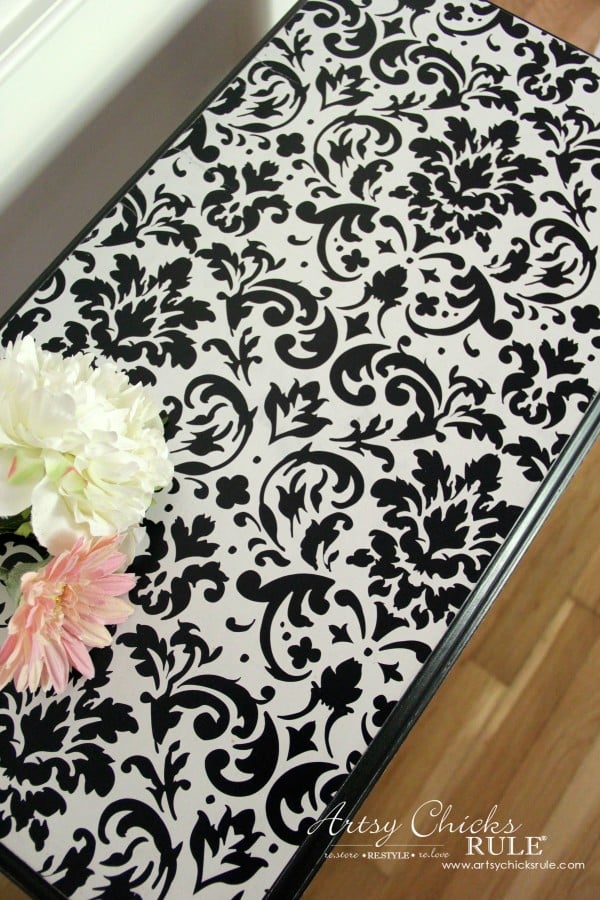 I just love it.
So smooth and pretty and no rips! Yay! : )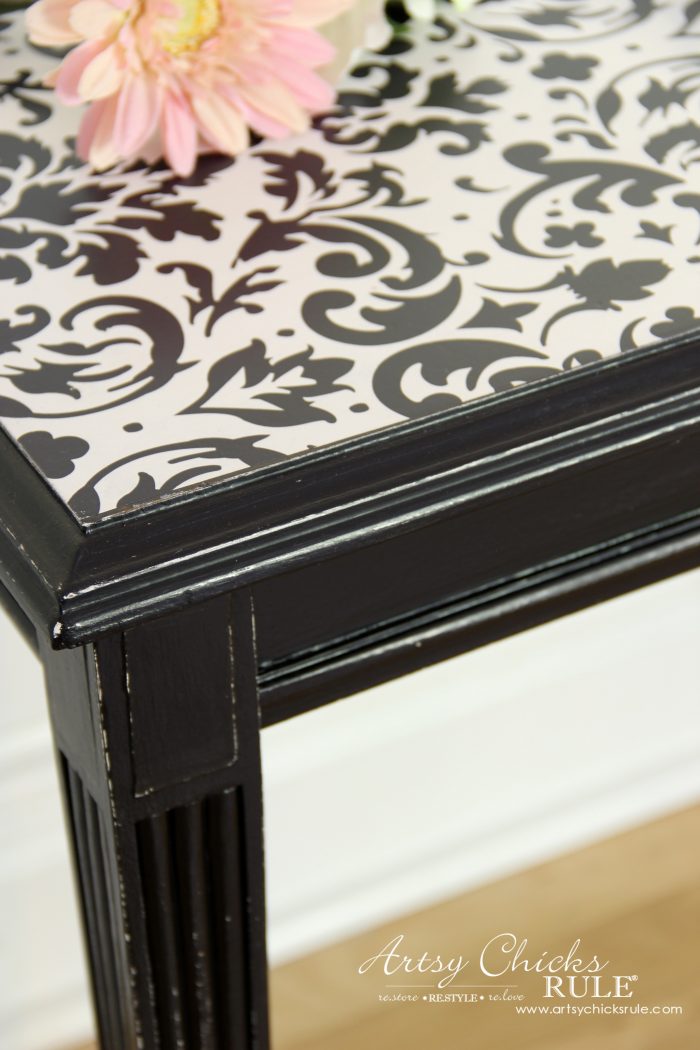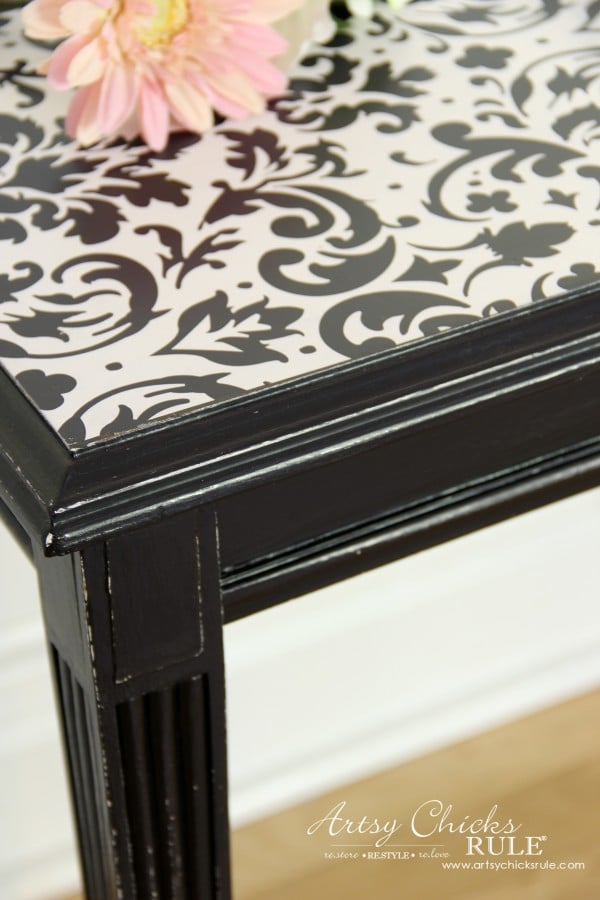 I sealed the entire thing with General Finishes High Performance Water Based Topcoat, Satin

(love that stuff)
Two coats on the top, one coat everywhere else.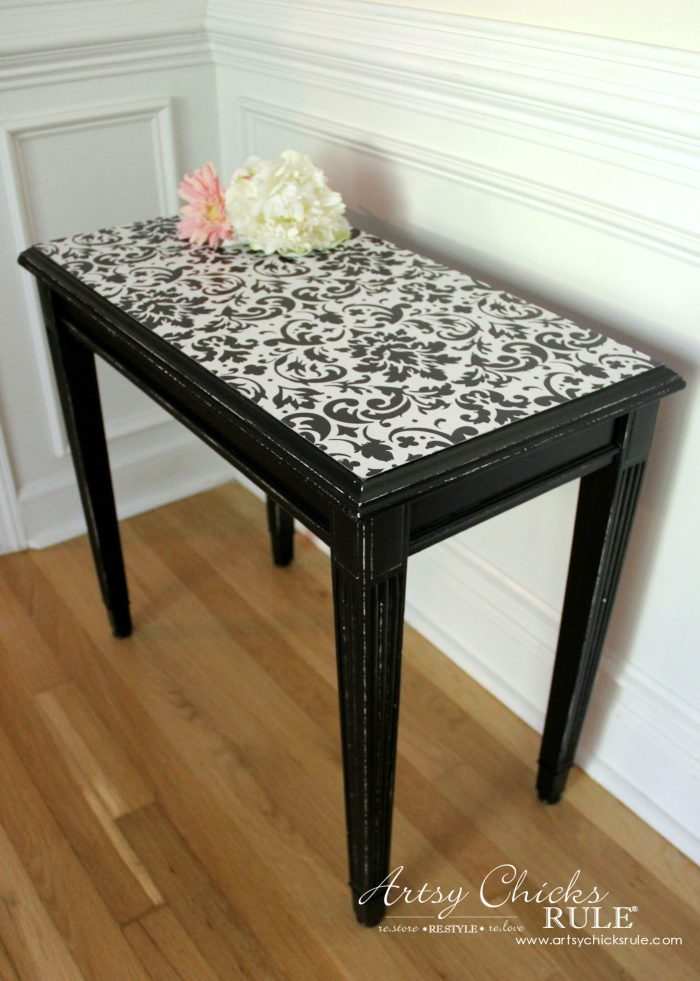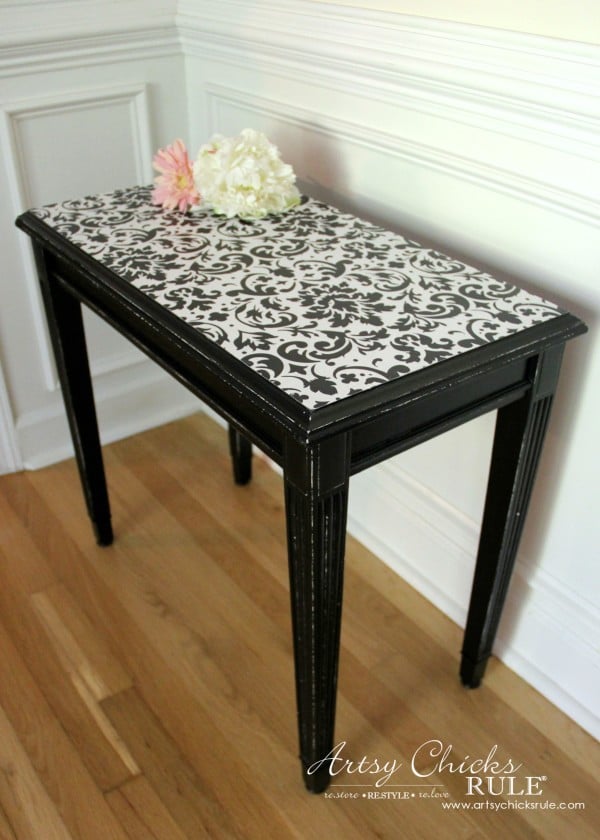 Cute little table/bench.
And it was so easy to do!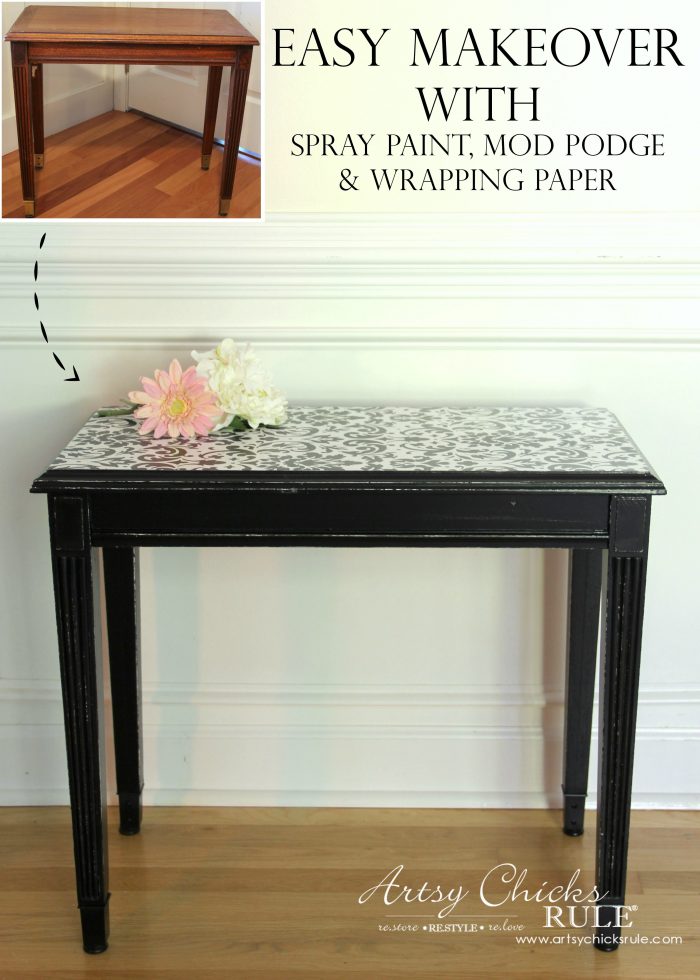 The paper can be a bit challenging but if you mess up, it's fixable!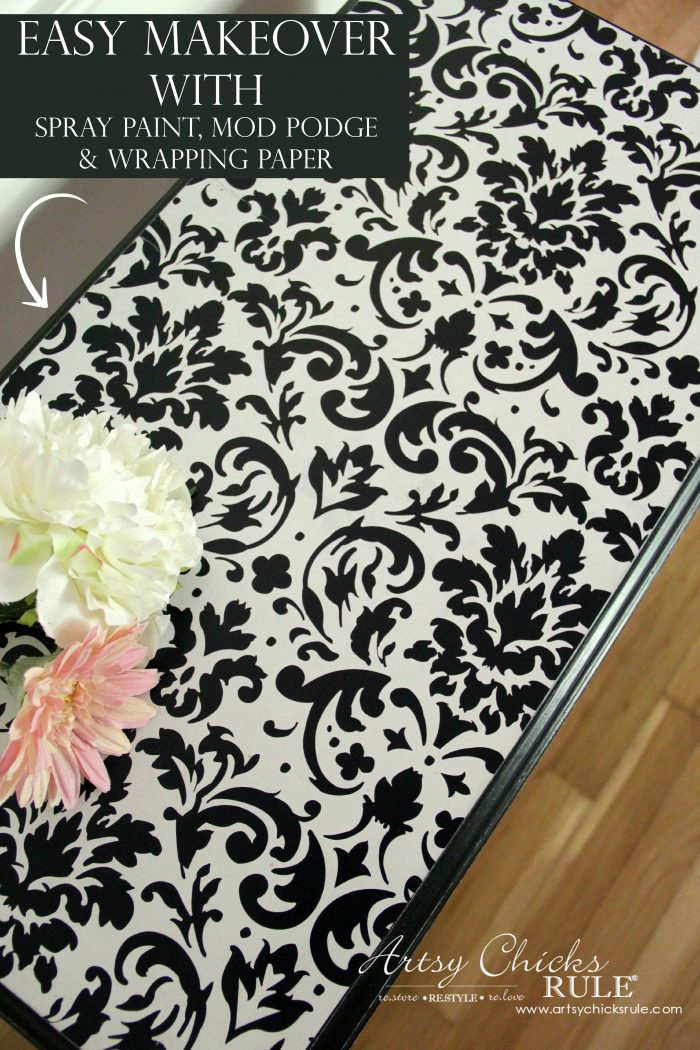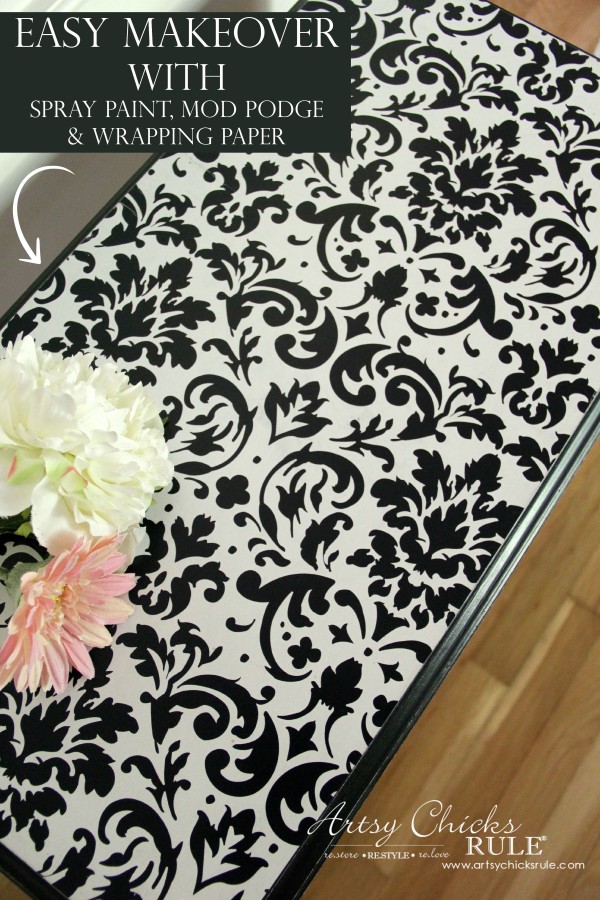 With so many papers out there, the design possibilities are really endless!
So that's my "not blue" furniture…..
…..but I have to leave you with something blue, don't I?
Here's a sneak peek of something I just finished up.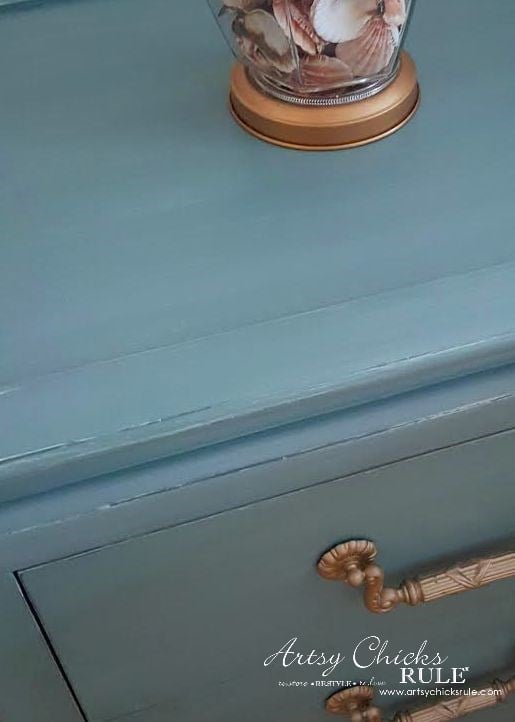 It's –> these nightstands that repainted (and modified a bit) for the –> master bedroom makeover.
It's coming along! Yay! : )
Be sure to check back next week for my latest makeover, this old cart! (looks so glam now! ;) )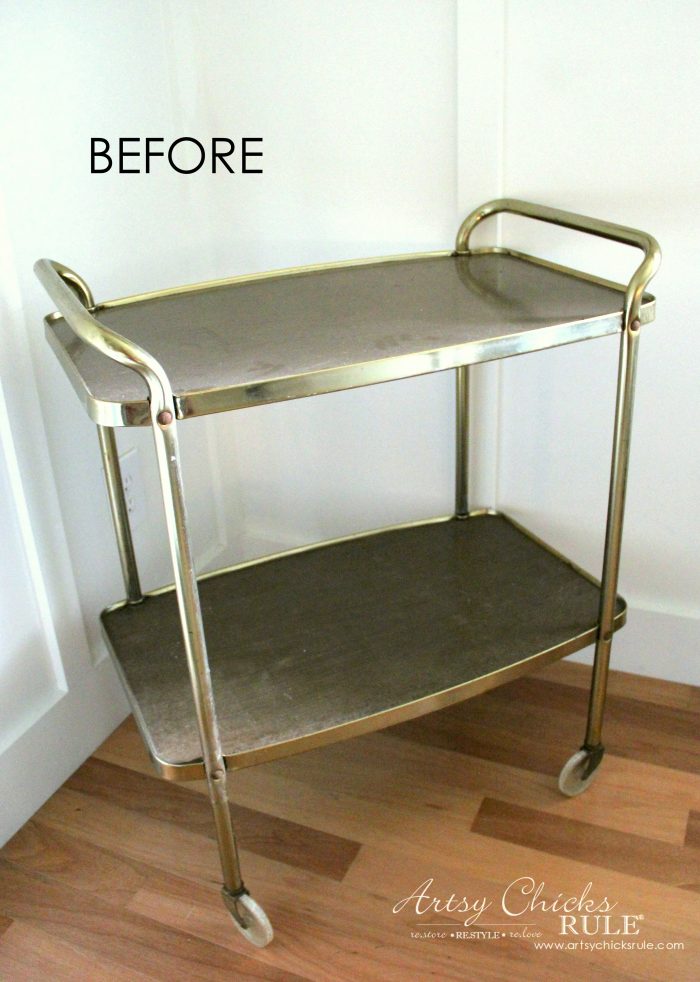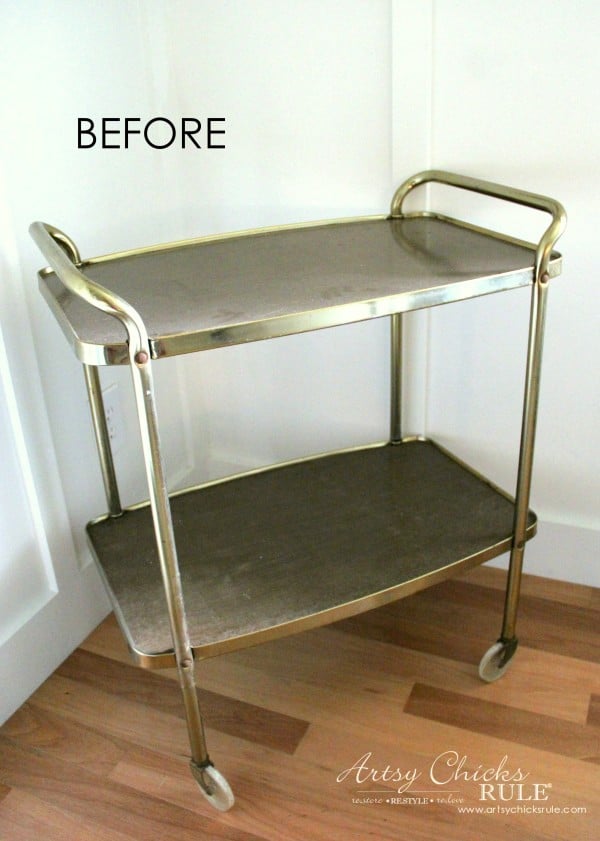 UPDATE!!! See it now, here!!
Alrighty, now it's my friends turn!
See their pretty black makeovers below….