45+ BLUE Furniture Makeovers (you can do!)
This post may contain affiliate links. Please see disclosures here.
I love blue. All shades of it.
There is just something so mesmerizing about it. It's calm, peaceful and serene.
So it never fails, when I go to paint a new piece, I want to paint it….BLUE!
I have to fight that urge most of the time to keep things a little interesting around here. ;)
But I still have quite a bit of blue.
So, I thought I'd round up a few of my own favorite blue furniture makeovers and put them all in one place because I'd bet a bunch of you love blue too.
AND then I thought, why not include my friends' lovely blue furniture makeovers too?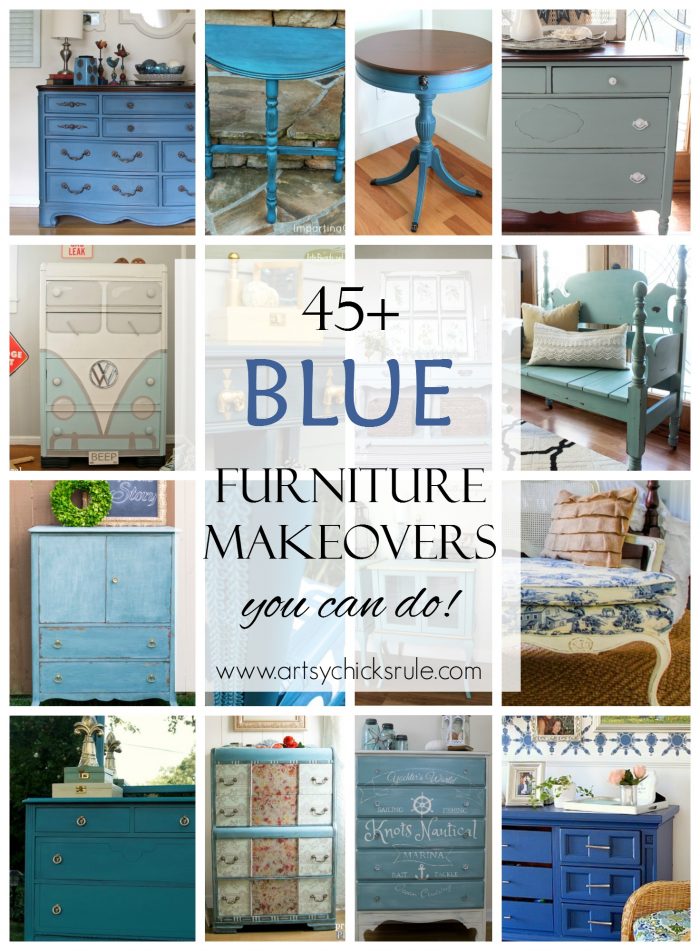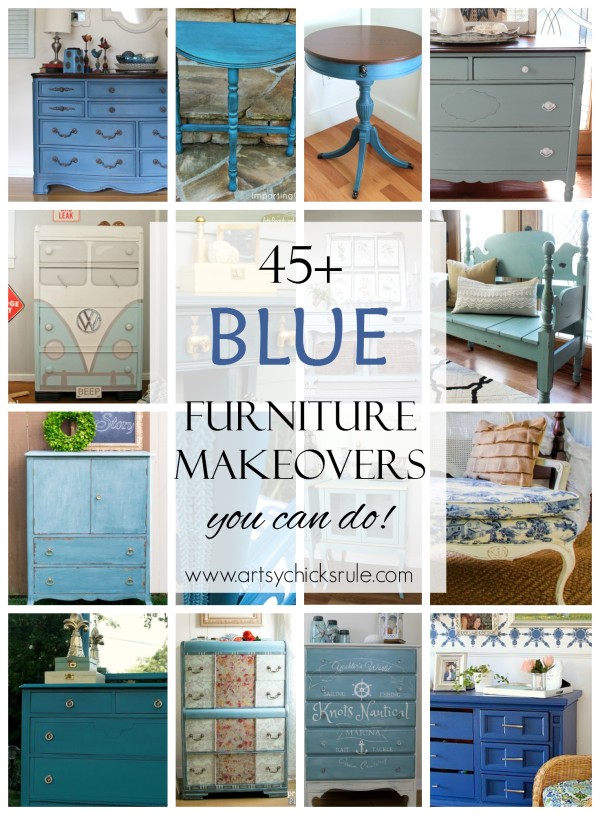 Get ready for a BLUE overload….but if you love blue like me, it will be anything but!
Below you will find a blue lover's paradise….

….so go grab a cup of coffee (or tea, my fave!) and get settled in.
Enjoy. :)
…………………………………………………………………………
***NOTE – I've provided the links to each blue furniture makeover in the description below each corresponding photo.
If you'd like to pin any of these projects to your Pinterest boards, PLEASE click over and pin from the owner's site.
Thank you! xoxo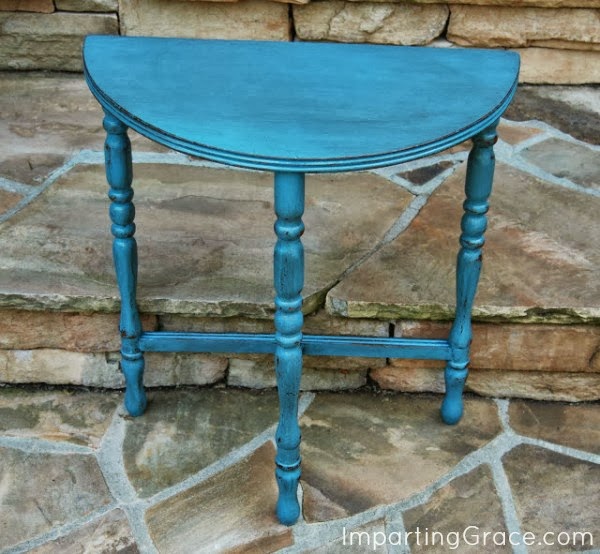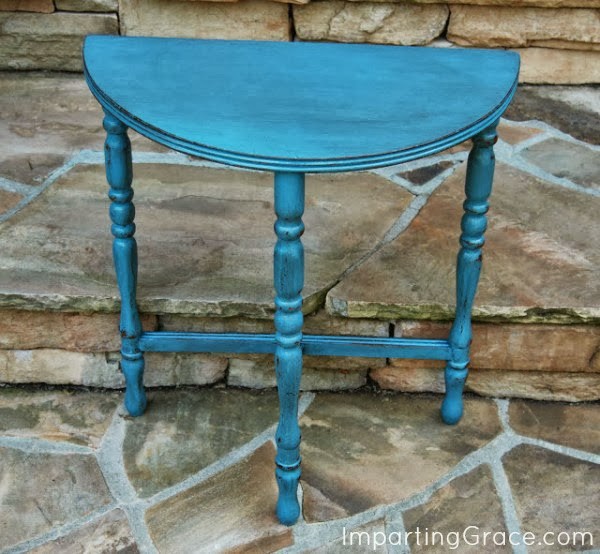 This gorgeous turquoise side table was done for under $10 and in under an hour. –> Turquoise Side Table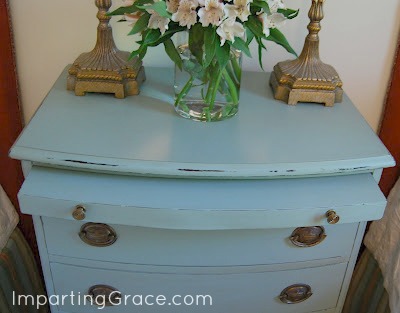 Such a pretty blue chest.–> Blue Chest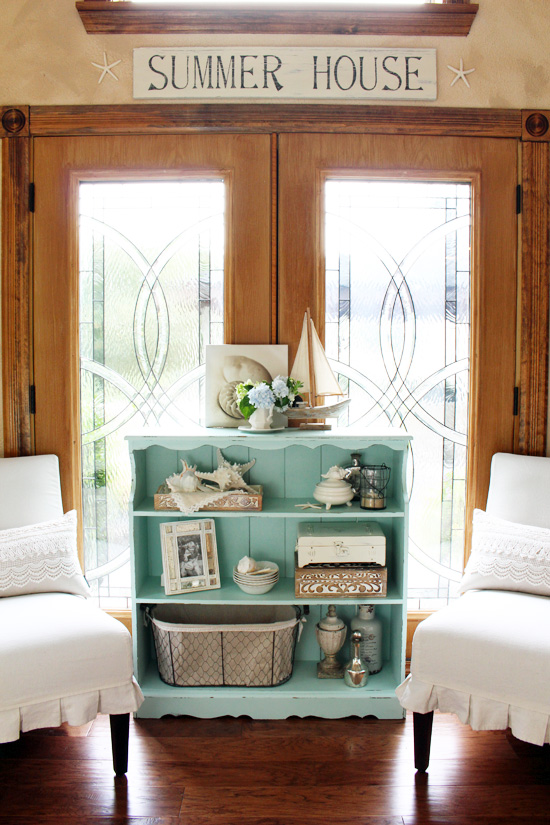 You guys may remember this one as it was part of one of our decorating challenges. –> Coastal Bookcase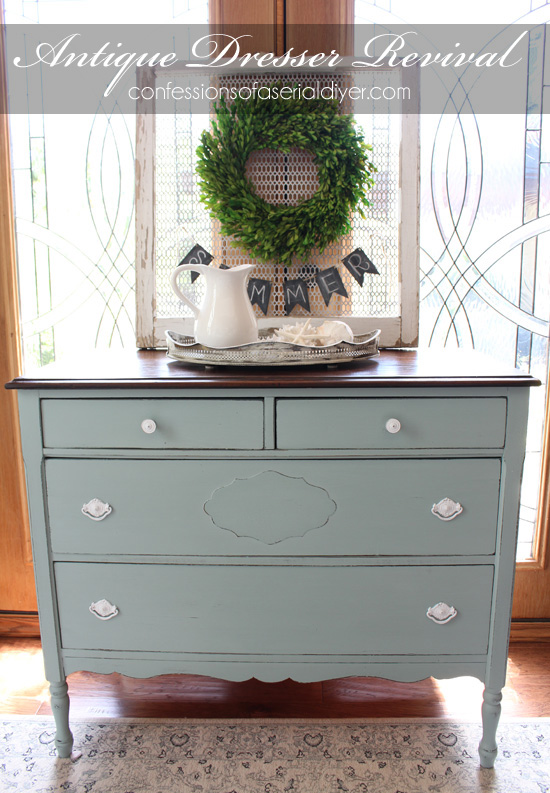 I love this blue shade. Perfect with the wood stained top. –> Blue Dresser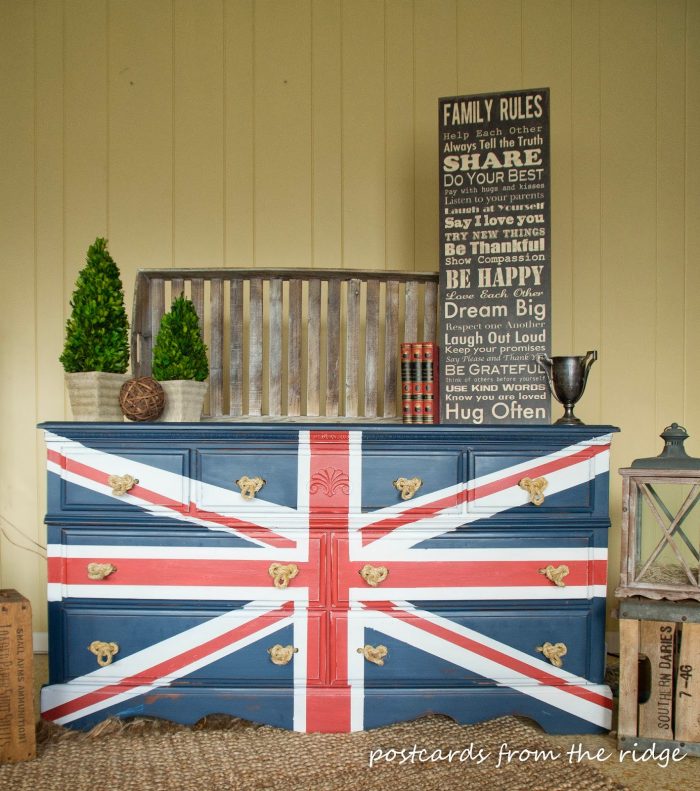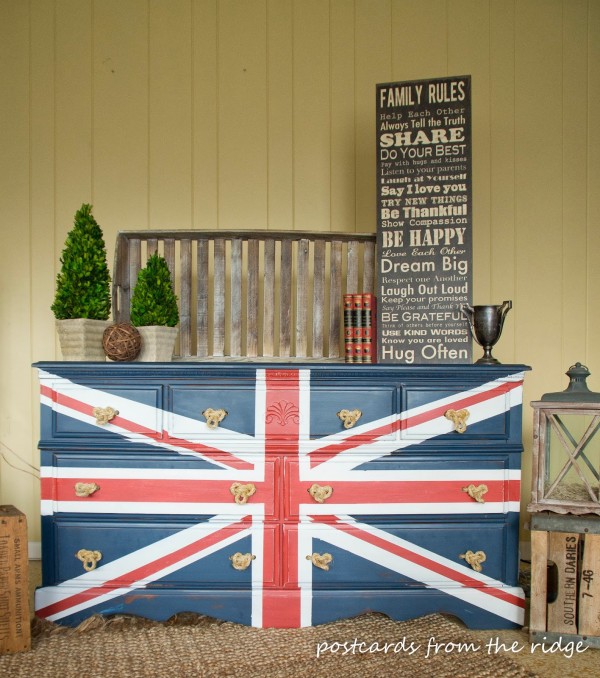 How cool is this Union Jack dresser? –> Union Jack Flag Dresser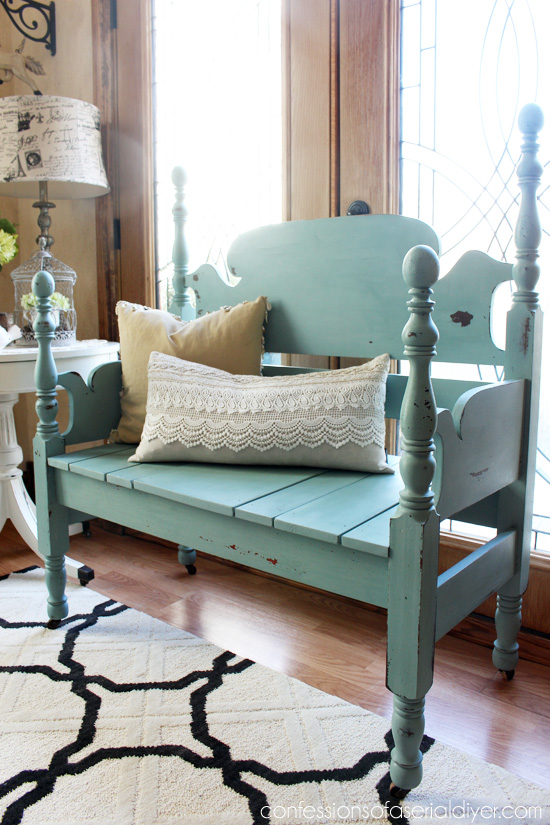 Blue Mason Jar bench…love! –> Blue Bench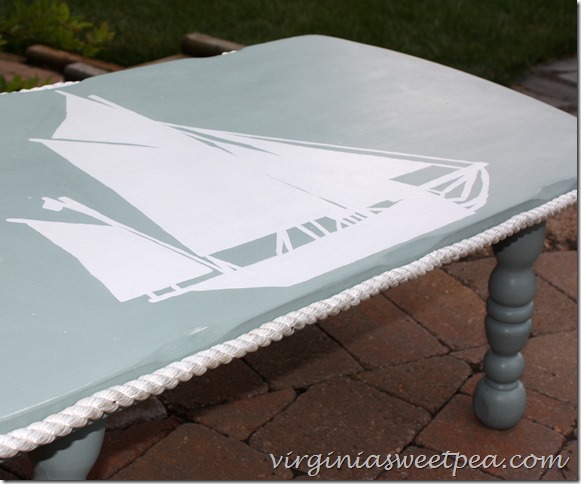 This nautical coffee table is right up my alley! –> Nautical Coffee Table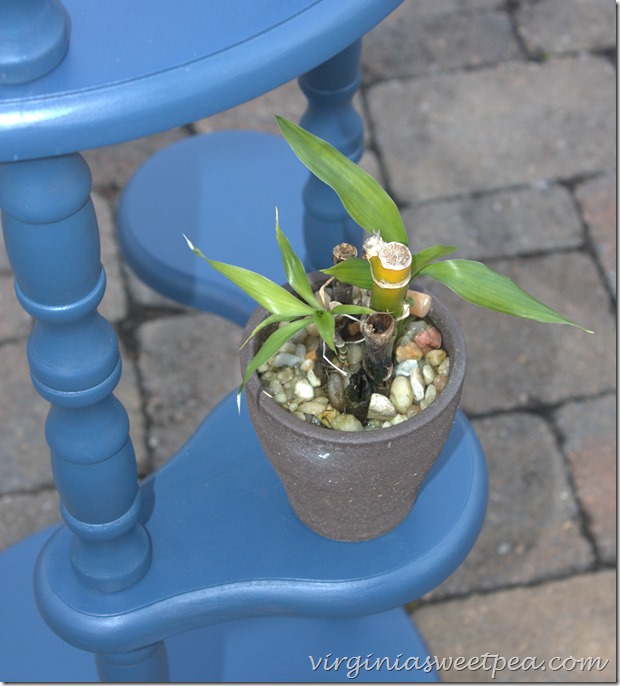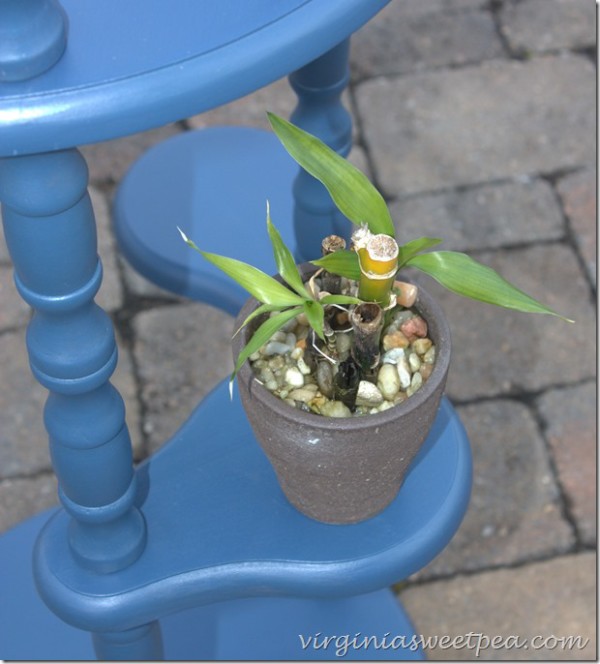 I LOVE the shade of blue used on this plant stand. –> Plant Stand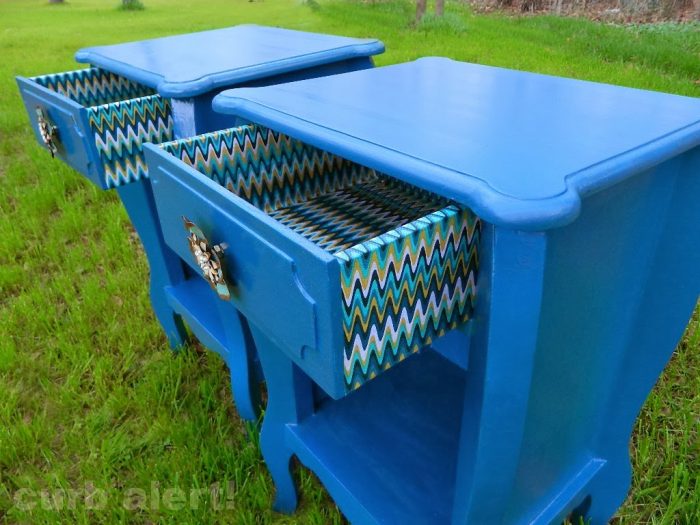 Oh, snazzy drawers! And oh so pretty blue. –> End Tables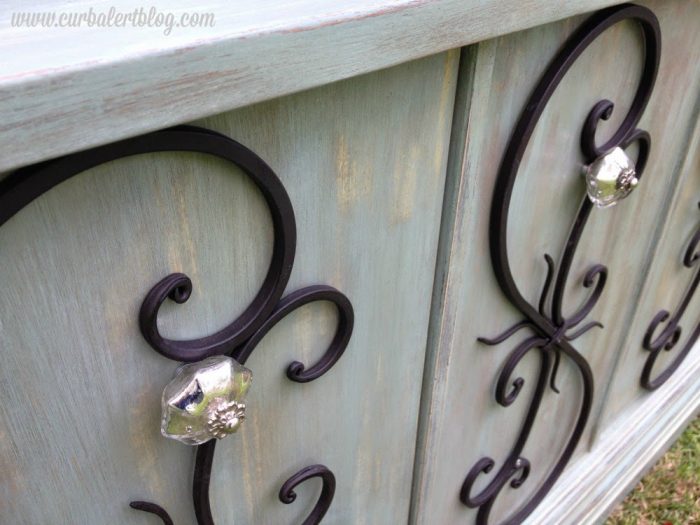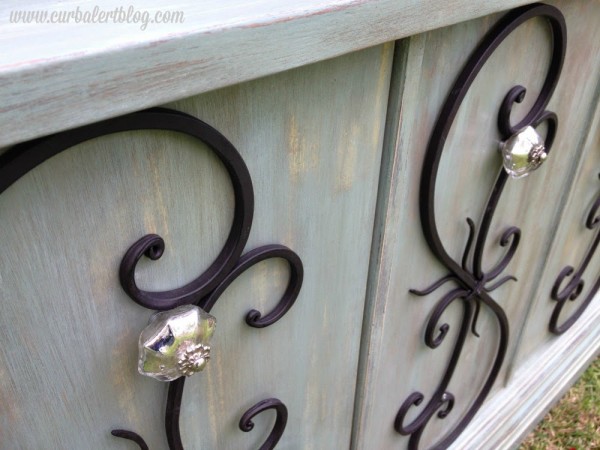 I had to share the close up of this! Gorgeous paint job. –> Rustic Glam Cabinet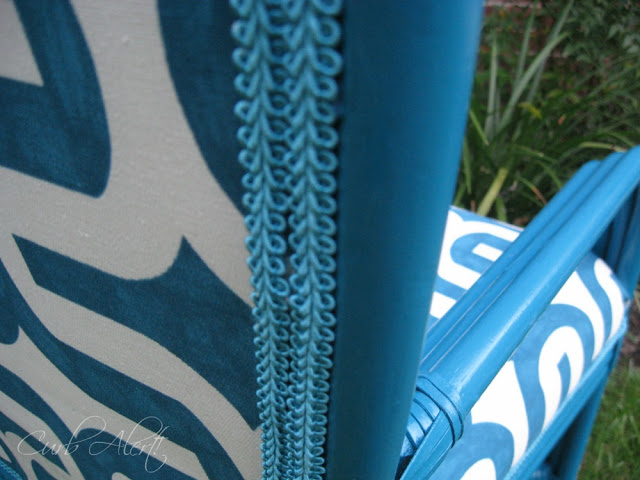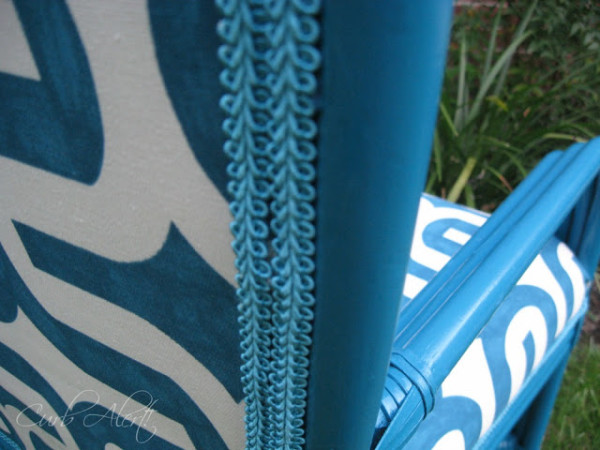 Stunning color and I just love the fabric too. –> Blue Chair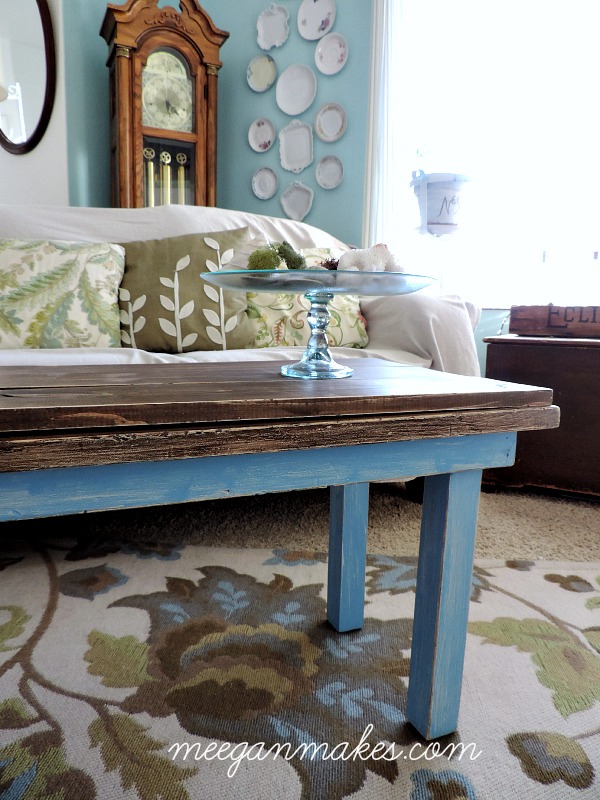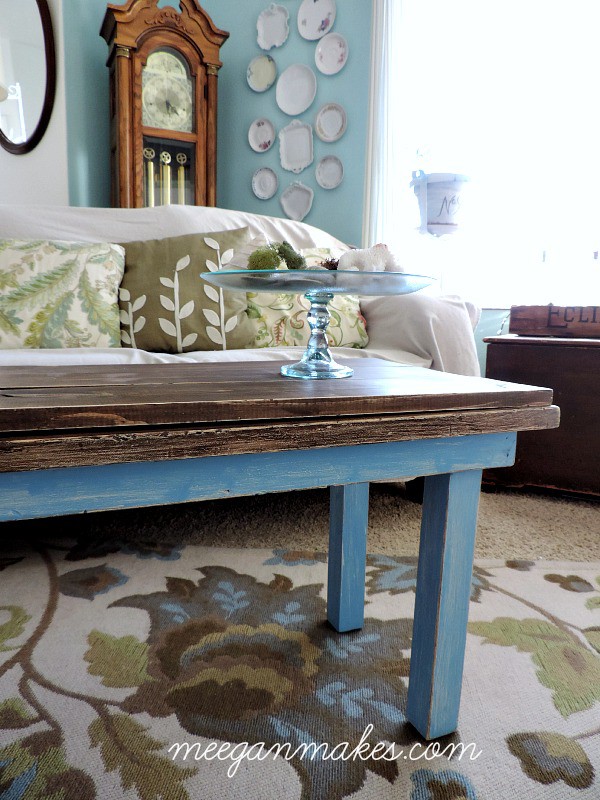 Pretty little table makeover. –> Blue Table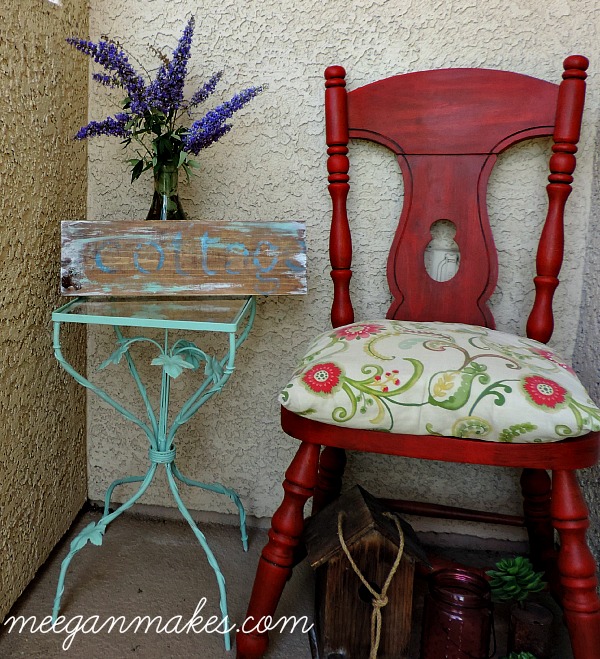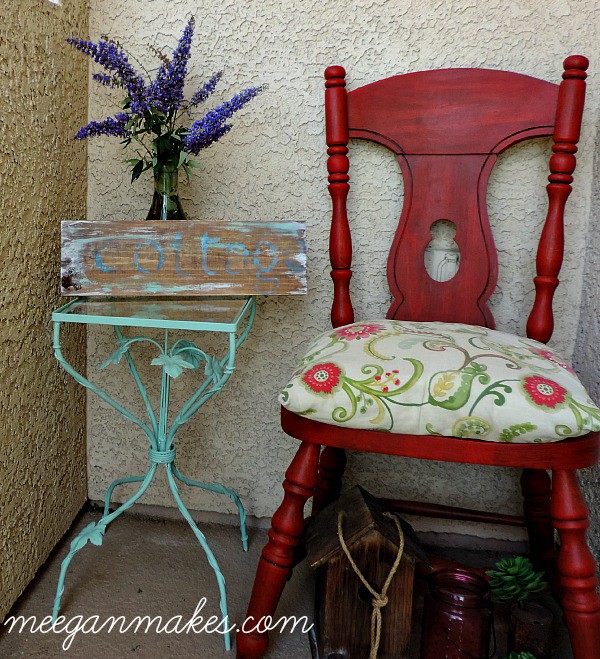 Loving that turquoise and red together! –> Metal Makeover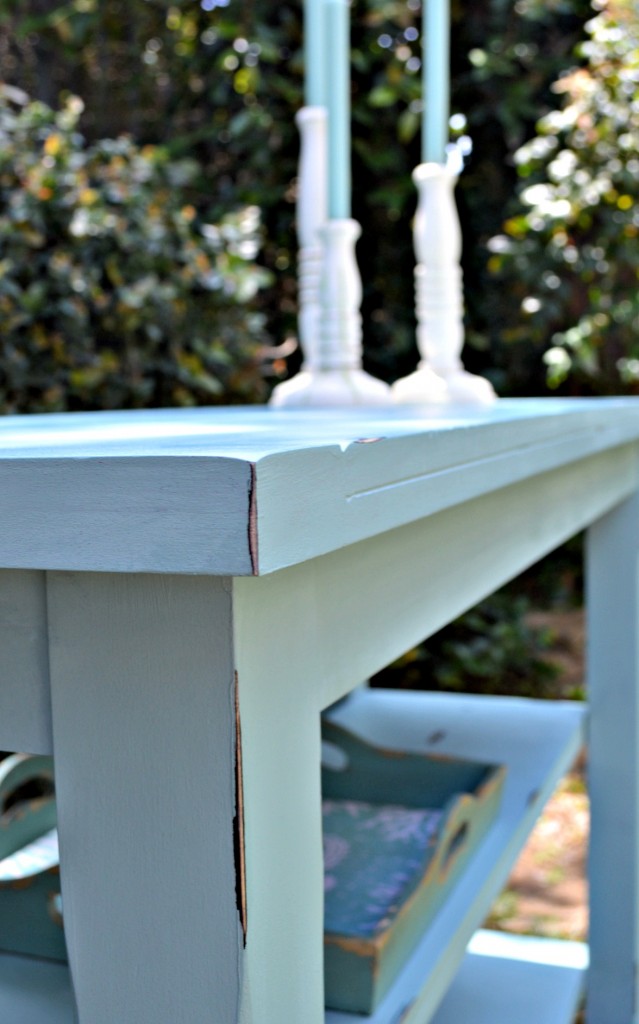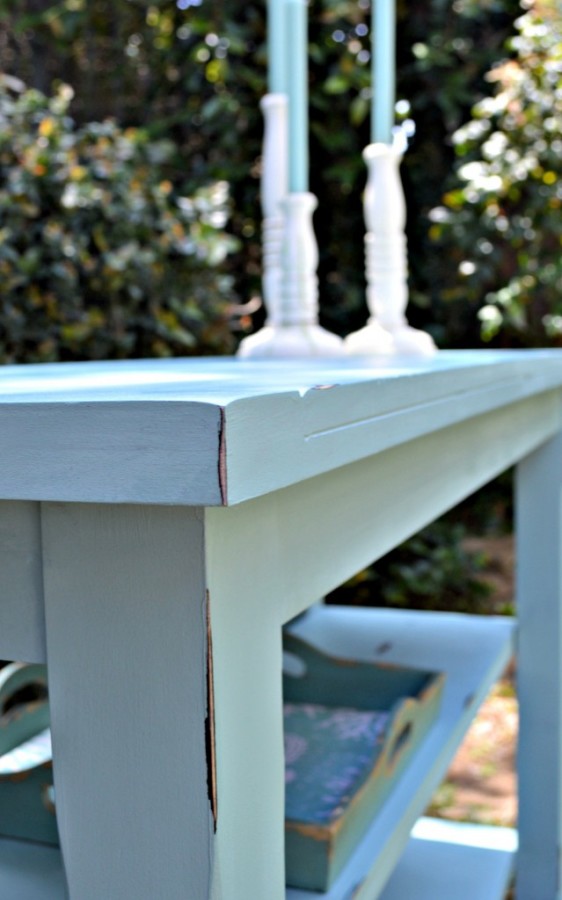 That blue is one of my favorites…and I love the black peeking through. –> Blue Table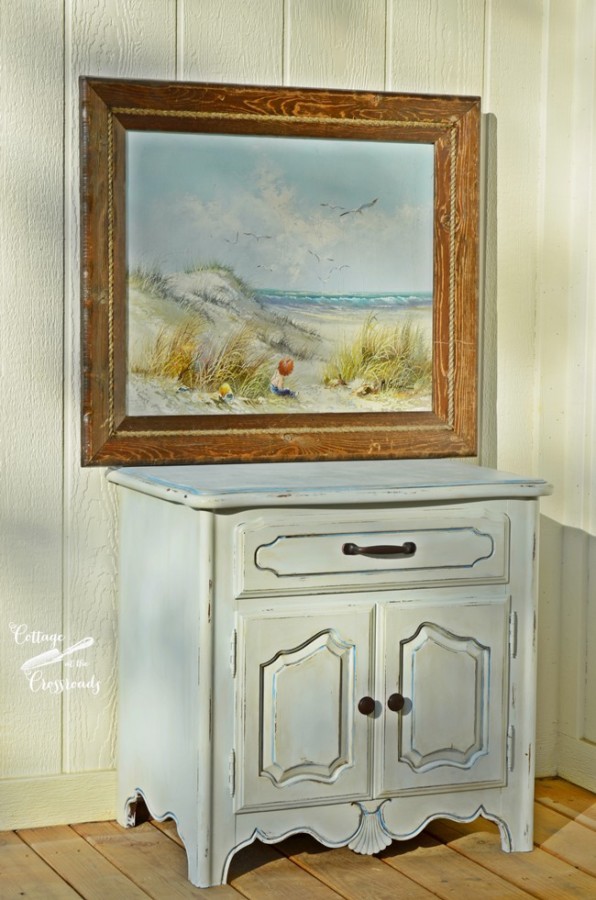 Love the darker blue detailing on this one. –> Blue Detailed Nightstand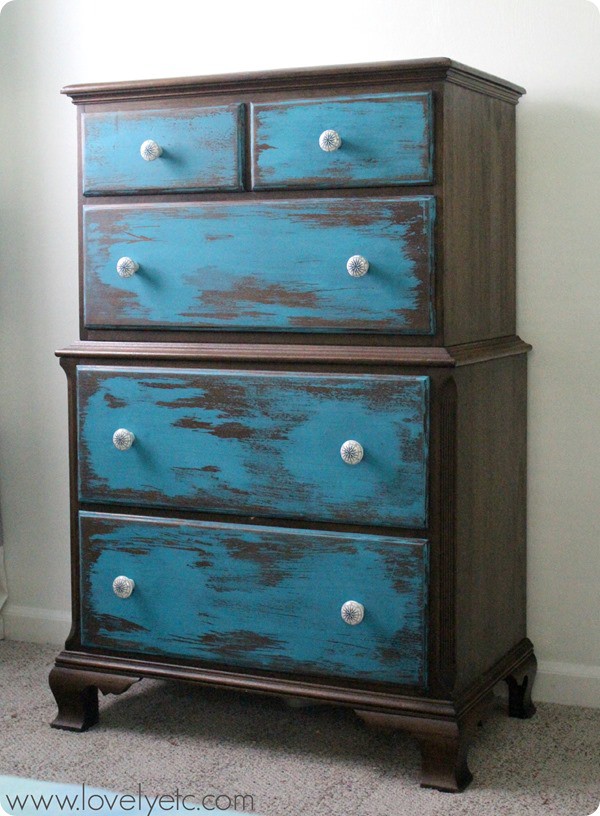 How about this one? Blue just on the drawer fronts and then heavily distressed. –> Wet Distressed Dresser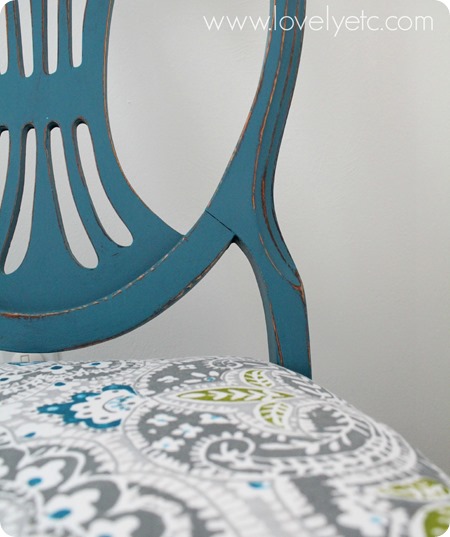 Love the chair color and that fabric! –> Painted Chair (and shower curtain covered seat)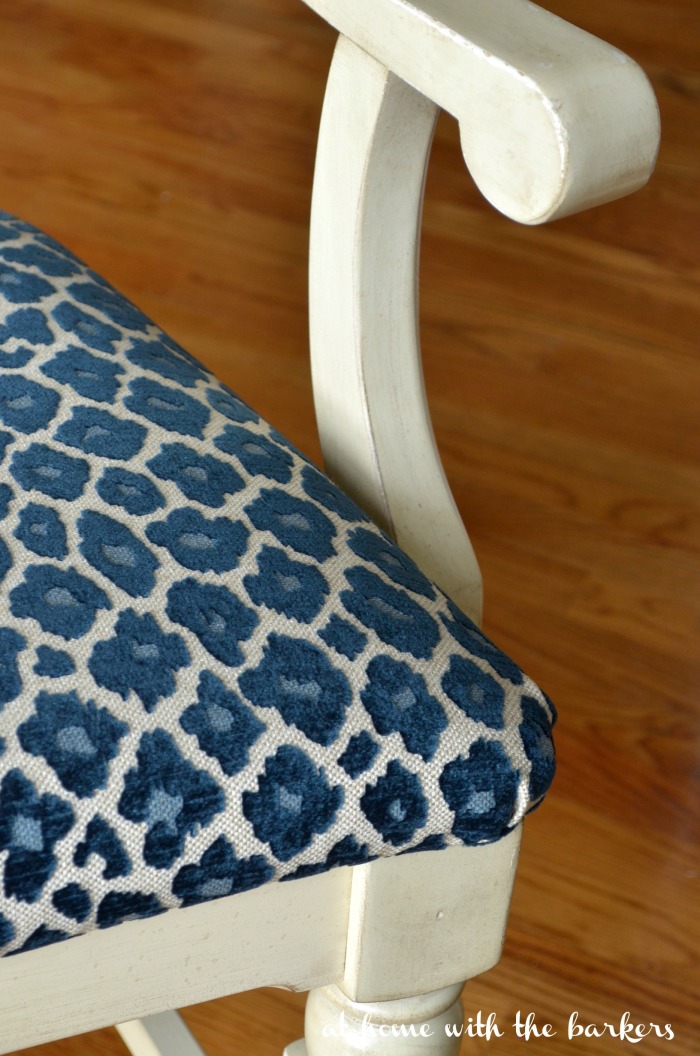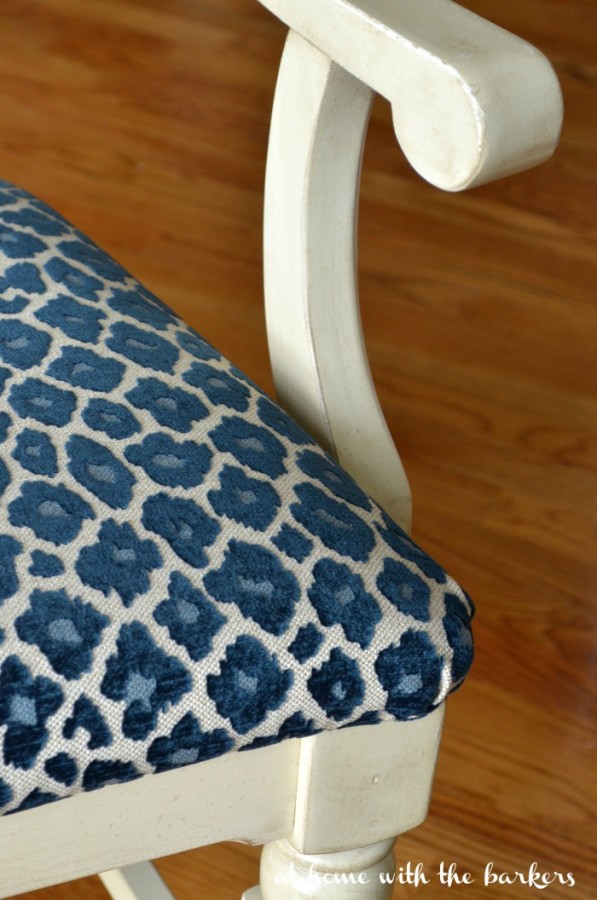 More dining chairs…isn't that fabric great? –> Dining Chairs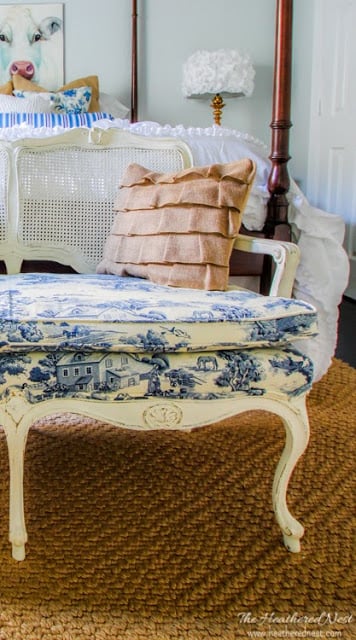 Stunning. Just stunning. –> Toile Settee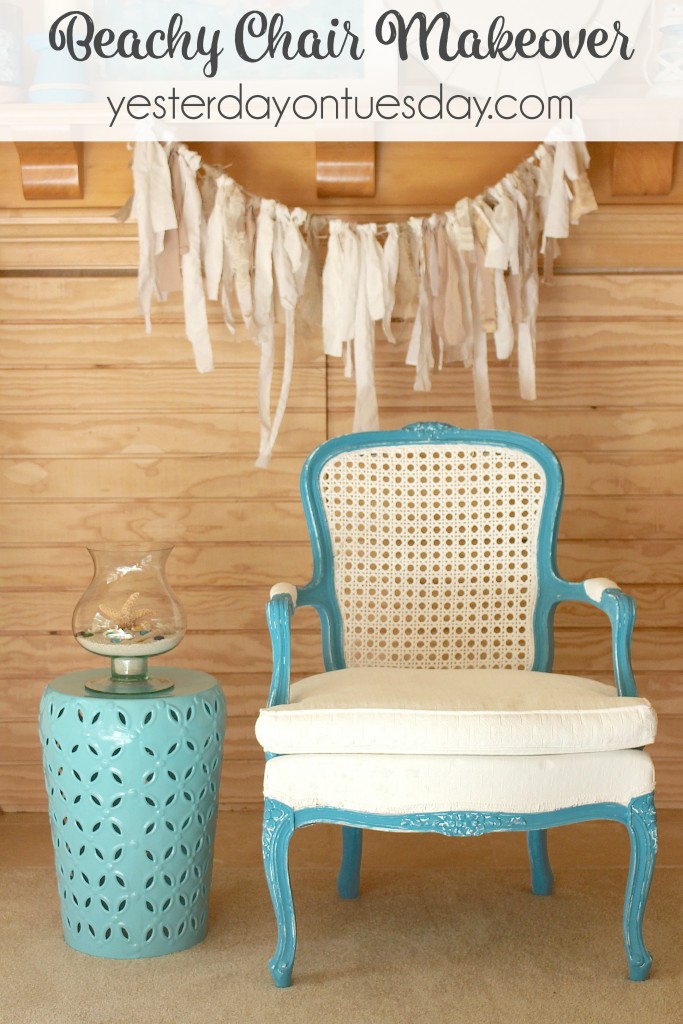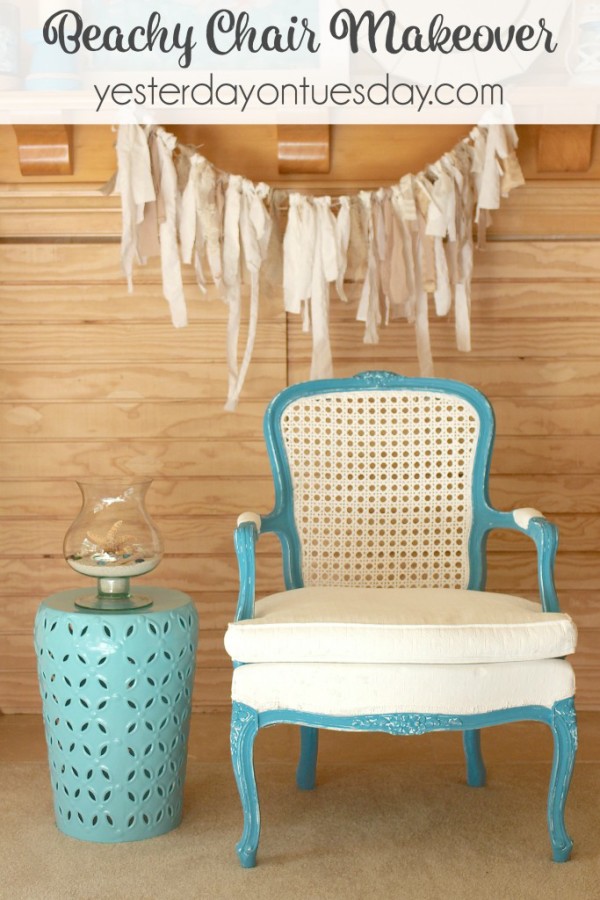 Turquoise painted chair, cushion and all. –> Painted Chair and Cushion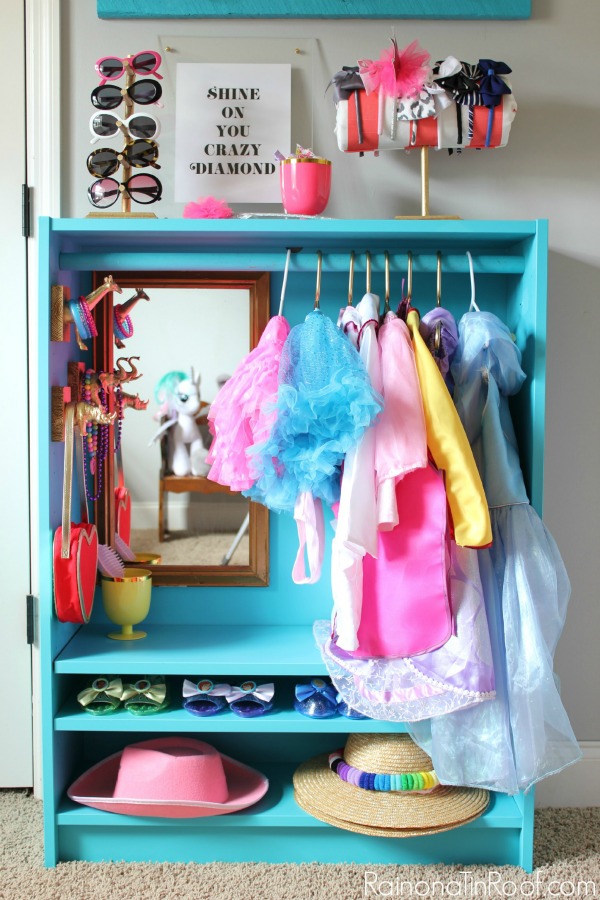 How sweet. –> IKEA Bookcase Hack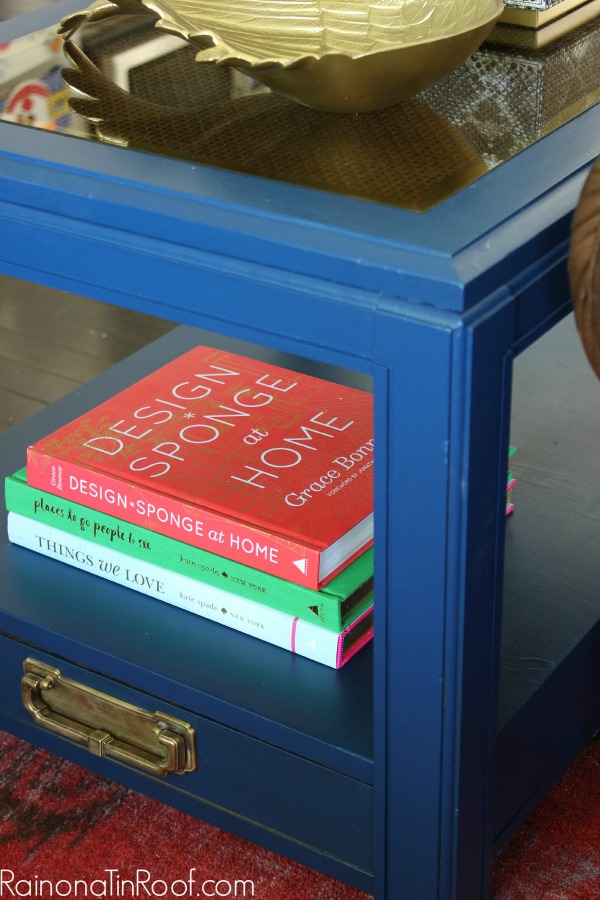 I'm a sucker for blue and gold. –> Navy and Gold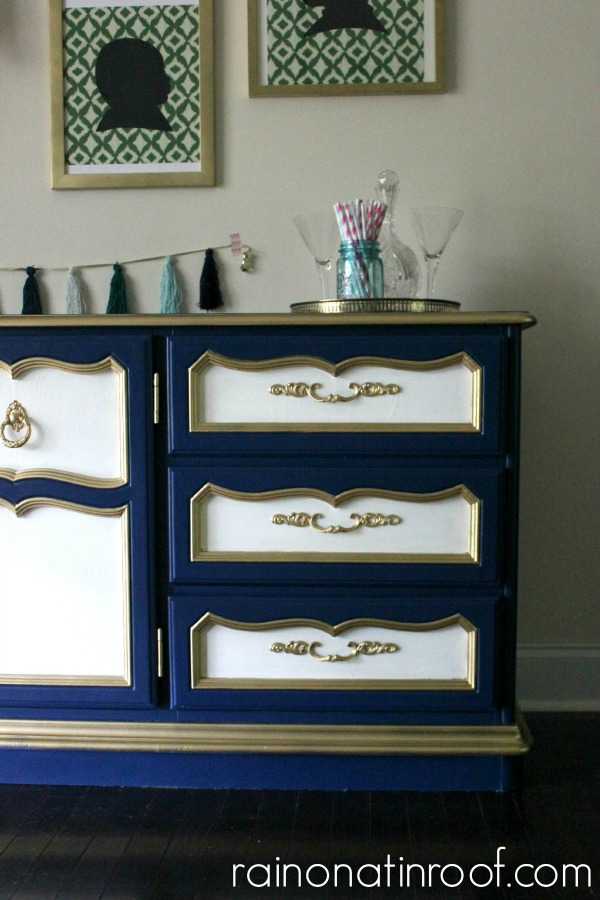 How about this stunner? –> Blue, White and Gold Makeover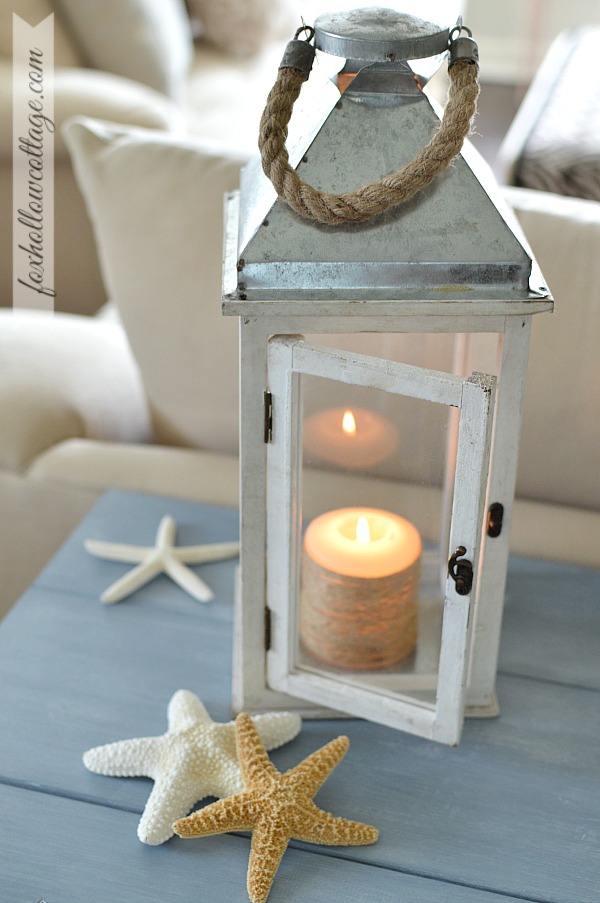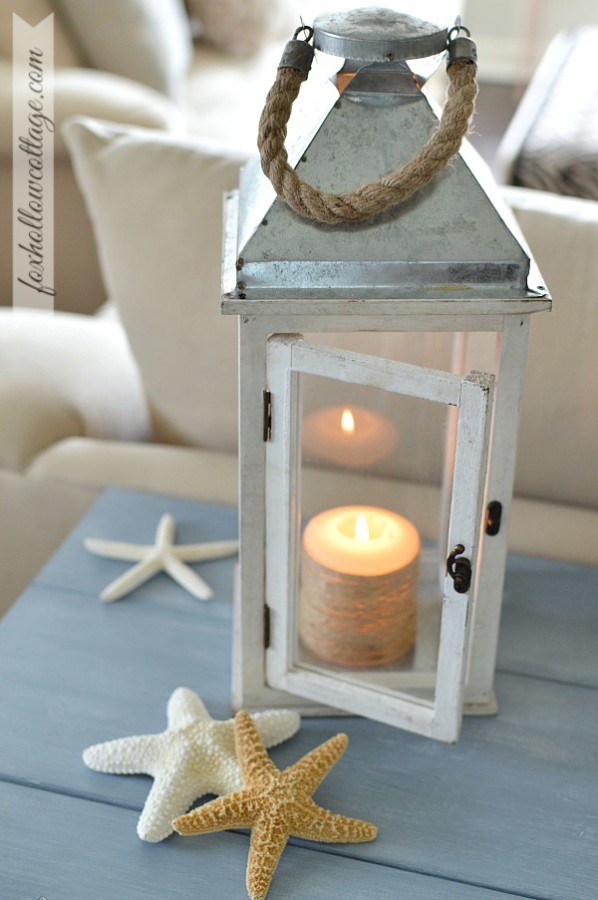 Love this little coastal beauty. –> Coastal Table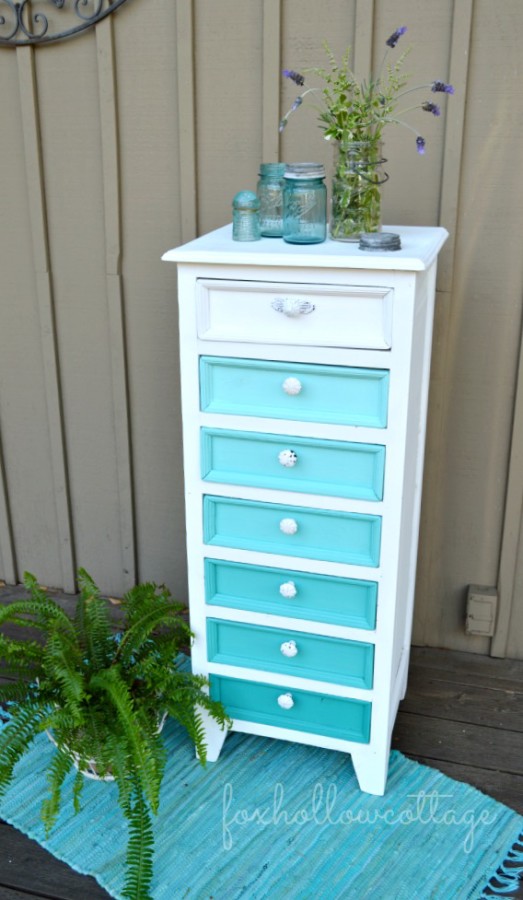 What could be better than Aqua Ombre??? –> Aqua Ombre Chest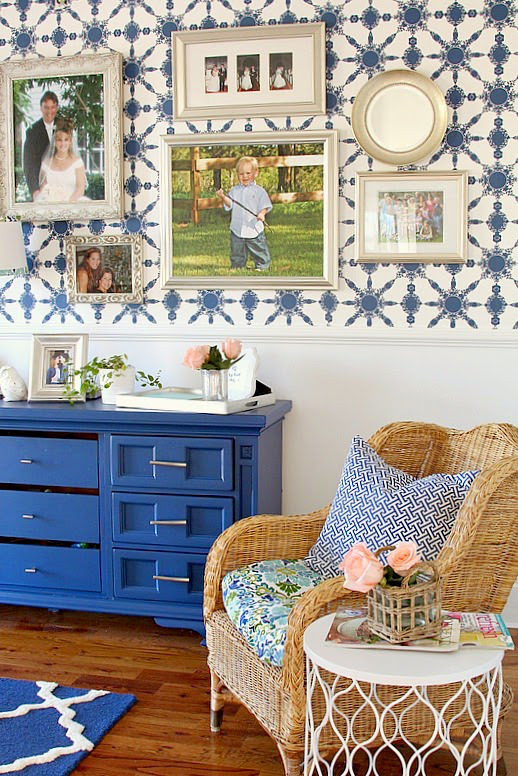 Gorgeous blue makeover! And just look at the pretty blue wallpaper too. –> Blue Credenza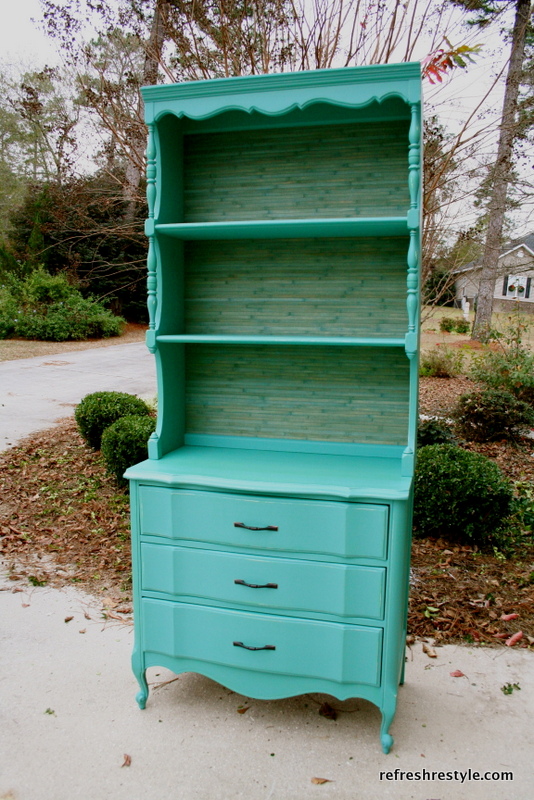 This one is more aqua/turquoise blue….and look at the wallpaper backing…love! –> French Provincial Makeover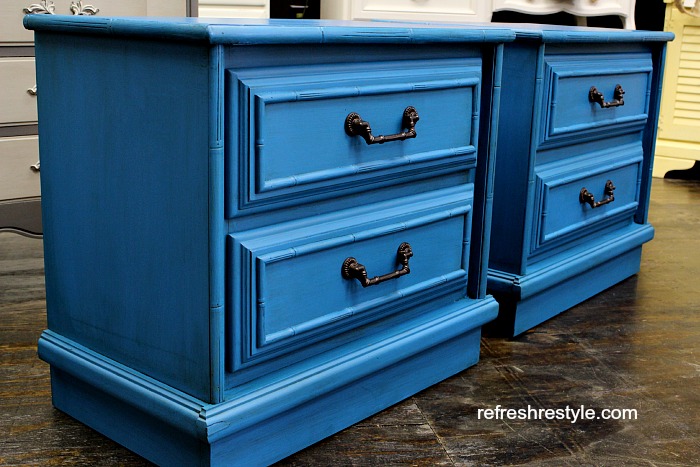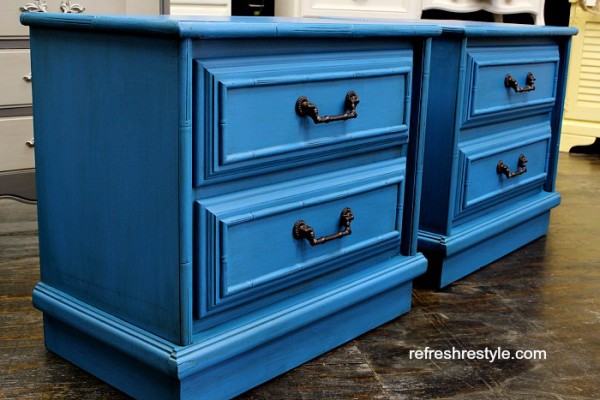 I adore this blue makeover. That shade is amazing! –> Peacock Blue Makeover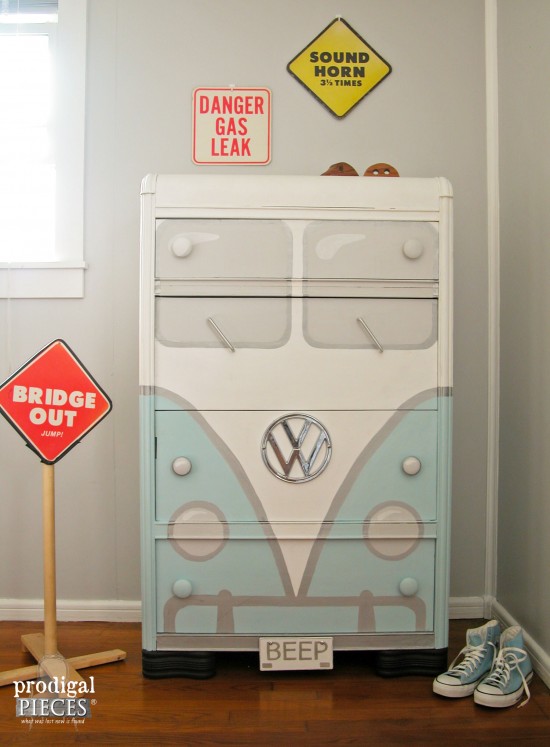 How cool is this piece??? Very! –> VW Bus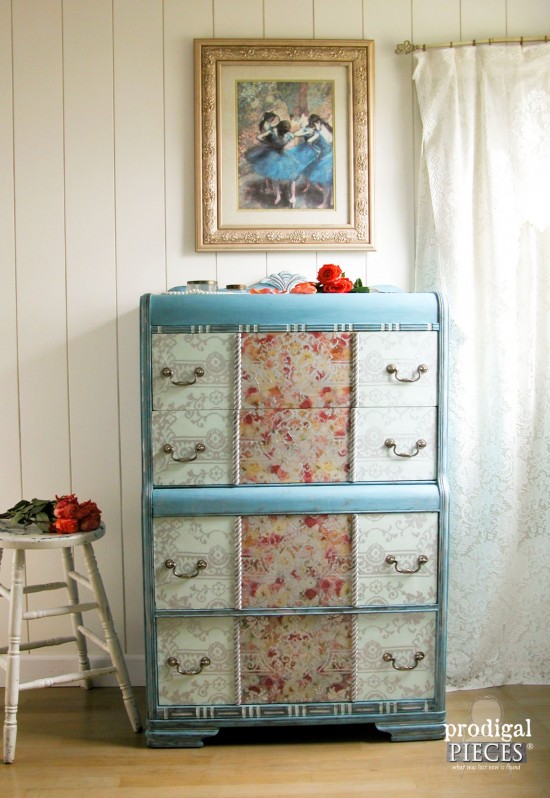 Wow, stunning! How beautiful and unique. –> Boho Chic Makeover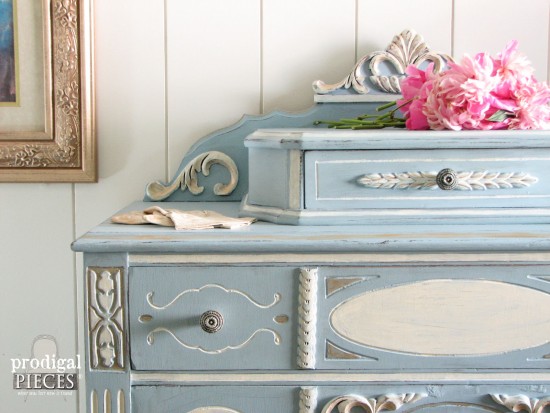 Love this blue and white dresser. The details are amazing and the paint brings them out! –> Ornate Dresser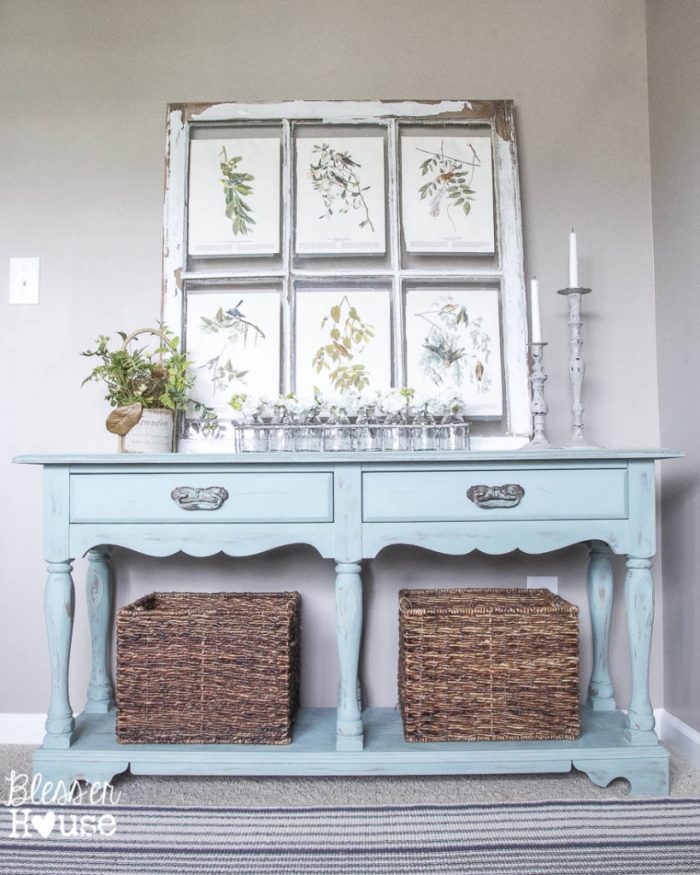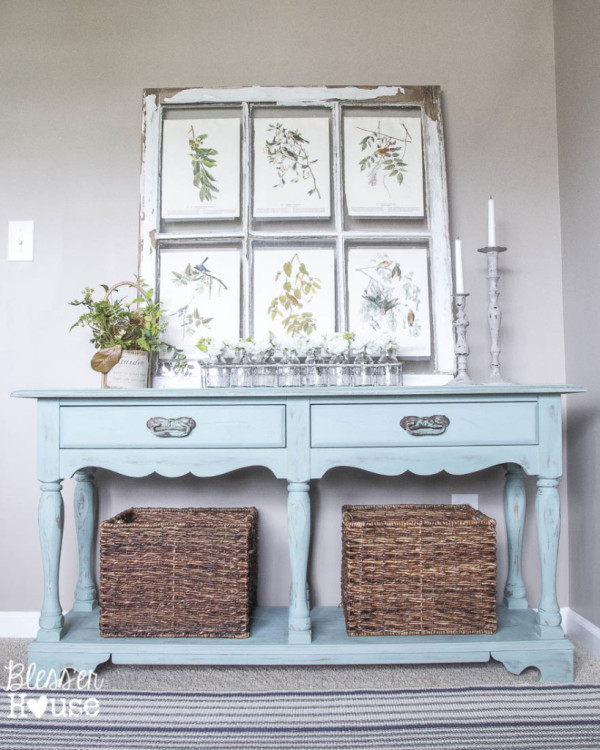 This one would fit right in at my house! ;) –> Beachy Console Table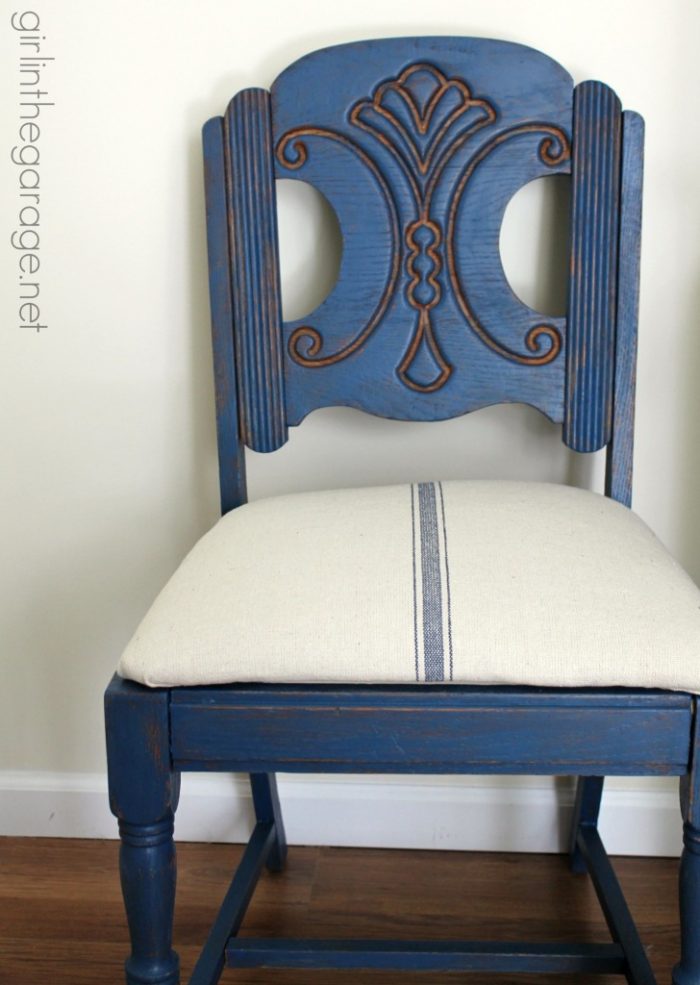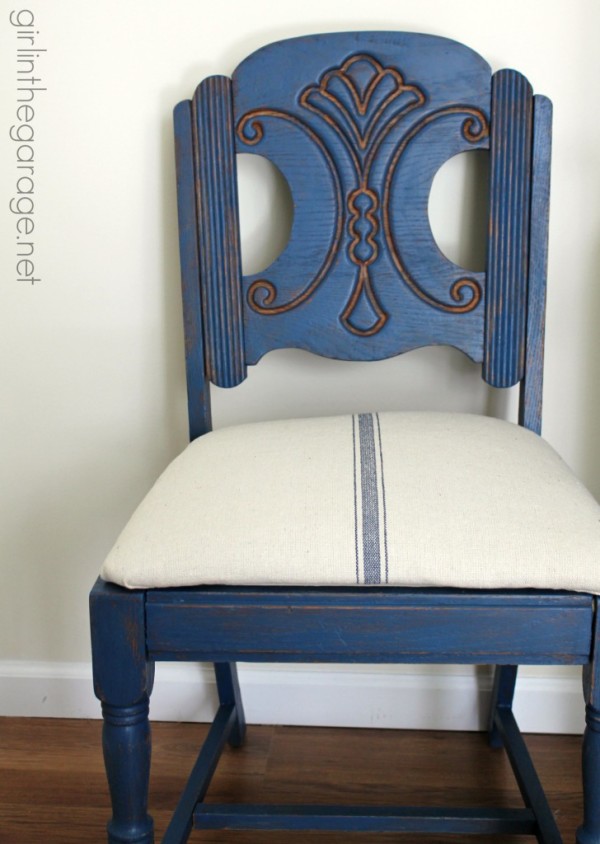 Pretty blue shade and the grain sack stripe is the perfect accompaniment. –> Blue Grainsack Chair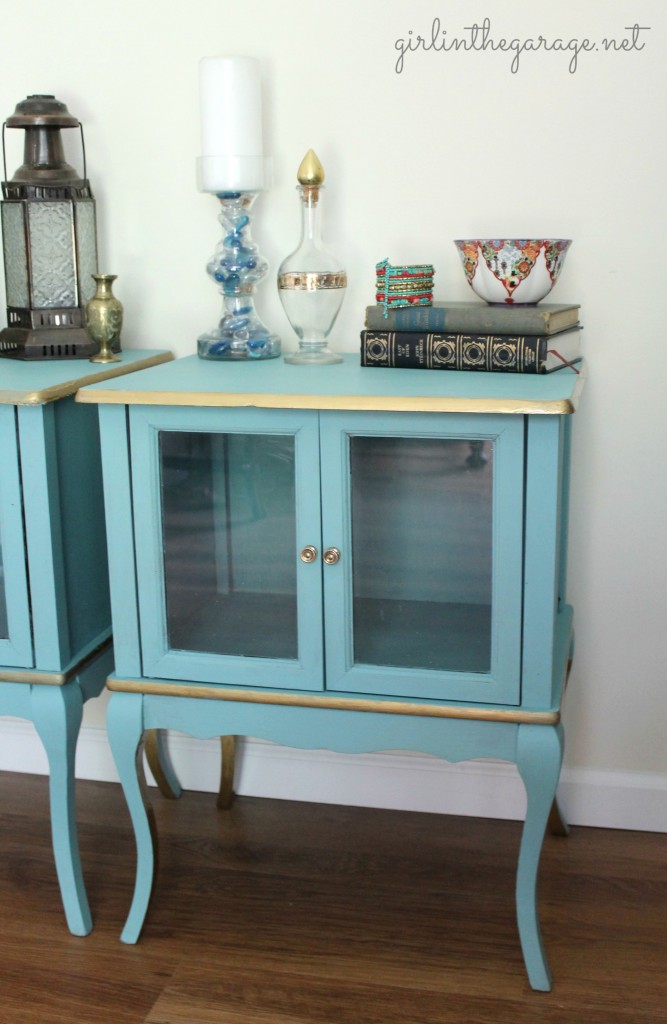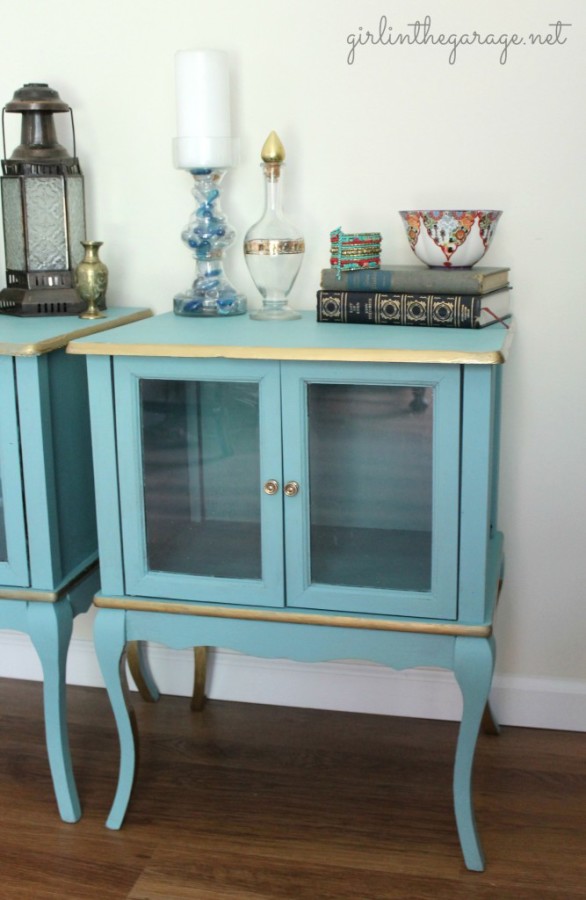 Oh Provence, how I love you! Gorgeous with the gold. –> Gilded Twin Tables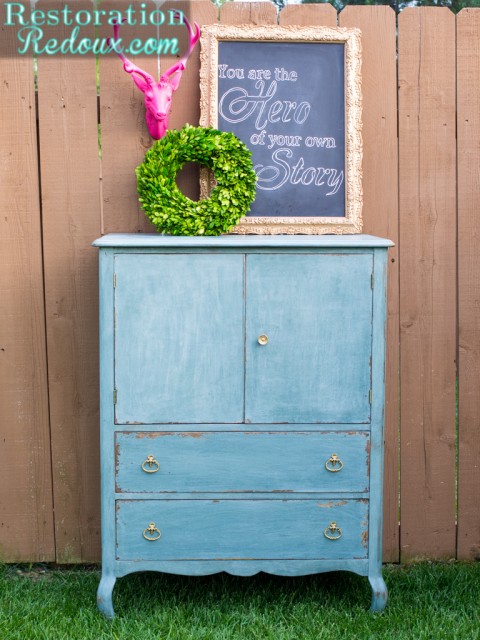 Love the blue of this pretty milk painted piece. –> Milk Painted Dresser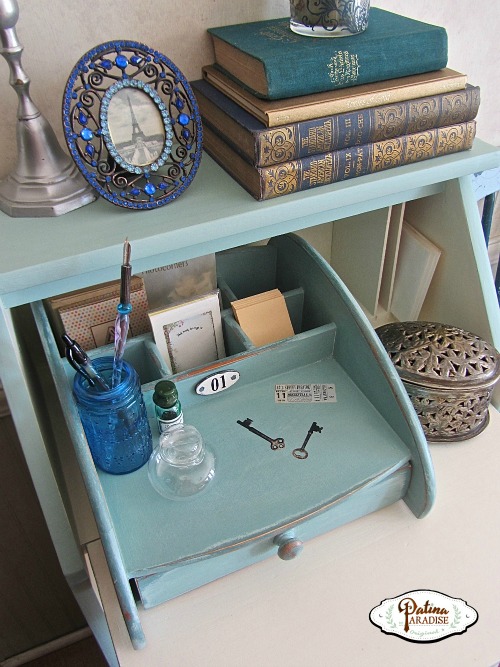 Desktop organizer ….. blue, what else? ;) –> Desk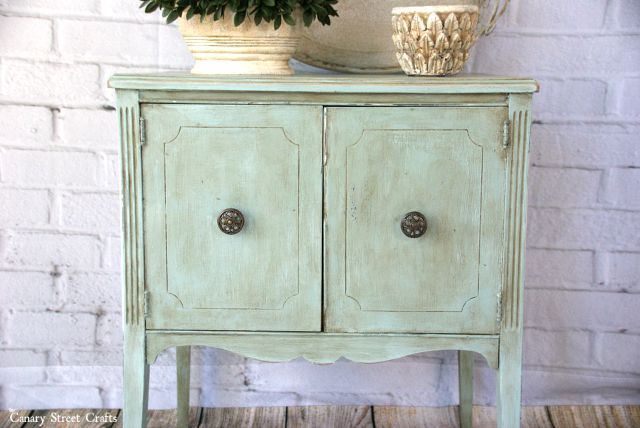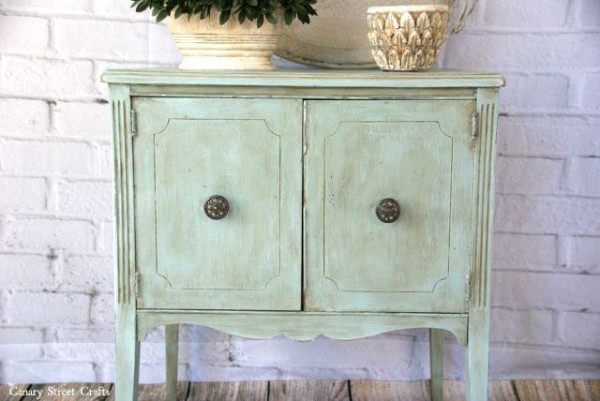 Duck Egg Blue…you can never go wrong. –> Blue Cabinet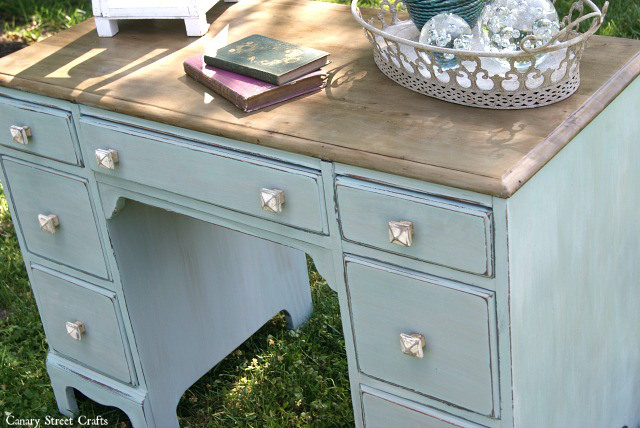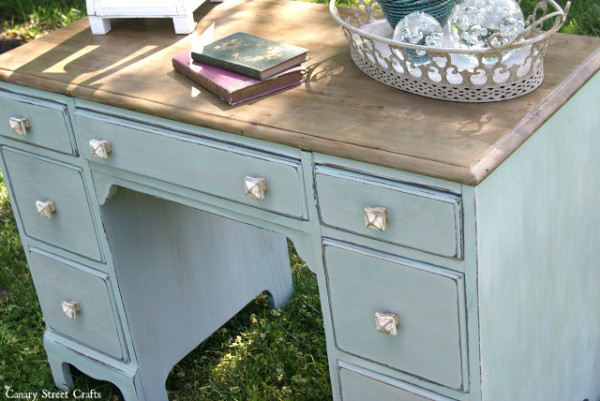 Another Duck Egg Beauty….and the weathered top, love! –> Duck Egg Desk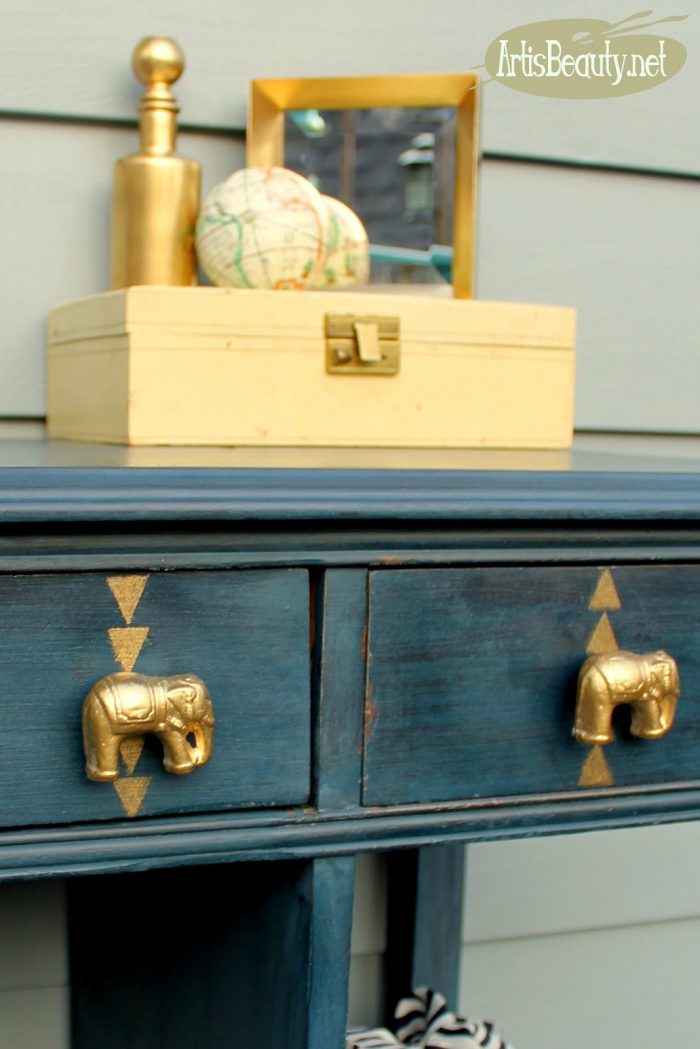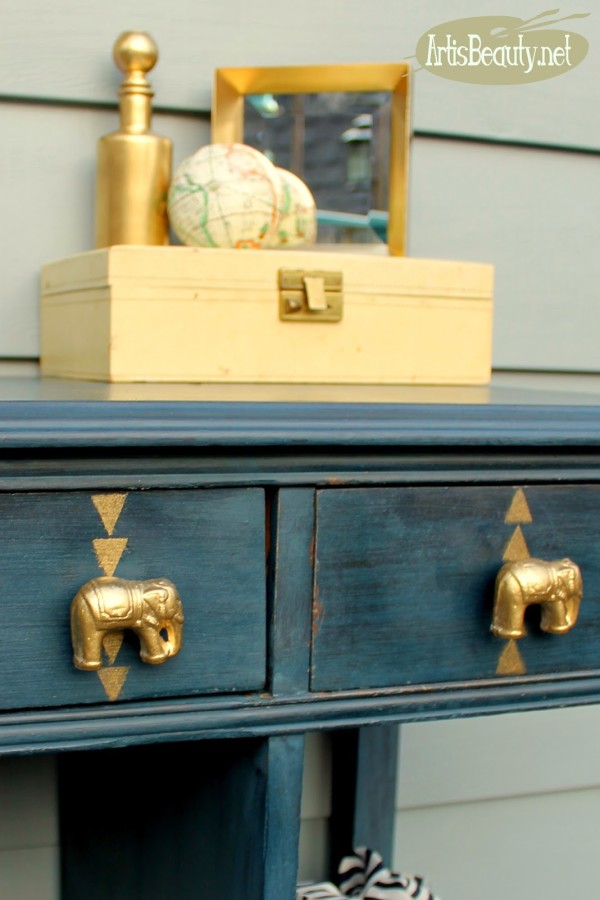 See? There's really just something about blue and gold. –> Blue and Gold Elephants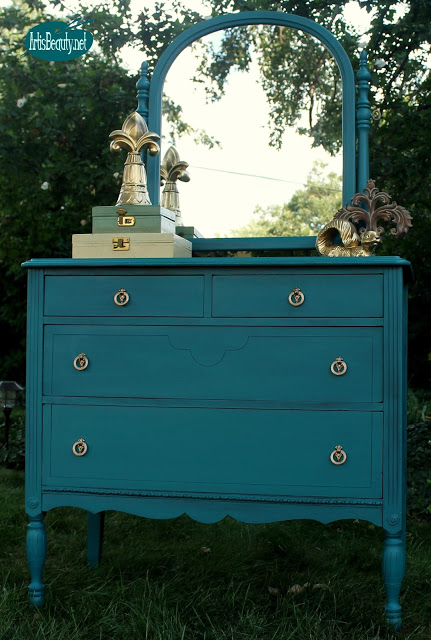 That color……. magnificent. –> Turquoise Dresser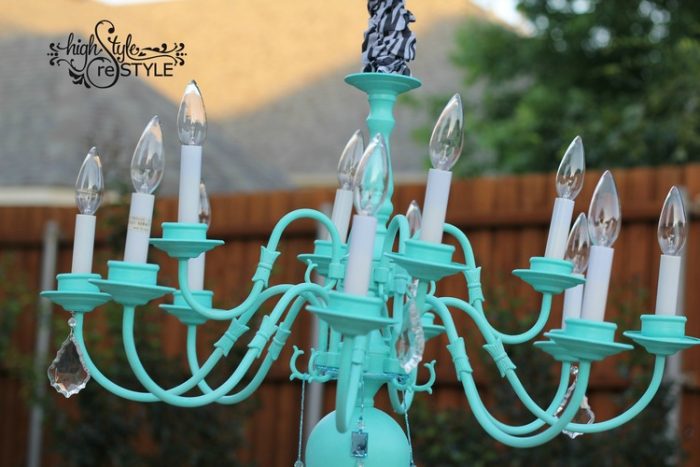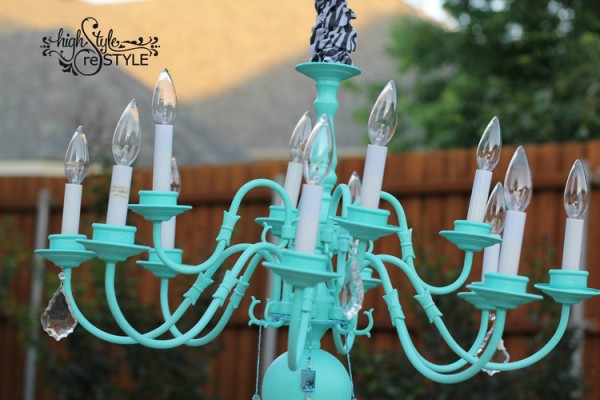 How about a painted chandelier? –> Chandelier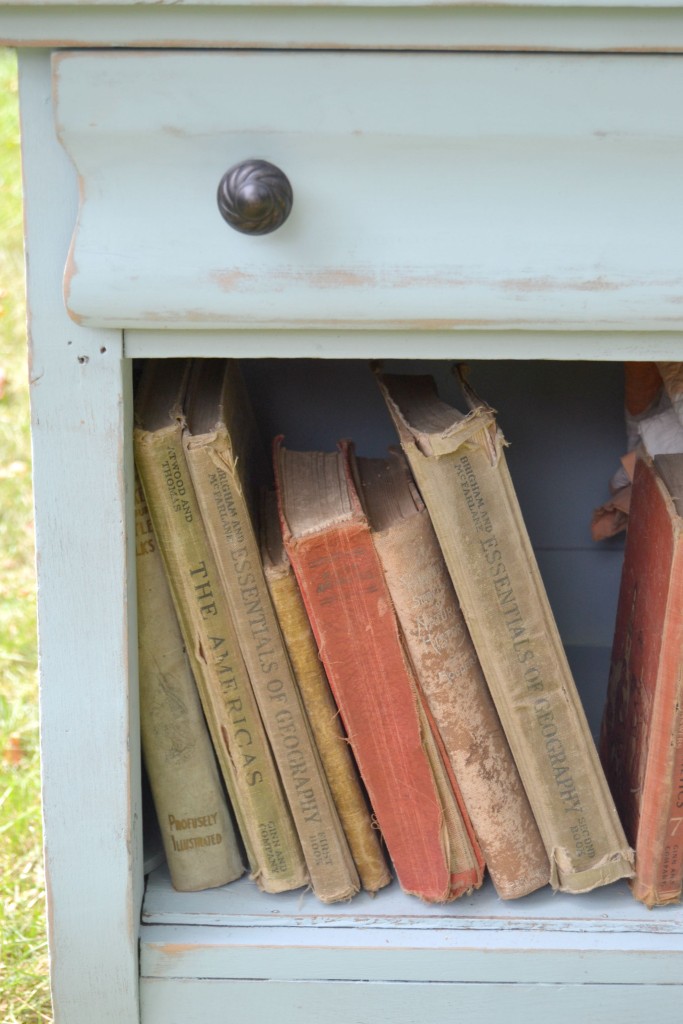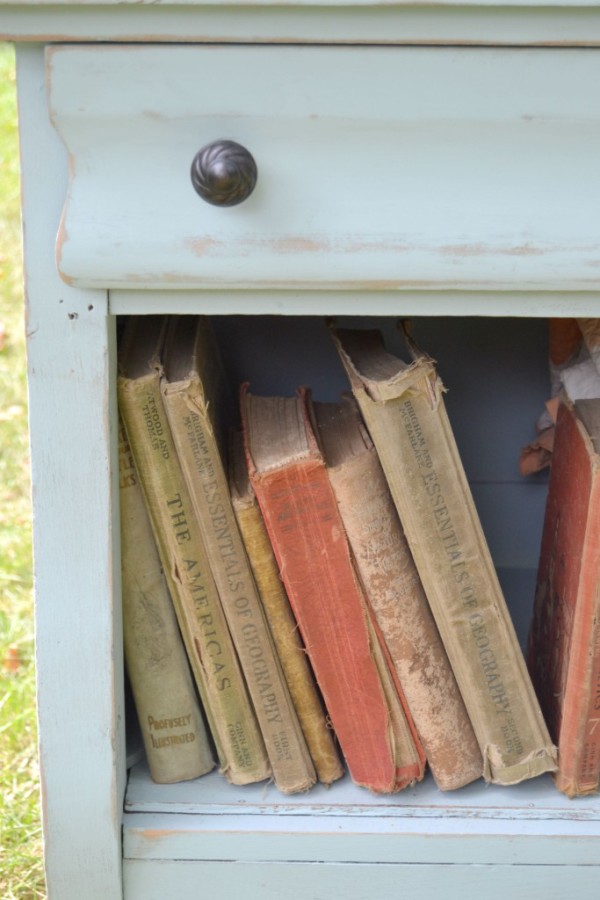 Pale blue French Country lovely. –> French Country Cabinet
Thanks so much to my friends for sharing their lovely makeovers today!
Now here's a few of my favorite blue furniture makeovers…..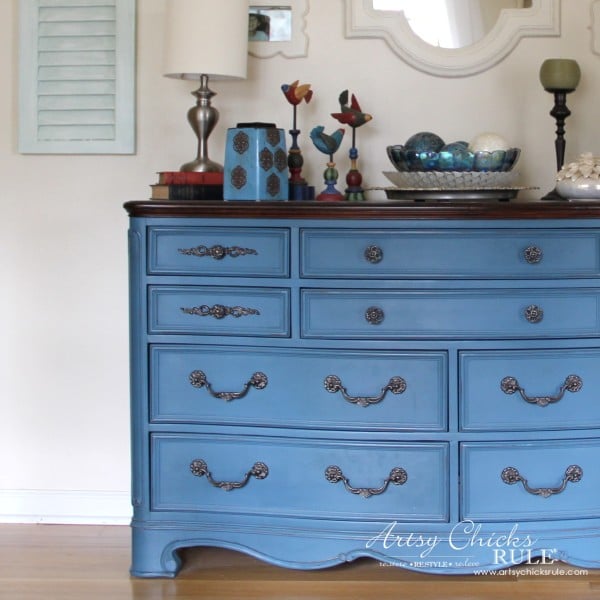 Aubusson Blue Dresser (and the handle I made). –> Aubusson Blue Dresser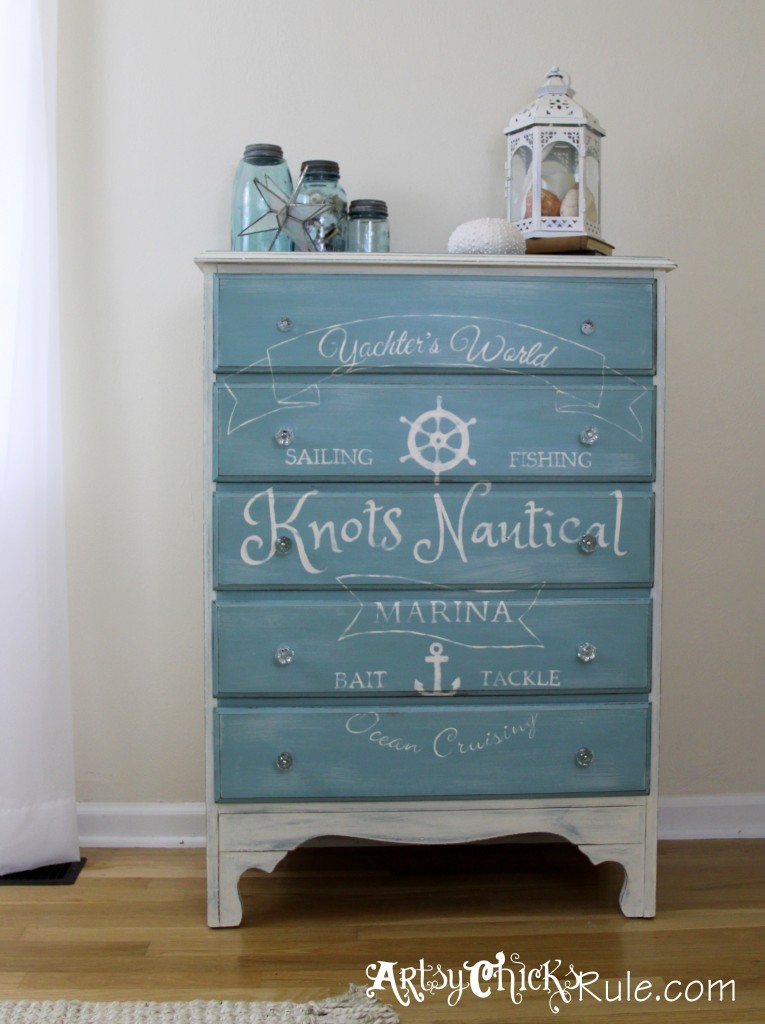 Provence again…it and Aubusson and Duck Egg are my favorites. –> Coastal Chest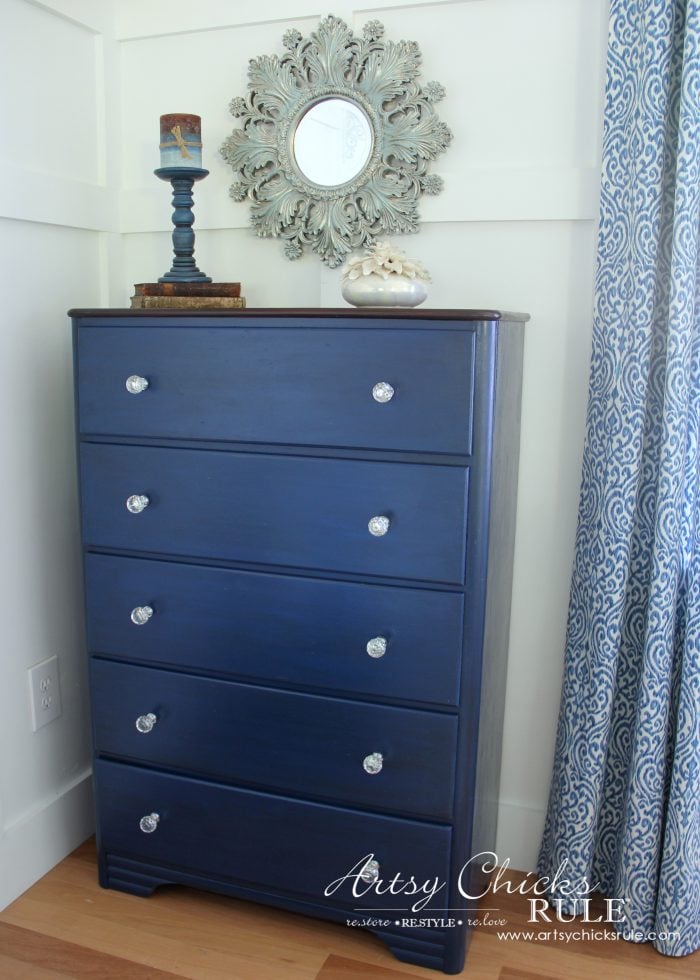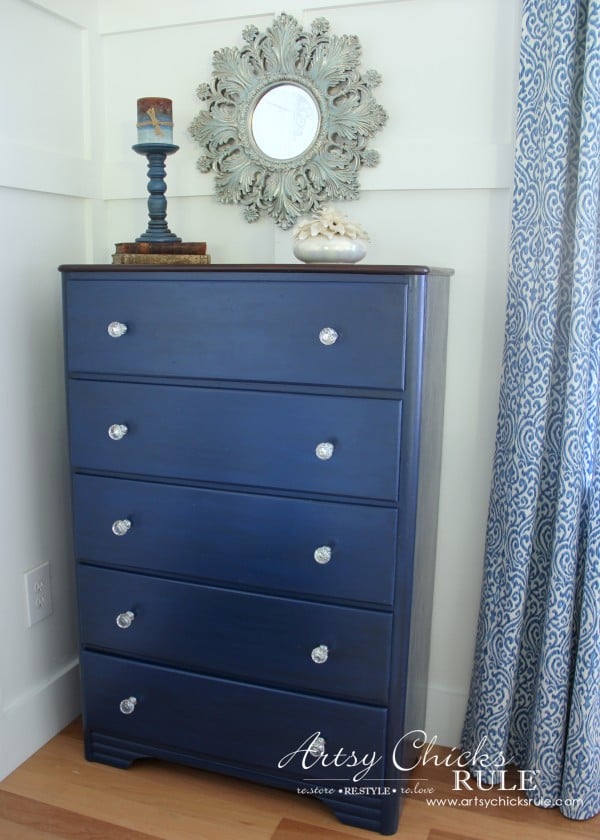 General Finishes Milk Paint mixed to make this gorgeous color. –> Blue Chest with Brown Glaze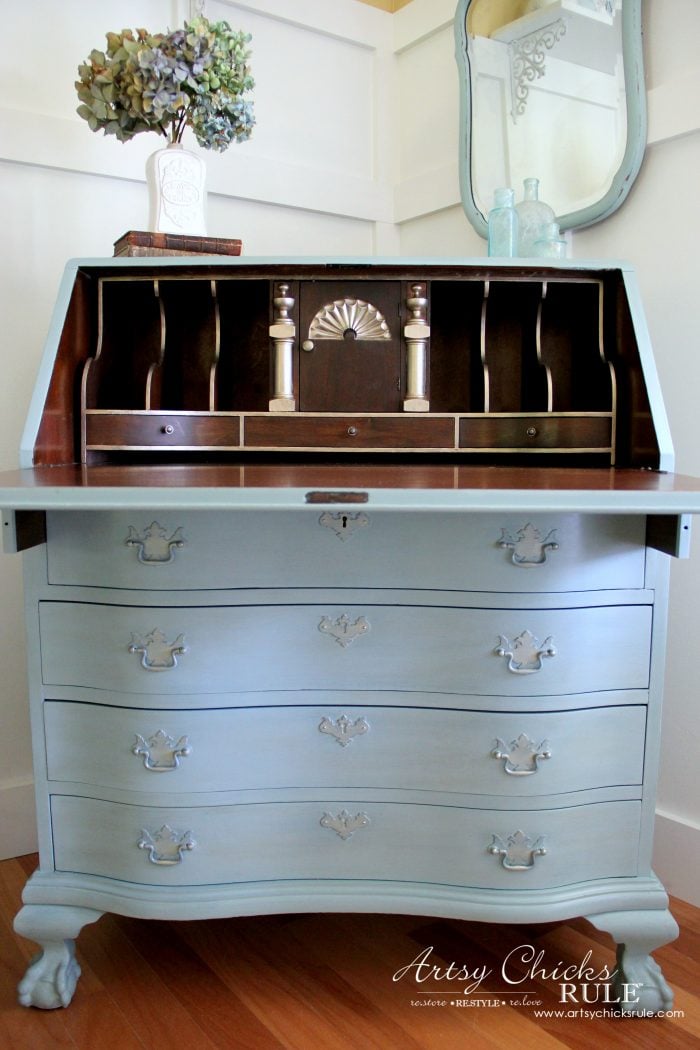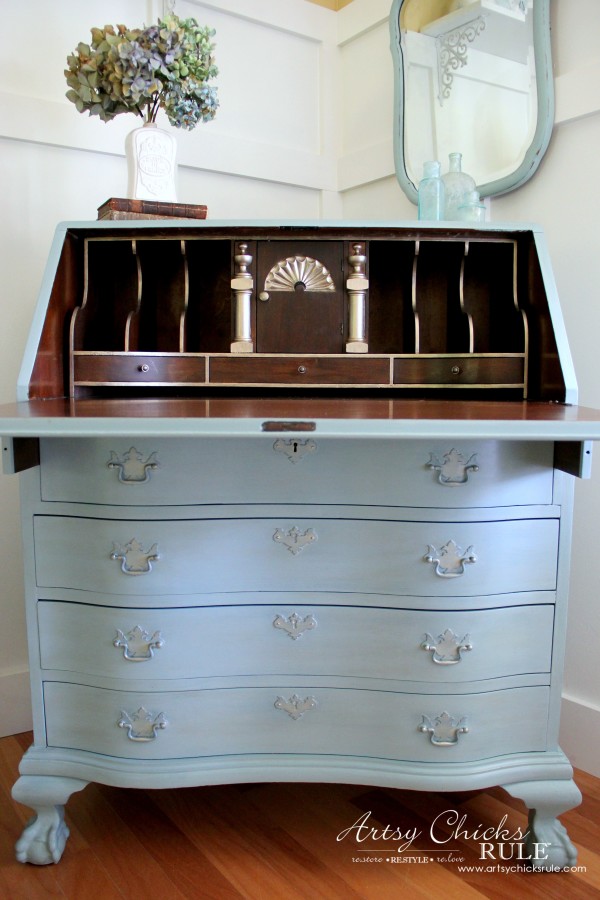 Duck Egg Blue Secretary with 2 colors dry brushed over top. (and some gold touches too). –> Duck Egg Secretary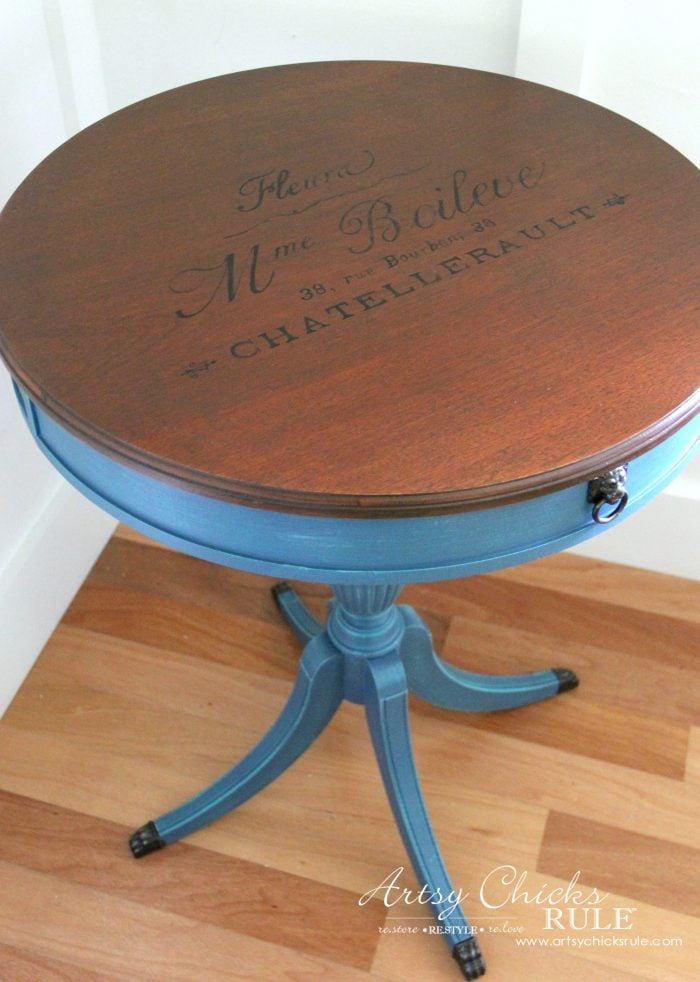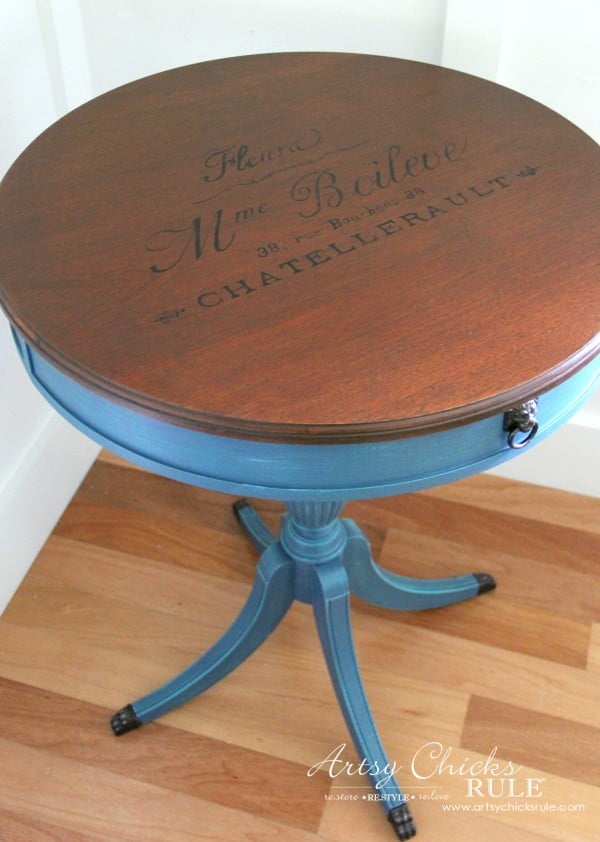 And one of my latest…Aubusson Blue with 2 colors dry brushed over top created the most gorgeous shade of blue. –> Aubusson Blue Frenchy Side Table
I have quite a few more in my Furniture Makeovers gallery (<– click there to see more)
…………………………………………………………………………
I hope you enjoyed all the pretty blue furniture makeovers.
Are you a blue fan too?
If not, I bet there was at least one shade of blue up above that you liked.
There are so many variations!
And yes, I know there are other colors out there but I'm just so drawn to it.
Anyway, take a look at my Furniture Makeover gallery I linked above and you'll see a few other colors.
Not many, but a few. ;)
Plus, I've got quite a few pieces of furniture to be painted in my storage unit and I'm planning something other than blue.
Gotta mix it up a bit. ;)
See you on Thursday with another furniture makeover….and guess what? It's not blue! : )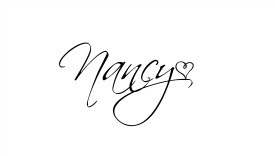 Follow along! –> Instagram ~ Facebook ~ Pinterest ~ Bloglovin