Thrifty Mirror to Chalkboard (Trash to Treasure)
This post may contain affiliate links. Please see disclosures here.
I love Trash to Treasure Tuesday.
Probably because I love any excuse to create something out of nothing.
Or…out of something someone else discarded.
It's so much fun to see what it can be.
Like this thrifty mirror to chalkboard I made for today……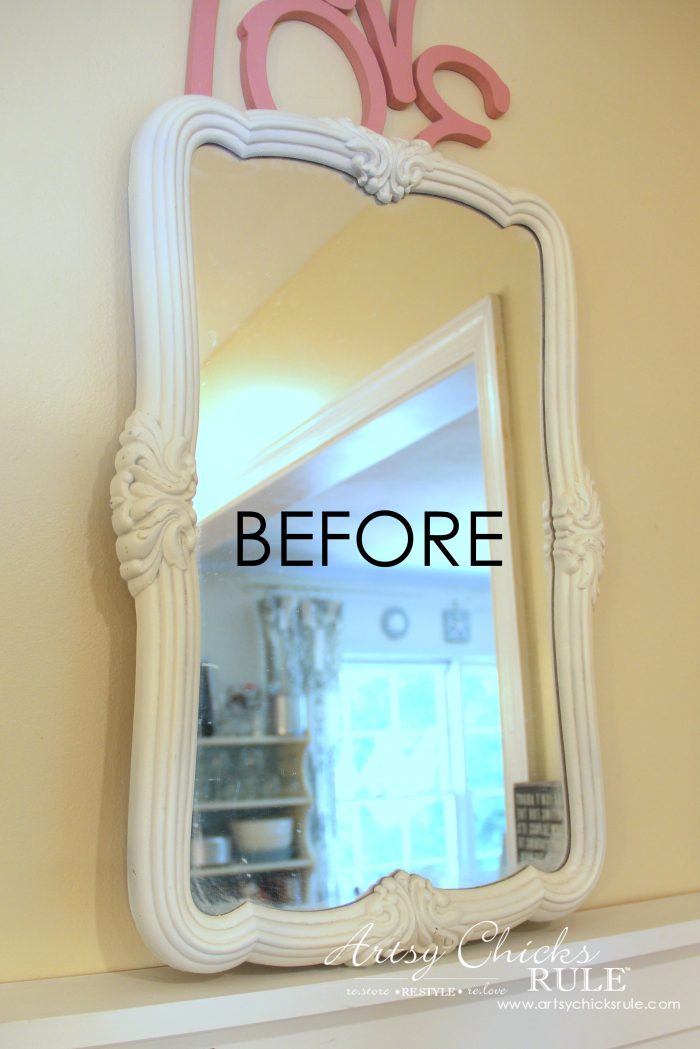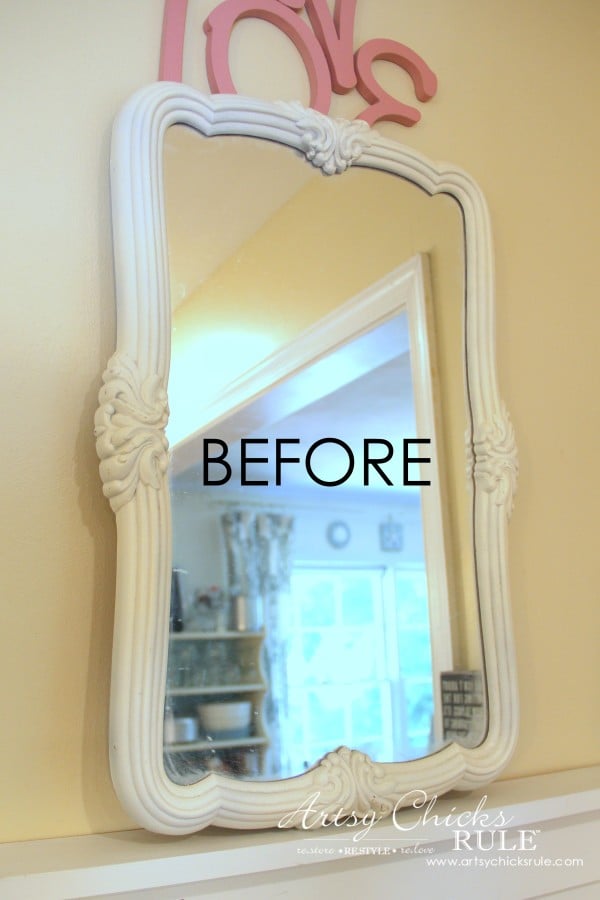 It was actually a putty brown color (not attractive!) when I found it.
I spray painted it off white a few years ago and then never did a thing with it.
Into the pile it went.
I thought I'd taken a "before" photo but couldn't find one. So this is about as "before" as you get. ;)
I've recently been designing a bit of a makeover in my Master Bedroom (<–see it here) and decided to use this in there.
What a sweet place to write notes to my husband, and he to I, right?
Like this….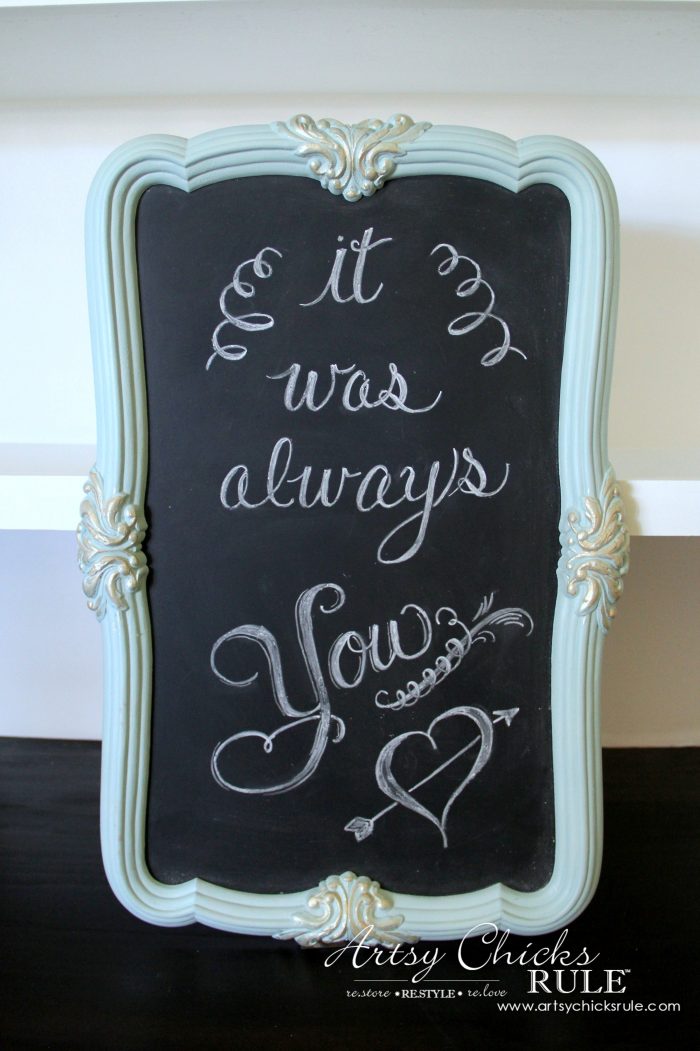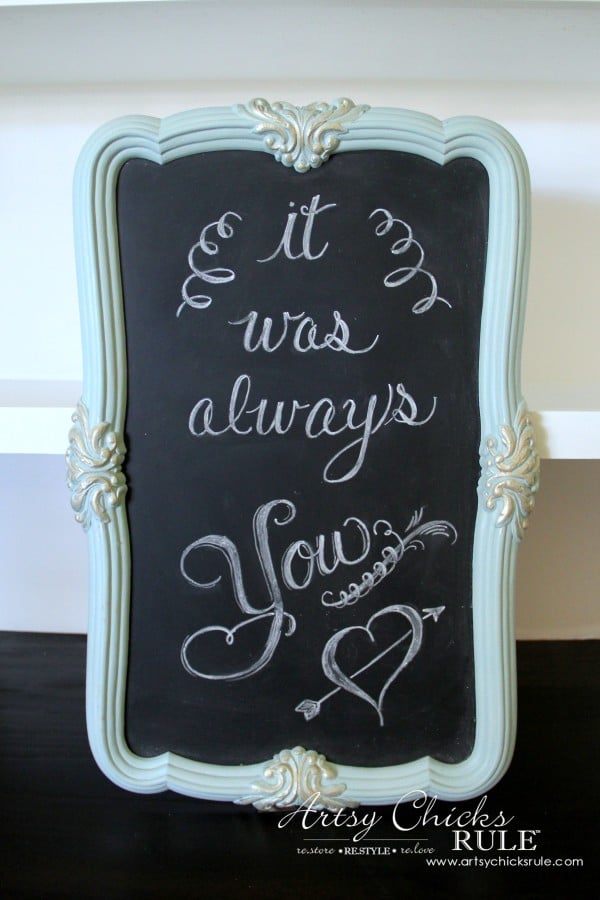 I'm including a few affiliate links for your convenience below. See full disclosure here.
I spray painted the frame, added a touch of gold (after, you'll see ;) ) and did a bit of hand written chalk lettering.
I need a bit more practice on doing this from complete scratch. I'm great at writing and copying what I see or transferring (as I've shown all over this blog).
But straight out of my head…well, practice makes perfect, right?
I saw this fabulous book on Instagram recently and had to purchase it.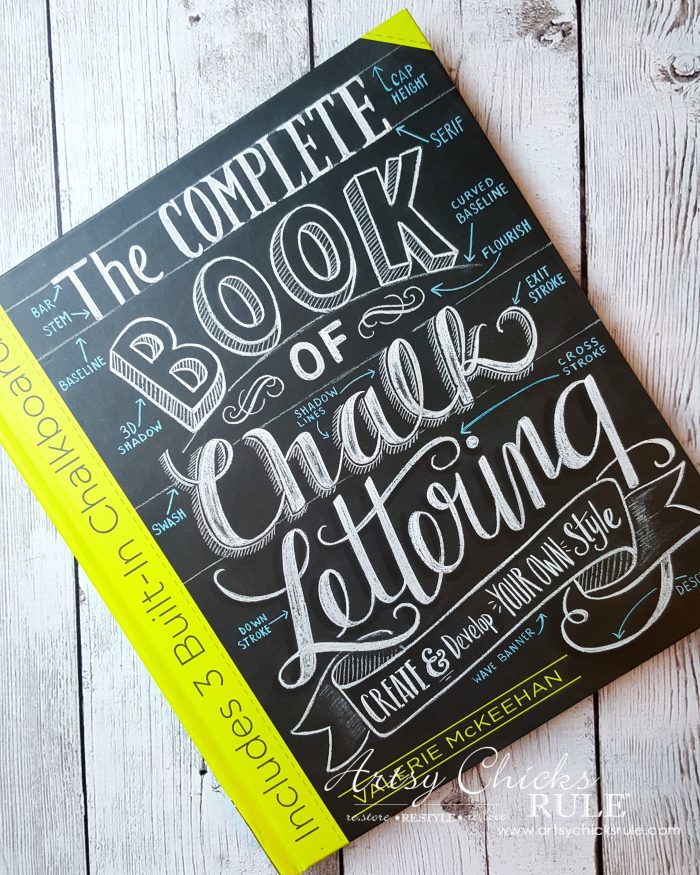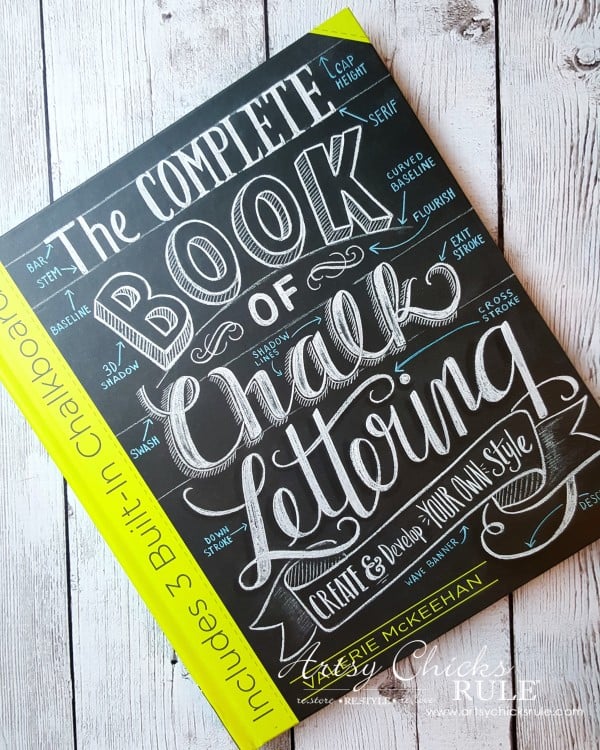 It just came out and I'm so excited to get practicing.
I did use a few of the flourishes from the book when doing my chalkboard sign.
You can find the book here …. The Complete Book of Chalk Lettering: Create and Develop Your Own Style
…. so you can practice too! ;)
For the mirror turned chalkboard, I first took it apart and sprayed the frame in Rust-Oleum All Surface Spray Paint, Matte Robin's Egg
.
LOVE this color.
Then I took the mirror out, turned it over and sprayed the backside with Rust-Oleum Chalkboard Spray Paint.
That way, if I ever want it to be a mirror again, I can just turn it back over.
I put the mirror back in with the new chalkboard side facing out.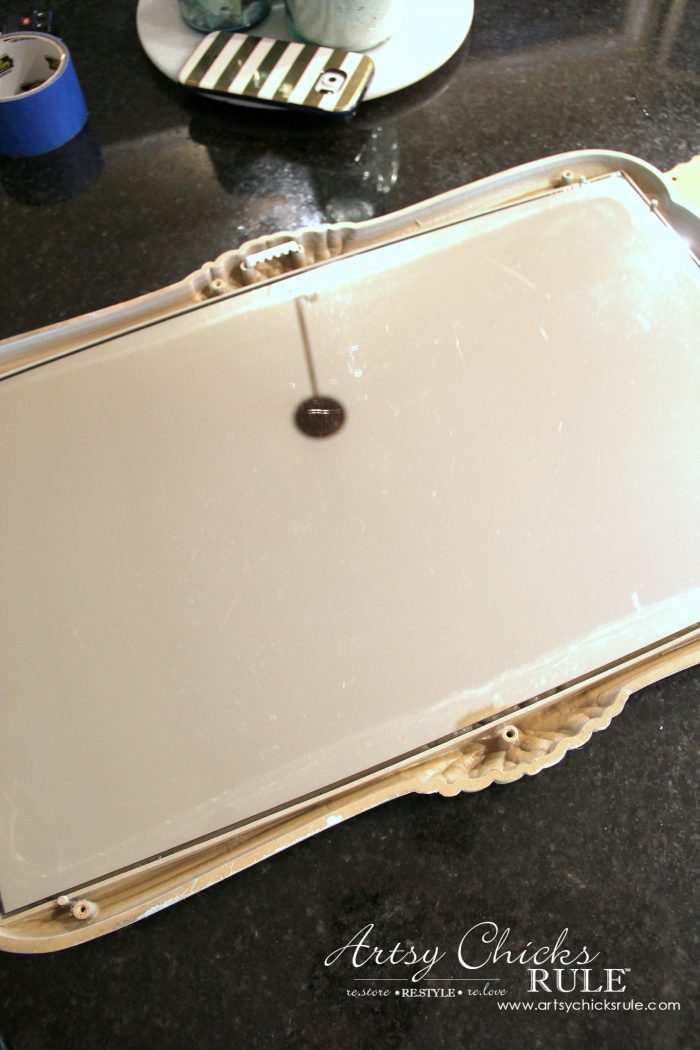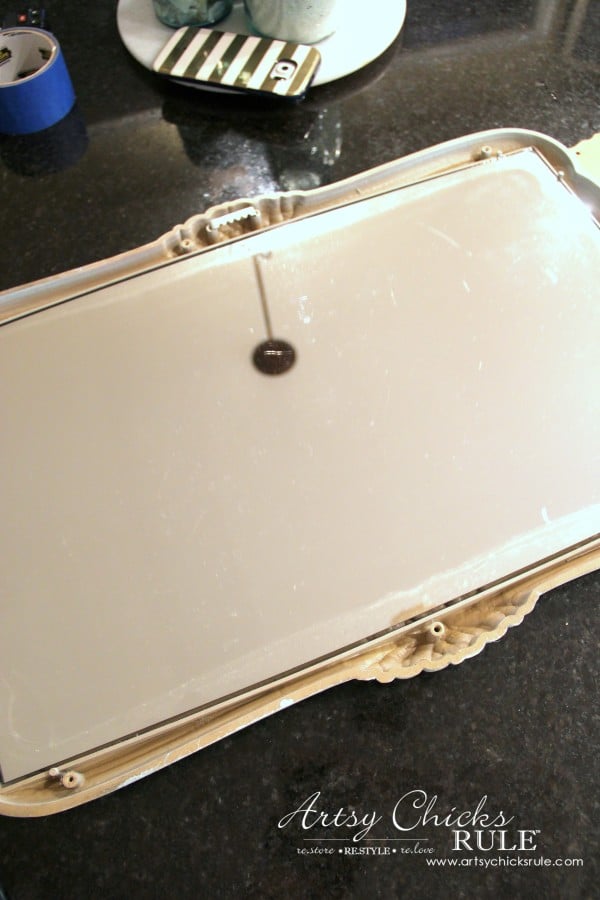 You can see I got this for $3.98.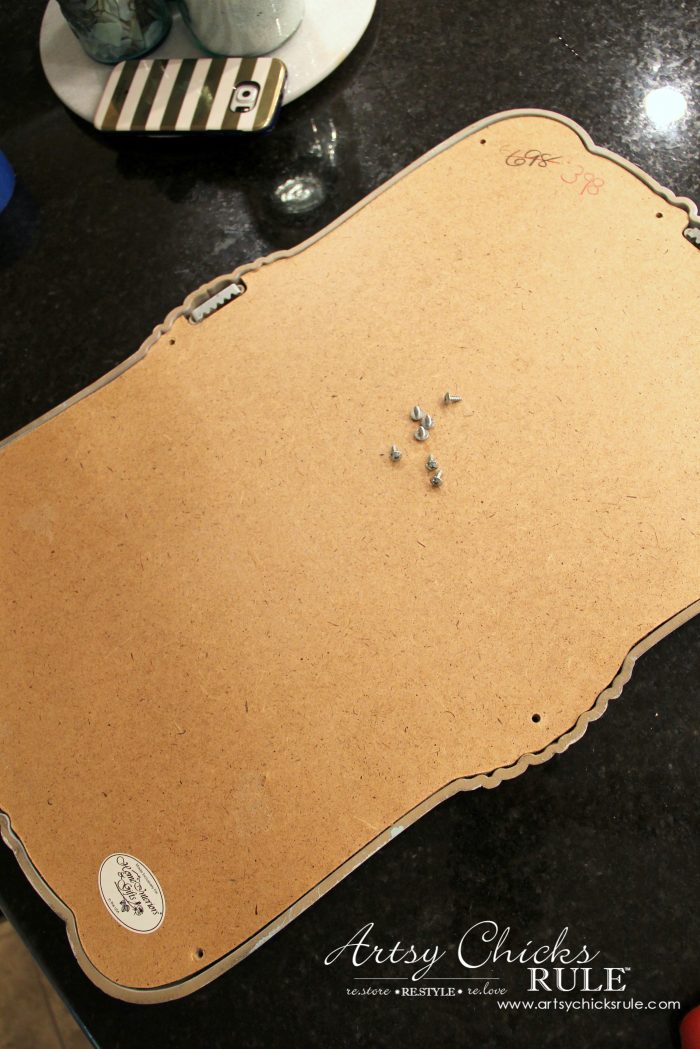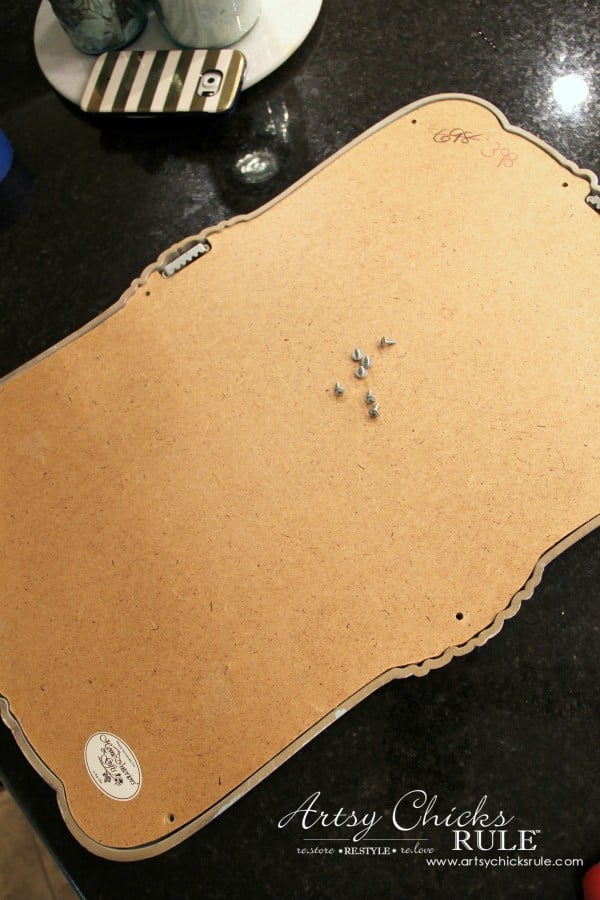 Then I got to writing. :) Ack, blank page! ;)
What to do?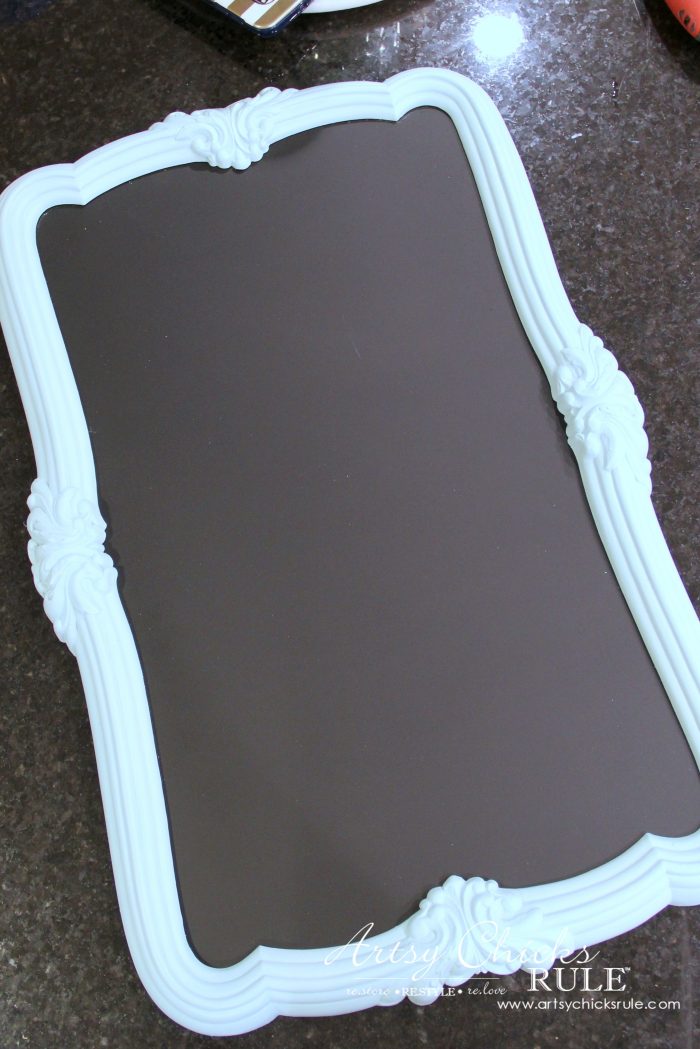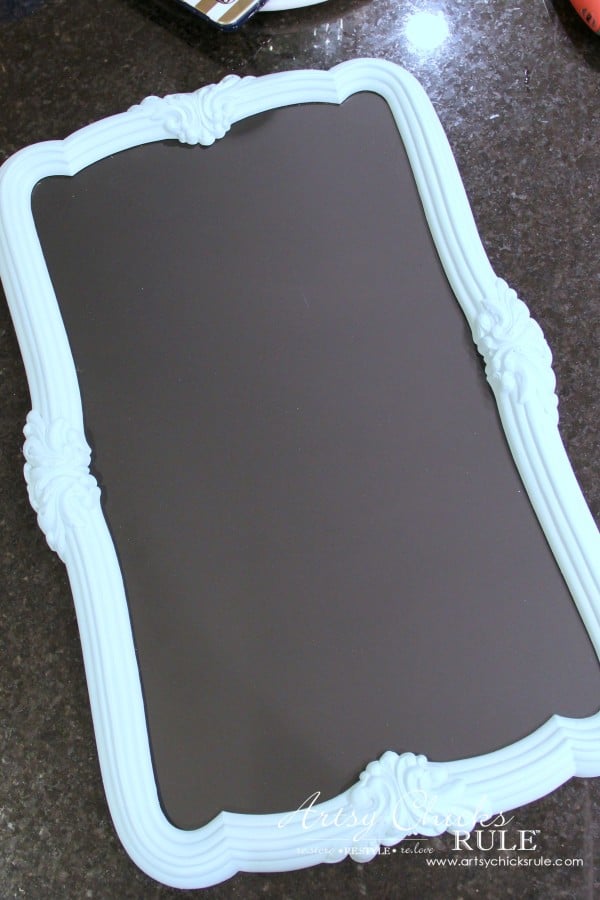 I primed the chalkboard first by rubbing it with chalk all over (then wiping that away).
Then I chose this quote and got started.
I did erase a few times to get it how I wanted it.
And this was done pretty quickly actually. I can't wait to play around a bit more.
I'm *thinking* about changing my kitchen gallery wall (<–see it here) and putting up a large chalkboard.
(and then moving the Eat, Pray, Love to another wall done differently…oh, if there were only more hours in a day! ;) )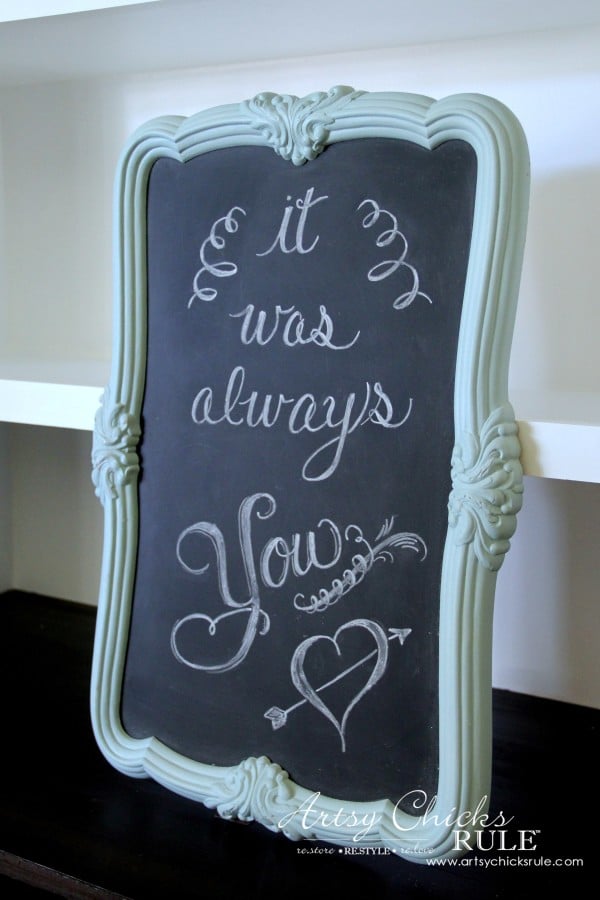 I thought I was done until I looked at my photos…..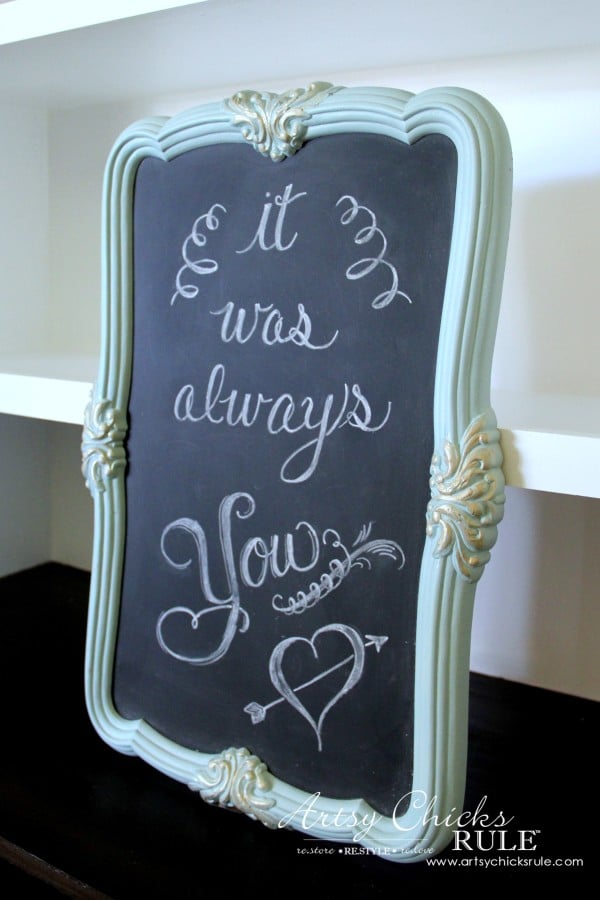 …. and realized those embellishments needed a bit of embellishment! ;)
So I added a bit of Martha Steward Gold Metallic Paint (The Home Depot).
See the difference in the two photos above?
And below?
Blah…..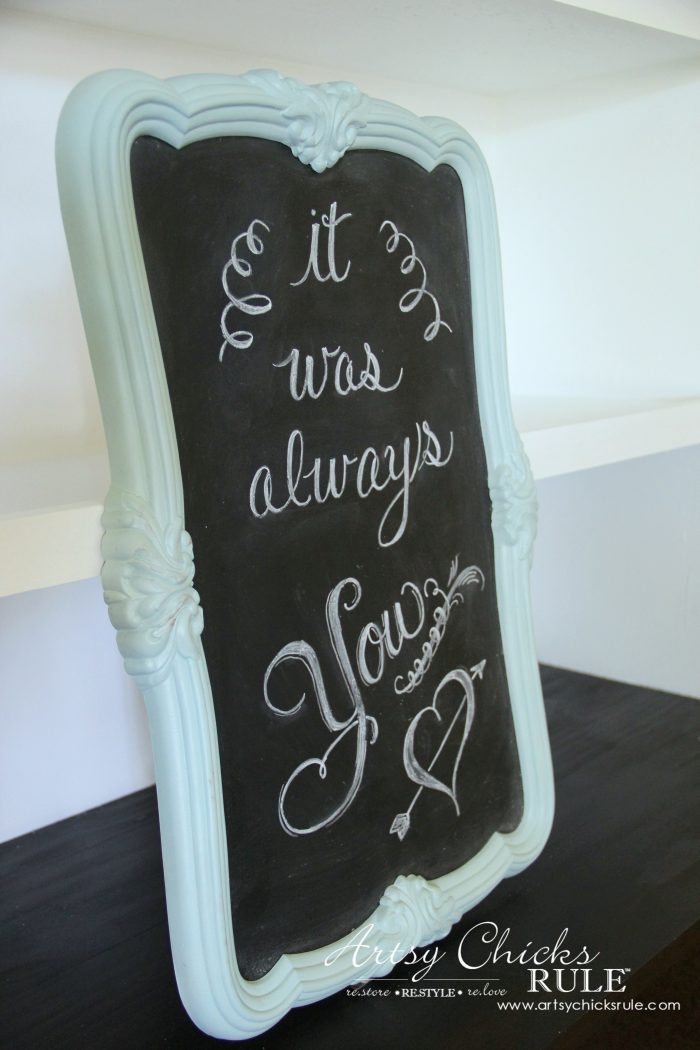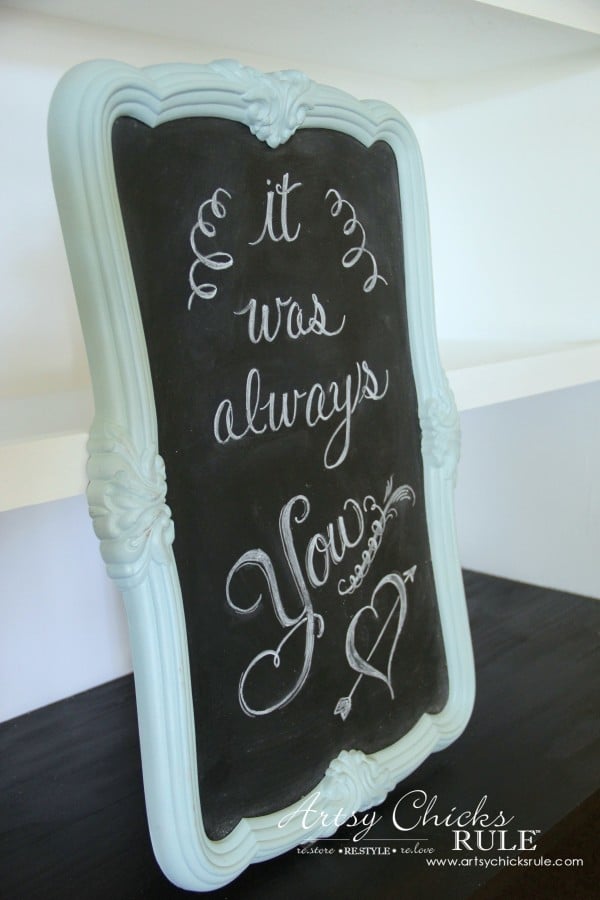 Better…..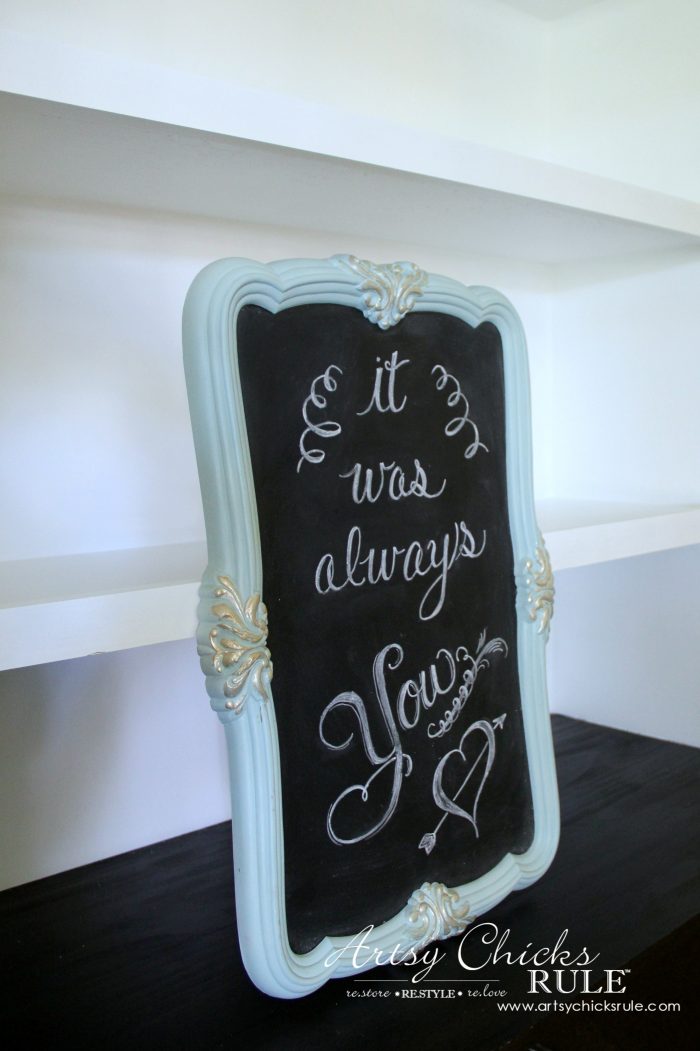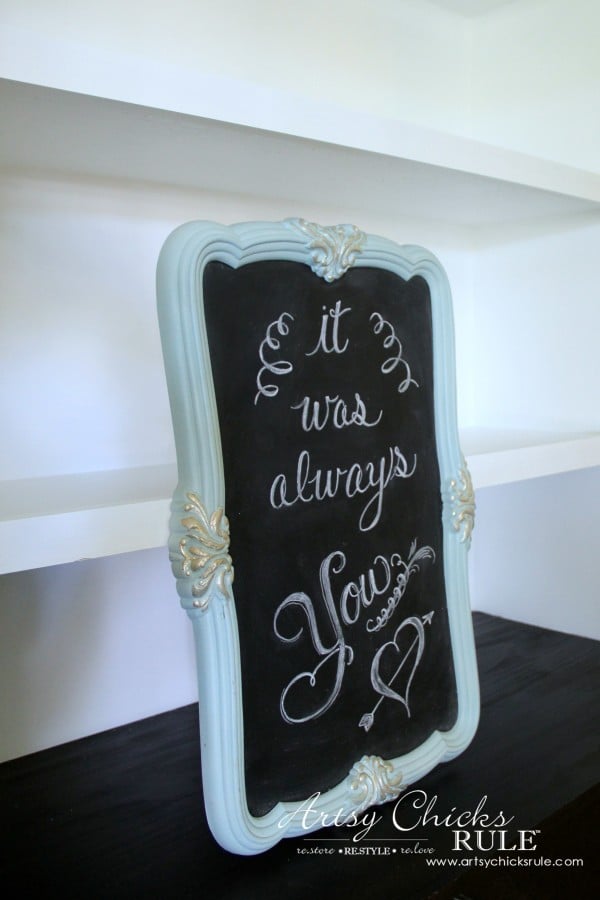 And check out that super cool bookcase!! ;)
I'll be finishing up that wood top there (too dark, going "weathered" wood) and styling it soon!
Yay! Can't wait. I could almost cry, I'm so happy it's finished! ;)
So, do you like it better without the gold touch…..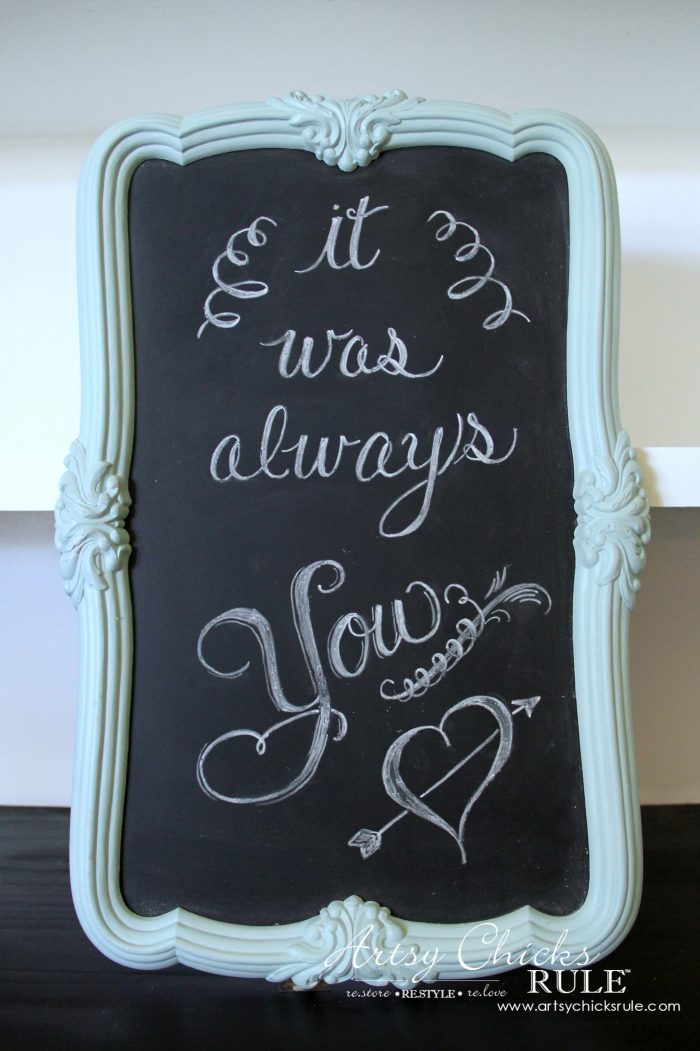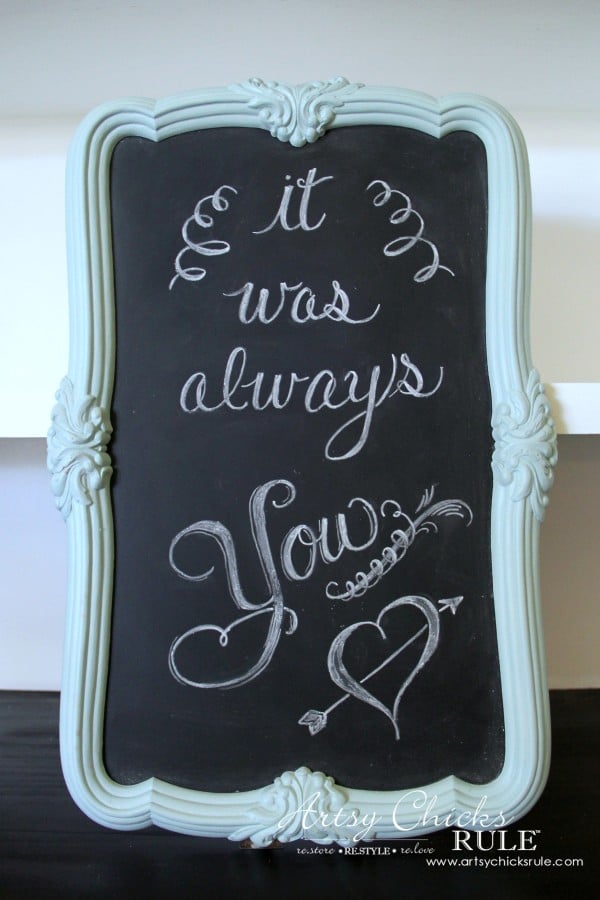 …or with?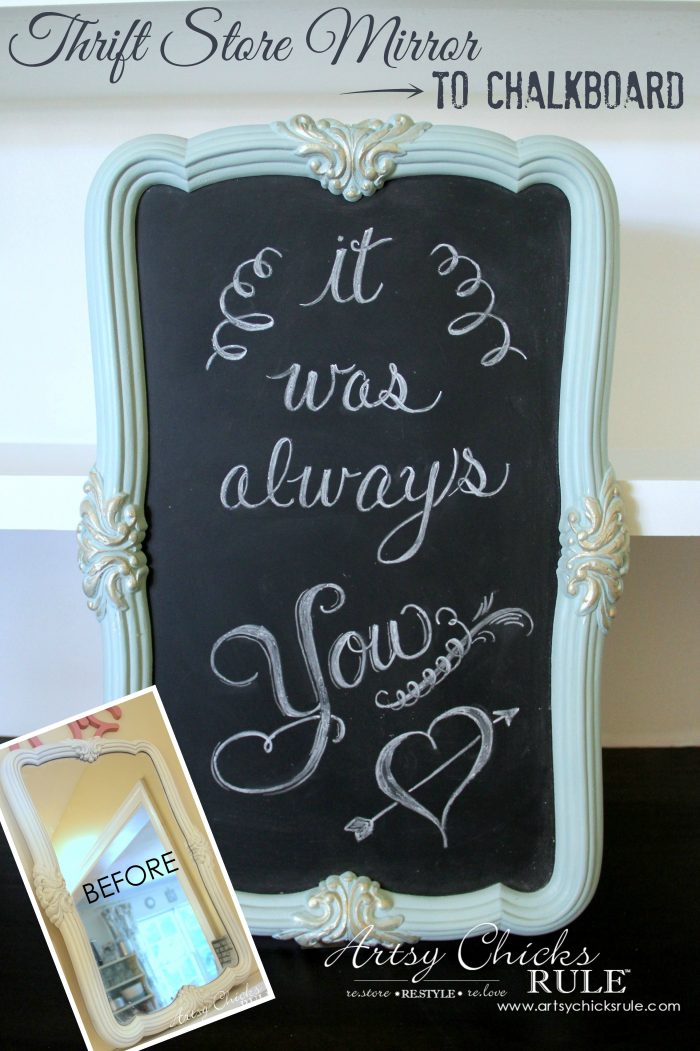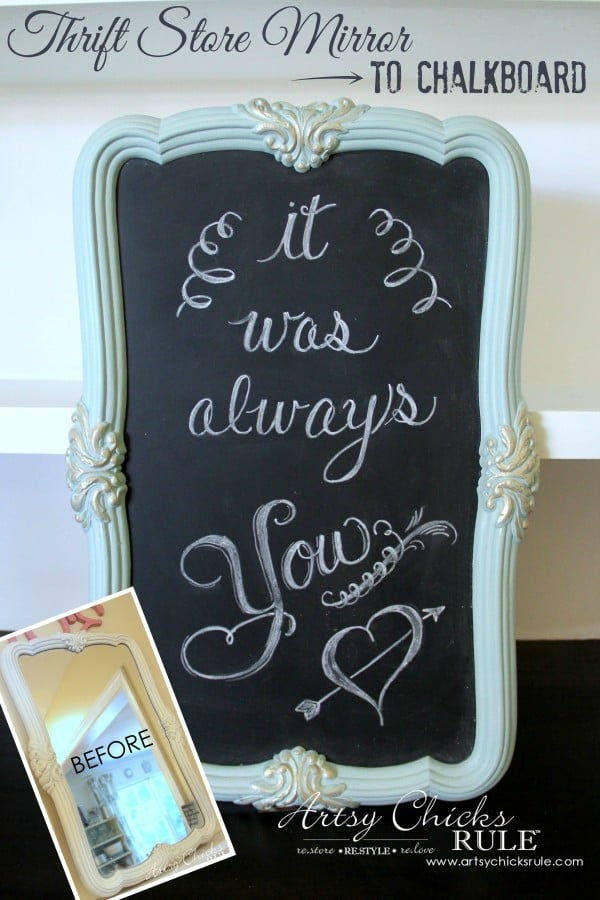 How about the chalk lettering?
Have you tried it?
It's fun to do! I'll be practicing. :)
By the way, I'll be sharing this in the bedroom once I decide which wall it will go on.
I'm thinking right by the door so my husband and I can leave each other notes are our way out.
Don't forget to go by and see how my friends transformed these "treasures" below!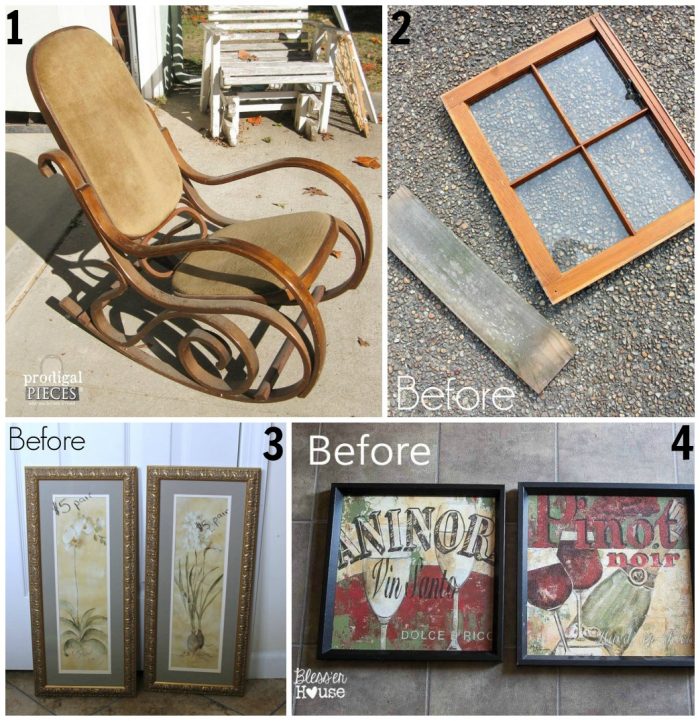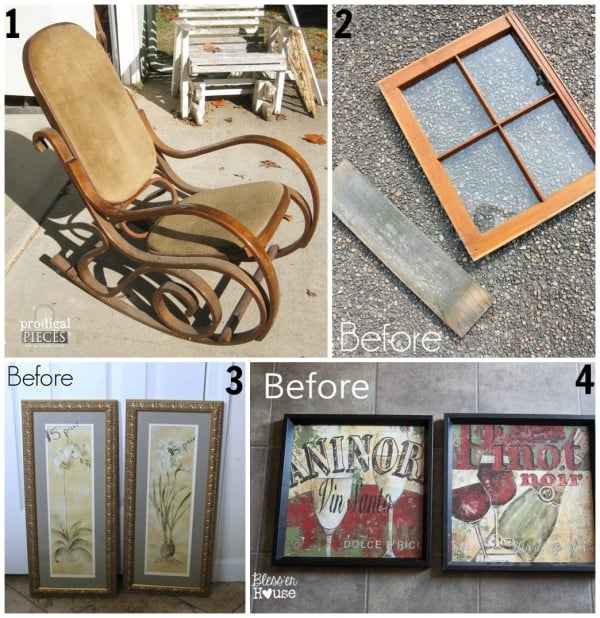 Enjoy and be inspired!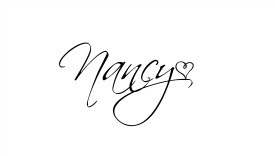 Follow along! –> Instagram ~ Facebook ~ Pinterest ~ Bloglovin