$15 Beverage Cart Goes Glam (simple transformation!)
This post may contain affiliate links. Please see disclosures here.
This poor old beverage cart need some cleaning p, a little paint and maybe a mirror or two!
Hey Friends!
It's "Trash to Treasure" Tuesday and my friends and I are sharing our finds and makeovers with y'all today.
I'm sharing this….. Beverage Cart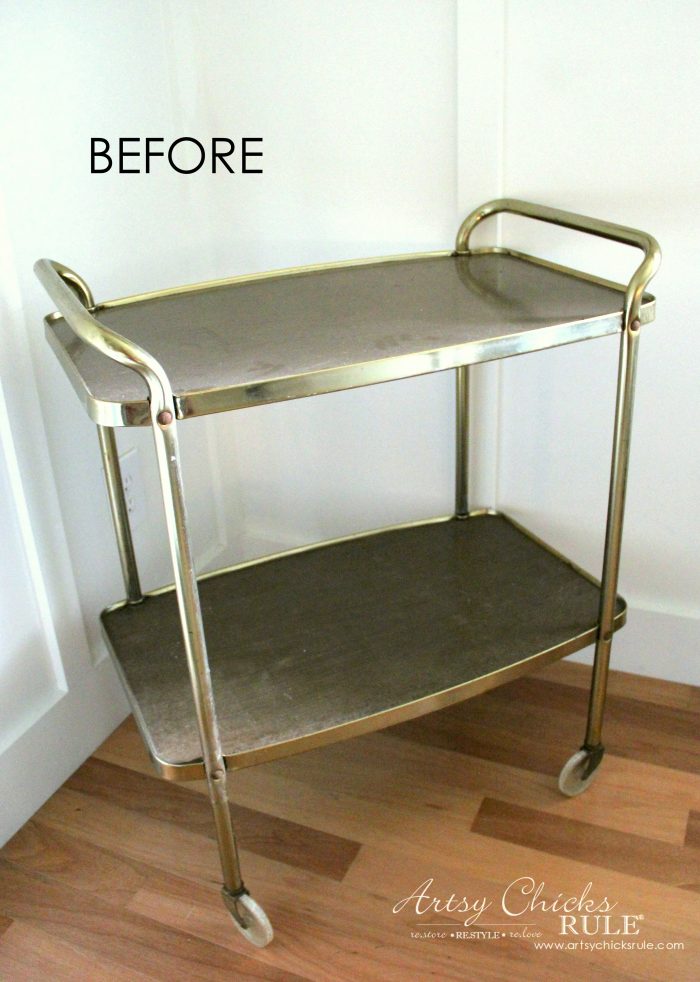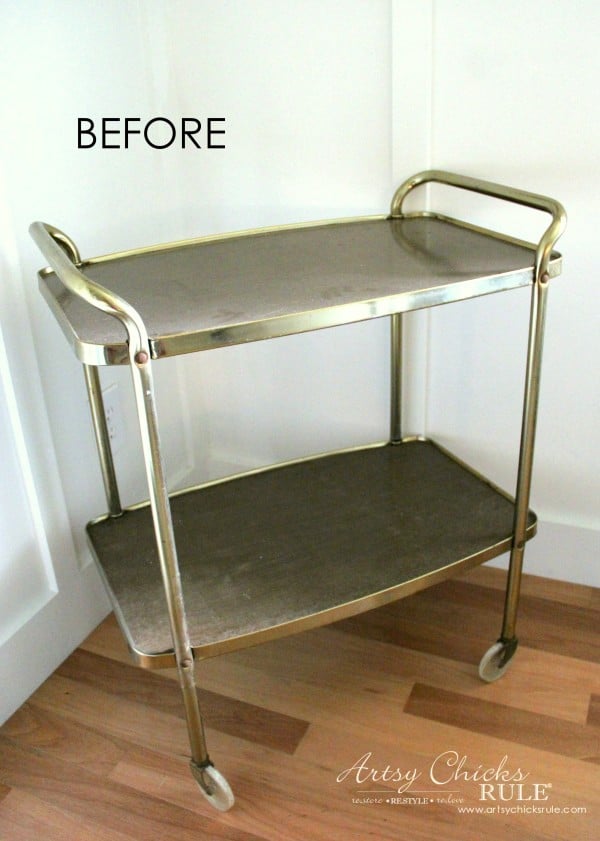 Isn't she a beauty??????
Yea, I know, not so much.
But I can see a diamond in the rough.
And it was shining. :)
Do you guys know how pricey these carts can be??
Pricey.
I found this one at a garage/estate sale.
Actually it was not in the house or the garage, it was sitting outside in the rain on the patio.
I grabbed it up and brought it home…for $15.
Bargain, right? Yes.
Especially after it's cleaned up a bit.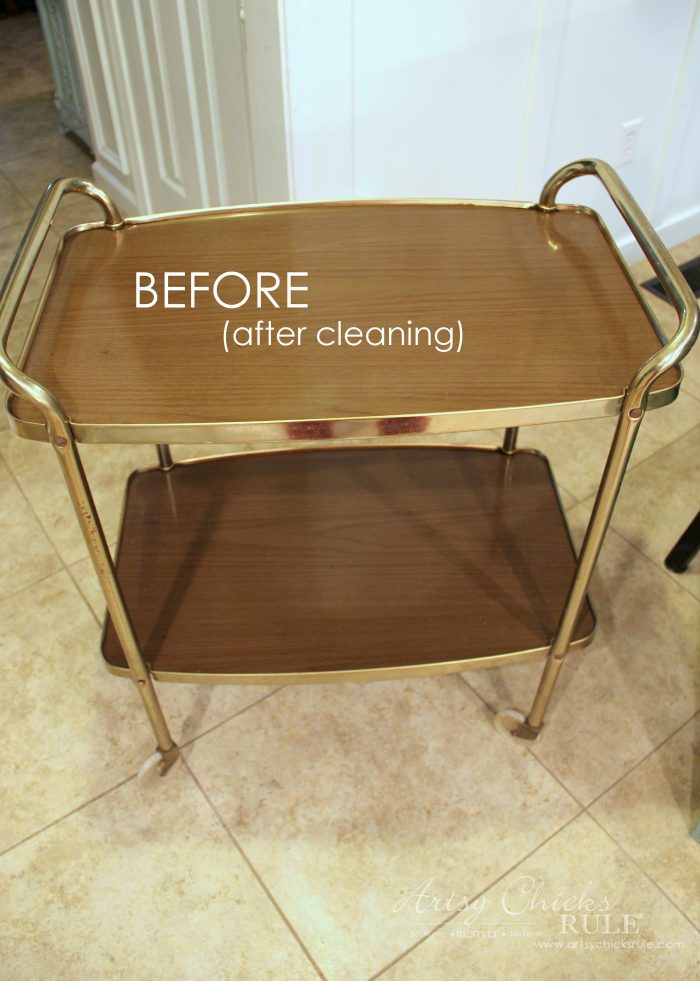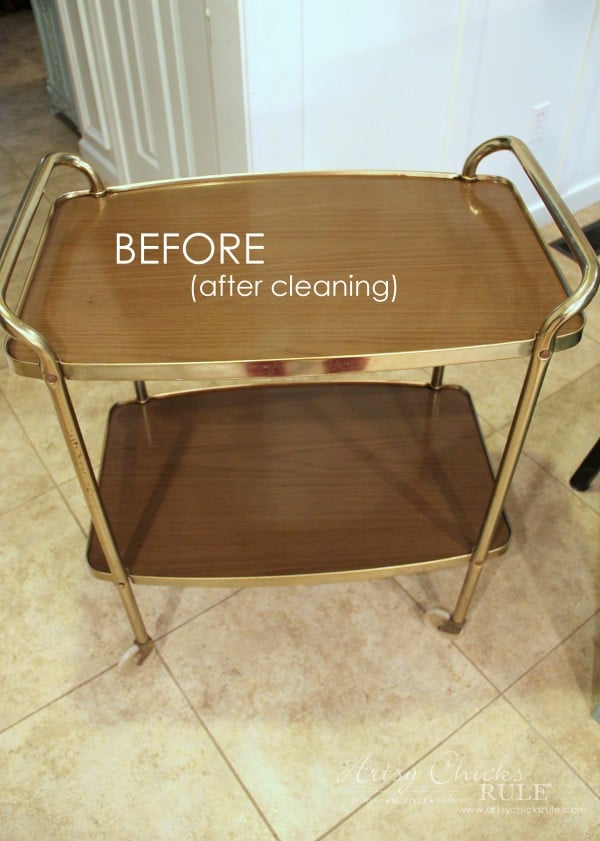 Not awful, just dated….and a bit rusty.
I decided I'd paint it GOLD (a better, brighter gold than how it started)
And I had the idea to put mirrors over that 60's-70's faux wood grain.
I had originally thought I'd line with pretty paper but changed my mind.
That would have been the more budget friendly option BUT I really wanted mirrors.
That brought the cost of the beverage cart up to around $115. Still quite a bit less than others I've seen.
Target has one similar (mirrored) for $309.
I have seen prices for mirrored beverage carts for anywhere from $165 all the way up to $1000.
So I am thrilled with the final cost of mine.
I replaced all of the bolts (they were really rusty and one was missing) and taped up the wheels to ready it for painting….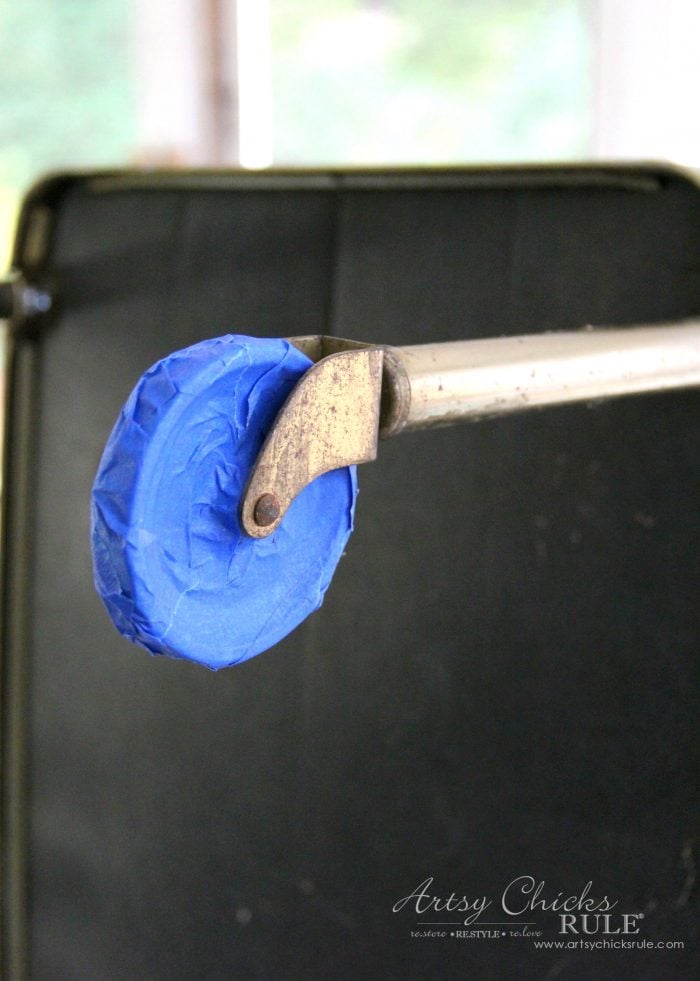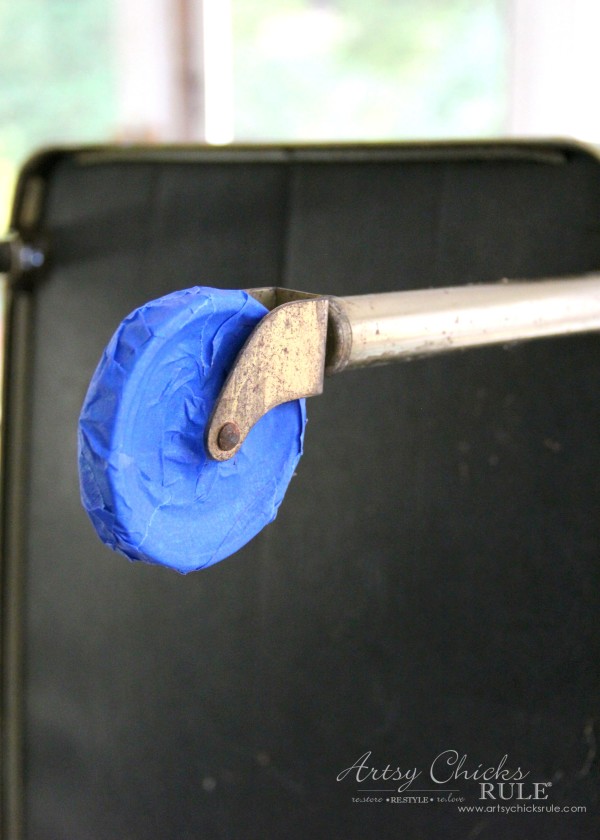 They were so pretty (gold flaked wheels) that I wanted to make sure they stayed just as they are….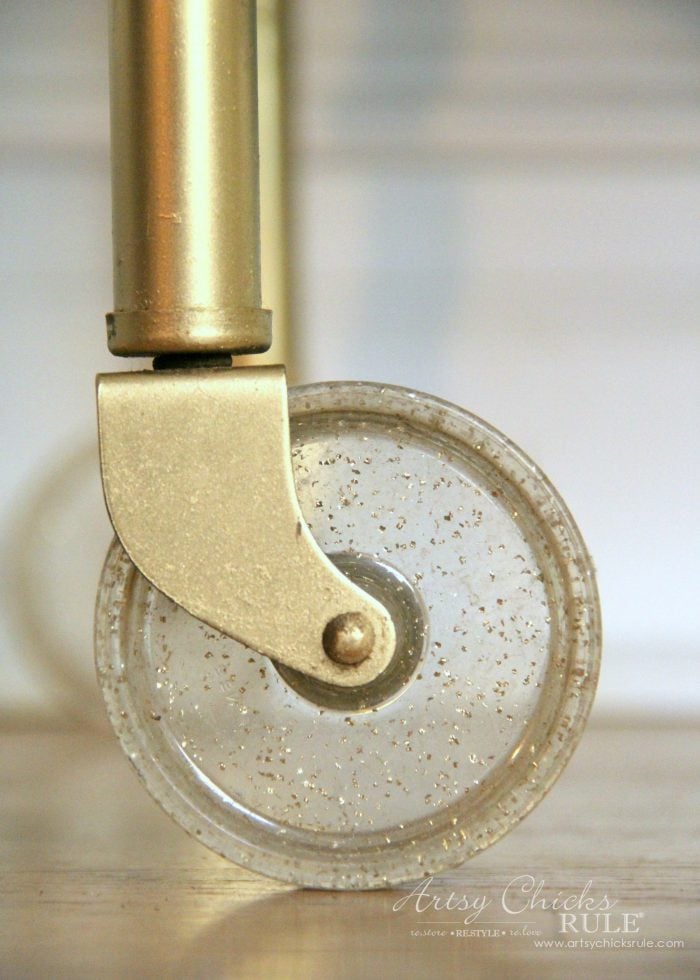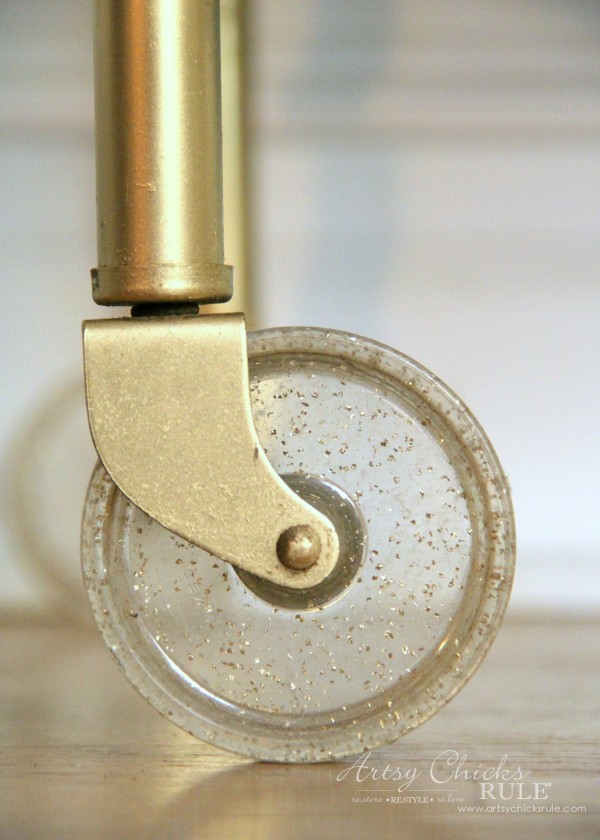 Aren't they so pretty?? I love them.
I used this spray paint…. (affiliate link, full disclosure here) Rust-Oleum Metallic Spray, Gold.
I LOVE this gold shade.
Once it was sprayed I took it down to my local glass shop.
They made the mirrors to fit for me. Remember last month I mentioned my 'trash to treasure' was not ready?
That was why. They took a bit longer to cut the glass than expected.
But here is that diamond in the rough all finished and shining pretty!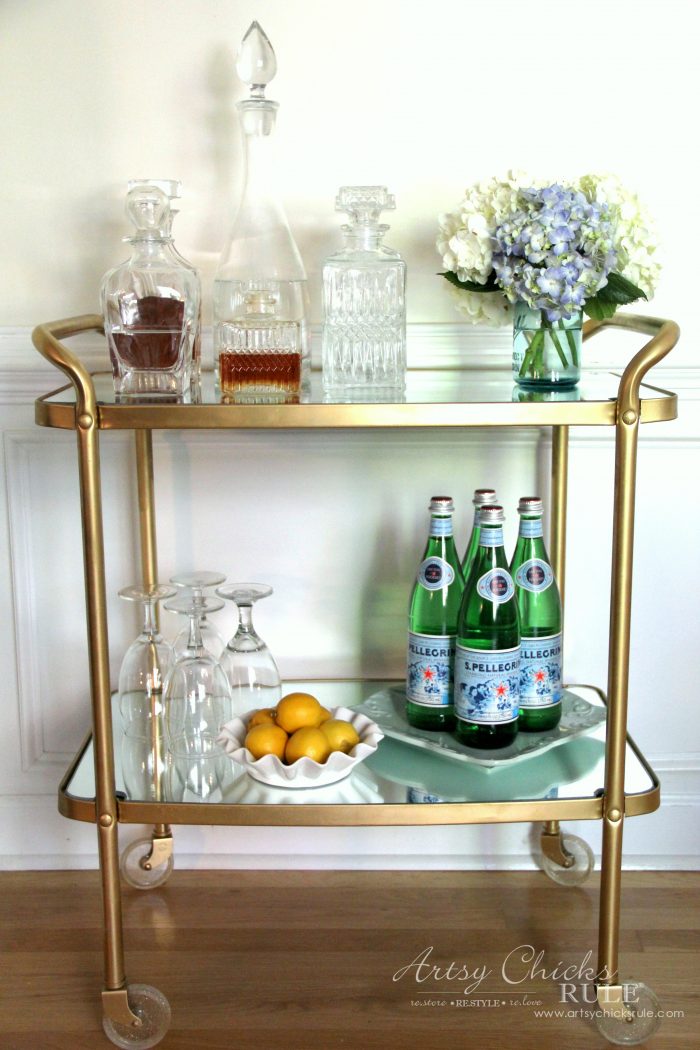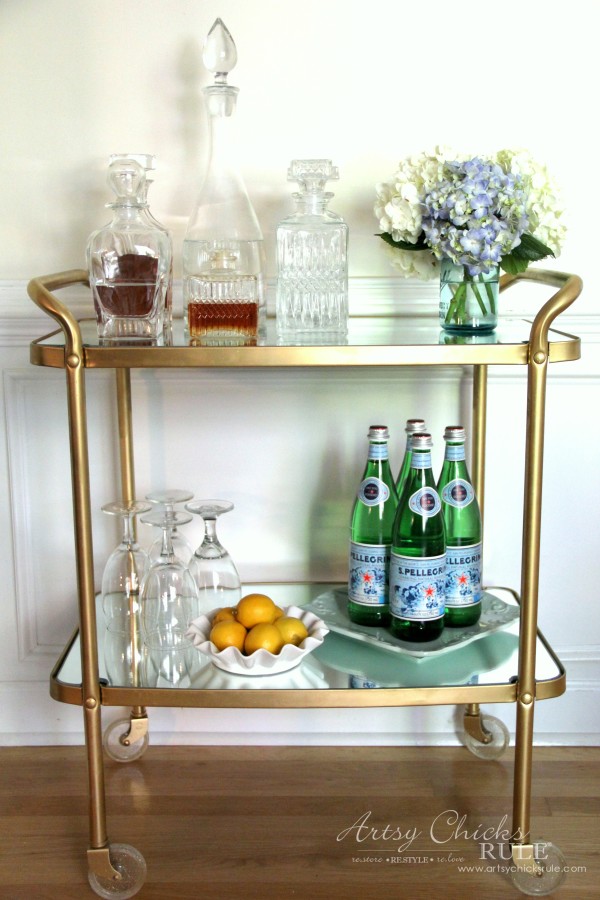 Can you believe it's the same one?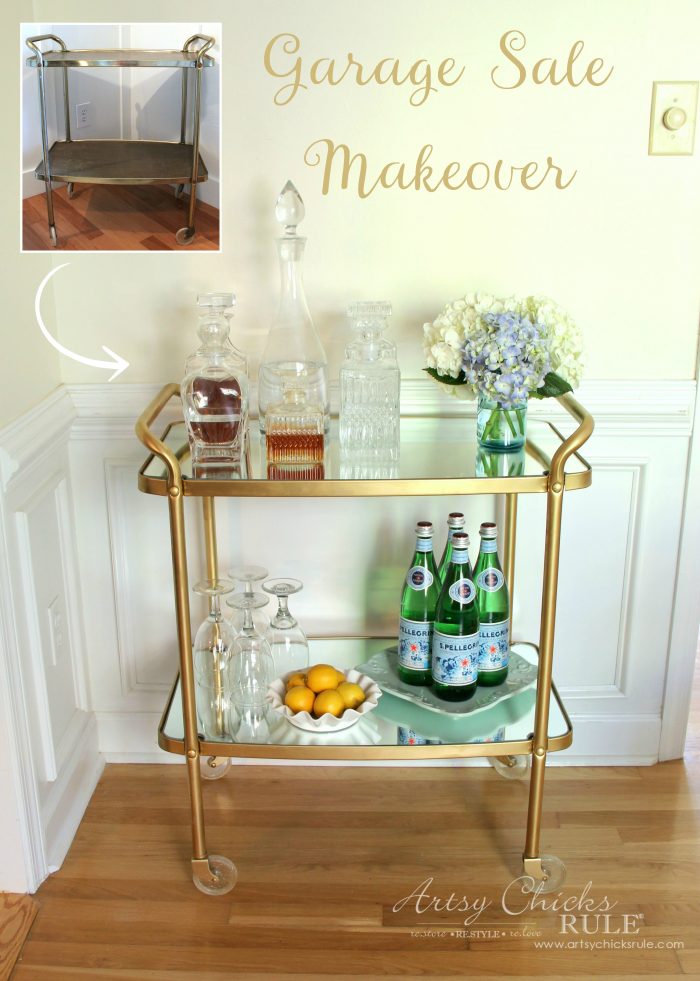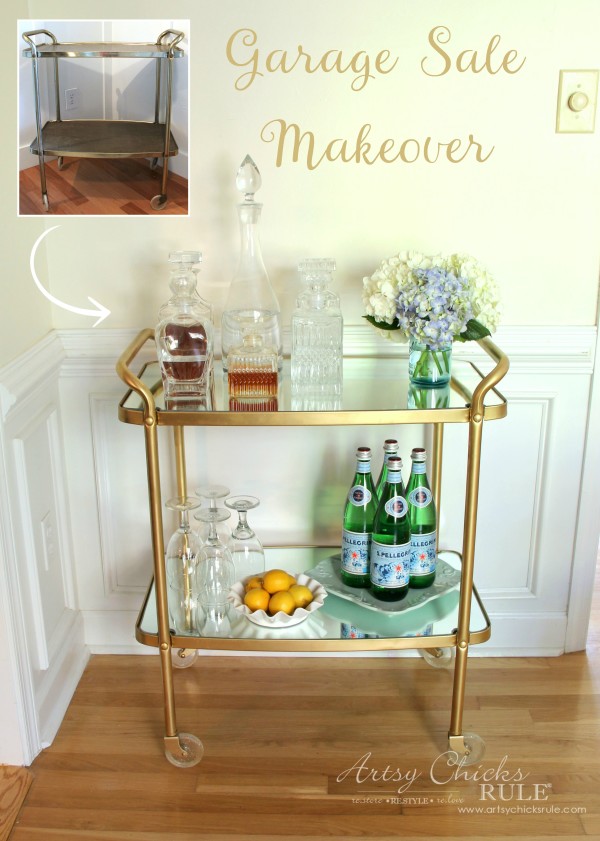 Bare with me….I took quite a few photos. ;)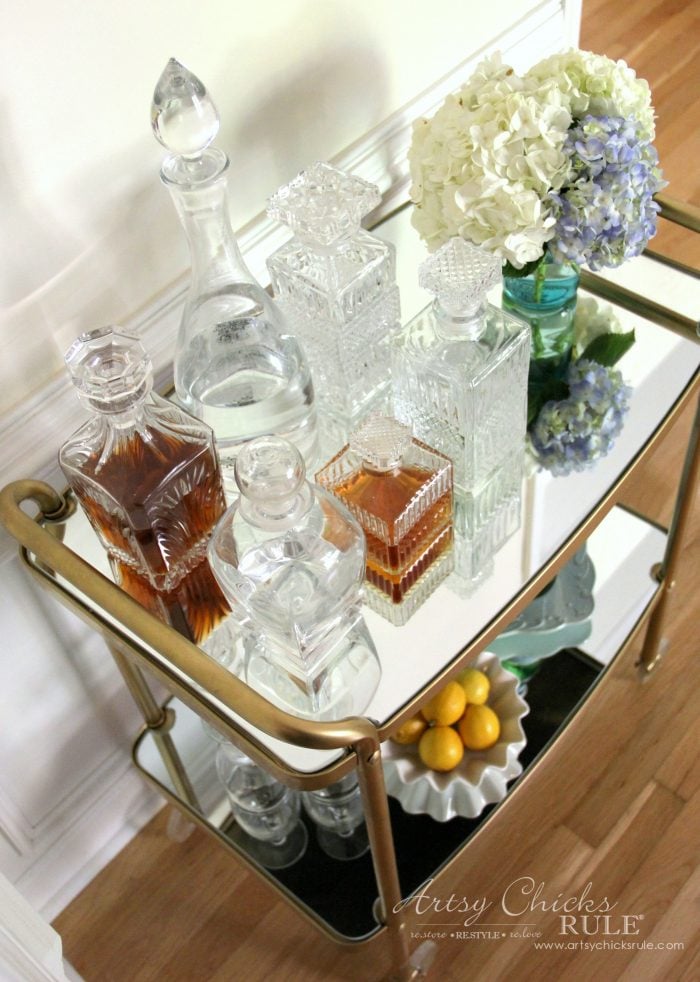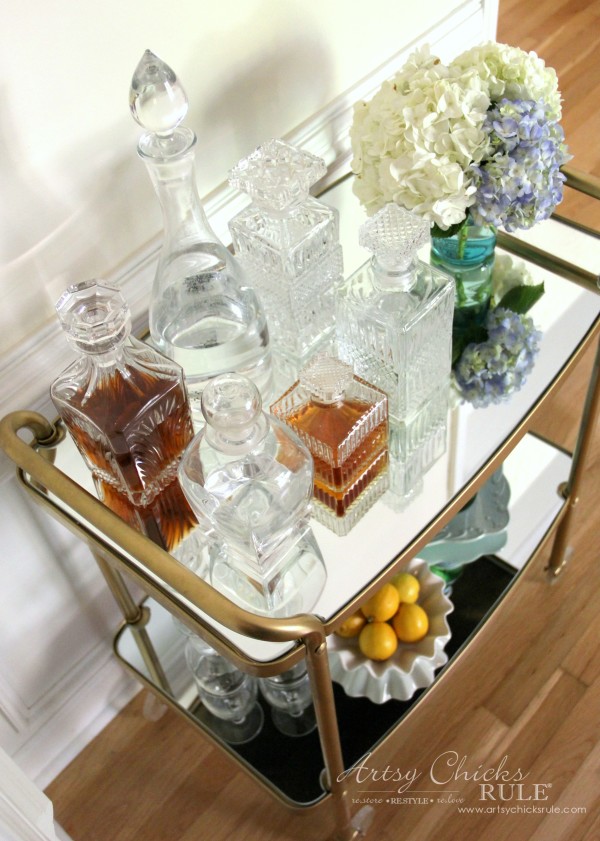 Those mirrored shelves just make it.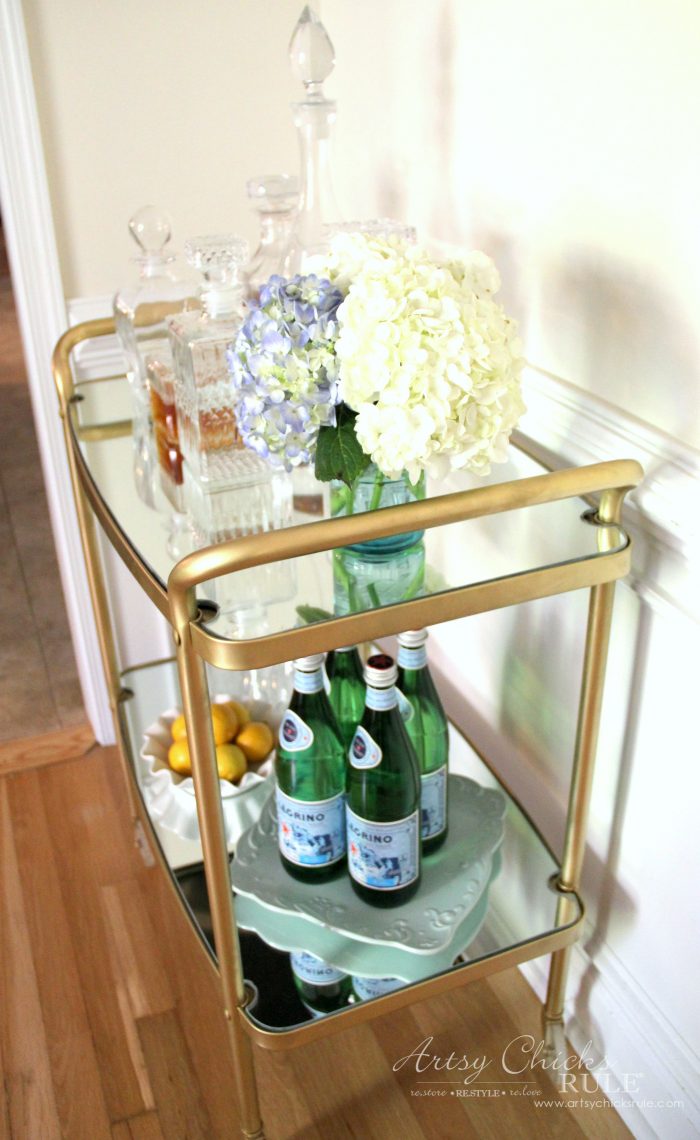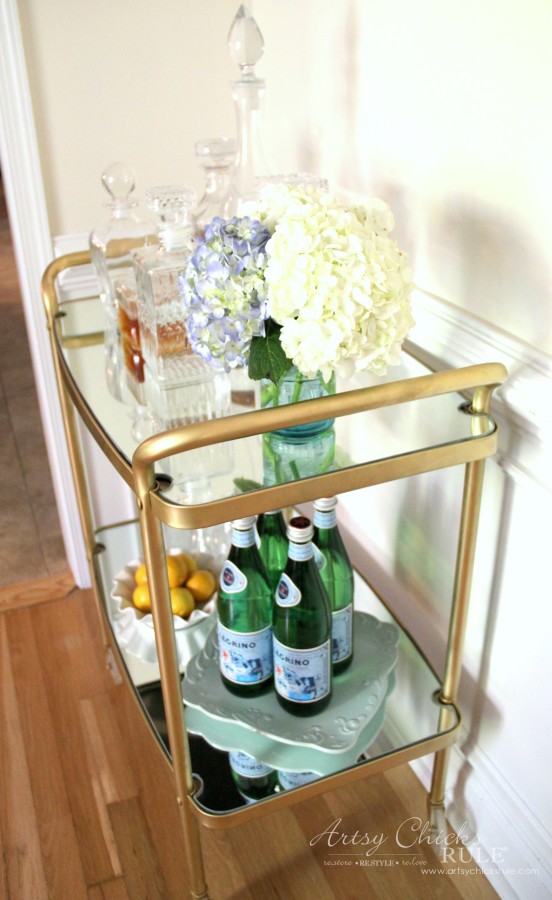 I'm smitten….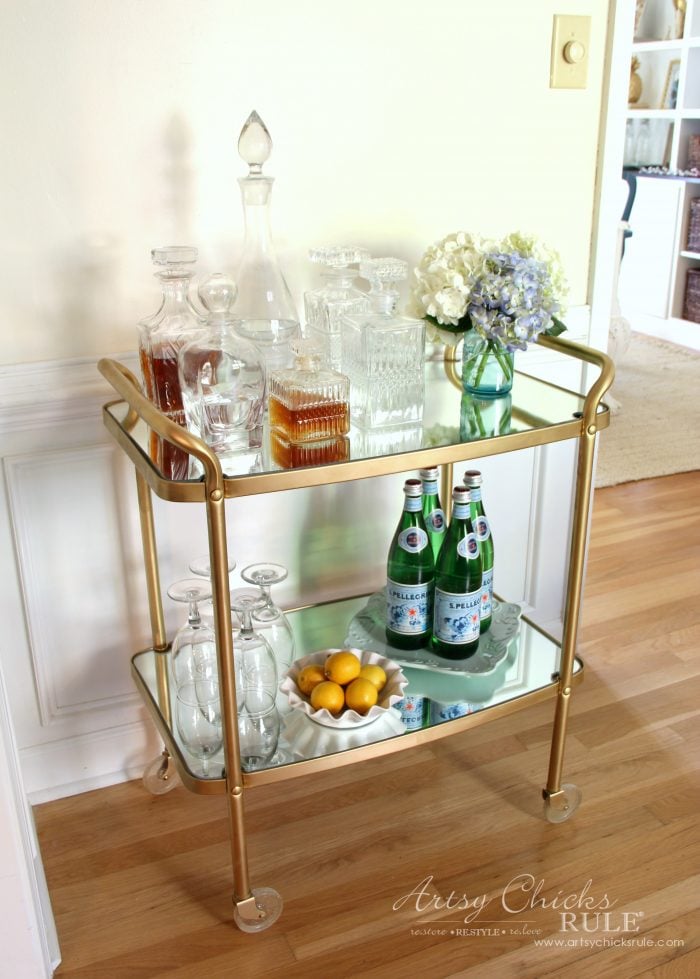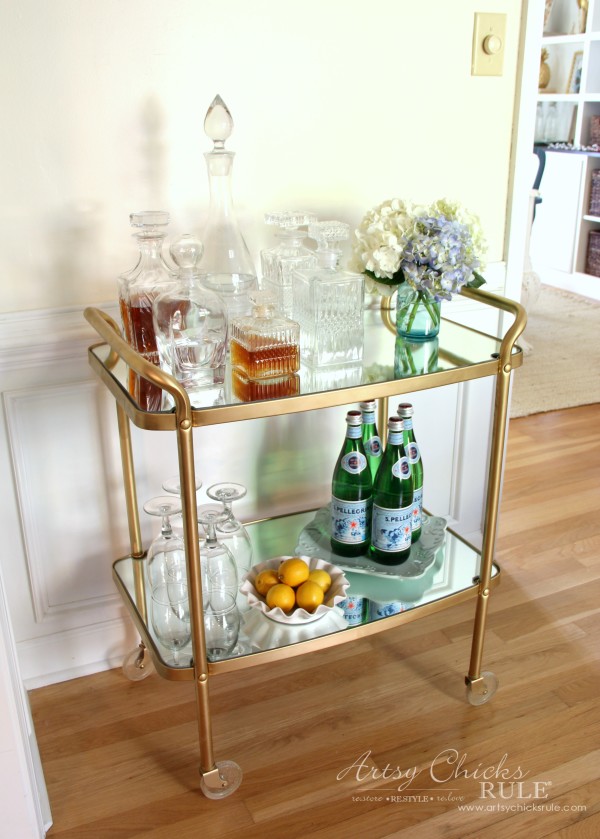 A few close ups of the shelves….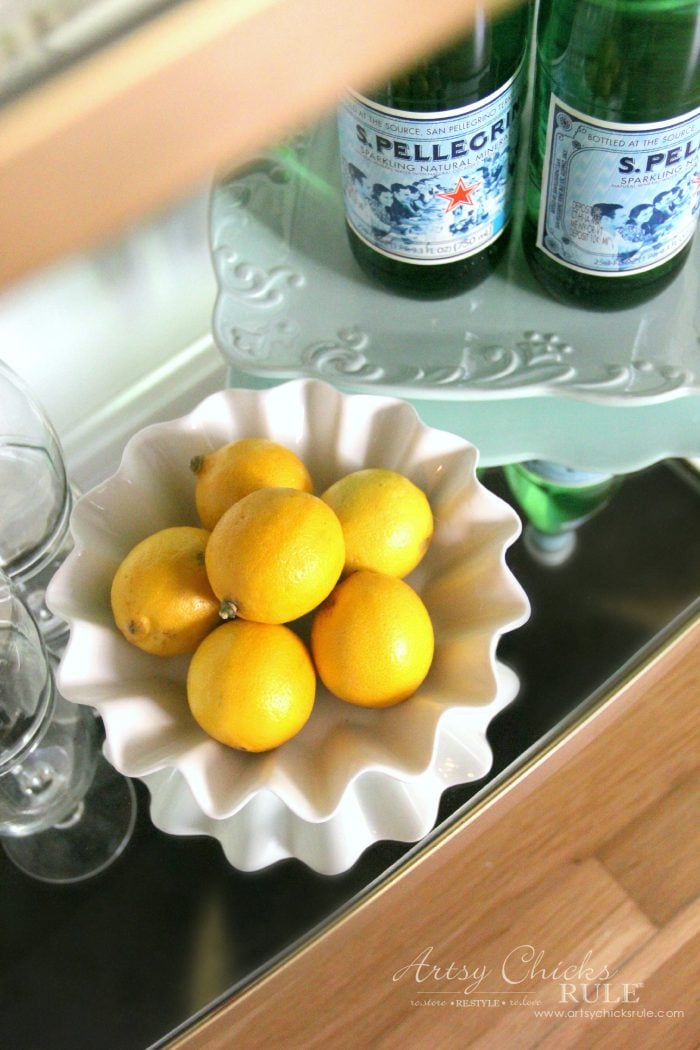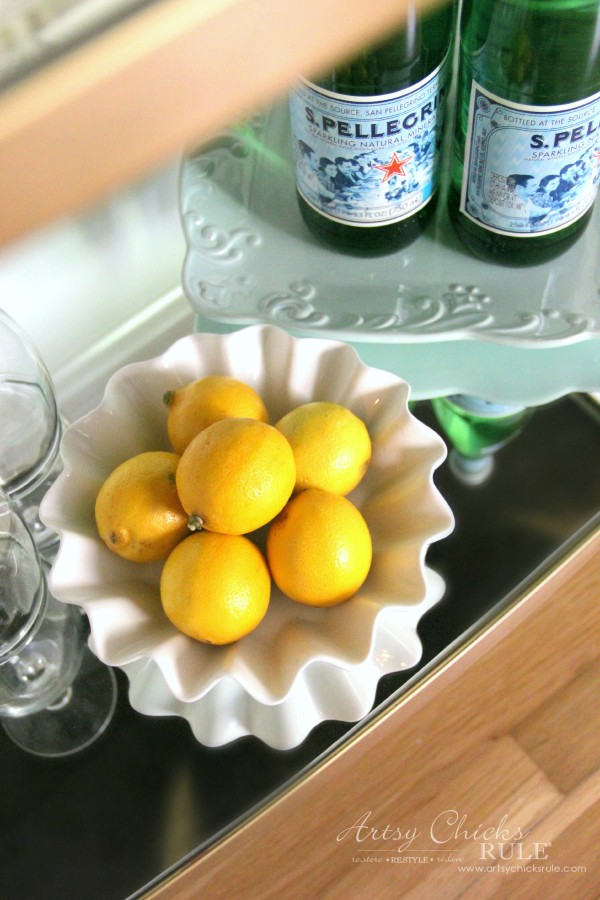 My favorite bottled water.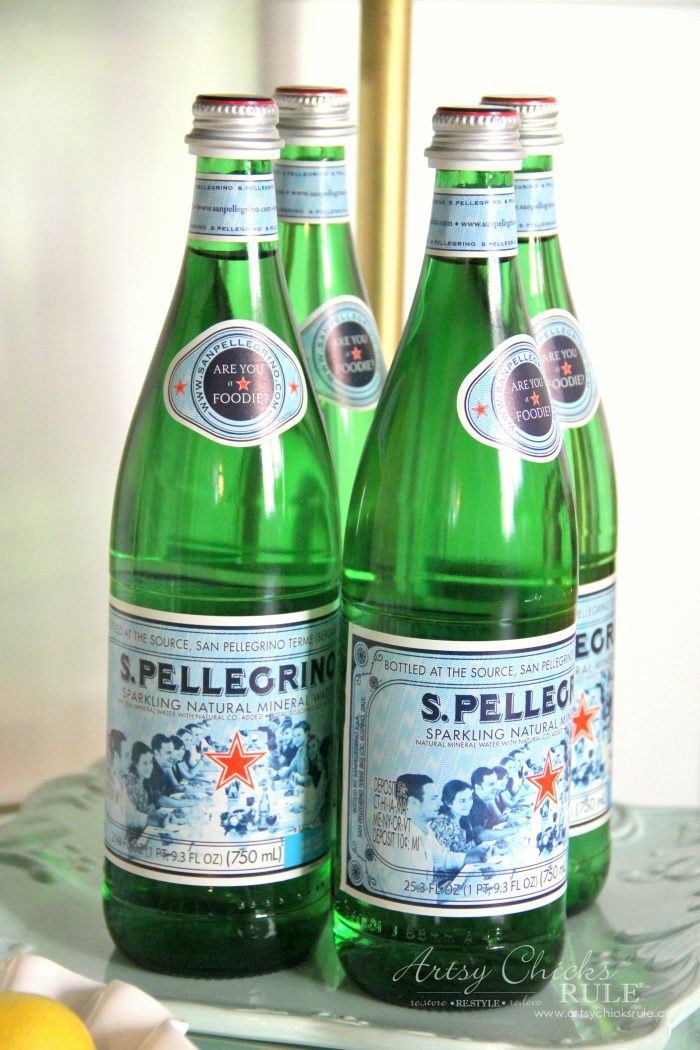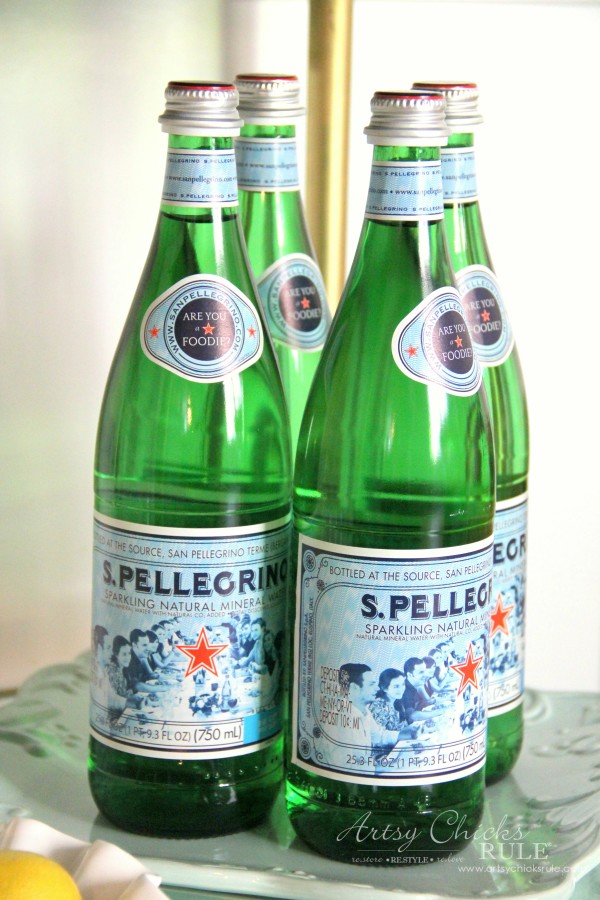 I love it with lemons. (organic, always!)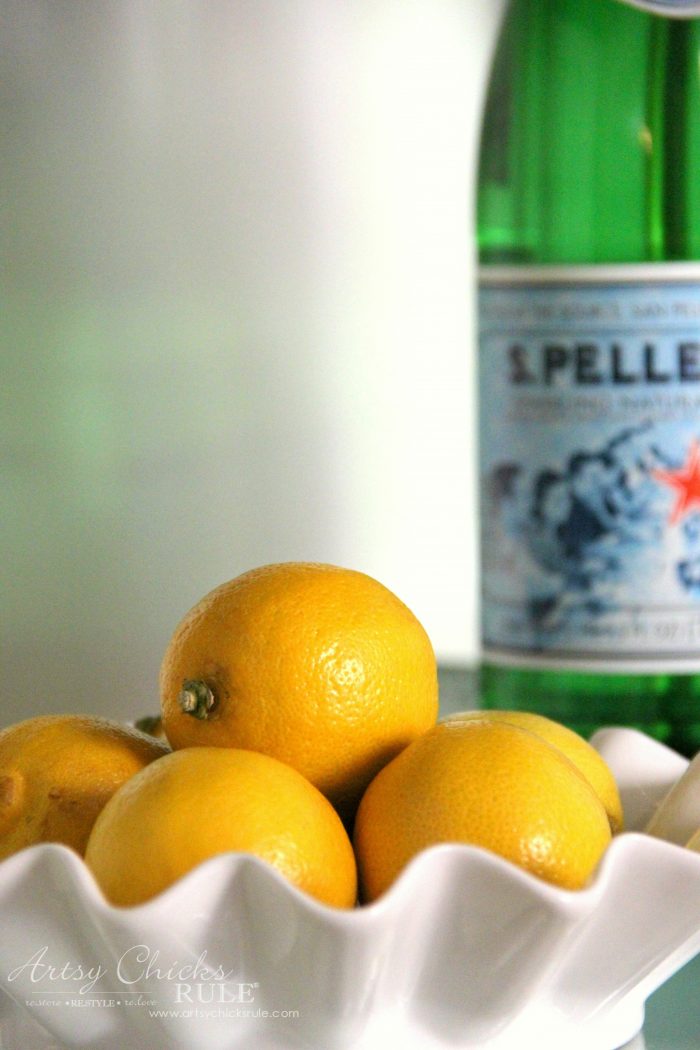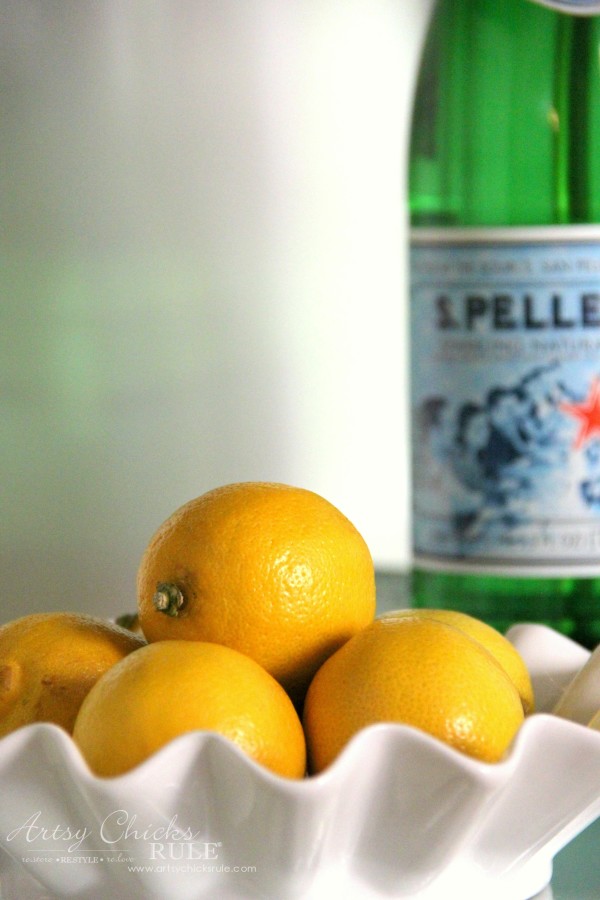 You might remember I used to have my "Estate Sale Sideboard" sitting in this spot.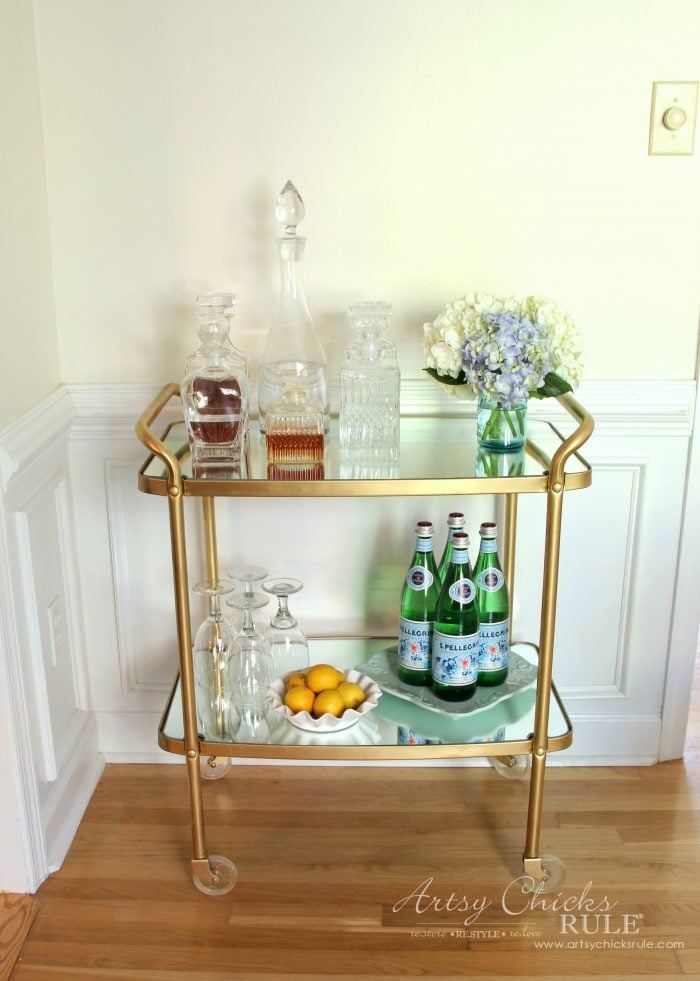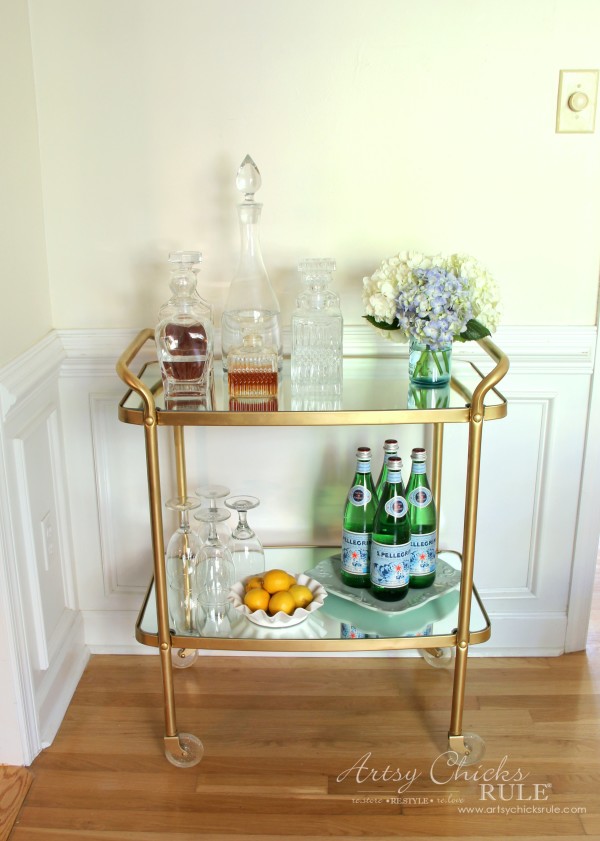 This is all part of the "Dining Room Makeover" still in the works.
I decided to sell it and my "Coffee Bar Cabinet" as well.
I'm trying to downsize and simplify things in my home.
We will be selling in a year or so and just want a more clean, uncluttered look. (and less to move)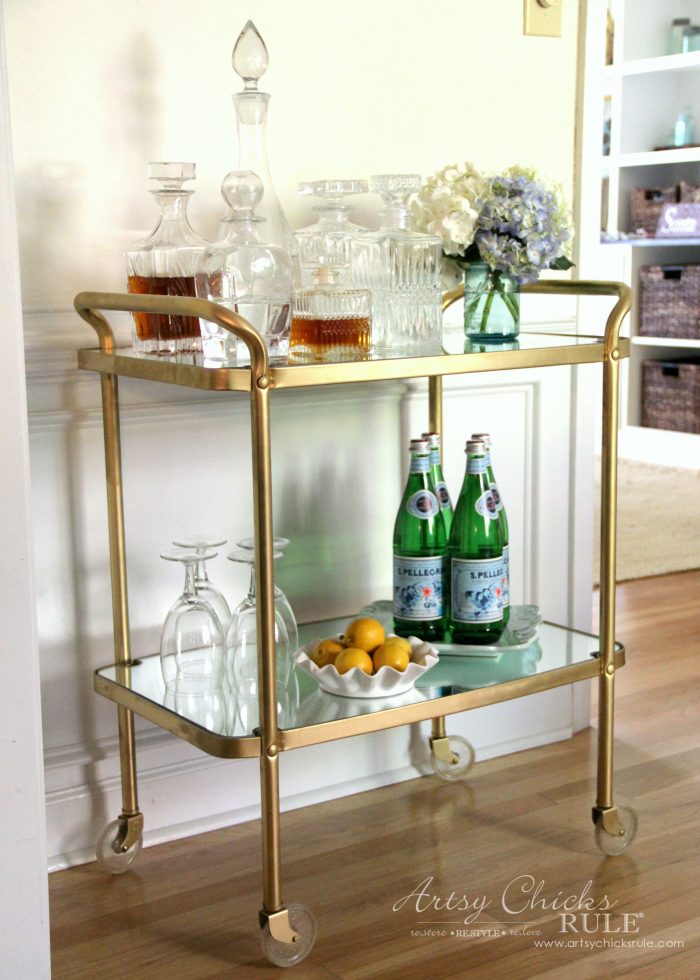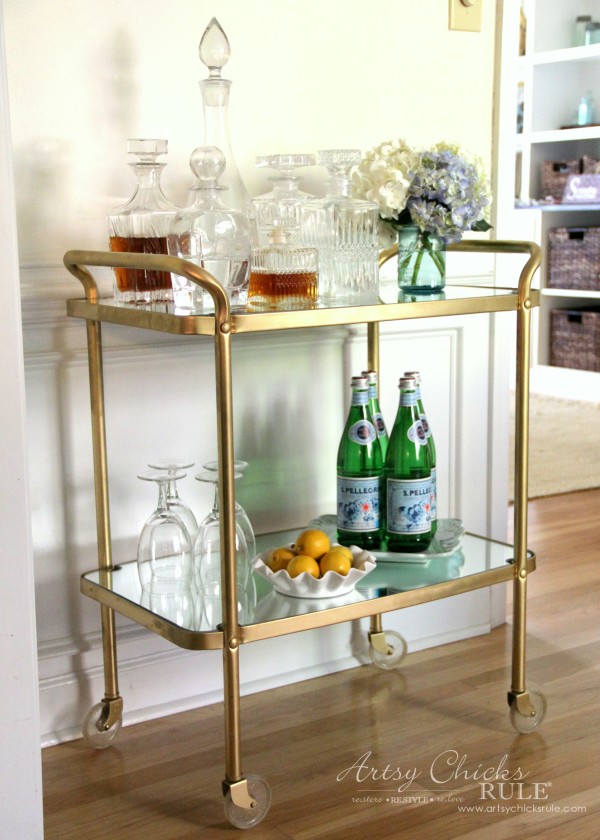 You can see my recently finished "DIY Bookcase" there in the background.
I just love this little beverage cart so much.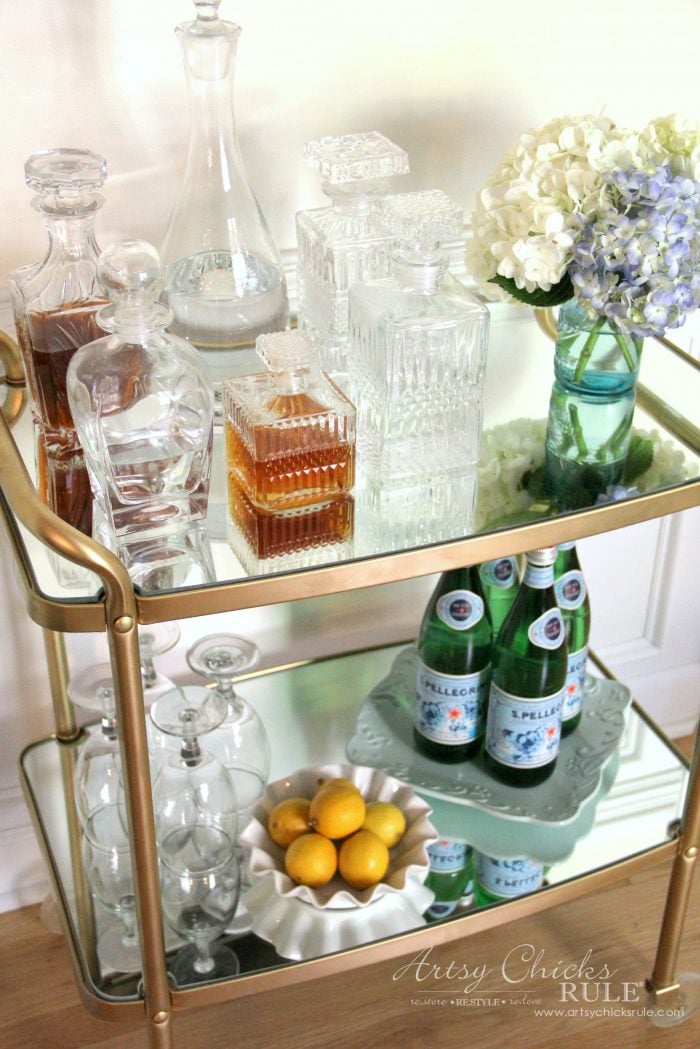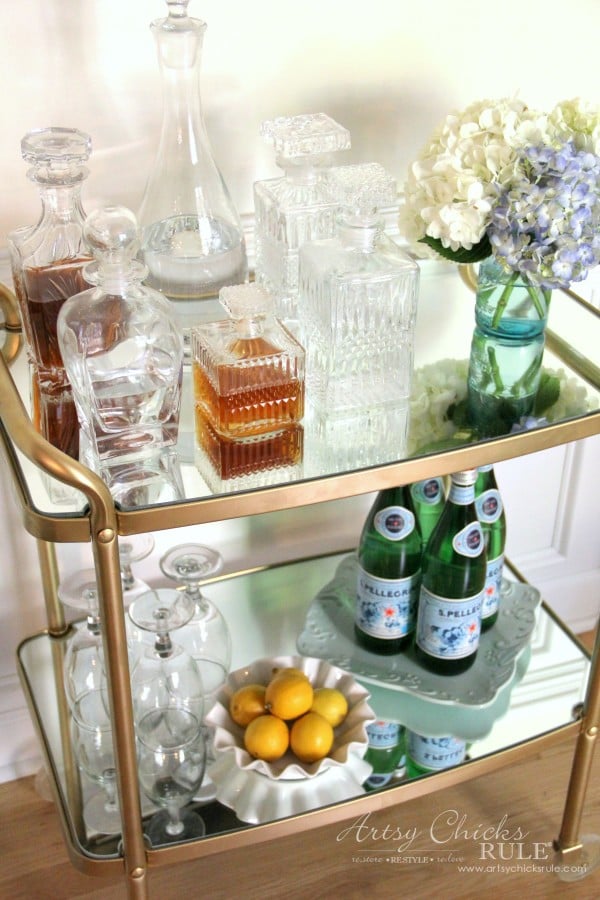 And I love hydrangeas too.
So, so much….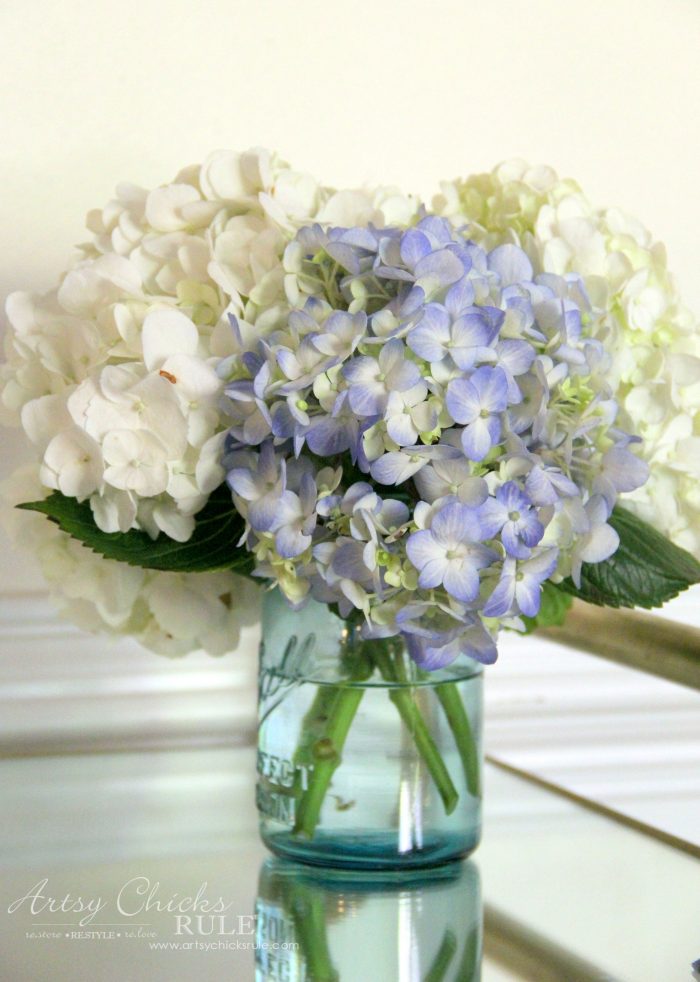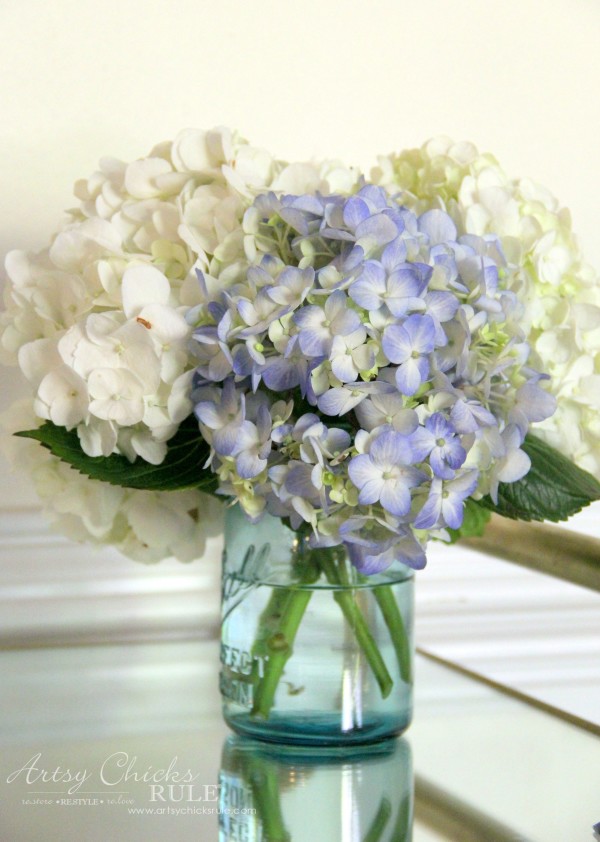 I got these from Trader Joe's and they lasted forever!
Aren't they lovely?
And this is what usually happens as I'm doing a shoot…..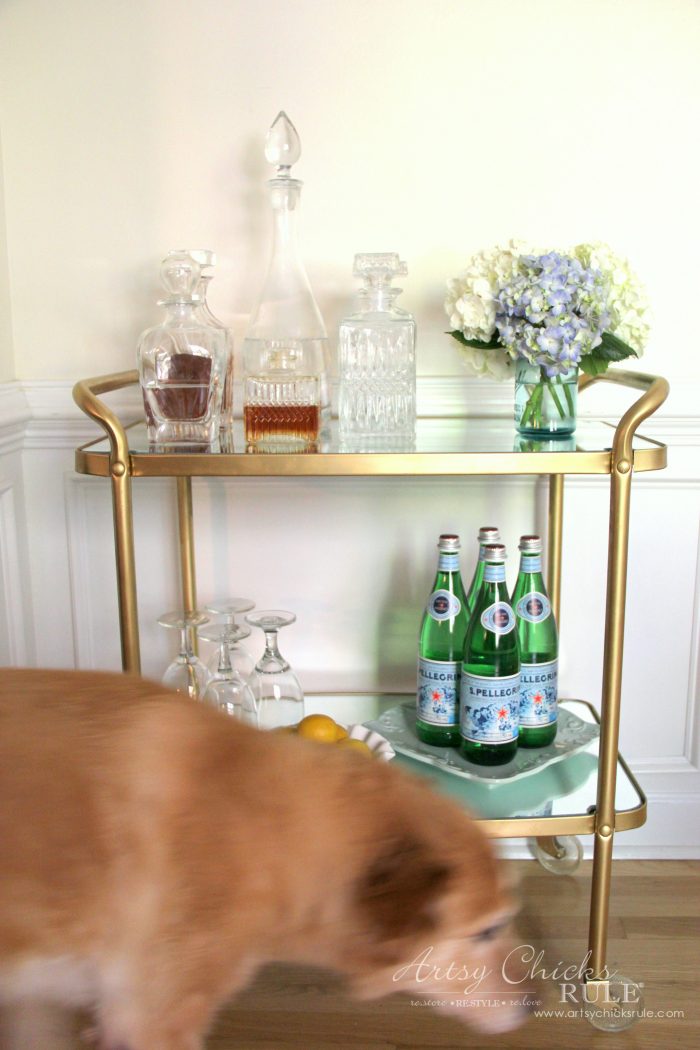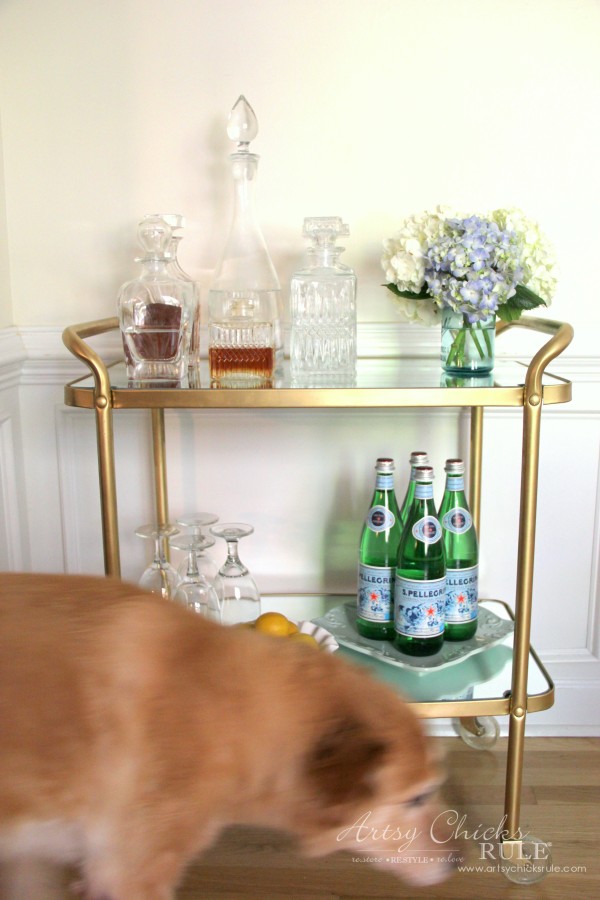 Well, helllllo there Lexi (also affectionately known as Lexi Lou, Lexi Lou Who (I think that one came from Whoville), Lexi Lou Lou Baby Boo Boo, yes we are silly around here, lol )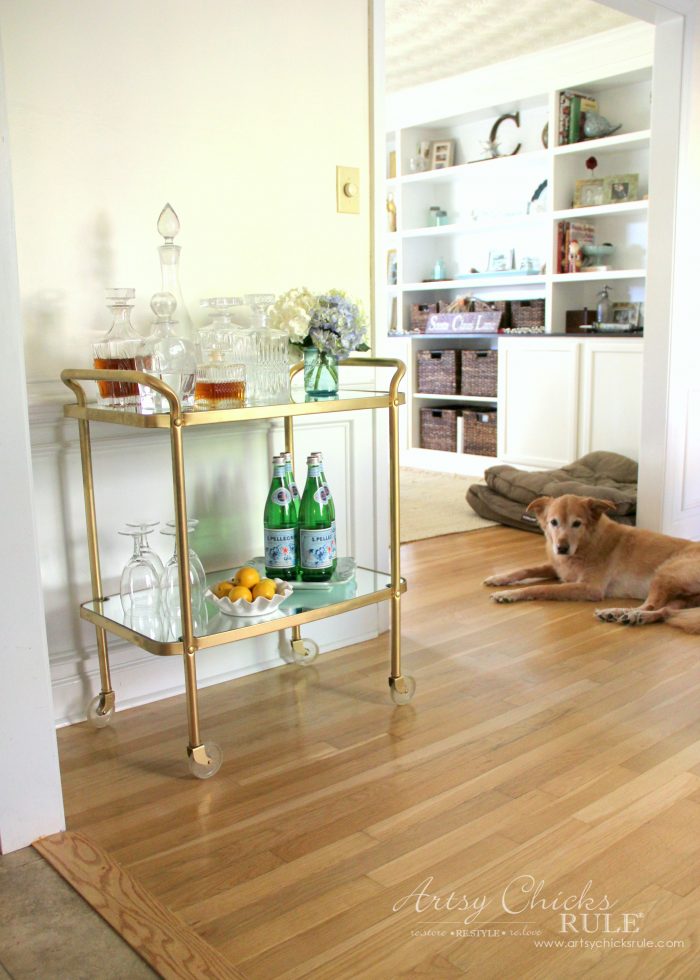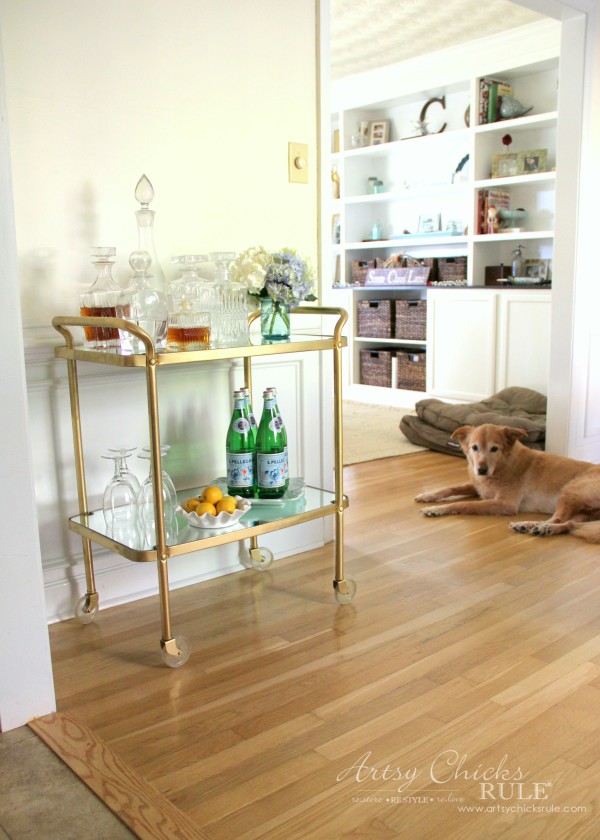 Love her so much. She is 12-1/2 years old now….already.
We got her as a puppy from a rescue when we lived in Lexington, SC. (hence her name ;) )
And yes, that is her soft comfy bed in the back there. She loves to lay on the hard floor sometimes.
Go figure?
This was such a simple makeover. All I had to do was replace a few bolts and spray paint.
Can't get much easier than that.
The mirror people did the rest.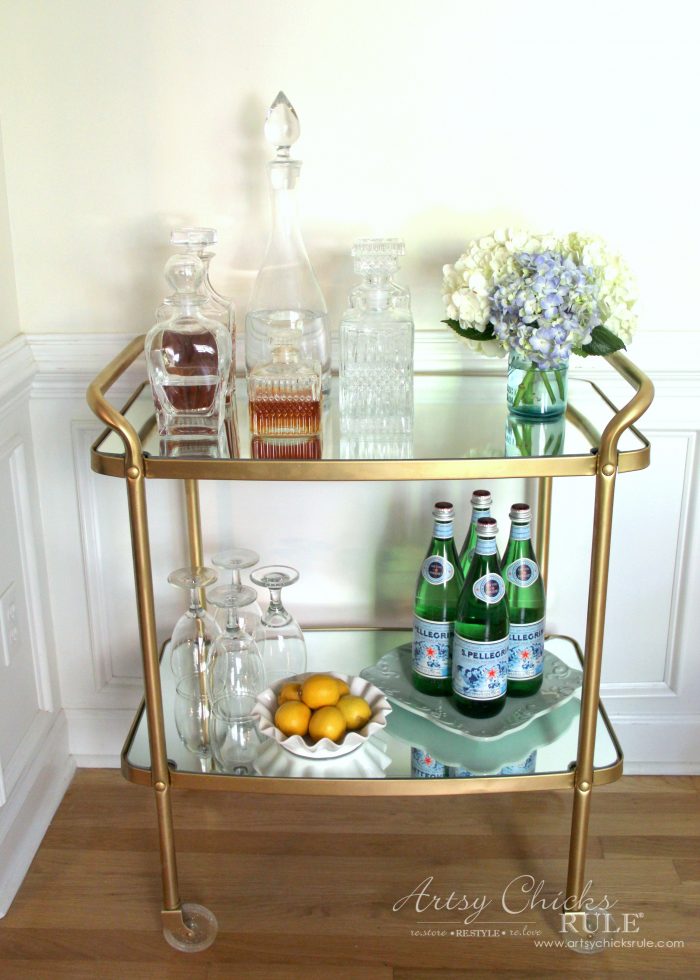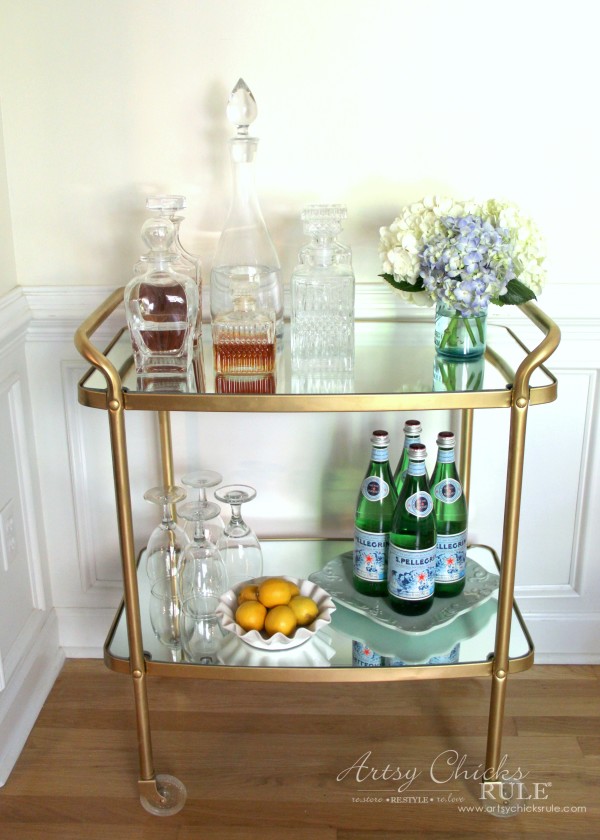 Then all I had to do was make it pretty. :)
So next time you come across one of these, be sure to bring it home with you!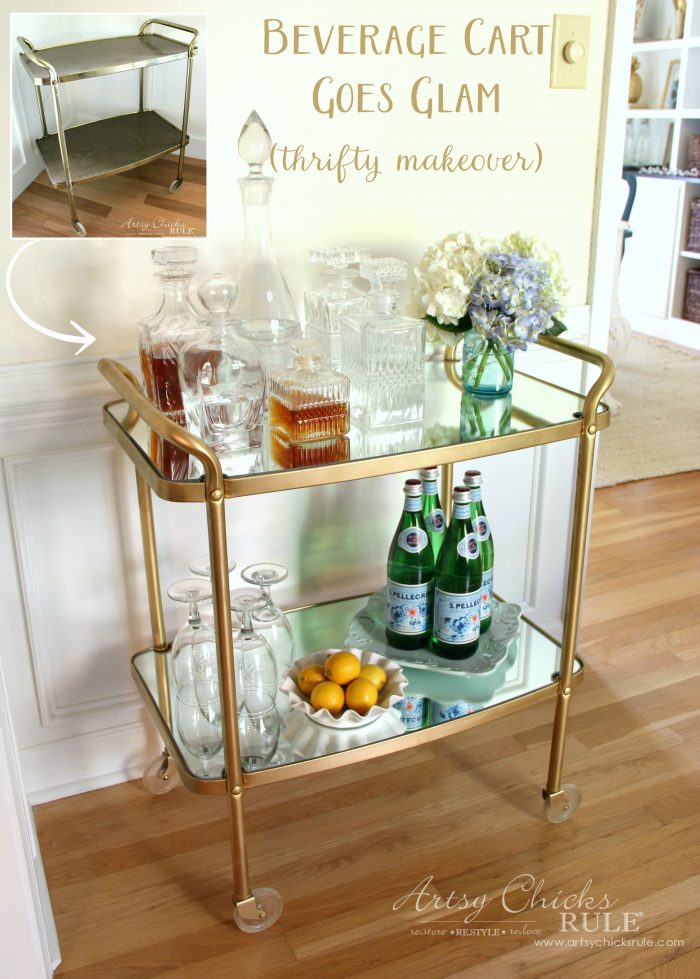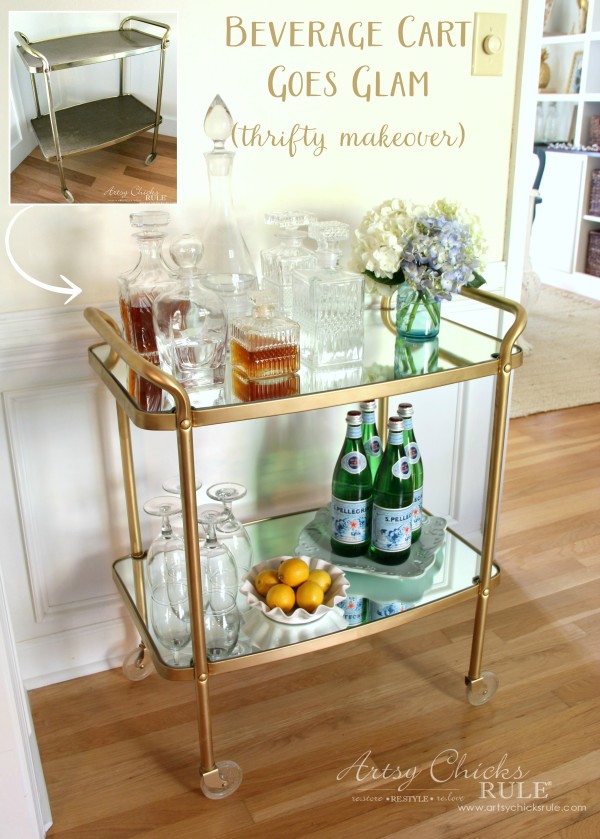 I've since done a bit of decorating on it for the holidays.
I created some new chalk art (and another FREE printable) for a chalkboard I have sitting on this beverage cart.
I'll be sharing that on Friday with you all.
I'll also be sharing my whole Christmas Home Tour very soon. (Dec 13th, part 1 and Dec 15th, part 2)
This Thursday I'll be sharing my Christmas decorated FOYER along with my friends.
It's part 3 of decorating one space, three ways.
We can't wait (and hope) to see yours too!
PIN this to save this beverage cart for later! :)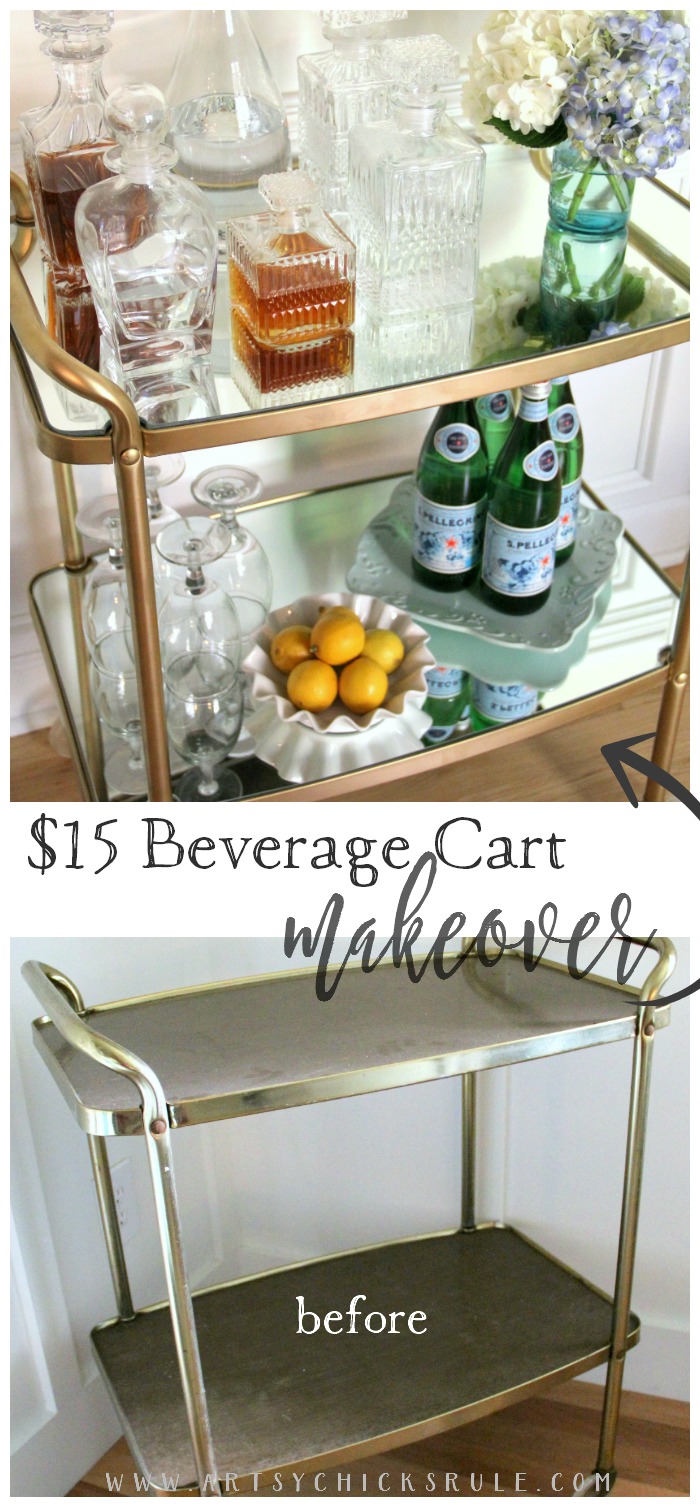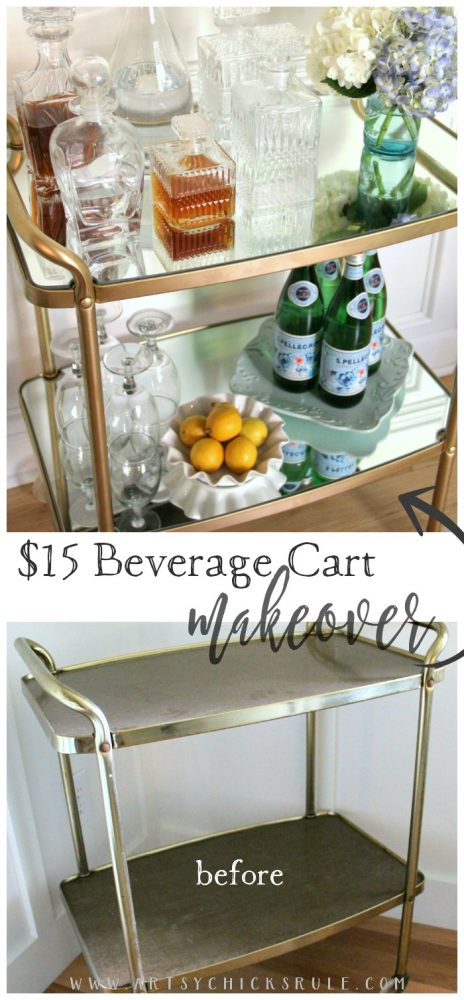 Don't forget to pop over and see what my friends did with their "Trash to Treasure" lovelies today too.
I know I can't wait to see what they did with all of this!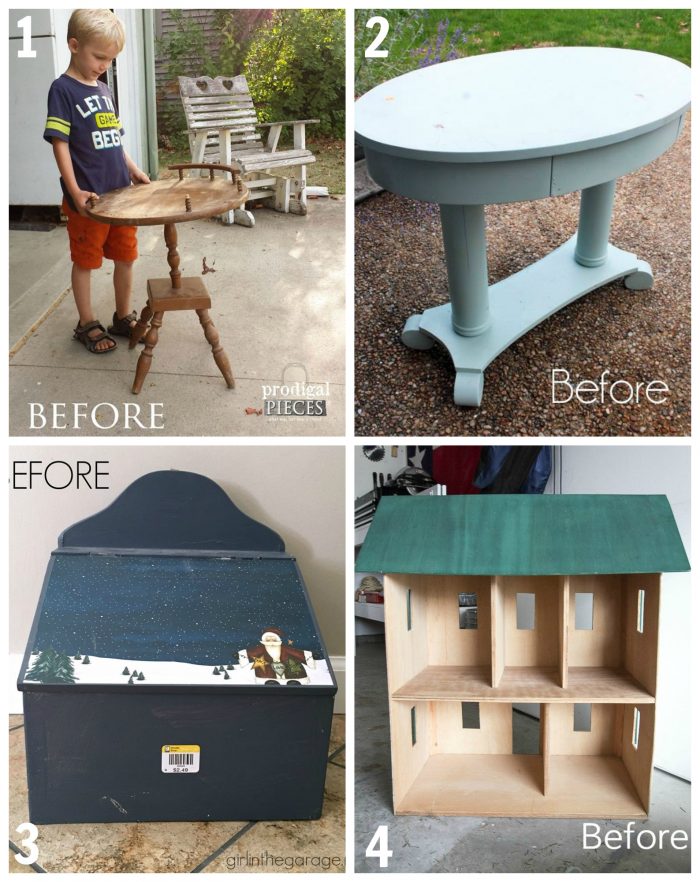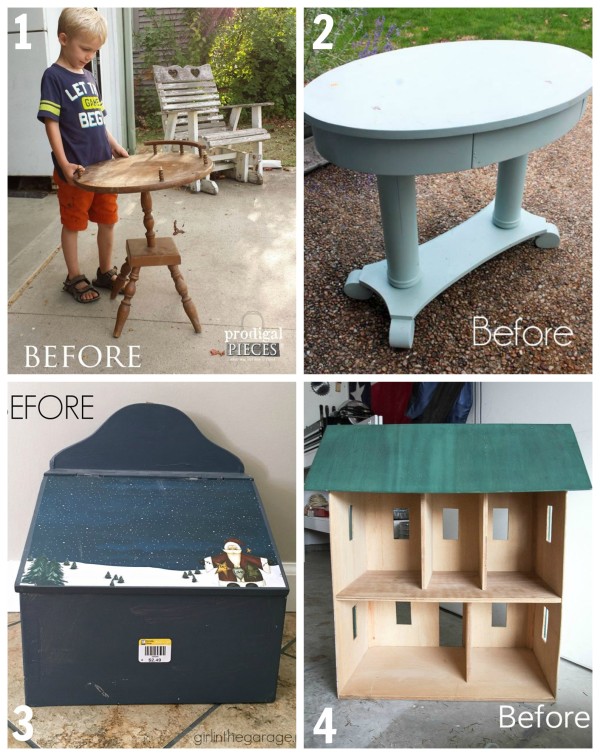 Be sure to check back later this week to see what I did to this sweet bench! (it involves a stencil! ;) )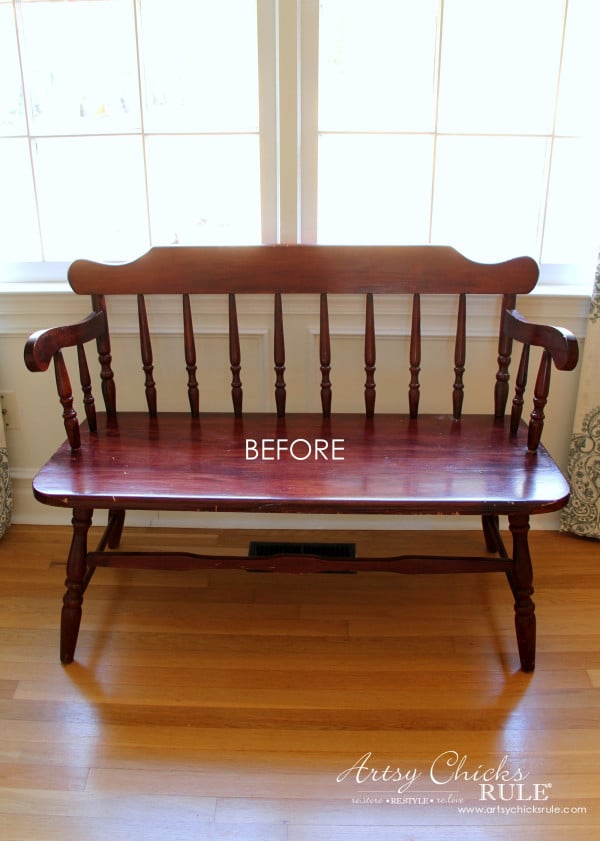 UPDATE!!! See it now, here!!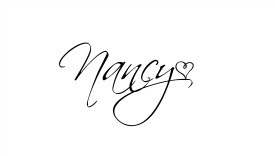 I'm including a few affiliate links for some cute carts below. See my full disclosure here.
Follow along! –> Instagram ~ Facebook ~ Pinterest ~ Bloglovin