Coastal Christmas Foyer (One Space, Three Ways Decorating Challenge)
This post may contain affiliate links. Please see disclosures here.
Hey Everyone!
It's time for round 3 of decorating one space, three ways.
Are y'all ready? Did you share your spaces with us over in the Decor Enthusiasts Decorating Group on Facebook?
If not, you still can!
And if you aren't a member yet, you can become one by asking to join.
It's such a nice group where everyone can share their spaces, gain inspiration and ask questions.
I hope you'll join us if you haven't already. :)
Today I'm sharing my foyer (again) but this time decorated for Christmas.
I previously shared it for Thanksgiving and for Welcoming Fall. (<<–you can see them by clicking those links)
Today it's a "Coastal Christmas Foyer".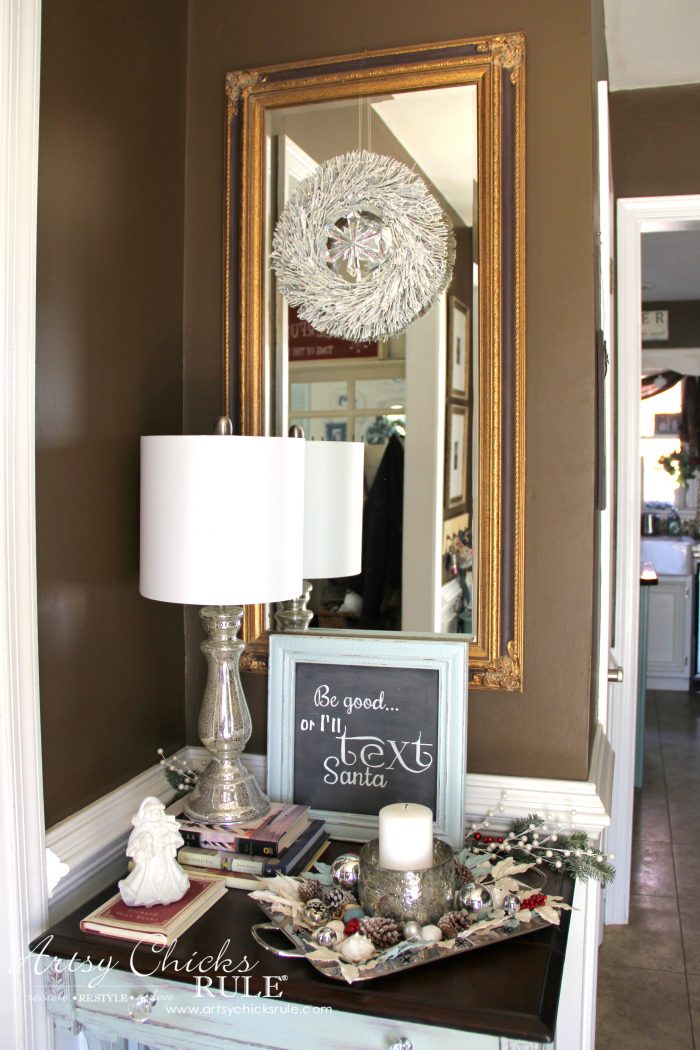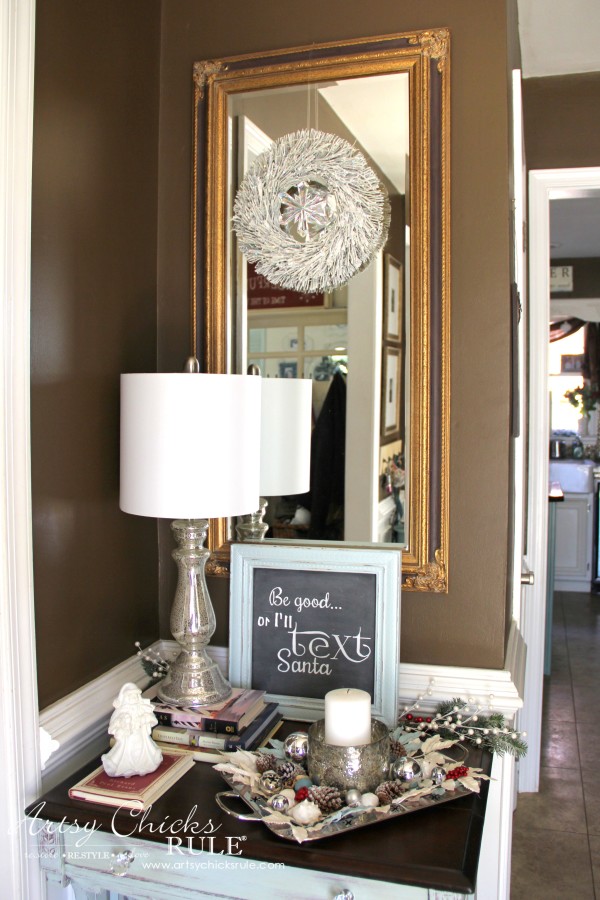 I kept it mostly simple AND mostly neutral.
I did add a bit of greenery from my tree at the back along with some white and red berries.
I had planned to use mostly neutral colors throughout my entire home this year for Christmas but…that didn't work out so well.
As I started decorating my home, it just didn't feel Christmas-y enough to me without the red.
So I added bits of red here and there. I think I still kept it a bit more neutral than usual though.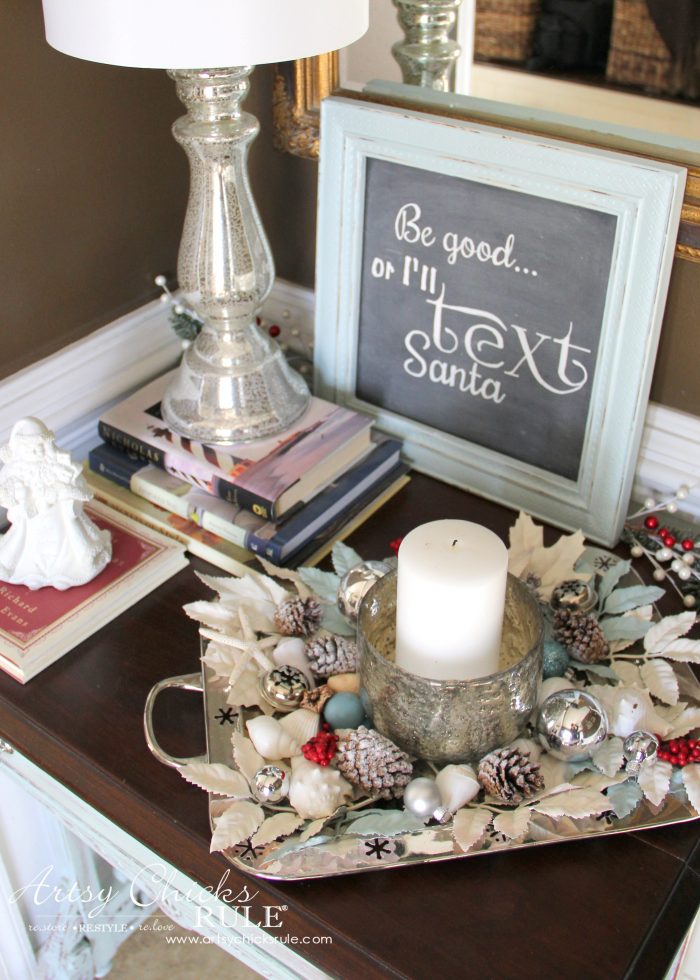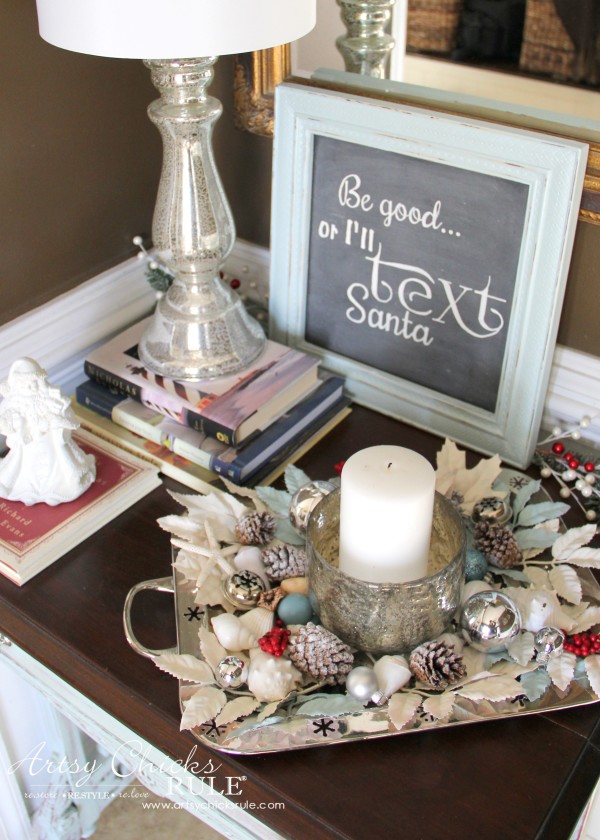 As you can see, I did add a bit of red here too.
And as usual, my decor was budget friendly.
This is a chalkboard sign I made out of an old broken mirror last year.
You can see the details for it and another I made … here.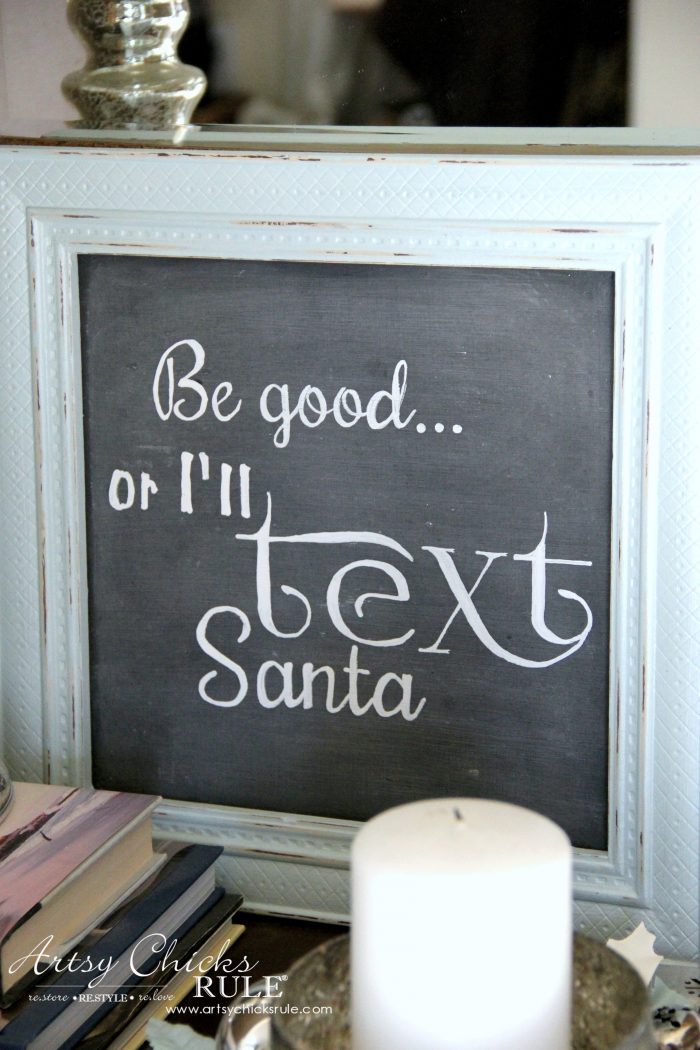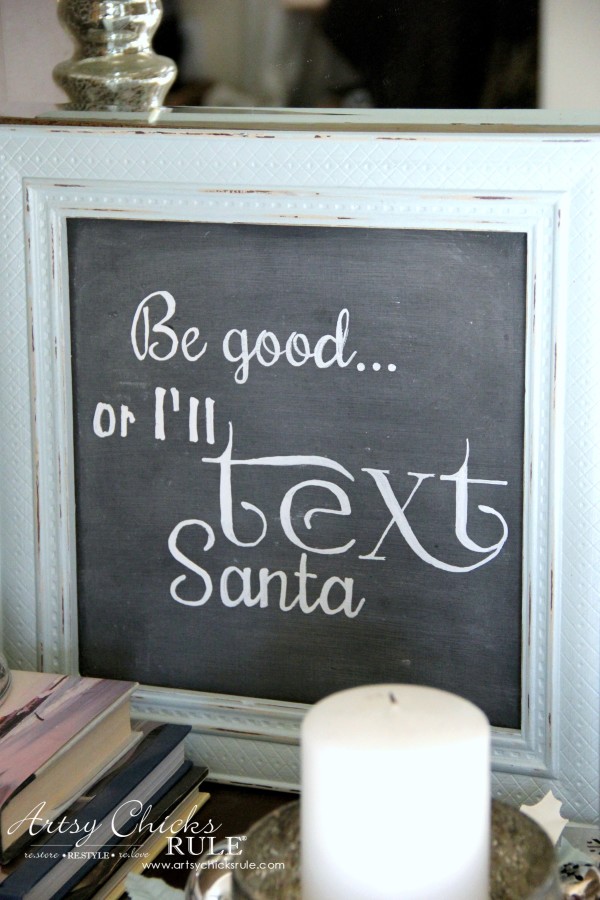 I wanted everyone to see as soon they enter my home, that they'd better be good….or else I'd text Santa. ;)
Yep. heh heh..because I have his private number and all.
Bet you do too. ;)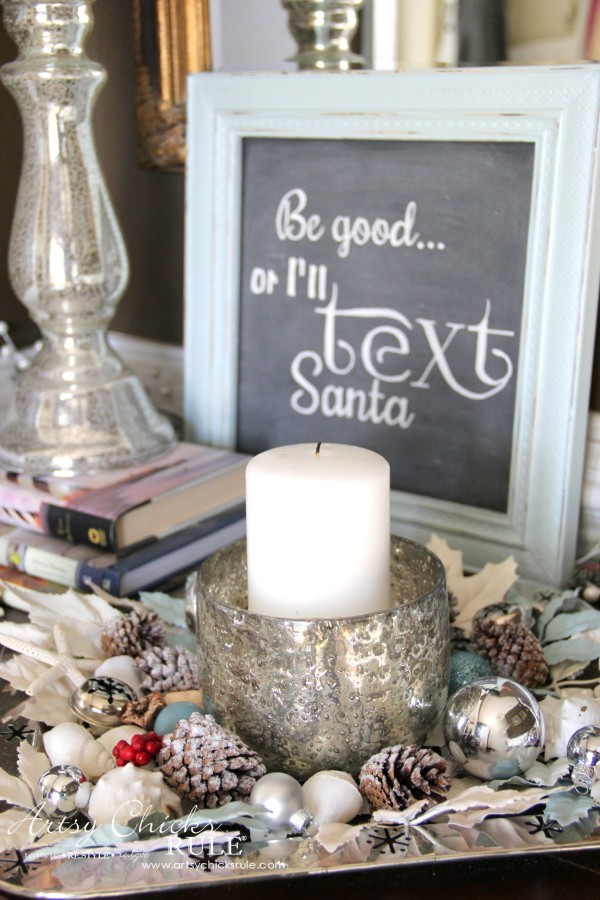 The mercury glass candle holder came from my dining room table centerpiece.
The metal snowflake tray was a thrift store find a few years ago.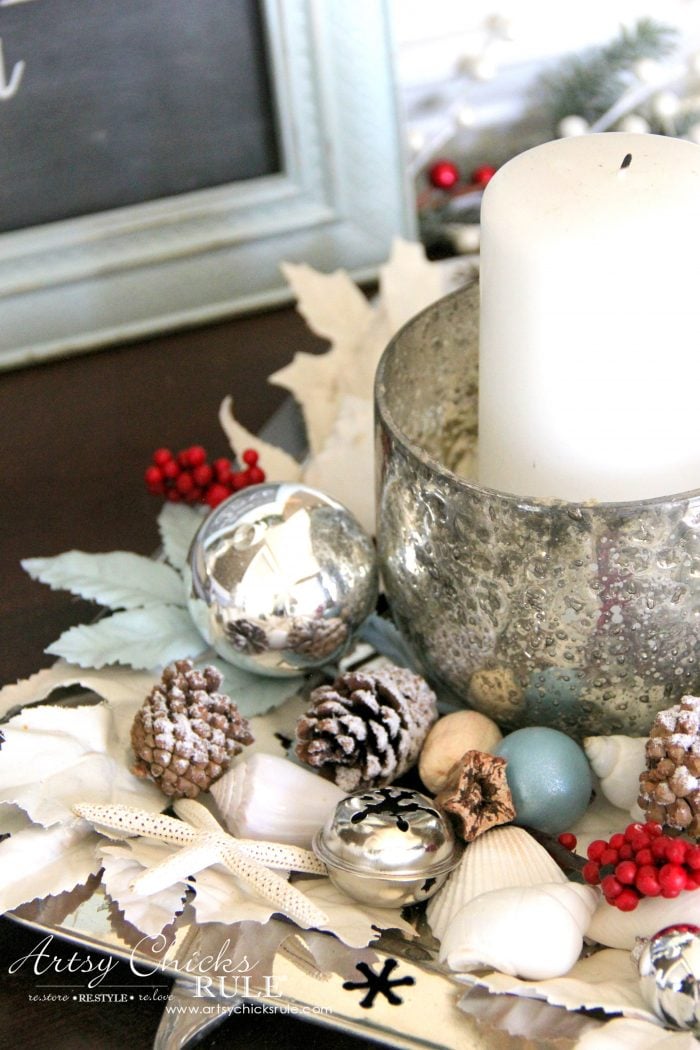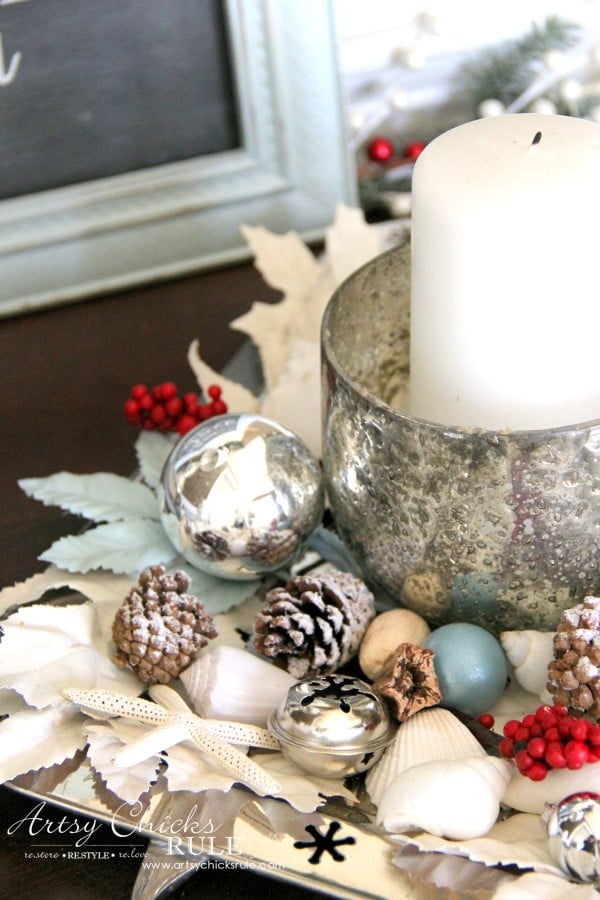 The pine cones were flocked…by me! Told y'all I flocked everything, almost.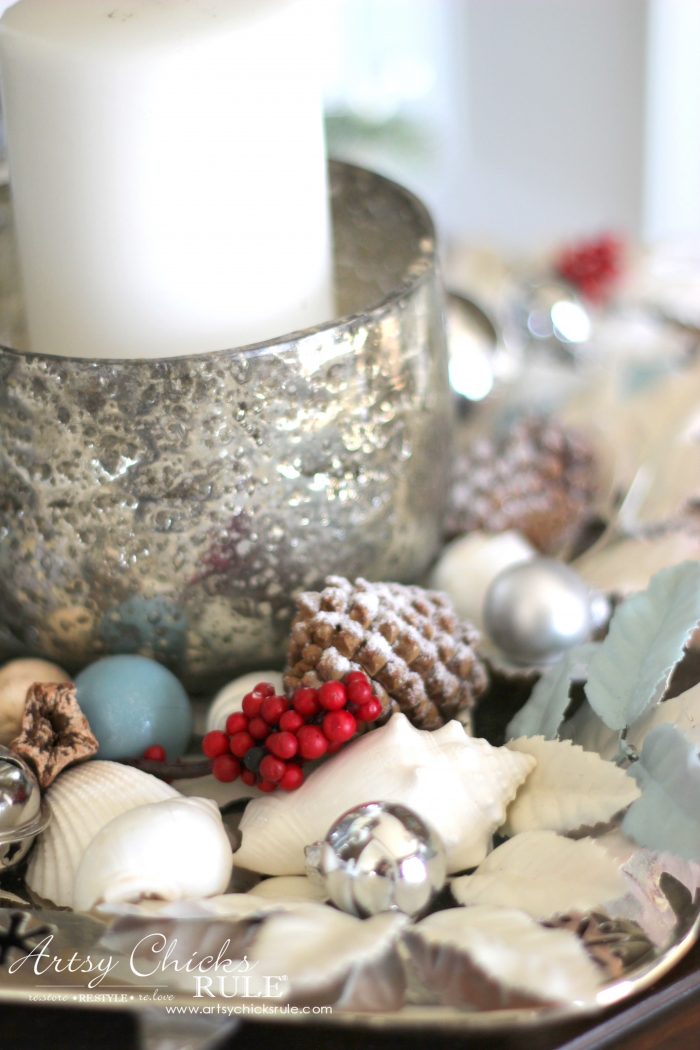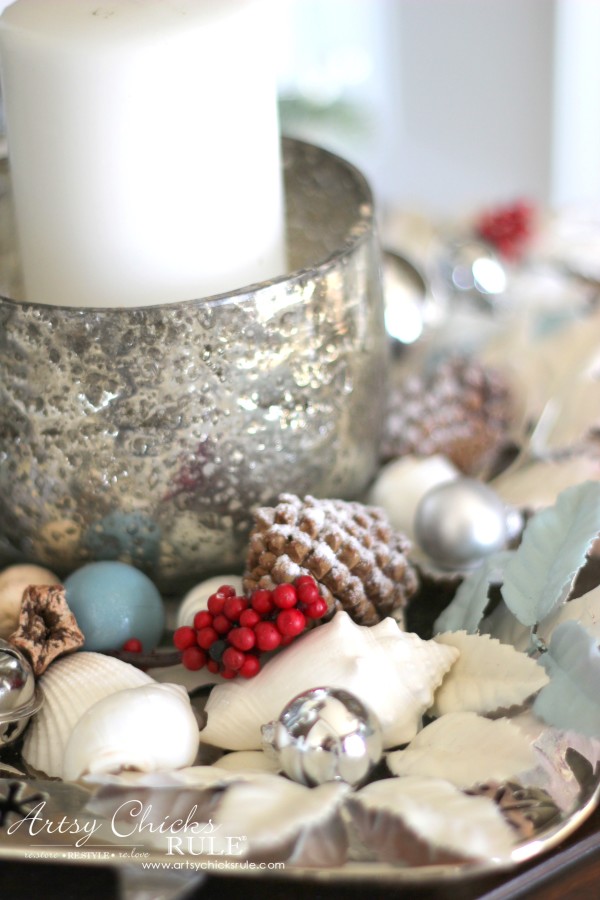 I ended up continuing to use the leaves I'd painted for Fall.
I thought the colors were perfect for my Christmas decor as well.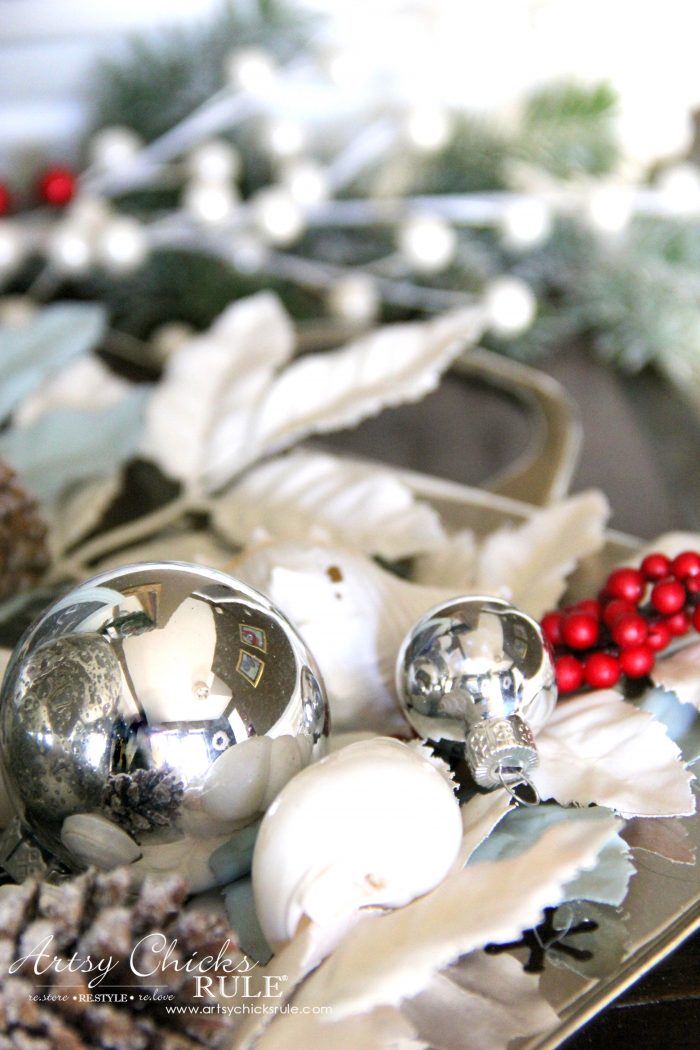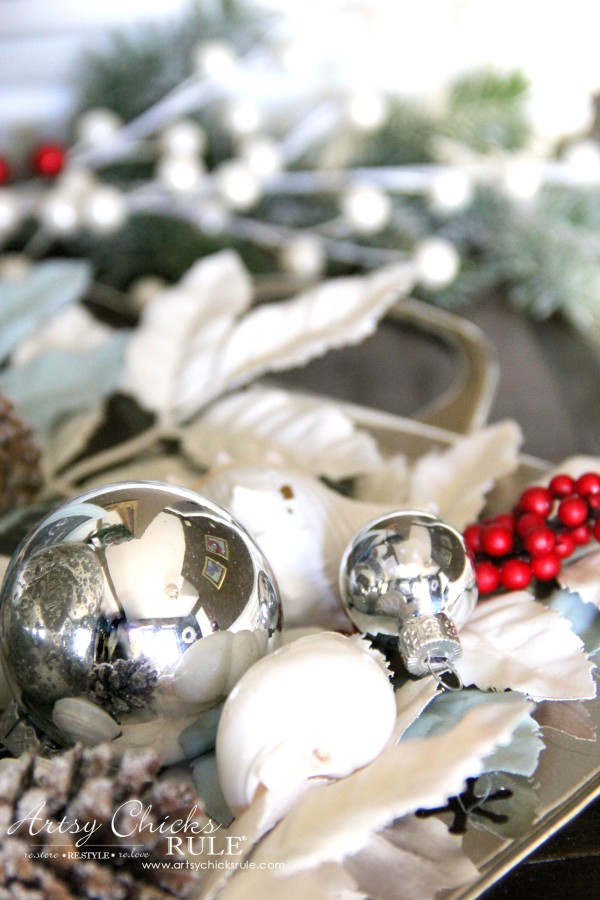 And I do love the little pops of red I added all over my home.
That is a reflective ornament right there!
You can see the photos on my wall and the wreath on my front door!
Santa here was also a thrift store find from a few years ago.
I've used him in my decor several times now.
He didn't look like this when I got him though…he got painted.
Now he is oh so elegant.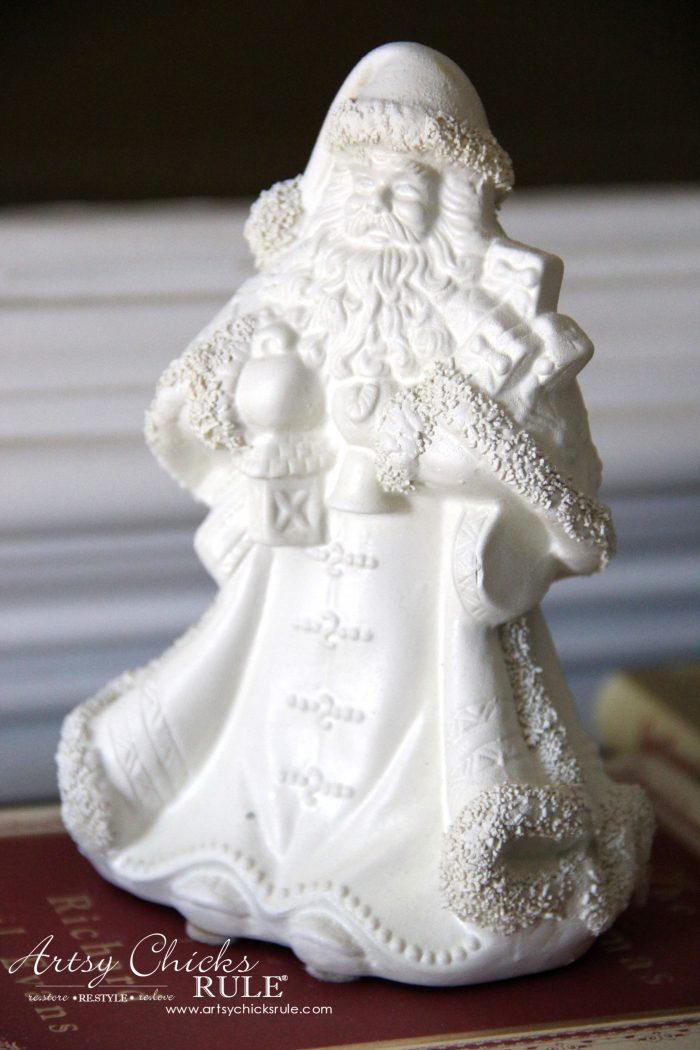 He is sitting atop a Christmas book. (and a bit more red for my vignette)
This wreath is probably ten years old.
Hung with a pretty crystal star ornament in the middle.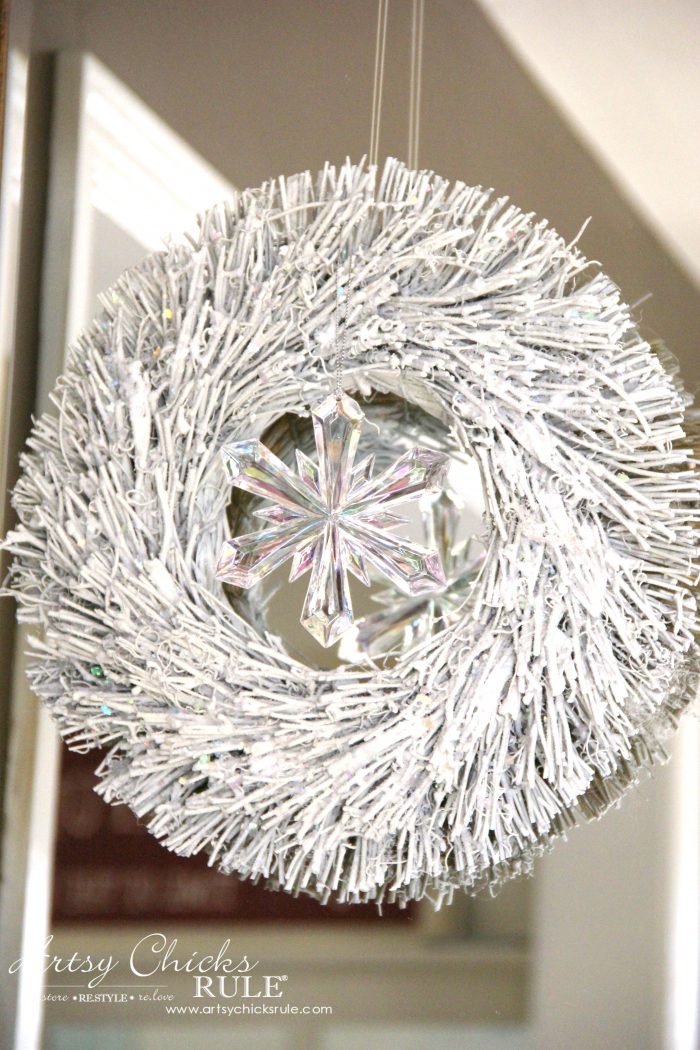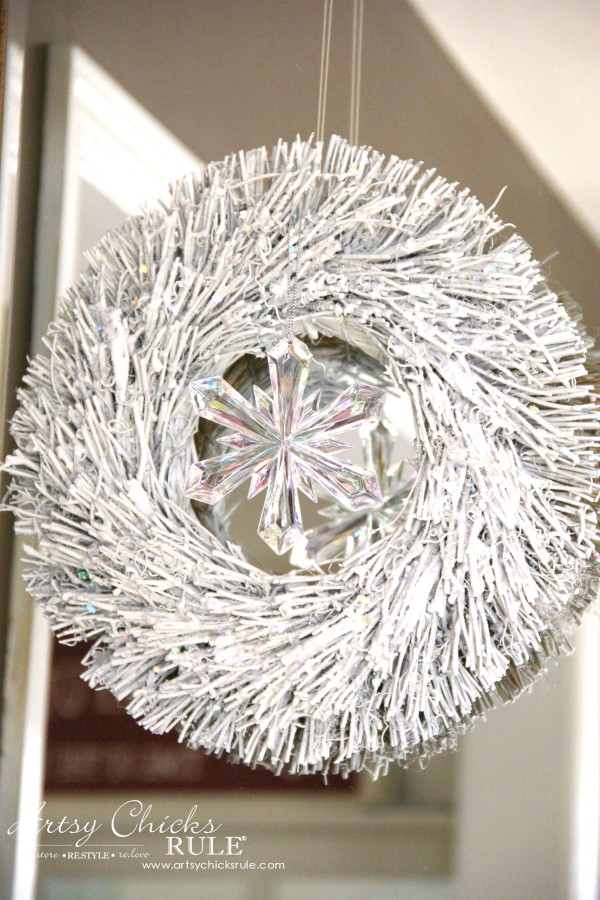 It was gold originally.
I sprayed it white and used it that way for a few years.
This year I added some…can you guess?? Snow flocking. :)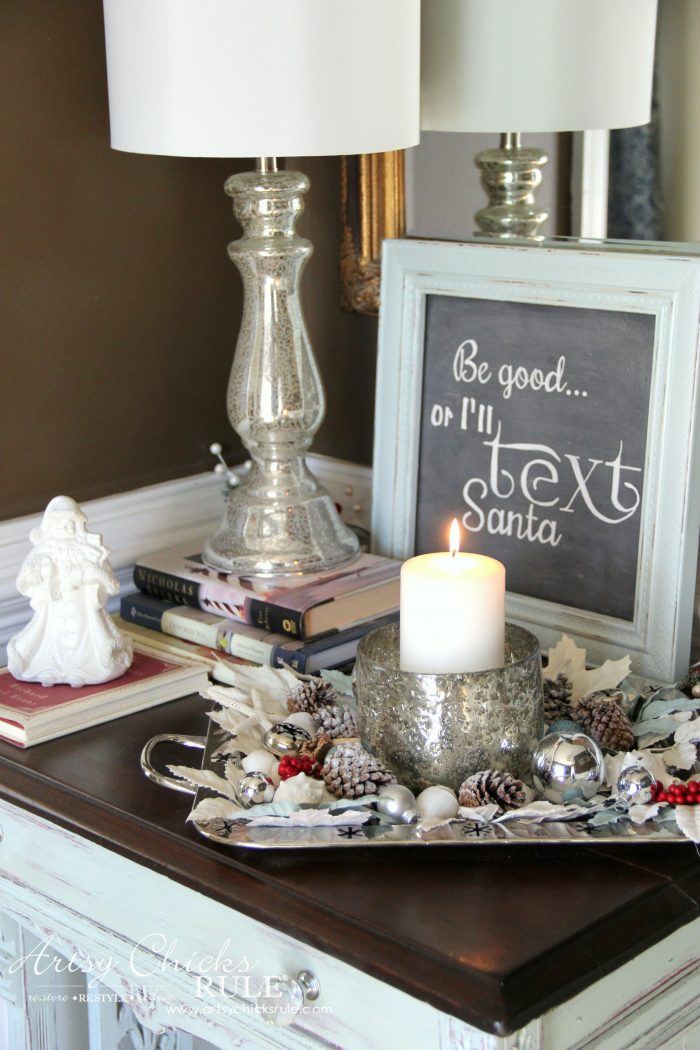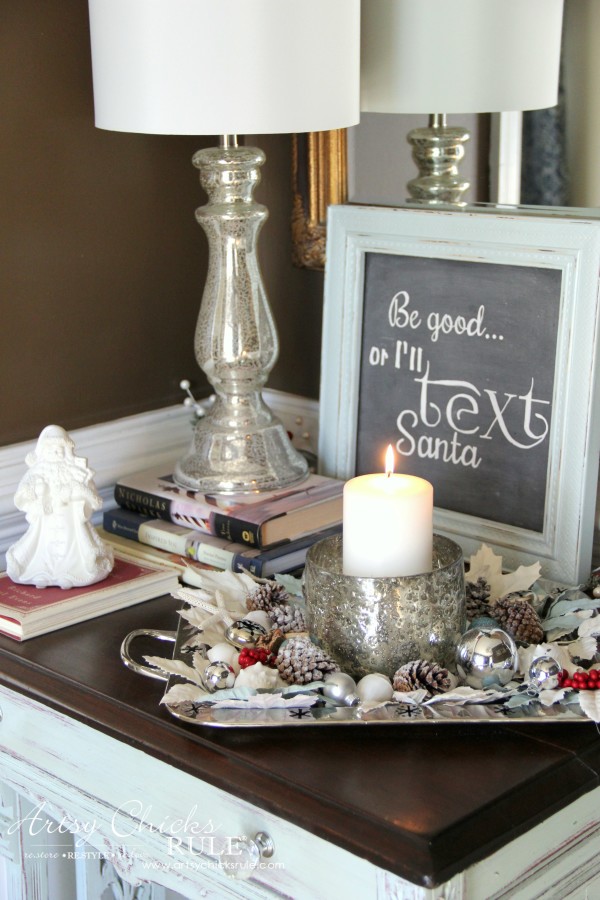 And with a little candlelight.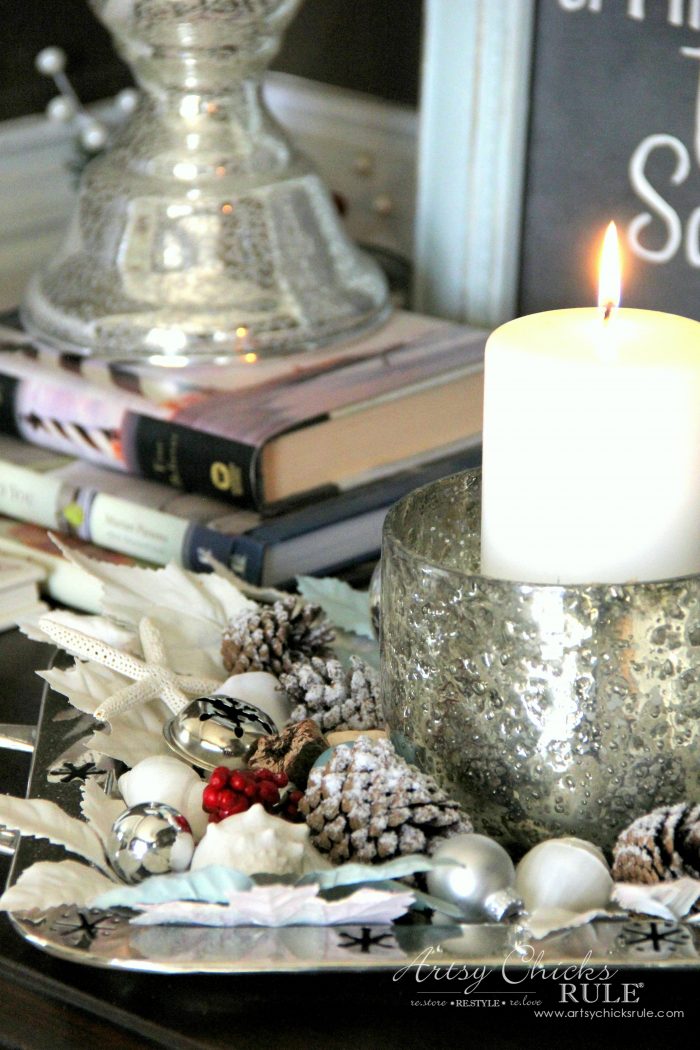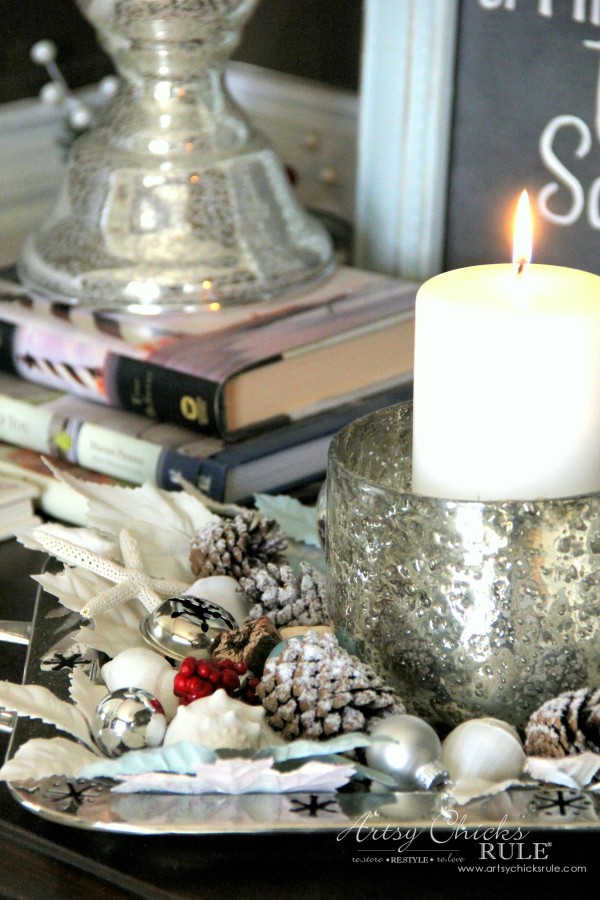 I'll be sharing the rest of my home tour starting on Sunday.
Okay, now for even more decorating inspiration, visit my friends below and see what they created for their "one and final space" this month!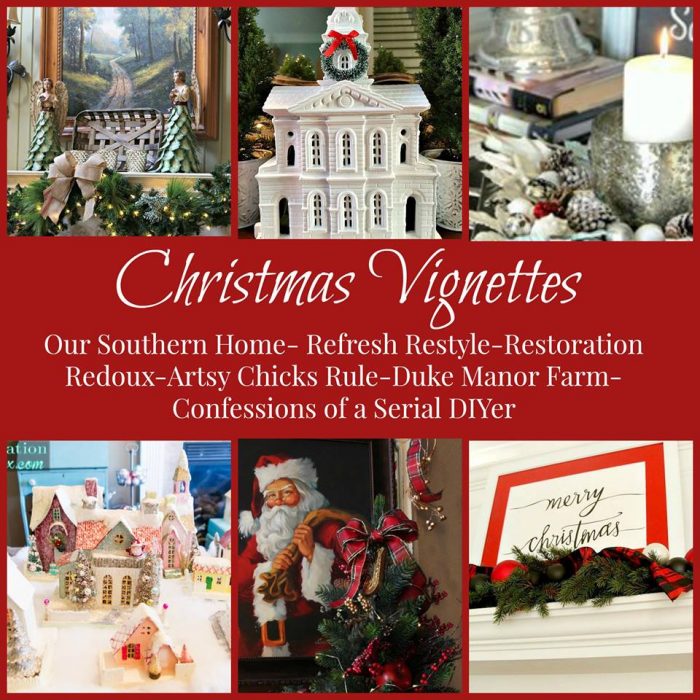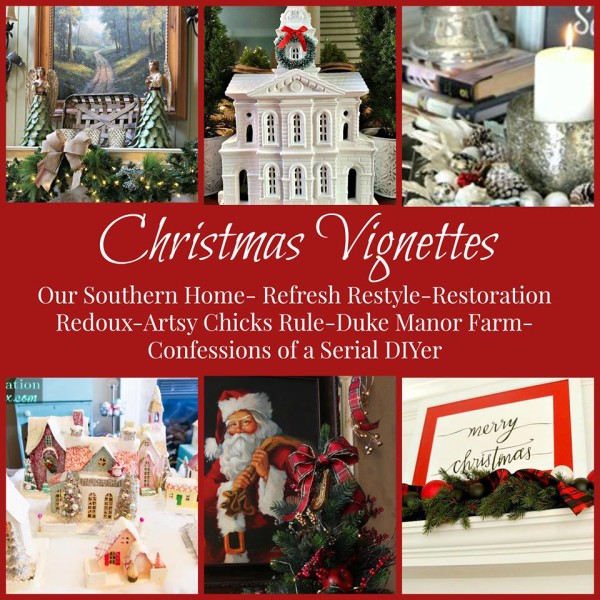 Confessions of a Serial Do It Yourselfer
…………………………………………………………………………………………………..
And now it's your turn.
Let's see how you decorated your space for December! :)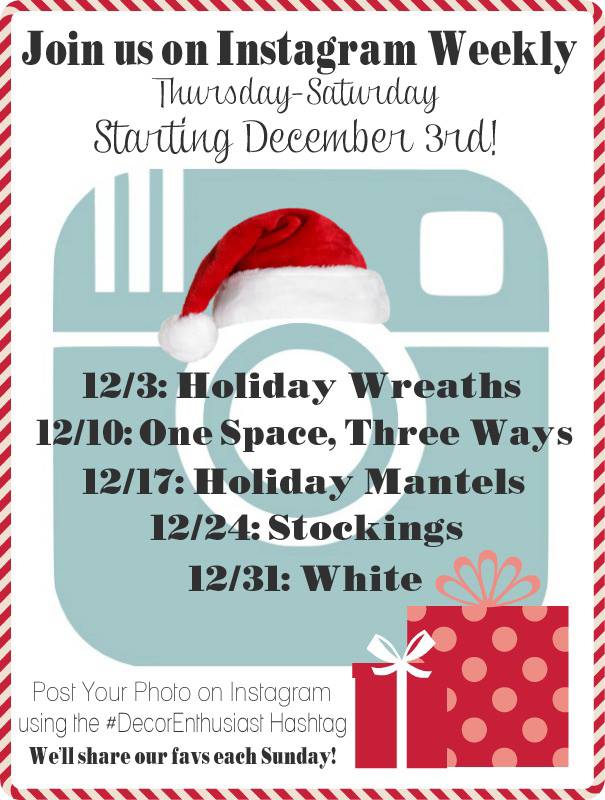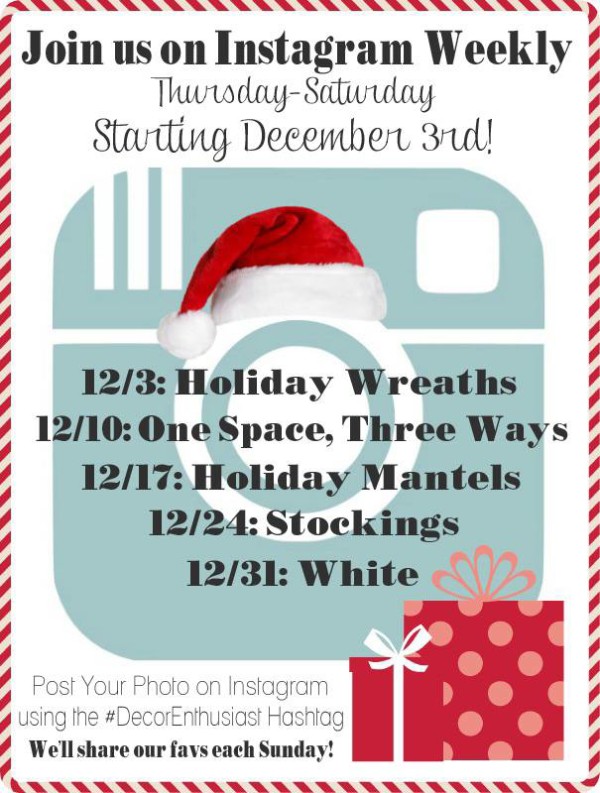 Share them in our decorating group here—> Decor Enthusiasts Facebook Group.
(If you aren't a member, we'd love for you to join. It's a fun group!!)
AND share them on Instagram (if you have Instagram) too between Dec 10th -13th.
If you have Instagram accounts…
1. Add your own post (Your One Space/3 Ways, for the month of December)
2. Tag it with #DecorEnthusiast hashtag so we can find you
3. Follow all 6 of the hosts over on Instagram
We will choose a winner that will be featured on all 6 of our Instagram feeds on Sunday, December 13th!
Follow here:
@artsychicksrule (me!) @christykjames @oursouthernhome @restorationredoux @refreshrestyle @dukemanorfarm
…………………………………………………………………………………………………..
I'll see you guys back here on Sunday with Part 1 of my budget friendly, semi neutral with bits of red, Christmas Home Tour.
(and I'll be revealing a new project or two we also did this month! ;) Terrible timing but I'm so glad they are done..whew!)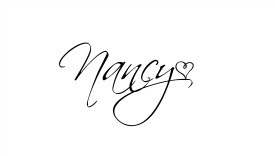 Follow along! –> Instagram ~ Facebook ~ Pinterest ~ Bloglovin