Awhile back I posted about painting my kitchen island ….again.
I was a little unsure since I had only recently painted it black.
But as you can see…I went for it…and painted it with Duck Egg Blue Chalk Paint! ;)
Surely you are not surprised, right? (and if you follow me on Instagram you know I did this over 5 months ago now…most things get there long before they get written about here)
And so…. I couldn't be more happy.
But…..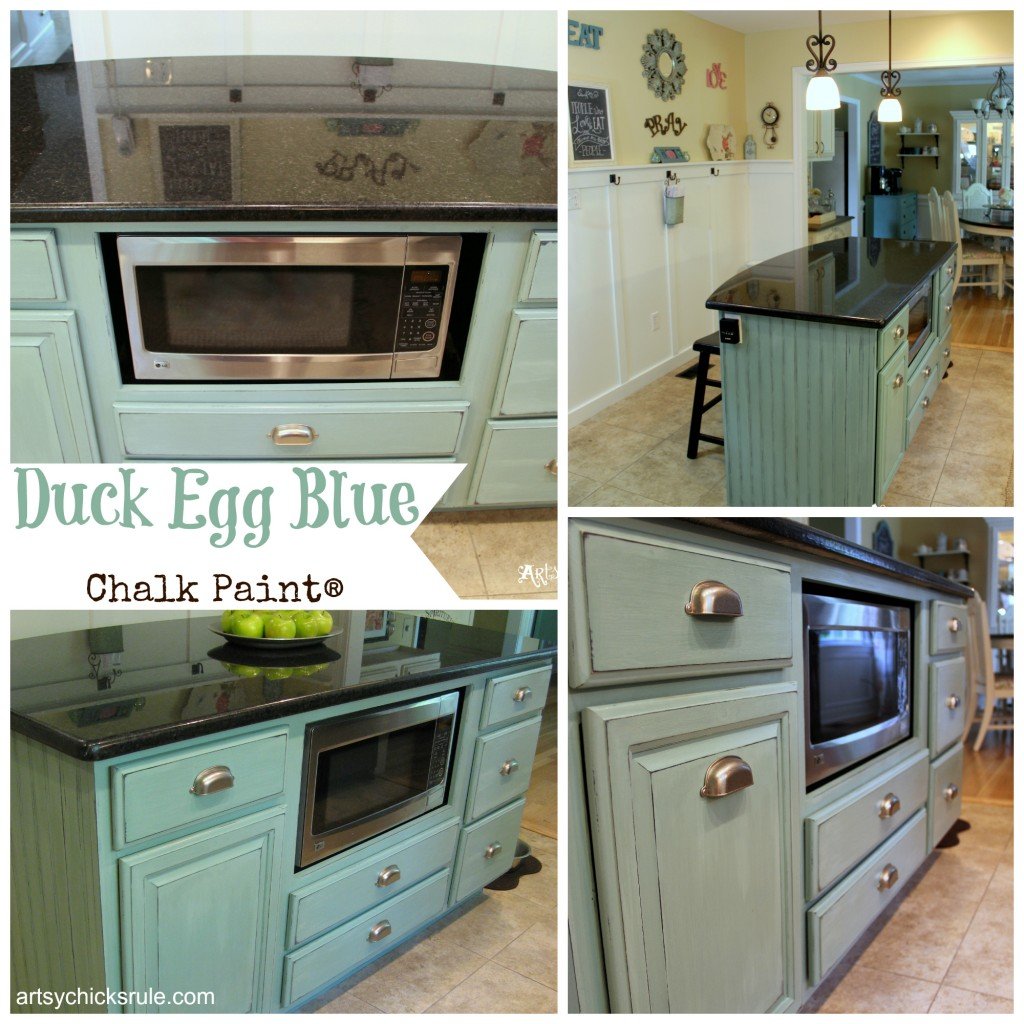 ….even I, who loves color and is not afraid of color, was a little afraid of this color, on this island.
I almost painted over it immediately which would not be unusual for me.
But I let it grow on me (thanks to some well timed intervention — from my hubby and awesome sister in law)…and it did, quickly.
I love, love, love it.
I have to say I truly did like the black but I wanted a splash of color in this room…and a big one.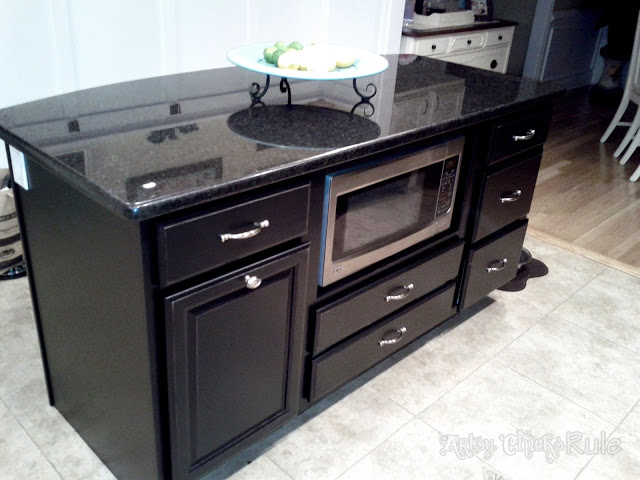 So, just a recap, it was built by my husband and myself when we reno'd our kitchen a couple years ago.  (walls out and all that)
This was originally an eat in kitchen and we had a small table in that back corner.
We removed a full wall on that side and a half wall on the opposite side (I'll have a full kitchen reveal soon) and put the island in.
The island was made from 3 pre-made cabinets at Lowe's.
I will have a post on how we did it and how we re-worked the middle cabinet to accommodate the microwave at a later date.
Here it is in it's original finish –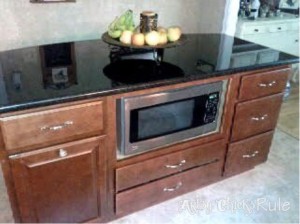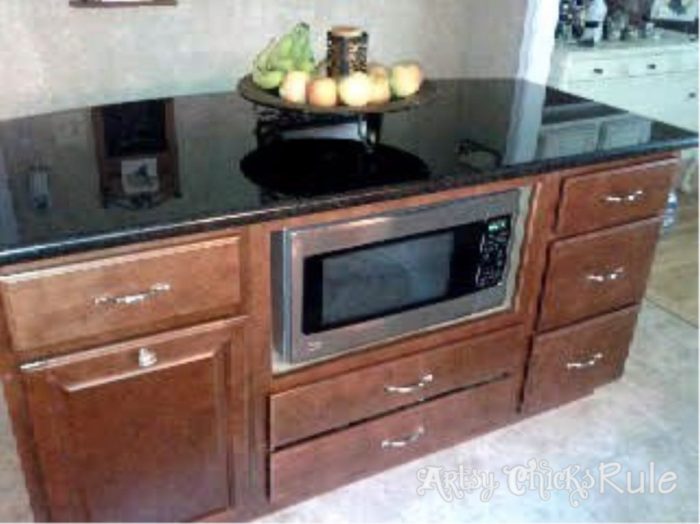 And I have to show you the kitchen before the island and before the wall removal….
Basically same view (corner) in all photos in the collage…what a difference, right??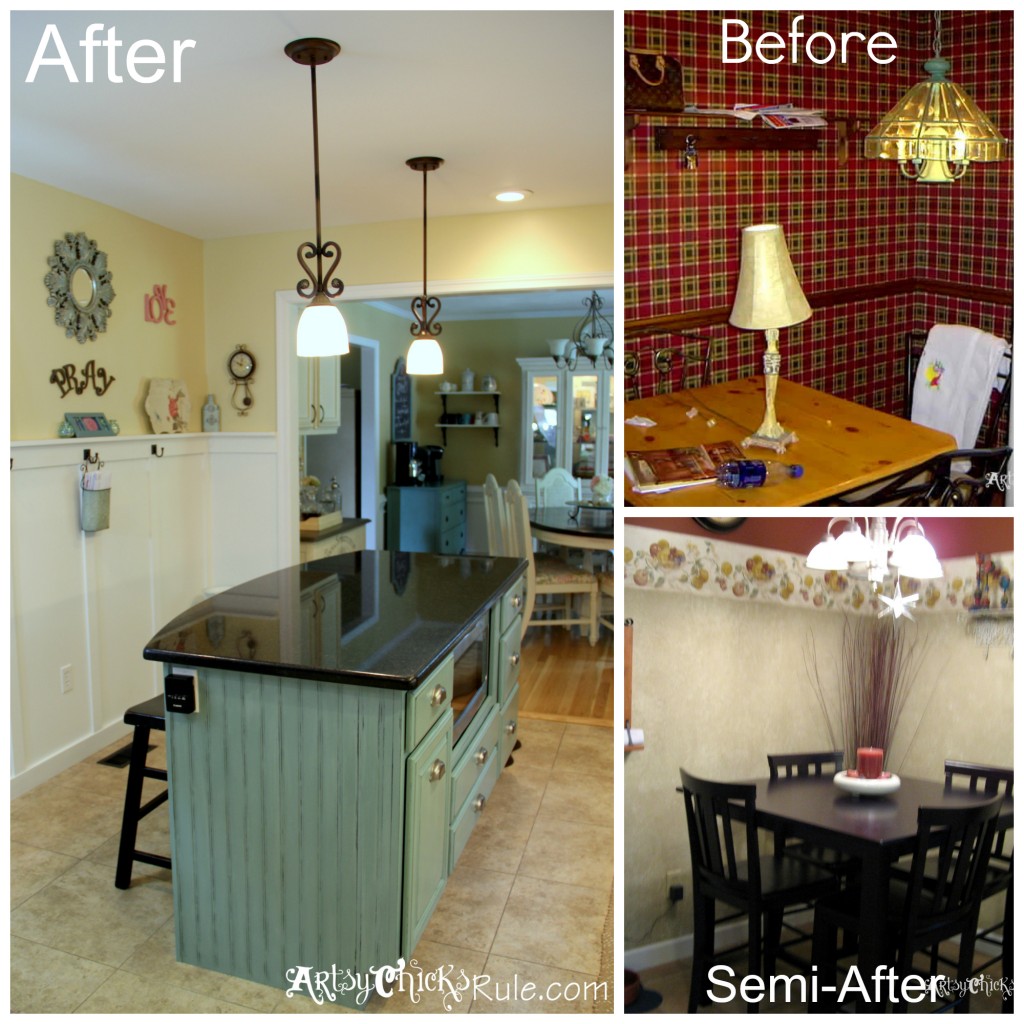 And how about that BEFORE, before?……..(as in days after moving in and already tearing the kitchen apart )
Yea, plaid. Lots of plaid…and it was DARK.
Plus dark wood cabinets, dark wood trim, dark wood doors, dark wood paneling. Makes for a very dark house!
This house has gone through MAJOR changes and I can't wait to share all the before/afters. (want to see a few more photos of this wall removal/kitchen demo?
Look at this post —> here.)
But first…back to the island, y'all.
Since we made the island out of 'ready to go' cabinets from Lowe's they had no finished wood panel on the back.
So, we decided to put paint grade bead board up and I would stain it to match.
Nope, could not get a good match…so I came up with the idea to just paint it black like the granite we used on top.
I think it worked pretty well. Not ideal, of course, but putting the island together this way saved us a bunch. (picture below of before when the sides & front were Cherry…then below that -after I painted it all black-Sherwin Williams 6258 -Tricorn Black)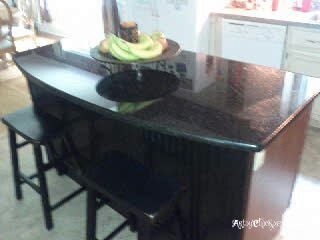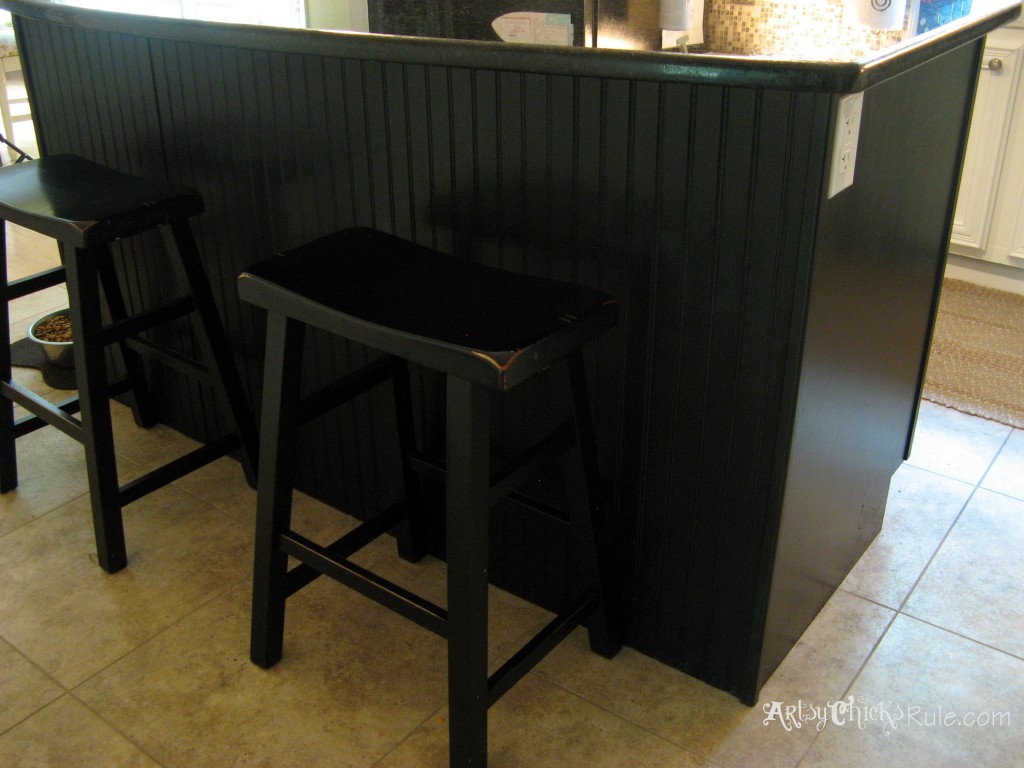 When I decided to paint the island in the Duck Egg Chalk Paint, I thought it would be best to put bead board on the smooth sides to have continuity of the back.
Plus I like detail and thought the flat panels on the sides would look boring.
We did a quick spray with black spray paint (they were white primered) so once painted with Duck Egg they would distress the same with the black showing through.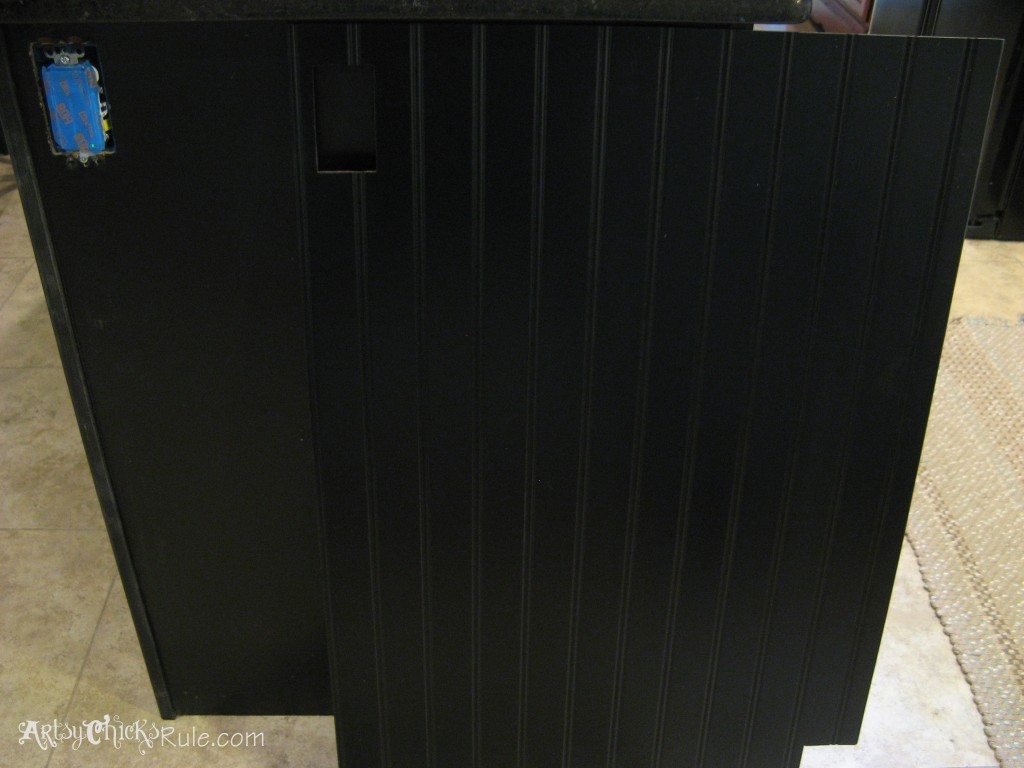 But here's the dilemma.
The back bead board was some sort of paint grade and the wood was not nice and smooth like the new we had just bought.
It was rough-ish in the groves and looked terrible once painted a lighter color.
Soooo….we covered it up with the same new panels we used on the sides.
(they come white but we did another quick spray of black on these two before installing)
I know it looks exactly the same in the picture…but TRUST me when I say, in no way were the two boards the same.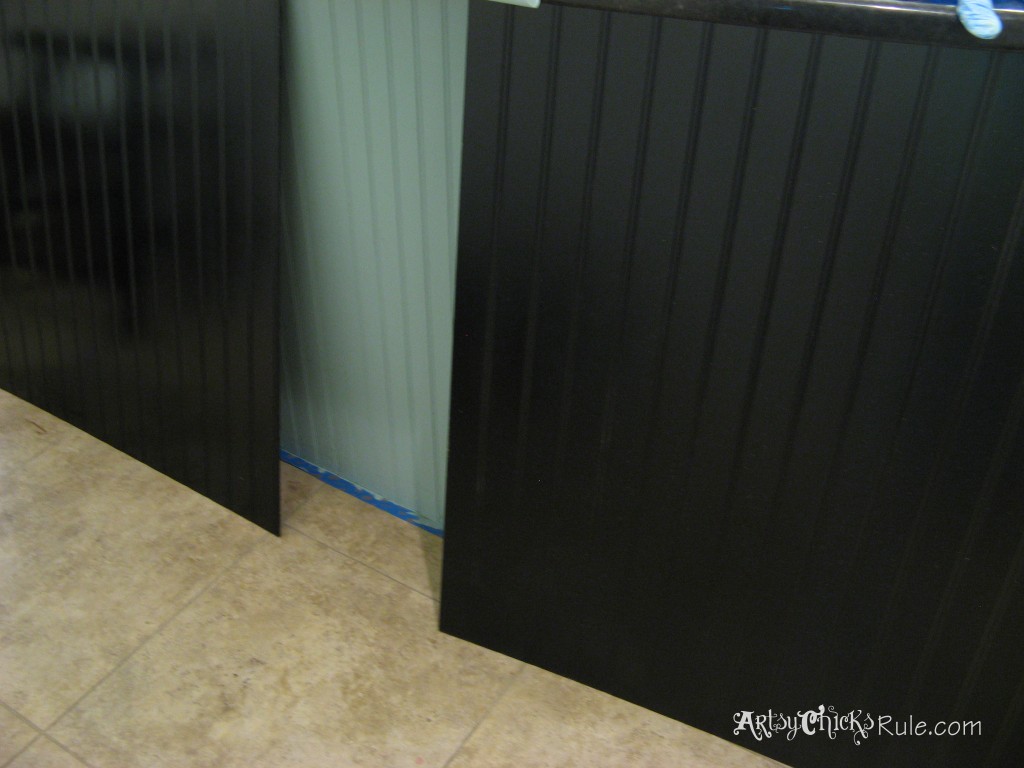 So much better.
Nailed & glued in place, painted and distressed.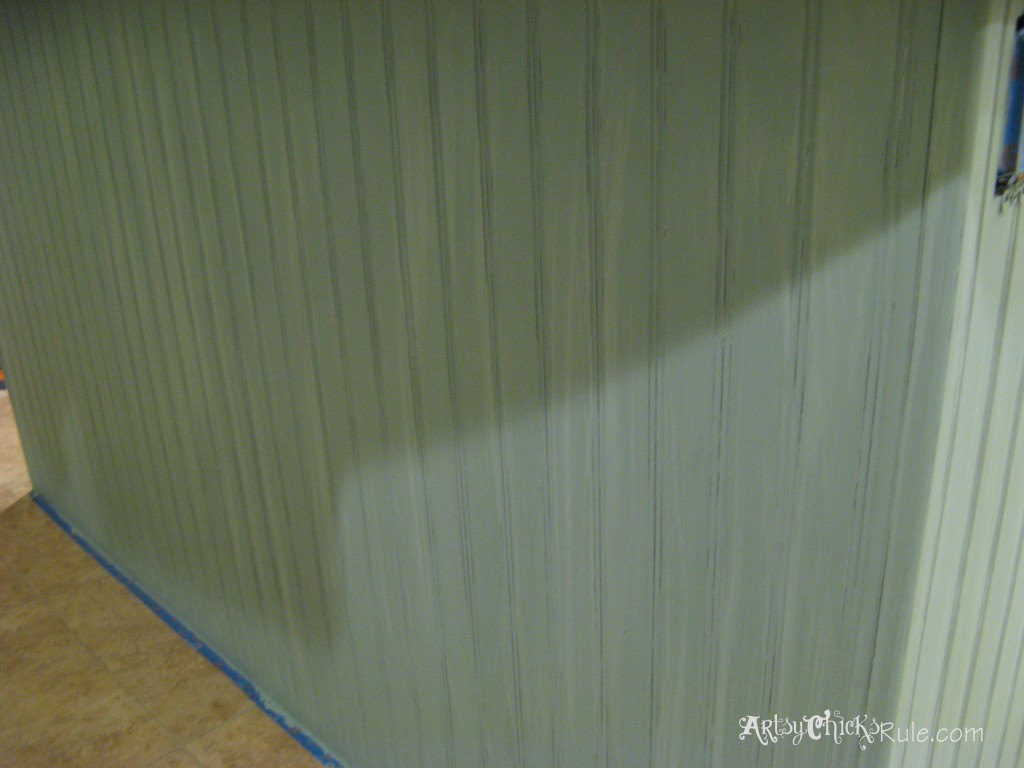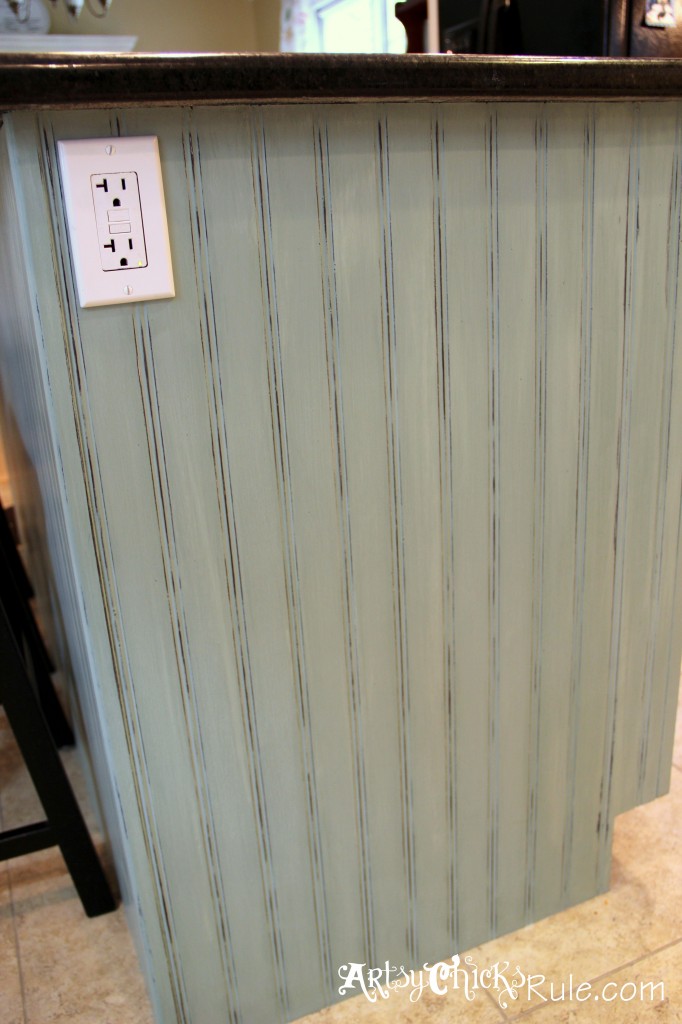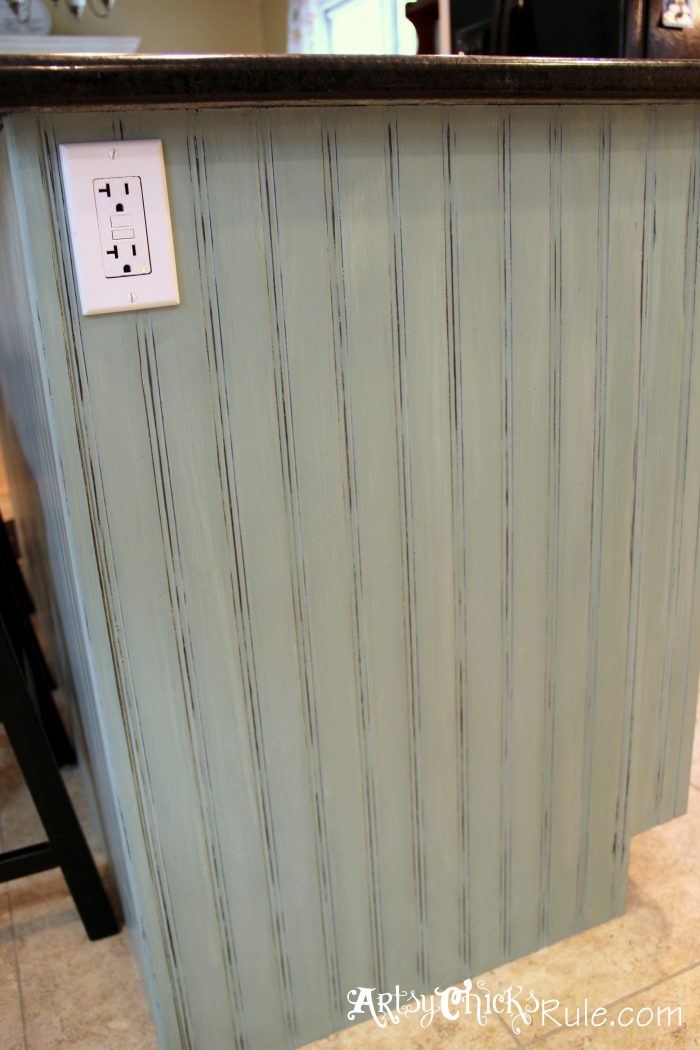 Here's a fun little surprise….when I used the wet sponge to distress on this Duck Egg Blue Chalk Paint I got a "washed" effect.
I LOVE it.
And I love fun surprises like that.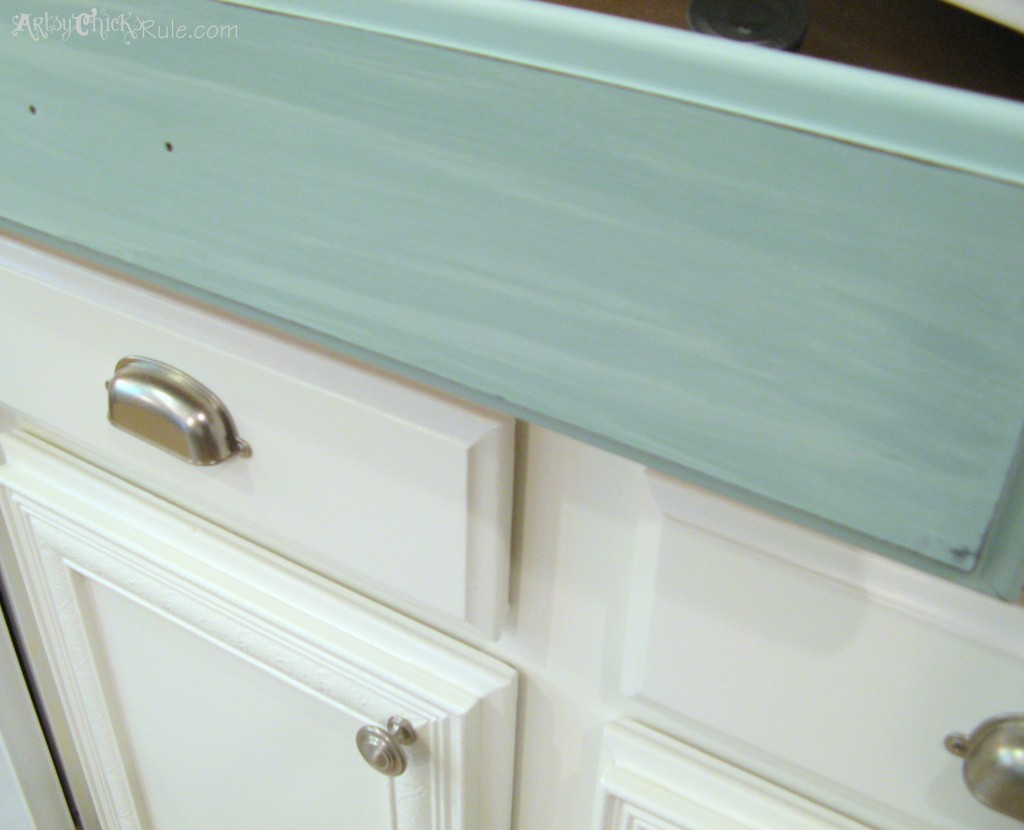 Is that not totally cool?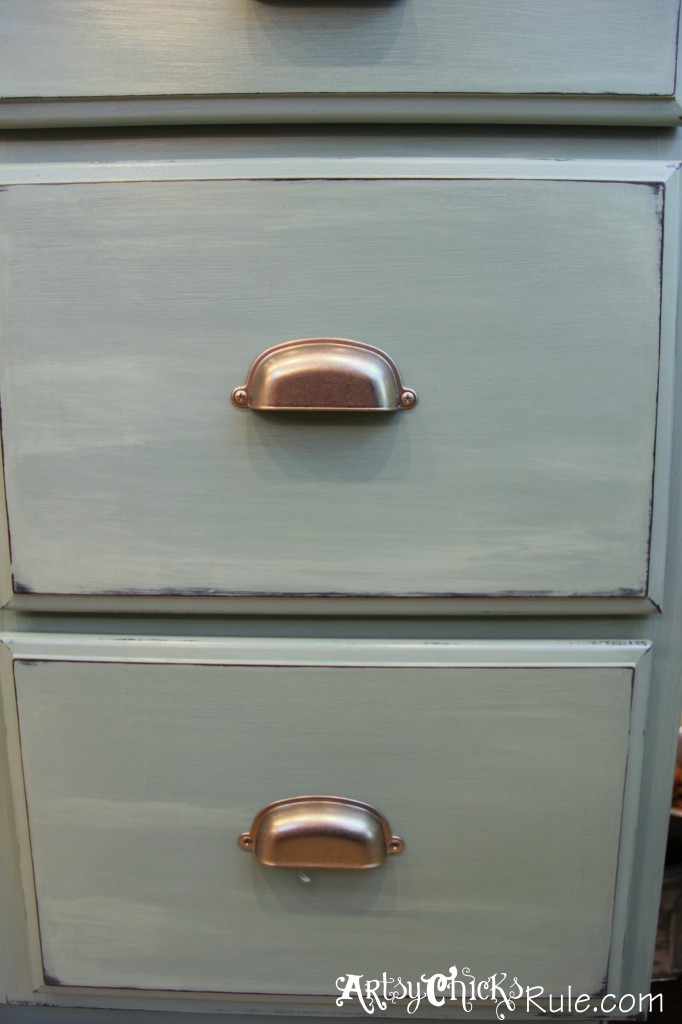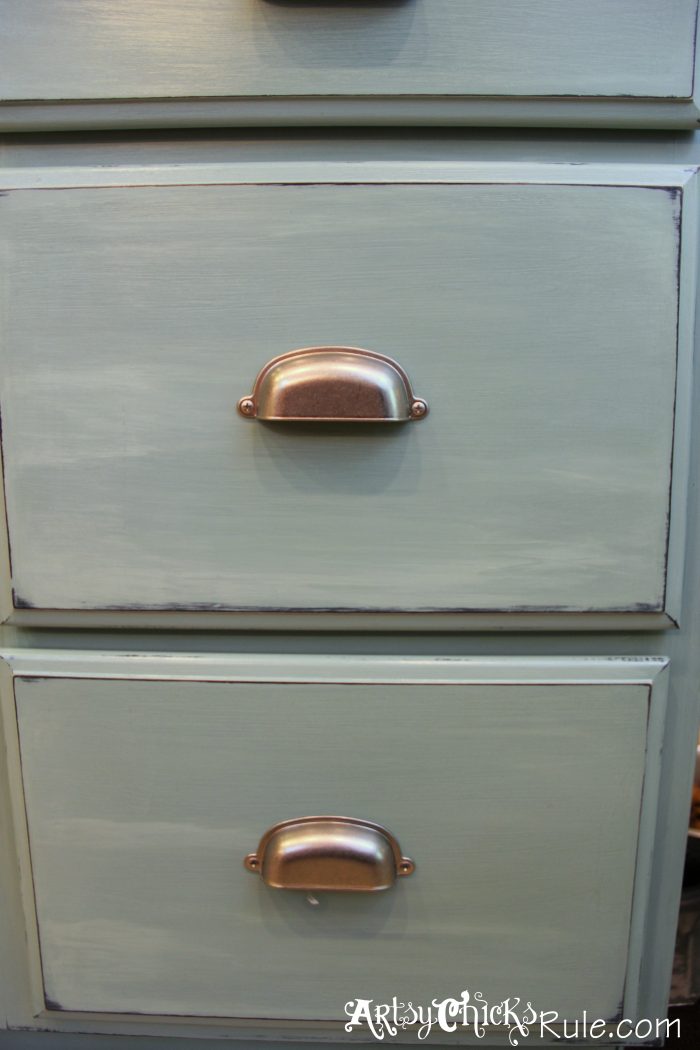 Oh, and those are the rest of my kitchen cabinets in the photo above. I painted them in a blend of Pure White/Old White Chalk Paint ®.
And yes, I painted them twice in one week…because my mix had too much Old White (too yellow) first go round.
Yep, painted, sealed, repainted, resealed.
But I knew it would drive me crazy so the only thing to do was jump right back on it and get it done. So I did.
And now they are…perfect. :)
I decided to use a poly to seal this island (and my other kitchen cabinets) since they are in the kitchen and will get a lot of use.
We refinished our wood floors last year and the poly I used to seal the floors is fantastic.
I have used it several more times since on various projects. It is HARD and hard wearing.
Varathane Floor Finish….Water Based. It's really good stuff.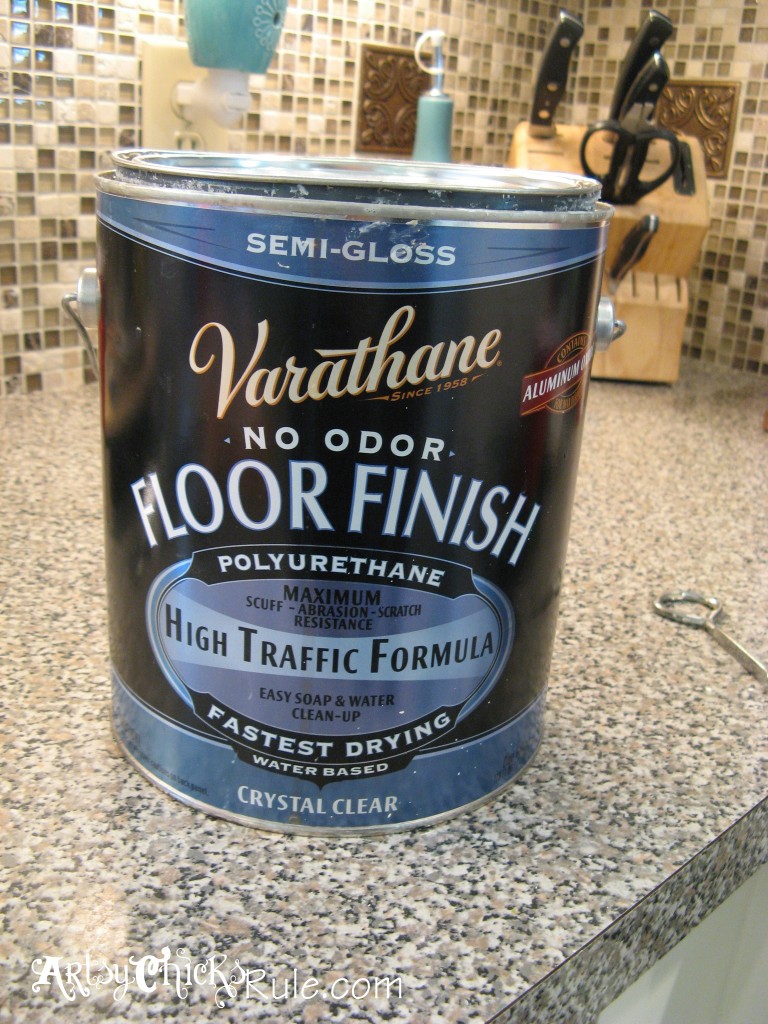 So there ya have it! I did it. I painted my island and I know that not everyone will love it this color…but I do.
It feels so happy, bright and cheerful in this kitchen.
Especially so, compared to when we moved in. (huge understatement)
….and it was so easy to do with the Chalk Paint.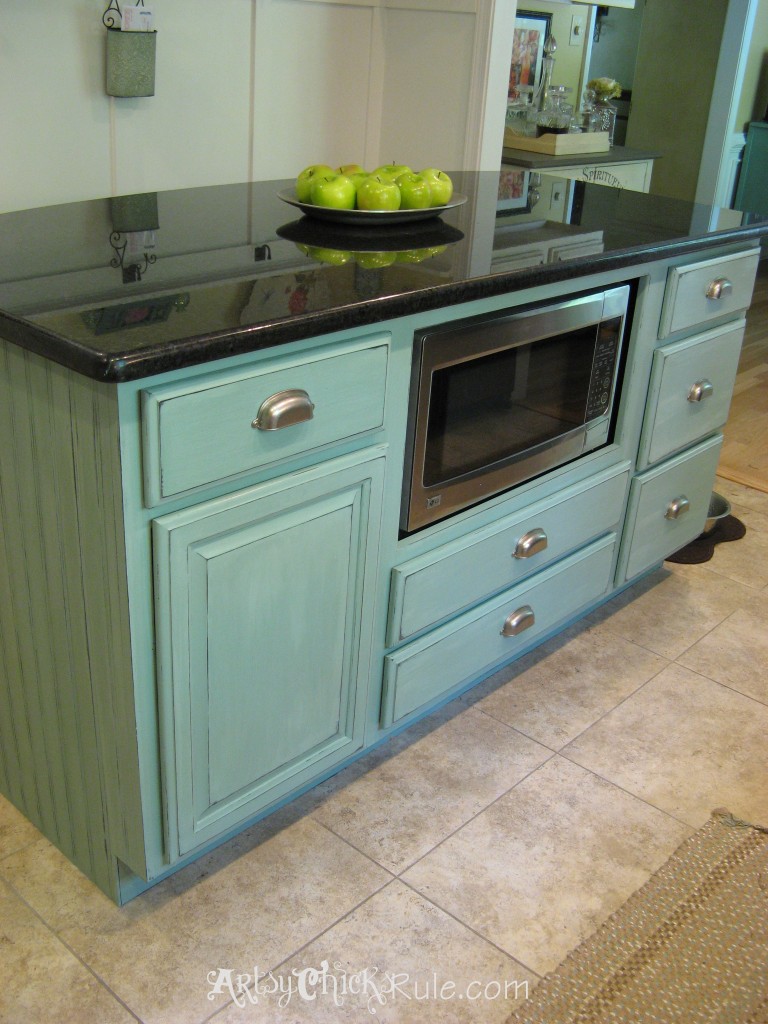 What a difference a little paint & color can make…oh and new hardware too.
Isn't that Duck Egg Blue Chalk Paint beautiful?
PIN this Duck Egg Blue Chalk paint island makeover for later!!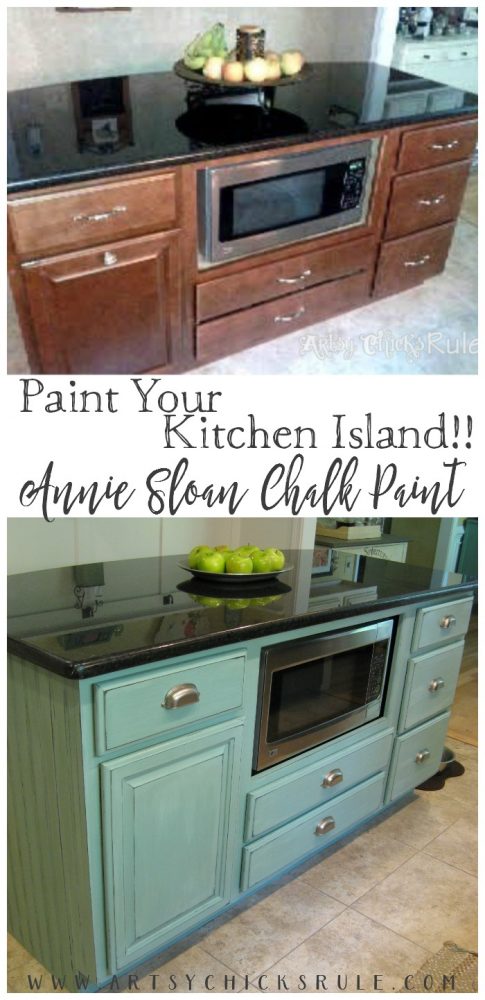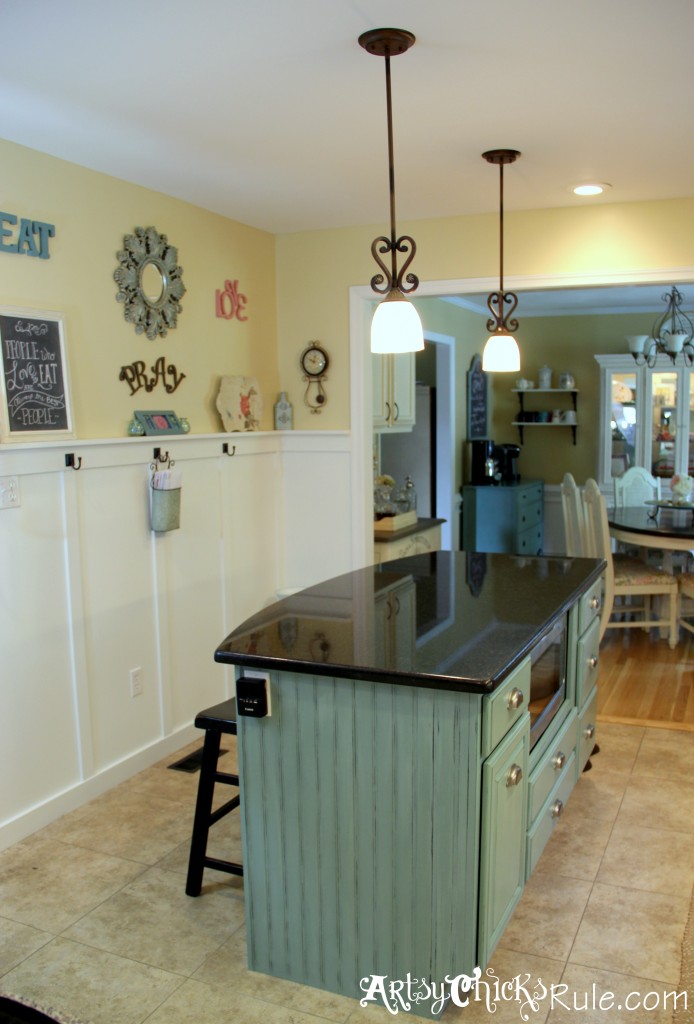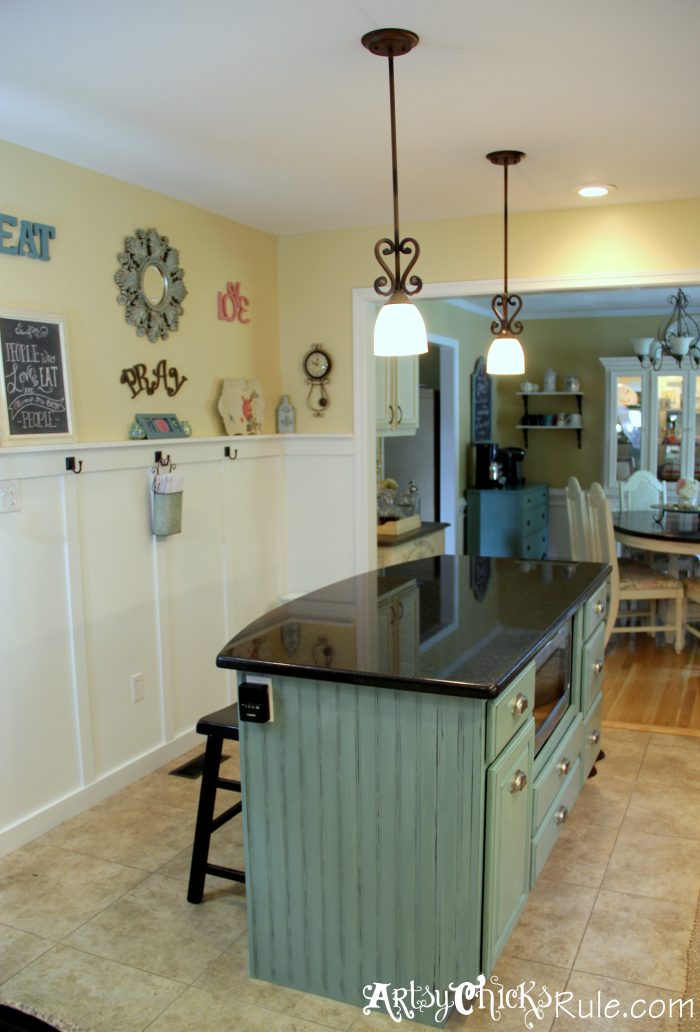 What do you all think? Do you like the black better?
Or maybe the Cherry colored wood?…..oh I know,  the dark plaid wallpaper, right? ;)
..nah……this is definitely a keeper.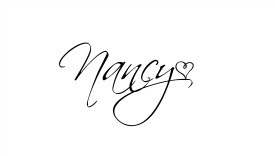 You might also like these projects:
Follow Along Here!

Related affiliate links you may like: