Hand Painted Compass Rose Tables (Annie Sloan Chalk Paint)
This post may contain affiliate links. Please see disclosures here.
Create hand painted compass rose tables with ease! It's really not that hard to do as I'll show you in today's post.
This post is a long time coming.
I actually had it written (many) months ago and you would have seen what I did to this poor little table long ago but…….it disappeared.
Poof! Gone one day, never to be seen again. Not sure what happened to it? But I was not a happy camper! lol
But I learned my lesson pretty quickly after that.
All posts get saved elsewhere once written. Something I suppose I should have been doing all along. Soooo…..
….guess it was time for a rewrite…finally.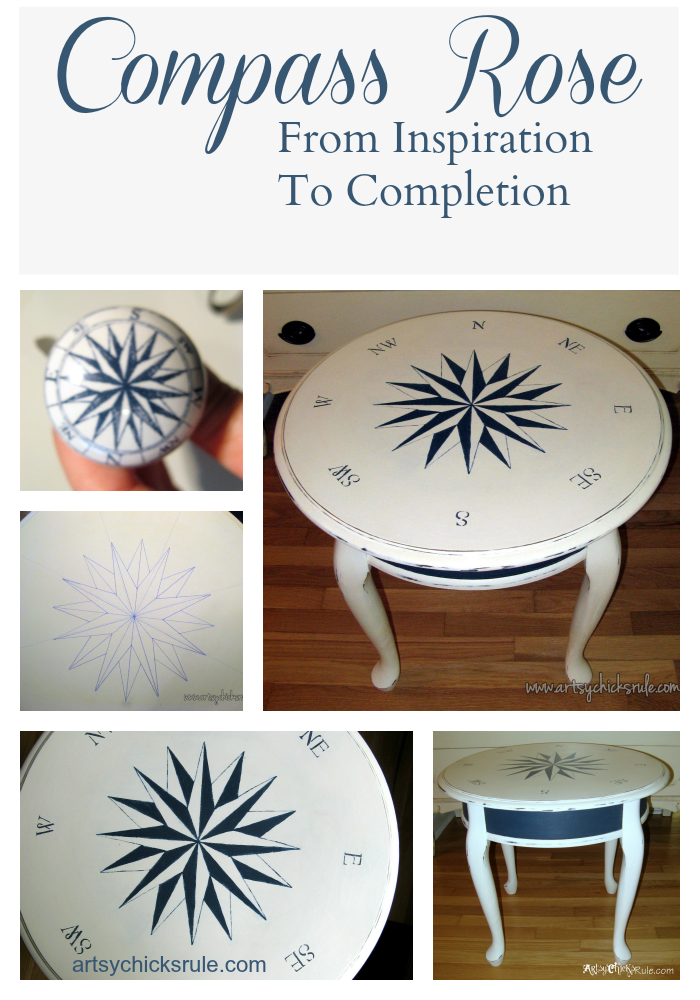 And well, because I also picked up an adorable table at the thrift store a while back for $8….that I'm going to paint a compass rose on, for me! (Which, in turn, got me inspired to tackle this post once more.)
The 2 compass rose tables you see here were not for my own home. The first one above I painted early last year and it went to and was sold at the shop.
The one below was a gift for my sister's birthday….over a year ago.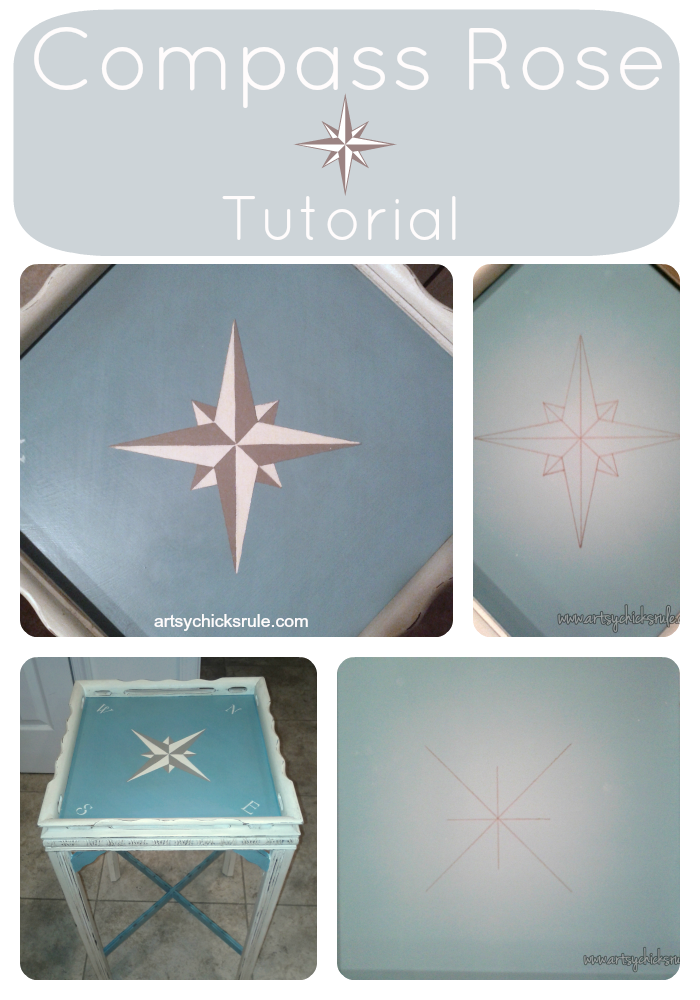 I love compass roses and anything nautical really. I should, I live right by the coast, right?

Update: I've since painted many things with a compass rose, see them here:
I'm thinking more like the first one I posted but with the colors from the second one.
My inspiration for the first of the compass rose tables came from this little knob here….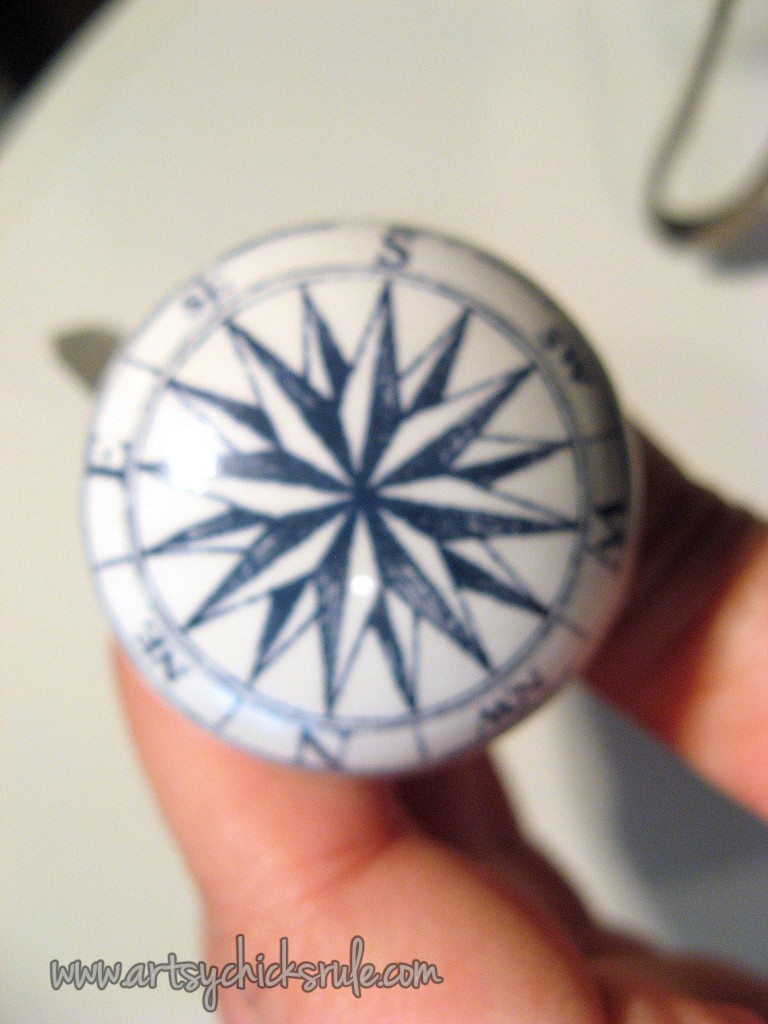 Blurry, sorry, old photo. But you get the idea.
I had originally planned to add this knob to the little round table but in the end didn't. (It didn't really have a drawer…just a pull to a "fake" drawer shown in the picture below- what's the point of that? So I left it off.)
This was the table before the pretty paint job….I know….what the?
Well, it was a whole $6 from the thrift store and it had THE MOST PERFECT super slick top to test out adhesion properties of some paints I was trying at the time.
Want to know about 26 other chalk style paints?
I've got the low down for you right here! >>> 26 Types of Chalk Style Paint For Furniture
Poor, sad little thing stayed that way for quite awhile.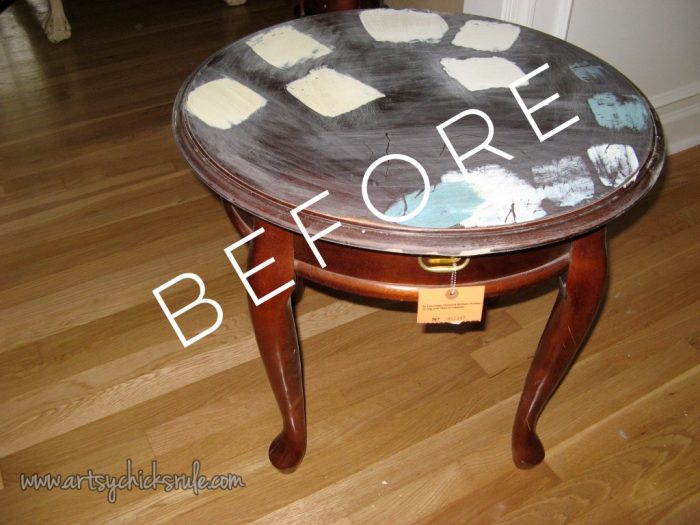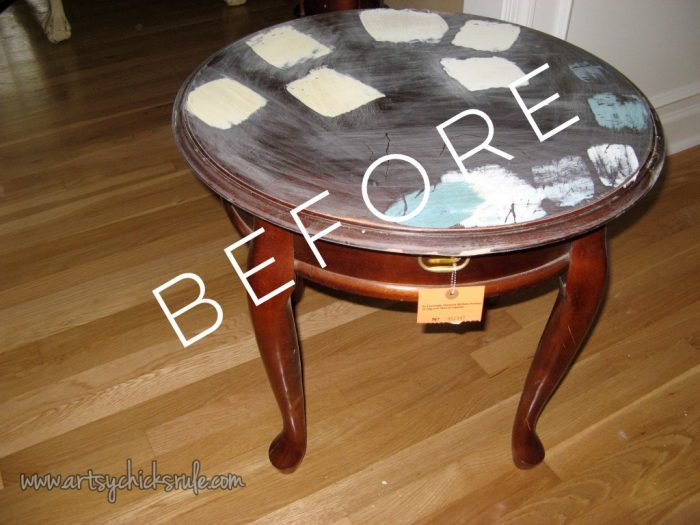 I sanded it well to smooth it out and then painted it with Pure White Chalk Paint and a blend of Napoleonic Blue/Graphite (also Annie Sloan Chalk Paint) to get the Navy color.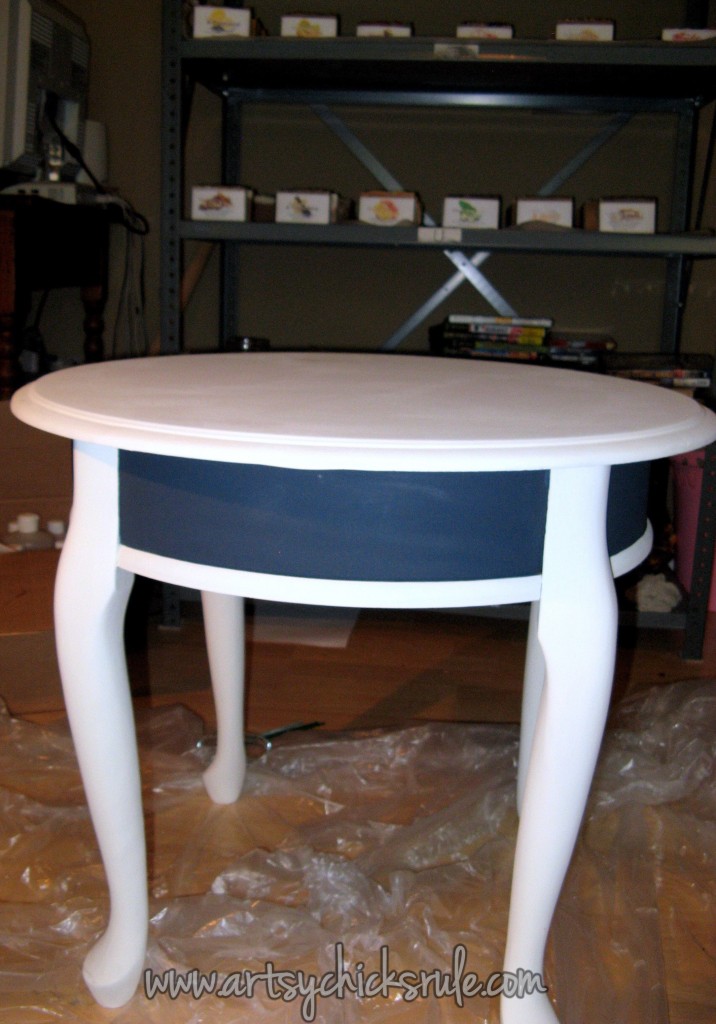 Those are my hand made soaps in the background. I've been making soap for about 15 years now.
I used to own my own company selling natural soaps and soy wax candles (among other natural products)…but that feels like it was a lifetime ago now.
Wait…it was!! haha Well, many years anyway. ;)
I am going to deviate a bit and do a natural soap post soon though. If you are interested, keep an eye out for it.
UPDATE: See the "how-to" natural soap making post now, here.
So back to the table…I drew the design on paper first to get the measurements how I wanted them for each line.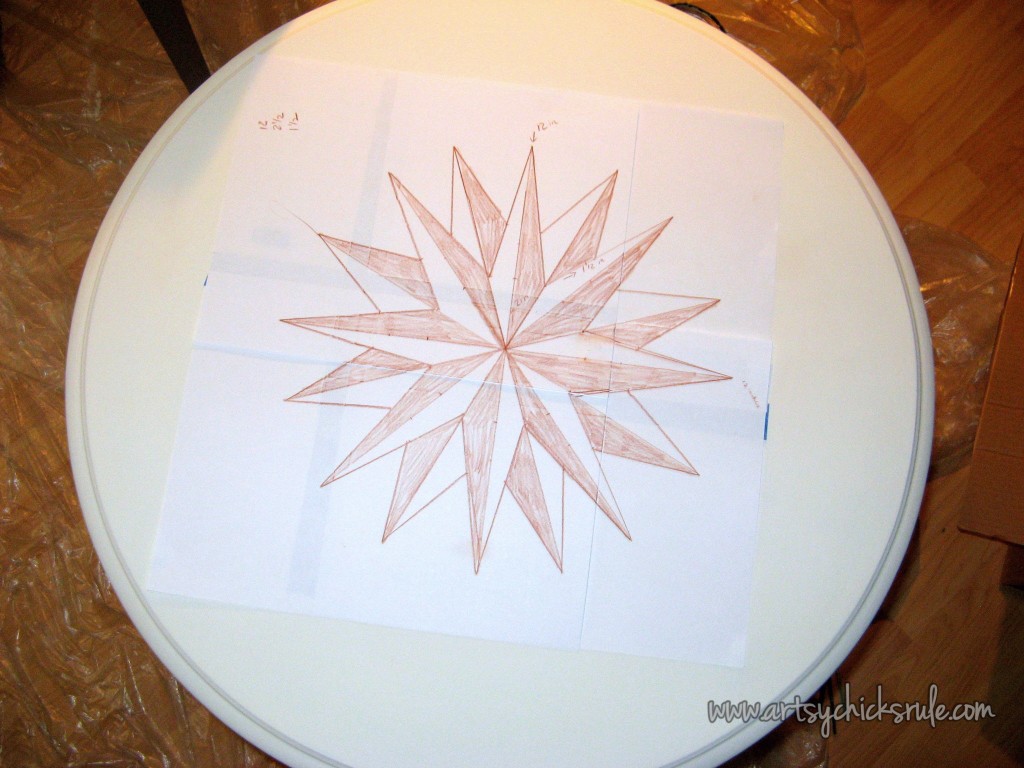 Then I found the center of the table and got started….(this is the same for both styles I have in this post)
You can see the long lines I drew to find the center. And no, my other lines are not "perfect" but they don't have to be….it'll work out.
Doesn't look like much yet…..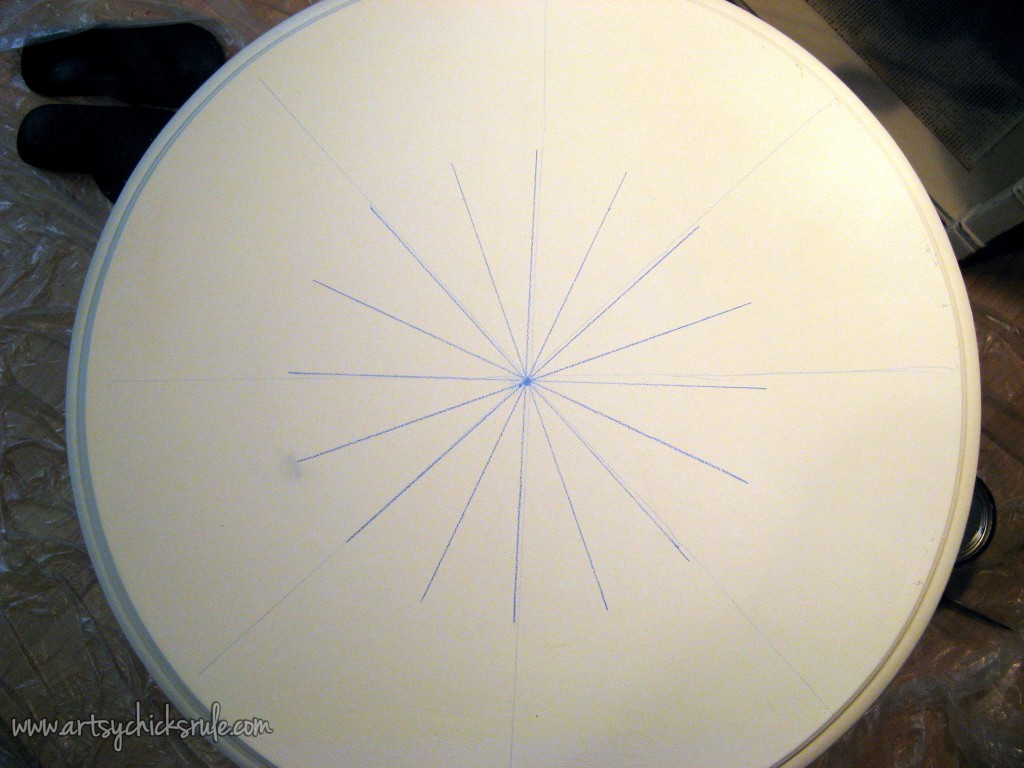 Adding to the design…..(it's "off" a little but that's okay..you'll see)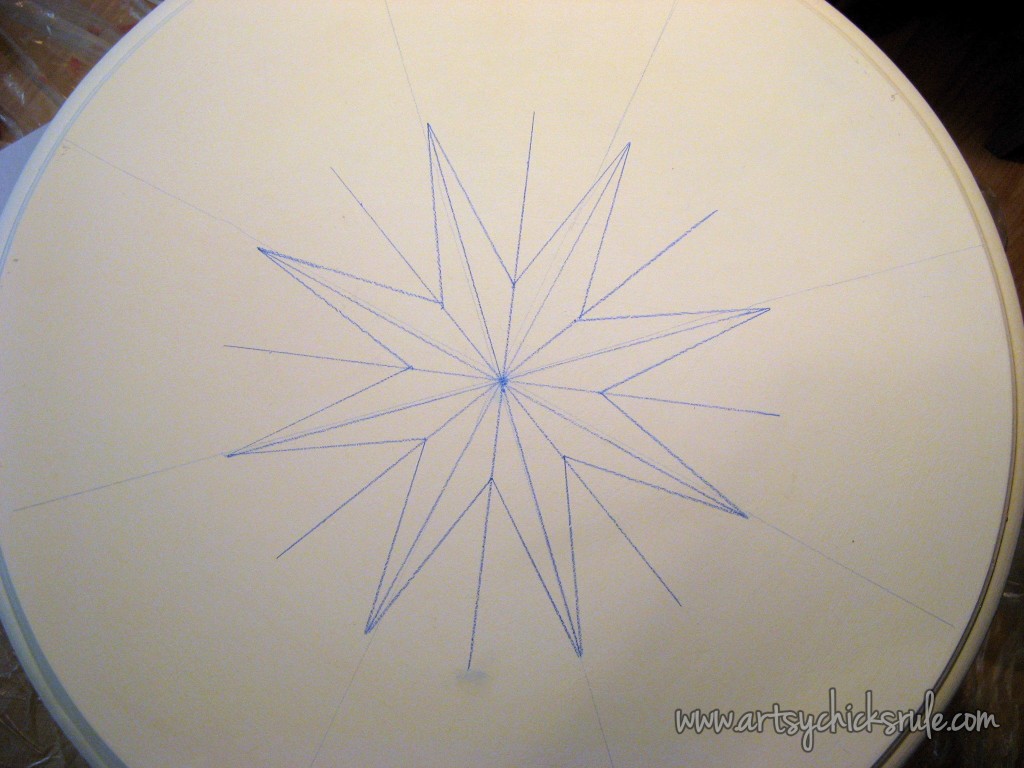 Finished design (I used a navy blue watercolor pencil to do this since I will be painting it in with the Chalk Paint I mixed up in the Navy Blue color)
Now it's starting to look like something….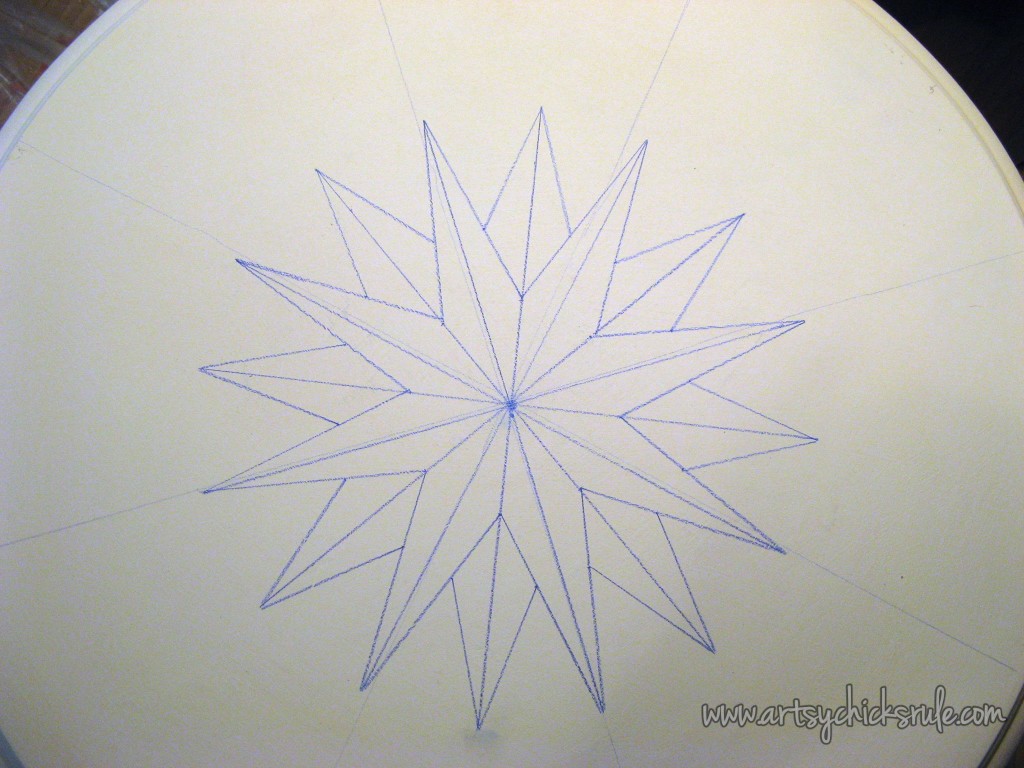 Areas of the compass rose painted in….a little tedious but like I've said in some of my other posts, I like this kind of mind numbing work.
It's actually relaxing and cheap therapy! ;)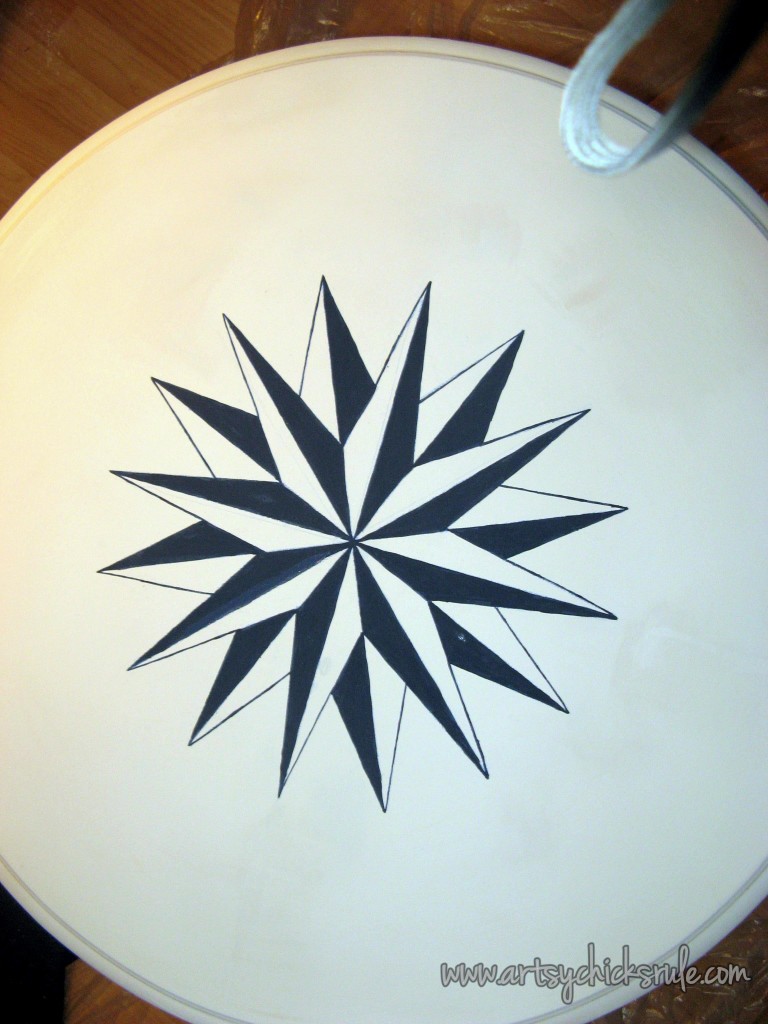 Added the lettering (using a stencil)….then distressed it all just a tiny bit…..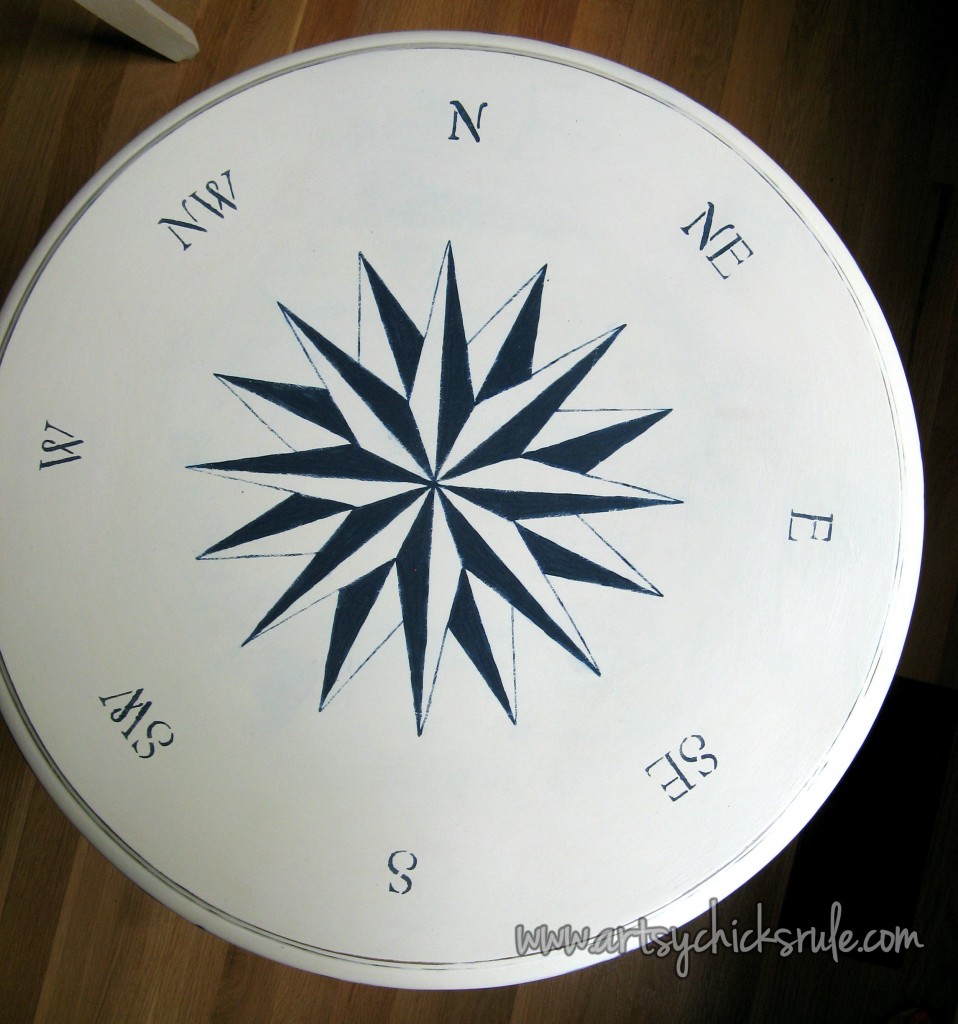 Finished up with a coat of Clear Wax…. a little buffing and it was complete.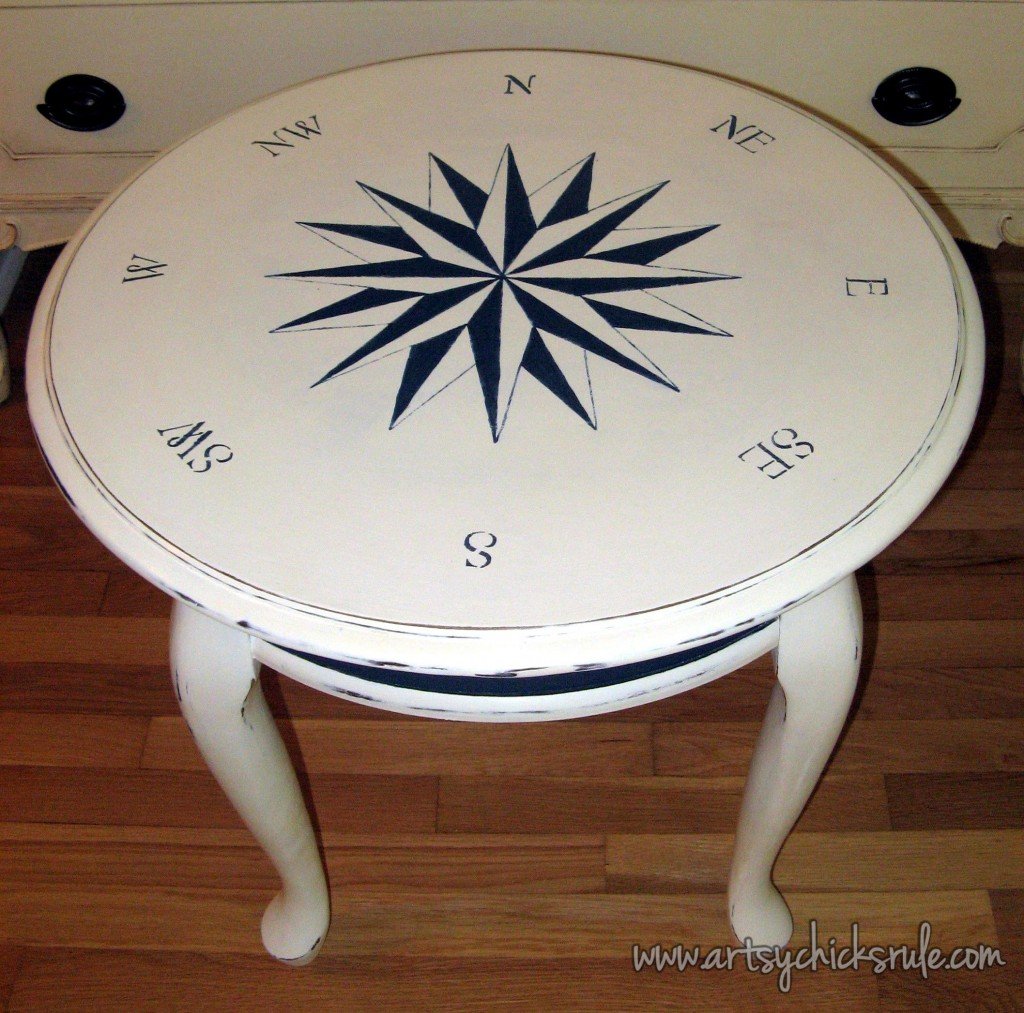 These were both so much fun to do. I am really looking forward to starting on my new piece.
I love both styles I did but just adore the complexity (not really, it only looks complex as you saw) of this one.
Fun to do!
Be sure to PIN these compass rose tables to save for later! :)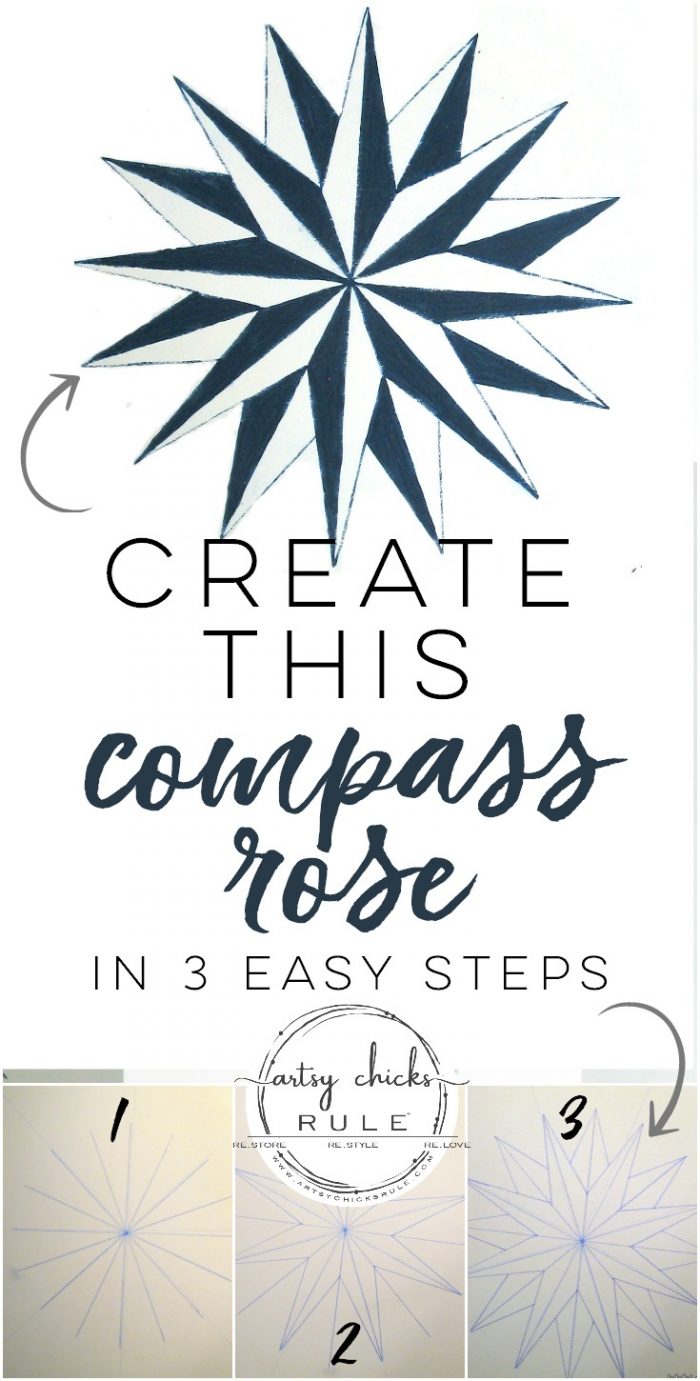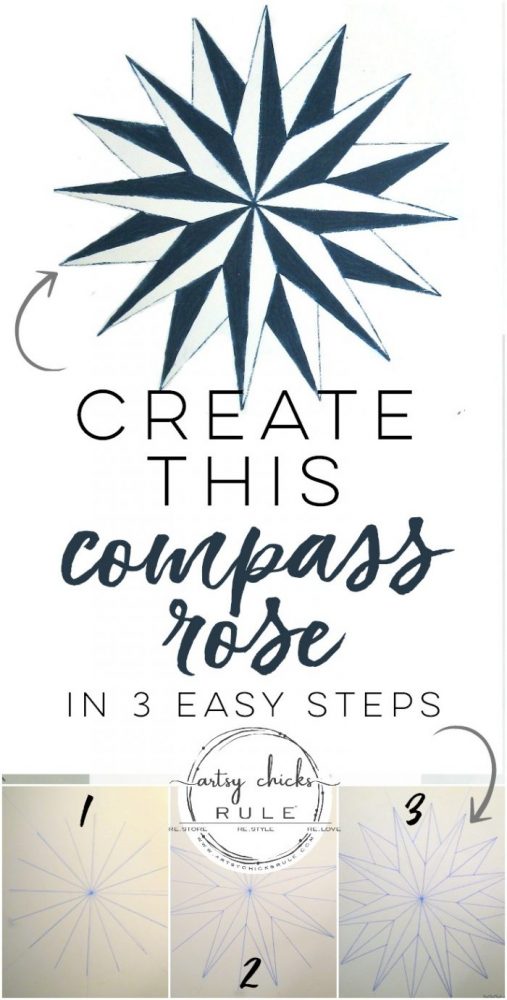 Easy really.
Just measure, draw some lines and then paint "in the lines", right? Anyone can do it!
Be sure to check in later to see how I updated our kitchen island…with paint! :)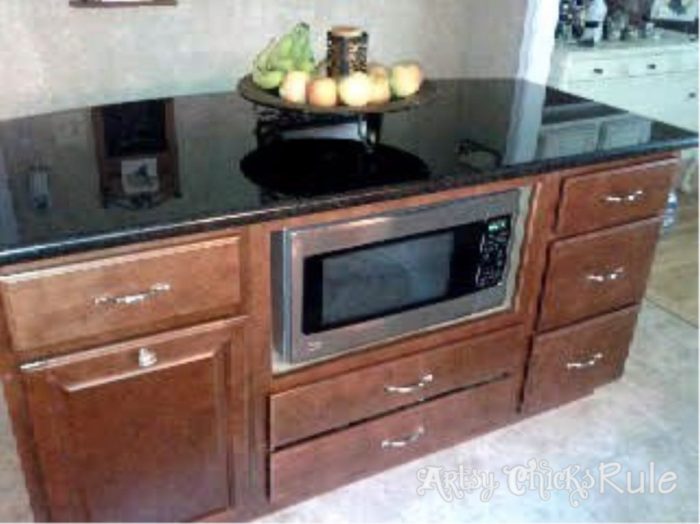 UPDATE!! See it now, here!!