Wall Map & Nautical Compass Stencil
This post may contain affiliate links. Please see disclosures here.
I hope you are having a wonderful February so far. The weather has been so crazy around here.
30's one day and 70s the next….but I'll take it!
Today is the very first decorating challenge of the new year with my decorating buddies and me.
And YOU too if you want to join in! You can ….and we would love you to.
Today is also a very big day for me……it's my birthday and …..I am FIFTY! Oh my, how can it be?!
I don't feel 50…well..some days I do but most days I don't.
I don't even know what to think about it. ha! It just seems weird. BUT honestly, how I do feel is grateful, thankful, and blessed to be here.
That I do know.
It is a privilege to have the chance to grow old. (not that I'm old or anything ;)) And one that many don't get.
That is not lost on me. Especially with my past health history.
So here's to 50 and onward! Yeehaw!
Alrighty back to the challenge, if you are new around here, let me fill you in.
My decorating friends and I have created a wonderful, friendly, helpful Facebook Group that is all decor and a bit of DIY too.
You can post, ask questions or just share your lovelies. AND you can join in on our decorating challenges every month if you'd like to also.
Pop on over and ask to join here >>> "Decor Enthusiasts & DIY Forum" so you can get in on all the fun. :)
Also, for this project, I'll be sharing a few affiliate links to the products I used for your convenience. My disclosure is here.
This month's challenge is…..decorating with stencils.
I went thrift store shopping a couple of weeks ago for the first time in a long time.
I found this…..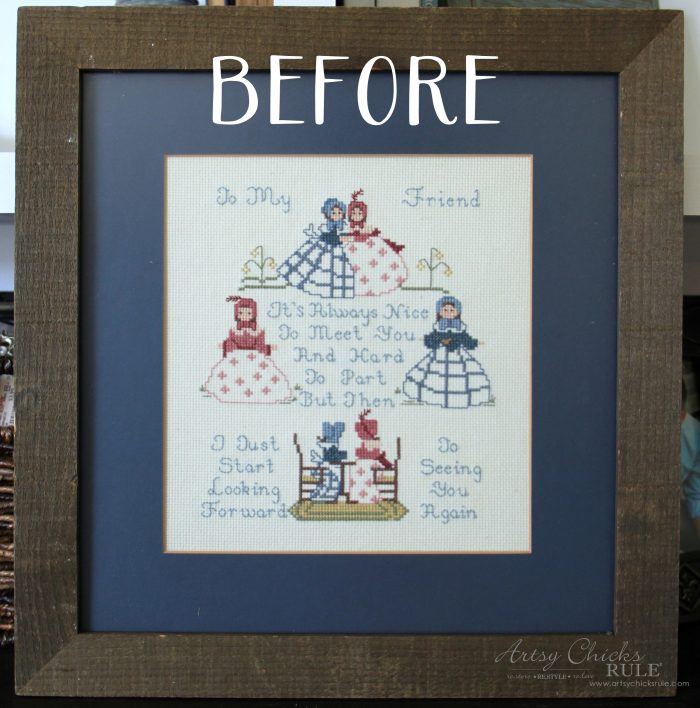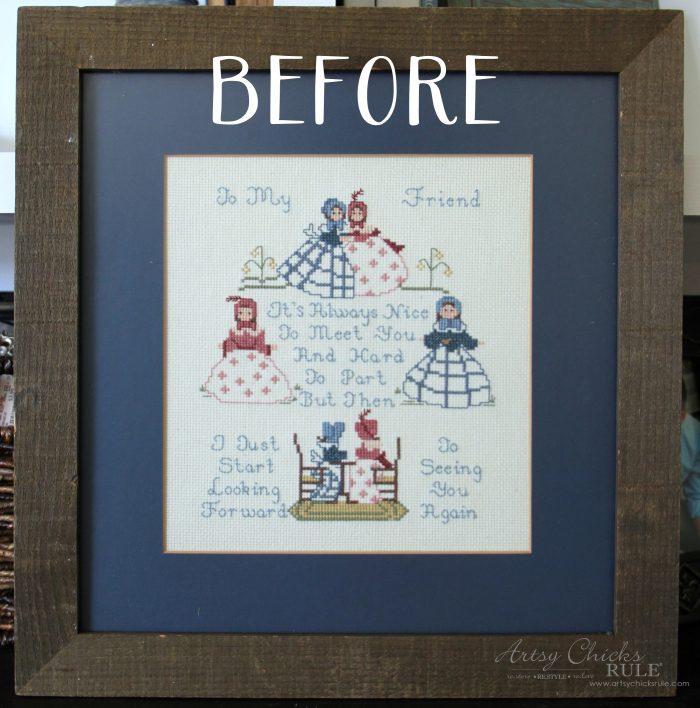 I LOVED that rustic frame and the glass in it had a matte finish, not shiny.
PLUS it was only $4.
I originally planned something totally different for it. (a sweet little saying for my dining room)
And I created several cute graphics that I'll have to share with y'all at a later date.
I decided to use a store-bought stencil instead.
And I found a nautical compass stencil that was perfect and perfect for my home.
There are just so many great stencils available these days.
M A T E R I A L S L I S T
I know you are probably sick of hearing me say how easy my projects are.
But most of them really are! I like easy. :)
This one was no exception at all. It was truly simple, you'll see.
After removing the paper backing on the back, here is how it looked….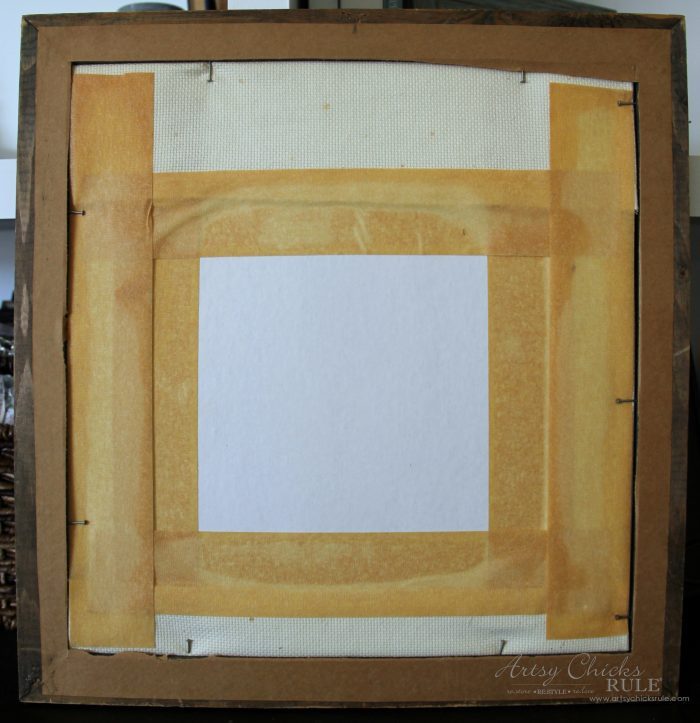 I simply pulled the nails out and removed the cross stitching from the cardboard.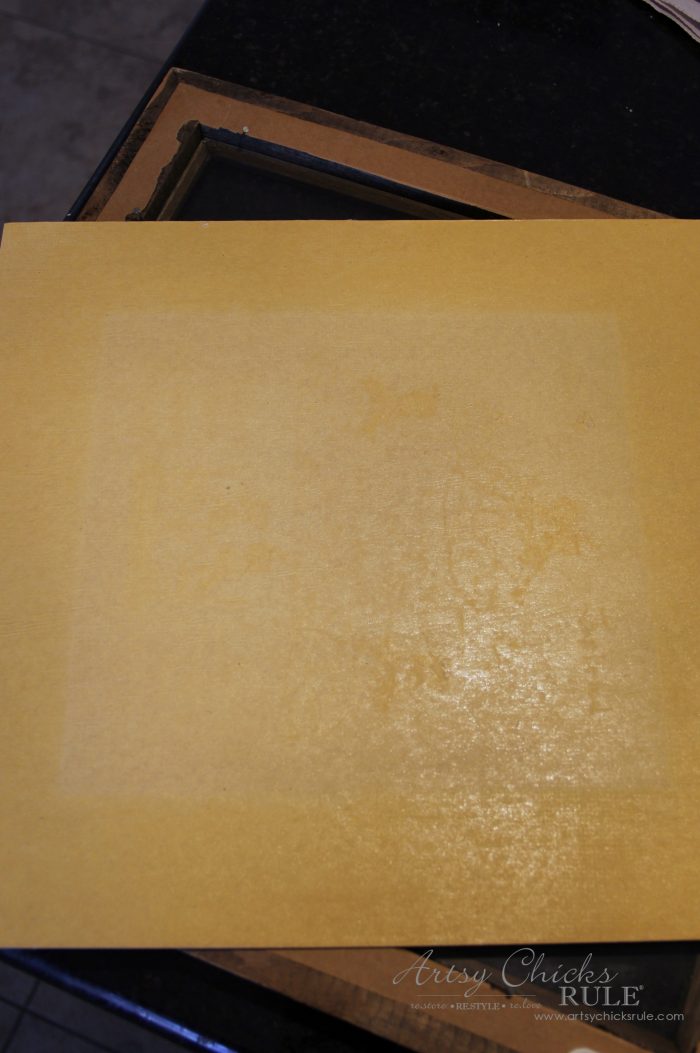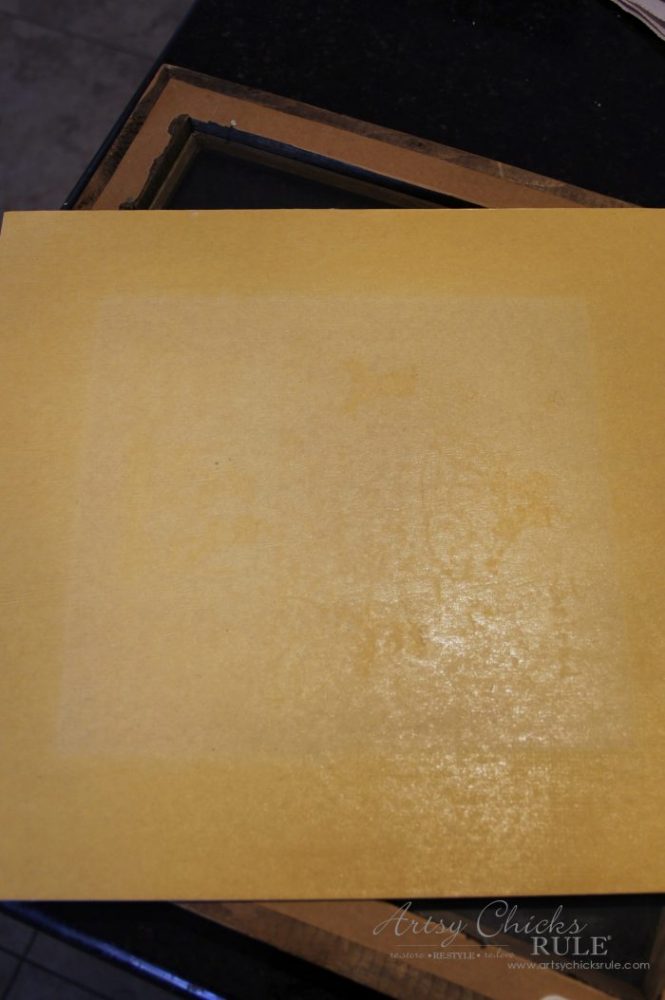 I kept the cardboard to attach the map to.
Next, I bought the map I linked above in the materials list a few years ago.
I planned to use it with another project but never did.
I thought it would be perfect for this project….but it was the wrong color (gold). :/
No worries…I love paint, I love to paint and so why not just paint it? What!!??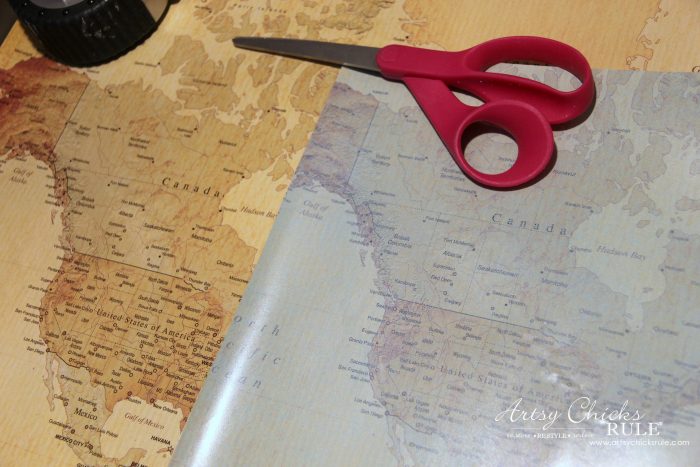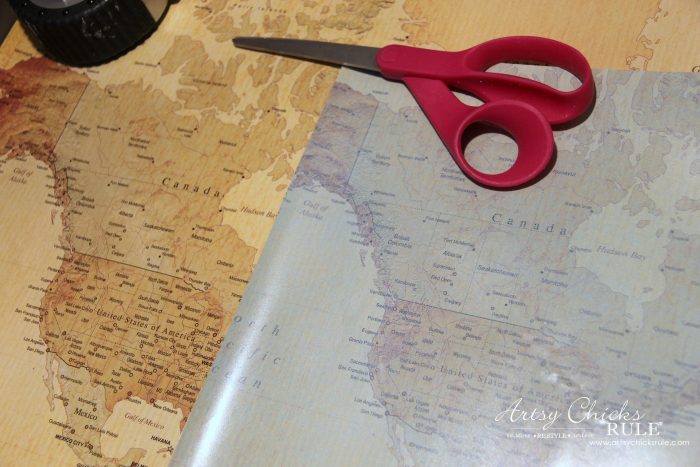 I thought, nah, that's not gonna work. It will cover up all of the words and map.
But it didn't, not too much anyway. :)
I just sprayed it ever so lightly….and it turned out perfect!
My husband said, "Is that some kind of see-through paint?" Ha, nope! I just did a light misting over the whole thing.
Now it's a shade of blue instead of gold.
Just what I wanted and I didn't have to buy a brand new map, even better.
Isn't that cool? I just love paint.
Next, I used the cardboard as a guide to cut the map to the correct size.
I put it inside (I tried gluing it a bit but honestly I should have just laid it behind the mirror, on the cardboard, and let it be) and then added a few nails to the back to secure it.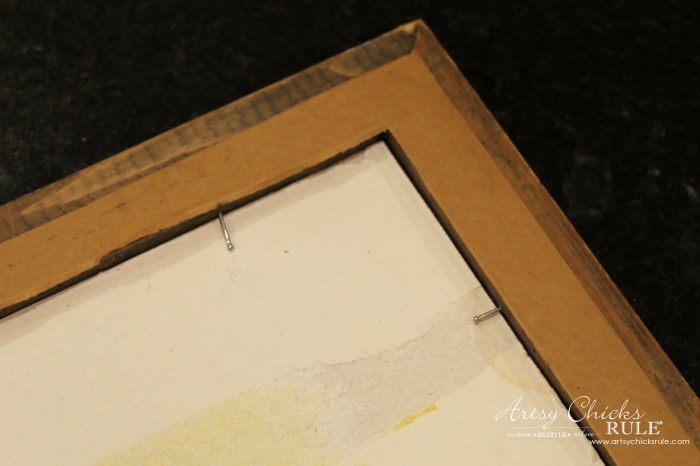 All that's left to do is tape the stencil in place and paint.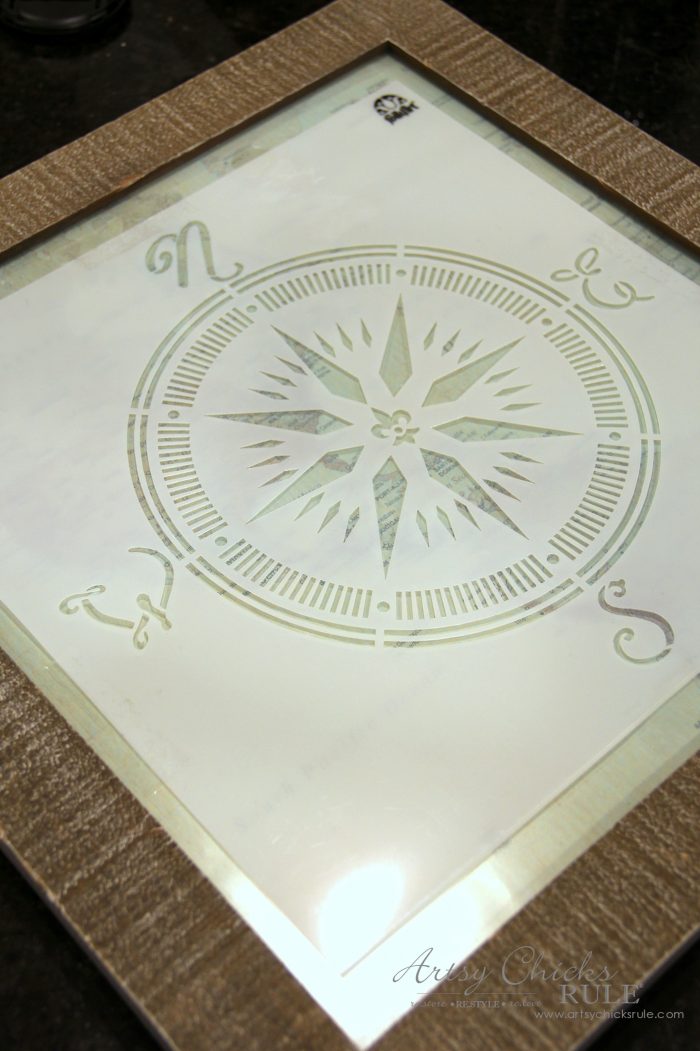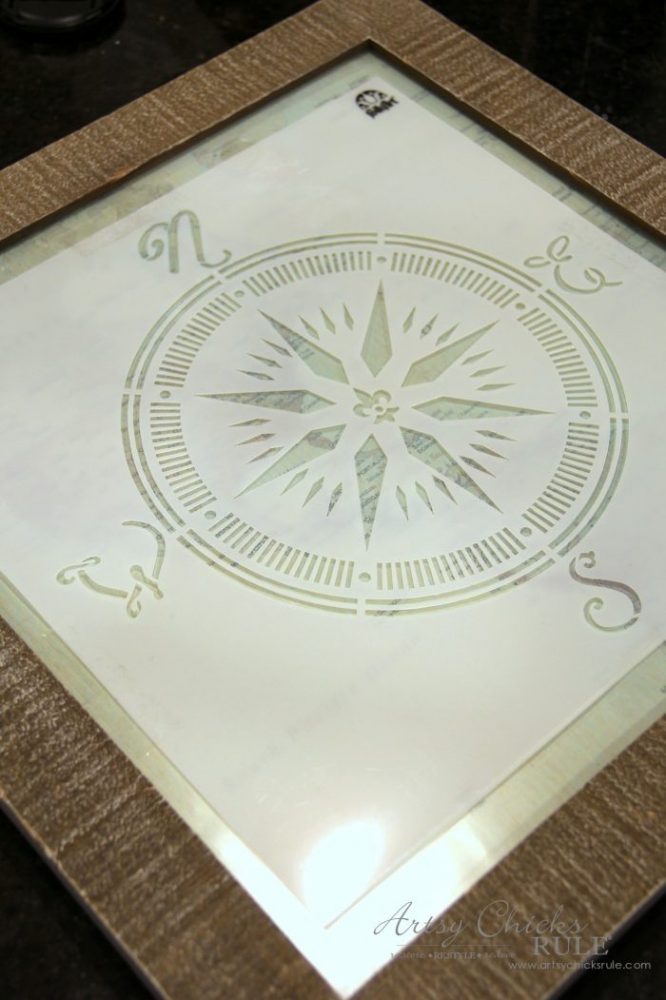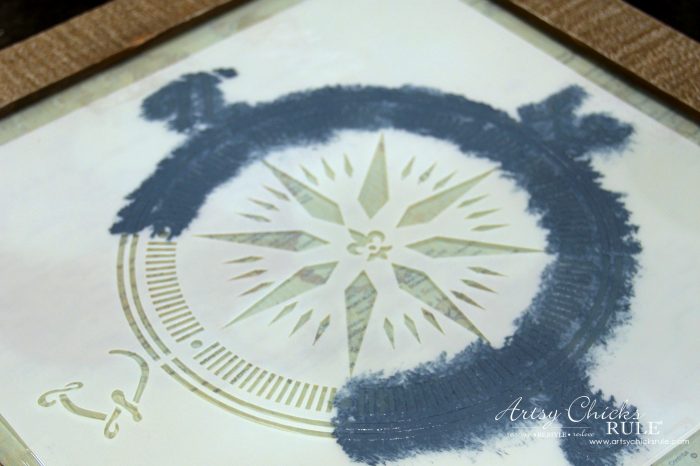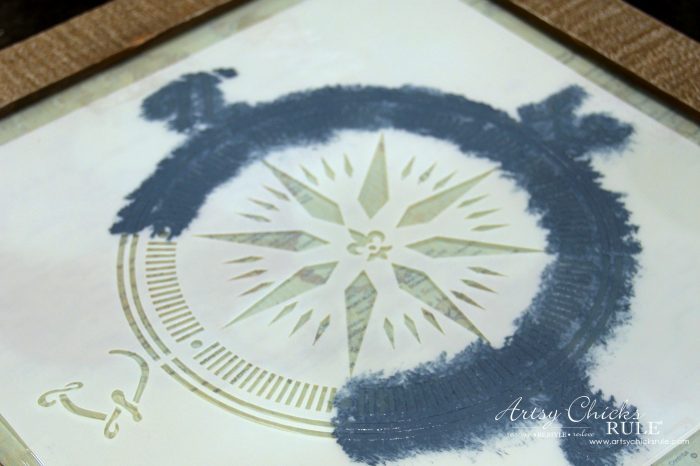 The key to stenciling is using the correct brush and dabbing the paint off a bit before hitting the stencil with it.
It can tend to bleed underneath if you don't or if you use too much paint in general.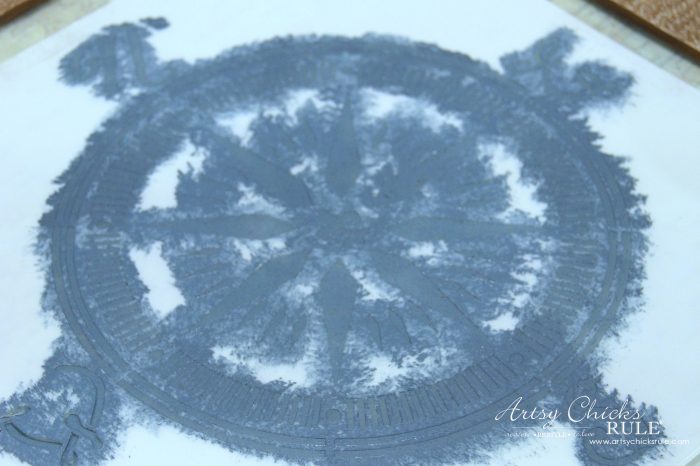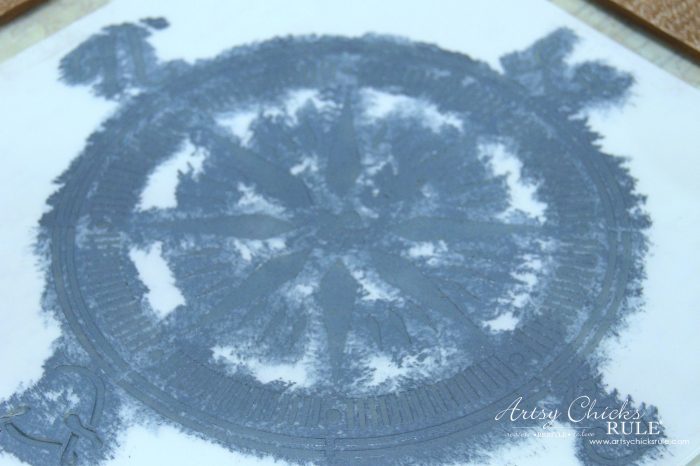 I used Aubusson Blue Chalk Paint because I wanted it to look "flat or matte" like the glass.
I also did it with little paint because I wanted it to look a bit "weathered".
If I had wanted it darker and more filled in, I would have waited for this to dry and hit it with a second coat before removing the stencil.
This paint typically needs to be sealed but I wasn't really worried about that since its only purpose is to hang on the wall.
And voila…done!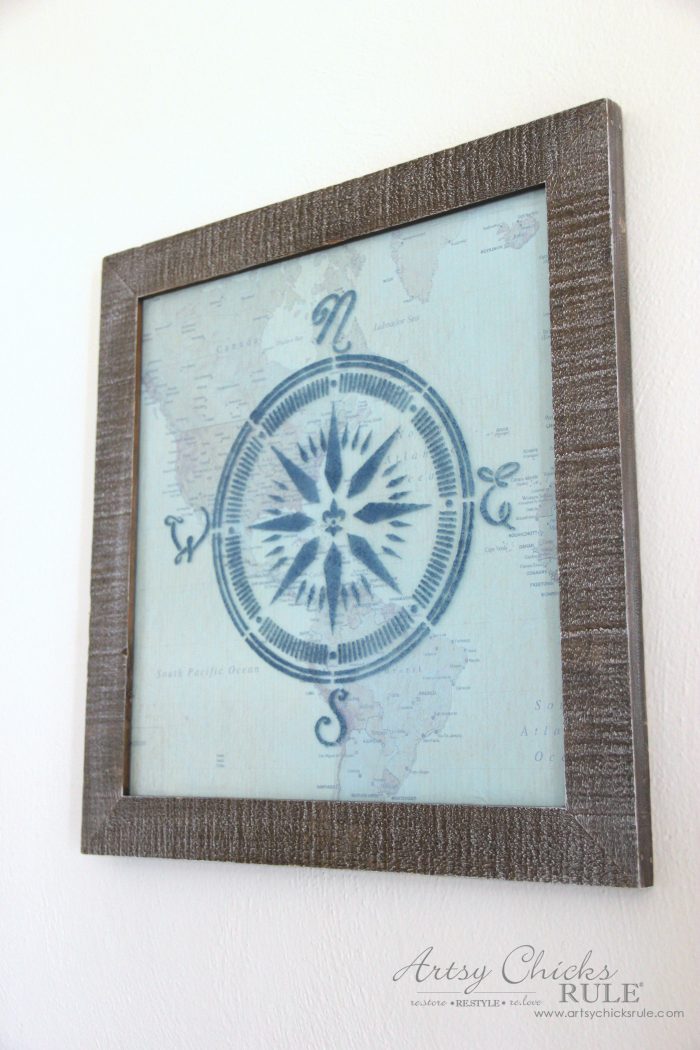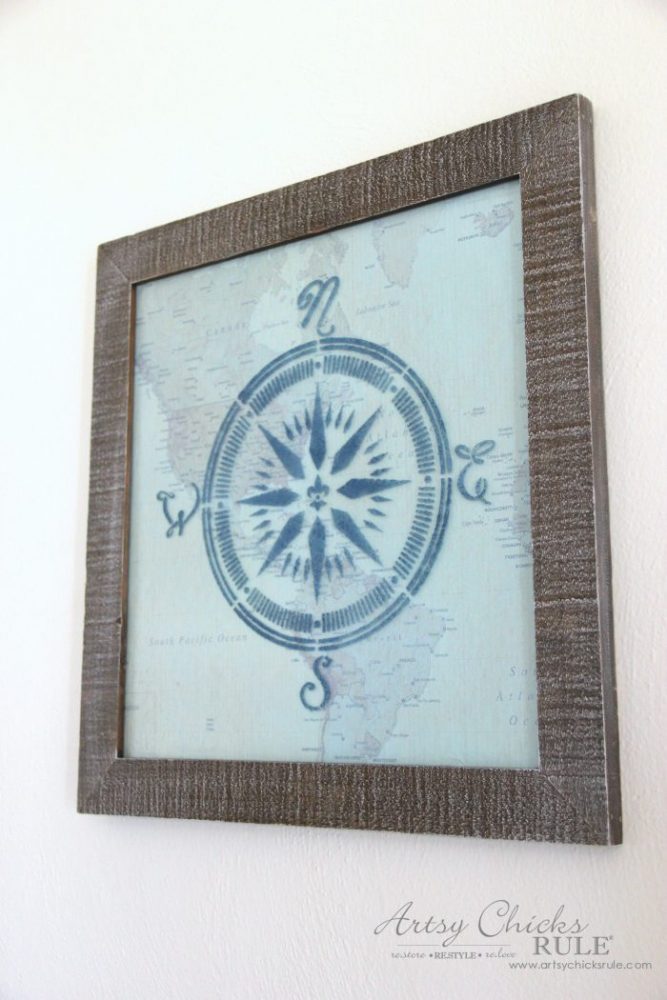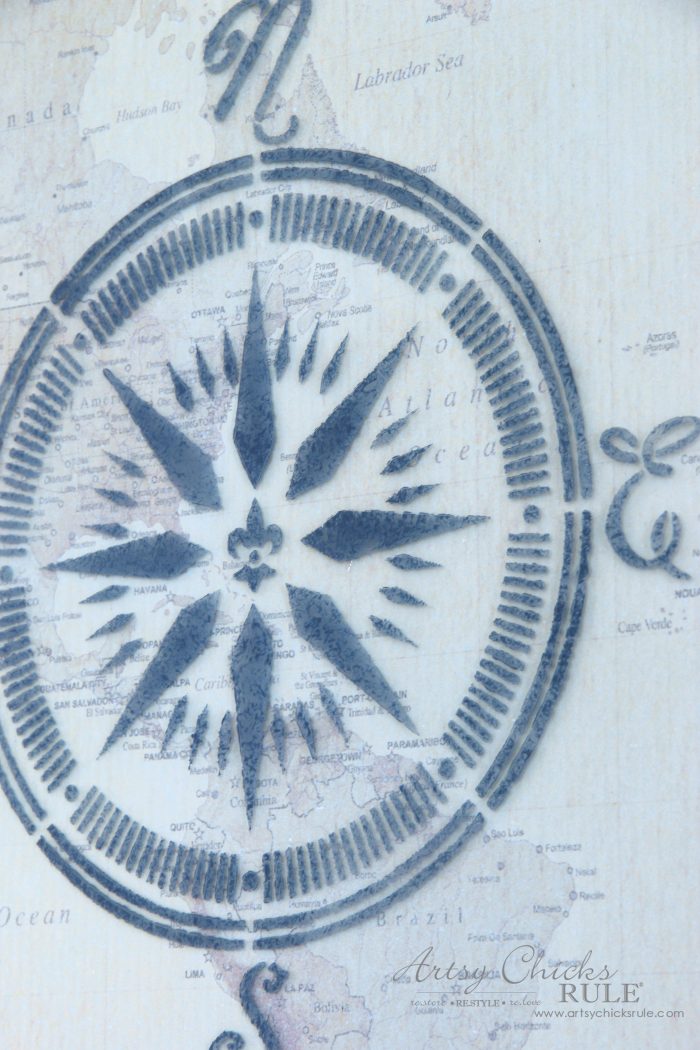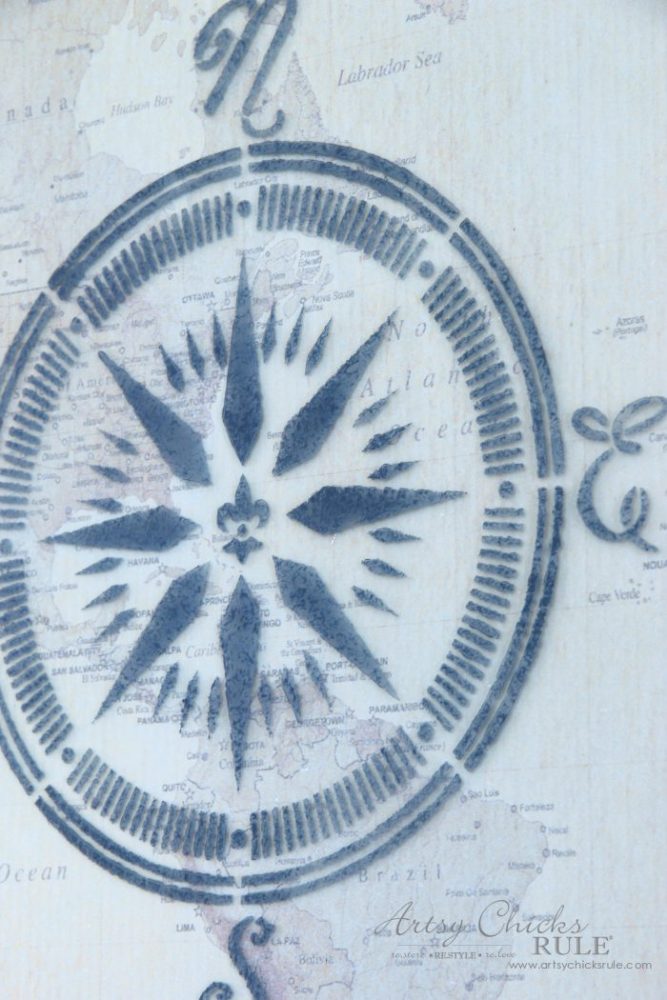 See the sort of mottled look the paint has?
That's the look I was after.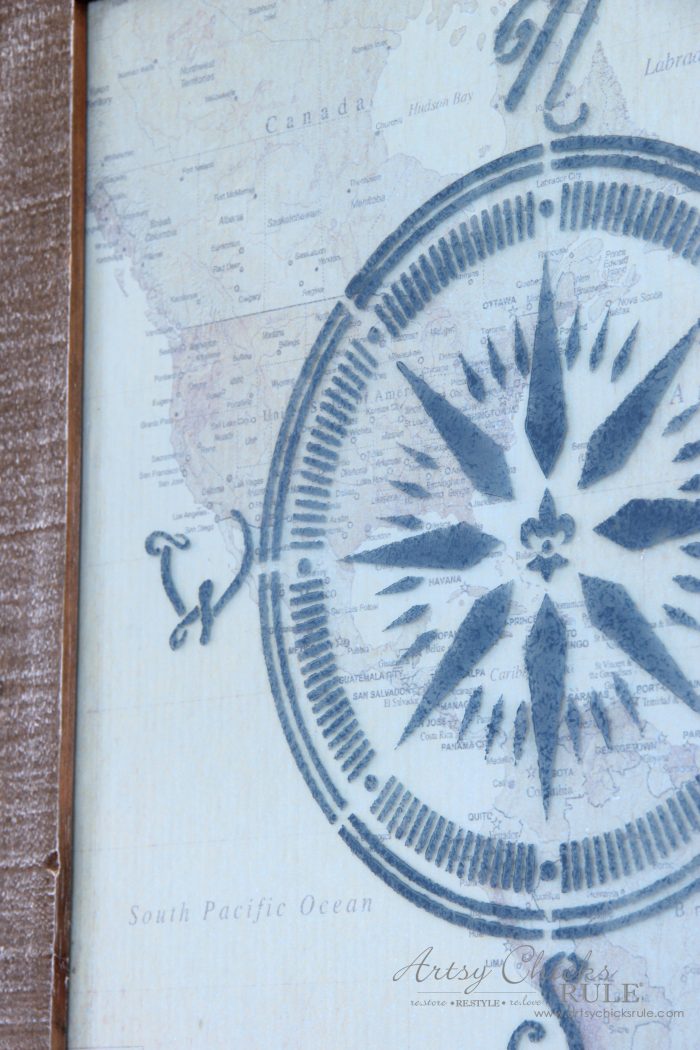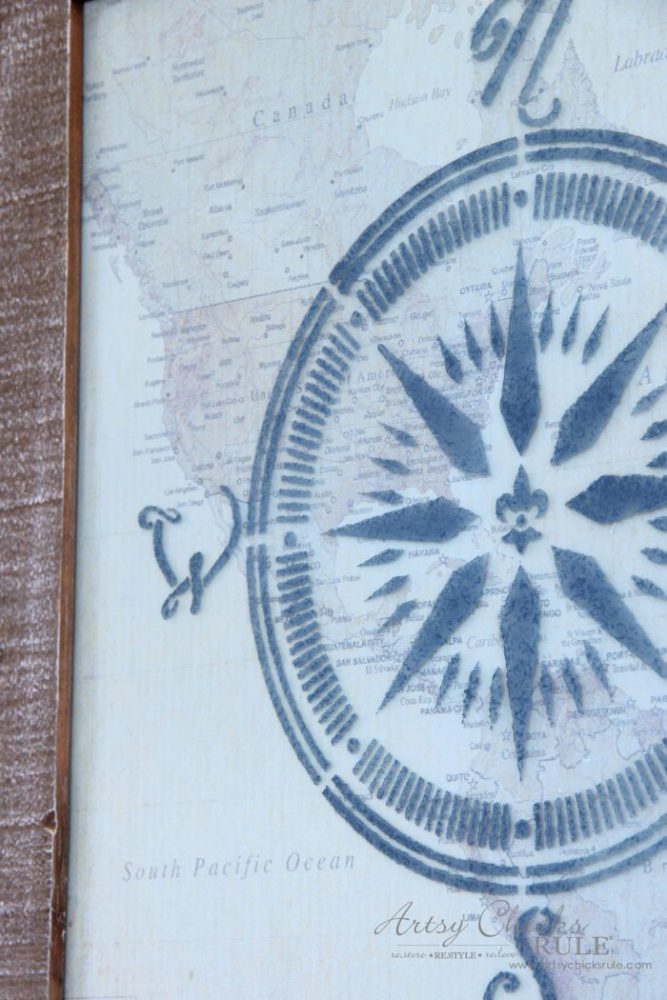 The frame got a tiny bit of white paint in the form of dry brushing.
It took all of 10 seconds, I think.
I did nothing else to it.
If this project was not easy, then I don't know what is!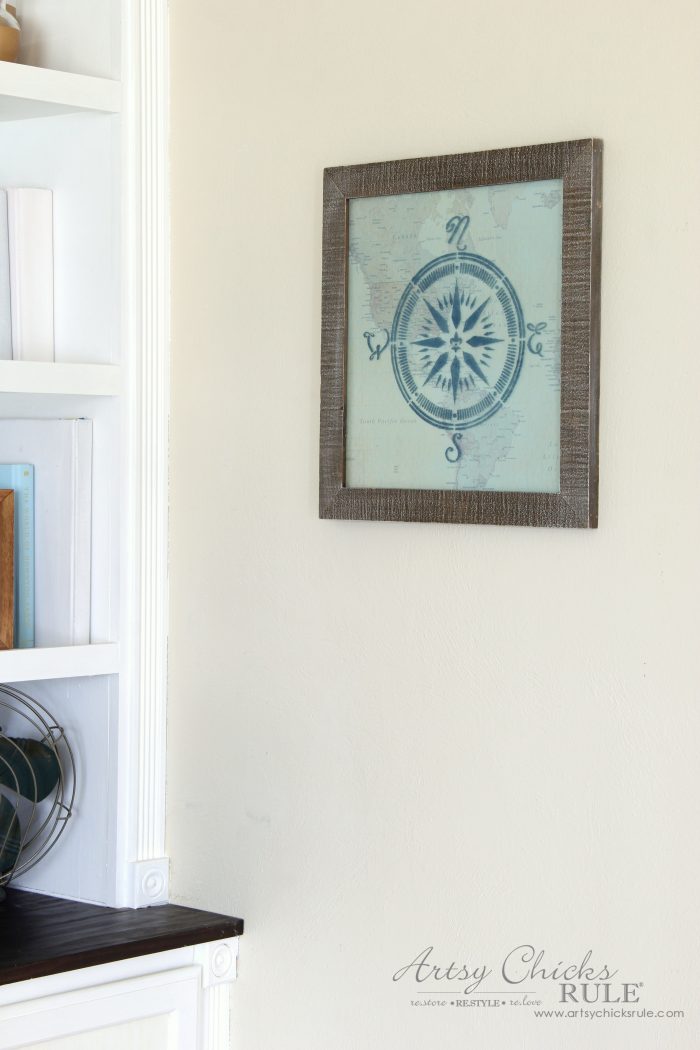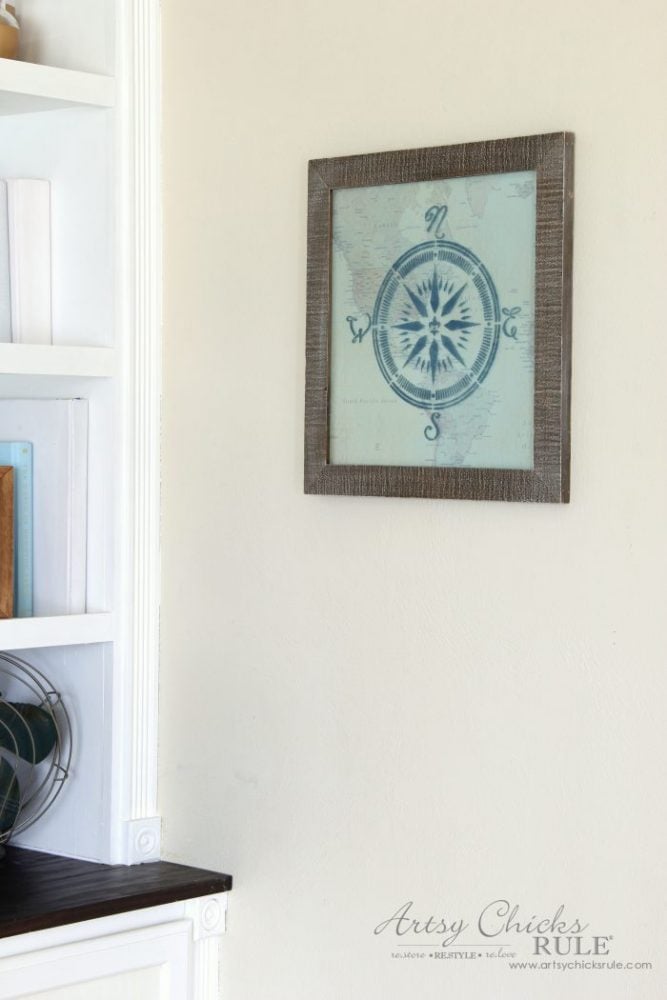 Isn't that blue I sprayed the map perfectly?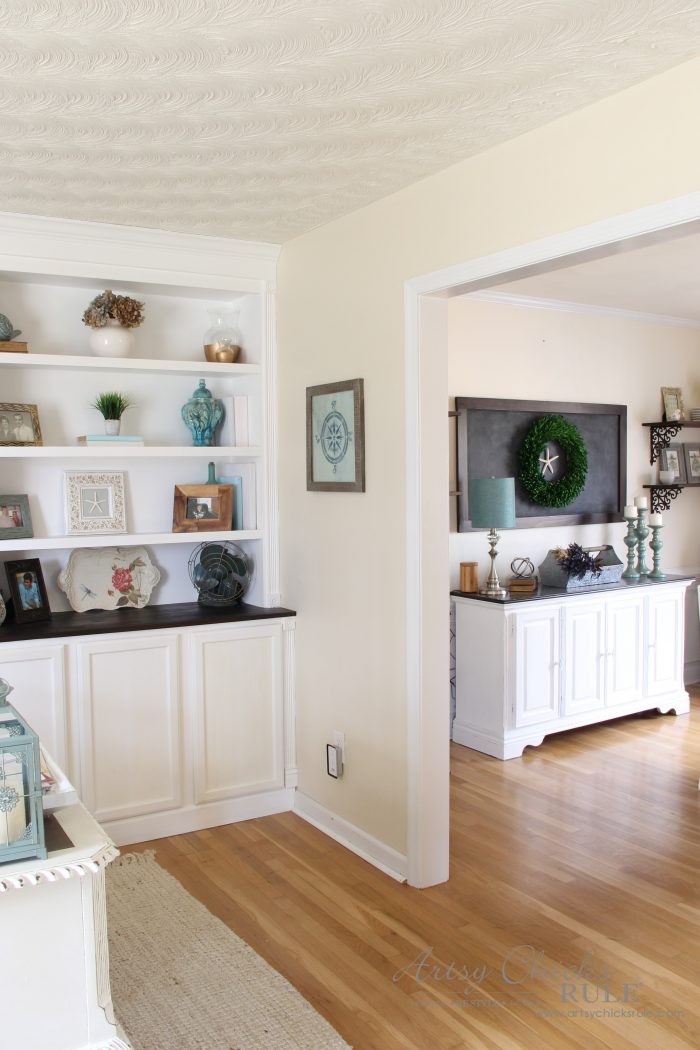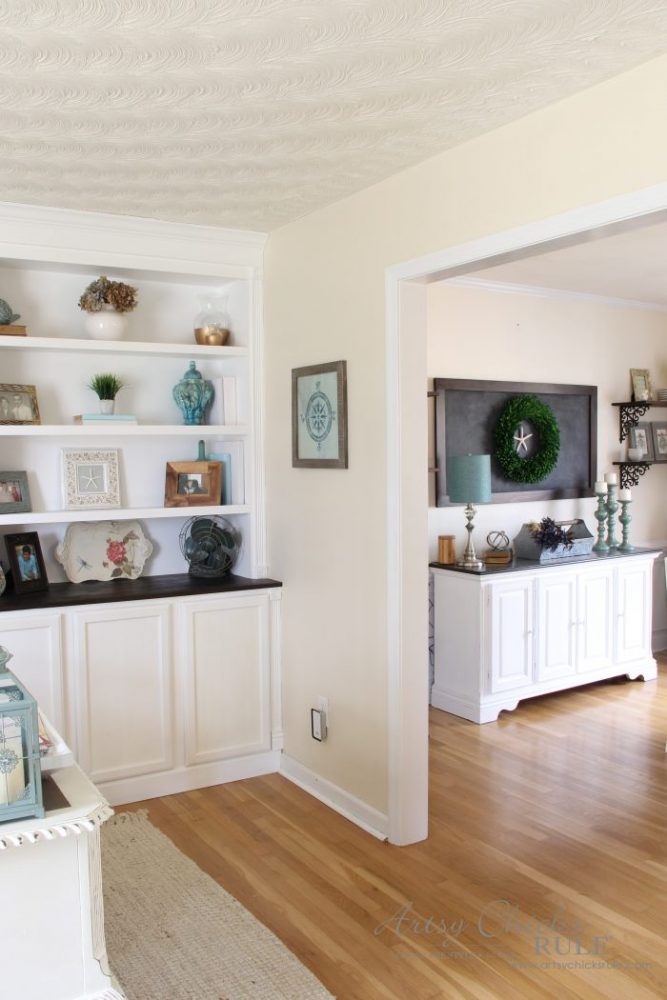 It's perfect for my decor anyway.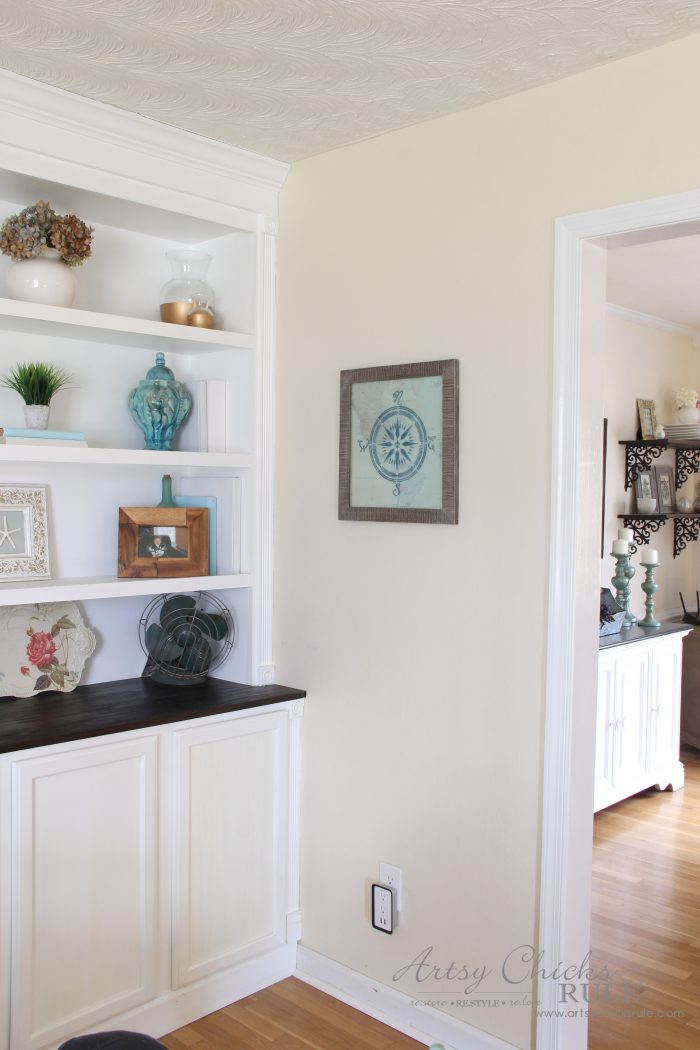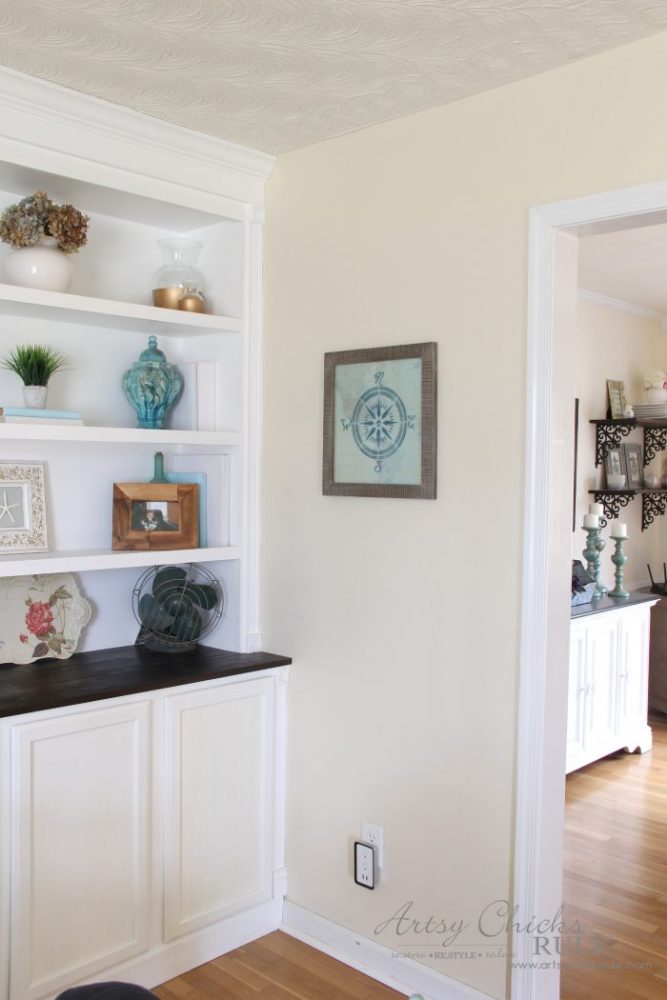 And how about that frame? Also, perfect for my decor.
I'm really happy with how this simple little project turned out.
I don't use a lot of stencils but I can tell you this, using a nautical compass stencil is so much easier than doing one by hand!
Here are a few other hand-drawn and painted nautical compass rose projects I've done in the past.
Doable…but not as quick as a nautical compass stencil, for sure!
>>> "Hand Painted Compass Rose Tables"
>>> "Modern Masters Metallic Paint Makeover"
It's so much cheaper to decorate your home with thrifty finds.
A little paint and imagination is all it takes.
I would say, probably 80% of the decor in my home (if not more) are thrifty finds made over.
How can you beat $4? Surely that would have been much more retail.
I hope I've inspired you to take a look around at your thrift stores, yard sales, etc.
Or even your own home. You may own something you don't like anymore. Change it!
This little piece of wall art didn't even end up being what I originally envisioned.
And that's okay! Sometimes I'm not even sure what something will be when I bring it home.
And that's okay too. Just bring it home and it will come to you. It always does!
Be sure to PIN this nautical compass stencil idea to save for later!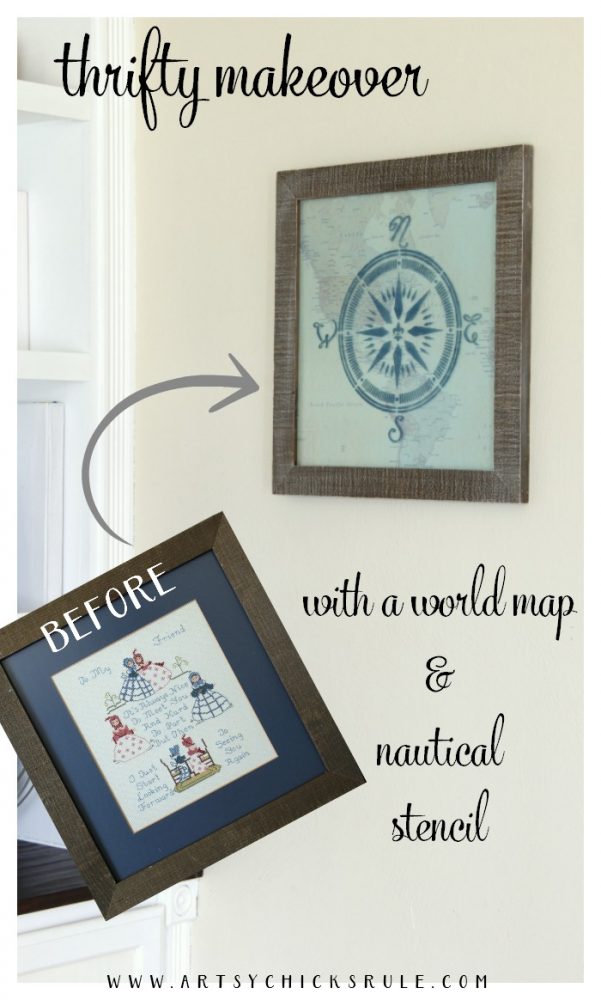 Now let's see what my friends stenciled this month…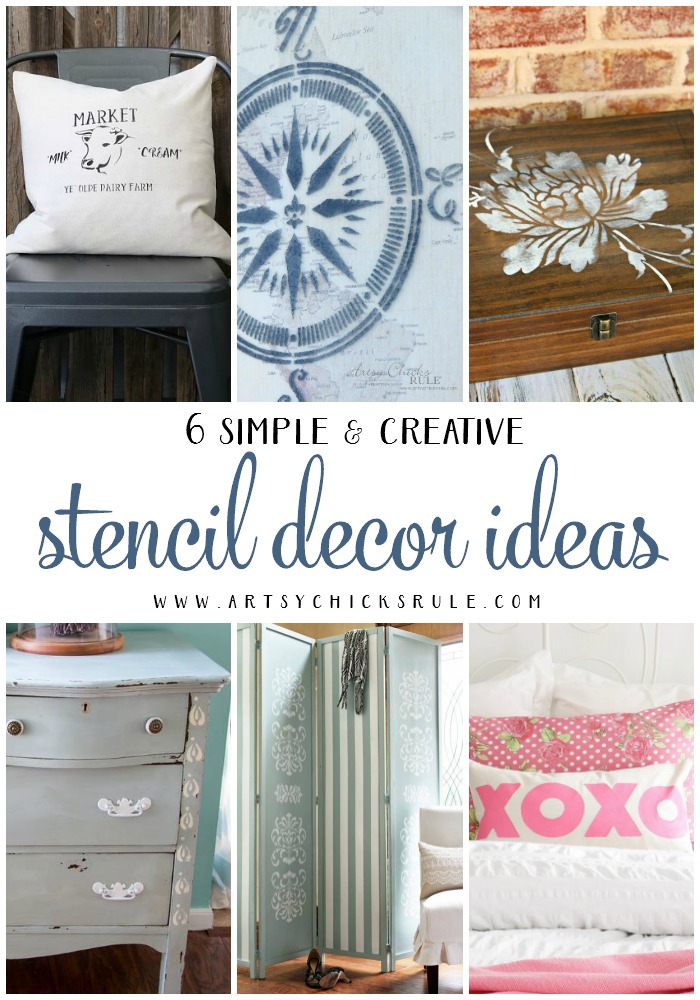 Refresh Restyle
Confessions of a Serial Do It Yourselfer
Our Southern Home
Duke Manor Farm
Restoration Redoux
Don't forget to pop on over to the Facebook Group and join. :) Click here to visit >>> Decor Enthusiasts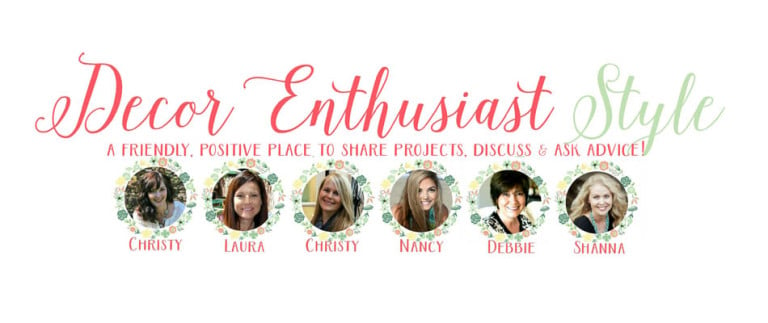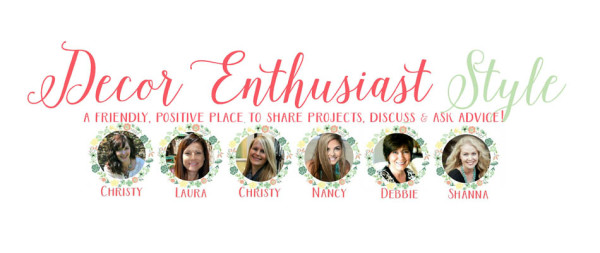 Hope to see you there and hope you join in on the stencil challenge this month too!
I'll see you back here next week with a brand new (old!) trash to treasure with my T2T friends.
Have a wonderful weekend!
xoxo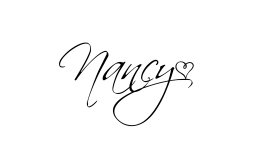 You might also like this project: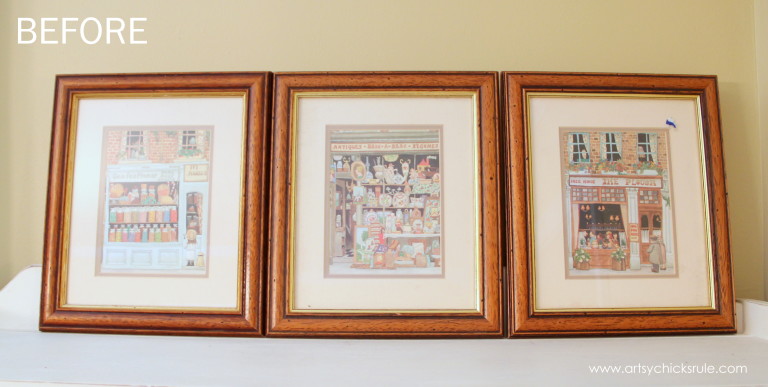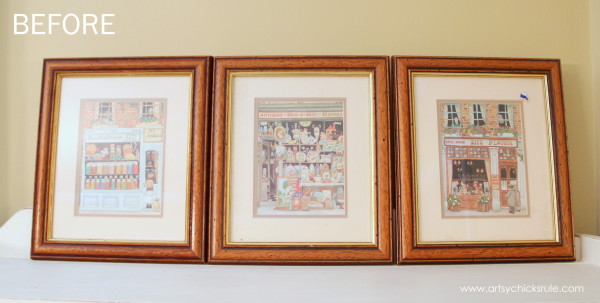 See it here >>> DIY Coastal Wall Art