DIY Farmhouse Gather Sign (plus an easy transfer method!)
This post may contain affiliate links. Please see disclosures here.
How great to have a sign to welcome and ask friends and family to gather in your home. See how to create this simple to make, DIY farmhouse gather sign for your own home below.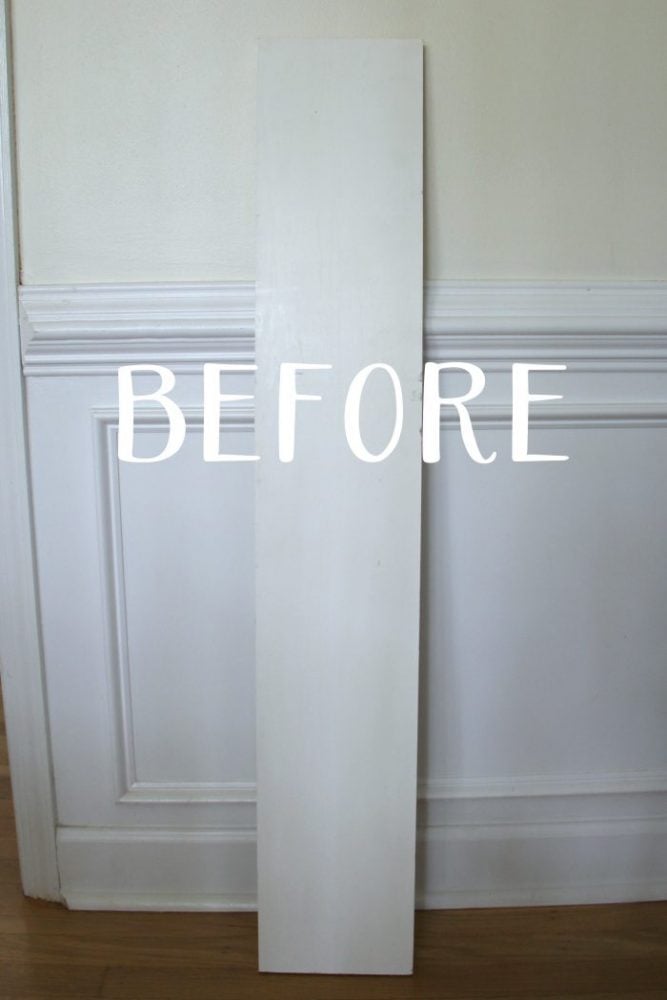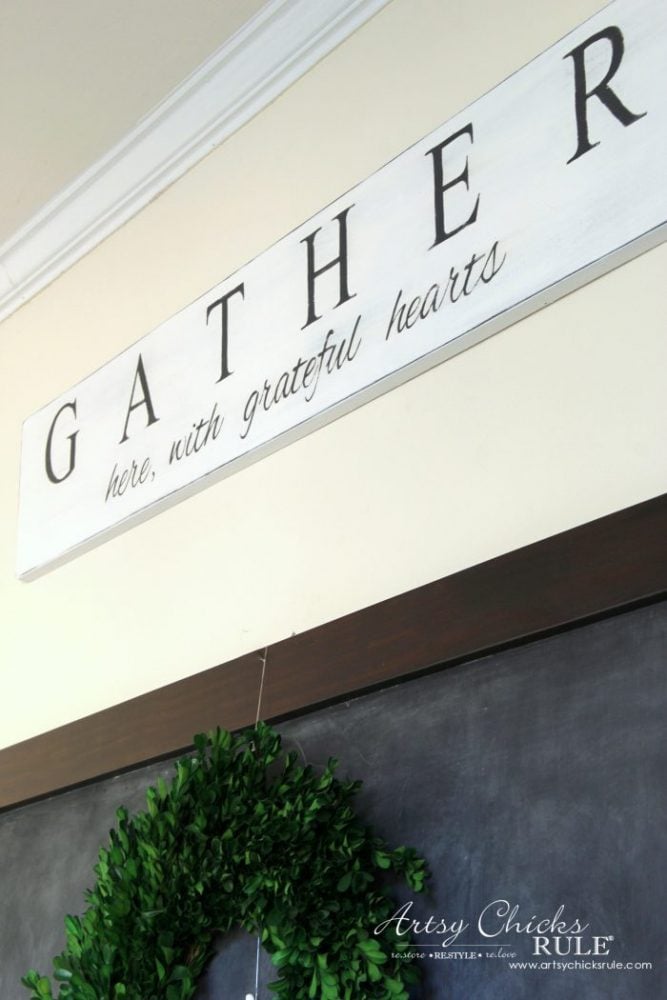 Hello Friends! Happy Valentine's Day! :)
It's also "Trash to Treasure Transformation" Tuesday and my friends and I are sharing our new treasures with you today.
I had a sweet little dresser I found at the Restore that I had planned to share today but I didn't finish in time.
I will share it soon though!
So I switched gears real quick and created a brand new DIY Farmhouse Gather Sign out of an old scrap of leftover wood we had in the garage….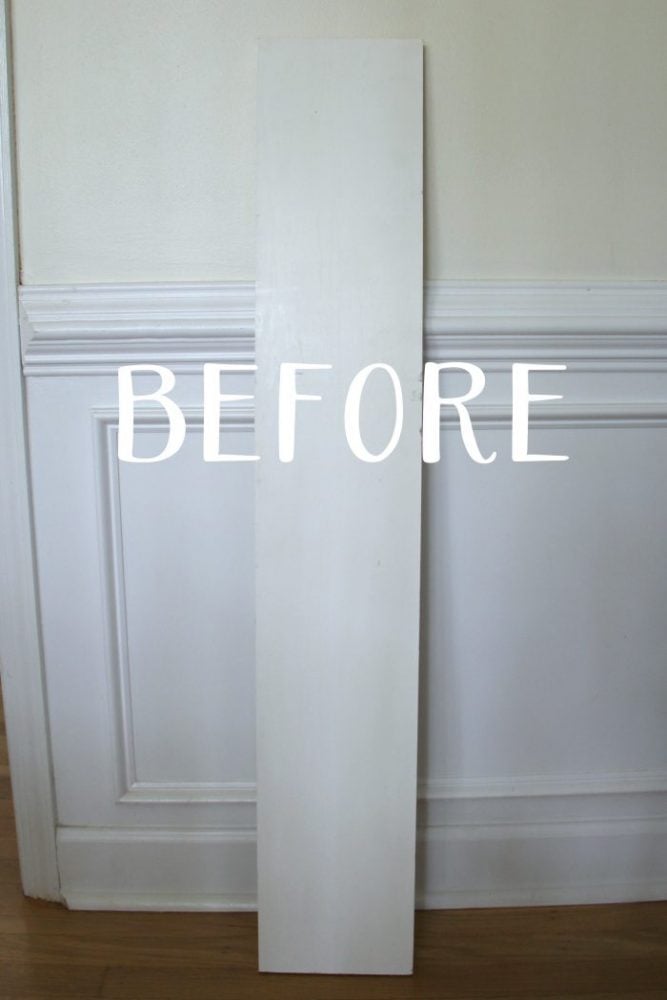 ….on Sunday afternoon! ;)
Yep, so if you think these signs are hard to do, or think they are something you can't do, you can. 
If you have a printer and some paint, you can do it.
Or, even if you don't have a printer, you can have it printed at Office Max or somewhere similar….and then come home and do it.
Let me show you. :)
I found that old, white pre-primed board in the garage from some leftover project.
It was essentially "trash" but we never throw anything out! ;)
That is sometimes a good thing and sometimes a bad thing. haha
But in this case, it was a good thing. ;)
AND it was the PERFECT size! Yay, I absolutely love when that happens.
I love easy. 
That's why I love making signs…because they really are easy.
I measured it and then created the graphic to fit.
Which was this…..

I had originally thought I'd just do the word "GATHER" in large, spaced letters.
But decided to add a little bit more, however, I still kept the word "GATHER" as the main focus.
You can download it here…


The watermark will not appear on the downloadable file.
I'll be sure to include an affiliate link or two below for the products I used in this project. See my disclosure here.
You might remember I had another farmhouse gather sign in my kitchen.
You can see that one here (it had a little different saying") >>> "Gather Sign"
I used blockposters . com to print it out to the size I needed.  (be sure to use the "reverse" file for this)
Then I taped them together…..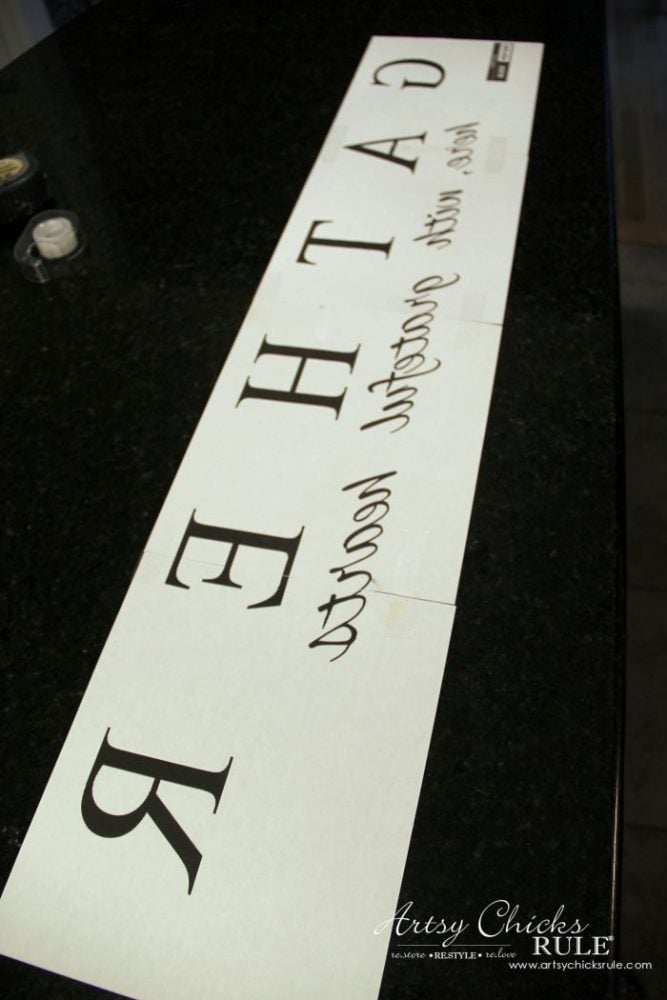 The edges were rough cut so I lightly sanded to round and soften the edges of the board.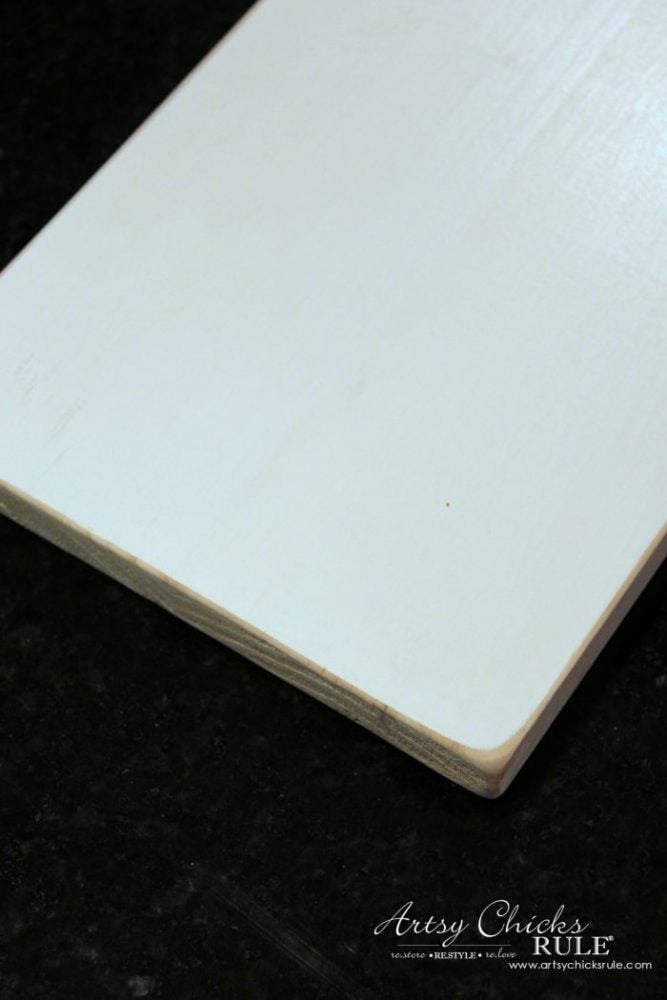 After that I took it outside and gave it a quick spray of flat, black spray paint.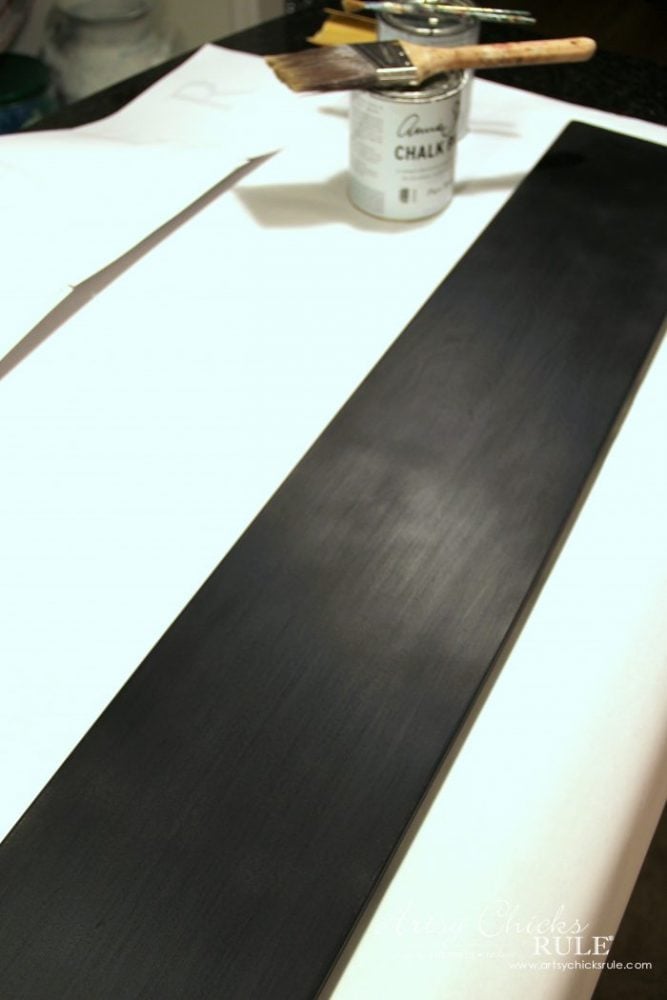 By the way, I just love this white paper that I use to protect my counters when painting, etc.
It comes on a roll and I will just fold up and reuse what I've cut several times making the roll last forever!
It's handy and thought I'd share. :) You can find it here >>> "White Art Paper Roll"
Paint over the black with Pure White Chalk Paint…..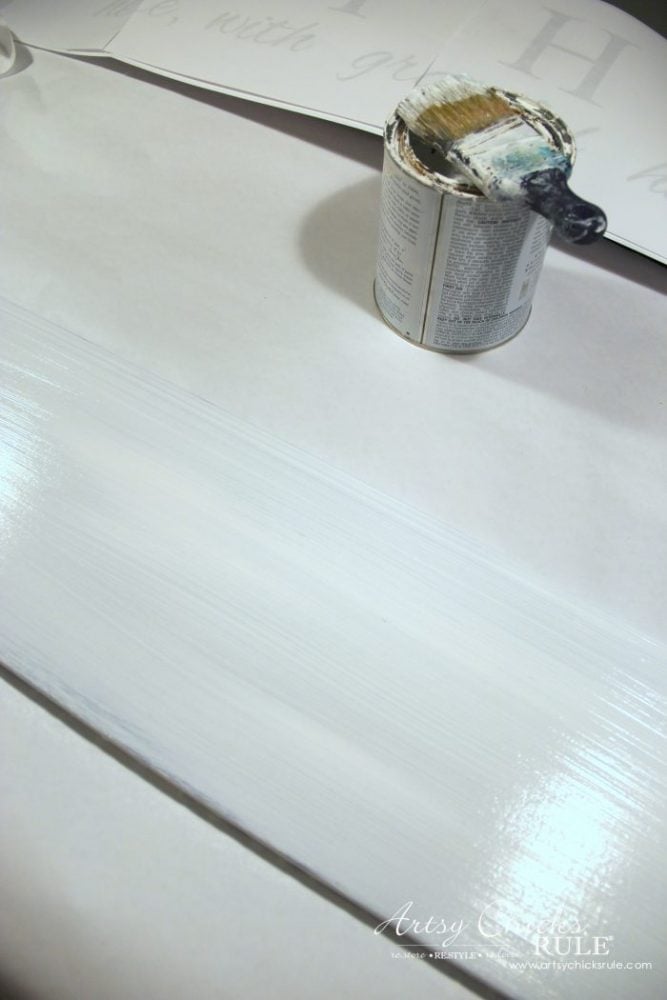 ….two coats.
Once it was dry, I went ahead and gave it a bit of distressing to reveal some of the black underneath.
Be sure to use very fine sandpaper and go lightly so you don't go right through the black paint.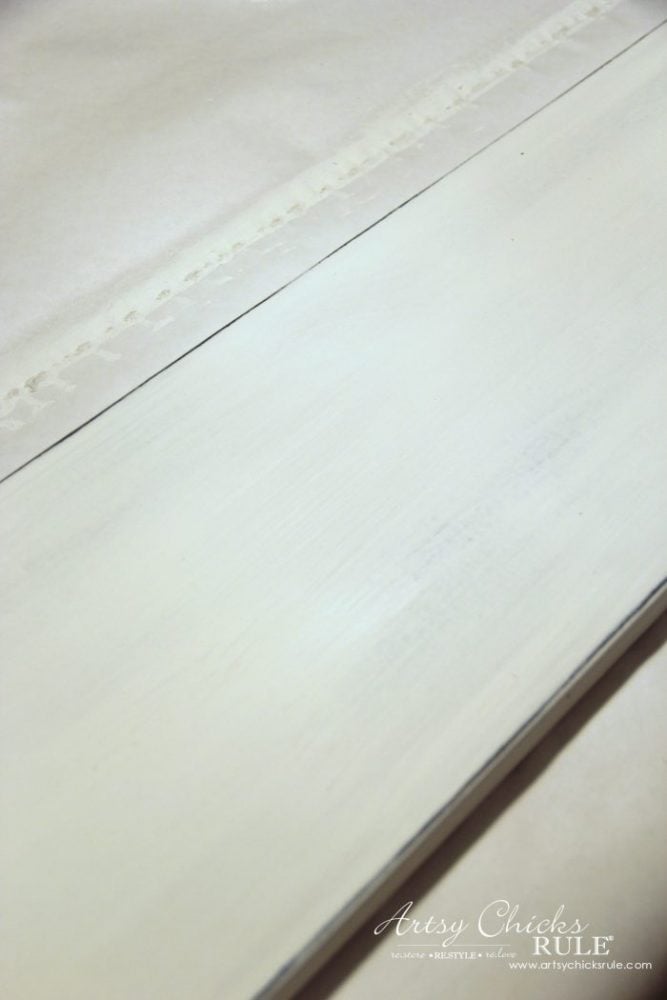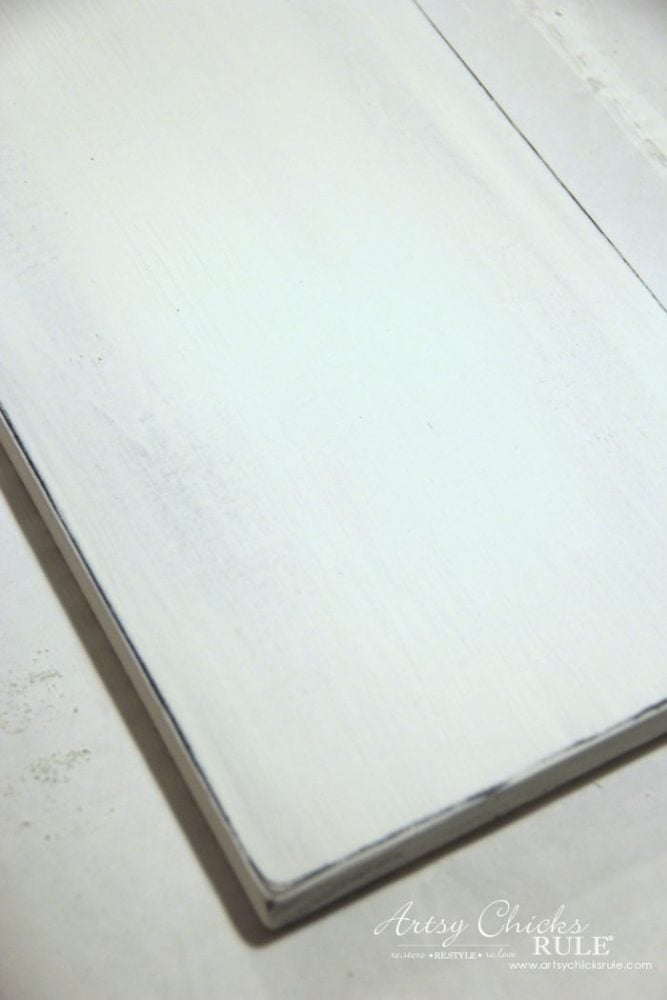 I'm not sure if you can tell, but I also sanded some of the flat area where the lettering will be going.
I didn't want to bring the black all the way through there, but I did want it to look a bit worn with it showing through just slightly.
Next, lay and align the graphic that was printed earlier and taped together onto the board.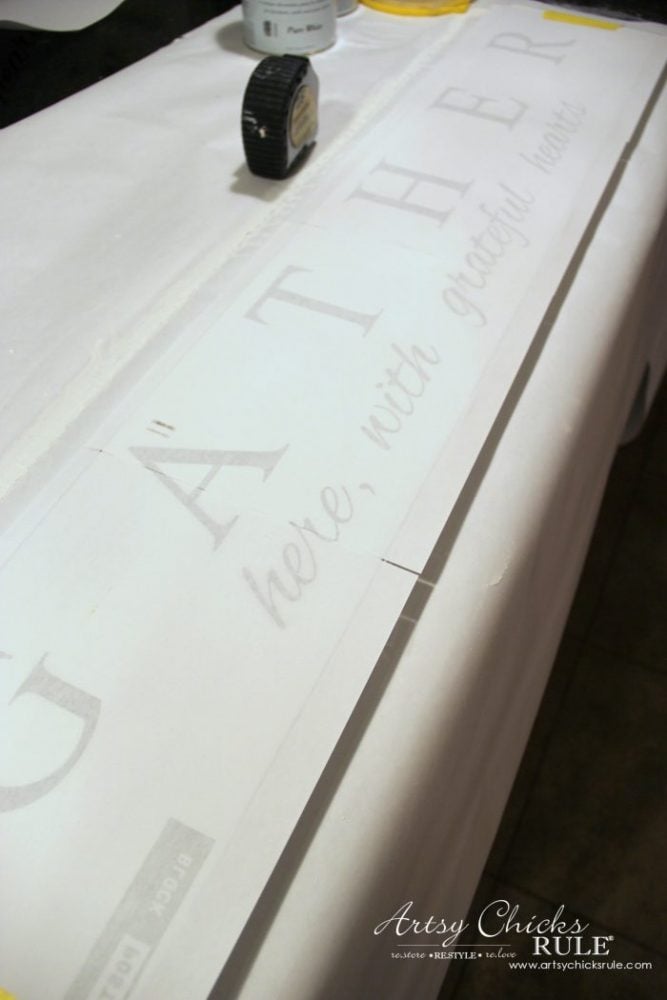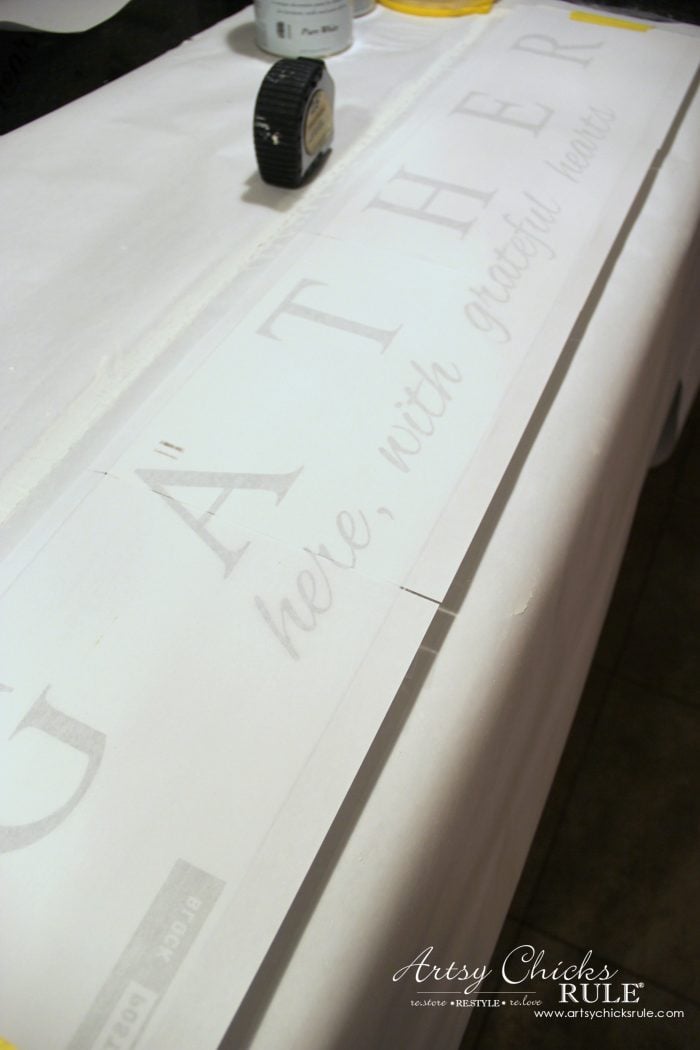 Be sure to measure both sides, bottom and top, to make sure it is aligned properly.
Then measure again.
There's nothing worse than transferring all of something like this to only find that it's crooked once the paper is removed.
Ask me how I know. ;)
Then do this.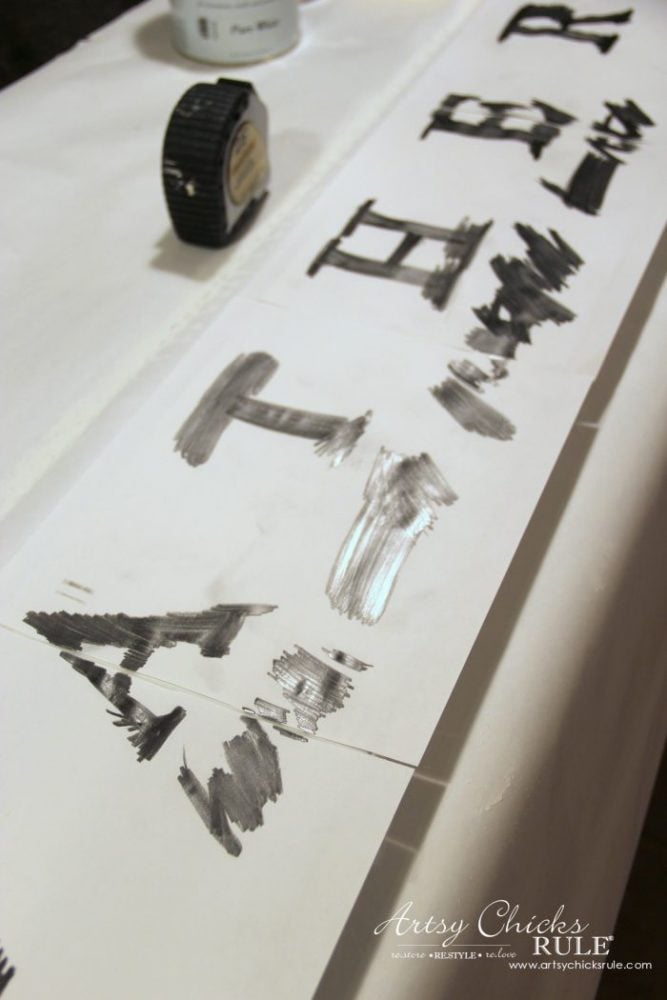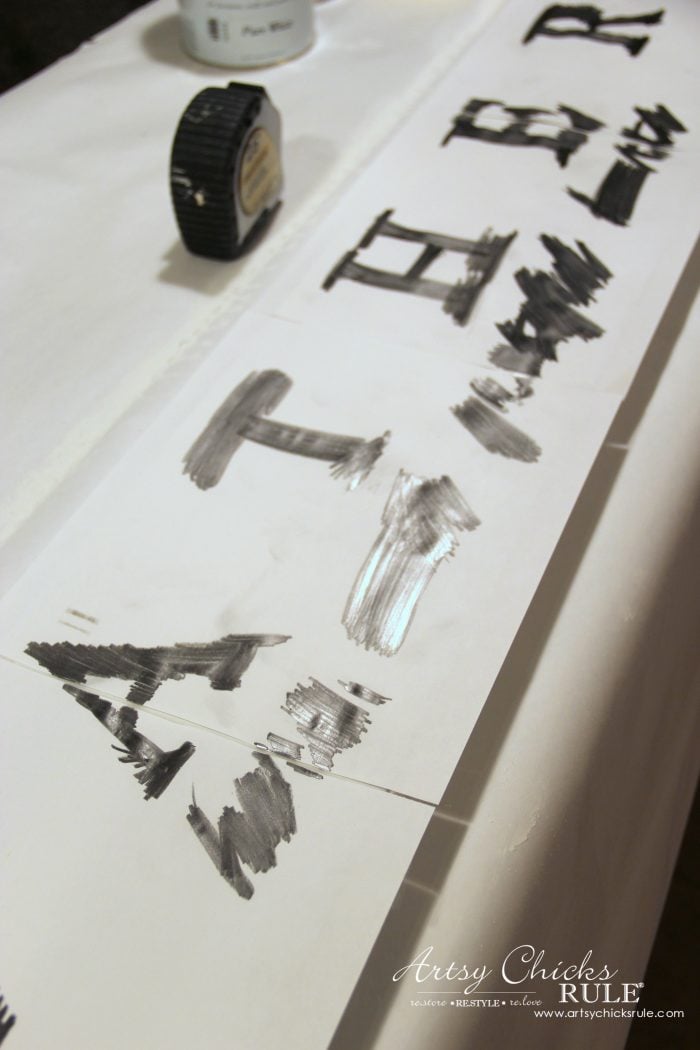 Color like a 3 year old. ;)
Using a pencil, color over each letter with firm pressure to transfer the ink from the printed paper onto the board.
This is what you will find when you lift up the paper.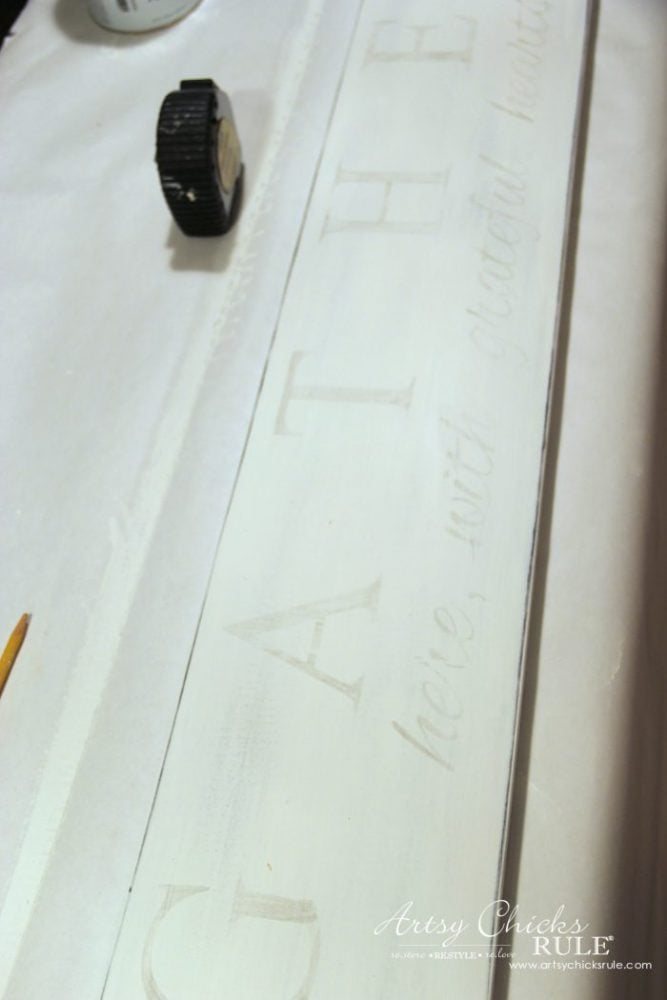 Isn't that neat?
It's pale but it's enough to see where to paint.
Using a fine artist's brush, like this one >>> script liner, hand paint in the lettering on your farmhouse gather sign.
It's not as hard as it seems.
Just practice a bit on a piece of paper first.
Thinning the paint just a touch also helps painting in those skinny areas.
Gloppy, thick paint is not your friend here.
This particular sign took about an hour to hand paint in.
It's very relaxing to me because I am focused and still.
I actually enjoy doing this. :)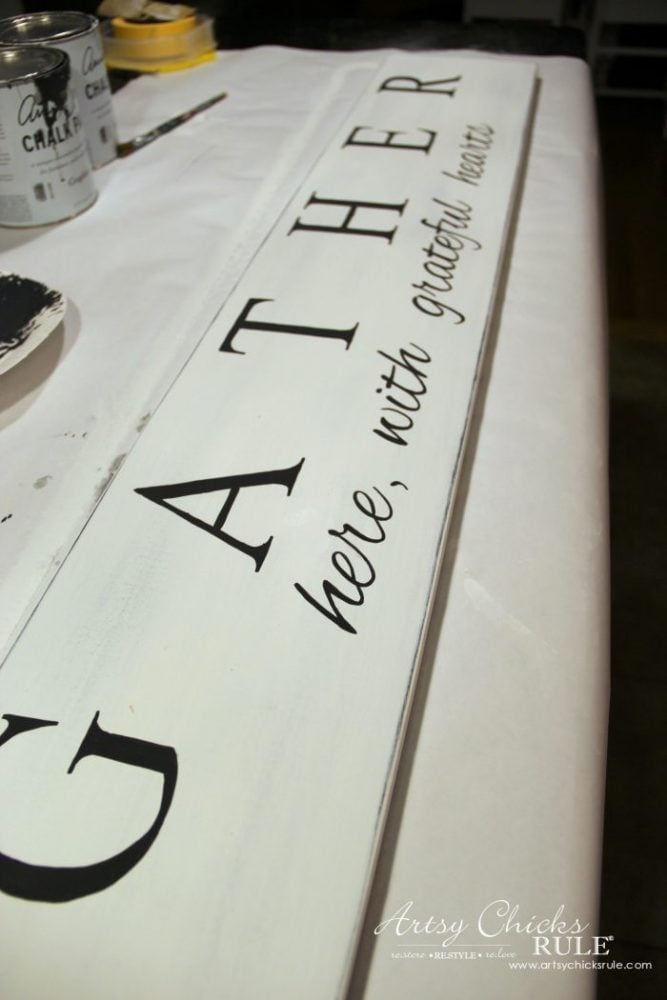 And in the end, you have your very own hand painted piece.
This is the best way to do it if you don't have equipment, like a Silhouette machine.
There are "easier" and quicker ways to do this if you do have a Silhouette or similar.
Here are several projects I've done with varying techniques and my Silhouette.
"Nautical Sign" (I created a "stencil" and painted in the lettering)
 "Laundry Sign" (THIS … this is a simple way to "paint" lettering)
 "Thrifty Wall Art" (and then simply using the Silhouette to create the letters)
Here is an awesome Silhouette bundle —>>> "Silhouette Bundle"
But as I am showing you, you don't need that to create beautiful signs! :)
Want even more ways to transfer?? Check out my "How To Transfer Graphics" post! (sharing all the techniques I use)
Okay, so after it's all painted in, I wanted to soften the lettering and edges a bit.
Once dry, I lightly sanded to soften.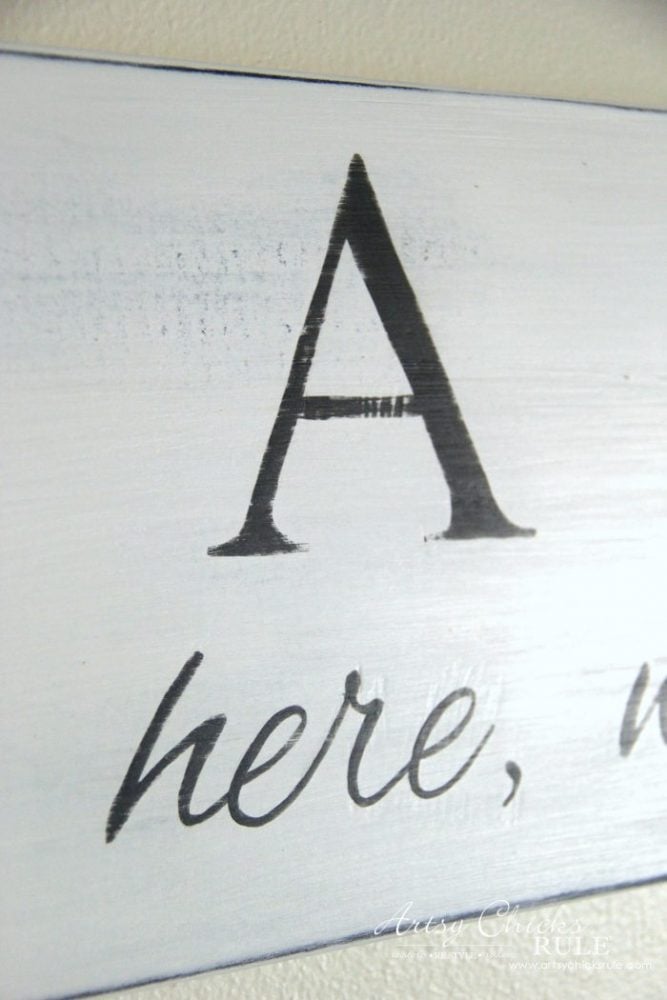 You can see, you don't have to be os-so-perfect with the lettering if you are going to sand to soften them.
Doing this really hides some of the imperfections (like bumpy edges, etc) so it's a win-win.
Plus, I like the way it looks.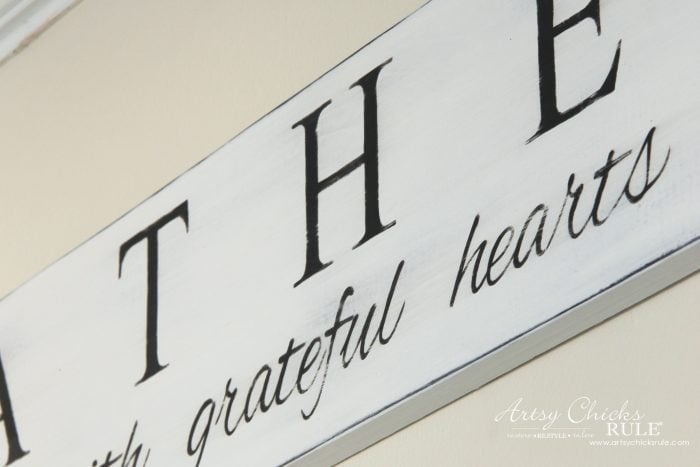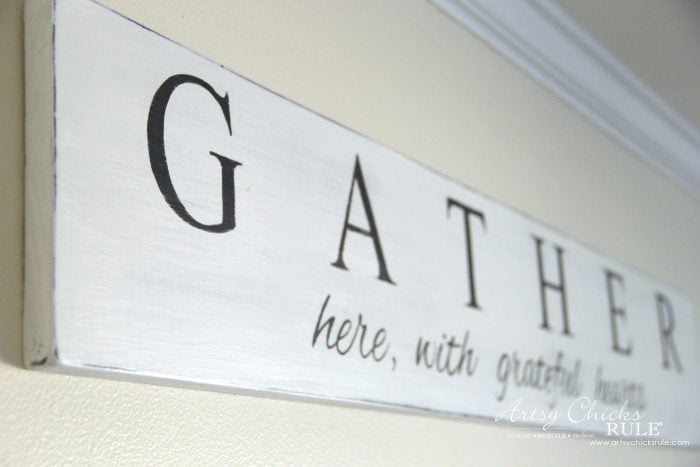 Wipe away the dust from sanding and apply a coat of sealer.
You can wax or use poly. I used >>> this poly. (my fave!!)
Attach a hanger on the back and you are ready to go.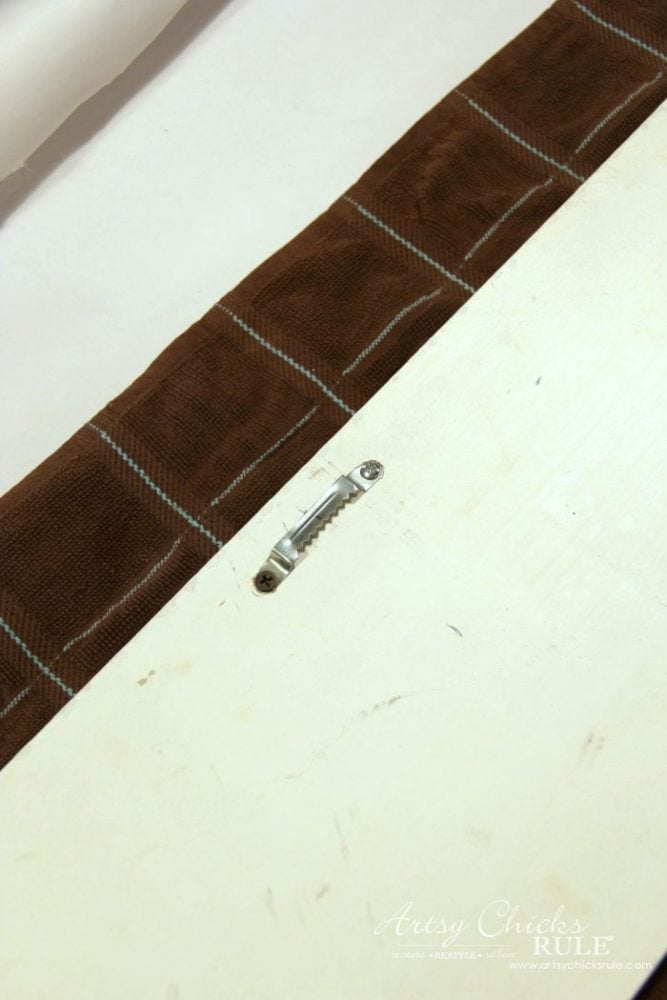 And this is where it is hanging in my home….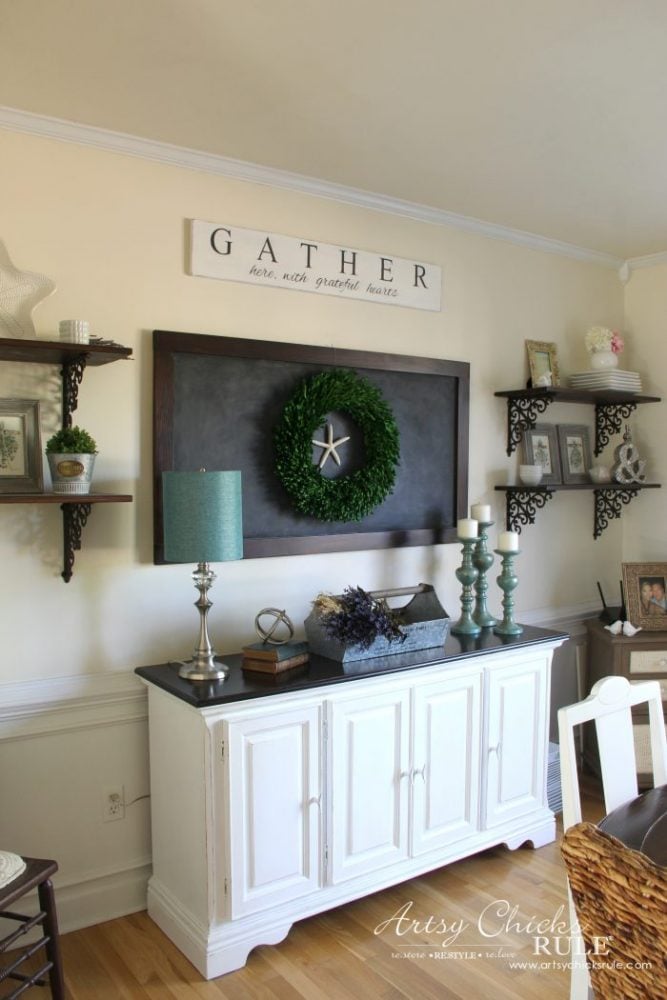 ….you might remember the other sign I had hanging here >>> "Grateful, Thankful, Blessed Sign".
I LOVE the sign I had here (linked above) but the finish didn't really look right with the other wood finishes I had in here.
So, I moved it to the kitchen and it's now where my old gather sign was.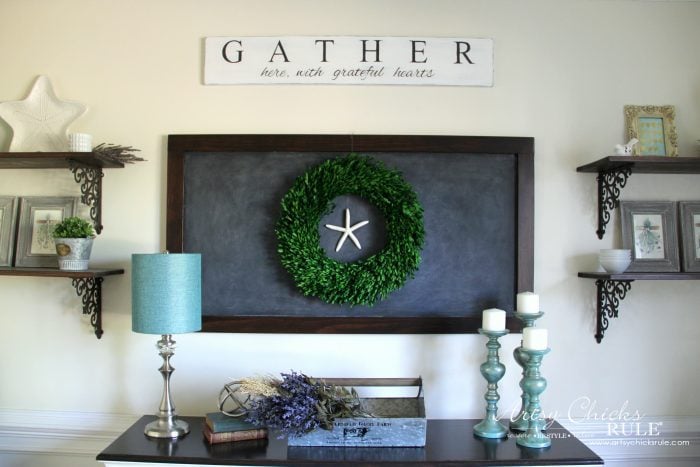 You can find the wreath I have here >>> Boxwood Wreath
The galvanized farm caddy here >>> Farm Caddy with Handle
I haven't even had my new farmhouse gather sign hung 24 hours but just love it. :)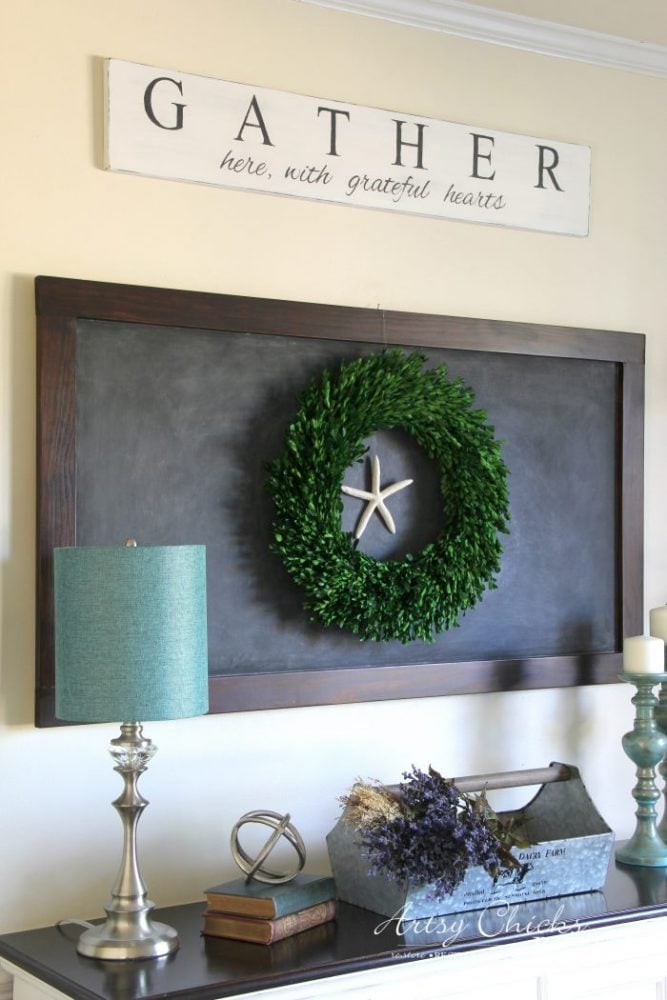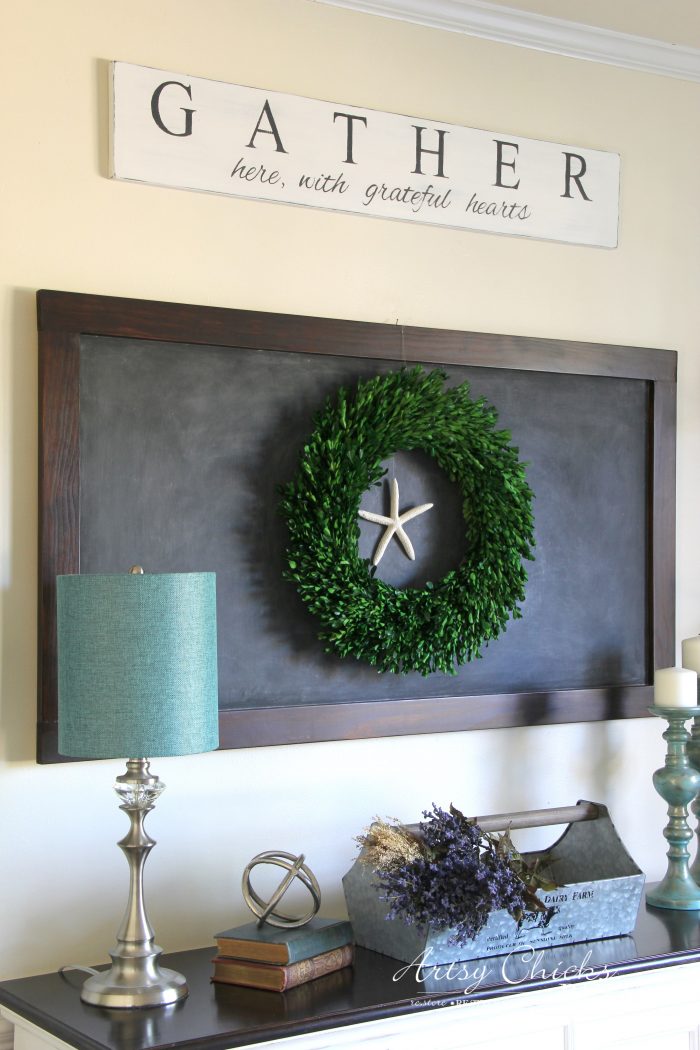 The lighting was weird in here today. My walls are not "yellow" like they appear at the top of the photos.
The color is actually closer to what you see behind the lamp, below the chalkboard.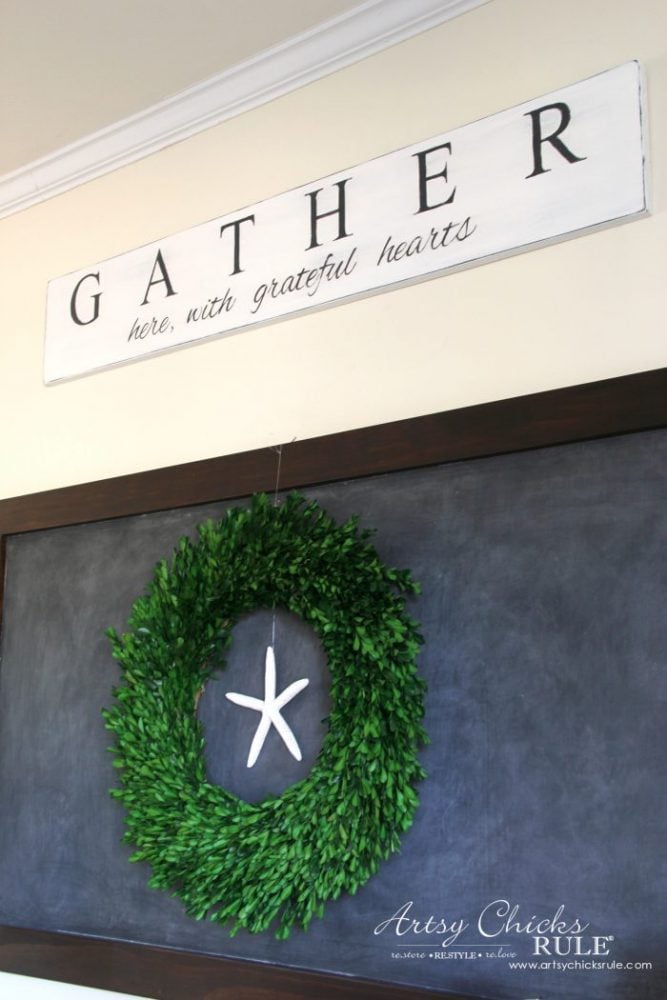 And I'm so glad I added the other wording at the bottom. So sweet. :)
And a little peek at the new globes I added to my chandelier.
I was thinking about replacing the entire chandelier but since we are going to list our house soon, decided to just change the globes.
You can see the old ones here >>> "New Lighting". They just didn't match the room.
I've considered painting the metal, and still may, in a pale aqua with a bit of patina.
What do you think?
UPDATE: This light fixture got a brand new look! VERDIGRIS!! (faux, and I didn't even have to remove it from the ceiling)
See the video tutorial, here >>> "How To Create Faux Verdigris"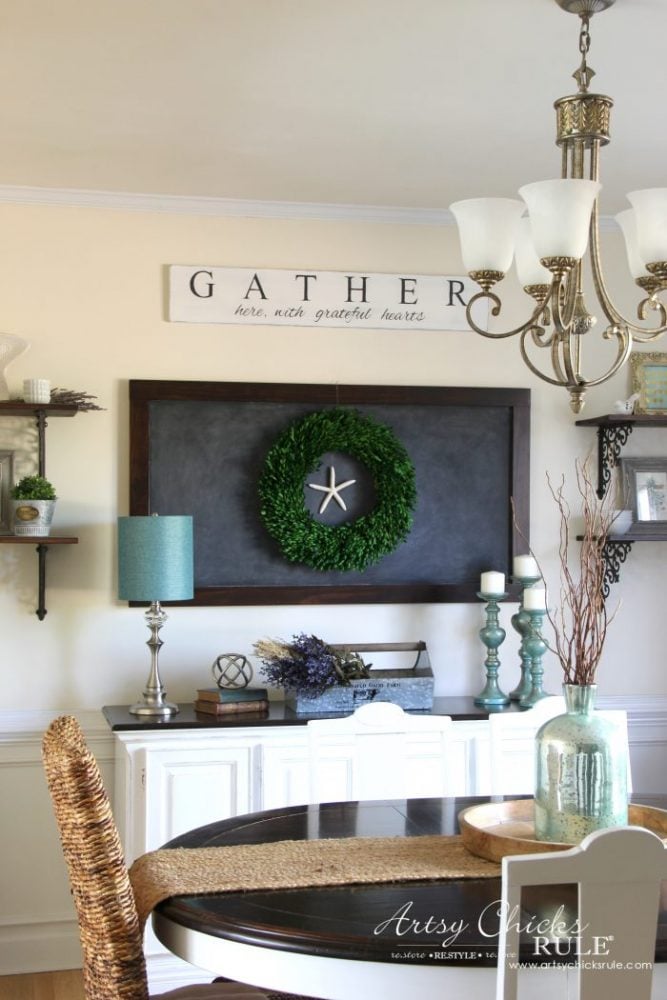 Want to make a DIY Farmhouse Gather Sign too? Now that you see how simple it really was, you can!
Love this farmhouse gather sign? PIN it to save it!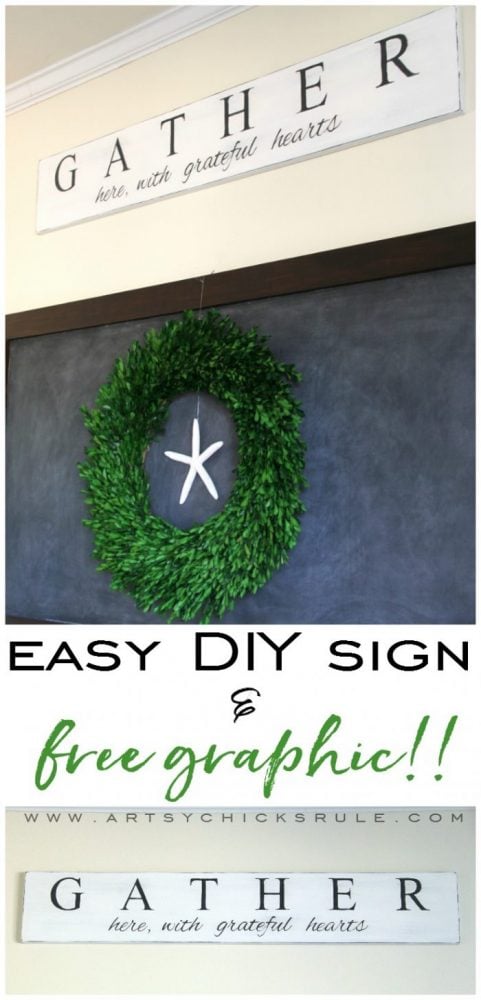 Now let's see what kind of treasures my friends created this month….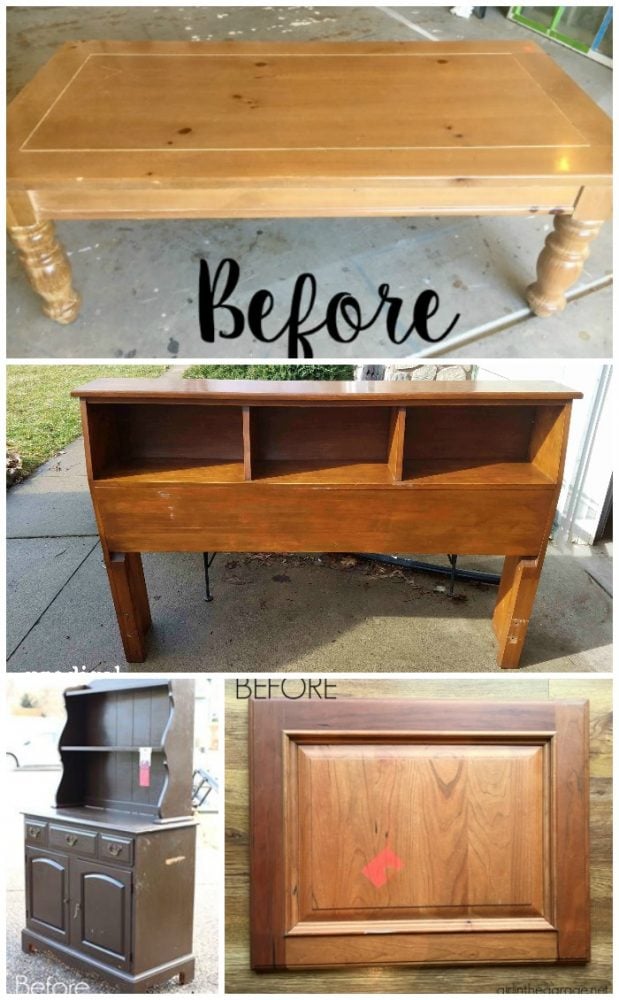 Bless'er House
Prodigal Pieces
Confessions of a Serial Do It Yourselfer
Girl in the Garage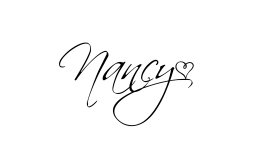 You might also like this project.
I turned this Christmas sign into two signs for my bedroom. :)
(and shows yet another way to transfer images onto wood!)
See them here >>> "DIY Weathered Love Signs"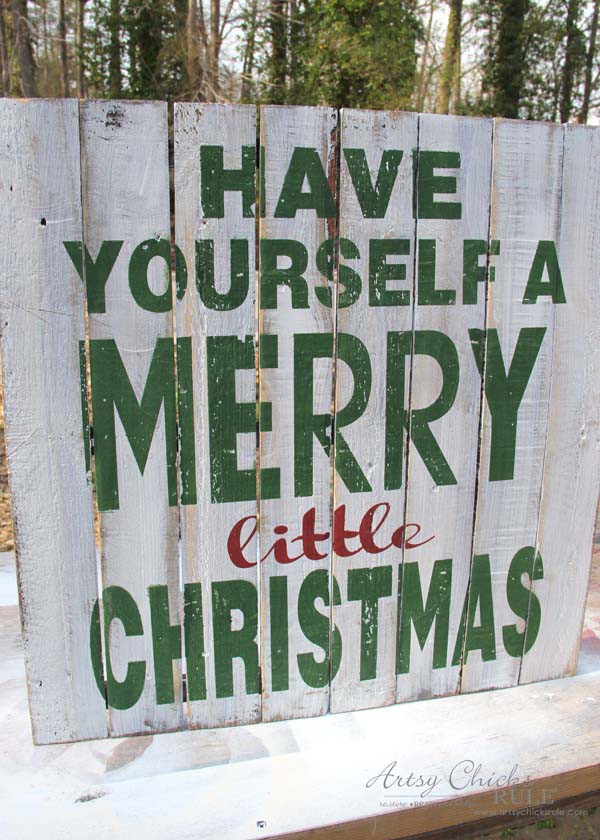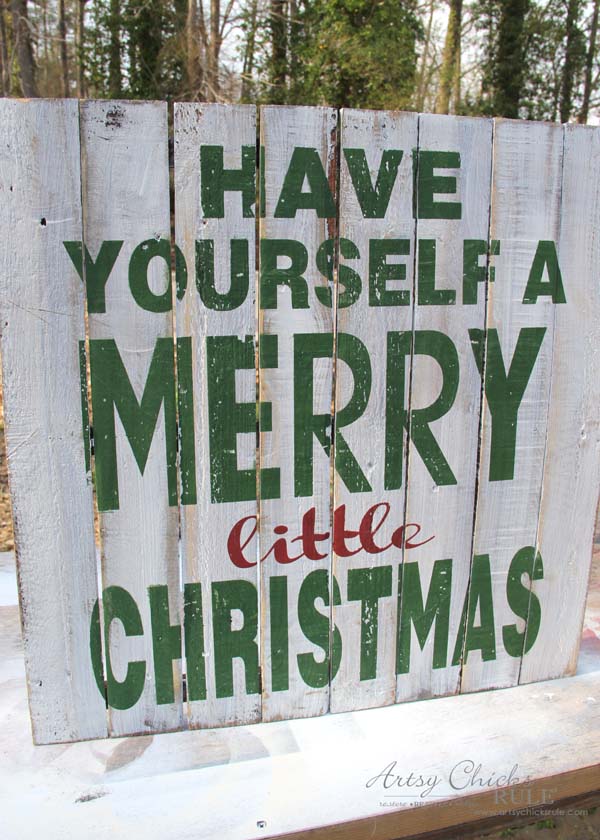 If you'd rather not make your own, here's a few others I found for you. :)