Modern Masters Metallic Paint Makeover
This post may contain affiliate links. Please see disclosures here.
I love paint for furniture, and what's even better …. metallic paint for furniture! I'm sharing a review on Modern Masters Metallic Paint today.
On Friday, I posted a little teaser photo of something I've been working on, over on Instagram.
If you follow me there you know what I'm talking about …if not, read along! ;)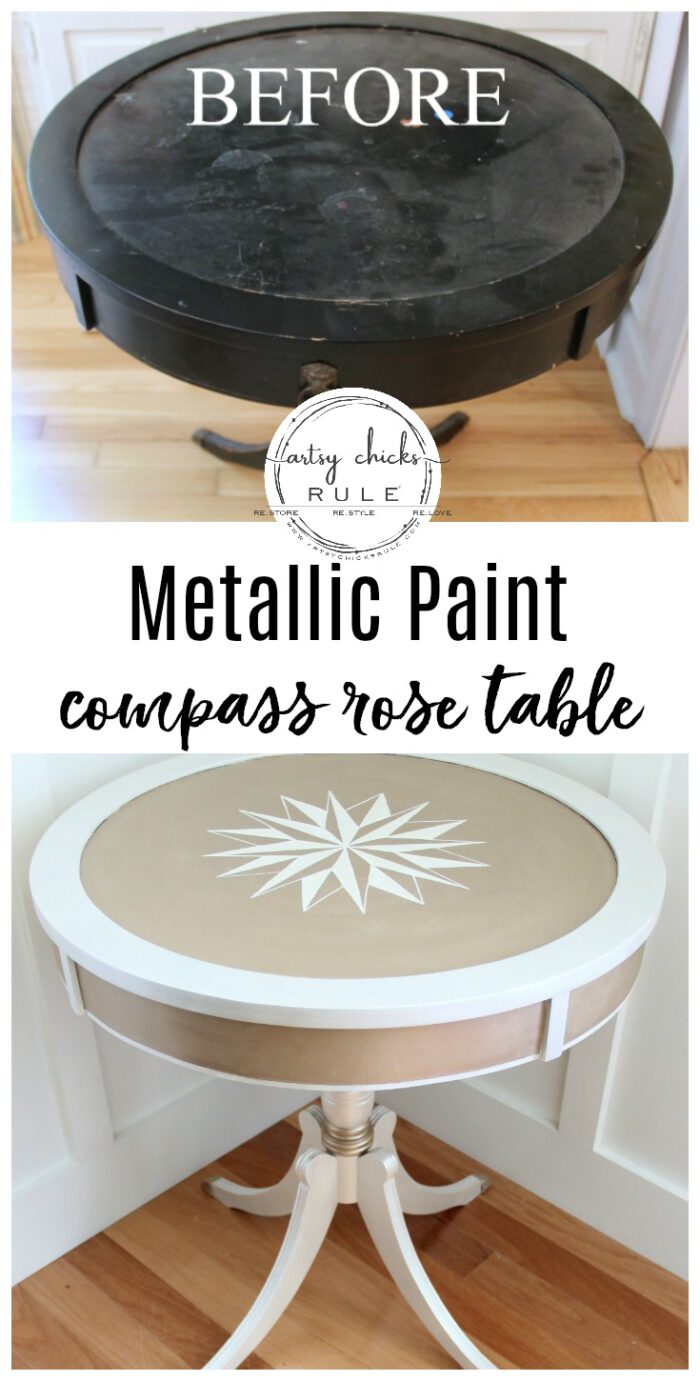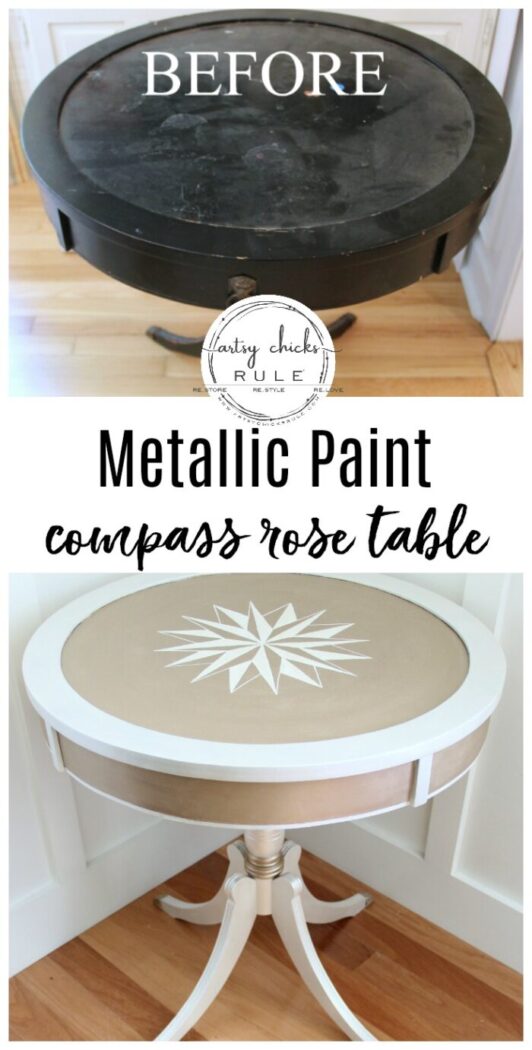 This one was indeed in need of some major love!
Modern Masters Metallic Paint Makeover
I decided to go with Oyster and Warm Silver. I had a terrible time choosing….there are so many fabulous colors.
And honestly, I really can't wait to try more ….but I'm getting ahead of myself.
Let's start with a close up "before photo" of the table I chose to paint.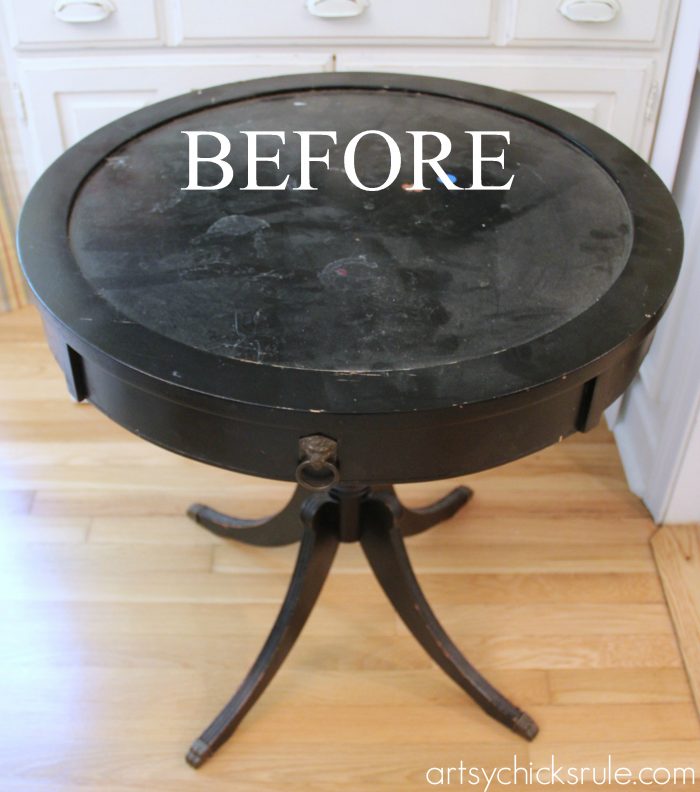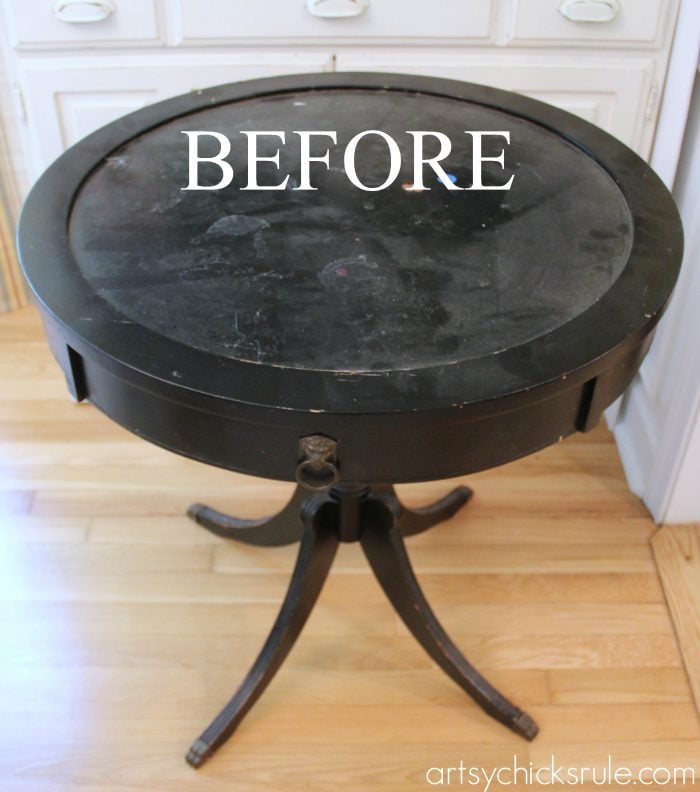 YUCKY.
It's bad….or was bad, I should say. Now it's very, very good.
It never ceases to amaze me what a little paint can do for a piece of furniture.
And in this case, metallic paint.
I picked up this piece at a favorite thrift store of mine for $3. Three whole dollars.
But it wasn't looking so good.
Someone had spilled glue and nail polish on the top and I had to sand to remove it (after I chipped most of it off).
It was also a little "wonky" but a few tightening of screws later, all is well.
Since this table was black I decided to spray it with a white primer before painting.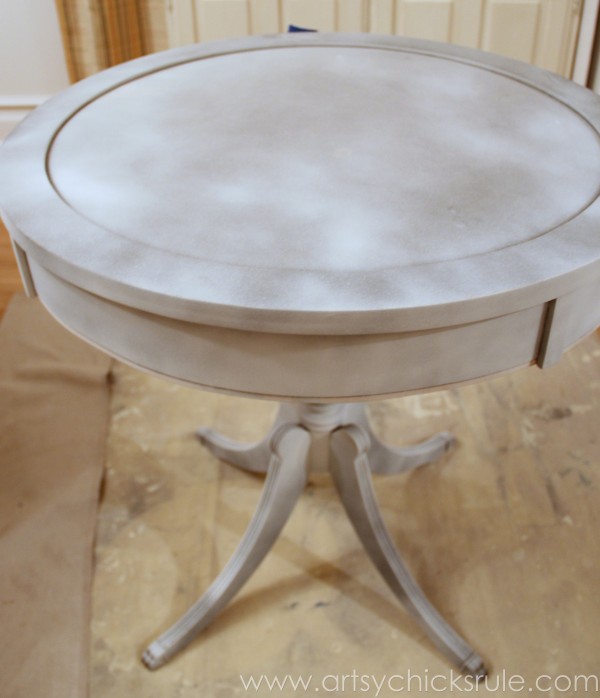 I chose to go with a fun a 2-tone finish for this one.
The Warm Silver had super fabulous coverage since it's 'opaque'. The Oyster had a little less coverage but it was supposed to since it's 'semi-opaque'.
The Oyster is a gorgeous shade and I can see using it over metal and so many other things for a hint of shimmer. Beeaaauuutiful!
(Actually, curious, I took a little leftover Oyster paint on my brush and painted one of my seashells….so pretty! I'll definitely be painting more soon.)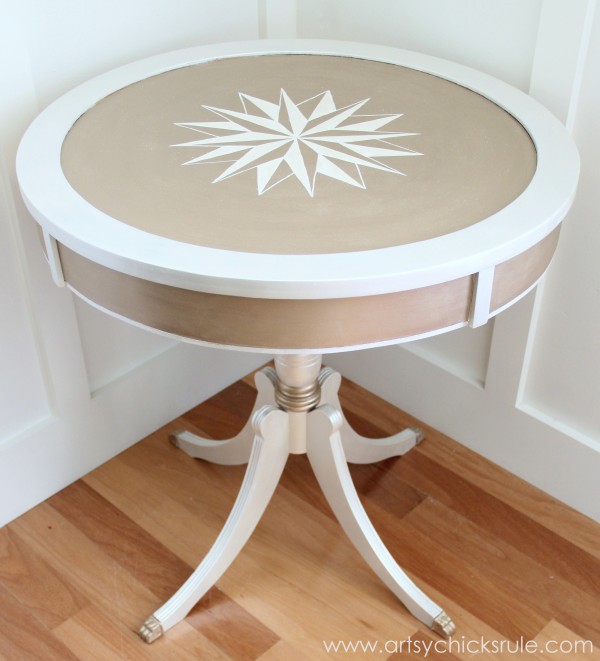 Those legs…..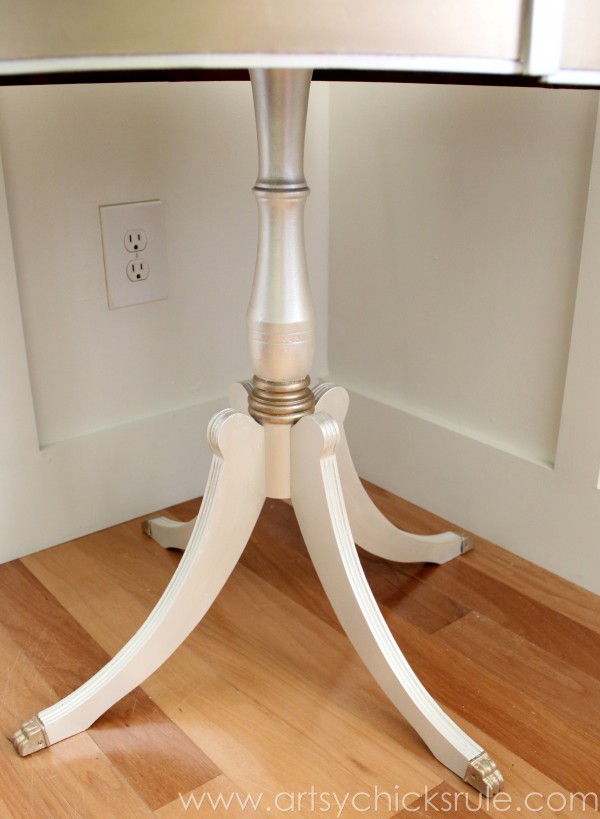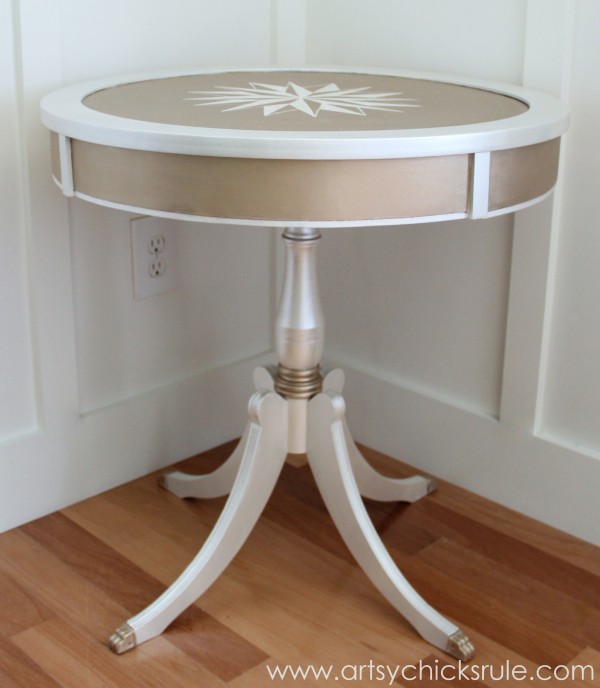 I loved the round shape of the table and decided it needed a compass rose right in the middle.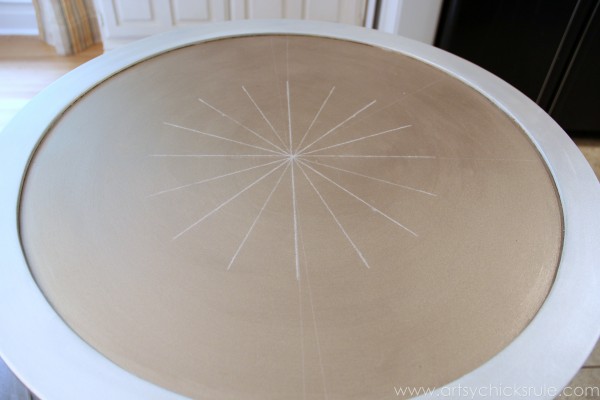 These are so much fun to do.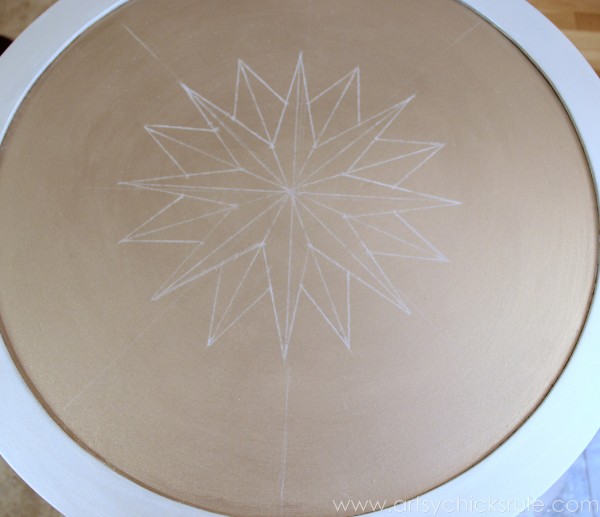 And really not as hard as they may seem.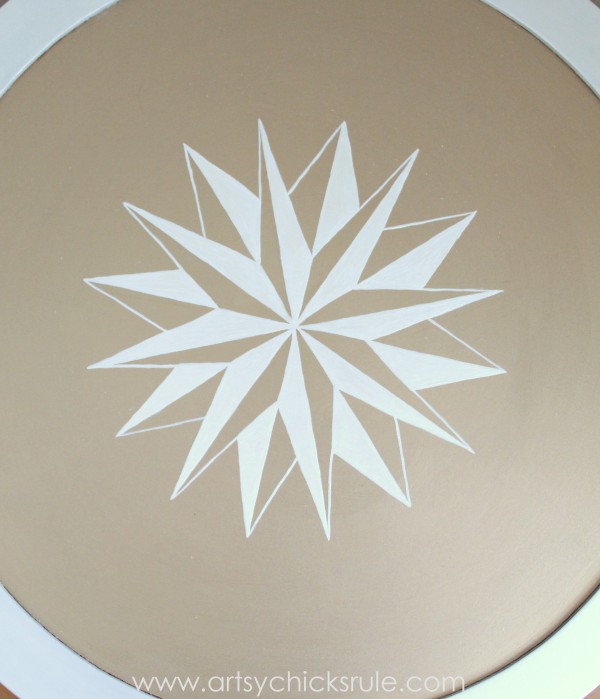 I used a white watercolor pencil to draw the compass rose and hand-painted in with Oyster.
You can see a full tutorial on how to draw/paint a compass rose in this post here.
Isn't that Warm Silver color just luscious? It's a bit more gold than I had envisioned but it ended up being a lovely contrast to the Oyster shade.
So how did I like the paint?
I loved it. It went on like "buttah"…really, it did. I have no better word to describe it.
That is the word that popped into my head as I was painting and so I had to be true to it and say it here.
(even though I feel silly saying it…and there it is, like buttah! ;) )
I had never contemplated metallic finishes much before….but I'm really loving them lately.
And I'm thrilled to have been introduced to this fabulous Modern Masters Metallic Paint!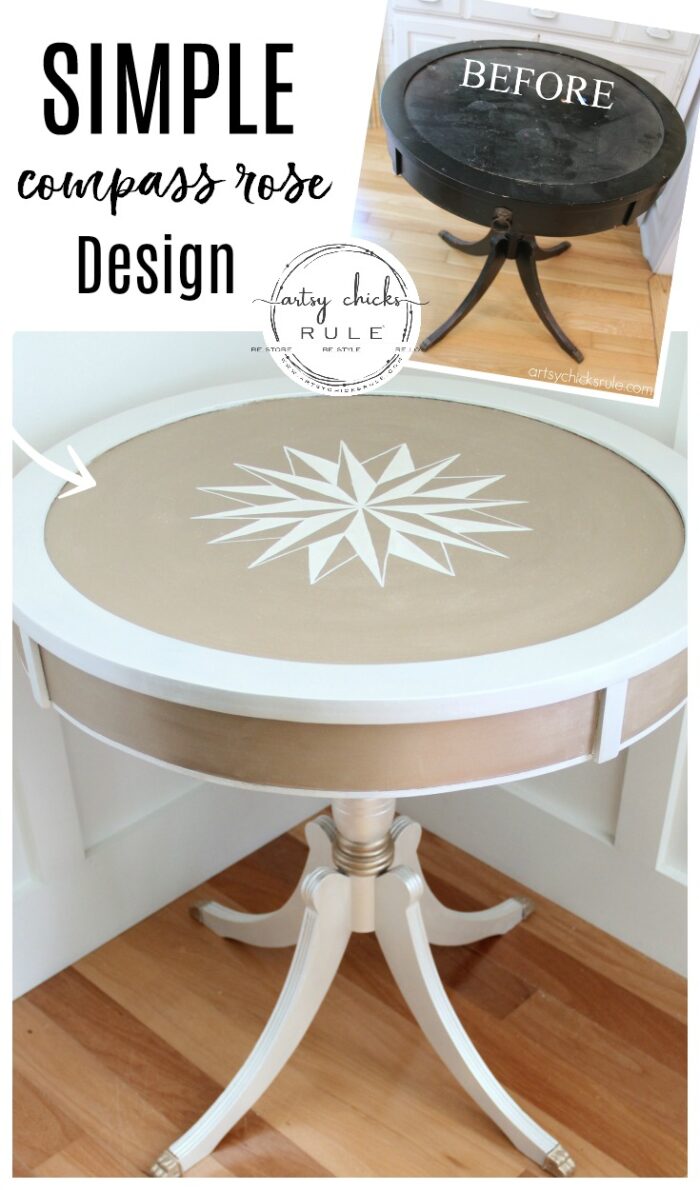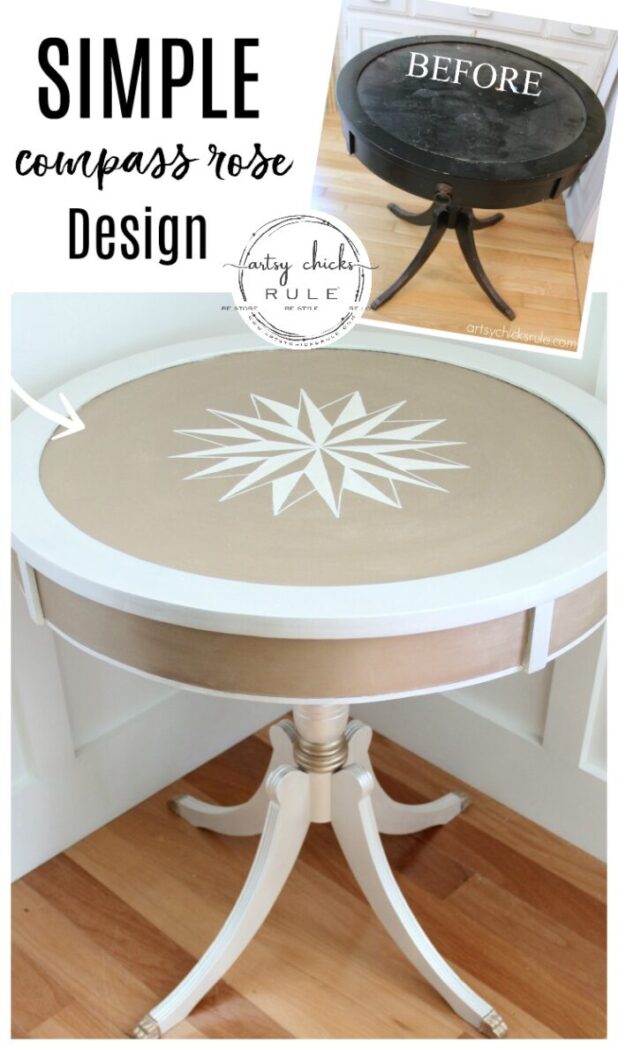 How about you? Are you a metallic paint lover? Do you own any metallic painted furniture?
I'm a new fan of it and I'll be sharing some of those Oyster painted shells soon too.
I'll be sharing this lovely next week! (well, 2 of them, hee hee)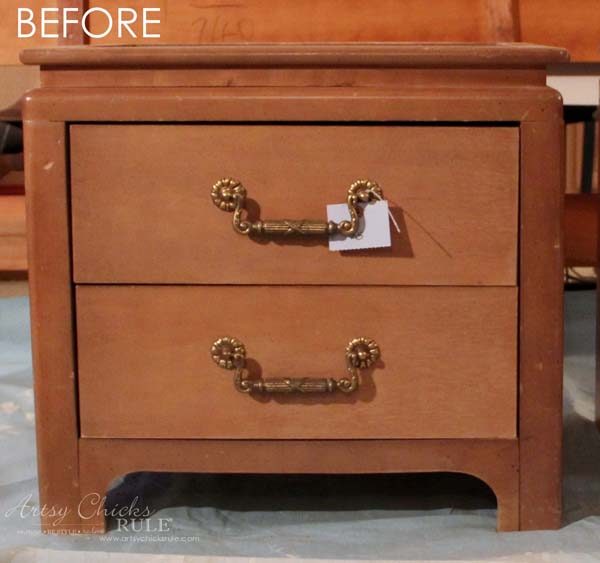 UPDATE!! You can see them now, here!