Thrifty End Table Makeover (Annie Sloan Chalk Paint)
This post may contain affiliate links. Please see disclosures here.
I'm sharing this thrifty end table makeover with you all today (done with Chalk Paint)
I recently painted another end table for my Family Room to use beside my couch.
It was a little thrifty end table too.
What else? ;)
You can see it in this post here. It's pictured beside my white Chalk Painted arm chair but I actually used it beside my couch.
Then I came across this one at the thrift store and couldn't pass it up.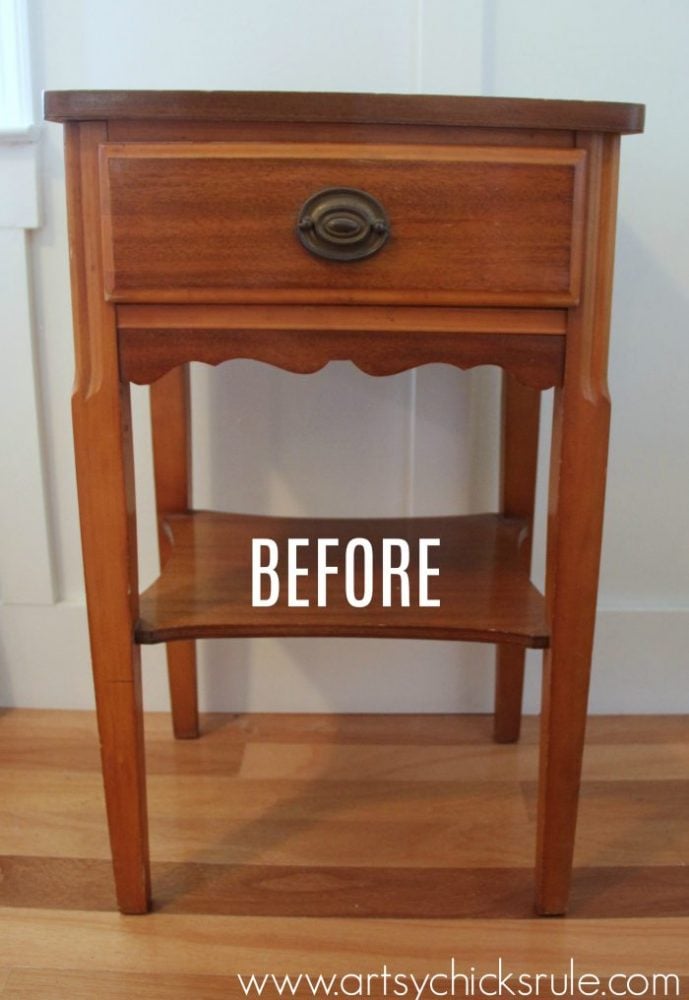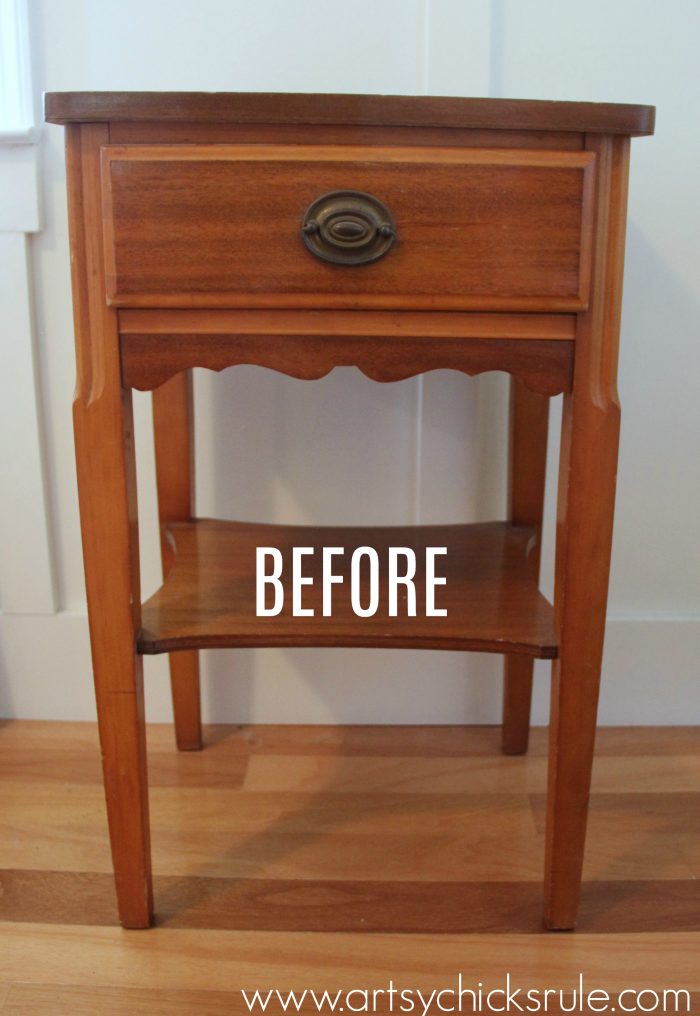 I mean, how cute is this?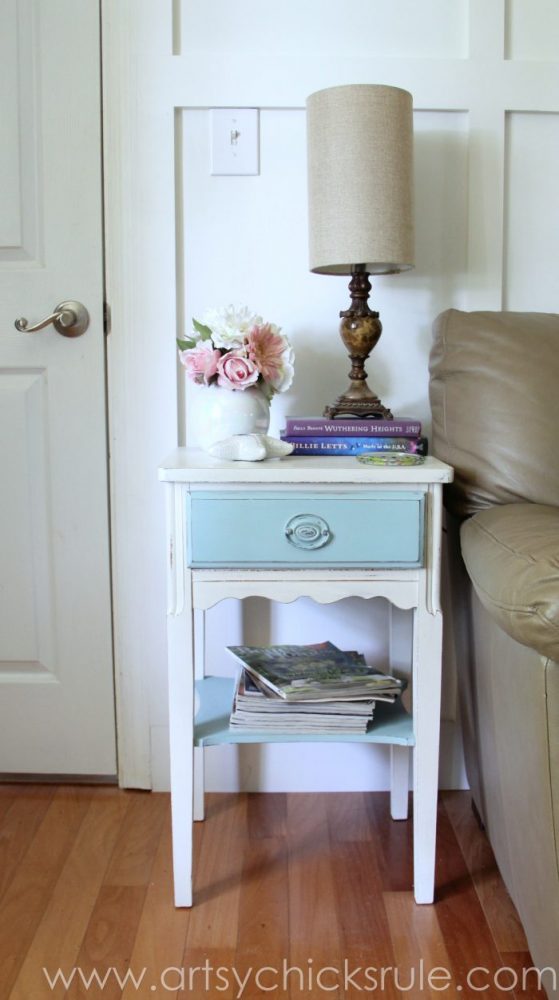 I liked that it had a drawer and a lower shelf.  The other one didn't have the drawer.
The thing I liked about both tables is the height. Most end tables are too low for my liking.
These were both great in that regard.
But I felt the other table (in the link above) was a bit too plain and too porch-y. (and that's where it ended up, on my back screened porch)
This one felt more in line with the rest of the furniture in my Family Room
Kind of orange-y stained. I had originally planned to sand/restain/refinish the top but that plan didn't work out too well.
The wood underneath was not fabulous. ( I sanded )
So I decided to paint it in a two tone finish instead.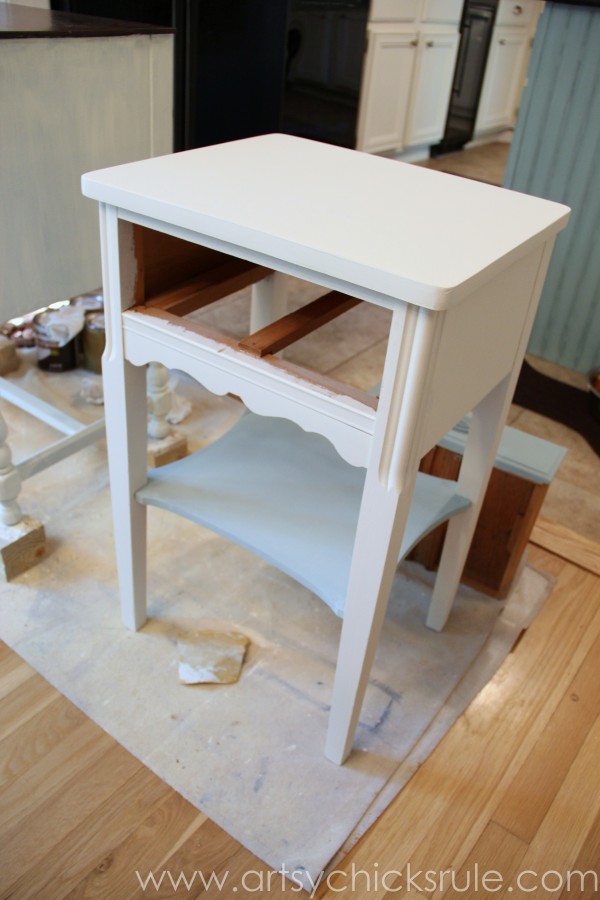 I used my Pure White/Old White blend (I talk a lot about this in my other posts…it's a favorite shade of mine)
I used a paled down blend of Duck Egg Blue for the shelf and the drawer front. (I just adore this color!)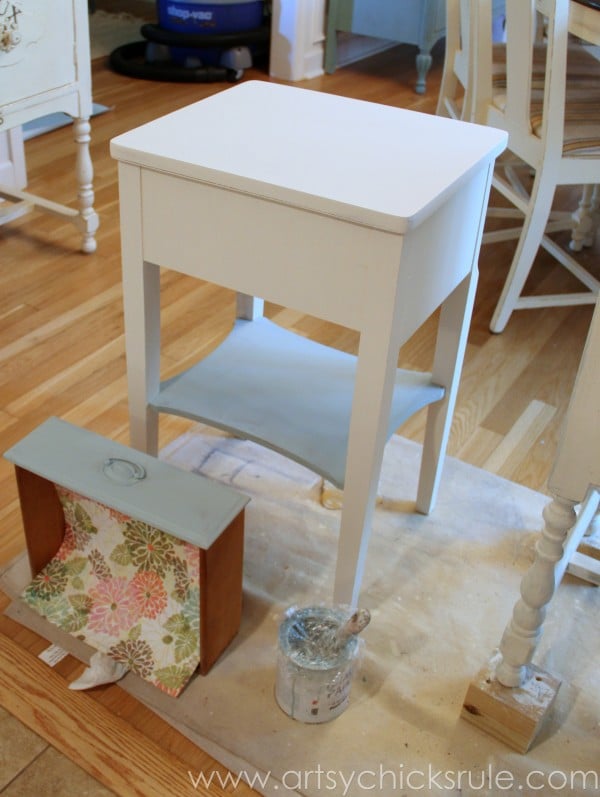 Ignore the Shop Vac in the background…it's there for the built in "bookshelf/cabinet wall" that will never be complete.
I fib…a little…it will be complete, some day.  Life is busy, right?
It's hard to keep up with it all and complete all these projects we have going on.
And really, who doesn't live in a state of constant construction and DIY projects in their midst?
Oh, you don't? Okay, okay, it's not normal, I know.  (and truth be told, it does drive me a little crazy at times!)
But it's finally warm and who wants to be inside working when we can be outside making the yard beautiful (and, um, starting new projects)?
I don't!
One day, my beautiful built in bookcase/cabinet will be done. It might be next winter…but it will get done.
Want to know about 26 other chalk style paints?
I've got the low down for you right here! >>> 26 Types of Chalk Style Paint For Furniture
So, as you can see above and below I decided to use some scrapbook paper for the drawer as a liner.
Or "drawer flair" as I decided to call it. What was that movie where they all had to wear the "flair" (pins) all over their shirts for work.
Office Space? I think that's it. Funny movie.
I have drawer flair. :)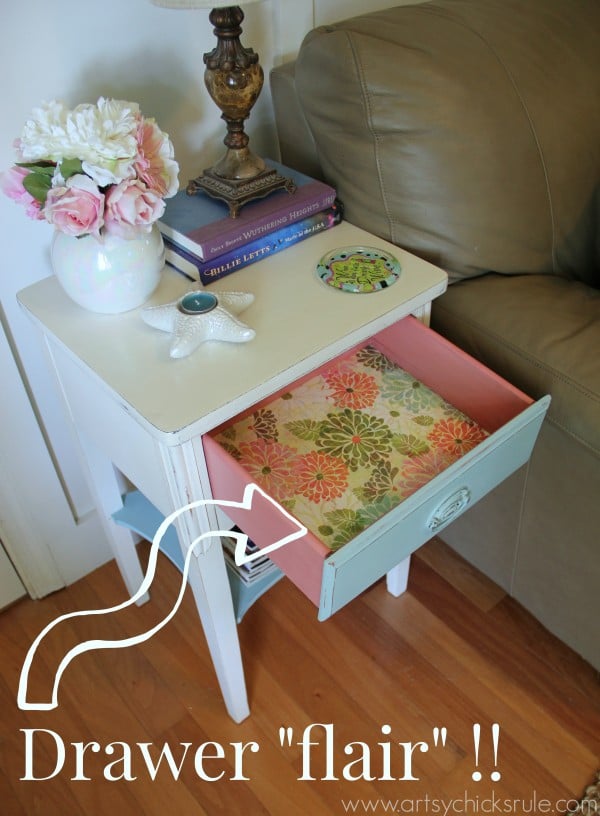 The "drawer flair" would also include the painted sides (Scandinavian Pink Chalk Paint).
What a fun little surprise when you open the drawer, right?
And how about that cute as heck coaster my sister gave me …. "When all else fails, drink wine".  Love that.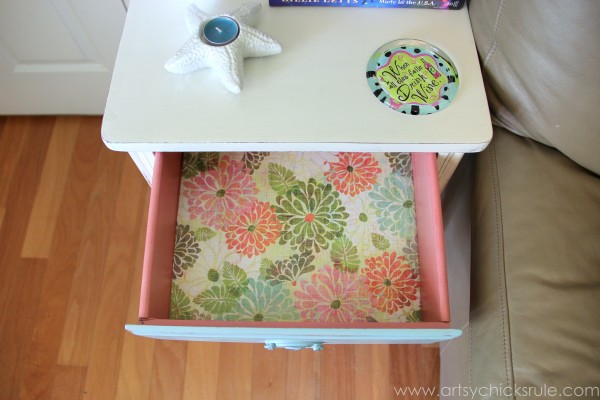 'Eh'…to ehhhhxtra special! :)
Lots of corny in this post today! ;)……. but I am loving my little table.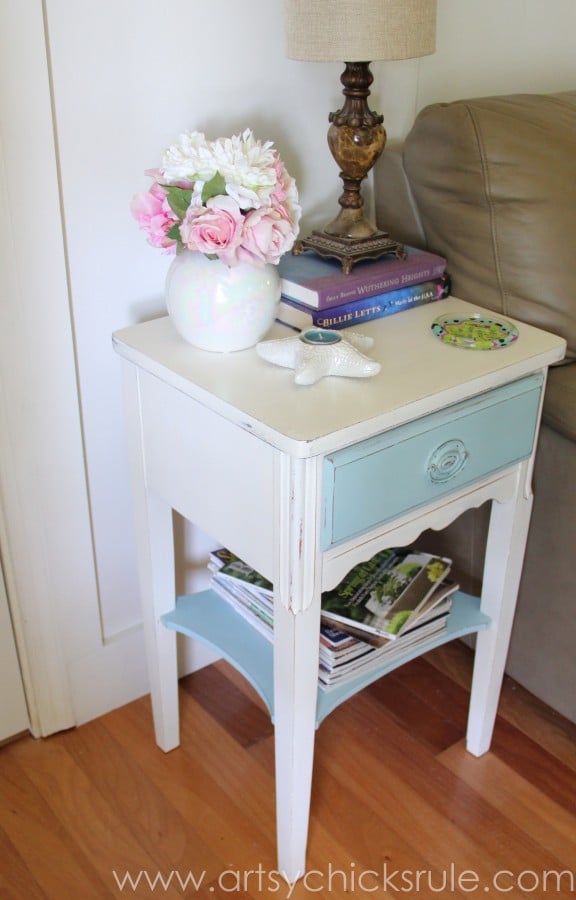 Much better, right?

Can't wait to finish this room and share it here. I showed you some of it in my Holiday Tour but I've changed/added some things since.
The Holiday Tour didn't show every angle of the room either.
I have lots in the works still!
Plus, and trust me on this, you don't want to miss all the "fabulous" before photos….and why we nicknamed this room "The Cave" when we moved in.
A little peek at one corner….leading to the entry/foyer.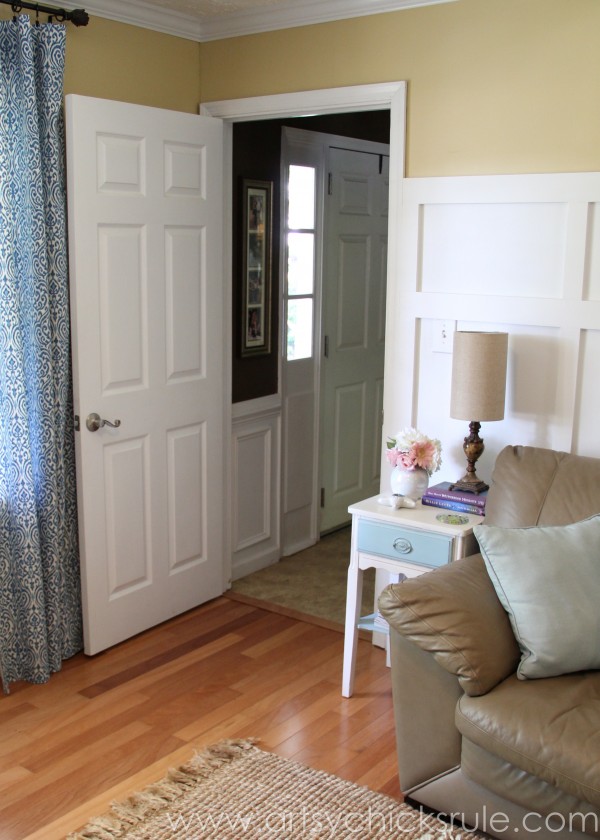 I really, (really, really really!) want the IKEA white Ektorp slip covered furniture in this room.
Not loving the tan leather anymore (although it is quite comfy, I must admit)
But my dear, sweet husband is not quite on board with all white furniture……..yet. ;)
Silly man.
So another look at the before and after of this little thrifty end table turned re.loved treasure.
Like this thrifty end table makeover…with Chalk Paint? Pin it to save it!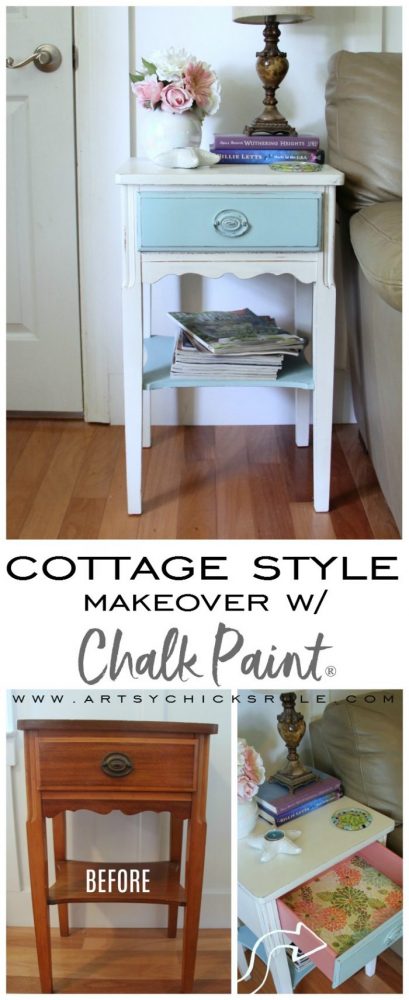 By the way, the lamp is getting a makeover too.;)
I know some of you don't like all this painted furniture. I love it and it is very fitting for the coastal, casual (and very eclectic!) feel of my home.
I also love natural wood and wood grain, however, and have quite a few pieces with it.
At least one piece/top in each of my rooms.
I have even started to add small natural wood touches here and there (not necessarily furniture) for some depth, texture and contrast to my decor.
I adore different textures and contrast and find I end up with lots of both as I pick things out for my home.
Here are a few things to come….I painted my >>> laundry room this weekend and will be sharing it as soon as I finish a few 'small' projects in there.
My guest bath downstairs is about complete. I'll be sharing it with you soon! (UPDATE! See it now, >>> here)
I just finished painting >>> a "french-y" graphics cabinet for our Family room. (to house our cable box and such)
I have some >>> fun stenciled night stands I finally completed.
I also have a review of Modern Masters Metallic paint on this pitiful little table coming on Monday.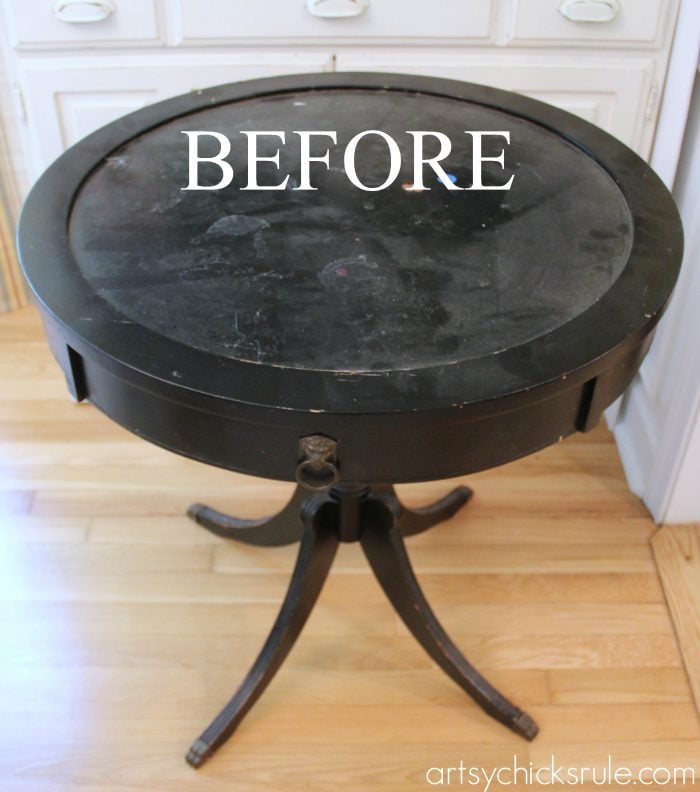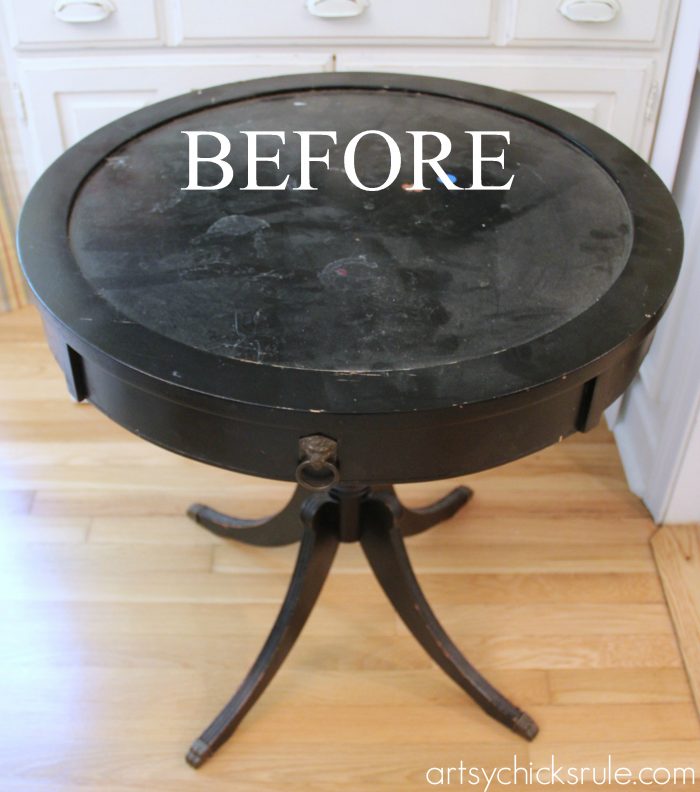 UPDATE!! You can see it now, here!
Hope you all have a fabulous rest of the week and weekend!! :)
xoxo