Thrift Store Coffee Table -turned- DIY Tufted Ottoman
This post may contain affiliate links. Please see disclosures here.
DIY tufted ottoman out of an old coffee table!
Coffee table turned DIY tufted ottoman.
Search that on Google and see how many hits you come up with. A lot.
And here's another to add to the long list.
Except I'm not going to bore you with a full on tutorial since there are plenty of those out there already.
Coffee Table Turned DIY Tufted Ottoman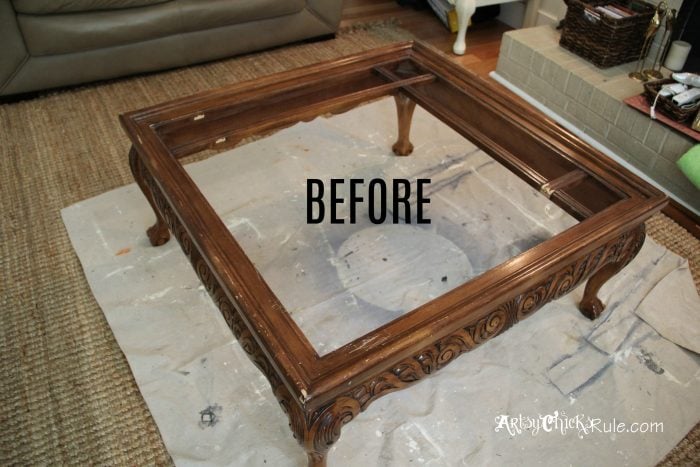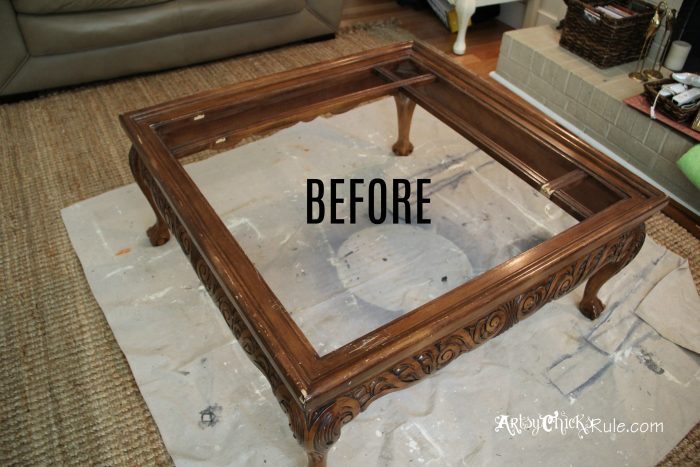 Let's start at the beginning ….with this…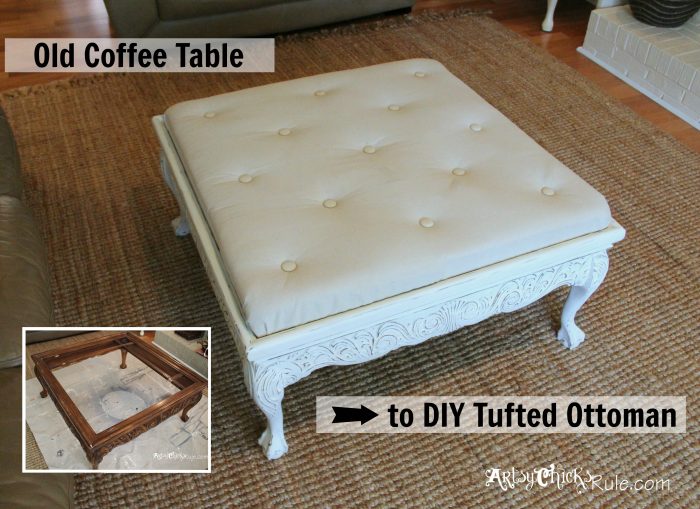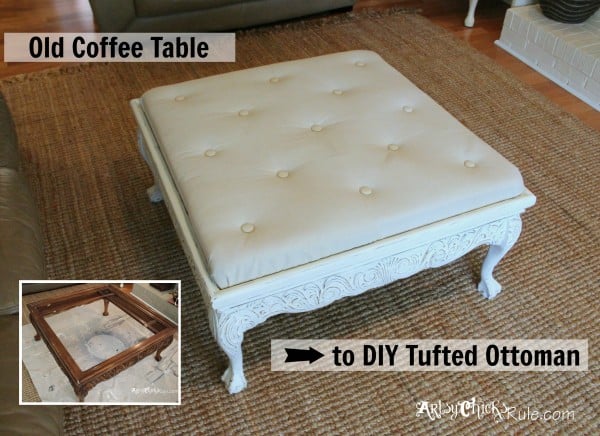 It came from the thrift store and was pretty beat up but had really gorgeous woodwork detail.
I had been looking for an old table to turn into an ottoman and this one was perfect!
It had glass in it but I'd already removed it and the framework underneath when I took this photo. (you can see some of the old framework in the photo)
With all that gorgeous detail I decided not to wrap it around the whole top and instead created an "ottoman" that fits right inside the square.
My husband took the legs off and started by creating a sturdy frame for it with his Kreg jig.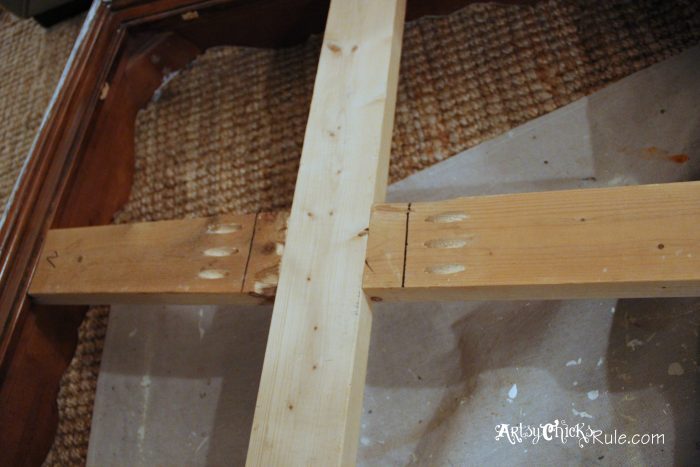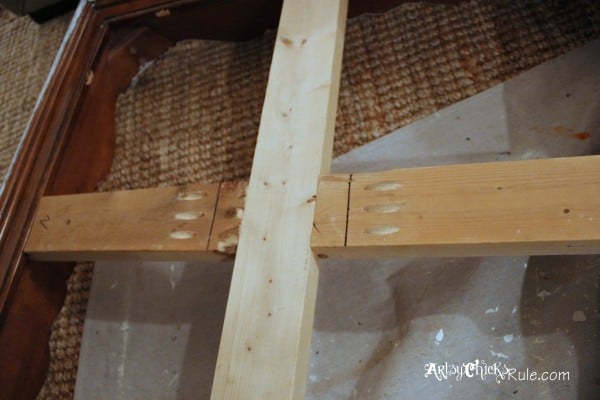 He's pretty handy like that..and that's a fabulous tool, the Kreg Jig.
Now it's got a nice and sturdy base…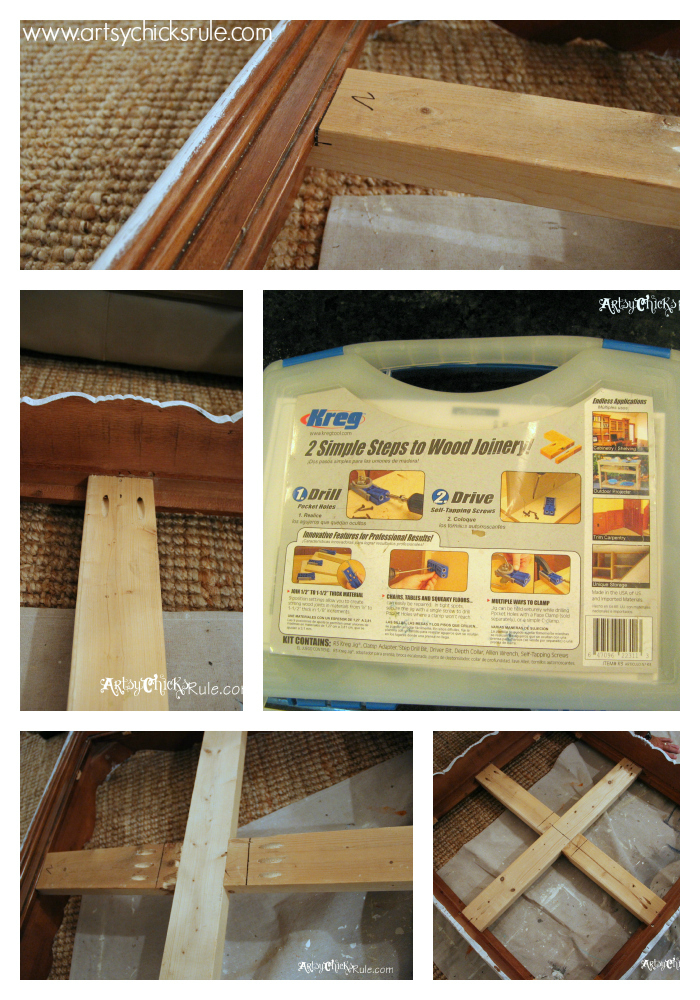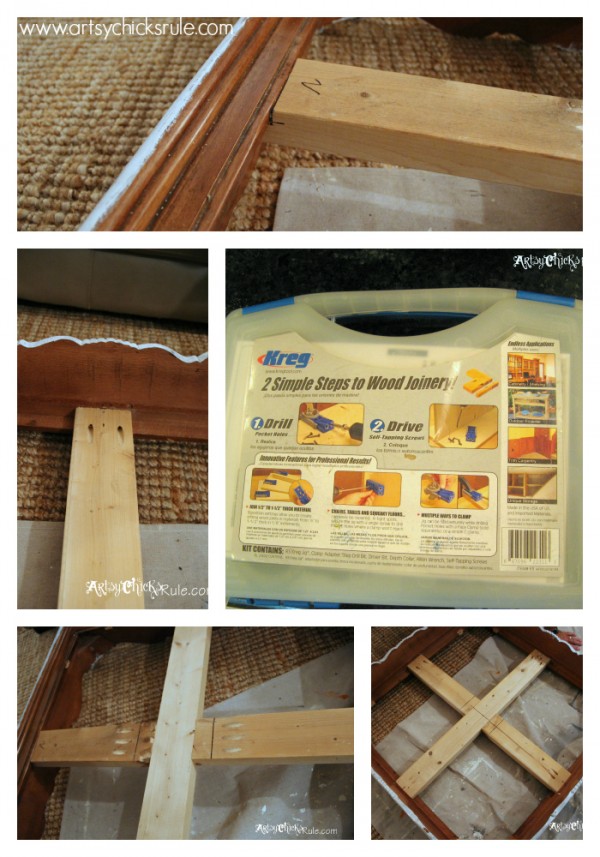 Then we put a top piece on for support.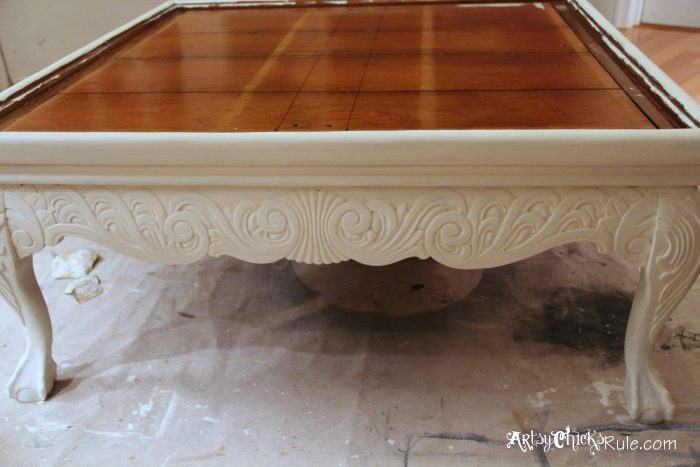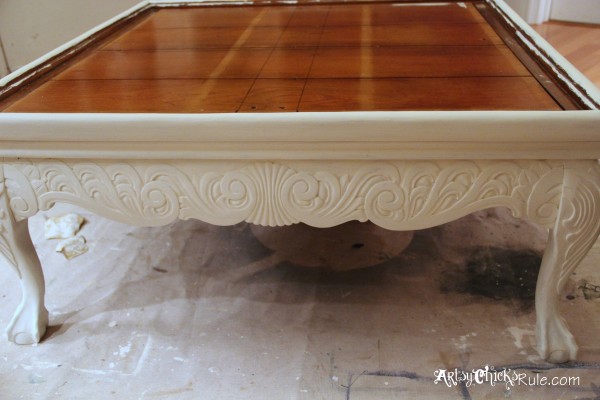 Which just happens to also be the panel that came out of the back of this "Baker's Hutch" I created a while back.
(I'm a big fan of saving and reusing anything and everything!)
Underside…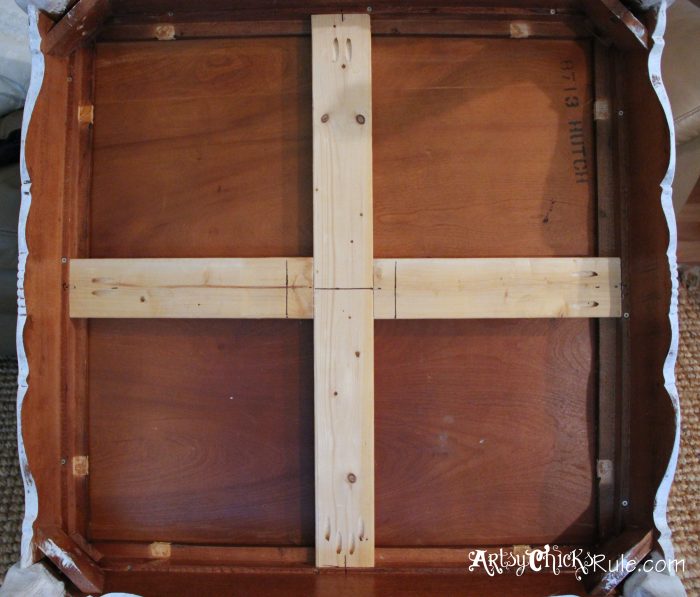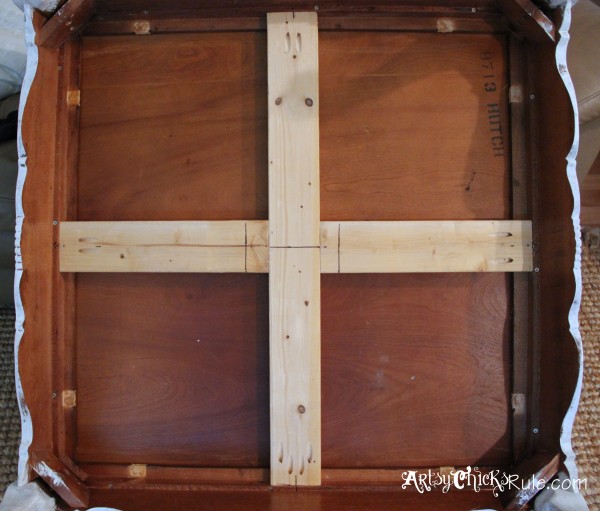 For the paint, I used Annie Sloan Chalk Paint in a mix of Old White/Pure White.
Heavy on the Pure White. (sealed with Clear Wax)
Take a look at that fabulous detail once distressed.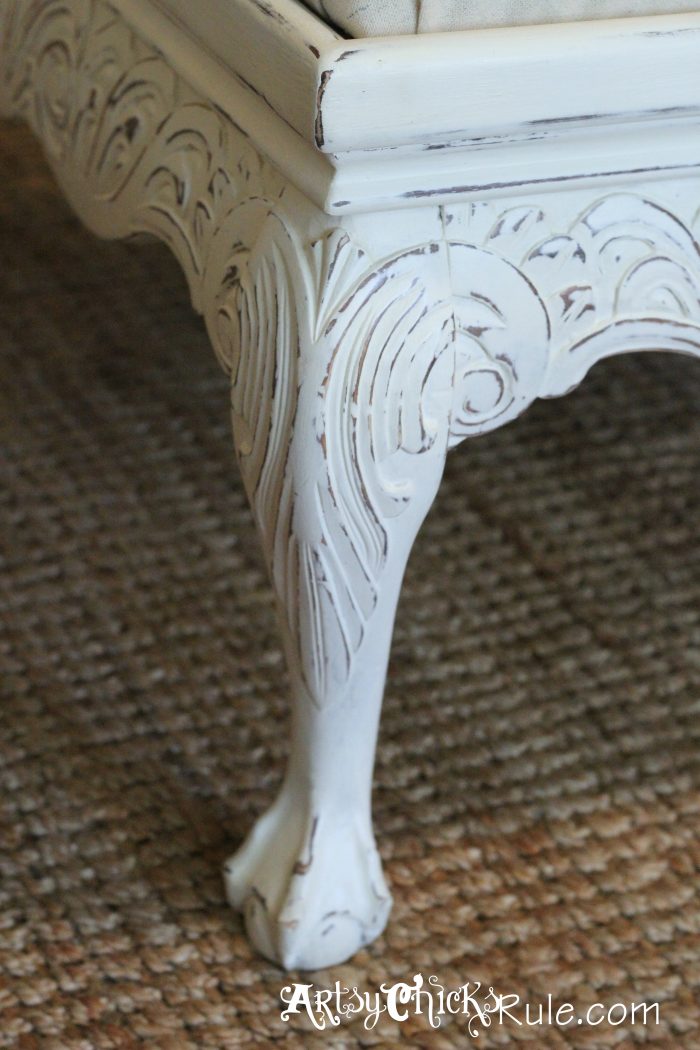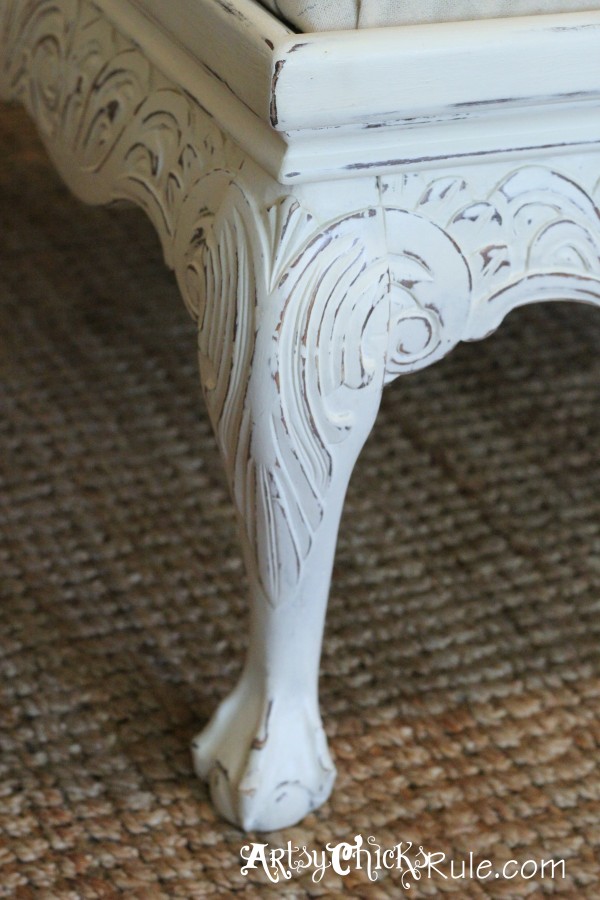 It just pops right out at ya! Totally lost before, in my opinion.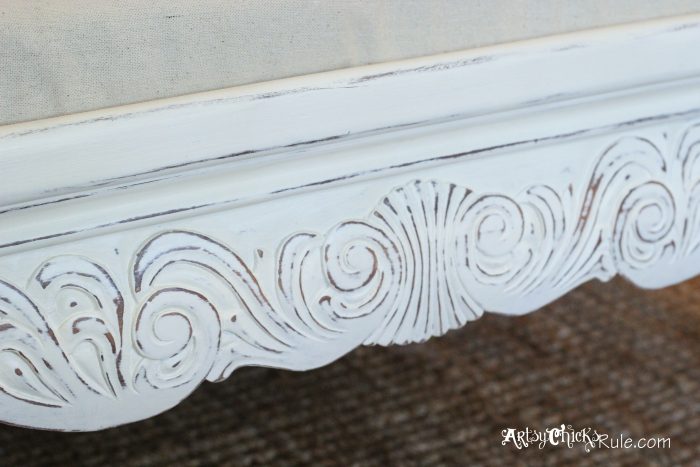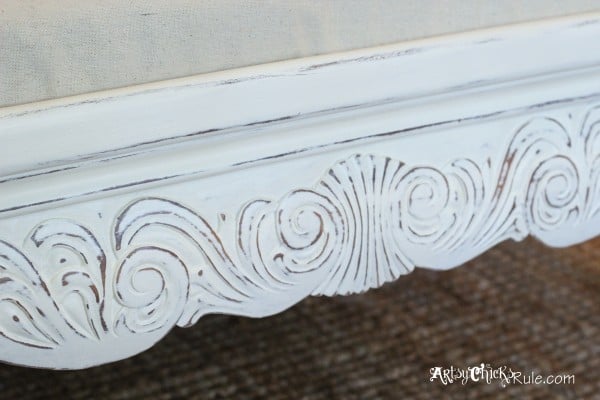 Creating the buttons for the top……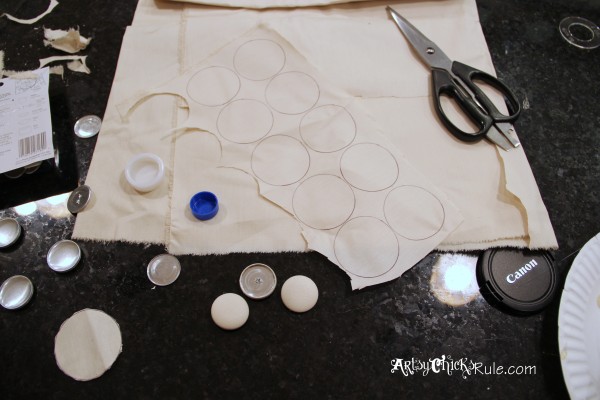 Eh. Not my kind of project. I'm a bit impatient to sit and cut circle after circle.
But I survived it. lol
Next, we created the pattern for the top/button placement.
(on another piece of board that the ottoman will be made on top of)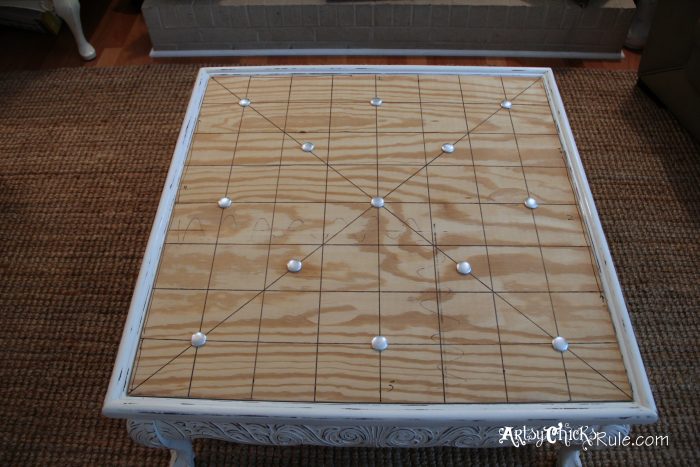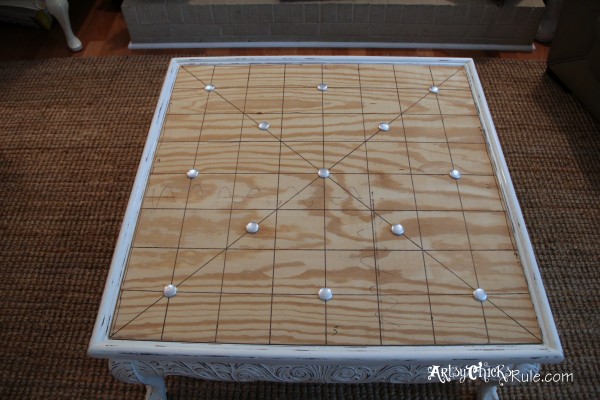 I used spray adhesive to attach the foam to the board, cut holes for the buttons, and then I started on the FUN part. heh heh
…..using that ginormous needle.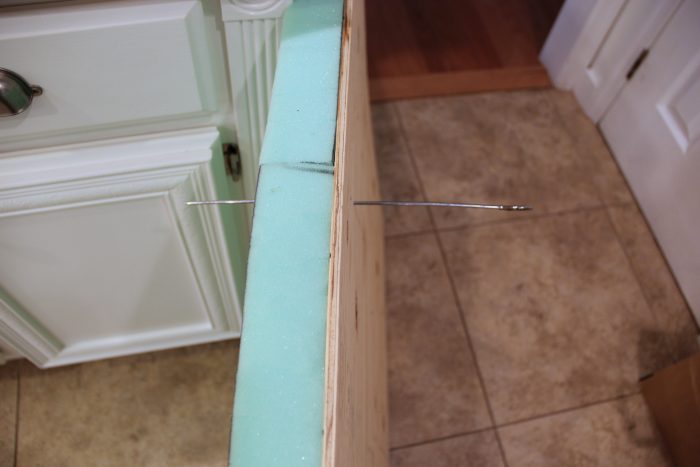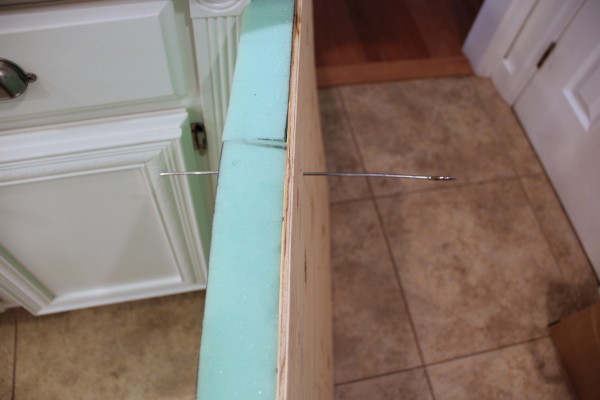 I kid.
It was not fun. It hurt me many times. :(
Stoooopid needle.
And after all that work …I didn't love it. No, not so much.
Real deal here.
I liked it but it was not as "tufty" as I'd have liked.
But no worries, I have a plan!! Well, it's not my plan because I didn't come up with it but I'm going to implement it.
Tell you about it in just a bit.
You're on the edge of your seat, I can tell.
But first…on with the process of sewing buttons on. (Hint: I won't be doing that again)
Fabric is all laid out and the first button going in! Yay! Only 12 more to go.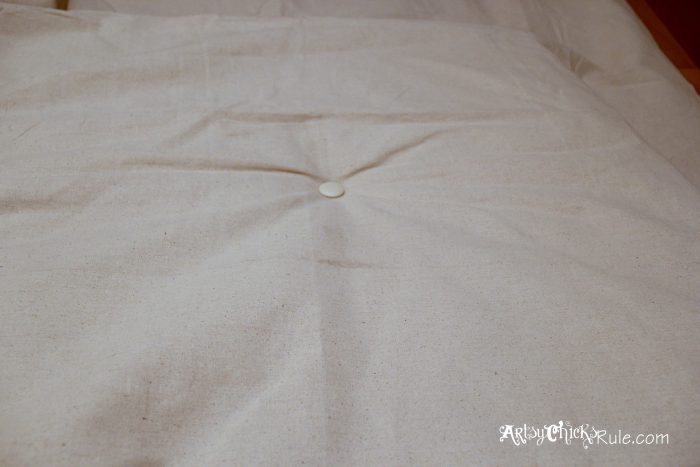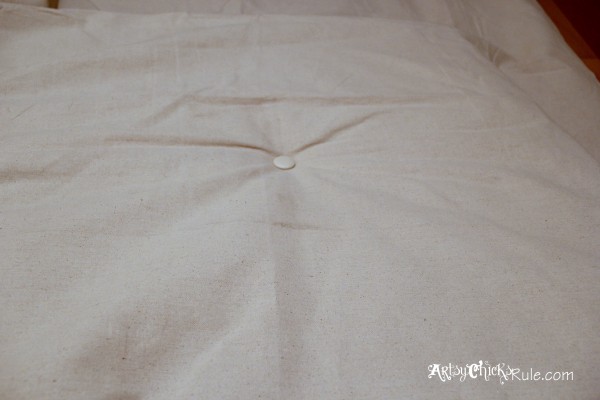 By the way, there is also batting on top of the foam under the fabric.
So there you have it. All finished! Just… like…that.
Um, yeah, not so much.
It was pretty time intensive and I might have said a bad word or two. (remember that needle?)
But it was very doable….and saved me a ton of money.

DIY tufted ottoman….even though it's not very "tufty", I know.
But it looks pretty nice all styled up a bit, even so.
We use it as an ottoman (feet and all!) and a coffee table. Love that!!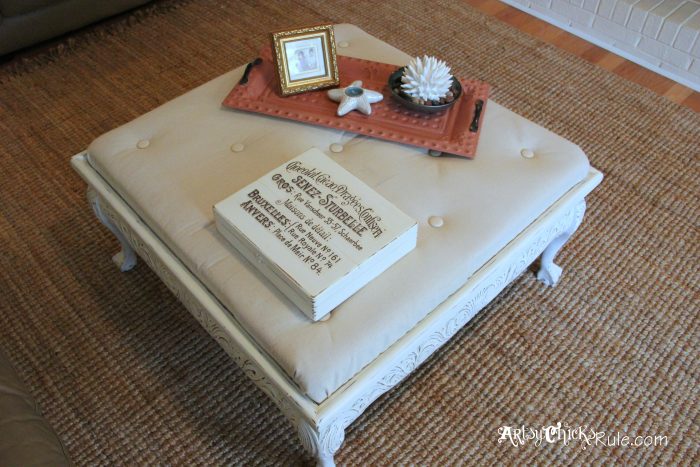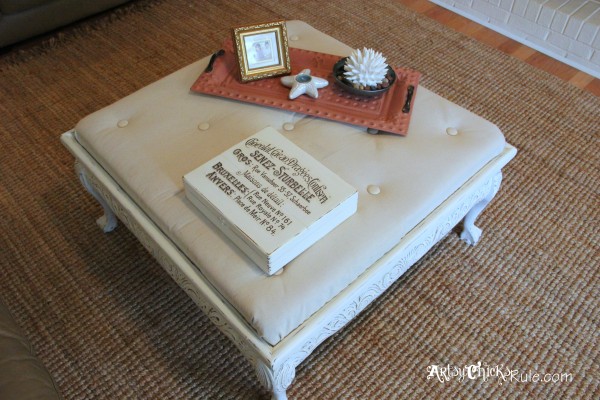 Did I mention that the "fabric" is actually a drop cloth from Lowe's? $6.99, I think it was.
Look, drop cloth under….drop cloth over.
Not the same one obviously.
One of them has had some real drop cloth use!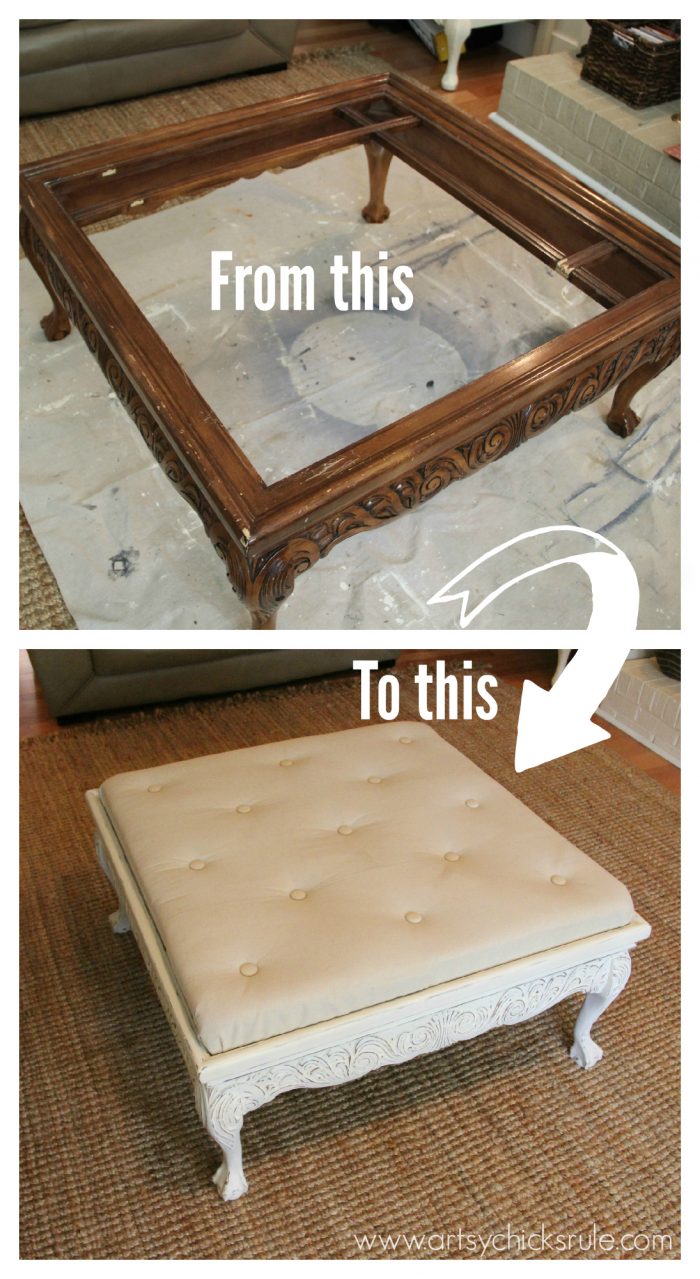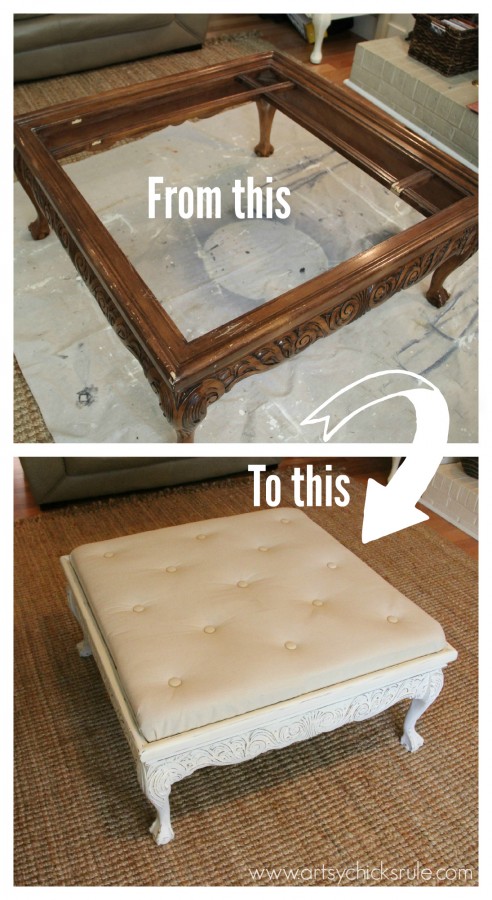 You can see this ottoman "in action" in my Holiday Home Tour …here.
The little box on top is also a thrift store find. I painted and added the graphic with a water slide decal.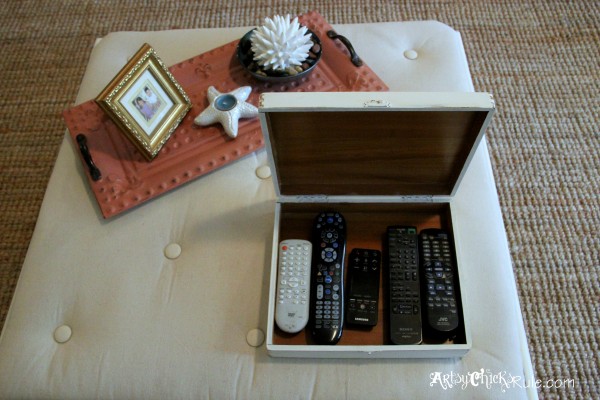 It's perfect for all those controllers…. that no one ever uses.
You can read about that project here.
The metal tray was painted with Scandinavian Pink because I end up painting everything with it Chalk Paint. Don't believe it?
Check out this post here… Chalk Paint-It's Not Just For Furniture.
Want to know about 26 other chalk-style paints?
I've got the low down for you right here! >>> 26 Types of Chalk Style Paint For Furniture
So obviously this tufted ottoman has been completed for a while but I've hesitated to post about it.
Why? Mainly because I don't love it. Those tufts aren't deep enough for my liking.
But as I said, I have a plan. (my husband is always super excited to hear those words… ha!)
My plan is….new fabric (which isn't too much of a loss since this was a $6 drop cloth) and a totally new tufting technique here.
Let me tell you, that is a big ole smack in the head right there!
I have had one button "pop" since I did this project. It's not really noticeable, but I know it, so, therefore, it drives me crazy!
(and yep, I used upholstery thread)
But how super smart of Kristi over at Addicted 2 Decorating to come up with such a fabulous solution.
I will most definitely be doing it that way on the re-do.
It's a total no-brainer. Except it wasn't my brain that came up with it! ;)
And no more needles!!!! Hallelujah to that.
So, no, this project didn't turn out exactly as I'd imagined.
BUT it was still a "win" in my book.
And I did get a sense of accomplishment from doing it myself.
UPDATE: Click here to see how I've since changed this piece. It no longer has the tufted top.
I removed it and created a weathered wood finish top out of old flooring instead.
PIN it to save it!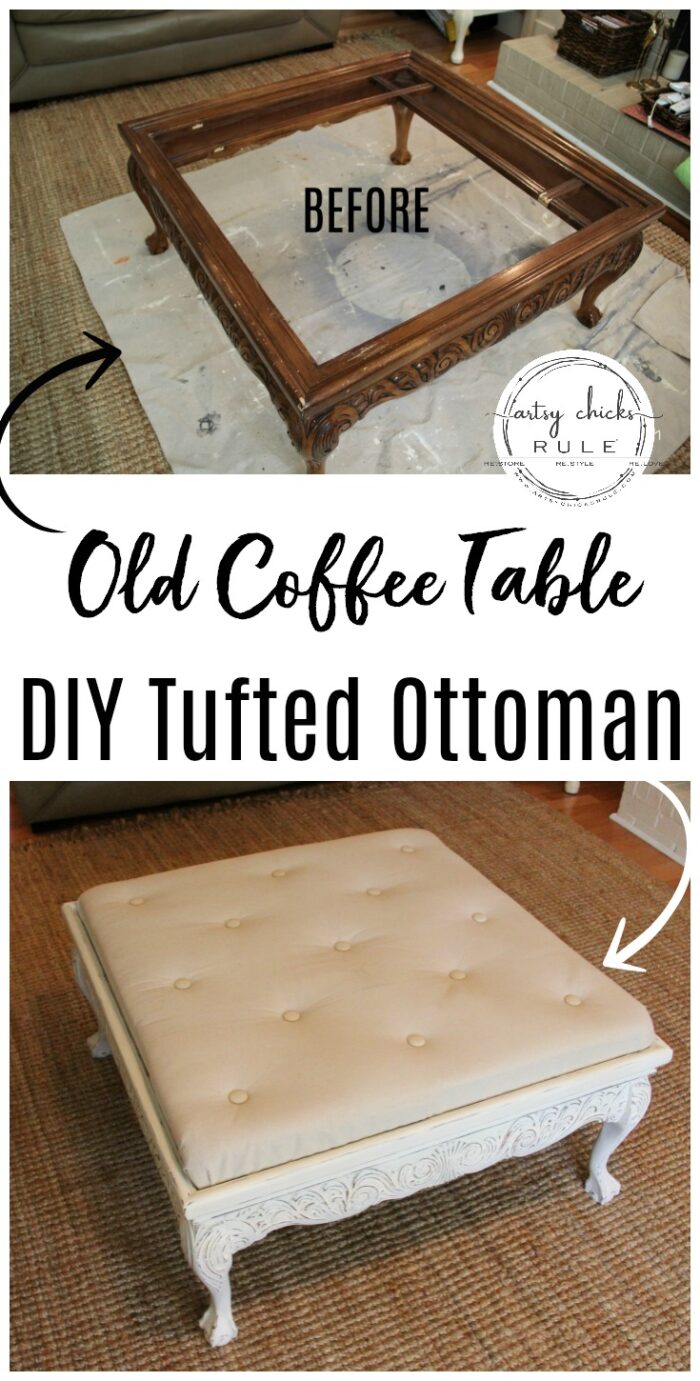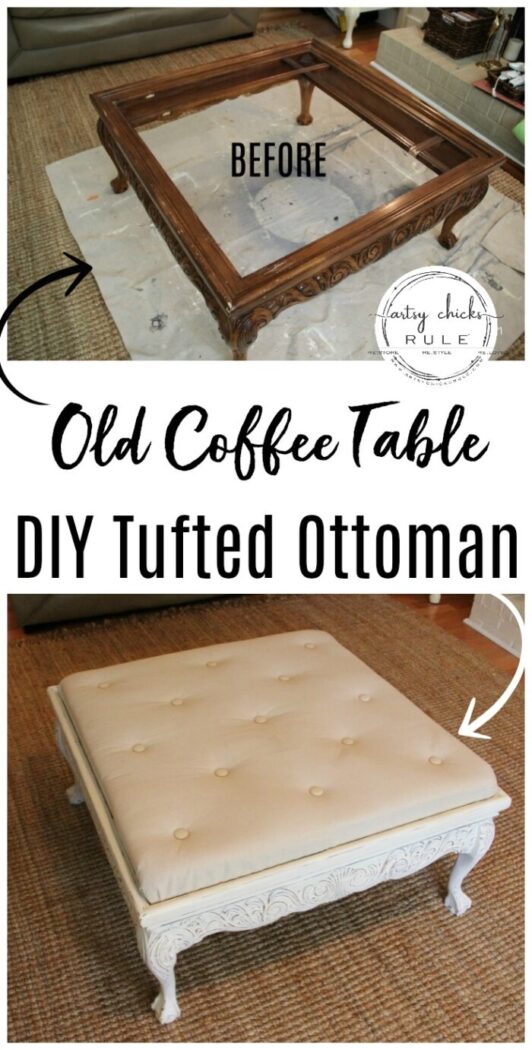 I'm sharing what I did with this old end table next!!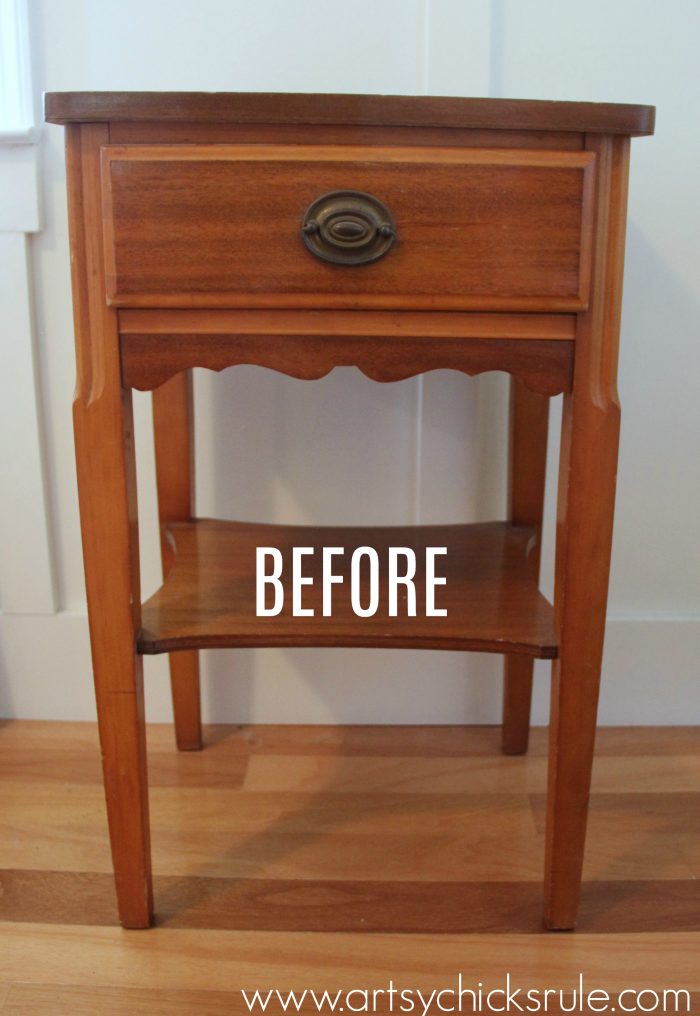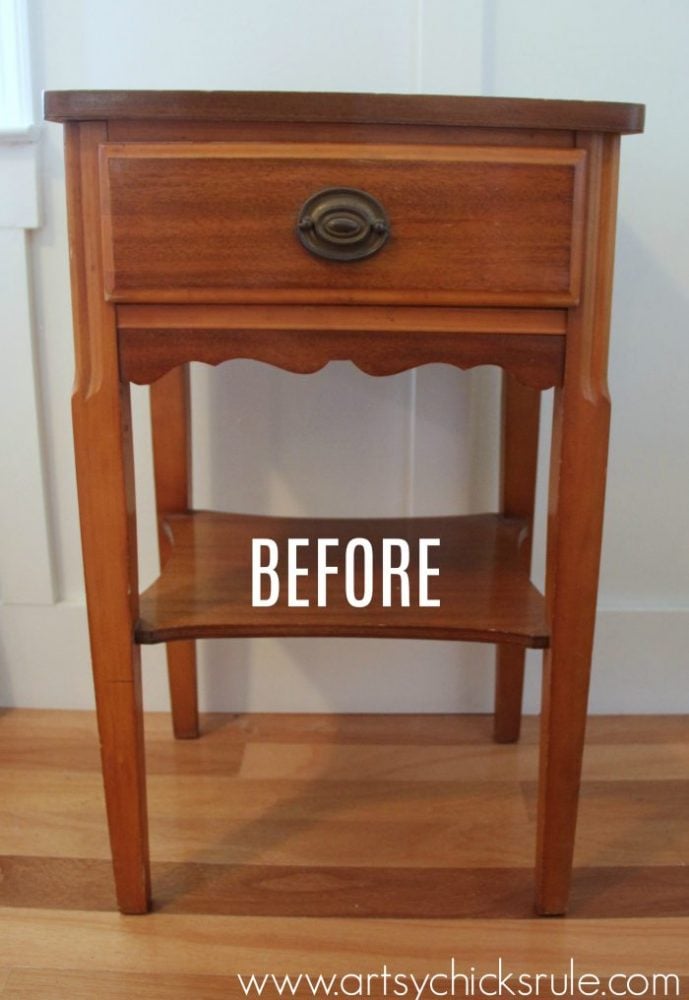 UPDATE!! See it now, here!!
Want to see even more "before and after" furniture makeovers? Click here.
Have a wonderful week, friends!
xo