Coffee Table Makeover (Driftwood Finish)
This post may contain affiliate links. Please see disclosures here.
I have a fun new makeover for you guys today. :)
It's actually a "re" makeover to tell you the truth.
I've been known to makeover and then makeover over again when my tastes change.
But that's okay, it's the thrifty way (and least "wasteful" way) to create a new look.
Do you guys remember this coffee table?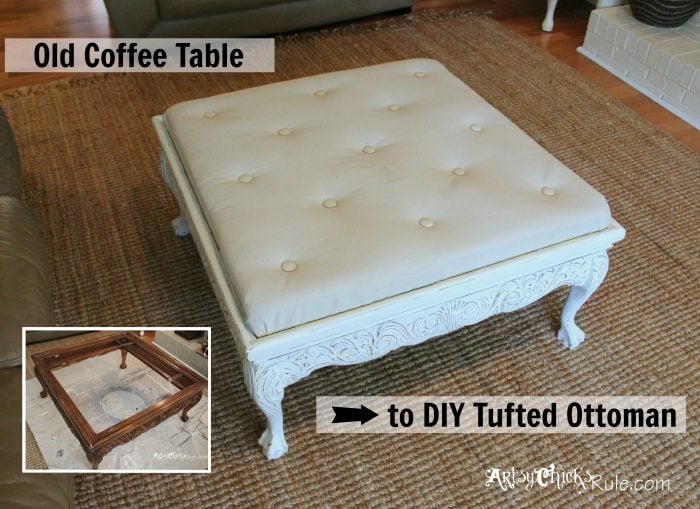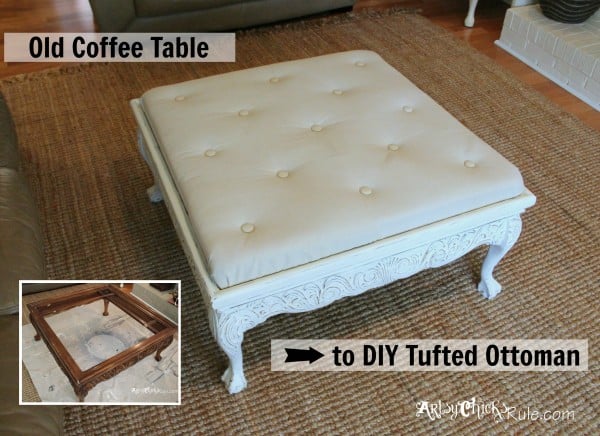 It originally had a glass top but I removed it and the slats to create a tufted ottoman.
If you want to see how I created the tufted ottoman, click here.
It was nice for a while but as things go, I tired of it.
I wanted more of a clean, streamlined look instead.
And since I loved the wood base and design, I decided to just remove the top and create something different.
You guys caught a glimpse of the new top in my Christmas Home Tour here…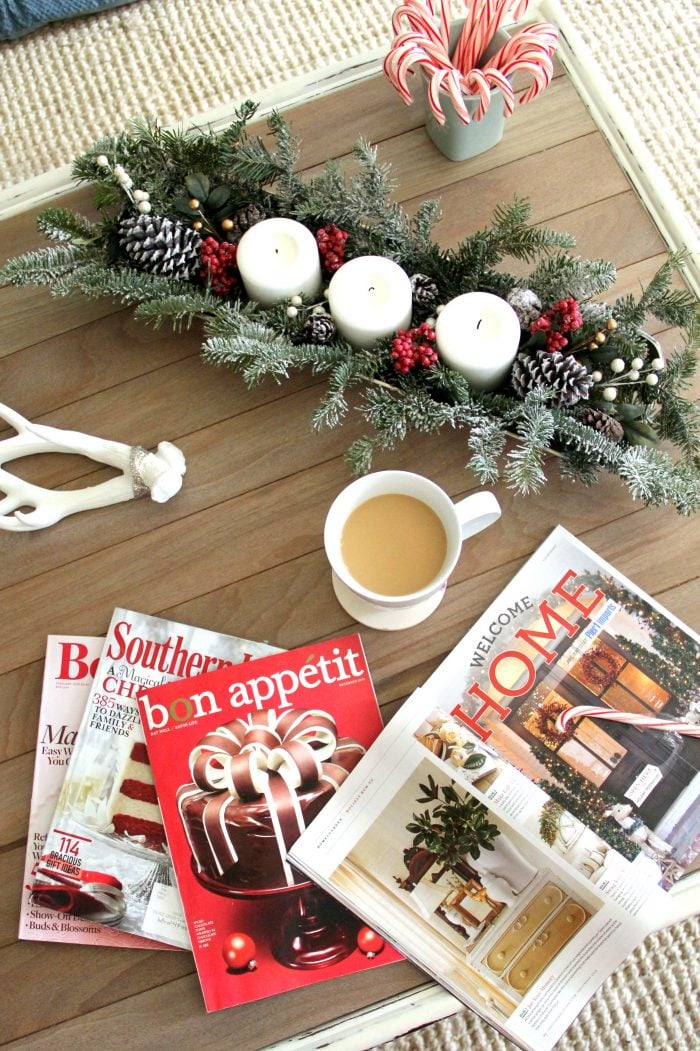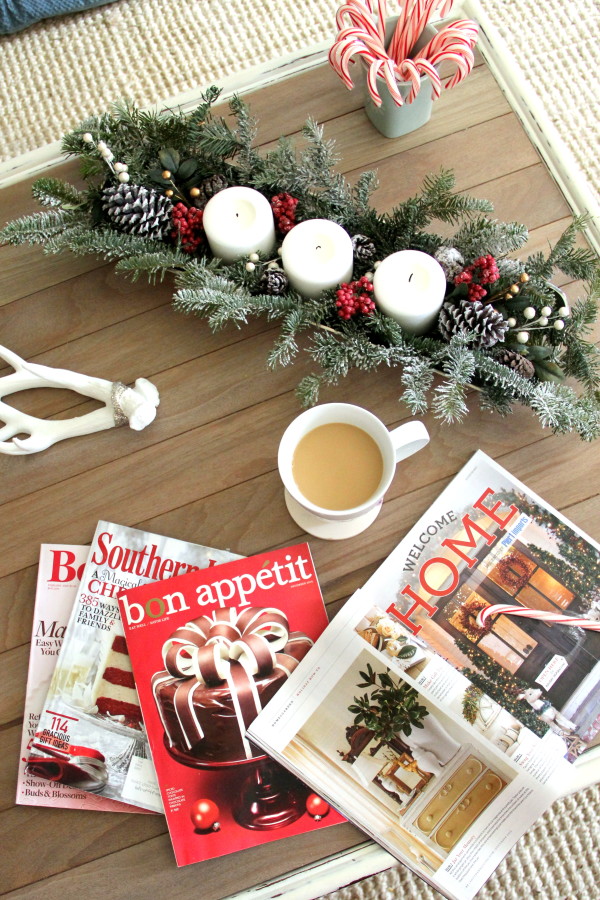 So…..as you can see, I decided to create a wood top.
I originally thought that I wanted it to be "whitewashed".
We installed wood floors in the family room some years back and had some leftover wood.
I thought they'd be perfect for the top…..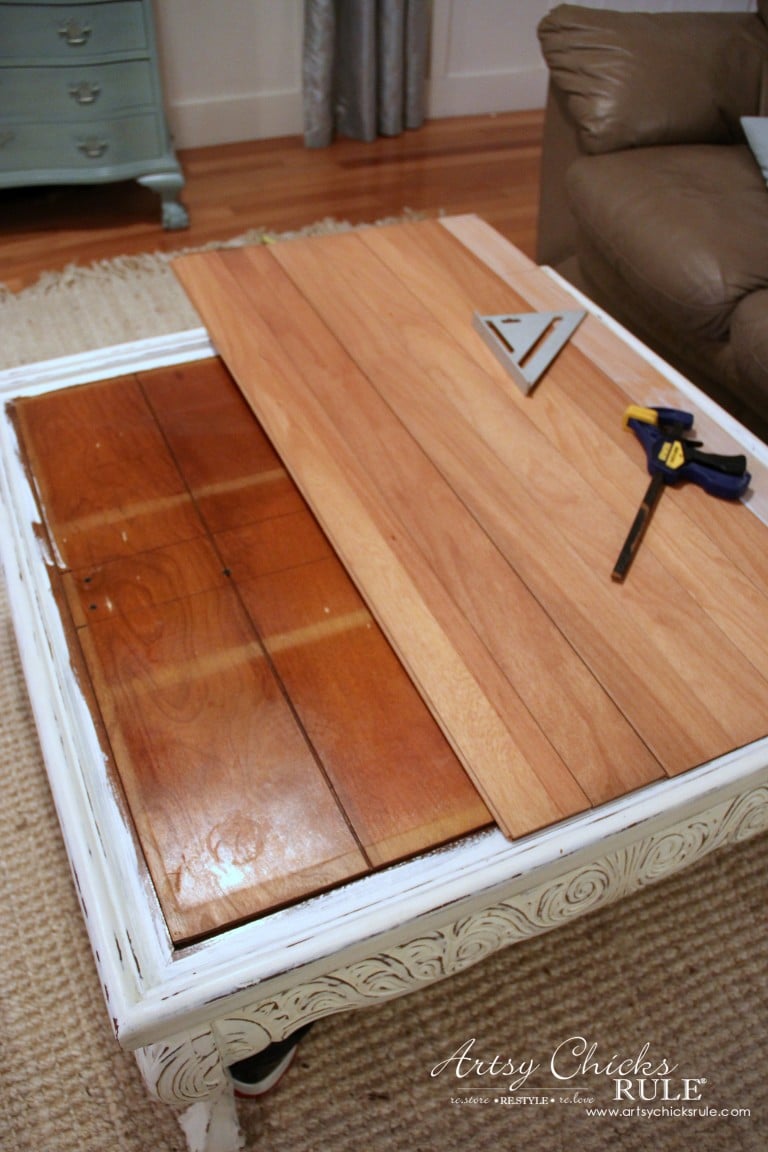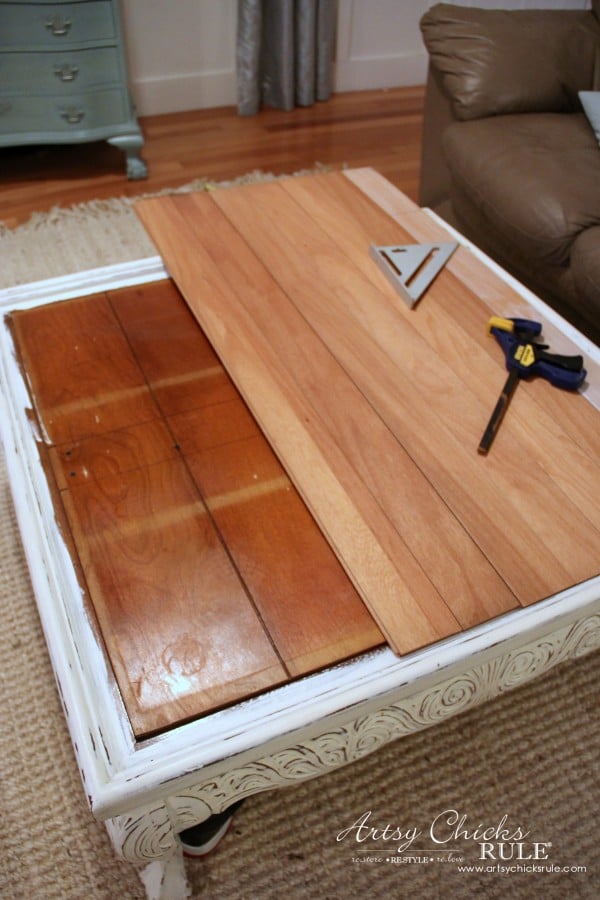 So I removed the tufted top and measured for the new wood "floor" top.
We always save things around here…and this is a prime example of why we do.
(that paneling you see as a "base" was actually the original back of my old baker's hutch)
I did a few paint samples on the end board as you can see below…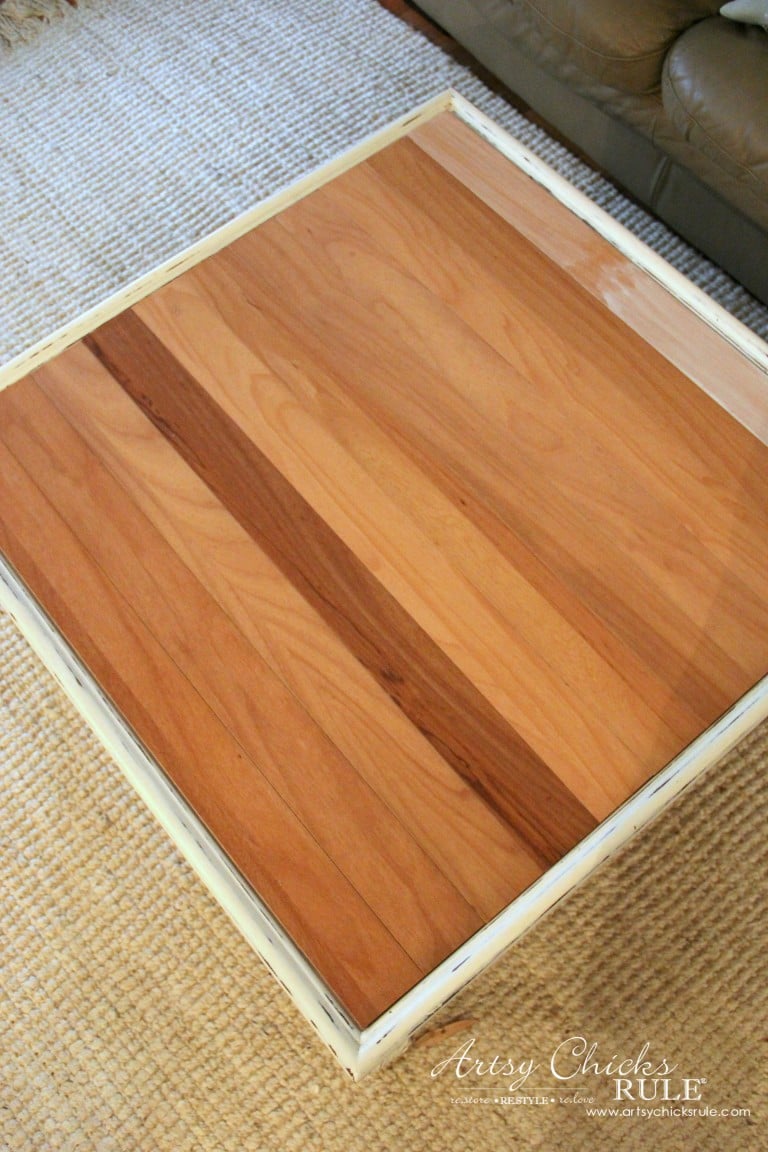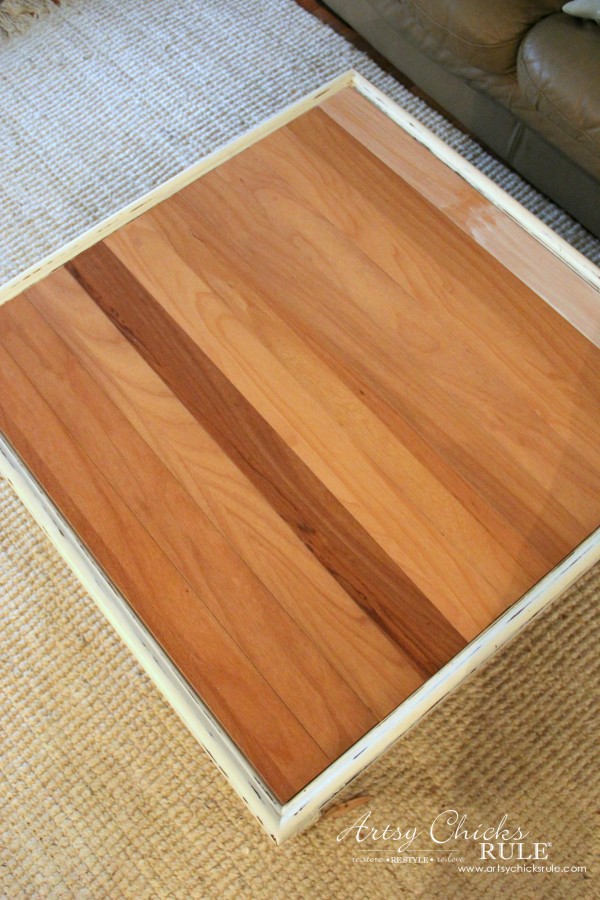 But as things tend to go, I changed my mind. Go figure!! I never do that.
I have more than enough painted pieces and really wanted to see some wood.
So I decided to create a "driftwood finish" or wood stained type of finish instead.
Do you know how I decided to create a new stained finish on prefinished wood??
I flipped the boards over to the unfinished side!
Yep. Pretty simple.
Isn't that unfinished side of the wood just beautiful?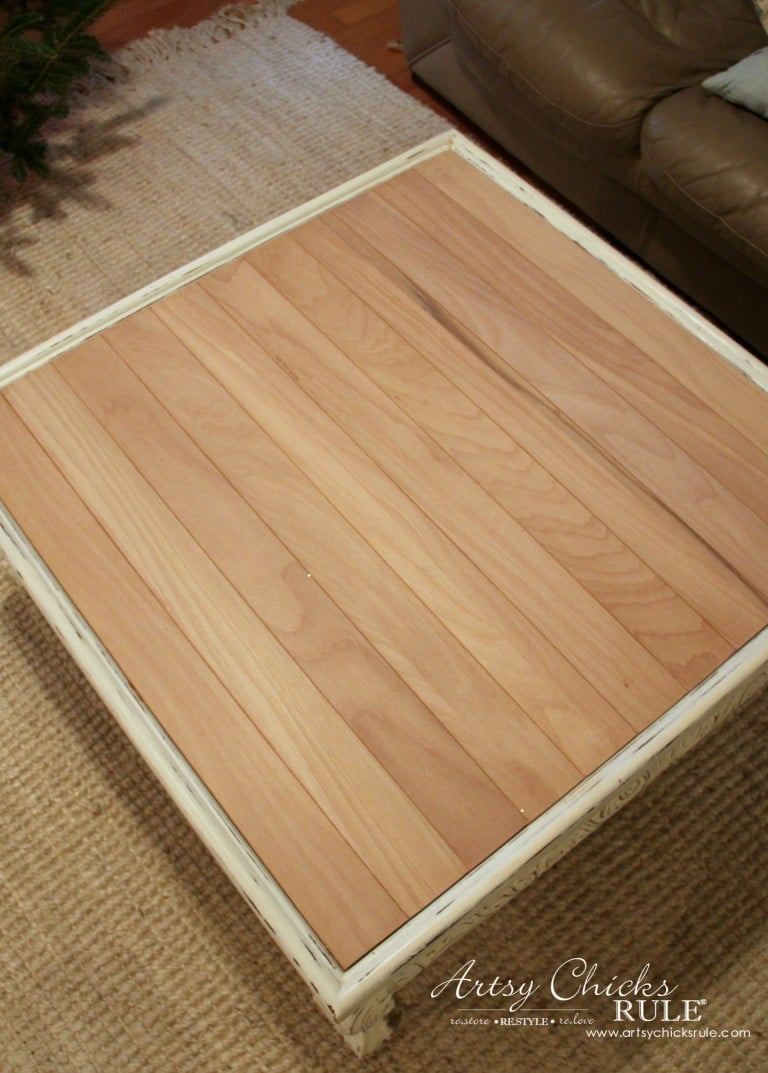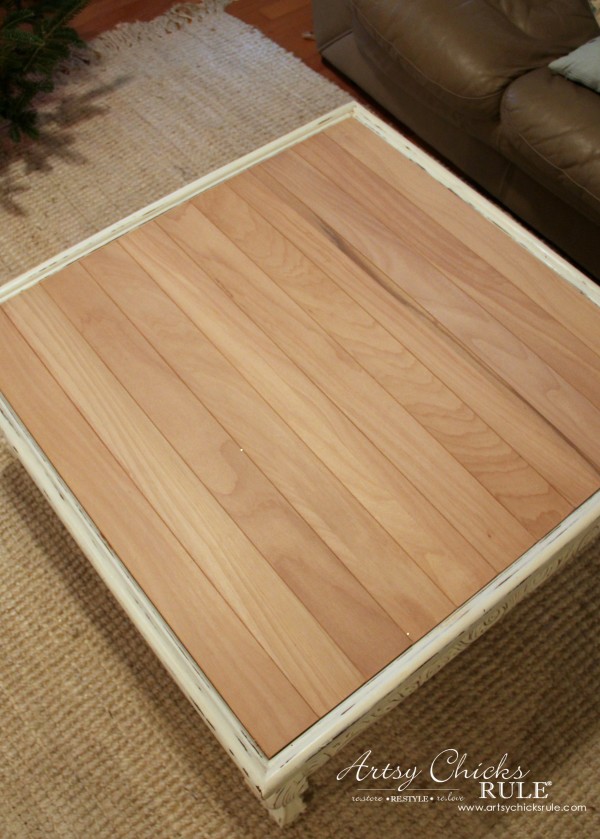 I used wood glue to adhere it to the board underneath.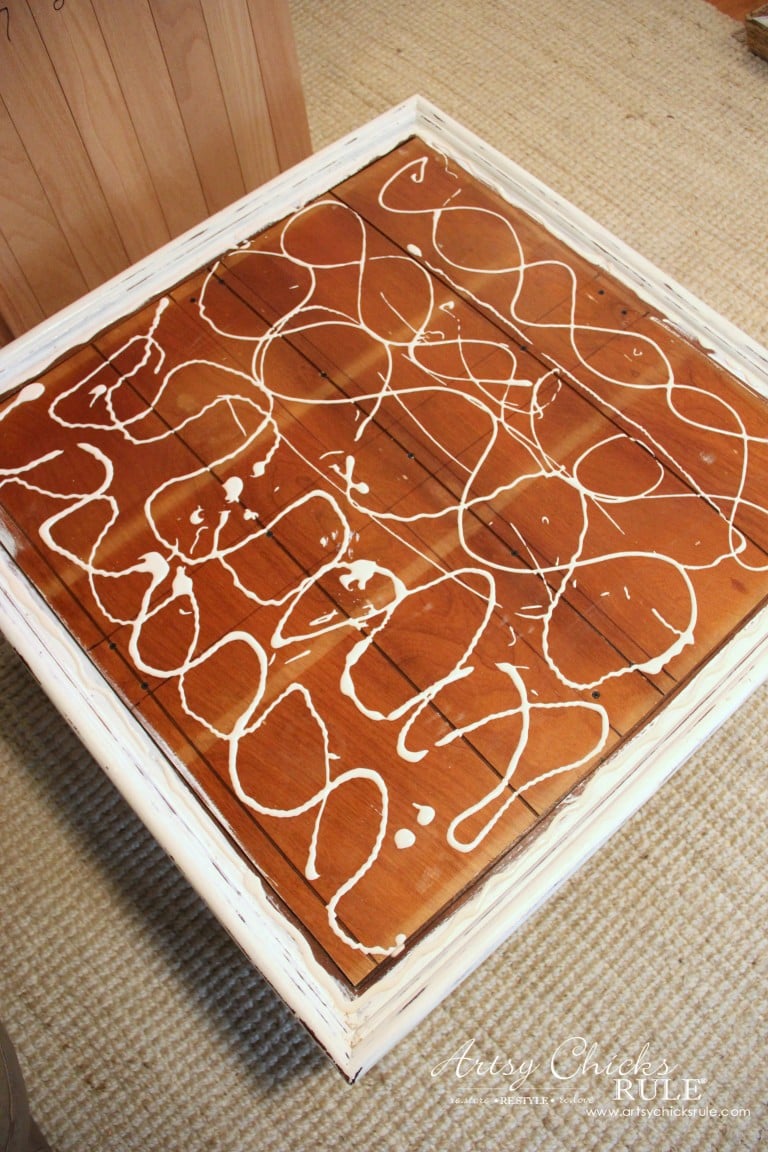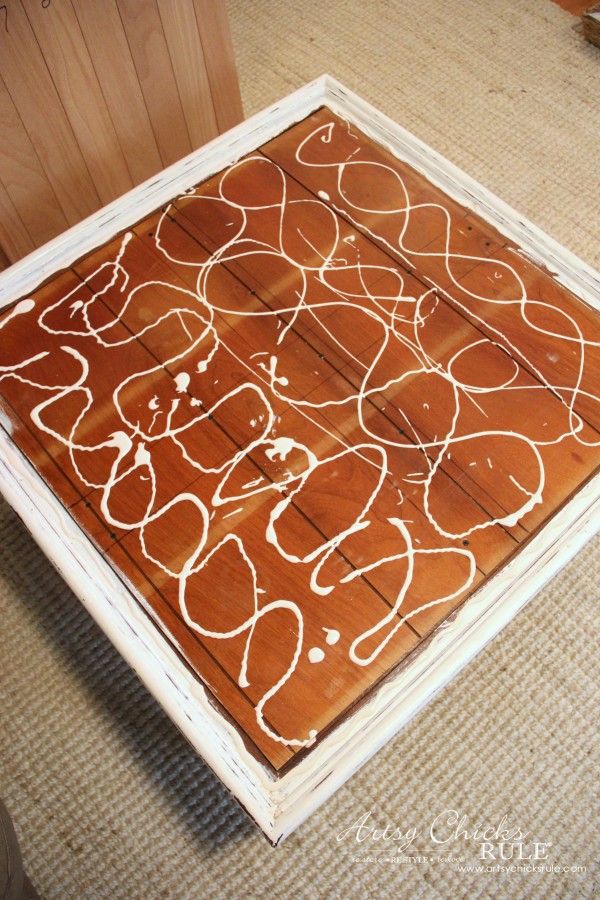 Oh, and I used a few weights to hold it down because we are fancy around here.
The board I had previously used with the tufted top was used over the new top (with a towel) to keep things sturdy while they dried.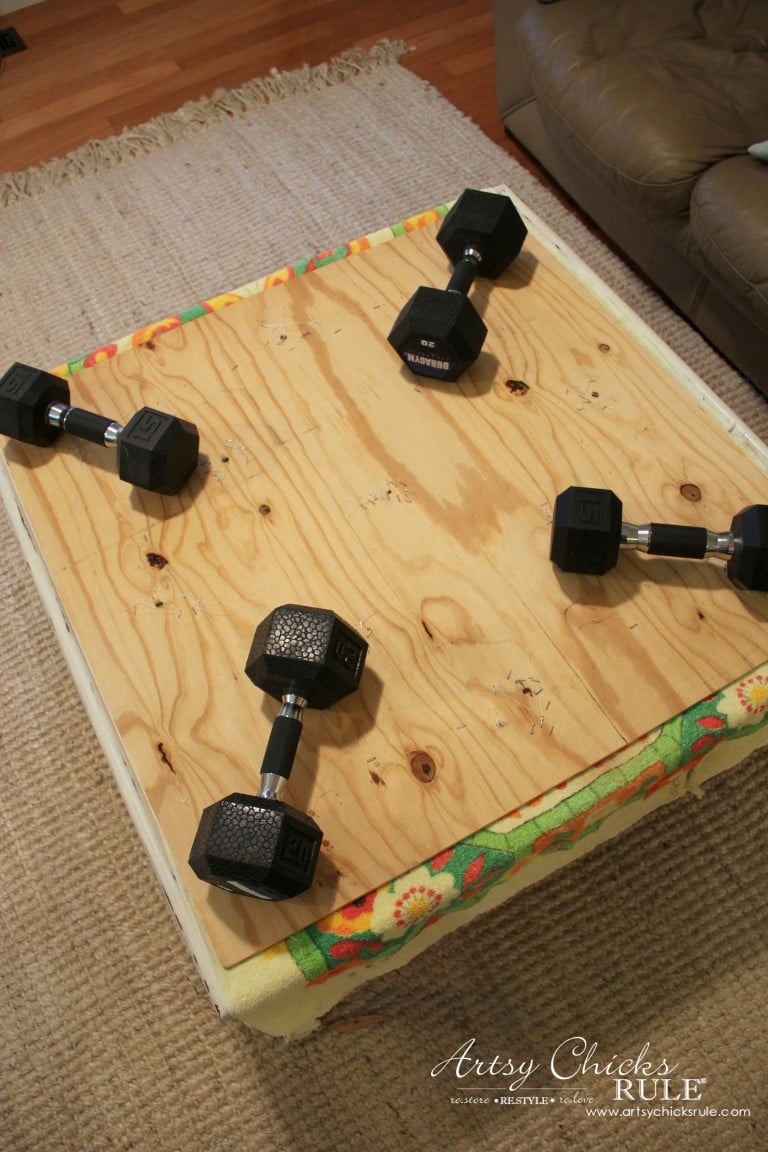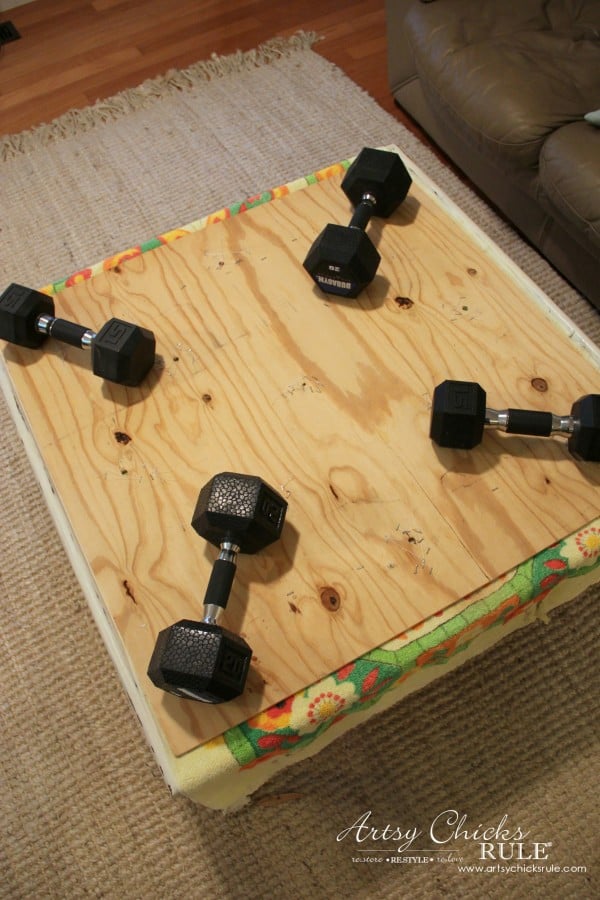 I messed around with several products on a few scrap pieces to see what I could come up with…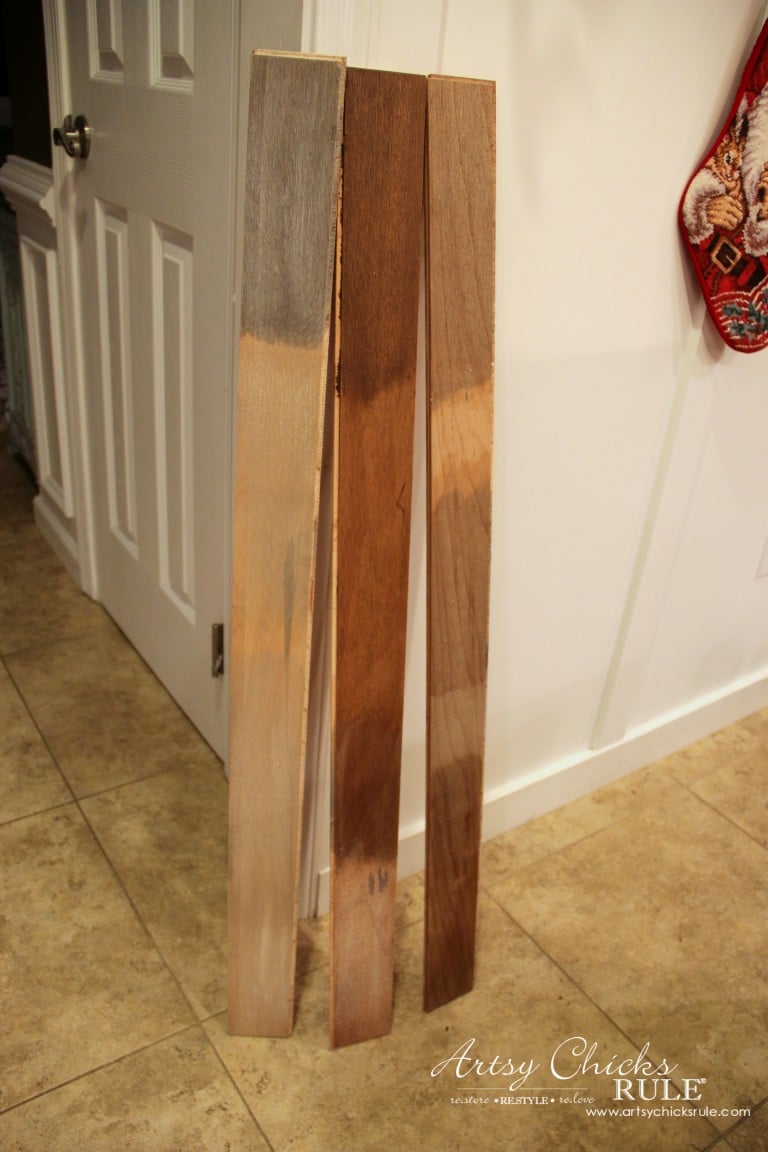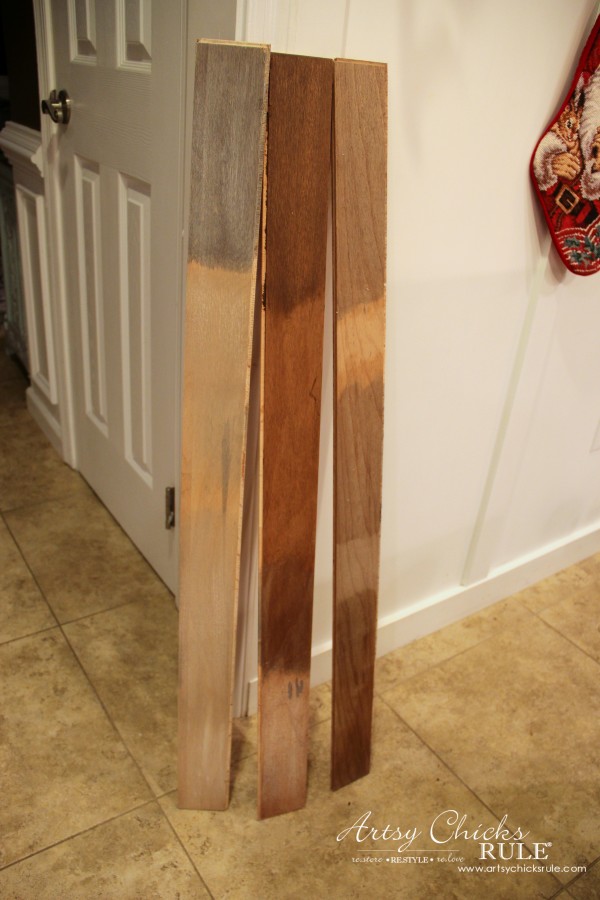 I tried some paint to achieve the "driftwood finish".
I also tried several different stains.
And I also tried my favorite "driftwood" product too but it was much too dark.
You can see it on the top left there. Bummer.
BUT I didn't let that deter me.
I decided to mix the driftwood powder very thinly to give a much lighter version of the dark driftwood color.
Much better!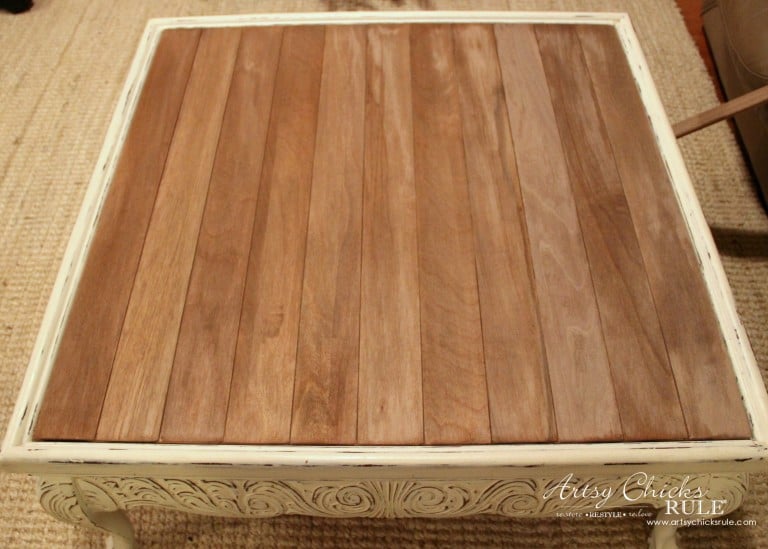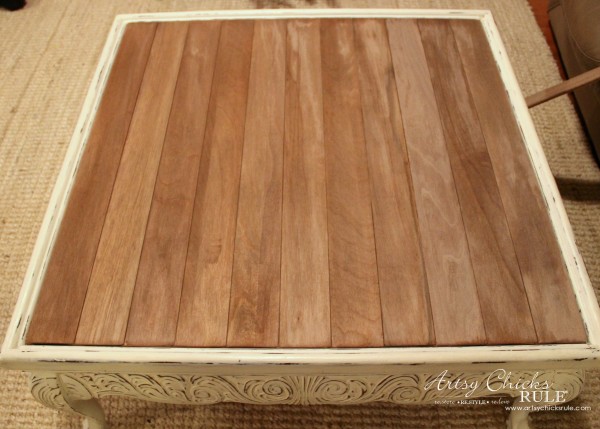 The perfect driftwood finish for this project.
It's wet in the above photo (well, it's drying) and also in the following photos.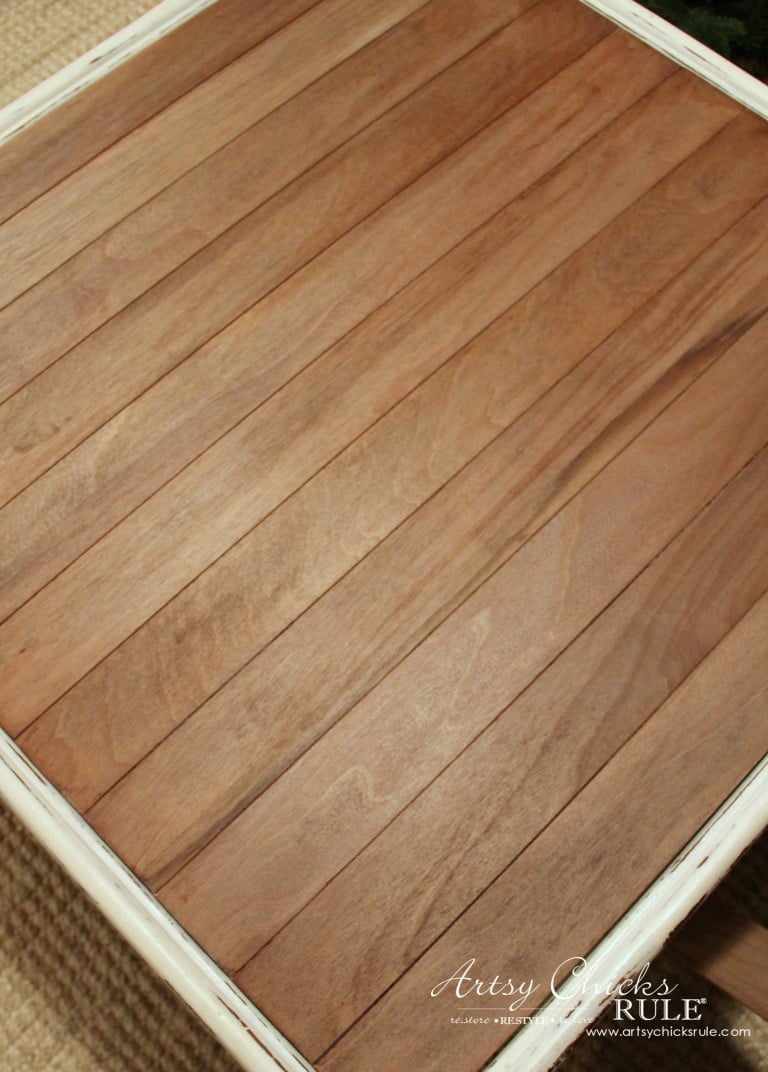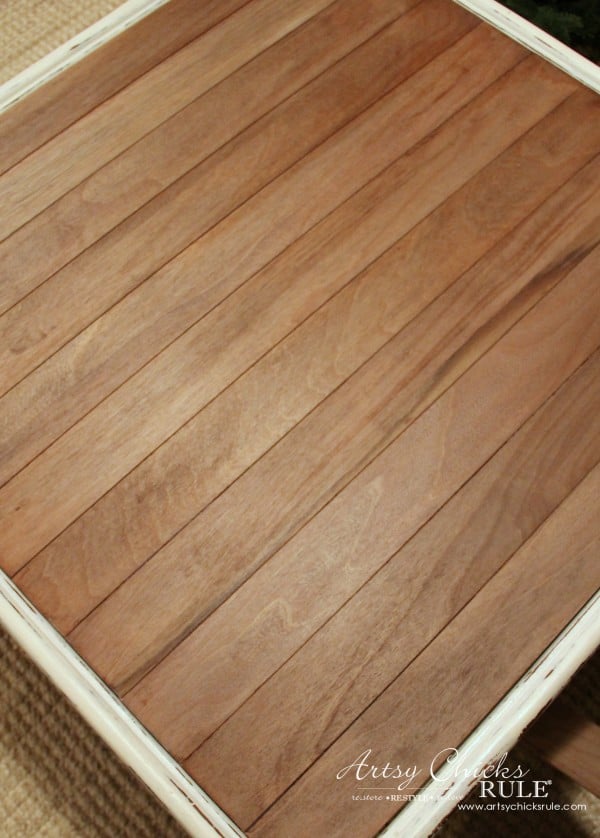 The "red" shade in this mahogany flooring is showing while it's wet.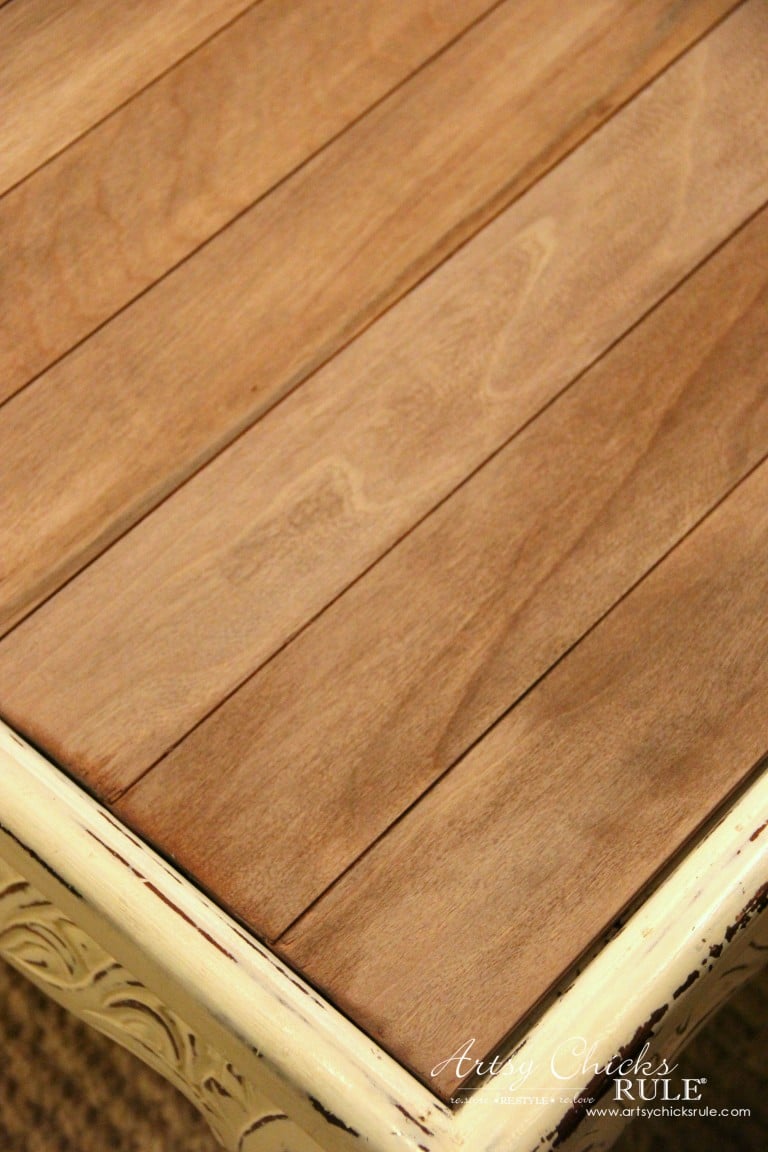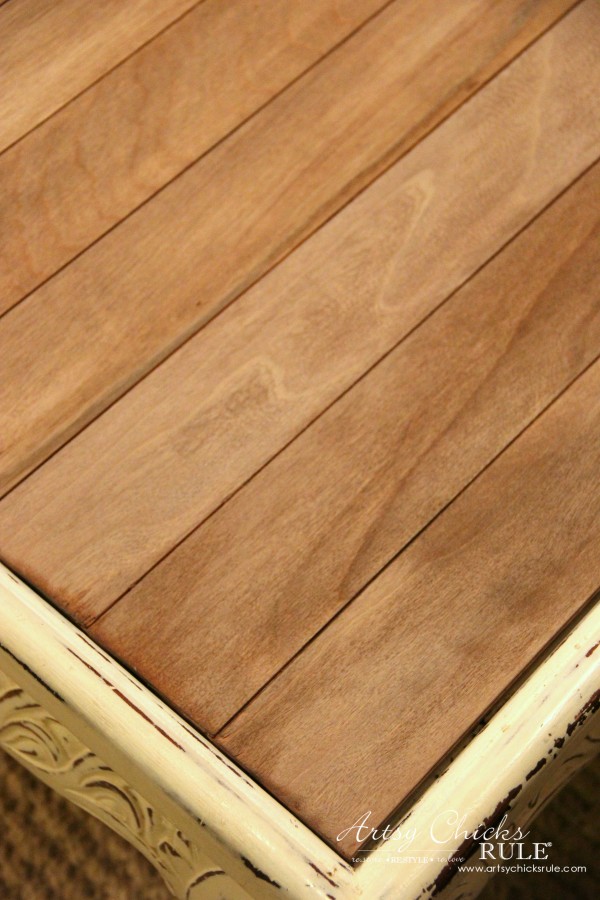 See it drying around the edges?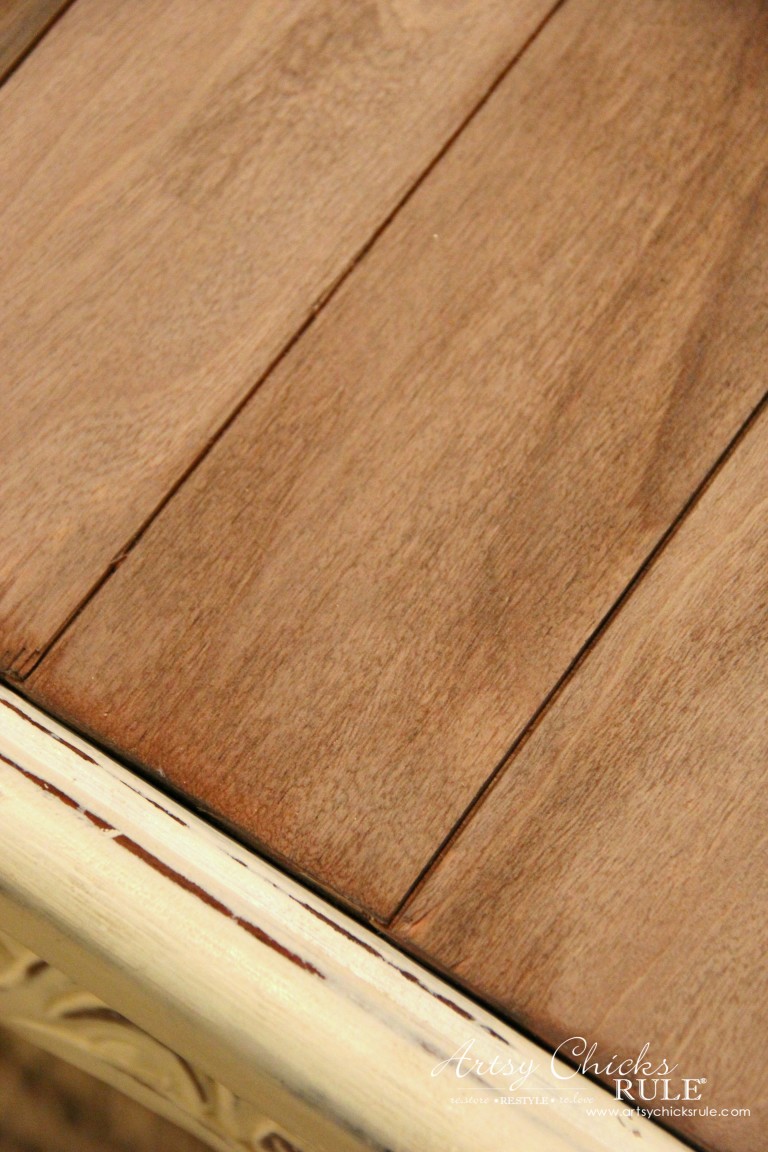 The perfect color I was after.
All dry…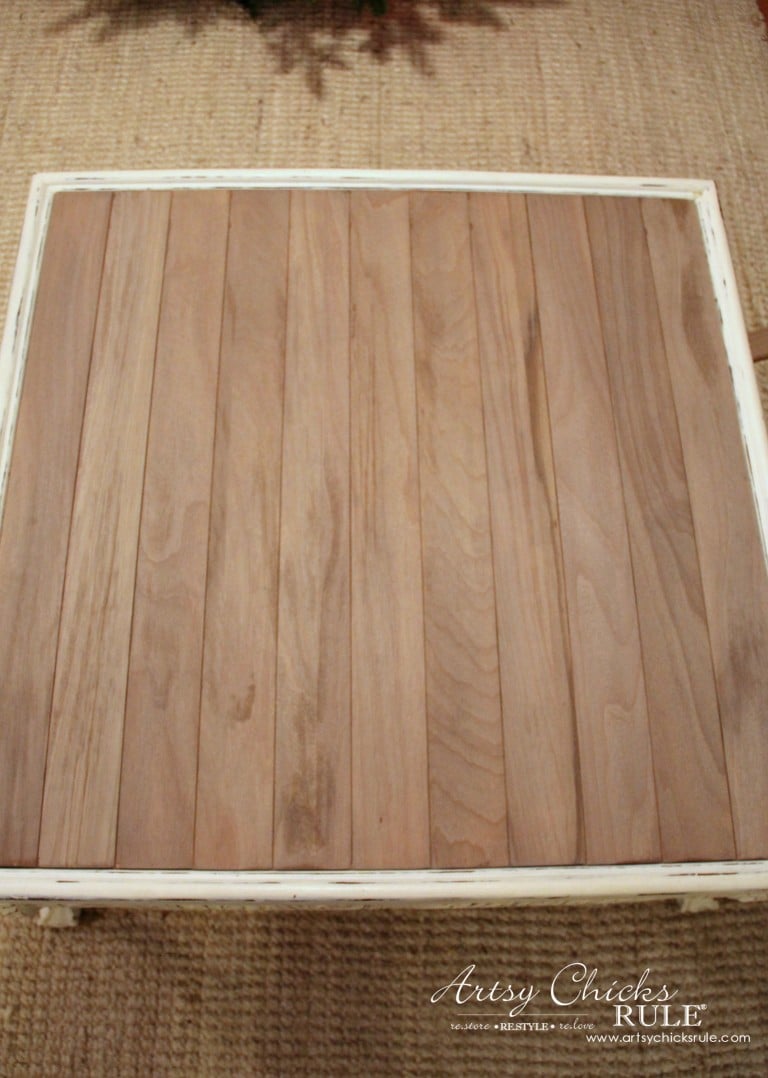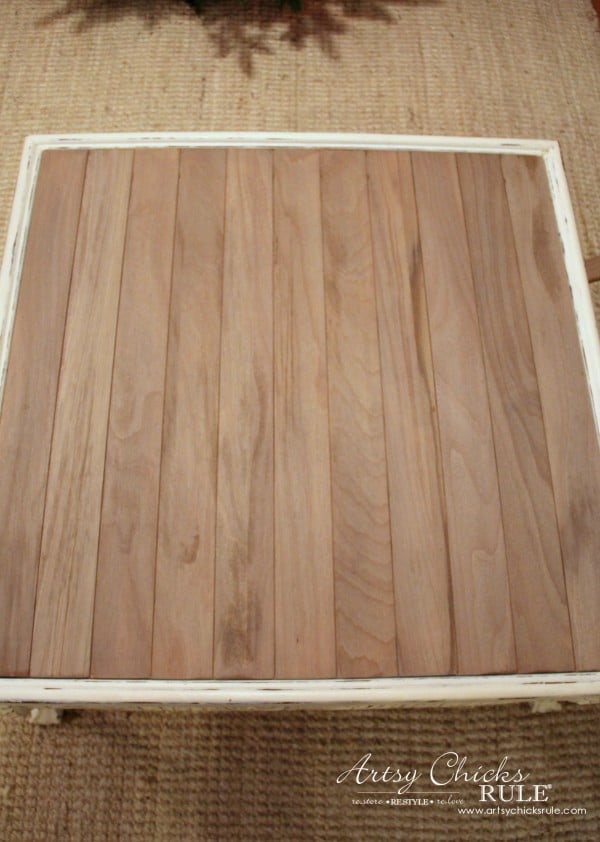 See how it became more grayish as it dried?
A nice, light, pale shade of driftwood.
I sealed it with some poly and done!
I'm loving it in this room.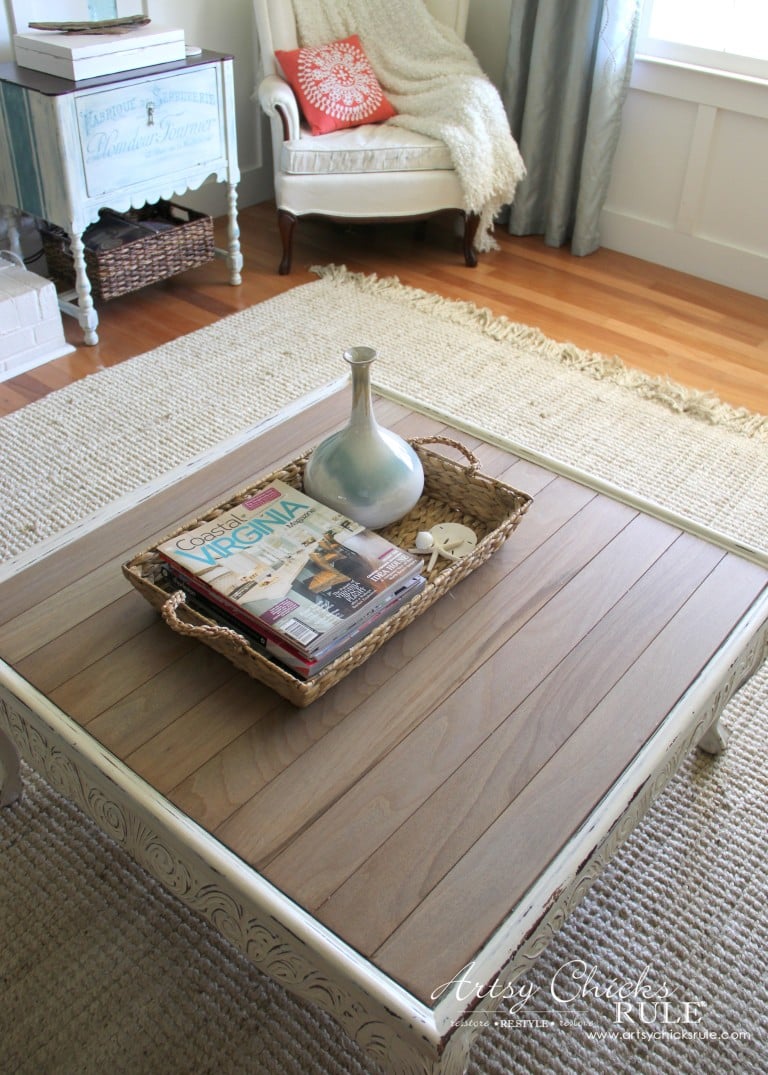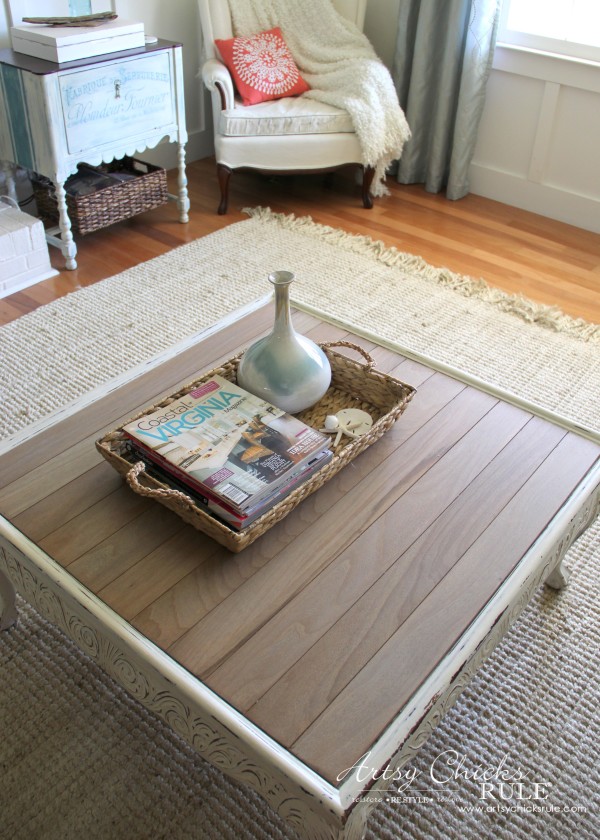 I didn't put too much on the table because I wanted y'all to be able to see that pretty wood.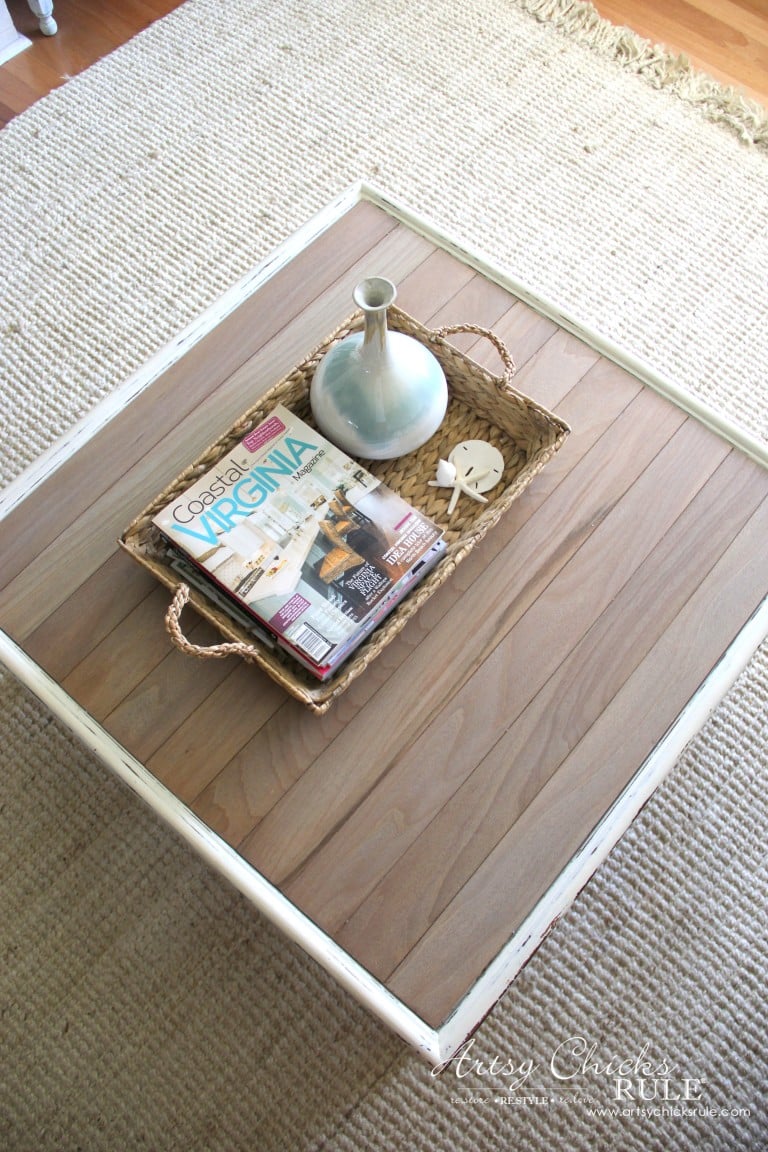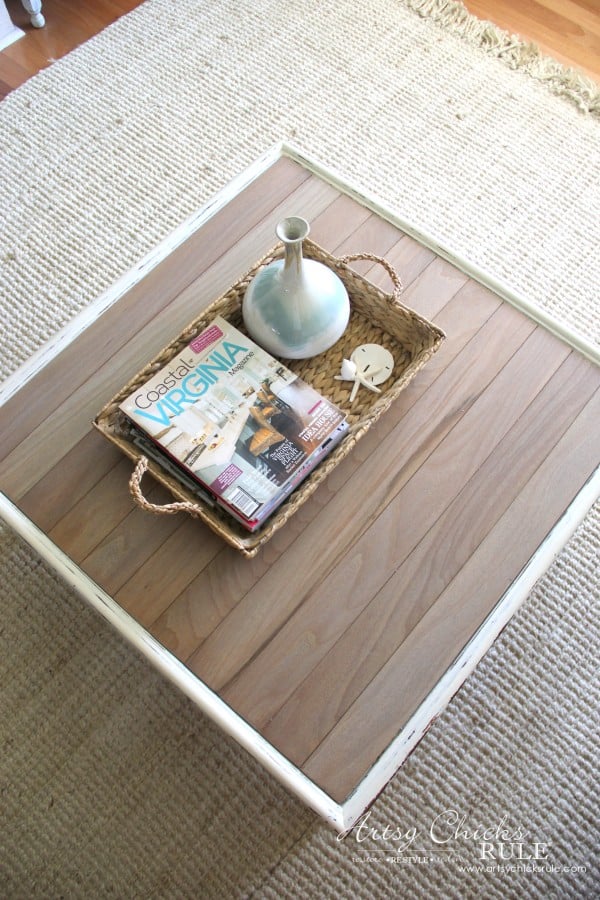 And the new, clean look it provides.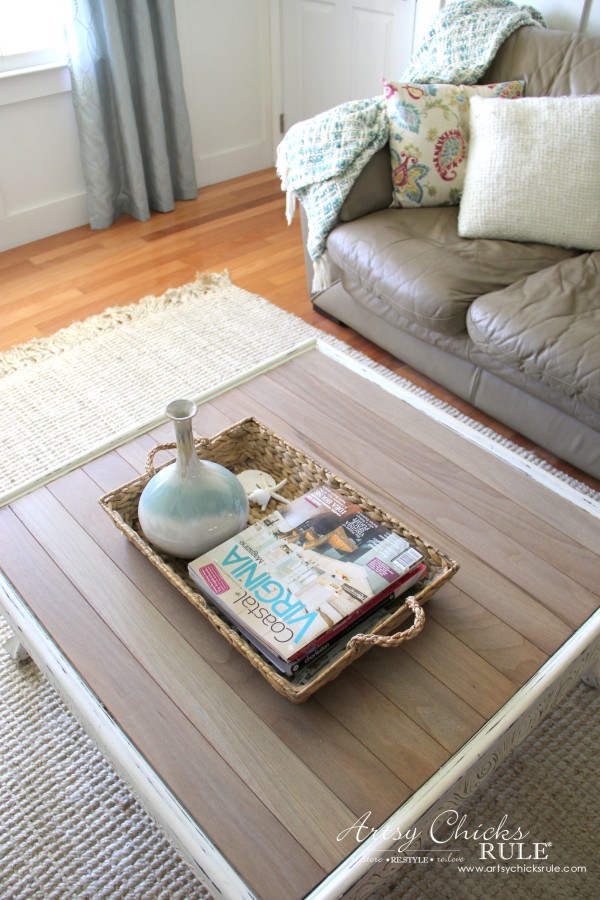 This just goes to show, you don't have to buy new, just re-do!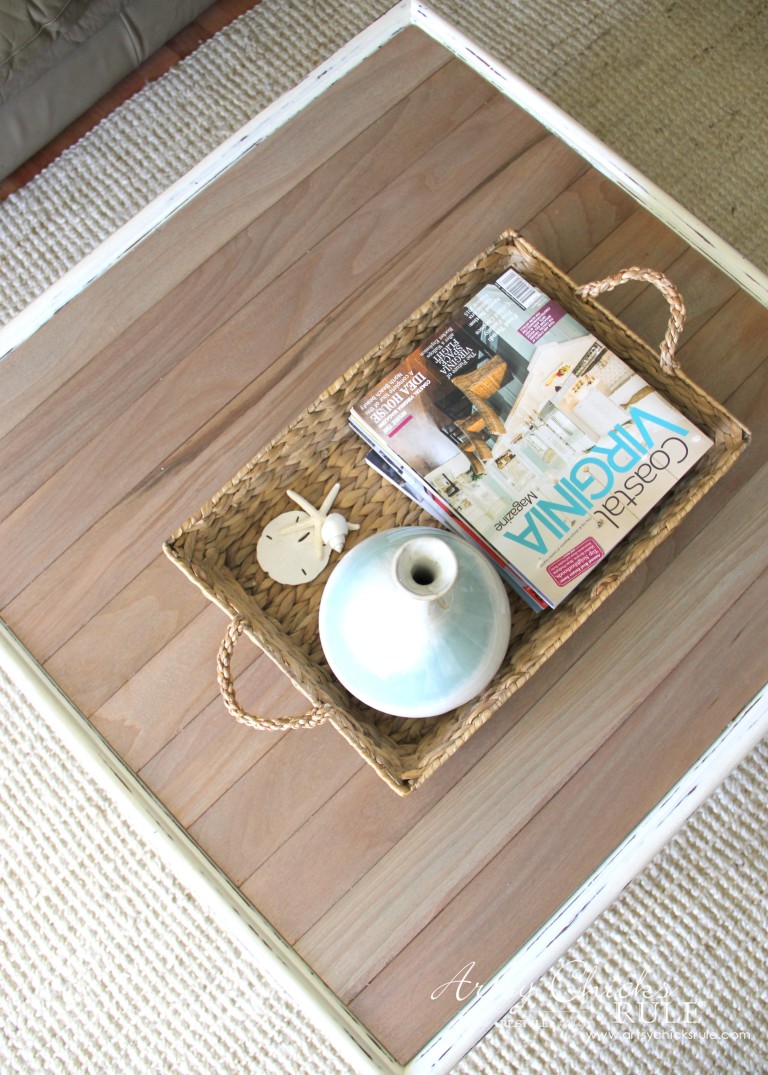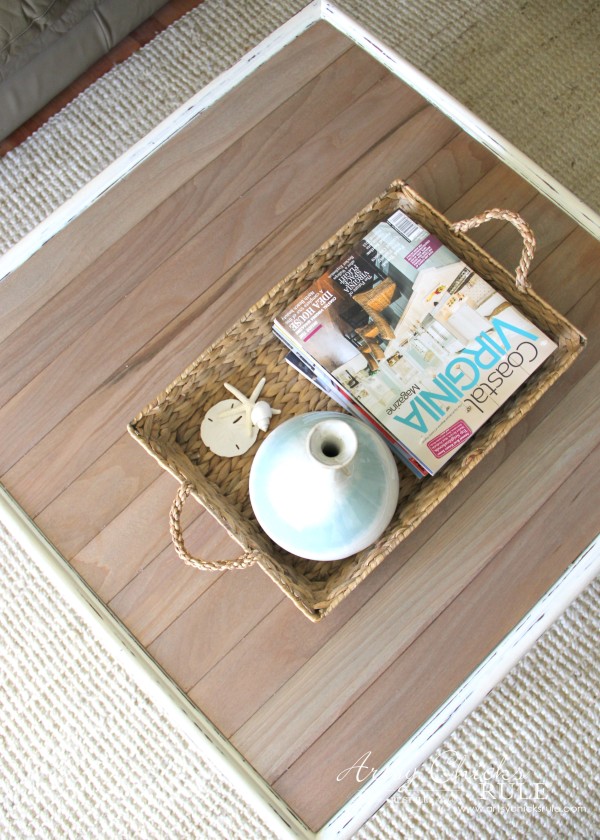 It's like I have a brand new piece in my family room and I didn't have to spend a dime!
Love that.
Here's the MATERIALS LIST:
Driftwood Powder
High Performance Poly by General Finishes
Wood Glue
So there you have it!
A super-easy way to update your old furniture using leftover wood flooring.
PIN this to save for later!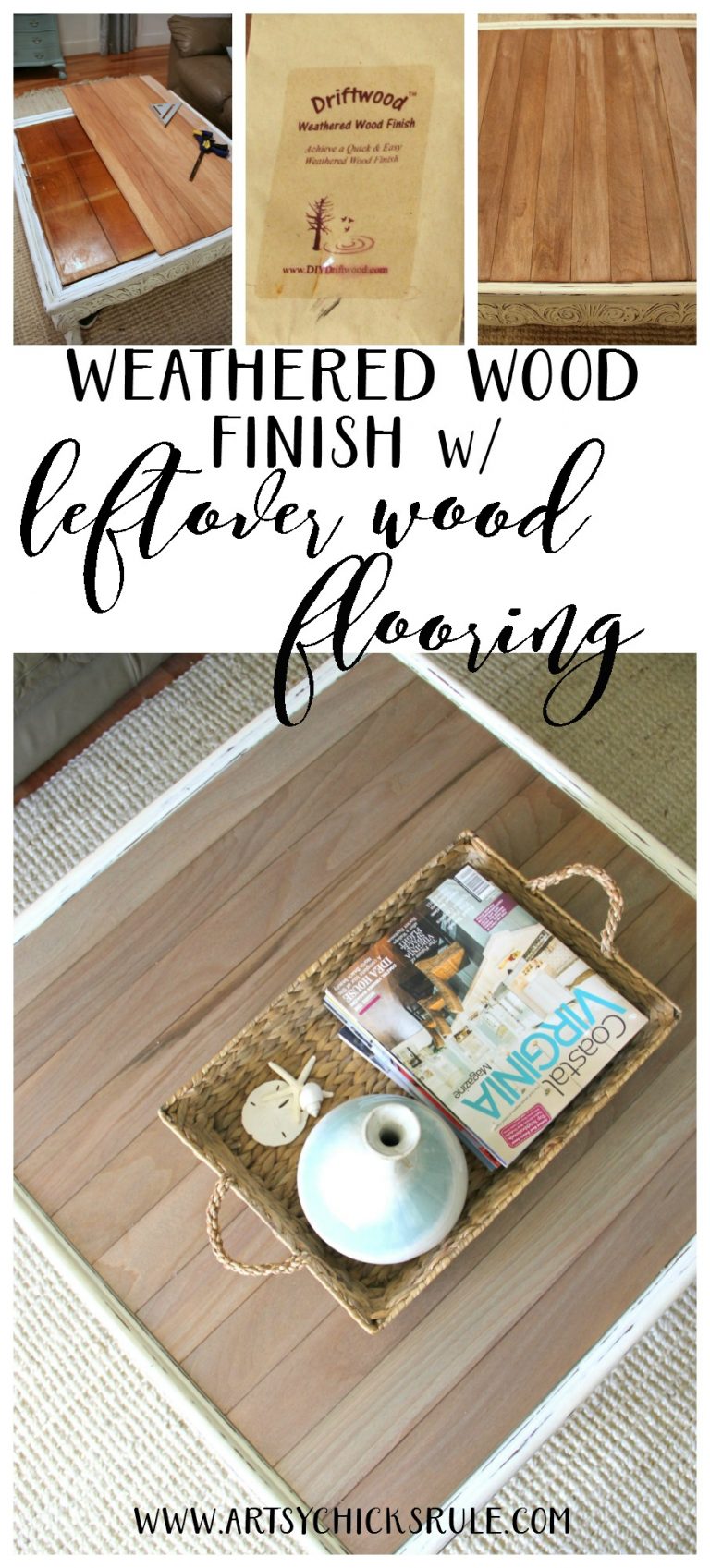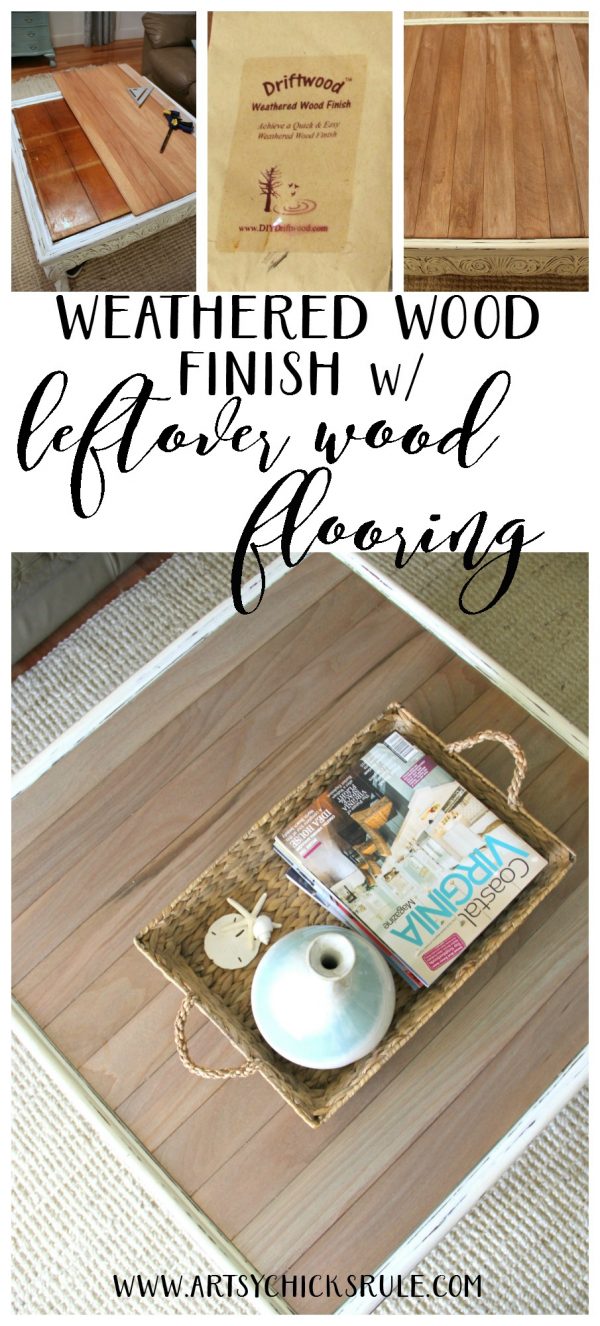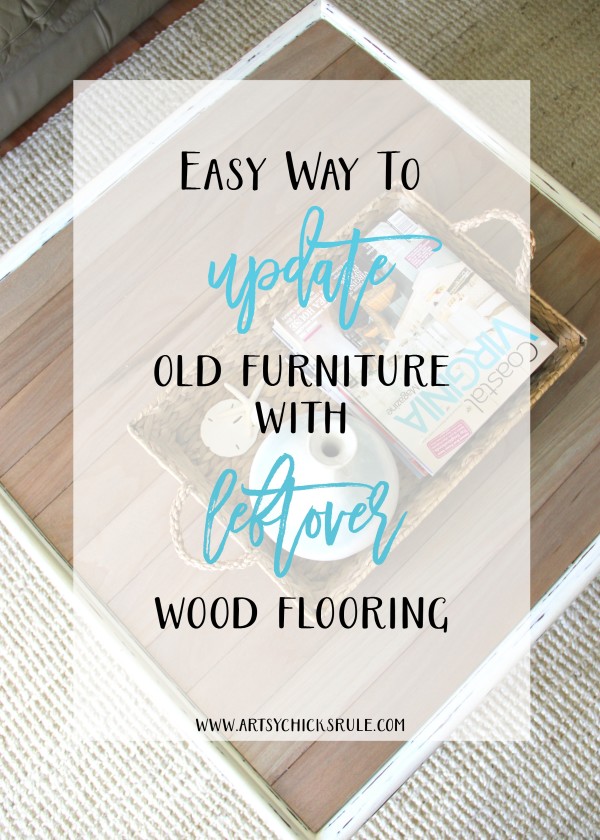 I hope this got you thinking outside of the box a bit about things around your own home.
Or maybe you have done something similar?
I'd love to hear or even see a photo of your re-makeover project too!
Check back in next week for my latest makeover! (these night stands….got another makeover, completely different!)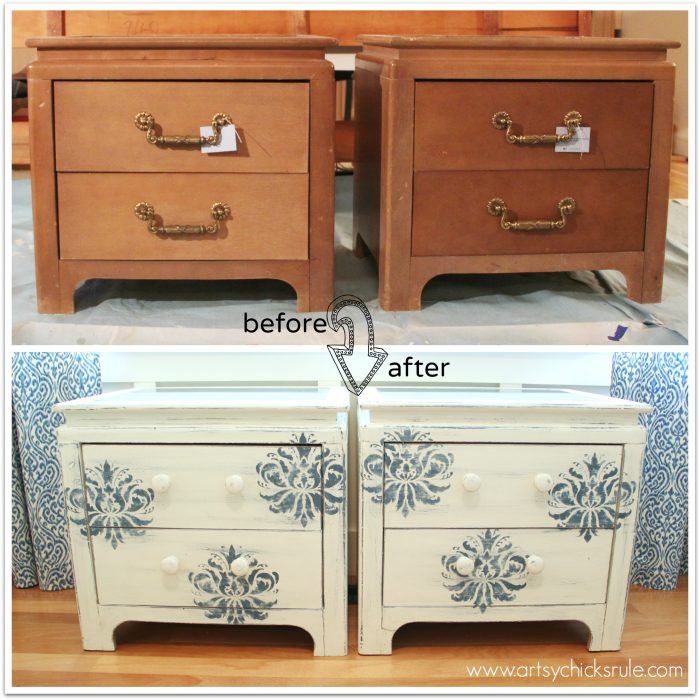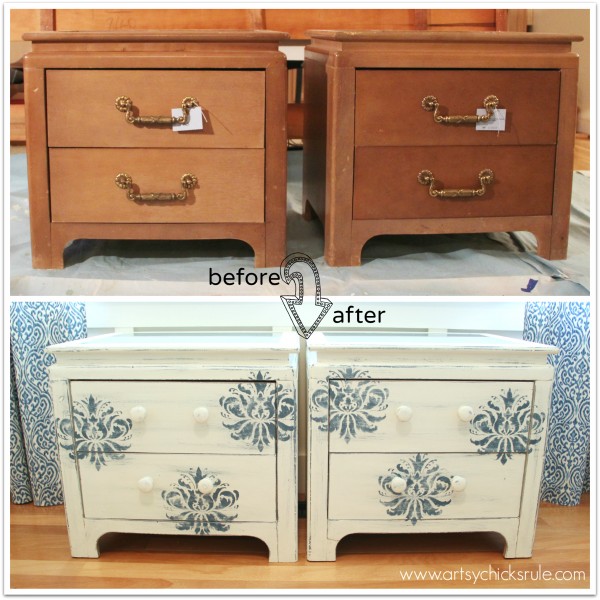 UPDATE!!! See them now, here!!
Happy weekend friends,
xoxo