Coastal Turquoise Night Stands Makeover w/Chalk Paint
This post may contain affiliate links. Please see disclosures here.
Today I'm sharing (finally, I painted them in Oct!) my Coastal Turquoise Night Stands I gave a makeover to.
The night stands that I previously gave a makeover to.
These actually……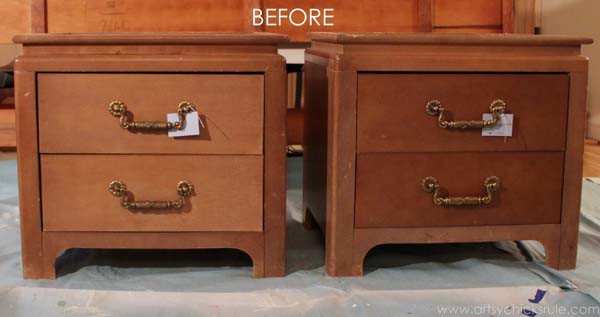 Do you remember them??
Here is the first rendition….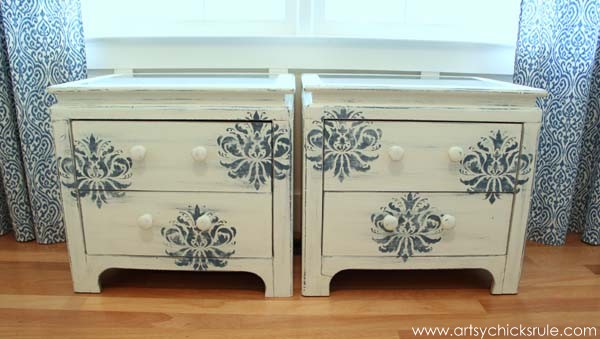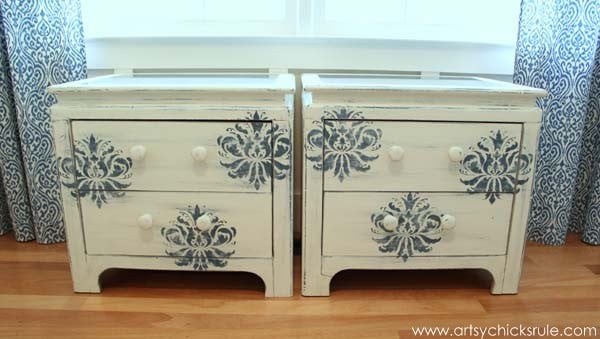 Cute but didn't really match what I had going on in my master bedroom.
So I painted them… again! Yep.
Because Turquoise Night Stands would match. ;)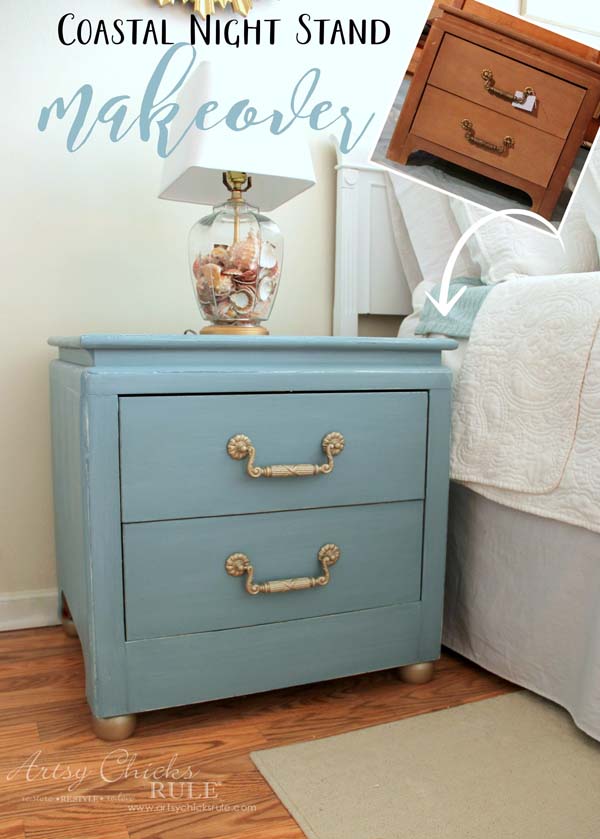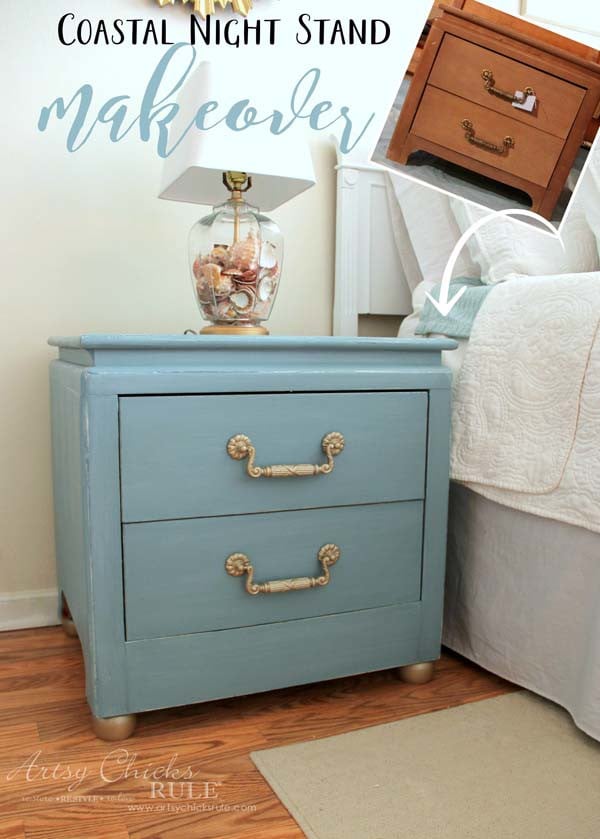 I know y'all have already caught a glimpse of them in this post here… DIY Beach Painting.
But I'm sharing all the details today. :)
I'll be sharing affiliate links to some of the products I used for your convenience. Full disclosure details are here.
I used Chalk Paint® by Annie Sloan.
I can't give you exact measurements but I used Aubusson Blue, Pure White and Duck Egg to come up with this pretty, soft turquoise color.
I already had it mixed up and just added to it.
BUT I am confident you could take those three colors and mix something very similar.
Now, one of the main reasons I gave these another makeover is this….
….absolutely no luck whatsoever finding another set I liked. (or another set at all!)
It's slim pickings out there these days! So many people are redoing furniture, either the prices are way too high OR there is just nothing to choose from.
So…I figured I'd use what I already had.
But these were not really the style I wanted to use in my beachy, coastal room.
So I modified them!
Here's what I used.
M A T E R I A L S L I S T:
I popped out that bottom curved piece of wood and had my husband cut a straight board to fit.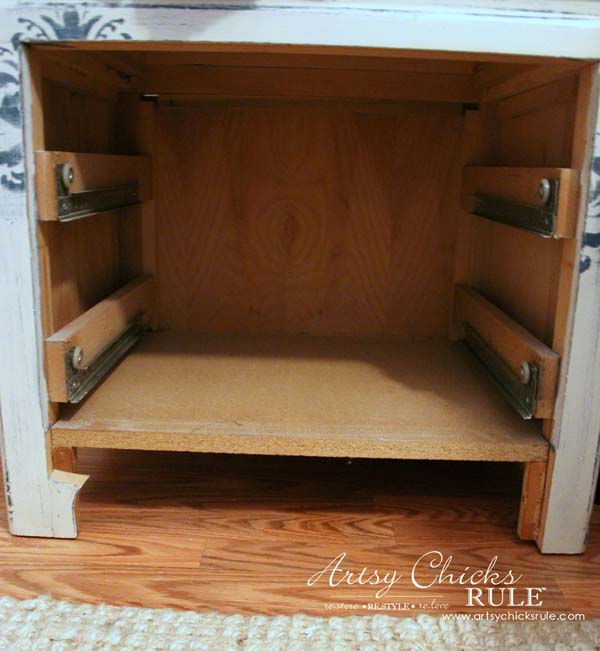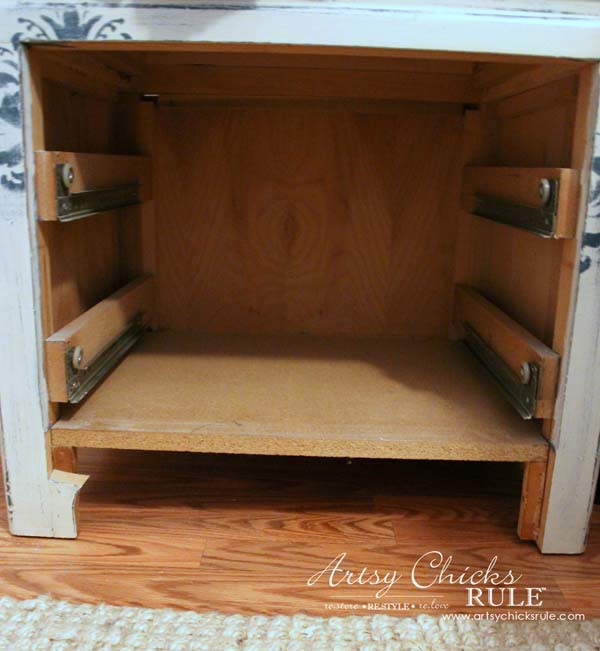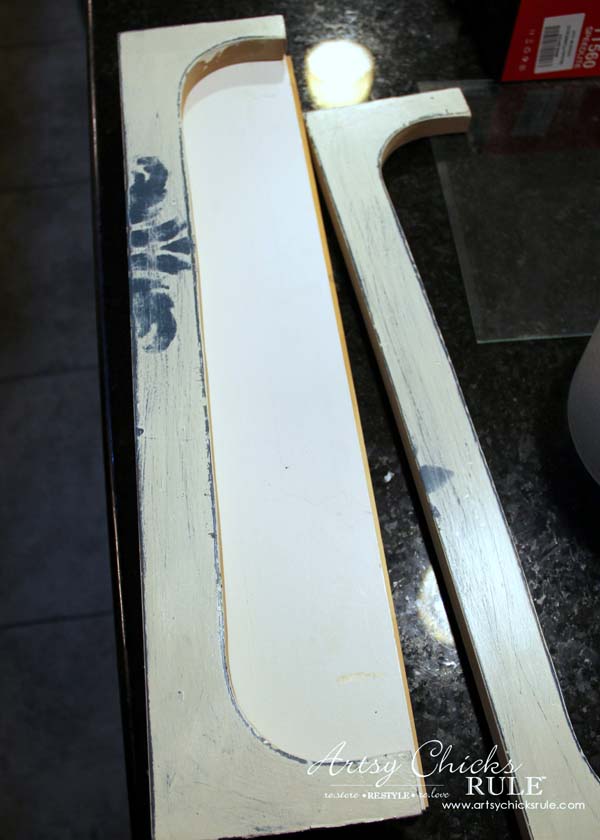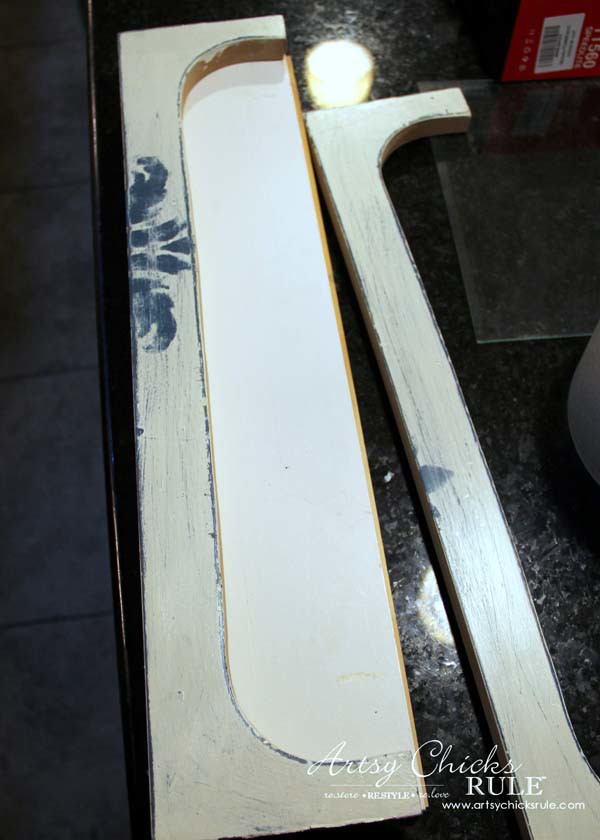 I wanted to move away from that original look.
I also wanted them a bit taller so I added ball feet….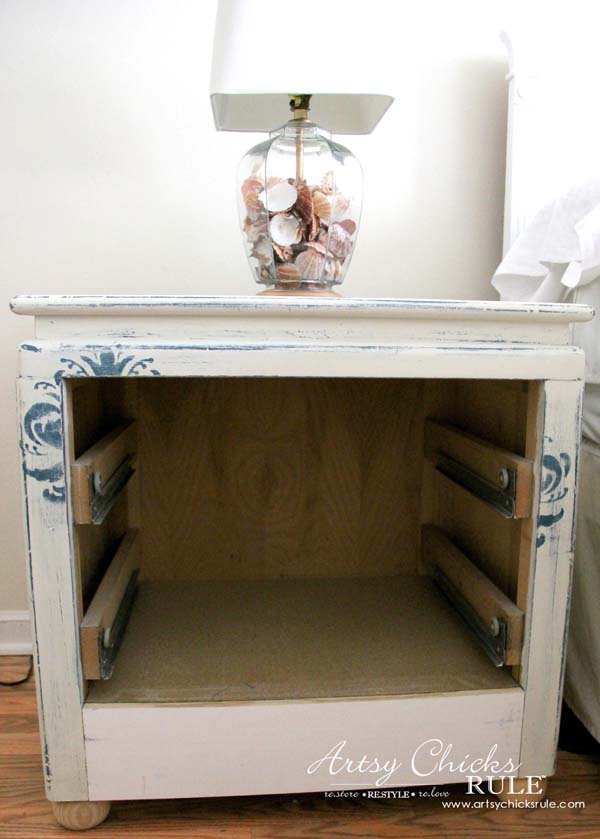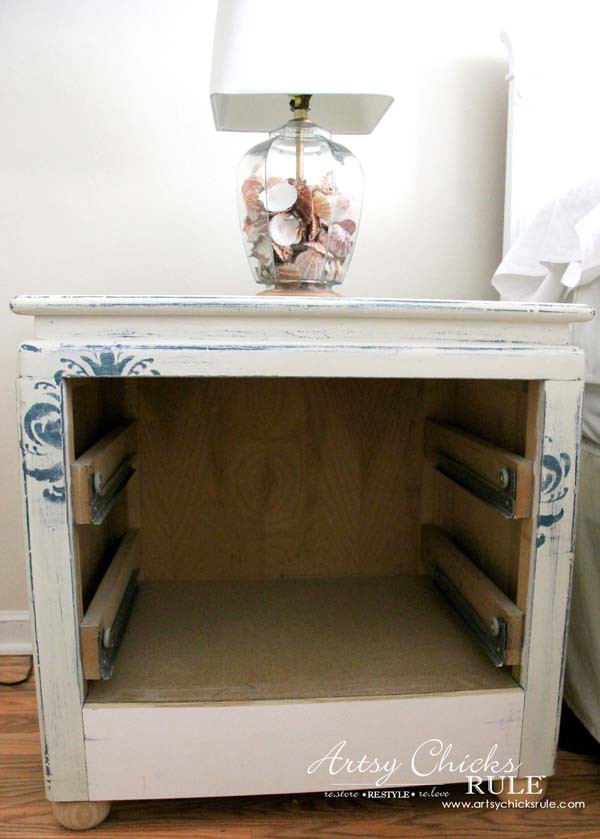 How fun! :)
What a difference those 2 very simple things made, right??
I think it changed the look of them completely.
So, I got to repainting….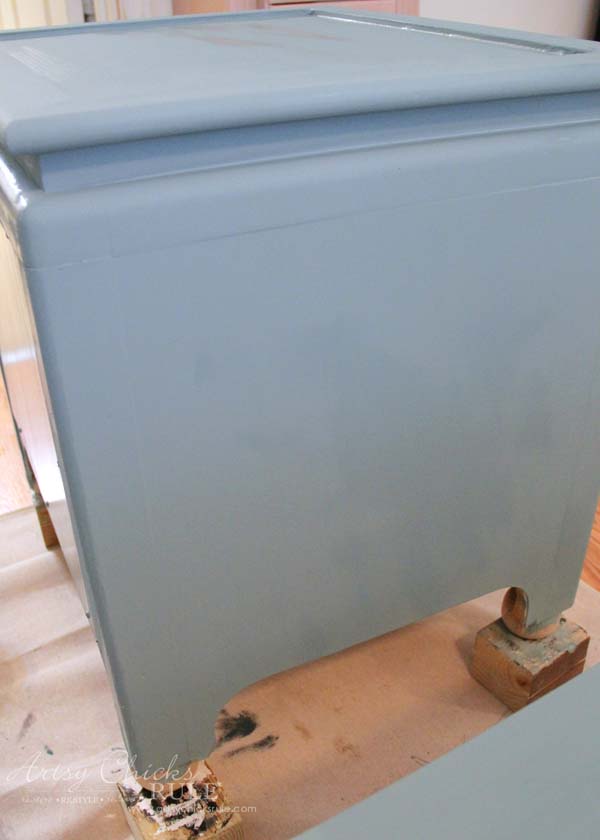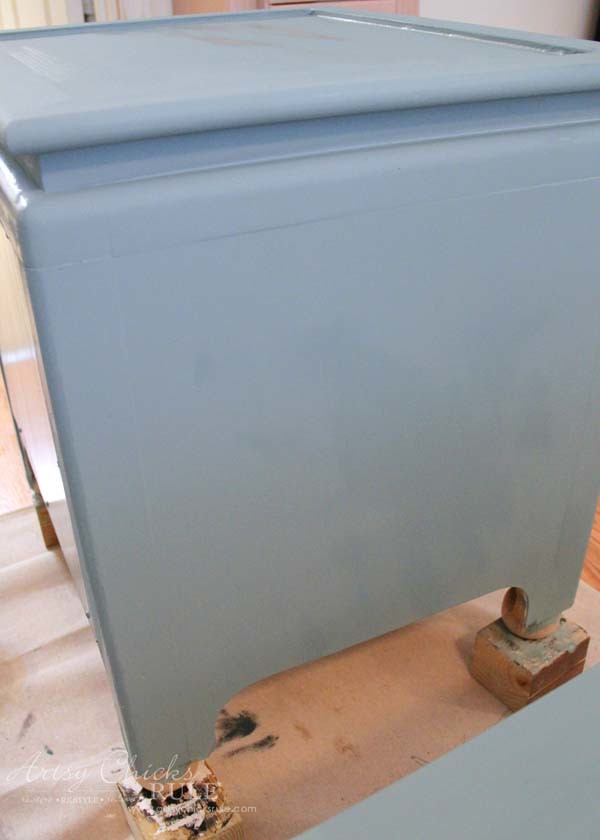 …which is always a breeze with Chalk Paint.
Once they were painted and dry, I sealed them with the GF top coat.
Once that was dry, I gave them a quick "dry brush" with the GF glaze.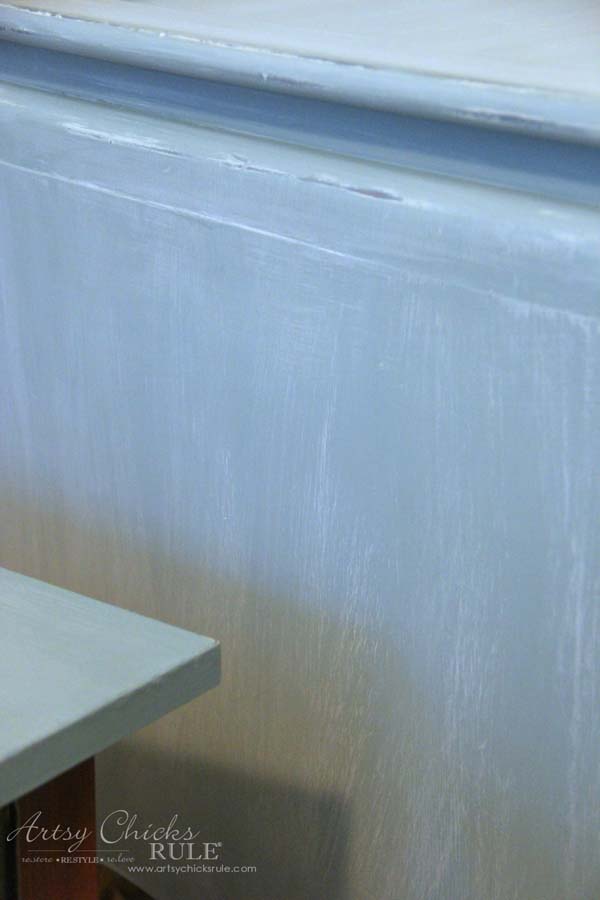 It gave them the "coastal look" I was after.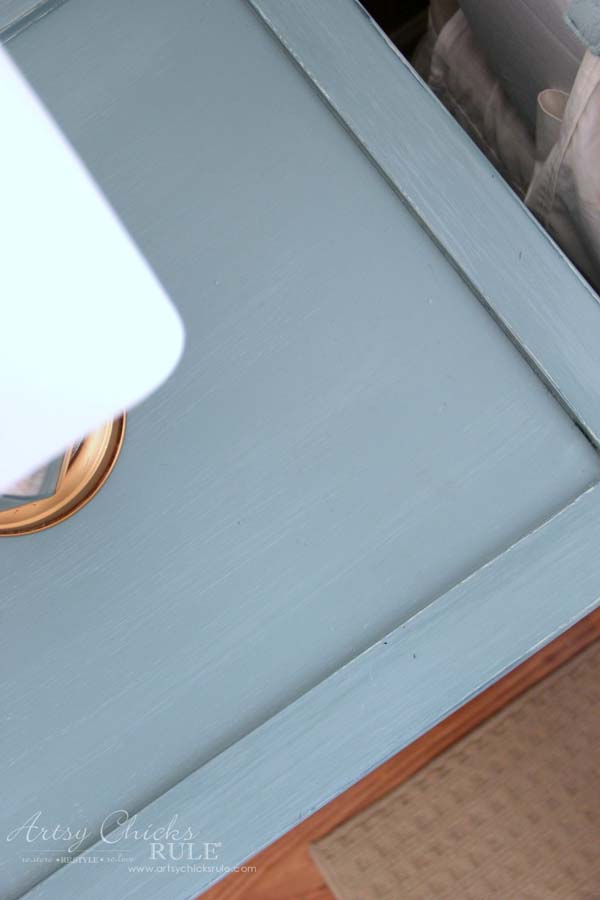 And if you'll remember, the tops previously had a glass insert.
I actually sort of hated that insert!
So I decided to just leave them out.
I had considered adding some decoupage or something but in the end, just decided to keep it simple.
I also gave all the edges a slight distress.
This gave me the more relaxed feel I was after.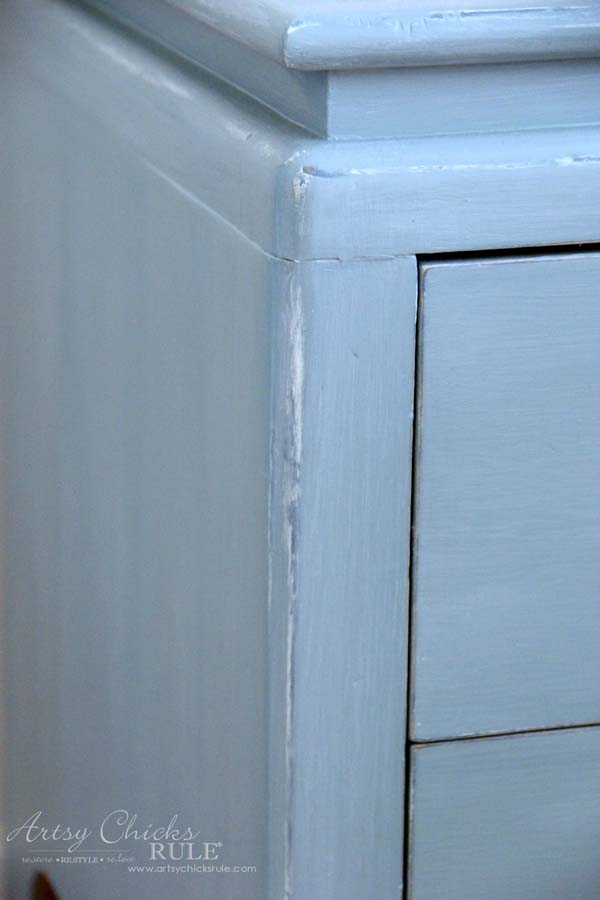 Plus I just love seeing the dark Aubusson Blue and the Pure White peeking through from the first paint job.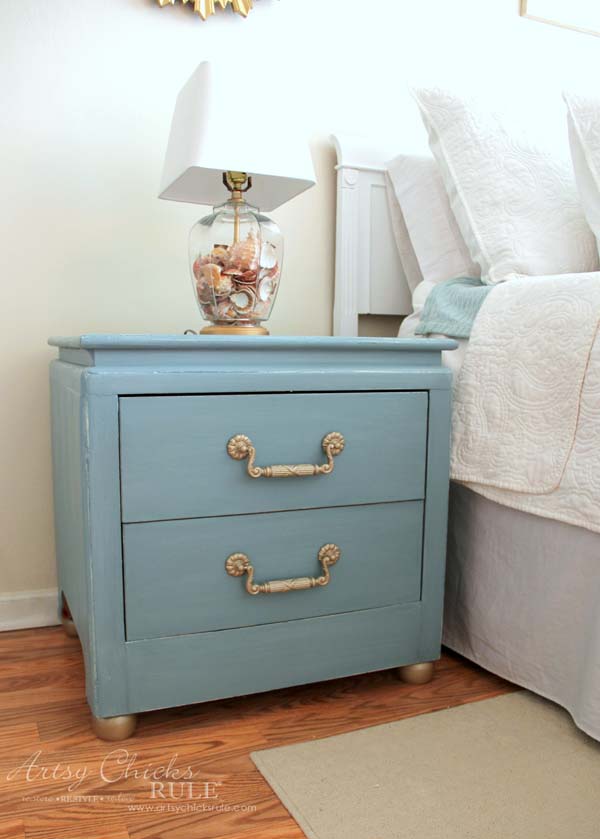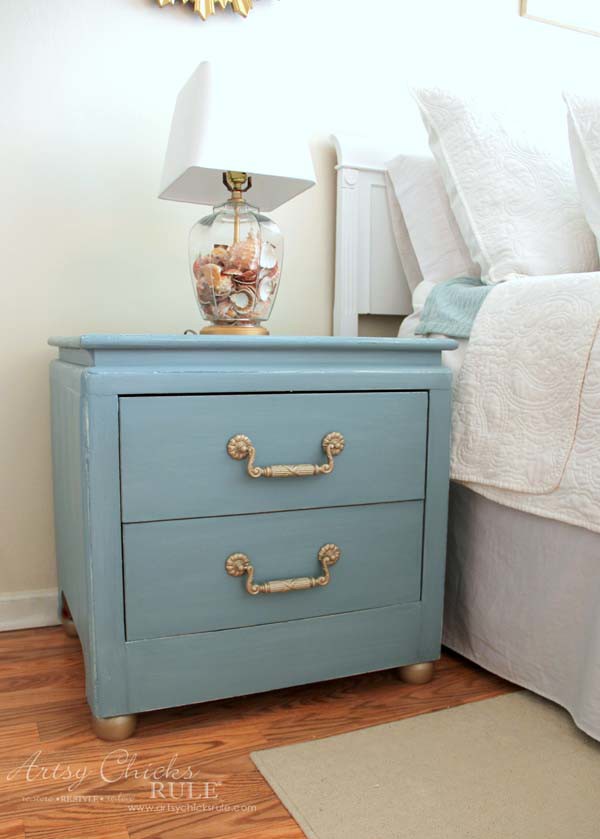 On the first rendition, I decided to use different knobs.
For this go round, I decided to use the original hardware…painted.
I keep everything so I had those stashed away since the previous makeover.
I used Rustoleum Champagne Mist. It's a lovely, soft gold color.
Sorry I don't have a link for that one but you should be able to find it at the big box stores.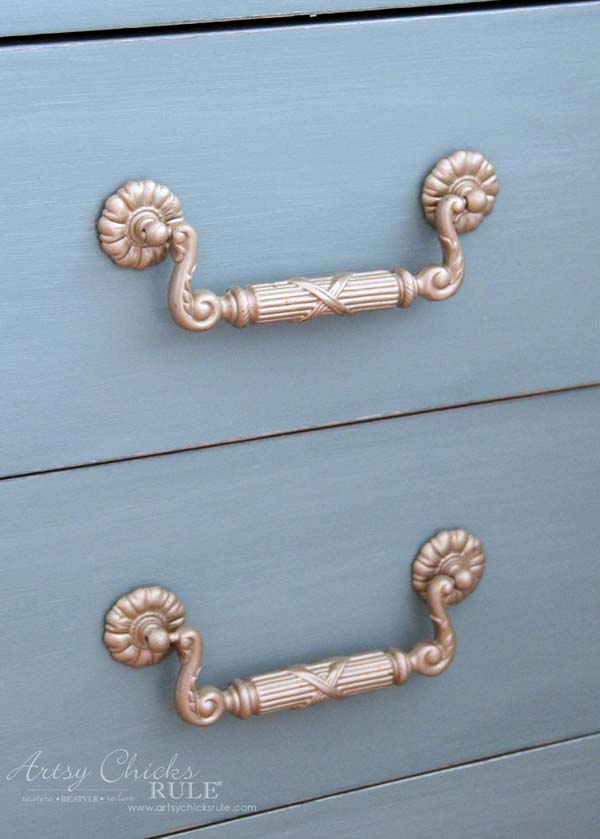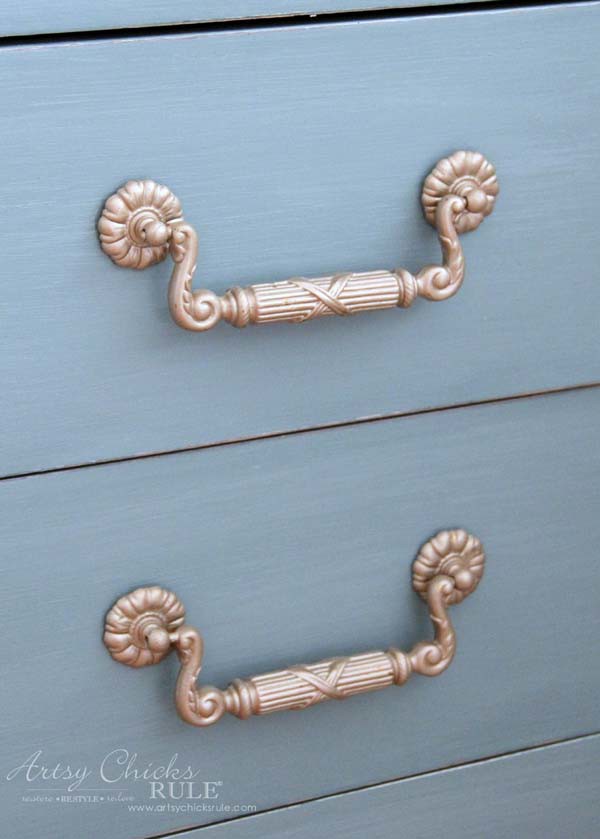 Isn't it pretty?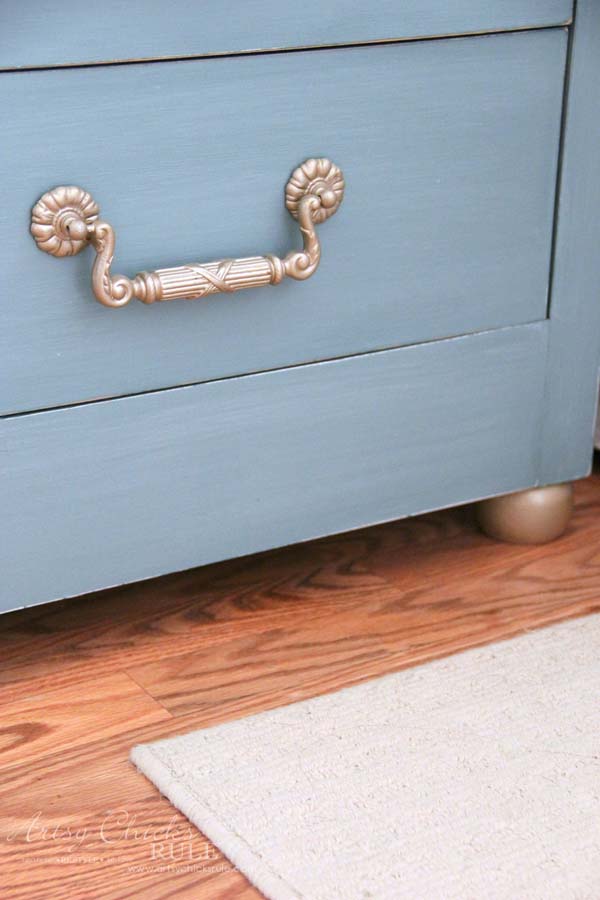 I used it on those ball feet too.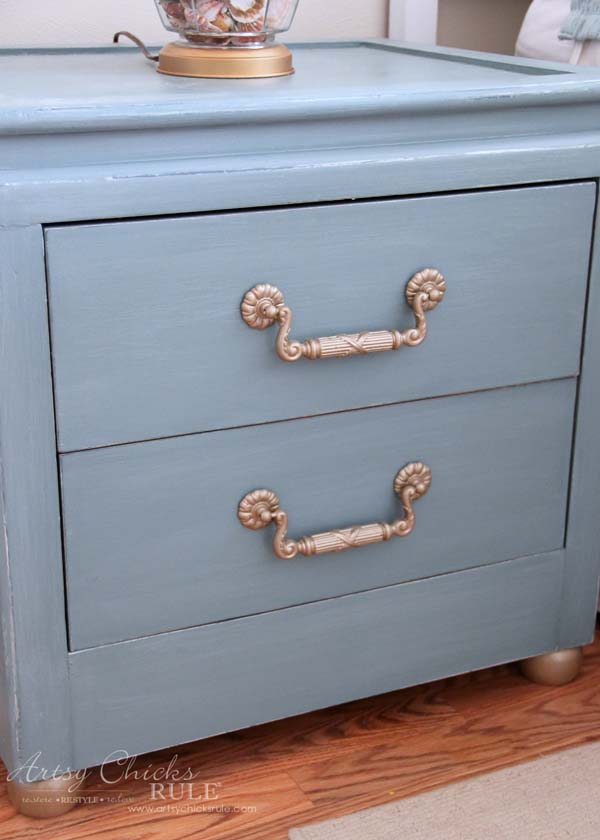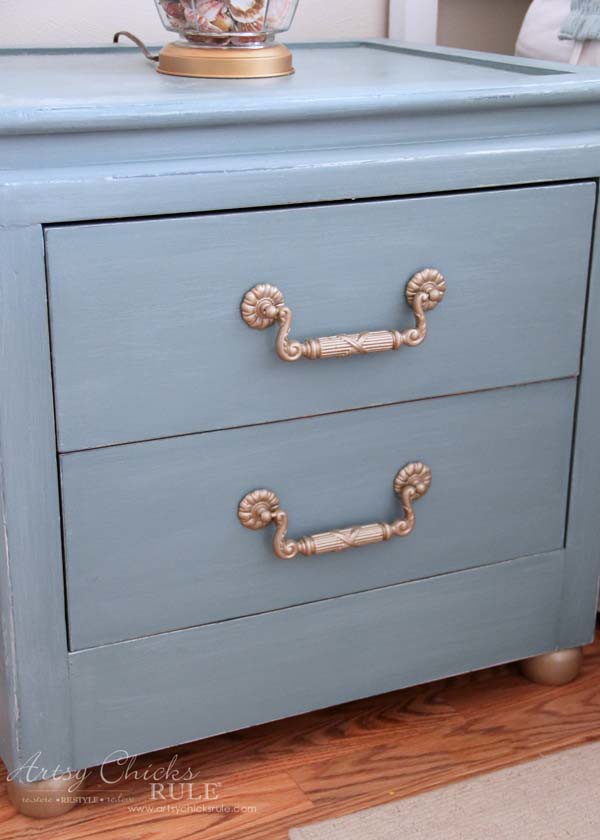 See that tiny bit of color popping through where I distressed?
Love that.
I'm soooo happy with these now!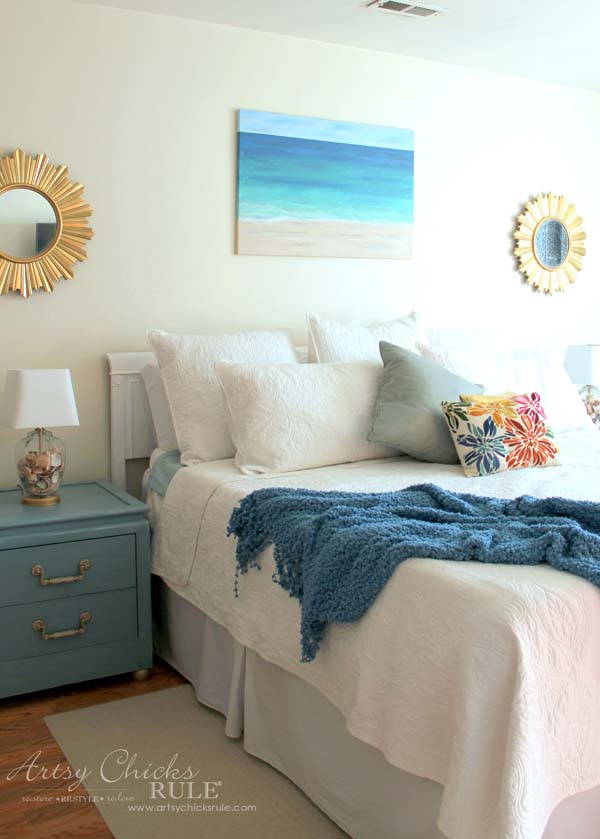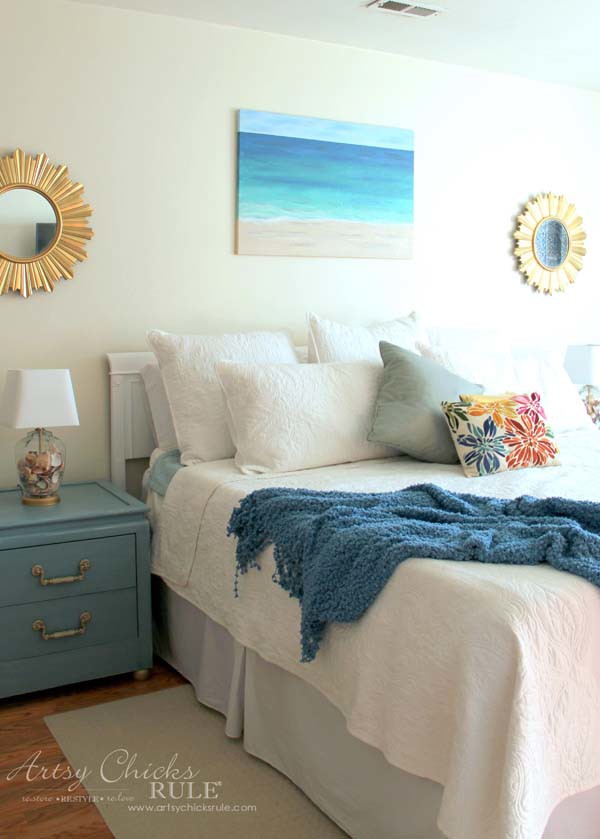 I'm actually really glad I didn't get rid of them.
I just love these turquoise night stands!
They look perfect in the room.
Bedding and Rug Info:
Quilt
Euro Pillows
Pillow Shams
Rug
You can see details on the thrifty lamps (pictured above) I gave a makeover too here…. Thrifty Coastal Lamp Makeover.
And we are still trying to decide what to do about the headboard.
We may build a super simple one but….it's one more project added to our already long list.
So we'll have to see how that plays out! ;)
Alright y'all….
My "take away" message for today is this…..
It doesn't matter if you've already given something a makeover, if it's not working for you, give it another one!
Paint, paint, paint, modify, whatever! ;)
It's always the thriftier way, anyway! And that's always a good thing when trying to decorate on a budget.
PIN these Turquoise Night Stands for later!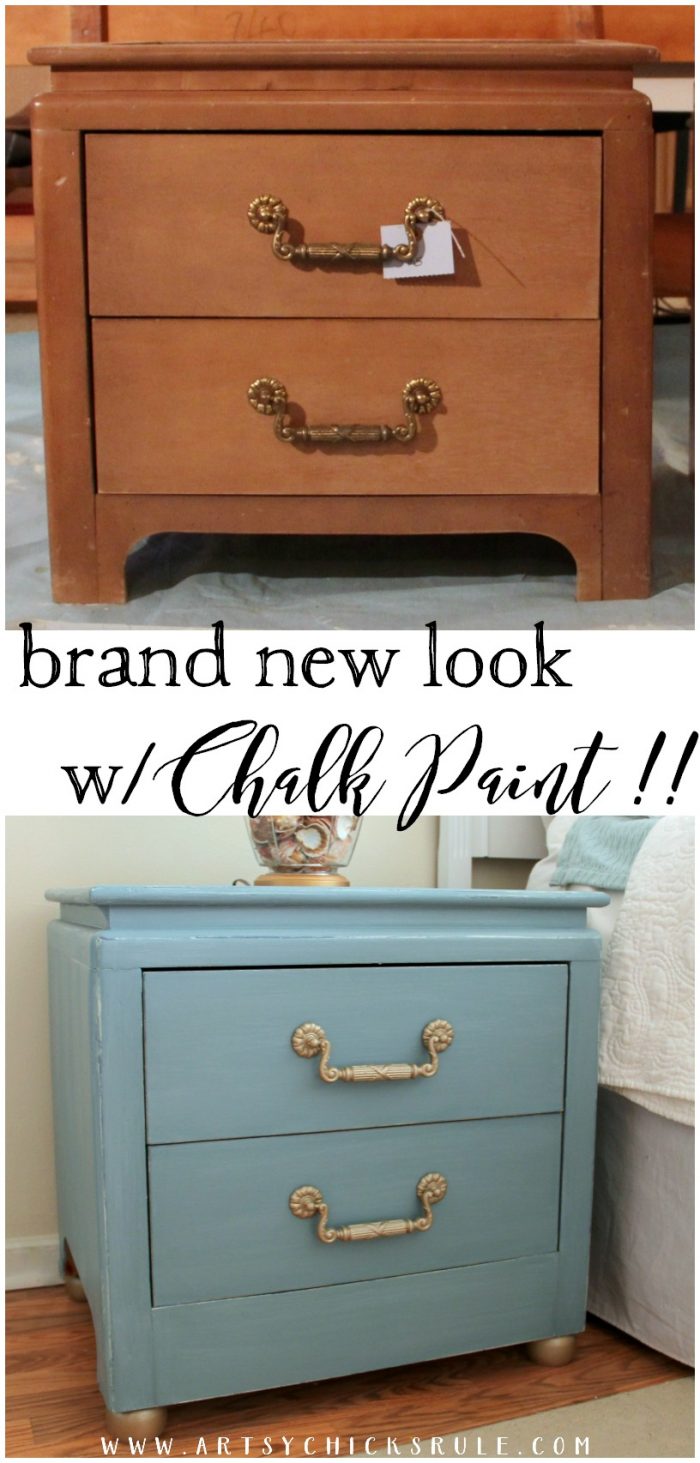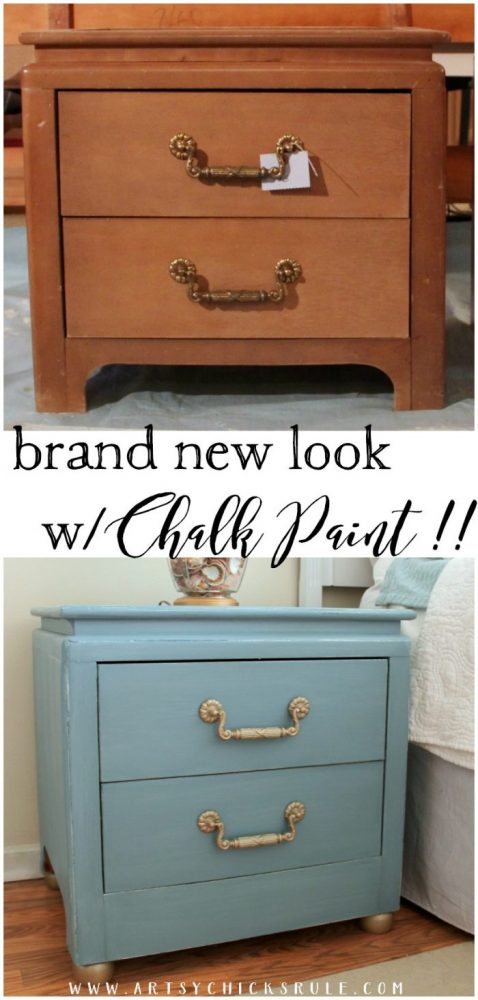 Happy painting and decorating friends!! Be on the lookout for our DIY Tutorial for the Bookcase wall!
It's coming soon. :)
But first, stay tuned later this week for this little pretty! :)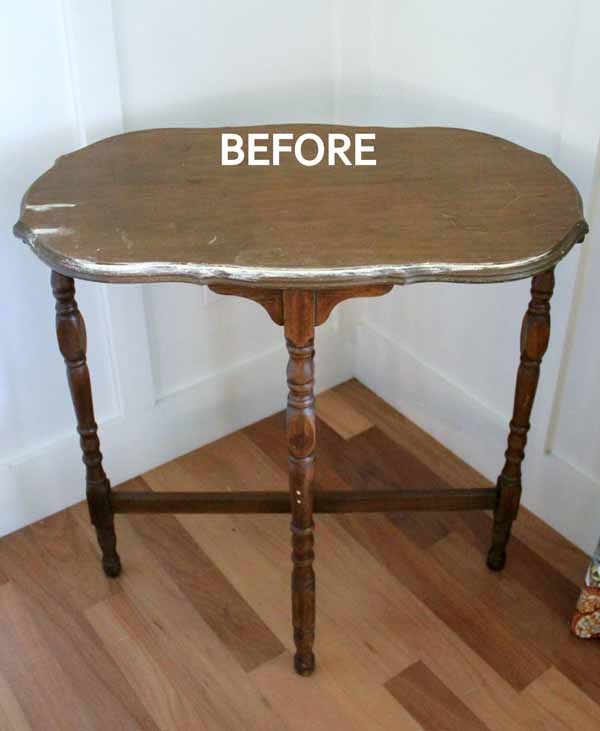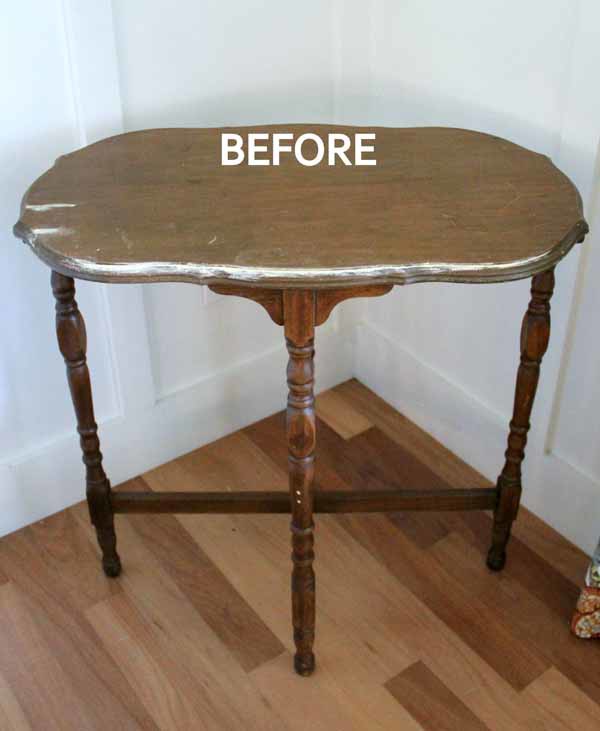 UPDATE!!! See it now, here!!
xoxo