Nautical Chest (Best of the Archives)
This post may contain affiliate links. Please see disclosures here.
Good morning everyone!
It's time for another "Best of the Archives" and I'm going to share my old nautical chest with y'all.
It was one of my favorites and I'm so looking forward to sharing it again.
But first…..
I just want to take a moment to say thank you so much (from the bottom of my heart) for the outpouring of love.
I am overwhelmed with gratitude for your very thoughtful and kind words.
They are a blessing and a comfort to me during this time. I hope you know that.
I cried as I read them, as I read of your losses as well, as I realize the love there is for one another in this world.
And as I realized how many lives we touch, near and far. Those we have never and may never meet.
Connected through life, love and shared experiences.
Thank you for taking the time to reach out and write to me.
It means more than you will ever know. Love you all! xo
………………………………………………………………….
This dresser started out pretty simply…..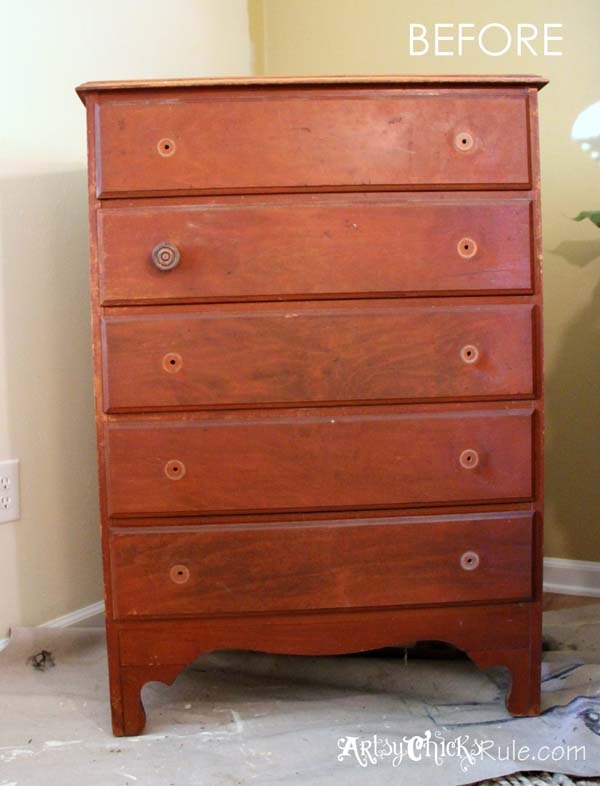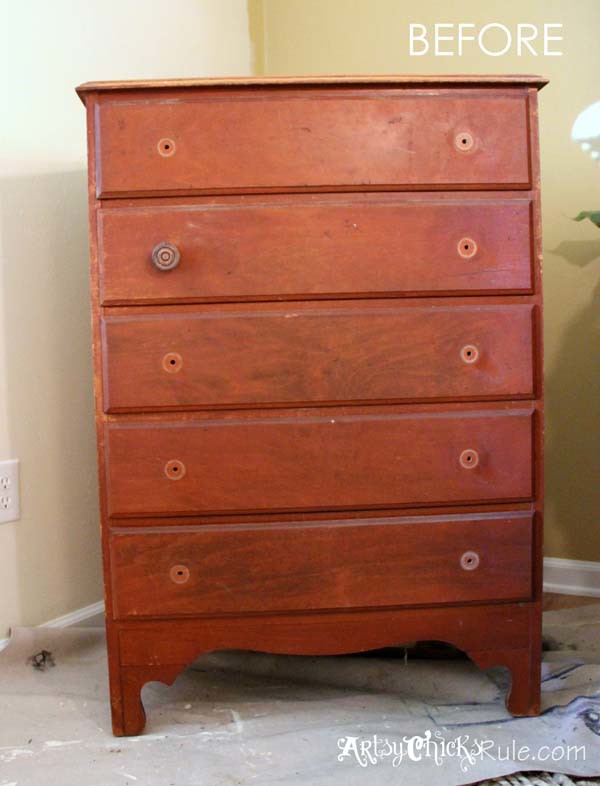 I think I paid around $50 for this dresser at the time.
It did include all the knobs but I had gotten eager and removed them before the photo. :)
I've gotten better about that since then…. I think. ;)
I started out by painting it with Provence (Chalk Paint®).
One of my favorite colors.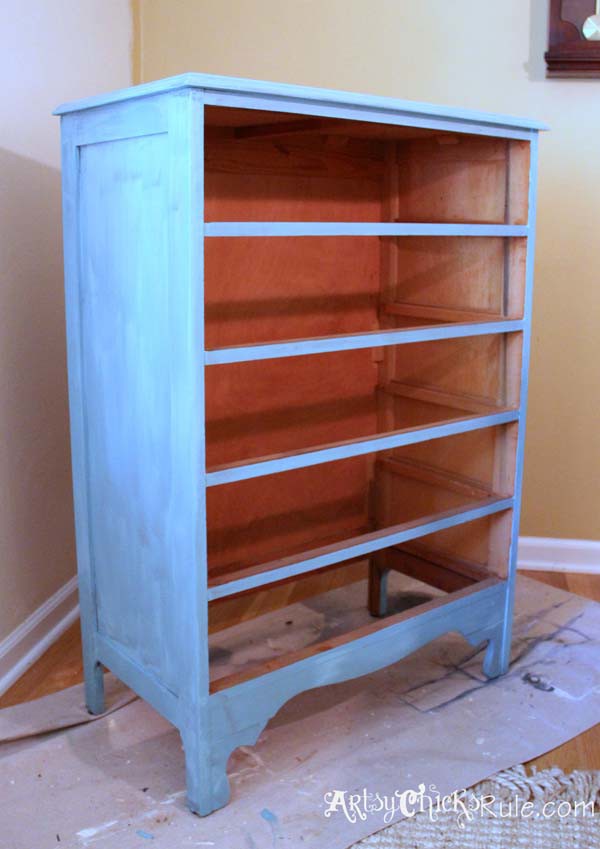 I wanted it to show through a bit when I distressed it and just a one quick coat would do.
Next I mixed a bit of Old White and Pure White and went right over the blue.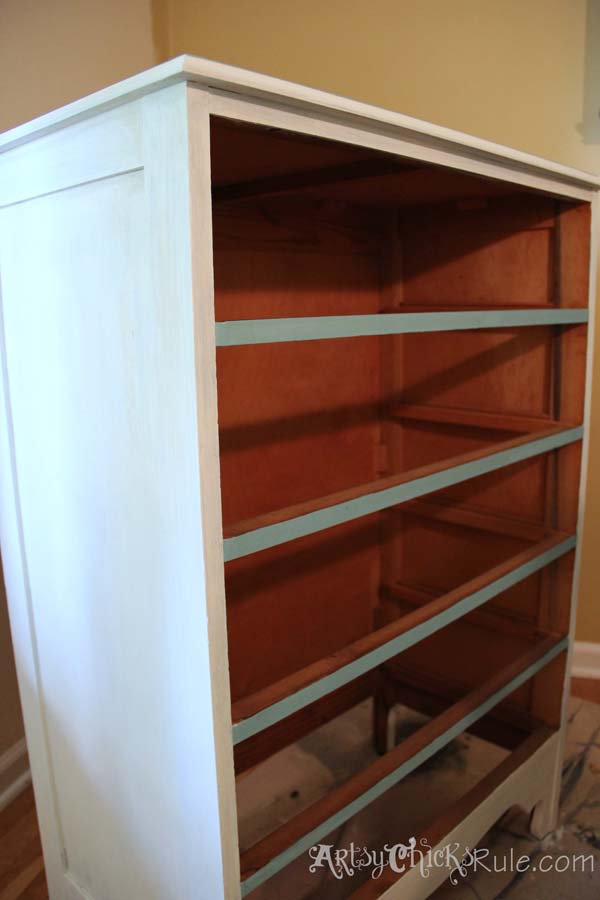 I left the slats you see there blue for the graphic.
The drawers were then also painted Provence Blue.
After that dried, I took a bit of white on a dry brush to give it this look….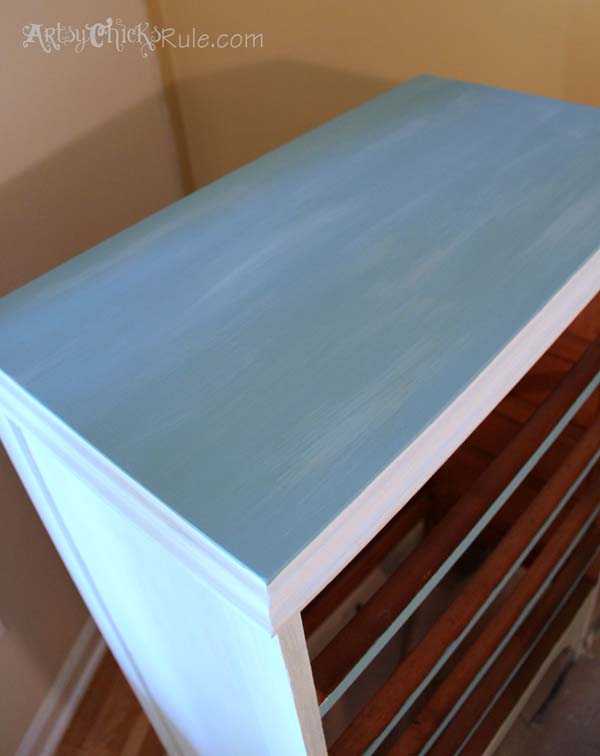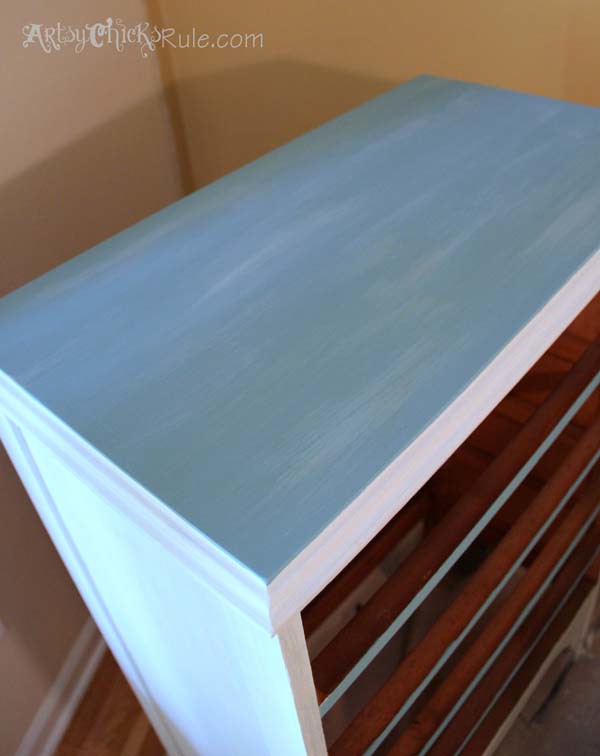 It's hard to tell in the below photo but you'll see the white a bit more in the coming photos.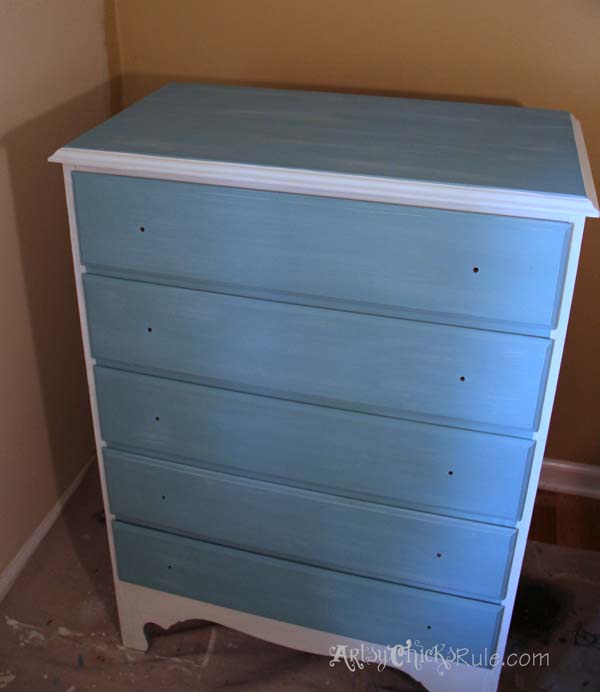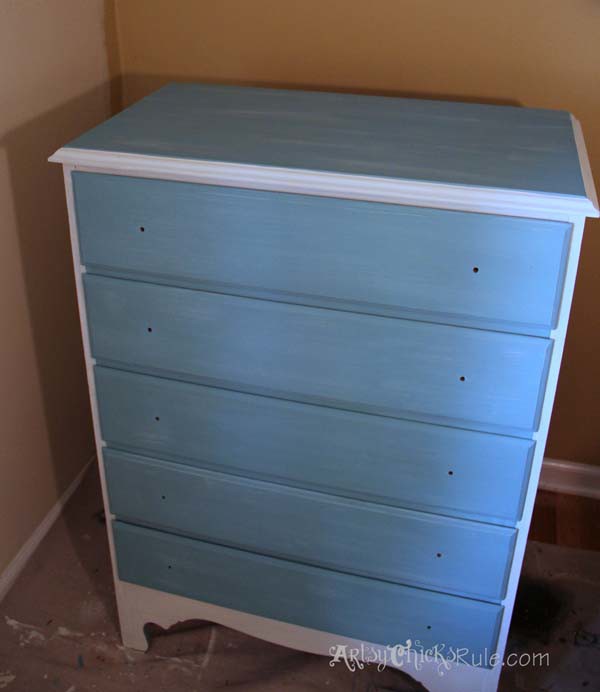 Here's something I haven't shared on my blog in a while!
The projector. (used off of Craigslist, around $35, I think)
I don't use it as often but it's just perfect for these large graphics!!
Here's how:
Save your image to a thumb drive, take it to an office supplies type store (or print shop) and have them create a transparency of it.
Place the transparency on the projector and adjust it until it's the size you need.
Trace the letters you see projected with a pencil (I like watercolor best for this) and then hand paint those in after!
PIN this to save for later! :)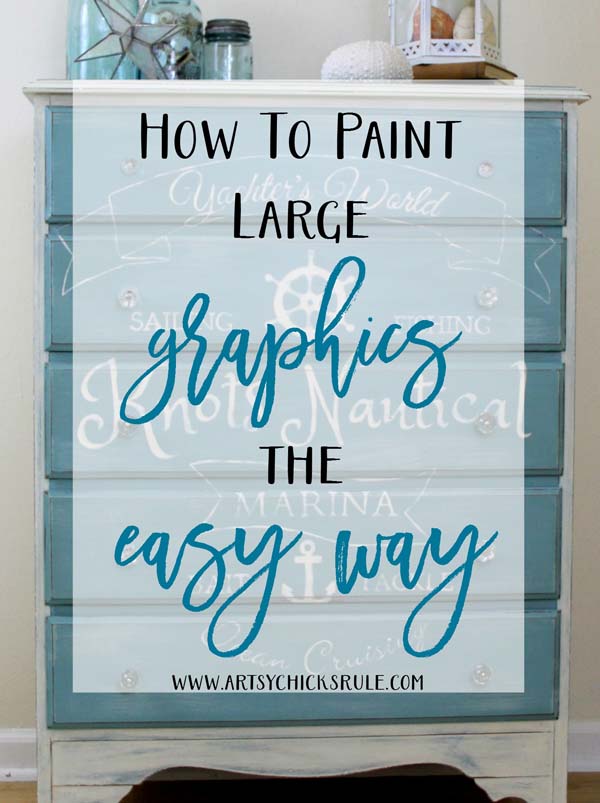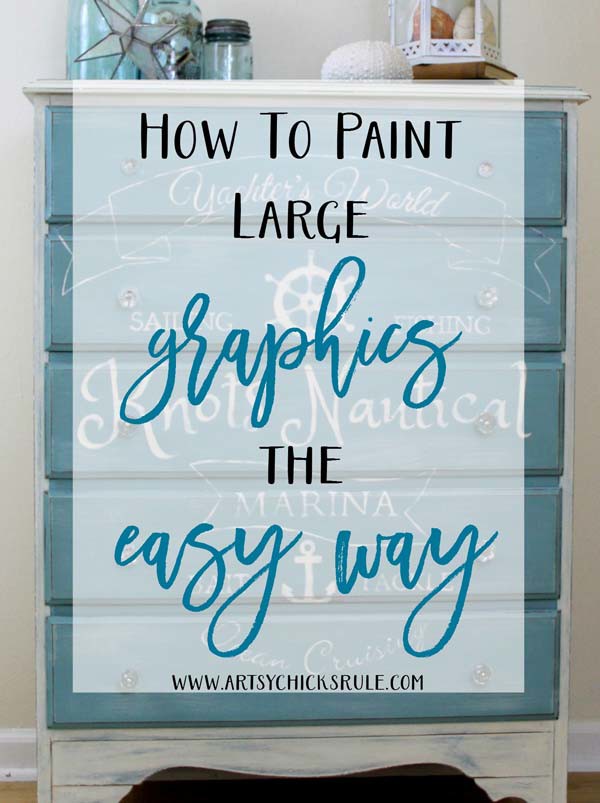 Here are a few more projects I used the projector method on:
"Coffee Bar" dresser
Estate Sale Sideboard (bar cabinet)
French Typography Whitewash Table
French Styled Cabinet
Here's the graphic I used…..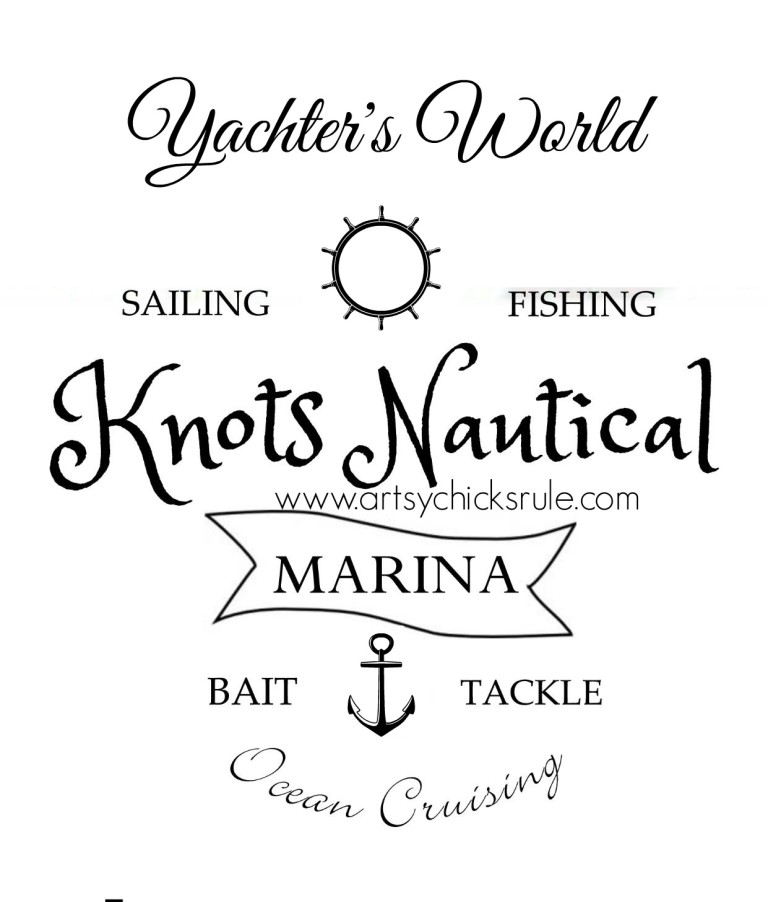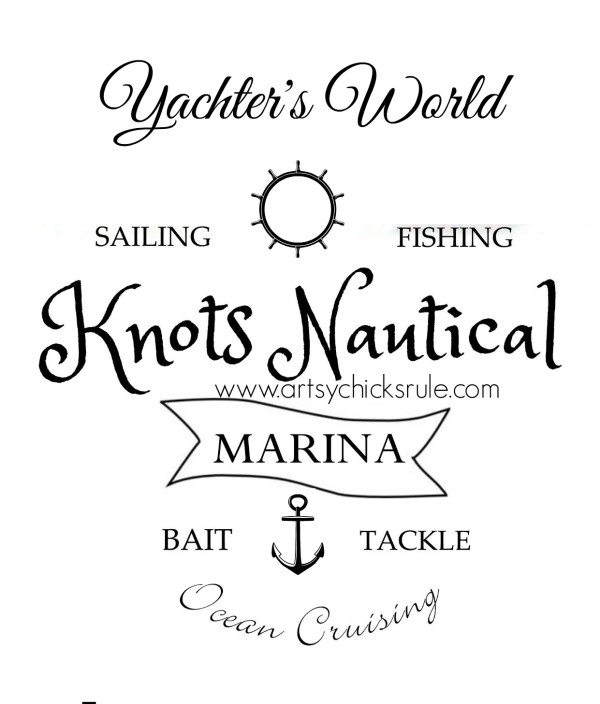 Mostly anyway.
I had to recreate it since I made this on my old laptop and couldn't find it.
I know many of you have asked for it before….so here it is! :)


(the watermark won't appear on the downloadable version)
I used a white watercolor pencil since I was planning to paint in the lettering with white paint.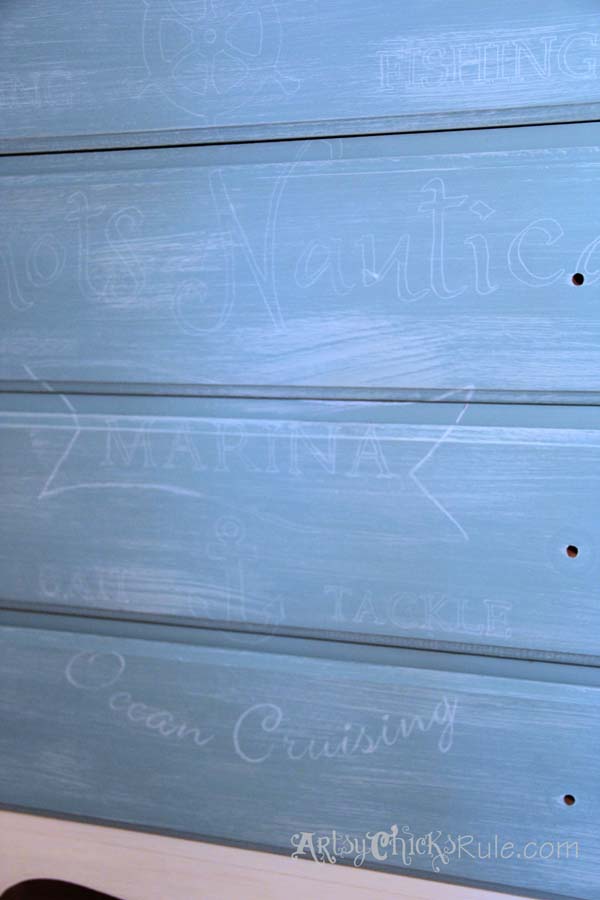 It's so easy, really. Just trace what you see being projected.
Then all that's left to do is hand paint it in!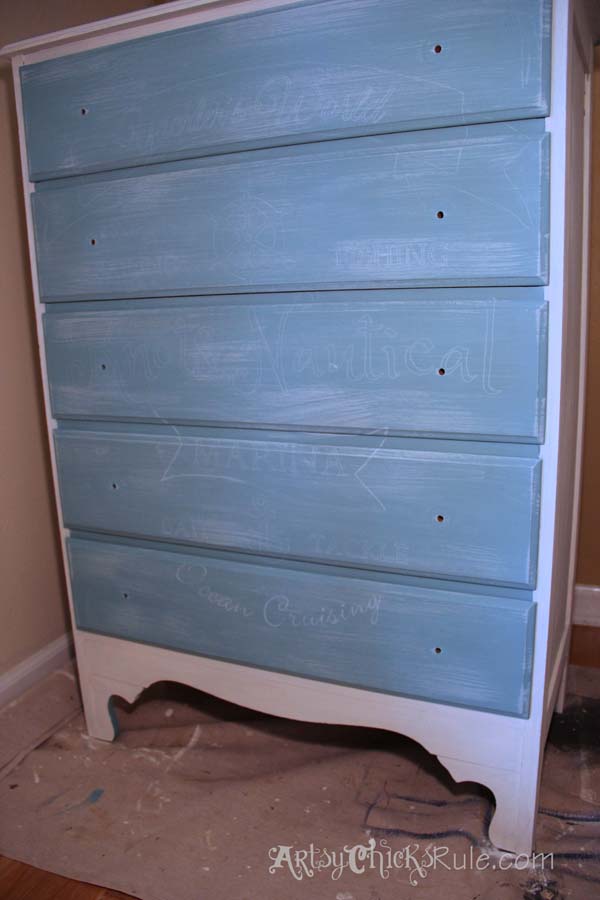 See the white dry brushing a bit better now?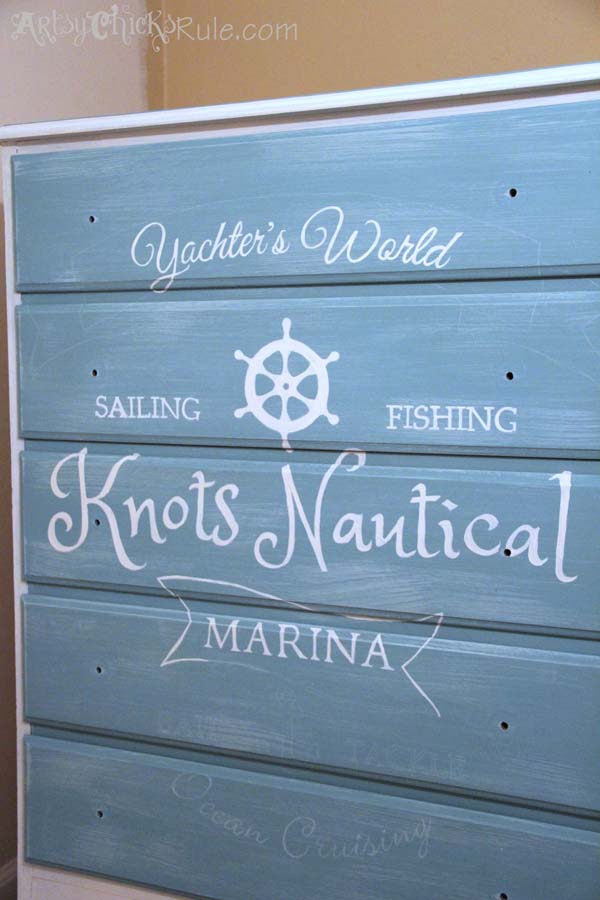 Then I gave it all a light sanding to distress and pull some blue through the white, etc….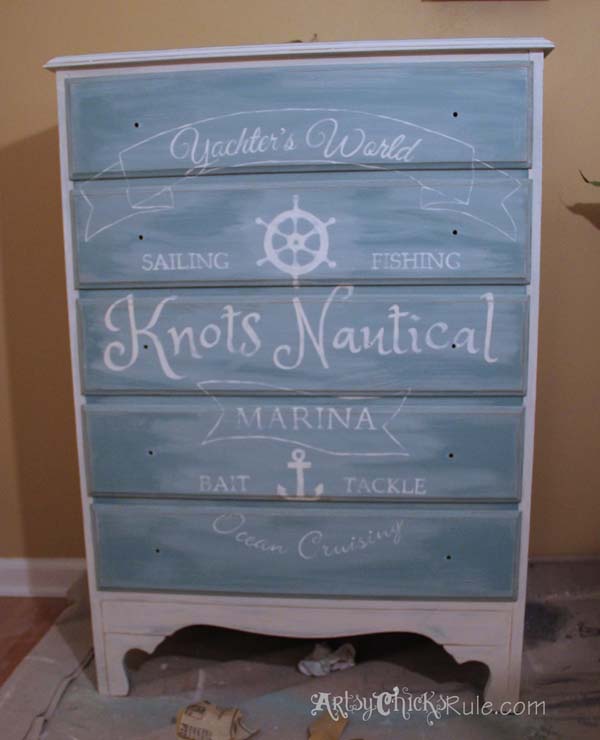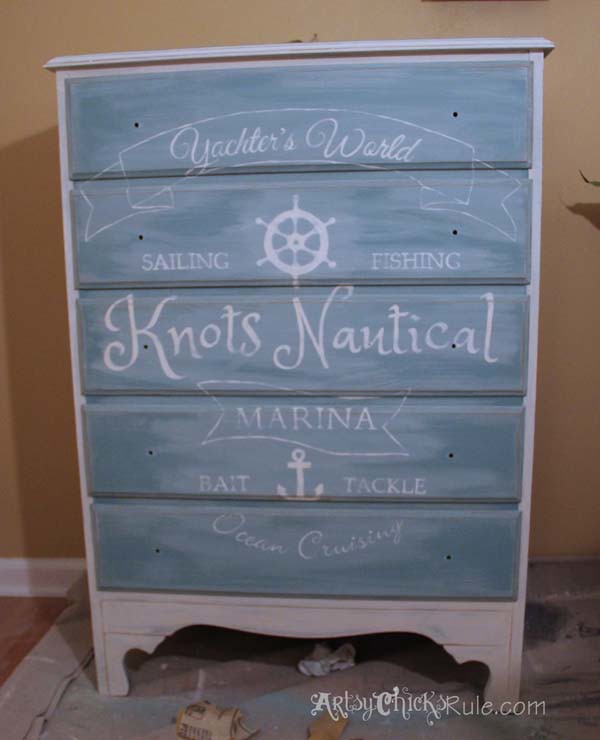 I wiped it down and finished with one coat of Annie Sloan Clear wax.
I added mismatching crystal knobs.
I didn't have enough of one style so thought I'd change them out once I got more…. I never did!
I loved the mis-matchy look. :)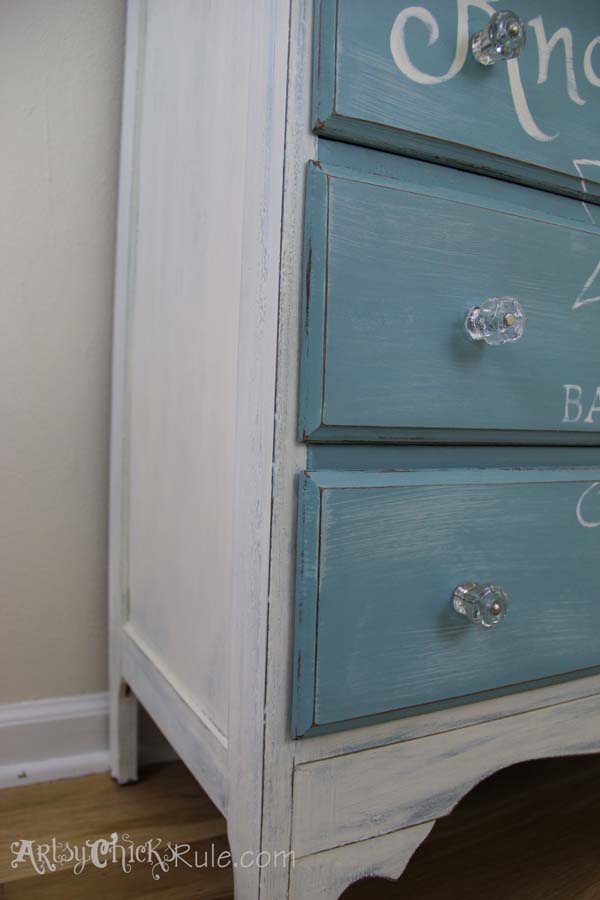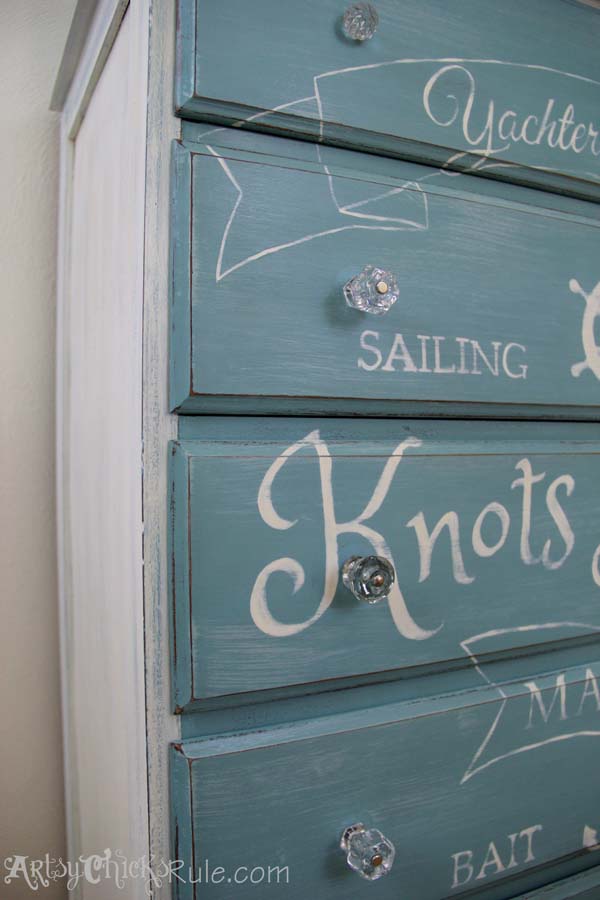 See the blue peeking through?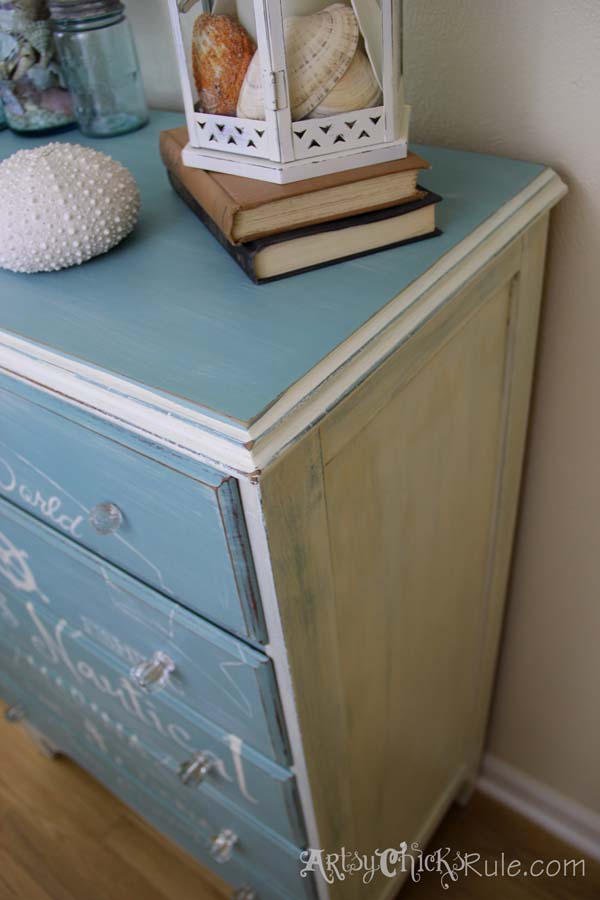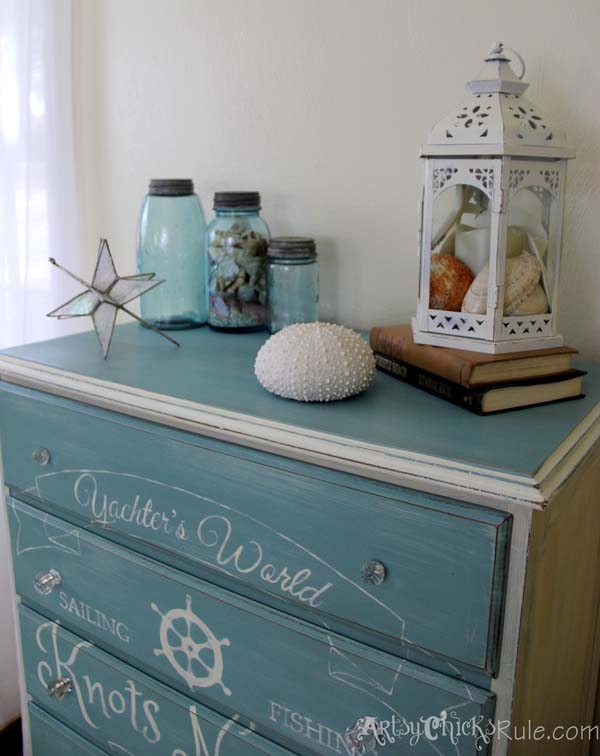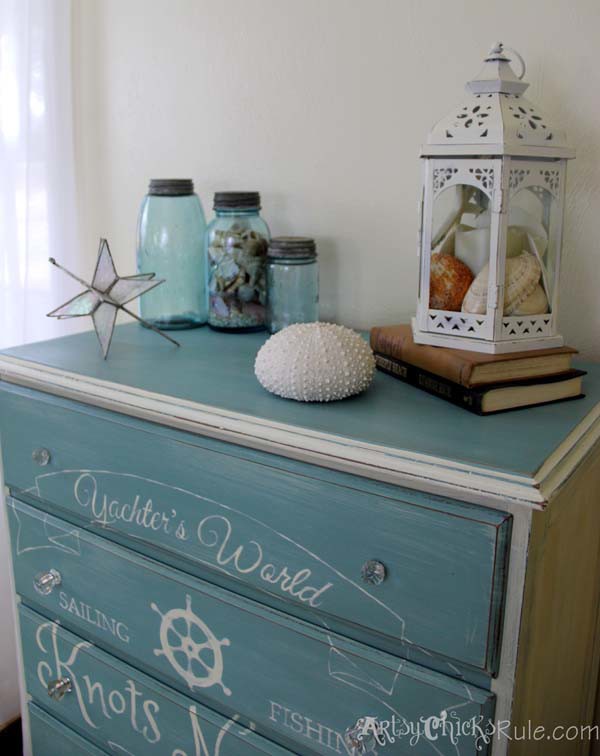 One of my favorite pieces of furniture, mismatched knobs and all.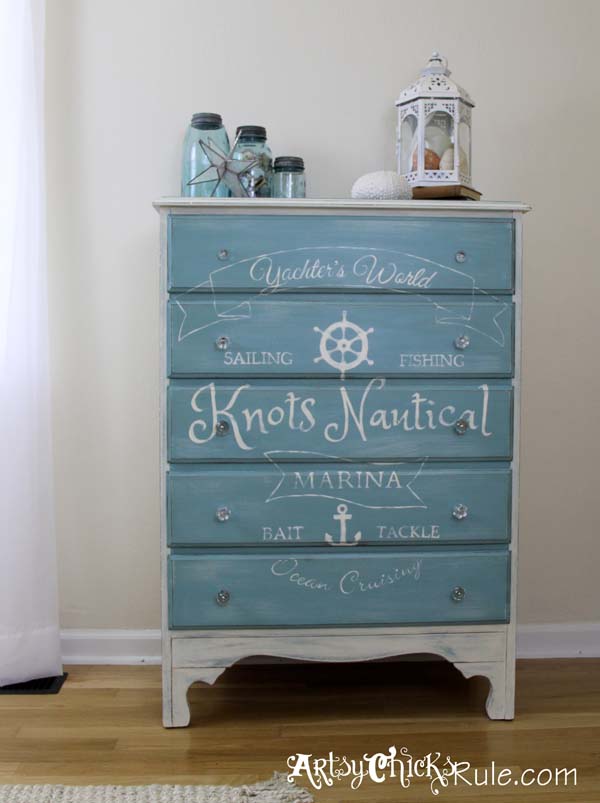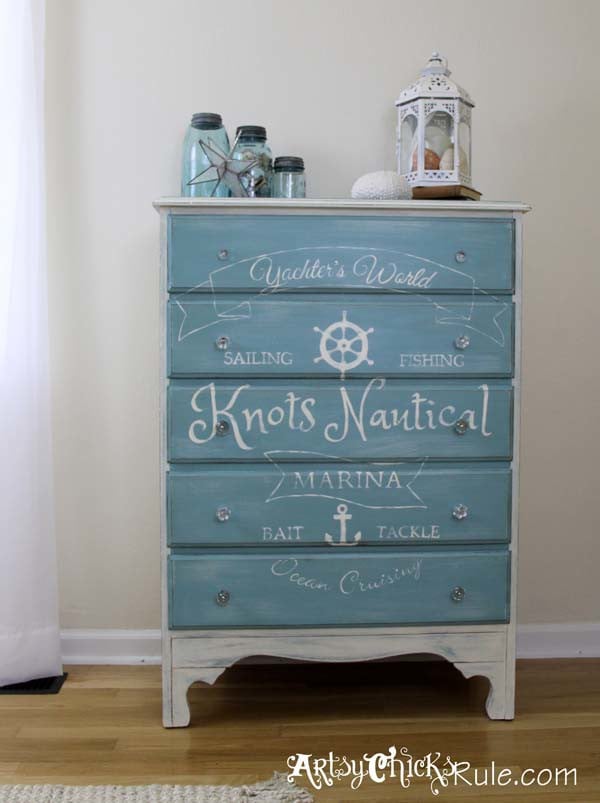 So much so, that I now use it for my "coffee bar".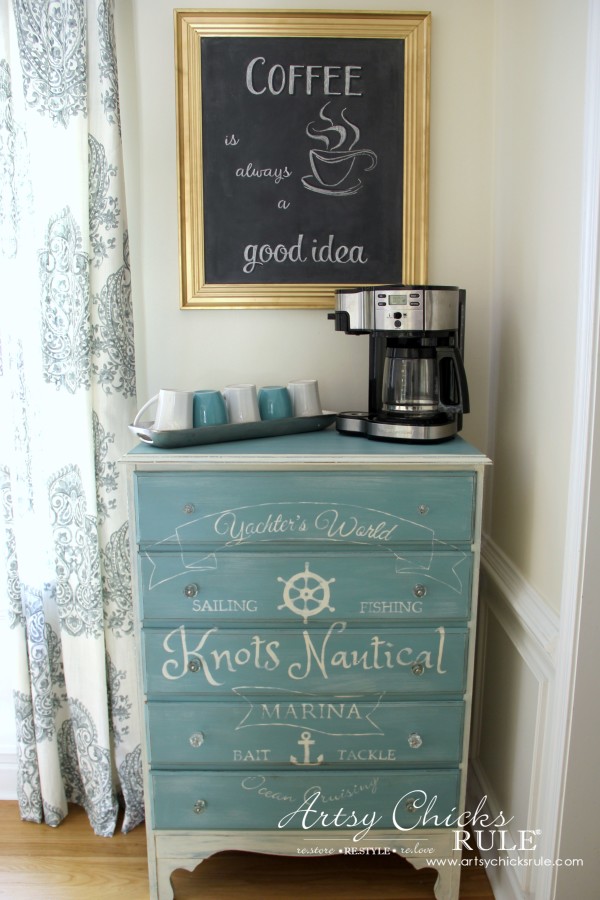 I did add a few more coats of wax to the top when I decided to use it for the coffee though.
(You can see it's pretty shiny now…below)
And with my new hanging mug rack…..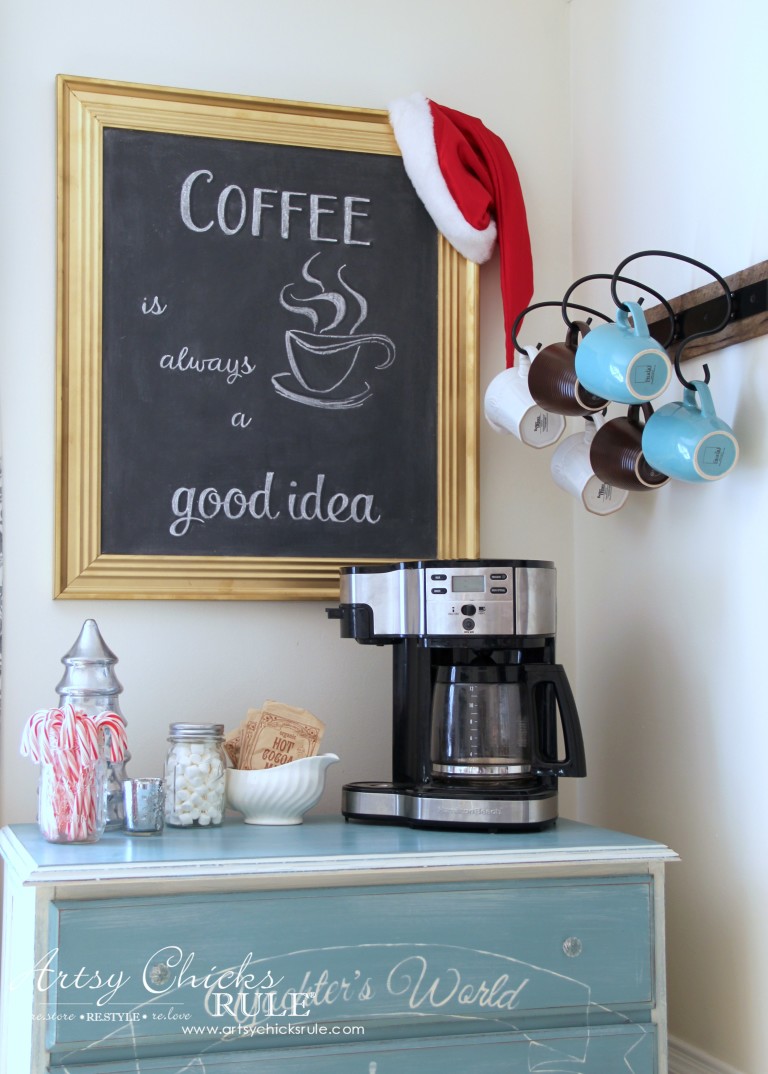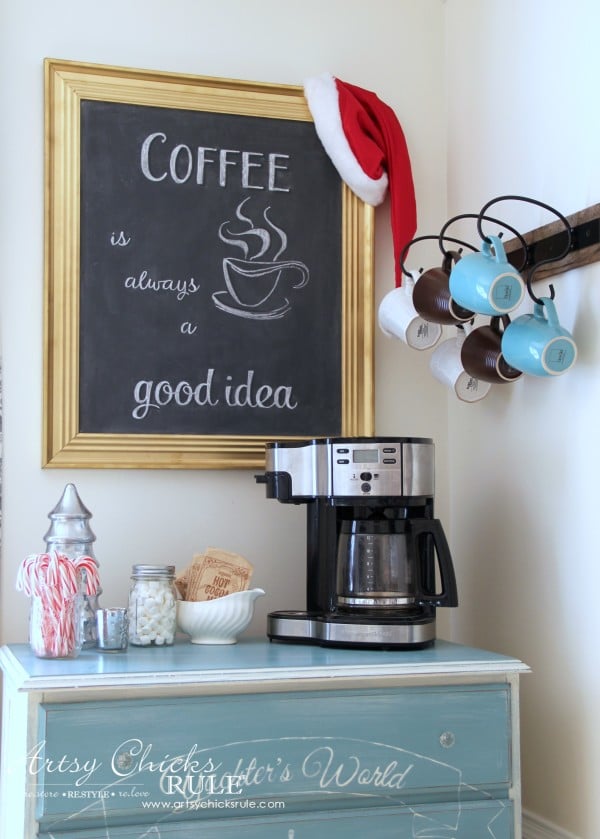 This nautical chest is a keeper, for sure!
And I use every single one of those drawers too. :)
You can see how in this post >>> here.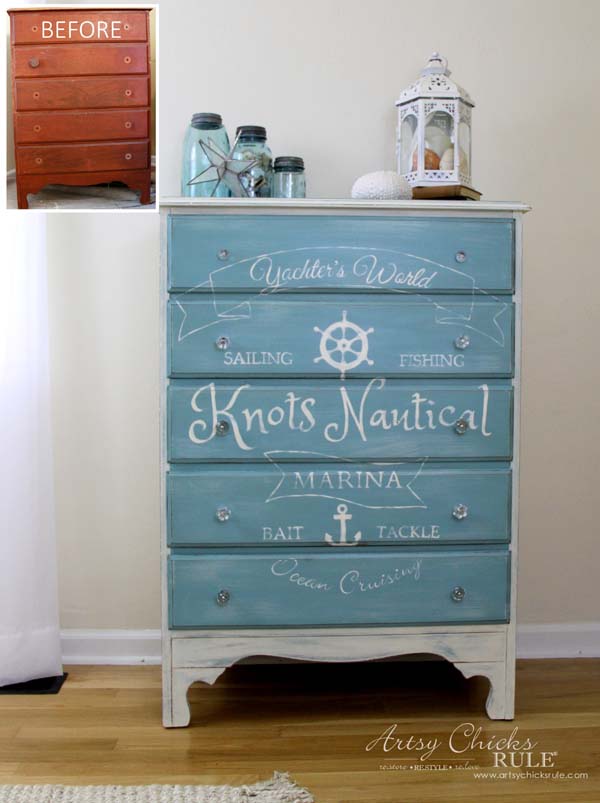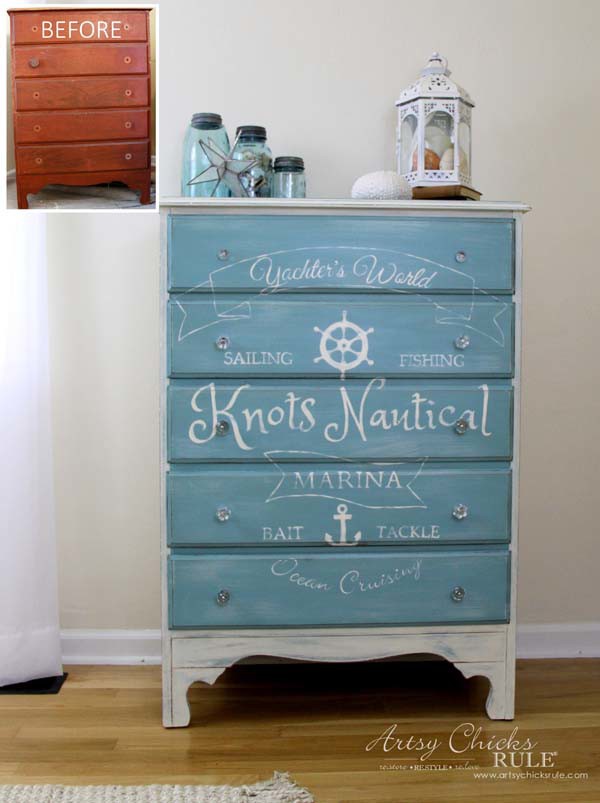 Now let's see what my friends pulled out of their archives this month! :)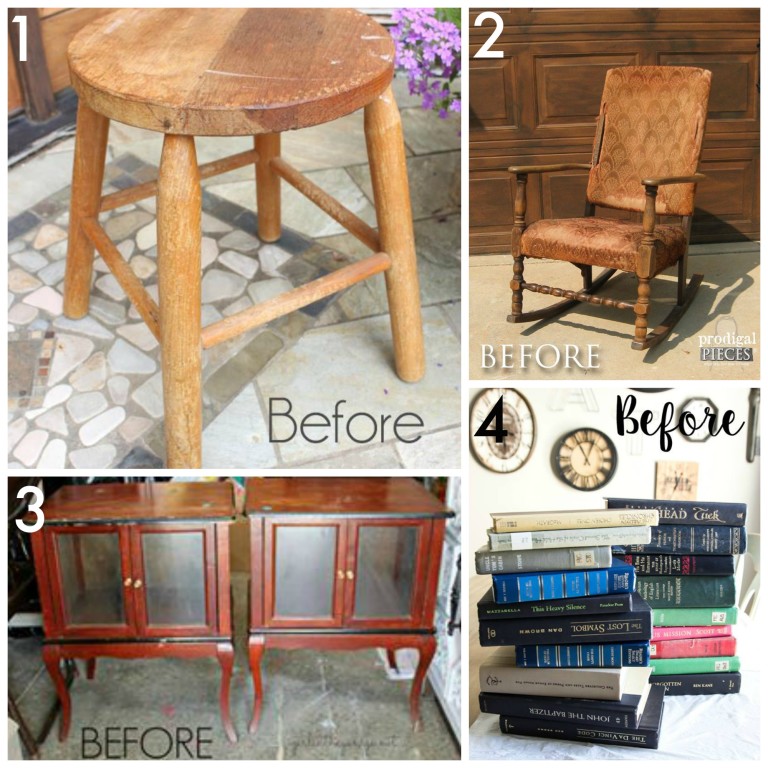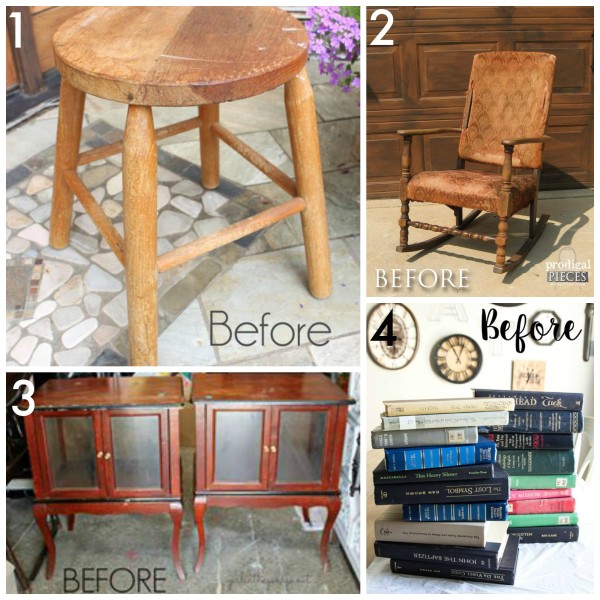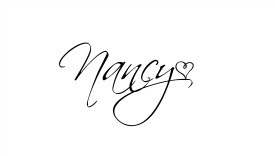 Follow along! –> Instagram ~ Facebook ~ Pinterest ~ Bloglovin