I hope you guys have enjoyed the "12 Days of Christmas" Holiday Home Tour so far.
We are now on Day 5 of the tour –> which means it's my turn to share my holiday home with all of  you.
It is my first Holiday Home Tour with a group of other bloggers…well it's the first tour of my home of any sort!
And I won't lie…it's been a little stressful pulling it all together. Especially being away for 5 days for Thanksgiving.
But I did it. 
(just keep in mind…the areas of the rooms that you can't see are still full of craziness…and mess — on second thought, don't, just forget I even mentioned that)
Shhh…that's a blogger secret. Push the junk to one side of the room while you take a picture of the other side.
Now you know. ;)
Anyway, it'll get all cleaned up and sorted before the actual holiday arrives. I hope.
While writing my post I realized I had taken way too many photos for one post so I have decided to break it up into two parts.
Today I am going to show you the Foyer and Family Room. Monday I'll be sharing the Study, Kitchen and Dining Room in Part 2 of the tour.
And I will have follow up posts on the DIY holiday decor you'll see today, and on Monday, in the coming weeks.
…………………………………………………………………………………………..
Welcome to my home…….come on in….
Lexi is so excited to see you….can't you tell!?
Don't let that calm little face fool you.
If it really were you (or anyone else she didn't know)…she'd be barking and going all crazy. ;)
I made the Snowflake Wall Hanging (on the mirror) last year. The full tutorial for that is –>here.
Looking up you will see some "Mistletoe"….perfect spot to catch people as they walk in….or out.
(ok..so it's not really mistletoe…but I always tell everyone it is!)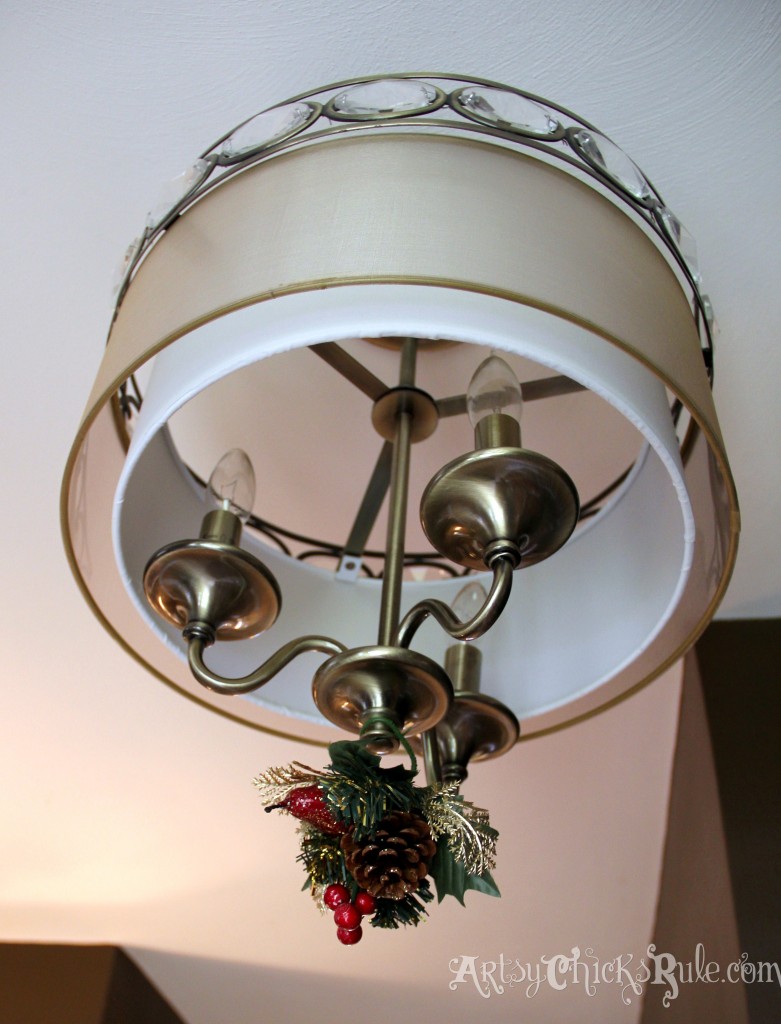 I love my new light fixture in the Foyer. You should see the pattern display those crystals make on the ceiling at night when the light is on.
Gorgeous!
And a steal at $39…clearance at Lowe's. Thank you Lowe's!!
I love Lowe's…it's our home away from home. Really.
And sadly, doesn't get enough credit in my posts. I like to let you all know where the things I post about come from.
Most of the smaller (not as fun to talk about ;)) items, tools, tape, twine, etc, etc also come from there. And even the floor tiles in the photo above of the Foyer/Kitchen.
I'll let you all know about that "little" DIY project soon too.
But things like the gorgeous light above…now that's fun to talk about!
Close up of the entry chest holiday decor.
Almost all thrift store, made over items, including the chest–> which you can read about here.
Santa (spray painted & sparkled), the silver snowflake tray, snowflake basket, the metal dish holding the candy canes and the metal tray turned chalkboard…all picked up at the thrift store.
"Snowballs" and Chalkboard "art" made by me. :)
Santa..simple and classic.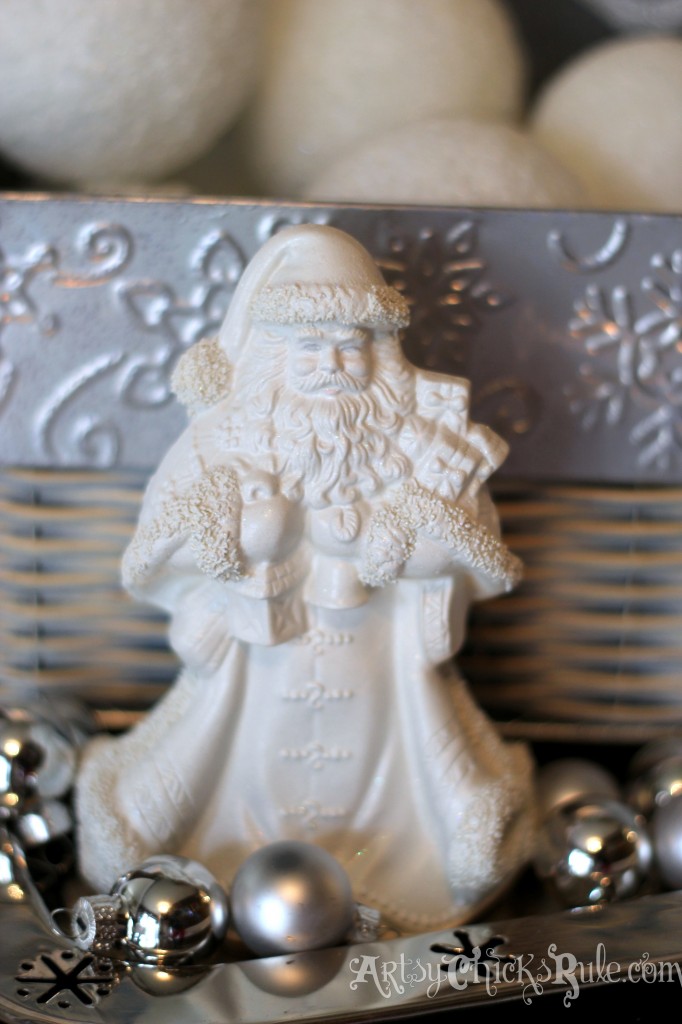 To the right of the Foyer is the Family Room….and the tree.
We always do a live one. And it usually takes me forever to pick the perfect one.
Not this time.
This time I pointed to one, we pulled it out….and it was PERFECT.
First. Time. Ever.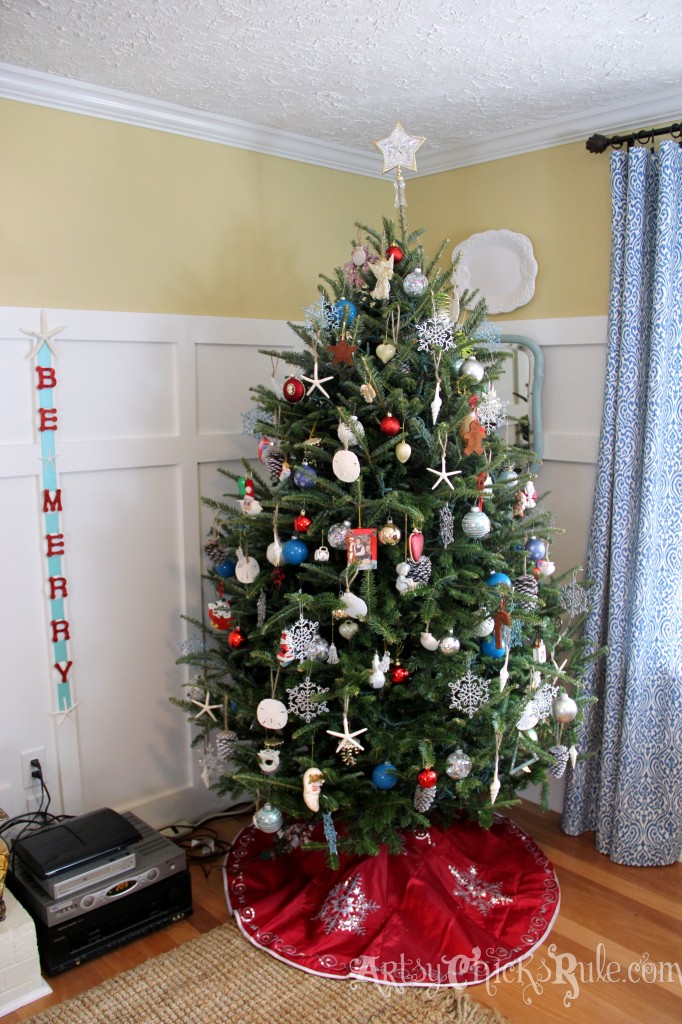 This photo is without lights on.
We did colored and white. And can turn on either or.
(Please excuse the cable box and such sitting on the floor.
We have not completed this room makeover and plan to put a small cabinet there to house the equipment)
Be on the lookout for the tutorial for the "Be Merry" nautical wall hanging.
Super simple and inexpensive!
I did a nautical themed tree this year. But with the sentimental ornaments as well.
Like this one….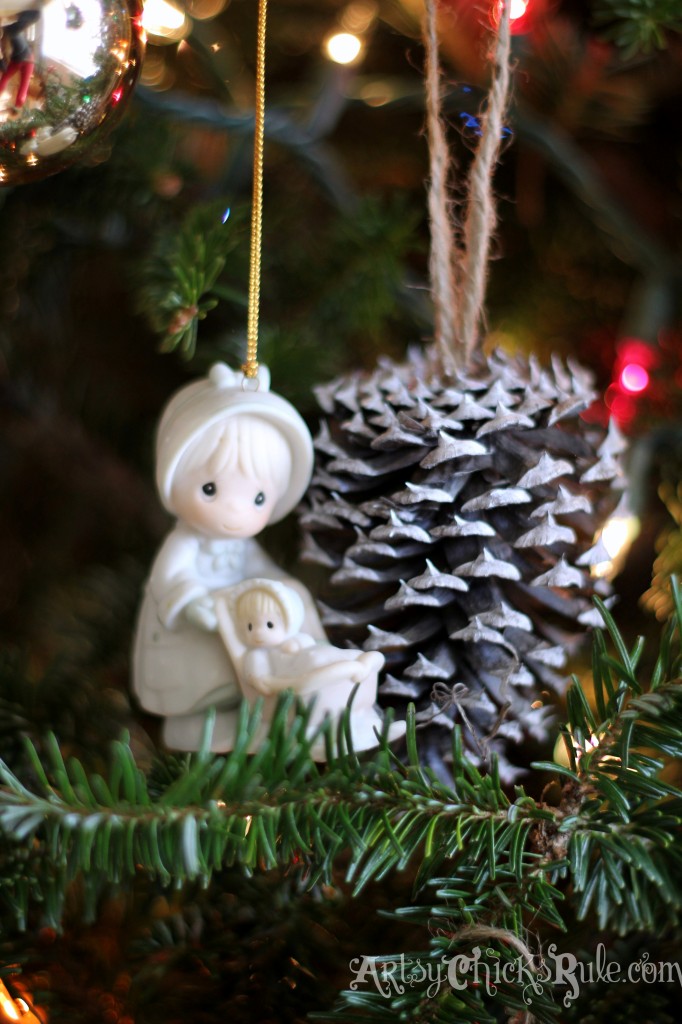 From when my daughter was born.
And this one….for my son.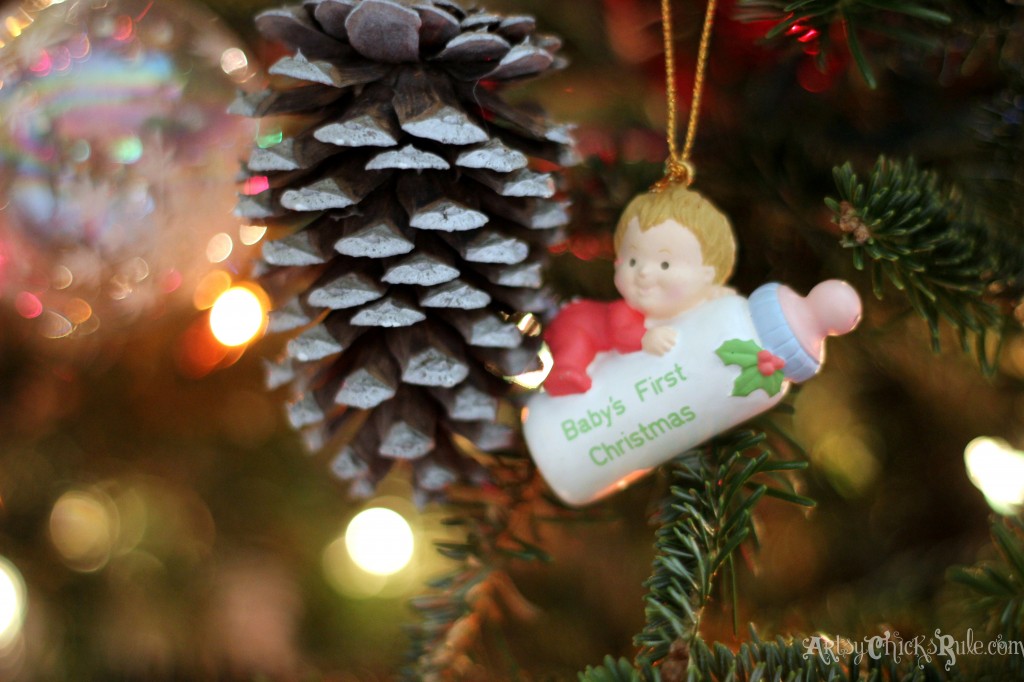 And of course the homemade ones made by my children…like this one…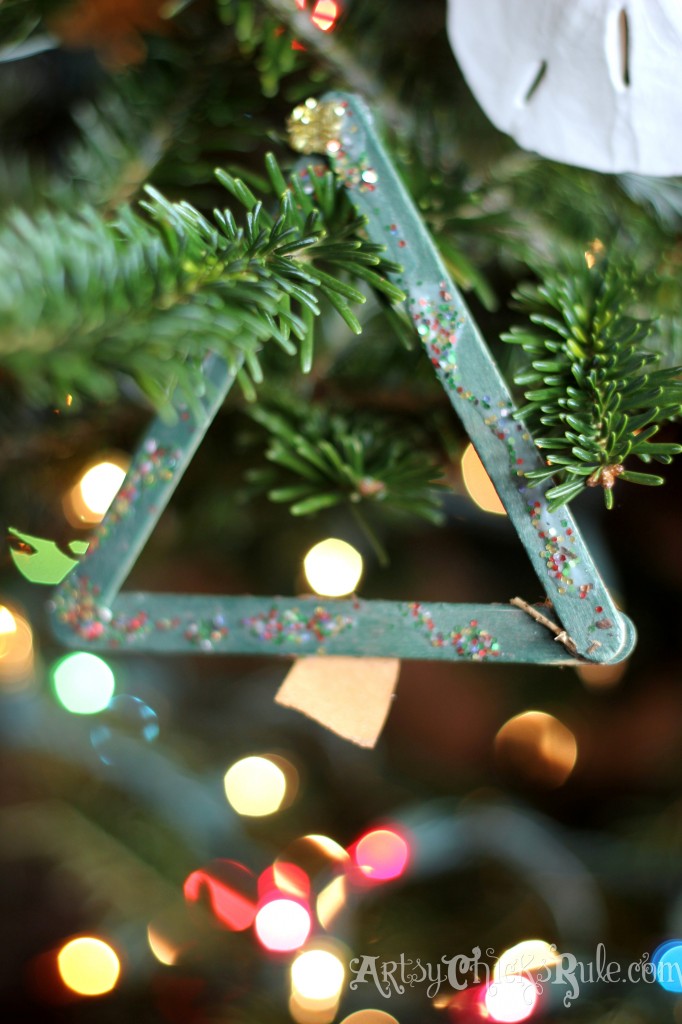 I'll be doing a post on how I made the pine cone and sand dollar, starfish, etc, ornaments soon.
So easy…and such a great addition to the tree for a wonderful natural element.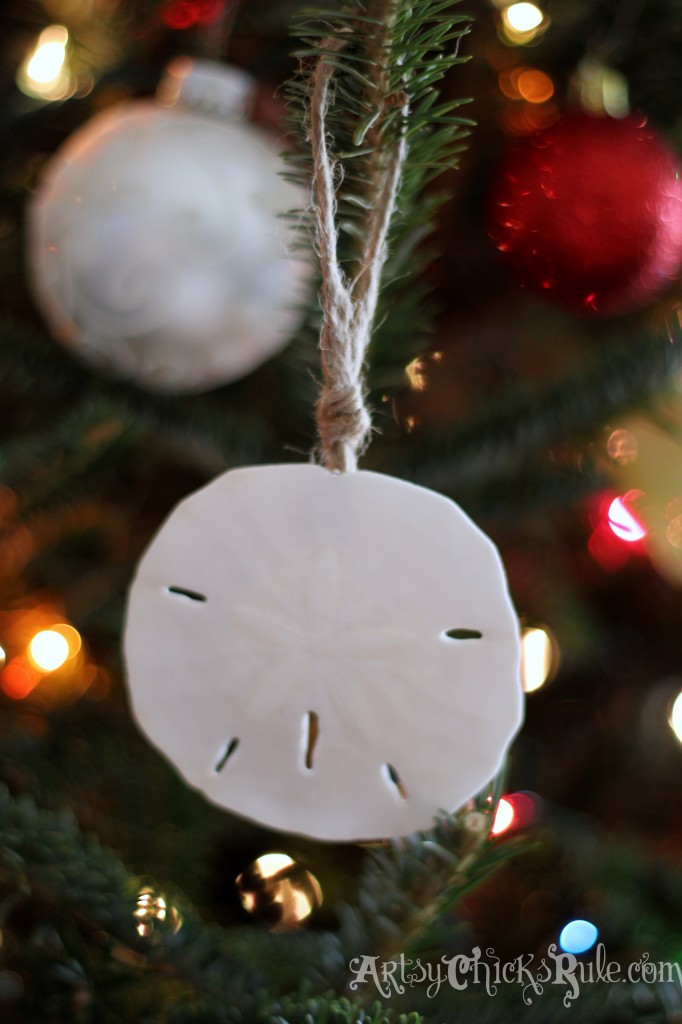 And when you live in a coastal area…there are always an abundance of things like this….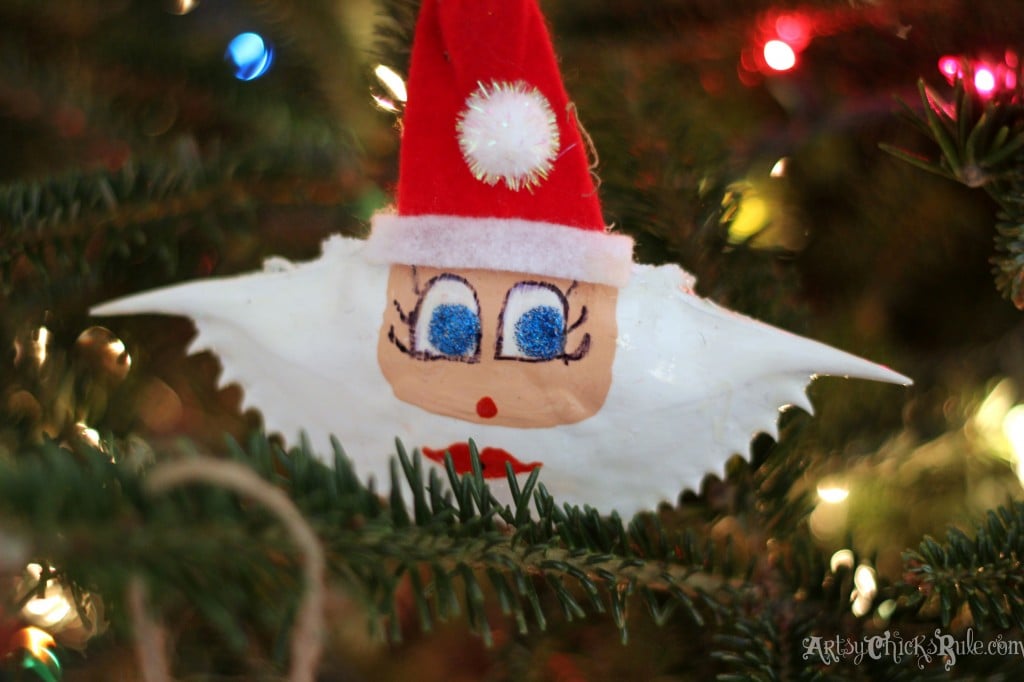 For the mantel….I used the greenery from the lower limbs of the tree that we cut off.
My color theme for this room is teal/red…as you can see below.
The stocking holders came from the thrift store for a total of $2.50.
I spray painted the Angel (she was multi colored) and sprinkled her with glitter.
The sparkly Christmas trees came from JoAnn Fabrics (with a 25% off coupon PLUS 40% sale!)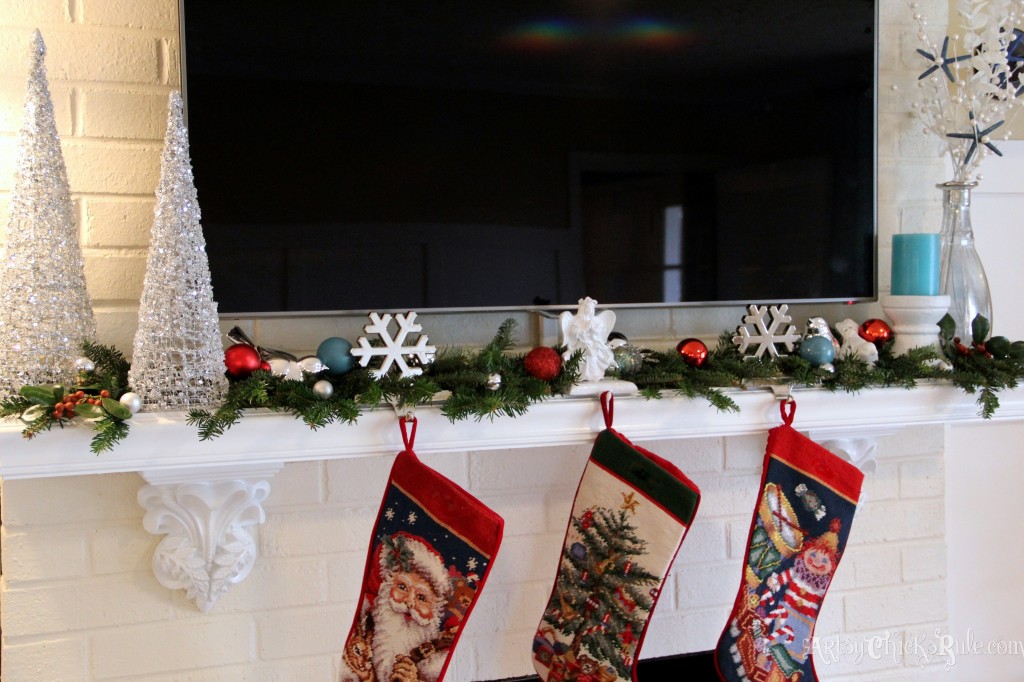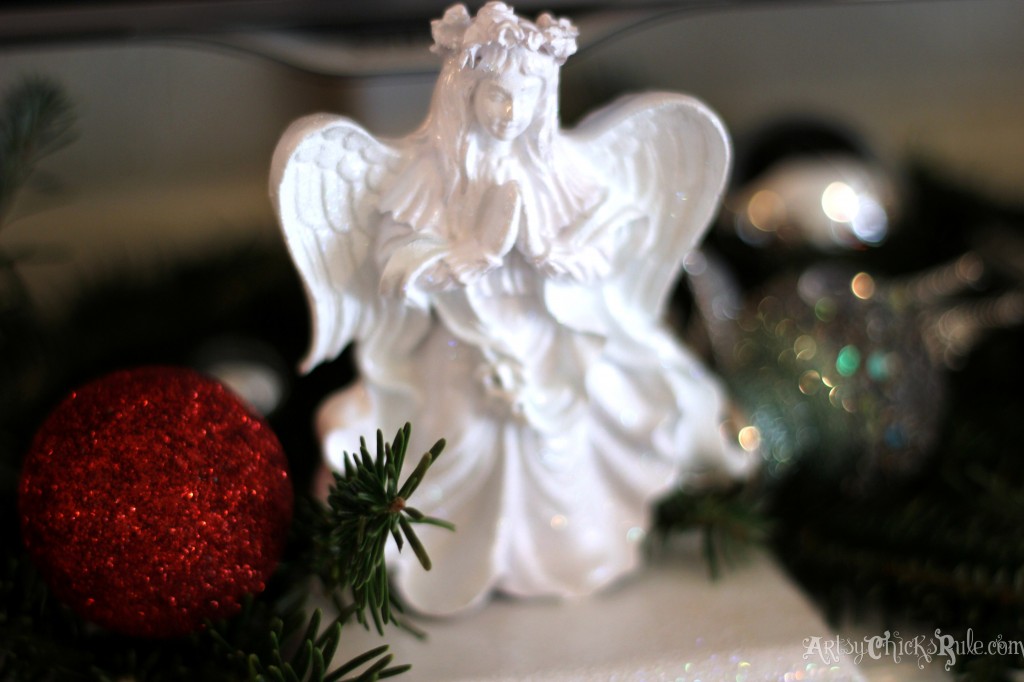 I put some white "greenery" also from JoAnn Fabric (I can't think of a better term at the moment) in a jar that I got at the thrift store and sprayed with Looking Glass spray paint.
Then I stuck some blue starfish in them. They were supposedly blue in their natural state…but then have to be dyed back that color–
I don't know about all of that but I think blue starfish are cool.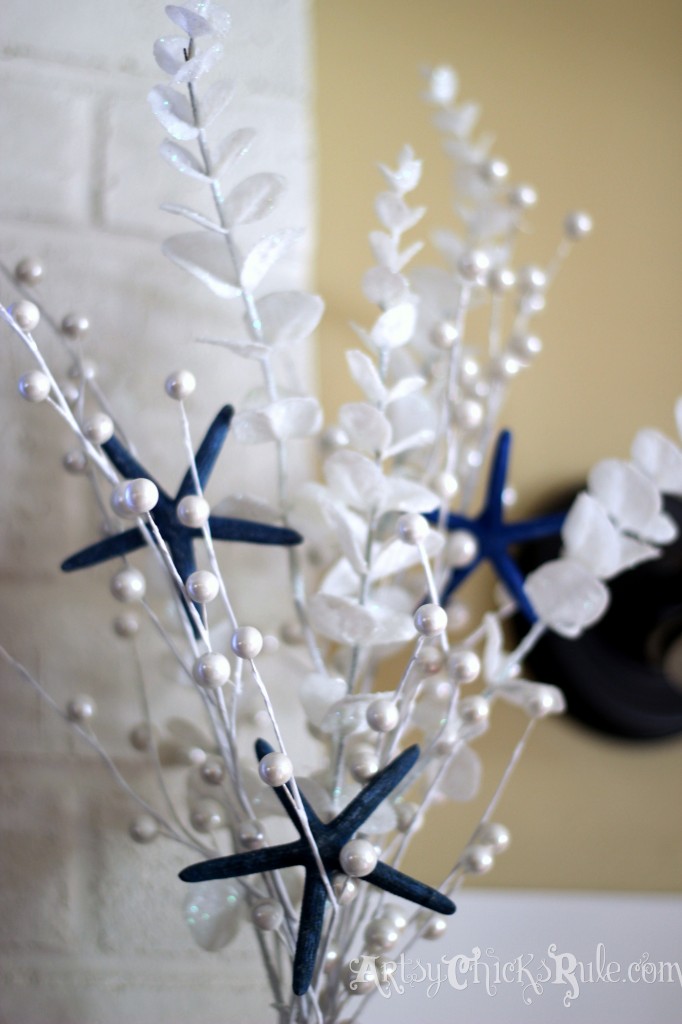 Close up of some real holly that I used on the mantel…..(and a reflection of ME taking the photo in the silver ornament…fun surprise when editing my photos)
The "coffee ottoman" (I've yet to blog about this too) tray display….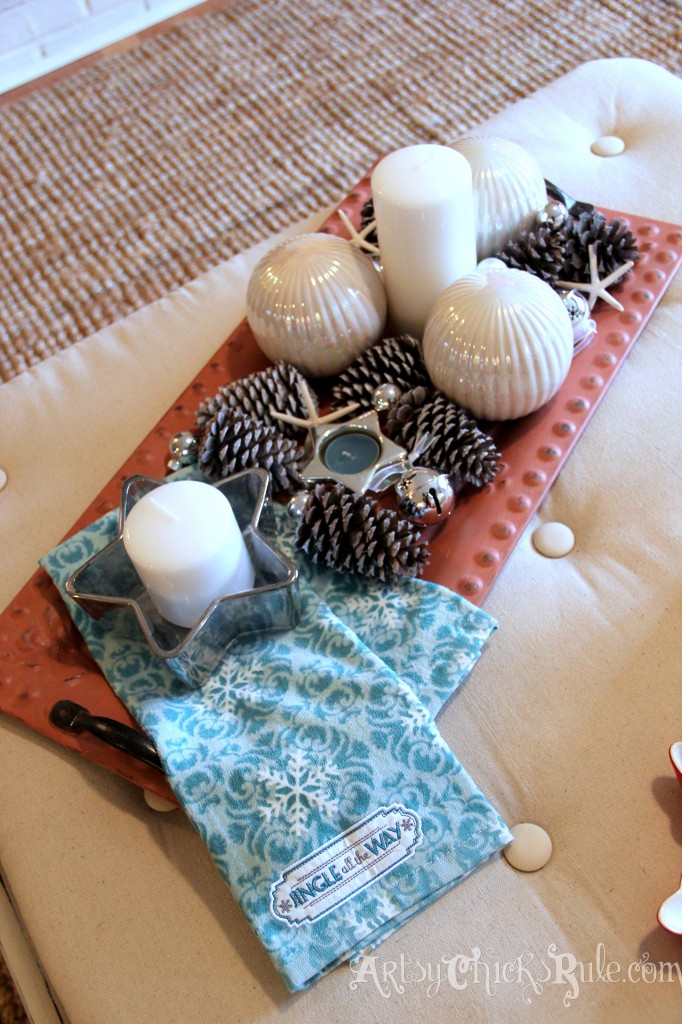 The 2 stars are thrift store finds. The large one was sprayed with Looking Glass spray.
The jingle bells and ceramic balls came from Pier One.
Pine cones came from the woods behind my house. :)
(the metal tray was a thrift store find that I painted with Annie Sloan Chalk Paint….I use it all year long)
"Jingle all the Way" towel…JoAnn Fabric.
How cute is that? You never (hardly ever anyway) see Christmas items in teal so I snatched it up! (same great sale, btw)
Up close…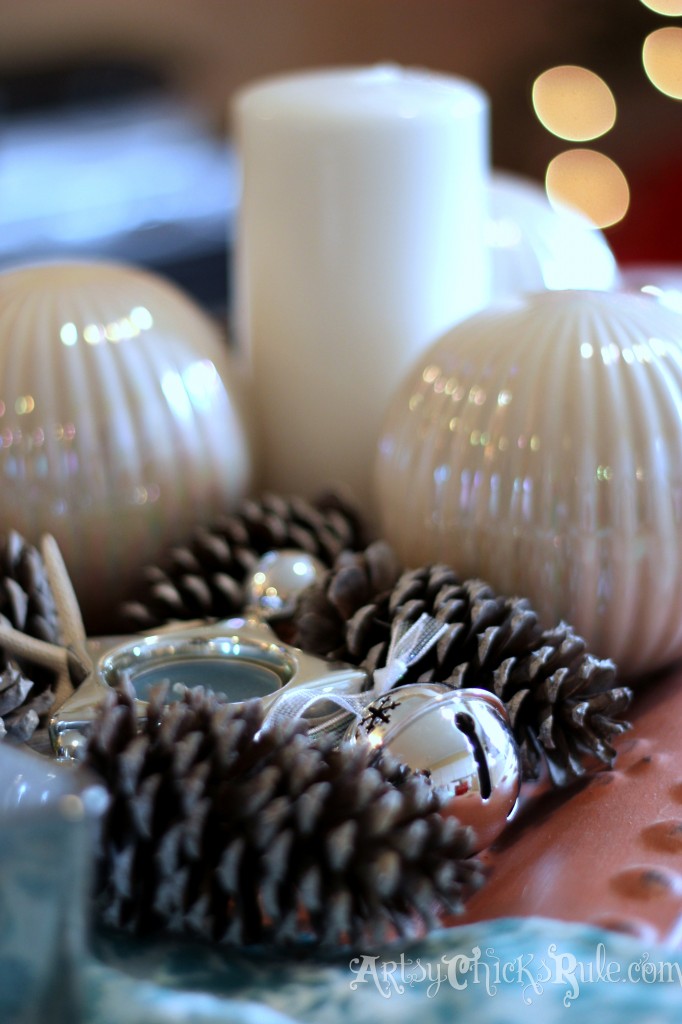 The couch (where the monstrosity of a wall unit used to live)…
and my "Naughty/Nice" 2 sided pillow and "Jingle Y'all" pillow….
(posts on how I made those are here)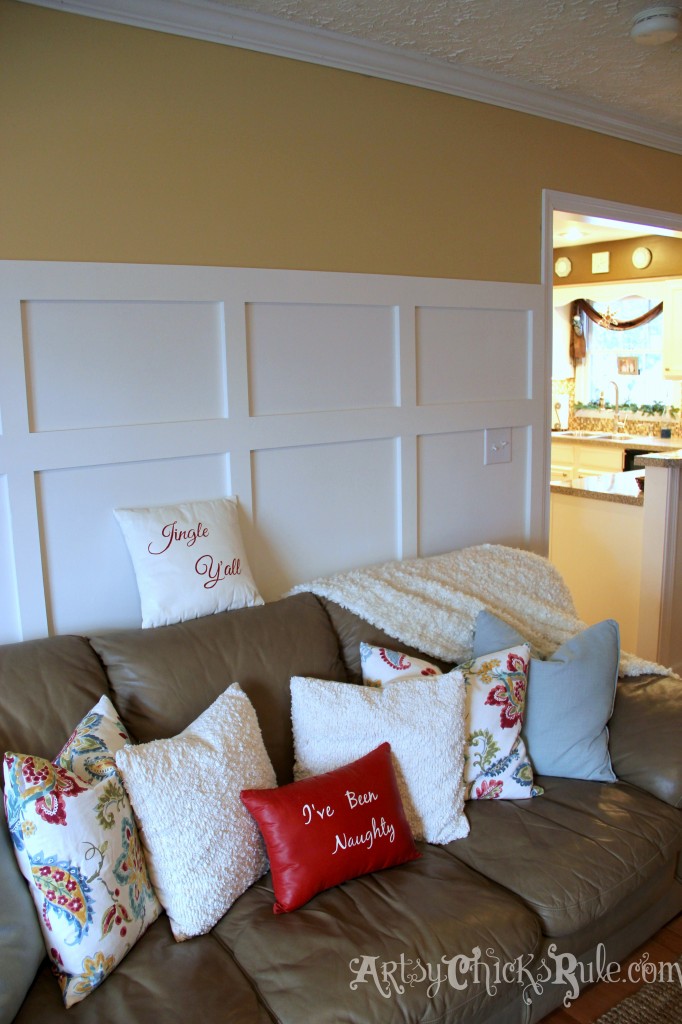 Loving my new colorful pillows from TJ Maxx
(not actually part of the "Holiday" tour but there they are ;) )
And the other side of the room…..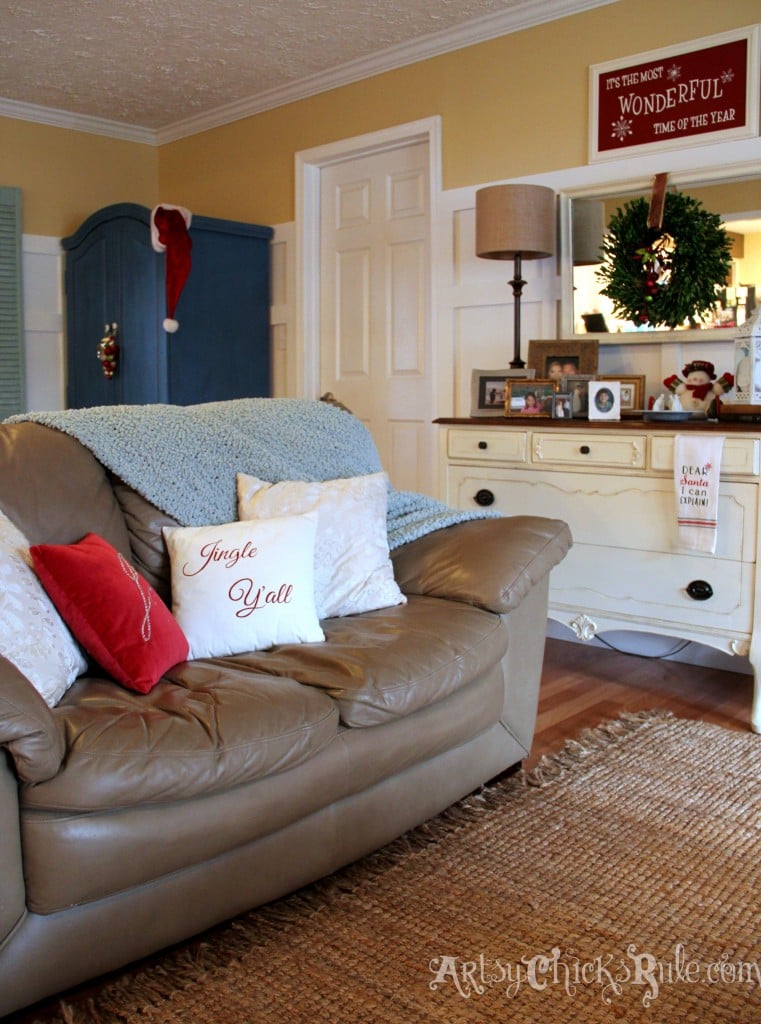 The sign "The Most Wonderful Time of the Year" post is here.
The antique dresser is one I picked up about 10 years ago…and painted (it was metallic blue).
I stripped it last year, replaced hardware, repainted the base and refinished the top.
I'll post about it soon too.
Love this….so much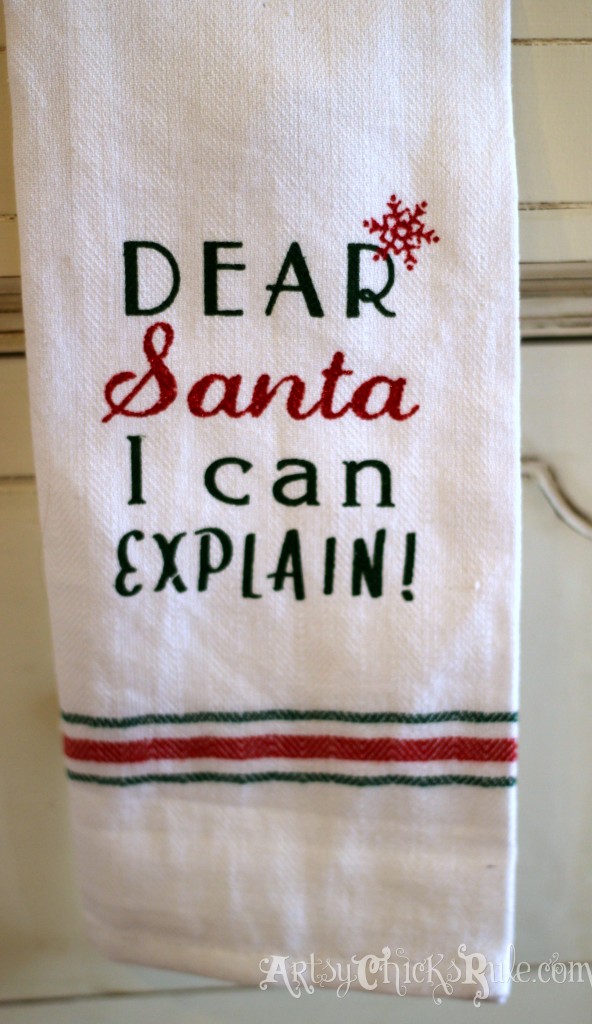 The dresser up close (one of my favorite pieces…although I do love paint and painted furniture, I love wood too)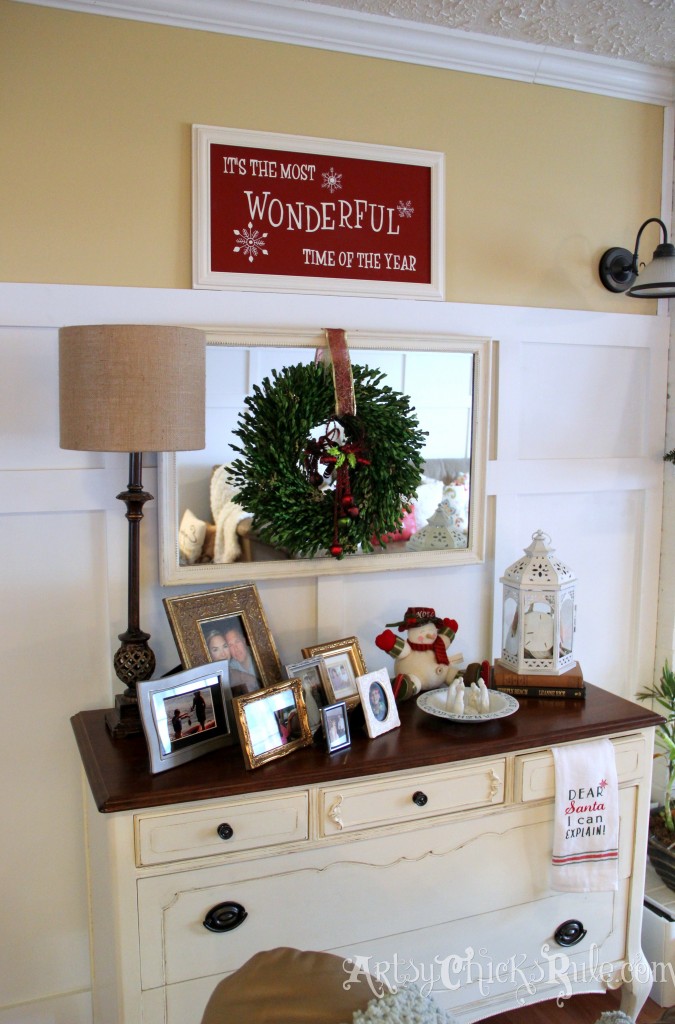 My glittery little metal thrift store bowl from last year.
You have to see what it looked like before….see it here.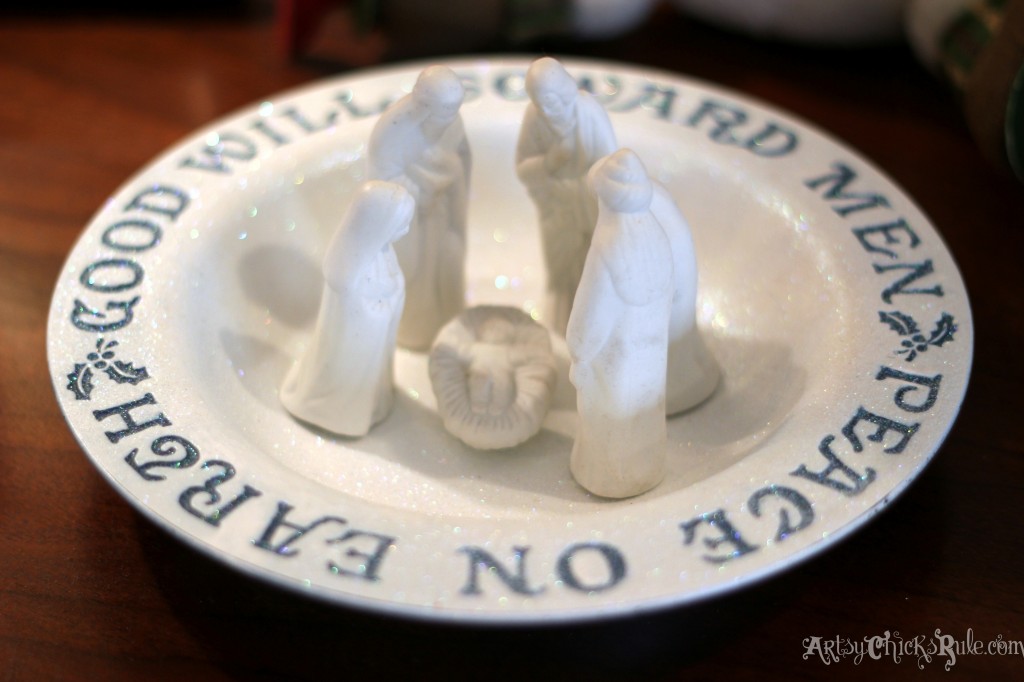 ….along with my Nativity Manger set I've had for 20 years.
My Chalk Painted (custom blended, triple colored) armoire decorated up a bit.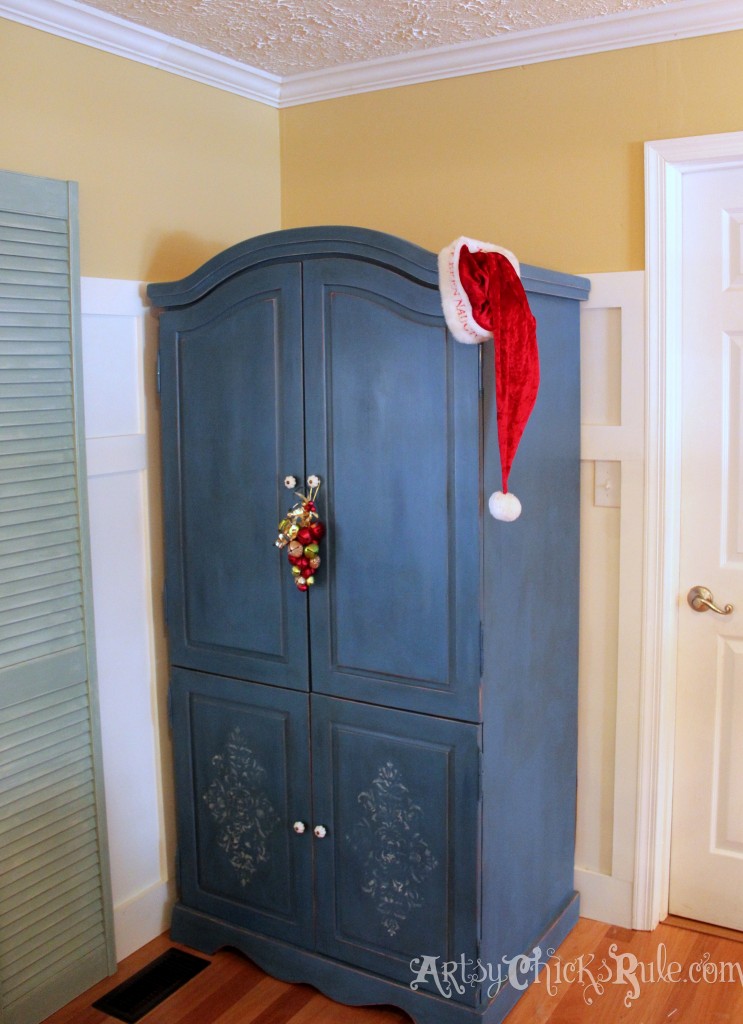 Close up of the Santa hat….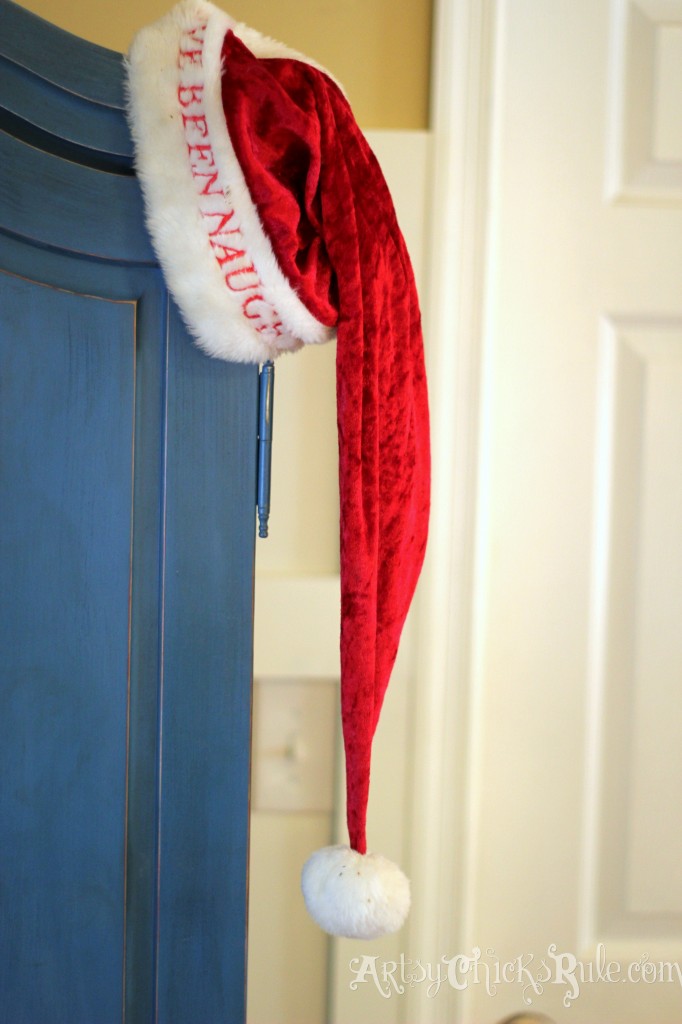 And finally….the full room shot. Sort of.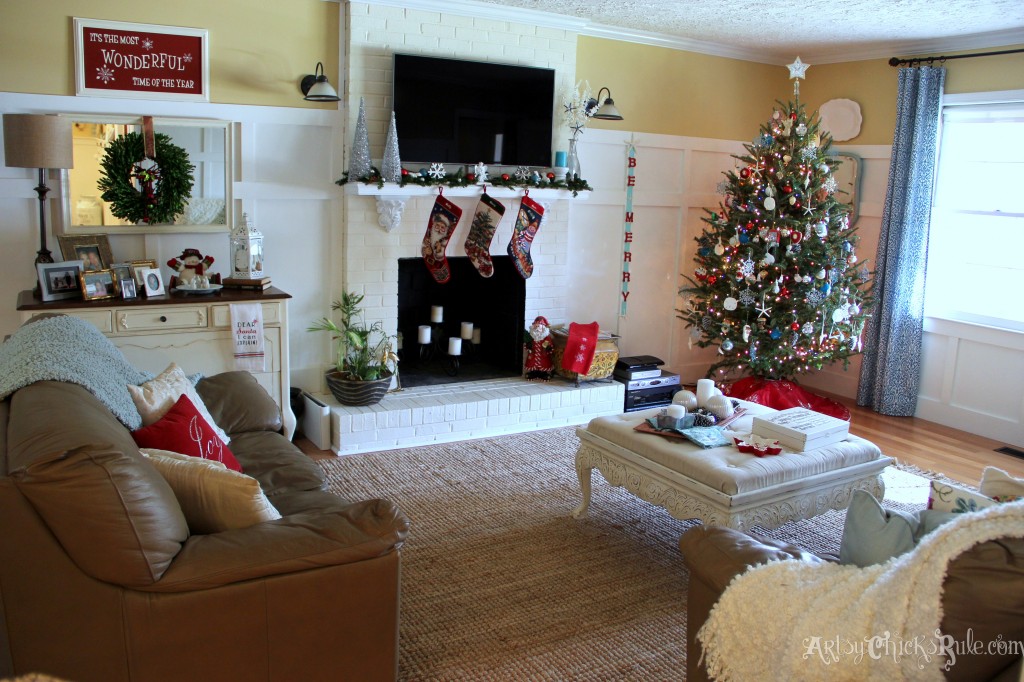 I'm loving the red/teal/turquoise theme. I didn't plan on that from the start but with all of the teal/turquoise already in the room it just evolved.
And then I played it up a bit.
Really enjoying my tree this year too :)…..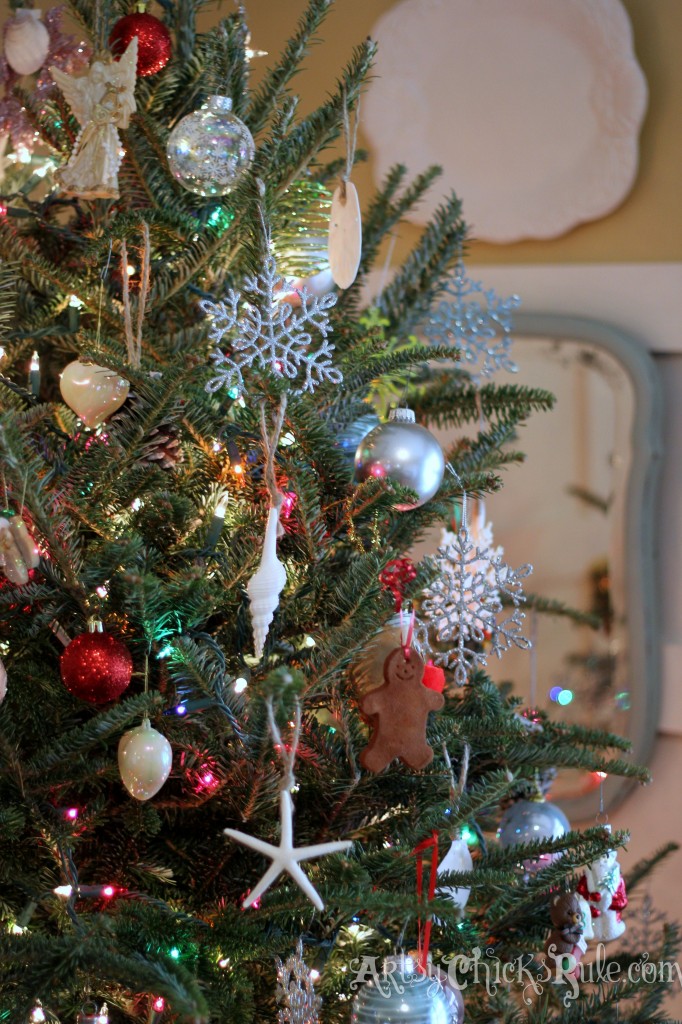 I know this was super long….and can you imagine if I included the other 3 rooms?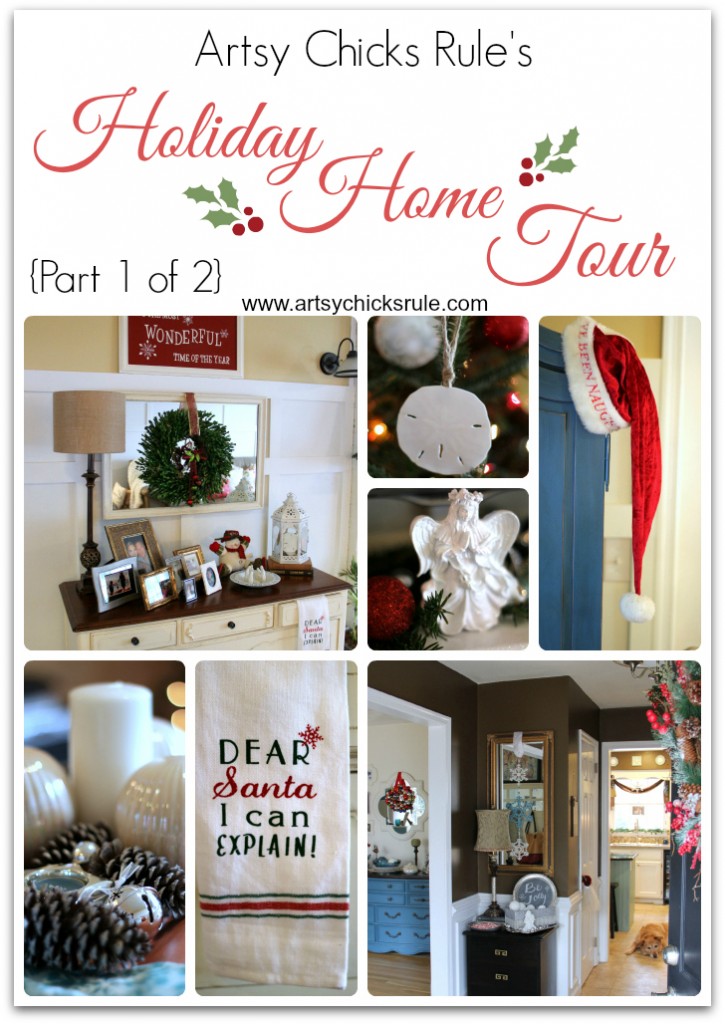 So happy you came by for a visit today! Don't forget to check back on Monday to see Part 2 of the tour –> the Kitchen, Dining Room & Study.
Happy Holidays!!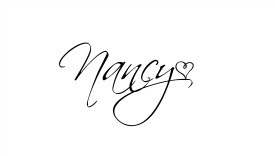 Be sure to follow me on Instagram if you don't already!
I always post projects and things I'm working on (like this one)
long before it hits the blog…..
….plus lots of fun random daily things too.
Follow Along Here!