Garage Sale Chair Transformed with Chalk Paint
This post may contain affiliate links. Please see disclosures here.
Hey everyone, I have been away from the blog for a little while……taking some much needed time…..
……….and I have missed you all. The blog, writing and sharing, the readers and all of my wonderful blogger friends I have made since I started this blog. Love you all!
It's a bit hard jumping back in and writing this post as it is one that is close to my heart with the words I will write. But I wanted to share a project with you all that I was working on (and finished) just before.
But first I want to say how overwhelmed and moved I was by the outpouring of love and thoughtfulness so many of you expressed with the beautiful emails, messages and comments you left/sent to me on my blog about my Mother's passing. I can NOT express in words just how much each and every single one of you touched me with your words. Thank you so much for that….and thank you for taking the time to comment/message me.
Your words not only comforted me but my family who read them as well (especially my Dad).
So again…THANK YOU from the bottom of my heart, each and every one of you….much love to you all, xoxo
……………………………………………………………………………………………………………………………………………………………………………….
This chair I'm sharing today was a gift for my great nephew's 1st birthday. Around the same time my Mom was diagnosed we also found out my niece was pregnant with my parents first great grandchild.
Such a blessing. In perfect timing.
My Mom kept saying she was going to live to see that baby born. And that she did. He was the light and joy of her days. Not only did she live to see him be born but she actually made it to his first birthday. Which we are all so grateful for. On Friday the 19th of July (his actual birthday) I met my niece over at my Mom's to give him his very first haircut so she could watch (I used to be a hairstylist many years ago so my niece asked if I'd like to do it…yes! ). It was a happy day….and also the last memory of time spent with my Mom. We left the next morning to go on a family vacation. My Mom passed away less than a week later. Sadly, she missed his party that she was so looking forward to attending that was to be the following Saturday.
But I am grateful that my last day with her, that last memory, was a happy one…and one she felt such joy in seeing her great grand baby getting his first "big boy" haircut.
…………………………………………………………………………………………………………………………………………………………………………………
I picked the chair up for 5 dollars at a garage sale about a year ago with the intention to paint it for my new great nephew.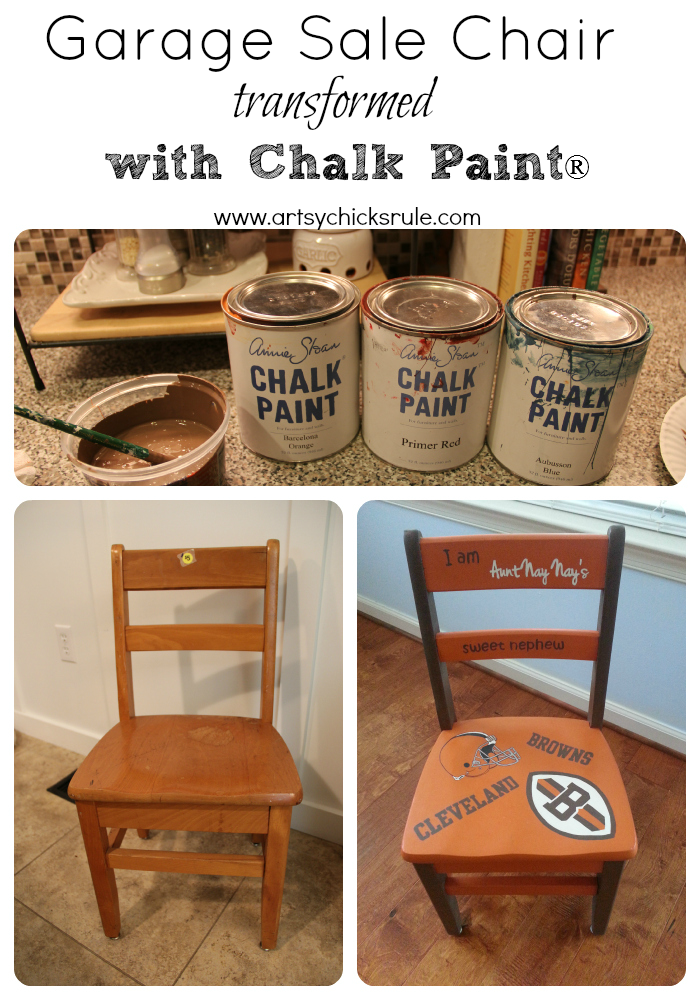 My niece's husband is a huge Cleveland Brown's fan (which we all give him give him a bunch of mess over…all in good fun, of course!) I am always giving them things with Cleveland Brown's logos/themes on them. So when it came time to paint this chair I went back and forth on whether I should do yet 'one more thing' with the Brown's on it…….yes, why not. They'll love it.
And they did.
Before……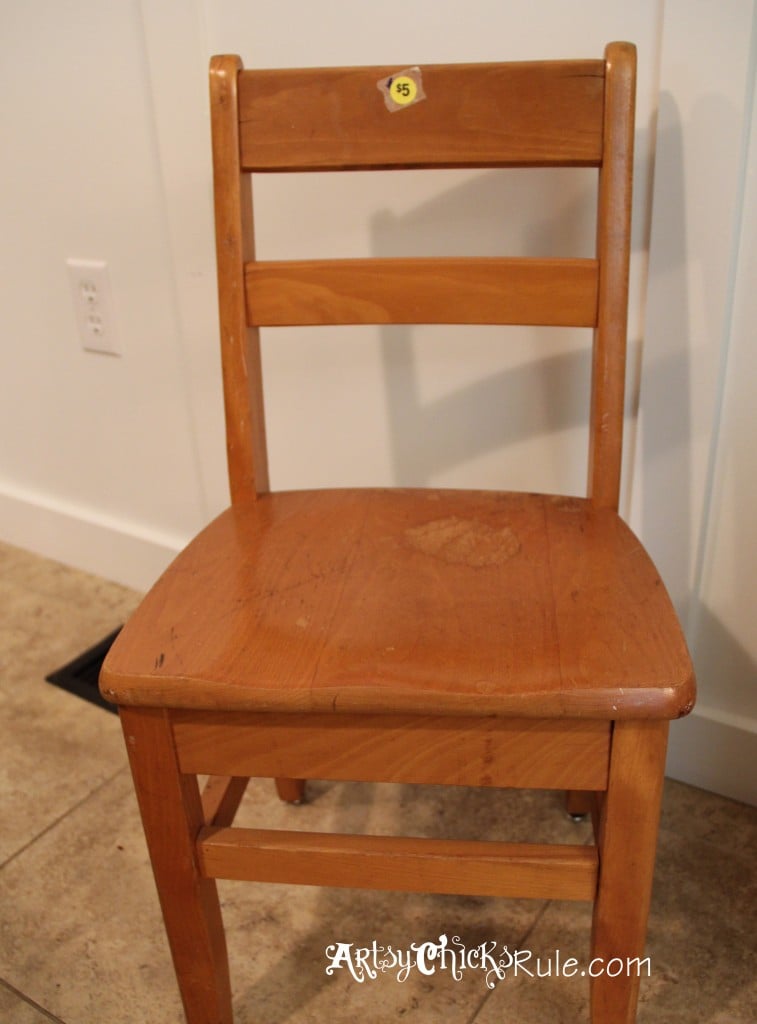 I painted it with Annie Sloan Chalk Paint in Barcelona Orange…..and Brown. No, Annie Sloan does not have a nice chocolatey brown color BUT I created one. I had tried to several times in the past but could never come up with a nice one. Not this time. This time I got it spot on! And, with more or less of each color you can control the shade of brown you want. Perfect.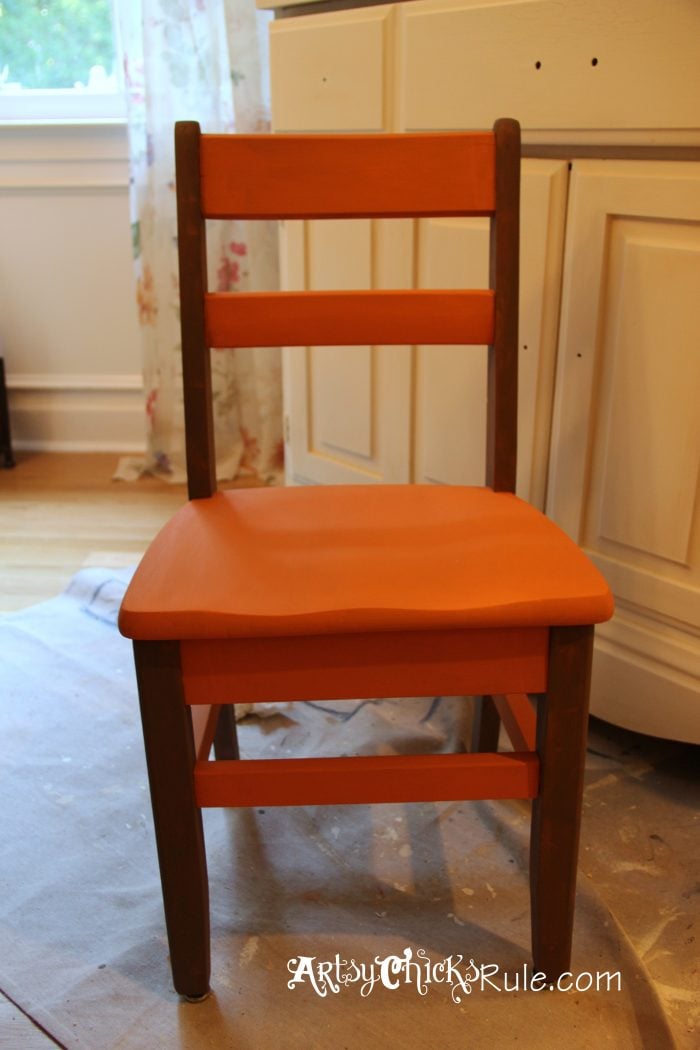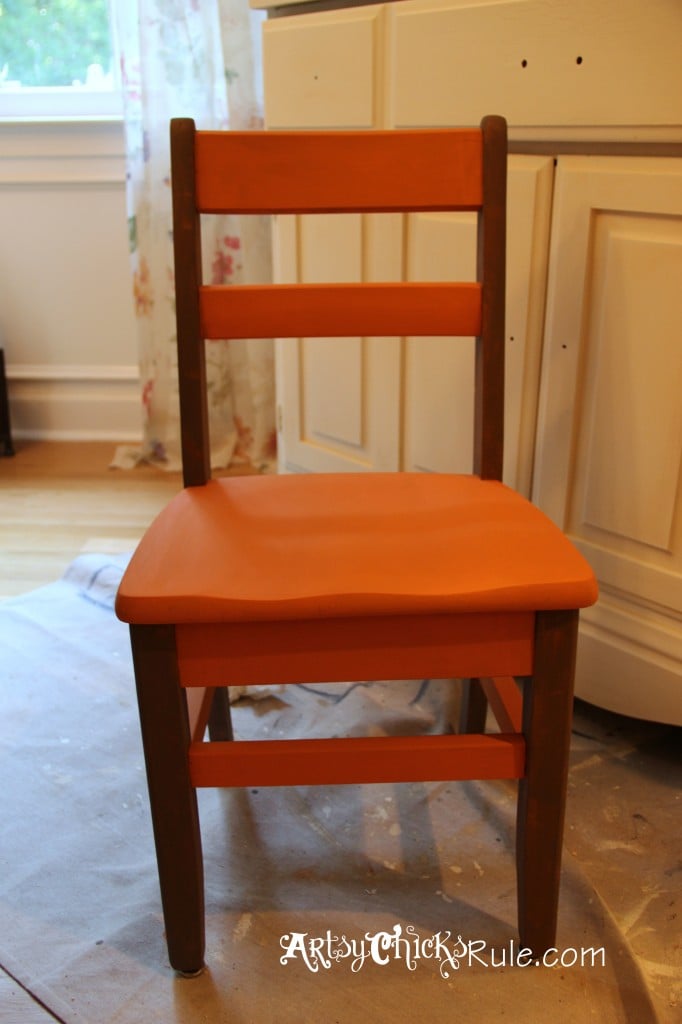 (That is my "Baker's Hutch" behind it. <<< (update, see it now, here!!)I'll have a post on that coming up)
Now, ratios….I have no clue. I know, that's terrible but I just mixed and mixed until I got the color I wanted. I will come up with some sort of ratio and update this post..but if you have these 3 colors you can play around and come up with brown…promise. (Basically, more of one or the other gives you a darker "dark chocolate" brown, "milk chocolate" brown, light brown, etc. I will come up with ratios for several different shades of brown and update soon)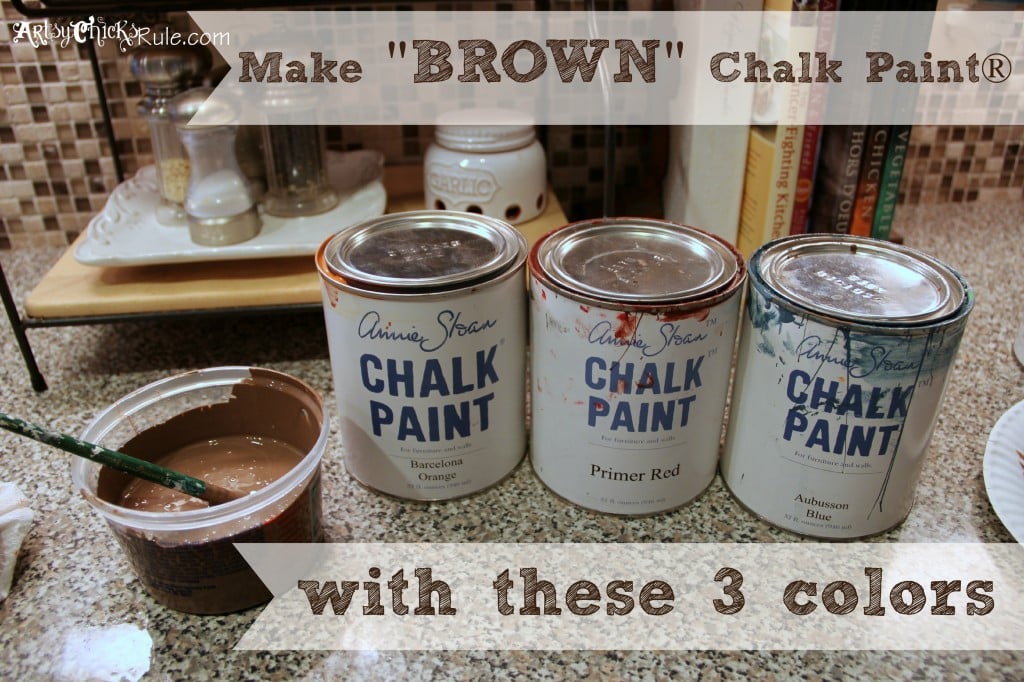 I printed off some graphics from the computer and used the pencil shading method of transfer. (shading the backs of the images with the pencil and then turning it over, placing where it will go, taped it down with painter's tape and traced over the image. The pencil shading from the back transfers to the chair)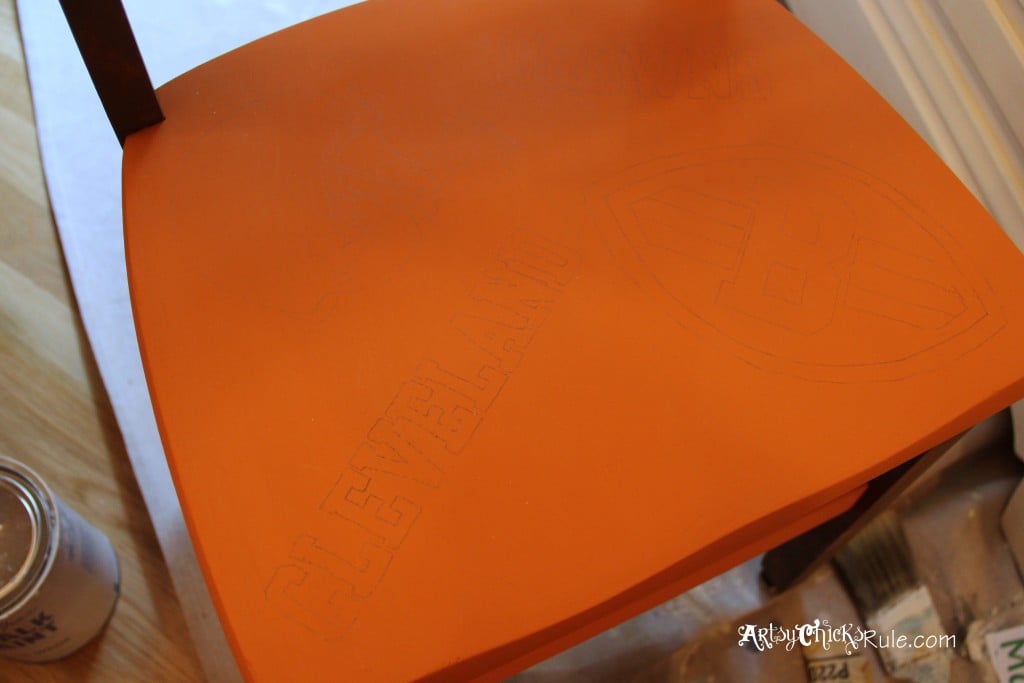 Next, I painted it in by hand using Annie Sloan Chalk Paint colors in Pure White, Graphite and the Brown I mixed up.
Want to know about 26 other chalk style paints?
I've got the low down for you right here! >>> 26 Types of Chalk Style Paint For Furniture
I also put his first and last name on the same two back slats that say " I am Aunt Nay Nay's – sweet nephew".
And no, the "sweet nephew" is not centered perfectly…..that's because I had an "oops". I printed it out as "sweet newphew". I had it almost completely painted in when my husband said, "um, honey, I don't think that's how you spell "nephew". " Um, no? Really? I know that. How crazy is it that I didn't catch that at any point before that! Thankfully he did. So, instead of painting over the whole thing I just painted over the letters from the "e" over….which left it a tad uncentered. I'd much rather it be uncentered than have it say "newphew"!
No distressing at all on this piece.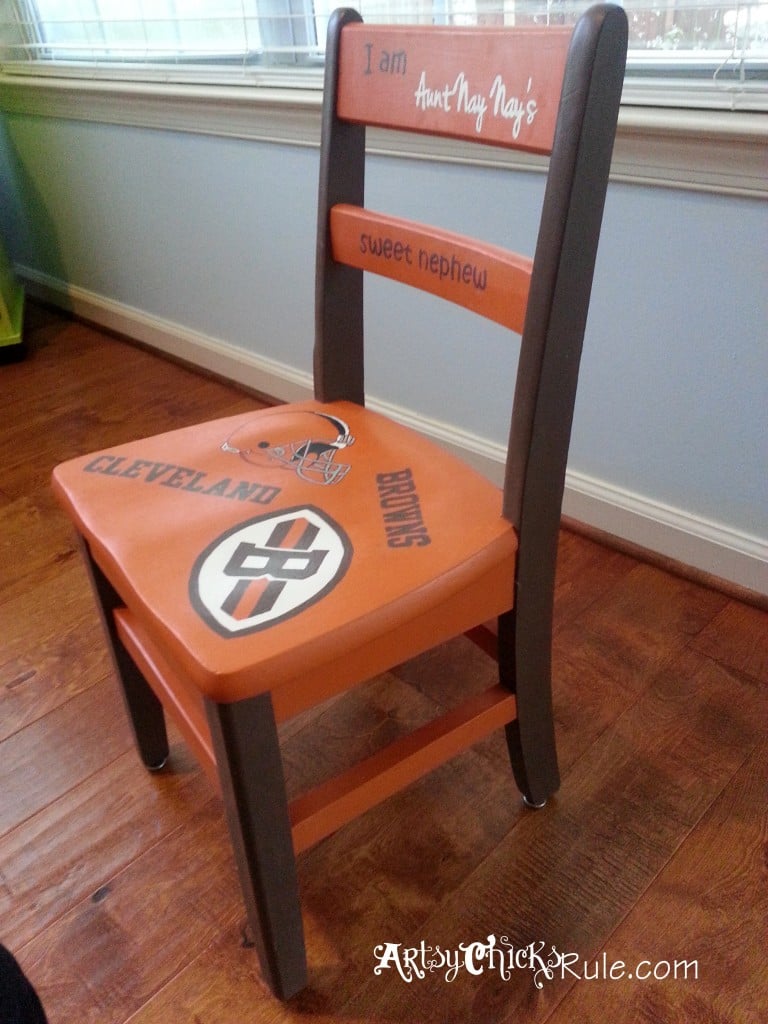 Finished up with 2 coats of Annie Sloan Clear Wax (spaced about a week in application).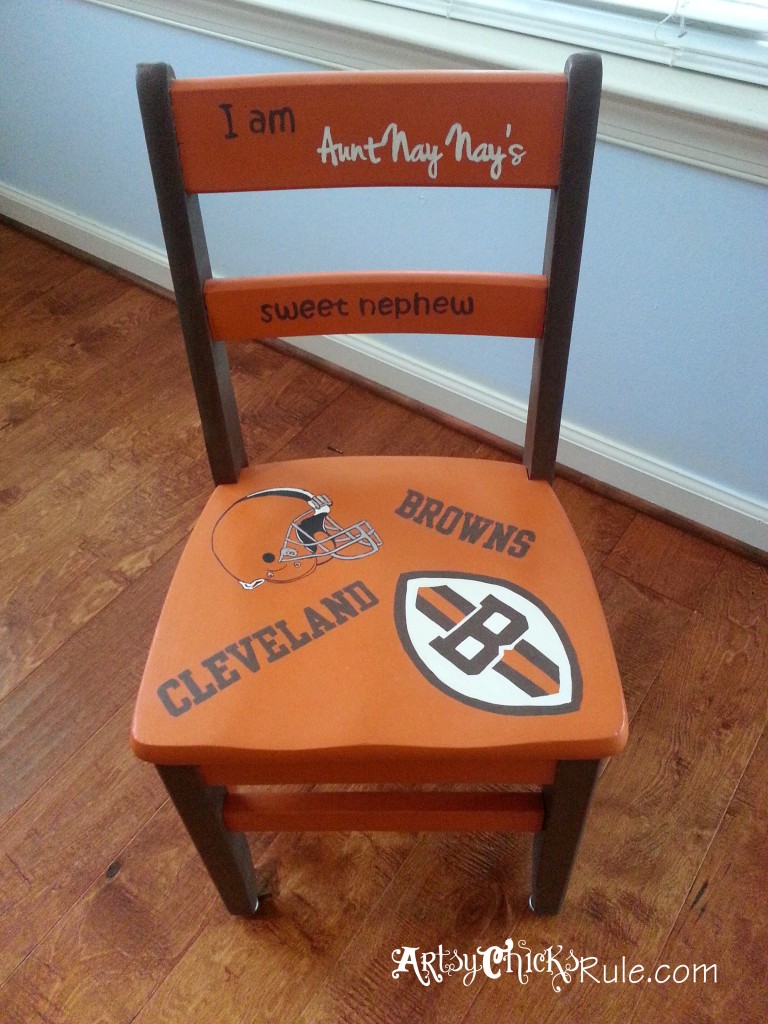 And in case you didn't figure it out already….I am "Aunt Nay Nay". :)
Easy transformation with Chalk Paint and some fun graphics.
I can't wait to share what I did with this old table!! Be sure to check back later this week so you can see!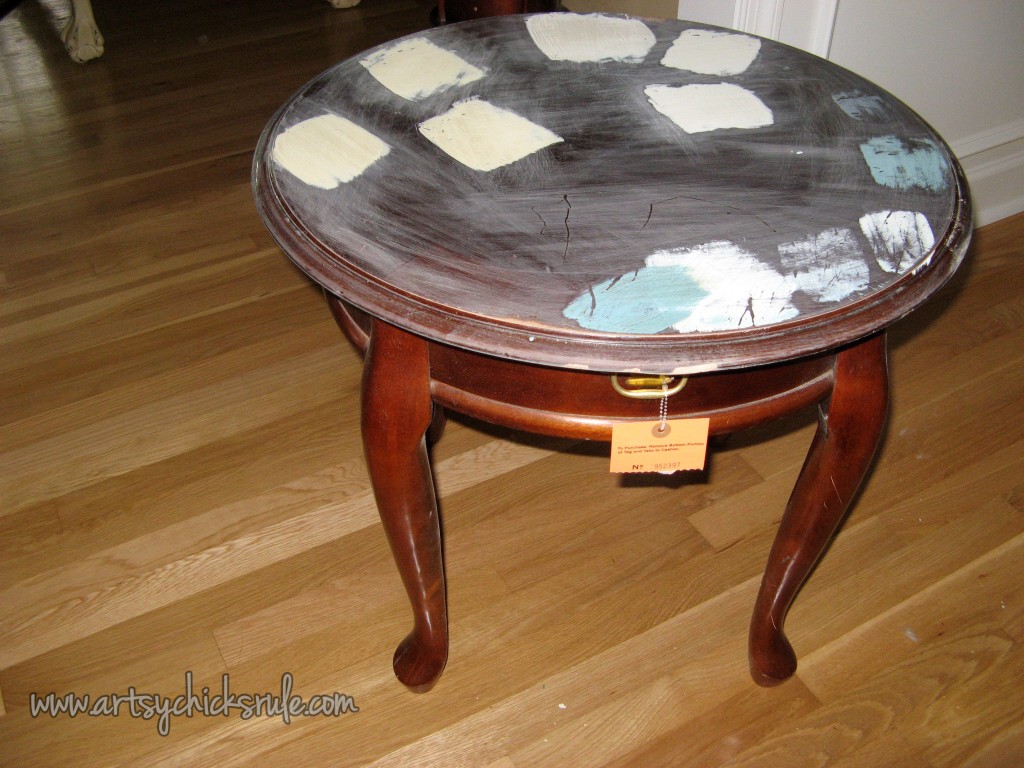 UPDATE!!! You can see it now, here!!