Elderberry Stand with Blossomed Beauties Transfer
This post may contain affiliate links. Please see disclosures here.
The Blossomed Beauties Transfer is so pretty. Add in the rich and luscious Elderberry paint and it's a win!
Hello beautiful friends! I hope you are having a fabulous Tuesday and week so far! Today is Trash to Treasure Transformation Tuesday. That's a mouthful, ha!
I love this day as my friends and I get together and share our latest "trashy" finds with you. All made over pretty and ready to be reloved.
So be sure to scroll all the way down to see what they've got going on today.
For me, you might remember I popped over to the ReStore last week and came home with some goodies. (I shared it over on Instagram at the time) This little table was one of them.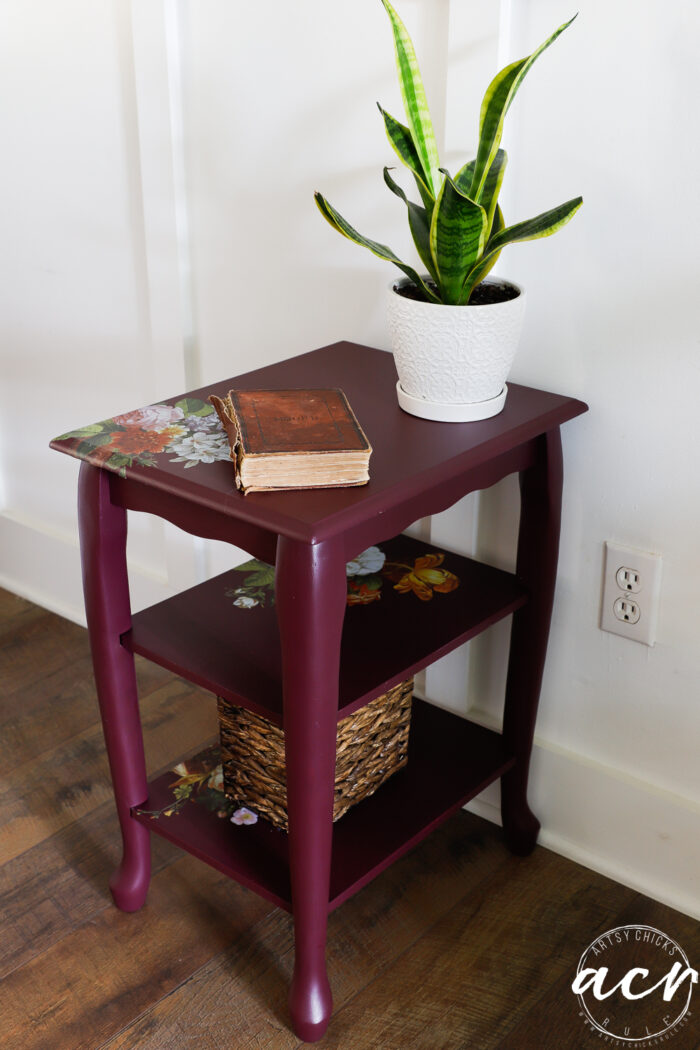 I used our new "Elderberry" shade which is just luscious. We have a bunch of new shades in our shop!
Parchment
Wood Wick
Newell
Winchester
Highlander
Conservatory
Carriage House
Everett
Manor Green
Cambridge
Wellington
Oakham
Cast Iron
And I used our new Blossomed Beauties transfer too. We've also got a bunch of new decor transfers in too. You can find those, here.
Elderberry Stand with Blossomed Beauties Transfer
Here is what it looked like when I found it.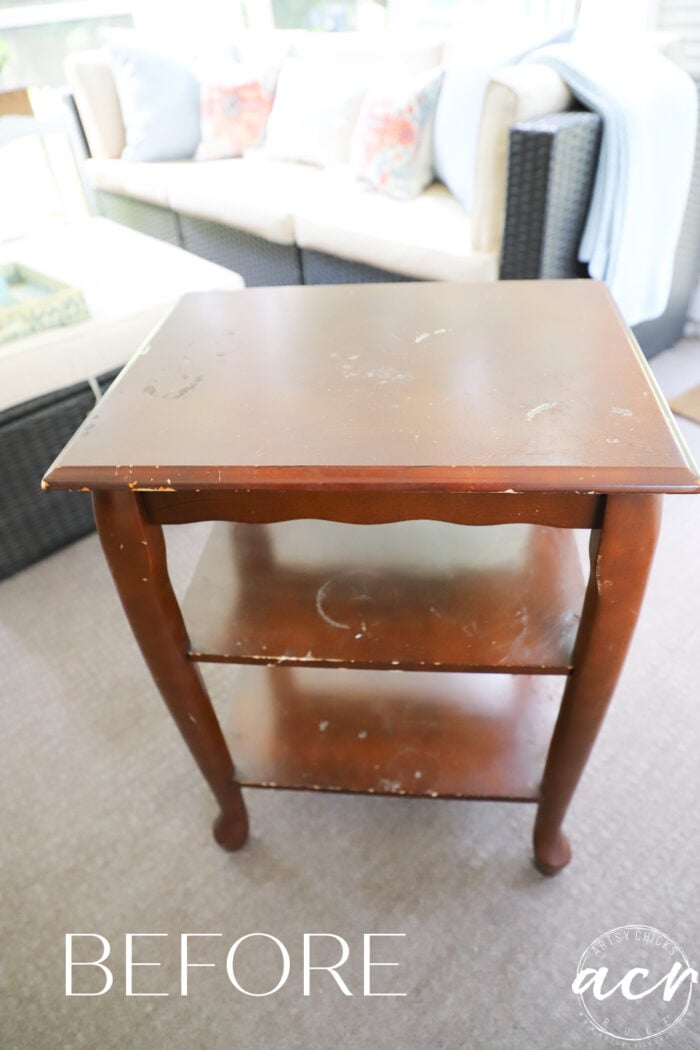 It was a bit chipped up and pretty beat up honestly.
I lightly sanded it all over before doing anything since it was so chipped up everywhere. I wanted to smooth it out and also take a bit of the shine off the finish.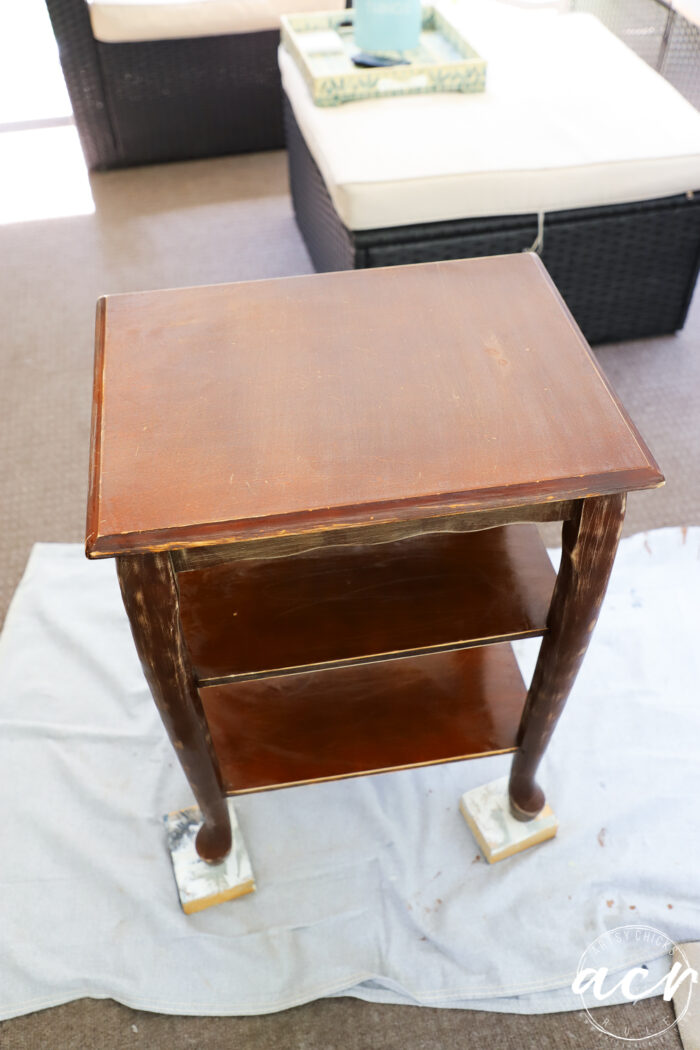 Then I pulled out my TSP Alternative and cleaned it up before painting.
Then I painted one coat of our new "Elderberry". Which is just the most beautiful color!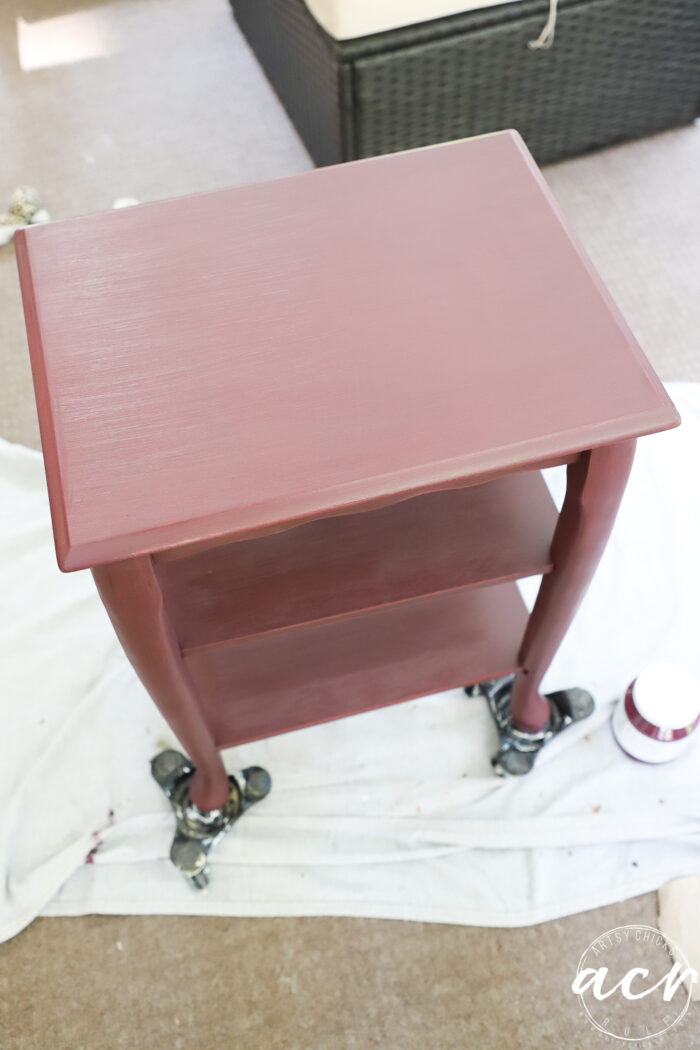 It looks a little red in the photo above. It's not red. It's more purple-y maroon.
Here are my two hanging out with me on the porch as I was doing part of this project.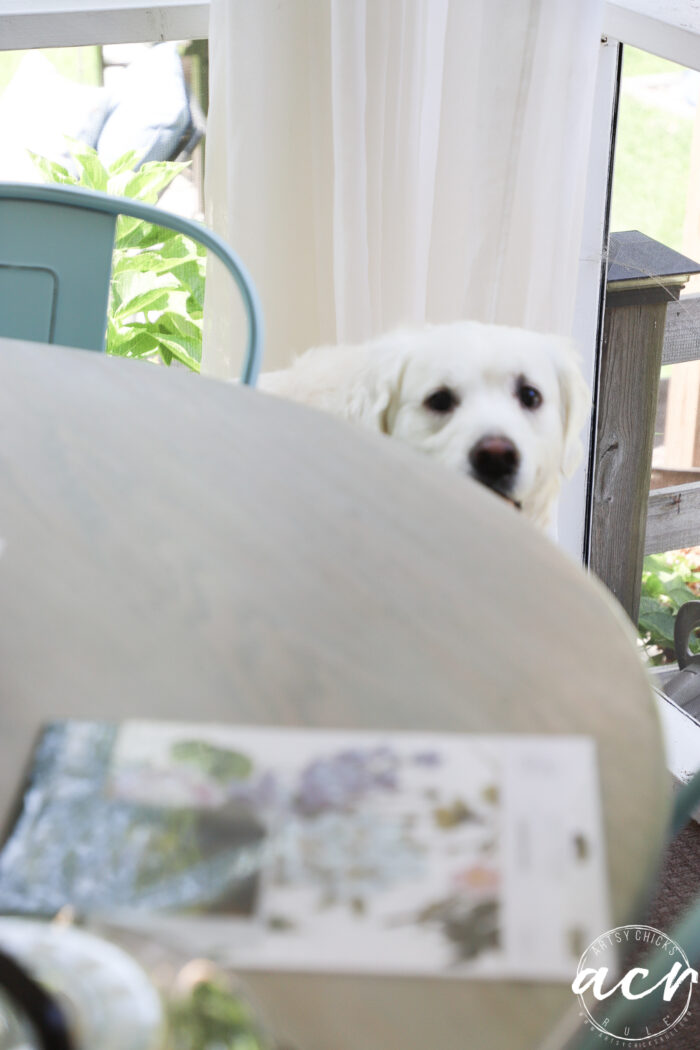 If you missed it, we recently added to our family! You can read all about Piper here.
After that was dry, I added a second coat and let it dry completely before adding the Blossomed Beauties transfers below.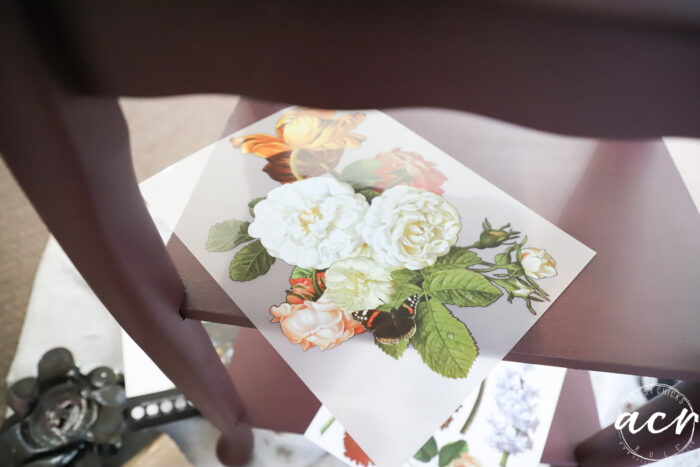 I laid them around for ideas for placement. I had thought I'd stagger corners.
So that is what I did.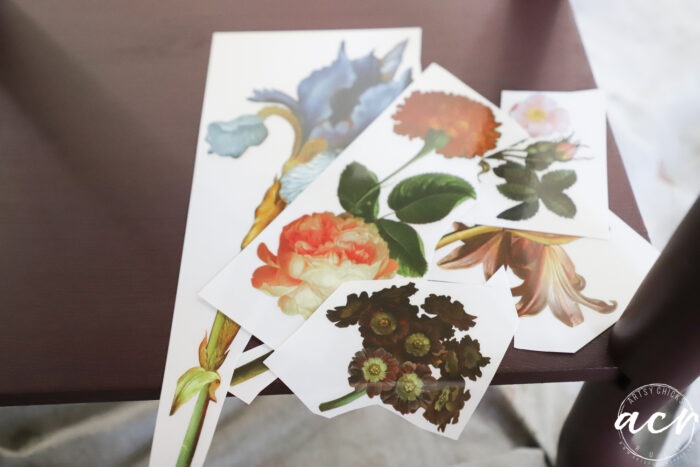 This Blossomed Beauties transfer set is so pretty. I broken mine up on the shelves but it sure would be pretty done like this too…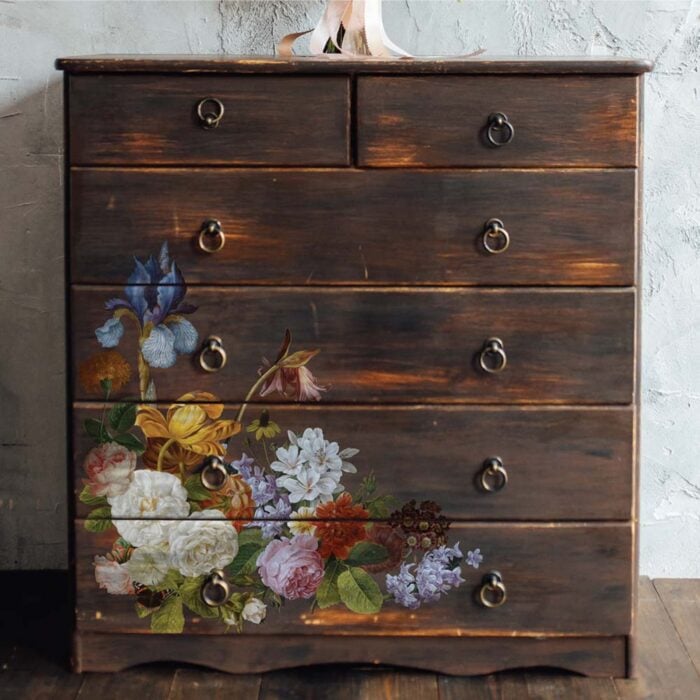 Anyway, after I got all the transfers on, I wasn't sure I loved it! lol
But I continued on anyway and added a coat of Matte Toughcoat Topcoat.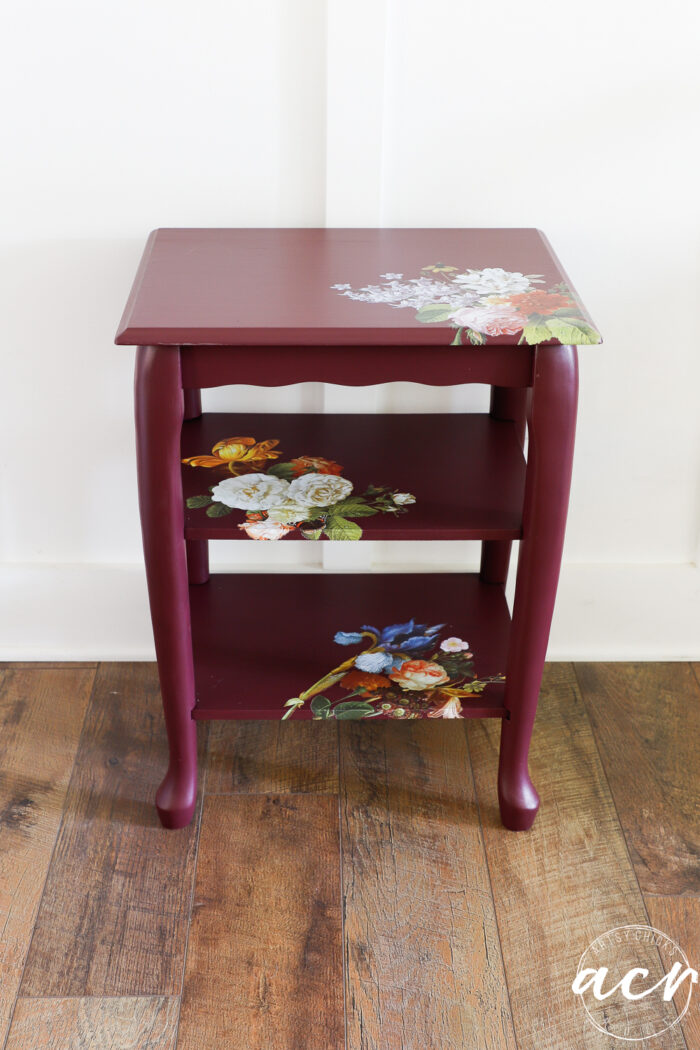 This is the "front" and how I thought it would be displayed.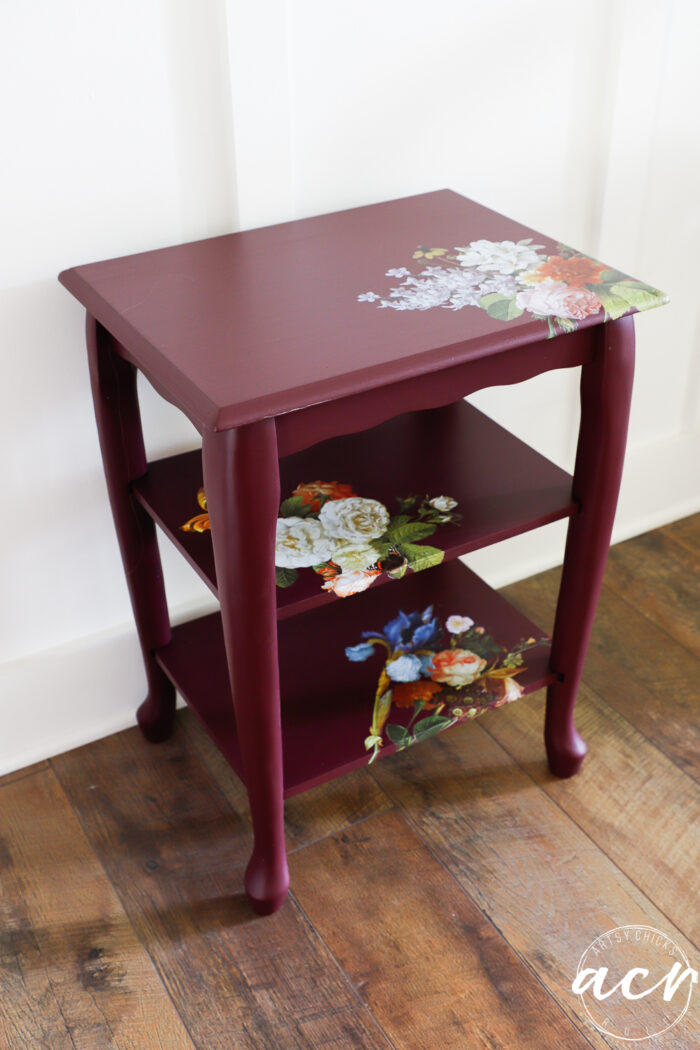 Afterward, however, I decided I liked it better this way.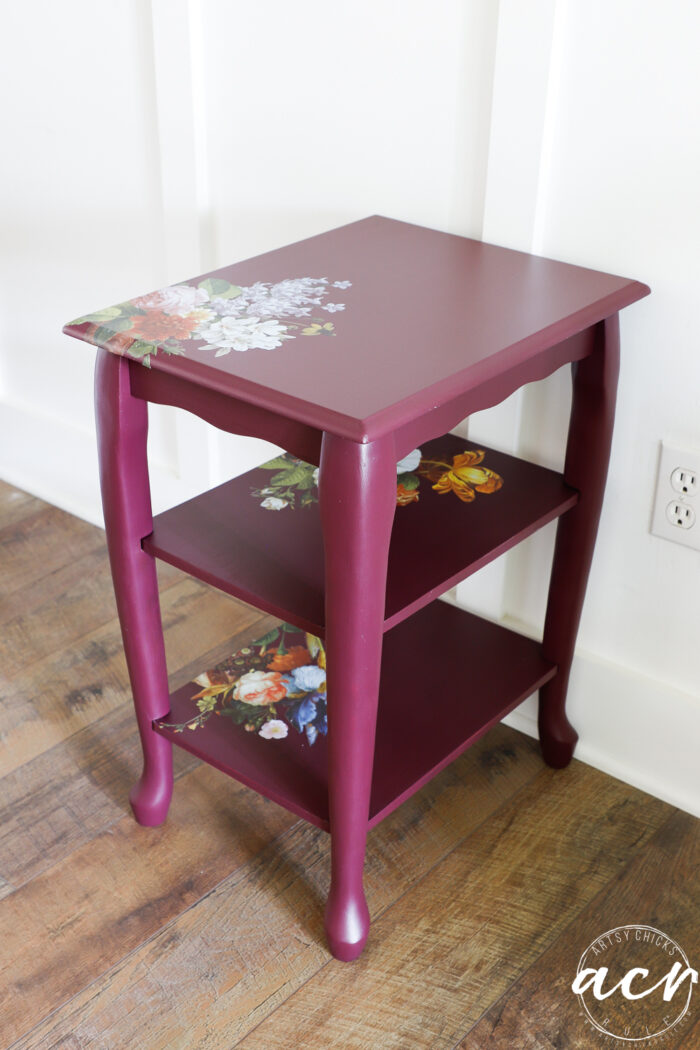 I think the table and the transfers look better this way.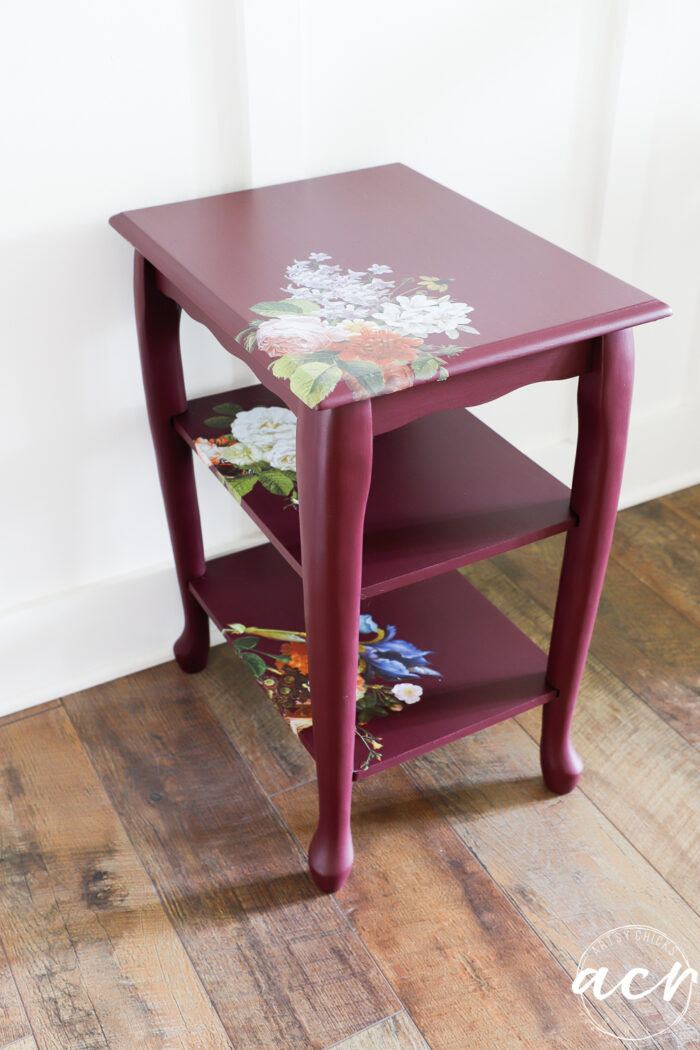 Or you could do it this way too if you want less of the transfers, and more of the pretty paint.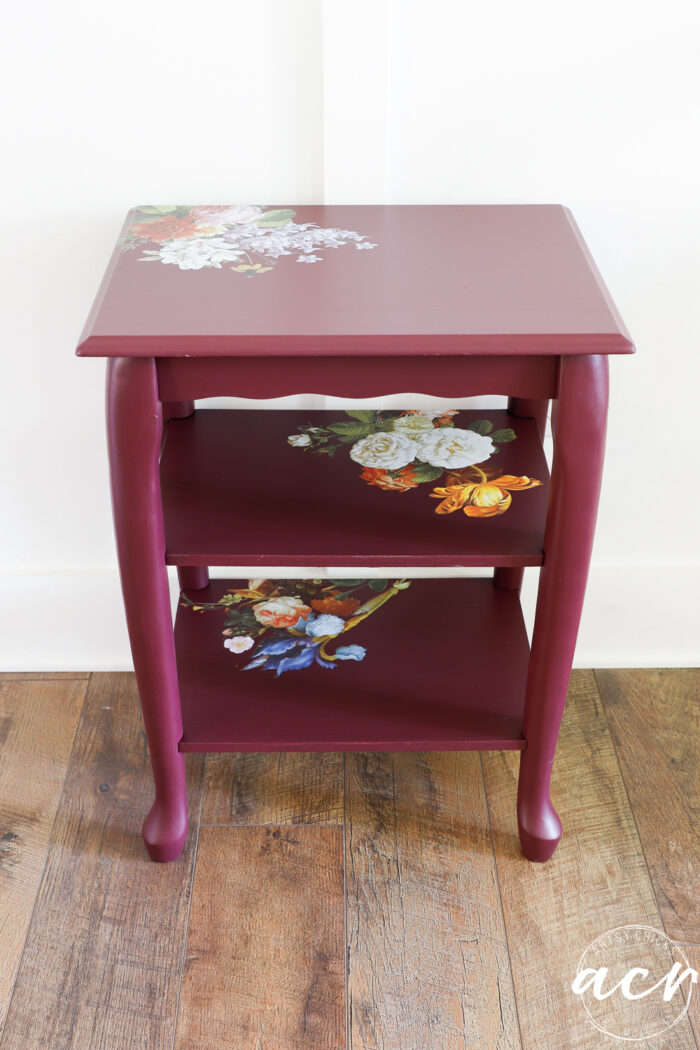 Styled up a bit.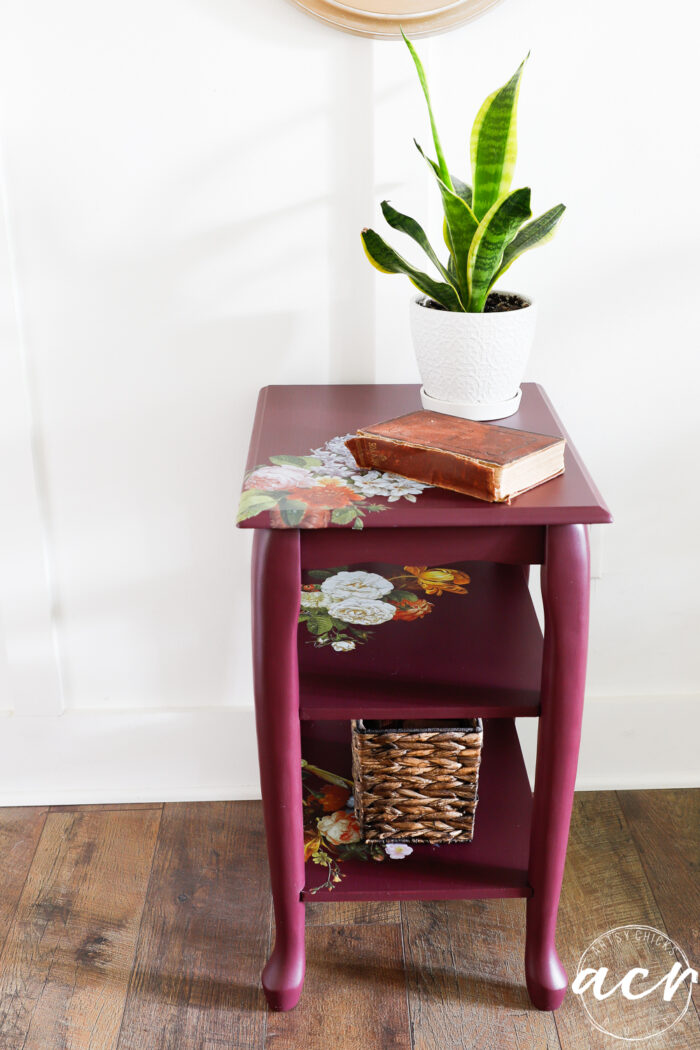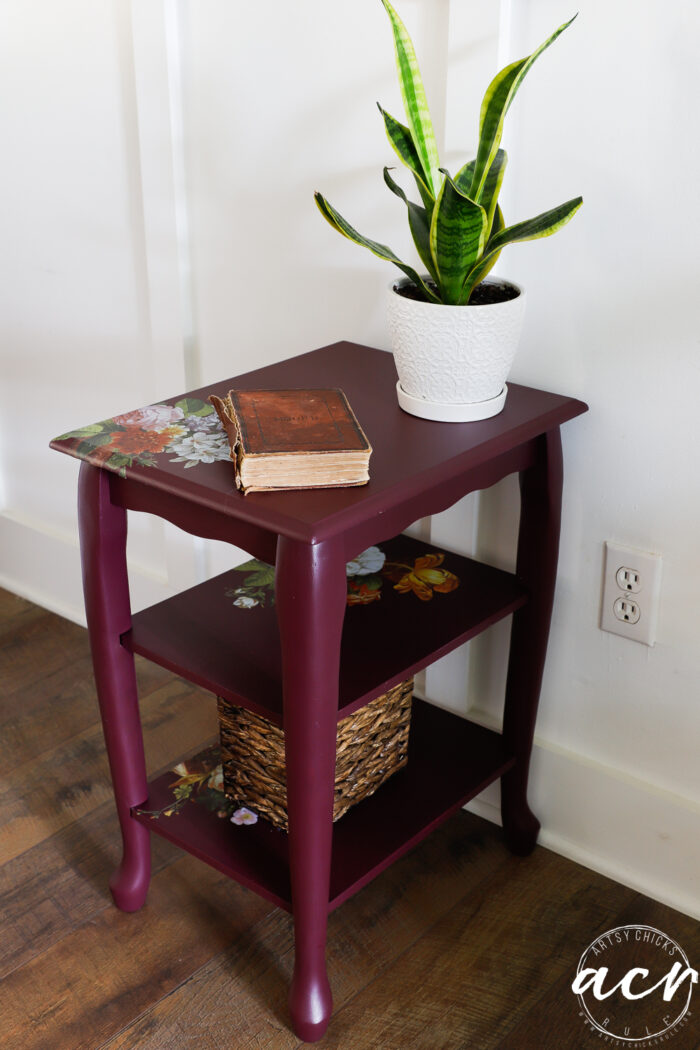 Up close of the pretty transfer and how I wrapped it around the shelves and edges.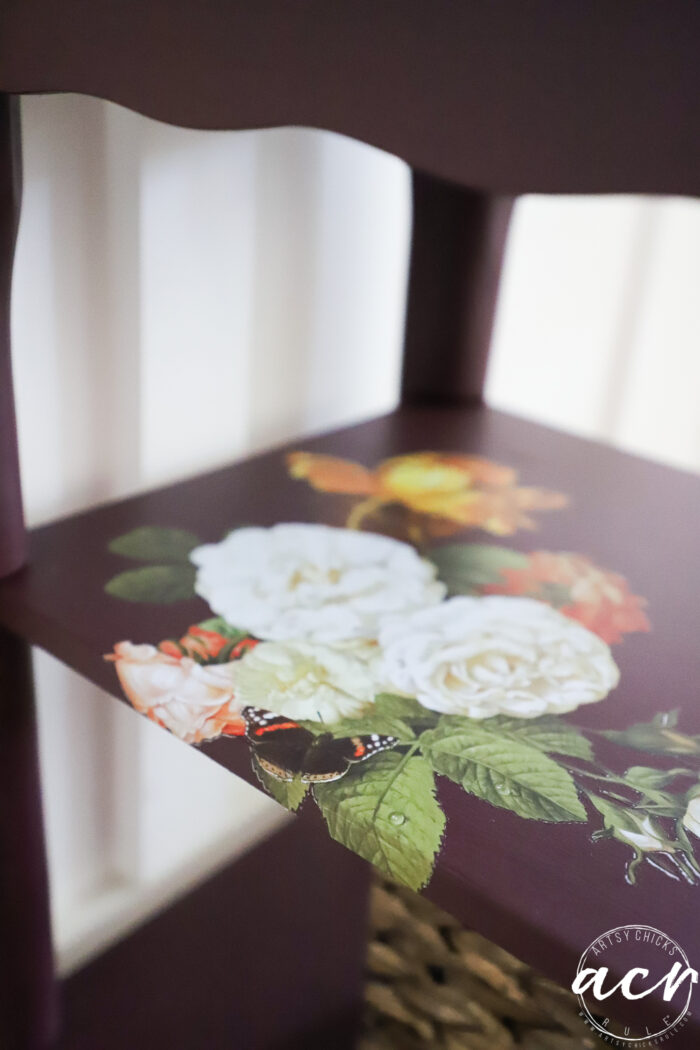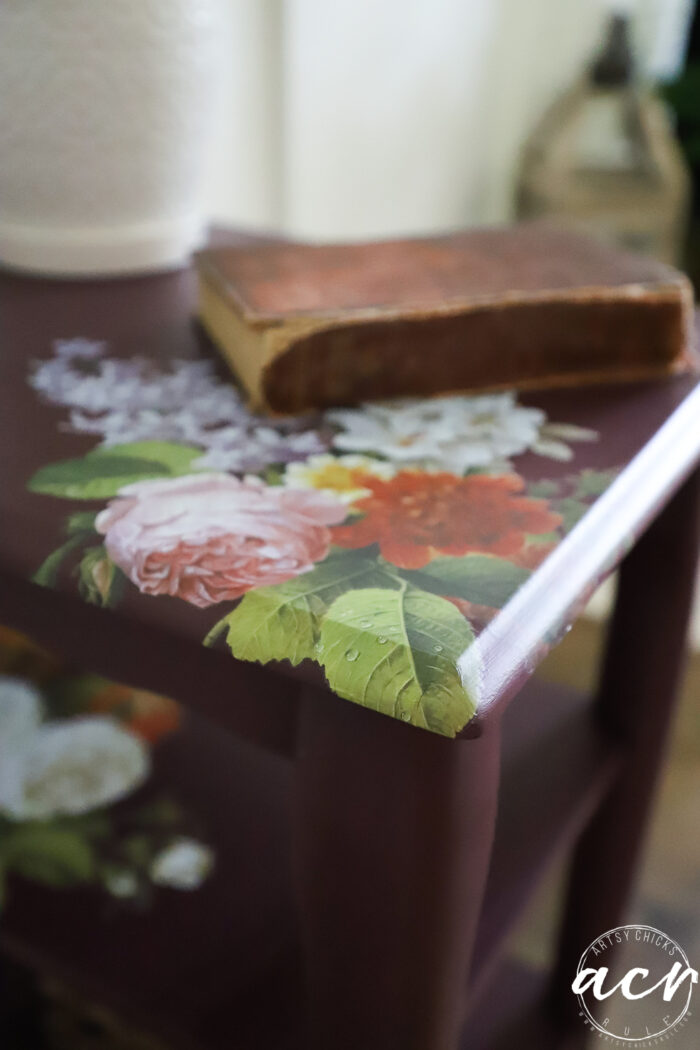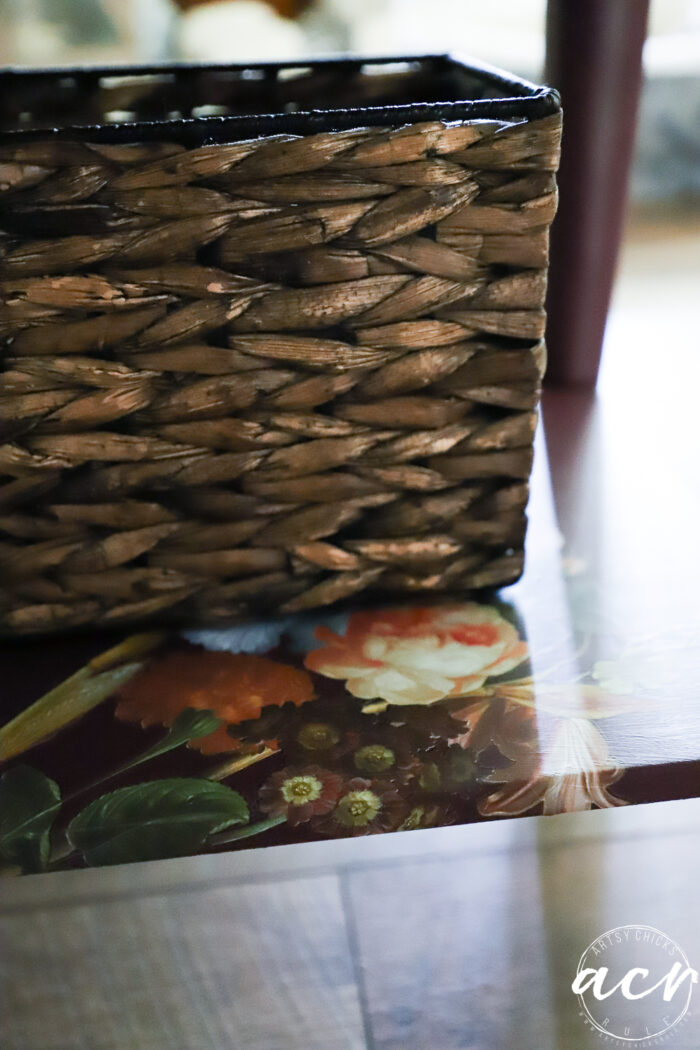 I just love how this transfer looks against that pretty and rich looking Elderberry paint.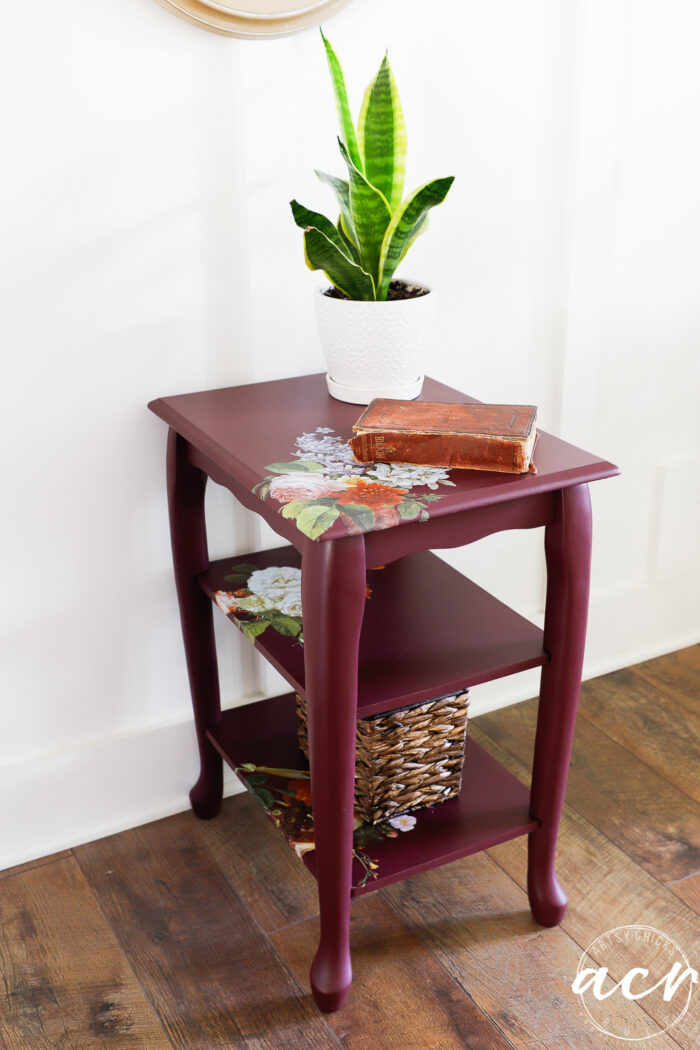 Meanwhile…Piper is bravely checking out Ryder's bed and bones as Ryder looks on. Haha!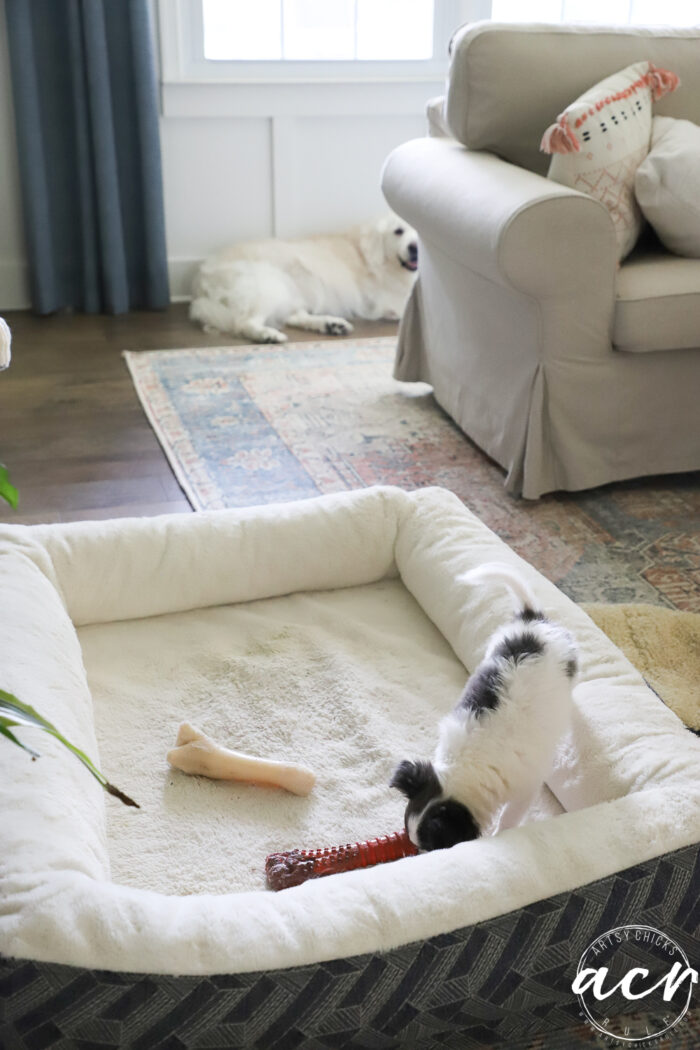 Girl, you are asking for trouble!! lol
So do you love this new color as much as I do?? Wouldn't it be gorgeous on a dresser in a bedroom? Or as a statement piece in a living room??
I sure think so.
PIN it to save it!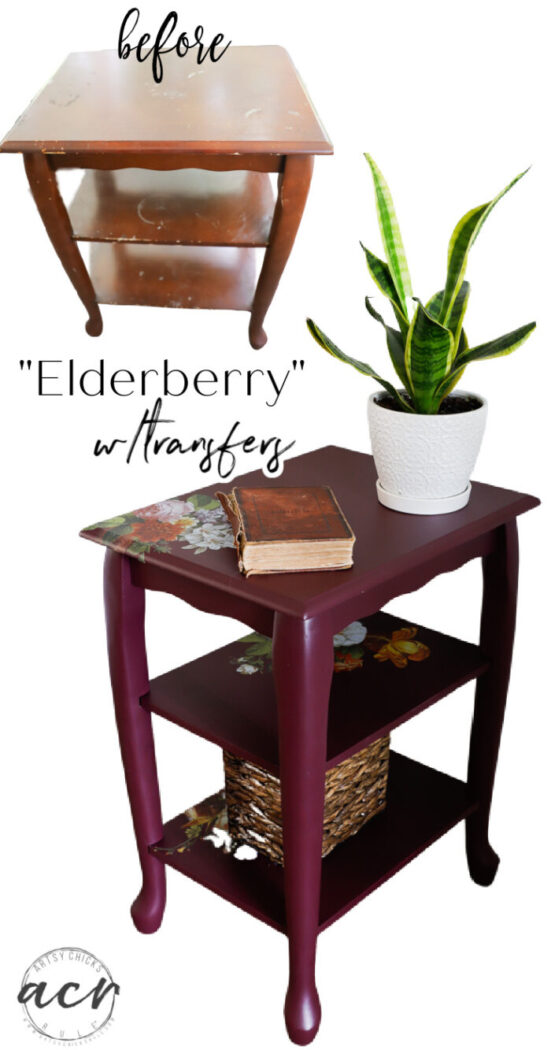 Don't forget to visit my friends below!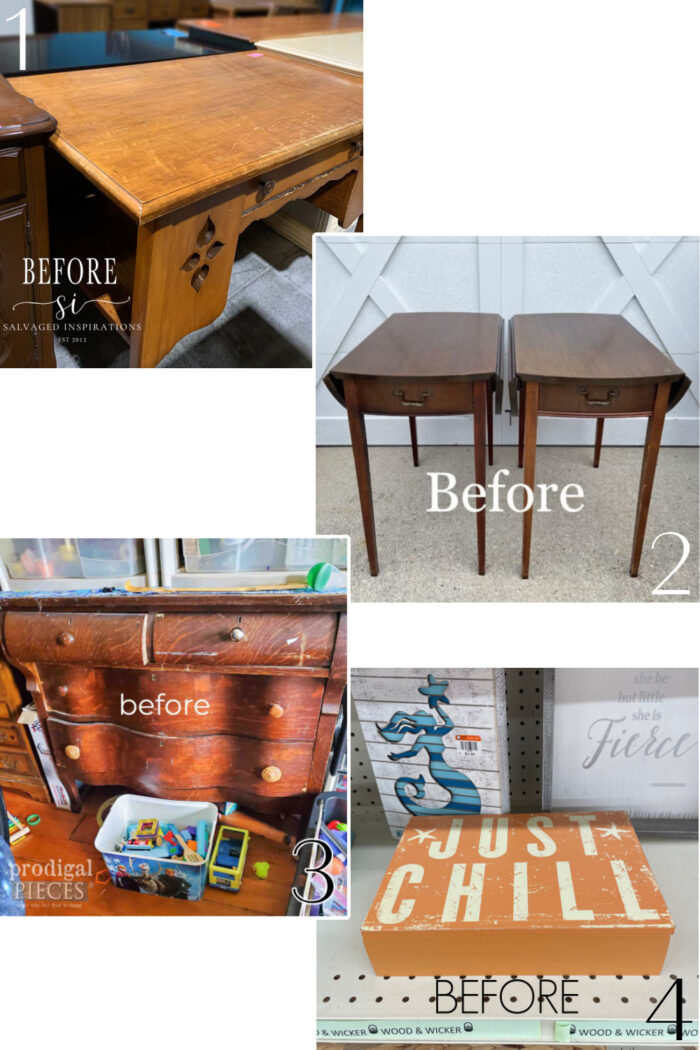 Have a blessed week! See ya back here on Thursday!
xoxo