Simple Tin Can Crafts (perfect for gift giving!)
This post may contain affiliate links. Please see disclosures here.
Mother's Day is in 12 days.
Time for some handmade gift giving.
Do you love tin can crafts?
So much you can do with something that typically gets thrown out.
And I have a super simple & fun handmade Mother's Day craft I'm going to share with you
today using them.
With a few simple items you can make a really cute "vase/vessel" for flowers for your Mom.
After the flowers are gone she can use it for pens/pencils or anything else really!
So what is it?
It's a tin can. Simple, right?
I happened to use Progresso tin cans with the pull top lid.
Or you could use any cans….just be sure to use a can opener that is made to leave a
clean, un-sharp edge.
And then you can make these pretty little things….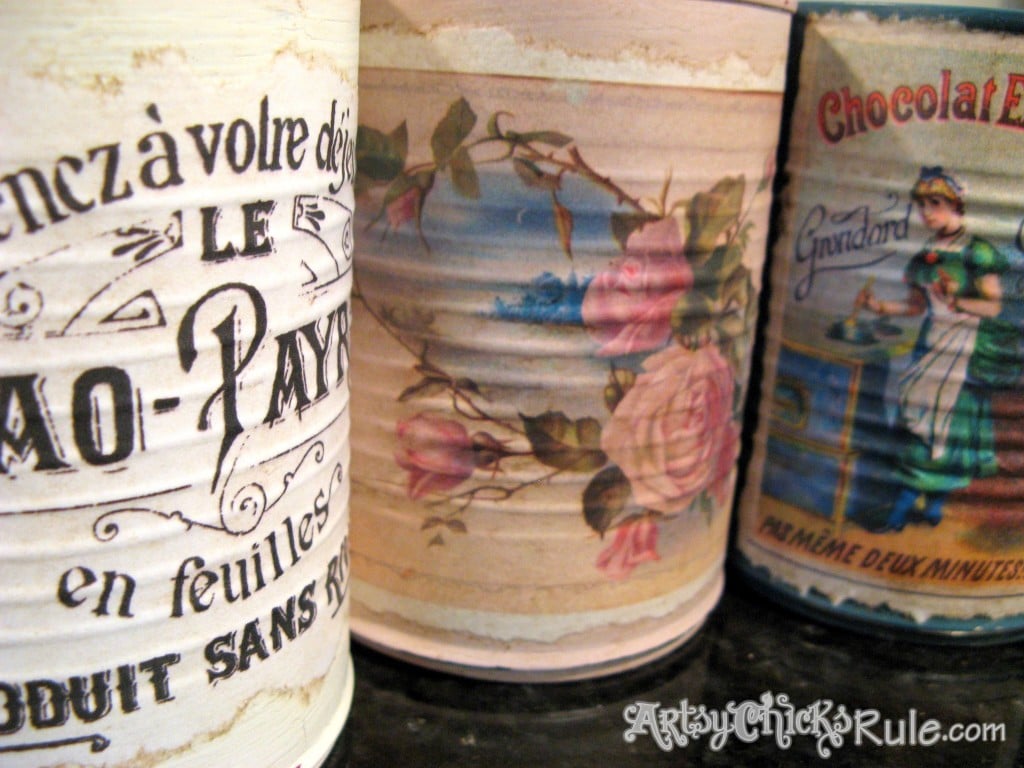 Can't get much easier!
BUT….I will tell you, I made these, all 6 of them, with special"moms" in
mind…but I want to keep them ALL. ;) I won't, of course.
But I had no idea I would love them like I do!
I'll be making some for me…pronto. ;)
And they were so easy I most certainly will.
I love the vintage look they have.
What better way to display those gorgeous flowers you'll
be giving your Mom on her special day? Because surely you'll be giving her flowers, right? ;)
I love fresh flowers in the house!
Once upon a time I used to tell my husband…please DO NOT
waste money on flowers that are just gonna die! Silly me. What was I thinking?
Well no more of that silliness, I LOVE fresh flowers around the house. I have clued
my husband in on that as well. No excuses now Mr. ;)
Ok, so onto the super simple tin can crafts tutorial…..
Wash out your cans really well. Let them dry.
I used Annie Sloan Chalk Paint because I have a bunch of it.
And because I love it. And because it sticks to metal so well.
BUT you can use acrylic craft paint found at any craft store if you like.
OR you can even spray paint them. SUPER easy!
If I'd had pink or red spray paint laying around I'd probably have gone that route.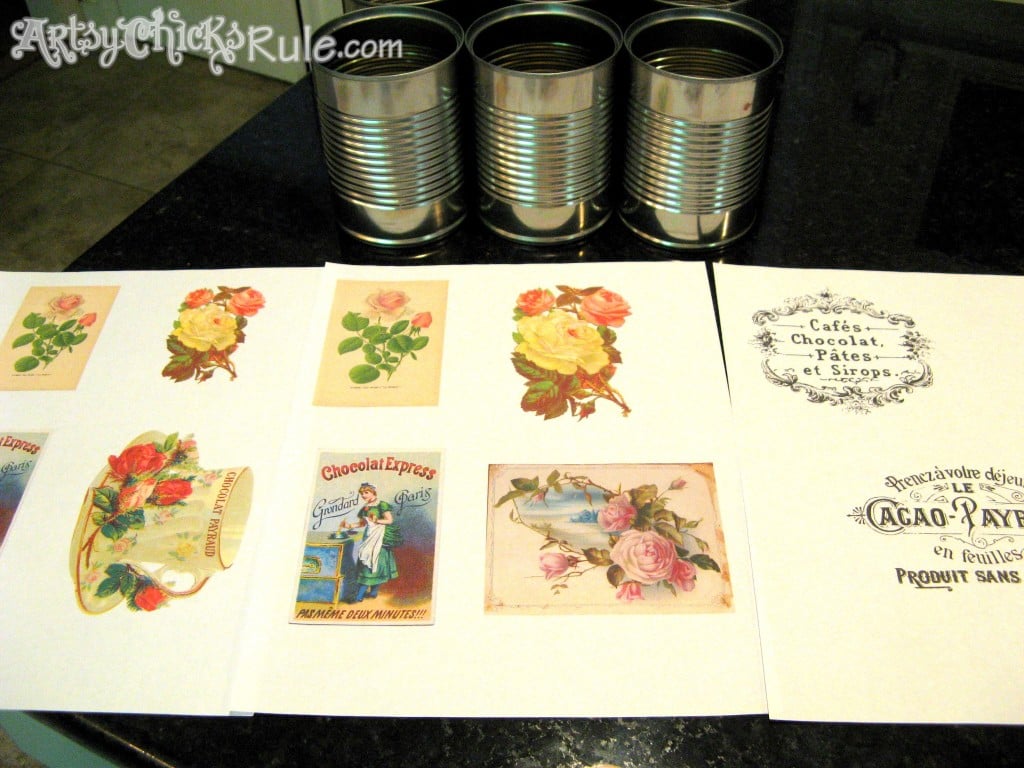 Then I went to The Graphic's Fairy site and found a bunch of gorgeous graphics for the
fronts of the cans. I printed them out on regular ole printer paper.
Here are the printables I used:
Pink & White Roses
Pink Cabbage Roses
Teacup with Roses
Chocolat Lady
Tea Rose
Chocolate
Cafe
Then I ripped them.
Literally.
I wanted the edges old and torn looking…vintage.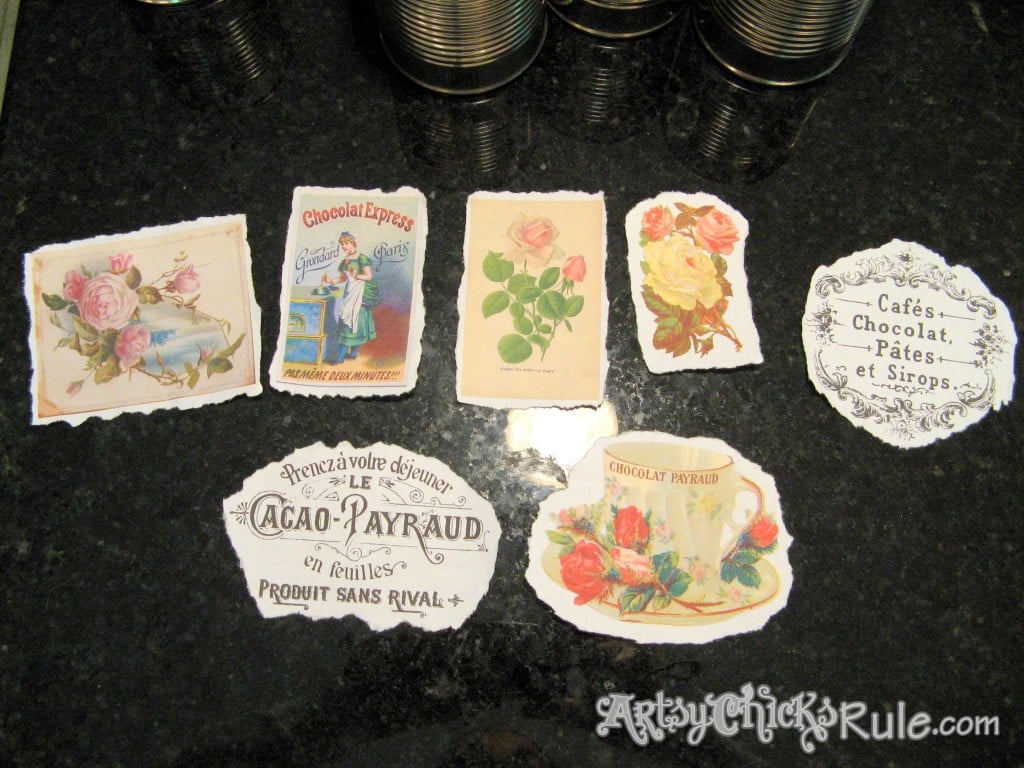 I used 2 coats of paint (again, you can use whatever kind you like here).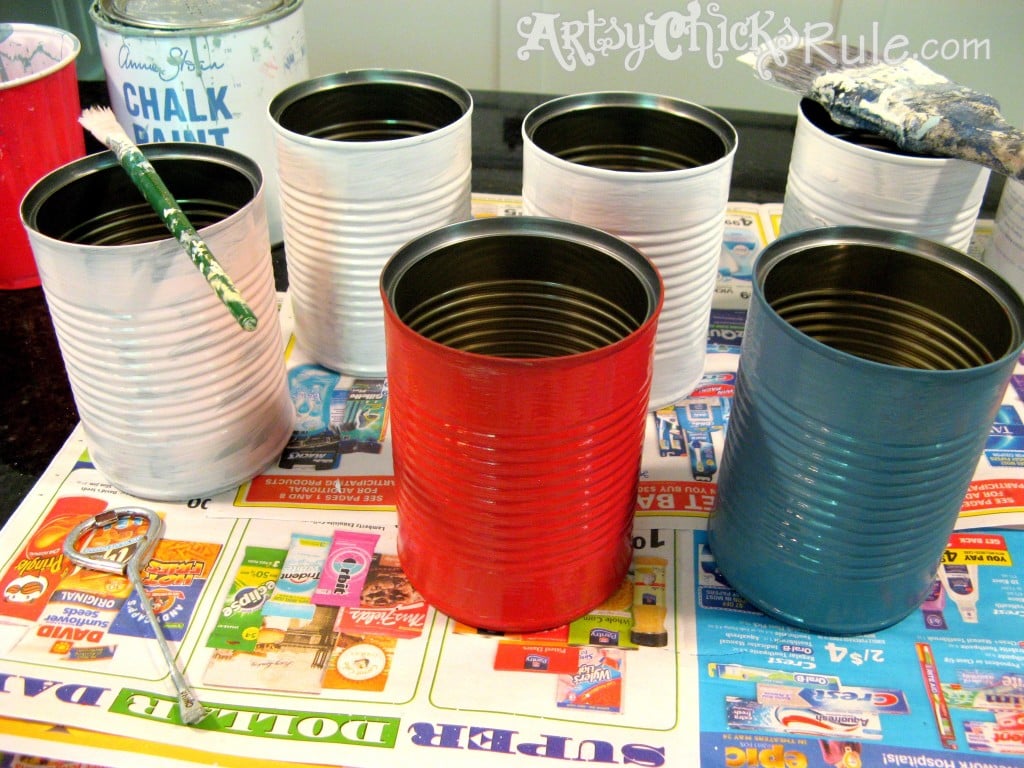 I made a mix of Elmer's Glue All with just a little water….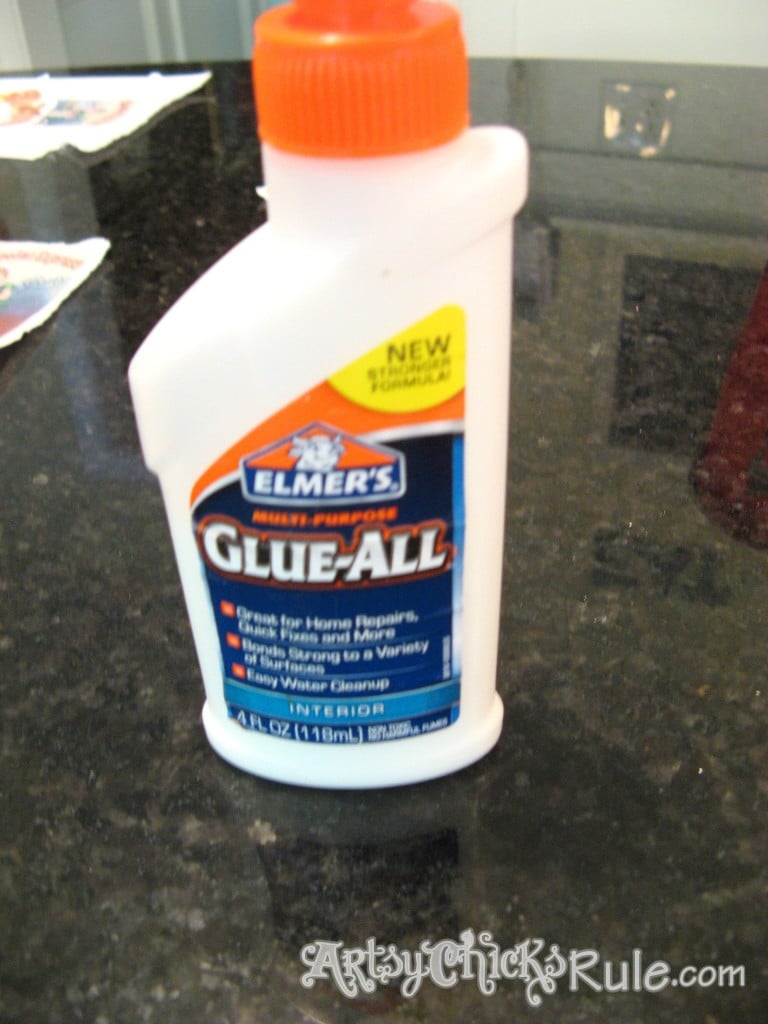 Then spread that onto the back of my "ripped" paper with the graphic.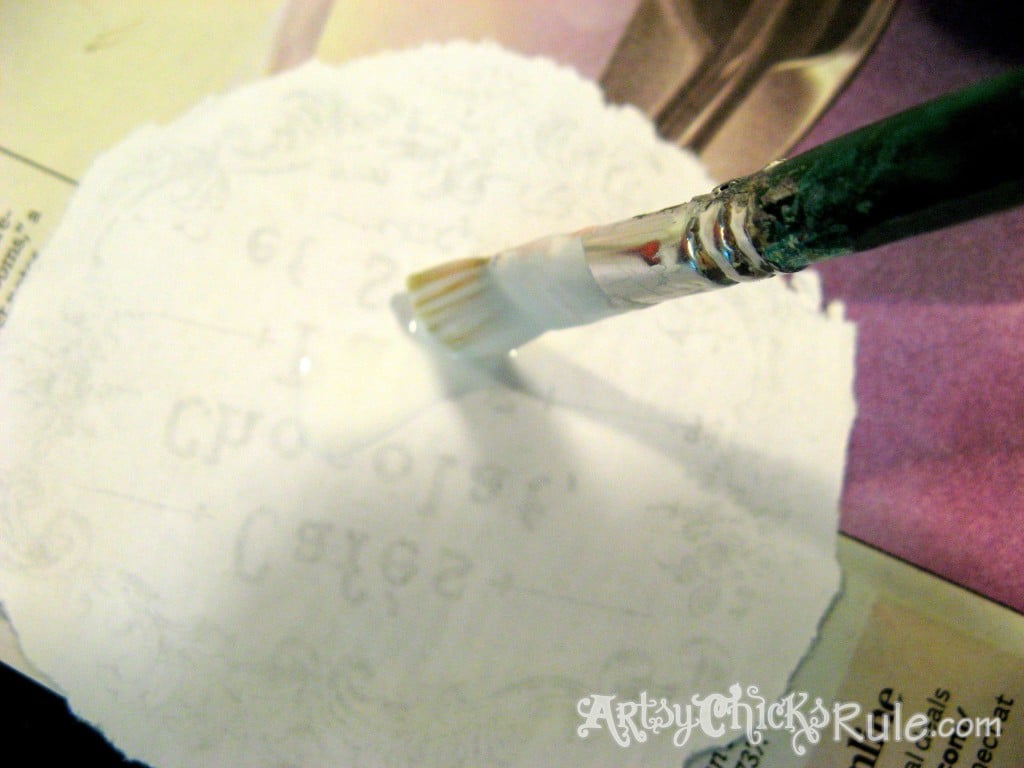 I carefully lined it up how I wanted it on the can.
Picture below is before I "aged" them, you can leave them just like this (un-aged) if you like.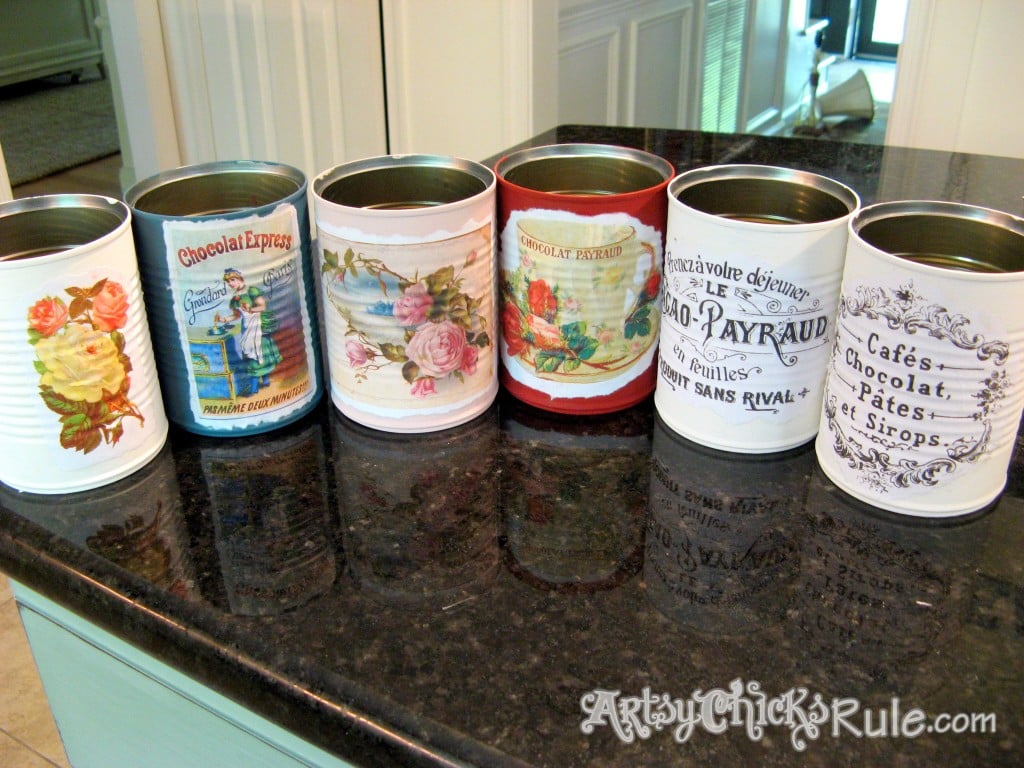 Once that was dry I sprayed the entire can (label and paint) with MinWax Polycrylic.
I did two coats, letting it dry between each coat.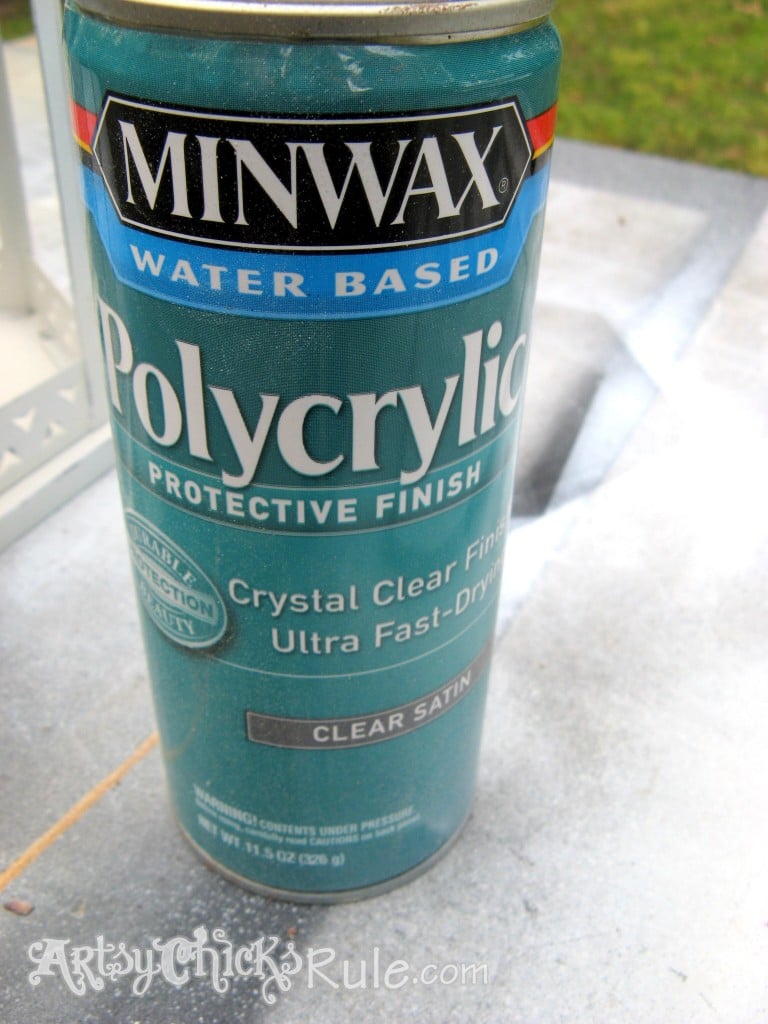 Next up, a little Annie Sloan Dark Wax to "age" them. Or you can leave them as is if you like.
I wanted them to look "vintage" so I aged them. You could also use Brown Acrylic craft paint
for this step if you want. Just mix it with a little water and rub it on…and wipe it off.
(doesn't take a lot…of either one)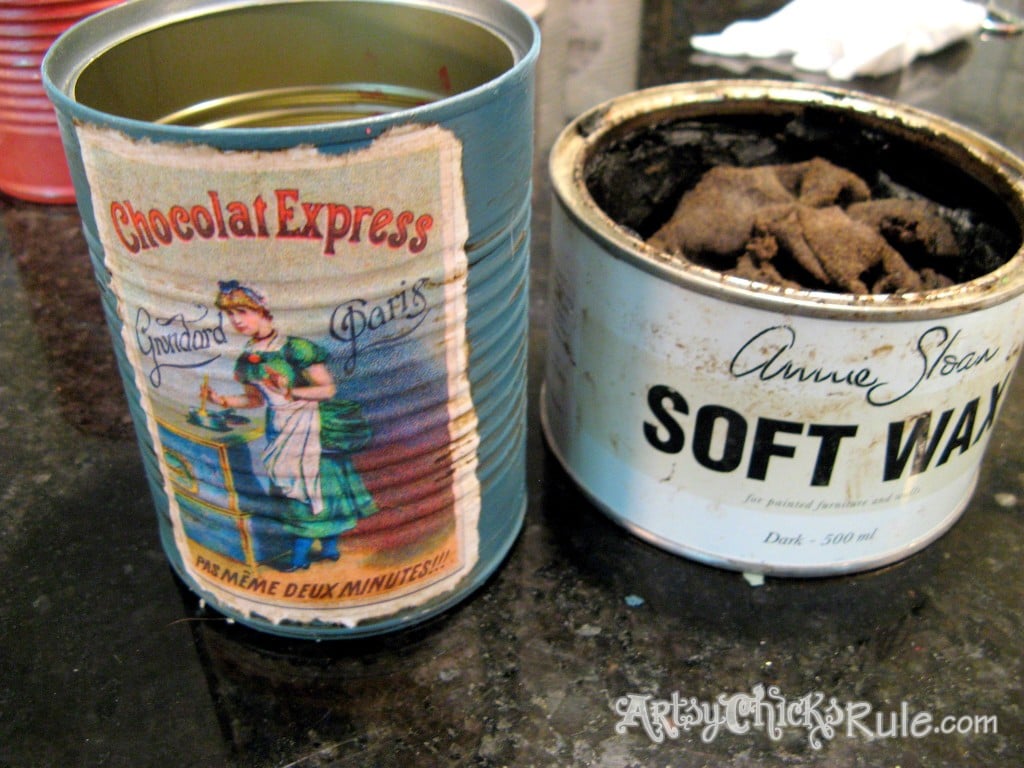 Isn't that "aged" ripped edge just great? I love how they turned out.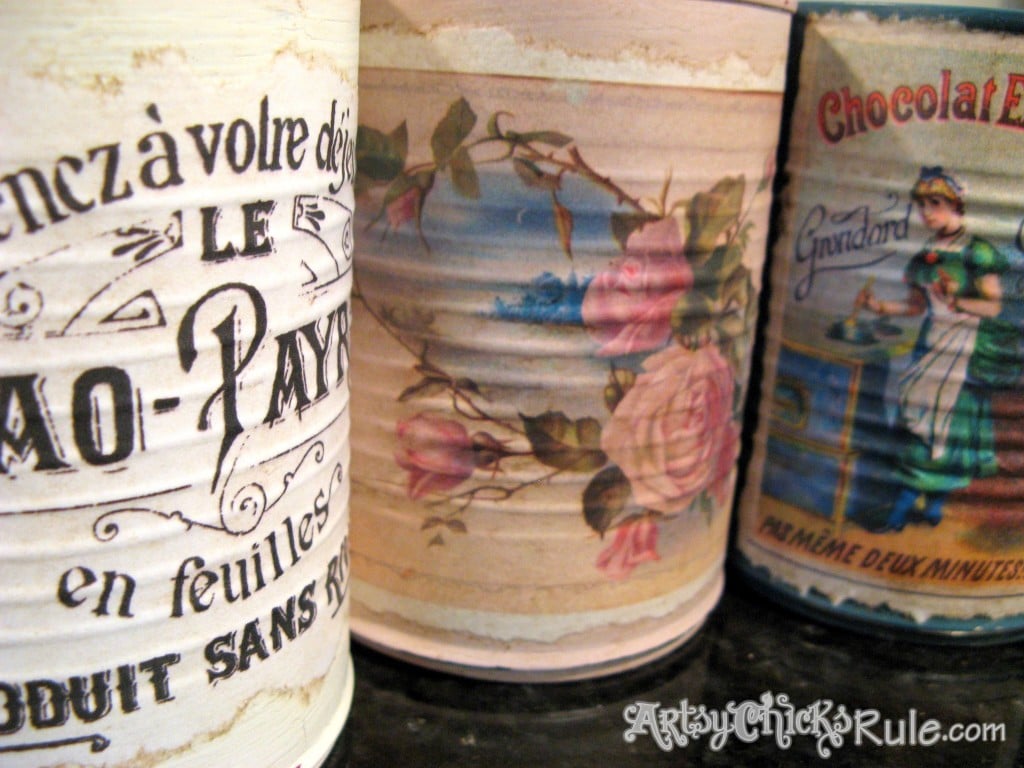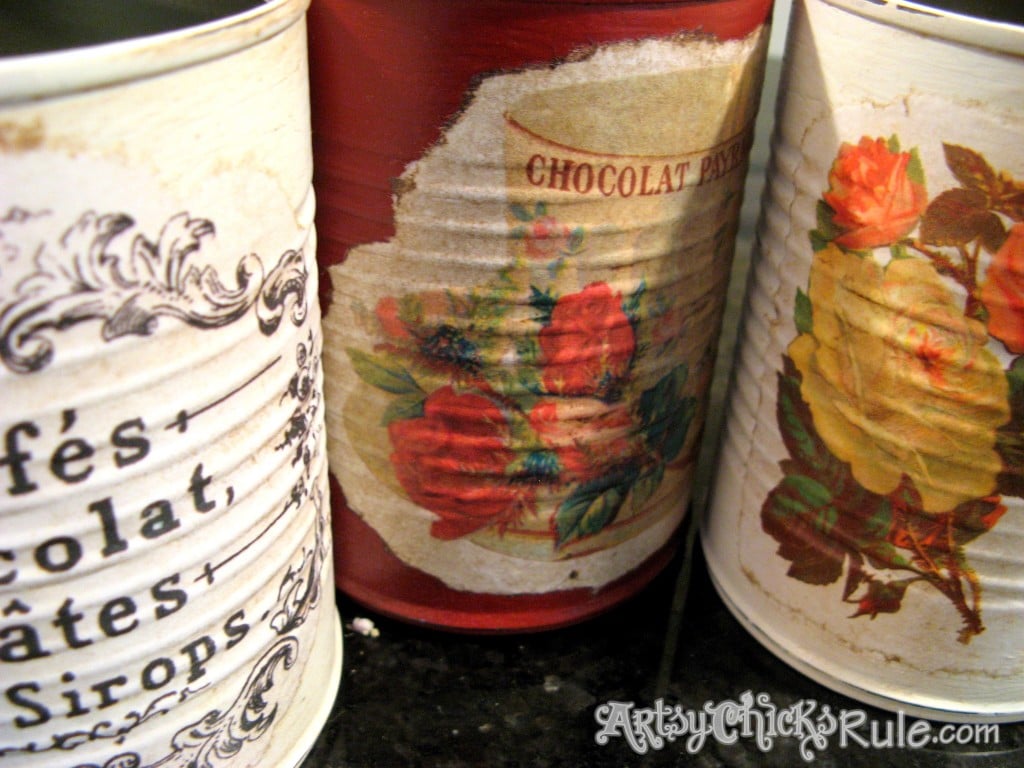 A little French, ohh la la & white……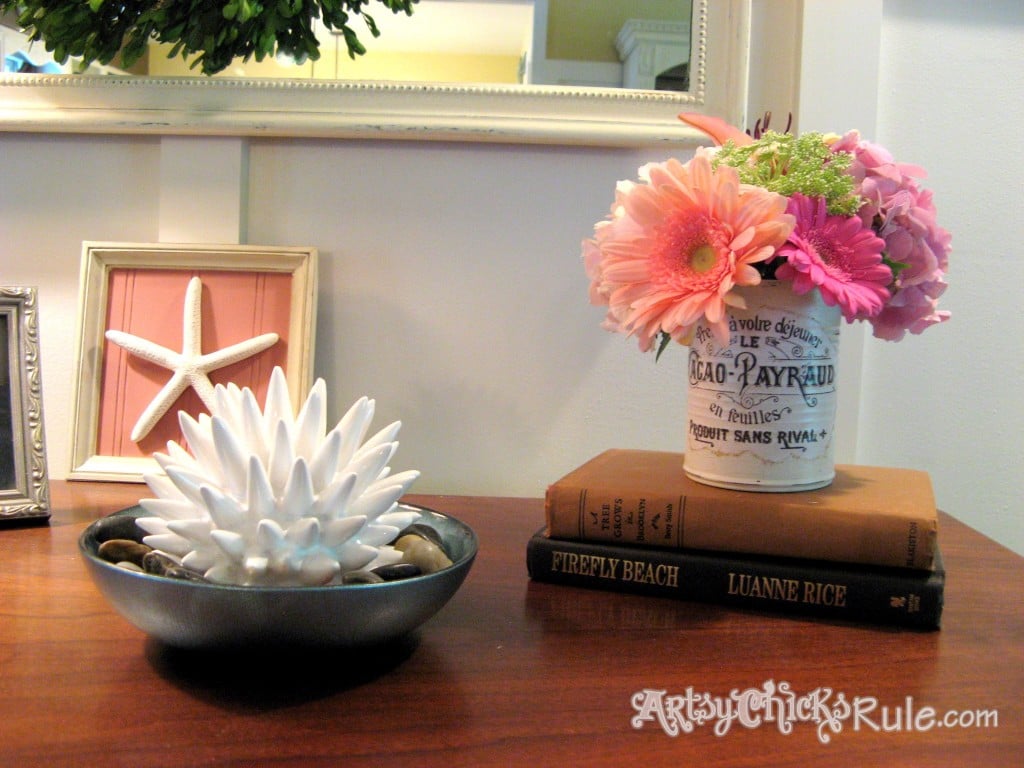 Or maybe floral & pink? Which do you prefer?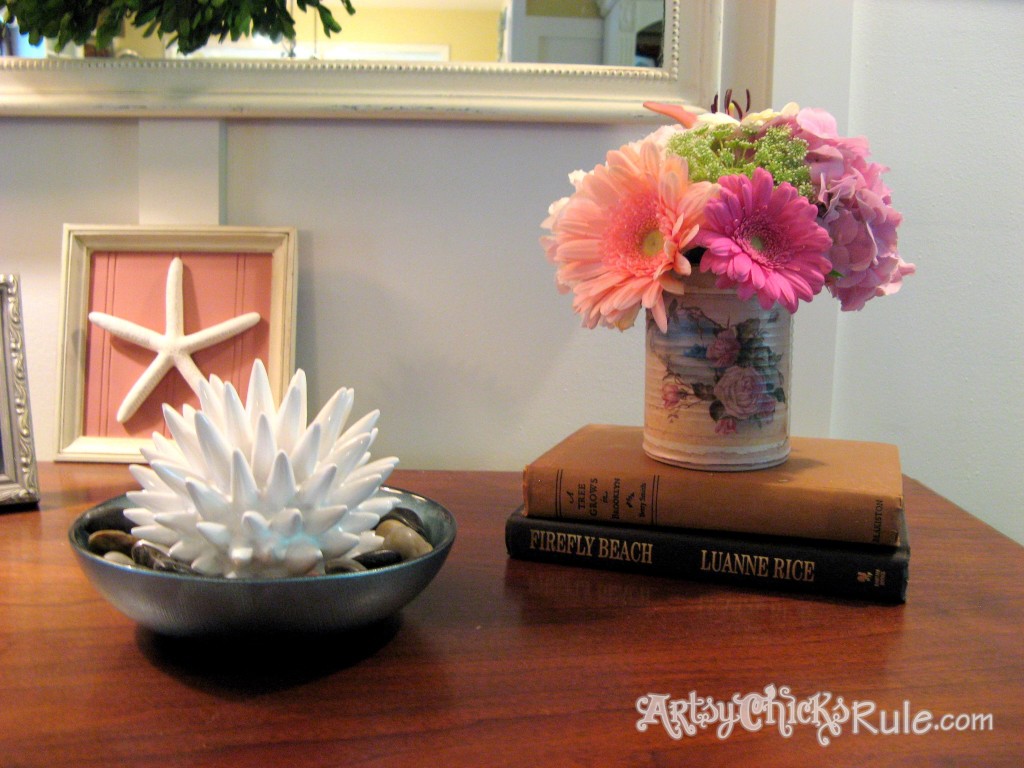 And did I happen to mention I made these in about an hour's time total?
These tin can crafts are a super simple & easy, really pretty handmade gift for your Mom on Mother's Day.
Those are the best kind….handmade.

I know, because I'm a Mother. :)
I treasure and appreciate every gift my children have
ever given me but the handmade gifts have a special place in my heart.
I hope you will give these a try!
For Mother's Day or for any gift giving occasion.
They would even make great centerpieces for any special event.
Want to see even more ideas on simple updates with Chalk Paint (that aren't furniture??)
Check out this post, here!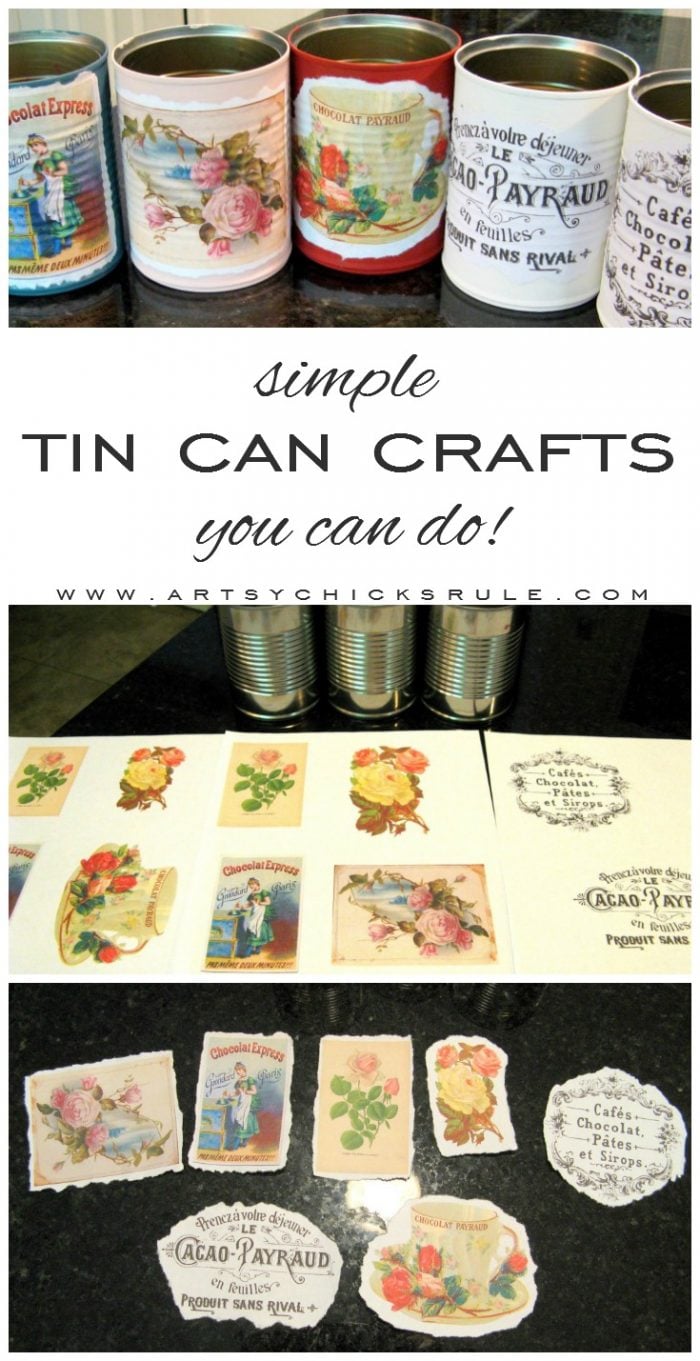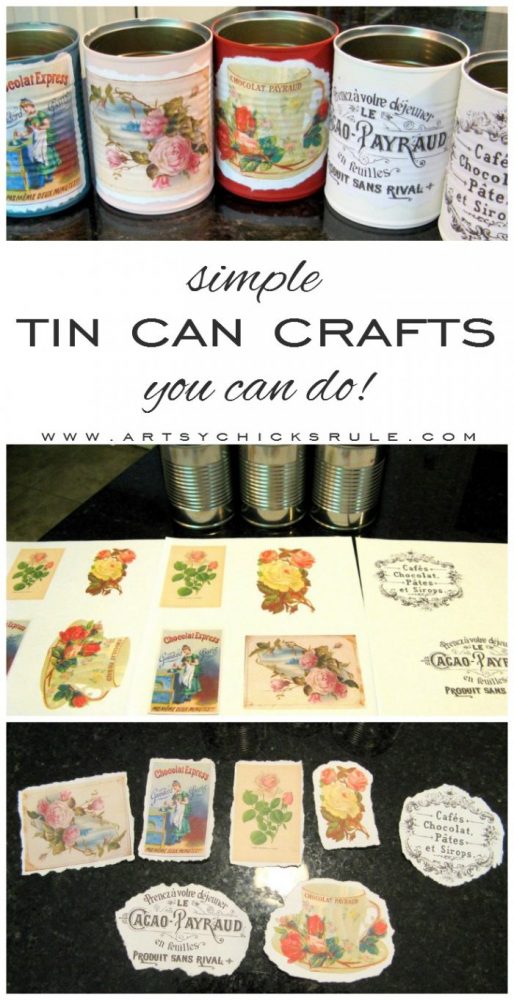 Which one is your favorite?