Bread Box Makeover (Miss Mustard Seed Milk Paint)
This post may contain affiliate links. Please see disclosures here.
I come across all kinds of vintage things when I shop thrift stores. Some are just more vintage than others.
Like this Bread Box Makeover.
I really like the vintage, vintage ones….the 80's vintage, not so much.
Like this lovely here with the ducks and heart applique. Nice, huh?
Remember the "country" decor of the late 80's, early 90's?
Yep, I had it…everywhere.  ;)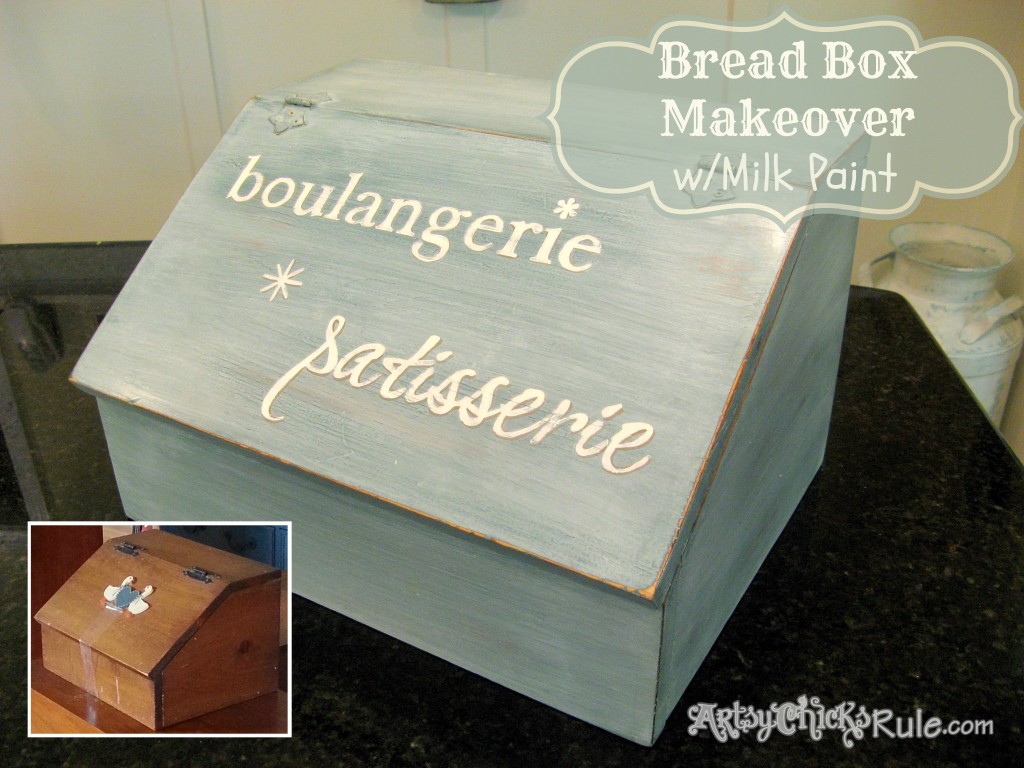 So, let me tell you how I transformed this piece with a little Miss Mustard Seed's Milk Paint, new hinges and an evil knob.
Yes, evil.  I'll tell you why in a bit.
As I talked about in this post here, I was able to attend a Miss Mustard Seed workshop. It was great fun attending and meeting so many wonderful people in person.Here is a shot of me and Miss Mustard Seed herself, Marian.
She is the sweetest and so full of wonderful knowledge.
Next to us is the tray I made in the class…and the inspiration for my box.
If you follow me on Instagram, you saw both of these pictures long ago. ;)  If not, you can follow me on Instagram here and see things way before they make to the blog!
And random…lots of random. ;)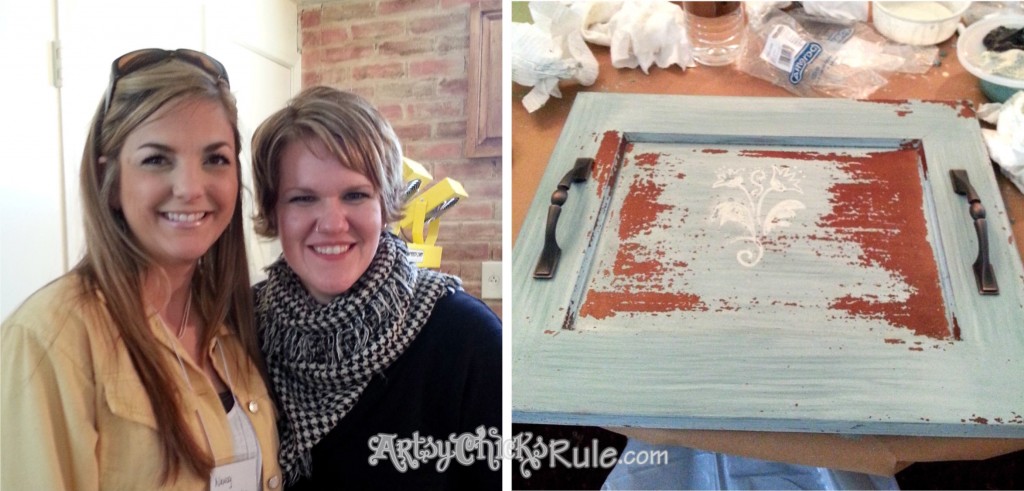 I didn't want my bread box makeover as 'chippy' as the tray so I filled the holes where the old hinges were (I put new hinges on)and then sanded it lightly all over so the milk paint would absorb better into the wood.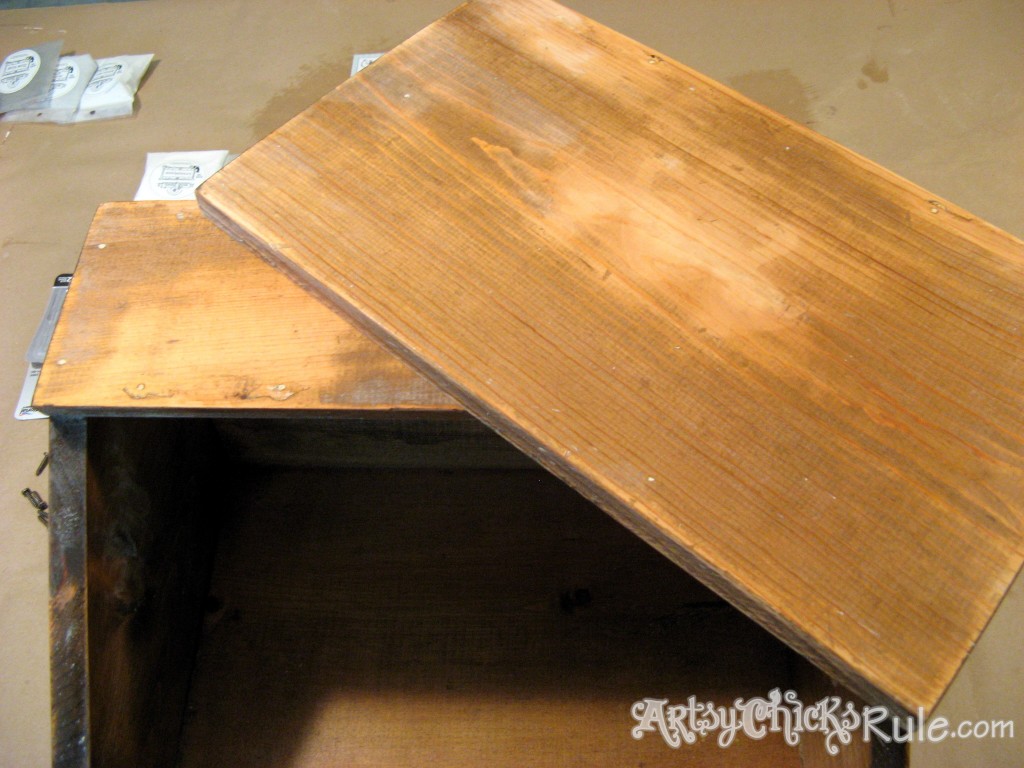 I used these two colors for the outside of the box: Kitchen Scale & Ironstone.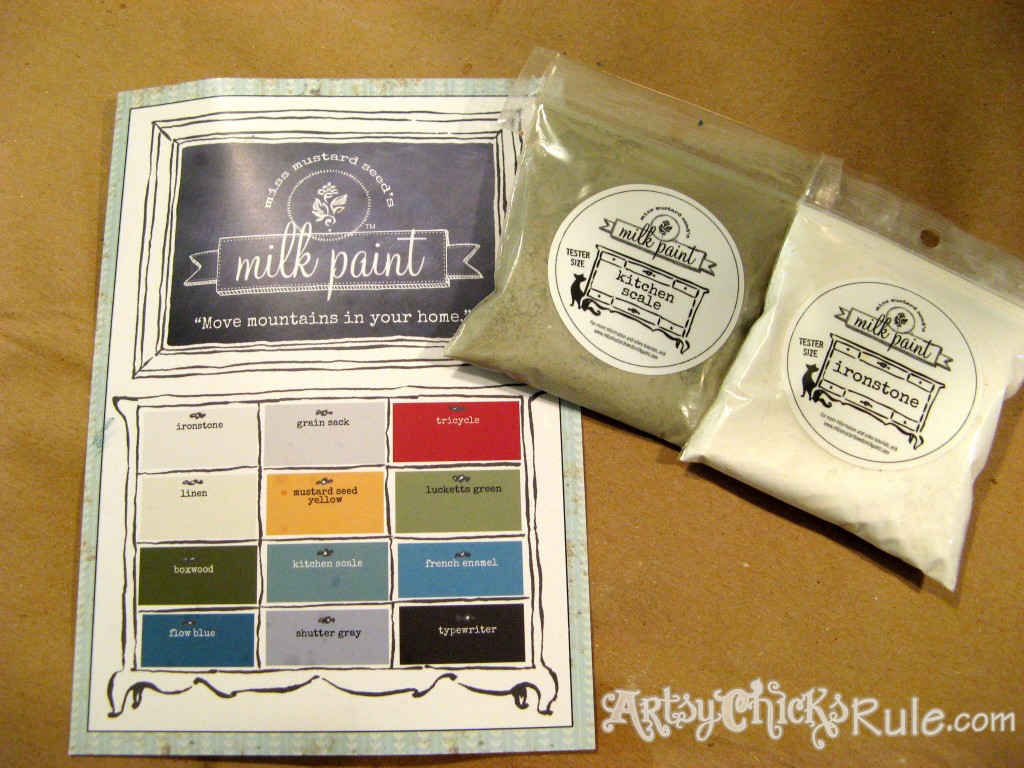 I applied 2 coats of "Kitchen Scale" Milk Paint to the outside. Inside I put 2 coats of Old White Chalk Paint.  (first coat of both is shown here):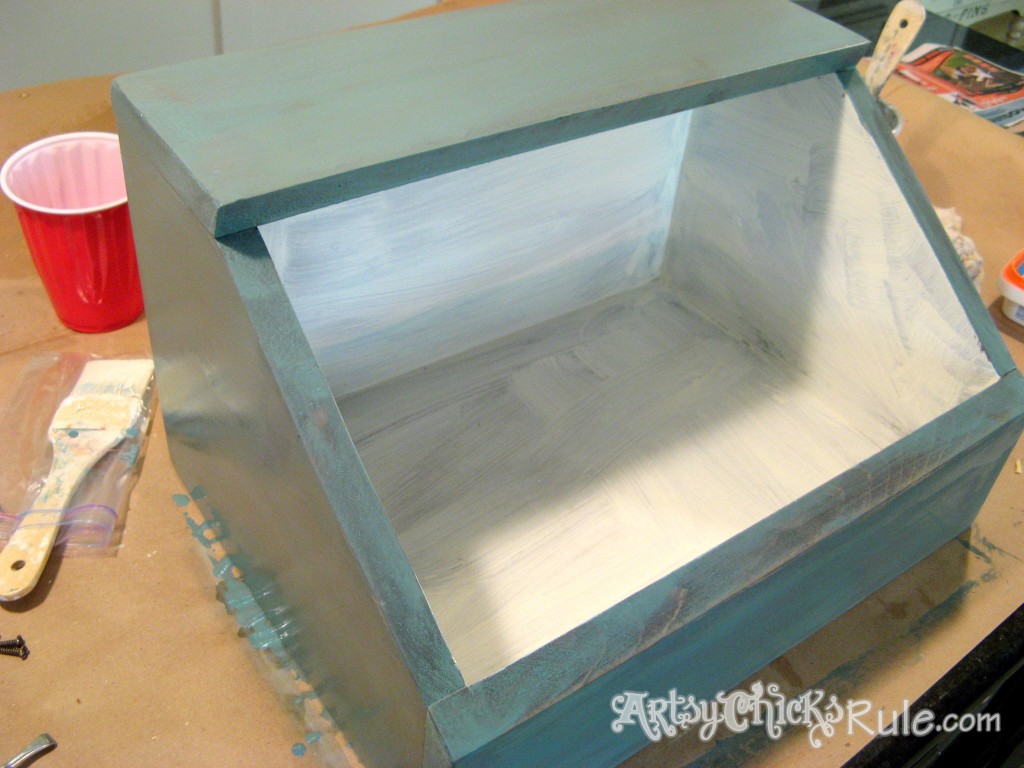 I let that dry and then layered "Ironstone" Milk Paint over that (just like  I did to my tray in the class).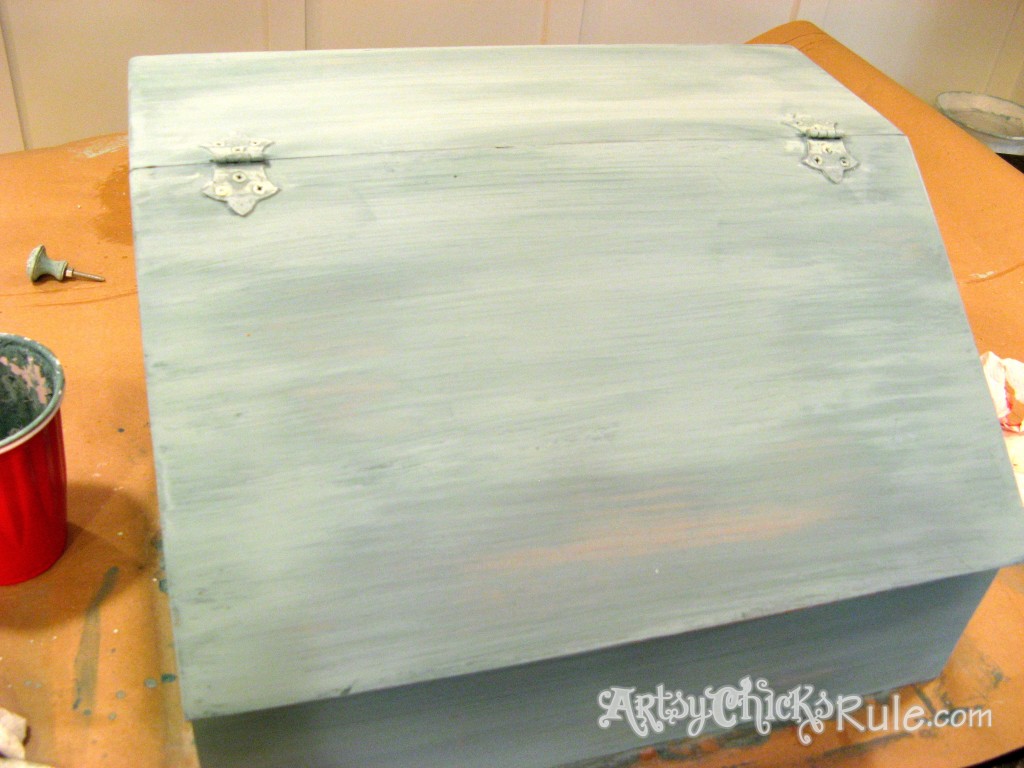 I played around with this a bit until I got it looking how I wanted. I went back and added more "Ironstone" to add more texture. (see the evil knob in the background, grrr)
I wanted to add some french graphics so I got on my computer and came up with fonts I liked for the words "boulangerie & patisserie" . That means baker or shop of bread & pastries, perfect for a bread box, right? ;)
I printed those out in the size I needed and lined them up on the box. I used some fun little "star/flower" embellishments for the dot in the "i" and the other in between to make it fun. (you'll see the "i" star/flower in another photo further down)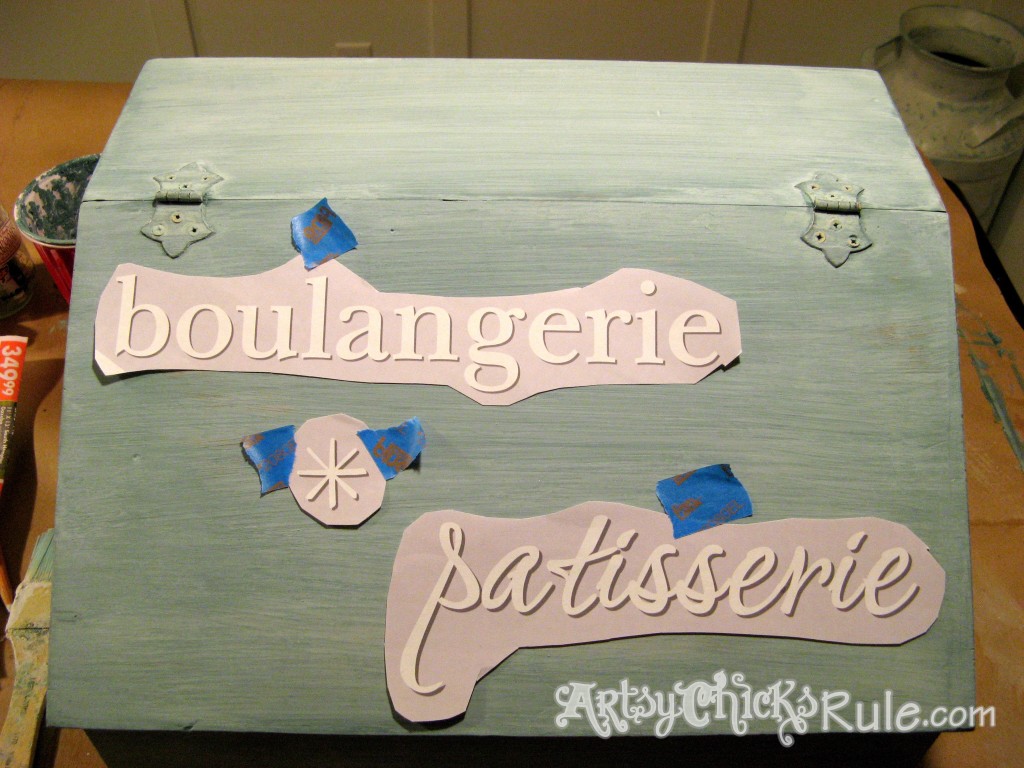 I used the pressure method to transfer. Sounds fancy right? Just take a sharp pencil (or pen, but a pencil worked best on this wood for me for some reason) and trace firmly over the letters.
This makes a slight imprint into the wood.
Depending on the wood, of course.
Some harder woods would need another method of transfer.
Like so…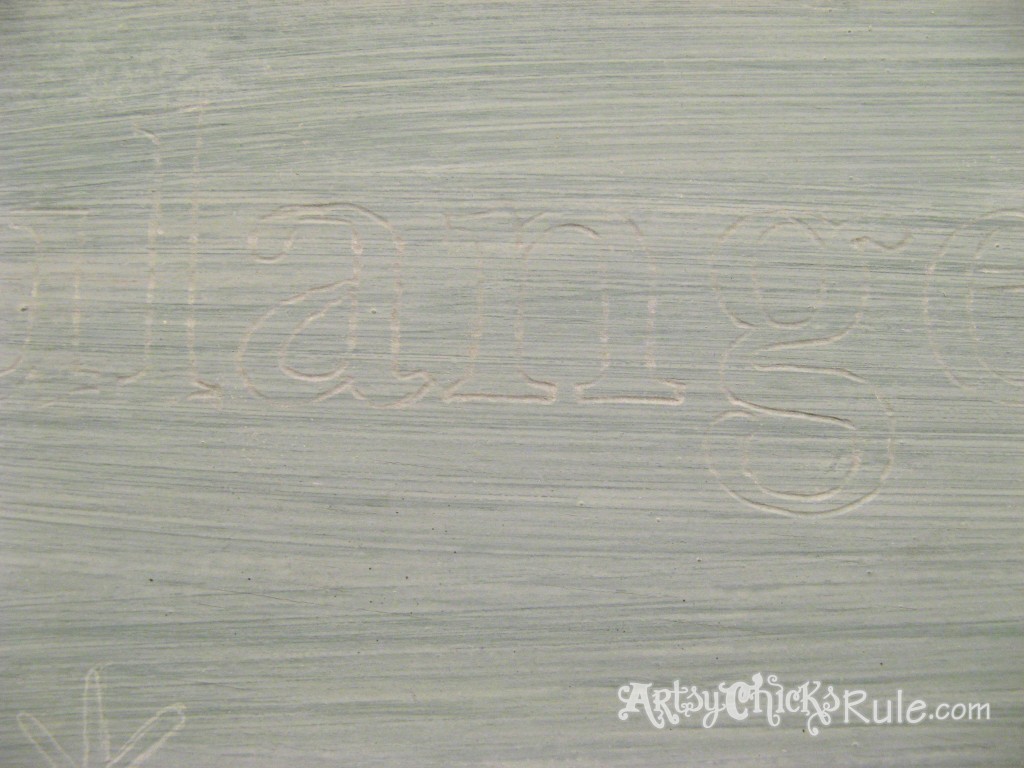 I then traced over the imprint with a white watercolor pencil.
It was hard to see so I wanted a good outline to paint inside of.
You can see better below how hard it was to see before I outlined it.
(see the word "patisserie" below…it's yet to be outlined with the pencil)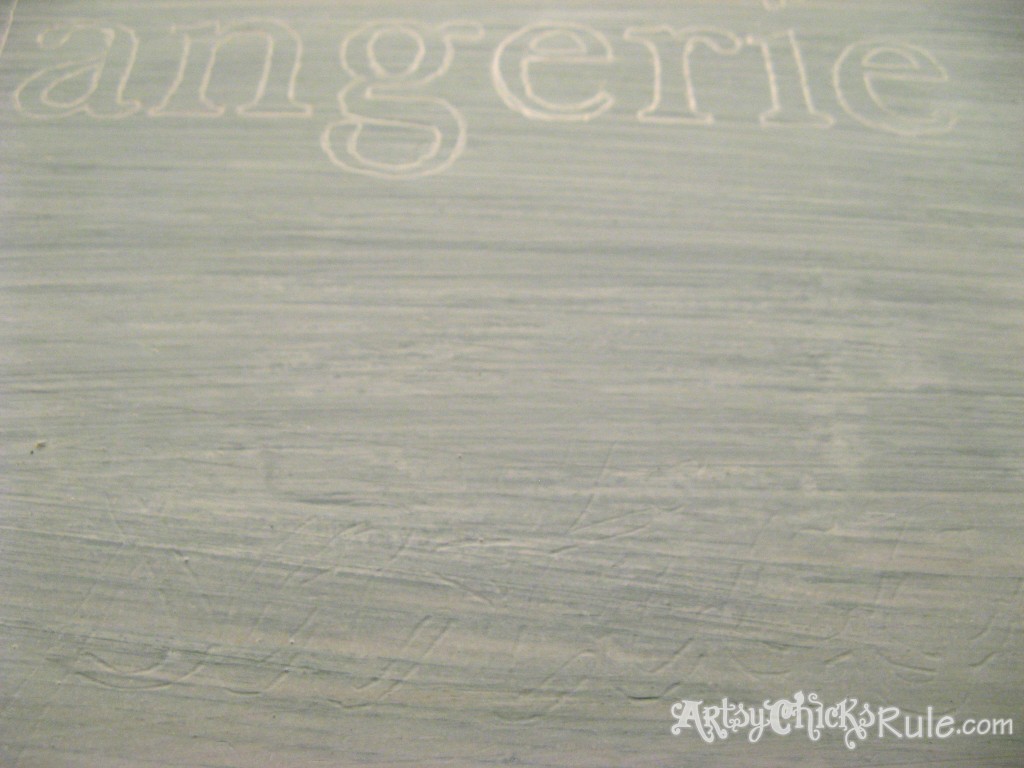 Both words outlined with the white pencil… (see the little "star/flower" now in the "i"? )
You can see more of my favorite transfer methods, here.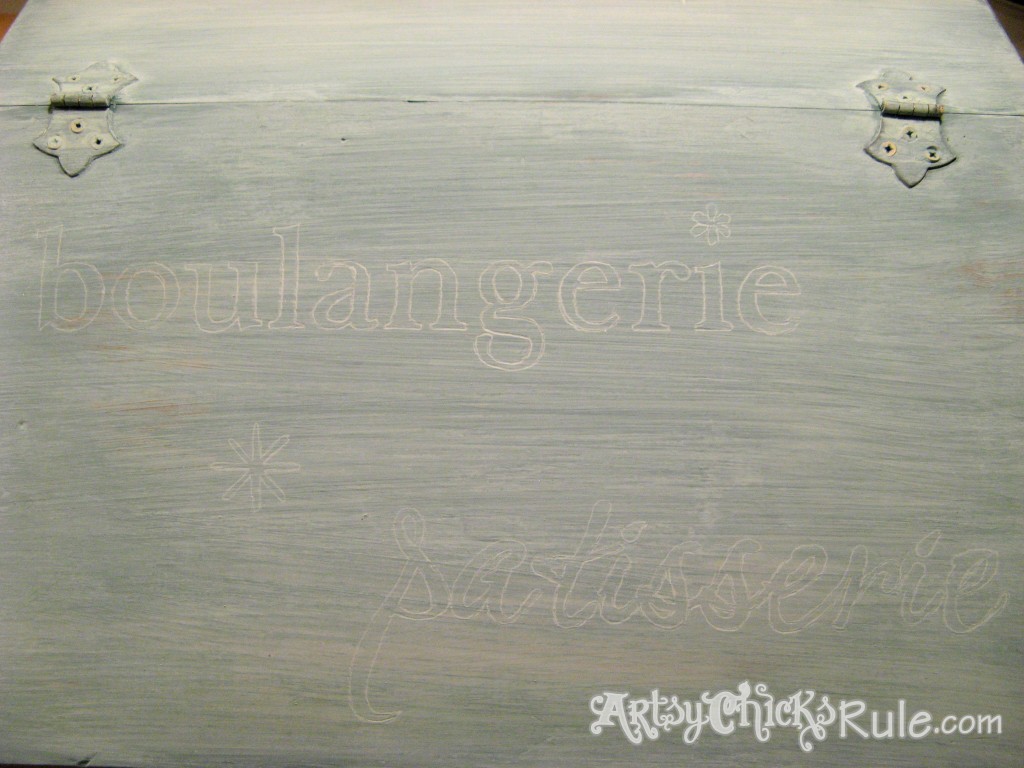 Painted in with Pure White Chalk Paint…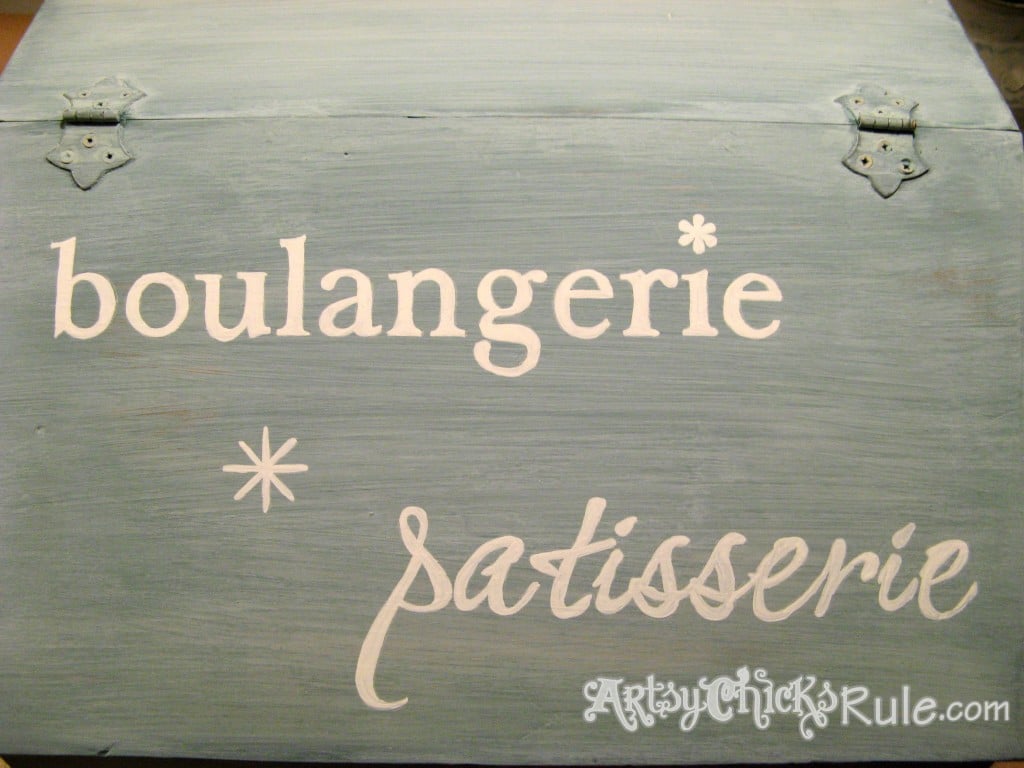 And shadowed….because I like my shadowed letters!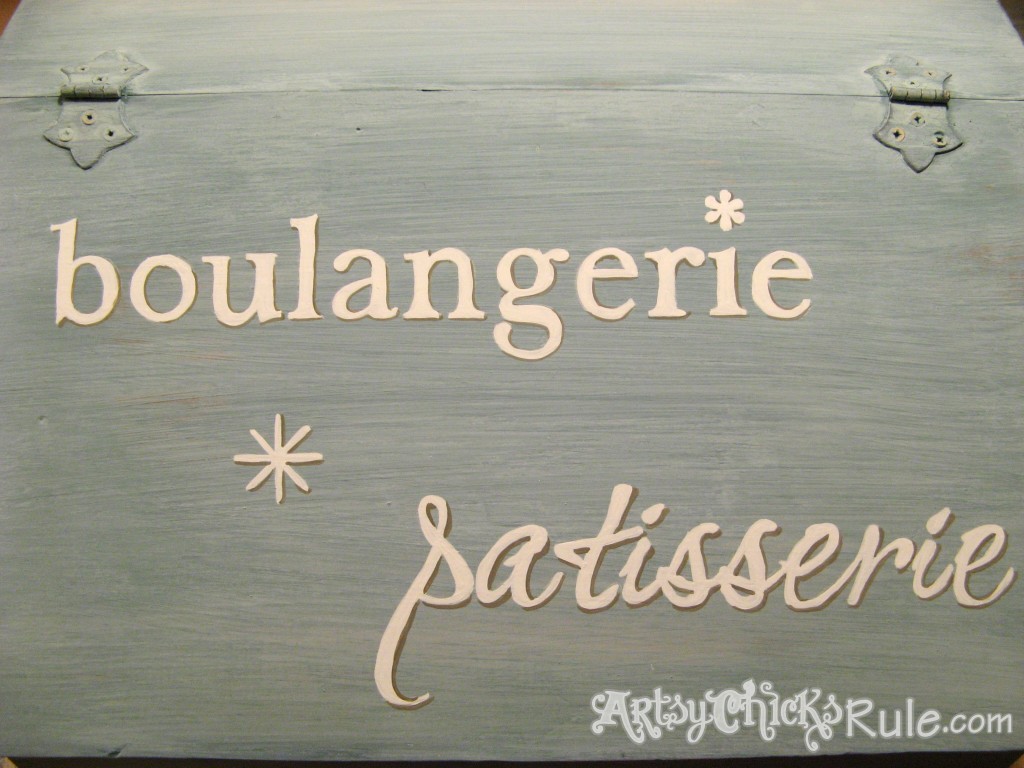 See what a difference the shadowing makes? Just brings it to life.
My son actually walked by as I was finishing up and said…" Mom, that looks like I can grab that word right off the box"…yep, my beautiful child, it does, it does. :)
I coated the inside with Polycrylic (over the chalk paint). On the outside I used Annie Sloan Clear Wax because I don't have any of Miss Mustard Seed's wax yet but I do plan to get some to try.
A little distressing and the wax applied and buffed,  shown below.  The wax really brought out this milk paint's features. It was sort of flat looking before I added it but the variation in colors just jumped out at me after I added the wax.
Beautiful. I'm loving the effect.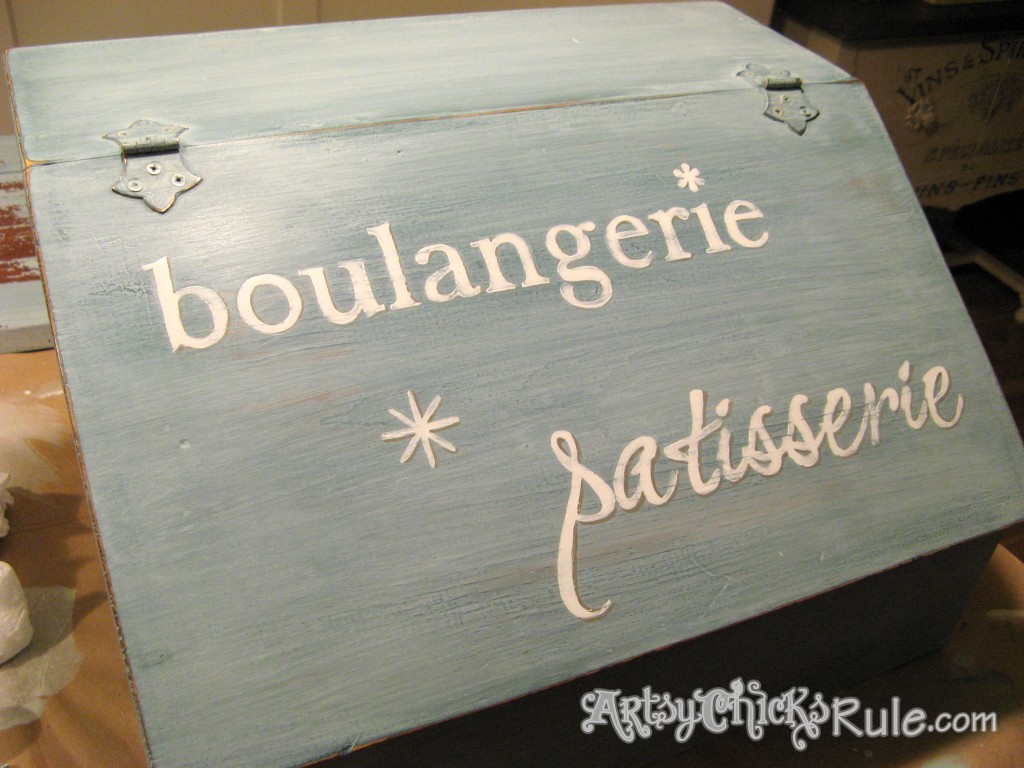 Side view of my brand new bread box makeover….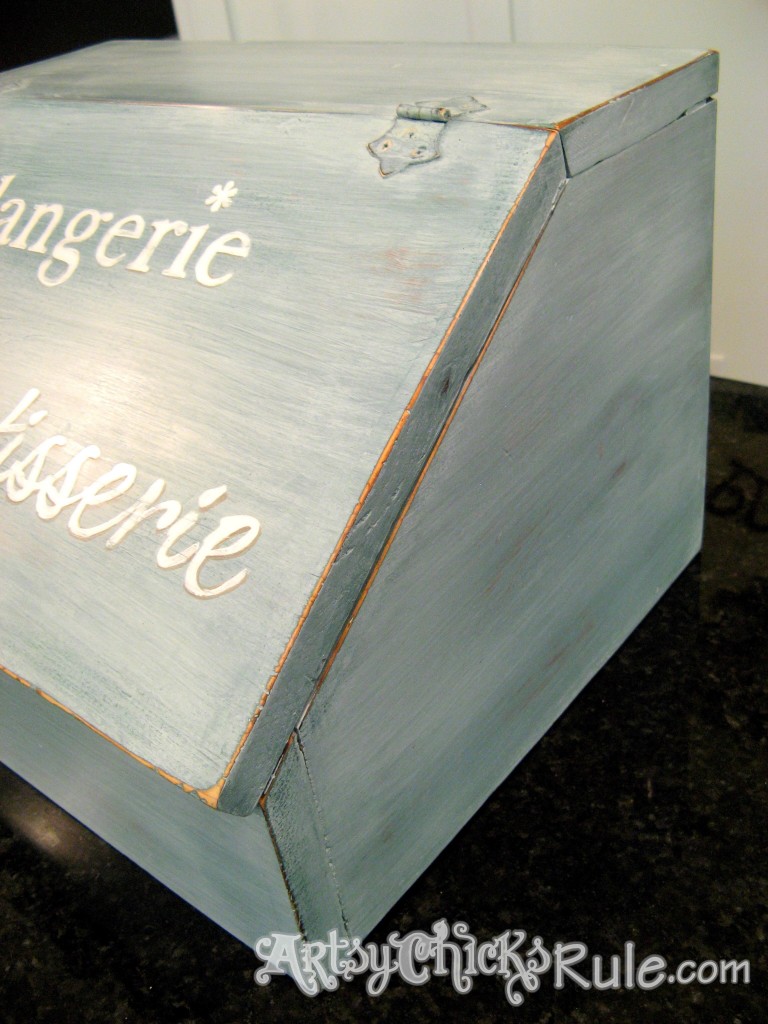 And now for the evil knob.
See, I could stop right here and say, all done, isn't it great??
But no, I'm going to show you how I screwed up and then had to fix.
Because this is real life.
And I really shouldn't blame the pretty little knob, it was my fault. I thought the box needed a knob.
So I drilled a hole……into my beautiful new finish.
Ugh, I cringe just looking at that.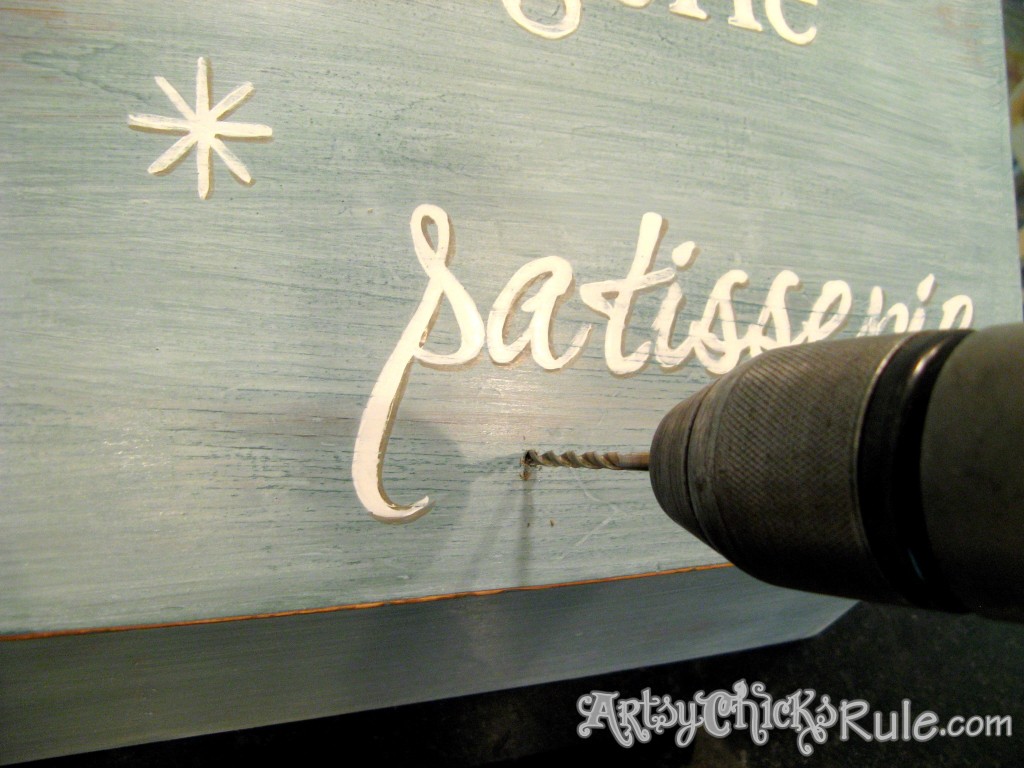 oh my… what a nice little hole I made…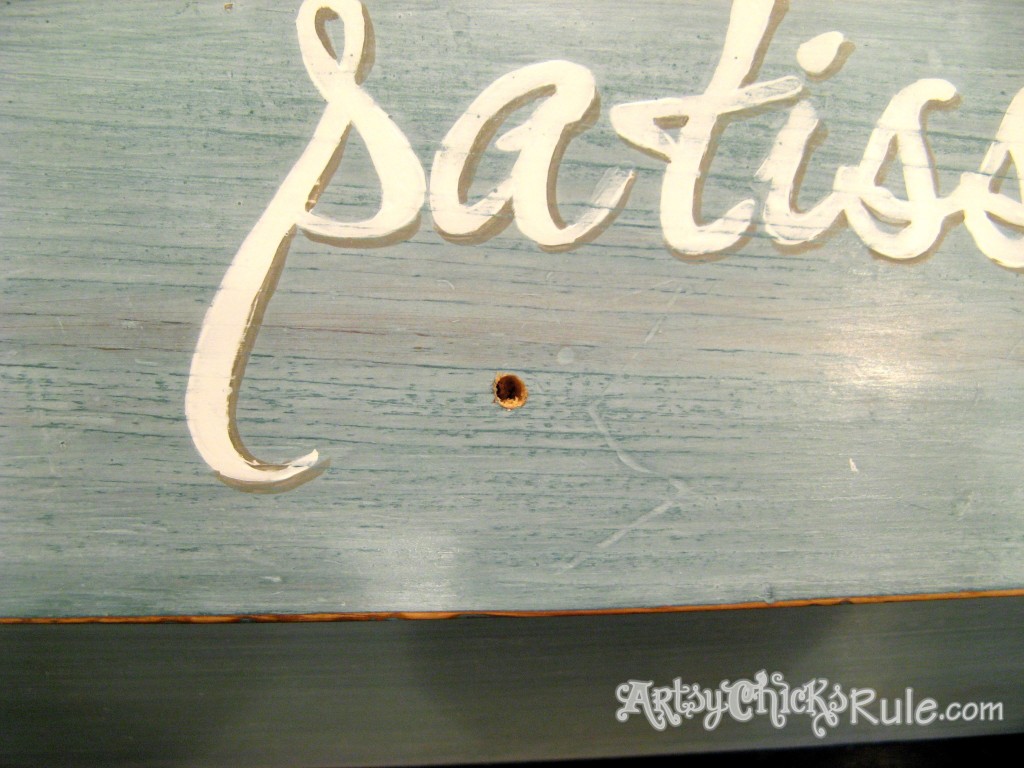 And look….with the knob attached….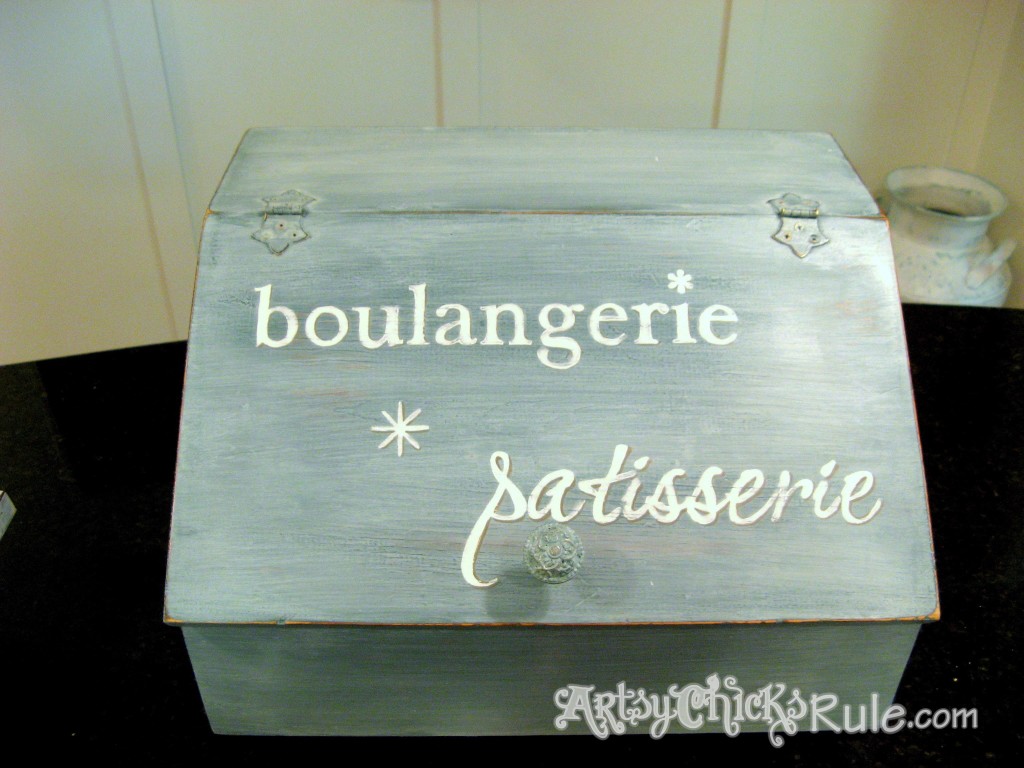 Um, no. It sticks out like a sore thumb to me…..and at the angle it sits, ends up covering up part of those gorgeous graphics. Sigh.
I hate when this happens….but it does.
So here's what I did to fix it….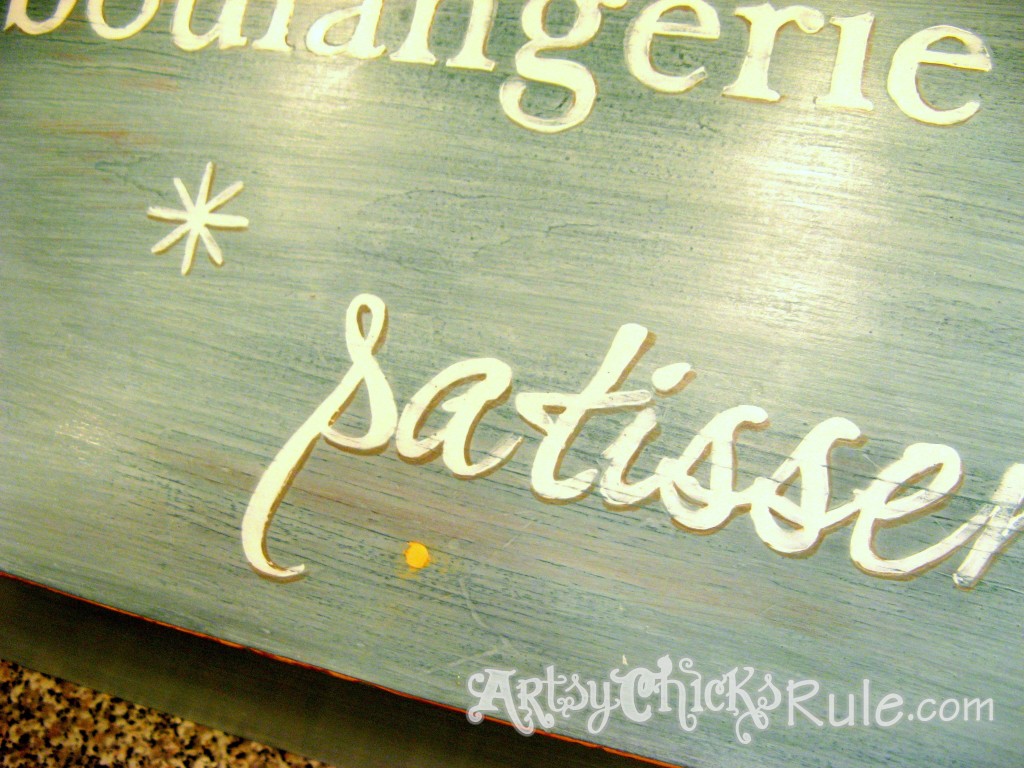 I filled the stupid hole back up.
And painstakingly (ok, not really but sorta) repainted and waxed the area where the hole was.
That was fun.
After several attempts I think I finally matched it up fairly well.
Of course, my eye is drawn to the exact spot….but here it is finished, hole repaired and repainted.

Not perfect….but whatcha gonna do? Day in the life of me. ;)
Much better than the 80's ducks & heart motif don't you think?
I love how it turned out. (please excuse the yellow color in this photo from my under cabinet lighting)
The Milk Paint is certainly different than what I'm used to with other paints, for sure.
But it was fun to use and I can see a place for it on some of my work.
I just need to work with it a bit more to get a better feel for it.
PIN this bread box makeover for later!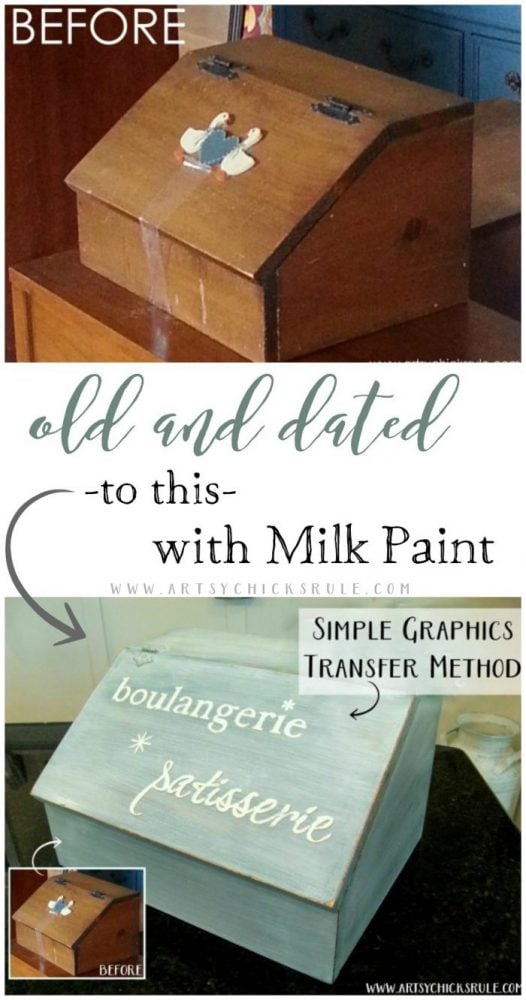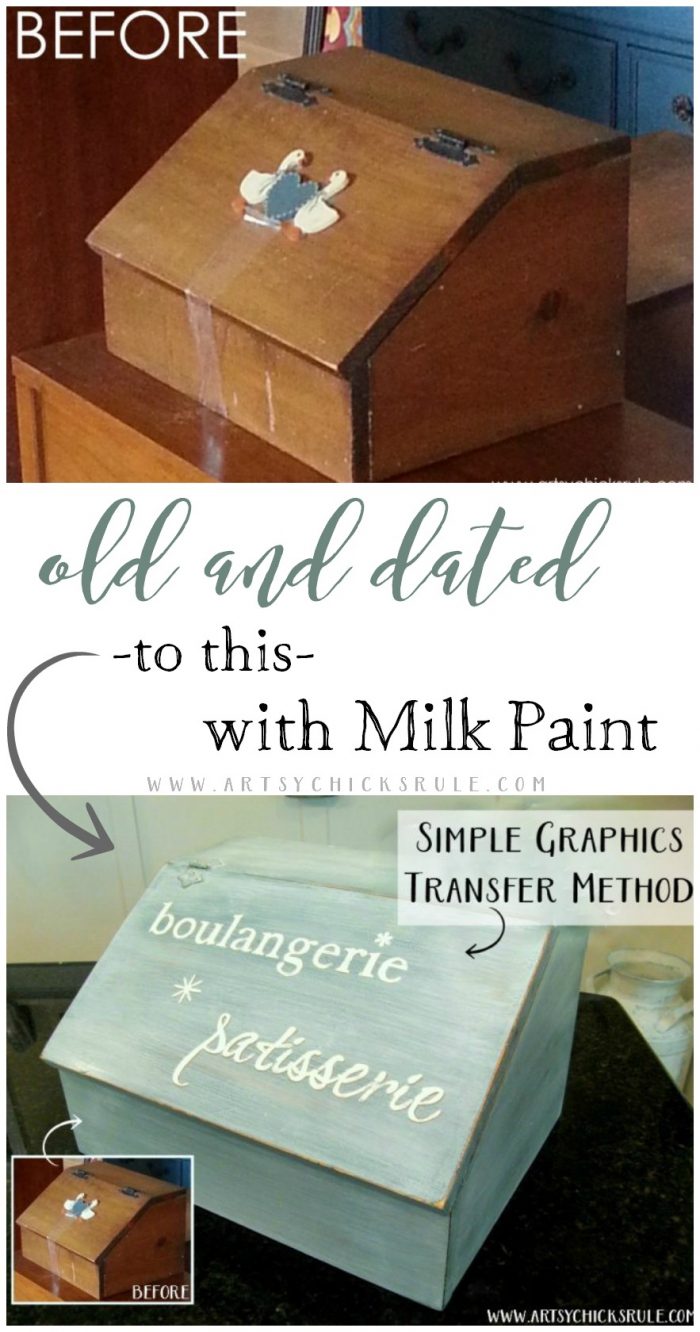 Have you tried any milk paints yet? What do you think? Do you like them?